Welcome to the land of cheeky leprechauns, misty green mountains, haunted castles, frothy black beer, dramatic glaciated coastline, and gold standard humour. Backpacking Ireland is a treat for any traveler.
It has the perfect combination of natural beauty, fascinating history, pumping cities, and friendly locals. Ireland is the perfect travel destination, whether you're a newbie backpacker or a veteran who want to get off the beaten path.
But Ireland isn't cheap if you don't know the tricks. So I'll show you how to backpacking Ireland on a budget.
This is the only backpacker-oriented Ireland travel guide you will ever need. Get Ireland travel tips and honest advice on where to go backpacking in Ireland: backpacker accommodation, suggested Ireland itineraries, top things to do in Ireland, how to travel the country, daily travel costs, best hikes, Ireland budget travel hacks, and much more…
This is the ultimate travel guide to backpacking Ireland…
Let's do it!
Why Go Backpacking in Ireland?
Jaw-dropping emerald mountains dotted with castles, glaciated lakes, bogs, and dense forests define Ireland's natural interior landscapes. The Irish national park system has done well to protect the country's natural wonders. Wicklow Mountains, Connemara, Killarney, and Glenveagh National Parks are among the most scenic places in all of Europe.
If all of that wasn't enough, you have the Irish coast to contemplate. Ireland is an island (who knew?) and enjoys 900 miles (1,448 km) of coastline.
Well, actually, depending on who you ask, it might be more like 3,000 km. Anyway, there is a lot of Irish coast!
The Irish coast is famous for the mind-blowing scenes found at Giant's Causeway and the Cliffs of Moher. Apart from these popular coastal landmarks, a majority of the Irish coast is wild and prime off the beaten track territory.
By the end of this backpacking Ireland travel guide, you'll get acquainted with the top places to visit in Ireland as well as the lesser-explored hidden gems of the country.
Now, let's look at some of your itinerary options for your backpacking Ireland adventure.
Ireland is full of wonderful places to explore. But sure, I'm going to give you my best recommendations for an Ireland backpacking itinerary.
Nothing's too far away in Ireland so it's easy to mix it up, do it back to front, fall in love and never leave. Backpacking Ireland itineraries become badass when you travel off route a little too.
Visiting Ireland for a month or more really opens doors to new opportunities. For your itinerary, you can combine a few of the Ireland routes mentioned above into one giant trip, if you have the time.
7-Day Travel Itinerary for Ireland: Northern Ireland, Castles, and Whiskey
If you are backpacking through Ireland, Northern Ireland is a fascinating part of the island and you should take the time to visit. Northern Ireland is in fact not part of the Republic of Ireland. For better or worse (depending on who you ask), Northern Ireland remains a part of the UK.
The Northern Irish national identity is complicated. But be sure – the folks there are extremely proud to be Irish all the same.
The great city of Belfast has great things to do. It's an easy port in and out too. From Belfast head north along the coast towards the Giant's Causeway.
Make time for a stop at the legendary Bushmills Distillery; it's a day boozing hard kinda place. Even for me at that time in my life, that was way too early to start sampling whiskey – but what the hell. It makes for an interesting rest of the day (as long as you're not driving).
The Antrim Coast to (London) Derry is the next logical route on your Northern Ireland Roadtrip. Check out Dunluce Castle.
Game of Thrones fans, get stoked because you might recognize a place or two. Hint: Mussenden Temple.
If you want to branch out a bit, head towards Enniskillen. Devenish Island is worth a look if you fancy a short boat trip to see it.
2-Week Travel Itinerary for Ireland: Highlights and Culture
So let's say you got 2 weeks for your backpacking Ireland itinerary. It's still not heaps of time but you can cherry-pick some highlights of Ireland.
First hit the world-famous Cliffs of Moher to immediately have your mind blown upon arriving in the country. It's popular – but worth it – so plan accordingly!
It's just south of Galway, if you have time (or curiosity) for it. Take a short ferry to Dunguaire Castle or see the Aran Islands across Galway Bay.
The next stop is Killarney in the south. This is down to Killarney National Park. The park is within walking distance from the Old Town. Go for an epic hike at Ross Castle.
From Killarney, take the best short road trip in Ireland along Ring of Kerry road: the quintessential Ireland experience. Take in gorgeous views of coastal cliffs, postcard pastoral landscapes, and charming villages.
If you're heading to Dublin, and don't have time for Ring of Kerry, Limerick makes a great stopover. You'll be overloaded with awesome things to do but a weekend in Dublin is enough time.
1-Month Travel Itinerary for Ireland: Culture and National Parks
Finally! With a month, you can plan the ultimate Ireland road trip itinerary that revolves around visiting national parks. Take your time to stop, go for hikes, camp, and explore at your leisure.
You can begin this trip in either Belfast, Dublin, or Galway. For ease, let's say you start in Dublin.
Your first stop after a weekend in Dublin is Wicklow Mountains National Park. Wicklow is Ireland's only national park not found on the West Coast. This national park is a dreamy place to enjoy mountains, lakes, trekking, and camping.
After Wicklow, head southwest to Killarney National Park. A truly spectacular lake and mountain scenery await.
Burren National Park, south of Galway, holds some of the most unique rock formations and landscapes to be found in all of Ireland. Connemara National Park, north of Galway, is something special still. Dense peat bog forests make up the majority of the flatlands surrounding the impressive Twelve Bens mountain range.
That leaves us with Ballycroy and Glenveagh National Park in the far northwestern corner of the country. Hopefully, you'll have time left on your Ireland itinerary for these.
For such a small country, Ireland offers up a vast variety of awesome regions to explore. There's Blarney Castle, the Cliffs of Moher, and more! You won't be short on options when deciding where to stay in Ireland.
Ireland is home to quaint villages, where cosying up to a pint of Guinness by the fire while being serenaded by local troubadours is the main activity. For many travellers, including myself, it is Ireland's wild places that are the main attraction.
In contrast, bustling cities like Dublin, Belfast, Cork, and Galway offer up a taste of modern Irish life. Ireland's urban centres feature booming nightlife, world-class museums, impressive architecture, and plenty of free attractions to enjoy. Then there is the beer…
Backpacking Dublin
After living in Europe for some time now, I still say that this is one of my favourite cities. Visiting Dublin is a special experience.
Dublin truly has something for every backpacker. You could easily spend a week here checking out historical attractions, Dublin Castle, impressive museums, pub hopping, and eating delicious food. It's all here.
I wouldn't normally advise people to check out a post office, but the General Post Office on O'Connell Street in Dublin. The first seeds of the Irish Republic were planted here after a bloody struggle in 1916. It's pretty cool to see while you're saying in Dublin.
Some of the libraries in Dublin might as well be museums. They hold one-of-a-kind treasures of Irish history and national identity. The Library at Trinity College Dublin is something quite special.
I recommend checking out The Book of Kells, a 9th-century masterpiece of great historical significance and one of the national treasures of Ireland. The grounds at Trinity College are a great place for a picnic too – weather permitting, obviously.
The Temple Bar is a bit of a tourist trap and so is the Guinness Brewery. But honestly, I recommend them. I learned a lot about Irish beer and they are very impressive.
Plus, you have never had a Guinness this good. The beer barely travels from the keg to your lips. Perfection.
Special shout out to the Dublin pub (I won't say which one) and the owner who closed down his place at 2 am and let us hang out inside until the wee hours. I might add he was even kind enough to gift us a chunk of hash (which we promptly smoked inside the pub). You're the man.
These places to visit in Dublin are where the magic is. This is why I love Ireland: people are genuinely kind and thoughtful.
Need help deciding between Dublin vs Belfast? Check out our helpful guide.
Backpacking Galway
If you thought Dublin was easy on the eyes, then you are really going to fall for County Galway.
It has one of the most attractive urban city centres in Ireland and there are loads of things to do in Galway. All of the attractions are within close proximity to the city. And there are many attractions…
If you are backpacking Ireland without a car then Galway is the logical place to base your day trips. There have been many a song written about Galway Bay and it's a no-brainer to see why.
No matter where in Galway you stay, you can easily walk to the bay and Dunguaire Castle from the city. Be sure to catch a sunset here if you can. The colours explode across the water and cast epic shades of tangerine and purple along the castle walls.
The Galway Museum is a great spot for travellers to get to know local history. For centuries, Ireland was very regional so the Museum in Galway will shine a light on local customs and traditions not found in other parts of Ireland.
Dough Bros pizzeria on Abbeygate Street is sure to crush any hunger you have built up during your urban or coastal explorations.
If you happen to pass through Galway on a Saturday, a visit to the centuries-old Galway Street Market is a must. This is the area with some of the best hostels in Galway too.
Backpacking the Cliffs of Moher
The Cliffs of Moher, in County Clare, are one of Ireland's most popular attractions. Odds are, folks who are backpacking Ireland are going to want to visit them – whether on a guided tour or broke backpacker style.
The reality is, if you go in the summer, there will be swarms of people and enough flashbulbs going off to make you feel like you are at a rave. If you are here visiting in the off-season (really anytime not June-September) there might be very few people indeed.
The Cliffs of Moher are special and you should check them out. If you have your own wheels or doing it van life style, it's easy.
Just come very early in the morning or just before the sun goes down. There is definitely a peak time of day when the gaggles of tourist buses roll through. Plan accordingly.
There are, in fact, other interesting things to do right around the Cliffs of Moher that are far less popular. Check out O'Connors Pub in Doolin for a pint and some fine Celtic folk music. A tour of Doolin Cave is also bound to be an exciting adventure, though one you have to book and pay for.
Backpacking Limerick
As you walk around Limerick, the 13th-century King John's Castle (entrance fee €13) certainly makes a lasting first impression. Located right on the riverfront, King John's Castle is a fine place to visit when it's not crazy busy.
In summer, street food vendors line the boardwalk and offer up a wide variety of budget-friendly food. If the weather is nice, take picnic supplies and a blanket and head to People's Park. For a good rainy day activity, check out Frank McCourt Museum (author of Angela's Ashes).
The Milk Market is one of the best farmers' market scenes in Ireland. There are usually a few talented musicians playing as well. Check out the selection of cheese and fresh produce.
The Milk Market is a good place to stock your cooler or pick up picnic supplies. There are also more than a few good hostels in Limerick.
Backpacking Killarney
Let the outdoor adventures begin. The town of Killarney is located just a stone's throw away from Killarney National Park.
As you spend some time backpacking around Ireland, you will see these calendars and books for sale that all focus on one thing: beautiful doors found throughout Ireland. Yes, you read that right – doors.
There are some great areas in Killarney with gorgeous colourful buildings (and doors ;)), cool cafes, homey pubs, and a really badass castle nearby. The 15th-century Ross Castle was recently restored and now welcomes visitors. Rent a bike and explore the surrounding area too.
You can hire a cheap kayak and take a tour of the lake. Lots of hostels in Killarney offer good value Ireland backpacking tours – even if you (like me) usually hate them.
If you have an inexplicable draw towards the occult or supernatural ghost stories, take a Killarney ghost tour. Be warned that those of fragile constitution may pee their pants in fear.
Now the really good bit: Killarney National Park was the first national park in Ireland (est. 1932). Basically, some rich Irish dudes donated a portion of their sprawling estate, and voila, insta-park.
Check out the impressive Muckross Abbey (formerly part of the Muckross estate). The building features beautiful stone architecture and has an all-around haunted sort of a vibe.
The Torc waterfall is the most heavily photographed waterfall in Ireland. Beyond where the average tourists tread, however, is Torc Mountain. Fantastic views await you at the top.
The even less explored Gap of Dunloe is a must-visit area. Misty mountains, almost-fake greenery, and a chilly bubbling river all make the Gap of Dunloe a special trek.
The main 7-mile trail runs along a series of connected lakes from Kate Kearney's Cottage to Lord Brandon's Cottage. More on hiking in Killarney National Park later in the guide.
Backpacking the Kerry Road
For those backpacking Ireland in a car or campervan, the Kerry Road is one road you need to visit. The Kerry Road is a 179km loop that can be done in two or three days; it's ideal for backpackers tackling a 7 day Ireland itinerary.
The road takes you through a diverse cross-section of landscapes. Pastoral scenes straight out of a W.B. Yeats poem mixed with stunning coastal views dotted with cute AF seaside villages.
The UNESCO World Heritage, Skellig Islands, is just 11 kilometres from the Iveragh Peninsula. Catch a boat to check them out from Valentia or Portmagee.
Portmagee is the quintessential southern Irish postcard port town. Be sure to grab a beer and some tunes at the Bridge Bar (music Friday and Saturday).
Just down the Kerry Ring Road is the town of Ballinskelligs in County Kerry, a place where the Irish language is still alive and well. It makes a fine spot to rest up for the night.
Backpacking Cork
Cork is another booming Irish university city in the south of the country. It's all things cosmopolitan, liberal, and hipster. If you're thirsty, Cork boasts a huge selection of fine pubs and eateries.
Like music? You can find live music in town every night of the week.
It is kind of like the Paris of Ireland in the sense that there is a coffee shop on every corner. Well, in fact, that is the only comparison.
The English Market in the centre of town is the perfect spot to start your day and a great rainy day activity. Browse amongst the vendors hawking fresh veggies, cheese, bread, and take-away food. There are tons of great places to eat in Cork, so save a little in your budget to snag something tasty.
Franciscan Well Brewery serves up tasty local beers and has a garden out back. They regularly have beer festivals too so keep an eye out when you're in town.
Backpacking Kilkenny
Before heading for the mountains in Wicklow, Kilkenny makes for a good day or overnight stop. This medieval city is home to the remarkable Kilkenny Castle. The castle was built in 1195 (!) by Norman colonists.
Many well-preserved churches and monasteries, like the dramatic St. Canice's Cathedral and the Black Abbey Dominicane, are worth a look too. Both structures are from the 13th-century and come with a laundry list of associated history.
Kilkenny is famous throughout Ireland for being the city of craftspeople. The key to getting the most from Kilkenny is choosing where to stay carefully.
Artisans line the streets selling beautifully produced pottery, art, and, jewellery. If they haven't been run out of town, try to avoid shops selling cheap knockoffs obviously made in China.
Backpacking Wicklow Mountains National Park
Picturesque woodland, mountains, moors, and a crystal clear lake? All tied together with a fine system of trail networks? Sounds pretty damn good.
The Wicklow Mountains are simply beautiful. Trekking and camping opportunities abound and surprisingly not too far from Dublin. There are also plenty of more-than-ideal spots to park your campervan throughout the park.
Many people choose to summit Great Sugar Loaf Mountain from which you can (on a clear day) see for miles in every direction. This volcano-shaped mountain is not an actual volcano, but it is steep and conical so be sure to bring plenty of water along.
Honestly, though, you'll want to get a bit deeper into the park to really enjoy the spectacular natural landscapes. Another great spot is Lough Tay, a.k.a. "the Guinness lake". If Guinness wasn't a beer in Ireland they would probably call it "Black Tea Lake" or "Black Water Lough".
I'm sure the whole Guinness thing is a subliminal marketing attempt. Didn't work on me! Who wants a beer?
For those of you with a little more time on your hands, I strongly recommend that you tackle the Wicklow Way Trek. This 80-mile (129 km) hike takes you through the very heart of the park. If you are hiking the Wicklow Way in the summer, make sure to NOT do the hike when the ultramarathon is happening.
Backpacking Belfast
In the limited amount of time I spent in Belfast, I really enjoyed it. Belfast is home to attractive streets, a buzzing nightlife, and a fiercely proud population. It's also one of the best places to visit in Ireland by train.
Depending on where in Belfast you stay, you find that locals here are really proud to be Irish. Their identity is deeply entwined in Irish culture and they often don't talk too kindly about being part of the UK or about their British neighbours. This is especially relevant after Brexit…
Have a pint at Belfast's oldest pub, Kelly Cellars.
Visit the peace walls; another surreal yet interesting part of this city is the fact that there are massive walls separating communities from the days when Protestants and Catholics were at each other's throats.
It is hard to believe that in a modern European city in the 21st century that such walls exist. Rumour has it that these walls will be taken down in the next decade or so.
Get chatting with people in the hostels in Belfast. Then, to seal the deal on Belfast, check out a rugby game at the famous Ulster stadium.
If you love food (who doesn't), consider taking a Belfast Food Tour to get to know some tasty local faire.
Backpacking the Giant's Causeway
Another very popular but equally mind-blowing destination in Ireland is the Giant's Causeway. The Giant's Causeway is an area of roughly 40,000 interlocking basalt columns, the result of an ancient volcanic fissure eruption.
Of course, the Irish turned the whole natural phenomenon thing into a looney legend about some guy named Finn who used the massive basalt "steps" to go to Scotland for a rendezvous battle with his rivals. Thus the legend of Finn McCool.
He wussed out before the fight and came back by the way. Finn Mc-not-so-Cool. I couldn't help myself.
The Giant's Causeway is another spot where timing is key. Come early in the morning or for sunset after a few drinks at the Bushmills Distillery nearby (roughly 10 mins).
If you're visiting Ireland for more nature spots, consider staying at a vacation rental in the Irish countryside near Giants Causeway for a truly authentic experience.
If you're really keen to get away in nature and do some inner healing, then you might want to consider a yoga retreat in Ireland.
Backpacking (London) Derry
Two things vividly stand out in my memory about Derry. The first is that I really enjoyed it and ended up having some excellent conversations with locals over about six(?) pints of beer. The second is before those six beers were shared those same locals almost killed me.
Well, not really but they were super pissed when I told them (purely out of ignorance) that "I really like this town, London Derry." One dude grabbed me by the shirt and said, "Aye! It's Derry boy-o ye can be surrre ove-it."
In the end, it was fine and we got drunk and all was well. Peadar O'Donnell's Pub is where it went down if you want to visit the place yourself. They have some pretty rowdy music sessions most nights of the week.
Point is, the name "London" Derry aught not be used lightly, as it is clearly a very sensitive topic. Locals, I gathered, do not like to remember that they are indeed a part of the United Kingdom.
Like I said I enjoyed the town and there are some cool things to do. Be sure to visit Derry's ancient fortified city walls (9 meters thick!).
The food at Pyke 'n' Pommes down by the Quay will make your tongue dance pirouettes of happiness. Try the pulled pork sandwich. It would make my North Carolina friends proud…
Derry is Irish AF, ye can be surrre ove-it.
Getting Off the Beaten Path in Ireland
Ireland is one of those countries where the VAST majority of people who visit it only see the same dozen or so places. There is most definitely a tourist route. That leaves a huge amount of Ireland which is, essentially, off the beaten track.
In my experience, once you are out on a trail hiking for just a couple minutes, most tourists don't follow. If the bus is out of sight, they suddenly become incapable of advancing any further.
That is not to say that travelers and locals alike are not out in the mountains. They certainly are, just far fewer than one would think after seeing all of the tourist traffic on the roads.
Hike and camp in remote places as much as possible. Really get to know the Irish national park systems and the tiny villages hidden within them. Explore some of the less-visited stretches of coast in the far south east and west of the country.
Head out to some of the lonely islands found off of the Dingle Peninsula. Take your Irish road trip from the Kerry Ring Road and check out the Skellig Ring Road and Enniskillen in County Fermanagh.
Get to know Ireland's five least visited counties:
Westmeath
Monaghan
Carlow
Laois & Leitrim
Offaly & Roscommon
Backpacking Ireland is all about finding what you like to do. If you have the ambition there is an untold number of hidden gems just waiting for you to go and find them…
Where do I start with fun things to do in Ireland? Once you drag yourself out of the pub, you can explore the mystical land that Ireland is really famous for.
Here are some top things to do in Ireland:
1. Drive (or hitchhike) the Dingle Peninsula Road
Hailed by many as the best short road trip in Ireland, a drive down the Dingle Peninsula takes you on a journey. Stopover in some of Ireland's best hostels in Dingle or experience van life in the country's most stunning southerly landscapes and whimsical Irish-speaking villages.
2. Take in a Sunset at the Giant's Causeway
The Giant's Causeway is already one of Ireland's most inspiring places. Seeing it through the filter of west coast sunset light is something further special. Bring along a beer or two and soak it all in.
3. Try the tipple
Don't mind if I do? Alcohol is one of Ireland's most popular non-natural attractions… and for good reason. Trying real Guinness in Ireland is essential and it's definitely worth paying a visit to the Guinness brewery.
If you're a whiskey drinker then you have to take the Jameson tour. I personally think Whiskey takes like piss but I still had a great time.
4. Hike the Wicklow Way Trail
This is worth packing some hiking gear for. The hike will take you three or four days – nothing crazy. But along each step of the way, you will discover why the Wicklow Mountains are one of the most beautiful places in Ireland.
5. Stay in a (haunted) castle
There are loads of stunning castles in Ireland to see. You can even stay in many – some are even budget-friendly.
If you've got the cash, you can find fancy rooms and superior service to make your trip to Ireland even more unique. Castles are often looking for volunteers too (wink, wink).
Leap Castle, in County Offaly, is Ireland's most haunted structure. I am sure there are many haunted castles in Ireland, so don't stop here. The hunt is on.
6. Travel Ireland by campervan
Travelling Ireland from the comfort of a campervan is the way to go if you can afford it. You have almost unlimited freedom of where you can go and park up. Love it.
7. Stay in a Mountain Hut
Spread through Ireland's national parks are a system of well-maintained (some more so than others) mountain huts. An overnight stay in a mountain hut is a definite part of the experience of trekking in Ireland.
8. Go to the pub…
Hey… This is Ireland. Go to the pub!
There's nothing like pub food after a long hike Oh, gwon then, 1 pint… we're on 'oliday.
Pubs spread a special kind of energy. Although alcohol is part of it, it's not all about it: it's about recuperation and socialising. Enjoy it.
9. Catch the Sunrise from Carrauntoohil
Carrauntoohil is the tallest mountain in Ireland (1,038 meters). Many people tackle it during the day when the sun makes a rare appearance.
A sunrise hike here means few if any people and epic views (hopefully) for as far as the fog will let you see. All the better if you camp somewhere on the mountain.
In the off-season, you will likely be alone. In cold months, expect snow.
Ireland has one of the best networks of hostels in the UK. Unless you are in the absolute furthest corners of the country, odds are you can score a cheap place to stay on your Ireland backpacking adventure.
If you bring along a good camping tent and a sleeping bag, in addition to renting a car or van, your experience while backpacking Ireland will be far more fun and unique than sleeping in a hostel every night. Decisions, decisions.
Although sometimes you just need a warm, dry place to shower up and sleep. One of my favourite ways to meet interesting locals and save some cash is to use Couchsurfing. Couchsurfing truly is one of the best tools available if you're wondering how to stay in Ireland on a budget.
If you're travelling with friends, renting a cottage in Ireland can even be cheap. The average price for a hostel bed in Ireland is location-dependent. But, in general, you can find a dorm bed for as low as €10 and as high as €30+.
The Best Places To Stay in Ireland
I have to suggest some incredible hostels in Ireland. Big up to those guys for making an adventure unforgettable! Here is some serious accommodation to consider:
Backpacking in Europe is never going to be as cheap as backpacking in Southeast Asia, for example. Staying in hotels every night, drinking like a fish, dining out, going to pubs all night, and booking last minute trains will certainly destroy any budget you might have hoped to keep.
Worried about spending too much money on your Ireland trip? Don't worry too much – there are plenty of tips and tricks to keep your Ireland travel costs low.
While backpacking in Ireland, shit adds up quick if you're not careful! Visiting Ireland on a budget ain't easy: the country is damned expensive to stay in. Eating and drinking out can easily be more than $50 a day too.
Considering this, a comfortable Ireland travel budget is between $100-200 USD a day. Of course, you can make it cheaper, but this is one of those places you have to really work for it.
Here is what you can expect to spend on a daily basis (excluding car or van hire):
A Daily Budget For Ireland
Copy of Ireland Daily Budget Table

| Expense | Broke Backpacker | Frugal Traveler | Creature of Comfort |
| --- | --- | --- | --- |
| Accommodation | $15 | $70 | $120 |
| Food | $12 | $25 | $50 |
| Transport | $8 | $20 | $35 |
| Nightlife | $25 | $50 | $75 |
| Activities | $15 | $30 | $50+ |
| Totals per day | $75 | $195 | $330+ |
Money in Ireland
The currency in Ireland is the Euro = € EUR
The currency in Northern Ireland is the British Pound Sterling = £ GBP
ATMs are widely available in just about every place in the country. When visiting rural areas in Ireland, it is always best to deal in cash. If you want to stop at a farm and buy some cheese, veggies, meat, etc. you will need cash.
If you bring heaps of foreign currency to exchange, expect to get a poor exchange rate at the airport. Find out whether or not your bank in your home country has fee-free international withdrawal. If so, activate it for your trip or for whenever you travel abroad.
Once I discovered my bank card had that option, I saved a huge amount in ATM fees! When travelling to Ireland on a budget, every dollar (euro) counts, right?
For all matters of finance and accounting on the road, The Broke Backpacker recommends Wise – the artist formerly known as Transferwise! It's our favourite platform for holding funds, transferring money, and even paying for goods.
Wise is a 100% FREE platform with considerably lower fees than Paypal or traditional banks. But the real question is… is it better than Western Union? Yes, it most certainly is.
Travel Tips – Ireland On a Budget
Camp: With plenty of stunning mountains, lakes, sprawling farmland, hidden castles, and remote coastline in Ireland, camping saves you money and can help you get off of the beaten path.
Cook your own food: Travel with a portable backpacking stove and cook your own food to save some serious cash whilst backpacking across Ireland. If you plan to do some overnight hiking trips or camping having a backpacking stove will be ESSENTIAL to your success.
Planning ahead: Sometimes it's nice to be spontaneous. But if you can, booking your transport and accommodation ahead will save you a tonne of money.
Budget-friendly Tours: If you go on any guided tours, you can pay them off in instalments. Global Work and Travel have the broke backpacker in mind with this one. You can even choose the amount per instalment! The highlights of Ireland tour is sure to tickle your fancy.
Travel to Ireland with a Reusable Water Bottle
Plastic washes up in even the most pristine places… So do your part and keep our planet beautiful!
You aren't going to save the world overnight, but you can be part of the solution and not the problem. When you travel, you can see the full extent of the global plastic problem. So I hope you become more inspired to continue being a responsible traveller.
Plus, now you won't be buying overpriced bottles of water from the supermarkets either! Travel with a filtered water bottle instead and never waste a cent nor a turtle's life again.
The "best" time to travel to Ireland certainly depends on what you plan to do. Like most places in Europe, Ireland is crazy busy during the summer.
If you can, try to avoid coming between June – August. Backpacking Ireland simply isn't as fun when the roads are slammed with buses and every place you visit is just as crowded.
When to visit is tricky because the weather in the mountains is best during the summer as well. Sublime, dry hiking weather is (more) possible in the summer.
That said, if you bring the right gear, a solid rain jacket, a warm down jacket, and a badass sleeping bag, the cold and wet won't really affect you. You'll just deal with it and have a grand time.
Winters are cold, grey, dark, and very wet. Winter is actually a great time to come, but you'll end up spending more time snuggled up to a fire in a pub than actually seeing the country.
So that means early spring and late autumn. In my opinion, early March – April and October – November are the best months to visit Ireland.
St. Patrick's Day, March – You know… St. Patrick's day. There is an Irish pub in every country that parties St. Patrick's Day with excessive alcohol and ridiculous green attire. Well, St. Patrick's Day in Ireland is the craziest.
Easter, March or April – For Catholics, Easter and the month leading up to it is a big event in Ireland. Even if people aren't particularly religious, Easter is still an excuse to get together with family and friends, eat, and have a good time.
Traditional Irish Music Festivals (Trad Fests), All year – Really, there are a ton of traditional folk fests happening in Ireland throughout the year. Any journey backpacking Ireland should involve some Irish folk music.
What To Pack For Ireland
When you're packing for an adventure, there are some things that are top of the list:
Since the car bombs and sectarian violence subsided decades ago Ireland has become one of the safest countries in Europe. You should never feel unsafe whilst camping in rural areas or walking about in big cities.
That said, we live in the modern world. Sadly, no one ever knows where or when some shit might go down.
Whilst travelling in large cities and crowded public spaces, always keep your guard up. Pickpockets and petty thieves are just part of modern urban life. Always keep an eye on your stuff when riding the metro, eating a meal, or visiting a busy market.
Drunk, alone, and lost when it's late at night is a recipe for trouble anywhere in the world. Always follow your usual travel safety procedures, especially when knocking a few back.
If you plan on swimming in the ocean, beware of very strong currents and rip tides; both of which kill tourists every year. This sea here is a special kind of ice-cold that makes your balls shrivel into little raisins. It also means it can be pretty dangerous, especially after a drink.
Sex, Drugs, and Rock 'n' Roll in Ireland
The obvious drug of choice in Ireland is alcohol. No matter where you are in the country you can always find a pint and someone to share it with. Most social interactions in Ireland, for better or worse, revolve around drinking, music, and chatting.
Weed can easily be found, though in hash form. Expect to pay about €15-20/gram.
Cocaine and other hard drugs are available but I can't say I recommend them. For one, any cocaine you find will have come from a very long distance away and will have been cut more times than a person in a jailhouse fight.
There is a thriving club scene in big cities like Dublin and Cork. If you are after some sort of a party drug or a little weed, odds are you can score there. People are generally very friendly too: ask around, hostels and pubs are a good place, and someone will probably know someone.
Be aware that all drugs with the exception of alcohol carry harsh penalties in Ireland. Be smart about how you buy and how you consume your party favours.
Modern Ireland is increasingly pulling away from its conservative roots – much to the despair of the Catholic Church. There is a booming LGBTQ+ community in all of the major cities in the country. Ireland joined the list of European countries with legalized same-sex marriage back in 2015.
Travel Insurance for Ireland
When you're travelling, you can't always prepare for everything. But if you get good travel insurance, you're setting yourself up well.
World Nomads' mission is to support and encourage travellers to explore their boundaries. They offer simple & flexible travel insurance, and safety advice to help you travel confidently.
They've been doing it since 2002 – protecting, connecting, and inspiring independent travellers just like you.
Get a quote below or read our in-depth review!
World Nomads provides travel insurance for travelers in over 100 countries. As an affiliate, we receive a fee when you get a quote from World Nomads using this link. We do not represent World Nomads. This is information only and not a recommendation to buy travel insurance.
Ireland is served by five main international airports – Dublin being the biggest. The other options are Cork, Shannon, Knock, and Belfast Airports.
I personally flew in and out of Shannon, which meant I could start my trip near Galway. If you are coming from elsewhere in Europe or the USA, flights into Dublin are likely to be the cheapest.
If you book early, you can find tickets from major cities in Europe (Paris, London, Madrid, Frankfurt) for less than $25(!). That's dollars not Euros. Usually, the budget airlines like Ryanair or Easy Jet have strict baggage restrictions so plan accordingly or plan to pay a bit more to bring a large backpack.
It is also possible to take the ferry from Cairnryan, Scotland or Liverpool, England to Belfast (2 hr 15 mins). If you are bringing a vehicle over to Ireland from the UK it doesn't actually cost that much more on the ferry.
If it were me I'd only take the ferry if I was intending to bring my vehicle over. Flying is cheaper and more convenient although it does pose the question of how sustainable it is.
Entry Requirements for Ireland
The Republic of Ireland and Northern Ireland are NOT a part of the Schengen Area of Western Europe. This is a big win for non-European travellers backpacking Europe who want to come to Ireland after visiting the Schengen Area in Europe.
Basically, if you are not a European resident, you only have 3 months (out of every 180-day cycle) in which to spend in Europe's Schengen states. This can be a real pain in the ass if you are wanting to stick around Europe for longer than three months.
Like the UK, Ireland is an opt-out of the Schengen Area. You can spend 3 months in Europe and 3 months backpacking Ireland without any hassle.
Passport holders from Australia, the US, and Europe do not need a visa in advance to enter Ireland. In fact, many nationalities are not required to obtain a visa prior to arrival.
Normally a tourist visa valid for 3 months is issued upon arrival. If you are from a country not on the visa-free-entry list, you will need to apply for a visa through the Irish embassy in your home country.
You do not need to get another stamp when entering Northern Ireland. The border is open and you can normally pass right through in a car or on the train.
For getting around Ireland there are many options.
Getting a car rental is easy. Booking in advance is the best way to ensure you score the lowest price and your choice of vehicle.
Often, you can find the best car rental prices when you pick up the rental from the airport. Make sure you also purchase a RentalCover.com policy to cover your vehicle against any common damages such as tires, windscreens, theft, and more at a fraction of the price you would pay at the rental desk.
Travelling by Public Transport in Ireland
With regard to public transport, Ireland is very well connected by both public/private bus and by train.
Whether you are backpacking around Europe or just Ireland you should consider buying a Eurorail pass. It's the best and cheapest way for train travel in Europe. If you plan on taking multiple train rides on an extended backpacking trip, a Eurorail pass is the way to go.
The Eurorail website is configured based on your location and currency. Europeans and UK citizens have special options for train travel.
There are different For Eurorail options for people from the Americas.
Bus Eireann and Citylink are the most common low-cost bus companies. Generally speaking, it is easy to find buses between major cities in Ireland.
As you begin to get more rural, finding local connections gets more complicated. Since many of Ireland's attractions are in rural places, bus travel in Ireland can feel quite restrictive as a primary.
Buses are best for trips like getting from Dublin to Galway or Belfast to Dublin. Certainly, you can see the whole country by bus. But I offer a word of warning to those considering travelling Ireland exclusively by bus: you will not be able to get off the beaten path much, if at all.
You can find some pretty cheap car rentals in Ireland. I would strongly recommend renting a car for at least some of the time you plan to travel here.
Campervanning in Ireland
By far the best way to get around Ireland is by campervan. Campervans are great because you are travelling with a mobile shelter and kitchen that is capable of parking just about anywhere for the night.
Whilst campervan rentals in Ireland are not cheap, you do end up saving money on accommodation and cooking for yourself. The biggest win for going the campervan route is unprecedented freedom. The list of benefits to renting a campervan in Ireland goes on and on.
Really enjoy a place you went for a day hike and want to sleep there? Easy.
Interested in parking super close to a popular attraction so that you can be the first one to arrive in the morning? Sorted.
Want to snuggle up with your lover, sip tea, and read whilst it is pouring rain outside? No problem.
Curious to know if a castle is really haunted at night so you need to park close to it? Bam.
Hitchhiking in Ireland
I did not personally hitchhike in Ireland, but I have been told by friends that they had a fair bit of success. The sight of two people with massive backpacks in tow is a harder sell for people with small cars or lots of gear already themselves.
I would NOT try to hitchhike in or around major cities. When accepting a ride, ALWAYS have your spidey senses firing.
If a person sketches you out, fuck 'em; you have time. Be polite, don't say fuck 'em, but turn the ride down all the same. Better to wait for a ride that makes you feel 100% comfortable.
For people backpacking Ireland for a couple of months, hitchhiking is a great option because you are in no real rush. Big smiles and the right hitchhiking spot will go a long way towards your ultimate success (or failure).
Onwards Travel from Ireland
As Ireland is an island, your options for onward travel are somewhat limited. Basically, you are flying or taking the ferry to the UK. To find the cheapest flights or ferry tickets, book as far in advance as possible.
If you're still not over the rolling green hills and too many sheep, then travelling the UK is an easy choice. Scotland and Wales in particular are highly recommended. Getting to the rest of Europe is no great task either.
If you are flying out of the European continent from Ireland, you may find it cheaper to fly to London first and take a plane to where ever you're going from there.
Living costs in Ireland are problematically high when compared to wages so it is not exactly an ideal place to seek your fortune. Despite this, Ireland does remain popular with migrant workers from Eastern Europe.
Work Visas in Ireland
Citizens of the UK and EU can live and work in Ireland freely. Everybody else will need a work and residency permit.
If you are looking for a short term solution, and are of the right age, you could even try out a working holiday in Ireland.
Volunteer Work in Ireland
Volunteering overseas is a great way to experience a culture whilst doing some good in the world. There are lots of different volunteer projects in Ireland which you can join ranging from teaching, to animal care, to agriculture to pretty much anything!
Of course, Ireland is a wealthy nation that doesn't rely on backpacker volunteers in the same way less-developed countries do. That being said, there are still a number of different opportunities for travelers to offer up some time and skills.
From farming in county Mayo to gardening in Galway, there are plenty of options for the green-fingered backpackers out there. Other options include animal care and nannying. Ireland offers a short-stay visa for volunteers staying less than 90 days; anyone staying longer should apply for a Volunteer Visa.
Want to find some awesome volunteering opportunities in Ireland? Then signup for Worldpackers, a platform that connects local hosts with volunteer travelers. As a Broke Backpacker reader, you'll also get a special discount of $10. Just use the discount code BROKEBACKPACKER and your membership is discounted from $49 a year to only $39.
Programs run through reputable work exchange programs, like Worldpackers, are generally very well-managed and highly reputable. However, whenever you are volunteering do stay vigilant especially when working with animals or children.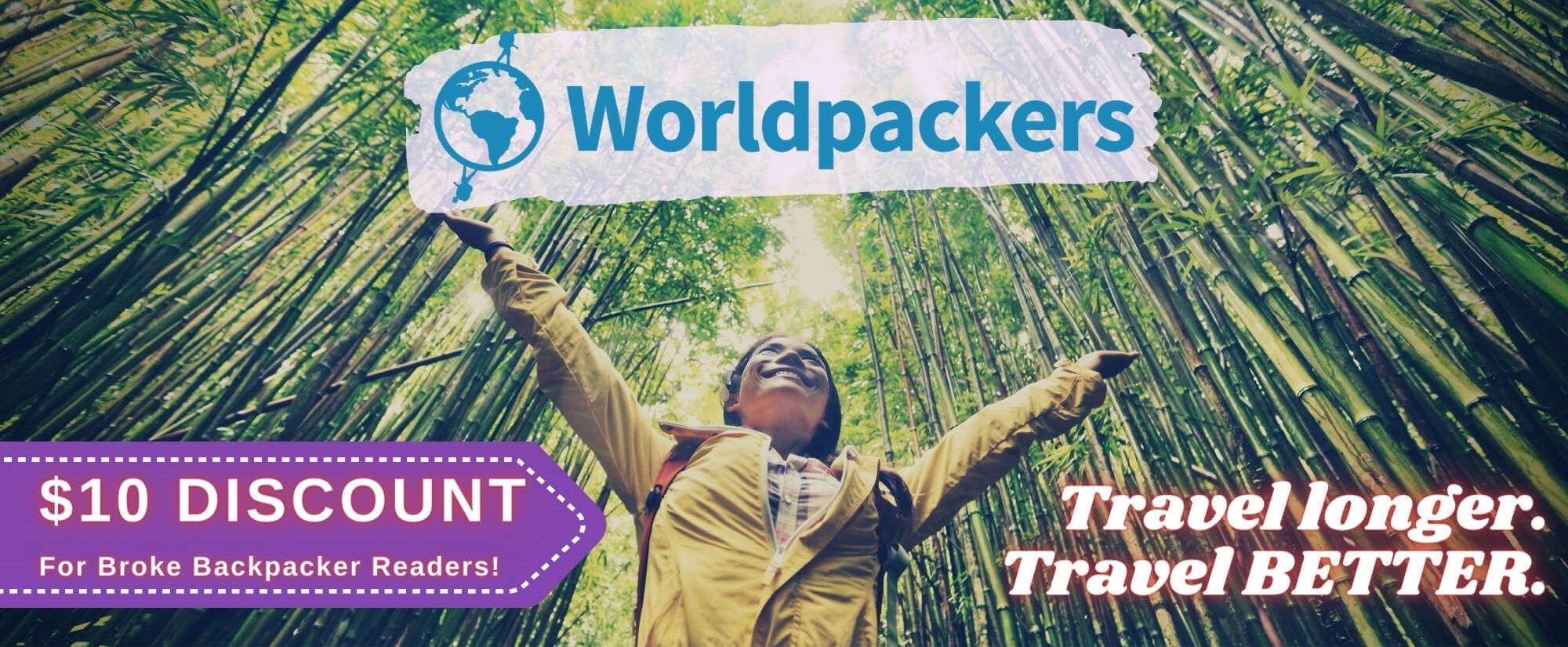 Worldpackers: connecting travellers with meaningful travel experiences.
Ah, the Irish. What's not to like? The Irish people I have met over the years have all been super fun, cool, genuine folks.
Irish people are highly intelligent, sensitive, or should I say attuned people with strong characters and a desire to show you a good time in the nation that they are fiercely proud of. Despite the heavy boom in tourism over the past decade Ireland and its population still remain down to earth people.
You know by now how important the Irish pub is in Irish society. Not just for the beer or cocktails mind you. For many communities (urban or rural), the pub is the place to meet.
The Irish are vibrant storytellers, cheeky gossipers, and quicker to slap a joke on you before you can say Carrauntoohil.
Music, all-night debates, poetry nights, comedy shows, community meetings, and countless other activities all take place in the pub. Even for people who don't drink, the pub is a quintessential part of the Irish experience.
Useful Travel Phrases for Ireland
English is the official language of Ireland. In certain parts of Ireland, however, the Irish language (Gaeilge), is spoken. Almost without exception, local folks will speak English, and Gaeilge is not awfully useful language to learn.

What is useful however is knowing some slang words! Once you can use some of these, you'll really get respect from the locals.
What To Eat In Ireland
If stereotypes dominate your perception of Irish cuisine, then you're probably thinking "Right, Irish food. You mean potatoes?" Well, yes – but give me a chance here.
While nobody is debating that the Irish have more gastronomic prowess than France, the Irish still offer up a wide variety of mouth-watering dishes to try. I didn't find the food in Ireland to be super diverse but they are good at what they do cook. And yes, traditional Irish cooking mostly involves some form of meat and potatoes.
Ireland is becoming a more diverse country all the time. Thousands of immigrants come to Ireland every year to make it their new home.
With them, they have brought the cuisines of their home countries. Thank god! In my opinion, this is an absolute blessing for the Irish and backpackers alike!
If you get sick of meat and potatoes, there is always Indian, Thai, Pakistani, Kebab, Falafel, Italian, and American food somewhere close by. Note: I am aware that falafel and kebab are not nationalities.
Must-Try Dishes in Ireland
Here are a few of my favourite dishes native to Ireland:
A note on Irish sandwiches – I need to sneak this in here. Don't buy the god-awful pre-made sandwiches they sell in gas stations, rest stops, and all over Ireland in various places. They are expensive and all utterly disappointing.
For some reason, I always thought the next one would be better. They were all almost inedible. Don't repeat my mistake…
Drinking in Ireland
Ireland is the land of beer and whiskey.
Sadly more teenagers in the western world can probably identify the Guinness logo before they could point out a tomato plant in the garden. Point being, Irish beer is world-famous. And it's tasty…
Ireland is also home to one of the world's oldest whiskey distilleries, Bushmills. It is a marketing myth that Bushmills is the oldest distillery in Ireland.
The distillery at Kilbeggan is in fact the oldest licensed distillery in the country. But who is counting?
Here is a list of some more of Ireland's tastiest and best beers:
Murphy's Irish
O'Hara's Irish Wheat
Smithwick's Irish Ale
Porterhouse Brewing Co. Oyster Stout
O'Hara's Celtic Stout
Beamish Irish Stout
Best Whiskey in Ireland
Whiskey is another animal altogether. Ireland has a long tradition of producing quality whiskey and right now that still rings true.
The world of whiskey aficionados is far above my pay grade, though I can appreciate a whiskey that is not the generic Jack Daniels or Jim Beam. In fact, many Irish people would argue that those aren't even real whiskeys.
The really nice whiskey being produced in Ireland is way too expensive to even think about trying if you're backpacking Ireland with any sort of a budget conscience. That said, there are still plenty of fine whiskeys to be had that don't cost a few hundred bucks a bottle.
Here are some of the best whiskeys to try in Ireland:
Clontarf 1014 Irish Whiskey
Knappogue Castle Single Malt Irish Whiskey
Green Spot
Teeling Trinity Range
Bushmills
A Brief History of Ireland
To put it lightly, Ireland had a pretty wild ride in the 20th century.
Independence (from the UK) was gained after much struggle and bloodshed. 1916–1921 was marked by political violence and upheaval, ending in the partition of Ireland and independence for 26 of its 32 counties. The struggle was far from over, however.
In 1949, the state was formally declared a republic and it left the British Commonwealth.
The 1960's and 70's were pretty insane in Ireland.
Protestants vs Catholics in Ireland
The level of historical hatred, violence, clashes, and deaths resulting from Protestant-Catholic relations, or lack there-of, is at the heart of the major conflict that swept Northern Ireland during this time period.
We all know about the Israeli-Palestinian conflict. We know about the level of hatred that exists between the two groups.
I don't think it is too difficult to consider the former Protestant-Catholic issue as any less powerful or significant, at least in its heyday.
The Protestant State and the IRA
As the civil rights movement of the United States gained worldwide acknowledgement, Catholics rallied together to achieve a similar socio-political recognition in Ireland. This resulted in the formation of various organizations such as the Northern Ireland Civil Rights Association (NICRA) in 1967 and the Campaign for Social Justice (CSJ) in 1964.
Modern Ireland
Modern Ireland is a good place to be. Ireland's economy became more diverse and sophisticated than ever before by integrating itself into the global economy.
The Catholic Church, which once exercised great power, found its influence on socio-political issues in Ireland much reduced. Irish bishops are no longer able to advise and influence the public on how to exercise their political rights.
As I mentioned before, same-sex marriage was legalized in 2015.
On May 26th, Irish people turned out in droves to vote in favour of legalizing abortions. In a major victory for progressives and more importantly for women, the country celebrated in the streets in typically Irish fashion. Go Ireland!
Beyond the main tourist attractions in Ireland are hidden opportunities to make the most memorable memories. You won't be disappointed to find that backpacking Ireland is way beyond what you expected.
Wild Camping in Ireland
You should have gathered by now that there are a million and one place to camp in Ireland.
Want to wake up to some of the most epic views of your life? Whilst backpacking Ireland, consider camping as much as you can. If a bit of sun or a dry spell is forecasted, all the better reason to get out there and pitch your tent. You'll save heaps of cash too by camping. Win win.
Always obey "no camping" signs. Respect farmers property, and when in doubt always ask permission BEFORE setting up shop. The last thing you want is some half-sober gun-wielding farmer pissed off because you are squatting on his (or her) land.
Get familiar with "leave no trace principles" and put them into practice.
If you are in the market for a solid, lightweight, and reliable tent, I highly recommend the MSR Hubba Hubba 2-person tent. This compact tent is up to the challenge of battling Ireland's uncooperative weather.
Trekking in Ireland
If you have been paying attention you know that Ireland is an amazing place to come for trekking and hiking.
Ireland is home to national parks, reserves, nature parks, and plenty of green belts. There are awesome day hikes and/or challenging multi-day treks to get into in most regions of Ireland.
Ireland is full of mind-blowing human achievements. Castles, art, forts, ancient walls, churches, cathedrals, villages, cities…Ireland has them all in abundance.
Whilst they are impressive and important to Ireland's history and culture DNA, the real magic of the country lies out in its wild places…
Best Hikes in Killarney National Park
Carrauntoohil – Devil's Ladder route: 12 km /4-6 hours – Good for experienced hikers wanting to tackle Ireland's tallest peak. The views are magnificent.
North Kerry Way: 48km/3 days – One of the best multi-day coastal hikes in the country.
Lough Googh Loop: 10km/5 hours – Not as challenging as Carrauntoohil, but still features plenty of epic views and a few treacherous drop-offs.
Mount Brandon: 10 km/4-5 hours – A good hike for beginners. Well-marked and easy to follow route means it can be hiked in any weather
Best Hikes in Connemara National Park
Big Baun: 9km/4 hours – climb the biggest mountain of the 12 Ben mountains.
The Lettergesh Circuit: 10 km/ 2-3 hours – Hailed as one of the top hikes in all of Ireland. Good for beginners. Very scenic.
The Maumeen Mountain Pass: 13km/ 6 hours – Maumeen Mountain Pass is home to an ancient pilgrimage site. Legend has it that Saint Patrick visited the same spot. There are some epic mountain views as well as a tiny church dedicated to the saint.
The Diamond Hill Trail: 10 km/ 2-3 hours – A demanding loop through misty bogland and open hill country.
Best Hikes in Ballycroy National Park
Letterkeen Loops: 6-12 km/ 2-5 hours – There are several route options to choose from, each varying in difficulty and distance.
Bangor Trail: 40 k/ 10 hours+/2 days – The main route through the park is the Bangor Trail which starts in Bangor Erris and finishes in Newport. The Bangor Trail is an old road through the Nephin Beg mountains in north-west Mayo. As always whilst backpacking Ireland, bring good rain gear!
Best Hikes in Glenveagh National Park and Donnegal
Glen Walk: 22 km/7-9 hours – A great long-ish hike for novice hikers looking to take in the diversity and beauty of Glenveagh. Pack plenty of food and wet weather gear!
Bluestack Way: 64.3 km/3 days+ – Starting in Donegal Town, the trail weaves its way through Banagher Hill and the Eglish Valley.
Bunglas to Glenties: 67.5 km/3-4 days – Supposedly this trek is the first part of the International Appalachian Trail, which I don't fully understand, having hiked a good portion of the original AT myself. The idea behind the IAT is if you continue hiking up through the state of Maine (US), into Canada, and pretend the Atlantic Ocean wasn't there, the trail would pick-up in Ireland. There you go. Oh and there are cool pubs with crackling fireplaces along this route too.
Arranmore Way: 14 km/ 6 hours – Catch the ferry boat to Arranmore, Donegal's largest offshore island and enjoy epic coastal views featuring jagged sea-stacks, caves, and a colony of Petrels.
Hiking the Wild Atlantic Way
The true hiking crown jewel of Ireland is the Wild Atlantic Way. Well, let's call it a fucking arduous, stunningly beautiful, epic walk of a lifetime. The trail is 1,600 miles (2600 km) long!
The trail runs north to south (and vice versa) along Ireland's exquisite West Coast.
Nobody just stumbles upon this trek. It takes careful planning, and months of mental and physical preparation. Not to mention a massive time commitment.
You can be sure that a thru-hike attempt will be one of the greatest and most challenging undertakings of your life.
The Wild Atlantic Way is among the world's premiere long-distance hiking trails. If you have the will and the 3-5 months it takes to complete it, good on you and best of luck.
Joining an Organized Tour in Ireland
For most countries, Ireland included, solo travel is the name of the game. That said, if you are short on time, energy, or just want to be part of an awesome group of travellers you can opt to join an organized tour.
G Adventures is a solid down-to-earth tour company catering to backpackers just like you, and their prices and itineraries reflect the interests of the backpacker crowd. You can score some pretty sweet deals on epic trips in Ireland for a fraction of the price of what other tour operators charge.
Well, there you have it, boyo.
I hope you find my backpacking Ireland travel guide helpful! It was a pleasure to write.
Awesome adventures (and a little debauchery) await you in Ireland. During your time backpacking around this mystical and powerful land, don't forget to take a look around now and again. You might find a pot of gold.
The Irish are proud people. They don't let just anyone into their circles. But when they do, you'll find them to be one of the warmest nations of people on the planet.
Best of luck on your journey! Have a cold one for me when you get there.
*Special thanks to Kyle Murphy and Erin Wolf for their contributions to this article. If you liked some of Kyle's photographs and want to work with him or to learn more about what he does, check out his website www.kmportraits.com and follow him on Instagram @briskventure.
You can find Erin Wolf on Instagram at @wolfpackqueen.
---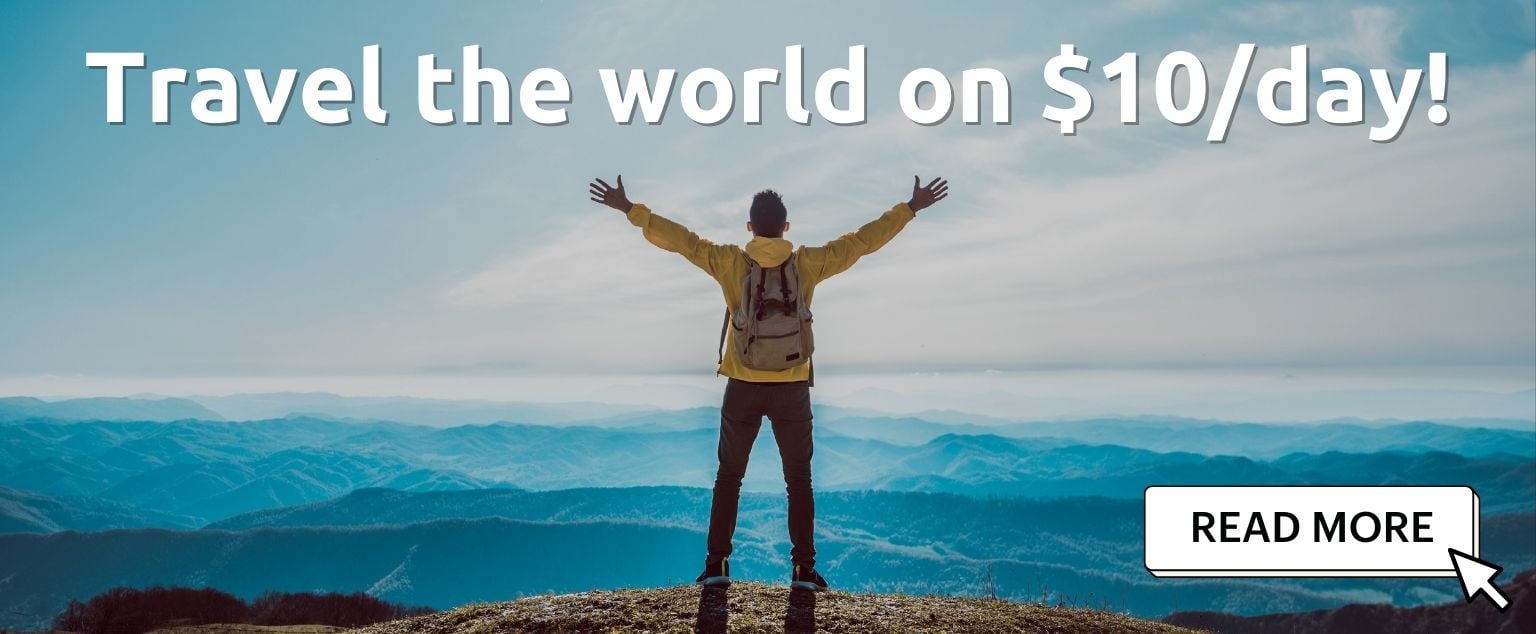 And for transparency's sake, please know that some of the links in our content are affiliate links. That means that if you book your accommodation, buy your gear, or sort your insurance through our link, we earn a small commission (at no extra cost to you). That said, we only link to the gear we trust and never recommend services we don't believe are up to scratch. Again, thank you!