Do you believe in the luck of the Irish? Well you should because it's served me well my entire life. But still, if you're wondering where should I stay when visiting Ireland, don't leave the decision down to luck! Ireland has so many awesome towns, cities, beaches and beauty spots; knowing which ones to visit and where to stay can be hard.
Furthermore, hotels in Ireland and lodging in Ireland can be tricky to figure out, as is sifting through all the options for the best areas to stay in Ireland according to your tastes, budget, and style. That means that it's time to sit down and tune in as I drop some knowledge on the top places to stay in Ireland! That's right. You knocked at the door of knowledge, and little ol' me answered. Is it too early to say you're welcome?
Let me be your guide to all your questions about Ireland accommodation— whether you're looking for the best city in Ireland to stay in or if you're trying to find the most budget-friendly city! I'm here to help. So let's go ahead and move past the intro and get into the meat of it— corned beef meat. That's right, we're heading to Ireland folks!
Oh, before we begin let me take a moment to clarify that this post relates only to Eire or The Republic of Ireland. Northern Ireland is part of the UK and has not been covered in this post.

Unlock Our GREATEST Travel Secrets!
Sign up for our newsletter and get the best travel tips delivered right to your inbox.
Quick Answers: Where is the Best Place to Stay in Ireland?
Map of Where to Stay in Ireland
Galway – Overall Best Place to Stay in Ireland
Surprise, surprise! My vote for the overall best place to stay in Ireland is actually Galway and not Dublin! Don't get me wrong, I definitely have Dublin love in my heart, but there's something more magical about Galway that really earns it the number-one spot! Also, it is known as the Cultural Heart of Ireland, which means that traditional Irish music, dance, and song all thrive there! If you are visiting Ireland, you MUST come to Galway!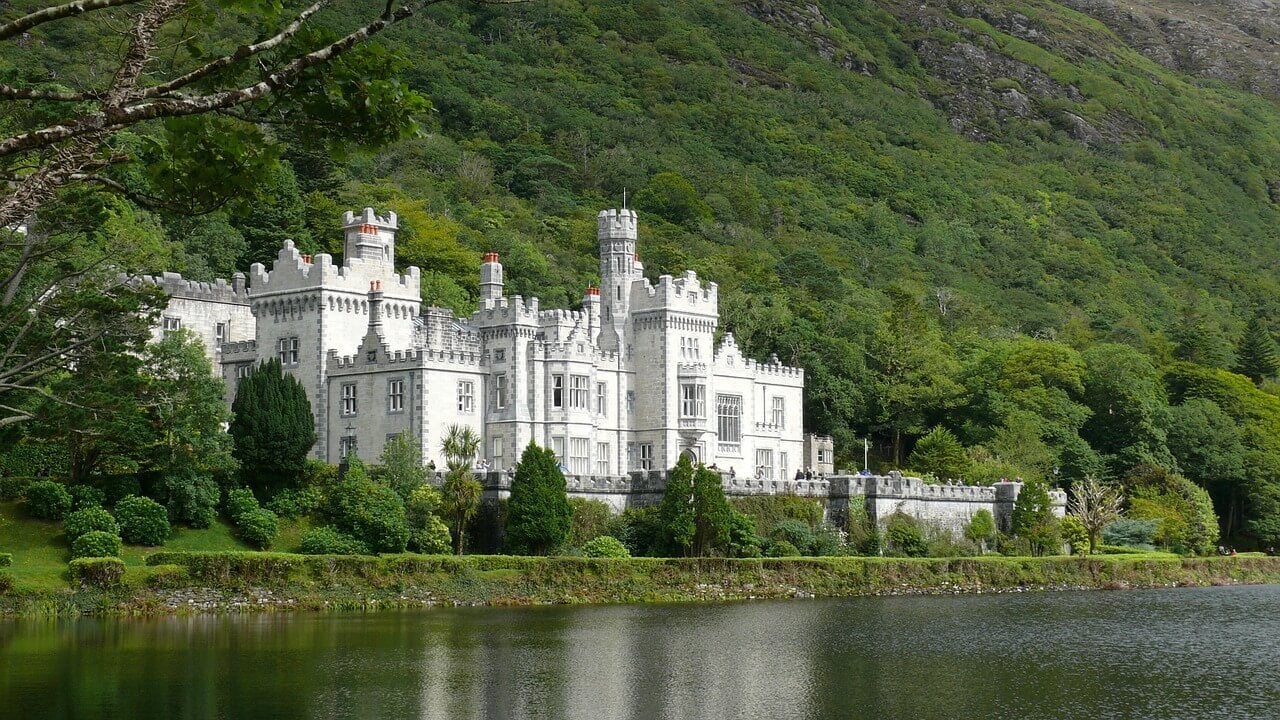 Galway is a harbour city on the west coast of Ireland. The city is beautiful, lined with stone-clad buildings and narrow, winding streets packed with cute boutiques and art galleries. Moreover, there is just so much to do in Galway! From visiting Kylemore Abbey to walking through Connemara National Park, to checking out Dunguaire Castle, there is something for everyone in Galway.
Galway is home to some of Ireland's coolest castles, so why not book yourself in for a couple of nights to make your trip even more unique?
Best Places to Stay in Galway
Galway is actually the sixth most populous city in Ireland and is home to some awesome neighborhoods. Kinvara is the best area to stay in Galway for nightlife and Salthill is the best for staying on a budget. But, I have to recommend staying in Galway city if it's your first time in Galway as it's the true heart and soul of Galway.
Oranhill Lodge is a charming family-owned and operated bed and breakfast. It oozes Irish charm with its' manicured lawn and traditional red brick walls. You'll love the complimentary, and very hearty, Irish breakfasts served each day. Plus, you'll be very close to a Lidl, should you need to make a quick run for any necessities.
This two-bedroom and two-bathroom condo is yours for the taking, right in the heart of Galway – and it's one of the best Airbnbs in Galway too. It's surrounded by plenty of pubs and clubs, so you won't be lacking in the fun department. Plus, it's built on the River Corrib, with mill races and four little streams running underneath the building, offering spectacular views.
The Nest Boutique Hostel is a charming Galway hostel located close to all the bars and restaurants in Salthill. It's actually just a minute's walk from the beach and from the seaside promenade. You're sure to love the chilled-out vibes and the cool common areas. There is also complimentary tea, coffee, and hot chocolate provided 24/7. The Nest will be your home away from home in Galway!
Limerick – Best Place to Stay in Ireland For Families
When staying in Ireland with a family in tow, staying in Limerick promises a memorable, and stress-free experience. Limerick spans the backs of the River Shannon, which is lovely to wander around. You can always kayak along it, or go dolphin-watching where the river meets the Atlantic. Plus, there is the iconic King John's Castle on the riverbank that will certainly call you and your kid's names— it's a must-see!
Truly, this castle is such a fun, and beautiful, castle to tour to get a real taste of medieval Ireland. Moreover, inside the castle is a museum that was designed to be very hands-on, complete with costumes and all.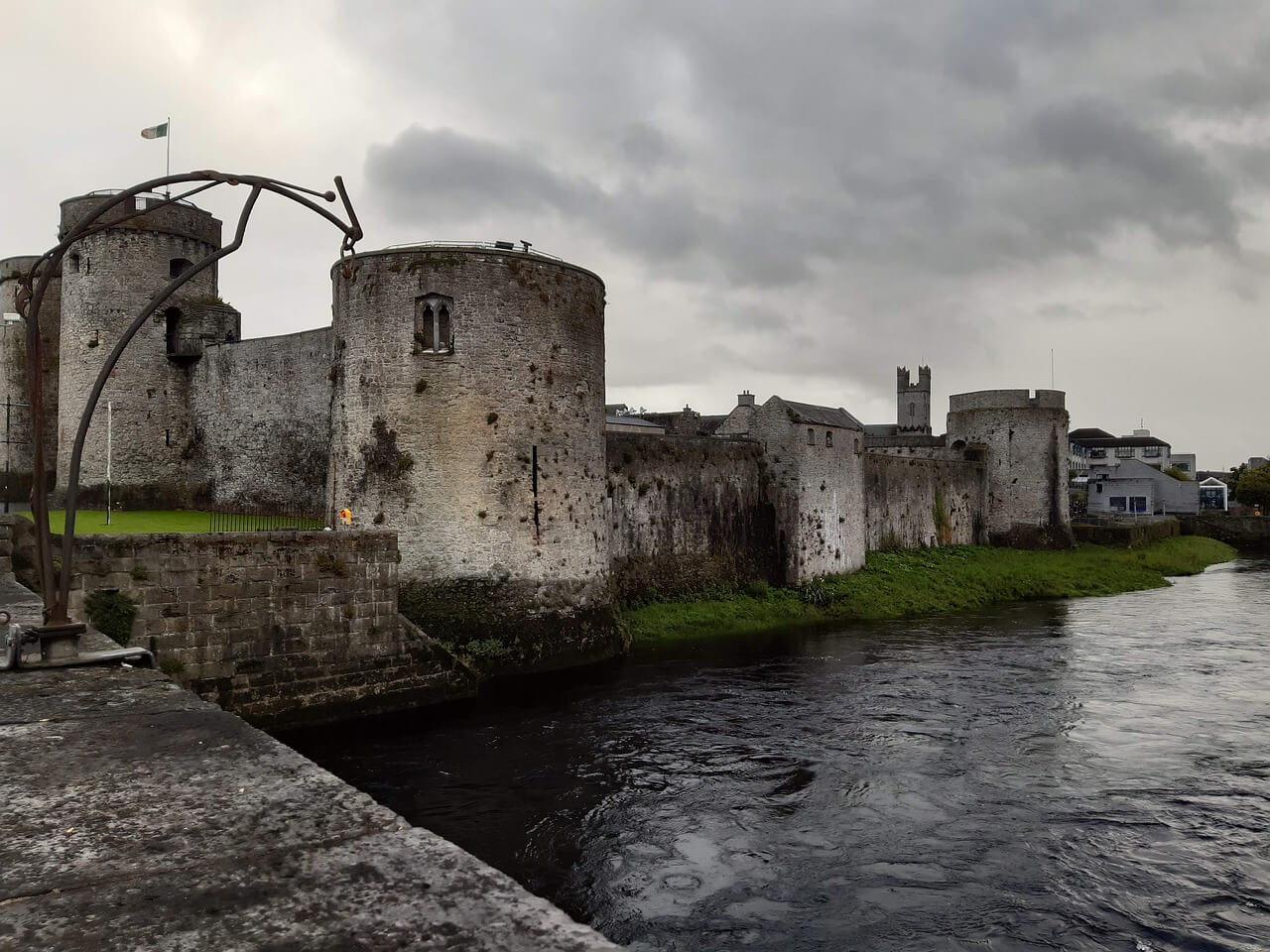 Furthermore, Limerick has a charming old town complete with St. John's square that is lined with gorgeous Georgian townhouses. Make sure to stop into an Irish bakery to pick up some goodies. And If you're feeling artsy, go ahead and catch a play or production at the Belltable Arts Center. Or, if you're more in the mood for something athletic, take the kids for a mountain bike ride around the trails of Ballyhoura.
Best Places to Stay in Limerick
To really get a true feel for the beautiful city of Limerick, I recommend staying close to the city center. Even in the city center, you'll still find tons of historic buildings and easy street parking!
The Old Quarter Townhouse sits right in the heart of Limerick city center, close to all the local attractions and to great restaurants too! The rooms are quite comfortable and are nicely located. You and your family will love staying in the heart of town in these affordably priced, cozy rooms!
Check out this Limerick hostel! The George Limerick Hotel is a luxury boutique hotel that's located right in the city center. It's the perfect spot to stay for exploring the city on foot. Also, the rooms are designed to impress, so you and your whole family will be staying in complete comfort. Lastly, it is important to note that the spacious rooms are really huge by European standards!
The Wilmont is an Airbnb that is run like a bed and breakfast. It is a positively charming brick Victorian home that is within walking distance from the city center. The building was actually built in 1898 but was restored to its full glory 100 years later in 1998. You and your family will love staying at this Airbnb in Ireland!
Sligo – Most Romantic Place to Stay in Ireland
Ever heard of Sligo? It's sure not Dublin, but what it lacks in notoriety, it makes up for with charm! Sligo is a coastal seaport town in the North of Ireland. It is a more modest and humble town than other popular tourist hotspots in Ireland, which makes it the best city to stay in Ireland for a romantic getaway. Up the privacy and intimacy factor, by staying in this historic town!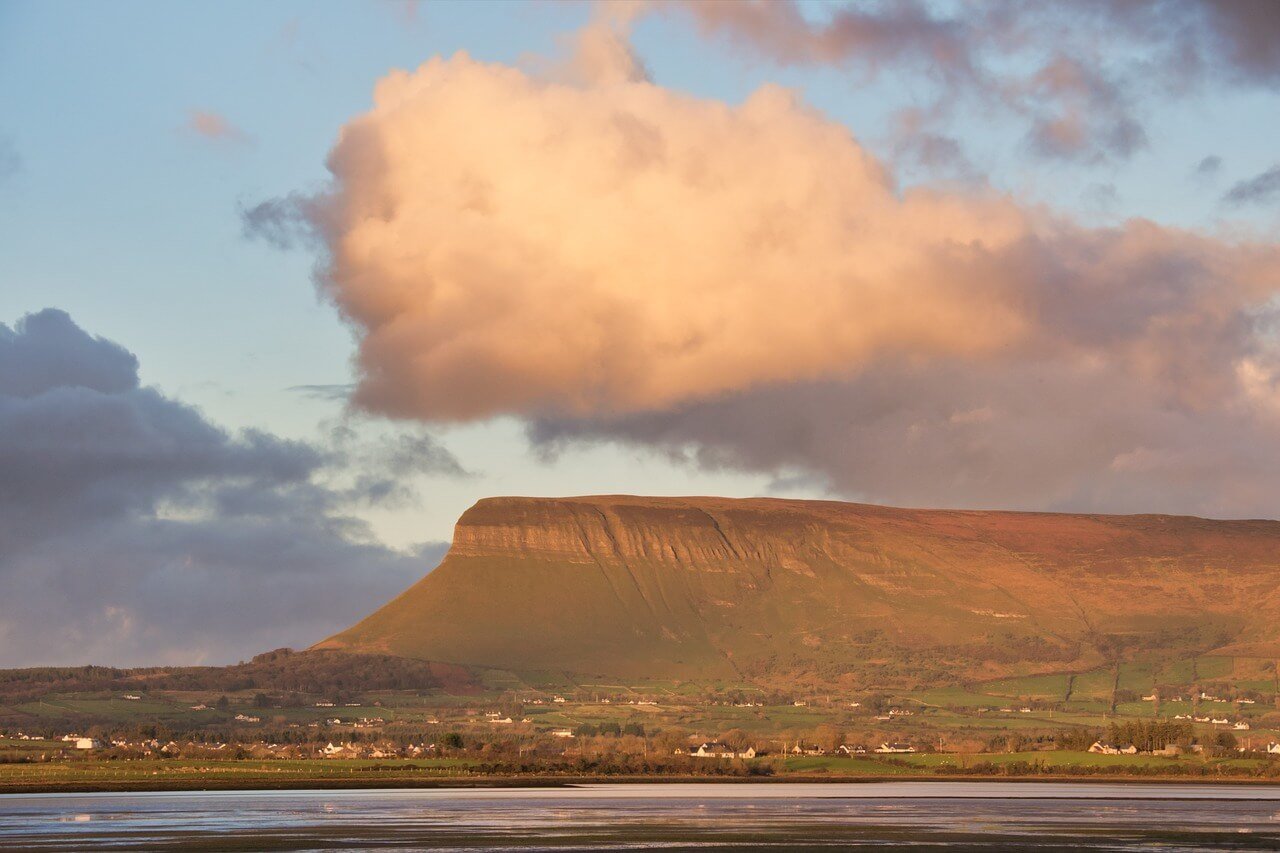 One of Ireland's four most prominent Neolithic sites dwells in Sligo. The Carrowmore Megalithic Cemetery is actually older than the pyramids of Egypt! Also, taking in the beyond majestic beauty of Benbulben, a shale and limestone mountain that is bizarrely shaped, is quite the treat for the eyes. There is also a trail that leads up the south slope of the mountain that offers magnificent views from the top. Furthermore, make sure not to miss out on touring the 1253 gothic Monastery of Sligo Abbey.
As you can tell, Sligo is jam-packed with incredibly romantic things to do, from hiking to seeing Paleolithic sites to walking through the pebble beaches of Sligo Bay. This rural location really is the most idyllic setting for your getaway.
Best Places to Stay in Sligo
Bring on the romance! These are some of the top places to stay in Ireland, not just in Sligo. I positively adore the lodging in Sligo, and I'm sure you and your honey will too!
Get ready for a stunning stay at the Glasshouse! This hotel has an incredibly unique design and sits right on the Garavogue River. The rooms are luxurious and stylish. If you can afford the extra little price bump, the Glasshouse is definitely the place to stay. If you really want to stay in luxury though, consider checking out a hotel in Ireland with a private hot tub.
This three-bedroom townhome in Sligo has your name on it. In a central location, with Doorly Park entrance right off your front doorstep, you have everything from supermarkets to scenic walks! There is a kitchen that you can cook in, and a cozy couch to snuggle up on with the whole family.
Is This the Best Backpack EVER???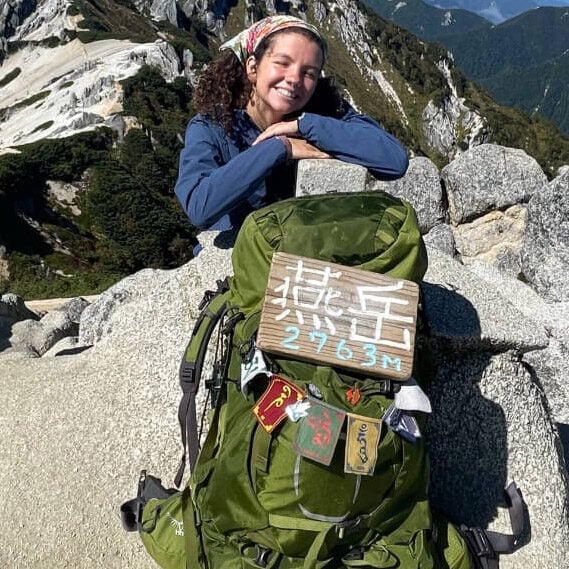 Cork – Coolest Place to Stay in Ireland
As Ireland's second-largest city, Cork resides on the coastlines of southwest Ireland and is sliced by the meandering River Lee. Cork is known for being the perfect mix of relaxed yet lively. Make sure to note that the locals like to say that the city of Cork is the real capital of Ireland. The locals sure have abundant city love and pride.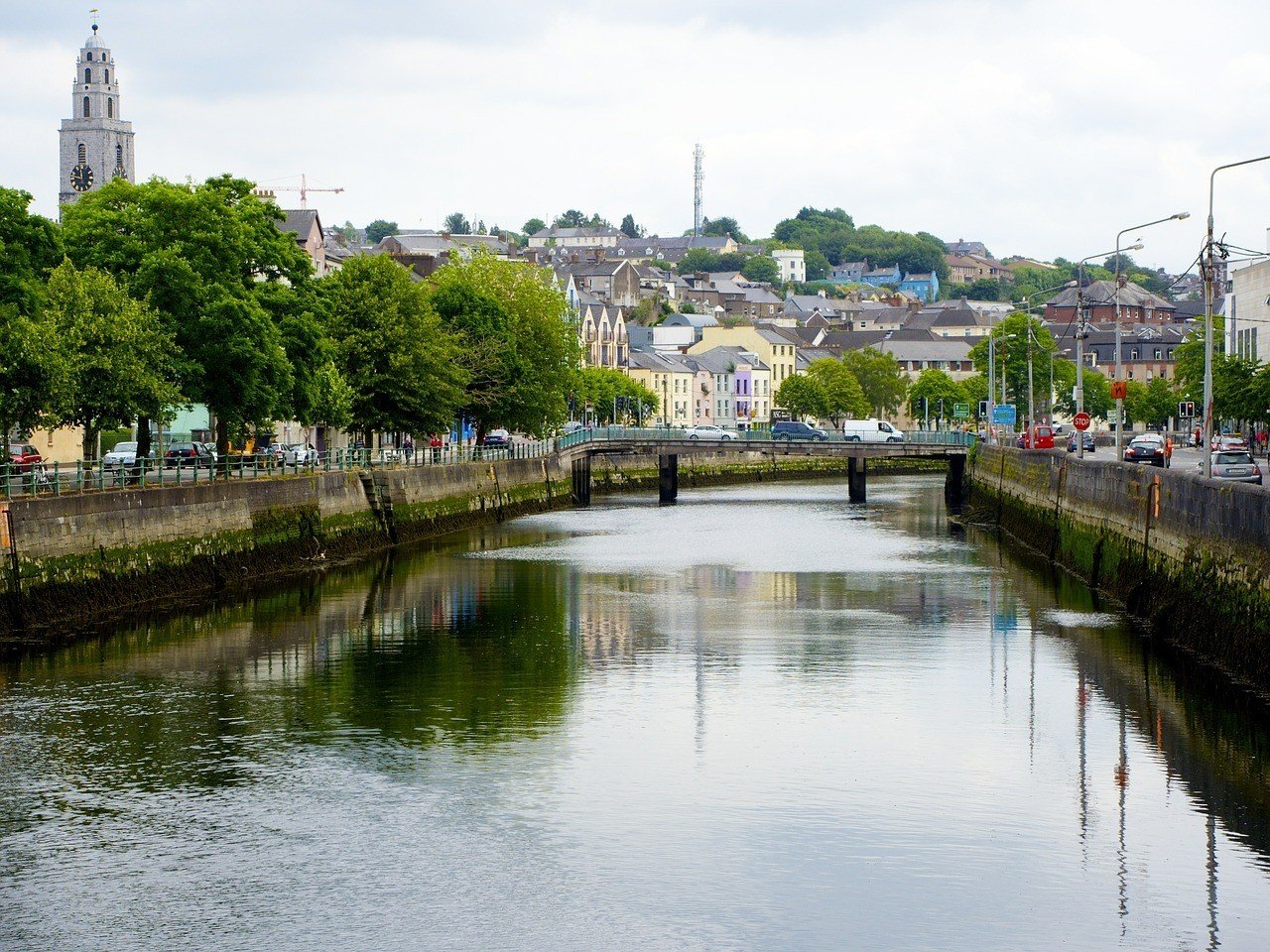 This cosmopolitan city is filled with hip, new things as well as traditional pubs and historical gems. I love all the live music happenings throughout the city— you never know what type of music you will find on any given night! There are also, arguably, the best gastronomic delights in the country. Head on over to Market Lane for a fabulous meal, or why not try Paradiso for some delicious vegetarian cuisine?
Whether you want to check out the Cork City Gaol or go urban kayaking through Cork's waterways, you're sure to find unique things to do in one of the best cities in Ireland! So let's have a look at where to stay in Cork!
Best Places to Stay in Cork
As Cork has officially been dubbed the "Coolest Place to Stay in Ireland" by me and by the entire population of the city itself, you're sure to love these accommodation options— handpicked for maximal cool factor points!
Hotel Isaacs Cork is in a gorgeous boutique hotel full of beautiful red bricks and thoughtful touches. You'll be very close to the city center and will love your clean, quiet, and immensely comfortable rooms. Beautiful wooden floors, tasteful accents, and an award-winning restaurant make Hotel Issacs Cork the place to be!
That's right! Why stay in a boring ol' room when you can stay in a treehouse? Never fear; this treehouse is fully insulated, has a heater, and is ready for guests! You'll be hanging out six meters off the ground, with an incredible view of cork city from your window. Below the treehouse is a full, private bathroom. Get ready for an unforgettable experience from up on high! There are many unique vacation rentals in Ireland, but none are just like this one.
Get ready for a warm Irish welcome at this classic Cork hostel and pub! Enjoy daily happy hours and discounted drinks for guests. There's even live music every single night of the week. How does free breakfast sound, too? That's right! Bru Bar and Hostel hostel is a dream come true!
Dublin – Where to Stay in Ireland on a Budget
It probably comes as no surprise that the best place to stay in Ireland on a budget is Dublin. As the country's capital, and as a major international transportation hub, getting to and from Dublin is usually pretty cheap! At least when you're comparing it to renting a car and taking tons of trains to get to more remote areas of Ireland or as a great base for some day trips from Dublin.
There are also loads of things to do in Dublin. Roam around Temple Market and do some fun window-shopping in this huge open-air market. Plus, you can stock up on yummy free samples. Also, take a stroll through Phoenix Park and see the Victorian flower gardens and the herd of wild deer wandering, plus check out the zoo there.
As one of Europe's largest urban parks, there are plenty of acres to explore! And guess what? Parts of Dublin Castle are free to visit! While not the entire castle is free of charge to visit, you can see parts for free, like the Garda Museum and the Chapel Royal. Moreover, the Irish Museum of Modern Art also offers free admission and is located in a gorgeous 17th-century Royal Hospital. While that might not sound fancy, it certainly is! The grounds are absolutely stunning.
Best Places to Stay in Dublin
There are tons of great neighborhoods to stay in Dublin but you can't beat the vibrant nightlife in the Temple Bar district. While there are more quaint and picturesque neighborhoods like Donnybrook or the coastal suburb of Dun Laoghaire, things can get pricey. So stick to Dublin's city centre if you're on a budget!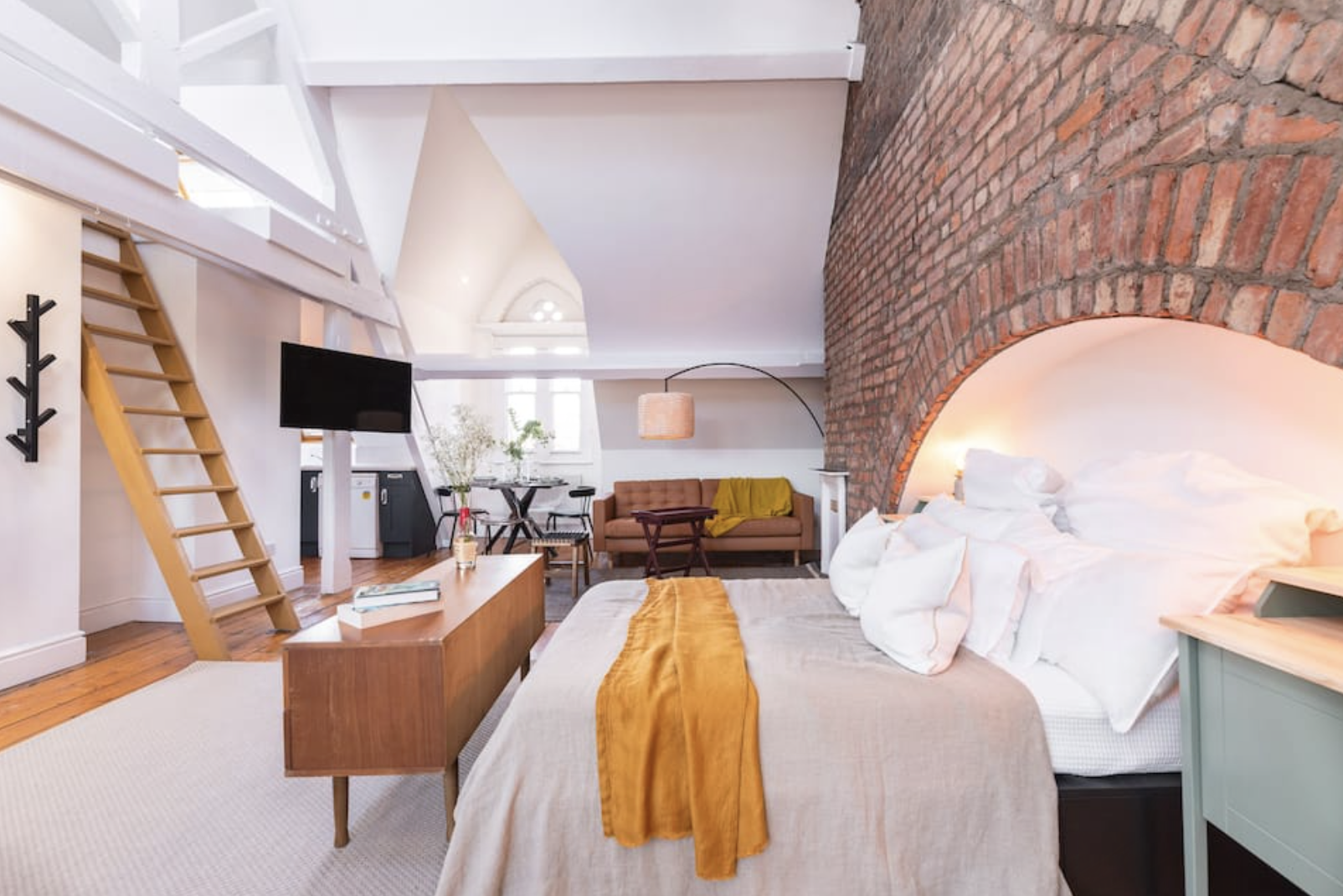 Stay in the heart of Dublin at the Beresford Hotel without breaking the bank. You can find rates for well under $100 a night, which is a bit of a feat when we're talking about Dublin hotels. You'll be close to Connolly Station and across from the bus station. It's a very convenient location with a delicious breakfast buffet.
Looking for a central location? Well, you can't get better than this stunning one-bedroom, one-bathroom apartment on George Street. With beautiful, original features and a small kitchen, this apartment is an ideal spot for a night on the town without the cost of a taxi home.
Stay super close to Temple Bar at this lively hostel right in the center of Dublin! Plus, you're close to the Busaras main bus station and from the Connolly train station too. It's a very social hostel, with lots of events and activities, from pub quizzes to pizza nights. Additionally, free breakfast each morning is an added perk!
The Future of the SIM Card is HERE!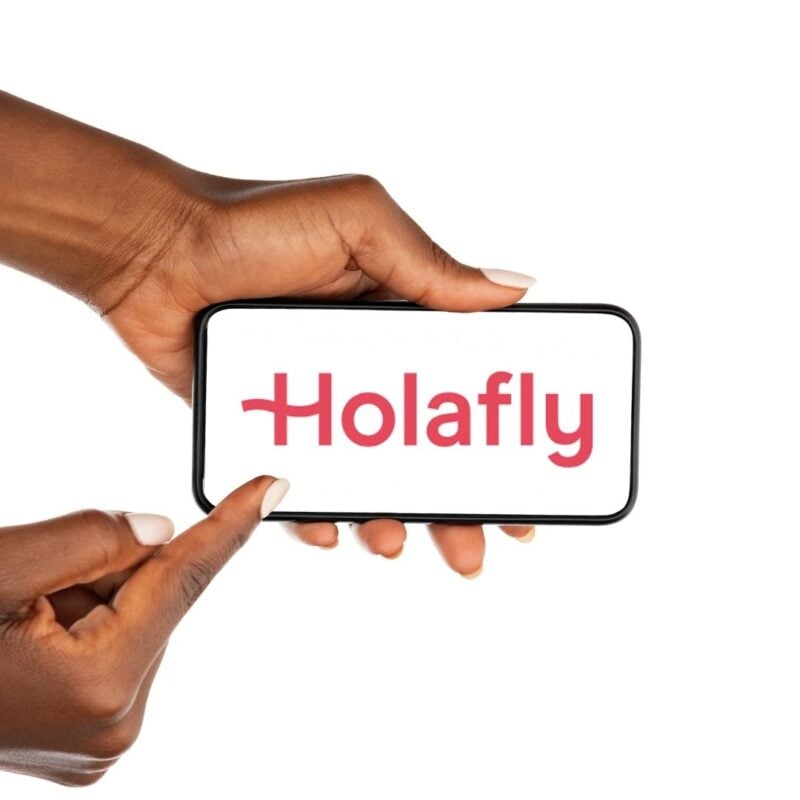 A new country, a new contract, a new piece of plastic – booooring. Instead, buy an eSIM!
An eSIM works just like an app: you buy it, you download it, and BOOM! You're connected. It's just that easy.
Is your phone eSIM ready? Read about how e-Sims work or click below to see one of the top eSIM providers on the market and ditch the plastic.
Grab an eSIM!
Dingle – One of the Most Unique Places to Stay in Ireland
Dingle is a tiny port town in southwestern Ireland where the population is just a smidge over 2000 people. The local language here is Irish, although most locals will gladly communicate with you in English.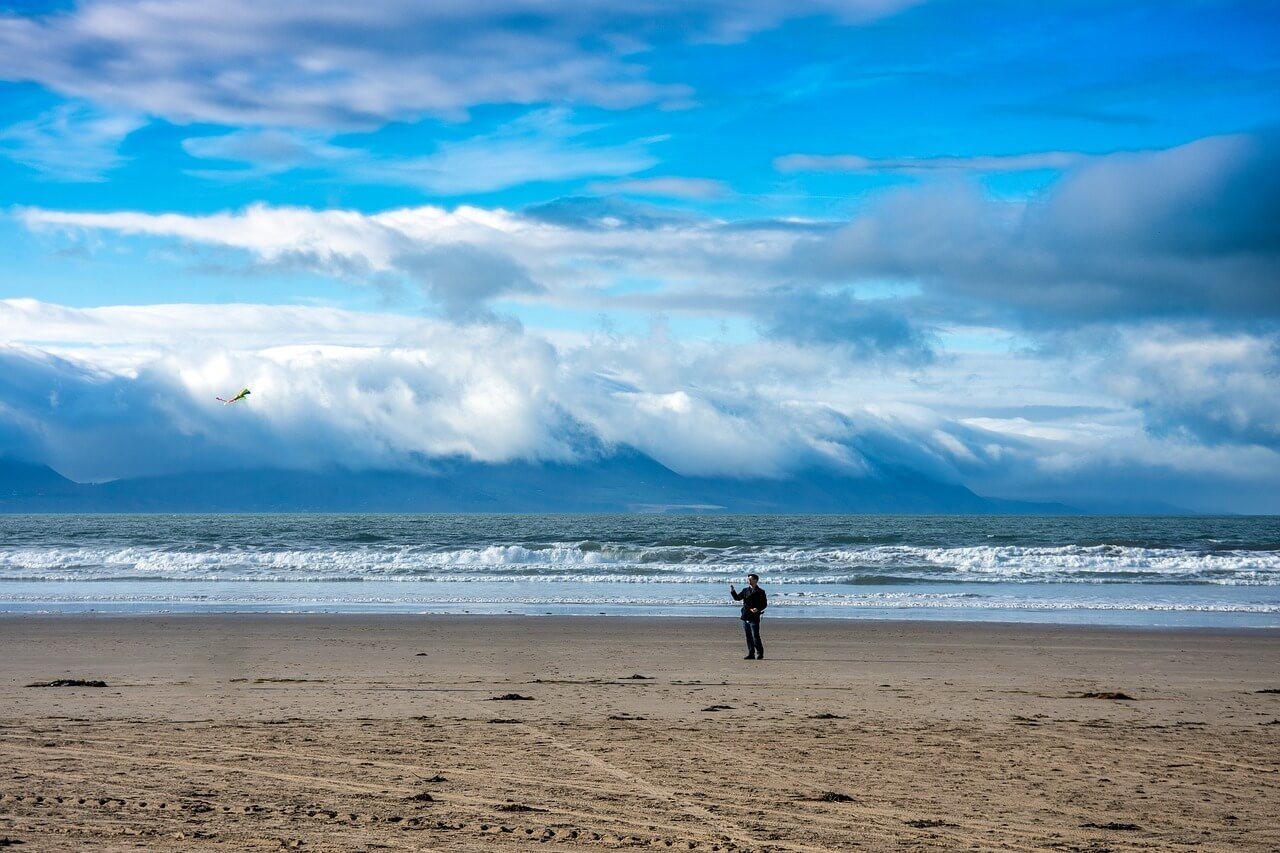 Dingle is by far one of the most unique places to stay in Ireland and offers more than just sandy beaches. You can go dolphin watching, or actually go swimming with the friendly neighborhood dolphin, Fungi. Yep, Dingle actually has a pet bottlenose dolphin swimming around the harbor and loves swimming with the locals and the tourists. How about that for unique experiences in Ireland?
If you've already checked seeing Fungi off your list, why not go surfing at Inch Beach or try some Chocolate Whiskey or Pink Champagne Ice-cream at Murphy's Ice Cream? Do a pub crawl, go sailing, and eat some fresh fish… check some authentic Irish experiences off your list here in Dingle.
Best Places to Stay in Dingle
Since Dingle is a tiny town, there's not really a need to explain the different neighborhoods or anything. There's just a small smattering of guest houses, hotels, and Airbnbs to choose from, but don't worry— these Irish accommodation options are gems! For the budget traveler, there are a bunch of great hostels in Dingle too.
Okay, this hotel is a bit of a splurge but it's positively quintessential Dingle! Staying in this picturesque hotel is a real treat—located in the heart of Dingle, quite close to the pier. There's also a delicious restaurant and bar inside! The restaurant sure does serve up some Dingle delights, from mussels to lamb.
This chic apartment is yours for the taking! It's a two-bedroom and one-bathroom apartment right in the city center. It actually sits directly opposite a church that has some lovely gardens. The apartment is filled with stylish, original artwork and a small kitchenette. Moreover, free and convenient parking is right next door. An ideal holiday rental to explore the surrounding countryside.
The Grapevine Hostel in Dingle is Dingle's oldest hostel. It's proud to offer guests a complimentary breakfast, 24/7 tea and coffee, and luggage storage. Plus, there's even a community kitchen to whip up some meals or snacks in! This hostel is located just around the corner from all the best that Dingle has to offer— from restaurants to pubs to the cinema!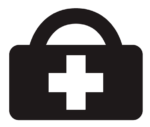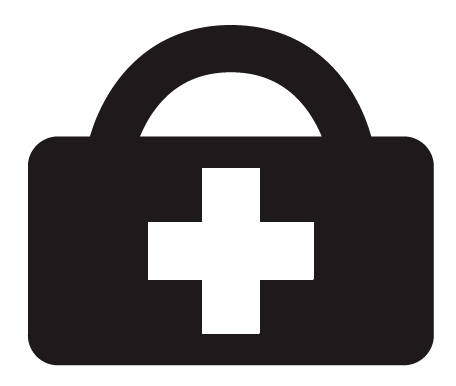 Ireland is a very fun place and one could easily get carried away while visiting. It's important to remember that no country is perfect though.
Read our safety guide for Ireland before planning your trip so you will be extra prepared when you arrive.
Save $$$ • Save the Planet • Save Your Stomach!
Drink water from ANYWHERE. The Grayl Geopress is the worlds leading filtered water bottle protecting you from all manner of waterborne nasties.
Single-use plastic bottles are a MASSIVE threat to marine life. Be a part of the solution and travel with a filter water bottle. Save money and the environment!
We've tested the Geopress rigorously from the icy heights of Pakistan to the tropical jungles of Bali, and can confirm: it's the best water bottle you'll ever buy!
View on REI
Read the Review
Kerry – Where to Stay in Ireland for Adventure
Kerry County is located in the southwest of Ireland. It has rugged mountains, dramatic scenery, and beautiful coastlines; a true representation of the Emerald Isle. The most renowned in the area is Killarney National Park, which spans a whopping 10,000 hectares of land! Expect incredible trails wandering through moorland and forests. If you decide to take some time adventuring on the trails, you can't miss the epic landmarks of Torc Waterfall and Torc Mountain. How does that sound for adventure, my friends?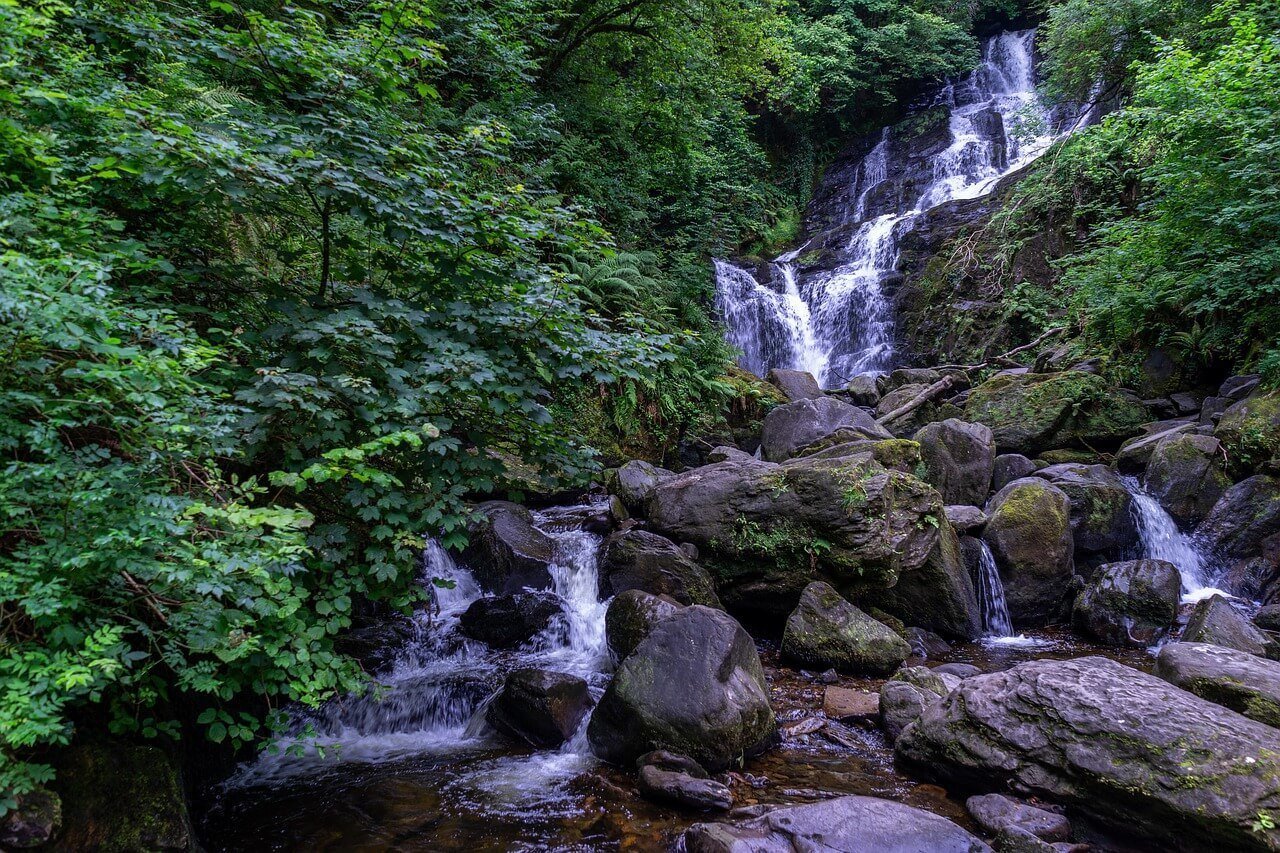 There are also numerous lakes inside this popular Irish National Park, so you can go for a swim, go fishing, or maybe even canoeing or kayaking!
If you want to get a real trek in Ireland on the books, take a guided trek up to the top of Ireland's highest mountain, Carrauntoohil. Get ready for an awesome 1,038-meter hike!
Best Places to Stay in Kerry
If you're looking for the best city in Ireland for adventure, you've come to the right place. If you're trying to figure out where to stay in Kerry, I've got you covered too! These three spots below are perfect home bases for you adventurers out there!
Tralee Benners Hotel is located in Tralee, in Kerry County. It has an on-site bar and is ridiculously close to the Siamsa Tire Theatre! The rooms are spacious and the bathtub is a real treat! Moreover, it's just an overall great value hotel that still has lots of Irish charm.
Kerry Ocean Lodge is the closest thing to a hostel that Kerry has! It's a twenty-bedroom lodge with no dorm rooms. However, they do offer epically affordable room rates! Located in Glenbeigh, right inside the Ring of Kerry, you'll love having Kerry Ocean Lodge as your spot to start your kayaking, trekking, or cycling, and it's just a stone's throw from the nearby mountains.
Kilkenny – Where to Stay in Ireland for Saint Patrick's Day
Kilkenny is in southeast Ireland and is an old Medieval town that still has an abundance of well-preserved monasteries and churches. From St. Canice's Cathedral to the Black Abbey Dominican priory, to the impressive Kilkenny Castle, you're sure to have your jaw drop a time or two when visiting this incredible Irish city!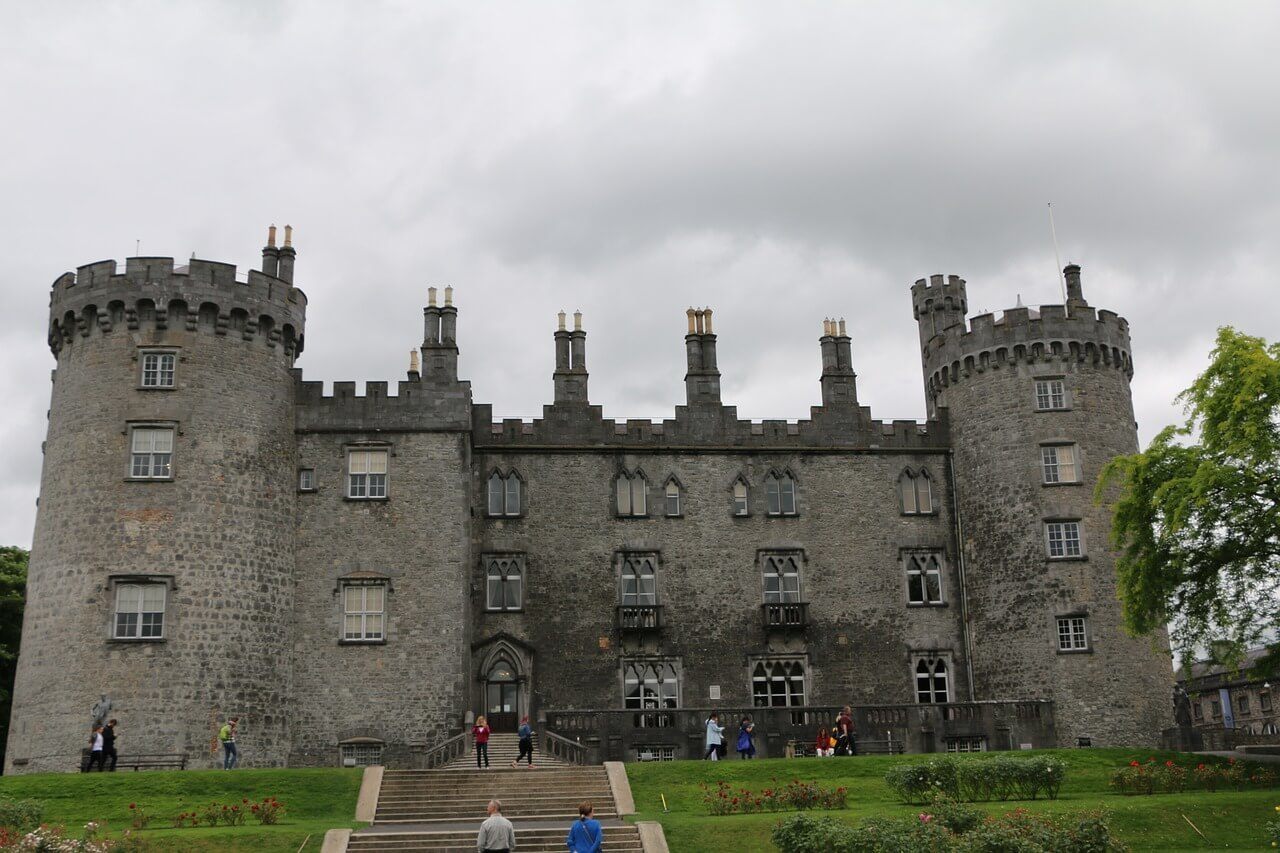 However, if you're heading to Ireland for St. Patrick's Day, you're sure to want to know the best place to go for this authentic Irish experience! Kilkenny is the answer. There is an epic parade and a Post Parade Party where free entertainment abounds. Kilkenny really goes above and beyond to make sure guests have the best experience, with activities like getting to try the bagpipes, traditional Irish dance performances, and a medieval Viking village! Really, Kilkenny has it all!
Best Places to Stay in Kilkenny
Kilkenny is packed with the awesome and the adorable. There's so much to love about all the cool Kilkenny accommodation options out there. Picking just three was a battle. Yet here I stand, victorious!
The Hoban Hotel is not just affordably priced; it's completely iconic. This stylish hotel sits outside of the city center by about a twenty-minute walk, but trust me; it's worth every inch of the distance you'll have to cover! It's bright, modern, spacious, and completely gorgeous. Can I just go with gorgeous? Plus, you'll love the complimentary breakfast, with a nice variety of foods offered and set in a stunning dining room.
This affordably-priced private double room in a Kilkenny house has your name on it! It's an elegantly decorated room that oozes Irish charm. Enjoy garden views from your windows, and free on-site parking! Furthermore, the house is actually located within the former walled garden of Kilkenny castle. Talk about cool!
Macgabhainns is a Kilkenny hostel situated right in the center. In fact, you'll be just a ten-minute walk from Kilkenny Castle! This hostel is pretty darn fantastic, with complimentary breakfast, easy parking, and security lockers. What's more? They even wash your dishes for you. I love the BBQ area and the outdoor garden. Got to love a hostel with all these extra bells and whistles!
The Top Places to Stay in Ireland
There are so many awesome places to visit in Ireland that choosing a top 3 is tough! Let's get right down to business and cover my top choices of the best Ireland accommodation option.
Best Hotel in Ireland – Sligo – The Glasshouse
With incredibly innovative design and a completely unique exterior, your stay at The Glasshouse in Sligo promises an unforgettable experience. Centrally located, and overlooking the water, this hotel is true perfection. Moreover, you'll be quite close to all the Sligo highlights, from the Sligo Abbey to the Sligo Holy Well to the Cathedral of Immaculate Conception!
Bru Bar and Hostel in Cork is a backpacker's dream come true. With a welcoming Irish atmosphere and live music played every night of the week, you'll love staying in the heart of Cork! You're sure to make friends at this super social, especially vibrant Irish hostel.
Books to Read when Backpacking in Ireland
Here are some of my favorite books set in Ireland:
Ulysses — It has survived censorship, controversy, and legal action, and even been deemed blasphemous, but remains an undisputed modernist classic: ceaselessly inventive, garrulous, funny, sorrowful, vulgar, lyrical, and ultimately redemptive. Classic James Joyce.
Collected Poems of W.B. Yeats — I first read Yeats during my Ireland trip. Check out what makes the most celebrated Irish so enjoyable to read.
Angela's Ashes — A Pulitzer Prize–winning, #1 New York Times bestseller, Angela's Ashes is Frank McCourt's masterful memoir of his childhood in Ireland.
The Dubliners — James Joyce's groundbreaking story collection of Irish-centered tales. They form a naturalistic depiction of Irish middle-class life in and around Dublin in the early years of the 20th century.

Our GREATEST Travel Secrets…
Pop your email here & get the original Broke Backpacker Bible for FREE.
FAQ about Finding a Place to Stay in Ireland
Don't Forget Travel Insurance for Ireland
ALWAYS sort out your backpacker insurance before your trip. There's plenty to choose from in that department, but a good place to start is Safety Wing.
They offer month-to-month payments, no lock-in contracts, and require absolutely no itineraries: that's the exact kind of insurance long-term travellers and digital nomads need.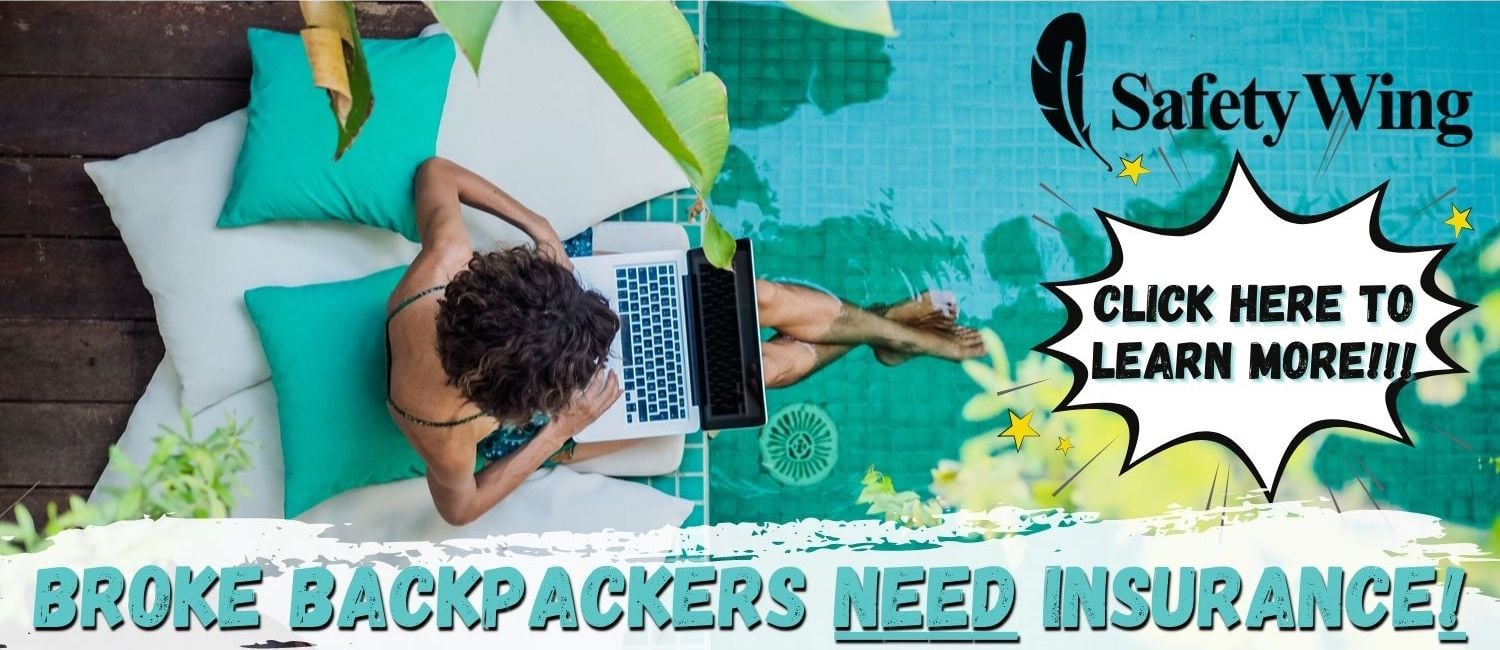 SafetyWing is cheap, easy, and admin-free: just sign up lickety-split so you can get back to it!
Click the button below to learn more about SafetyWing's setup or read our insider review for the full tasty scoop.
Final Thoughts on Where to Stay in Ireland
Ireland is full of beautiful places to visit that will excite absolutely everyone, from adventurers to history buffs to foodies! With incredible locations from Galway to Sligo to Cork to Dingle, you're sure to leave a little piece of your heart behind on the emerald isles!
Updated December 2022 by Megan Christopher
---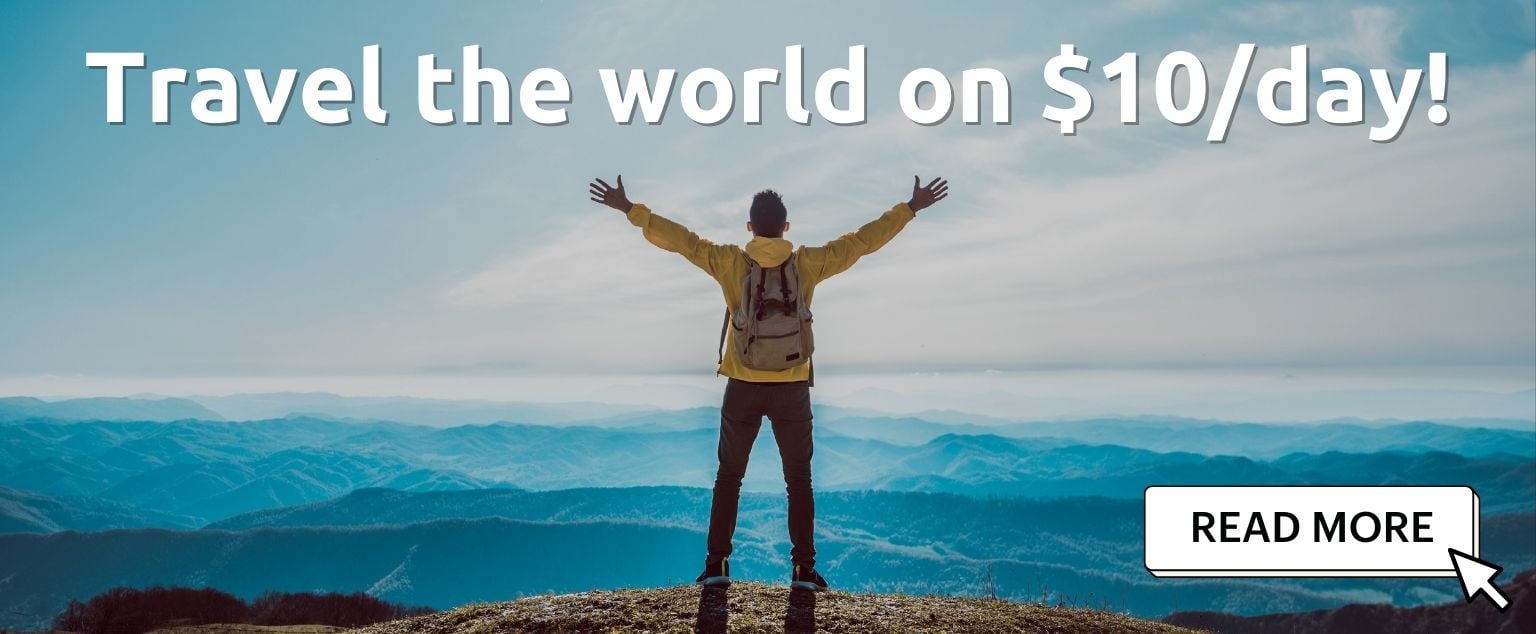 And for transparency's sake, please know that some of the links in our content are affiliate links. That means that if you book your accommodation, buy your gear, or sort your insurance through our link, we earn a small commission (at no extra cost to you). That said, we only link to the gear we trust and never recommend services we don't believe are up to scratch. Again, thank you!