Dublin is a lively city with an almost unending list of incredible things to do and see. There are heaps of unforgettable attractions, historic sites, stunning castles, ancient churches and lively old pubs. It's easy to fall for this city's rustic and raucous charms.
But as they say, when in Ireland, visit the green fields, quaint villages and dramatic cliffs. Okay, we're saying this, not 'they' but I'm pretty confident you'll agree once you see what the rest of the Emerald Isle has to offer.
Ireland is home to some of the most picturesque places in Europe, it's only fair that you drag yourself out of the pub for at least a few days on your trip and take the time to explore the stunning coastline and hilltops of the Island of Ireland.
Being a compact country it's easy to see some of the highlights of Ireland in just a day trip from Dublin city centre. Take some unforgettable adventures to dramatic soaring cliffs, rugged and rolling green countryside, fascinating and sometimes challenging cities. There are the 12 best day trips from Dublin.

Unlock Our GREATEST Travel Secrets!
Sign up for our newsletter and get the best travel tips delivered right to your inbox.
Half-day Trips From Dublin
Let's be honest, Ireland's weather is pretty unpredictable all year round, but that's what makes it so famously green! It can be sunny and cloudless one minute and an absolute downpour and blowing a gale the next. But never fear, because in Ireland you've got to learn to dance in the rain. Just be sure you pack a raincoat, some boots and an umbrella and you can take on anything Ireland has to offer!
Thankfully even if you're only in Dublin for a weekend, there's plenty of half day trips to take if you want to get out of the city once you've done all the epic things to do in Dublin first!
Howth and Malahide Castle
This is a classic half-day trip from Dublin and here you get a two-for-one deal! The historic 12th century Malahide Castle and the seaside village of Howth. Being just under an hour from Dublin, this trip is an ideal quick getaway from the city especially if you've got limited time to explore beyond the capital and want to see one of Ireland's best castles.
Built by Lord Talbot, a knight of King Henry II, the medieval Malahide Castle has been home to generations of the Talbot family until 1975. The castle grounds are bloody huge! You can visit the private gardens, which are a wonderful botanical haven, especially in the spring. On the other hand, the Butterfly House, the only one of its kind in Ireland, has a colourful collection of butterflies that will make your heart flutter! (Flutter – Get it! I'll let myself out!)
Hop on a short and scenic drive from Malahide to the coastal village of Howth. The dramatic ruins of the medieval abbey and defence towers of Howth date back to the times of Napoleon. Explore the incredible Howth Castle, which is still home to the descendants of the St Lawrence family to have held the land since the Norman Invasion of 1180.
How to get there: 30 min ride. From Dublin, take a bus or DART train to Malahide. The castle is approximately a 10-min walk from the village.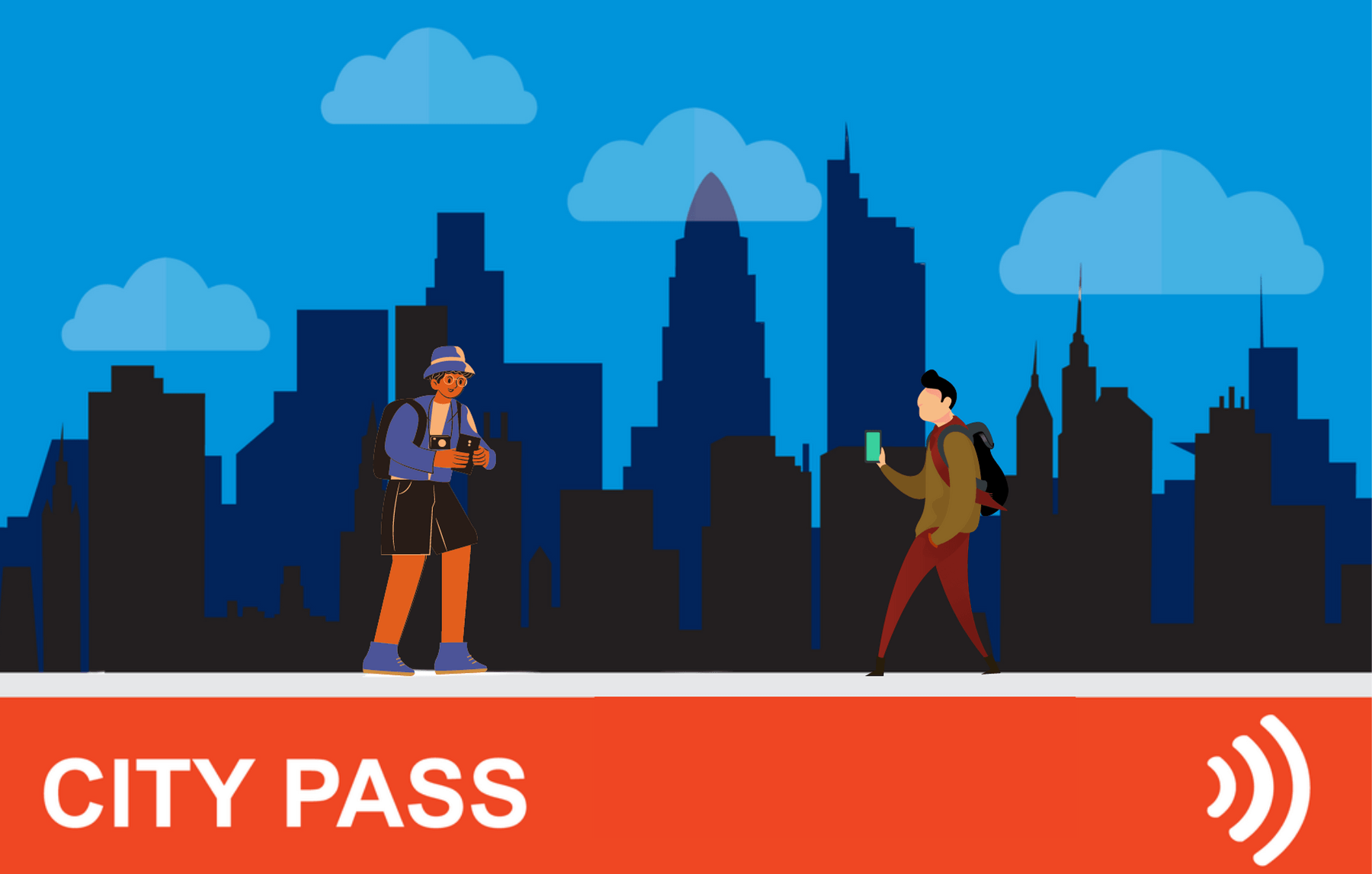 Travelling to Dublin? Then plan yo' trip the smart way!
With a Dublin City Pass, you can experience the best of Dublin at the CHEAPEST prices. Discounts, attractions, tickets, and even public transport are all standards in any good city pass – be sure invest now and save them $$$ when you arrive!
Buy Your Pass NOW!
Loughcrew Cairns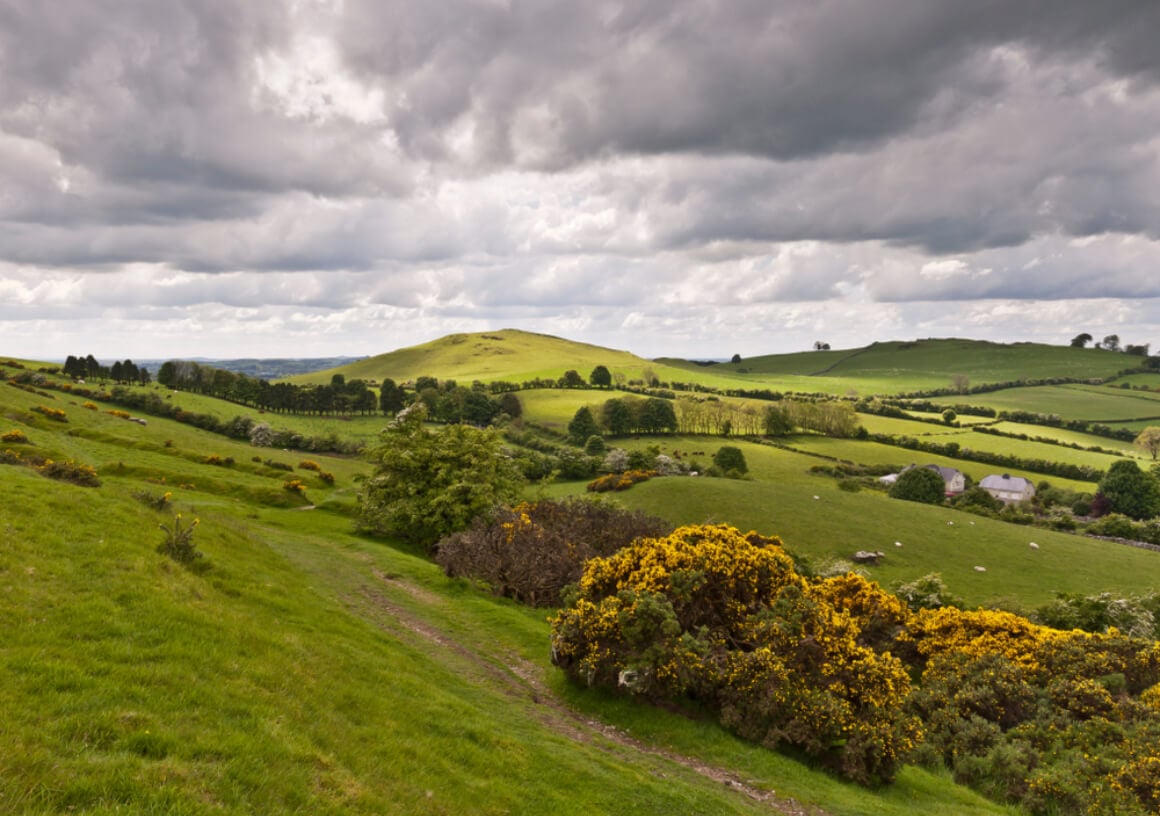 Ireland is full of mystery, fables and enchanting tales of Celtic myths. One of the most fascinating of these to visit is just out of Dublin. The Hills of the Witch, also known as the Loughcrew Cairns, are a group of ancient passage tombs from 3000 BC. Yes, they're that old, an estimated 5,200 years! Who doesn't love exploring mysterious prehistoric sites with captivating histories?
Loughcrew Cairns is one of the most important Neolithic cemeteries in Ireland. Located near Oldcastle (an appropriate name!), it's a group of thirty tombs that sits over a range of rolling hills. These tombs lie under huge "cairns" – great mounds of earth and stones. Some of the tombs have rare megalithic art and pagan carvings in them.
The highlight of Loughcrew is Cairn T, which is one of the largest and best-preserved tombs. It's a marvel of early engineering and years of studying the sky by ancient humans. The cairn aligns with the rising sun on the spring and autumn equinoxes.
Be sure to check out the Hag's Chair – a stone throne on the north of Cairn T. It's customary to sit here to make a wish. Will you have the luck of the Irish with your wish?
How to get there: 1 ½ hour drive from Dublin.
Suggested Trip: Celtic Boyne Valley Tour
Is This the Best Daypack EVER???
Full-day Trips From Dublin
If you're spending several days in Dublin, it's always a good idea to go on a day trip or two out of the city to visit some of the other incredible places around the country. If you think you've fallen in love with Ireland whilst sipping Guinness and singing along with the lively locals.
Well, just wait until you get out and see the lush green mountain sides, craggy cliff sides, quaint villages and characterful cities. There might be plenty of amazing places to visit in Ireland, but there's even more outside the city limits!
Kilkenny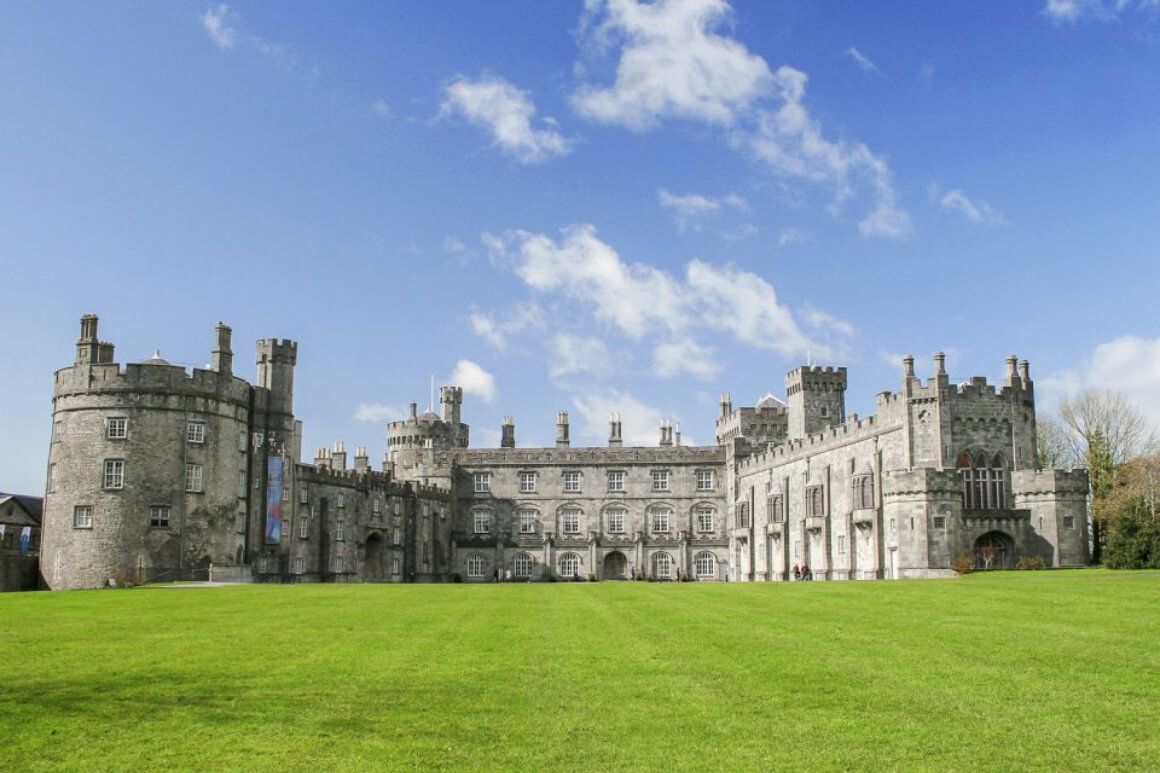 Looking for a pleasant day away from the busy streets of the capital city? The peaceful and photogenic Kilkenny should be on top of your list! This medieval town offers a glimpse into quaint old Ireland, The Ireland you dream of before making this trip. It's for that reason it ranks as one of our favourite day trips from Dublin.
Kilkenny is steeped in historical charm. The city is home to one of the most recognisable and important landmarks across Ireland, Kilkenny Castle. Dating back to the 12th century, this grand old castle and its sprawling grounds offer a wondrous step back in time. As you explore the fascinating Norman structure and its surrounding acres of rolling parkland you can't help but be mesmerised.
Also pay a visit to the Cathedral of St. Canice, an impressive medieval church with beautiful and vibrant stained glass. The narrow and winding streets of the old town are lined with shops selling books, gifts, jewellery and some of Ireland's best local crafts, glasswork and pottery. There are a number of wonderful local cafes and pubs; do check out Petronella, which holds storytelling events and offers classic Irish food with a twist or two.
How to get there: 1 ½ hour ride. From Dublin, take a train to Kilkenny.
Suggested Trip: Glendalough, Wicklow and Kilkenny Trip
Cliffs of Moher
The towering Cliffs of Moher that tower over the rugged and craggy coastline of the West Coast of Ireland are the county's most popular natural attraction. It's easy to see why so many flock to this stunning location where the power of nature can be overwhelming.
The Cliffs of Moher are truly gorgeous. The views over the Atlantic Ocean will take your breath away from the soaring 214m cliffside. If the weather is good then you'll have some staggering views from the top of O'Brian Tower and might be able to spot the Aran Islands to the north.
A stroll along the Doolin Cliff Walk with the invigorating spray of the cool sea air, the wild Atlantic wind blowing in your hair, is a truly magical way to experience this wondrous place. Its sheer beauty is one of the reasons that The Cliffs of Moher is our top favourite day trip in Dublin, especially if you have a love of the outdoors.
Reaching the Cliffs of Moher is a logistical challenge and time-consuming since it's around three hours away from Dublin. It's better to travel with a guided tour group.
If you're really keen to get away in nature and do some inner healing, then you might want to consider a yoga retreat in Ireland.
Suggested Trip: Cliffs of Moher and Galway Day Trip or Cliffs of Moher Full Day Trip
Belfast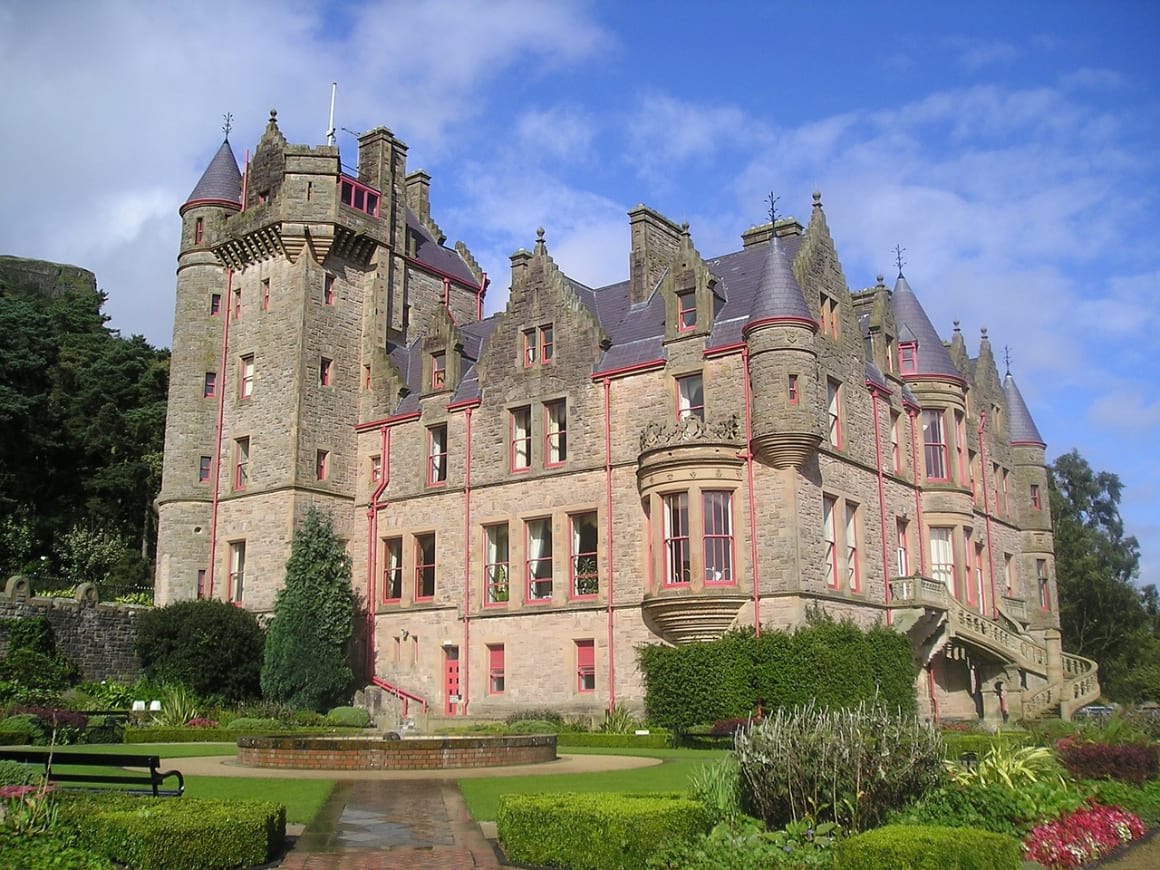 A day trip from Dublin to Belfast is sure to give you a different look at the island of Ireland. This fascinating city contrasts sharply with the touristy and polished version of this land portrayed in Dublin. You'll have lots of amazing things to see and do in Belfast.
The city has long been in the shadow of "The Troubles" and visiting the imposing murals that split the city between Loyalists and Unionists is a must. Don't be intimidated, here you will find welcoming faces willing to tell their history and stories of what it means to be Northern Irish.
Another show of the hardworking nature of the people of Belfast is a visit to the birthplace of the Titanic. It's from here that the ship set sail on its fateful maiden voyage. Spend some time exploring the city's Titanic Quarter, where the famous ship started its journey. At Titanic Belfast, an interactive museum, explore and learn the story and legacy of the iconic ship.
Start your day at St. George's Market with a classic Northern Irish breakfast like the Belfast Bap. Browse through the market's crafts and antiques' stalls and be sure to pay a visit to the copper-domed City Hall and St. Anne's Cathedral. There's plenty of great B&B's in Belfast too if you fancy staying a little longer to explore.
How to get there: 2 ½ hour ride. From Dublin, take a bus or train to Belfast.
Giant's Causeway and Game of Thrones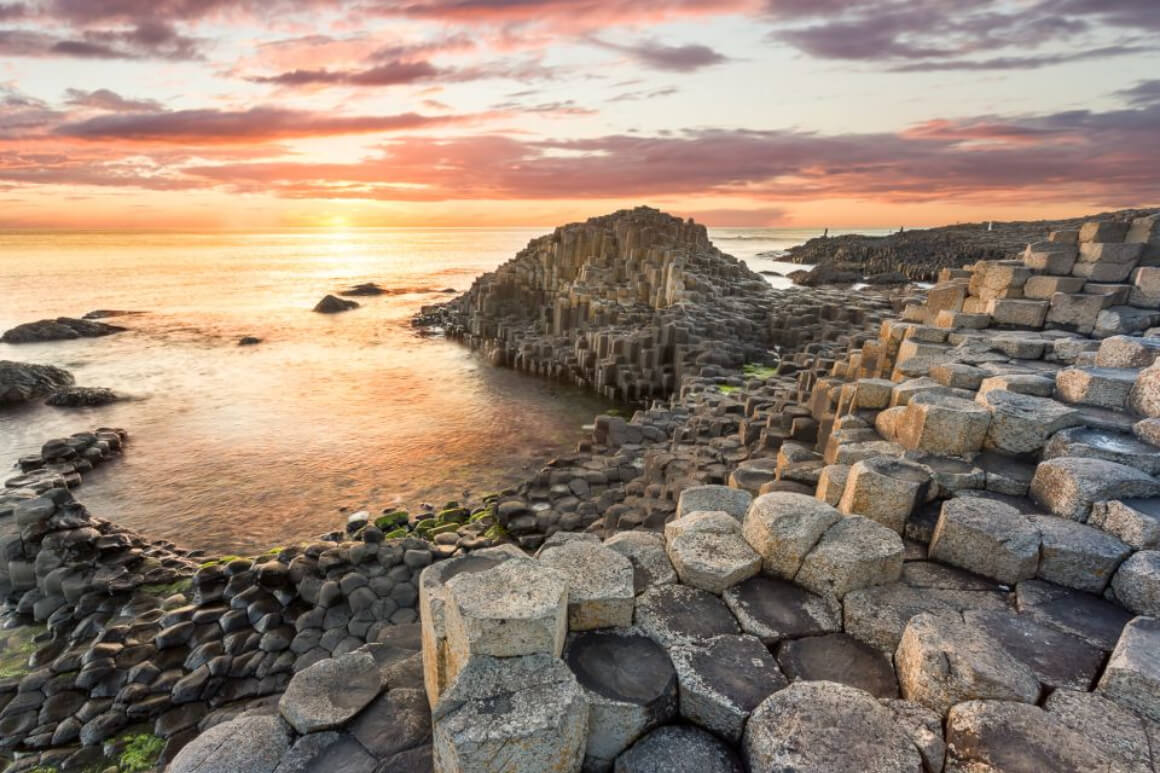 Fans of Game of Thrones gather around because we're ready to see some of the most stunning filming locations from the iconic TV series. The Causeway Coast in Northern Ireland is one of the most striking coastal routes in the country and has an endless amount of rugged and beautiful spots to visit.
The Giant's Causeway is an incredible landscape of 40,000 interlocking basalt columns created from an ancient volcanic eruption. This UNESCO Heritage Site is awash with legends of its formation: Finn the mythical Irish giant built the stepping stones that run from the foot of the cliffs into the sea.
Located on top of the cliffs is Dunluce Castle, the perfect location for the Greyjoys' Pyke of Game of Thrones fame. Another iconic location is the Dark Hedges, an avenue of beech trees, to be set as the King's Road. Along the Causeway coast, there are several other locations, like the ports of Westeros and Mellisandre's caves.
Closeby is the hair raising Carrick-a-Rede Bridge, dare you cross this 250-year-old rope bridge over the crashing waves below.
How to get there: 3 hours ride. From Dublin, rent a car and drive, or take a guided tour package.
Suggested Trip: Giant's Causeway and Thrones or Full Day Game of Thrones Tour
Galway & Connemara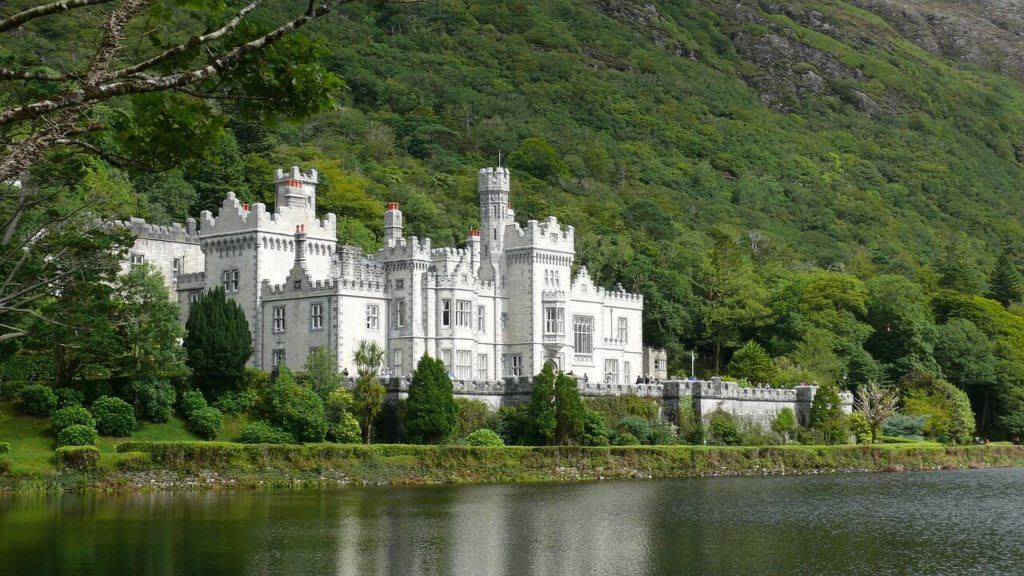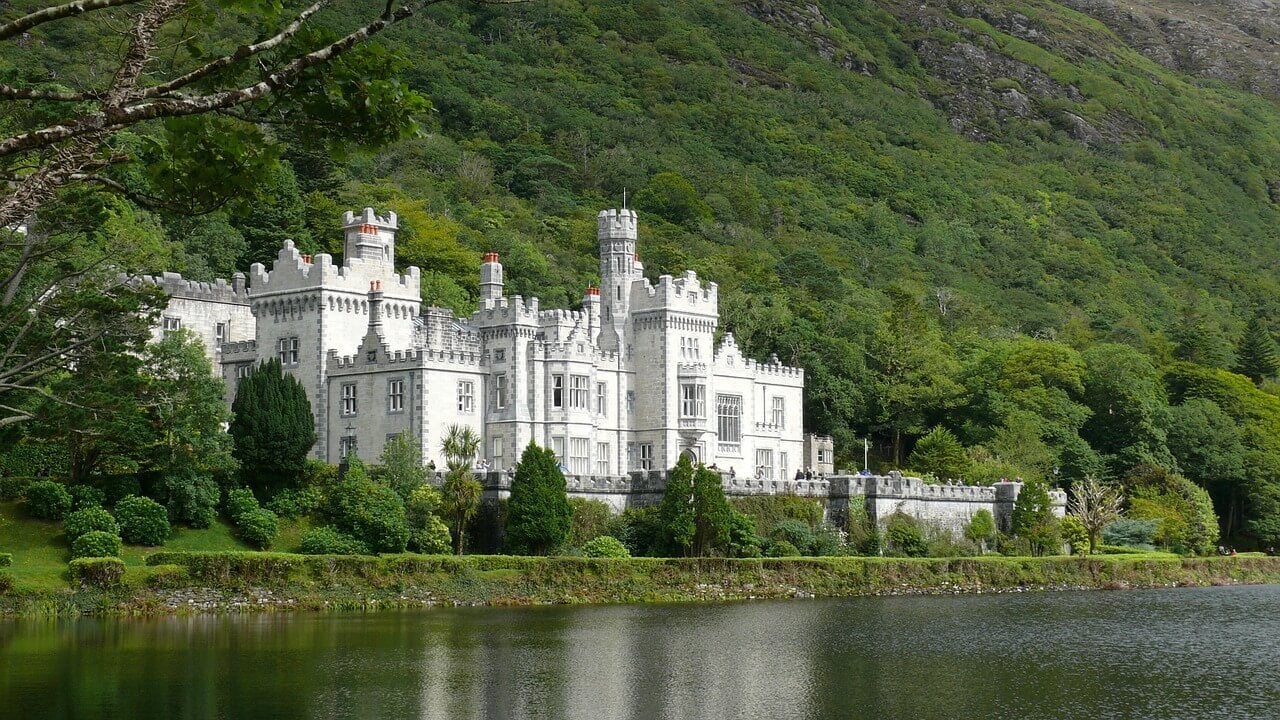 Craving for the taste and feel of the real Ireland? How about Galway, known as the most Irish city in Ireland. Immerse yourself in authentic Celtic culture through the music, people and history of Galway. Treat yourself to Galway's lively pub and food culture to get a real sense of the life and soul of the city.
The city isn't just lively, but beautiful too. With its characteristic and charming rows of colourful houses, a busy wharf and beautiful natural scenery, it's one of the best day trips from Dublin. The old city centre has several historical attractions, such as the 16th century Spanish Arch, the Galway Cathedral, Eyre Square and the Hall of Red Earl site.
Connemara is a breathtaking and must-visit district in Galway. If you're looking for Irish culture then this is the place to come. Many people here speak Gaelic and Irish dancing is popular. The Connemara National Park also offers gorgeous scenery, from mountains to lakes and ancient bogs. With so much to see and do around Galway, why not stay a day or two here. This centrally located hotel is ideal, with its Irish breakfast and elegant architecture.
How to get there: 2 ½ hour ride. From Dublin, take a bus or train to Galway
Cork
Cork is a youthful and cosmopolitan city with a colourful and dynamic vibe. Better known as the foodie capital of Ireland, Cork's narrow streets are packed with vibrant pubs, cafes, shops, restaurants and hip galleries. Oh and a haunted city Gaol too! So lots to keep you busy in Cork!
Cork is a city with the aura of a town, compact and easy-going with hospitable locals and countless snug pubs with top quality live music. With a wry sense of humour and a unique charm, you'll be sure to fall in love with this delightful city. Start at the lively English Market. Try from a variety of culinary delights, from local cheeses to handmade chocolate, to fresh seafood.
The city has an old-world charm with its Georgia avenues and alleys, the 16th century Blackrock Castle with its towering views and St Anne's Church where you can ring the bells yourself! This contrasts with the modern and contemporary feel of Cork, evidenced by the fact you can mosh at a gig in a converted church no less!
How to get there: 2 ½ hour ride. From Dublin, take a train to Cork.
Suggested Trip: Dublin to Cork City
Rock of Cashel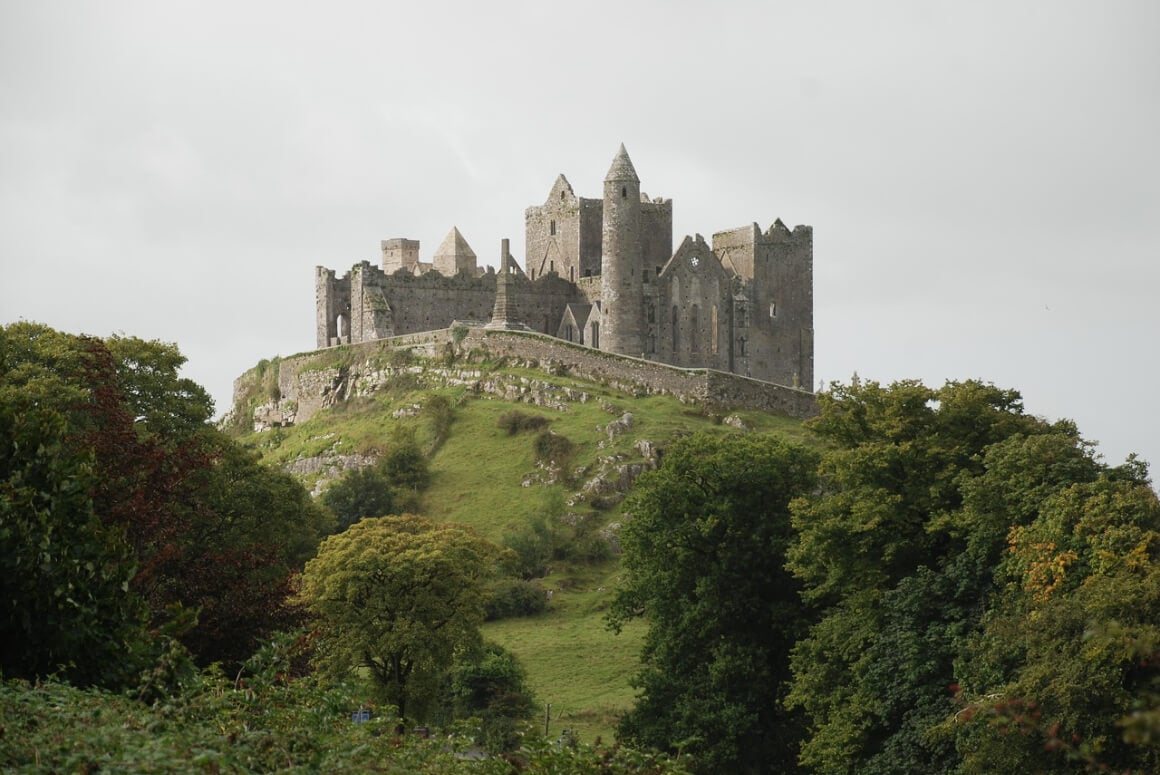 One of Ireland's most iconic locations, the Rock of Cashel is a spectacular collection of medieval buildings. Set on a prominent, lush green hill, this historic site offers breathtaking views of the surrounding countryside. A visit to the Rock of Cashel is a fascinating and fulfilling day trip from Dublin and offers a comprehensive experience of the history of Ireland.
The word "Cashel" means fortress or castle. Also known as "Cashel of the Kings", it was once a military base for the conquerors of the region. It's even been visited by royalty over the years too!
The site includes a grand 13th century Gothic Cathedral, a Circular Tower and a beautiful and poignant Irish Celtic Cross. The 12th century Romanesque Chapel of Cormac, also on the site, has exquisitely carved doorways and some of Ireland's oldest frescoes.
How to get there: Up to 2-hour ride. From Dublin, take a bus or train to Rock of Cashel.
Blarney Castle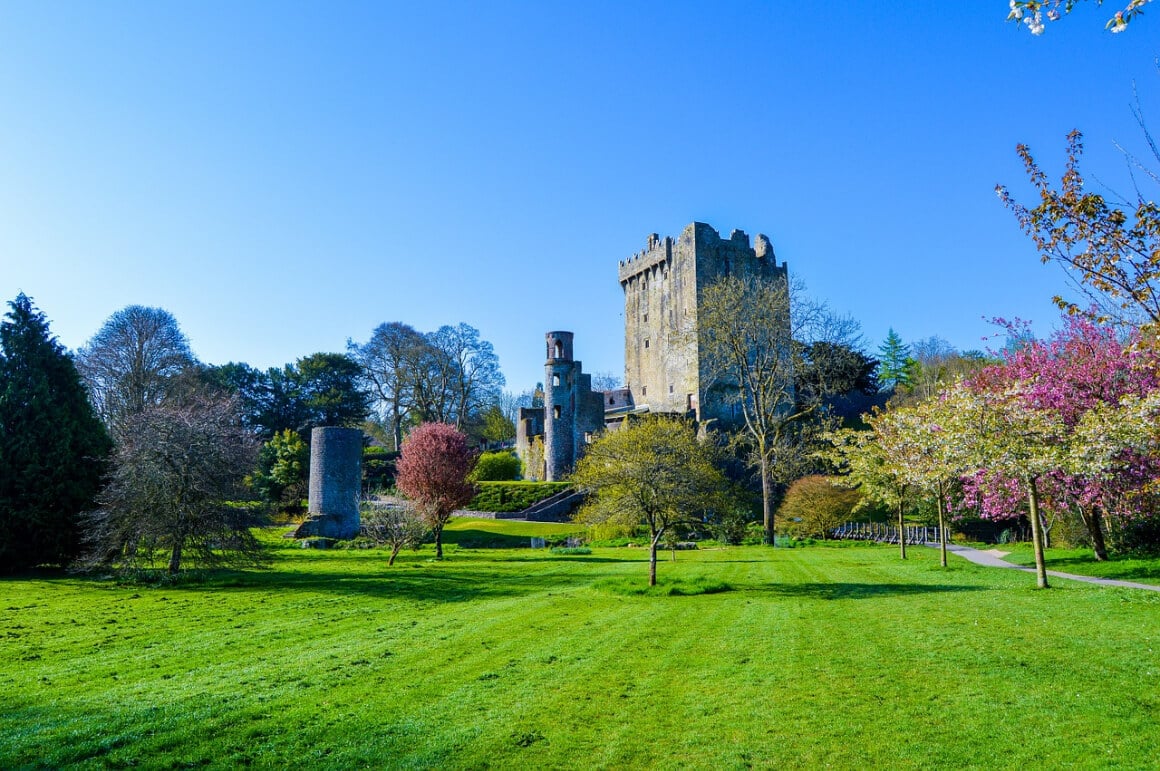 Ever found yourself at a loss for words? Here's your chance to overcome it: kiss the stone at the top of Blarney Castle's tower and gain the gift of eloquence! Kissing the Blarney Stone is a tradition dating back over 200 years and the site has become known for this quirky tradition.
For many visitors, leaning back over the hole in the battlements and joining millions of previous pilgrims before, is the highlight of their holiday to Ireland.
Blarney Castle itself is a fascinating medieval castle set in beautifully serene gardens. Take a tranquil walk through the grounds and visit the Poison Garden, which has a collection of deadly plants from all over the world. And check out Blarney Woollen Mills at the castle, a 19th-century mill, now a centre of Irish weaving and knitting.
How to get there: 2 ½ hour ride. From Dublin, take a train to Cork. Then take a 20 min bus ride to Blarney.
Wicklow National Park
Ireland's largest national park, the Wicklow Mountains is a delight for outdoor lovers in search of the clean and invigorating air of the Irish countryside. Even before you arrive, the scenic drive, passing through the green landscape and spectacular scenery of the region gets you in the mood for adventure.
The Park is covered in lush forests, mirror lakes and imposing mountains. With a number of good hiking and walking trails you best pack your boots and be ready to explore this rugged and untamed landscape. There's plenty of opportunities for other outdoor activities too such as horse-riding and mountain biking.
There's plenty of history to explore here too. The beautiful manicured Powerscourt Gardens with its delightful Pepperpot tower, ornate Italian fountains and Japanese pagoda will be sure to capture the imagination. Scenes from Braveheart were even filmed here and it's a favourite place for royals to visit when in Ireland.
How to get there: 1 ½ hours ride. From Dublin, take a bus to Glendalough. Then take a taxi to Wicklow.
Suggested Trip: Day Tour of Wicklow National Park
Glendalough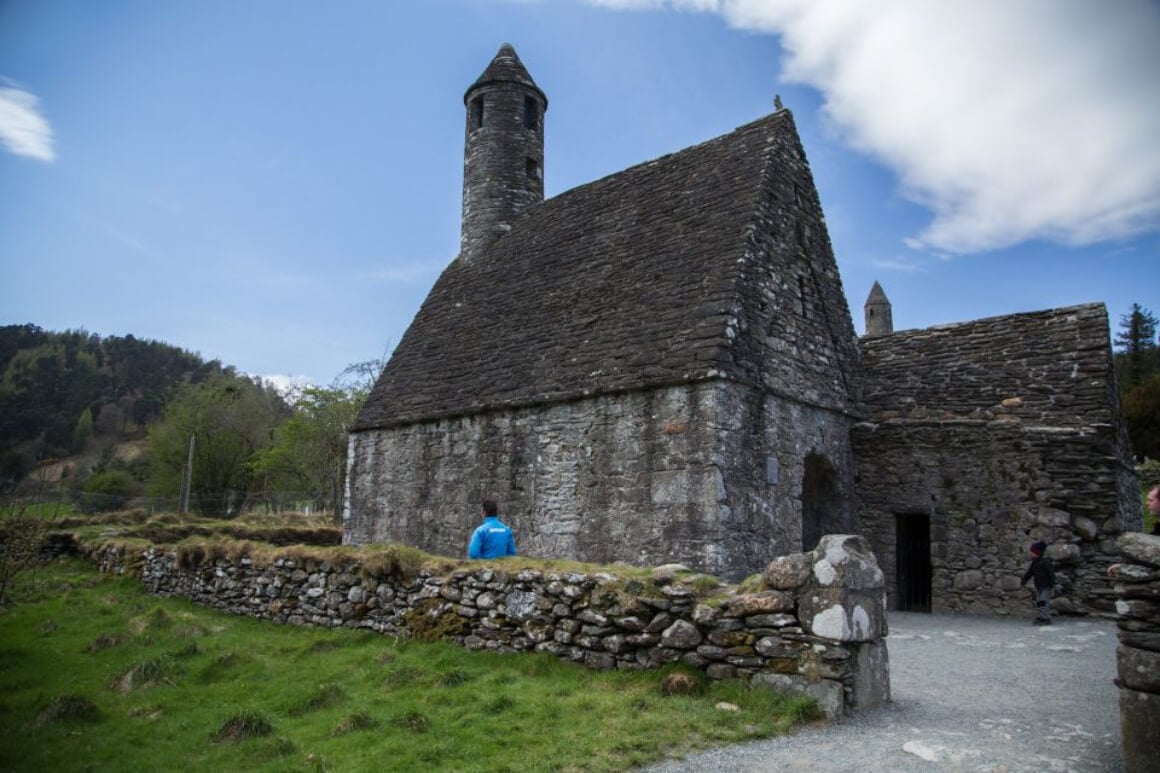 Known as "The Garden of Ireland", Wicklow showcases some of Ireland's iconic shades of emerald. The awe-inspiring Sally Gap, where lakes and lands meet, is the starting point of your unforgettable trip to Glendalough.
Nestled within the Wicklow Mountains is Glendalough, also known as the "Valley of Two Lakes". The serine twin glacial lakes set in the tranquil valley is the epitome of the romance of the rugged Irish countryside. It has to be one of the most beautiful sights in the country.
It's not just nature to explore here, the historic area is also home to a 6th century Monastic City. The ruins are a mysterious and eerie place to wander and step back in time to a bygone era.
On the way back take the drive back through Sally Gap road for some picture-perfect views, sunset is particularly impressive from here. If you're looking to extend your stay in this region, check out this convenient and cosy accommodation with great mountain views.
How to get there: 1 ½ hours ride. From Dublin, take St. Kevin's Bus to Glendalough.
Small Pack Problems? 😉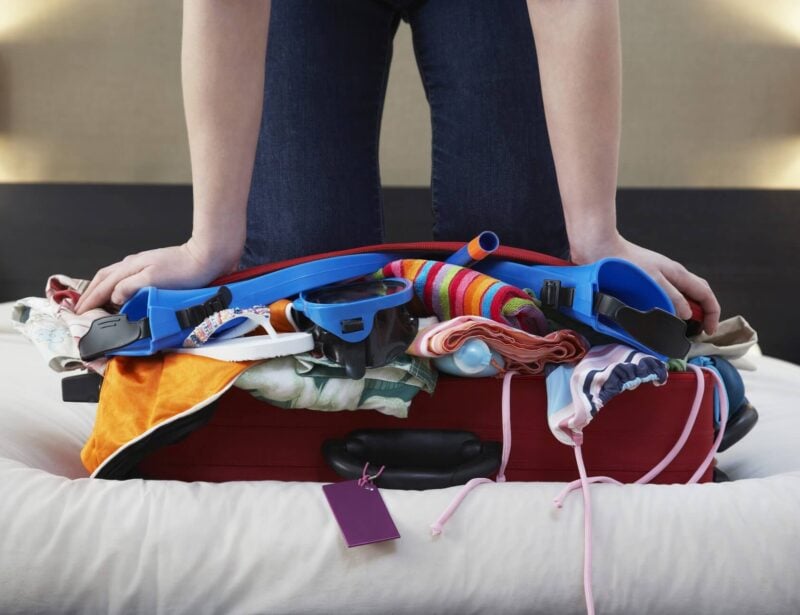 My missus travels with all her clothes in ziplock bags: don't be like my missus. UP YOUR PACKING GAME!
Packing cubes for the globetrotters and compression sacks for the real adventurers – these babies are a traveller's best kept secret. They organise yo' packing and minimise its volume too so you can pack MORE.
Or, y'know… you can stick to ziplock bags.
View Our Fave Cubes
Or Check Out the Sacks!
Don't Forget your Dublin Travel Insurance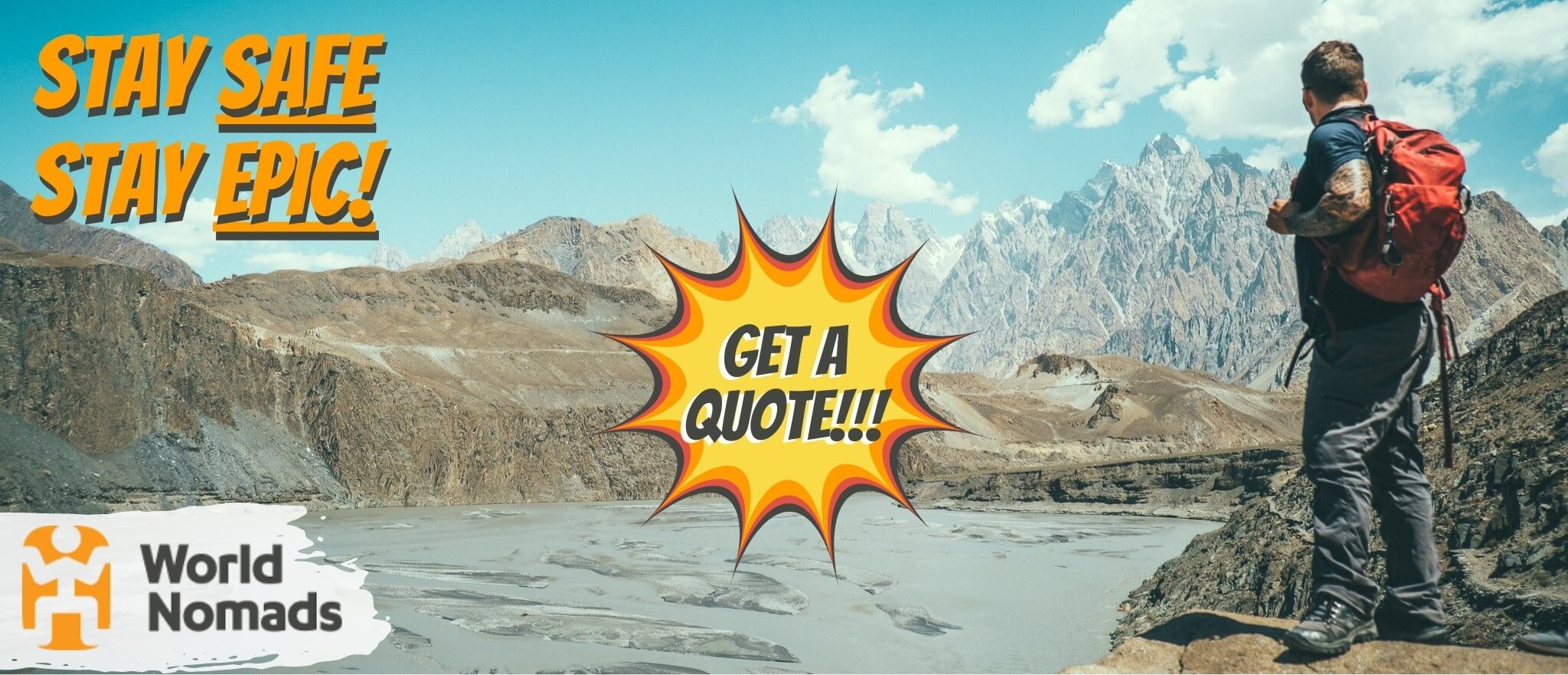 World Nomads' mission is to support and encourage travellers to explore their boundaries. They offer simple & flexible travel insurance, and safety advice to help you travel confidently.
They've been doing it since 2002 – protecting, connecting, and inspiring independent travellers just like you.
Get a quote below or read our in-depth review!
World Nomads provides travel insurance for travelers in over 100 countries. As an affiliate, we receive a fee when you get a quote from World Nomads using this link. We do not represent World Nomads. This is information only and not a recommendation to buy travel insurance.
Final Thoughts
Ireland is a treasure trove of natural beauty and breathtaking scenery. Dublin, the buzzing capital city, offers a great base to explore almost all that the country has to offer. Dublin's efficient rail service makes it easy to plan almost all these day trips from Dublin, though some are better done as organised day tours or car rental. There's so much to see in Dublin and around, so what are you waiting for!?
Travel Tips
Ireland's weather is unpredictable. Always keep an umbrella or rain jacket handy and some walking boots. Make sure you pack well for Ireland!
Seasons are unpredictable too. It could be sunny at one moment and cold at the next. Pack layers.
Keep both Pounds and Euros as the currency changes in Northern Ireland.
The best months to visit for weather are July and August, but these are during the peak season.
If you want to avoid crowds and high prices, visit during the shoulder months – April to June or September to November.
Look to your RIGHT when crossing roads. Ireland drives to the left!
---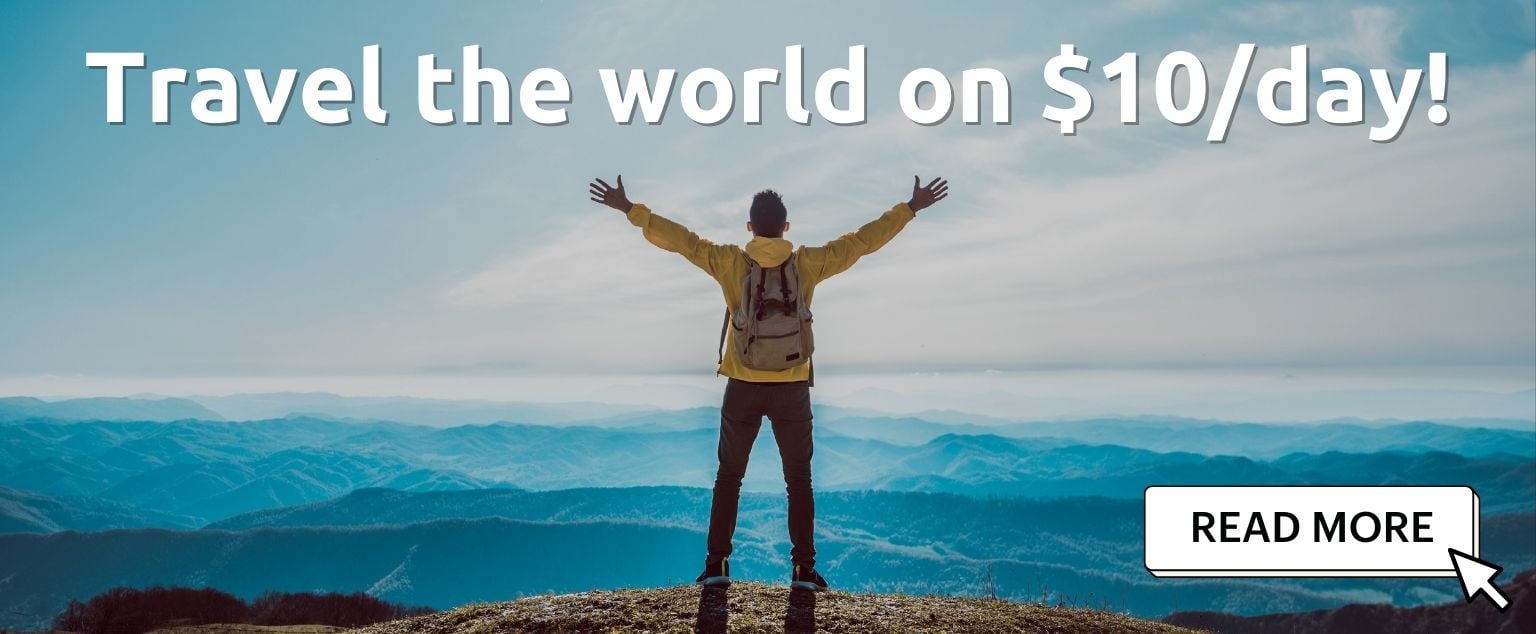 And for transparency's sake, please know that some of the links in our content are affiliate links. That means that if you book your accommodation, buy your gear, or sort your insurance through our link, we earn a small commission (at no extra cost to you). That said, we only link to the gear we trust and never recommend services we don't believe are up to scratch. Again, thank you!