The charming, compact city of Galway is a university town in Western Ireland that is a quintessential piece of Ireland. Galway brims with music festivals and backpackers during the summer months, and is known as a jumping off point to the Aran Islands.
From pub crawls to Celtic jam sessions, are actually a fair few things to do in Galway. In summer, which is high season in Ireland, there are plenty of cultural events to attend, music festivals to check out, a generally great atmosphere, and the prospect of visiting the starkly beautiful Aran Islands. Luckily, for those who like things a little more offbeat, there's that, too.
To help you dig for the more off the beaten track things to do in Galway and help you discover a different side to the city, we've come up with a handy guide for curious travellers and backpackers alike. We made sure to include a whole bunch of things that will have you exploring the local life and pristine nature surrounding this ace destination.

Unlock Our GREATEST Travel Secrets!
Sign up for our newsletter and get the best travel tips delivered right to your inbox.
Top Things to Do in Galway
Galway may be small, but has so many activities on offer. Before getting into the best ones, check out our top picks for things to do in Galway.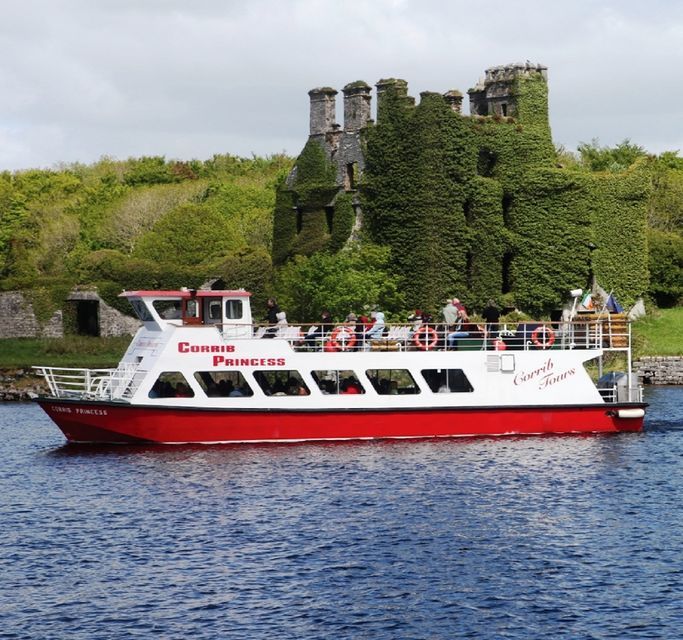 What better way to get to know a city than heading out on a boat and viewing the town from the Corrib River? You can then go on to be amazed by a cruise on Loch Corrib – Ireland's largest lake.
Specifically, it's the Corrib Princess you'll be wanting to head out on (that's from Woodquay, in the middle of the city). One of the coolest outdoors-y things to do in Galway, Loch Corrib is actually home to over one thousand islands, as well as an abundance of marine life.
Entrance: €8-40
Hours: 09:00-23:00 (Saturday-Sunday)
Address: Waterside, Woodquay, Galway, Ireland
2. Find Dún Aonghasa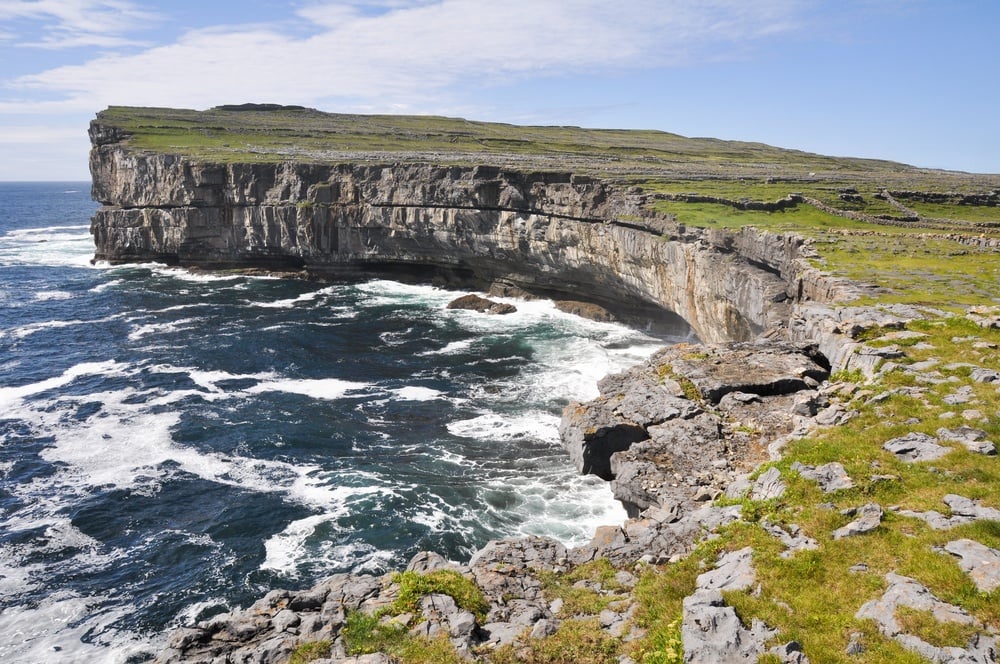 The history of Ireland stretches back way, way further than you thought. One of the greatest examples of Ireland's ancient civilisation is Dún Aonghasa – a prehistoric hill fort located on the Aran Islands in Galway County, atop a 100 metre-tall cliffside.
A bronze age archaeological site dating back to 1,100 BC, Dún Aonghasa is still home to walls and fortifications on top of the cliff. Much of the complex has been rebuilt, with chambers and tunnels you can explore. It's such an amazing site and literally one of the coolest things to do in Galway. (We're big fans, if you couldn't tell.)
Entrance: €3-5
Hours: 09:00-19:00
Address: Inishmore, Aran Islands, Co. Galway, H91 YT20, Ireland
3. Chill out in Eyre Square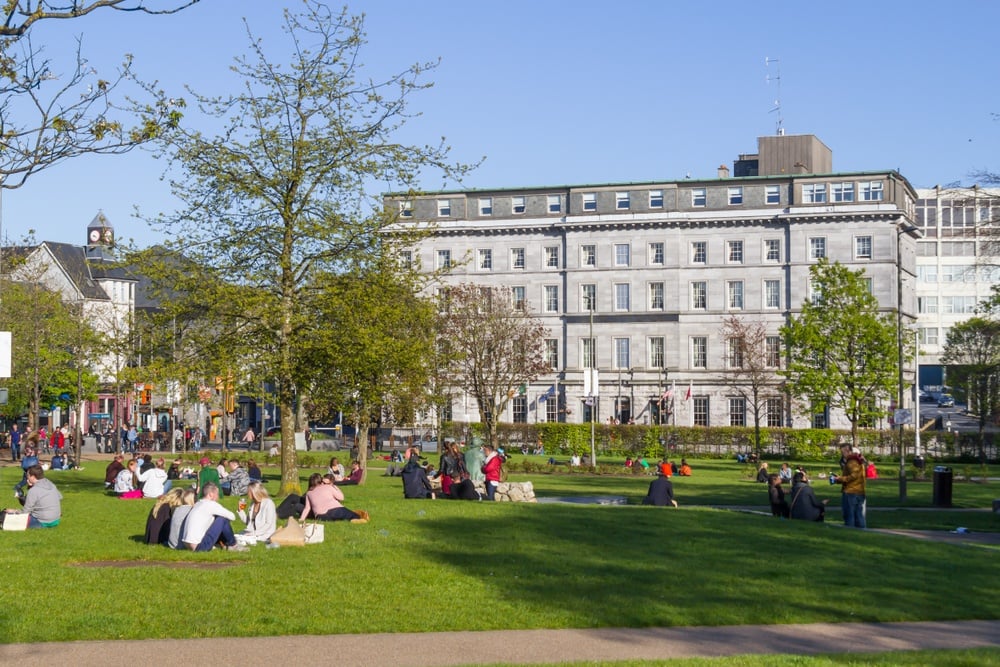 Easily one of the best free things to do in Galway is to simply head where the locals go, and make a beeline for Eyre Square. This inner city public park is where you'll find the non-touristic heart of Galway city.
Officially known as John F. Kennedy Memorial Park (commemorating the former president's visit to Galway in 1963), Eyre Square dates back to the Medieval times, but was officially "given" to the city in 1710. Today it's a place where people play music, relax on the lawns, browse the shops and frequent the cafes surrounding it. An awesome place to soak up a real slice of life in Galway.
Entrance: Free
Hours: Open 24 hours
Address: Eyre Square, Galway, Ireland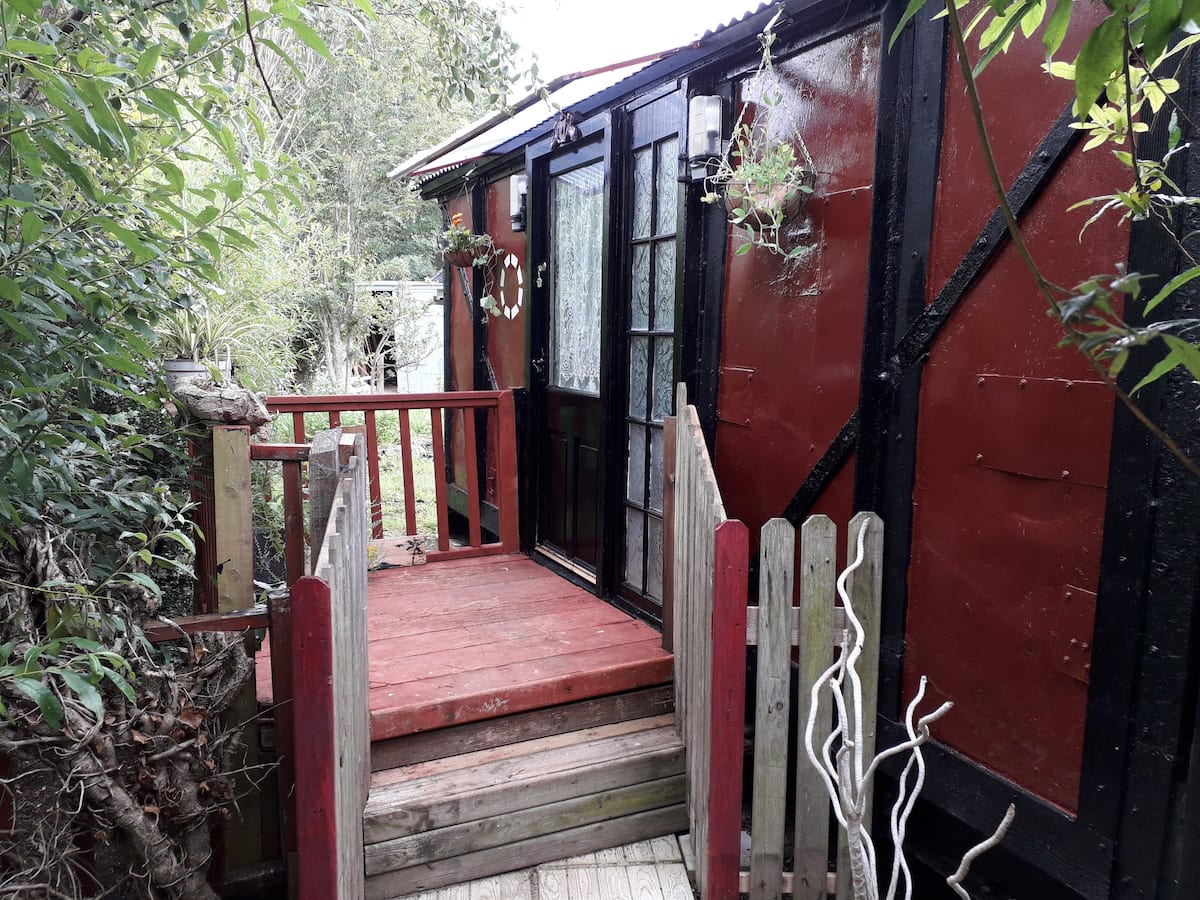 Ireland's all about history, and this unique accommodation in Galway is a great way to live it. Carriage No. 223 is a restored Irish goods carriage that ran from 1930 to 1970. Today the carriage provides lodging for travelers exploring Ireland, having been restored by the owner. It sleeps two guests and has everything you need for a cosy stay, including a stove, microwave, kettle and Wifi.
It's just a 20 minute drive from the carriage to Galway City, and there are plenty of coastal walks and hikes nearby. The host is also a qualified tour guide, and is happy to provide recommendations for your visit.
5. Cycle your way around the city sights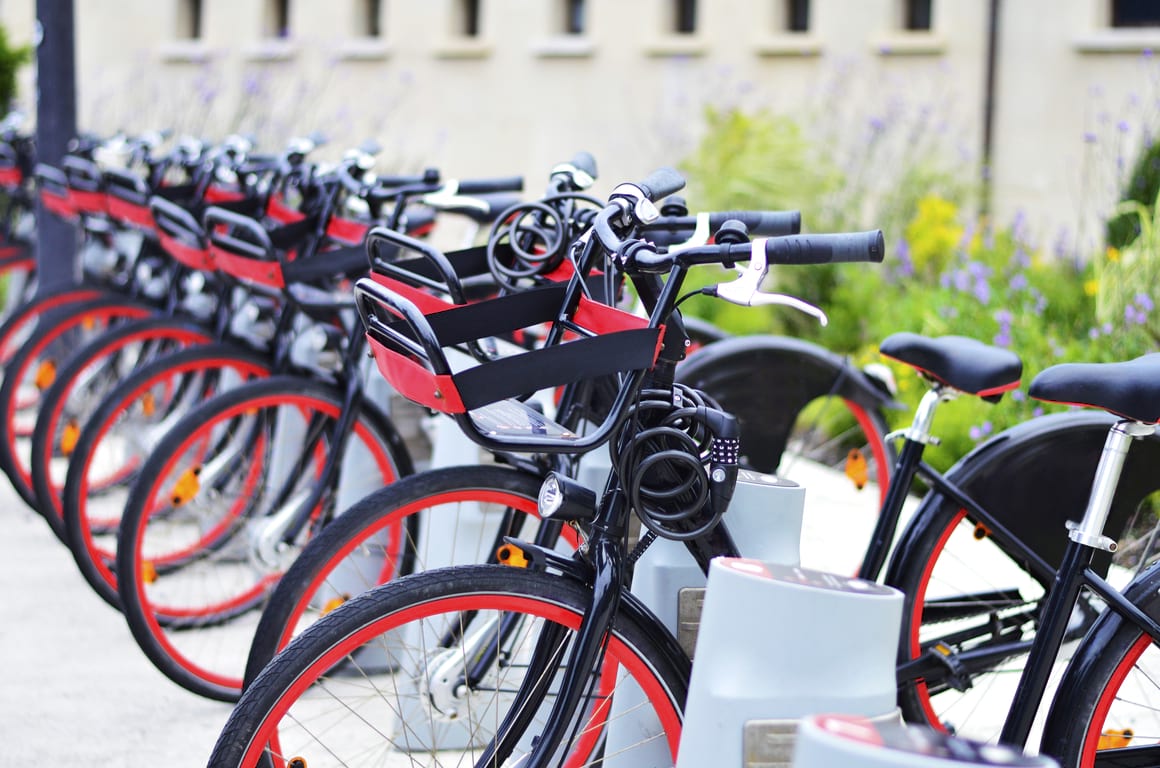 If you're not up for walking, the best way to see Galway is to hit up the streets on a bicycle. And forget any old pedalling bicycle: Galway has a slew of e-bikes for you to hop on and explore with. Find a rental shop in town and head off in any direction you please.
Renting an e-bike means you can cram in a load of sights around the city in record time without having to wear your legs out too much. It's one of the top things to do in Galway if you've only got a day or so to explore the city, and have a big tick list of landmarks you want to see.
6. See the colourful houses along the Long Walk
Easily one of the coolest things to do in Galway – but actually not very well known – is exploring The Long Walk. This comprises a very pretty and very charming row of colourfully painted pastel houses that characterise typical Irish coastal towns.
This is a quintessential postcard sort of spot that will have you falling in love with the city (if you haven't already). On top of that, the views of Loch Corrib from here are also stunning. It's a great place to test out those photography skills – try and snap the reflection of the houses in the water on a clear day.
Small Pack Problems? 😉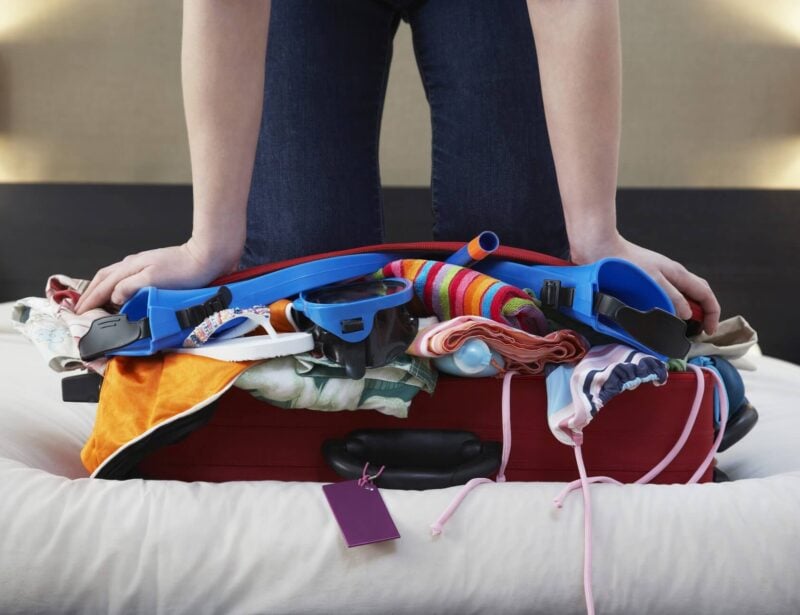 My missus travels with all her clothes in ziplock bags: don't be like my missus. UP YOUR PACKING GAME!
Packing cubes for the globetrotters and compression sacks for the real adventurers – these babies are a traveller's best kept secret. They organise yo' packing and minimise its volume too so you can pack MORE.
Or, y'know… you can stick to ziplock bags.
View Our Fave Cubes
Or Check Out the Sacks!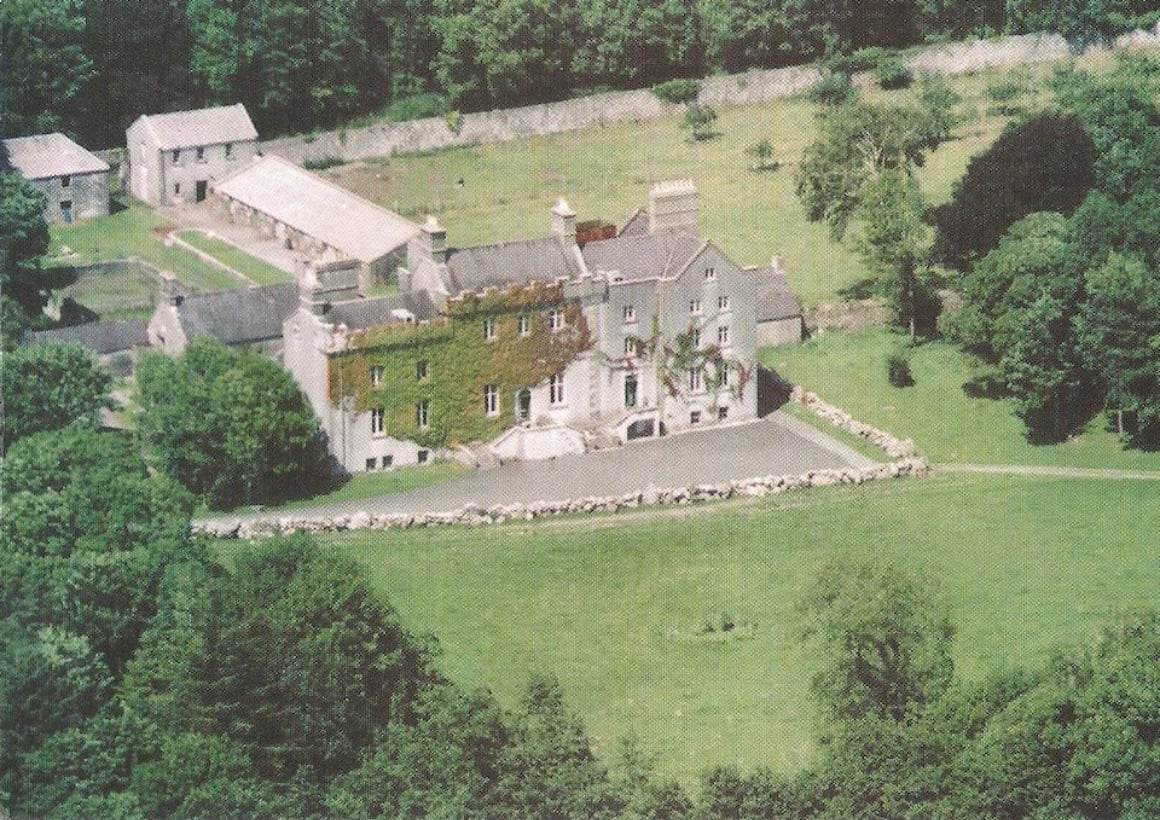 For an unforgettable Galway experience, why not spend a few nights staying in an actual castle? Cregg Castle has been around since 1648, and has been restored into an Airbnb suitable for up to 5 guests.
This is one of the most budget-friendly castles in Ireland, so backpackers won't have to miss out on the experience! Even if you only stay for a night or two, it's a great way to spend some time amongst nature and get to know County Galway.
If you're really keen to get away in nature and do some inner healing, then you might want to consider a yoga retreat in Ireland.
8. Explore the Wild Atlantic Way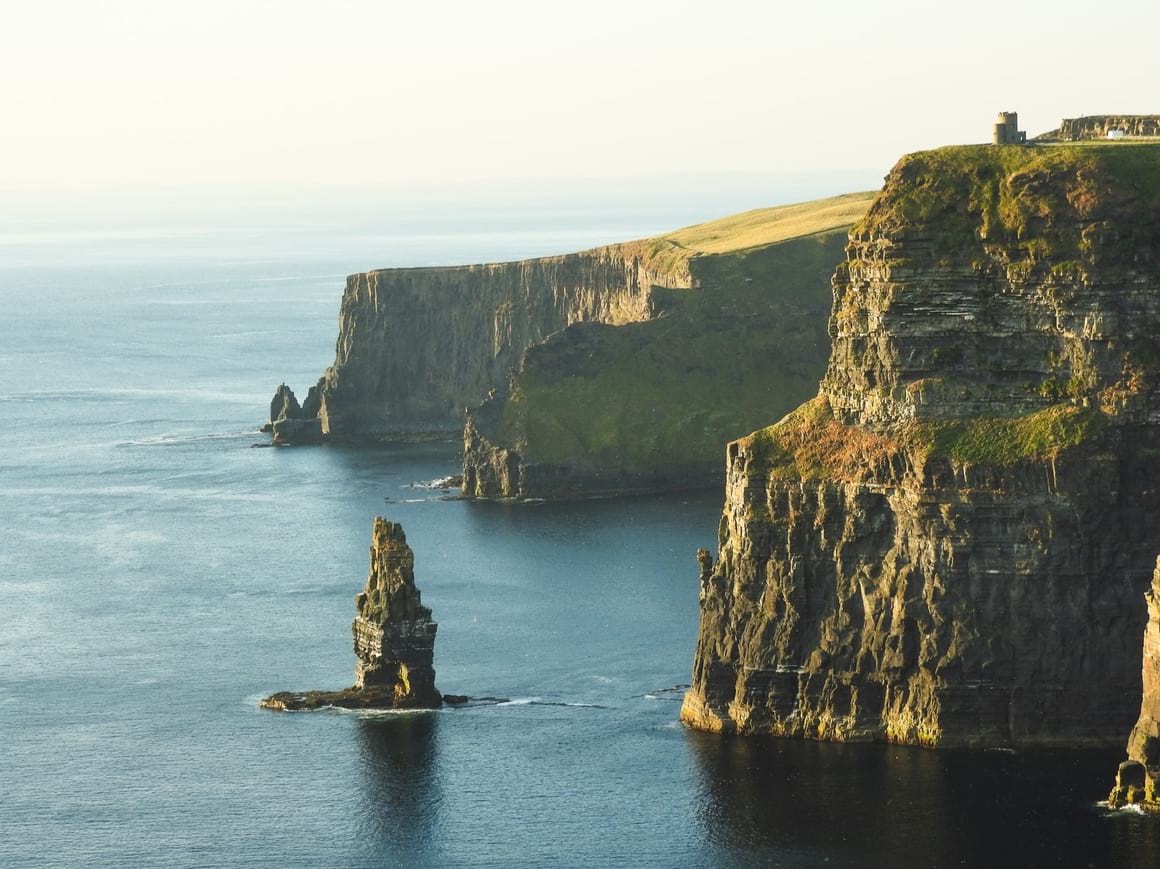 We've already mentioned Dún Aonghasa, but Galway's coastline is full of incredible scenery to explore. Sharing part of Ireland's breathtaking Wild Atlantic Way that stretches from Donegal to Cork, you'll be met with stunning hikes and opportunities for some of the best surfing in the world.
If you do turn it into an extended road-trip, head to the Cliffs of Moher. They're a couple hours drive south of Galway City, but absolutely worth it if you want to make the most of the natural wonders on offer in Ireland. You'll also have made it to Europe's most western tip – which is pretty cool.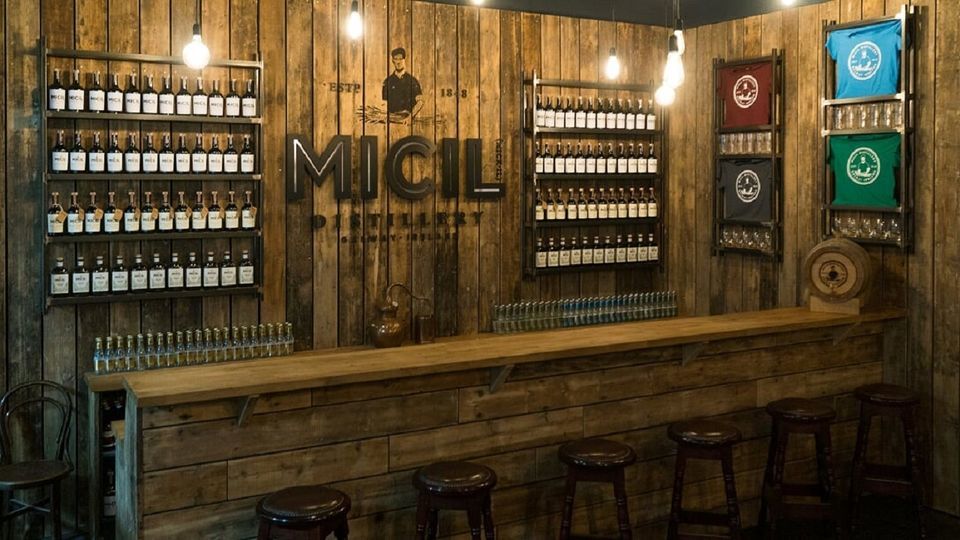 For those of you who want to know more about traditional Irish spirits, you should look no further than Micil Distillery. Founded in 1848 by Micil Mac Chearra, it's stayed in the family and is currently owned by the great-great-great grandson of the founder.
It's not only a cool place where you can sample a load of drink, namely the very Irish poitin and the less Irish gin, but it's where you can go to learn about the heritage of a family run operation. If you're into your food and drink, then we think this will be one of the best things to do in Galway for you. Fun fact: The Irish for hangover is poit!
FYI – My Grandfather used to keep a bottle of poitin in his cabinet – it is a potent drink to be respected!
Entrance: Free
Hours: 14:00-18:00 (Tuesday-Saturday)
Address: Oslo Bar, 226 Upper Salthill Road, Galway, H91 N9WK, Ireland
10. Eat some of the best food in the city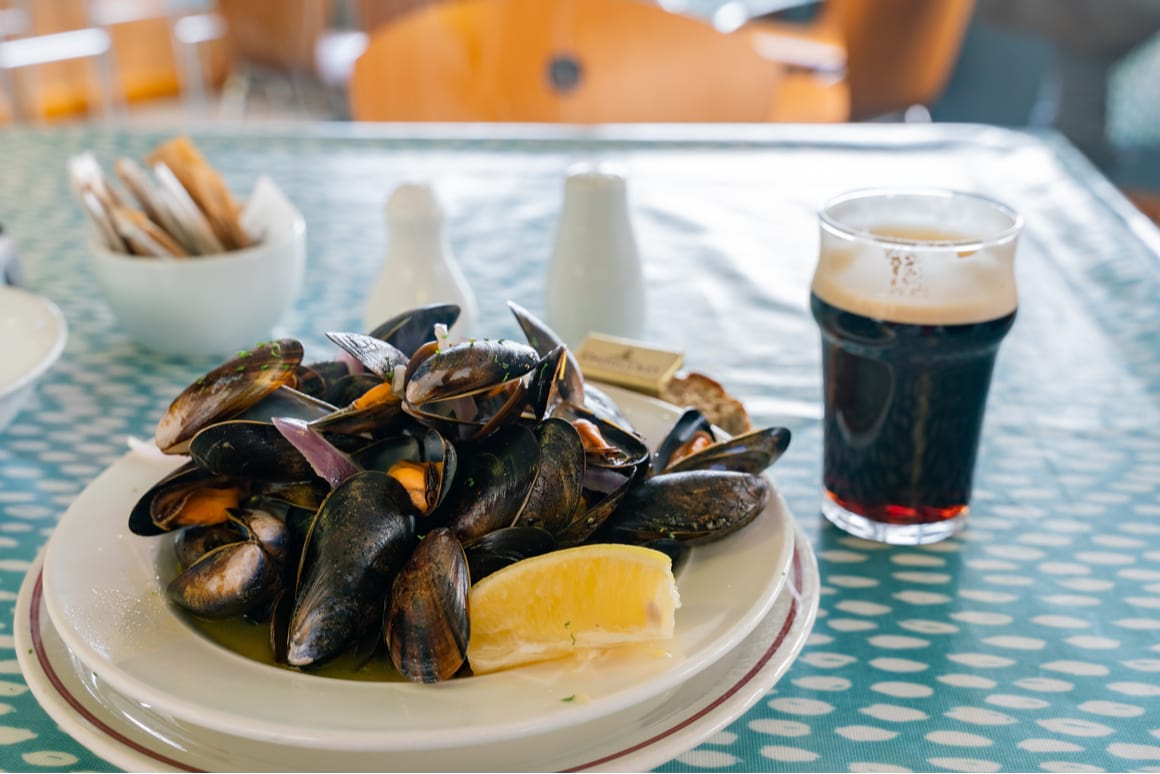 Galway has a cracking food scene, with some great eateries and even some award winning restaurants for you to hit up when you're in the city. For any food obsessed traveller out there, exploring the gastronomic landscape here has got to be one of the most unmissable things to do in Galway.
But whilst you may not have the budget to splash out on a fancy restaurant doing amazing things with Irish cuisine, there are cheaper alternatives such as Galway Market. Not only can you get Irish fare here, but you can get a whole load of different foods from around the world, from Japanese, Indian curries and falafel, to more traditional stuff like homemade cakes.
Is This the Best Daypack EVER???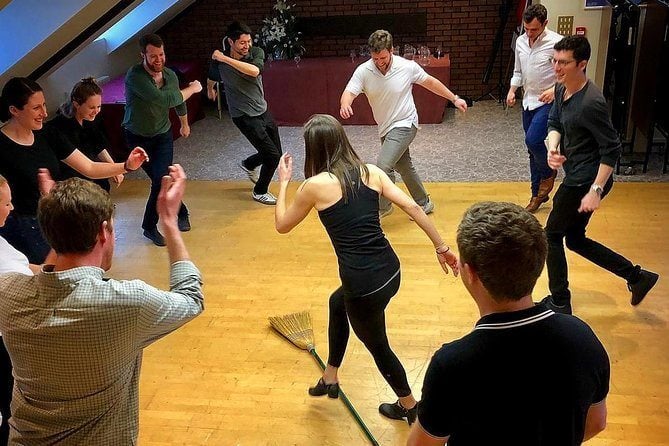 You've probably heard of Irish dancing – but have you ever attempted it? It's harder than it looks. So if you feel like learning a new party trick, or if you're into dancing and you want a new style under your belt, then you should definitely learn how to dance. It's certainly one of the more unique things to do in Galway!
You'll be able to find a few of dance schools in the city itself, but one of the more well known places to get to grips with a one-day crash course in the bare bones basics of Irish dancing is the Irish Dance Centre. Make sure to book ahead, and then be ready to get your River Dance well and truly on.
12. Step inside Galway Cathedral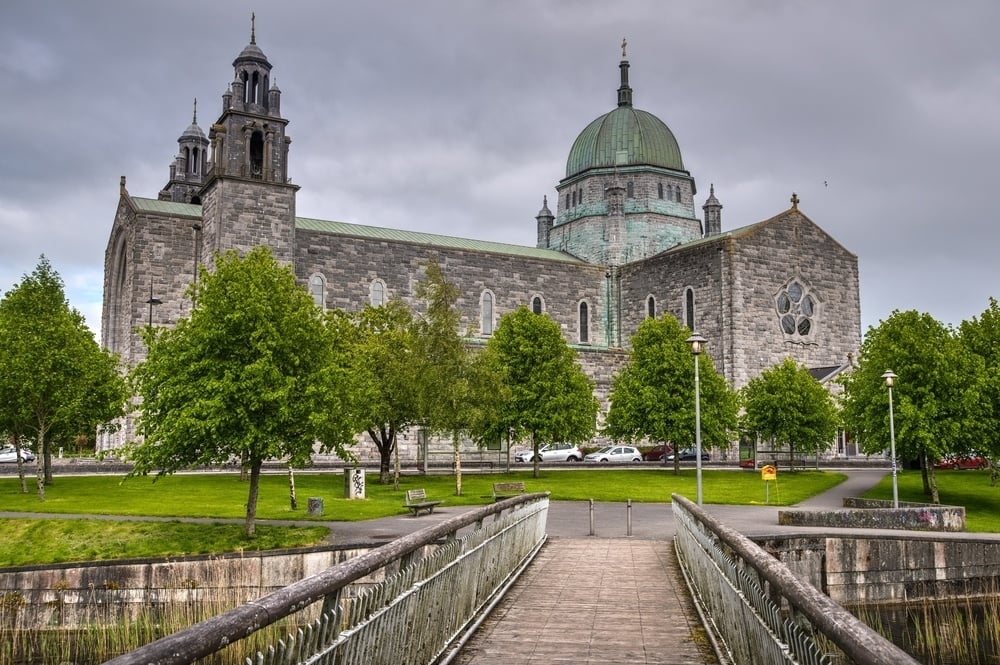 The Cathedral of Our Lady Assumed into Heaven and St Nicolas – or just Galway Cathedral – was built in 1958 atop the former site of the old city prison. Though it's not "historic", this Neo Renaissance building is impressive with its landmark green dome, visible across the city skyline and illuminated at night.
Inside, the interiors are stunningly decorated with seemingly no expense spared: marble, mosaic, arches, and all sorts of ornate masonry decorate the cathedral. One of the best free things to do in Galway would be to experience Mass here, which means you'll get to hear the choir put the awesome acoustics of the cathedral itself. Ireland is by the way, still a pretty religious place and Sunday Mass packs a crowd.
Entrance: Free
Hours: 09:00-18:30
Address: Gaol Rd, Galway, H91 A780, Ireland
13. Explore Connemara National Park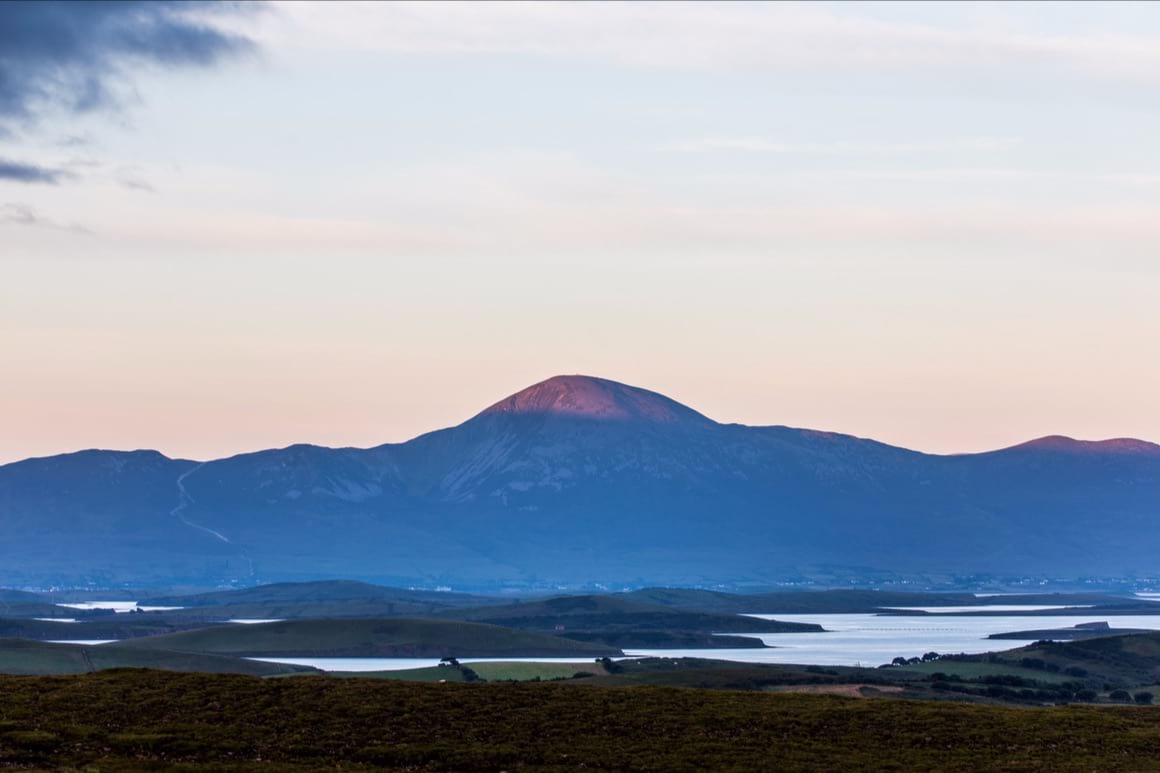 It may lie slightly outside Galway City – but exploring Connemara National Park is one of the coolest things to do during a trip to Galway. It's the perfect way to get away in nature and enjoy Ireland's natural beauty (and maybe a spot of camping).
There's also a ton of history here, including 4000 year-old megalithic court tombs and remnants from ancient farmers. If you're lucky you'll also be able to spot the Connemara ponies among the wildlife. This is absolutely one of the more off-the-beaten-path activities to try out – just don't forget your hiking boots!
Entrance: Free
Hours: Open 24 hours
Address: Letterfrack, Co. Galway, Ireland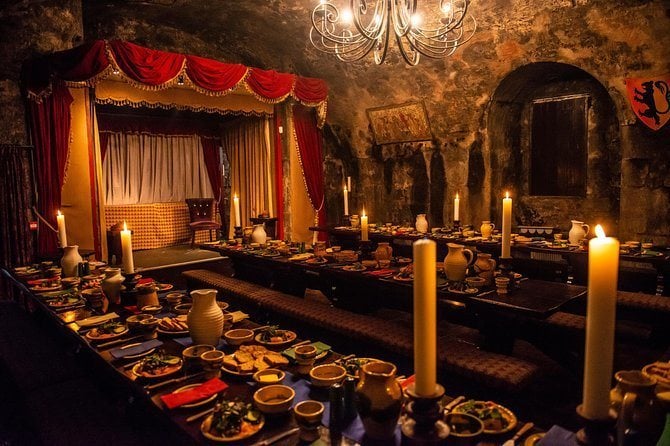 If you've ever walked around a castle and thought to yourself, "Wouldn't it actually be super cool to have a banquet in here?" Well if you have (or even if you haven't), you can enjoy a Medieval-style banquet at the 16th century Dunguaire Castle, over on the shores of Galway Bay.
Eating loads of traditional Irish food in an actual Irish castle, with plenty of mead (not Guinness) going on, definitely sounds like one of the best things to do in Galway. You'll even hear recitals of great Irish writers like Yeates and Shaw, as well as live music as you feast.
Entrance: not available
Hours: 10:00-16:30
Address: Dungory East, Kinvarra, Co. Galway, Ireland
Travel with peace of mind. Travel WITH a security belt.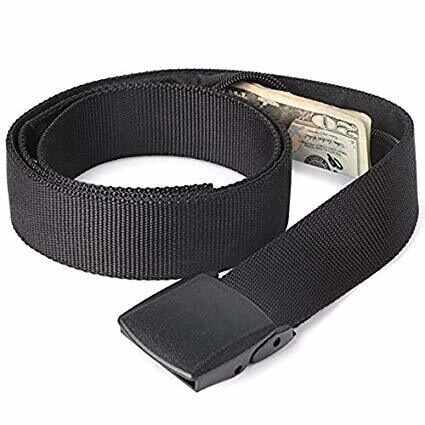 Get your cash stashed with this awesome Pacsafe money belt. It will keep your valuables safe no matter where you go.
It looks exactly like a normal belt except for a SECRET interior pocket perfectly designed to hide a wad of cash or a passport copy. Never get caught with your pants down again! (Unless you want to.)
Hide Yo' Money!
15. See the lavish Fota House
Fota House is one of those lesser known, more non-touristy things to do in Galway that you'll definitely regret not seeing if you don't go there. It may not be in Galway itself, but it's close enough to warrant an easy trip out of town to see what all the fuss is about.
A 19th century estate complete with mansion and sprawling manicured gardens, seeing this amazing feat of architecture and horticultural planning is cool enough. But to really appreciate it, we suggest taking a guided tour (on offer at different times throughout the day) is a better way to really understand what this beautiful madness is all about.
In case you are looking for something a bit off the beaten track, we have found some of the more unusual things to do in Galway.
16. See the splendour of the abandoned Menlo Castle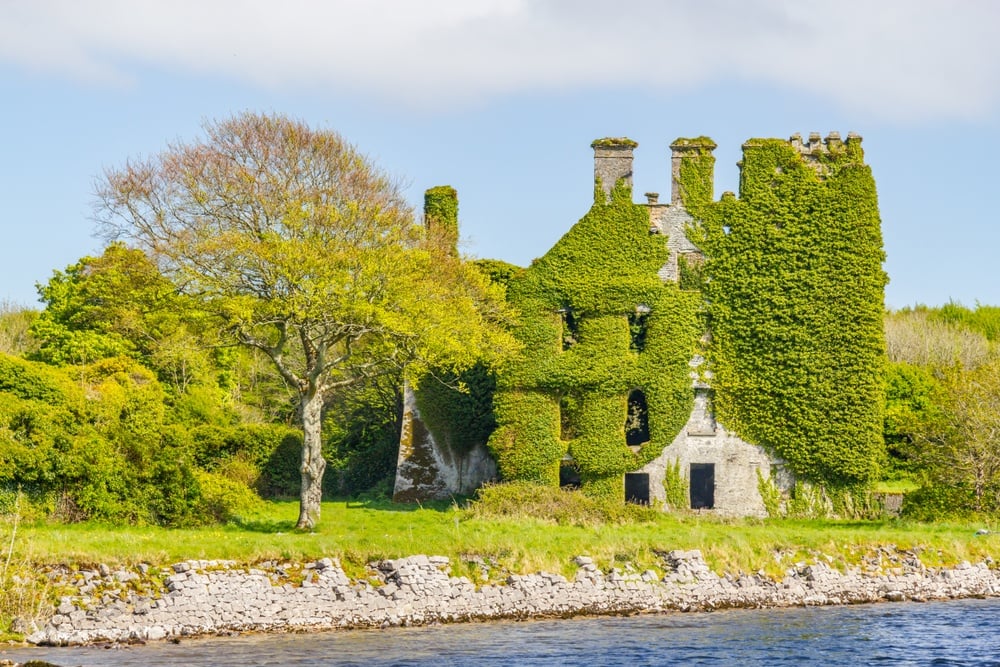 Your Ireland adventure simply isn't complete without a few castle visits. The only thing that beats a castle is an abandoned castle – and that's exactly what you'll get from the picturesque Menlo Castle. Like all good castles there is a certain amount of mystery and tragedy attached to it – this one has been abandoned since a fire broke out some years ago…
Dating back to 1565, Menlo Castle was home to the Blake family (English nobility), until the fire. The castle has been slowly reclaimed by the natural landscape and is almost completely covered in ivy and other creeping vegetation. Just a half an hour walk from town, it's one of the very best off the beaten track things to do in Galway.
Entrance: €4.95-7.20
Hours: Open 24 hours
Address: Menlo, Co. Galway, Ireland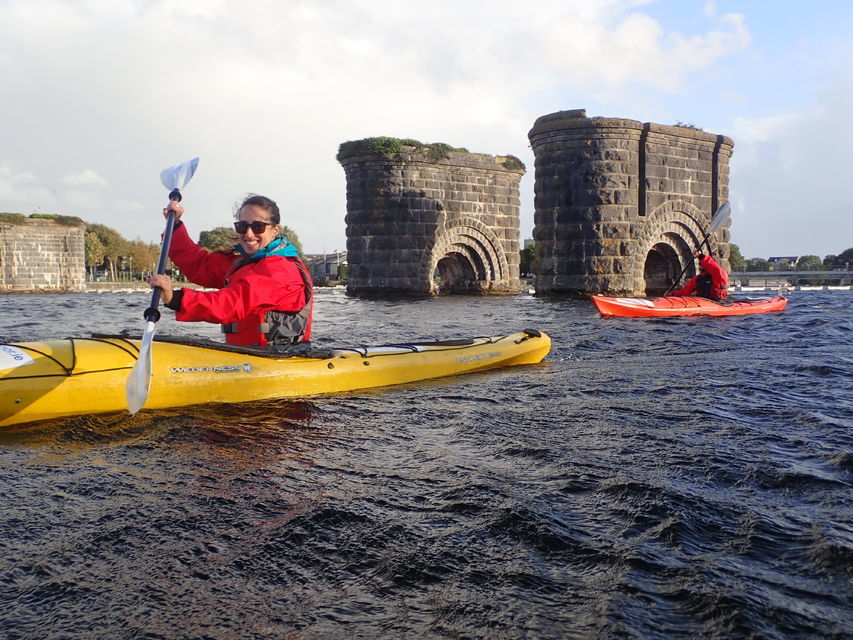 Whilst cruising on the Corrib River might be ok for some, others might want something more adventurous. So for one of the more active outdoorsy things to do in Galway, hire yourself a a kayak and explore the Corrib River – and all of those islands on the Loch itself.
Island hopping around the loch, spotting the fauna, getting properly up close to the landmarks of the lake itself is great fun with a kayak. It's a family-friendly excursion to the lake, has to be one of the coolest things to do in Galway with kids and friends.
18. Go down the pub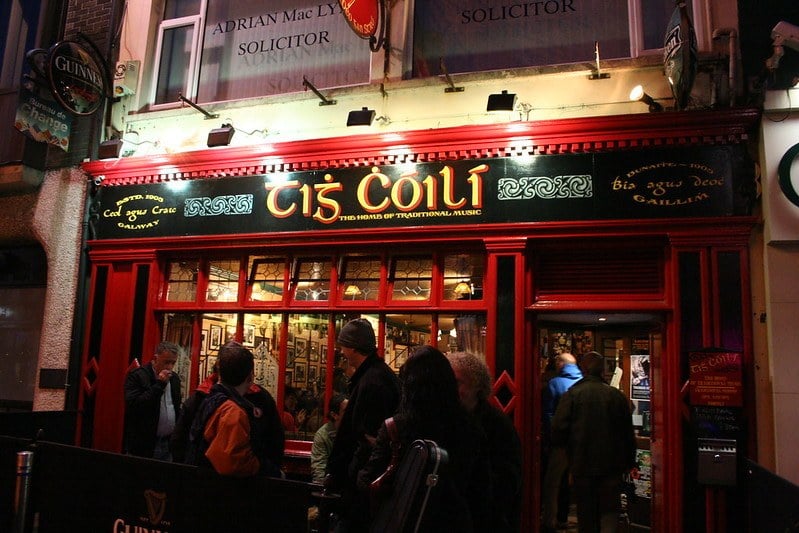 If Ireland is known around the world for one thing and one thing only, it's probably pubs. And you're in Galway, so you should at least spend one of your nights here in a traditional Irish pub. These are all about warmth, talking to the person next to you, listening to traditional Irish music (usually live), and generally good craic.
Galway's pubs are truly majestic once you step inside. You could just dive into the nearest one for one of the best things to do in Galway at night, or you could choose from a few recommendations. Tig Coili is a quirky place with a lot of charm; The Quays is set in a 400 year old building and has a great, homely feeling; and the beer garden at O'Connell's Bar is perfect for a sunny day. Oh, and do expect random, improvised traditional Irish jam sessions.
Entrance: Free
Hours: 10:30-23:30 (Monday-Thursday), 10:30-00:30 (Friday-Saturday), 12:30-23:00 (Sunday)
Address: Mainguard St, The Latin Quarter, Galway, Ireland
19. Try out some Oysters
They say Oysters are an aphrodisiac. So if you're in town with your partner then you should hit up Gerry and his locally run company, Flaggy Shore.
These guys will help you find the very best oysters in New Quay, just along the shores of Galway Bay. They won't just help you to find the best oysters, however, they will also give you pointers on what to look out for when choosing a good wine to pair with the shellfish themselves. It's all foodie-heaven sort of stuff. Sound like you? Go for it.
20. Go on a coastal walk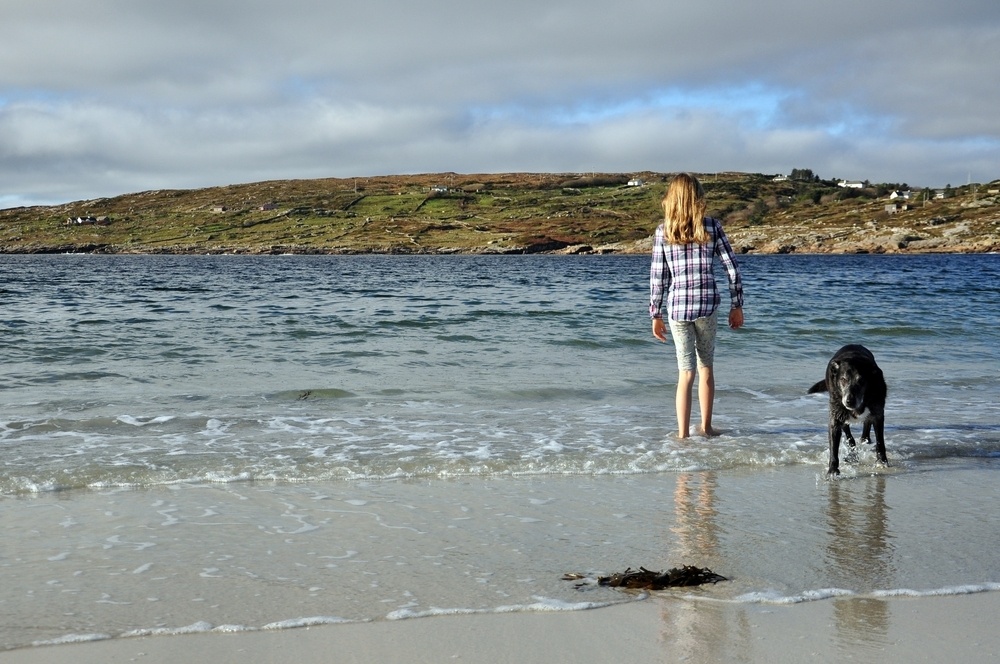 As you're probably aware by now, Galway has a lot of shoreline to discover. So for something chilled to do in Galway, we would say that embarking on foot from the city and discovering the coast for yourself would be a great option.
You'll get to enjoy a breath of fresh air, sand dunes, and of course the sea. Take a picnic and head out, either somewhere close to the city like South Park, or go for a woodland stroll at Portumna Forest Park.
Where to Stay in Galway
Galway City is small but still packs in a fair few different options for sleeping. Let's run through a few of them.
A room in a five bedroom house, right in the centre of town and two minutes' walk from Eyre Square, this is easily one of the best Airbnbs in Galway. Staying here means you'll be a stone's throw from all the action of the city, but not right in it, meaning you'll get a peaceful night's sleep. It's clean, it's well looked after and the owner (Paddy) is very friendly and will help you out with any tips for exploring the city.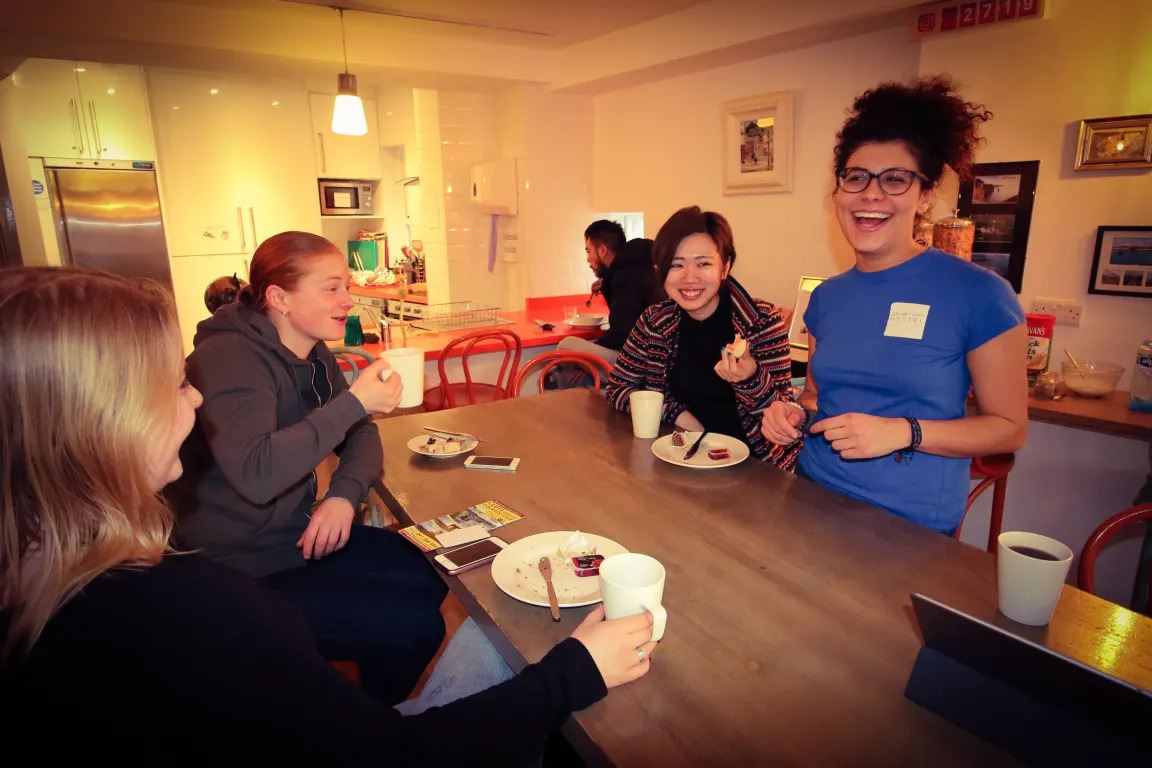 Located inside a charming old pub (which already gives this place some points), this Galway hostel is definitely the place to stay for you if you feel like really getting involved in the city. With various events, including pub crawls, and the opportunity to drink with locals at the bar (maybe you'll get treated to some impromptu live music), it's a fun place to stay. Bonus: there's a free breakfast on offer here, too.
With the best of both worlds on offer here – a traditional Irish pub and the clean amenities of a hotel – the Skeffington Arms Hotel is definitely one of the top hotels in Galway. Beautifully decorated rooms, traditional, ornate interiors in the pub, and modern, clean facilities mean that just about anyone will be happy staying here. There's also a free buffet breakfast served up each morning. Awesome.
Some Additional Tips for Visiting Galway
Invest in travel insurance! You never know what may happen on the road.
Stick to well-lit areas at night. Ireland is a safe country to visit, but it's best to avoid unfamiliar areas at night.
Hire a car. You won't need to drive anywhere within the Galway itself, but if you plan to venture beyond the city walls, a car is your best bet.
Keep an eye on the weather. Ireland enjoys some beautiful weather during the Summer (June-August), but Galway's position on the Atlantic coast means things can get a bit blustery. Bring a good rain-jacket and plan your cliff-walks accordingly.
Bring a good water bottle with you and avoid buying single-use plastic ones!
The local currency in Galway is the Euro – €. If you're bringing cash, avoid changing currency in the airports so you don't lose out on the exchange rates. Your best bet is to see whether your bank has fee-free international withdrawal.
Try to avoid peak season. Travelers flock to Galway during the summer months, considerably jacking up the prices of an otherwise cheap destination.
Find cheap flights. Every once in a while, a killer deal pops up.
FAQ on Things to Do in Galway
Here are some quick answers to common questions about what to do and see in Galway.
Don't forget your travel insurance for Galway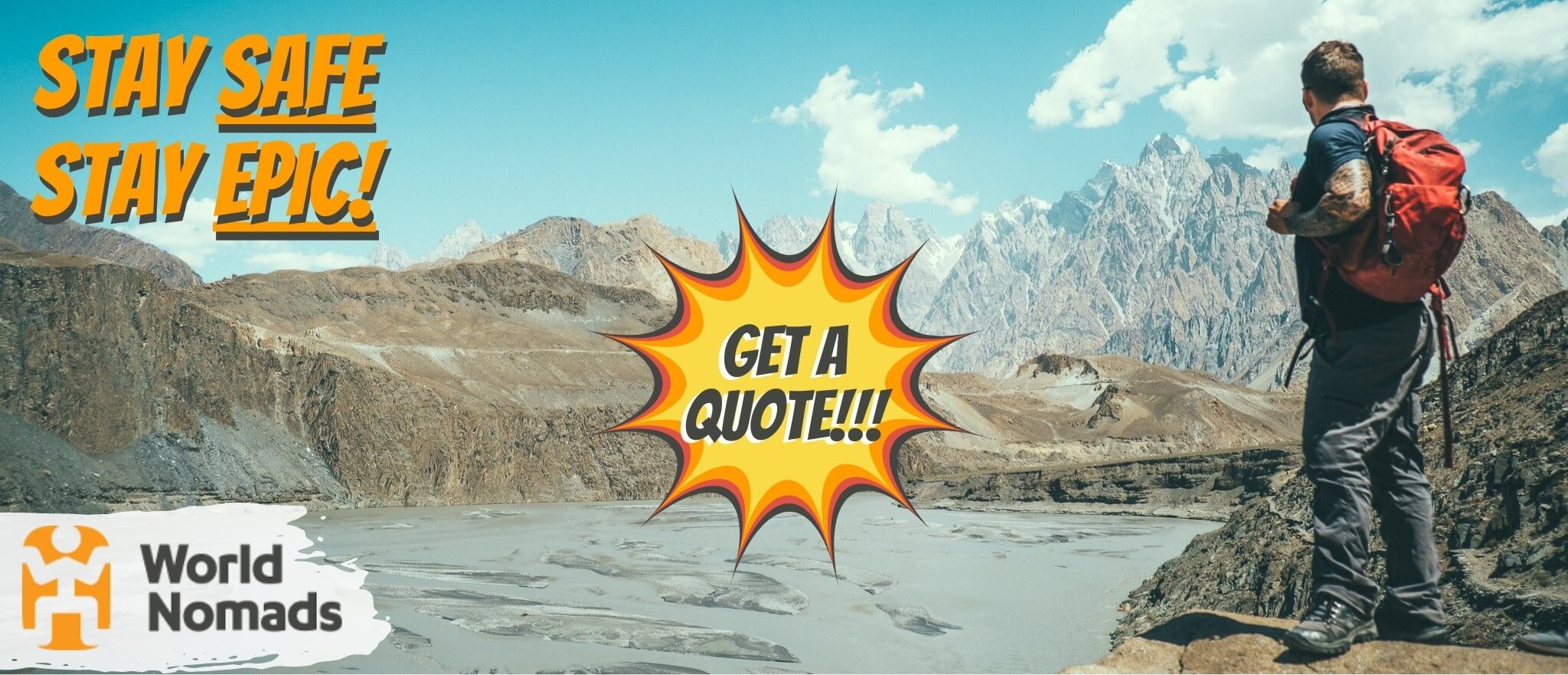 World Nomads' mission is to support and encourage travellers to explore their boundaries. They offer simple & flexible travel insurance, and safety advice to help you travel confidently.
They've been doing it since 2002 – protecting, connecting, and inspiring independent travellers just like you.
Get a quote below or read our in-depth review!
World Nomads provides travel insurance for travelers in over 100 countries. As an affiliate, we receive a fee when you get a quote from World Nomads using this link. We do not represent World Nomads. This is information only and not a recommendation to buy travel insurance.
Conclusion
Galway is gorgeous, welcoming, and undoubtedly one of the best places to stay in Ireland. It really is an unmissable destination for your Ireland backpacking experience, and has so much to offer.
That's why we created this guide to the more non-touristy things to do in Galway, so that you can have a more local experience and take memories (and recipes for Irish cuisine!) back home, instead of the classic run-of-the-mill experiences. All that's left for you to do now is book your accommodation and get packing!
---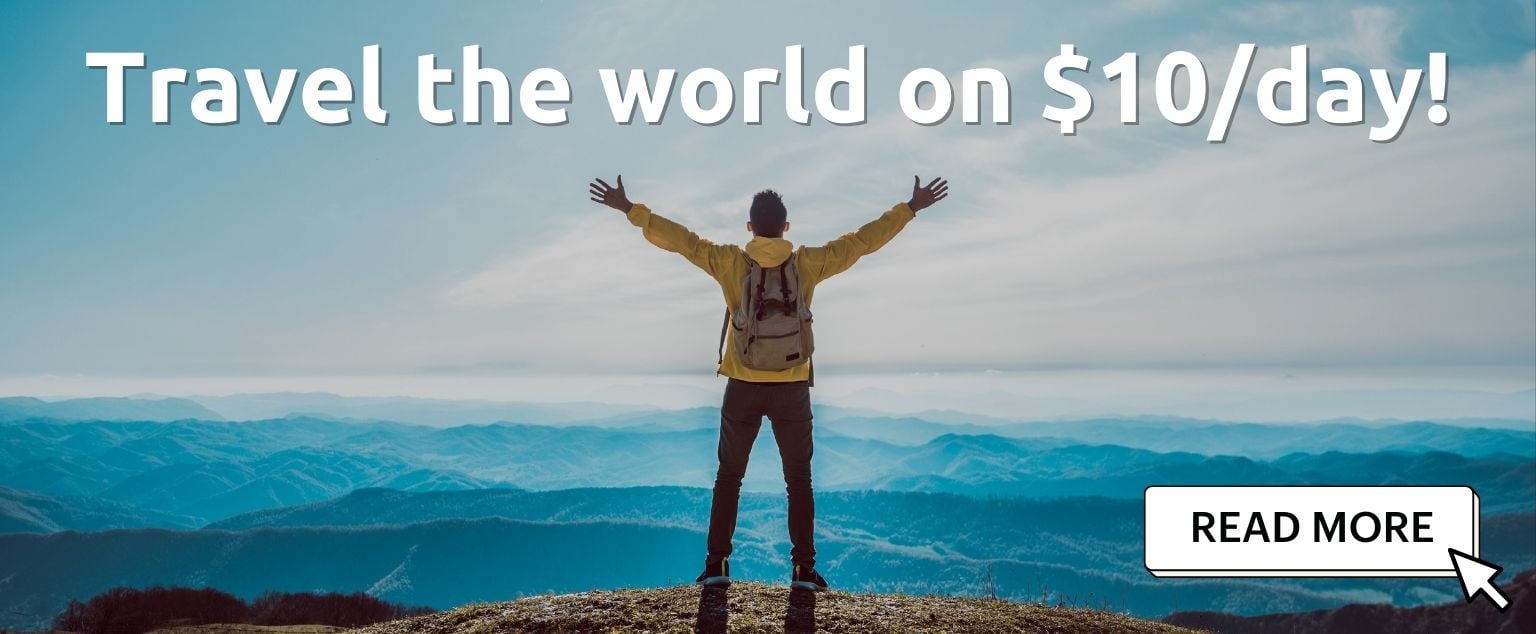 And for transparency's sake, please know that some of the links in our content are affiliate links. That means that if you book your accommodation, buy your gear, or sort your insurance through our link, we earn a small commission (at no extra cost to you). That said, we only link to the gear we trust and never recommend services we don't believe are up to scratch. Again, thank you!