The charming, compact city of Galway is a university town in Western Ireland that is a quintessential piece of Ireland. Galway brims with music festivals and backpackers during the summer months, and is known as a jumping off point to the Aran Islands.
From pub crawls to Celtic jam sessions, are actually a fair few things to do in Galway. In summer, which is high season in Ireland, there are plenty of cultural events to attend, music festivals to check out, a generally great atmosphere, and the prospect of visiting the starkly beautiful Aran Islands. Luckily, for those who like things a little more offbeat, there's that, too.
To help you dig for the more off the beaten track things to do in Galway and help you discover a different side to the city, we've come up with a handy guide for curious travellers and backpackers alike. We made sure to include a whole bunch of things that will have you exploring the local life and pristine nature surrounding this ace destination.
Top Things to Do in Galway
Galway is small but still packs a lot in. Let's start off by looking at the top things to do in Galway.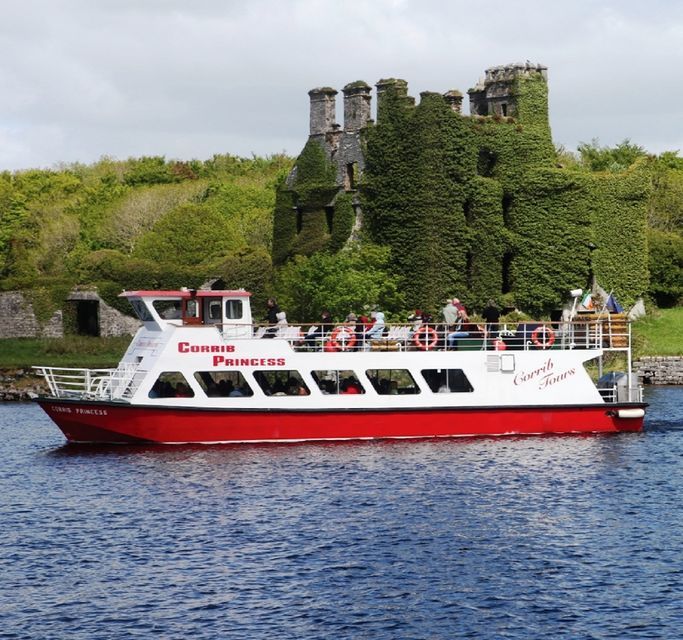 To first and foremost get to grips with Galway, we would recommend heading out on a boat and seeing the town from the Corrib River. Then you can, of course, go on to be amazed by Loch Corrib – Ireland's largest lake.
Specifically, it's the Corrib Princess you'll be wanting to head out on (that's from Woodquay, by the way, in the middle of the city). One of the coolest outdoors-y things to do in Galway, Loch Corrib is actually home to a whopping thousand (or more) islands, as well as an abundance of marine life.
2. Find Dun Aonghasa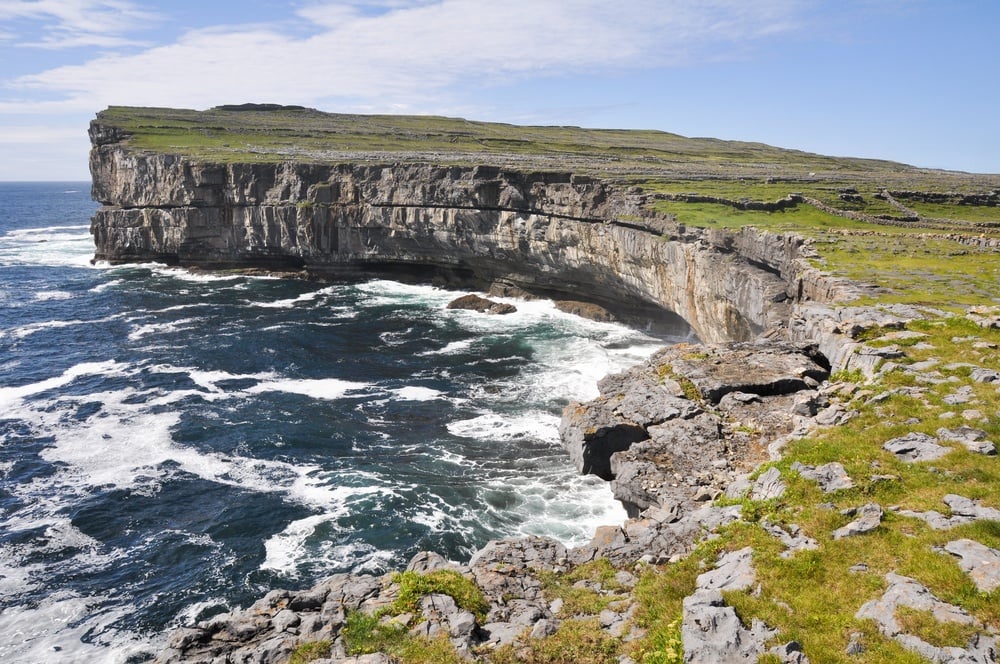 The history of Ireland stretches back way, way further than you thought. One of the greatest examples of Ireland's ancient civilisation is Dun Aonghasa. This is a prehistoric hill fort located on the Aran Islands, not far from Galway itself (it's still in Galway county), atop a 100 metre-tall cliffside.
A bronze age archaeological site, dating back to 1,100 BC, Dun Aonghasa is still home to walls and fortifications on top of the cliff, pointing back in time to a lesser-known period of Ireland's history. Much of the complex has been rebuilt, with chambers and tunnels you can explore. It's such an amazing site and literally one of the coolest things to do in Galway. (We're big fans, if you couldn't tell.)
First Time in Galway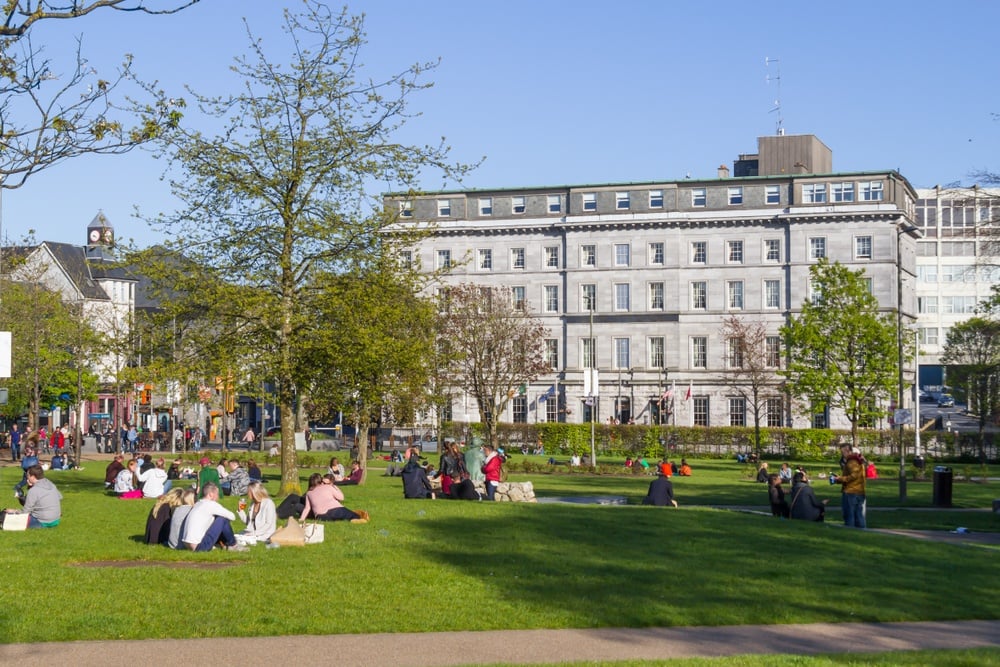 Eyre Square
Staying around medieval Eyre Square (that'll be An Fhaiche Mhór in Irish and officially John F. Kennedy Memorial Park) is a good idea. In fact, it's probably the best place to stay in Galway; here you'll be close not only to transport links such as bus stops and Galway Railway Station, but you'll also be in amongst all the action of the square itself.
Places to Visit:
Hang around Eyre Square – it's especially good in summer when the weather's good, but there's also a Christmas Market in winter
You should definitely make sure you have a pint of Guinness at a pub: best done at the nearby (and historic) O'Connell's Bar
Pay a visit to Food For Thought, a cozy local place where you can get Irish food or just sit with a cup of tea and people watch
Forget walking: the best way to see Galway is to hit up the streets from a bicycle. And forget any old pedalling bicycle: Galway has a slew of e-bikes for you to hop on and explore with. Find a rental shop in town and head off in any direction you please.
Renting an e-bike means you can cram in a load of sights around the city in record time without having to wear your legs out too much. It's one of the top things to do in Galway if you've only got a day or so to explore the city and you have a big tick list of landmarks you want to see. Simple, really.
4. See the colourful houses along the Long Walk
Easily one of the coolest things to do in Galway – but actually not very well known – is exploring The Long Walk. This comprises a very pretty and very charming row of colourfully painted pastel houses that characterise typical Irish coastal towns.
This is a quintessential postcard sort of spot that will have you meandering along daydreaming about just how awesomely cute the houses are. But on top of that, the views of Loch Corrib from here are also very cool. Tip: View them from the other side to snap some pics and have them reflected in the lake. Amazing.
Galway, surprisingly for some, has a cracking food scene, with some great eateries and even some award winning restaurants to hit up when you're in the city. For any foodie or food obsessed traveller out there, exploring the gastronomic landscape here has got to be one of the most unmissable things to do in Galway.
But whilst you may not have the budget to spend it all at a fancy restaurant doing amazing things with Irish cuisine, there are cheaper alternatives such as Galway Market. Not only can you get Irish fare here, but you can get a whole load of different foods from around the world, from Japanese, Indian curries and falafel, to more "traditional" stuff like homemade cakes.
Fota House is one of those lesser known, more non-touristy things to do in Galway that you'll definitely regret not seeing if you don't go there. It may not be in Galway itself, but it's close enough to warrant an easy trip out of town to see what all the fuss is about.
A 19th century estate complete with mansion and sprawling manicured gardens, seeing this amazing feat of architecture and horticultural planning is cool enough. But to really appreciate it, we suggest taking a guided tour (on offer at different times throughout the day) is a better way to really understand what this beautiful madness is all about.
The Best Travel Backpack?!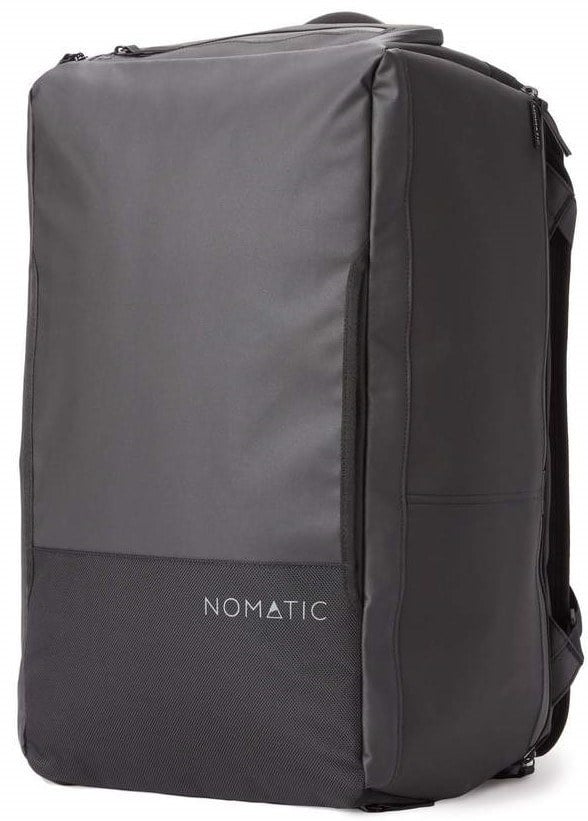 Pssssst! Not picked the perfect travel backpack yet? The Broke Backpacker team has tried out over thirty backpacks this year! Our favourite carry on backpack is the Nomatic Travel Bag.
Read our full review!
Unusual Things to Do in Galway
In case you are looking for something a bit off the beaten track, we have found some of the more unusual things to do in Galway.
It's not the normal thing to travel to Galway and come away with the knowledge of how to create home-style Irish scones and bread, but why not learn while you're here? It would be a once in a lifetime experience to learn from a local how to bake, Ireland style.
One of the most unique things to do in Galway, and something that will truly make an impression on your memory. Learning how to make bread and baked goods at Kate's Place (as it's called, since it's run by a woman called Kate) will be a welcome change to anybody looking to get off the tourist trail and away from all the most visited sights in town.
8. See the splendour of the abandoned Menlo Castle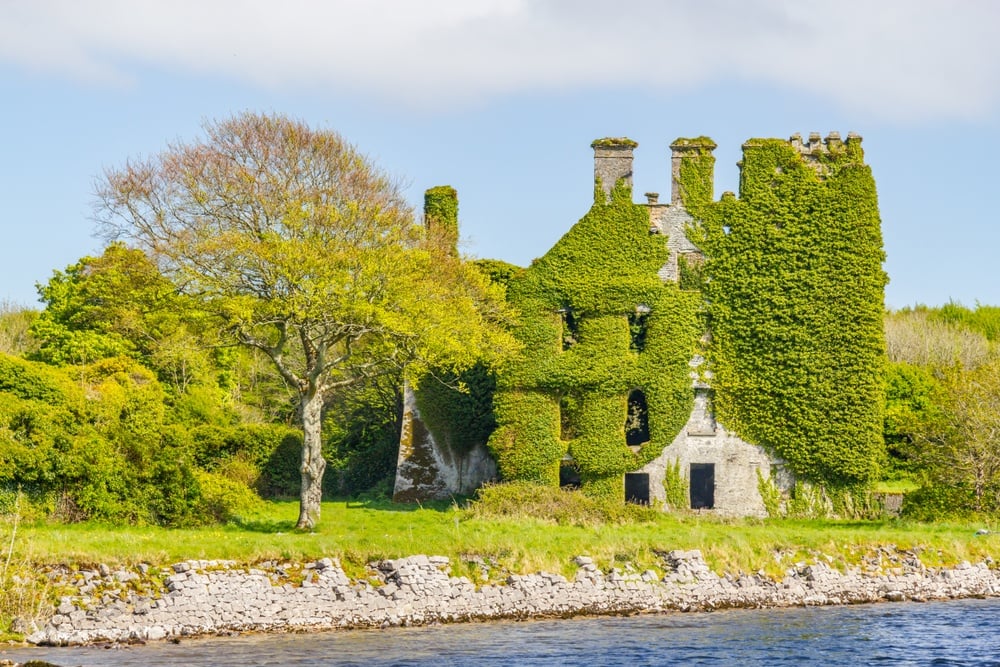 The only thing that beats a castle is an abandoned castle – and that's exactly what you'll get on the banks of the River Corrib when you come face to face with the impossibly picturesque Menlo Castle. And, like all good castles, there is a certain amount of mystery and tragedy attached to the castle and has been abandoned since a fire broke out some years ago…
Dating back to 1565, Menlo Castle was home to the Blake family (English nobility), but the daughter died – or mysteriously disappeared – in the fire. The castle has been slowly reclaimed by the natural landscape and is almost completely covered in ivy and other creeping vegetation. Just a half an hour walk from town, it's one of the very best off the beaten track things to do in Galway.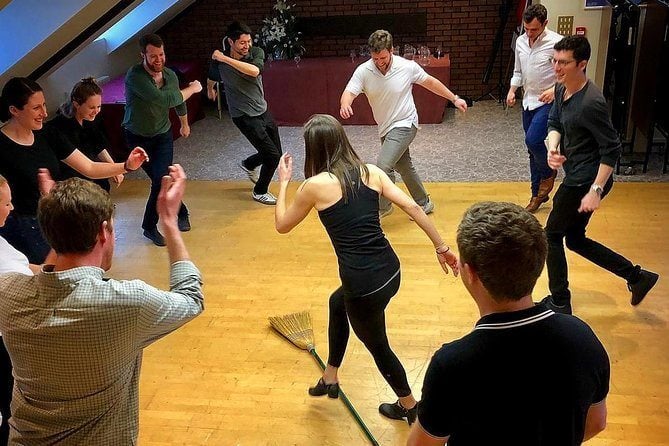 Yeah, you probably know about Irish dancing – but have you ever (seriously) attempted an Irish dance? It's harder than it looks. So if you feel like learning a new party trick, or if you're into dancing and you want a new style under your belt, then you should definitely learn how to dance. It's certainly one of the more unique things to do in Galway as a visitor!
You'll be able to find a few of dance schools in the city itself, but one of the more well known places to get to grips with a one-day crash course in the bare bones basics of Irish dancing is the aptly named Irish Dance Centre. Make sure to book ahead and then be ready to get your River Dance well and truly on.
Safety in Galway
Galway is a small city – much smaller than both Dublin and Cork – and is safer (and more walkable) than either of them. It's generally pretty safe and has a low crime rate, meaning there's not too much for you to worry about as a casual visitor to the city.
However, obviously, like any urban centre in Europe, you may come into contact with some form of petty crime, perhaps pickpocketing or a random bag snatch. It's best to keep your belongings close to you, no matter how safe you feel.
One thing that you will notice, especially if you're not from a drinking culture, is that nightlife can be a little rowdy. Usually, things get a little more "lively" once the pubs and bars close, and drunk people begin to roam the streets in search of late night food. Most people will be friendly, but if you don't feel comfortable, just avoid the city centre after a certain time. (But it's fun!)
It's basically as safe as any city in Western Europe – perhaps safer. People here are friendly, they'll chat to you if you venture out to a pub by yourself, and you shouldn't have much to worry about at all.
Check out our roundup of the best travel insurance.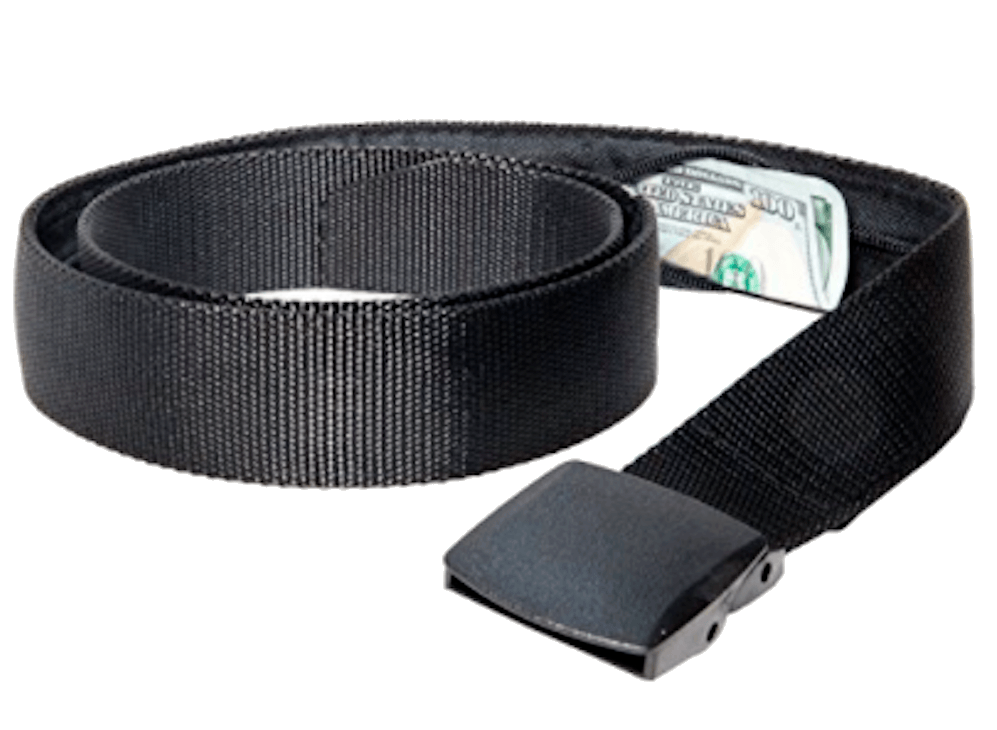 You should always have emergency cash hidden on you - pick up this awesome security belt with its hidden pocket before you travel, it's perfect for hiding money, a passport photocopy.
Things to Do in Galway at Night
Singing, drinking and dancing is pretty much the epitome of Irish culture so you can get that Galway is a lively old place after nightfall!
10. Go down the pub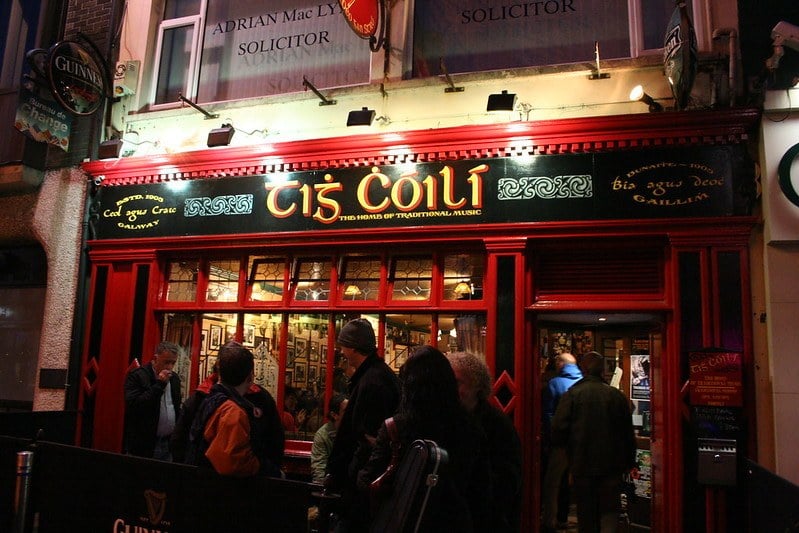 If Ireland is known around the world for one thing and one thing only, it's probably pubs. And you're in Galway, so you should definitely at least spend one of your nights here in a traditional Irish pub. These are all about warmth, talking to the person next to you, getting to know complete strangers, listening to traditional Irish music -(often being played live in the pub itself), and generally good craic – that means fun.
Let me tell you, some of the pubs in Galway are truly majestic once you step inside. You could just dive into the nearest one for one of the best things to do in Galway at night, or you could choose from a few recommendations. Tig Coili is a quirky place with a lot of charm; The Quays is set in a 400 year old building and has a great, homely feeling; if it's a sunny day, you should head to the beer garden at O'Connell's Bar. Oh, and do expect random, improvised traditional Irish jam sessions.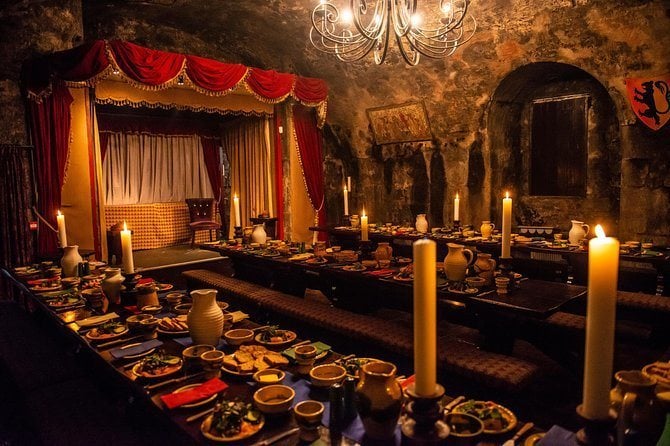 When you're walking around a castle, sometimes you look one of those big, ornate rooms and you think to yourself, "Wouldn't it actually be super cool to have an actual banquet in here?" Well, it seems like you're not the only person to think that, because you can enjoy a Medieval-style banquet at the 16th century Dunguaire Castle over on the shores of Galway Bay.
Getting to eat loads of traditional Irish food in an actual Irish castle, with plenty of mead (not Guinness) going on, definitely sounds like one of the best things to do in Ireland at night. You'll even hear recitals of great Irish writers like Yeates and Shaw, and you'll get to hear live music. Pretty awesome.
Where to Stay in Galway
Galway City is small but still packs in a fair few different options for sleeping. Let's run through a few of them.
Located inside a charming old pub (which already gives this place some points), Galway City Hostel & Bar is definitely the place to stay for you if you feel like really getting involved in the city. With various events, including pub crawls, and the opportunity to drink with locals at the bar (maybe you'll get treated to some impromptu live music), it's a fun place to stay. Bonus: there's a free breakfast on offer here, too.
View on Hostelworld
A room in a five bedroom house, right in the centre of town and two minutes' walk from Eyre Square, this is easily the best Airbnb in Galway. Staying here means you'll be a stone's throw from all the action of the city, but not right in it, meaning you'll get a peaceful night's sleep. It's clean, it's well looked after and the owner (Paddy) is very friendly and will help you out with any tips for exploring the city.
View on Airbnb
With the best of both worlds on offer here – a traditional Irish pub and the clean amenities of a hotel – the Skeffington Arms Hotel is definitely one of the top hotels in Galway. Beautifully decorated rooms, traditional, ornate interiors in the pub, and modern, clean facilities mean that just about anyone will be happy staying here. There's also a free buffet breakfast served up each morning. Awesome.
View on Booking.com
Romantic Things to Do in Galway
A green land of poetic souls, Ireland is as romantic as it gets and sweet little Galway no exception. Let's check out the most romantic thing to do in Galway.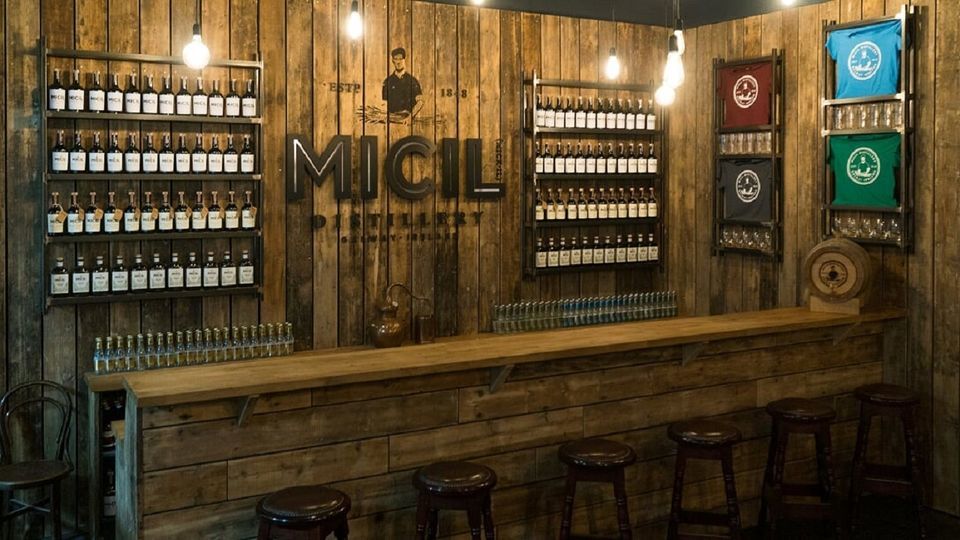 For those of you who want to know more about traditional Irish spirits, you should look no further than Micil Distillery. Founded in 1848 by Micil Mac Chearra, it's still owned by the great-great-great grandson of the founder.
It's not only a cool place where you can sample a load of drink, namely the very Irish poitin and the less Irish gin, but it's where you can go to learn about the heritage of a family run operation. If you and your partner are into your food and drink, then we think this will be one of the most romantic things to do in Galway for you. Fun fact: The Irish for hangover is poit!
FYI – My Grandfather used to keep a bottle of poitin in his cabinet – it is a potent drink to be respected!
They say Oysters are an aphrodisiac. So if you're in town with your partner then you should hit up Gerry and his locally run company, Flaggy Shore.
These guys will help you find the very best oysters in town – well, not town, but in the rural village of New Quay, just along the shores of Galway Bay. They won't just help you to find the best oysters, however, they will also give you pointers on what to look out for when choosing a good wine to pair with the shellfish themselves. It's all foodie-heaven sort of stuff. Sound like you? Go for it.
Do You Need Travel Insurance
Don't forget to sort your travel insurance! We've put together a roundup of the best travel insurance for backpackers, or if you're low on time, get a quote from World Nomads now, our favorite travel insurance provider.
Getting an estimate from World Nomads is simple – just click the button or image below, fill out the necessary info, and you're on your way!

Best Free Things to Do in Galway
In case you didn't find the leprechauns gold and are on a budget, worry not! There are plenty of fun, free things to do in Galway.
14. Chill out in Eyre Square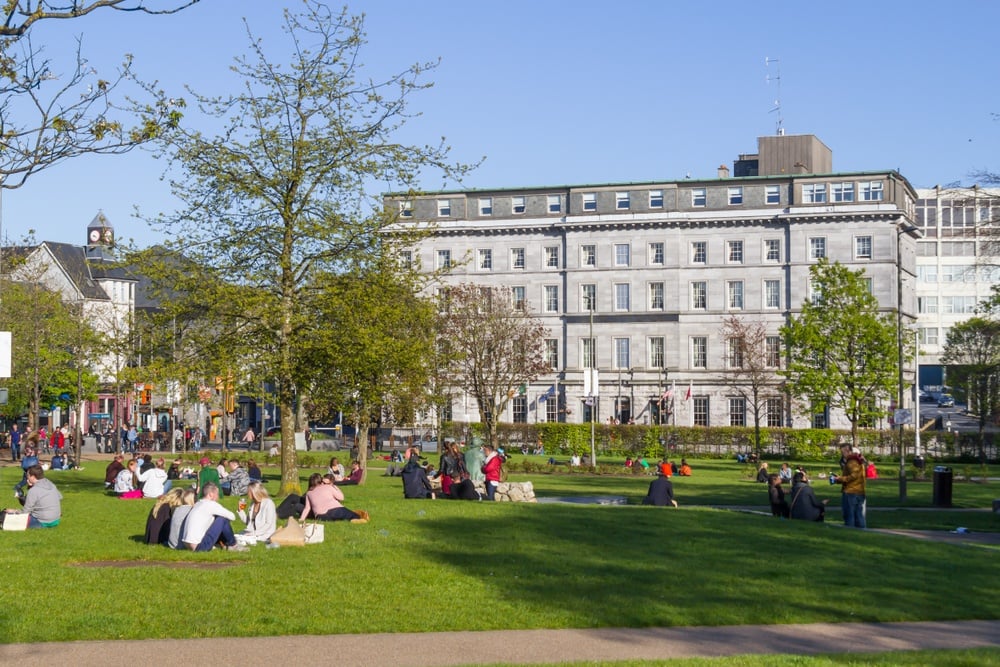 Easily one of the best free things to do in Galway is to simply head where the locals head and make a beeline for Eyre Square. This inner city public park is where you'll find, basically, the non-touristic heart of Galway city.
Officially known as John F. Kennedy Memorial Park (commemorating the former president's visit to Galway in 1963), Eyre Square dates all back to the Medieval times, but was officially "given" to the city in 1710. Today it's a place where people play music, relax on the lawns, and browse the shops and frequent the cafes surrounding it. An awesome place to soak up a real slice of life in Galway.
15. Step inside Galway Cathedral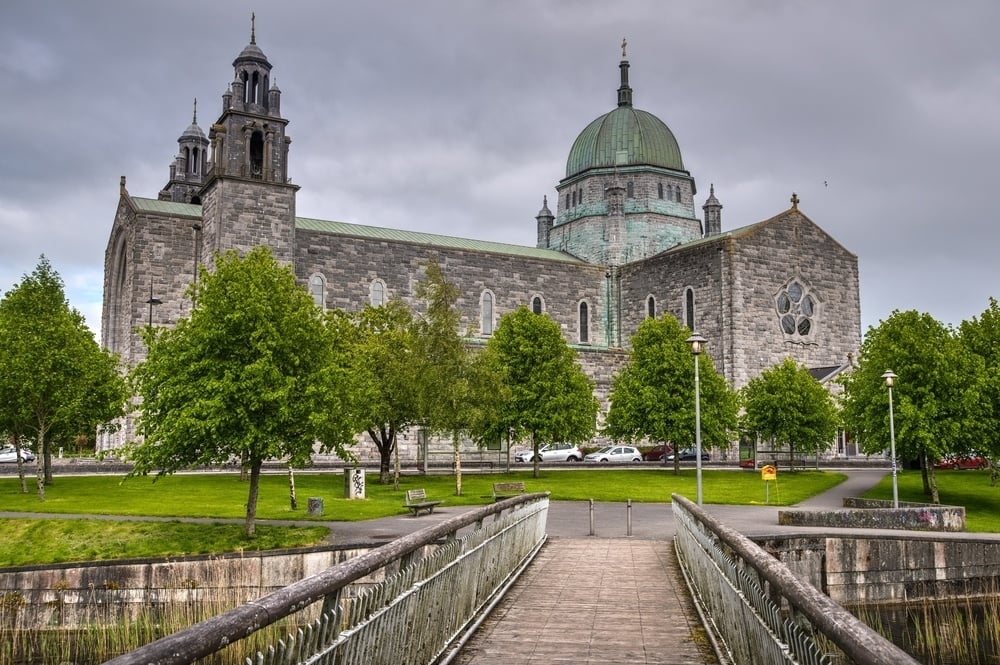 The Cathedral of Our Lady Assumed into Heaven and St Nicolas – or, you know, just Galway Cathedral – was built in 1958 atop the former site of the old city prison. Though it's not "historic" or the oldest building in the city, this Neo Renaissance building is impressive with its landmark green dome, visible across the city skyline and illuminated at night.
Inside, the interiors are stunningly decorated with seemingly no expense spared: marble, mosaic, arches, and all sorts of ornate masonry decorate the cathedral. One of the best free things to do in Galway would be to experience Mass here, which means you'll get to hear the choir put the awesome acoustics of the cathedral itself. Ireland is by the way, still a pretty religious place and Sunday Mass packs a crowd.
Galway Packing List
1. Travel Water Bottle: Always travel with a water bottle – it'll save you money and reduce your plastic footprint on our planet. AR bottle are tough, lightweight and maintain the temperature of your beverage – so you can enjoy a cold red bull, or a hot coffee, no matter where you are. For every AR bottle sold, we donate 10% to PlasticOceans.org – an initiative to reduce plastic in our oceans!
2. Microfibre Towel: It's always worth packing a proper towel. Hostel towels are scummy and take forever to dry. Microfibre towels dry quickly, are compact, lightweight and can be used as a blanket or yoga mat if need be.
3. Security Belt with Hidden Pocket: I never hit the road without my security belt. This is a regular looking belt with a concealed pocket on the inside – you can hide up to twenty notes inside and wear it through airport scanners without it setting them off. This is hands down the best way to hide your cash.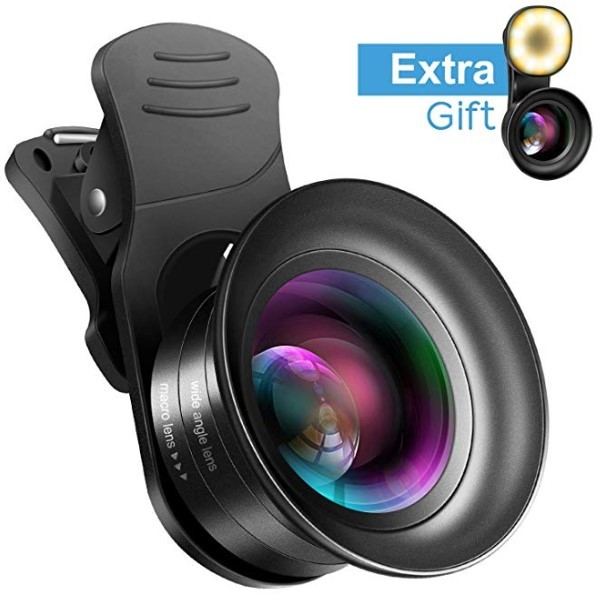 4. Camera or Cell Phone Camera Accessories: One thing's for sure – Galway is a picturesque destination! Get perfect shots from your phone using clip-on-lenses with wide-angle, close-up and optical zoom. With the ability to turn travel pictures from basic to professional, this universal lens sits neatly over any phone camera and comes with a durable, travel-friendly case!
5. International Adapter: Galway outlets use British, 3 pronged plugs. You may therefore need an adaptor. Save yourself the hassle of trying to track down an adapter at your destination and paying twice as much than planning ahead by buying one online.
Books to Read in Galway
The Backpacker Bible – Get it for free! Learn how to ditch your desk and travel the world on just $10 a day whilst building a life of long-term travel with an online income. To inspire and help the next generation of Broke Backpackers, you can now grab 'How to Travel the World on $10 a Day' for free! Get your copy here.
Ulysses — It has survived censorship, controversy and legal action, blasphemy allegations, but remains an undisputed modernist (over-rated) classic. Ceaselessly inventive, garrulous, funny, sorrowful, vulgar, lyrical and ultimately redemptive. Classic James Joyce.
Collected Poems of W.B. Yeats — I first read Yeats during my Ireland trip. Check out what makes the most celebrated Irish so enjoyable to read.
Angela's Ashes — A Pulitzer Prize–winning, #1 New York Times bestseller, Angela's Ashes is Frank McCourt's masterful memoir of his childhood in West Ireland.
Best Things to Do in Galway with Kids
Having spent childhood summers in Ireland, let me assure you it is a great place for children. Let's take a look at the best things to do in Galway with kids.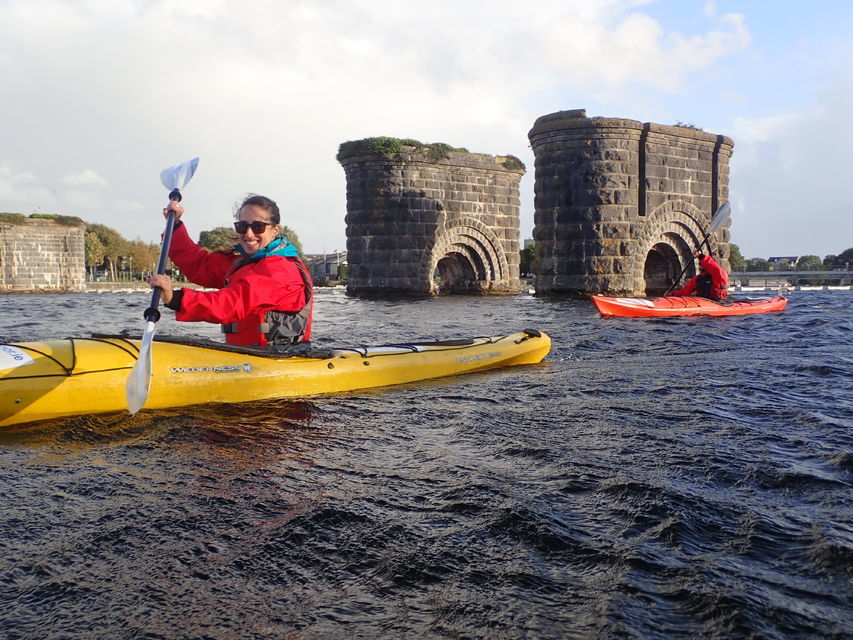 Whilst cruising on the Corrib River might be ok for some, others might want something more adventurous. So for one of the more active outdoorsy things to do in Galway, you simply have to get out on a kayak and explore the Corrib River – and all of those islands on Loch Corrib itself.
Island hopping around the loch, spotting the fauna, getting properly up close to the landmarks of the lake itself – it's all much better and more fun with a kayak. Hiring a kayak and getting yourself on a family-friendly excursion to the lake has to be one of the coolest things to do in Galway with kids (not really young children, obviously).
17. Go on a coastal walk together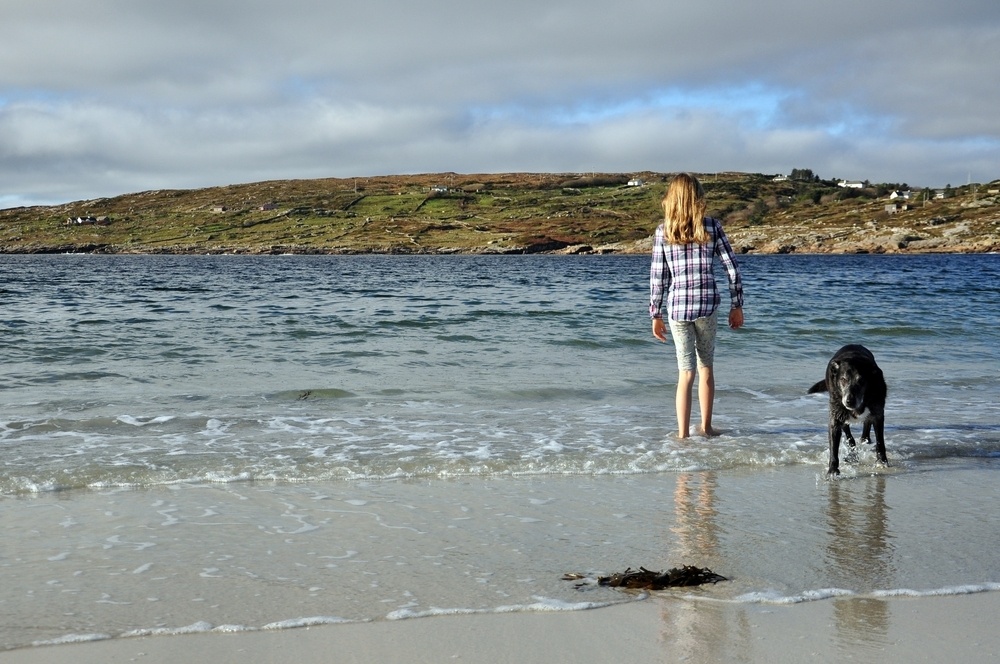 Being by the coast, Galway has a lot of shoreline to discover. So for one of the simpler things to do in Galway with your family, we would say that embarking on foot from the city and discovering the coast for yourself would be a great option.
Your kids will get to let off steam, running wild among sand dunes and beaches. You'll get to enjoy a breath of fresh air without having to worry about telling them to be quiet in a museum, or how you're all going to fit into that tiny restaurant you like the look of. Take a picnic and head out, either somewhere close to the city like South Park, or go for a woodland stroll at Portumna Forest Park.
Day Trips from Galway
Though there's plenty to keep you occupied in Galway itself, this city has so much going on in the surrounding area that it would be poor show not to head out and see what else you can find nearby. To inspire you to get out the city and get out into some of the best bits of Ireland, we're sharing with you our two favourite day trips from Galway, you know, just to whet your appetite of what's on offer elsewhere.
Probably one of the most famous attractions in the whole of Ireland, the Cliffs of Moher are much visited destination and it's pretty easy to see why. These amazing natural wonders are very striking sea cliffs that make for an almost fantasy-esque backdrop (which is probably why they've been made famous in such film franchises as Harry Potter to name but one).
Needless to say, visiting this renowned landmark is one of the best day trips from Galway you could embark on. It's relatively simple, too, being just under a two hour drive from the city out to the cliffs themselves. Once you're there, it's a matter of being completely blown away by the dramatic scenery, strolling along the cliff edge, and getting views of the Aran Islands from the 19th century O'Brien's Tower.
Connemara is a district of Western Ireland with amazing beaches, dramatic bays and charming fishing villages to discover along the way. This part of the country also boasts the Connemara National Park, with mountains and lakes. Though there is plenty enough to keep keen hikers and explorers happy with the number of adventures you can have in the surrounding nature, there's also history to soak up, as well.
One of its major draws is the stunning Kylemore Abbey. This Benedictine monastery, established in 1920, is an hour and a half drive from Galway. But also located on its sight is the equally beautiful Kylemore Castle, which was built in 1868. The abbey (open to the public), which sits at the side of a picturesque lake surrounded by rolling hills, and which features Victorian gardens, is a nice place to wander.
3 Day Galway Itinerary
Galway may be compact enough to warrant having a few day trips if you're staying here for a longer time, but that doesn't mean that there aren't loads of things to do in Galway to keep you occupied. And if you are here for a long weekend or something, chances are you'll be wanting to streamline your schedule as much as possible – to help out, we've got you covered with this very handy 3 day Galway itinerary.
Day 1 – Gallivanting in Galway
First of all, it's time for breakfast. Esquires Coffee is a good spot in Eyre Square where you can get a good breakfast, early in the morning, with a good local crowd. Then walk off that hefty Irish breakfast as you stroll 40 minutes the River Corrib out of the city centre and towards Menlo Castle. Take some snaps of this spooky structure; on the way back spot Terryland Castle, similarly ruined.
Making the long(ish) walk back into town, you'll be able to stop by Cathedral of Our Lady Assumed into Heaven and St Nicolas or simply Galway Cathedral, with impressive green dome and riverside setting. (There is a mosaic of John F. Kennedy nearby, too, for interest.) Then it's lunchtime, so walk over the Salmon Weir Bridge back into town to find somewhere to eat.
You can enjoy a good meal at McGinn's Hop House – expect traditional Irish fare in a cosy spot. From there it's time to head over to the Long Walk – a picturesque row of pastel coloured houses, a 13 minute walk towards the docks. It's a charming place alright. Wander the seafront till evening then head out to Ard Bia at Nimmos, an Irish restaurant with a buzzy atmosphere, for some dinner and drinks.
Day 2 – Getting Local in Galway
Get yourself full up for breakfast on your second day in Galway – you'll be kayaking later in the morning! So head on over to Revive Cafe for a tasty, filling breakfast and then make your way – via a kayak rental place – over to Loch Corrib via the river of the same name. Kayak around on the water (best done in summer, and preferably with a guide) to see some of the islands of this beautiful lake.
Once you're done exploring the nature of the surrounding area, you'll make your way back into town and be (we imagine) very ready for some lunch after a busy, fun packed morning. Grab yourself a sandwich to go, or some other snacks from a store, and have yourself a picnic in Eyre Square. Hang out and watch the buskers, observe local life, snap pictures of the fountain and chill out for the afternoon.
Hit the shops that line and surround the square and people watch from the terrace of Cafe Express, with a much needed mug of caffeine. Making sure to snap a photo of the John F. Kennedy Memorial in the park, it's time to hit Galway's pub scene. It wouldn't be a trip to Ireland without spending (most of) the evening in a pub, so start off – or stay in – the very lovely O'Connell's Bar, eating and drinking.
Day 3 – Gastronomy in Galway
The best place to start on an exploration of the food and drink scene in Galway is Galway Market. This place is just a 6 minute walk from Eyre Square and is where you can pick up a whole lot of different food for breakfast, from Vietnamese banh mi to freshly baked goods. Once you've eaten, check out all the crafts, artisanal products and other knick knacks on offer. There's a great atmosphere here.
After a morning of checking out the market (and most likely filling up on food whilst you're doing it), it's time to head to the Micil Distillery (open from 2pm), which is 14 minutes on the 401 bus from the market. If you're still hungry, head to The Galleon – a cosy family eatery – for lunch. Head over to the distillery, learn all about gin, whiskey and the famous (and very potent) Irish poiton.
Founded in 1848, you'll get to learn a lot about the history of this still family-operated distillery. It's a pretty cool place. Once you've tasted enough spirits for one day, O'Connor's Famous Pub for a drink of something less strong than you've been tasting. Now it's time for dinner with a difference: a banquet at Dunguaire Castle. It's 1 hour on the 350 bus (or a 30 minute taxi), but it's worth it.
More Great Resources
Conclusion
Galway is gorgeous and always welcoming. We hope our list will help you to have an amazing, unforgettable time.
That's why we created this guide to the more non-touristy things to do in Galway, so that you can have a definitively more local experience, and take memories (and recipes for Irish cuisine!) back home instead of run of the mill experiences.
Yay for transparency! Some of the links in this post are affiliate links. This means that if you book your accommodation, buy a book or sort your insurance, I'll earn a small commission at no extra cost to you. I only link to stuff I've actually used and never endorse crap. Your support helps me keep the site going.
---
Need More Inspiration?