Ireland has more than just great beer on offer. The country has a distinct culture filled with music, laughter and luck. It has many stunning natural wonders on offer and boasts a green landscape all year round.
The Emerald Isle is a great place to visit whether you decide to tour the Ring of Kerry or spend some time in the capital city, Dublin.
Many people consider Ireland to be expensive. It's an island country and has a relatively small population. This means that they import a lot of their products which can raise prices. The country also has reasonably high taxes.
The tourism industry has also been known to make things more expensive but that shouldn't deter you from visiting. The time of year can affect prices as can your location. Staying in the Irish countryside is significantly cheaper than staying in Dublin.
So is Ireland expensive?
Ireland is often viewed as more expensive than the other EU countries. However, there are lots of ways to travel through the Emerald Isle without breaking the bank. This guide breaks down the best ways to travel to Ireland on a budget.
So you've decided to take a trip to see the land of saints and scholars. There are a couple of things that every traveler will need to know the cost of:
Getting there (flights)
Accommodation
Food
Day-to-day Transport
The stuff you actually went there for (The sights, the museums, and the unforgettable experiences)
Figuring out the exact cost of a trip to Ireland can be a little tricky as prices change all the time. This guide will estimate the average costs to help you plan your trip to Ireland.
Ireland is a part of the European Union so its currency is the Euro. But to make things simple, we're going to use US dollars in this guide. The exchange rate, at the time of writing, is 1 Euro to US $1,10.
In the table below, there is a basic summary of the various costs of a trip to Ireland, on a daily average, for a two-week stay.
2 Weeks in Ireland Travel Costs
ESTIMATED EXPENSE: US $300- $600 for a round trip ticket
A big part of your Ireland cost of travel will be airfare.
Ireland is at its busiest during summer. From July to August the country is bustling with tourists and locals alike.
The weather is at its best during these months, but if you book a few weeks before or a few weeks after you might be able to get a bargain.
The cost of airfare also depends on where you're flying from. Trips from England are significantly cheaper than flights from JFK. Here's a breakdown of flight costs from some main cities.
New York to Dublin International Airport: $200-$350 USD
London to Dublin: £30-£55 GBP
Sydney to London: $1000- $1300 AUD
Vancouver to London: $590-$1000 CAN
There are lots of ways to save money on flights to Ireland. Make sure to check special deals and error fares. Many airlines have great loyalty programs that help you save if you're a frequent flyer.
ESTIMATED EXPENSE: US $40 -$100 a night
The cost of accommodation varies depending on where you stay in Ireland and the time of year you visit. Dublin is by far the most expensive part of the country, so if you're on a budget it might be better to focus your trip elsewhere. A beautiful house in Kenmare could cost the same amount as a dingy apartment in Dublin.
Hotels are the most expensive option but apartments or houses can be just as nice (and you can save money by cooking for yourself). Hostels are definitely the cheapest option but they're not for everyone.
Hostels in Ireland
Hostels are great places to meet like-minded travelers and are perfect if you're traveling to Ireland on a budget.
Luckily, Ireland's hostels are highly rated and spread out all around the country. If you're the kind of person who likes interacting with others and experiencing local culture, hostels are a great option.
A dorm bed will cost you about $40 in Dublin and Galway, and around $20 in the rest of Ireland such as hostels in Dingle. Most Irish hostels will offer you free breakfast. Some even offer walking tours, live music and movie nights.
Below are a few of the best value hostels in Ireland
Abbey Court Dublin: Located in the middle of Dublin, this hostel has an artistic vibe that is great for meeting new people and exploring the city.
Galway City Hostel & Bar: This hostel is in the middle of Galway and has live music every evening. It's safe, clean and great value for money. Also, they offer free breakfast and organize trips out for their guests.
Neptunes Town Hostel: Based in Killarney, this hostel offers free breakfast, free WiFi and a games room. It's a two-minute walk from the national park, perfect for cycling or hiking.
Airbnbs in Ireland
Airbnbs are a great home away from home. They're not as pricey as hotels but they're more private than hostels. They're great for solo and group trips alike. You can choose from a variety of houses and apartments all over the country.
They are also a great way to save money on food (and alcohol) and most places have WiFi. The prices of apartments vary greatly. An apartment will cost you around $70 a night.
Hotels in Ireland
The cost of hotels in Ireland is more than that of hostels or Airbnb but they do offer numerous perks. You won't have to worry about cooking or cleaning for one and they're usually in the ideal locations.
Hotels in Ireland generally cost a minimum of $100 a night but this depends on where the hotel is and whether you choose to stay at a 5-star hotel or a 3-star hotel.
Great value-for-money hotels in Ireland are:
The Westbury: Located on Grafton Street, the Westbury is in the perfect location for exploring Dublin. It also has two great restaurants and is considered one of the best hotels in Dublin.
Park Hotel Kenmare: This 5-star hotel is in the perfect location for road trips. It overlooks Kenmare bay and offers a variety of activities for its guests. It's the perfect place for couples.
Lough Eske Castle: This hotel is set within a forest at the foot of a mountain. The castle is ideal for visitors wanting to stay in Donegal and experience the Irish countryside.
A great way to save money at hotels is to choose the option without breakfast. You'll generally be able to find the same amount of food at a significantly cheaper price at surrounding restaurants.
Farmstays in Ireland
Staying at a farm in Ireland offers a taste of the world-famous Irish hospitality. If you choose to stay on a farm, you'll be able to experience the friendliness and warmth of the country. While surrounded by the magnificent Irish countryside. A farm-stay is the perfect way to get a taste of country Irish life and escape the stresses of daily life. They're also reasonably affordable, costing only about $70 a night (breakfast included). You'll be surrounded by fresh produce and clean air. And you won't have to worry about other tourists getting in your way.
If you're looking for unique accommodation and an unforgettable experience then farm stays are a great option.
Ocean View B&B: This Ballylongford farm stay is near to Dingle in County Kerry and offers beautiful views from all sides. The cottage is ideal for couples and there is a pub within walking distance.
Moate Lodge: This Georgian farmhouse is located in the Kildare countryside. It's only an hour's drive from Dublin and only eight minutes from town.
Greenfields Farmhouse: This farmhouse offers an escape from city life and an exceptional breakfast. It's located in a great neighbourhood and the hosts will make you feel right at home.
ESTIMATED EXPENSE: US $5 -$70 a day
The cost of transport is Ireland varies depending on the method of transport you use and where you want to go.
Ireland offers public transport in most urban areas but for the more rural areas, you'll probably need a car of your own. If you choose to stay in a small town like Kenmare or Killorglin, you'll be able to get around on foot.
Taxis tend to be pretty expensive and mainly operate in larger cities. Many visitors prefer to tour Ireland in a rental car. This offers greater flexibility and is more efficient than using public transport.
There's a lot of public transport available in Dublin, including trams, buses, and trains.
Train Travel in Ireland
Ireland has a pretty good train service between the large cities (Cork, Galway, Limerick, and Dublin) but the train doesn't run to the smaller towns. Using trains is the most budget-friendly option but it does limit the amount that you're able to see.
It is a reasonably quick and comfortable method of travel. Traveling from Dublin to Cork will cost you around $70 and will take less than 3 hours, it's a perfect day trip from Dublin to take.
There are a few ways to save money on train travel in Ireland such as booking in advance, special rail passes, discounts, and specials.
The best rail passes are:
The Eurail Ireland Pass: The pass costs around $200 for a 7-day pass and allows you to take as many trains as you want on each travel day.
Trekker Four Day: This ticket offers you unlimited travel on all Iarnród Éireann services from the day you buy the ticket. It will cost about $120.
Irish Explorer Rail Only: This pass offers ticket holders 5 days unlimited travel within a 15 consecutive day period on all Iarnród Éireann services. It costs around $170.
Leap Visitor Card: This offers customers 1, 3, or 7 days unlimited travel on Iarnród Éireann Dart and Commuter Rail services in the short hop zone, Dublin bus (including the Airlink 747 which goes to the airport), the Luas and Go-Ahead. It costs between $11 and $45.
Bus Travel in Ireland
Ireland's bus service is comfortable and reliable but it can make trips a little long. They run according to specific schedules but they don't reach some of the areas.
Taking the bus can mean quite a lot of walking or making use of taxis if you want to visit specific sites (like one of Ireland's many castles).
In the summer many tour buses take visitors around Ireland. But if you go in the off-season there may be fewer bus trips on offer. These trips are great if you want to make friends and not worry about which roads to take but they're not for everyone.
Buses aren't the best method of getting around but they are the most affordable. You can also choose bus routes that take you on the most scenic roads, allowing you to see the Irish countryside. A bus ticket from Dublin to Cork will cost you around $11.
You can save money on bus travel by making use of special bus passes, discounts, and specials.
Leap visitor card: As mentioned above this card allows you access to both trains and busses.
Tourist Travel Pass: Bus Éireann's Open Road tourist travel pass is a hop on hop off bus pass that allows unlimited bus travel across The Republic of Ireland. This ticket allows you to explore at your own pace. It costs around $70 for a six-day ticket during which you have unlimited travel for three days.
Getting Around Inside the Cities in Ireland
Traveling in cities is possible using cars, busses or trains. All of which are pretty reliable. Dublin itself has a lot of traffic but outside Dublin, this eases up a lot.
Walking around cities is the cheapest option and very possible in Dublin. In cities like Cork or Limerick, busses are a good way to get from place to place. It costs around $2 minimum for a Cork bus ticket.
Intercity travel in Dublin can be done via bus or via the tram which is known as the Luas. A bus trip starts at around $3 and a short tram trip will cost you around $2. Taxis also operate in most of the major cities but they are a pricey choice starting at around $4.
Renting a car is ideal in most of the cities but you'll need to budget for parking fees. Driving in Dublin is a hassle so it's definitely better to use public transport.
If you're planning on traveling around Dublin the Leap Visitor Card is a great option. It will allow you unlimited travel within the city for a certain period of time (it even includes transport to and from Dublin airport).
Renting a Car in Ireland
Renting a car is the best way to get around Ireland. Road trips are a great way to see the countryside. This method is great because you can explore at your own pace and you can choose exactly where you stop. You've just got to watch out for sheep crossing the road.
A rental car will cost you around $30 a day. This price will vary depending on the type of car, time of year and the pickup location.
Rental car insurance will cost you around $20 a day. Insurance is mandatory when renting a car in Ireland. You'll have to make sure you have Collision Damage Waiver Insurance (CDW) before you set out on the roads.
You might also have to pay tax on your rental car which can raise the price.
Unfortunately, gas is pretty expensive in Ireland. It'll cost you $1.45 for a liter. The amount this will cost in total will obviously depend on how far you're going to drive.
There are many ways to save money on rental cars. Renting a car from the airport increases the rental rates substantially. Pre-booking your rental car also decreases the cost. Also, it's a good idea to take advantage of rental car loyalty programs.
Want to save some cash and explore Ireland by rental car? Use rentalcar.com to find the best deal possible. There are some great prices on the site and they aren't difficult to find.
ESTIMATED EXPENSE: US $32 a day
So how about food? The cost of food in Ireland can be quite high. It is a good idea to avoid the touristy areas or plan your trip so that you don't eat out in these areas since you can expect the prices to be significantly higher there.
Ireland has a lot of affordable chain restaurants that offer specials on different days of the week. A great way to find the most budget-friendly meals is to follow the locals. Most pubs offer affordable meals that are of good quality and some of them offer specials.
The average meal cost in Ireland is around $13 a person. Breakfast is by far the cheapest meal and there are a lot of Irish breakfast specials.
Irish Breakfast: $8-$12
Pizza: $10
Burger and chips: $6
Casual restaurant lunch with a drink: $10
Buying food and cooking yourself is the cheapest option when it comes to eating cheaply in Ireland. Below are some common market food prices in Ireland:
A dozen eggs: $2,91
1-liter milk: $1,14
Bottle of beer (0.5 liter): $2,68
2 lbs potatoes: $1.19
1 bottle red wine: $11
Where to Eat Cheaply in Ireland
Overall, food can be quite costly in Ireland, especially if you eat out frequently. However, there are a few budget-friendly places if you're in the mood for eating out:
If you're looking for a good meaty meal, Bunsen's is a great option. They offer four different burger choices with fries for under $13. There are three locations in Dublin city center for you to try.
Apache Pizza is an Irish pizza delivery brand with restaurants all around the country. They offer some great deals on different days of the week that will help you save. A large medium pizza, sides and a drink will cost you about $13.
The Pieman Cafe offers a hearty wholesome pie, a side dish, and a beer for under $14.
The English Market in Cork is a food market that sells fresh produce at an affordable price. It's also a great place to visit for tourists.
If you're looking for standard grocery shops Lidl, Tesco and Aldi are your best bet.
Tony's Bistro in Cork offers all-day Irish breakfast for under $10.
ESTIMATED EXPENSE: US $10-$20 a day
Ireland is known for its alcohol, more specifically Guinness, Bailey's and a wide variety of Irish whiskeys. However many tourists say that alcohol can be quite pricey. Both VAT and excise tax is charged on alcohol which brings up the cost.
Drinking is a large part of Irish culture. While an Irish coffee might cost you more than you originally expected, you won't regret ordering it. Alcohol is a worthwhile part of the Irish experience.
A pint of Guinness in Ireland is a must for beer-lovers. It will cost you about $5.50. A glass of wine is slightly more expensive at around $6.50 and ciders are around the same.
If you decide to go to Temple Bar you'll be paying a lot more though. Rather choose an area just outside Temple Bar like Baggot Street or Dame Lane.
Dublin has a great nightlife scene that's worth experiencing. Buying alcohol at the supermarket is much cheaper than drinking out so consider drinking at home first.
Since 2013, the "happy hour" specials regarding alcohol are forbidden by law. If you hope to get a few special prices in, you'll be disappointed. Alcohol prices, especially in pubs and bars don't change during the day. However, there are a few places that offer a meal with a drink, which can work out a bit cheaper in case you're hungry as well.
ESTIMATED EXPENSE: US $5/day
There are a lot of free options when it comes to entertainment in Ireland. The country has many natural wonders that will take your breath away.
One of the best attractions in Ireland is listening to live music. Most of the pubs have live music every night that you can watch for free. This is an amazing experience that doesn't cost any money (unless you buy drinks).
If you're not into live music, there are head more attractions and hot spots all over Ireland. Especially in cities like Dublin or Galway, you'll be struggling to fit all of the things to do into your trip.
Here's a summary of the cost of Ireland's main attractions:
Guinness Storehouse: $22
National Museum: Free
Cliffs of Moher: $7
Temple Bar: Free (Just pay for drinks)
Killarney National Park: Free (but you can take a horse-drawn carriage around the park for $11 per person)
Ring of Kerry: $25 for a day bus tour or free via rental car (you'll just need to pay for gas)
Dublin Castle: Free but access to the State Apartments and Medieval Undercroft is by guided tour only. This tour will cost you about $9.
There are a lot of tours available that offer discounted rates or tour passes that'll bring down your Ireland trip costs. Here are a few ways to save money on attractions:
Booking in advance online can bring down the attraction costs by up to 25%.
Get The Dublin Pass: This sightseeing package grants visitors free entry to over thirty attractions, museums, and monuments in Dublin. The pass also grants you access to a twenty-four-hour hop on hop off bus tour. It's around $100 for a three-day pass.
Ireland Touring Guide and Discount Pass: This guide is around $10 and has a lot of discounts and special offers inside.
Get a Heritage Ireland card: This $42 card provides free admission to a variety of heritage sites throughout Ireland and lasts for a year from the first date of use.
It can be difficult to account for everything before your trip. Extra expenses always pop up. Ireland has a lot of great shops and unique souvenirs on offer.
There are also a lot of hidden gems in Ireland that you'll want to make sure you have a little extra money on.
It's a good idea to set aside some extra money for these expenses. Anything can happen so it's better to be prepared for emergencies and have a little extra cash in the bank. Adding an extra 10% of the total budget is a pretty good way to make sure you don't run out of money.
Worried about Irelands safety? We've created a massive guide on how to make your Ireland trip super safe and enjoyable. Be sure to check it out!
Tipping in Ireland
Tipping isn't a requirement in Ireland. The staff who work in restaurants, bars, and cafes get a steady paycheck. The Irish don't usually tip bartenders, accommodation staff or taxi drivers.
You can leave a tip at a restaurant, cafe, bistro or pub with table service, though. This is usually around 10%-15% of the bill or rounding up the bill up to the nearest reasonable number. You don't need to worry about tipping the takeaway staff.
Tipping is only really necessary if you really enjoyed the service.
Get Travel Insurance for Ireland
ALWAYS sort out your backpacker insurance before your trip. There's plenty to choose from in that department, but a good place to start is Safety Wing.
They offer month-to-month payments, no lock-in contracts, and require absolutely no itineraries: that's the exact kind of insurance long-term travellers and digital nomads need.
SafetyWing is cheap, easy, and admin-free: just sign up lickety-split so you can get back to it!
Click the button below to learn more about SafetyWing's setup or read our insider review for the full tasty scoop.
There are a lot of ways to save money when you go traveling, especially in Ireland. Here are a few extra tips on saving some money:
Drink tap water: It's completely safe and it's free.
If you can walk, do it. It's a great way to see the country and get a little exercise.
If you're in Dublin get a Leap visitors card: It will save you time and money.
Don't worry about getting a SIM card, most places have WiFi these days so it's not worth the hassle.
Pack the Ireland essentials: Save some money by being prepared and having everything with you. Nothing is more annoying than spending money on things you simply forgot to pack.
Make friends with locals: The Irish are super friendly and hospitable. Also, they will more than likely buy you a pint or even offer you food.
Avoid the touristy areas: Prices of everything go up in these areas and you can get the same thing for less a little further away.
Have a water bottle: Don't waste money on plastic, bottled waters; carry your own and refill it in the fountains and the tap. If you're worried about potable water, get a filtered bottle, like the GRAYL, which filters out 99% of viruses and bacteria.
Earn money while you travel: Teaching English while traveling is a great way to make ends meet! If you find a sweet gig, you may even end up living in Ireland.
Become a volunteer with Worldpackers: Give back to the local community and, in exchange, you're room and board will often be covered. It's not always free, but it's still a cheap way to travel in Ireland.
When you add everything together the costs might seem a little daunting but there are plenty of ways to save a little extra money on your trip. If you travel smartly, your Ireland vacation costs can be affordable.
Ireland may be a little pricey in some areas but when it comes to certain things you can save a lot of money. There are a lot of free attractions which means this portion of the budget is reasonably low. Their public transport is also really affordable for tourists (if you plan it right).
Accommodation can be budget-friendly and Ireland has some amazing hostels on offer. The destination also really rewards those who plan in advance so don't be afraid to book online.
So how much does a trip to Ireland cost?
What we think an average daily budget for Ireland should be: $70-$100.
---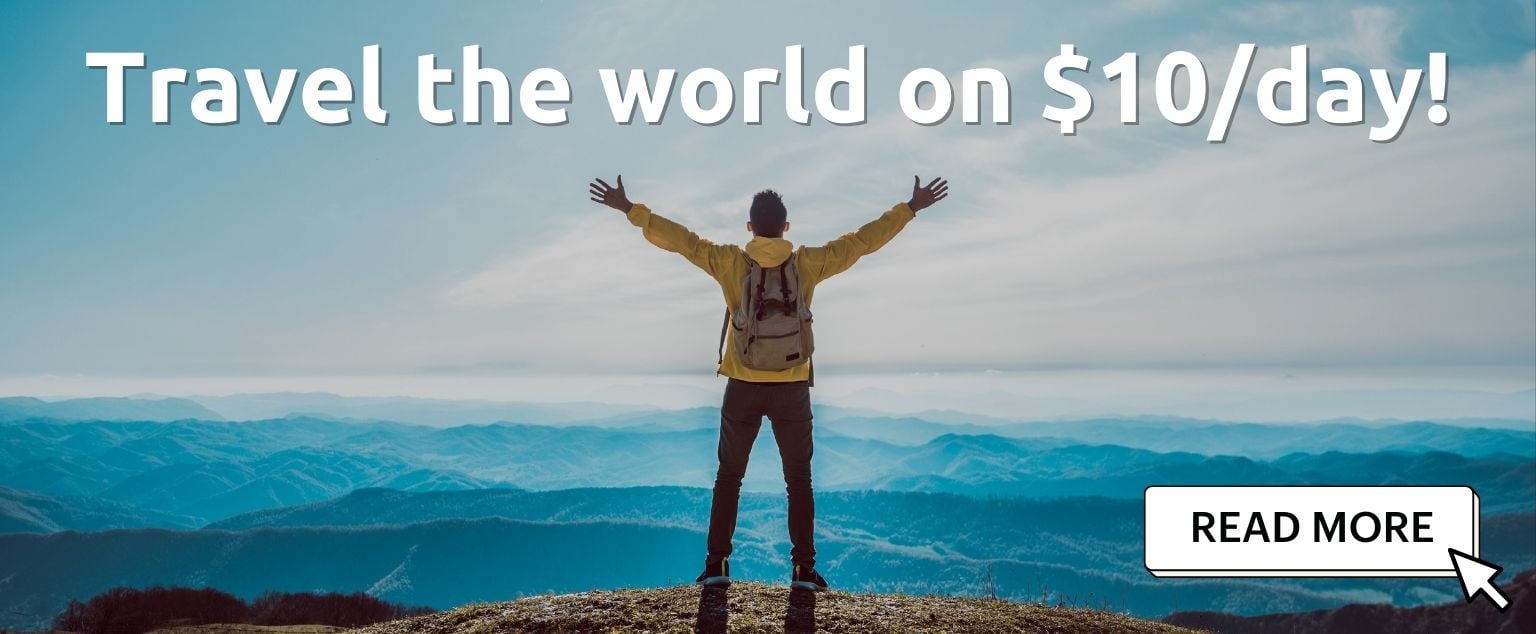 And for transparency's sake, please know that some of the links in our content are affiliate links. That means that if you book your accommodation, buy your gear, or sort your insurance through our link, we earn a small commission (at no extra cost to you). That said, we only link to the gear we trust and never recommend services we don't believe are up to scratch. Again, thank you!