Ireland is a world of natural wonders and top hospitality. Forever a fun and friendly country, there's always something magical to discover, a local pub to try out, and good craic to be had.
But Ireland isn't well known for its backpacking scene. Are there even any hostels in Ireland to stay in? Will you just have to put up with staying in the local B&B? These are fair questions.
So we've put together a huge insiders guide to the 24 best hostels in Ireland. That way, you won't end up regretting your choice of hostel. We've broken it down the guide by London's top places to visit: its cities most frequented by backpackers.
Keep reading to discover the top hostels around Ireland that offer the modern-day backpacker everything they could want. Kickass traveller vibes and a cosy pillow to rest their wear wanderer's head.
Here are the 24 best hostels in Ireland to make your next adventure unbelievable.
Quick Answer – What are the Best Hostels in Ireland?
The Top Hostels in Ireland
Aren't too concerned where you're going and just wanna cut straight to the good vibes? Well, it's a big place, and there are a lot of areas to stay in Ireland.
But if you just want the best-of-the-best Ireland hostels, here they are!

Do You Want to Travel FOREVER??
Then pop your email address in below and we'll send you a FREE copy of 'How to Travel the World on $10 a Day!' – make travel your LIFE.
The Overall Best Hostel in Ireland – Isaacs Hostel (Dublin)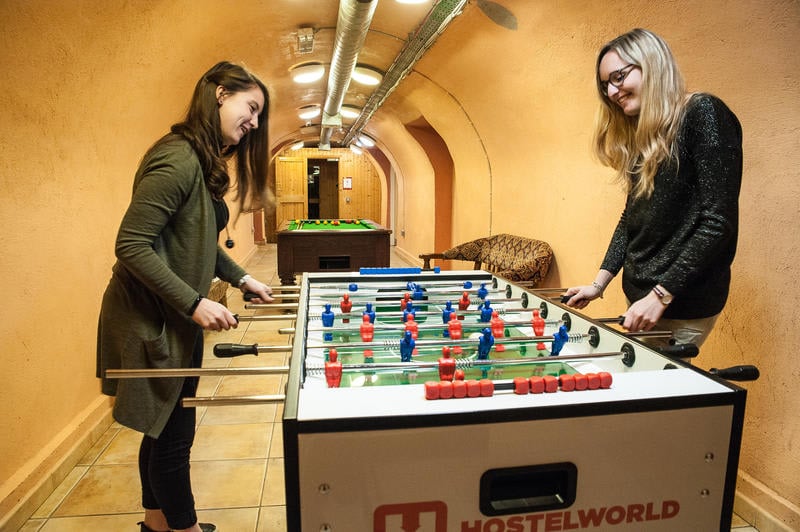 $
Free Breakfast
Bike Hire
Cafe
Who is Isaac? We need to know so we can thank 'em for making such a sick lil' hostel. First of all, the location. Let's talk about that. I
t's super close to Connolly train station, so you can travel about easily. But it's also easy to walk to loads of bars and restaurants nearby. Win-win!
It's a poppin' kinda place with a warm atmosphere and facilities perfect for travellers. Yep, it's one of the best hostels in Ireland, and it also boasts decent areas to kick back in, super friendly staff, and amazing pub crawls. Value for money and the vibes to match.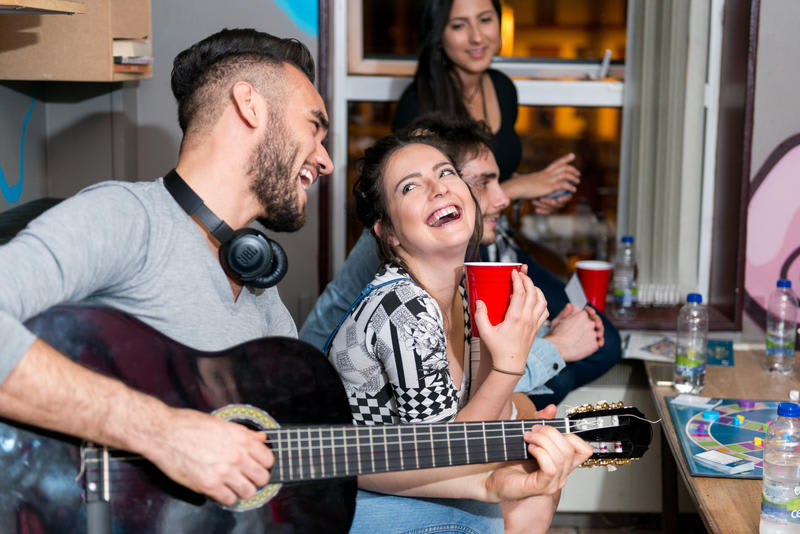 $
Laundry Facilities
Free Breakfast
Self Catering Facilities
Whoever said travelling Ireland had to be expensive? Even in the heart of Dublin itself you can still put yourself up for a good price!
So, you want it cheap? Then this one of the best cheap hostels in Ireland. It's perfect for a base if you wanna see what Dublin has to offer. The cheapness here starts with free ice cream and cookies nights and ends with free dinners.
And in between, there's loads of other stuff like free tea and coffee, as well as the old classic of the free breakfast. Might not be the chicest place ever. Might not be the most spacious either. But the location is amazing. And, yeah, did we mention that it's cheap?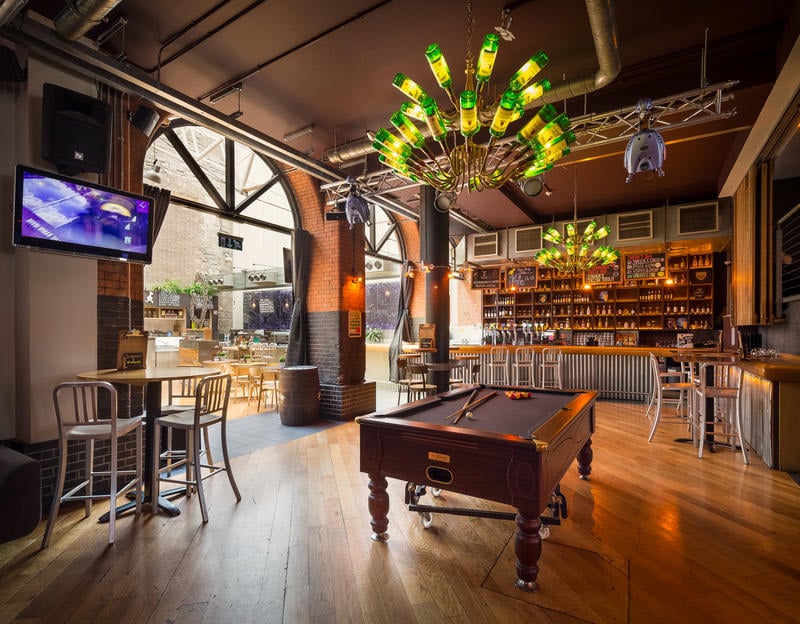 $$$
Bar
No Curfew
Wheelchair Friendly
Generator is pretty well known for being a decent selection of party hostels and this one is one of the best party hostels in Ireland. 'Cause it's a Generator it's pretty much a given that it's gonna be pretty hipster friendly inside. But don't be fooled: that doesn't mean it ain't a party hostel.
Nope. No siree. This party hostel in Dublin serves up a massive heap of partygoing perks every night. We're talking drinks deals, DJ sets, karaoke, drinking games, monthly themed parties. Is that enough? And when you fancy a quiet one there's pool competitions, quizzes and movie nights in the cinema room.
From the depths of the hostelsphere, we bring you… the Hostel Card!
HostelPass has spent years & years looking for the best places to stay in Europe, and they just came back with something GREAT.
The Hostel Card is a hassle-free solution with up to 25% discount at the most amazing hostels, tours, and experiences. Any-where-you-go.
Don't sleep on the ultimate budget travel card — use code "brokebackpacker" at checkout for 25% off!
Get the Card
Well, I know we already had three of Dublin's top hostels, but what can we say – Dublin is a kickin' little capital.  Gloomy, and tempermental yet somehow always managing to draw you in, Dublin has a lot going on. From the old architecural charmers to the rowdy pubs and endless jigs, Dublin deserves some time to unpack.
So put yourself up somewhere awesome! With so much nightlife and culture to absorb, there's a wonderful little backpacking scene in Dublin to get lost in for a few days… Maybe a week.
For the solo travellers and lonsome backpackers in Dublin.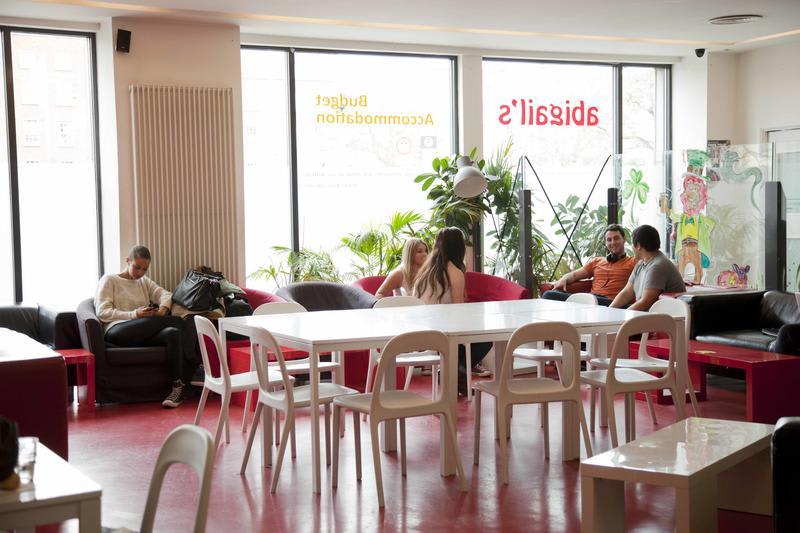 $
Free Breakfast
Cable TV
24-Hour Security
A fun Dublin backpackers hostel, it's also a top choice for security – everyone gets a door pass so no weirdos walk in at night. As you can see, you'll feel safe and secure here right in the middle of Dublin. It's easily one of the best hostels for solo travellers in Ireland.
They've got a big comfortable dining room where you can get chatting with other travellers. Another great way to meet people here are their walking tours, which doubles up as a decent way to get acquainted with Dublin, too. The staff are fountains of local knowledge.
The most colourful hostel in Dublin.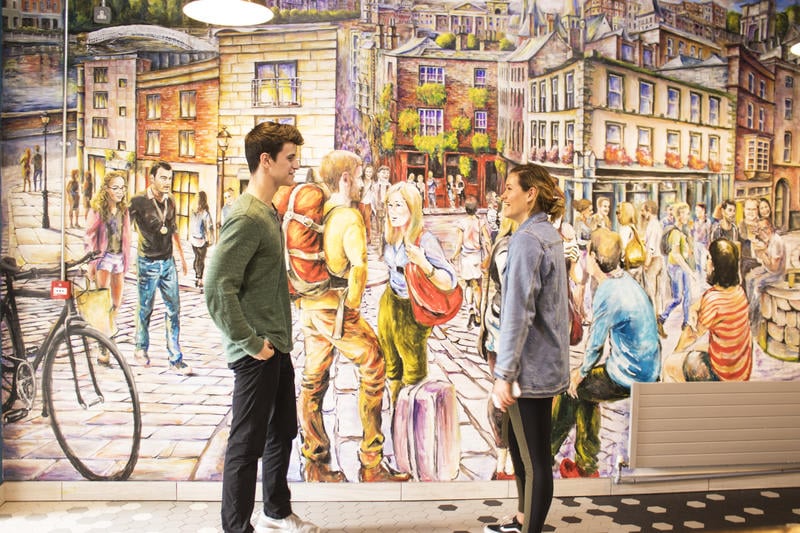 $
Cafe
Free Breakfast
Outdoor Terrace
Wow. Well, there's a lot of colour going on here and a lot of murals. Even the outside of the building is covered in flowers. You will literally not be able to miss this one. Inside there's also a vibey terrace area packed with plants and Buddhas, as is the custom in 'quirky' hostels.
The artwork is a bit like a nightmare at times but if you can put up with that, or if you actually like that sorta thing, then you're good. The vibe is on-point. Think pub crawls, walking tours, and all the good stuff.
A low-key budget place to stay in Dublin for couples.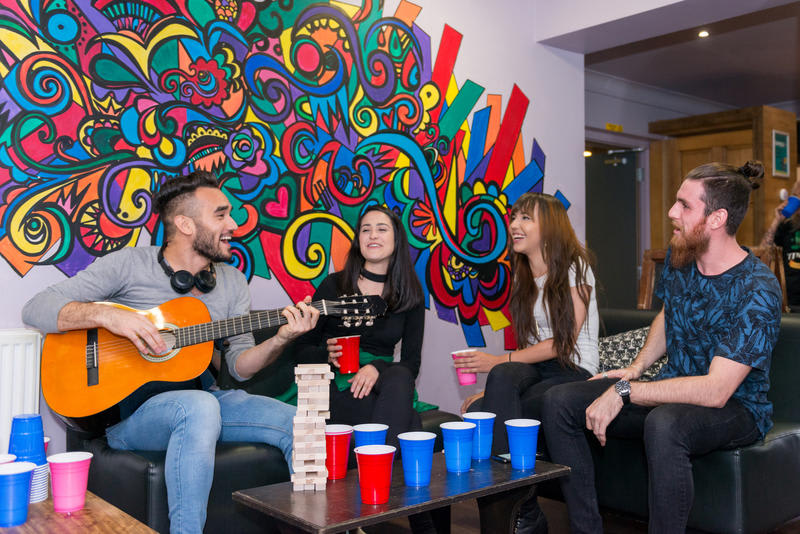 $$
Free Breakfast
Security Lockers
Tours & Travel Desk
Five mins from Dublin's Grafton Street – a great shout if you want a slice of nightlife or cool stuff to check out in the day – this is one of the best hostel for couples in Ireland. Want some Irish pubs? Yep, they're all a literal stone's throw from here.
There's a decent social atmosphere here, so if you and your partner happen to be social then you can have a few drinks and get chatting. Different rooms on offer, from dorms to bedrooms with ensuites or shared bathrooms, will suit pretty much any couple travelling in Ireland. It's all low-key but modern.
A spacious and comfy hostel in Dublin for working travellers.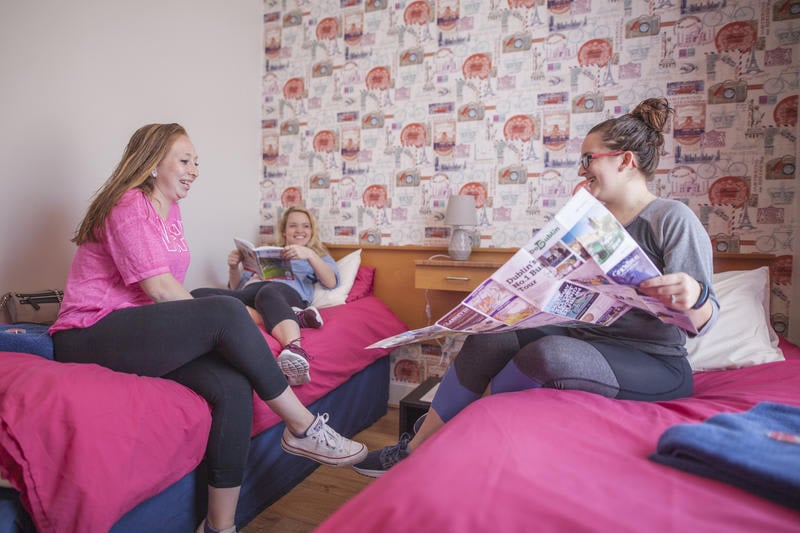 $$
Laundry Facilities
24-Hour Security
Free Breakfast
Right in the middle of town, this place makes for one of the top hostels in Ireland for digital nomads. There's plenty of space to spread out or find yourself a corner to get your head down and get some work done, and then treat yourself to a day out in town seeing the nearby sites.
Make sure you save time for fun because the buzzing Temple Bar area with all its bars and late night hangouts are right on the doorstep. If you have time the hostel puts on free walking tours which are pretty handy and a good way to see the town from a local's perspective.
A modern and design-focused backpackers hostel for travellers with fancier pants.
$$
Free Breakfast
24-Hour Receptions
Large Common Room
This is one of those designy modern hostels with a whole lot on offer, which means your money goes a long way. Staying here means you won't have to put up with mouldy bathrooms and smelly rooms 'cause its housed in a purpose built building. There's enough room for everyone.
Big ol' common areas that are bright and light come complete with handy charging points, loads of tables for everyone and a small cafe to grab a coffee when you need a pick-me-up. Overall, we reckon this is one of the best hostels in Ireland for those willing to fork out a few more Euros.
Do your research for a killer trip to Dublin!
Is This the Best Backpack EVER???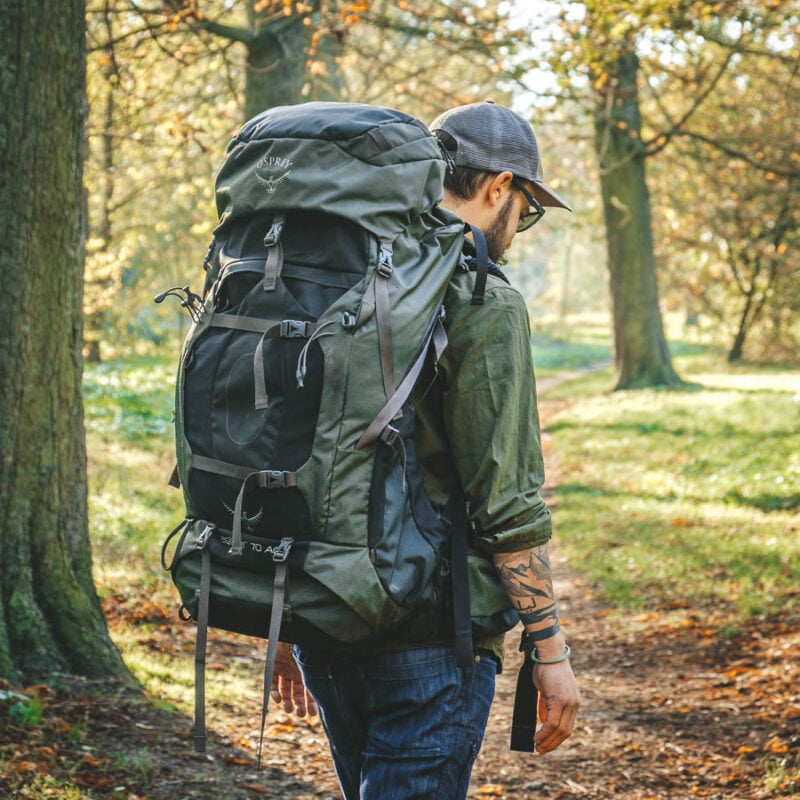 The west coast harbour gem complete with a vibrant student life, Galway mixes the medieval old with the trendy new. Much like Dublin, it's the perfect place to go in Ireland for backpackers looking to mix their culture with their nightlife.
There's a lot of ins-and-outs amongst Galways different areas, so make sure you pick the right accommodation for your stay!
A lively piece of hostel life in Galway.
$$
24-Hour Reception
Free Breakfast
Tours & Travel Desk
This Galway backpackers hostel is a lively choice that's been recently renovated. Yep, that's right, that means top-notch facilities and brand spanking new interiors. But aside from that, it's one of the best overall hostels in Ireland thanks to its welcoming atmosphere.
There's loads of common space here where you can chill and chat to peeps staying here, which is good if you're travelling solo. It's got pod beds for extra privacy, pool tables for the lols, and the locale here is ace: it's close to Galway's best bars and shops. The events here are sick too.
Napping country.
$
Book Exchange
Outdoor Terrace
Self Catering Facilities
Sleepzone is good for sleeping. It is a zone for sleeping, and it's exactly as advertised! So, yeah, if you're by yourself and you're into sleeping, come and sleep here. A perfectly crafted zone where you can sleep – clean and safe.
But in all seriousness, when it comes to the best hostels in Ireland for sleeping, Sleepzone is up there with the heavy hitters. There's a pub crawl, which is nice to get to meet people, plus day trips to places like the Cliffs of Moher if you're not too hungover.
It's like a snuggle but with more nuzzling.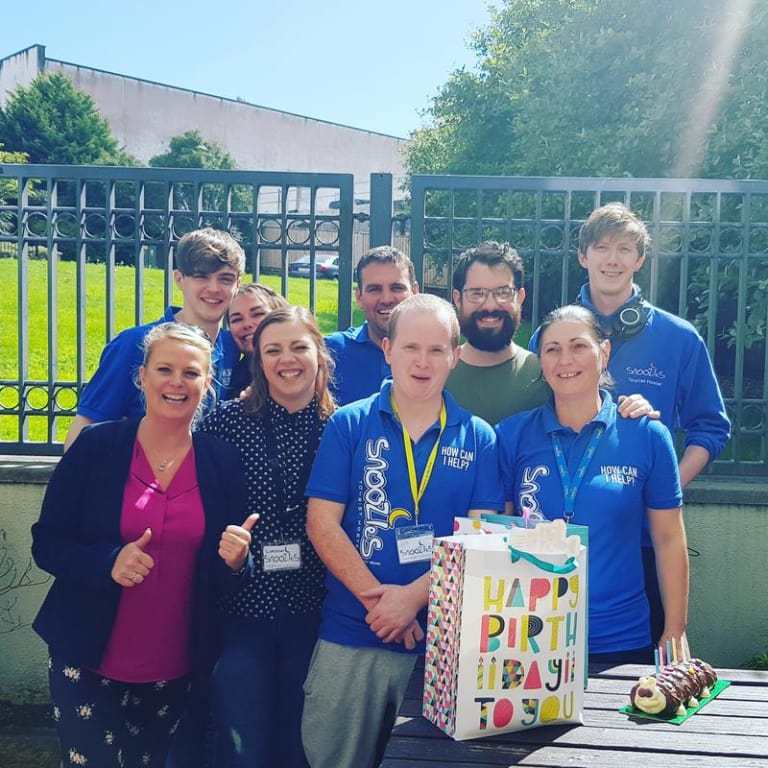 $
Self Catering Facilities
24-Hour Security
Free Breakfast
Snoozles. Everybody likes a snoozle. This is a youth hostel in Galway that's pretty much a great place to stay if you're on a budget. A very short stroll to the main square of the city, which means you're basically in the centre of all the action, you'll love this if you're all about exploring.
Snoozles is one of the best budget hostels in Galway – it's all pretty clean and modern inside, which is nice 'cause sometimes cheap just means basic so we like that. The staff here are a highlight: they'll go above and beyond to make sure everything's all good with you.
A cosy budget accommodation for couples in Galway.
$
Free Breakfast
Self Catering Facilities
Luggage Storage
This one's a small but sweet hostel that's perfect another hostel for couples travelling Ireland. So if you're backpacking through Ireland with stars in your eyes, and you find yourself in this part of the country, you might just wanna check into this Galway backpackers hostel.
Staff-wise, they're fun and have a good sense of humour. They'll also be able to tell you where's good and where's not if you're both hankering after some good food or a proper nice Irish pub to go have a few drinks in. Views of the sea from the hostel lounge top it off nicely.
For social but trash-lite parties in Galway.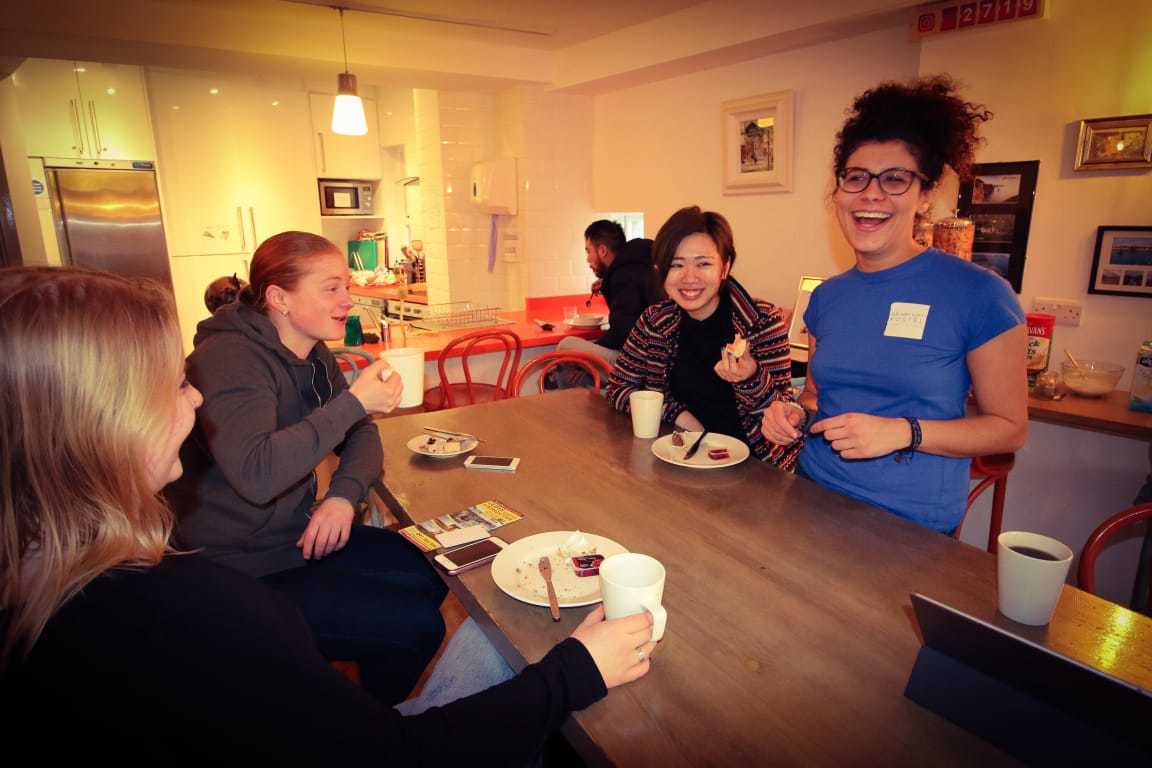 $$
Pub Crawls
Luggage Storage
Common Room
It has 'bar' in the name, so what are you expecting? Damn right – it's one of the best party hostels in Ireland! However, it's a different kinda party here. The good times are less about getting 100% trashed and more about just enjoying yourself.
You could say this is the coolest hostel in Galway – it really is pretty new and modern inside. But what about the parties? Most nights there's a pub crawl of some description. In fact, every night is a pub crawl, just different types.
When you wanna check out, the staff here help you with where you wanna hit up next. Nice.
Some locals will proudly tell you that Cork is "the real capital city of Ireland". Maybe they're right; there's plenty happening in Cork to rival Dublin.
With a small but defined hispter-scene, pubs, live tunes, and swanky bars offering the much-revelled Irish nightlife, visitng Cork is another chance to see more of Ireland's best. The best part? There are plenty of places for backpackers staying in Cork!
A simple and clean hostel in Cork.
$
Free Breakfast
Laundry Facilities
Self Catering Facilities
It might be a bit of an old-school hostel in an old house but this place is clean, spacious, and comfy. Sounds just perfect! Staying here might not be the trendiest hang, but it does guarantee evenings spent drinking with fellow travellers around the open fire in the lounge.
Staff want everyone to have a good time here, which is exactly how it should be to be honest: so there are no curfews and everything is chill. It's located in the Shandon Quarter, which means walking is easy to pretty much everything interesting in Cork. If you're looking for a cheap and chill weekend in Cork, this is the best hostel for you,
The best-located hostel in Cork.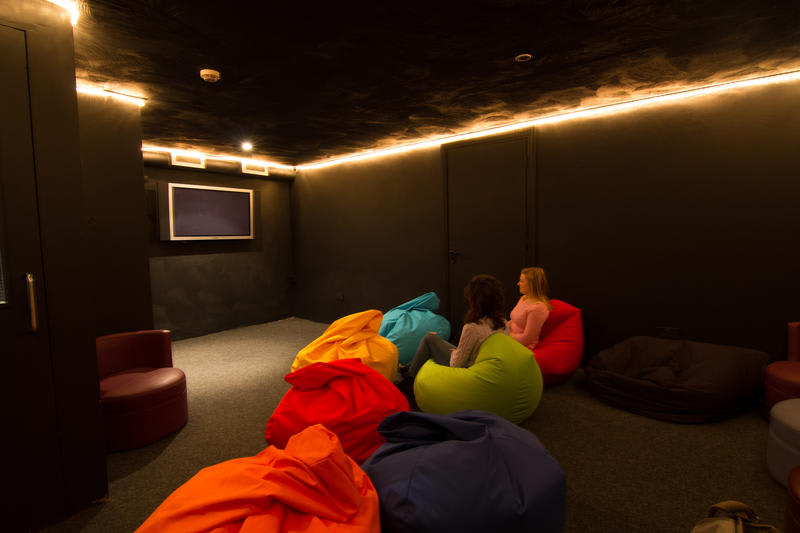 $
Communal Kitchen
Outdoor Terrace
Cafe
The literal best thing about this Cork backpackers hostel is the location. It's ultra central amongst the areas of Cork! You can spend your days here eating your way around the city and then drink your way around a different set of establishments in the evening.
The common room can get pretty lively here, but it's not that by itself that makes it one of the best hostel for solo travellers in Ireland. Sure, you can have a few drinkies and get loud in the common room, but it's the atmosphere in general here that's just the ticket when you're by yourself.
The best party hostel in Cork with the drinks and tunes on-site!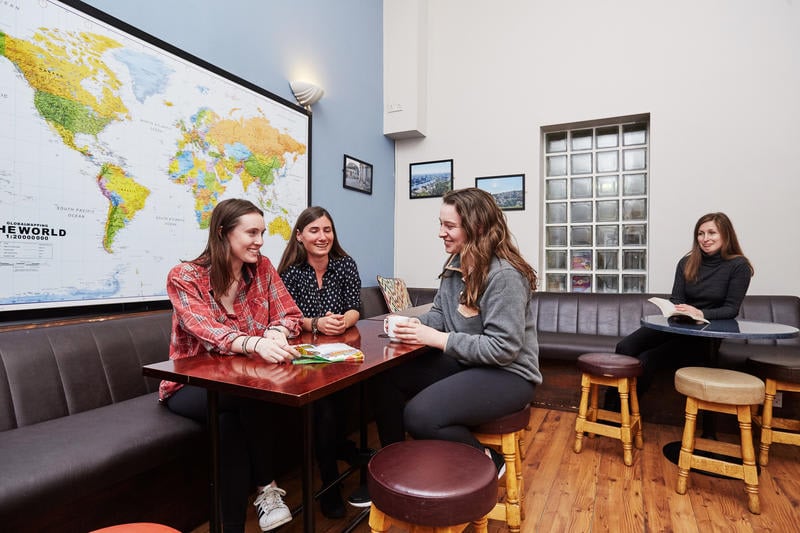 $$
Bar
Free Breakfast
24-Hour Security
If you want one of the best party hostels in Cork, you've come to the right place. This Cork backpackers hostel has one of the city's famous pubs literally right underneath, so it kicks off! There's live music every night – yes, every night – of the week.
If you fancy performing yourself there's an open mic night on a Monday – if you get up onstage you get a free pint. But if you don't fancy that, guests here get discounts on drinks which is always welcome. And when you're done your bed is just upstairs. Couldn't be easier to crash.
Well, the name better not exactly be a charmer. But whether it sounds like an unfortunate nickname for an Irishman's Willy Wonka or not, Dingle is really cool.
It's a step away from the previous cities on this list. A small fishing town that epitomises 'quaint' in every way. Dingle is the place to visit in Ireland for when tanning the bevvies in Dublin has lost its charm.
Detoxin' in Dingle.
An ultra-friendly vibe in Dingle.
$$
Free breakfast
Self Catering Facilities
Bar/Restaurant
The Hideout Hostel is one of the best hostels in Ireland right in sleepy, little Dingle. This Dingle backpackers hostel comes complete with ultra-friendly hosts who literally ooze Irish charm and do their best to look after you. Super, super friendly.
It's not just about warm welcomes and smiles though. It's also super clean here, so you won't have to worry about dirt and whatever. But the service is amazing. The breakfast is comprehensive and the homemade soda bread is a plus.
They describe their furnishings as "groovy" and we agree. When can we move in?
A backpackers hostel in Dingle for Ireland's solo adventurers.
$
Communal Kitchen
24-Hour Security
Laundry Facilities
A top hostel in Dingle, The Grapevine is run by incredibly welcoming people. Every time you return to this place it's like coming back home. That's always the best feeling when you're travelling by yourself.
So yeah, it's one of the best hostels in Dingle for the solo travellers in Ireland. A friendly vibe here makes the hostel life homey, and if you wanna get out and see what's going on, it's easy. There's a bunch of stuff to check out just on the doorstep, from pubs to attractions to charming eateries. Back at the hostel, the living room here is cosy and comfy where you can get up to low-key stuff like board games and shiz.
Not the coolest hostel in Ireland, but it's cheap!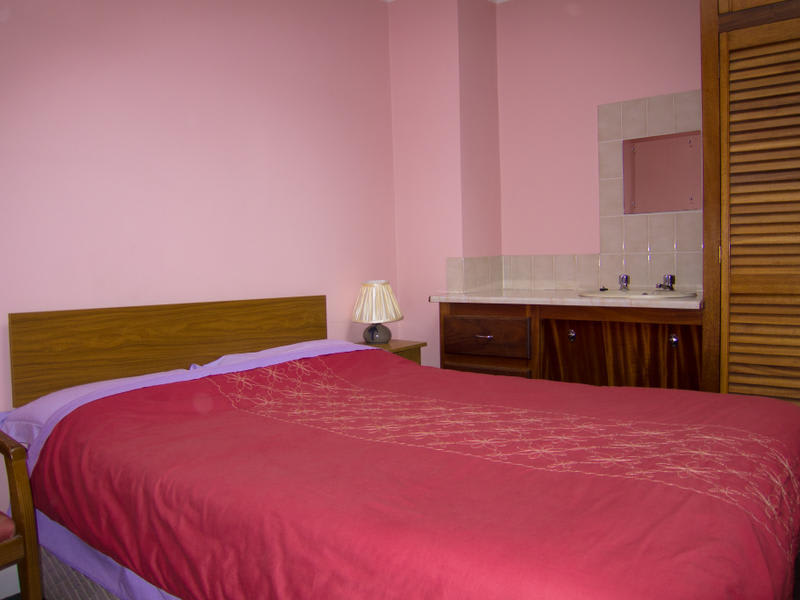 $
Bicycle Hire
Self Catering Facilities
Free Parking
Lovett's Hostel really is one of the best cheap hostels in Ireland. Staying here means being able to stroll leisurely to the local pub for some good food, which we highly recommend, of course. It's family run so it's got that Irish charm that makes you feel super welcome.
Aside from all that, this Dingle backpackers hostel isn't exactly pimpin': it feels a like you're just staying in someone's house. But it is a sweet little pad that's great value for money. A bit basic, but it makes up for it by being pretty dang charming.
For less ambient traffic noise and more ambient birdcalls.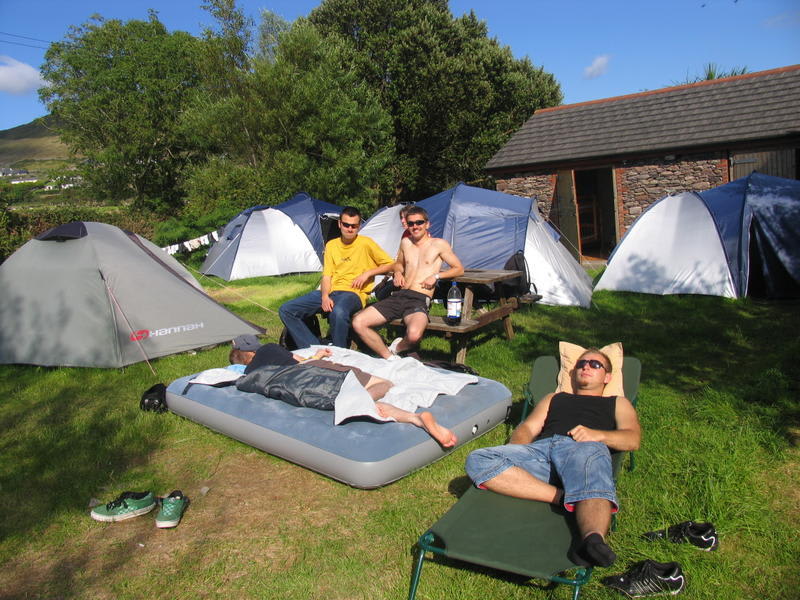 $$
Open Fire
Luggage Storage
Laundry Facilities
Hey, this is a cute cottage! For backpackers looking for an Irish hostel with more nature than concrete, you'll find Rainbow Hostel just outside Dingle. Hmm… it's actually more like a farmhouse. There's green countryside surrounding this place on all sides and the interiors are, well, like a farmhouse.
Staying at this DIngle hostel means breakfasts in the big farmhouse kitchen, walking around the grounds, generally appreciating nature, and all the tree-hugging goodies!
It's even better if you've got some wheels to get around, since it's a bit remote. And it's definitely NOT a party place, so if you want all that look elsewhere. Super cute though.
Because Hostelworld wouldn't accept a property named "The Randy Leprechaun".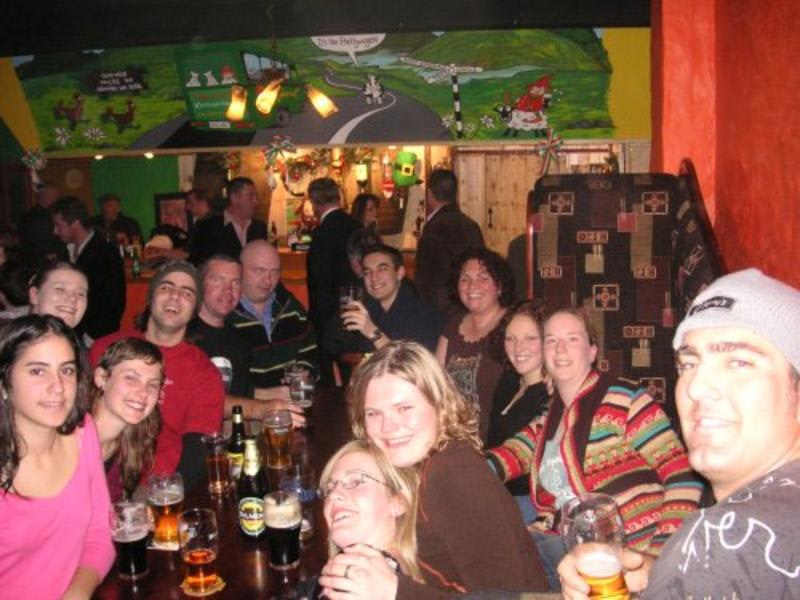 $$
Bar
Free Breakfast
Pool Table
This place is set in the traditional Irish village of Anascull. It's a Gaelic speaking community and yet this place is actually one of the best party hostels in Ireland. Bloody Irish.
That's because this hostelcomes with its own pub. Called the Randy Leprechaun! Bless the Irish.
Weekends at the pub are jam packed. There's a lot of music going on, a lot of locals getting their drink on, and a lot of international travellers hanging out, too.
The atmosphere is amazing. The staff help you out in the morning with a much needed coffee. Basically, this one is a slice of real Ireland and we love it.

Unlock the The Broke Backpacker's GREATEST Travel Secrets!
You pop your email here, and we promise to send you only travel content that's actually relevant — sounds like a pretty good deal to us!
A long time tourist-favourite in Ireland, Killarney has been welcoming visitors for a long time. Bordering the spectacular Killarney National Park, Killarney is a treasure trove of natural delights.
It's also super clean! I was named 'Ireland's tidiest town' in 2011. So all things aside, at least no matter what neighbourhood of Killarney you stay in, you won't have to bew worried about stepping in anything!
19th-century infrastructure with the 21st-century hipster's touch.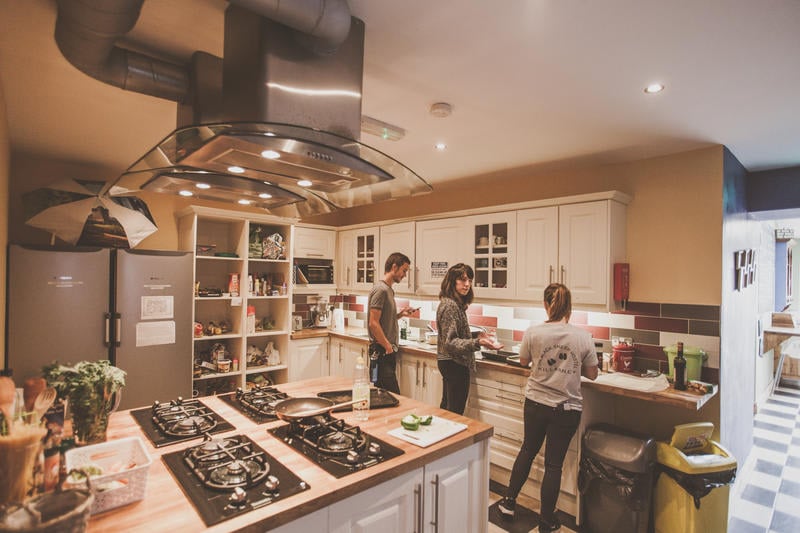 $$
Free Breakfast
Bicycle Hire
Garden
Well dang, this one is cool hosel in Ireland! It's in a 19th-century townhouse that's been restored to hipster proportions – we're talkin' exposed brick, wooden floors, big comfy sofas, and even a proper library too. They've got a garden here where you can make friends with the chickens and the ducks.
It's very cool, which alone makes it one of the best overall hostels in Ireland. But that's not all! The hosts are very helpful here and will point you in the right direction when it comes to making the most of your Ireland trip. Yep, this recommended hostel in Killarney pretty much has it all.
Another awesome pad for backpackers in Killarney.
$
Cafe
Self Catering Facilities
Free Parking
This youth hostel in Killarney is on the famous Ring of Kerry road, right near Killarney National Park and is literally in an 18th-century mansion. And if you think staying in a big, old house is gonna be cold and gloomy: think again. It's warm and super cosy in here.
You can spend nights here having a few drinks, meeting other travellers, all that social stuff, plus the dorms are spacious (it is a mansion after all). One of the best cheap hostels in Ireland, the staff here can sort you out kayaking trips on the nearby lakes, or hiking, or rock climbing, which is always fun.
A backpackers hostel right by Killarney National Park.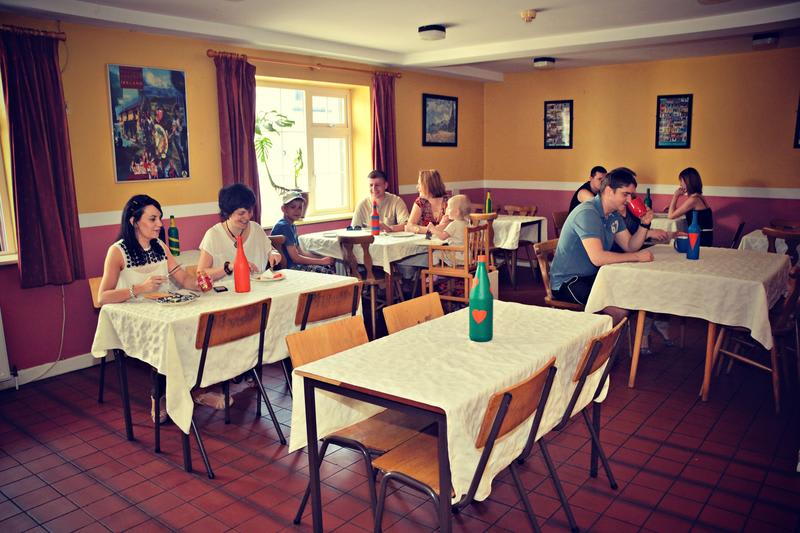 $$
Free Breakfast
Games Room
Book Exchange
A self-confessed "cheap, cheerful, clean, and green" backpackers hostel in Killarney, they're on the money! It's perfect for a couples holiday as Killarney National Park will be literally on your doorstep and you can spend time together walking, cycling and exploring the surrounding nature. Cute.
So yeah, this is one of the best hostels in Ireland for being close to nature, and it's all about the outdoors. That said, there are some pretty good cafes, restaurants, pubs, and stuff nearby. The rooms are ridiculously large, and the private rooms literally just have a bed in them, but hey – at least they ain't cramped!
With it's proximity to so much splendour, it's easily one of the best hostels in Killarney.
Before You Book Your Hostel in Ireland
Now that you've almost definiely found the best hostel in Ireland for your vibe, let's cover a couple of extra tidbits. There's a few things to never overlook before any backpacking trip.
Staying safe in Ireland is one of them. A few too many pints and you may find yourself trying to reanact some titular scenes from Birdman off of Ha'penny Bridge.
The other thing is what your packing for Ireland. You can't catch a leprechaun with the wrong shoes!
Map of Where to Stay in Ireland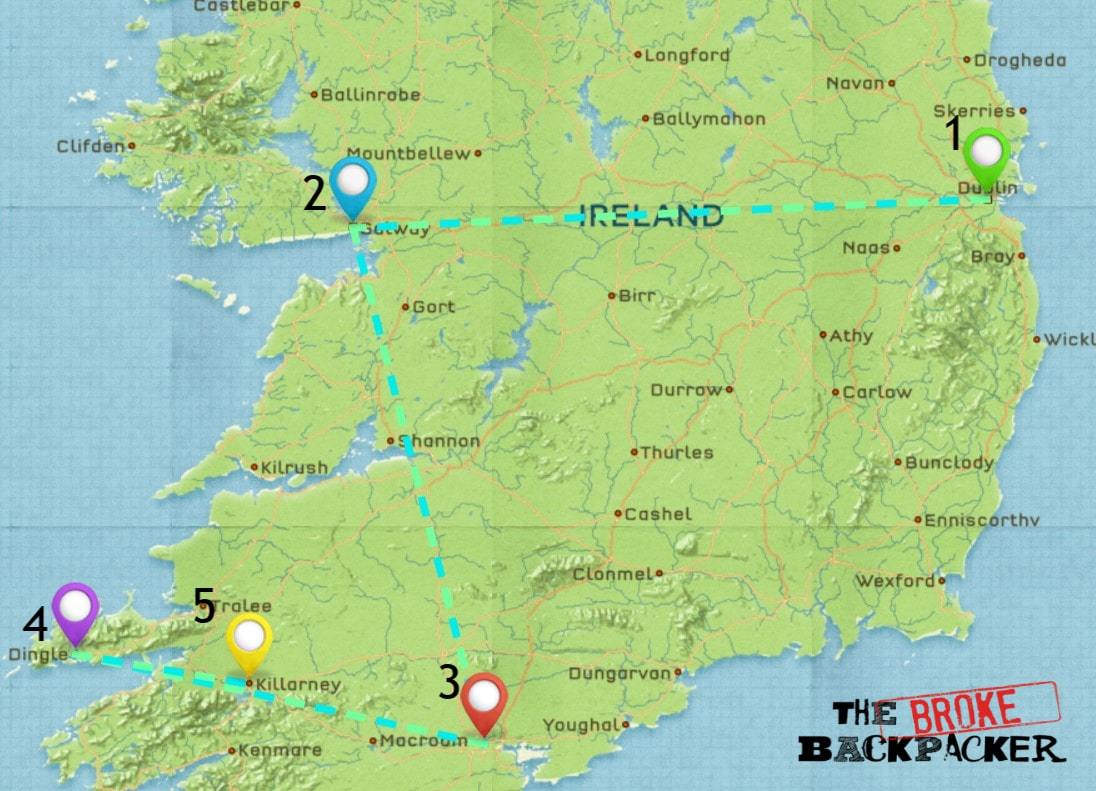 What to Pack for Your Ireland Hostel
Pants, socks, underwear, soap?! Take it from us, packing for a hostel stay is not always quite as straight forward as it seems. Working out what to bring and what to leave at home is an art we have perfected over many years.
Check out our definitive Hostel Packing list for our top packing tips!
Why You Should Travel to Ireland
See – we told you there are some properly cool hostels in Ireland.
Not only can you soak up the liveliness of the city, but you can also stay in the charming hostels in Ireland that are tucked away in small villages. There are endless opportunities to go drinking with the locals and see all the amazing nature of Ireland too.
But we know it can get all too much when you're planning a trip. If you're finding all this choice a bit of a headache, just go for the best overall hostel in Ireland – Isaacs Hostel – and plan your trip from there.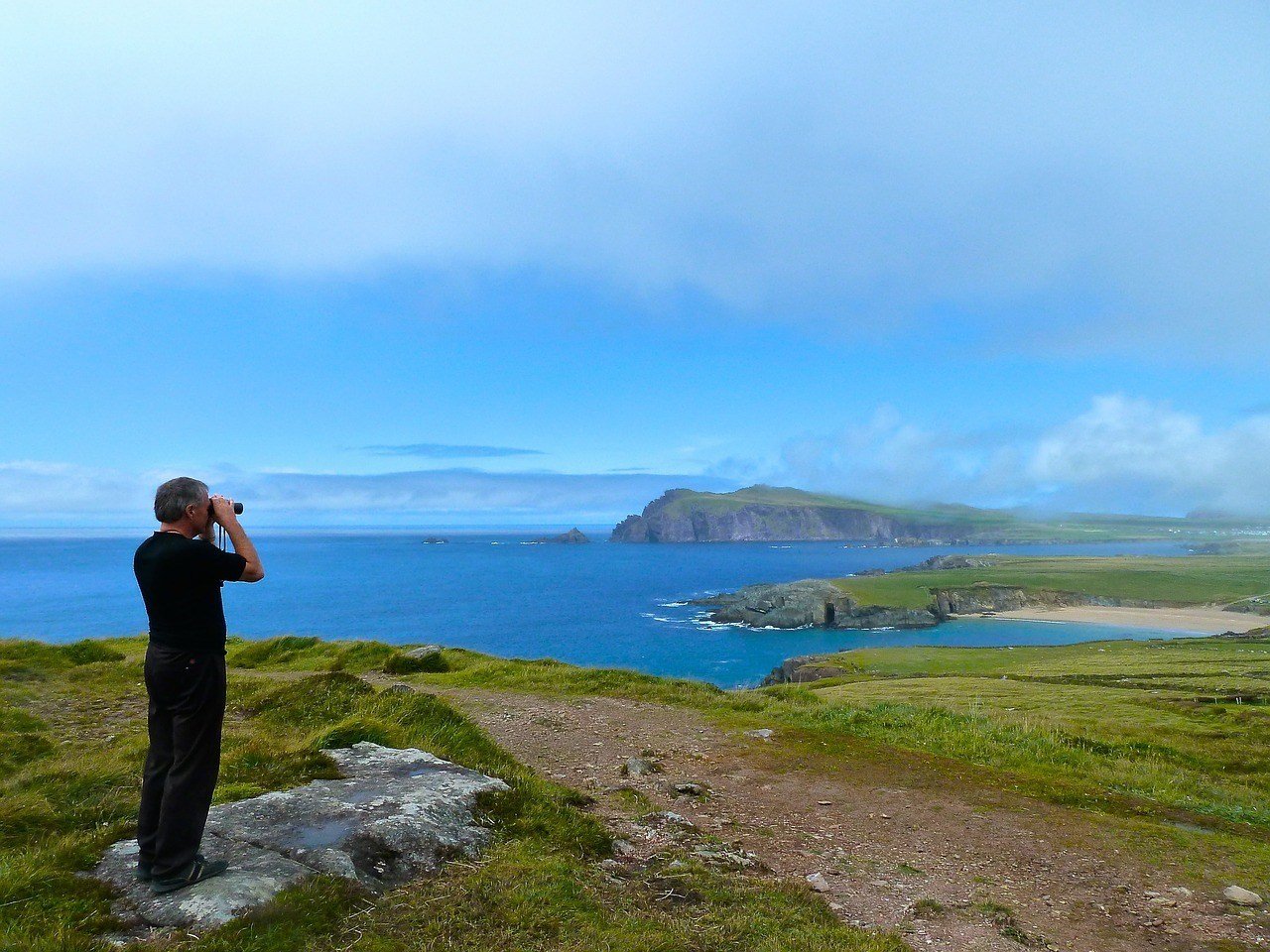 So, that's the roundup of the 24 best hostels in Ireland!
If you've backpacked through Ireland before, what were your favourite (or not so favourite) places to stay? And if we've missed something, or you've crashed at any of these hostels recently, let us know in the comments below, please. We like to stay as up-to-date and on-the-scoop with Ireland's youth hostelling scene as possible.
Enjoy Ireland – The Land and Scholars… perhaps with a few more sinners these days.
Do you own or run a kick-ass hostel? Want to be featured on this list? Get in touch at [email protected]
Don't Forget Travel Insurance for Ireland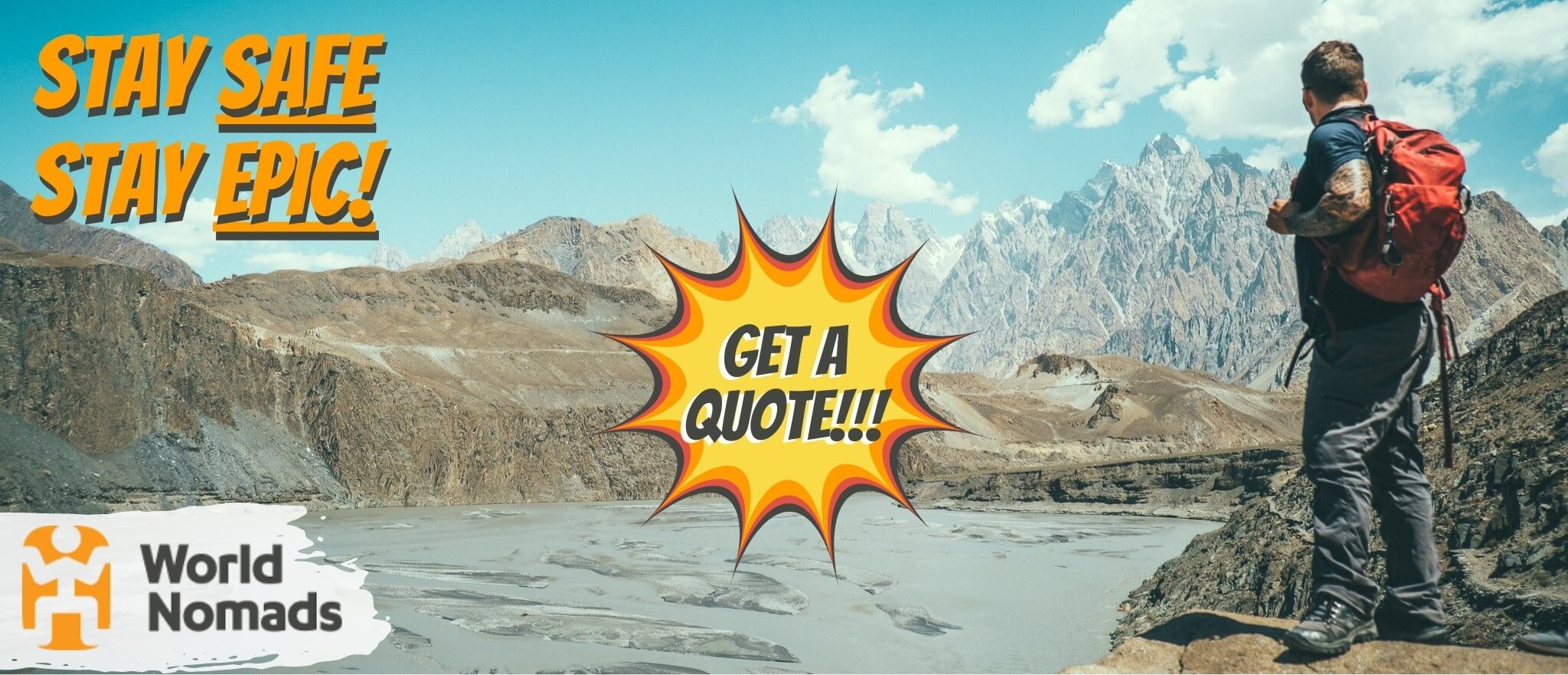 It's good to get lost sometimes, but it's also good not to get too lost. There are people that want you home in one piece.
There's one travel insurance provider The Broke Backpacker trusts for all his wildest shenanigans… World Nomads!
Click the button below to get a quote on your insurance or read our in-depth review of World Nomads' coverage. And then… let the shenanigans begin. 😉
---
Thanks for reading – that was fun! 😀
We bring you epic FREE content!
Find out how YOU can help support us.
We're a big site with a big team and this job isn't always easy. But we do it because we love it – we love providing epic and free content. We love the knowledge that our content keeps you adventuring. We don't ask for money, but if you'd like to find out how you can help the site in more organic ways, click the button below.
Thank you for your support 🙂
---
Bye for now, but not forever!
If you want MORE top-tier Broke Backpacker content like this, then sign up for our weekly newsletter below to get the latest and greatest!
And for transparency's sake, please know that some of the links in our content are affiliate links. That means that if you book your accommodation, buy your gear, or sort your insurance through our link, we earn a small commission (at no extra cost to you). That said, we only link to the gear we trust and never recommend services we don't believe are up to scratch. Again, thank you!