Perhaps it's the ease of travel, the friendly people or the gorgeous, green scenery that attracts so many people to Ireland. Or maybe it's the pub culture and flowing taps of Guinness! Most likely, it's a combination of all of the above.
You're ready to set out for this adventure, but you've heard the island's weather described as "where all four seasons can happen in one day," and you're unsure exactly what to pack for Ireland. As a budget-conscious backpacker, you're limited to fitting all of your Ireland packing essentials into a backpack – so packing smart is the key!
And that's why we're here – to help guide you through your what to take to Ireland checklist – step by step. We'll make you the smart packer you need to be by arming you with all the information you need.
Read on for our comprehensive Ireland survival guide – complete with our top 22-needs packing list, what to wear in Ireland with packing suggestions by seasons and weather conditions; we've also included recommendations specifically for ladies and guys, tips on what NOT to pack and our #1 pick for the best backpack to pack for Ireland.
After you've taken care of all that business, you'll be stress-free and well on your way to living it up on the Emerald Isle – so start practicing your warmest Irish smile!
Well, let's dive right in, shall we?
Top 22 NEEDS for Ireland – Ireland Packing List
#1 – Nomatic Travel Bag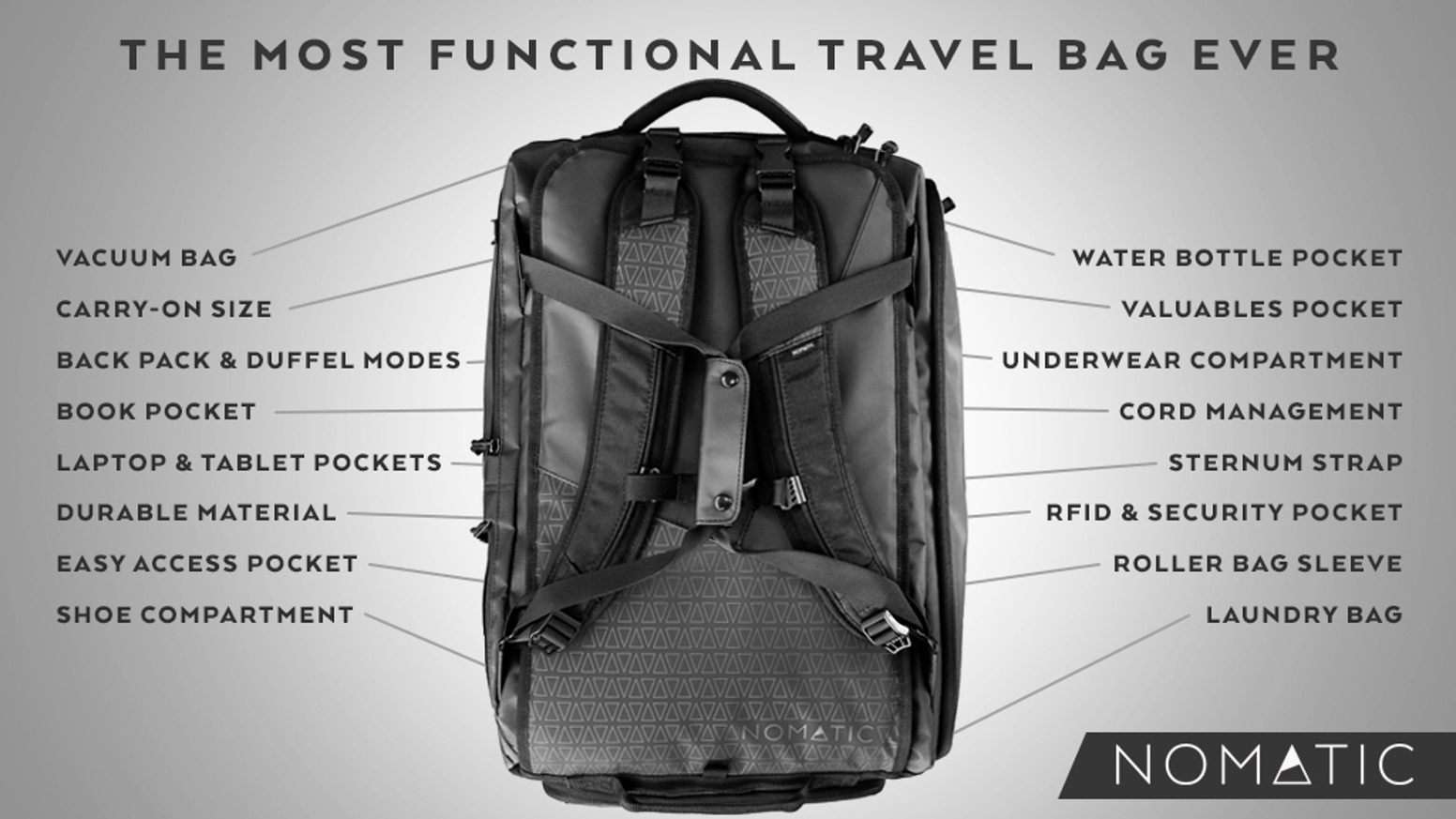 Ireland's weather conditions call for a travel bag that's waterproof, durable and wonderfully versatile. You'll get all of these things with the Nomatic Travel Bag – plus some! It's spacious – though still carry-on size – and intelligently designed with pockets, compartments, and straps that make it the perfect all-around backpacker's travel bag. We think the Nomatic is the best bag in the market – and we're sure you'll agree.
#2 – Active Roots Security Belt
Ireland is a safe and comfortable destination for backpackers and travelers. But that doesn't mean that pickpocketing isn't possible in hot tourist spots like Dublin – and it certainly doesn't guarantee not losing valuable items, like money and passport copies. We like the Active Roots Security Belt for its inside hidden zipper pocket that keeps things close and secure. It's better to be safe than sorry! Check out our in-depth review here.
Need a little more storage?
When moving from place to place, you should keep your travel documents and other valuables on your body. Your carry on isn't safe, even when it's under your seat or overhead.
A full-sized money belt that stays tucked under your clothes keeps your documents and cash organized during your travels and assures nothing critical gets left behind or stolen.
#3 – World Nomads Insurance
No matter where you go – or how adventurous or mellow your travel activities will be – you need travel insurance. Unexpected things can always happen, and you don't want to be stuck in a bad situation or having to pay a ton of out-of-pocket expenses. Whether for a potential accident, sudden illness, or unforeseen travel cancellation – World Nomads Insurance will cover you. We highly recommend checking out their variety of affordable plans for Ireland travel insurance.
#4 – Active Roots Water Bottle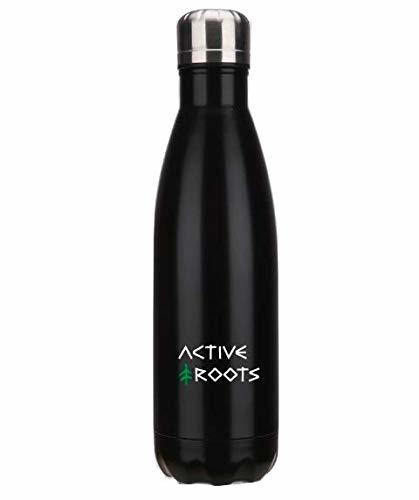 Every backpacker needs to include a water bottle for what to pack for Ireland. There are so many sites to explore and adventures to experience, staying hydrated is crucial for keeping your energy up – no matter what the weather. We like the 25-ounce Active Roots Water Bottle because it's made of stainless steel to keep your cold water cold or hot drinks hot – depending on your needs and what the current Irish conditions require.
#5 – Combination Lock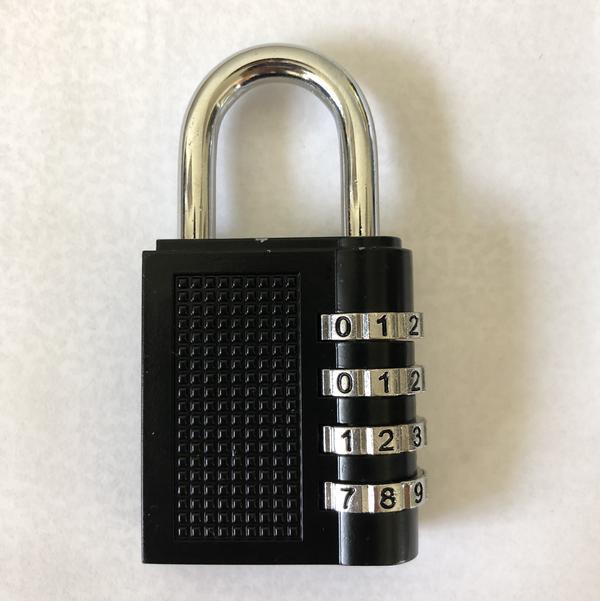 As mentioned earlier, Ireland is a safe travel destination. But, your travel bag will be unsupervised a lot – especially if staying in shared budget accommodations and during hauls on public transportation. It's advised to always keep your backpack locked, to be on the safe side. A small, simple lock like Active Roots Combination Padlock is convenient with a resettable combo lock that will do the job.
#6 – Skeletool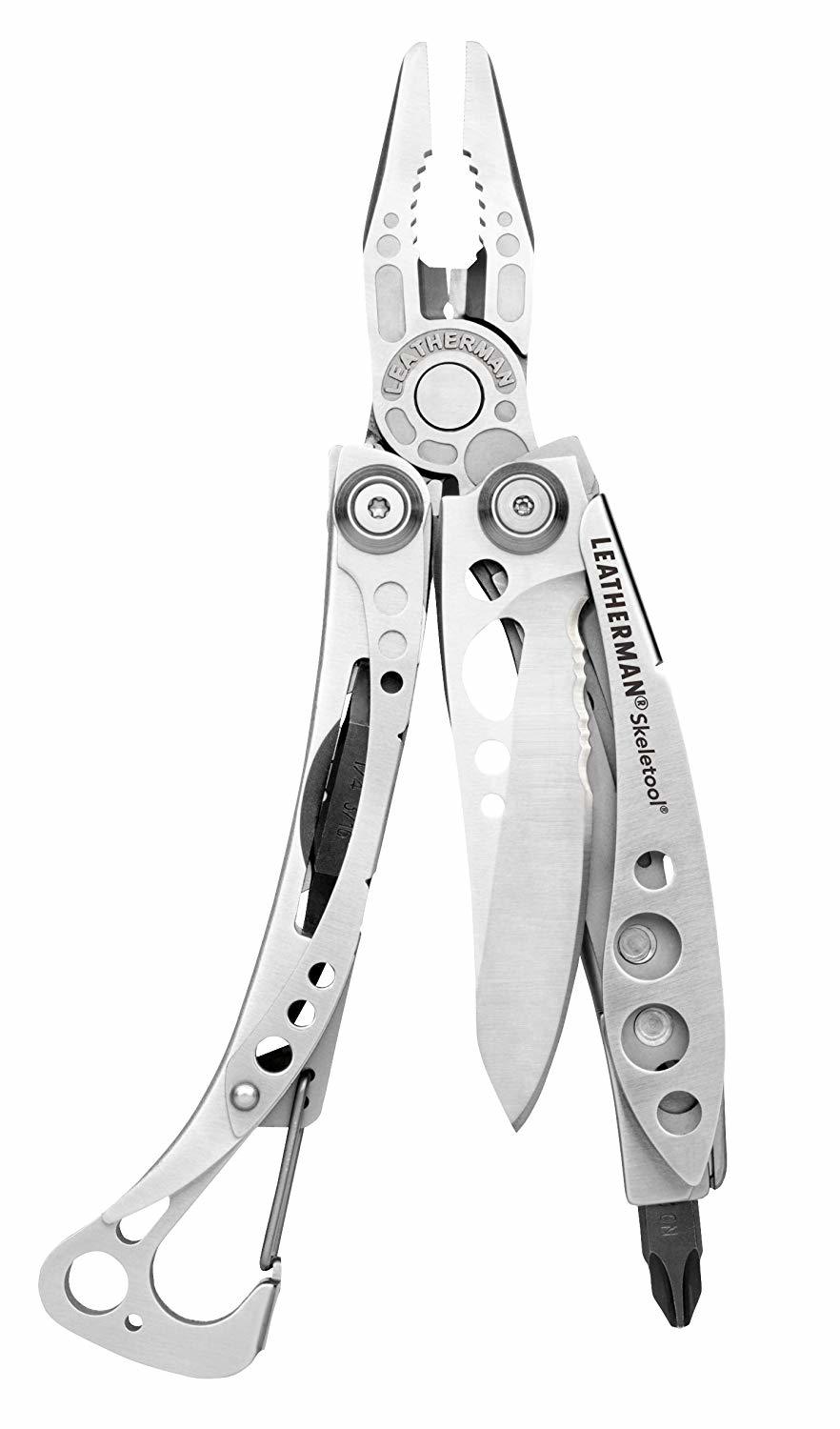 Every backpacker should travel equipped with a lightweight multi-tool, like the Skeletool. You never know when a pair of scissors, a small knife, screwdriver, nail file or corkscrew will come in handy. There is plenty of pocket-size – and even keychain-size – options to choose from with different available tools. If you decide to bring beer back to your room, you may want to opt for one that has a bottle opener!
#7 – Active Roots Microfiber Travel Towel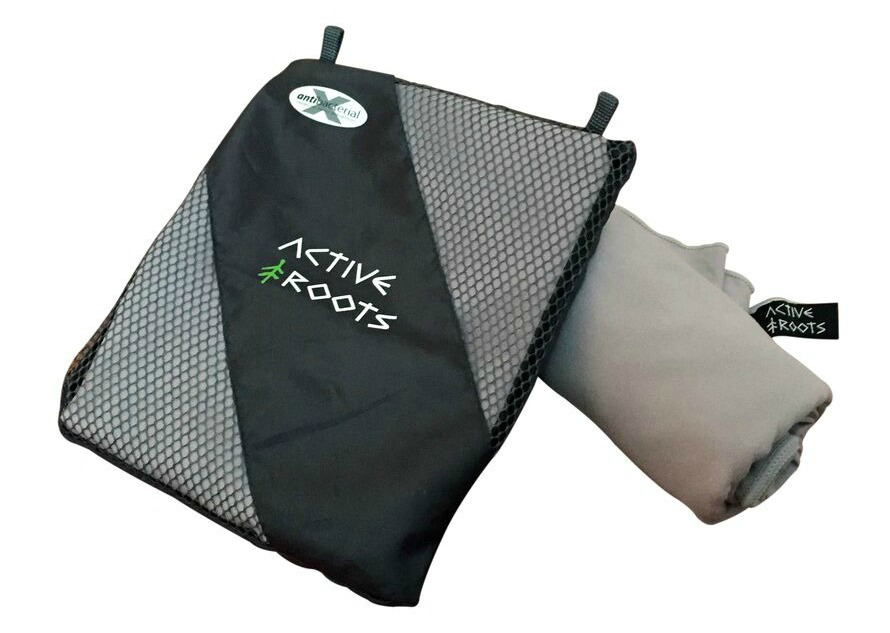 If you don't have a quick-drying, compact travel towel on your what to pack for Ireland list – put it on there. We recommend the Active Roots Microfiber Travel Towel because it's so compact and portable – and dries in under an hour. The condition of the towels you get at hostels is often subpar if they provide any at all. Trust us, bringing your own is the smart way to go.
#8 – Active Roots DayPack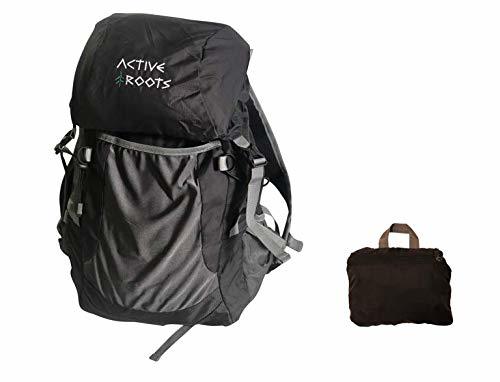 It's always worth having a daypack with you whenever you travel but often NOT worth carrying something bulky around. The Active Roots adventure daypack is hands down the best foldable day pack around, it comes with a water bottle holder, folds down super small yet provides plenty of space for your day-venture and is tough and sturdy.
#9 – Fairywill Electric Toothbrush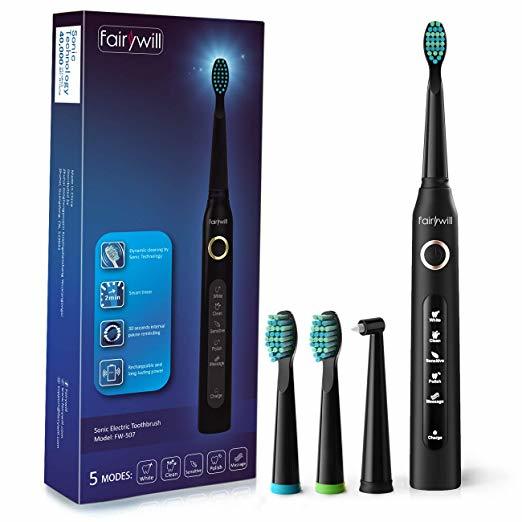 We're huge fans of the Fairywill Electric Toothbrush for many reasons. It's really light and easy to travel with, and one 4-hour charge will keep it alive for at least 30 days of use. If you do need to recharge, USB-enabled charging makes it really easy. It has three different modes of cleaning that make your teeth feel super clean and fresh – and the massage mode feels amazing!
#10 – SunGod Sunglasses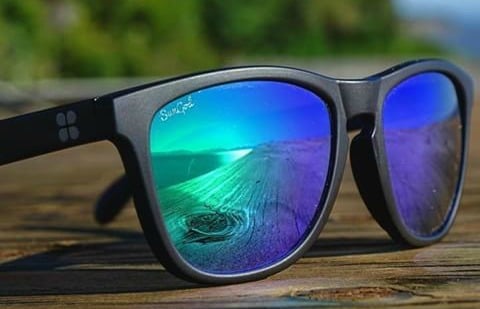 You'll be spending a lot of time outdoors in Ireland, and you need a good pair of sunglasses. What we love about SunGod Sunglasses is that they're ultra durable – because they're designed for performance – while preserving style. These glasses can take a lot – their triple-layer scratch resistant lenses and sturdy frames made from SunGod's trademarked Adventureproof Frame Material – make it so! But if you somehow damage them anyway, SunGod will repair them for free. Read more on why they're awesome.
#11 – Digital Camera
It's hard to give Ireland's lush, green landscape justice in photos – particularly if you don't have a decent digital camera. If you don't have one already, your trip to Ireland should give you a good reason to invest in one. There are plenty of affordable DSRL starter cameras in the market, so we suggest you shop around. Once you see the Emerald Isle's idyllic scenery, you'll be happy to have the right equipment to capture it.
#12 – Travel Jungle Gym Set
Whether you're traveling for a weekend or for a year, it's difficult to keep your usual workout routine on the road. There are loads of workouts online to print and follow, but there's nothing like being in a gym with proper exercise equipment. Enter: Monkii Bars. You can set up your workout station anywhere – hotel rooms, mountainsides, your backyard – and the pocket gym comes with its own app so you can learn the ropes (cough, cough) of staying fit on the road!
#13 – AR Toiletry Bag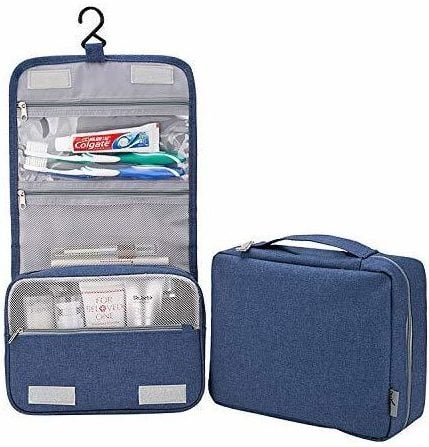 Another backpacker favorite for staying organized is a hanging toiletry bag. It's extremely helpful to have all of your accessories neatly gathered in one bag that you can hang for easy accessibility, especially when counter space isn't plentiful or even available. A well-organized bag is worth having whether you're tree whilst camping or a hook in the wall – it helps to have quick access to all your stuff.
#14 – Travel-Size Toiletry Soft Tubes
Fitting all of your toiletries and liquids into TSA-approved containers into your carry-on size travel bag is challenging. We suggest transferring your shampoo, conditioner, gel, creams, and lotions into silicone soft tubes with leak-proof flip caps – they're more space efficient for packing than hard plastic bottles. Plus, it's helpful to be able to squeeze out every last bit of product when you're only given a 3-oz allowance – every drop counts!
#15 – International Power Adapter
A travel adapter is a must on your what to take to Ireland checklist if you want to keep your electronics charged. Ireland uses the 3-pronged British type G adapter, but types C, F, and E are what you'll find in the rest of Europe. It's so much simpler to pack an international power adapter so you don't have to worry about what type of adapter you have – because it'll just work!
#16 – Portable Charger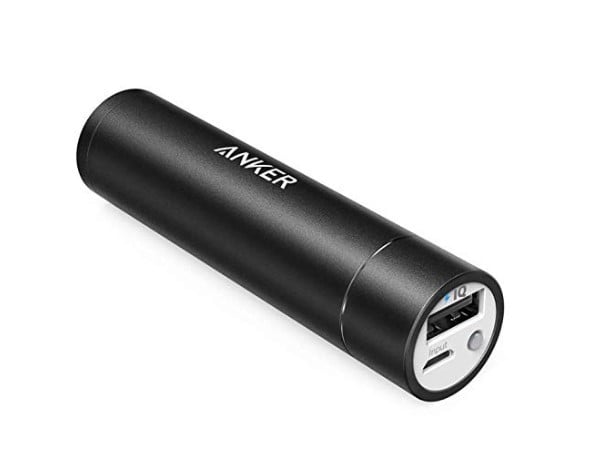 Having a way to always charge your cell phone while traveling is a smart idea. After international flights – or just a long day of exploring – you'll find your phone quickly in the red. When you have lodging reservations, transportation and other prepaid tickets on your phone, you don't want to arrive without access to this information because of a dead mobile device. A small lipstick-sized portable charger is easy to slip into your day bag and will always be on hand for emergency power back-up.
#17 – Travel Pillow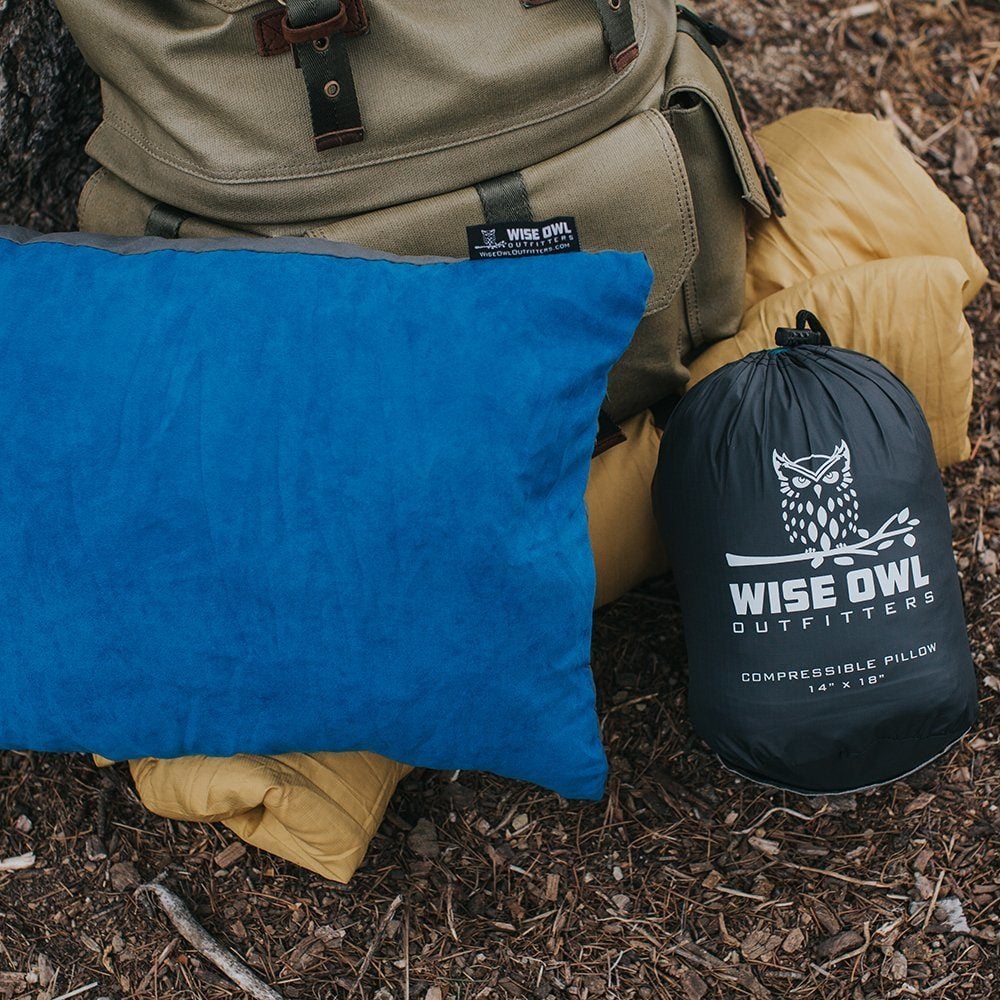 Most backpackers travel equipped with a travel pillow. They make long flights and transport much more comfortable – plus it's nice to rest your head on your own pillow when sleeping in unfamiliar surroundings at night. If your hostel's bedding is a bit shabby, you'll be especially grateful to have it. Avoid bulk and weight by getting one that folds into a compact easy-to-pack size. You won't be sorry!
#18 – Kindle
It's always nice to disconnect from movies and videos once in a while and get lost in a good book. But carrying books in your travel bag adds weight and bulk – two things backpackers definitely don't want! An e-reader or Kindle is the perfect solution. They're so light and slim that they easily fit into your day bag – cozy up in an Irish cafe on a rainy afternoon, reading a book on your Kindle and feel the stress melt away.
#19 – Ear buds
Having your own earbuds is great for in-flight entertainment or for listening to downloaded music on your cell phone at any time. Regular headphones work too, but earbuds fit snugly and don't take up any space. Many tourist attractions in Ireland are self-guided, so it's also nice to have a pair of your own personal earbuds to use, so you don't have to use the ones that a million other tourists have used too.
#20 – First Aid Kit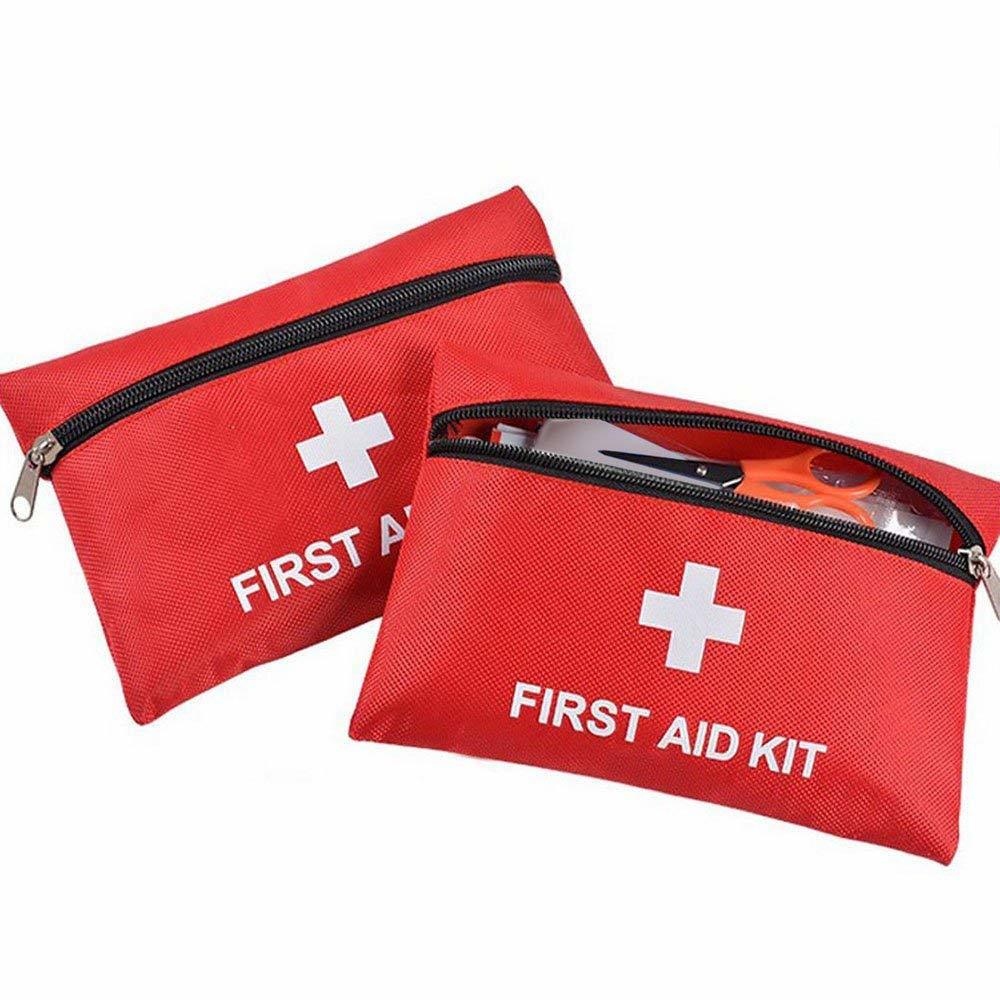 Include a small first aid kit on your Ireland packing essentials list. It's a good idea to travel prepared with the basic first aid must-haves in case you're off in a remote area, far away from a pharmacy to quickly treat a small injury. Also, over-the-counter medicines are only sold in pharmacies in Ireland, which you want to avoid stumbling out to find if you wake up with a heavy morning-after-Guinness headache.
#21 – Lip Balm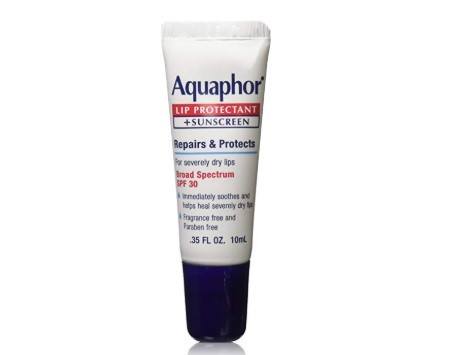 Ireland weather – which is often chilly and windy – easily leads to dry lips. Even if you're not usually prone to having chapped lips, it's very possible that Ireland's conditions will make them dry and cracked – which can burn and feel very uncomfortable. Keep a moisturizing lip balm on hand in your day bag to keep your lips soft and nourished. It's a healthy habit to treat your lips in all seasons.
#22 – Ireland Travel Book
Using your cell phone for travel planning and maps is perfectly fine and does the job, but we suggest making a Lonely Planet Ireland Guide an item on your what to pack for Ireland list. If you don't plan on getting a local SIM card, you won't have regular access to the internet for navigation. But if you do, you need a good set of maps to get you to and around off-the-beaten track locations if you're out of wifi range.
What to Wear in Ireland
As with all destinations with unpredictable weather that leans toward the chillier side – layers are your best friends. When planning out what to wear in Ireland, keep in mind that Ireland weather can change drastically in a very short time period; the only way to be fully prepared is to bring easy-to-mix-and-match basics that you can pile on or strip off as needed.
Ireland street fashion is casual but highly presentable – it is still Europe, after all. Their friendly and laid-back attitude doesn't translate into baggy clothing or wearing gym wear out in public. So these types of clothing items shouldn't be on your what to pack for Ireland list either. You'll want to do as the Irish folk do – wear sweaters, button-up shirts, dark jeans or chinos, and nice shoes – especially in bigger cities like Dublin.
If you plan on hiking through the countryside and the isle's natural parks (which is highly recommended), you'll want to wear proper hiking clothing to stay warm and comfortable. You'll want a pair of waterproof, quick-drying hiking pants and a rain jacket with moisture-wicking base layers underneath.
The most important is to abide by Irish fashion and avoid overly revealing clothing – or sloppy attire – and dress for the weather. Even though conditions can change, there are basic guidelines you can follow by season and pack accordingly.
Visiting Ireland in Summer
Ireland weather in the summer months of June, July and August are the island's warmest. But if you're used to tropical summer travel destinations, it'll feel quite chilly in comparison. Days are drier and sunnier, but the possibility of rain and wind is still high – so don't get caught off guard by not adding warm layers to your summer list for what to pack for Ireland. Average temperatures range from 60 to 70° F.
As one would guess, the warmer months mean that summer is Ireland's high tourist season. Accommodations fill up quickly – especially in July and August – so plan ahead. Ireland has an excellent bus system for traveling around, but if you decide to rent a car, be sure to book one in advance.
As for what to wear in Ireland in summer, dressing in layers is a good idea. Ireland outfit ideas for summer are a pair of dark jeans with a grey v neck t-shirt topped with a flannel shirt that can easily be removed if needed; for women, a maxi dress with an open cardigan is a smart city-exploring option.
For sudden weather changes, pack a light rain jacket and a scarf. For accessorizing, bring a scarf with a splash of summer color – along with your moisture wicking one that will protect against chills and also keep you dry on warm, active days if you work up a sweat.
Visiting Ireland in Fall
September, October, and November bring cooler temperatures with increased rain and heavy winds. Thicker layers are necessary as average autumn temperatures drop to 55-65° F – not too steep but enough to require added warmth.
If you've planned the right clothing for what to pack for Ireland, fall is a wonderful season to choose for your Irish venture. First, the changing foliage reveals stunning colors and landscapes that are more than photo-worthy. Also, you can enjoy the crisp days relishing in Irish culture at one of the many festivals that take place all over the island – from jazz to comedy to arts. And, of course, there's the advantage of encountering fewer crowds as the tourist season starts dwindling in September.
As mentioned, Ireland weather in autumn is fickle – rain and wind will hit to some degree – so be prepared. Packing thermal base layers is smart – especially for women who want to wear dresses or long skirts – leggings will add adequate warmth and fit into Ireland fashion. Pack a down jacket, waterproof rain jacket, and waterproof hiking pants. Don't forget wool socks to keep your feet dry and warm; you'll also want a hat and scarves.
If you're going to be exploring Ireland in-depth, you're going to need a good place to crash. Check out our guide to the

best hostels in Ireland and find one that suits you!
Visiting Ireland in Winter
December, January, and February in Ireland are cold – with February being its coldest month of the year. Expect rain, heavy winds, and possible snow in some areas. Average winter temperatures stay around freezing at around 32° F, which can feel colder with the wind chill.
If you're up for bundling up with the proper gear, winter is the best season for the more adventurous types that enjoy the beautiful scenery, serenity, and hardly any tourists! You'll have plenty to see and do – including the festive Christmas markets around town, majestic castle visits, or just simply cozying up in front of a fire in a small Irish pub with a pint of Guinness.
To be prepared for winter in Ireland, pack your layers. Include thermal layers – preferably wool tops and bottoms – to wear underneath your clothing. Pack a beanie or warm hat, thick scarves and waterproof gloves – not only to stay warm but to also accessorize your winter wardrobe. A winter jacket is highly recommended.
Ireland outfit ideas for winter are a pair of dark jeans, light-colored wool sweater, and a black peacoat; or thick trousers with a dark knit sweater and a winter coat. Accessorize with a patterned scarf and beanie to add your personal style – and don't forget your thermal layers!
Visiting Ireland in Spring
Irish weather in the spring remains chilly, as temperatures only begin increasing in mid-to-late March and April. Rain is still common and layers again are essential for what to pack for Ireland if you're traveling during this time. The average spring temperatures are between 45 and 55° F.
April is a favorable shoulder month to consider for budget-friendlier travel and less fellow tourists. But Spring in Ireland brings many other perks – like the return of longer days, sunnier skies and lambing season for up close and personal sightings of adorable newborn lambs! (Awww).
And if you really want to live it up Irish-style, don't forget St. Patrick's Day on March 17th! Be surrounded by lively parades, music, tons of green and a whole lotta beer. As the highlight of Ireland's social calendar, St. Patty's Day doesn't disappoint.
What you pack to for Ireland in the Spring will include rain gear and basic layering items. T-shirts, long-sleeve shirts, sweaters, pants, and jeans will cover your Ireland fashion essentials. You may want to pack a down jacket along with your rain jacket for colder days. Don't forget your scarves and hat. Oh, and definitely don't forget to pack something green!
What Shoes to Pack for Ireland
No matter what activities are on your Ireland itinerary or which season you decide to go – when planning what shoes to pack for Ireland – it's safe to say you'll need a pair of boots. Waterproof ones, at that.
If you're hiking, you'll definitely want a pair of sturdy, waterproof hiking boots. But even for walking around the city, a comfortable pair of boots is perfect for sightseeing and for dressing up for nights out. Women should opt for a low, stacked or flat-heeled leather (or faux-leather) bootie for summer. For colder months, the best choice is a mid-calf to knee-length boot – for extra warmth and room for wool socks. Men can use lace-up leather boots to wear with casual pants, jeans, and even dressier pants. You can't go wrong with boots!
A second pair of shoes is recommended, especially for what to wear in Ireland in summer when you're out in Dublin exploring the night life. Dubliners are hip and stylish, so you'll want to fit into Ireland street fashion by packing a chic pair of shoes for your going-out wardrobe. A pair of black flats for women work with all outfits – from jeans to dresses. A great choice for men's summer shoes is a pair of loafers that can be worn with anything and look fashionable.
Females – What to Pack for Ireland
Hey, ladies, let's get into some suggestions for your what to pack for Ireland list!
For Fashion
Yes, it's on the chillier side and casual in Ireland, but that doesn't mean you shouldn't pack items that make you look and feel fabulous! Consider a couple of Ireland outfit ideas for summer months and for the colder months:
For summer, we recommend packing a solid neural-colored romper, which is both comfortable and stylish. Just throw on a cardigan if temperatures cool down, and you're set for what to wear in Ireland at night – even for the hippest pub in town!
For colder seasons – and for all seasons, really – pack a pair of dark skinny jeans. Black is always a winner. Paired with a well-fitting sweater, peacoat, and patterned scarf, you'll fit right into local Ireland fashion. Wear a pair of leggings underneath and wool socks to stay extra warm and cozy!
Pack accessories that keep you safe!
Infinity scarves are chic and classy, but some even provide a hidden pocket to keep your valuables.
The Active Roots Zipper Scarf is your run-of-the-mill infinity scarf but with a hidden pocket that's big and sturdy enough for a night's cash, your phone, a passport and (hell with it) some snacks too!
For comfort
When going to the gym and yoga classes aren't on your agenda, it's easy to forget to bring activewear. But chances are you'll be plenty active in Ireland – hiking, climbing, walking and touring. Be sure to pack at least one or two sports bras for your outdoor activities; a regular bra won't keep you comfortable enough. And as you venture on your 33-mile trek on Causeway Coast Way, you'll be happy to have that sports bra!
Males – What to Pack for Ireland
Ok, guys, here are some tips for your what to pack for Ireland checklist!
For Fashion
Just like the ladies, you too want to have fashionable options for Irish nightlife – even if it's just going out to dinner in Dublin. Locals don't dine out in flannels and t-shirts, so we recommend that you don't either.
For what to wear in Ireland at night, pack one or two collared long-sleeve button-down shirts. For chillier evenings, wear one underneath a classic v-neck sweater for a clean, classic look. You'll be fine wearing dark jeans, but we recommend also packing a pair of chinos or dark trousers as a second option – and if you don't want to wear the exact same outfit every time you hit up the town!
For warmth
As a man traveling anywhere in Europe or Ireland, wear a scarf – you'll blend right in! They're fitting for the weather, but they're also as much of a fashion piece as they are functional. If you're still not too into the idea of a traditional scarf, a fleece neck gaiter is a good alternative – for warmer months, get one in a lighter fabric that you can still use for warmth and wind, but also serves as a moisture-wicking sun protector.
There's a whole lot going on in Ireland – head over to our comprehensive

guide on backpacking Ireland to learn more about this amazing destination!
What NOT to Pack for Ireland
Now that we've covered what to pack for Ireland, here are tips on what NOT to pack for Ireland:
Don't bring irreplaceable valuables. Like we mentioned, Ireland is safe for travelers, but it's easy to lose items when always on the go. Pack necessary electronics like laptops and photography equipment – if you'll use them – but leave behind anything else you can't bear to lose.

Don't pack heavy things. You'll have your e-reader, so other than an Ireland guide book, leave all other books at home. Don't lug around extra appliances – like hair dryers – that just weight you down and take up space.

Don't bring too much cash. Yes, your Ireland travel costs might be quite high, but there is no reason to carry around too much papermoney. You can use a credit card and find ATMs easily, so it's safer not to carry around more money than needed.
The Best Backpack to Pack for Ireland
If you're like us, you want a backpack that's well designed, efficient and that will be your travel companion for a long time to come. We've tried all the travel bags out there, and we can confidently say that the Nomatic Travel Bag is the most impressive we've seen so far – and the best backpack to pack for Ireland.
First off, it's made of durable, waterproof fabric – which you definitely want for rainy destinations like Ireland. Its 40-liter interior fits a lot more than you think – it has smart built-in pockets for so many things- from shoes to water bottle to socks and underwear. You'll feel extra safe with its RFID and security pocket too. And no need to worry about paying extra in baggage fees because the Nomatic fits all of this in a convenient carry-on size.
The Nomatic has an awesome strap system that lets you carry your bag either backpack or duffle bag-style, depending on your needs. It also has detachable waist straps and sternum straps to maximize comfort and help lighten the load for your poor back!
On top of all this function, the Nomatic travel bag has a sleek and modern design – so it looks cool too. Nothing wrong with having a backpack that's practical and fashionable at the same time!
Once you experience for yourself how expertly the Nomatic holds up in Ireland – and how well it fits all the items on your Ireland packing essentials checklist – we're sure you'll be as big of a fan of this bag as we are!
Final Thoughts on What to Pack for Ireland
Ok, lads and lassies, that's it! You have your Ireland survival guide for what to pack for Ireland with our top-22 needs Irish checklist, a seasonal breakdown with recommendations on what to wear in Ireland accordingly – including special packing suggestions for women and men, what NOT to pack, and the best backpacking travel bag for your Irish venture.
The stories you've heard about Irish weather probably had you worried about what to pack – but no need to worry. Stick to the layering items we discussed, pack a multi-purpose waterproof jacket, an amazing pair of boots, and you're all good.
Now all that's left is getting yourself to the Emerald Isle and seeing for yourself why Irish eyes are always smiling!
Also – don't forget to sort your travel insurance! We've put together a roundup of the best travel insurance for backpackers, or if you're low on time, get a quote from World Nomads now, our favourite travel insurance provider.
Yay for transparency! Some of the links in this post are affiliate links. This means that if you book your accommodation through the site, The Broke Backpacker will earn a small commission at no extra cost to you. Your support helps me keep the site going.
---
Like this post? PIN ME!!!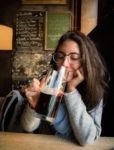 Writer and Editor, Ana Pereira is a California native, inspired by Earth exploration and introspection. Recently, she spent several months exploring Africa and South Asia. She spends most of her "down-time" out in the wilderness, climbing, hiking, and beyond, and is feverishly passionate about travel and health.