Backpacking Dublin is an absolute treat. The city is surrounded by amazing sights, legendary breweries, great food, and enough history to fill a thousand fine print books.
The Irish capital is a bit out of the way of the typical backpacker's trail, and because of this, it feels less congested and less compromised than other European backpacking destinations like London or Paris .
An evening out on the town in Dublin is bound to be a night to remember (or not). When the party ends, where will you lay your head? Where are all of the top hostels in Dublin hiding out?
With dozens upon dozens of hostels available, choosing where to stay in Dublin can be a real struggle. This is exactly why I made this list of the 5 best hostels in Dublin.
I've organised Dublin's highest reviewed and most loved hostels into different categories so that you can find the best hostel in Dublin to suit your needs as a traveller. Looking for party hostels close to Temple Bar? Do you want private rooms or dorm rooms, looking for movie nights and free continental breakfast? We've got you covered!
Every backpacker is different. I am certain that somewhere in my list of the best hostels in Dublin you will find the perfect spot that stands out.
Whether you are looking to socialise, have some privacy, get some work done, or just save some money, this traveller-curated inventory of the top hostels in Dublin will save you some serious time and money, so you can spend time focusing on what matters – backpacking Dublin!
The Irish people are some of the easiest going, (dirty) joke-loving folks you'll find anywhere. Spend more time hanging out with them and less time thinking about where to stay.
But first…Let's take a look at the 5 best hostels in Dublin…
Quick Answer – The Best Hostels in Dublin

Do You Want to Travel FOREVER??
Pop your email in below to get a FREE copy of 'How to Travel the World on $10 a Day!'.
What to expect from Hostels in Dublin
Booking a hostel instead of a hotel comes with loads of perks. One of them is obviously the way more affordable price, but there's even more waiting for you. The one thing that makes hostels really stand out is the incredible social vibe. You can meet travellers from all over the world by sharing common spaces and staying in dorms – it's a great way to make new friends.
When backpacking Dublin, you'll find all sorts of different hostels. From extreme-party to homely hostels, there are endless options. The main types you'll find in Dublin are party hostels, digital nomad hostels and youth hostels.
Luckily, most hostels are focused on being very affordable while still offering a high value. The general rule is: the bigger the dorm, the cheaper the nightly rate. If you go for a private hostel room, you'll end up paying a bit more, but it's still more affordable than Dublin's hotels. We did some research and listed the average price that you can expect for a hostel in Dublin.
Private Rooms: 50-230€
Dorms (mixed or female only): 20-45€
When looking for a hostel, you'll find most Dublin hostels on HOSTELWORLD. There you can check out photos, detailed information about the place and even reviews from previous guests. Just like other booking platforms, each hostel will have a rating, so you can easily pick out the hidden gems! In general, most hostels can be found near the city centre, in the heart and soul of all the cool attractions like Temple Bar and O'Connell Street. To find the best hostels in Dublin, check out these three neighbourhoods:
City Centre – Our pick for where to stay in Dublin you're visiting for the first time. Packed with shops and boutiques, parks, pubs and clubs.
Trinity – Home to the world-renowned Trinity College Dublin, this neighbourhood is brimming with historic buildings and iconic architecture.
Temple Bar – Temple Bar is far and away the most famous neighbourhood in Dublin and our pick for where to stay for Dublin nightlife area.
Phibsborough – Tucked away north of the city centre is Phibsborough, one of Dublin's up-and-coming and coolest neighbourhoods.
Portobello – Portobello is a trendy and cosmopolitan city-suburb located south of Dublin's city centre.
You see that it's important to find out where to stay in Dublin before you book your hostel. Do your research beforehand and have an even better trip!
The 5 Best Hostels in Dublin
With so many countless options, picking only 5 was difficult, so we took all the hostels in Dublin with the highest reviews, and separated them to meet your personal travel needs. There's a little something for everybody!
1.Best Hostel for Digital Nomads in Dublin – Abigails Hostel
Self Catering Facilities
Free Walking Tour
Abigails Hostel comes as a highly recommended hostel in Dublin for its awesome location and is one of the best hostels in Dublin for solo travellers. Abigails Hostel proudly claims to be the most central hostel in Dublin and they can't be too far wrong. If you want to stay right in Dublin city centre close to O'Connell Street, Trinity College and Dublin Castle, this is the spot!
If you can time your visit to Dublin on a Saturday you'll have the chance to be a part of their free events, anything from live music to free drinks. Be sure to take a look at the discounted tours and entry tickets offered at the tours and travel desk – great for meeting other solo travellers! They offer a top-notch free breakfast as well which will set you up for a day exploring this awesome city.
Why you'll love this hostel:
Super Central Location.
Free Wi-Fi.
Free city maps and guides.
There's a fully equipped kitchen as a large dining area, so you can easily save some money on eating out by making your own meals here. It's also a great opportunity to meet fellow travellers at the same time and if you're a digital nomad, then it means you can grab a bite without missing a beat during your workday! Free wifi is available throughout the building, another reason to love Abigails Hostel.
If you're a digital nomad you know how important a workspace is, and the large common room and guest kitchen/dining room is what makes Abigail's Hostel the best hostel for Digital Nomads in Dublin.
Not only do Digital Nomads get unlimited internet access but after a long day on the laptop, they'll be happy to hear that Temple Bar is just a 1-minute walk away. So you can reward yourself with liquid refreshment and mingle with locals and travellers alike. As a Dublin backpackers hostel in Temple Bar Abigail's has some tough competition but they rock regardless! It's the closest to a boutique-style hostel in Dublin too for those wanting to be a bit fancy.
2. Best Cheap Hostel in Dublin – Kinlay House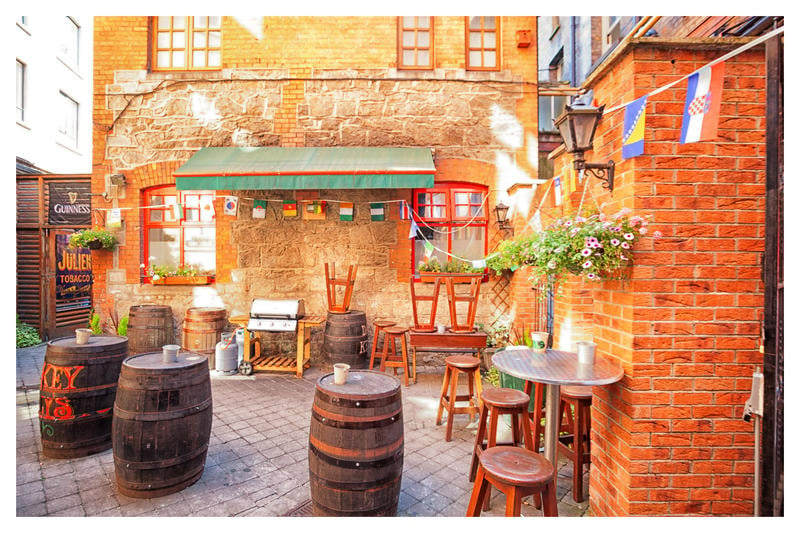 Self Catering Facilities
Late Check-Out
Full of freebies and friendly faces the best cheap hostel in Dublin is, of course, Kinlay House. With free wifi, free continental breakfast, free walking tours and free late check-out you'll fall in love with Kinlay House. It's easily the best budget hostel in Dublin and Kinlay House has been serving backpackers for nearly 25 years so they've got the hostel vibe on point.
Right in the heart of Temple Bar, you're never too far from an Irish jig or refreshing pint of Guinness while staying at Kinlay House. You're also within walking distance of O'Connell Street, Trinity College and Dublin Castle, so it's one of the best Dublin hostels for exploring.
Why you'll love this hostel:
Central Location.
Free Walking Tours.
Female-only Dorms.
Set in a beautiful listed building, you're right in the heart and soul of what Dublin is all about, history and culture! With so many years under their belts, you will be sure to get a safe, clean and fun budget accommodation to make your time in this fantastic city even more enjoyable. They even had Netflix here so you can always be sure you've got somewhere to chill after a day or night… or both out and about!
There are quite a few different accommodation options available too for all different kinds of travellers. The dorm sizes range from a cosy 4 bed all the way up to 24-bed dorms! There's even a female-only dorm too if you just need that extra bit of reassurance for your trip. If that's not enough, they offer private rooms too including single, twin/ double and triple rooms some of which are ensuite.
3. Overall Best Hostel in Dublin – Sky Backpackers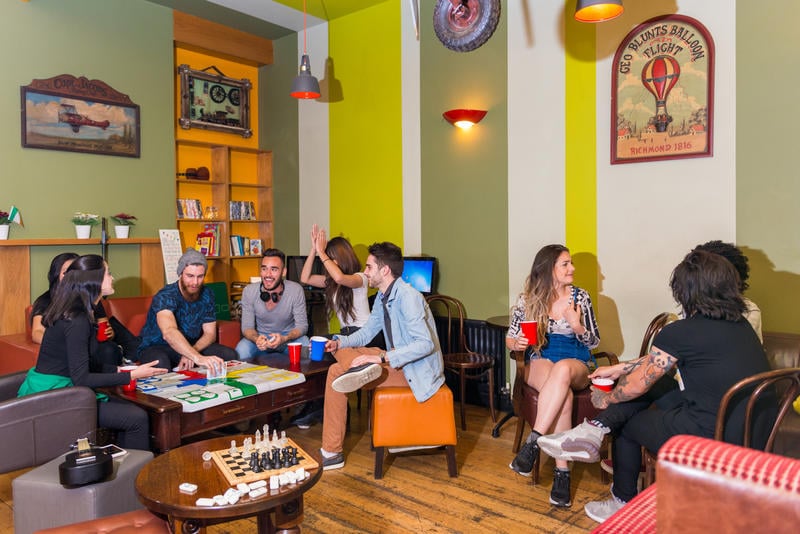 $$
Self Catering Facilities
Free Events Daily
Close to Temple Bar
Generator Hostel is the hands-down winner of the best overall hostel in Dublin in 2021. It's located in the super trendy Smithfield area, just a short walk from Temple Bar and super close to the famous Jameson Distillery… so no worries if you want to indulge in the most loved pastime of the Irish… drinking that is!! Either way, the location is incredibly for exploring the city beyond its bars and pubs. So if you want to visit Trinity Library or the Ha' Penny Bridge, it's all within walking distance.
Public transport is super close to so you can jump on the tram easily to spots like the Guinness Storehouse and Kilmainham Gaol.
Generator is a pretty new hostel so the facilities are all still shiny and up to date! It's a stylish and boutique place to stay and part of the global and well respected Generator brand. It's been described in the many top reviews as a 'hotel at the price of a hostel' so you know you're getting a great place for the price.
Why you'll love this hostel:
Free Walking Tours
Free Events Each Night
Close to Public Transport
Guests here can choose between sharing a room in a dorm if budget is the most important factor, however, if you want a bit more privacy then they offer private rooms too. So there's something for everyone, but either way, you get to take full advantage of all the benefits of staying in a hostel.
There are heaps of freebies here, from linens to wifi and huge lockers as well as walking tours… all come with the price of your bed or room! There are even free events happening every night from karaoke to pool competitions, drinking games and movie nights. There's even a fully equipped kitchen too so you can save even more money for your beer tokens!
Sky Backpackers is one of our favourites in Dublin but they're not taking guests right now. We're not sure if they're closed for good but we hope they'll come back soon.
4. Best Hostel for Solo Travellers in Dublin – Issacs Hostel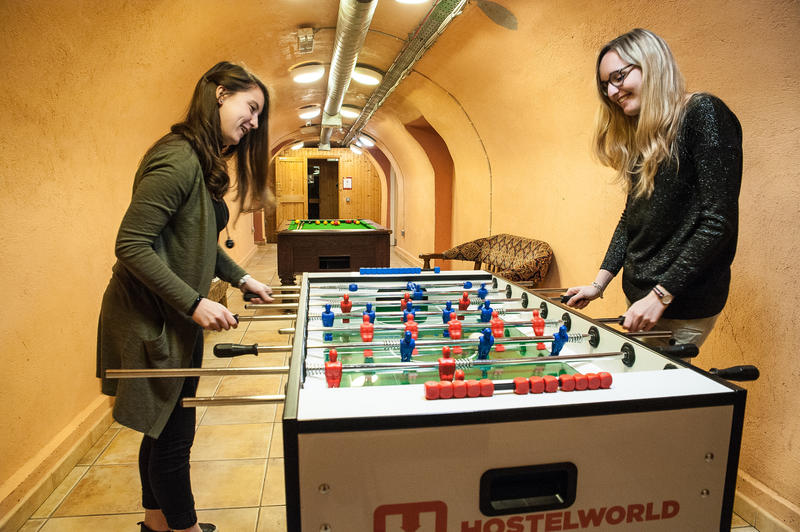 Free sauna
Free Walking Tours
Issacs Hostel is not only the best hostels for solo travellers in Dublin but one of the best backpackers hostels in all of Ireland tbf! You get incredible value for money staying here, free wifi, a free sauna and free daily walking tours, you'll never want to leave. Did we say free sauna? Hell yeah, we did! What a way to soothe those aching limbs after a big night out or a hard day pounding the pavement taking in all the sights.
The hostel is located conveniently near Connolly train station and Dublin's main bus station, so you can easily get here from the rest of the country. That doesn't mean it's out of the way for exploring the city either, it's within walking distance to places like O'Connell St and Temple Bar. It's even close to the bus stop for the airport shuttle too…I'd say the location is pretty unbeatable here!
Why you'll love this hostel:
Close to the Bus and Train Station
Within Walking Distance of O'Connell St.
Pub Crawls
Issacs is a top hostel in Dublin and has been one of the most popular backpackers for decades. For solo travellers, Issacs is a great shout as they're always busy so there's always lots of new people to meet and hang out with, play board games and explore Dublin city centre with. Issacs offers classic Irish hospitality, a welcoming smile and is truly a home from home. They even organise a pub crawl for guests so you never need to drink alone!
In terms of atmosphere, this hostel can't be beaten either! You're guaranteed a warm and friendly welcome and the common areas offer great places to chill out if you don't fancy joining the party just yet. In terms of sleeping arrangements, they've got options too. There are dorm rooms for the budget backpackers who don't mind sharing as well as private rooms if you fancy some privacy whilst still enjoying everything hostel life has to offer.
Issacs Hostel is one of our favourites in Dublin but they're not taking guests right now. We're not sure if they're closed for good but we hope they'll come back soon.
5. Best Hostel in Dublin for Location – Oliver St. John Gogarty Hostel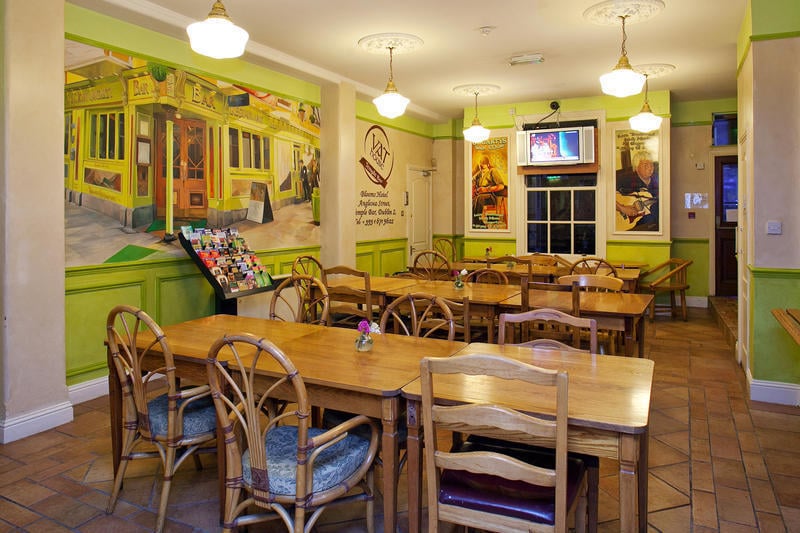 Self Catering Facilities
Bar & Restaurant Onsite
The Oliver St. John Gogarty Hostel leaves backpackers with a difficult question to answer; cook your own food in the fully equipped guest kitchen or be lazy and enjoy a classic, hearty Irish meal at the onsite restaurant. Call it a cultural experience and dig into a warming Irish stew, you won't regret it! You've got to try it at least once!
If you fancy a bit of an Irish jig you'll love Oliver St. John Gogarty Hostel as they have live music every night! That's only the start of the night though, the hostel is located right in the middle of Temple Bar, the nightlife capital of Dublin. So once you've warmed yourself up at the onsite bar, you can dance and sing the night away in the local area and not have to worry about how you're getting home!
Why you'll love this hostel:
Located in Temple Bar
Free Tea and Coffee
Laundry Facilities
Oliver St. John Gogarty Hostel is a classic Dublin backpackers hostel loved by backpackers across the globe. If you're here for a quiet and reserved time, then this might not be the joint for you tbh! This one is for those wanting to get well acquainted with Guinness and craic!
Facilities wise it's not all top show. The hostel offers free brekkie, perfect for the morning after, there's also free tea and coffee all day long which is much needed too! The laundry and kitchen facilities are perfect for backpackers and the common areas offer a chill place to hang out when you need a bit of downtime. If you're looking to meet new people and have a good time on a budget, this is the spot for you!
Oliver St. John Gogarty Hostel is one of our favourites in Mendoza but they're not taking guests right now. We're not sure if they're closed for good but we hope they'll come back soon.
Is This the Best Backpack EVER???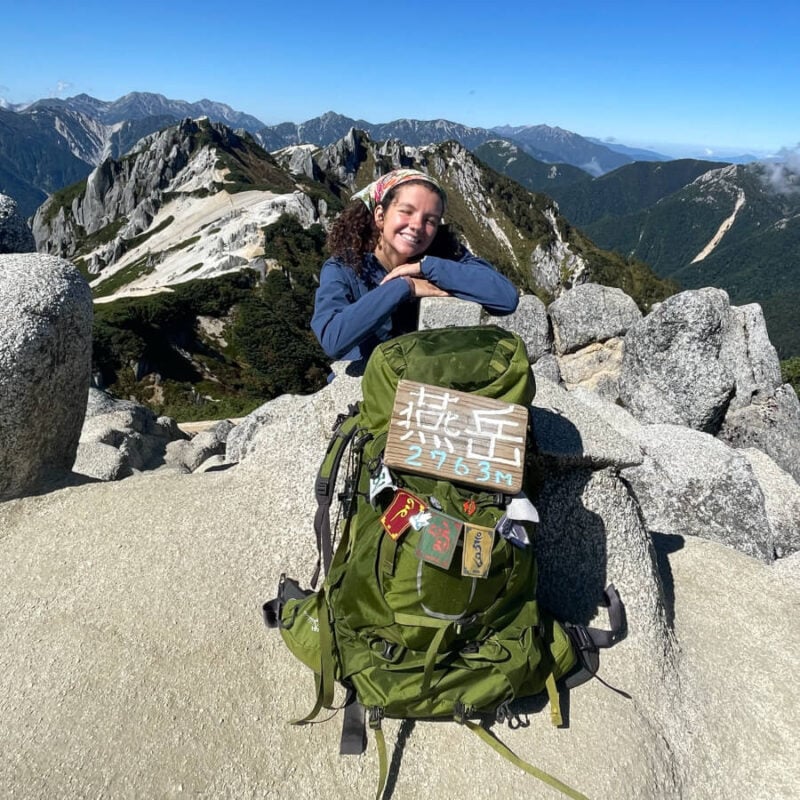 More Epic Hostels in Dublin
Not happy with your options yet? We've got loads more epic hostels in Dublin coming for you! Make sure you know what kind of travel needs you have in order to find the perfect place for you!
Best Hostel for Couples in Dublin – Abbey Court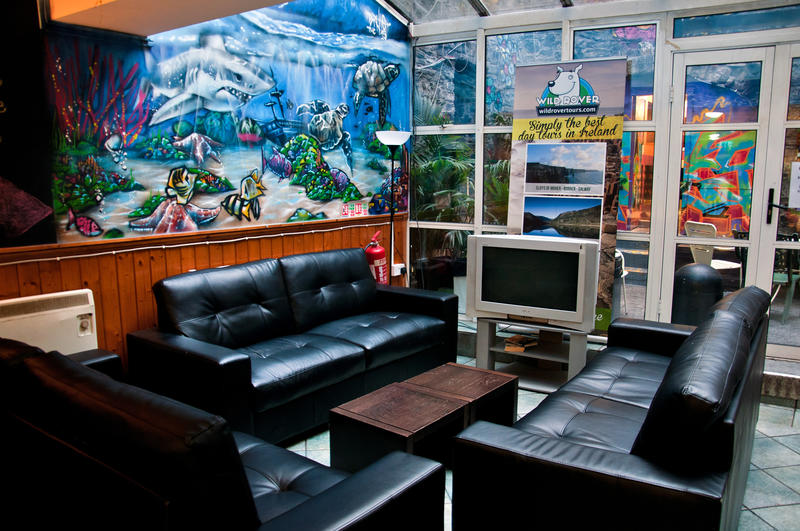 Free Walking Tour
Self Catering Facilities & free luggage storage
Abbey Court is without a doubt the best hostel for couples in Dublin in 2021. If you and your beau want to escape the dorm room for the night but not break the bank you have to head to Abbey Court hostel as it offers private rooms as well as dorm rooms. The free all-you-can-eat breakfast further sweetens the already affordable room rates. Every morning Abbey Court Hostel run a free walking tour of the city, the perfect way to find your feet before you get exploring on your own terms. Abbey Court is a great youth hostel in Dublin as they run free to join pub crawls every night. It's also close to the central bus station but still within walking distance to Dublin city centre and Temple Bar.
Best Cheap Hostel in Dublin #2 – Dublin International YHA
Free Parking
Late Check-Out
You can never go wrong with a YHA hostel and Dublin YHA is no exception. Dublin YHA is a top hostel in Dublin for travellers on a shoestring budget, they have dorms for less than €12 a night, including breakfast! The free wifi throughout the building is perfect for digital nomads or those who want to share their Dublin adventures on Facebook or Insta. The sofas in the common room are easily the comfiest seats in the city and the ideal spot to curl up in and catch up on your travel journal!
Dublin International YHA is one of our favourites in Dublin but they're not taking guests right now. We're not sure if they're closed for good but we hope they'll come back soon.

Our GREATEST Travel Secrets…
Pop your email here & get the original Broke Backpacker Bible for FREE.
Best Hostel with a Private Room in Dublin – The Times Hostel – College Street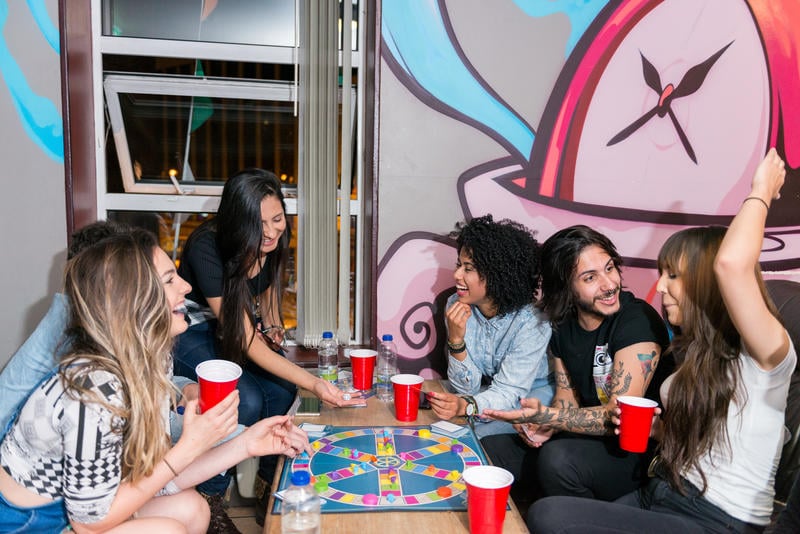 $$
Self Catering Kitchen & Free Tea
Free Event Nights
Laundry Facilities & free luggage storage
The Times Hostel College Street is a classic Dublin backpackers hostel. Their staff are super friendly and have tonnes of local know-how to share with guests. They host a special, free, event night every evening of the week. Free cheese and wine on Tuesdays, anyone? Or perhaps a free dinner on a Wednesday? Backpackers love that The Times College Street offers free tea, coffee, and hot chocolate all day every day; especially important during the chilly Irish winters after returning from their free daily walking tour of Dublin city! This modern hostel offers some of the best private rooms out of all the Dublin hostels on offer if you want to skip the dorm room.
The Times Hostel – College Street is one of our favourites in Dublin but they're not taking guests right now. We're not sure if they're closed for good but we hope they'll come back soon.
FAQ about Hostels in Dublin
Here are some questions backpackers ask about hostels in Dublin.
Travel Safety Tips for Dublin
ALWAYS sort out your backpacker insurance before your trip. There's plenty to choose from in that department, but a good place to start is Safety Wing.
They offer month-to-month payments, no lock-in contracts, and require absolutely no itineraries: that's the exact kind of insurance long-term travellers and digital nomads need.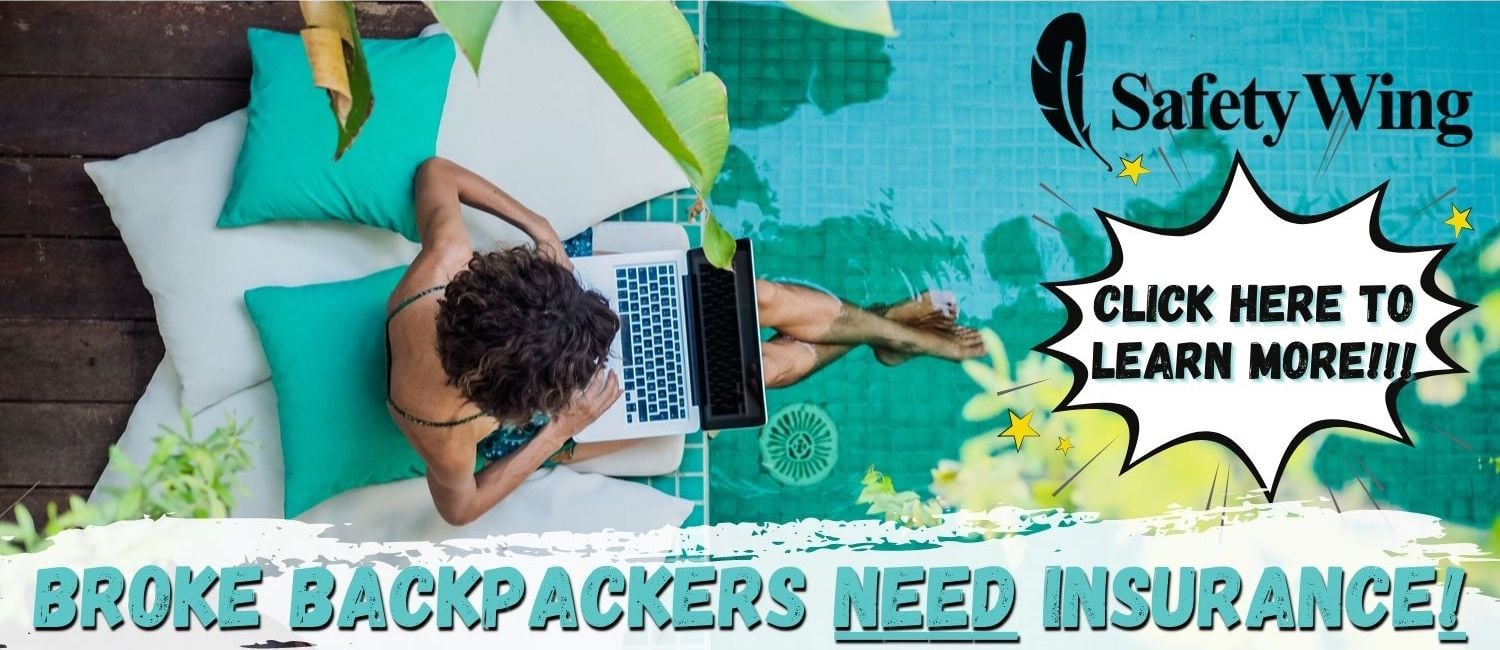 SafetyWing is cheap, easy, and admin-free: just sign up lickety-split so you can get back to it!
Click the button below to learn more about SafetyWing's setup or read our insider review for the full tasty scoop.
What to Pack for your Dublin Hostel
Pants, socks, underwear, soap?! Take it from us, packing for a hostel stay is not always quite as straightforward as it seems. Working out what to bring and what to leave at home is an art we have perfected over many years.
Check out our definitive Hostel Packing list for our top packing tips!
More Epic Hostels in Ireland and Europe
Hopefully, by now you've found the perfect hostel for your upcoming trip to Dublin.
Planning an epic trip all across Ireland or even Europe itself? Don't worry – we've got you covered!
For more cool hostel guides around Ireland, check out:
By now I hope our epic guide to the best hostels in Dublin has helped you choose the perfect hostel for your adventure! If not, then why not consider checking out the Dublin Airbnb scene?
Final Thoughts on the Best Hostels in Dublin
Overall the hostels in Dublin are amongst some of the best in the world, and hopefully, this list gives you some clarification of where you want to stay while backpacking Ireland.
That said, the hostel you choose on any backpacking adventure can easily make or break your trip.
The goal for this Dublin hostel guide was to leave no hostel-stone unturned so that you are aware of all of the best hostels in Dublin. I am aware that Guinness and Irish history are much more interesting than researching where to stay in Dublin and you're probably just dying to hit up Temple Bar!
There are seriously so many fun things to get into in the Irish capital that hopefully by now, your hostel questions are answered and you can focus your attention and energy on preparing for your Dublin backpacking trip.
Dublin is a fantastic city worthy of your time. Book the hostel that looks like the winner to you and enjoy the hell out of your experience here!
Overall, all of these hostels are top-notch, and you can't go wrong with any of them. But if you still can't decide, we recommend Sky Backpackers! Happy travels!
If you think we've missed anything or have any further thoughts, hit us up in the comments!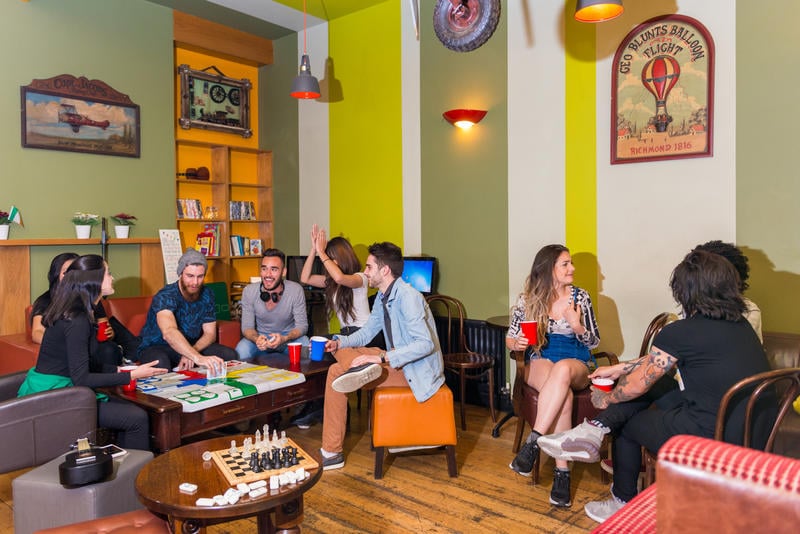 ---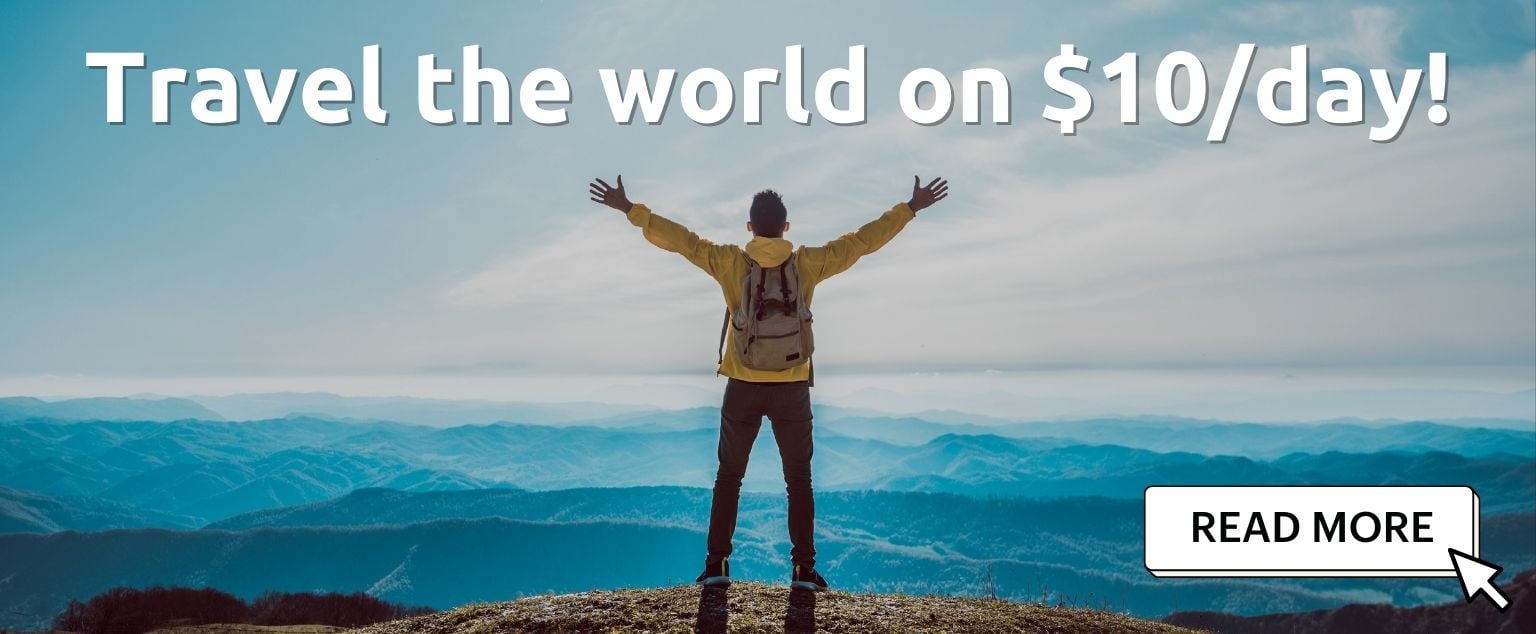 And for transparency's sake, please know that some of the links in our content are affiliate links. That means that if you book your accommodation, buy your gear, or sort your insurance through our link, we earn a small commission (at no extra cost to you). That said, we only link to the gear we trust and never recommend services we don't believe are up to scratch. Again, thank you!