Dublin is a stunning city filled with historic buildings, bars, and museums galore. Pubs play a central role in Dublin, with charming drinking dens around every corner.
However, Dublin isn't known for being a cheap destination. Accommodation prices can be steep – especially during the high season – and drinks are also more expensive.
We've created this guide on the best cheap hostels in Dublin to give you an insight into the city's more affordable accommodation. We've chosen five of our favorites, so you can find somewhere that suits your travel style as well as your budget!
Ashfield Hostel is a classic backpackers. It's not boutique or fancy in any way, but it's fun, friendly, and one of the cheapest hostels in Dublin. Here, you'll find a welcoming place to stay in the city that offers great value for money.
You'll get all sorts of travellers here: backpackers, solo travellers, couples, and groups on their school holidays. It's not a raving party hostel as a result, and you may find yourself staying with older travellers, or university students.
This budget hostel in Dublin may be basic, but you'll get a clean room with a comfy bed, space to stash your gear, warm showers, and social spaces. There's also a free breakfast served up each morning, saving you even more pennies.
Where is Ashfield Hostel?
This place claims to be the most central hostel in Dublin, and to be fair, it seems that way. It's situated between Trinity College and O'Connell Street; that means Temple Bar and all its nightlife and culture is just a minute's walk from the hostel. Also nearby are bus stops that easily connect you to the airport, ferry terminal, and Heuston Station, as well as the Guinness Storehouse.
There are a fair few rooms to choose from, so there's something for everyone. Here are the dorm options:
And now for the private rooms:
Twin room private ensuite
Double bed private ensuite
Three bed private ensuite
Prices here are from $30 per night.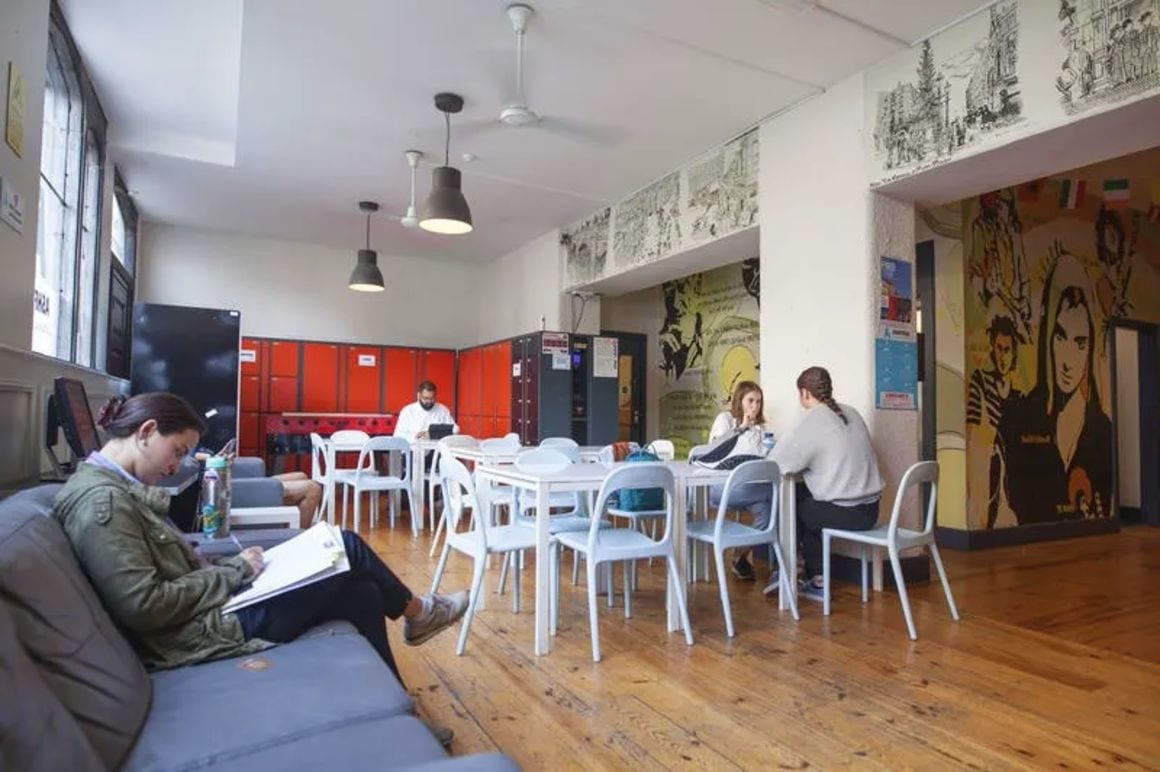 Any extras?
This may be one of Dublin's budget hostels, but it's more than just a cheap place to stay for the night. There are also additional perks that help you save money on your trip. These include:
Communal kitchen
Board games
24-hour reception
Buffet breakfast (free)
Security lockers
Book exchange
Luggage storage
Free Wi-Fi
There are also a few free events to join in if you feel like being sociable, including…
Daily guided walking tour of Dublin
Pub crawls
It's not a fancy hostel, but if you don't mind a no-frills stay in Dublin, this place will do just fine. Ashfield Hostel is a classic backpacker-y hostel; it can be a bit noisy, but it's social and you'll save money staying here.
The BEST Travel Backpack?!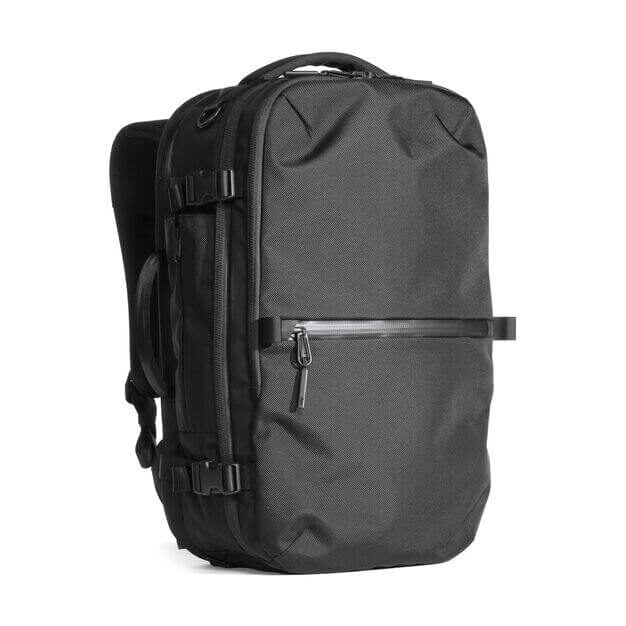 Pssssst! Not picked the perfect travel backpack yet? The Broke Backpacker team has tried out over thirty backpacks this year! Our favourite travel backpack is the Aer Travel Pack 2.
View on AER
Situated in a historic building, Abbey Court is not the sort of place you will miss easily. It's completely covered in bright murals of flowers, and is funky inside and out. Abbey Court is also an award-winning hostel, and people keep coming back.
Since it opened in 1999, it's seen thousands of guests arrive through its doors, all of them looking for a cheap hostel in Dublin. And it's still cheap (and pretty awesome) today. Throughout you'll find cool hang-out areas, including a lush courtyard garden decorated in a boho style, and a basement bar and games room.
The dorms at this hostel are pretty simple, no pod beds here. Some of the rooms also aren't very spacious, but that's no big deal. It certainly doesn't stop the rave reviews pouring in from happy hostel-goers!
Where is Abbey Court?
Ok, so these guys also claim to be the most central hostel in Dublin (apparently that's a thing), but we think they've got a good reason for that. It overlooks the Liffey River and is right next to O'Connell Street with the famous O'Connell Bridge nearby, leading to Temple Bar. From here you can get around to many of Dublin's top sights on foot, so you won't have to splash out on public transport.
Wondering what the sleeping arrangements are? There are a fair few room options available at Abbey Hostel, including:
Female dorm
Male dorm
Mixed dorm
There are private rooms, too, including:
Standard twin room private ensuite
Standard double bed private ensuite
Prices start at $21 USD per night.
Any extras?
As well as being one of the cheapest hostels in Dublin, Abbey Court also has some pretty good features to shout about:
Bar
Outdoor terrace
Hammock room
Security lockers
Laundry facilities
Cinema room
Games room
With so much on offer and an awesome location in one of Dublin's coolest neighborhoods, this place is definitely a cheap and popular mainstay of the Dublin hostel scene. There's a reason people keep coming back.
This hostel has been ranked among the top 10 hostels in Ireland, and it's a pretty cool place. Unlike some of the other budget hostels in Dublin, Jacobs Inn has been purpose-built. As such, it's modern and nicely designed, feeling a little more like a sleek hotel than backpacker digs – especially if you opt for one of the private rooms.
Shared spaces here are cool and contemporary, with tons of indoor plants and parquet floors, neon signs on the walls, that sort of thing. The interiors are definitely something to shout about. The rooftop terrace is also something that really sells this place.
Since it's purpose-built to be a hostel, the beds here aren't just basic bunks. Instead they've got pod beds; comfy, spacious, with their own lights and power sockets. If you're thinking it's all style, no substance – think again. Jacobs Inn is a super social place, great for solo travellers.
Where is Jacobs Inn?
Jacobs Inn isn't the most central hostel in Dublin, but it's situated near Connolly Station and Dublin's main bus station, meaning it's a great location if you plan on travelling further afield around Ireland. This also means you can get to Dublin Airport pretty quickly from here. All the sights and energy of O'Connell Street, Temple Bar and beyond are all very close by.
In terms of room options at this stylish hostel, there's a good selection on offer. Let's take a look at the dorms:
And the private room options include:
Double bedroom
Twin room
Four bed room
Six bed room
Prices start at $34 per person per night.
Any extras?
Being a cool, modern hostel and all, you can bet that there are some pretty good amenities at Jacobs Inn. Guests will have access to the following perks and features:
Bottomless breakfast (additional fee)
Restaurant
Bar (with live music)
Free Wi-Fi
Board games
Vending machines
Elevator
Rooftop terrace
Not only one of the cheapest but also one of the coolest hostels in the city Jacobs Inn will satisfy any backpacker traveling in Dublin. From the private pod-style bunks all the way to their boutique hotel quality private rooms, it's a clear winner.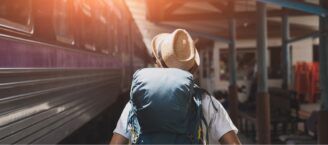 Unlock the The Broke Backpacker's GREATEST Travel Secrets
Sign up for The Broke Backpacker Newsletter to receive weekly tips on how to travel on a budget + a FREE copy of The Backpacker Bible!
Gardiner House is a modern hostel situated inside a historic Georgian building – a 200-year-old converted chapel, to be precise. That means you can really stay in a slice of Irish history at this Dublin hostel. The place has been nicely restored with a load of period features left intact, like sweeping staircases, big windows, and high ceilings.
The dorm rooms have also been tastefully decorated here, with white-washed walls, light wooden floors, and clean, neat beds. One of the coolest things about this place is that you get to stay in the converted chapel itself, complete with original stained glass windows.
There are plenty of places to hang out here. The spacious outdoor terrace in particular is awesome for a pint (or more) on a sunny day, and getting to know your fellow guests. So not only is it a social hostel, but it's also great value for money and full of historic charm.
Where is Gardiner House?
A little further out of central Dublin than other hostels, but worth it for what you get, all the major sights are still within a 15-minute walk. That includes Temple Bar and Croke Park, while O'Connell Street is just a five-minute stroll from the hostel. So, it's still an excellent base for exploring Dublin.
In terms of room options at Gardiner House, dorms include:
And the private rooms are as follows:
Twin room private shared bathroom
Double bed private shared bathroom
Double bed
Prices start from $27 USD per night.
Any extras?
Gardiner House may be set in a historic building, but there are loads of modern conveniences provided for your stay. Additional features here include:
Free Wi-Fi
24-hour reception
No curfew
Free breakfast
Book exchange
Outdoor terrace
BBQ area
Laundry facilities
This is an awesome budget hostel in Dublin. It's an all-around great mix of good location, sociable vibes, and value for money. And, it's all topped off with that historic building.
Abigails Hostel may not be as fancy as some of the other cheap hostels you can find in Dublin, but it's still a modern, clean, and welcoming place to stay. You'll be guaranteed a cozy bed to sleep in, with friendly staff on hand to help you with your Dublin travel plans.
The dorm rooms here are pretty funky, with wooden floors and bold-patterned wallpaper. Everyone gets their own little place to store their luggage, a USB socket and a reading light.
In terms of the atmosphere, it's definitely not a party hostel. But the perks on offer, as well as the cleanliness factor and welcoming vibe, all add up to a pretty great place to be.
Where is Abigails Hostel?
Abigails Hostel is situated on Aston Quay overlooking the River Liffey, a mere minute's walk to Trinity College, Temple Bar, and O'Connell Street. There are also ferry terminals, bus stops that can take you to the airport, and the Guinness Storehouse all within walking distance.
There are a few different dorm options available at Abigails Hostel, with just one type of private room to opt for. These are as follows:
Mixed dorm
Female dorm
Twin room ensuite
Prices start from $30 per night.
Any extras?
There are some pretty good perks to staying at Abigails Hostel, which include the following amenities:
Board games
Common room
24-hour reception
Hairdryers
Book exchange
Communal kitchen
Free breakfast
Luggage storage
A few events help make it at least a little bit social here, too…
Free daily walking tours
Pub crawls
Abigails Hostel is definitely a great choice if you're looking to travel cheaply in Dublin. It's central, there's a nice overall vibe, and you can save further pennies with that free breakfast.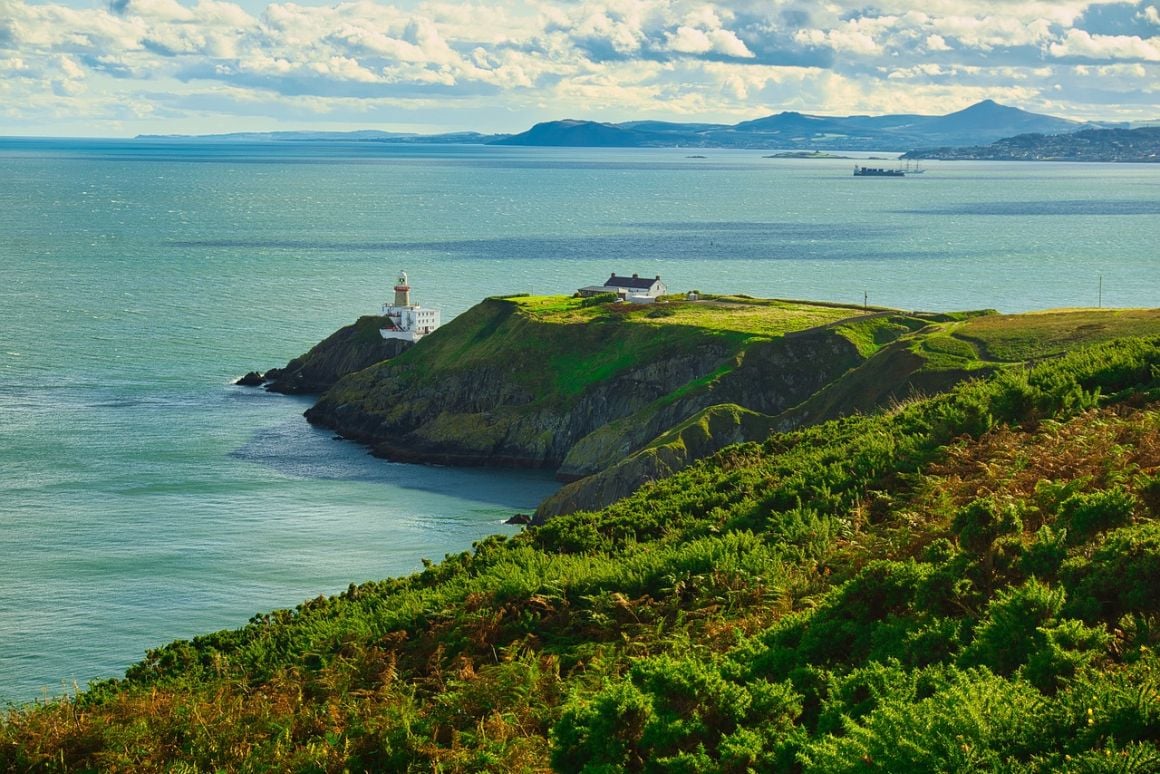 Cheap Hostels in Dublin FAQ
How cheap are hostels in Dublin?
You can find very cheap hostels in Dublin, starting at around $20 USD per night. However, that's not really the norm. Budget hostels in the Irish capital tend to hover around the $30 USD mark, and can actually soar during the summer months or even on weekends. Private rooms (and not even the fanciest ones) start at around $80 USD per night.
If you really want to stick to a budget, staying somewhere that offers free breakfast is definitely worth it. Though Dublin is fairly compact, you'll be paying an extra premium for being in a central location right on the doorstep of the city's top attractions.
Are hostels in Dublin safe?
Dublin is a safe city and its hostels are no different. The only thing that might bother you is being in a party hostel with a lot of drunk people – there are a lot of pubs around, after all. But the simple solution to this is to choose somewhere more low-key, away from rowdy crowds.
In terms of security, pretty much every hostel in Dublin is still very secure. Things like lockers, key card access, and 24-hour security are the norm. You should have no worries at all while staying in the city.
Are there any more cheap hostels in Dublin?
Yes, of course there are more budget hostels on offer in Dublin. For a boutique, stylish option, Generator Dublin (from $33 USD per night) is part of the tried and tested Generator chain; a balance between sociable atmosphere and clean, quiet dorm rooms.
Fairly pricey, but for a good reason, Garden Lane Backpackers (from $40 per night) gets rave reviews thanks to its buzzing, international atmosphere, charming rooftop terrace, and comfy hangout spaces, like their TV and music room.
Abrahams Hostel (from $22 per night) is a great option to keep to a budget in Dublin. You get things like a fully-equipped kitchen, free breakfast, and a top location in walking distance to top sights.
Final Thoughts on Cheap Hostels in Dublin
While Dublin may have a reputation for being an expensive place to visit, staying in this fun city doesn't have to exhaust your wallet. There are plenty of great hostels in Dublin, ideal for anyone travelling Ireland on a budget.
Whether you're spending a weekend in Dublin or plan to stay long-term, there'll be somewhere affordable for you. We hope this guide has helped you find somewhere awesome to stay for your upcoming trip to Dublin!