Dublin is the cool Irish capital — crammed full of culture, hundreds of traditional pubs, and an ever-growing history that spreads throughout the city. One moment you could be tucking into a delicious wood-fired pizza, the next you could be visiting the 13th-century Dublin Castle or slamming pints at the nearest pub.
But visiting this warm and welcoming city comes at a cost; Dublin is frequently cited as one of Europe's most expensive cities. In fact, according to Mercer, it's the most expensive city in the Eurozone to live in.
But travel smartly and those pennies can go a long way. A trip to Dublin can easily fit a backpacking budget! It just takes a bit of know-how.
And that's exactly where we come in. This guide is bound to give you the tools to experience Dublin in the cheapest (and best way) possible. We've included tips on accommodation, cheap eats, and budget-friendly travel options…
Ready when you are!
The cost of a trip to Dublin is going to vary depending on several things. That includes flights, transport on the ground, food, activities, accommodation, alcohol… all that jazz.
But this is the moment where everything gets easier. We're gonna break down all the costs for you, and give you the best tips to work your way around some of the pricier aspects of traveling to Dublin.
All travel costs for Dublin we've listed are estimates and subject to change. Prices are in US Dollars (USD), unless stated otherwise.
Dublin, as the capital of the Republic of Ireland, uses the Euro (EUR). As of March 2021, the exchange rate is 1 USD = 0.84 EUR.
To keep it simple, we've summarized the general expenses for a 3-day trip to Dublin. Check out our handy table below:
3 Days in Dublin Travel Costs
ESTIMATED EXPENSE: $150 – $2170 USD for a roundtrip ticket.
The prices of flights will always change depending on the time of year — and sometimes pretty wildly. The cheapest time to fly to Dublin, generally speaking, is January or February. High season, aka the summer, is naturally going to be more expensive.
Dublin Airport (DUB) is where you'll most likely be flying to. Sometimes, capital city airports are located way out in the sticks, but thankfully DUB is just 4 miles north of the city centre. That's pretty convenient!
Wondering how much it costs to fly to Dublin? Watch the breakdown.
New York to Dublin Airport: 424 – 1550 USD
London to Dublin Airport: 48 – 82 GBP
Sydney to Dublin Airport: 1193 – 2591 AUD
Vancouver to Dublin Airport: 692 – 982 CAD
These are the average prices, but there are some pretty nifty ways to save money on flights. For example, you can really find some great deals by getting online and sifting through price comparison sites like Skyscanner.
Another good way to keep things cheap is to fly to Dublin via London. The UK capital is a booming transport hub with multiple connections from global airports, and flights from London to Dublin are often comfortably affordable. You can even get a bus!
ESTIMATED EXPENSE: $25 – $84 USD per night
In general, accommodation in Dublin is fairly budget-friendly. Prices do get a little less affordable if you're looking to stay right in the city center — or if you're traveling during the summer. Our #1 tip is that you look for places that are not smack-bang in the middle of town. Getting around is easy!
So around how much will you be looking to pay for your accommodation? That depends on what type of accommodation you go for.
You'll find pretty much everything in Dublin: hostels, bed-and-breakfasts, fancy hotels, and Airbnbs too. It all depends on your travel style, so let's take a look at the details at each and see which one is right for you.
Hostels in Dublin
If you really want to keep things cheap, then you should consider staying at a hostel. This is the tried-and-tested method for generations of backpackers across the world! And Dublin isn't short on great hostels either.
Hostels also have the added bonus of being pretty sociable places, making them great for a group of friends or a solo traveler. The average price is around $25/night, which allows you to save a ton of money.
Psst, we've got a whole Dublin hostel guide if you want to go in deep!
Here are a few of our favorite hostels in Dublin:
Generator Dublin – This Irish branch of the stylish hostel chain is true to its brand: funky and fashionable. Couple that with a central location, an onsite bar, and free social events and you've got a true hostel gem.
Isaacs Hostel – Set in a period building, Isaacs Hostel is a mainstay of the Dublin backpacking scene. With nightlife-centric Temple Bar at its doorstep, the lively atmosphere of this hostel fits the bill.
Gardiner Hostel – Stylish, clean, and situated in a 200-year-old convent, this cheap hostel in Dublin feels like the place to be — and all just a short walk to the center of town. They've got a chill garden for daytime and evening hang-outs and events, too.
Airbnbs in Dublin
Like many European cities, Dublin is overflowing with Airbnbs. These can be great options for independent solo travelers or couples who are going for that living-in-it, local experience.
Prices vary, but you'll be looking at around $60 per night for an Airbnb in Dublin.
Having your very own private space is a different way to experience the city when compared to more "traditional" places like hostels and hotels. You can also save a ton of money by having cooking your own meals.
A good host can also make a difference — the insider tips are invaluable to a unique stay! Here are some of the best Airbnbs in Dublin:
Compact Studio in Rathmines – Situated in the studenty suburb of Rathmines, this Dublin Airbnb is perfect for a solo traveler. The price is great, and it'll only take you 10 minutes on the bus to the city center.
Cool Apartment on O'Connell Street – Location, location, location! This one is perfectly situated for exploring the Irish capital. Combine that with an attentive, helpful host, funky interiors, and… jackpot.
City Apartment in Temple Bar – This spacious apartment puts Temple Bar and all its cultural sights (not to mention the nightlife) at your fingertips. It's clean, modern, and comes with a mini balcony for some morning coffee with a view.
Hotels in Dublin
For the fanciest way to stay in Dublin, hotels are the way to go. While these can come at a cost, the cheapest hotels in Dublin start at around $40. Of course, an extra luxurious place will cost you way more than that.
Usually, staying in a hotel means you'll have access to everything under one roof. Things like restaurants, bars, cafes, and sometimes even convenience stores… Hotels mean no daily chores and nothing to worry about.
But then again, if you're staying in Dublin on a budget you'll have to scale back on your luxury dreams. Or will you? Check out our quick list of affordable (yet still awesome) hotels:
Hotel St George by Nina – Centrally located and set in a dope property, staying at this hotel is a real Dublin experience. The rooms are cozy and cool, there's a good breakfast on offer, and the staff is super friendly.
Jurys Inn Dublin Parnell Street – This polished hotel is within five minutes' walk of Dublin's cultural centre, Temple Bar. With an onsite restaurant/bar, helpful staff and well-appointed rooms, the price per night truly feels like a steal.
The Hendrick Smithfield – Aside from being arguably one of the coolest looking hotels in Dublin, The Hendrick Smithfield also boasts an amazing location, with bars and restaurants just at its doorstep.
ESTIMATED EXPENSE: $0 – $22 USD per day
Dublin is a fairly compact city. Many of its top sights are clustered together, so if your accommodation is central you can easily get around on foot.
Even if you're further out of town, though, public transportation is fairly accessible. And it can take you anywhere you wanna go!
For starters, Dublin has its very own electric rail system: the Dublin Area Rapid Transit (DART). It connects the city and runs along the coast from Malahide to Greystones, way down in County Wicklow. Coupled with the Luas tram system, a great bus network, as well as bike hire, Dublin's public transport covers every corner.
Let's take a look in more detail at how it all works — and how much it costs!
Train Travel in Dublin
While Dublin might not have an underground train system (there's one in current development), it definitely has a comprehensive rail system: the Dublin Suburban Rail. There are six lines in total, including DART.
The service extends from the city out into the surrounding towns. Though mainly for commuters, it's still a great way to get out and see further afield. If you've got the time, of course.
DART is probably what you'll be using most. It's fast and frequent, and skirts along the Irish coastline. But it's the way it cuts through the city that makes it so convenient — it's even got Wi-Fi on board!
Fares are totted up according to zones and the average return journey will set you back $7.50. But you can save money by grabbing yourself a good ol' Leap Card: you'll save around 32% per fare compared to cash.
A Leap Visitor Card is also a great way to cut your Dublin travel costs if you're riding around during your trip, as it gives you unlimited travel across the whole network.
Here's what's available:
1-day pass: $12 USD
3-day pass: $24 USD
7-day pass: $49 USD
Bus Travel in Dublin
Buses in Dublin are another great way to get around the city. With over 100 different routes and even a 24-hour night bus service, it's a fairly extensive network.
Buses can whisk you between sights on shorter journeys and long trips alike. And they're also the best way of getting to Dublin from the airport (via the Airlink Express). A single fare on this one is around $8.50 USD.
But is Dublin expensive in terms of its public bus network? We'd say it's pretty good value for your money. The standard fare is around $3.50 per journey, but be warned: you'll need the exact change to pay your fare. Alternatively, the Leap Card allows you to charge the card and tap away (while saving money).
If you do want to get around on buses more than any other thing, get your hands on the DoDublin Card. It gives you 72 hours of unlimited travel on the Airlink Express, the Hop-on Hop-off Tour buses, all other Dublin public buses, and other perks like a walking tour! It costs just $35.50.
To plan your journey like a pro, you may want to check out the Journey Planner app. Check times and fares, suss out the best routes, and see how to get to those must-see destinations with a few simple taps.
Generally, using the Dublin bus network good way to get around, and the 24-hour service is great if you feel like sampling the city's nightlife!
Renting a Bicycle in Dublin
Renting a bicycle in Dublin is a great idea. With 120 kilometers of cycle routes and bike lanes, cycling is an integral part of Dublin's infrastructure.
While you could go private and rent a bike in Dublin, like many global cities, it has its very own city bike-sharing system. It's called dublinbikes.
Each bike is locked into a terminal, and you simply follow the on-screen instructions to unleash your new set of wheels. The first half-hour is free, so you can manage to save up! Even with multiple half-hour journeys, switching bikes to get the most out of your money.
You can use a Leap Card, cashless payment options, or purchase a three-day ticket ($6 USD) for unlimited riding on the dublinbikes as well.
Private cycle hire in Dublin is also an option, obviously, costing around $12 a day. Some hostels may even hand these for guests to use for free!
ESTIMATED EXPENSE: $11-$55 USD per day
How cheaply can you eat in Dublin? Great question. It really depends on what you're eating, and where you're eating it. Generally, you can eat pretty affordably here, but we all know eating out all the time adds up.
Eating at local joints, fast food places, and even some pubs can be more cheaply done if they're located away from tourist hotspots. It's always better to go off the beaten track if you want a more affordable meal.
There's a growing and diverse foodie scene in Dublin, but what's always been the staple of the city is traditional hearty Irish fare:
Irish Stew – Potatoes, onions, carrots, and diced mutton or beef; a perfect winter warmer. Enjoy it across the city at various cozy eateries and pubs, with prices ranging from $8.70 to $20.
Mussels and cockles – Shellfish are a big deal in Dublin. Mussels, for example, usually come steamed and in some sort of delicious garlicky concoction. Expect to pay as much as $20 for the privilege.
Coddle – It may be made using leftovers, but the Irish coddle is a delicious way to fill up. Potatoes, onions, vegetables, and sausages in a stewed form. Comfort food at its best! $12 to $18 for one.
Want to keep your belly happy and your wallet too? Try these tips:
Cook up a storm – Try out a few Irish recipes or simply make your own affordable staples at your kitchen — hostels/Airbnbs help a ton.
Pick your eateries wisely – Don't just rush in at first sight. "Traditional" pubs in Dublin will be pretty expensive for food, but more on that next!
Go for free breakfast – A fair few of Dublin's hostels and hotels will offer complimentary breakfasts. Feast up on a full brekkie before you wander those streets!
Where to Eat Cheaply in Dublin
Fancy restaurants and high-end gastropubs in Dublin are bound to break the bank. As tasty as their food may be, and nice for a treat, eating in places like this every day will see your budget deplete fairly rapidly.
Here are a few examples of where to get cheap eats in Dublin:
Fish and chip shops – You can eat a veritable feast at a number of Dublin's "chippers" very cheaply (eh). Meal deals rarely exceed $12.
Bakeries – The best way to sample Dublin's baked goodies without breaking the bank. Pies and traditional sourdough go for as little as $3 in places like Green Door Bakery and The Bretzel Bakery.
Greasy spoon cafes – The Irish/UK equivalent to an old-school diner. Greasy spoon cafes are the go-to for cheap eats and local living. The centrally located Gerry's offers huge Irish breakfasts with toast and tea/coffee for around $7.30.
If you're cooking for yourself, though, it's still important to know the most affordable supermarket chains over. Keep your Dublin travel costs lower by shopping at:
Aldi – This European supermarket chain is up to 50% cheaper on average than its competitors. You can get a whole lot of everyday items here for a veritable steal. Lidl is also a great alternative!
Moore Street Market – From Monday to Saturday, get your fresh fruit and veggies from an authentic Dublin institution. Temple Bar Food Market opens only on Saturdays, but it's a little more comprehensive (think organic produce and cheese stalls), if a little more expensive.
ESTIMATED EXPENSE: $0-$35 USD per day
If you're in Dublin for the Guinness, you're not alone. But with the recent government tax increase on alcohol, and many pubs capitalizing on the demand, a pint of this bad boy can cost anywhere between $6.70 – $8.50.
In fact, Ireland as a whole has some of the most expensive alcohol in the EU, its capital city is obviously no exception. 5% ABV cans of beer start at $2.50 in the supermarket, while a bottle of wine can cost $9 USD at the least.
So, is Dublin expensive when it comes to going out? It definitely can be.
There are still ways to keep things cheap. Staying in a party hostel — with happy hours, pub crawls, and drinks deals — is definitely one of them.
The cheapest tipples, however, are…
Cider – Beer is super expensive in Dublin, but cider not so much. You can get 'em strong, and they've been made in Ireland for hundreds of years. Traditional and effective!
Irish whiskey – Another traditional method for wetting the whistle, Irish whiskey is thought to originate in the 12th century. A bottle can cost around $23 USD.
Besides party hostels, chain pubs can be a great way to drink on the cheap. Wetherspoons, for example, often runs drinks deals and cheap pints (and cheap food, too). Just steer clear of anywhere that looks trendy or fancy!
ESTIMATED EXPENSE: $0-$50 USD per day
Dublin is the cultural center of Ireland. The streets are filled with grand architecture and cultural heritage, fascinating museums & lots of greenery!
You've got the Dublin Castle, the beautiful 18th-century Marsh's Library, the Guinness Storehouse, and the Irish Museum of Modern Art…
But it doesn't stop there. There are also plenty of opportunities for awesome day trips — charming coastal villages, wild mountains, you name it.
The Wicklow Mountains National Park (aka "the Garden of Ireland") is just one example. Only 18 miles from the city, you'll get to see Glendalough too, an abandoned monastic settlement founded in the 6th century!
And you can go even further. The Cliffs of Moher, situated on the west coast of Ireland, are still just 3 hours or so by car, which is still a decent day trip.
But is Dublin expensive for sightseeing? Well, travel and entry fees to Dublin's top attractions can add up, but here are some wallet-friendly tips:
Make the most of Dublin's free attractions. Government-run institutions such as the Natural History Museum, National Museum of Archaeology, and National Gallery of Ireland are all completely free!
Take yourself on a free walking tour. This may be offered through your hostel, you may be following a street tour from your guidebook, or you could join one of the tours offered by Dublin Free Walking Tours.
Get a Dublin Pass. It offers free entry to over 30 attractions, the Hop-on Hop-off Tour buses, and many other things. It costs $26.50 USD per day and can be purchased online.
Life is unpredictable. For as much as we may dream of a perfect budget, you never know what's gonna get thrown at you. Unexpected luggage storage fees, stuff you end up buying to take back home, crazy munchies…
Dublin is an expensive city, so any craft market or tourist shops will have prices to match. Unless you're dead set on acquiring a Guinness fridge magnet, we'd say save your budget for something more unique.
Keep a budget for unexpected costs. It's easy to let a spending spree get out of hand, so we recommend saving 10% of your total budget for it.
Tipping in Dublin
There are no real rules for tipping anywhere in Ireland, but Dublin is the destination where it is practiced the most. There's no heavy tipping culture, but depending on where you are a tip will be appreciated.
Unlike bars in the US, tipping in pubs is not so common. If you wanna show love, you can always offer to buy the bartender a drink.
More casual places like cafes may have tip jars on the counter; it's common to round up your bill and leave the change for the staff.
In restaurants, a 10-15% service charge is often added to the bill. Note that this is optional and it is better for the staff financially for you to tip them directly.
In general, except in restaurants, tips are not expected, but gladly received. So basically, the cost of a trip to Dublin isn't greatly affected by it.
Get Travel Insurance for Dublin
World Nomads' mission is to support and encourage travellers to explore their boundaries. They offer simple & flexible travel insurance, and safety advice to help you travel confidently.
They've been doing it since 2002 – protecting, connecting, and inspiring independent travellers just like you.
Get a quote below or read our in-depth review!
World Nomads provides travel insurance for travelers in over 100 countries. As an affiliate, we receive a fee when you get a quote from World Nomads using this link. We do not represent World Nomads. This is information only and not a recommendation to buy travel insurance.
You could always do with more ways to keep your Dublin travel costs low. Here are some final tips for traveling on a tight budget:
Be an "early bird": The current boom in Dublin translates into an infinite amount of new restaurants. If you feel like eating early (around 6:30-7 p.m.), a lot of places offer reduced rates and special deals.
Search for discounts: Start with sites like Groupon. It's always a good idea to check online before booking something — you may get a little bit of money off on attractions & meals.
Do things by half: Pints may cost a pretty penny in Dublin's pubs, but if you're not there to send it all the way, you can always go for half pints.
Give Couchsurfing a try: Couchsurfing gives you the chance to live the travel experience in a completely different way. It doesn't suit every traveler nor every trip, but it's definitely something to look into.
Save money shopping: Non-EU visitors can get tax back on many purchases in Dublin. There's a sales tax (VAT) of 21% on pretty much anything you buy, so you could be saving a fifth of the cash this way.
Have a water bottle: Say no to plastic bottles. Get a filtered bottle, like the GRAYL, which filters out 99% of viruses and bacteria, and stay hydrated anywhere in the world without harming the environment.
Become a volunteer with Worldpackers: Give back to the local community and, in exchange, you're room and board will often be covered. It's not always free, but it's still a cheap way to travel in Dublin.
Dublin is one of Europe's cultural powerhouses, and it definitely has a reputation for being… well, expensive.
But it's definitely doable on a tighter budget! There are plenty of things to do in Dublin, and many of them are free. Know where you're going, spend your money wisely, and you'll get to experience Dublin at a snip of the cost:
Stay in hostels – Easily the best way to keep accommodation prices low. They sometimes have free breakfasts, free drinks, free tours, and great atmospheres. Perfect if you want to meet other travelers, too.
Eat where the locals eat – Not all Dubliners eat at gourmet restaurants every day of the week. Sometimes they're in fast food joints grabbing some fries, sometimes they're in greasy spoon cafes enjoying a sandwich and a cup of tea. Follow your nose!
Travel by bus, bike or foot – This is a great combination for getting around Dublin cheaply. Buses allow you to cover relatively long distances for very little money, and when the weather's nicer, cycling or even walking is pretty damn nice.
Visit during the off-season – High season means high prices. Visiting Dublin in October or April means you still get to see Dublin, but it's less crowded and flights and accommodation will be cheaper.
Book in advance – Not only is this good for planning your trip, but prices also go up the closer you get to your date of travel.
The average daily budget for Dublin should be around $50 to $80 a day. With a few of our helpful hints and tips, though, coupled with your very own Broke Backpackery expertise, you could even go lower.
Enjoy the hell out of this wonderful city! And I'll see you on the next one.
---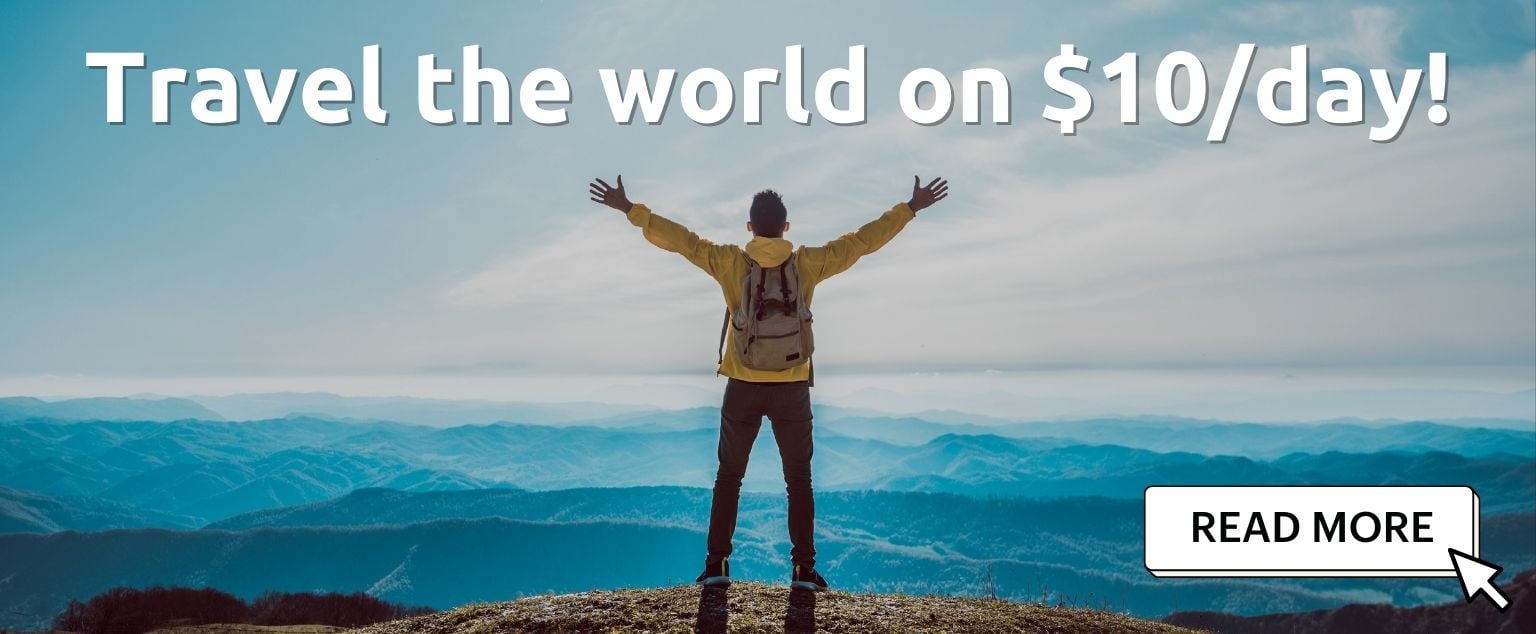 And for transparency's sake, please know that some of the links in our content are affiliate links. That means that if you book your accommodation, buy your gear, or sort your insurance through our link, we earn a small commission (at no extra cost to you). That said, we only link to the gear we trust and never recommend services we don't believe are up to scratch. Again, thank you!