Ireland might have a reputation for being a sleepy and quiet country, but did you know that it's also home to some incredible cultural and musical festivals? If St. Patrick's Day, Ireland's most traditional festival celebrated worldwide, tells us anything, it is that the Irish can certainly put on an incredible event.
Along the icy coastline, sheep-laden countryside, and small Irish villages, there's an undertone of excitement and adventure oozing through the cracks.
Most citizens in the country follow Catholicism when it comes to religion, so Ireland has a relatively confined religious scene. However, even with a Celtic undertone and Catholic predominance across the country, this doesn't mean there aren't incredible art shows, and cultural festivals in Ireland lined up each year!
Ireland's annual event calendar is chock-block with celebrations, festivals, and events to suit all types of people. From food shows to music festivals to art exhibitions, there really is something for everyone, no matter where and when you visit.
Organized in chronological order, I've compiled a list of the top eleven festivals suitable for foodies, music lovers, and art and culture fans when visiting Ireland.
When: January
Where: Dublin
Celebrated towards the end of January to celebrate the imminent arrival of spring, TradFest Temple Bar runs for five consecutive days and is growing in popularity every year.
It's all in the name. TradFest is a celebration of everything traditionally Irish, celebrated in some of the best bars and pubs in Temple Bar, Dublin's cultural quarter.
The main attractions at the event are music based, with concerts featuring Ireland's best folk music artists throughout the festival. However, with a recent influx of international attendance from tourists, the festival is slowly expanding to appeal to more genres of music.
The event showcases Ireland's national musical talent across genres in different venues in the city of Dublin. The Irish festival encourages everyone from established to up-and-coming musical talent to perform, giving emerging artists a chance to perform on an international stage.
As a celebration of Irish identity through music, some concerts, including Smithwicks Sessions, are set in Temple Bar, one of Dublin's cultural landmarks. These events are free to attend with a ticket, which can be reserved in advance.
Showcase Nights are an opportunity for those in the music industry to showcase their talents. At the same time, the TradFringe offshoot of the event encourages attendees to experience a program of cultural events run at the same time as the music festival.
Where to Stay:
Wake up right in the heart of Dublin in this studio apartment on George Street. It features a spacious living and sleeping area and a fully equipped kitchen.
When: March
Where: Dublin and Countrywide
It's a festival we've all celebrated, no matter where we come from in the world. However, celebrating St. Patrick's Day in the capital of Ireland itself is a bucket list dream come true. Each year, over 750 thousand visitors tick the festival off their bucket list to celebrate in the land of rainbows and pots of gold, making it one of the most famous festivals in the world.
While there will be patriotic events held throughout the country, the biggest and most attended Irish festival is held in Dublin. Regardless of the day it falls on, the official day is the 17th of March. However, Dublin puts on a multi-day show for the annual celebrations. Events run for around 3-4 days, many of which are free to attend.
The parade begins around noon on the 17th of March and features massive floats, artistic elements, musical performances, and over ten marching bands from across the globe. It's a celebration of all things Irish, scattered with an ocean of green and gold with iconic four-leaf clover knick-knacks.
The parade begins at Parnell Square and moves across the O'Connel Bridge towards Wexford Street. It is free to watch, although it could be in your interest to book seats in the grandstands at the start of the parade route.
Where to Stay:
Take the Irish holiday seriously and spend a few nights in a guest suite in a historic Georgian Irish house. Beautifully maintained, the high ceilings, antique furniture, and historical details will have you snapping pics of every corner of the home.
Strangely enough, Dublin doesn't have the best reputation when it comes to food. Perhaps from the traditional 'haggis' meal, a classic blend of 'unique' meat. However, this isn't to say that Ireland isn't home to some incredible chefs, restaurants, and cuisine.
Taste of Dublin is one of many festivals in Ireland dedicated entirely to food, and it's one of our favorite things to do in Dublin. It is held in Iveagh Gardens each year and is an unmissable summer highlight.
The event runs in the middle of Summer and costs about €15 for a standard entrance ticket and up to €85 for VIP tickets with food included. With a normal ticket, you'll be able to enter the Taste Marketplace, which is flooded with artisan culinary producers and chefs offering up samples of boutique ingredients and local food.
Primarily a networking event for industry professionals, this is an incredible spot to mingle with foodies who know the best of the best when it comes to ingredients and suppliers.
One of the main events at the festival is the Masterclasses, where visitors can learn from world-class chefs who demonstrate some of the best meals and cooking techniques at live cooking sessions.
Where to Stay:
This gorgeous home in Dublin is perfect for a large family or a group of friends. It is a converted stable yard with four bedrooms, an indoor swimming pool, and a sauna.
Easily one of the most famous festivals in the country, Forbidden Fruit is a music extravaganza that takes place at the Irish Museum of Modern Art in Kilmainham. The event attracts musical sensations from across the world, featuring live performances from artists like Lorde, Peggy Gou, Elbow, Skepta, and Hot Chip.
The festival is held over a three-day weekend in June when the weather is at its warmest in Ireland. Individual day tickets cost €74.50, while a €139.50 pass will allow you to access all zones for the entire weekend at the Irish festival.
Forbidden Fruit is Dublin's first and longest-running city-center music event and is not only focused on musical talent. In fact, attendees can enjoy a well-curated blend of music, art, fashion, and food at this festival. The festival is a must when visiting Dublin!
Where to Stay:
Located in the Dublin City Center, The Wilder is a four-star hotel that provides accommodation with a garden, terrace, and shared lounge. The boutique hotel is set in a traditional Irish townhouse and is just a short walk from St. Stephen's Green.
When: June
Where: Bundoran, Donegal
As contradictory as it might sound, considering the location, even the Irish deserve a beach-themed festival with a tropical surf atmosphere. Well, Sea Sessions Surf Music Festival is the country's closest thing to a beach festival.
It is appropriately hosted on the beach in Bundoran in Donegal and is one of Ireland's more unique music events. Every year, the event invites international stars in the punk, funk, alternative, electronic, and hip-hop genres to the festival, which has hosted artists like Basement Jaxx, Goldie, The Scratch, Paul Woolford, Eneca, and DART.
Besides the groovy beats, the festival brings a bunch of other surfy entertainment to the beach town each year. You can expect surfing, skating, BMX events, beach games and sports, graffiti demos, and more. Of course, food and drink vendors offer tasty treats to keep you fueled and hydrated for the summer weekend.
Tickets for the Irish festival start at €119 for the three-day event and €149 for three days, plus on-site space for four nights of camping. VIP packages can also allow you to access a Surfers Bar and upgradeable glamping options for an additional €60.
Where to Stay:
This Fishermans Cottage is just a short stroll away from the beach, close to the town of Bundoran. Perfect for a relaxing stay, it has two bedrooms and plenty of space for four guests to spread out.
When: June
Where: Westmeath
Breakfast tea parties, picnics under the trees, meeting new friends in the hot tub, and dancing under the stars. Body and Soul is dedicated to just that, your mind, body, and soul, and is a festival full of surprises.
Set on the grounds of Ballinlough Castle in Westmeath, this unique festival centers itself around a common connection shared between us all — music. With music at the heart of the event, there are various stages hosting acclaimed and underground artists in the alternative, indie, and rock genres. Each stage is set in a unique setting, decorated with incredible lighting and art.
However, this Irish festival is not just about grooving to the greatest tunes in incredible locations. It's all about culture, art, well-being, food, and sustainability. Craftsmanship is a core part of the movement, and the festival collaborates with local visionaries to put on an incredible show surrounded by art.
When it comes to well-being, Body and Soul make as much space for recovery as it does for indulgence. After all, our bodies are really all we have. The Sanctuary is a space where Ireland's top therapists, sound healers, yoga instructors, and masseuses can help you recuperate during the event.
Held since 2017, Body and Soul is relatively new to the Irish music scene, yet it is gaining traction (and more followers) each year. Only 5500 tickets are available for this exclusive weekend and cost between €100 to €280 each.
Where to Stay:
Give your mind, body, and soul the rest it needs by staying in the gorgeous studio apartment in a historic home. Set on acres worth of private gardens, guests can enjoy the peace and quiet of nature and a taste of what Ireland would have been like in the 19th century.
When: July
Where: Galway City
Now in its 43rd year, The Galway International Arts Festival is a massive event that draws spectators from across the artistic world. In a blend of music, performance, art, and food, the Irish festival is an impressive immersion of culture that runs across several venues in Galway.
It all goes down in the summer month of July over about ten days when a bunch of incredible historical and outdoor city locations are transformed into accessible festival venues. At the festival, you'll see everything from street dancing performances, puppeteers making their way through the streets, live music jams, theatrical performances, and musical concerts.
As you might expect, there are different art installations, live and static, spread out across the city. To top it all off, a bunch of exciting talks and discussions are recorded at the annual event, touching on topics angled towards the issues faced in our world today, ranging from art to sustainability and everything in between.
While some events are held in public spaces and are free to attend, others require purchasing a ticket in advance. Check out the schedule for the event, and make sure you get tickets for the most interesting shows.
Where to Stay:
For an affordable inner-city accommodation option, book yourself into the Galway City Hostel and Bar. The hostel offers dorm room accommodation with complimentary breakfast right in the heart of the city center.
When: August
Where: Country-wide roaming
One of the most authentic festivals on the circuit, Flead Cheoil is a traditional Irish music festival run by a non-profit organization. I don't blame you if you can't pronounce the name of this Irish festival. Irish is a confusing language! Fleadh translates to 'a festival of Irish music, dancing, and culture', which is precisely what this annual event embodies.
The event includes live music events as well as a competition and is held in a different host city each year. The competitors are divided into age categories, with musicians under the age of 12 being the youngest.
Historically, the first event was held in 1951 in the town of Mullingar with a goal to establish standards in Irish traditional music through competition. Today, the festival is a meeting point for thousands of musicians, dancers, and singers, providing a platform for industry professionals to connect with each other.
In fact, around 20 thousand performers attend the event each year, while over 600 thousand attendees, locals, and tourists, gather to enjoy the traditional music.
Where to Stay:
To match the traditional festival of Fleadh Cheoil, you could stay in your very own private castle just outside the town of Drogheda.
Set in a medieval tower built from stone in 1858, Drummond Tower Castle features restored interiors with four stories, including a rooftop terrace with incredible countryside views.
When: August
Where: Tralee, County Kerry
Every year during August, young women from across the country and world make their way to County Kerry to compete for the crown of the 'Rose of Tralee'. But this festival isn't just a traditional beauty pageant. On top of crowning the annual Rose, the Irish festival celebrates the country's unique culture and the global Irish diaspora with singing, dancing, and eating.
Although the main event is held in Tralee, County Kerry, the festival is an international one celebrated by Irish descendants and communities worldwide. The event was inspired by a 19th-century traditional song verse of the same name about a woman who was called the Rose of Tralee because of her incredible beauty.
The first event was hosted in 1959, with a budget of under €1000. The event's winner is selected by a panel of the 32 counties of the island of Ireland and is chosen based on influence, personality, and natural beauty.
During the festival, thousands gather in Kerry to enjoy live street entertainment, concerts, food and local produce markets, and fireworks displays. RoseFest is a new addition to the event, featuring a family-friendly variety of musicians and artists to celebrate Irish heritage. Tickets for RoseFest can be purchased online before the event.
Where to Stay:
Set in gorgeous manicured gardens to match the beauty of the Rose of Tralee, the Meadowlands Hotel is a four-star property just a short walk from the Tralee town center. It's ideally located for exploring County Kerry and its traditional festivals.
When: August
Where: Killorglin, County Kerry
One of Ireland's oldest and most traditional events, the Puck Fair, has been celebrated for over four hundred years. During the historic event, a wild mountain goat is crowned as the King of Killorglin (the town where the event is held) and given a chance to reign over County Kerry for the three days of the festival. After its reign, the well-looked-after goat is released back into the wild.
The root of this Irish festival is unknown, although many legends and stories exist about its origins. My favorite is that the event pays tribute to a goat who managed to escape from its herd and ventured into the local town to warn villagers of the arrival of the Cromwellian army in the 1600s. Saving their lives with this knowledge, the goat was crowned a local hero – a king, if you will.
The event is rooted in the Gaelic calendar and is held between the 10th the 12th of August each year. Other than this main event, the festival includes a family-friendly market fair that hosts street entertainment such as puppet shows, traditional music concerts, marches, kids' clubs, and stilt competitions.
Where to Stay:
Set on a private estate in the valley of Glencar, The Highlands of Kerry, Maggie's Cottage offers exquisite views of the lake and mountains. Recently refurbished with modern amenities, glass interiors, and top-of-the-range furnishings, you can't do much better than a stay in this luxurious cottage.
When: September
Where: Laois
Are you ready to hear about one of Ireland's most prominent festivals? The festival is set against the gorgeous (and unique) manor house backdrop of Stradbally Hall in Laois.
What was once seen as a boho alternative to the mainstream festivals in Ireland is now the country's biggest festival.
The event takes place over a three-day weekend. A one-day pass for the Sunday fun day will cost you €100, while a full weekend camping pass will set you back €260. Tickets sell out fast every year, so be sure to get them while they're hot off the press!
The event is held in September, welcoming musicians, performers, artists, and food distributors to the small town. Music is undoubtedly the main event, with international sensations and local newcomers playing across over 27 different stages. Each stage is like a different world, with its own unique theme and atmosphere.
The party features an eclectic range of genres, from rock and roll to pop to alternative, making it one of the most diverse music festivals in Ireland. In the past, artists like The Strokes, Florence and the Machine, and Hozier have pulled out all the stops for fans.
On top of the music, Electric Picnic hosts craft workshops, cooking demonstrations, and unique pop-up raves. It's a genuinely eclectic event with something to offer every type of festival goer.
Where to Stay:
After an energetic time at the festival, retreat to this cottage guest suite in the countryside for a peaceful sleep. The wooden cabin has been recently remodeled with trendy interiors and basic amenities, perfect for a short stay.
With a popping pub and music scene, incredible art, and a population that values tradition and patriotism, Ireland is buzzing with activity when it comes to festivals and celebrations. Events are held throughout the year, keeping locals and tourists busy even during the coldest months.
Ireland is packed with magnificent places, and fun festivals hosted across its uniquely isolated landscape.
Unsurprisingly, if I could only attend one Irish festival each year, I'd pick St. Patrick's Day! There is nothing quite like celebrating this iconic festival of green and gold in the land of Leprechauns itself.
World Nomads' mission is to support and encourage travellers to explore their boundaries. They offer simple & flexible travel insurance, and safety advice to help you travel confidently.
They've been doing it since 2002 – protecting, connecting, and inspiring independent travellers just like you.
Get a quote below or read our in-depth review!
World Nomads provides travel insurance for travelers in over 100 countries. As an affiliate, we receive a fee when you get a quote from World Nomads using this link. We do not represent World Nomads. This is information only and not a recommendation to buy travel insurance.
---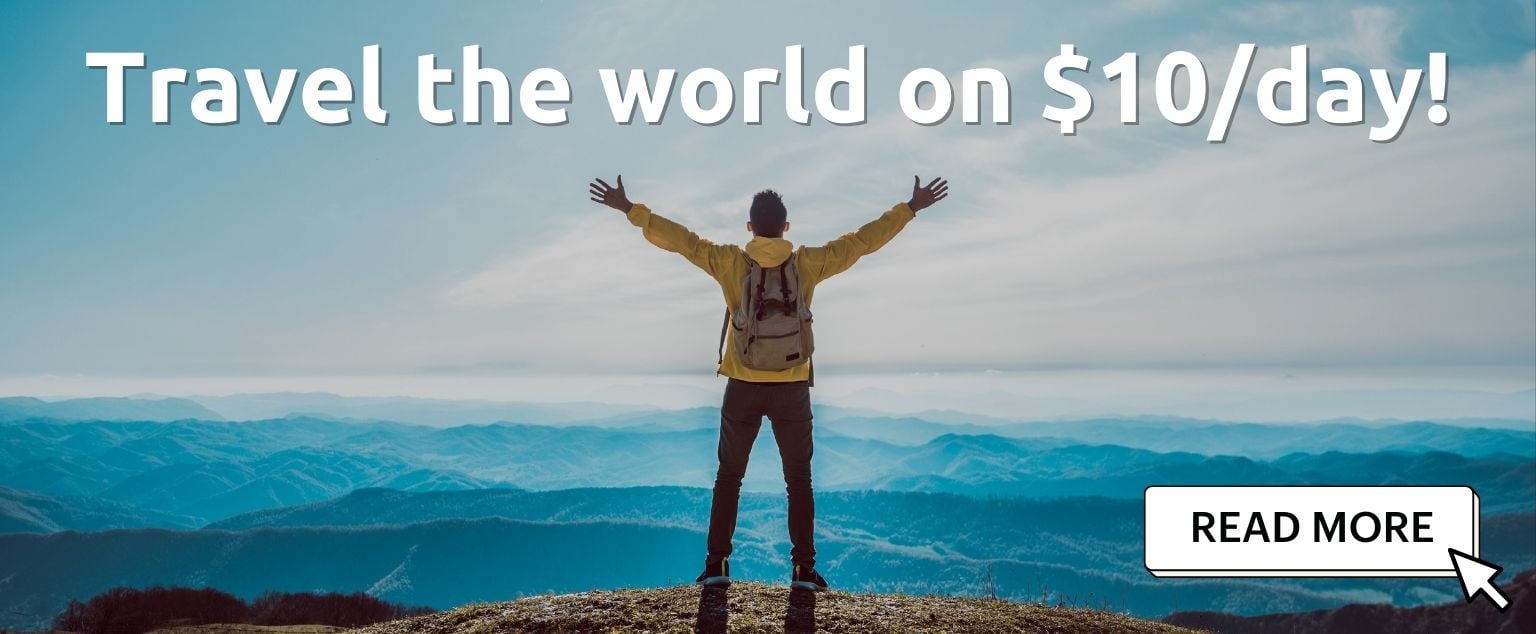 And for transparency's sake, please know that some of the links in our content are affiliate links. That means that if you book your accommodation, buy your gear, or sort your insurance through our link, we earn a small commission (at no extra cost to you). That said, we only link to the gear we trust and never recommend services we don't believe are up to scratch. Again, thank you!