Ireland, the land of Guinness, Riverdancing, and incredible landscapes. Not to mention the warm hospitality and traditional Irish pride!
Ireland is considered to be one of the friendliest countries to visit, and no matter where you go in the country, you'll always manage to make friends with an Irish bloke who'll invite you down to the local tavern for a pint of ale (probably Guinness).
Often referred to as the Emerald Isle, this is a country that has attracted over 11.3 million tourists each year. Why? because of its dramatic landscapes composed of sheer cliffs, rolling hills, and unspoiled coastlines, thriving city life with a buzzing atmosphere, and cheerful people. And of course, its cozy pubs serving up warm cuisines and local craft beers and whiskies.
And because of the sheer number of tourists visiting each year, more and more accommodation options are popping up to cater to all these people. And having too many options can be overwhelming.
Fear not my friends, that's where I come in. I have sifted through the accommodation sites and separated the wheat from the chaff, so you don't need to feel the pressure.
I know, I know, I'm too nice. But you can thank me later.
In this guide, I have prepared for you the top 20 amazing vacation rentals in Ireland that cater to any type of traveller. Whether you're travelling alone, as a couple, with friends or family. Whether you have the cash to splash or pennies that need saving, you'll all find something for you on this list.
Anyway, without further ado, here are the best vacation rentals in Ireland.
Quick Answer: These are the Top 5 Vacation Rentals in Ireland
Overall Best Value Vacation Rentals in Ireland
Overall Best Value Vacation Rentals in Ireland
7 BR home with a view
> $$
> 14 guests
> Gorgeous views of the sea and mountains
> Located in Connemara
Best Budget Vacation Rentals in Ireland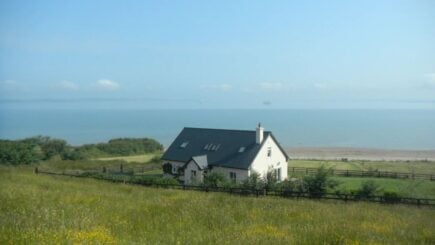 Best Budget Vacation Rentals in Ireland
4 Br Cottage close to the beach
> $
> 8 guests
> Beachfront property
> Located in Ballybunion, County Kerry
Best Vacation Rentals for Couples in Ireland
Best Vacation Rentals for Couples in Ireland
Cute renovated barn
> $
> 2 guests
> Located in the Tipperary countryside
> Includes a spa pool
Best Vacation Rentals for Families in Ireland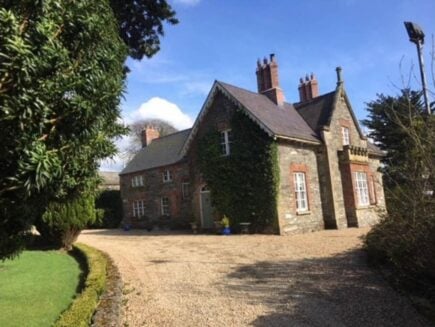 Best Vacation Rentals for Families in Ireland
2 BR home on a farm
> $$
> 6 guests
> 2 level home
> Located in County Monaghan
Over-the-Top Luxury Vacation Rentals in Ireland
Over-the-Top Luxury Vacation Rentals in Ireland
Lavish 10 BR villa
> $$$$
> 16 guests
> Built over 2 levels
> Located in Dingle, Kerry

Unlock Our GREATEST Travel Secrets!
Sign up for our newsletter and get the best travel tips delivered right to your inbox.
Types of Accommodation in Ireland
Of course, Ireland is an insanely beautiful country, there's no two ways about that! However, with the number of accommodation options available, no one would blame you if you got slightly overwhelmed.
To make it easier to search for what you're looking for, let's break up the most common types of accommodation that you will find across the country so you can find something that's right for you.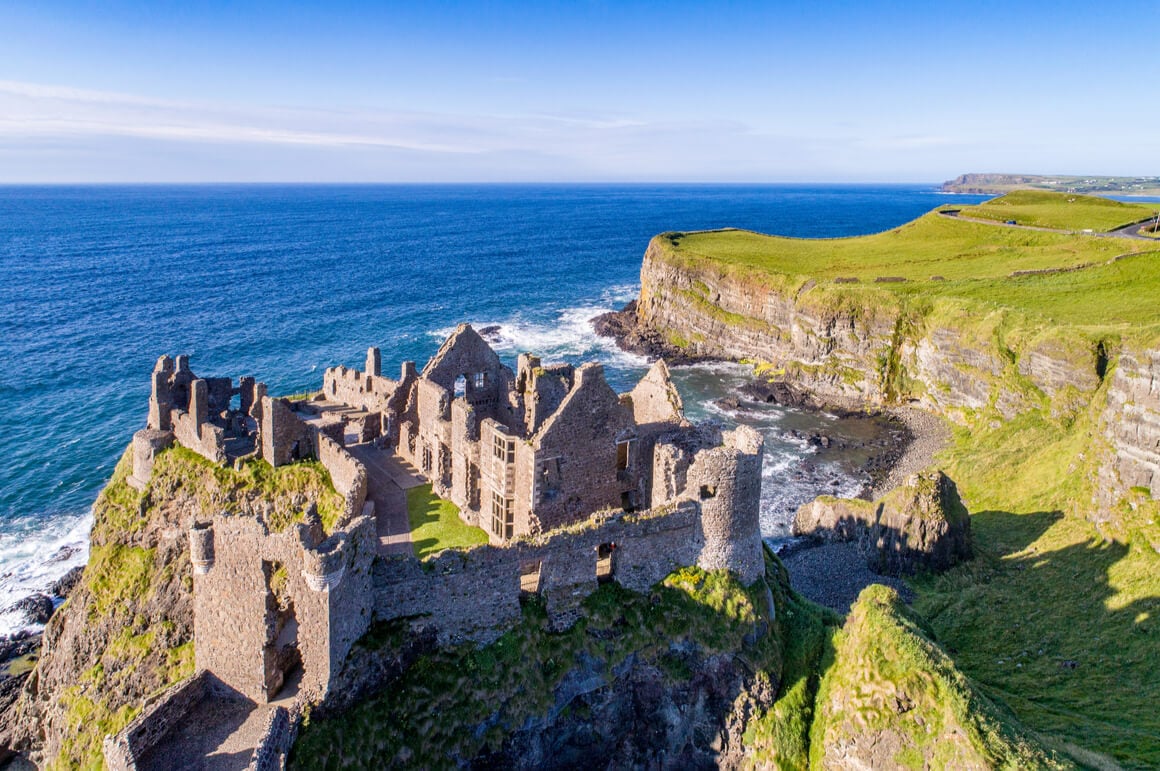 Apartments and Studios
When flying into Ireland from an overseas country, it is very likely that you will land in Dublin. If you're venturing around Ireland, Dublin is a great place to start your Irish holiday, as you will experience first-hand the wit and humour of the Irish.
While in Dublin, or even in urban areas like Galway and Cork, you'll find heaps of relatively modern apartments that won't burn a hole in your pocket. Apartments tend to be the cheapest accommodation choices in Ireland, but they still have the modern amenities that you would expect from a holiday rental in Ireland.
Most of these apartments will offer amenities like top-of-the-range kitchen appliances and maybe even a washer and dryer. They will be spacious enough for a small group or family. Many apartments in Dublin and Galway will also offer beautiful views of the water.
Houses and Cottages
If you've ever dreamt of visiting a country like Ireland, you'll know that there are wide expanses of the countryside with nothing but a few animals and lots and lots of greenery to behold. In the middle of nowhere, there'll be a charming little stone cottage with a roaring fire inside. Doesn't that sound absolutely idyllic?
In rural Ireland, you'll find heaps of such standalone cottages and houses that may be absolutely remote, or might be a part of a small village that, of course, has to have a pub serving a delicious steak and ale pie!
Staying in cottage in Ireland is truly part of the experience as this is as authentic as it gets. If you're ever indecisive about where to stay in Ireland, choose a cottage. Because of their seclusion, they are best for people travelling by car or for couples looking for a romantic getaway.
I've included a few cottages in my list below, and you'll soon know what I mean when I say that these cottages are drop-dead gorgeous (and so romantic!)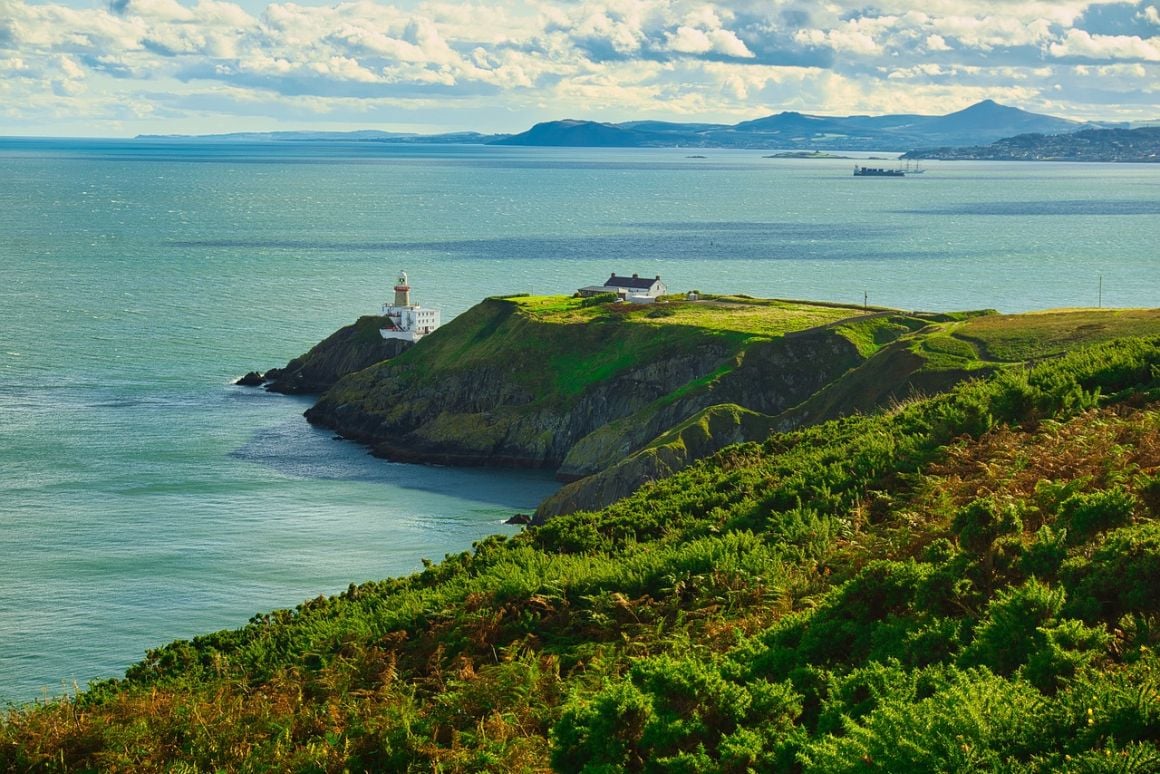 Castles
Yes, you read that right. Ireland's economy is fairly dependant on tourism and hence offers many experiences that would entice travellers to visit the country. One such offering is the ability to stay in a castle in Ireland, either in a private room or a suite within the castle, or you can even book the entire castle itself if you so desire.
Staying in a castle will definitely be Instagram-worthy, and it makes sense to book the entire place if you are travelling in a large group of friends or extended family. It also makes the perfect wedding reception, so if you're looking for romantic wedding accommodation…this is a no-brainer!
If you're travelling by yourself or in a smaller group, staying in a private room in a castle is a fabulous way to meet fellow travellers and make new friends!
However, Ireland is considered expensive to travel and staying in a castle will eat into that budget. If you're backpacking, maybe just come in for afternoon tea.
The Top 20 Vacation Rentals in Ireland
Now that I've introduced to you the types of accommodation, let's get started on this list of the top 20 vacation rentals in Ireland. I hope you find what you're searching for!
Most Charming Vacation Rental in Ireland | 7BR Home W/ Views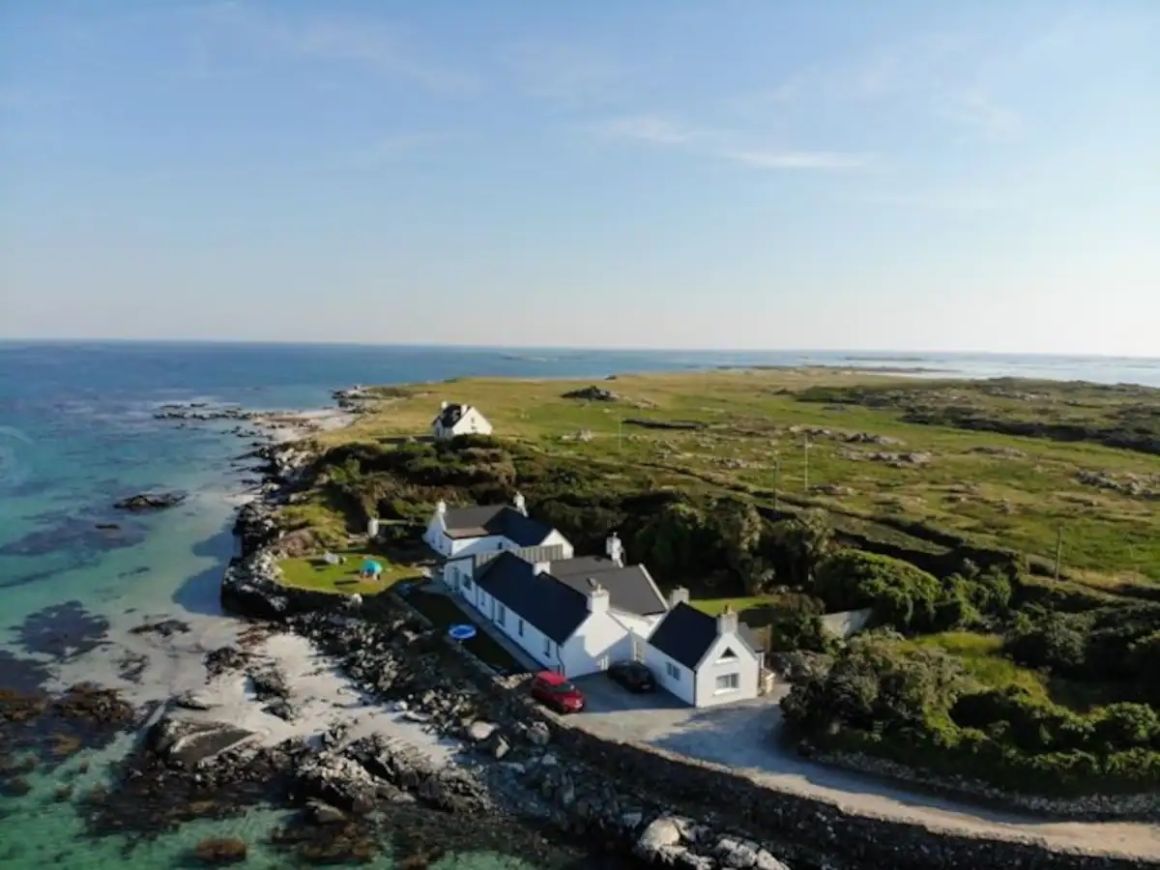 14 guests
Gorgeous views of the sea and mountains
While this house is off the beaten path and can be a little complicated to reach, once you get to this vacation home in Ireland, you will realise that it is completely worth it. The front outdoor area of the house is practically a private beach, and just look at those waves!
The house is a great choice for those travelling in a big group or are having a good ol' family reunion, as it can comfortably sleep 14 guests in its seven bedrooms. With enormous living and dining areas, there's more than enough space for everyone to spread out and enjoy some quality bonding together.     
4 guests
Pets are welcomed
This gorgeous two-bedroom holiday rental in Ireland is a 19th century farmhouse that has been lovingly restored and has had a few additions made to it over the years.
While the original structure is intact with its stone walls and décor that is largely inspired by the good "old days", the additions to the house are more luxurious.
Some of the amenities include a state-of-the-art leisure suite where guests can enjoy a sauna and a soak in the Jacuzzi multijet hydrospa while watching the clouds move across the hill in front of the house. 
Best Vacation Rental in Ireland for Families | 2 BR Farmhouse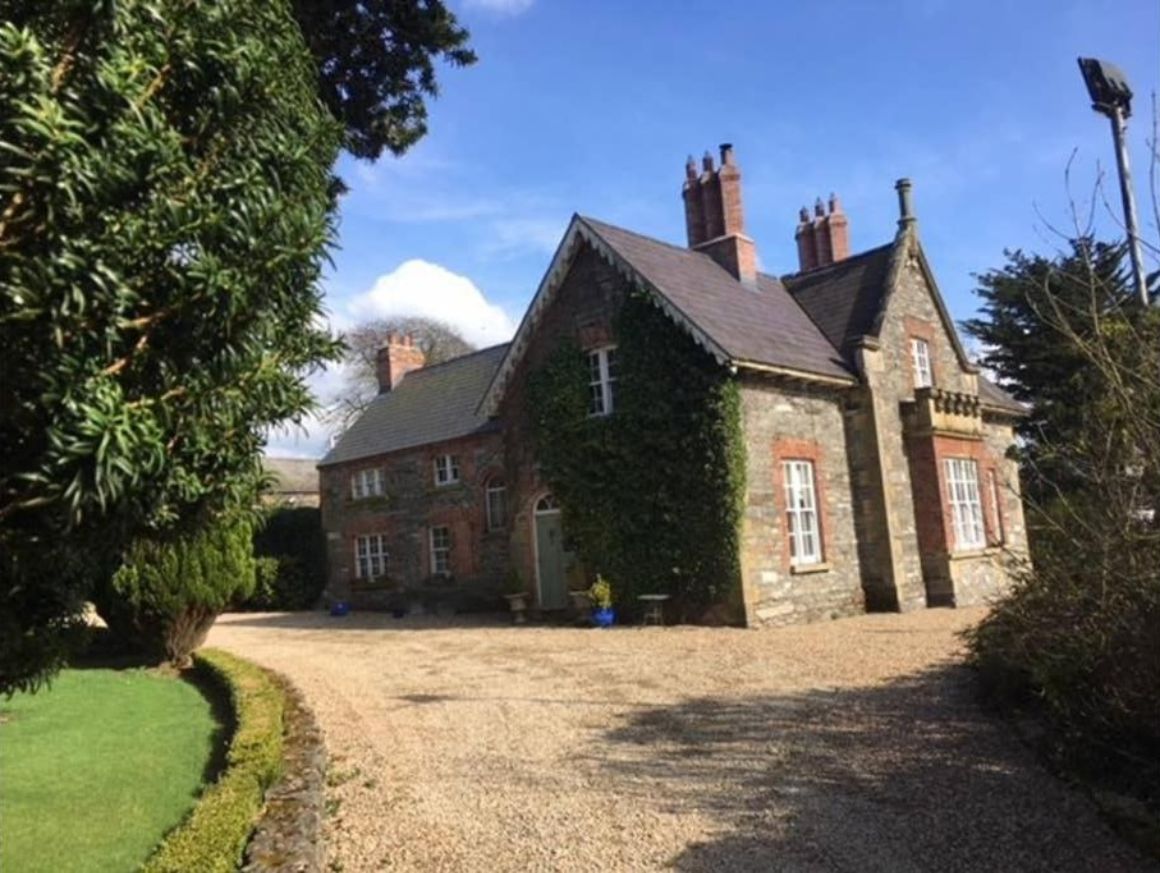 $$
Located in County Monaghan
This vacation home in Ireland has years of history on its grounds. As part of a working 25 acre farm, the owners lives on site, though in a separate building. The rental itself is best suited to four guests, with two bedrooms.
The living room is super spacious, but is cosy and welcoming. There is a fully equipped kitchen that has all the bells and whistles needed to cook a meal.
A supermarket and two pubs are nearby, within walking distance. If you get bored, there's also a swimming pool and cinema in the vicinity. This would be a great option for those backpacking Ireland as you do not need a car to reach this idyllic spot.    
Is This the Best Travel Pack EVER???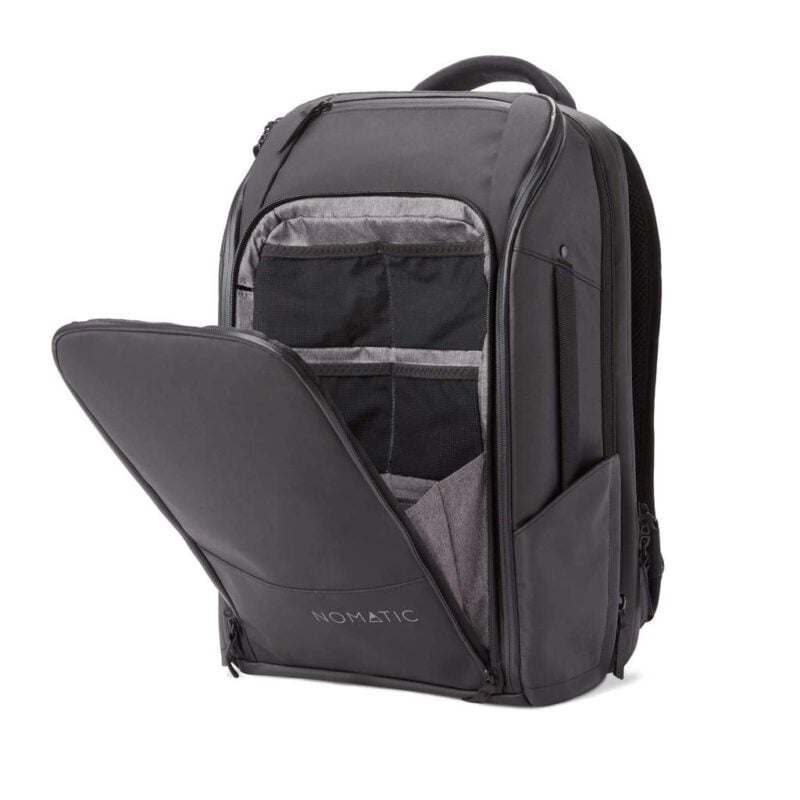 Best Vacation Rental in Ireland for Budget Couple – 2BR Barn Conversion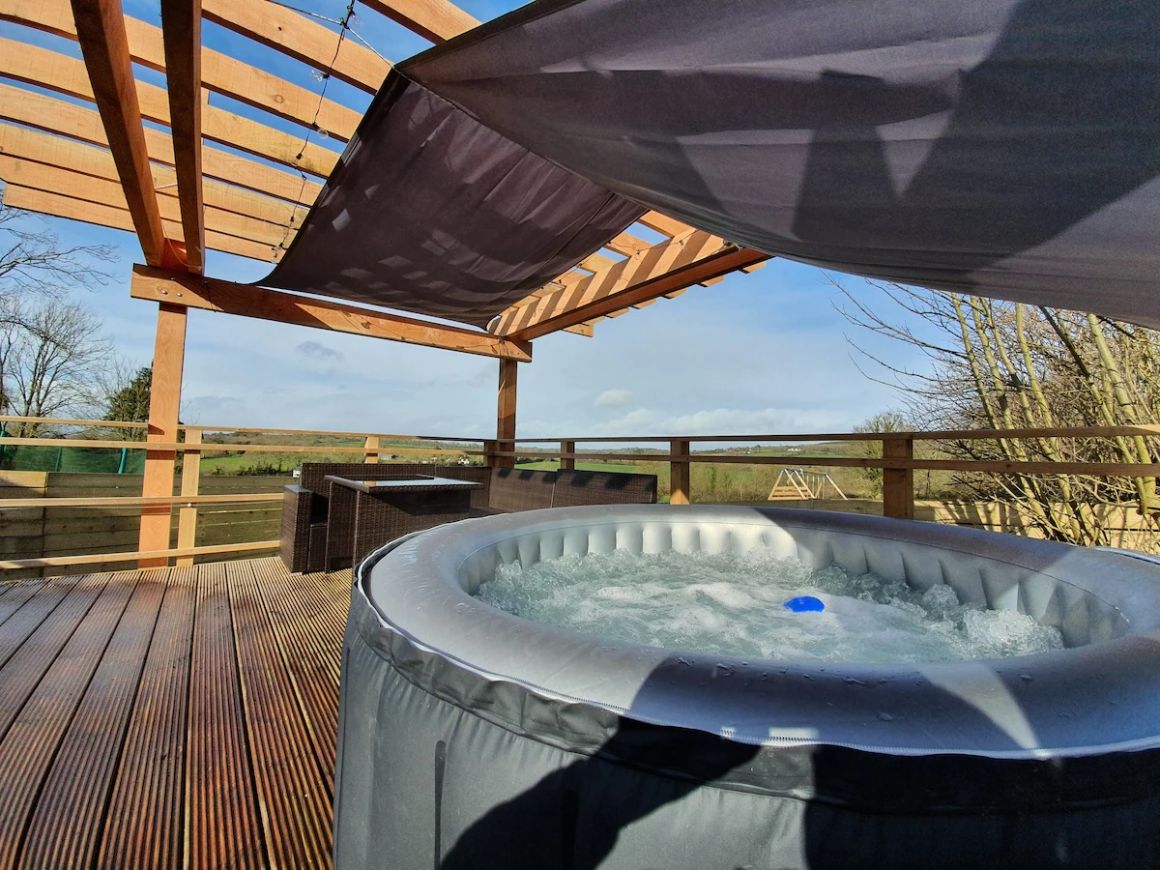 $
Located in the Tipperary countryside
2 guests
Includes a spa pool
Travelling on a budget, but looking for something that is a little more romantic than a hostel? This two-bedroom holiday rental in Ireland should please you. The rental has a hot tub on a private deck that is a great place in relax under the stars.
This stylishly renovated pre-1840s barn does not lack any modern comforts and comes with all necessary appliances and gadgets that one may expect to find.
The place is a little out of the way, and hence renting a car to drive here would make most sense. The rental has free parking space.
Best Value for Money Holiday Rental in Ireland | 3BR bungalow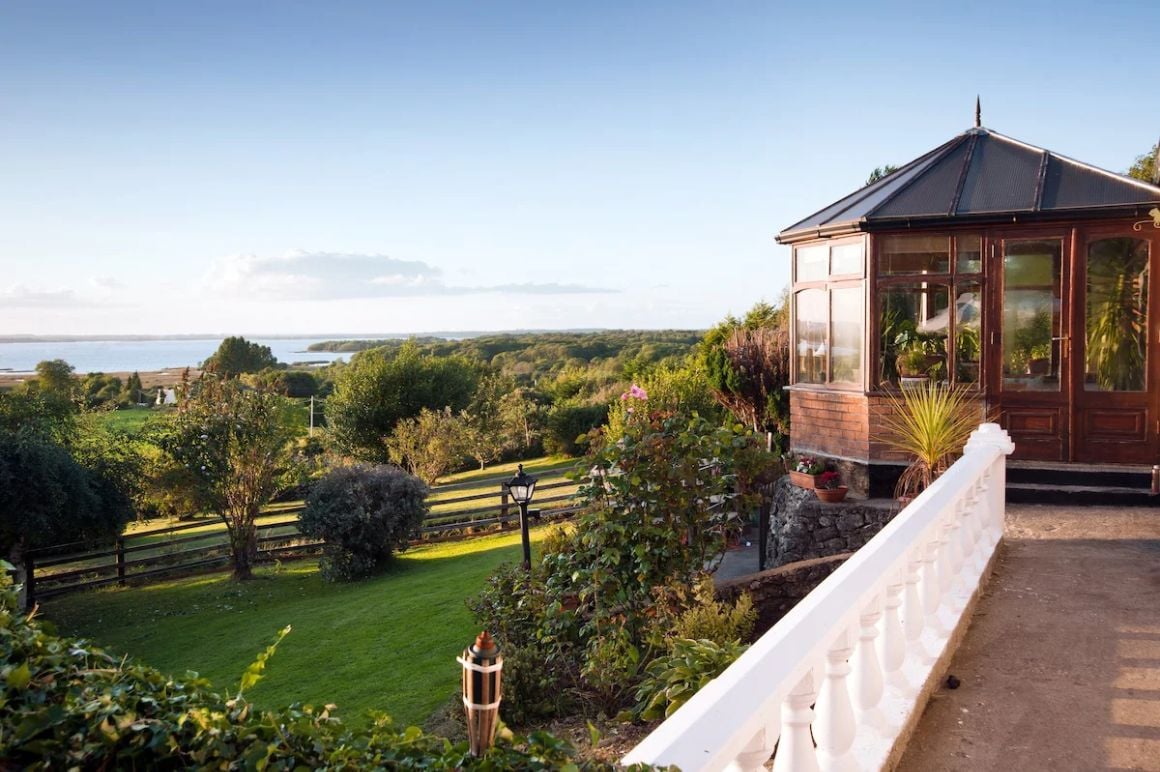 $
Located 5 minutes away from the village of Terryglass
8 guests
Affordable luxury bungalow with lake views
This bungalow is super affordable and yet has so many little details that make it impossible to overlook. The location is superb, with attractions like Galway, Connemara, Burren, Rock of Cashel being only a day trip away.
The apartment itself is stunning and offers really striking views of the lake (Kilgarvan Quay). There are so many walks and hikes to do in the area, which is another plus.
The village nearby has two pubs/restaurants and a large marina with facilities for water sports too.
Best Holiday Rental in Ireland for a Weekend | 3BR Apartment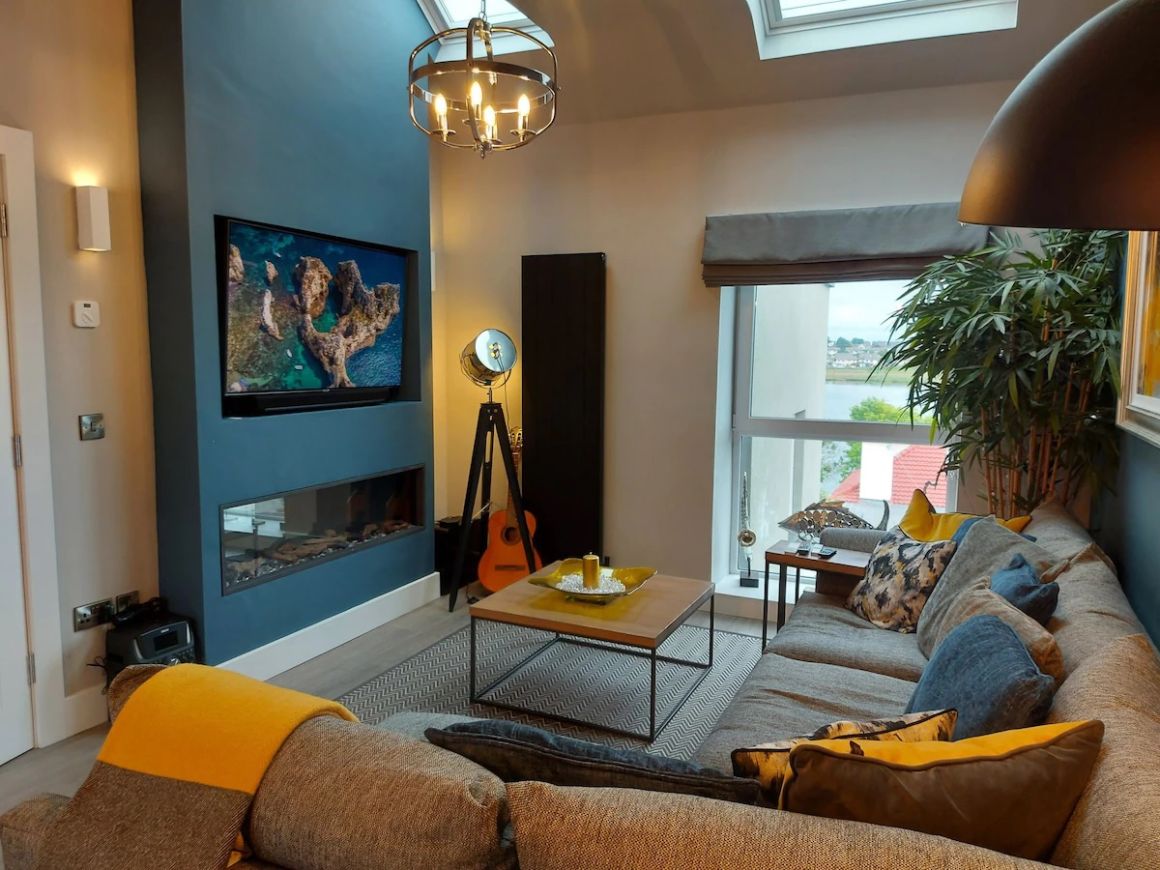 6 guests
Shared hot spa included
This vacation rental is a modern apartment in a building that has several other apartments up for short-term rentals, so you'll likely meet other fellow travellers!
The rental is furnished super elegantly with bright pops of color. There's a full kitchen with every appliance you might need to cook a meal.
All three bedrooms have double beds in them. The house also has laundry facilities, including a washing machine and an iron. Since the apartment is in a shared complex, the hot tub may have to be shared with other building residents.   
Best Apartment Rental in Ireland | 3 BR Apartment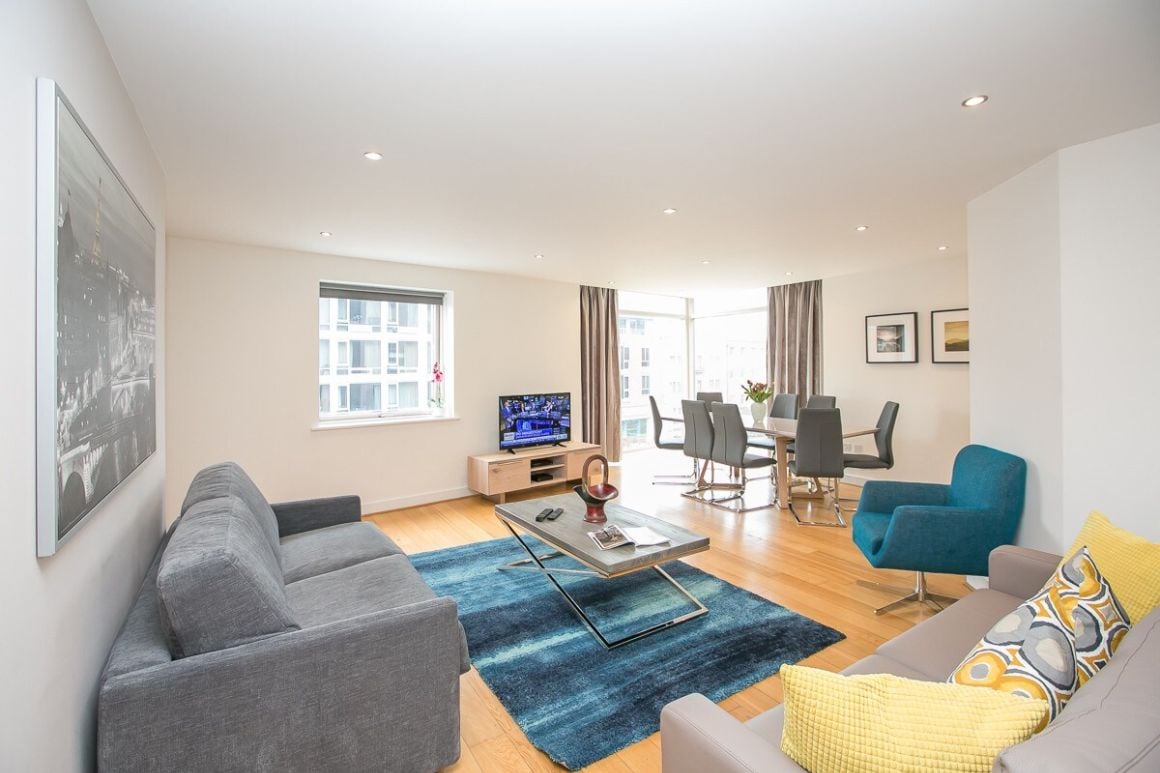 $$
Located in the heart of Dublin
8 guests
Close to Dublin's attractions
This spacious and stylish three-bedroom apartment is a perfect base for you and your group to explore Dublin's attractions. Located in the heart of the city, it is also close to the famous Temple Bar area.
The rooms are well lit and spacious. There's a laundry with a dryer and washing machine, and the kitchen has everything you might need to cook a meal from scratch.
There's also a supermarket across the street for groceries. If you want to step out for a meal, there are several restaurants and pubs within walking distance.
 Best Budget Beachfront Holiday Rental in Ireland | 4 BR Cottage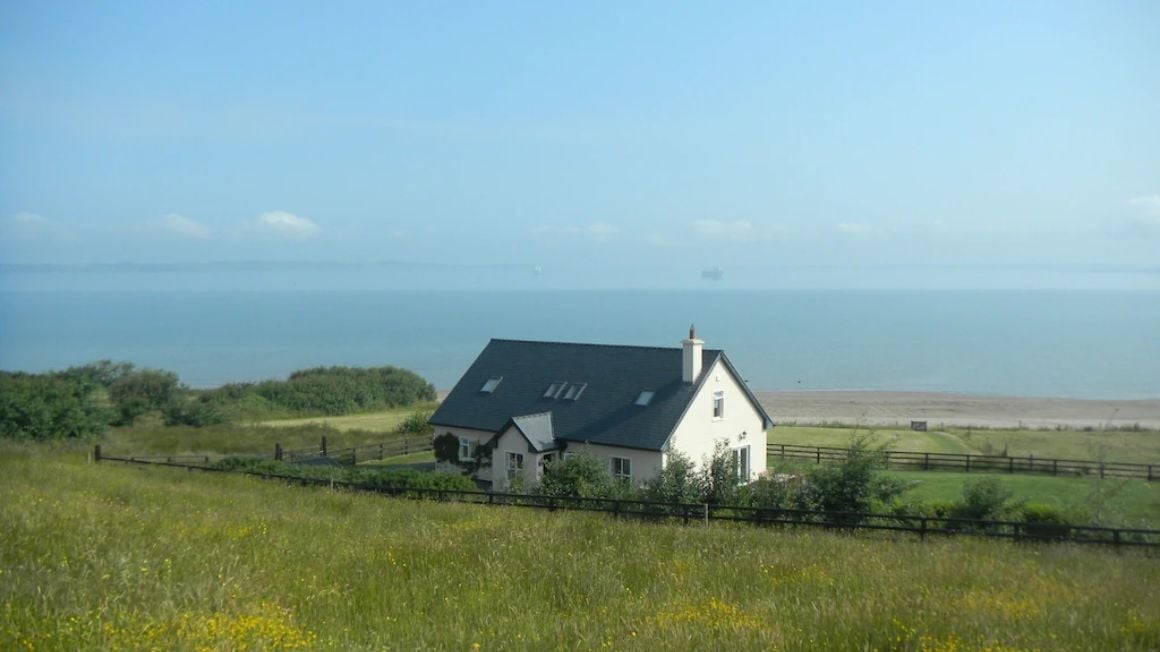 $
Located in Ballybunion, County Kerry
8 guests
Beachfront property
The best way to describe this rental is that it is a luxury cottage set on a five-acre meadow. Four miles of quiet sandy beach on the Wild Atlantic Way stretch across the front of the house, offering guests a fantastic and almost unbelievable view.
This rental is super peaceful, owing to its semi-remote location. You will only be "disturbed" by the sound of dolphins in the water or perhaps a ship sailing by, which isn't too bad at all!
The cottage itself is pretty luxurious, with all modern amenities, including geothermal underfloor heating.   
Best Vacation Rental in Ireland for a Family Reunion | 6 BR Home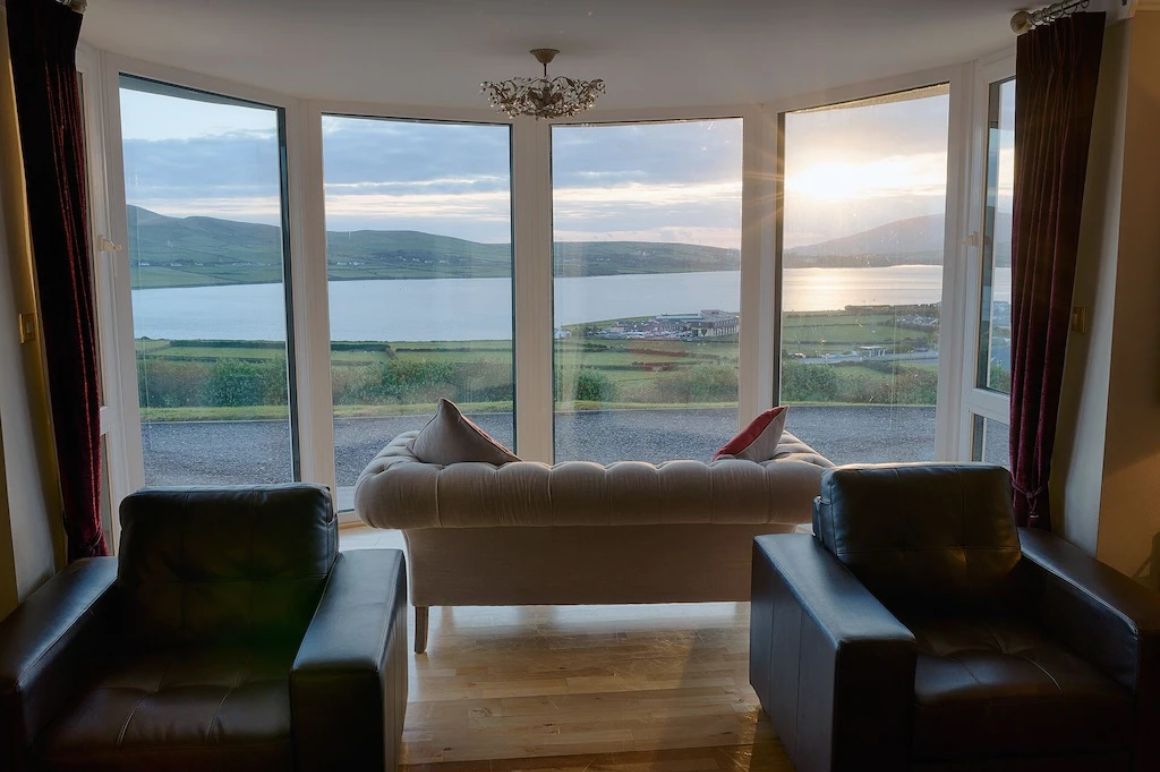 $
Located close to Dingle Town
12 guests
Stunning view of Dingle Bay
Looking for a rental that is homely and yet offers that little extra? This just might be it! This architect-designed 3,000 square feet home is located on an elevated site, which means better views in all directions.
Decorated to include modern appliances and luxurious furnishings, the rental is spacious and has huge windows that let in loads of natural light.
The full chef's kitchen is filled with enough pots, pans, and equipment. The best room in the house is possibly the large room featuring bay windows with a marble fireplace and solid beech flooring.
$$$
Located close to village of Dalkey
11 guests
Massive and spacious villa
This Mediterranean-style six-bedroom villa is simply beautiful, and I really believe that pictures don't do it justice. This two-storey building is spread over a massive 4,600 square feet, and so is super spacious with enough space for 11 guests.
The kitchen is a large, fully equipped space, with all necessary modern appliances and gadgets. There is also a large game room to keep younger members of the travelling group occupied.
The views from the house are striking, with the Irish Sea extending as far as the eye can see.  
Pet Friendly Vacation Rental in Ireland | 4BR Countryside Home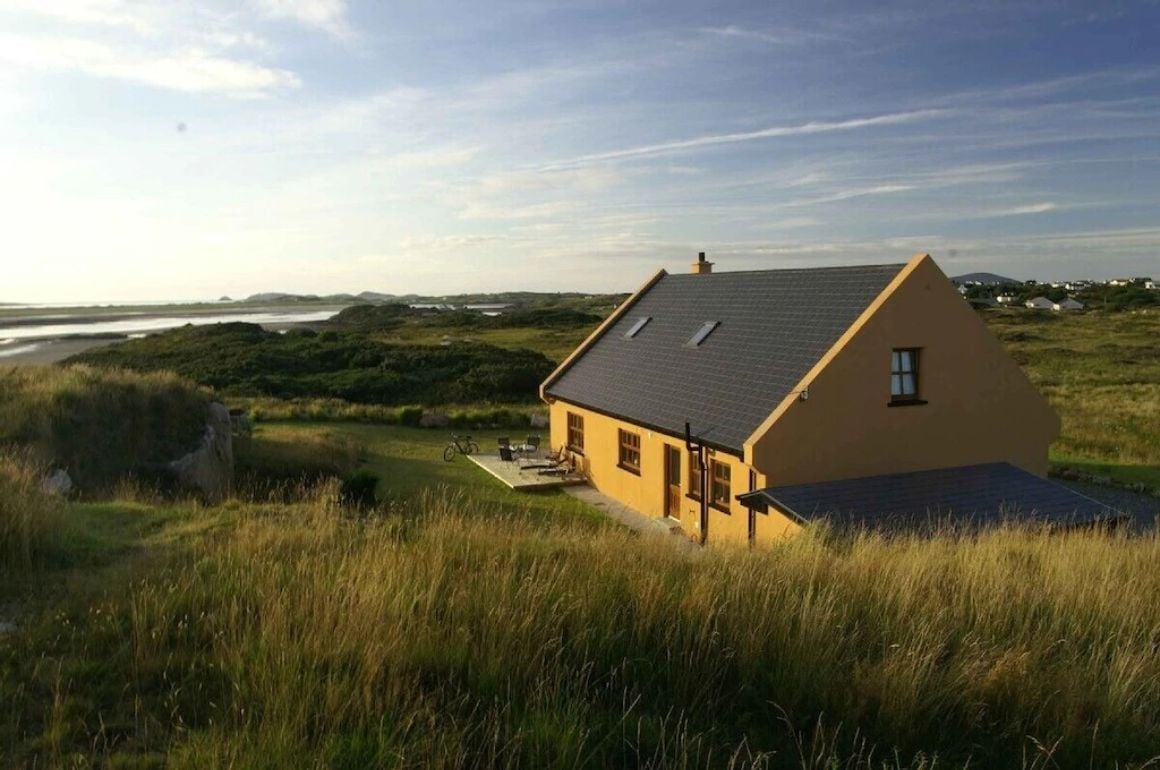 $
Located in Annagry village
8 guests
Peaceful location in the countryside
This charming and welcoming home might be close to several places worth visiting but is extremely peaceful and serene. A path from the outdoor garden area will take you directly down to the strand.
The village of Annagry is close by for a stroll or a quick pint of Guinness. The area is also great for fishing if the desire so strikes.
Inside this holiday home in Ireland, the house is warm and cosy, with four double bedrooms. Two of the bedrooms have ensuites, and there's also one other bathroom for the other two bedrooms to share.
As long as you clear it with the owner beforehand, your pets are also welcome in this property which has so much outdoor space for your fur babies to enjoy.
Best Location for a Vacation Rental in Ireland | 3BR Townhouse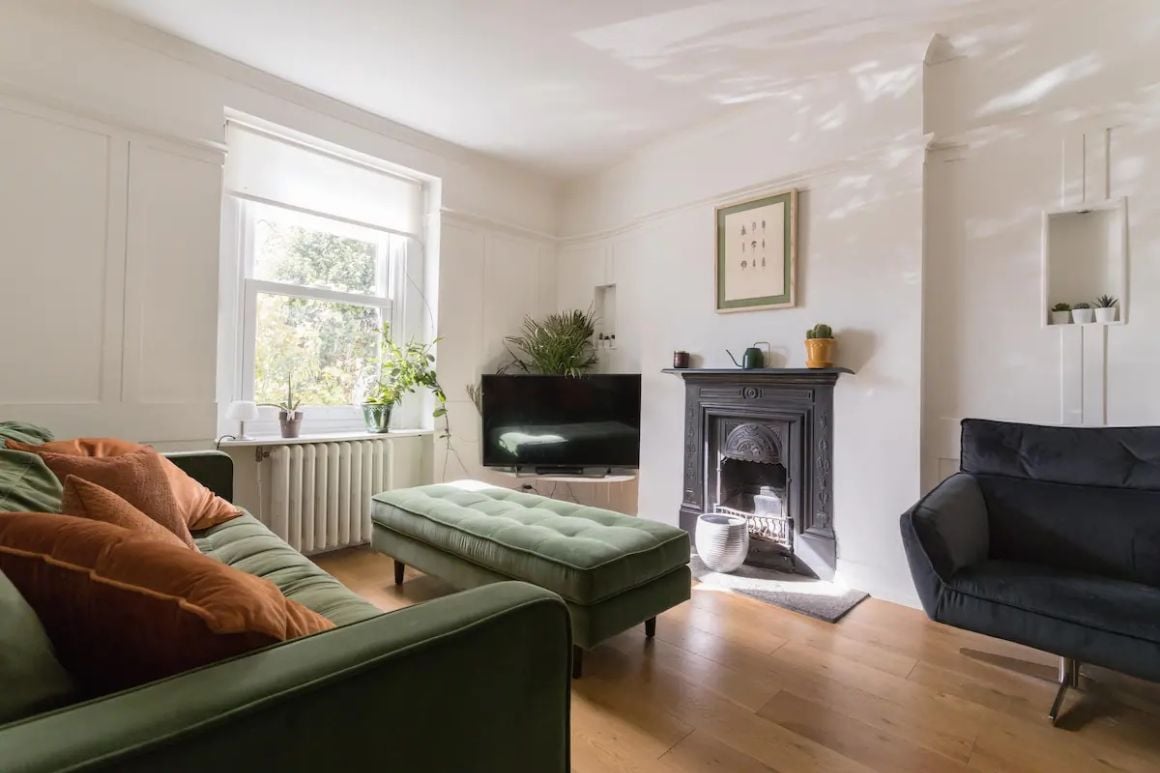 $
Located in Dublin, Ireland
6 guests
Well-connected 1820s house
If you're flying in from another country, there are high chances that you will land in Dublin. In case you are looking for a rental that has a bit of character and isn't just a standard modern apartment, I think you're going to like this one.
This three-bedroom townhouse dates back to almost the 1820s and has a distinct character to it, be it the bathroom with the checked floor or the beautiful fireplace. Large windows let in so much light, lending a very bright and airy look to the entire place.   
$$
Located on the shores of Lough Corrib
14 guests
7-bedroom Carraigin Castle
Located on the shores of one of Ireland's largest lakes, this castle is surprisingly affordable and will probably become the memory of a lifetime, more so if you are travelling with kids.
Set on seven acres of lush greenery, this castle is not just picturesque but has so much history in its walls!
The castle itself is a great blend of history, Irish culture, and modern conveniences. The castle's walls are covered with tapestries, brass rubbing portraits of ancient kings and knights, and a magnificent triptych. Modern amenities include high-speed Wi-Fi and all the kitchen equipment.
Most Affordable Luxury Vacation Rental | 4 BR Riverside Home
$$
Located in Ballina, County Tipperary
8 guests
Stunning river views from the pool
Located on the eastern banks of the beautiful River Shannon, this Irish vacation rental offers beautiful views of the river from your private deck.
The open plan living style of this modern architecturally designed home gives it a spacious, luxe look. With high ceilings, large skylights, and large windows, the entire rental gets a lot of natural light.
This home is located in a safe place in Ireland, making it ideal for families and couples travelling together. There is high-speed internet available.
Best Holiday Rental in Ireland with a View | 5BR Countryside Home
$$$
Located in Maum, County Kerry
11 guests
Unbeatable views of Caragh Lake
There are few countries in this world that are as picture-perfect as Ireland is to me. This luxury stone cottage in Kerry County has absolutely insane views of Caragh Lake and Dingle bay.
The inside of this five-bedroom cottage is replete with natural stone, wood beams, slate and teak windows and also features a vaulted lounge with a stunning stone fireplace.
The bay window overlooks the lake. The nearby Dooks Golf club has a great restaurant if you want to venture out for a meal.
Best Cottage style Vacation Rental in Ireland | 4 BR Cottage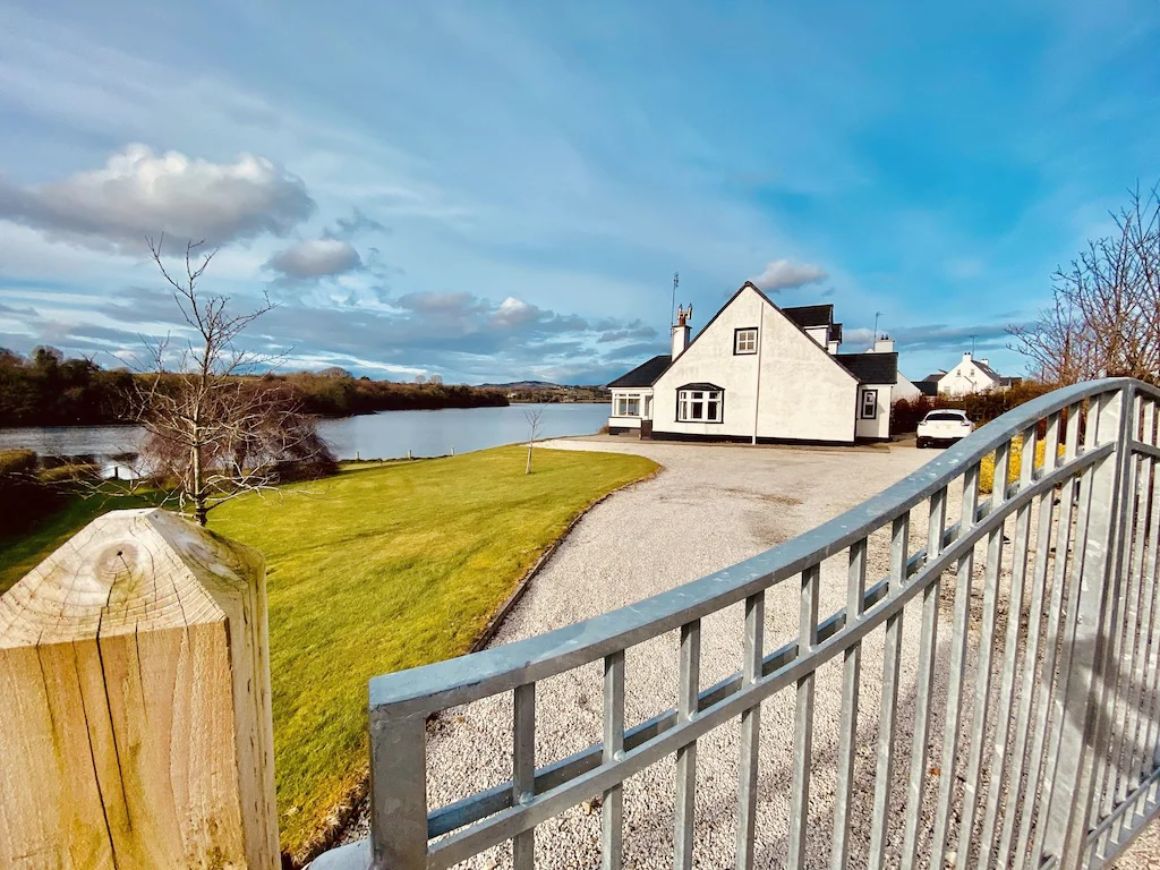 $
Located in Ramelton, County Donegal
8 guests
Beautiful River views
This charming cottage is located directly on The Wild Atlantic Way and with striking views across the river of the nearby Ramelton village.
The cottage is cosy but can easily sleep eight guests in its four bedrooms. This Irish vacation rental has three bathrooms, so this might be a squeeze if the house is sleeping eight people.
The house is bright and sparkling clean, with large windows that let in loads of sunlight and breeze. The views are simply beautiful, and no one would fault you for simply sitting and watching the river flow by!
Best Luxurious Vacation Rental in Ireland | Lavish 10BR Villa
$$$$
Located in Dingle, Kerry
16 guests
Built over 2 levels
This is a great vacation rental in Ireland if you want to splurge on a luxurious holiday with friends or family. With this rental being Dingles' landmark historic residence, you will also be sharing the same house that Hollywood star, Robert Mitchum lived in while shooting for one of his movies in Ireland.
The house has 10 bedrooms that can sleep up to 16 guests. There's also a huge kitchen and a large dining area, perfect for large groups. Pets are allowed if previously cleared by the owner.  
Most Accessible Vacation Rental in Ireland | 3BR Home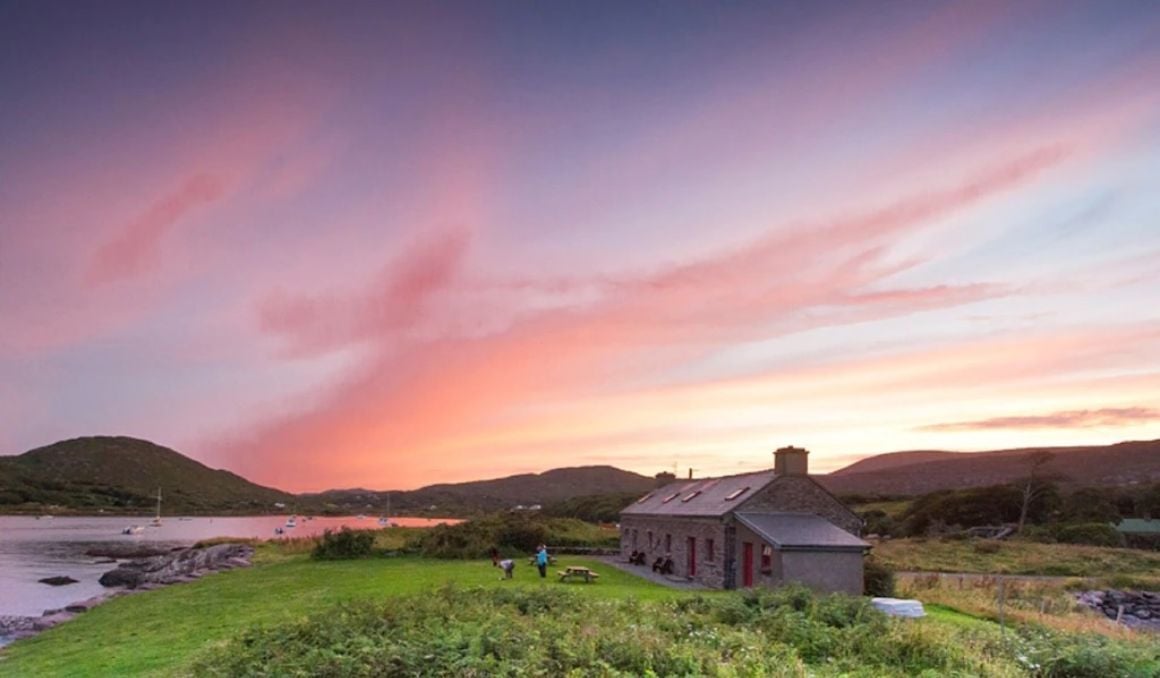 $
Located in Caherdaniel, County Kerry
7 guests
Single level cottage near the sea
This single-floor 18th century stone cottage once used to be the coastguard's cottage. Lovingly restored by the owner, this rental can also be booked as two separate apartments. The entire home has all modern conveniences.
The cottage is only 50 meters from its own shingle beach. However, it is important to note that because the home is so close to the beach and unfenced, this rental might not be suitable for families with very young children, unless they are under constant supervision.
Because it is a ground-floor property, it would be the ideal home for wheelchair users or those with mobility issues.
Most Romantic Vacation Rental in Ireland | 2 BR Cottage
$
Located in Kilmacshane, Inistioge, County Kilkenny
4 guests
Built in the 1970s
Romantic and serene, this cottage was originally built for the Parish Priest of Inistioge in the 1870s. The Coach house is located on a ground that is approximately three acres.
It is surrounded by huge trees and shrubs, giving it a peaceful vibe. The landscaped grounds have a unique water garden, huge lawns, and a rustic gazebo that overlooks the River Nore.
The cottage itself will comfortably sleep four people in its two bedrooms. There are two bathrooms in the house, which means enough space for everyone! The combined kitchen and living/dining area has a small wood stove in it.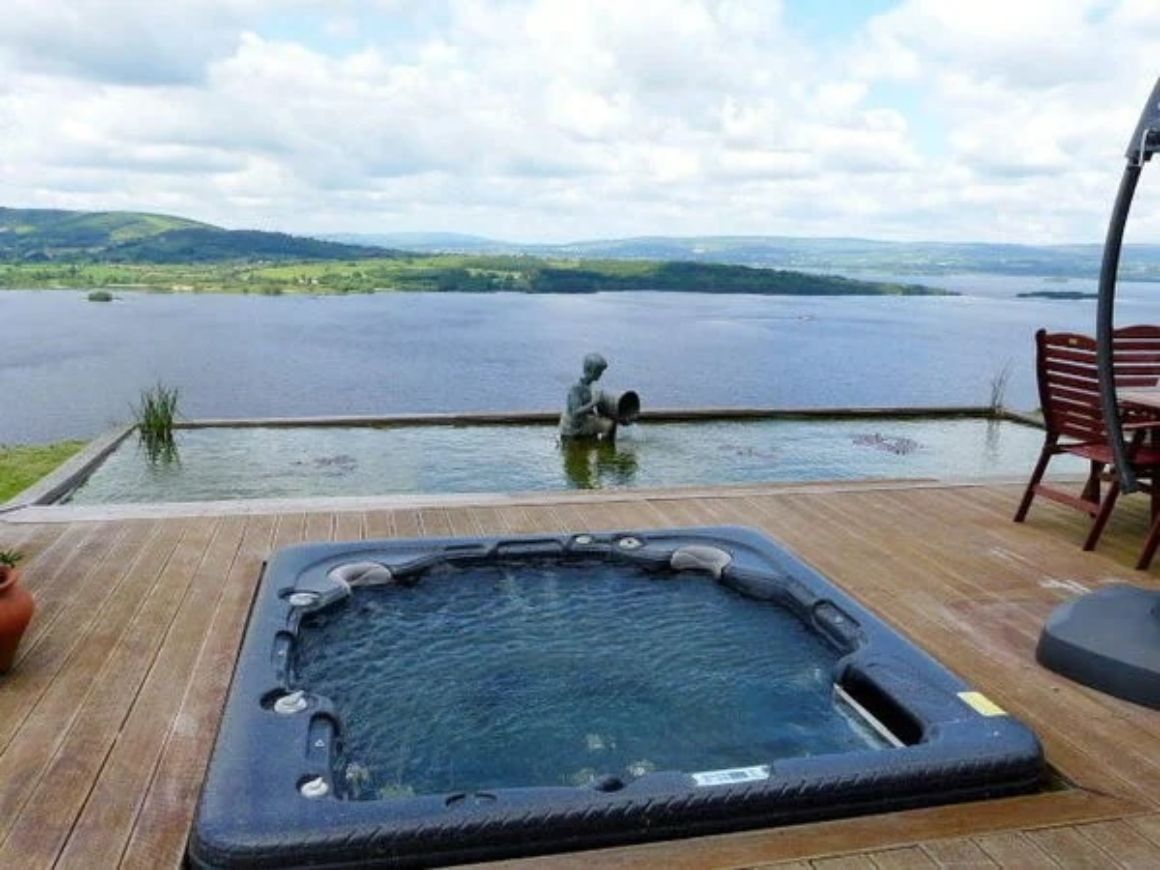 $$
Located in County Tipperary, Ireland
13 guests
Villa with panoramic views
This elegant five-bedroom home overlooking Lough Derg is elegantly furnished and includes a beautiful hot tub overlooking the water.
It is a mere 90 minutes drive from Dublin Airport and makes for the perfect first stop on your Ireland vacation. The house is also a short five-minute drive from the popular villages of Garrykennedy & Killaloe/Ballina. However, guests would need a private car to drive to these villages.
The house is spacious and the five bedrooms are massive with great views. There is also a pool table for guests to use. Airy and beautiful, this rental is an absolute beauty!
Don't Forget Your Ireland Travel Insurance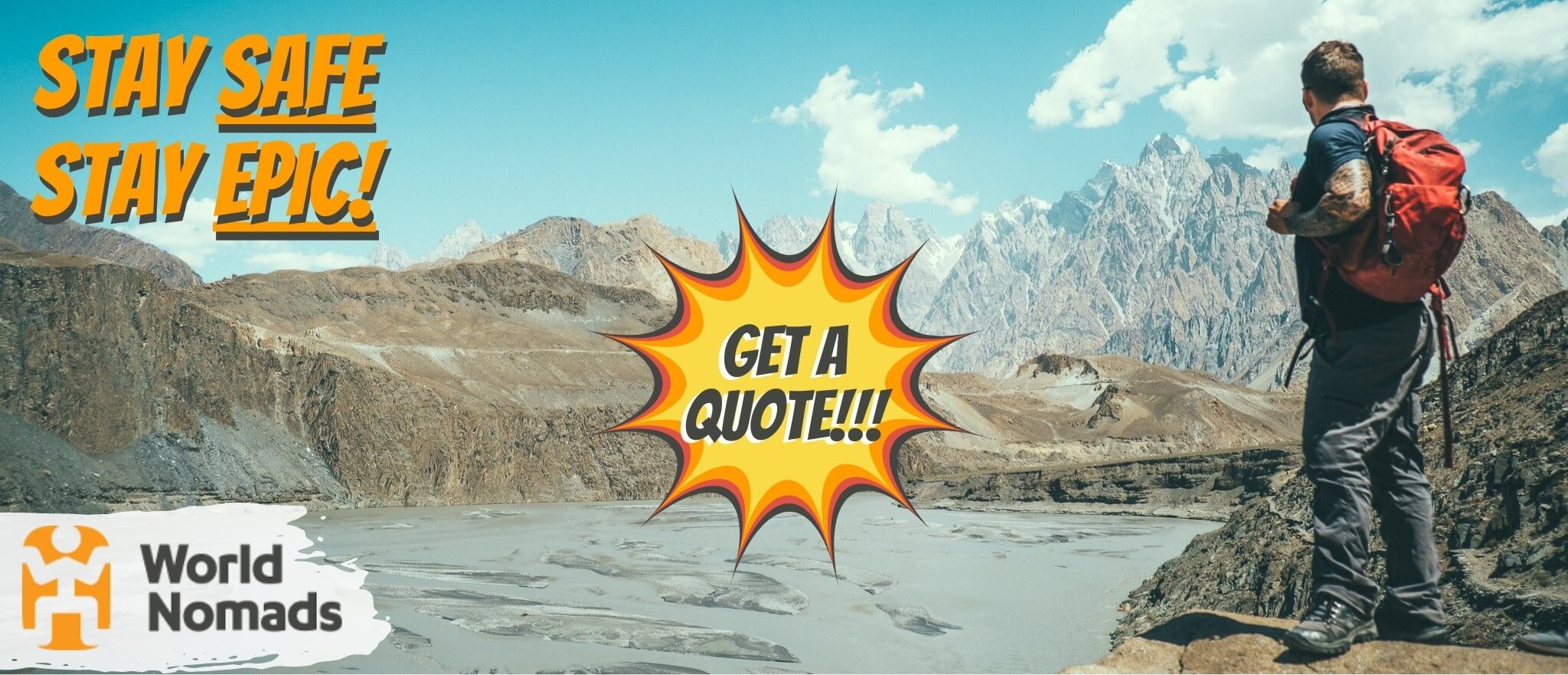 World Nomads' mission is to support and encourage travellers to explore their boundaries. They offer simple & flexible travel insurance, and safety advice to help you travel confidently.
They've been doing it since 2002 – protecting, connecting, and inspiring independent travellers just like you.
Get a quote below or read our in-depth review!
Final Thoughts
There are so many reasons why Ireland makes for a fantastic country to travel to – the history, the mystic countryside, the dramatic coastline.
But Ireland has so much to offer any traveler that loves nature, history, or simply a good pint of Guinness. The Irish are known to enjoy a good conversation, and while some of us may take a tad longer to understand their accent, there's no doubting their warm hospitality!
The best time to visit Ireland is between March and May, and September to November. During these times, the weather is at its best and you don't have to fight against the summer swarm of tourists.
Ireland also remains one of the best countries to do solo trips, since the country is generally considered an overall safe and peace-loving nation. Staying in a vacation rental is the best way to experience the authenticity and warming hospitability of the place.
I'd love to hear your plans on traveling to Ireland and if I helped you find the perfect vacation rental for you. Let me know in the comment section below. Until next time!
---
Bye for now, but not forever!
If you want MORE top-tier Broke Backpacker content like this, then sign up for our weekly newsletter below to get the latest and greatest!
And for transparency's sake, please know that some of the links in our content are affiliate links. That means that if you book your accommodation, buy your gear, or sort your insurance through our link, we earn a small commission (at no extra cost to you). That said, we only link to the gear we trust and never recommend services we don't believe are up to scratch. Again, thank you!