A land of ancient monuments, legendary stories, and the world's most lively pub culture – Ireland really is the pot of gold at the bottom of the rainbow. While you might not run into any leprechauns, you can be sure to expect incredibly lush moorland landscapes, rugged coastlines, and, of course, wildly unpredictable weather.
There are plenty of awesome holiday rentals in Ireland that will provide a comfortable base for your trip. If you're after the pub scene and city life, check out the capital city of Dublin and other large cities like Derry, Belfast, and Galway. They're scattered with authentic townhouses and even some modern condos up for rent.
For an idyllic coastal holiday, head to Kinsale, Roundstone, Dingle, or Baltimore. Here, you will be spoilt for choice with beautiful old beach houses and seaside cottages overhanging rugged cliff-faces above the Atlantic Ocean.
For a more remote stay, head inland to a countryside or moorland village such as Doolin, Kilkenny, Tralee, or Kinsale. These small areas are usually close to famous castles and are ideal for nature lovers. They're great places to rent out a small shepherd's hut for two or a large farmhouse for a big group of guests.
Quick Answer: These are the Top 5 Holiday Rentals in Ireland
Overall Best Value Holiday Rental in Ireland
Overall Best Value Holiday Rental in Ireland
Stunning 5 Bed 1850s Home with Antique Furnishings
> $$$
> 10 Guests
> Newly refurbished with a mix of antique and contemporary interiors
> On Murrisk Abbey Beach in Westport
Best Budget Holiday Rental in Ireland
Best Budget Holiday Rental in Ireland
Lakeside Shepherds Hut for 2
> $
> 2 Guests
> Prefabricated home with stunning lake and mountain views
> A few steps from the famous Donegal coastline
Best Holiday Rental for Couples in Ireland
Best Holiday Rental for Couples in Ireland
Cozy Georgian Coach House with Gardens
> $$
> 3 Guests
> Beautiful old stone home surrounded by landscaped gardens
> In a quiet small town near Waterford
Best Rental Holiday for Families in Ireland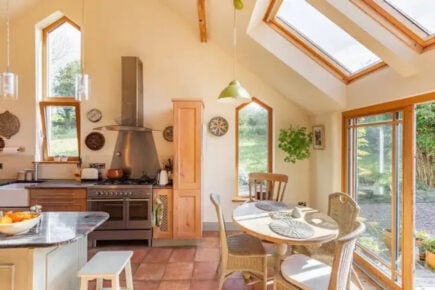 Best Rental Holiday for Families in Ireland
Bright and Welcoming 3 Bed Home with Fireplace
> $$$
> 7 Guests
> Eco-friendly home with tons of natural light 7 Guests
> By the sea in Kenmare Bay
Over-the-Top Luxury Holiday Rental in Ireland
Over-the-Top Luxury Holiday Rental in Ireland
Regal 8 Bed Castle on Private Lake
> $$$$
> 18 Guests
> Perfectly preserved Gothic castle, ideal for hosting events
> Near Galway City and the Shannon International Airport
Types of Accommodation in Ireland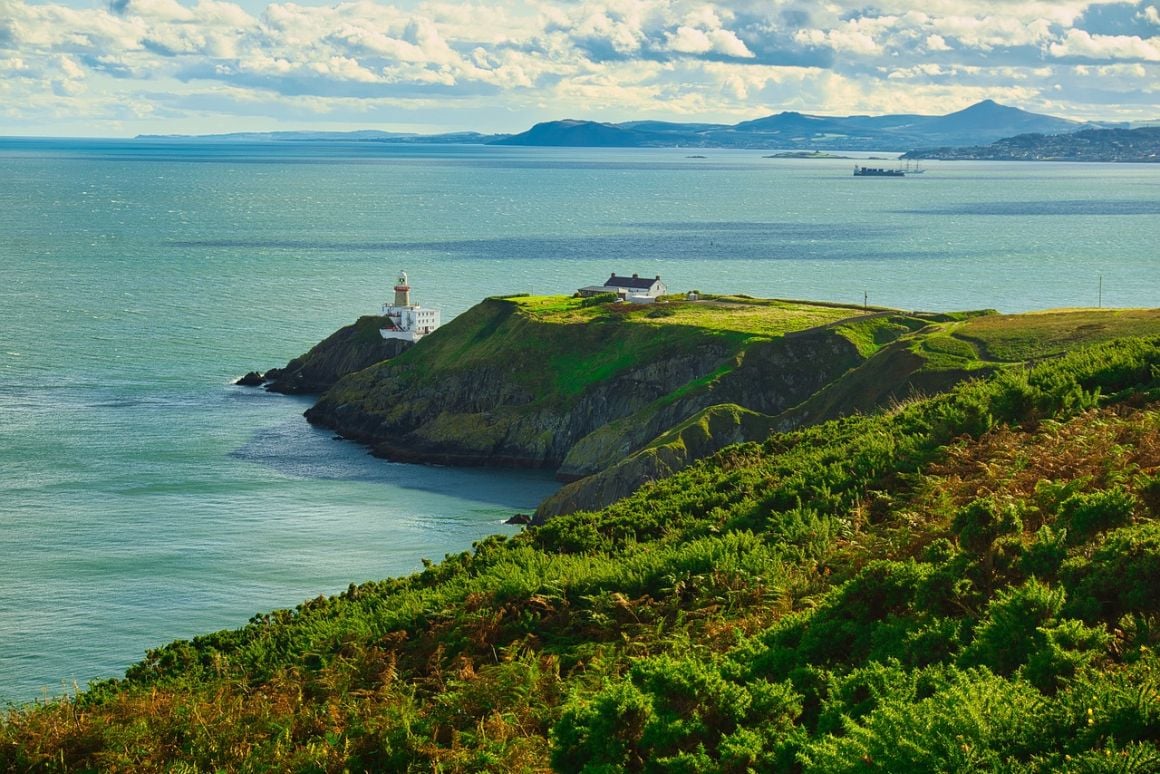 Coastal Cottages
As one big island in the Atlantic Ocean, Ireland is naturally home to a long coastline of rugged cliffs, peaceful harbours, fishing villages, and picturesque beach towns. If you're planning a road trip around the country, you'll never be too far from the next seaside town.
The most common types of accommodation in these villages are cottages. Typically small in size, many of these cottages were built several years ago using local stone and thatched rooves. Most are single-story and include a beautiful wood-burning fireplace inside.
Depending on how many guests they can accommodate, these rentals are usually affordable and well located in central seaside (and often remote) areas. This makes them affordable for couples, small families, and groups of friends. Another plus – you won't struggle to find a spot with a beautiful sea view!
Historic Castles and Estates
Ireland is quite literally overflowing with historic castles. In fact, sources say there are more than 30 thousand castles in the country. While some are preserved as museums and heritage sites, many are privately owned and rented out as some of the top luxury holiday rentals in Ireland.
From Gothic tower castles to extravagant Georgian estates, you can find a romantic castle perfect for two, or splash out on a 15 bedroom estate for your entire extended family. Their impressive size makes them the best type of rental for hosting large events, such as weddings, birthdays, and festive gatherings.
Castles are usually set in picture-perfect landscapes surrounded by private forests and lakes and feature enormous gardens. The interiors of many of these castles have been carefully refurbished to preserve their old-world charm. You could easily mistake a castle for a movie set, with grand entrance halls and dining rooms, tall vaulted ceilings, four-poster beds with velvet curtains, and elegant pressed ceilings and wallpapers.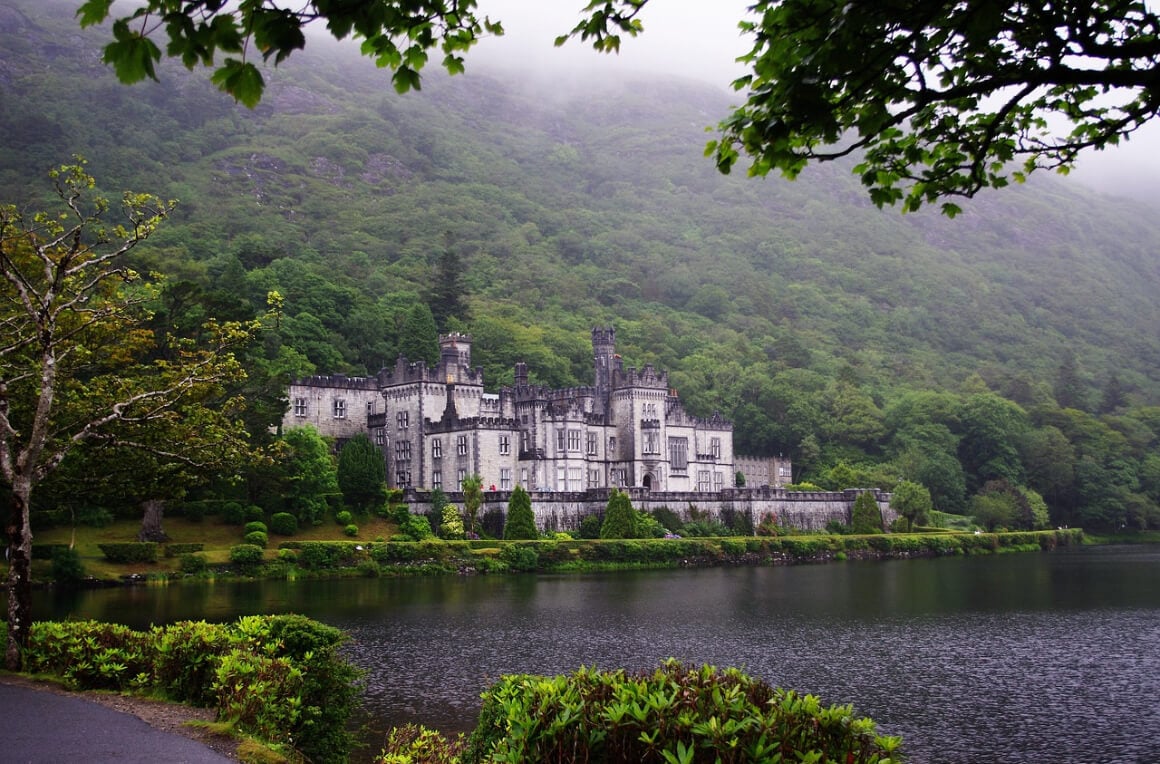 Shepherds' Huts and Farmhouses
If a castle isn't quite in your budget you'll be happy to know that there are plenty of gorgeous farmhouses, huts, and cottages across Ireland's countryside.
Shepherd's huts, by definition, are small dwellings usually found in more remote and rural areas. They are typically a single studio room, with a basic kitchenette and sleeping space for two guests. This type of accommodation is great for couples and even solo travellers looking for a bit of peace and quiet.
On the other hand, farmhouses can range in size from one to multiple bedrooms. Large farmhouses usually have beautiful countryside views, open-concept living spaces, and private bedrooms. They are the perfect spot for families and groups of friends to enjoy the great outdoors.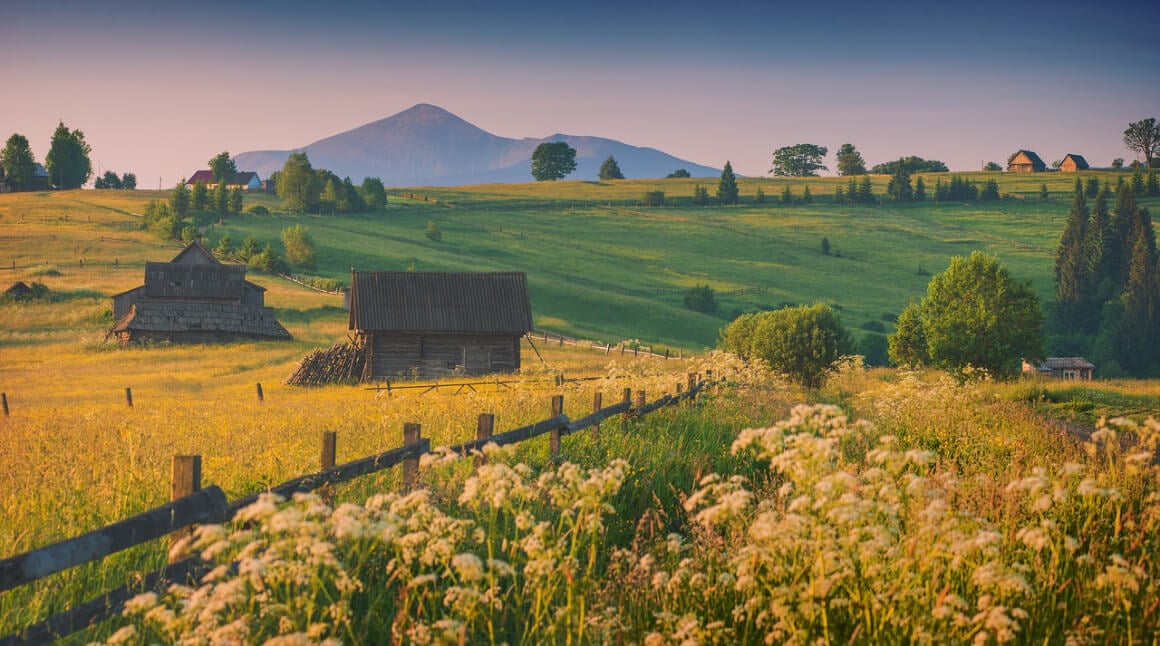 Top 20 Holiday Rentals in Ireland
From gorgeously grand period castles to homey farmhouses, let's dive in and take a look at some of the best holiday rentals in Ireland.
$$$
Mixture of antique and contemporary interiors
10 Guests
On Murrisk Abbey Beach in Westport
With such a long and fascinating history, it's only fair we choose a periodic home as the overall top rental in Ireland. Built over 150 years ago, the homeowners have done well to preserve the original integrity of this home while still giving it a fresh and clean face-lift. It's furnished with a perfect combination of high-quality contemporary, as well as historic antique furniture.
The rental is set just on the edge of the beautiful town of Westport and boasts exquisite coastal bay views from its large Georgian windows.
$
Stunning lake and mountain views
2 Guests
A few steps from the famous Donegal coastline
Calling all budget travellers! This amazing lakeside shepherd's hut is on the rental market for an extremely affordable price. In fact, it's so cheap, it falls within the same price range as an inner-city hostel. We think this is a much better option for anyone visiting Ireland on a budget. Feel the fresh breeze from the comfort of your bed, which is only a few meters away from a small private lake for you to call your own.
This budget cabin with brand new interiors is perfect for couples. It's got everything you'll need, like a comfortable bed, a basic kitchenette, and a gorgeous seating areay. Not to mention, the views are outstanding from the private deck.
$$$$
Original grand interiors with a contemporary flare
19 Guests
In the rural Caherlistrane area on a private lake
It's not too difficult to find a beautiful luxury vacation rental in Ireland as it's pretty much overflowing with Georgian manor houses and Gothic castles. This manor house overlooks its own private loch and is covered in overgrown ivy making it picture-perfect from every angle.
The interiors pay homage to the 1800s and are decorated in a tasteful Georgian style. All of the nine guest suites have en-suite bathrooms and are uniquely decorated, with original wooden antique furniture and tasteful art.
$$$$
Perfectly preserved Gothic castle
18 Guests
Near Galway City and the Shannon International Airport
There's no shortage of castles in Ireland, and you'll be blown away by the level of luxury this one has to offer. From the moment you walk through the grand entrance hall, you'll feel as if you've entered another world. Located on a sprawling property with a private lake, it's also a convenient distance from the airport, making it a great spot for hosting events.
Each room is more impressive than the next. My personal favourite room is the central living room (known as the drawing-room). It's decorated with intricate emerald green wallpaper, hand-painted ceilings, and draped curtains. Enjoy your afternoon tea from an opulent silver tea set on the cosy couches while admiring the astonishing beauty around you.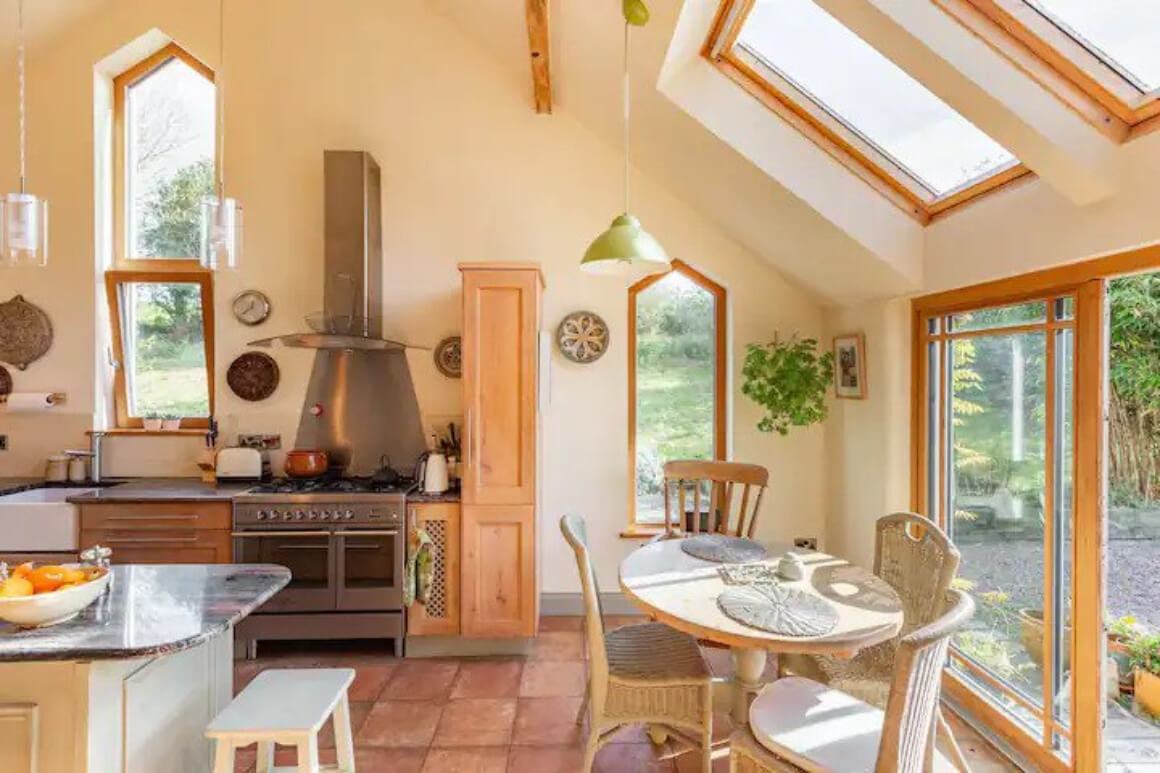 $$$
Eco-friendly home with tons of natural light
7 Guests
By the sea in Kenmare Bay
This environmentally-friendly home is surrounded by mountains and the ocean. It's the ideal location for a soulful and quiet family holiday in nature. The first thing you'll notice about this space is how it oozes natural light. With natural tones, oak floors, and warm lighting, you'll feel right at home in this self-catering holiday rental in Ireland.
The home draws influence from Scandinavian architecture with tons of windows and glass doors in different shapes and sizes. With European chalet interiors, this really is one of the cosiest rentals in the country.
Best Holiday Rental in Ireland for a Weekend | Brand-New 4 Bed Condo
$$$
Corner condo overlooking village and ocean
10 Guests
In the heart of Bayview Downings
If you're popping into Ireland for a quick weekend escape, then this residential condo in Bayview Downings is ideal. It's fitted with everything you might need during your quick stay, including brand new fittings and contemporary furniture. This sleek home is one of those unique modern spaces in a country overflowing with historical homes.
The corner apartment has floor-to-ceiling windows and sliding doors leading onto a raised balcony, boasting exquisite views of the bay and surrounding city. Aftyer a long day of exploring, you can relax on the luxurious outdoor lounge set and admire the views from this spacious balcony.
$$$
Luxurious retreat with spa facilities
2 Guests
On the banks of a river in Inniskeen
Swimming pools are always a great idea, especially for a summer holiday. This rental goes one step further. It's basically an entire private spa retreat set on the banks of a flowing river, boasting not only a plunge pool and a Jacuzzi, but a coal-fired sauna and outdoor shower as well.
It's the best holiday rental in Ireland for a relaxing retreat with your loved one. Here, you can escape into nature, and feel like you're the only two people in the secluded region.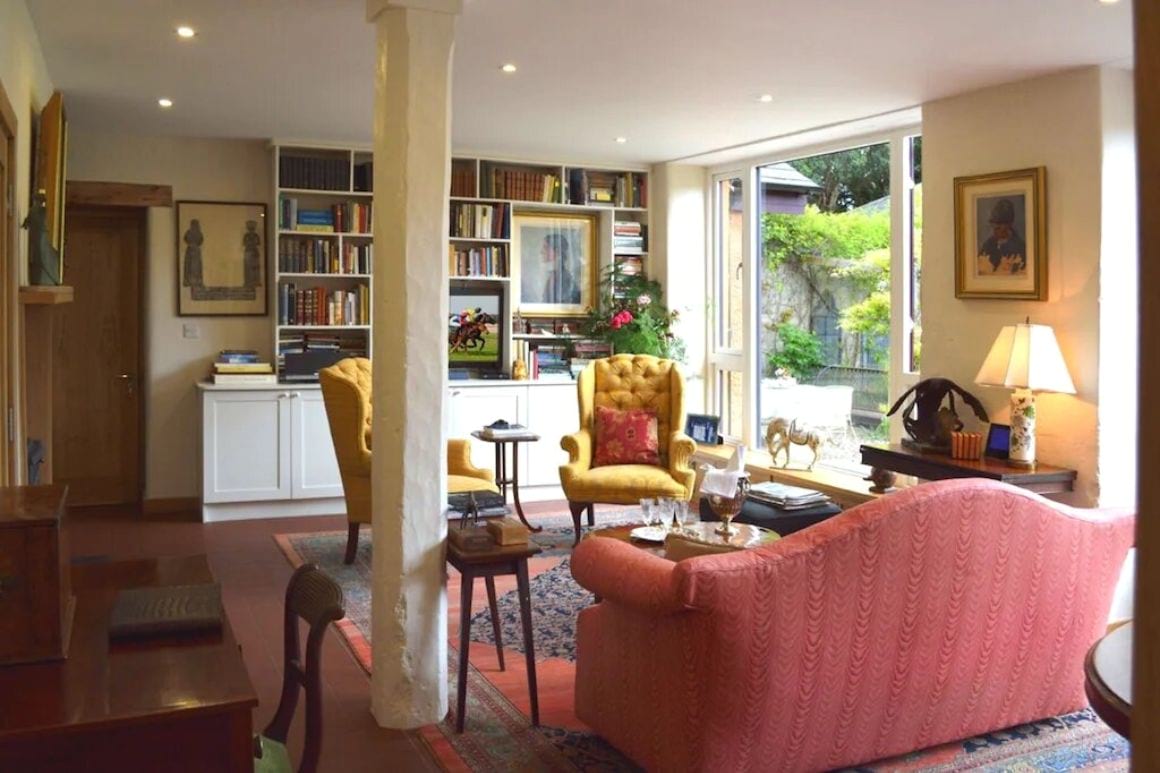 $$
Eclectic furnishings and a beautiful stone courtyard
5 Guests
By the Royal Canal in Dublin
Being such an ancient country, Ireland is filled with cobblestone streets and small steps making it difficult for wheelchair users to get around. However, this carriage house offers wheelchair-friendly accommodation for anyone with accessibility needs.
It's a beautiful period property that still has many of its original interiors and art hanging on its walls. Set in a quiet courtyard of private property, it's a super convenient spot to base yourself if you're keen to explore Dublin, yet also enjoy a bit of peace and quiet.
$$
Modern interiors with washer/dryer facilities
2 Guests
In the heart of Dublin
Most visitors after a central self-catering holiday rental in Ireland choose to spend their time in Dublin. With its beautiful old churches, exciting pub life, and lush green parks, there's something for everyone in this dynamic European city.
This super central Dublin accommodation is surrounded by pubs, shops, restaurants, and top attractions. At worst, you'll only have to take a short drive to get where you need to go. The home is brand new and fitted with up-scale furniture and top-of-the-range kitchen appliances. It's a real modern city escape.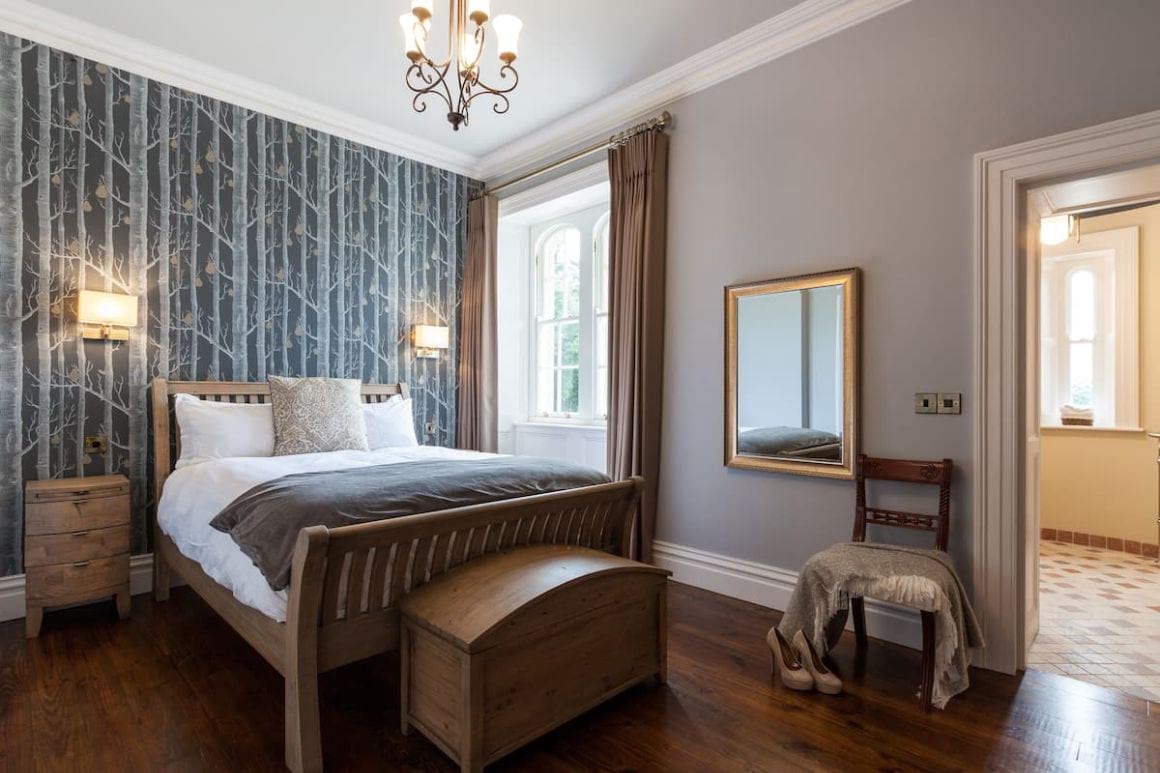 $$$$
Stunning new furnishings
14 Guests
On the banks of the Boro River
This isn't just another extravagant private castle rental in the Irish countryside. Suitable for accommodating up to 14 guests, it's one of the best holiday rentals in Ireland for entertaining a large group or extended family.
Whether you're coming together for a festive holiday or an annual event, this opulent home will exceed all expectations when it comes to amenities and levels of luxury.
The interior has been fully remodelled using contemporary fittings while still keeping original antique furniture, art, and other eclectic touches.
$$$$
Bonfires, SUPs, kayaking, and BBQing
22 Guests
On a private island in Westport
A hotspot of outdoor adventuring and all things drinking, Ireland is one of the most sought-after spots to enjoy a fun getaway with your friends. Pack your essentials for a once-in-a-lifetime adventure and bring your 22 closest friends to this private island in Westport.
This place is inspired by classic American summer camp with tons of opportunities for games, friendly tournaments, and all-around enjoyment. The island camp experience is the best beach holiday rental in Ireland for hen and stag parties and is definitely one for the bucket list.
$$$
Original stone tower house
8 Guests
In the countryside by Kilkenny
Castles are always a unique place to stay, even if Ireland is full of them. The coolest thing about this 15th-century castle is its exquisitely refurbished interiors.
The homeowners have managed to combinecontemporary interiors with the original foundation and architecture of the castle. They've kept it simple but stylish, incorporating pops of colour throughout. You'll get to enjoy the whole place to yourself, with three uniquely decorated bedrooms and luxury bathroom features.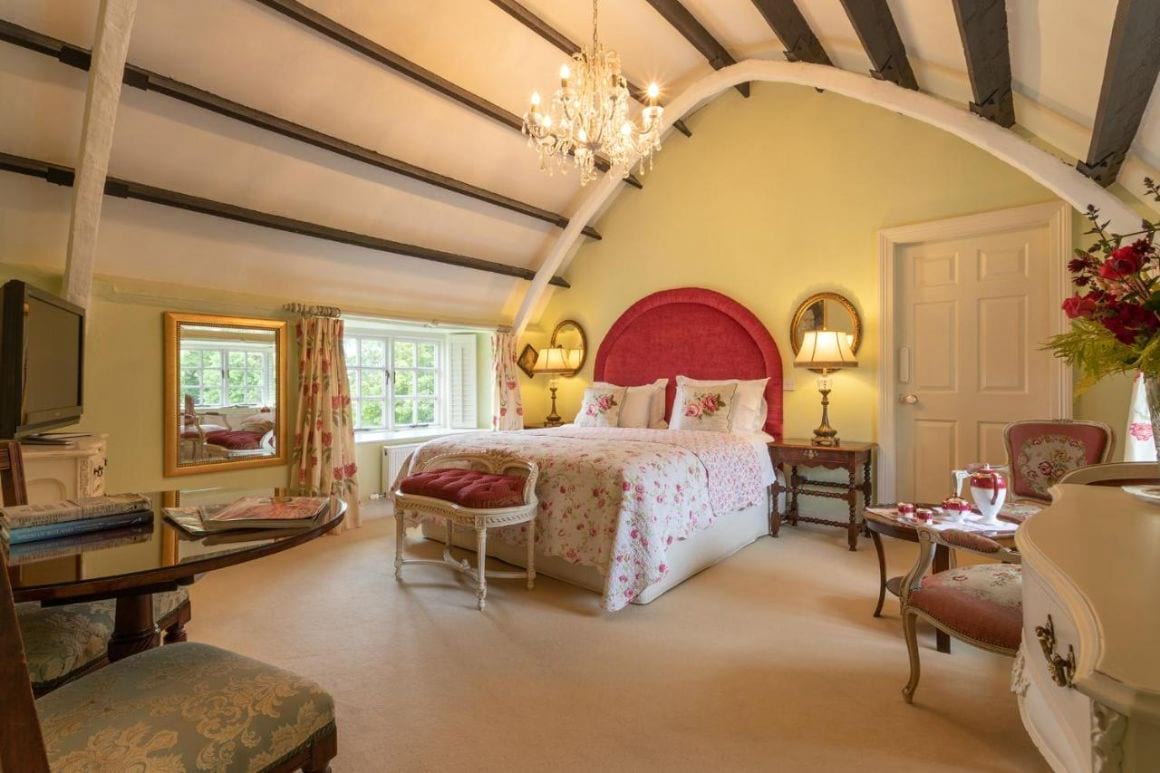 $$$
Stylish old-charm suites and gorgeous gardens
2 Guests
10 minutes from Galway City
Looking for a special spot to spend your honeymoon? We think this boutique hotel has just the right combination of romance, style, and high-end service for newlyweds. Perfect for those not looking to spend time cooking or cleaning, you'll feel at ease knowing that everything is being well taken care of by the friendly and helpful staff.
Aside from the delicious breakfast and well-appointed bedroom suites, my favourite thing about this luxurious boutique hotel in Ireland is its exquisite manicured gardens. Freshly mowed lawns roll into the distance overlooking beautiful countryside views. It's also just a short journey from Galway's top attractions!
$
Classy condo with high ceilings and new furniture
2 Guests
Beggar's Bush, Dublin, surrounded by pubs and nightclubs
With one of the most exciting pub cultures on the planet, Ireland is the epicentre of all things beer and nightlife. Whether visiting for St Patrick's Day or just to check out the local pub scene, this central canal-side Dublin Airbnb is the ideal location to base yourself for Irelands best parties.
The modern condo is within walking distance of some of Dublin's best pubs and eateries. Best of all, it's also super affordable, making it the perfect rental for those on a tight budget. And the less you spend on your accommodation, the more you can spend at the pub. Result!
$
Panoramic views of the coastline
6 Guests
Above the coastline in County Cork
Good views aren't hard to come by in this beautiful country. However, it's not too often you find a budget-friendly house overlooking the ocean, mountains, and wild coastal cliffs. This gorgeous spot sits at the top of a winding road with no neighbours in sight. Perched above the coastline, you'll be able to enjoy outstanding views from every inch of the home.
The interior is simple, yet beautifully designed with everything you might need from a holiday home in Ireland. You'll probably be spending most of your time outdoors though, enjoying long coastal walks or relaxing in the large garden. In a location like this, we highly recommend packing some good walking shoes!
$$
Beautiful old stone home
3 Guests
Small town location near Waterford
Make yourself at home in this old Georgian coach house by the sea. You'll get the best of both worlds here, with rolling hills to the one side, and calm oceans to the other.
As one of the best holiday rentals in Ireland for romance, you'll be completely secluded from the rest of the town. While the house itself is basic yet well-equipped, it's the outdoor gardens where you'll be spending most of your time. Separated by authentic crumbling Georgian walls and tall cypress trees, every corner feels like a secret garden.
$$$$
Private sports fields and a commercial kitchen
14 Guests
Huge property in Tipperary
It's no easy task choosing the best castle to rent out in Ireland. However, this exquisite Medieval castle seems to tick all the boxes. As a family-run business, the homeowners of this magical estate have put a lot of effort into maintaining the historical beauty of the home.
From the great dining room to the library, the opulence in every room will take your breath away. The home has two kitchens, one of which can be used by professional caterers if you want to host a big event.
$
Colourful furniture and a wood fireplace
2 Guests
In the forest in County Donegal
Those after a secluded rental in a remote region of Ireland will fall head-over-heels for this unique treehouse stay. Surrounded by trees and stunning mountain views, this abstract wooden space is overflowing with charm. Architecturally speaking, it's a pretty modern structure with an entire wall of glass windows and a practical slanted ceiling.
However, once you cross over the drawstring bridges and enter this building, you'll see the home is actually really low-key, filled with European chalet interiors.
Spend some time taking in the views and surrounding forest sounds from the private balcony which is covered with festive string lighting.
$$
Original bay window features
2 Guests
Dublin city centre
This rental truly is the perfect balance between old and new. The contemporary studio apartment sits in the tower of an authentic historic church. It's only a short walk from Dublin's top attractions, as well as a wide selection of eateries and shops.
Returning to this historic stay from a day exploring the old city is a treat. You'll be able to enjoy all the luxuries of modern technology in this holiday rental in Ireland while still feeling like you've taken a step back in history.
$$$
Exquisite gardens and Georgian period antiques
2 Guests
A short drive from Mellifont Abbey
If you're travelling with pets, you'll be happy to know that many private rentals in this country are pet-friendly. That being said, finding a charming inn with the same rules is slightly more difficult. Originally built in the 1700s, this inn will make you feel like you've stepped into another era. And of course, you can bring Fido along.
While you might think it's a risky to bring your pet into this formal inn decorated with crystal ornaments and fancy carpets, the hosts are more than happy to welcome your pooches on request. Better yet, pets will be over-the-moon with excitement when they see the extensive gardens.
Final Thoughts
One of the best ways to properly explore Ireland is by car. This way, you'll be able to hit all the stunning parks, castles, pubs, shops, and lakes without missing a beat. Around almost every bend, you'll find beautiful small towns, local villages, and some of the best holiday rentals in Ireland.
There's something for everyone, whether you're after a relaxing beach holiday or an adventurous getaway in the great outdoors. Just don't forget your waterproof jacket!
And don't forget to take out Travel Insurance for your trip! I have been using World Nomads for some time now and made a few claims over the years. They're easy to use, professional and relatively affordable. They may also let you buy or extend a policy once you've started your trip and are already abroad which is super handy.
If there's one insurance company I trust, it's World Nomads. To find out why I use World Nomads, check out my World Nomads Insurance review.
Getting an estimate from World Nomads is simple—just click the button or image below, fill out the necessary info, and you're on your way!

---
Find out how YOU can support the site.
We're a big site with a big team and this job isn't always easy. But we do it because we love it – we love providing epic and free content. We love the knowledge that our content keeps you adventuring. We don't ask for money, but if you'd like to find out how you can help the site in more organic ways, click the button below.
Thank you for your support 🙂
And for transparency's sake, please know that some of the links in our content are affiliate links. That means that if you book your accommodation, buy your gear, or sort your insurance through our link, we earn a small commission (at no extra cost to you). That said, we only link to the gear we trust and never recommend services we don't believe are up to scratch. Again, thank you!