Home to more than 5.5 million people, Miami is the biggest city in Florida as well one of the US' premier tourists hotspots.  Incredible beaches, bouncing nightlife, and unbeatable cuisine are just a few of the things that attract tourists from all around the world annually. And if you're into design, the hotels along Ocean Drive are some of the best examples of 1930's Art Deco architecture in the entire world!
If you're thinking about where to stay in Miami, the big shiny hotels may be nice to look at, but they can sure be pricey. Instead, why not take a look at Airbnbs in Miami?
After all, it's easier to find something suitable for a range of budgets, tastes, and travel styles. Private rooms in friendly homestays, city center lofts close to all the action, and luxurious pads with plenty of gadgets are all available when choosing among the best rentals in Miami.
Following are 15 of the best Airbnbs in Miami, so that you don't have to endlessly trawl through listings. I'm sure that you'll find the perfect spot for your Florida vacation.
So, let's dive in!
Quick Answer: These are the Top 5 Airbnbs in Miami
OVERALL BEST VALUE AIRBNB IN MIAMI
OVERALL BEST VALUE AIRBNB IN MIAMI
Cute Cottage with Pool
> $$
> 2 Guests
> Swimming pool
> Centrally located
BEST BUDGET AIRBNB IN MIAMI
BEST BUDGET AIRBNB IN MIAMI
La Casita Azul
> $$
> 2 Guests
> Free Parking
> Laptop-friendly workspace
OVER-THE-TOP LUXURY AIRBNB IN MIAMI
OVER-THE-TOP LUXURY AIRBNB IN MIAMI
Villa Blanca
> $$$$$
> 10 Guests
> Heated salt-water private pool
> Centrally located
BEST AIRBNB FOR DIGITAL NOMADS IN MIAMI
BEST AIRBNB FOR DIGITAL NOMADS IN MIAMI
High Rise Nomad Residence
> $$$
> Proper workspace
> Superfast Wifi
> Onsite pool & spa
BEST AIRBNB IN MIAMI FOR NIGHTLIFE
BEST AIRBNB IN MIAMI FOR NIGHTLIFE
48th Floor Water View Condo
> $$$$
> 6 Guests
> Incredible views
> Olympic size swimming pool

Do You Want to Travel FOREVER??
Pop your email in below to get a FREE copy of 'How to Travel the World on $10 a Day!'.
What to Expect from Airbnbs in Miami
Traveling in Miami is sure to be an experience no matter what, but you can level up your getaway by choosing to stay at an incredible Airbnb. Luckily, there are a TON to choose from, with options to fit each and every budget. From cheap backpacker-friendly rooms, to luxury homes that will make you feel like royalty, Miami has an Airbnb for everyone.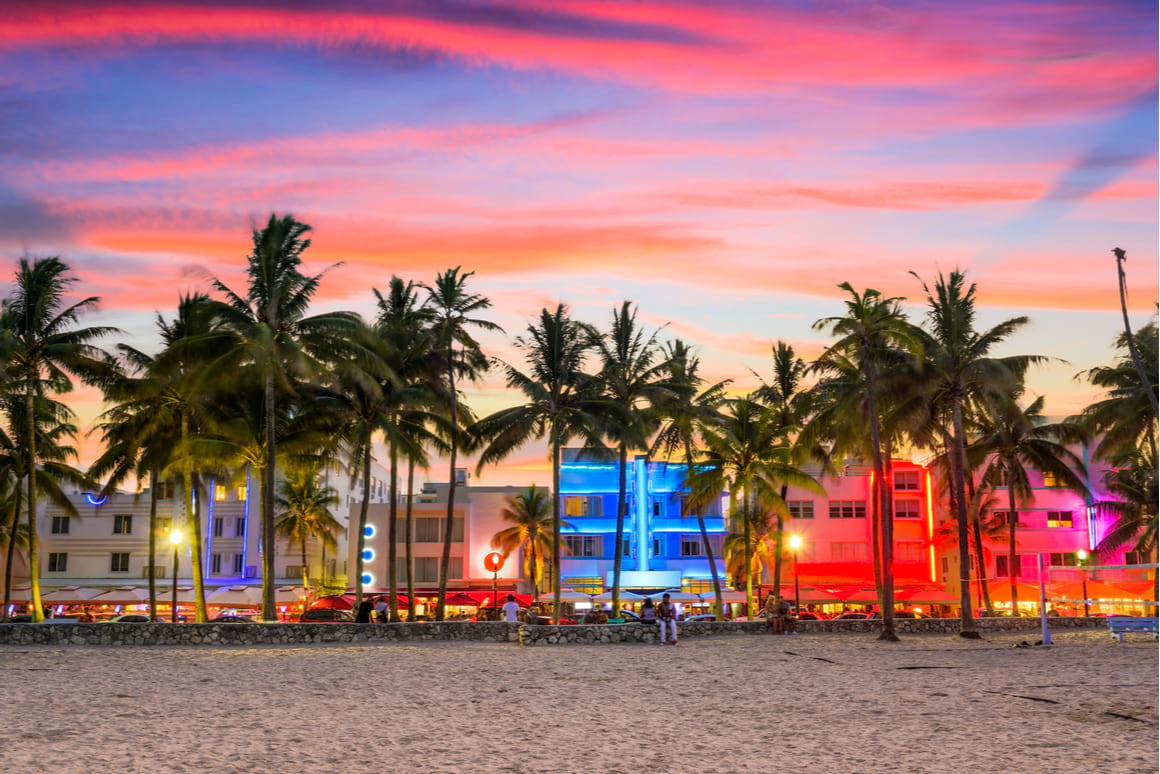 Like anywhere in the world, staying right on the water will be pricey, as will condos and penthouses in luxury Downtown Miami areas like Brickell. Miami Beach Airbnb options give you unparalleled beach access, but will almost always cost more than listings that are closer inland.
On the flip side, Ubers in the 305 can add up QUICK so you'll want to consider how you plan to spend the majority of the trip before booking. If you're fantasizing about that beach bum life, it pays to pay extra for that ocean-side apartment!
Of course, no two Miami Airbnbs are quite the same, and there are numerous types of properties to be aware of. Let's get into them:
Apartments
Most of the places to stay in Miami are apartments, which makes sense considering it is a major city. Apartments in the city come in a wide variety of shapes and sizes: you'll find luxurious downtown high-rises, older South Beach condos, and everything and anything in between.
As a rule, anything in Brickell or Miami Beach will be more expensive than apartment options in less-popular areas of the city, though can find better beachy rates in North Miami. Do keep in mind when booking that Miami's public transit system leaves MUCH to be desired, so if you want to save on Ubers (which are very expensive) you're going to want to spend extra to be near the beach and/or Downtown.
An apartment listing typically gives you the entire space to yourself, though be sure to read all the details carefully as some listings are actually studios/suites inside of a larger abode.
Private Rooms
For the budget-conscious traveler who isn't trying to stay in an (often questionable) Miami Beach hostel, the next best option for being near all the action is a private room.
A private room listing means that you'll get your own room (and sometimes a private bathroom) inside of someone's apartment or house. Common areas will be shared, and the number of people staying in the accommodation can vary. Private rooms are an easy way to save money in Miami, though be sure you read all reviews very carefully to know exactly what you're getting into.
Homes/Villas
This being Miami, rest assured that there are plenty of incredible, spacious Florida Airbnb listings to choose from, often in the form of houses or villas. From modest family homes in one of the city's many suburbs to full-on VIP villas, you can enjoy all the comfort and space of your own place.
In general, most of these options are a bit far from the beach, though you can absolutely find centralized listings that are near practically everything else. Charming cottages and guesthouses also fall into this category, both of which are often smaller, buildings located on the same property as the main home.
Why Stay in an Airbnb?
Local Experience: No matter how big your guidebook is, it won't have the superb local know-how can get from your hosts. Be sure to get their recommendations on things to do!
Unique properties: Airbnb has every kind of property you could think of. There's even a 'unique stays' search function, where you can find your dream property on the site.
Privacy: Whether you're traveling with the whole family or your other half, it's nice to have your very own space where you won't be disturbed.
Affordability: Airbnbs offer a lot more value for money than equivalently priced hotels. And with big group stays, you can split the cost multiple ways!
Airbnb Experiences: Airbnb isn't just about great places to stay; it also offers incredible local experiences. We'll show you some of our favorites in a bit.
The Top 15 Airbnbs in Miami
Whether your Miami itinerary consists of a full week at the beach, a quick overnight before your flight, or a tour packed with culture and nightlife, rest assured that there's an ideal Miami Airbnb for you to go back to. Let's take a look at some of the city's most iconic stays!
2 guests
Centrally located
This iconic listing is definitely one of the absolute best Airbnbs in the 305. The sleek, modern cottage features a private yard complete with an in-ground pool, rooftop access, and easy access to the top things to do in Miami. Situated right near Brickell in a residential neighborhood, you'll be close to the city's best nightlife and famous beaches–Key Biscayne is only a short bicycle ride away. The famous shores of South Beach are 20 minutes via Uber.
You'll also get to enjoy a hammock, lounge chairs, and a full kitchen that will be ready for your next meal. The cottage has a private garden space built just for guests, and also features a TV and two different areas that make digital nomad-ing possible! You won't be able to find anything else comparable at this price point.
Best Budget Airbnb in Miami | La Casita Azul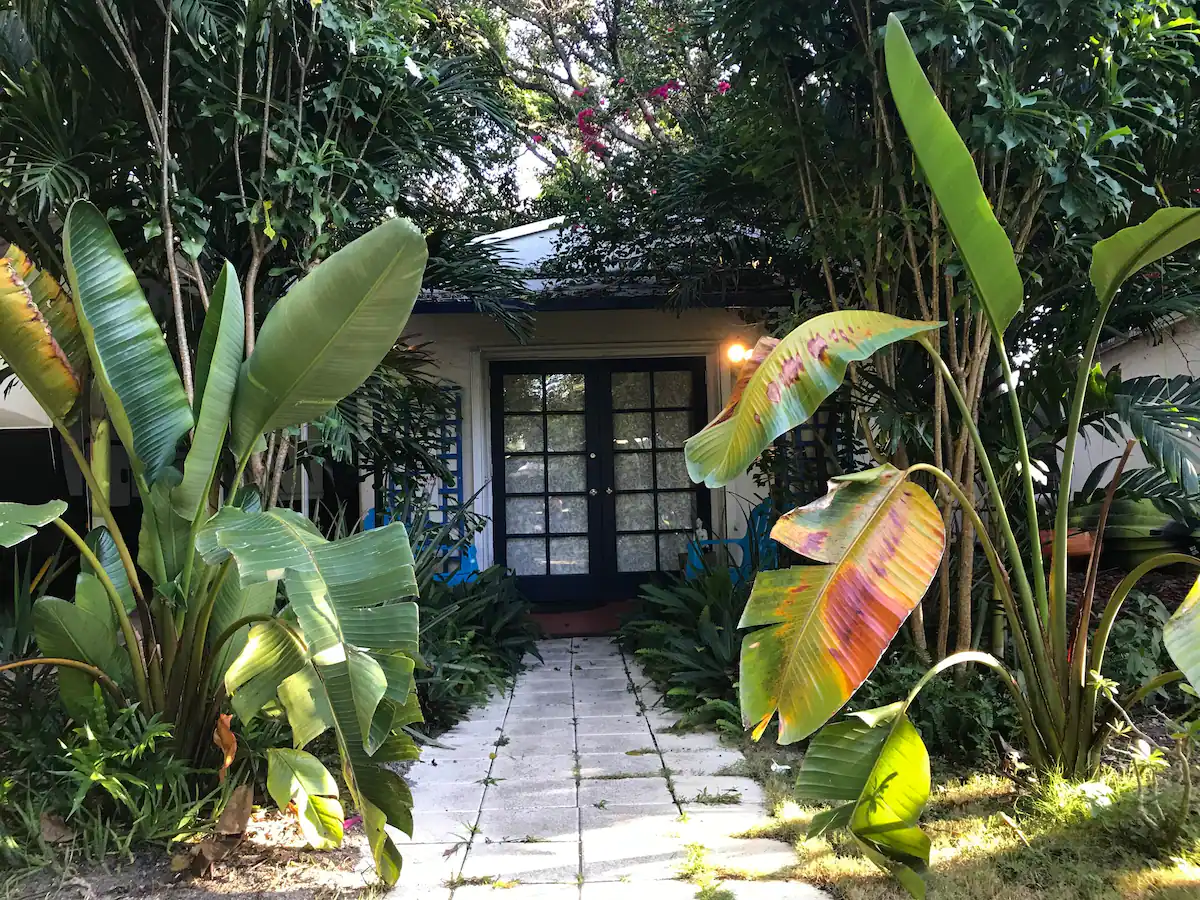 2 Guests
Laptop-friendly workspace
Located in up-and-coming Little Haiti near the Wynwood Art District, La Casita Azul might not be within walking distance from the beach but it's unrivaled when it comes to character. This lovely little blue house has some lovely outdoor space with a hammock where you can enjoy the Florida sunshine, along with plenty of greenery that can be found all over the property.
If you're traveling in your own car, you'll be pleased to know that there's free parking in a gated area – so rest assured your vehicle will be safe! If you've got lots of dirty clothes, there's a washer and dryer available on request too!
Budget Tip: Dorms in Miami start from $30 USD per bed. They're the cheapest accommodation in the city. So why not spend a night or two at one of the best hostels in Miami?
Over the Top Luxury Airbnb in Miami | Villa Blanca
$$$$$
Heated salt-water private pool
Up to 10 guests
Centrally located
If you're looking to really treat yourself on this trip, look no further than this truly iconic Miami vacation rental. This Coconut Grove villa is located in a quiet neighborhood central to all the action. You can easily reach Key Biscayne, Brickell, or South Beach without having to give up the peace and quiet that comes with staying in those neighborhoods.
Relax in the outdoor hammock after a heated pool swim sesh, or sleep in on the incredibly comfortable king size bed, or alternatively, the queen beds. A well-equipped kitchen means you can make any meal your heart desires, and the brand new everything will make you feel like you've stepped into a luxury resort. Coconut Grove itself is filled with delicious restaurants and lush green parks–you can even rent a bicycle and cycle across the stunning Rickenbacker Causeway for some of the very best views of Miami!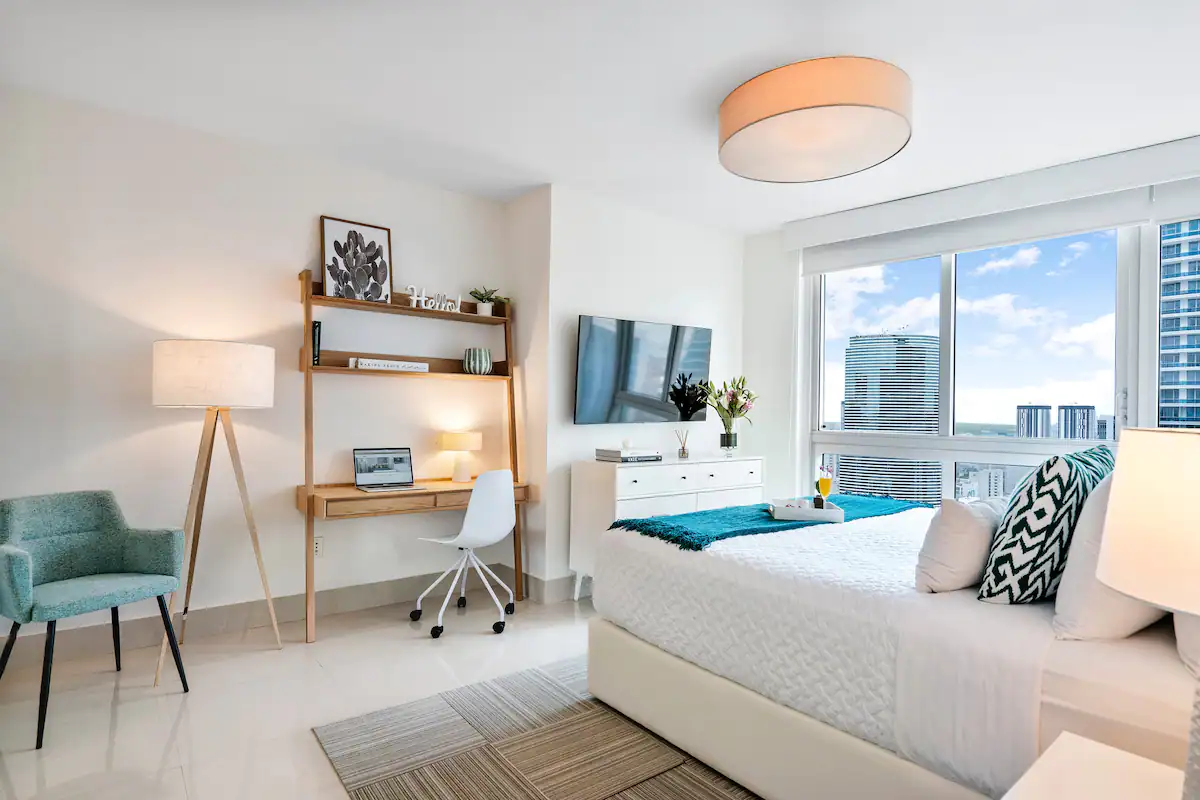 Proper workspace
Onsite pool & spa
Traveling as a digital nomad? You can splash out a little more than a shoestring traveler, but you probably still need to be conservative when you're spending. Just make sure that your Miami Airbnb has quick wi-fi and a laptop-friendly workspace – just like this place.
This one bedroom luxury apartment is a great option as it's close to a lot of Miami's downtown action, but also has high-speed Wifi, a proper desk, and a boatload of on-site amenities. It's also in a safe and secure Miami neighborhood, so, if you are carrying your laptop (or any other expensive equipment around), you won't spend the whole time looking over your shoulder!
Is This the Best Travel Pack EVER???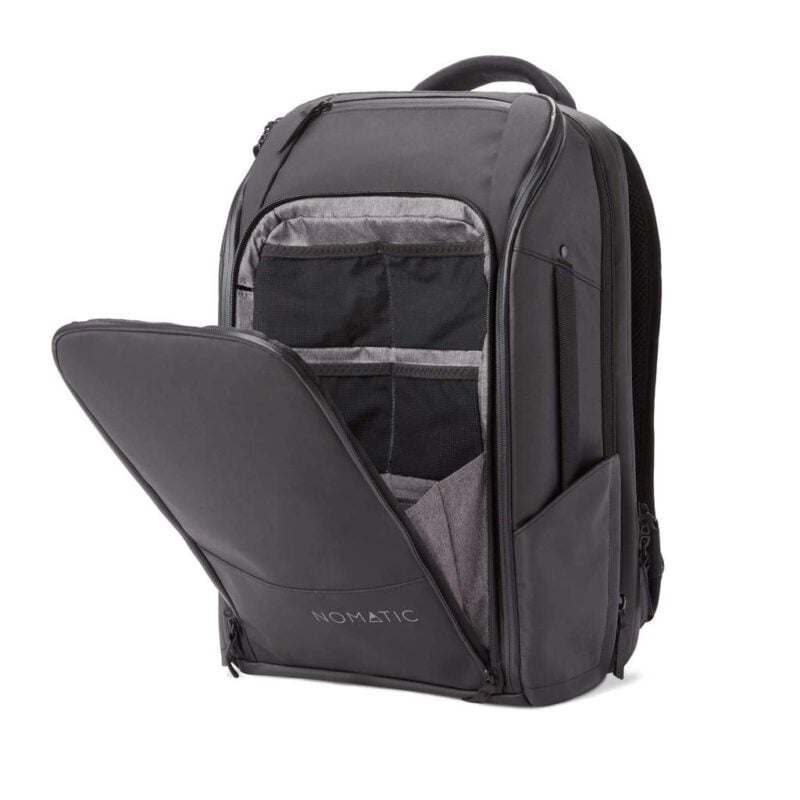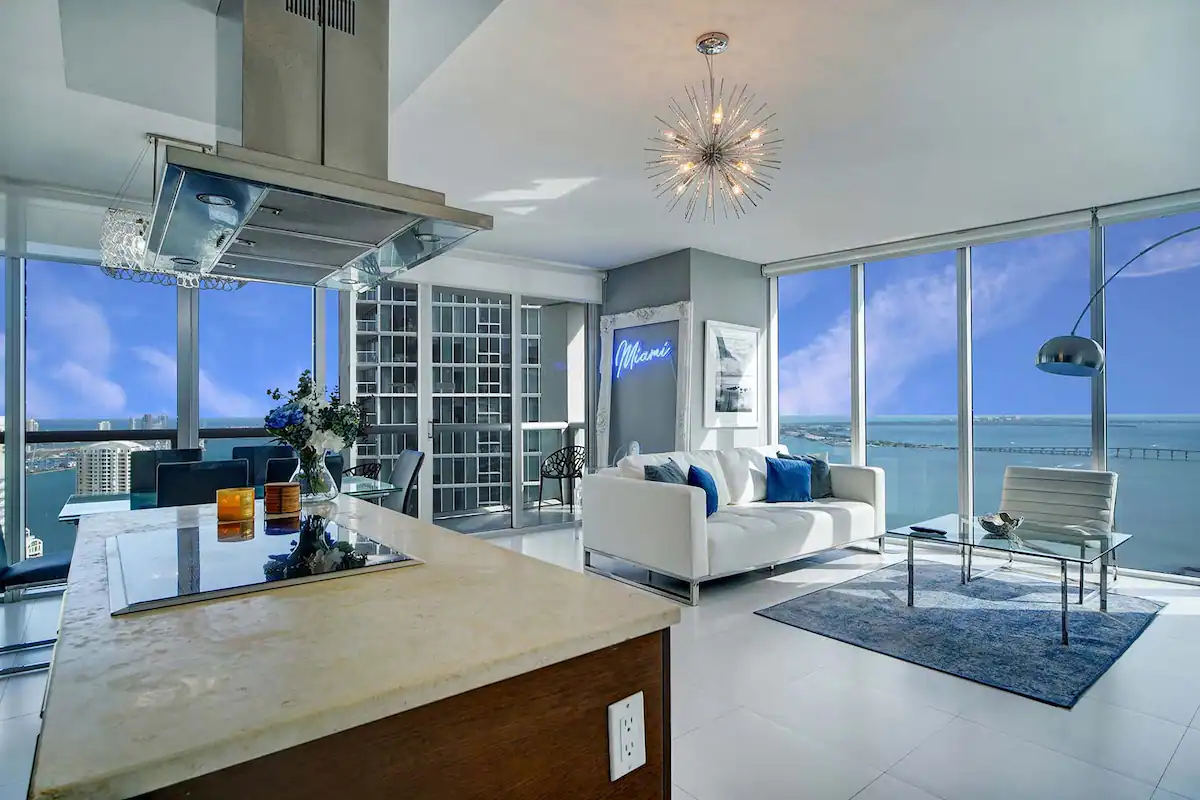 Up to 6 guests
Olympic size swimming pool
If you're heading to Miami to party, then this is the Airbnb for you! While it might not be a top party hostel, it's a stunning property that will be perfect for both pre-gaming AND nursing that inevitable hangover. Located right in Brickell in the prestigious W Hotel, this condo is within walking distance or a short Uber ride from the best nightlife in the city. From bars to clubs to brunches, any debauchery your heart desires will be at your fingertips from this high-rise home.
Aside from location convenience, this stunning modern apartment also features an Olympic-size pool, a jacuzzi, on-site dining, a FREE parking space, a steam room, and a fully stocked kitchen. The stunning, airy, living room boasts floor to ceiling windows with iconic views of the turquoise-colored water below!
Miami can be extremely expensive, but that shouldn't put you off. It just means you have to look a little harder to find an appropriate place to stay (or allow me do it for you!) Thankfully, this is the best short-term rental in Miami if you're on a budget. No more staying in dank motels in Miami!
Staying in a private room with an artist means you get a unique perspective on the local area too. With the money you save, head out to the local restaurants in the Gables and Little Havana. The house has two resident dogs, but they won't be in your room… unless you ask really nicely!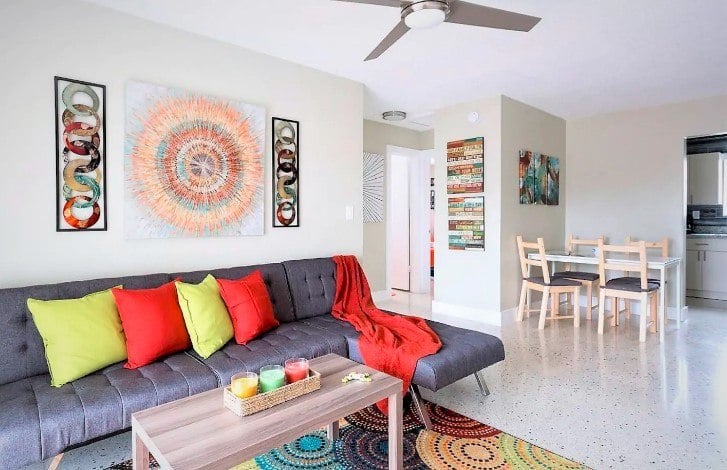 6 Guests
HDTV with Netflix
If your family is creative and artistic, you'll love this space. You probably will even if you're not particularly artsy! It's a colorful home away from home with a fully equipped kitchen and an awesome living room.
After making a big meal, settle down to watch a movie or your favorite Netflix series on HDTV. The apartment sleeps 6 comfortably, although you can fit in another at a squeeze!
6 Guests
Complimentary wine
Where do I start… this tropical getaway is one of the best apartments in Miami if you're traveling with your mates. There are just so many extras and freebies, starting from the moment you walk through the door!
You'll be greeted with complimentary wine and snacks, and even a tour of the local area to help you get your bearings! After that, be a little braver and head out on one of the six free bikes provided to you. at no extra cost! That price may seem a little steep at first, but remember you can split that with up to five friends.
$
Free valet parking space
2 Guests
Gym and swimming pool
Miami Beach is one of the coolest areas in town, so we couldn't talk about the best Airbnbs in Miami without including a couple of places here. This oceanfront suite has awesome views (as you might expect, being right on the ocean), and several facilities for you to take advantage of. Got your own transport?
That free valet parking space is a bonus. And the gym and swimming pool mean you can keep up your workout routine! This cool apartment is one of the best short-term rentals in Miami, as it offers stays of 30 days or more.
Perfect Airbnb for Solo Travelers | Tiny Garden Oasis
1 Guests
Complimentary Breakfast
When you're traveling by yourself, it can be hard to keep costs down. And sometimes that means missing out on awesome facilities. However, at this awesome short-term vacation rental in Miami, you'll don't have to worry about that.
Not only do you get a comfy and cozy space, but you've also got access to a pool. And did we mention there's a complimentary breakfast?! Just make sure you leave an hour between those two things! The location is quite central and there's public transport nearby too. So, it won't be hard to find and meet up with other solo travelers!
$$
Fully equipped kitchenette
3 Guests
Cool outdoor gazebo
If you travel with your other half, you don't just want to stay in any old place. This awesome Miami Airbnb is cozy, comfortable, has a great location, and overall perfect for a couple. Need I say more?!
The interior's Asian-inspired decor will take you far from the bright lights and hustle and bustle of Miami, offering a totally relaxing ambiance. Feast on the welcome basket of fruits and snacks before settling down on the sofa bed to watch a movie on the TV. For a romantic date out, you've got the famous Calle Ocho and several other attractions within a stone's throw!
2 Guests
Your own balcony with awesome views
Not only is a Miami homestay an opportunity for a local experience, but a great way to keep costs down too. And with so many in the city, that's why we couldn't keep it at just one!
You can't put a value on the sunsets that you'll see from your private balcony in this awesome apartment, but if you could it'd be a lot more than the reasonable price you'll pay! This friendly family home is a hop, skip, and a jump from the coolest districts of Miami, and it's not far from the beach either!
6 Guests
Outdoor dining area
If you've got a big family gathering coming up and you've got a bit of cash to splash, then this Miami Airbnb is perfect for you. Not only does it have a huge living room with lovely sofas for lounging, but there's a terrace with an outdoor dining area too.
Enjoy the incredible views of the sunset from here as you have an evening meal prepared in the fully equipped kitchen. Then, head back inside for a movie. Or, if you're a little more active, there's a gym, pool, and mini-golf on site!
4 Guests
Fully equipped kitchen
Since I've already mentioned an apartment with a 30-day rental in Miami Beach, I thought I'd better include a Miami Airbnb for those who are planning a shorter vacation too! Check out this amazing apartment.
The key selling point is that it's just a 1-minute walk to the beach – so you can roll out of bed and get down to those golden sands! As it's also close to Miami Convention Center, this is a great shout for business travelers!
$$
Laptop-friendly workspace
Last but not least, I'm going to show you an option from South Beach. Another popular area in Miami, South Beach is renowned for its nightlife. Not only is this close to that, but to the beach and the best restaurants too.
A beach umbrella, towels, and two beach chairs are provided in the apartment which you're welcome to use. Great news if you're on a budget, as that'll save you $40 a day!
Small Pack Problems? 😉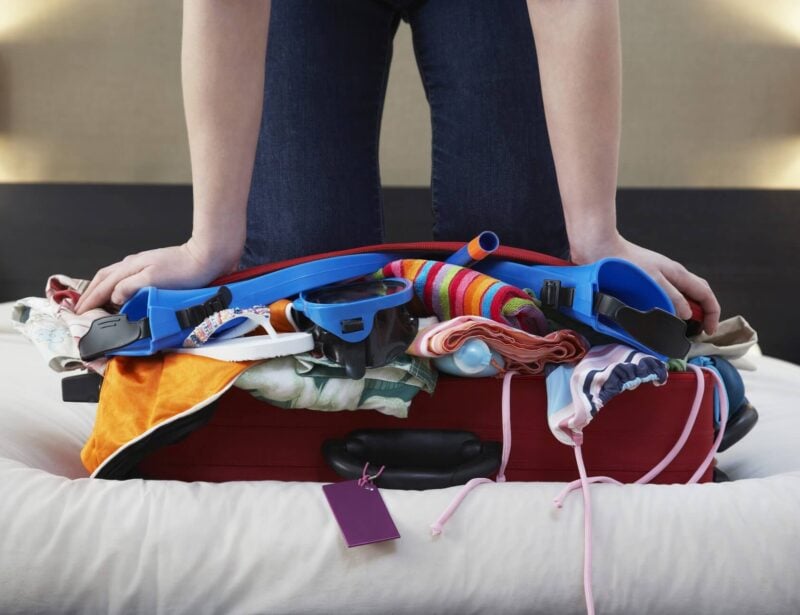 My missus travels with all her clothes in ziplock bags: don't be like my missus. UP YOUR PACKING GAME!
Packing cubes for the globetrotters and compression sacks for the real adventurers – these babies are a traveller's best kept secret. They organise yo' packing and minimise its volume too so you can pack MORE.
Or, y'know… you can stick to ziplock bags.
View Our Fave Cubes
Or Check Out the Sacks!
Top 5 Airbnb Experiences in Miami
Sure you can visit all of Miami's top tourist attractions, but what about getting a bit more immersive? Say hello to Airbnb experiences! You book right on the same website, but instead of a property, it's a unique activity that will make your Miami vacation that much better.
Airbnb experiences are tours or services offered for individuals or small groups. Participating allows you to get a truly local experience, or gives you a chance to do something you might never have otherwise. From unique walking tours to personalized photoshoots, there are plenty of memories to be made for all types of travelers.
There's a large selection of experiences to choose from, so to make your choice easier, I've compiled the 5 BEST Airbnb experiences to be had in Miami!
Eating Cuban food is an essential part of any Miami travel experience and what better way to do so than with a proper food tour? Hosted by locals, this Little Havana walking tour will ensure you hit all the best restaurants AND learn a little bit about Cuban culture along the way.
You'll get to sample iconic dishes like the Cubano sandwich, churros, and Abuelo Maria ice cream. A rum mojito cocktail is even included in the ticket price! Aside from all the tasty eats, this walking tour will also bring you to a local cigar factory, a popular park, and an art gallery.
If you're looking for a truly unique experience that you would be hard-pressed to find anywhere else, allow me to introduce you to flyboarding.
A professional instructor will take you out onto Biscayne Bay and after 20 minutes of coaching, you'll be literally flying above the bay with epic views of the Miami skyline!
You'll be provided with a helmet for safety, though your experienced instructor has taught thousands of satisfied customers how to fly–so you'll deff be in safe hands! The device allows you to get several feet above the water and truly simulates flying! Nothing screams "only in Miami" quite like this!
Have you been fascinated by street art but assumed it was something you'd never get to actually try yourself? Now you can see what it's all about with this hands-on graffiti experience right in Wynwood, Miami's legendary artsy district.
Try your hand at spray painting with your own take-home piece in this mural-filled Miami neighborhood. You'll first be taught the basics before moving on to more advanced techniques.
The instructor is extremely knowledgeable about the craft, so you can truly expect to come away having learned a thing or two!
Miami's Design District fuses incredible architecture, fashion, art, and sculpture in a unique way. Most visitors to Miami skip out on this part of the city, so this walking tour will also make you feel like you're getting off the beaten path.
Your guide will ensure you don't miss out on any of the iconic installations, and you'll come away armed with more art history facts than you arrived with.
Learn about the artists behind the scenes, and make sure you bring your camera. This district has some of Miami's best architectural photography subjects!
Miamians love to dance, and with all the Latin vibes present throughout the city, it makes sense that this dance class focuses on none other than salsa or bachata! Get acquainted with these popular dances in highly-rated and affordable group classes, which take place on either Thursday or Saturday nights.
The 1-2 hour classes are followed by "anything goes" dance parties, where you can practice your new skills or try something totally new with other dancers.
This is a particularly fun Miami Airbnb experience for couples, though absolutely anyone and everyone can join. Dancing skills are not required, but heels are recommended for ladies to get the full vibe!
FAQs about Airbnbs in Miami
Here's what people usually ask us when they look for vacation homes in Miami.
Don't Forget Your Miami Travel Insurance
We all know of the horror story that is health care in the USA. That's just one reason why good travel insurance is essential before you head on your trip to Miami.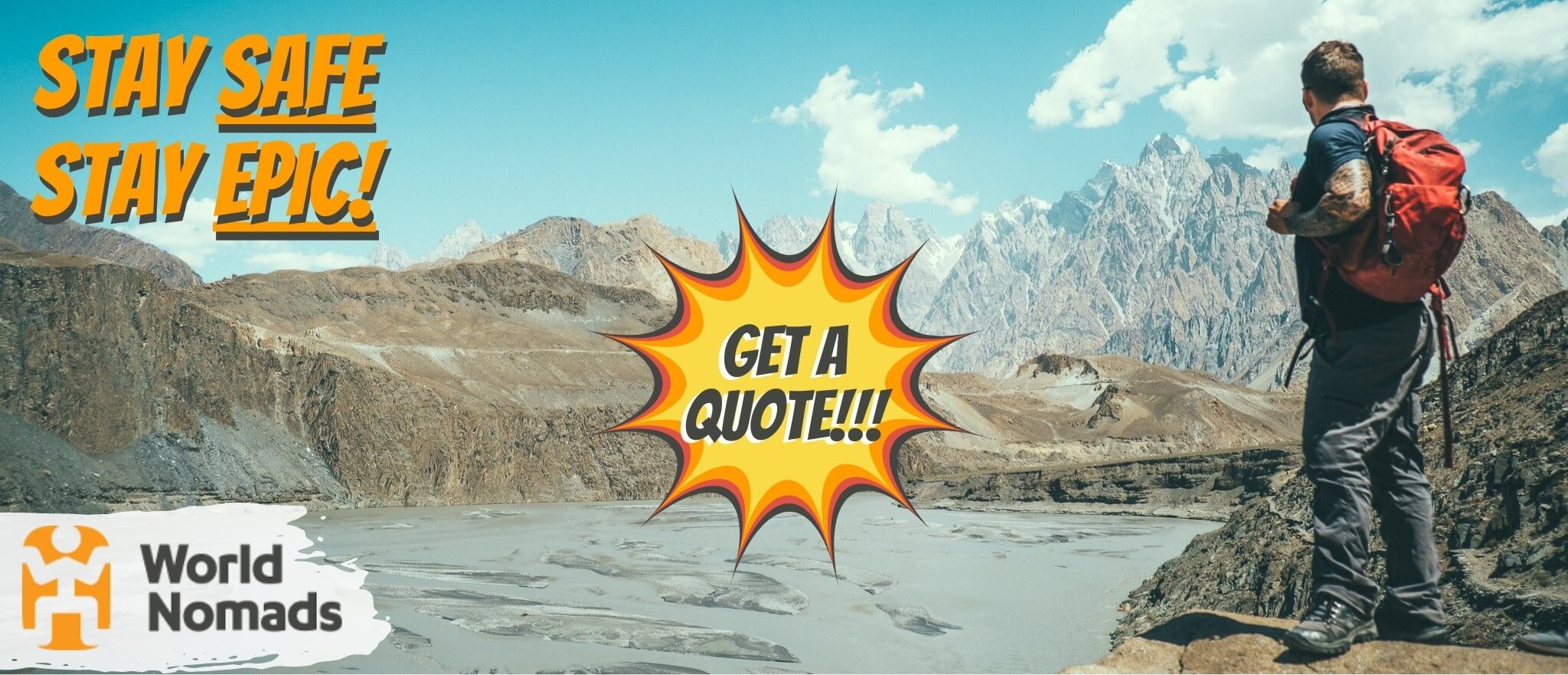 World Nomads' mission is to support and encourage travellers to explore their boundaries. They offer simple & flexible travel insurance, and safety advice to help you travel confidently.
They've been doing it since 2002 – protecting, connecting, and inspiring independent travellers just like you.
Get a quote below or read our in-depth review!
Final Thoughts on Miami Airbnbs
So, that concludes this guide to the best Airbnbs in Miami. I hope that you've been able to find something that perfectly matches your budget, travel style, and taste.
As you can see, there's a huge variation when it comes to Miami vacation rentals. There are some awesome apartments just a stone's throw from the beach, places to crash near all the most exciting nightlife, and cozy homestays where you can really get to know your hosts.
I've given you so much choice that it'd be perfectly reasonable for you to be overwhelmed and still not know what to say. But don't worry! If that sounds like you, just take a moment and relax. Then, book my favorite Miami Airbnb – this Cute Cottage With a Pool. It effortlessly blends value, location, and character!
All that's left now is for me to wish you an incredible vacation in Miami. Have a great time!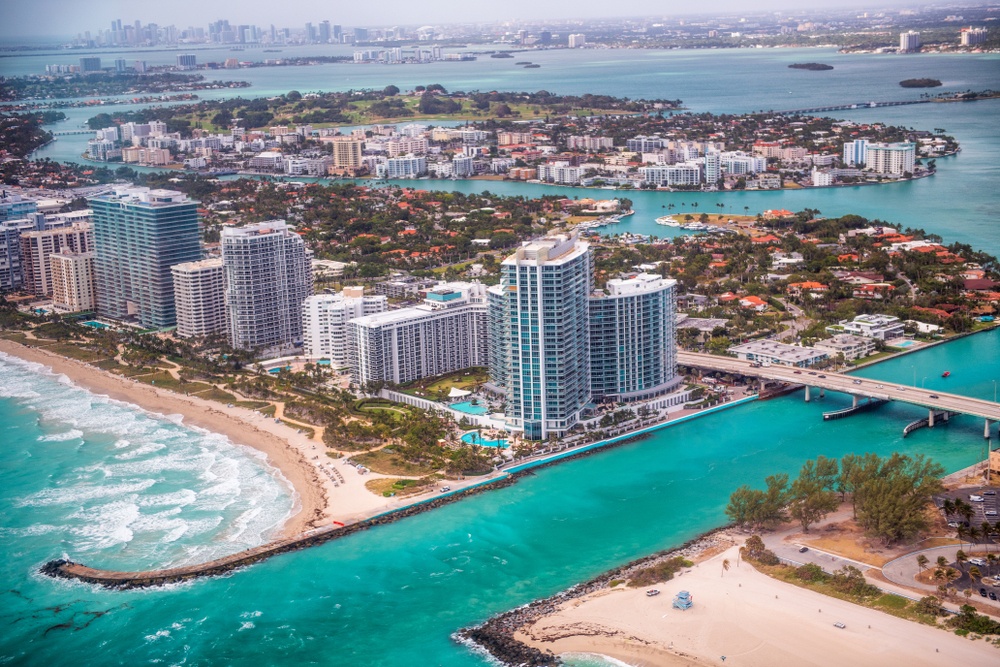 Updated May 2022 by Samantha Shea from Intentional Detours.
---
Bye for now, but not forever!
If you want MORE top-tier Broke Backpacker content like this, then sign up for our weekly newsletter below to get the latest and greatest!
And for transparency's sake, please know that some of the links in our content are affiliate links. That means that if you book your accommodation, buy your gear, or sort your insurance through our link, we earn a small commission (at no extra cost to you). That said, we only link to the gear we trust and never recommend services we don't believe are up to scratch. Again, thank you!