Miami is an oceanside metropolis that's on most travellers' radars. The cultural and commercial hub is one of the most popular cities in the USA, known for its unique combination of high-rise buildings and beautiful beaches.
You'll find some of the best vacation rentals in Miami dotted all over the city, so you can pick the area that suits your travel style. If art and culture are your thing, then you're sure to enjoy Downtown Miami and the Brickell area. You'll find some of the city's top art institutions and museums here, as well as awesome accommodation options. Choose from a multitude of high-rise condos with extraordinary views in this dynamic centre.
Rent out a beachfront villa or condo in the Art Deco District to experience that classic South Beach vibe. Mid Beach is home to some of the city's top resorts and hotels, many of which offer fully-equipped self-catering holiday rentals in Miami.
For a more laid-back experience, head up to North Beach and Surf Side. Here, you can find yourself a more affordable beach house or mid-century-inspired condo. Coconut Cove is the greenest part of the city and is a great location for those who wish to be slightly out of the hustle and bustle of the metropolis. Don't worry though – you'll still be central enough to experience Miami in all its glory.
Quick Answer: These are the Top 5 Vacation Rentals in Miami
Overall Best Value Vacation Rentals in Miami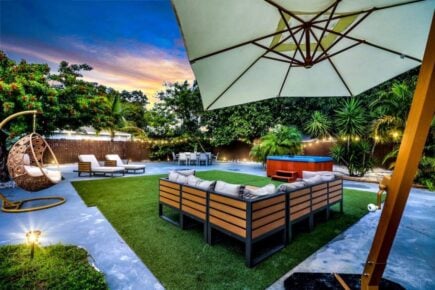 Overall Best Value Vacation Rentals in Miami
Brand New 3 Bed Villa with Outdoor Lounge
> $$
> 12 Guests
> Modern interiors and fittings with tons of sleeping space and a beautiful garden
> A short 10-minute drive to Downtown Miami, and only 5 minutes to Wynwood
Best Budget Vacation Rentals in Miami
Best Budget Vacation Rentals in Miami
Charming 1 Bed Cottage with Parking
> $
> 2 Guests
> Beautifully decorated self-standing cottage with fully-equipped kitchen
> Located in a safe neighborhood in South Miami, easy to cycle and walk around the area
Best Vacation Rentals for Couples in Miami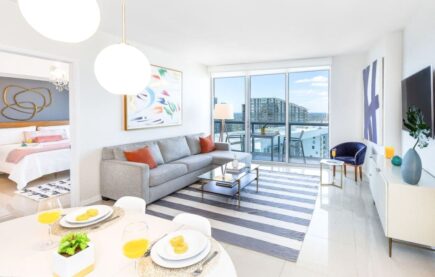 Best Vacation Rentals for Couples in Miami
Stylish 1 Bed Condo with Balcony
> $$$
> 4 Guests
> Contemporary condo with modern art and city views
> Located on the 46th floor of a luxury building in Downtown Miami, close to all public transport lines
Best Vacation Rentals for Families in Miami
Best Vacation Rentals for Families in Miami
3 Bed Family Home with Garden and Pool
> $$$
> 8 Guests
> Spacious home with modern furniture and a beautiful garden with a pool
> In a quiet neighborhood in the dynamic Design District, close to all shops and restaurants
Over-the-Top Luxury Vacation Rentals in Miami
Over-the-Top Luxury Vacation Rentals in Miami
Extravagant Oceanfront 5 Bed Home with Pool
> $$$$
> 8 Guests
> Modern interiors with a private gym, recreational room, and boat dock
> Located on the prestigious Mashta Island on Key Biscayne
Types of Accommodation in Miami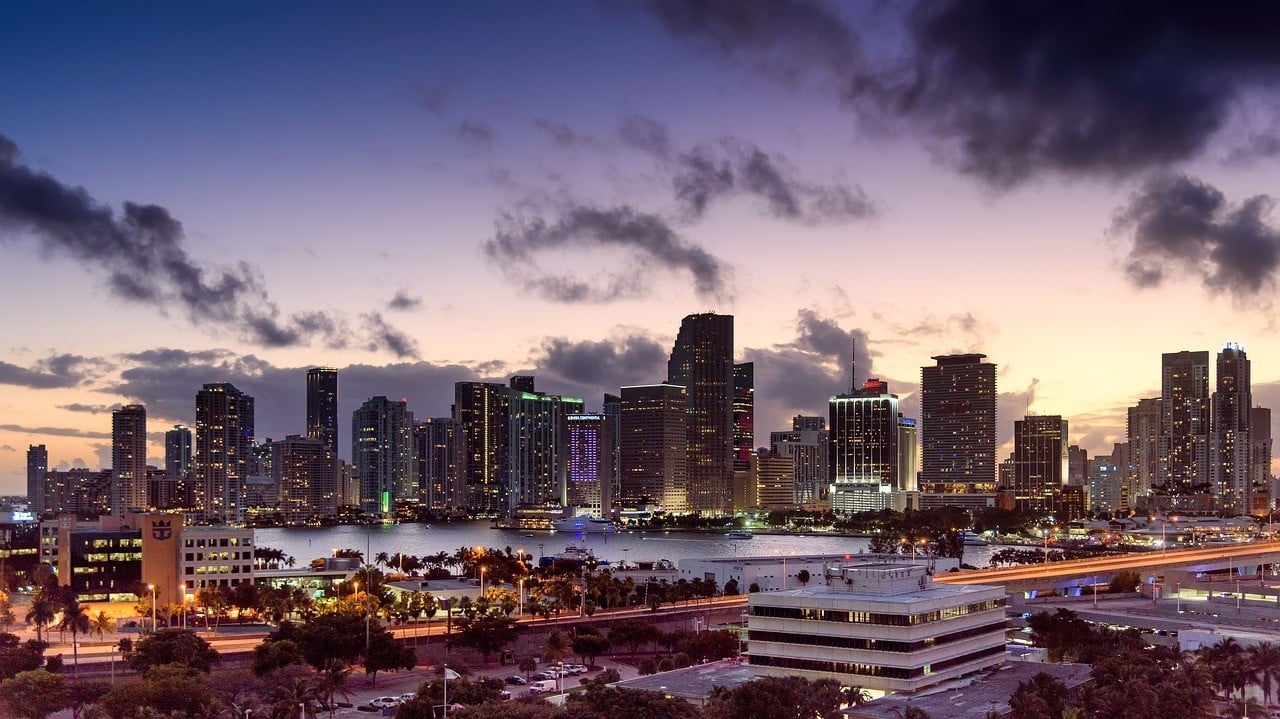 Condos, Apartments, and Penthouses
From South Beach to Downtown, Central Miami is filled with high-rise buildings, resorts, and hotels offering top-quality rentals for those with a higher budget. These spots don't come cheap, but that's not without reason.  
These self-catering vacation rentals in Miami are usually located in prime areas, close to eateries, nightlife, and beaches. They also include access to shared amenities such as swimming pools and hot tubs, rooftop bars and social decks, and gyms and spas. Skyscraper accommodation options even offer facilities that are accessible for those with limited mobility.
If you choose a top-end hotel with self-catering units, you can also benefit from housekeeping, laundry facilities, and room service. These condos with stunning views ideal for small families, couples, or wheelchair users.
Beach and Oceanfront Villas
Both north and south of Downtown Miami, you'll find never-ending stretches of pristine sub-tropical beaches. From huge beach mansions to quaint cottages, this coastline is dotted with vacation rentals. Florida Airbnb listings for beachfront condos often look the same, but villas usually have a unique style and feel. 
By far the most expensive option, beach and oceanfront villas are large homes that can have between five and ten bedrooms. Located on the water's edge, they often have direct and private beach access or include a private boat dock.
With swimming pools, theatres, private gardens, and outdoor lounges, these huge holiday homes are the best options for big groups looking to splurge on vacation rentals in Miami.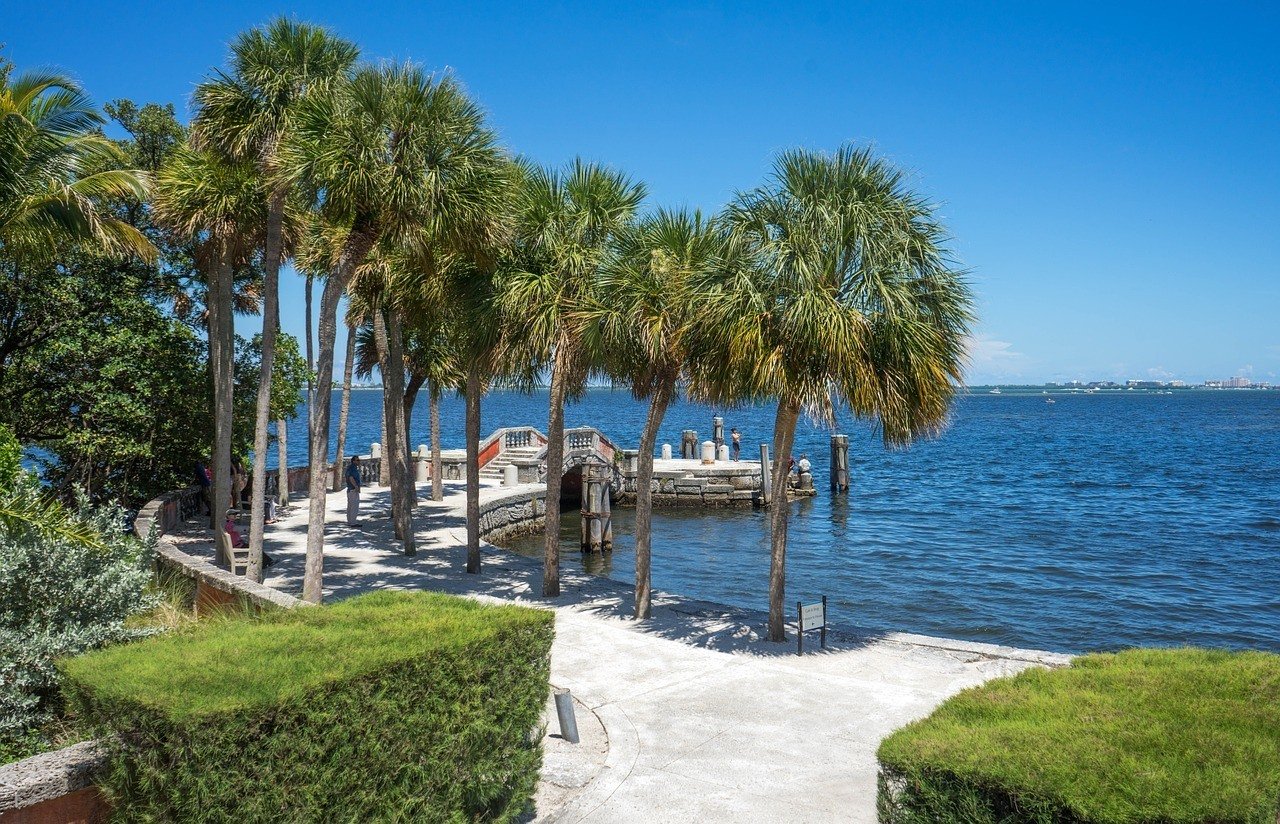 Family Homes
Looking for a more relaxed rental that falls between a luxury penthouse and a beach villa? There are many smaller, more conservative family homes located in residential Miami neighbourhoods. 
These homes are usually more affordable and can sleep between two and ten guests comfortably. They're not always central, but public transport and road systems are so well managed here that you'll never be far from the scene. 
This type of vacation rental is best suited for families and groups of friends hoping to save a buck in Miami. They're also top for long-term renters and digital nomads, and some are even pet-friendly!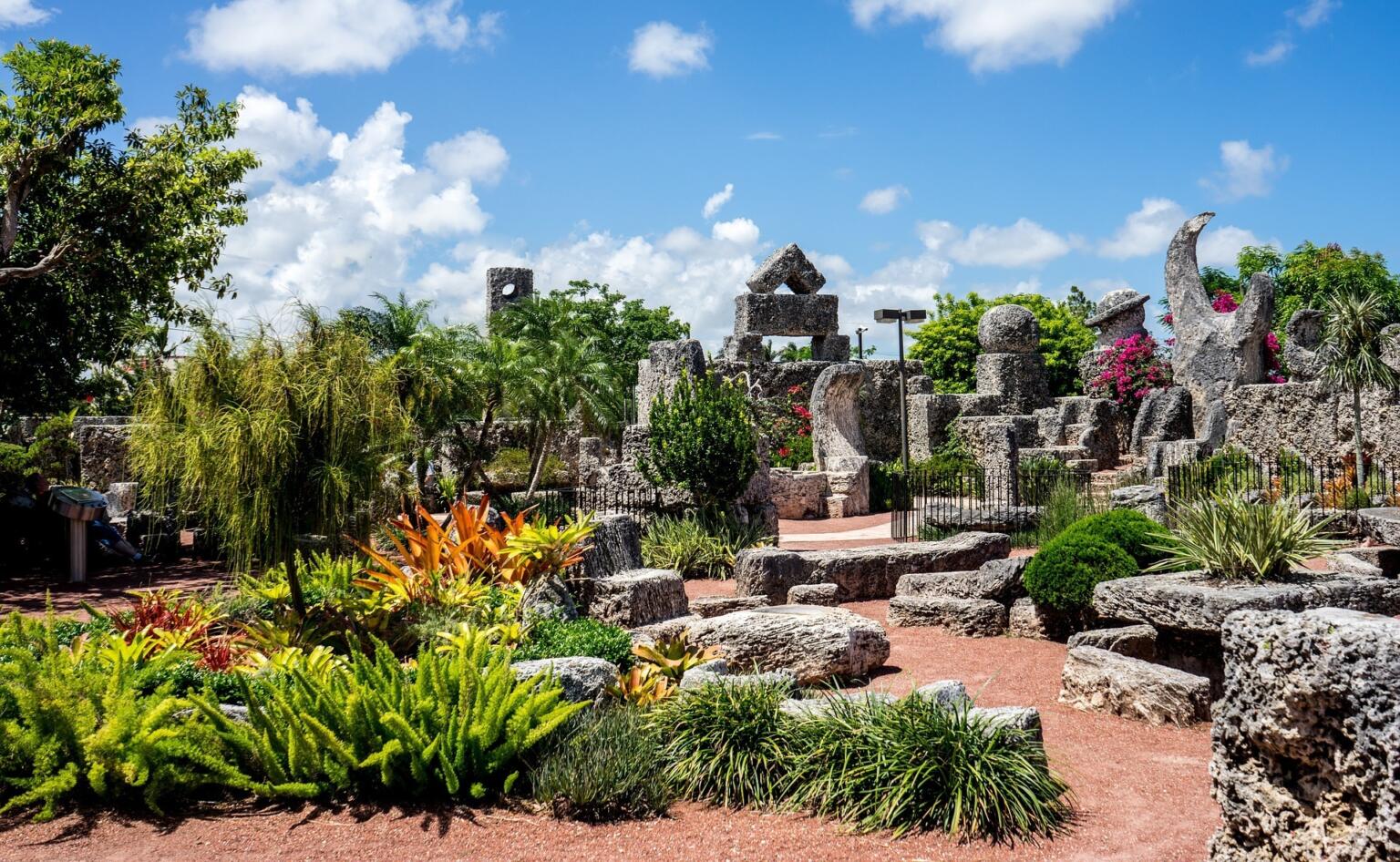 Top 20 Vacation Rentals in Miami
From luxurious condos to oceanfront villas, let's take a look at some of the best vacation rentals in Miami.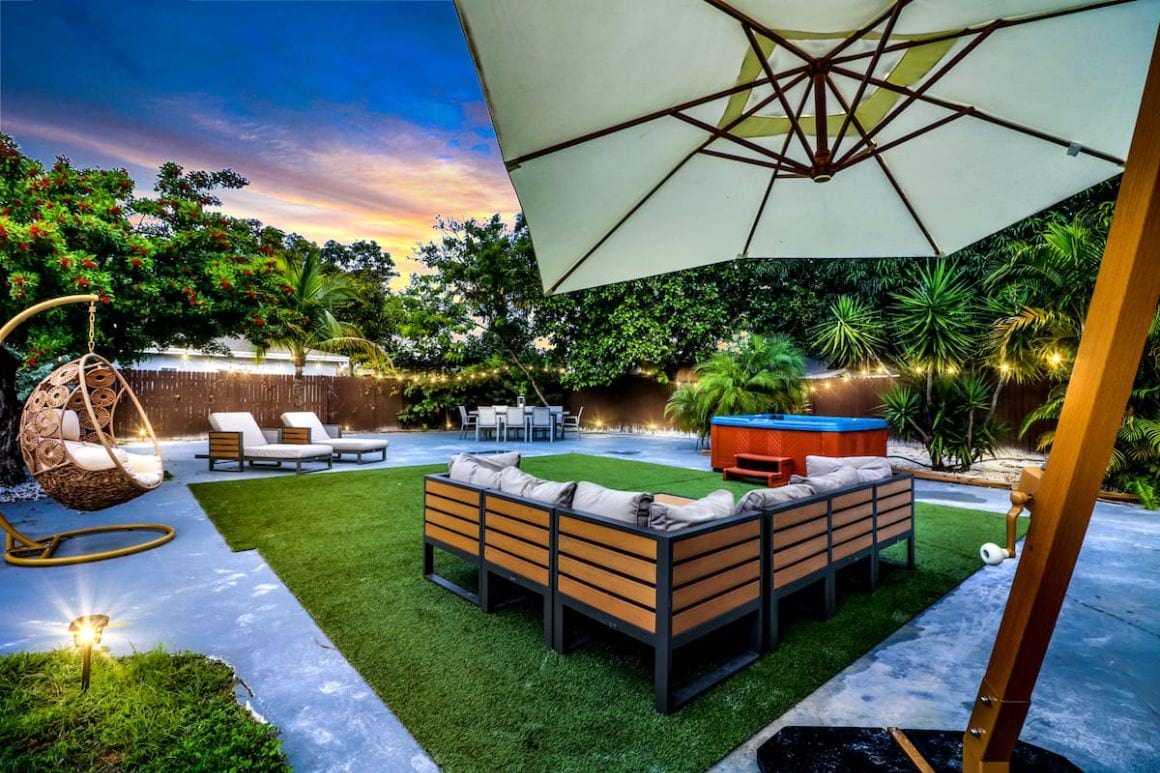 $$
Modern interiors and a beautiful garden
12 Guests
10 minute drive from Downtown Miami
You'll find this three-bedroom accommodation in and amongst the high-rise skyline of the Miami metropolis. The recently refurbished interiors boast white marble floors, modern art, and trendy furniture. With pops of colour and texture throughout, this spot is a treat for the senses.
The best part, however, is the huge yard. You'll find a BBQ deck and dining area, a shaded outdoor lounge, and a private pool and hot tub, all surrounded by lush grass and quirky hanging furniture.
$
Beautiful cottage with fully-equipped kitchen
2 Guests
South Miami, easily walkable area
It's not always easy to find cheap accommodation in a city dominated by luxurious penthouses and beach villas. However, that doesn't mean you can't visit Miami on a budget! This detached cottage is a solid affordable option for budget backpackers. It includes a cosy living space with a fully-equipped kitchen and lounge. Whip up a home-cooked meal or venture out to some of Miami's top eateries that you'll find just around the corner.
The bedroom features a queen-sized bed with a gel memory foam mattress – trust us when we say, your only problem might be forcing yourself to get up in the morning!
$$$$
Tropical oasis with large windows
12 Guests
Minutes from Biscayne Boulevard
If you're looking for something super special, check out this brand new home surrounded by lush tropical foliage. This modern luxury vacation rental in Miami features tons of glass walls, marble floors, and touches of natural wood textures. The interior is even furnished with a combination of Balinese and contemporary decor.
Each zone of the house is designed to perfection, with every small detail thought out. My favourite part is the glass passageways that link the home together, letting in plenty of natural light. Another plus? Thie house has an entire cold storage room for wine – talk about fancy!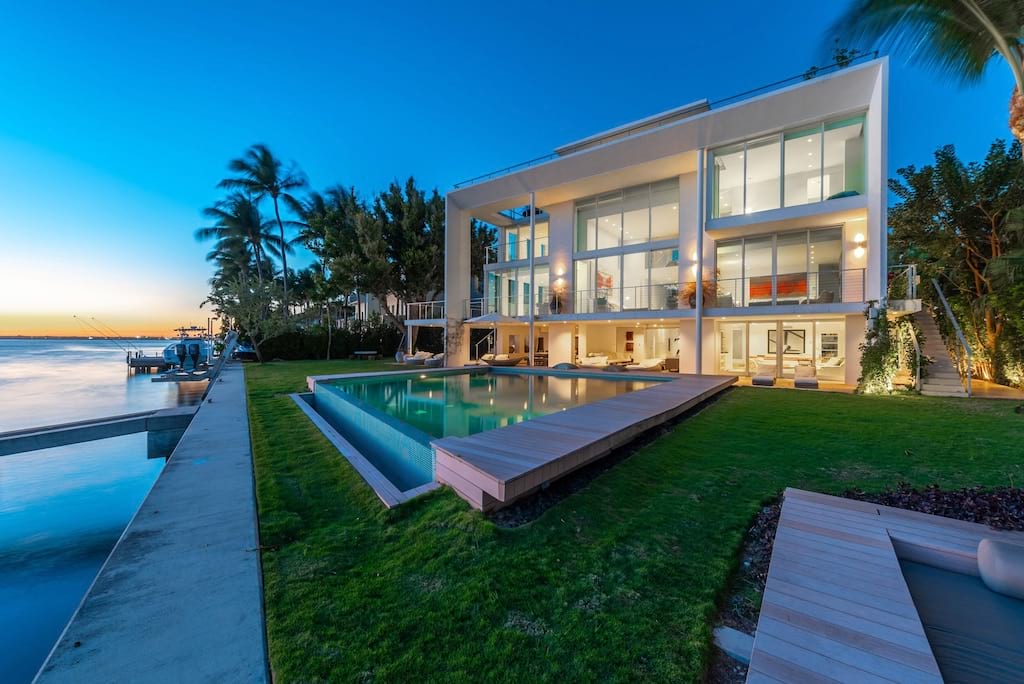 $$$$
Private gym, recreational room, and boat dock
8 Guests
On the prestigious Mashta Island on Key Biscayne
All-round excellence awaits you at this waterfront estate. Perched overlooking the ocean with beautiful bay views, you couldn't ask for more from this opulent spot.
The interiors boast clean white walls combined with natural wooden tones. With huge double-story floor-to-ceiling windows and sliding doors, you can really make the most of the views.
Spend some downtime on one of the balconies or in the infinity pool. There's even a private deck, perfect for anyone looking to rent a boat in Miami.
$$$
Beautiful garden and pool
8 Guests
Quiet neighbourhood in the dynamic Design District
This simple suburban house is the perfect spot for a small family. The home has three private bedrooms, each as beautiful as the next. 
Feel at home in the fully-equipped kitchen, stocked with everything you need from a self-catered vacation rental in Miami. Best of all, this home includes a garden surrounded by palm trees, a pool deck and BBQ area. Given the price, this place is real a bargain!
$$$
Rooftop decks, swimming pools, and beach bars
4 Guests
Miami Beach location
This stylish condo is one of my favourite Miami vacation rentals. It's a super relaxing place to be, with neutral nude colours and unique warm lighting features creating tons of moody texture throughout. 
Not to mention, it also has a spacious balcony fitted with comfortable outdoor furniture offering stunning city views. This Miami Beach Airbnb sits in a prestigious building and comes with plenty of extras. Enjoy access to a private pool deck and bar, and other sociable restaurants on the premises.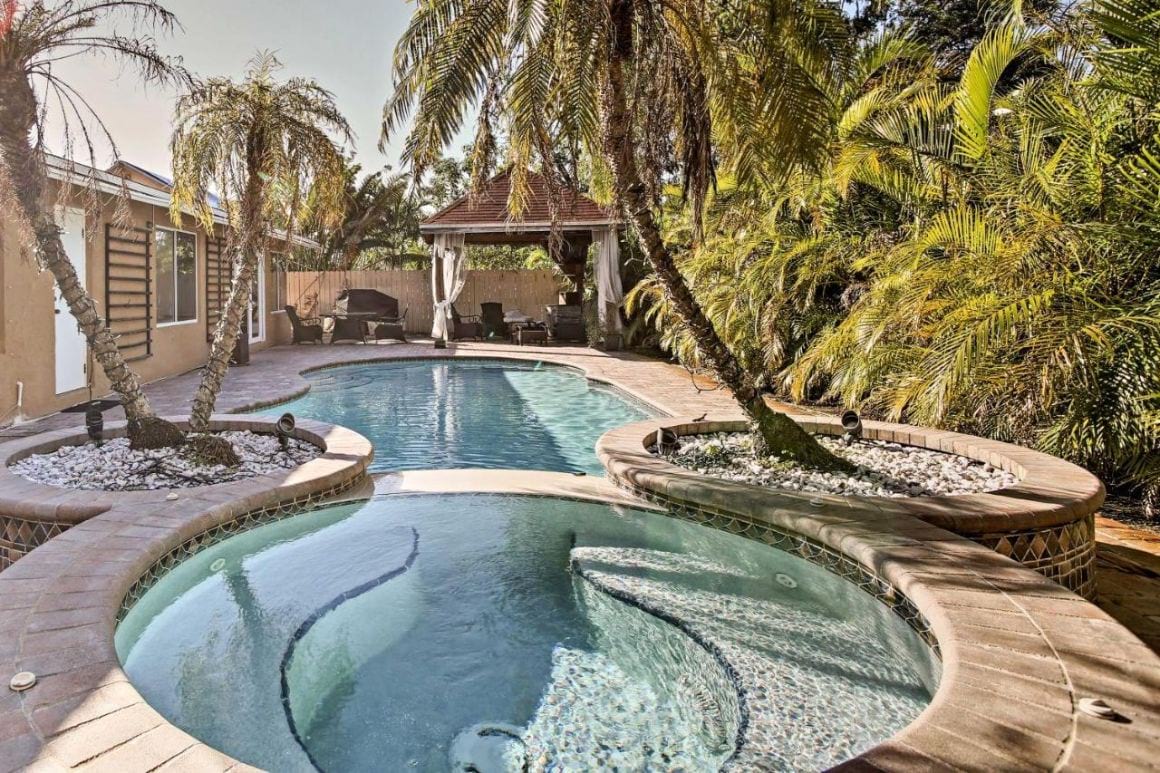 $$$
Beautiful outdoor pool area
10 Guests
North Miami Beach near the Tidal Cove Waterpark
While swimming pools and hot tubs are common-place for large buildings, resorts, and hotels, nothing beats having one in your backyard. With this charming four-bedroom family home, you'll get just that.
Relax under the shaded gazebo, cool down under the plantation-style ceiling fan, or enjoy a soak in the Jacuzzi. There's also a huge TV and plenty of seating, as well as four cosy bedrooms. If basking in the sunshine is high on your Miami itinerary, then this is the best place for it.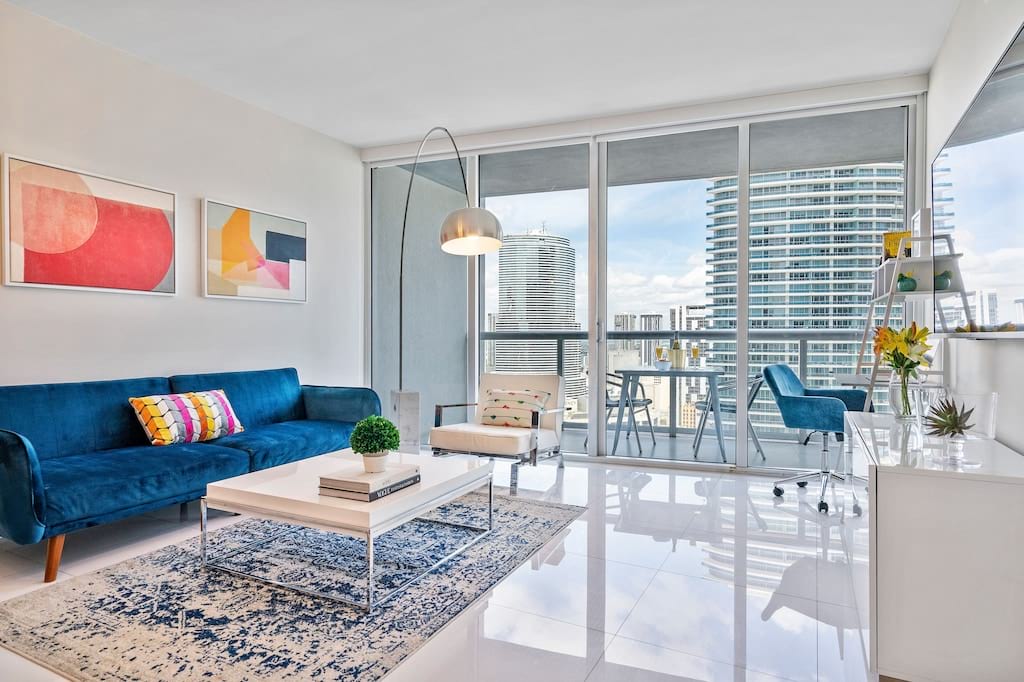 $$$
Tons of natural light and access to one of Miami's largest swimming pools
2 Guests
In the Luxe at Icon Brickell, by the Miami River
Looking for simplicity and luxury in the city centre? With elevator access and wide-open spaces, this stunning luxury vacation rental in Miami is a great option for wheelchair users and others with limited mobility. 
Better yet, it's so centrally located, you won't have to venture far to reach some of Miami's top attractions. The condo itself is beautiful and simple, with contemporary furniture and pops of colour throughout. Up to two guests can enjoy this gem, which boasts great views at every time of day.
$$
Fully-equipped studio with city and ocean views
3 Guests
Walking distance to the Bayside Market Place, American Airlines Arena, and Port of Miami
If you're looking to get out and explore Miami, positioning staying central is a good call. This condo in the luxurious W building could not be better located, between all major attractions, top restaurants, and the beach.
The studio has been recently remodelled with clean white finishes and warm wooden cabinetry, all-in-all creating a super welcoming space. To top it all off, guests can enjoy access to shared swimming pools, gyms, and bars in the building.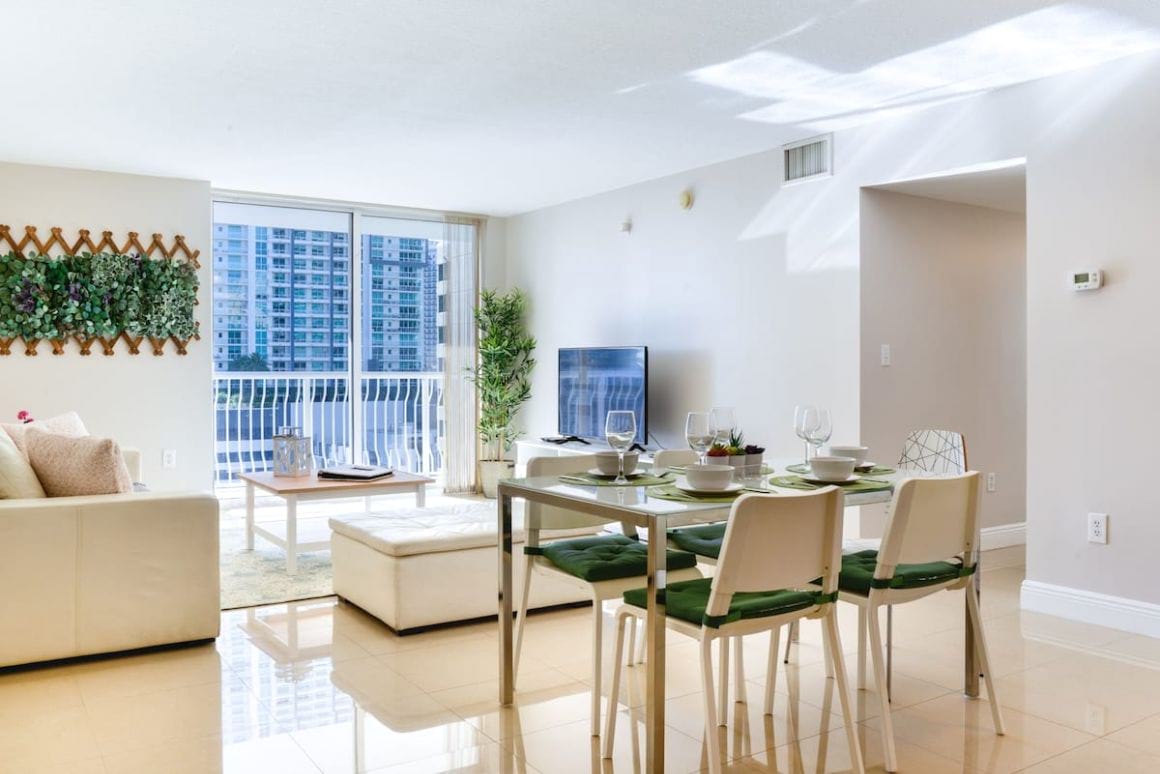 $$$
Spacious condo with access to shared amenities
8 Guests
Downtown, only a 15-minute drive to South Beach
If you're up for a metropolis escape and have a relatively high budget, this three-bedroom luxury condo is a top spot for a big family. With tons of open space throughout the condo, there is more than enough room for you and your family to spread out across. 
Because the condo is so central, you'll likely save on transportation costs and will find tons of shops and dining options right at the foot of the building. Even better, feel free to use the high-end gym and indoor games room, as well as the swimming pool deck during your stay.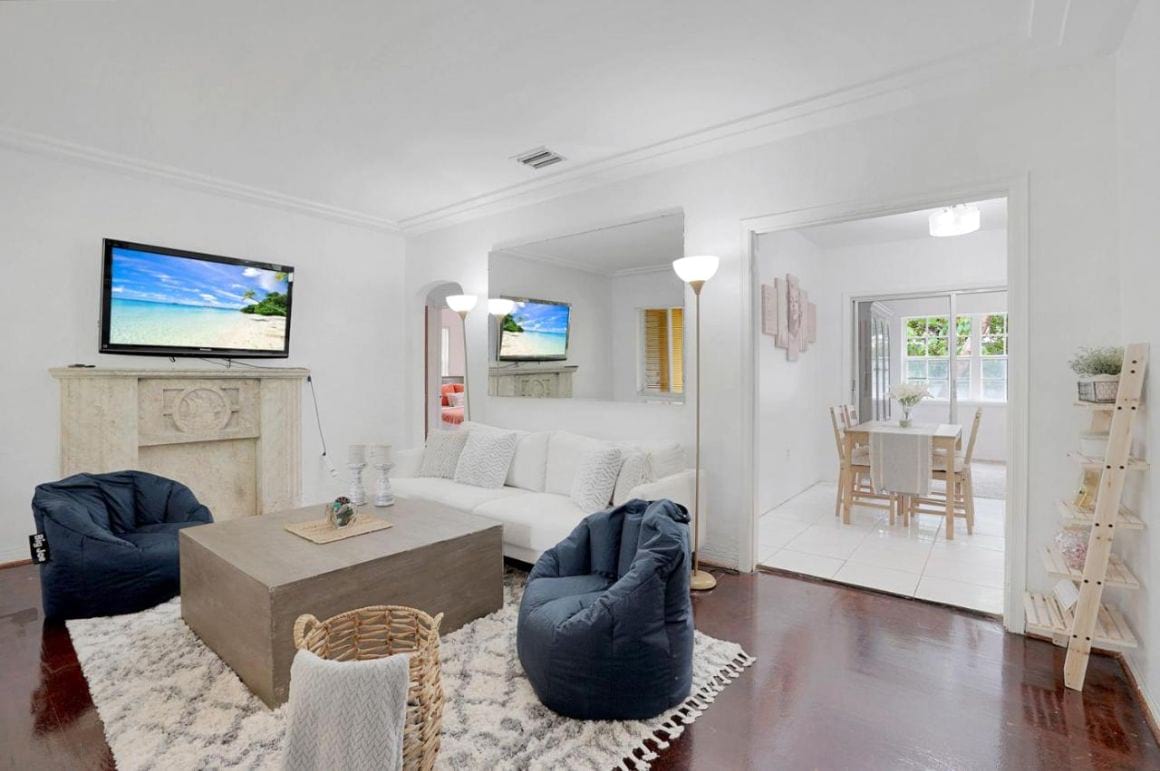 $$
Newly renovated family home
8 Guests
South of Miami in Coconut Cove
Miami is one of the top destinations for a wild getaway with your mates. While a penthouse apartment might be the dream, this affordable house is one of the best vacation rentals in Miami for friends. 
Located in the quirky suburb of Coconut Grove, only a quick Uber downtown, the home is fully equipped for a long or short stay. The classic house has been refurbished with modern interiors, including a lot of homey wooden tones and cosy furniture. The outdoor fire pit is the perfect place for everyone to hang out after a day of exploring.
$$$
Unique Adobe-style interiors
4 Guests
Between Miami's Design District, Wynwood, and Midtown – walking distance to top bars and restaurants
On the hunt for a unique vacation rental in Miami with tons of personality? This bare and natural Adobe-inspired home has you covered. Spend some time in the beautiful open-concept living space which is furnished with woven and wooden furniture. 
There's a private bedroom, as well as a loft bed in the common living area, perfect for accommodating up to four guests.
This unique build embraces simplicity and has everything you need for a relaxing vacation and nothing more. With high ceilings and plenty of storage space, you'll easily be able to make yourself at home here.
$$$
Spacious condo with balcony overlooking the ocean
3 Guests
Located in the W Miami, right in the center of the city
This stunning space is without a doubt one of our favourite Miami picks. The home perfectly blends modern and eclectic styles. Elegant furniture, glass and wooden cabinetry, and clean tiling contrast quirky colourful cushions, modern art, leafy house plants, and stylized carpets. 
This spot provides honeymooners with exceptional ocean and city views. With a gourmet-level kitchen filled with top-of-the-range appliances and cookware, you'll have very little reason to leave this luxury vacation rental in Miami.
$$$
Modern condo with ocean views
4 Guests
In the heart of Miami, close to world-class bars
Miami is home to some of the country's most desired nightclubs and bars and is a party hotspot like no other. If you're up for a splurge, you won't have to venture far from this two-bedroom corner condo to find the cities hottest clubs. 
The rental itself is brand-new and decorated in a modern style. It has lots of mirrored walls and floor-to-ceiling glass windows and doors inviting tons of light into the space. Mix cocktails in the beautiful kitchen overlooking the city before heading out to discover Miami's awesome nightlife.
$$$
Floor-to-ceiling glass windows
4 Guests
Central downtown Miami – walking distance to the ocean and top attractions
Whether you prefer the ocean, river, or blinding city lights, Miami is packed with stunning views everywhere you look. We think the best spot to experience an authentic coastal metropolis view is from one of the skyscraper condos. And with its awesome location, this new corner condo boasts 180-degree views from the ocean to the city.
The interior is stylishly furnished with contemporary new fittings and classy furniture. Interspersed with beautiful art and block colour cushion covers, this space is minimalistic and designed to enhance the outside views.
$$$
Contemporary condo with city views
4 Guests
46th floor of a luxury building in Downtown Miami
This corner condo is one of the best vacation rentals in Miami for couples. It's filled with edgy furniture and pops of colour, as well as bright and interesting modern art. While the spot only has one private bedroom, you could fit a second pair of guests on the spacious living room sleeper couch.
Being on the 46th floor, it's no wonder the views are so breathtaking from this spot. Ideal for couples enjoying a city escape, guests can make use of the shared swimming pool deck, bar, and gym during their stay.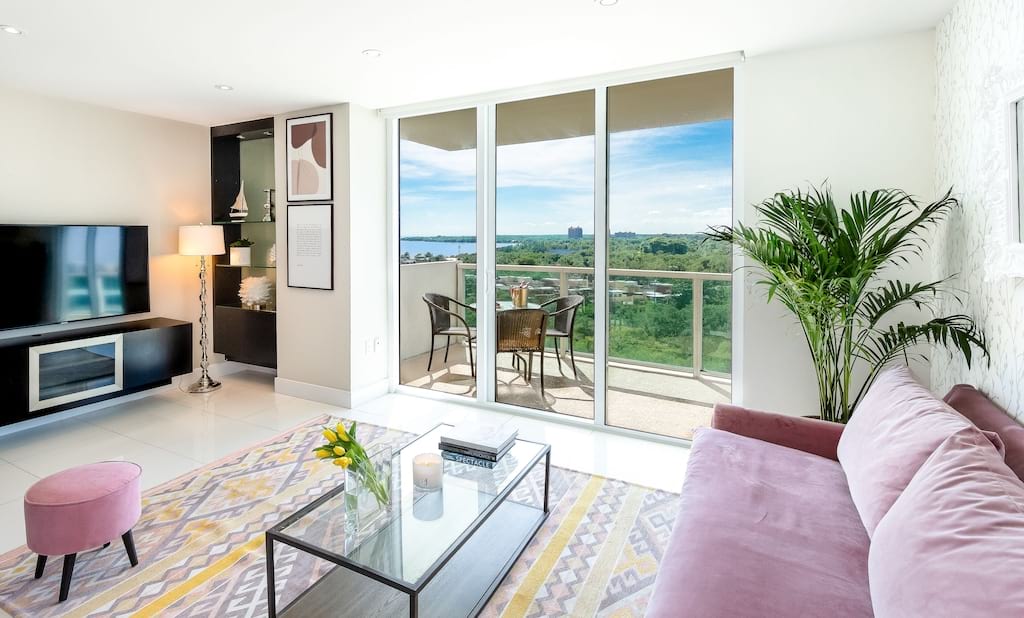 $$$
Huge balcony overlooking the Marina
3 Guests
In a secure building in Coconut Grove, just in front of the Marina and Bay
Hoping to work from home in Miami? This luxurious condo is the perfect spot for it. It sits in a prestigious building in the quieter Coconut Grove area, with tons of shared amenities to make use of during your stay. 
While you'll be in the buzz of the city, the condo itself is so high above the ground that it seems private and secluded. The comfortable corner condo has a separate office space equipped with a speedy internet connection, perfect for digital nomads. 
With a washer/dryer in the unit, a fully-equipped kitchen, and a walk-in closet, you'll find it easy to settle into this self-catering vacation rental in Miami for a long while.
$$$$
Beach home with pool and waterfall slide
14 Guests
On the coast between El Portal and North Bay Village
Miami is overflowing with coastlines, from beaches to manmade islands. Make the most of them with this extravagant seven-bedroom villa right on the water. It has a fun swimming pool with a waterfall feature and slide, as well as a huge outdoor living area. This palm tree-lined garden is the place to be on a warm summer's day!
Inside, you'll find quirky interiors including faux greenery, colourful velvet fabrics, and abstract touches from around the world. Picture gold Buddhist statues, neon lighting, and indoor green walls making the perfect backdrop for an eccentric photograph.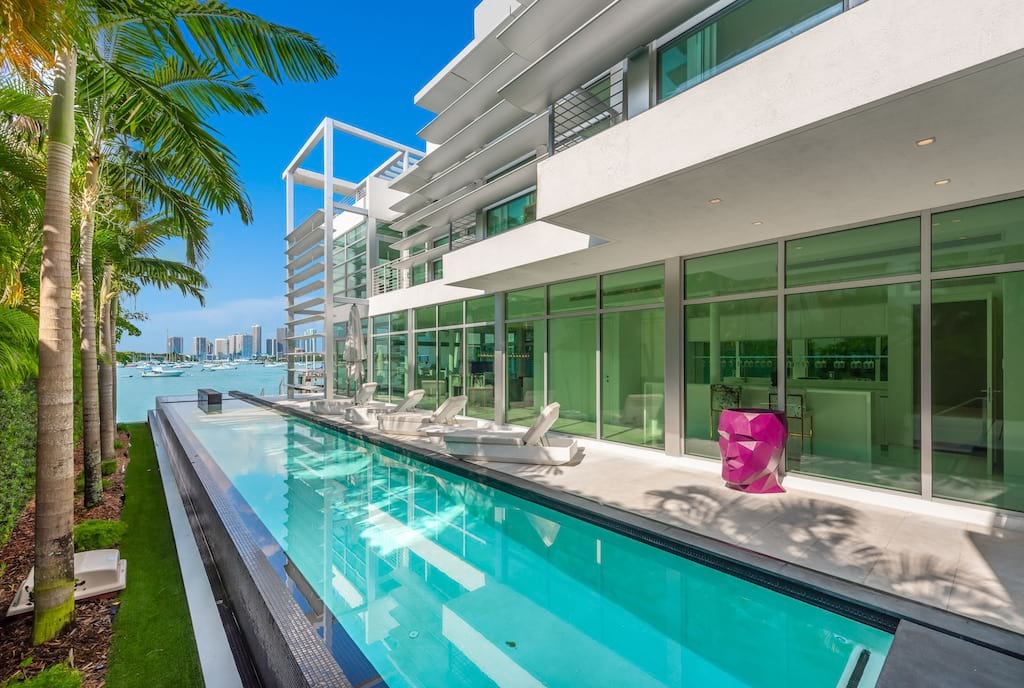 $$$$
Bar, theatre, gym, outdoor kitchen, pool, and a private dock
14 Guests
On the Venetian Islands, one mile from the Port of Miami
Glass walls, metal structures, and concrete beams dominate the exterior look of this modern mansion on the sea. So much so, that it almost looks like a work of art. The interior is equally as extravagant, boasting porcelain and oak floors across the open-concept living space. This is complemented by beautiful ocean and skyline views from every room of the house.
If you're here for the views, head up to the rooftop lounge for 360-degree vistas of the city. This might just be the best place to enjoy the Miami sunrise and sunset.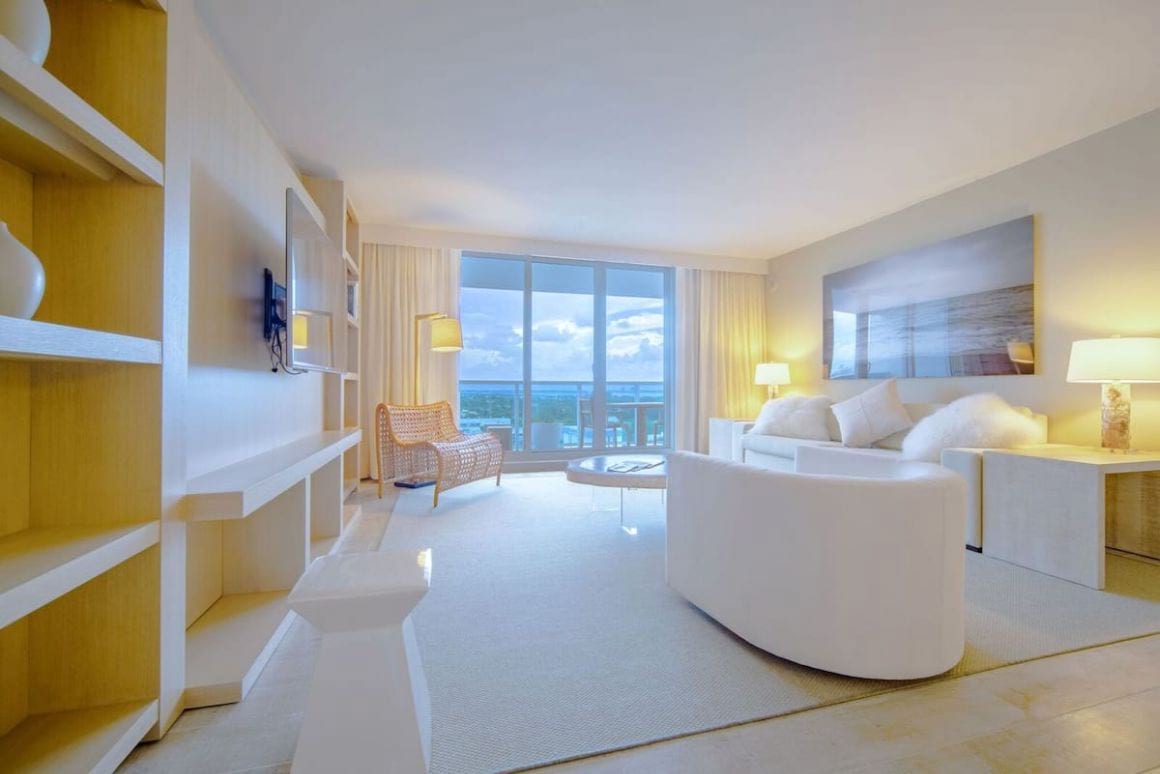 $
Corner condo with 180-degree views and neutral modern interiors
4 Guests
In the heart of Miami Beach surrounded by top restaurants, shops, and bars
Located in one of the most sought-after buildings on Miami Beach with direct and private beach access, this beautiful condo is no doubt one of the top beach vacation rentals in Miami. While the building's shared amenities speak for themselves, the private condo has been impeccably renovated using only calming colours and tones. 
Modern Perspex and raw wooden furniture balance perfectly with the white linens and warm lighting throughout the space. Better yet, this spot has incredible ocean views and is only a lift ride away from the beach.
Final Thoughts
A subtropical climate and miles worth of beaches make Miami a year-round coastal destination for all types of vacationers. As the third most wealthy city in the USA and the home of the largest Cuban population in the country, it's no wonder this city is scattered with awesome vacation rentals and cultural centres.
Miami is also home to some of the country's biggest and most visited sporting arenas, having hosted the Superbowl over 10 times! Whether you're after a relaxing beach vacation, a holiday experiencing Cuban culture, or a party adventure exploring the top nightclubs and bars, you'll be pleasantly surprised by how much Miami has to offer.   
And don't forget to take out Travel Insurance for your trip! I have been using World Nomads for some time now and made a few claims over the years. They're easy to use, professional and relatively affordable. They may also let you buy or extend a policy once you've started your trip and are already abroad which is super handy.
If there's one insurance company I trust, it's World Nomads. To find out why I use World Nomads, check out my World Nomads Insurance review.
Getting an estimate from World Nomads is simple—just click the button or image below, fill out the necessary info, and you're on your way!

---
Find out how YOU can support the site.
We're a big site with a big team and this job isn't always easy. But we do it because we love it – we love providing epic and free content. We love the knowledge that our content keeps you adventuring. We don't ask for money, but if you'd like to find out how you can help the site in more organic ways, click the button below.
Thank you for your support 🙂
And for transparency's sake, please know that some of the links in our content are affiliate links. That means that if you book your accommodation, buy your gear, or sort your insurance through our link, we earn a small commission (at no extra cost to you). That said, we only link to the gear we trust and never recommend services we don't believe are up to scratch. Again, thank you!