Who doesn't want to take a trip to the 305?
The sun, glam and parties you'll find in America's most magical city are even better than they're made out to be – but so are the prices. In the 5 years I spent living in Miami, I encountered just about everything from cheap hostels to weekend pool parties at see and be scene hotels.
But the city (which IS in fact more than just South Beach) has a lot more to offer as far as accommodation is concerned – yes you have 5-star resorts BUT there are also unique Airbnbs, private pool villas, and even entire homes if you're willing to head into the suburbs a bit.
Basically, you won't be short of options when deciding where to stay in Miami – a fact that can be a bit daunting. I still remember trying to book my first stay in the city back in 2014, and I certainly could have done a whole lot better looking back.
So to help YOU score your dream spot for your Miami trip, Im going to walk you through the very best areas of the city to base yourself in, based on your specific travel style.
Vamos!
Traveling to Miami? These are the overall best places to stay in the city:
This incredible hotel is located across from Biscayne Bay in Brickell and features 5-star luxury all around. Enjoy the two stunning outdoor pools and hot tub, soak in the sauna or enjoy the state-of-the-art fitness room. The service, quality of the rooms, and on-location bar and restaurant seal the deal: While it's not cheap, this is truly the best hotel in Miami.
The best Airbnb in Miami is the best for a reason: it just ticks every box! Start your vacation in a modern beachfront studio apartment in Miami Beach, complete with 180-degree ocean views of the crystal clear water AND free parking. The apartment features a king-size bed and complimentary WiFi. If you want to stay in one of the best Airbnbs in Miami Beach, look no further than this one!
With a prime South Beach location and great vibes all around, Generator Miami is without a doubt the best hostel in Miami. Located only a few minutes from the beach, this hostel is also close to all of South Beach's top shops, bars, clubs, and restaurants. You can stay in dorms or private rooms. A light breakfast is included and, furthermore, this hostel boasts not one but two restaurants AND a pool!
Miami is the largest city in Florida. It boasts a rich history and diverse cultural heritage and is home to one of the largest Spanish-speaking populations in the US, and those influences can be seen throughout the city.
There are more than 25 neighborhoods in the Miami area. Each offers visitors a diverse selection of attractions and activities. To get a good feel for the city, you should definitely add more than one to your Miami itinerary.
Starting at the heart of Miami, you have Downtown. The commercial, cultural, and financial center of the city, Downtown Miami is where you'll find flashy skyscrapers, interesting museums, unique art galleries, and plenty of history.
South of Downtown is the up-and-coming neighborhood of Brickell. A favorite local spot, this neighborhood is packed with fantastic shops and incredible restaurants.
Travel east across the McArthur Causeway and you'll arrive in Miami Beach and, more specifically, South Beach. Arguably the liveliest and most famous place in Miami, this is where to stay if you're looking for great beaches. If you're looking for a good time, there are many things to do in Miami Beach and it's also where you'll find Miami's party hostels.
Head back south through the city to find Key Biscayne, one of Miami's hidden gems that most tourists never see. One of the greenest areas of the city, this island paradise is packed with family-friendly activities and stunning, natural beaches.
Let's take a look at the five best neighborhoods to stay in Miami. Each is different from the last, so be sure to choose the one that's right for you.
1. Downtown – Where to Stay in Miami for Your First Visit
Downtown is the commercial and financial center of the city. It is a generally busy area that is jam-packed with businesses, restaurants, shops, and entertainment venues. If you're into electronic music, Club Space is in Downtown Miami and shouldn't be missed, especially if they happen to have a big event.
But that's not all there is in Downtown Miami. This area of the city is also where you'll find its core cultural institutions including world-class art galleries and renowned museums. With so much going on, it's the perfect place to stay for your first time in Miami. It's also the area closest to Miami International Airport and the American Airlines Arena.
Downtown Miami is also home to trendy Wynwood. Bursting with creative vibes, cool bars and cafes, and delicious restaurants, Wynwood is the best place in Miami to simply wander the streets and take it all in. You can also check out Little Havana, where you can find authentic Cuban food, coffee, and vibes. Don't miss out on Azucar Ice Cream–it's truly delicious.
A fantastic location, elegant décor, and luxurious rooms are just a few of the reasons this is my top pick for where to stay in Downtown Miami. This hotel boasts a fitness center, swimming pool, and a stylish on-site bar.
It is close to well-known attractions and is within walking distance of a few of Miami's hottest clubs.
This impeccably designed Miami studio is the perfect place to stay Downtown. You'll be close to the famous Bayfront Park, and just about anywhere else you want to go is accessible by public transport or Uber. As Downtown is situated perfectly in between numerous Miami attractions, this is ideal for those looking for a well-rounded trip. Aside from the colorful decor, the 5-star-rated high-rise has both city and ocean views, plus access to an iconic rooftop pool.
You can never do wrong with a bit of luxury. In this case, it's a lot of luxury! This stunning apartment offers the absolute best views of the ocean and the bay. Sleeping 4 people, it's the perfect spot to bring some friends with you on your first Miami visit. You can use all of the facilities that the building offers. While it'll be hard to leave this stunning condo, rest assured that you'll be practically within walking distance of some of Miami's top attractions.
Things to See and Do in Downtown Miami
c from a boat!
Stroll around Bayfront Park
Check out modern and contemporary art at the Institute of Contemporary Art
Take a Big Bus Tour around the city
Experience an Opera at the Florida Grand Opera
Party until sunrise at Club Space
2. Miami Beach – Best Place to Stay in Miami on a Budget
There's no neighborhood in Miami that is more quintessentially "Miami" than Miami Beach. This small barrier island just east of downtown is packed with things to do and see, such as art deco architecture, swaying palm trees, neon lights, and glitzy clubs.
It's also the top choice if you're on a budget. It's here where you can find Miami vacation rentals that don't cost an arm and a leg, though those options are certainly available if you need them.
Staying in Miami can be a challenge if you're on a budget. While you can find some cheap motels in Miami along with some cool backpacker hostels in Miami, most accommodation is NOT easy on the wallet.
That's why I recommend Miami Beach to anyone looking to save a bit of money. Here you can actually find double-digit nightly stays and a few amazing Miami bed and breakfasts – all perfect for keeping the cash in your pockets.
You can also check out some of the amazing (and less touristy) seaside near North Miami Beach. Miami's North Beach is a lot quieter and more relaxing than the South, so it's ideal for couples and families looking to escape the nightlife.
This modern hotel is the epitome of Miami-chic. Each room is bright and airy and features comfortable beds and modern amenities.
This four-star property comes complete with an outdoor swimming pool, fitness facilities, and a helpful and knowledgeable staff. It also has a fantastic restaurant open for breakfast, lunch, and dinner.
Fall in love with this modern-style beachfront studio apartment in North Miami Beach, one of the many iconic Florida Airbnb listings to choose from.

Boasting 180-degree ocean views of crystal clear water and free parking, this apartment also features a king-size bed and high-speed WiFI. Not only will you be steps from the beach, but you'll also have access to an on-site pool, and the hosts provide free
beach chairs and snorkeling gear as well!
The Generator Miami is the best hostel in Miami Beach, hands down. Located at the center of this vibrant and lively district, this party hostel is close to South Beach, shops, bars, clubs, and restaurants. A light breakfast is included and this hostel boasts not one but two restaurants!
Things to See and Do in Miami Beach
Spend a day at North Beach Oceanside Park
Take a salsa dance lesson
Swim in your birthday suit at Haulover's Nude Beach
Explore Mid Beach
Party the night away at LIV
Stroll around the Miami Beach Botanical Garden
3. South Beach – Best Place to Stay in Miami for Nightlife
South Beach is one of the most famous neighborhoods not just in Miami, but in the United States. Renowned throughout the country, South Beach is the city's dedicated nightlife area with plenty of bars, restaurants, clubs, bistros, and hip hangouts.
SoBe is where you'll find Miami's young, rich and famous partying almost every day of the week at the area's famous clubs and bars. The nightlife here is so incredible and abundant you'll never have to question what to do.
Whether you want to dance until sunrise or enjoy custom cocktails on a rooftop patio, South Beach has it all.
Best Hotel in South Beach: 1 Hotel
This top-rated luxury hotel in South Beach may not be budget-friendly, but it's truly worth every dollar you pay. The hotel is a 2-minute walk from the beach and features a jaw-droppingly gorgeous rooftop pool that rivals all others in the neighborhood.
As if that wasn't enough, 1 Hotel has three other pools and a fitness center to keep you busy, as well as snack and beverage bars. Aside from being right on the beach and near all of South Beach's top attractions, you'll be in for world-class comfort and service, too.
This stunning and bright one-bedroom apartment features a trendy, modern interior unlike any other Airbnb in South Beach. Located near the famous Lincoln Road, you'll be close to the goings on as well as being steps away from the beach. You'll also be able to enjoy the apartment's beach equipment and relish its central location near to some of the best things to do in Miami.
The title says it already, this amazing apartment is located on Ocean Drive, just steps from the beach, in the heart of all the action and nightlife of South Beach. The luxury home offers all high-quality amenities that you might need during your stay, including a high-end kitchen, AC, and a massive satellite flatscreen TV – perfect to cure those hangover days!
Best Hostel in South Beach: Viajero Miami
Looking to save some cash by staying at a top-rated hostel in Miami? Look no further than Viajero–located in the heart of SoBe, Viajero is barely a block from the beach and features an artsy design, free tea/coffee, and a pool.
You'll find yourself smack in the middle of all South Beach has to offer, with dozens of restaurants and bars just seconds away, AND an on-site bar too! You can choose from 4, 6, or 8-bed dorms OR splurge a bit on a private room. The hostel also has a library/coworking
space for anyone living the digital nomad life.
Things to See and Do in South Beach
Go on a South Beach food tour
Take a trip up to North Beach for a more relaxing escape
Party it up at 8th Street Beach
Watch a dance show at the Miami City Ballet
4. Brickell – Coolest Neighborhood in Miami
Tucked away south of Downtown is Brickell, one of Miami's trendiest and happening hot spots. With plenty of places to eat, party, chill, and shop, it's no surprise that Brickell is the coolest neighborhood in Miami.
Brickell is a place that appears buttoned at first glance because it's home to a variety of financial institutions and commercial enterprises. But scratch the surface and you'll quickly realize that this often-overlooked area is one of the coolest neighborhoods in Miami with its independent boutiques and rustic bars.
Love to eat? In Brickell, you'll find the best restaurants in Miami. From chic bistros and upscale fine dining to rooftop patios and charming kitchens, Brickell is where you can tease your taste buds and enjoy unique flavors from cuisines from around the world. It's also right on Biscayne Bay, which means turquoise-colored views all around and easy access to Key Biscayne's amazing beaches.
This top-rated hotel isn't just the best in Brickell, but one of the best luxury hotels in all of Miami. While the Mandarin is centrally located to all of Brickell's top attractions, you might not want to leave once you see its incredible pool and 5-star luxury spa services. The comfort and cleanliness couldn't be better, and you can even enjoy delicious food and drinks at their bar & restaurant.
Relax and unwind in the heart of Brickell at one of the top Airbnbs in Miami. This large, airy condo features a stunning ocean view from the balcony, wide-open spaces, and a jacuzzi AND a pool to enjoy. You'll also get to avail super-high-speed internet, 4k SMART TVs with cable, a rain shower head, and plenty of more amenities right near the hottest Brickell eateries and attractions.
Welcome to the world of Miami VRBOs, an Airbnb competitor with fantastic condos like this one – a 1400 sq foot luxury space with incredible views of the Atlantic Ocean. The two-bedroom, two-bathroom listing has three beds which means it can comfortably sleep up to four guests. Head out to the massive outdoor pool to start or end your day, and even enjoy an iconic in ground hot tub. Location, unsurprisingly, is also fantastic – the very best of Brickell is steps away, as is public transport and of course, Uber.
Things to See and Do in Brickell
Shop at the Brickell City Center
Paddleboard through Brickell's city lights after dark
Walk around Brickell Key
Grab a snack at Mary Brickell Village
Have brunch at American Social
Enjoy happy hour at The Wharf
5. Key Biscayne – Best Place to Stay in Miami for Families
Key Biscayne is the Best Place to Stay in Miami for Families as it's noted for its verdant nature, pristine beaches, and its relaxed, and laid-back attitude. It's one of the best locations to stay in Miami for those who just want to escape the feeling of the city. It's also the ideal place to rent a boat in Miami for a day–nothing beats the waters around the Key!
Key Biscayne is the perfect place to stay in Miami with kids as it's one of the greenest neighborhoods in the city. Not only are there numerous stunning beaches to choose from, but you'll also find many tropical forests, mangroves, and parks nearby. It's also one of the safest places in Miami, and very close to one of the city's most beautiful suburbs, Coconut Grove.
This incredibly luxurious Miami hotel is no doubt the top place to stay on Key Biscayne, but it might even be one of the nicest accommodations in the city. You'll feel far away from one of busiest cities while staying here, on a massive resort with its own private beach and an elaborate arrangement of swimming pools. Their on-site restaurant is fabulous – I particularly loved the key lime pie and baked mac and cheese if they still have them!
This stunning modern one-bedroom apartment is impeccably clean and provides private access to the Key Biscayne Beach Club. The club is within walking distance, and you can also cool off in the property's very own infinity-style pool. The host also offers golf club rentals for a true island vibe, though many Key Biscayne attractions (including restaurants) are also walkable.
Things to See and Do in Key Biscayne
Go on an epic 17 mile cycle tour
See the historic Cape Florida lighthouse
Spend a whole day under the palm trees at Crandon Park
Watch the sunset at Hobie Beach
Enjoy incredibly fresh sushi at Kazumi
When you're setting on to Miami, make sure you've got your travel insurance sorted before you go. Healthcare certainly is not cheap in this city!
ALWAYS sort out your backpacker insurance before your trip. There's plenty to choose from in that department, but a good place to start is Safety Wing.
They offer month-to-month payments, no lock-in contracts, and require absolutely no itineraries: that's the exact kind of insurance long-term travellers and digital nomads need.
SafetyWing is cheap, easy, and admin-free: just sign up lickety-split so you can get back to it!
Click the button below to learn more about SafetyWing's setup or read our insider review for the full tasty scoop.
Here's what people usually ask about the areas of Miami and where to stay.
What is the safest area of Miami to stay in?
The safest area of Miami to stay in is definitely Key Biscayne. This laid-back beach neighborhood is actually on its own "key" and is attached to the Miami mainland by a bridge. It's quiet, relaxed, and has the chillest stretches of sand in the city.
Alternatively, Coral Gables, which is about 40 minutes from South Beach, is a lovely residential area that I loved living in when I was studying there.
What are the best hotels in Miami?
I'd say the very best hotels in Miami are:
Is it better to stay in South Beach or Miami Beach?
I'd say it all depends on your preferences. If you're in Miami to party, South Beach is definitely where it's at – this is where all the most famous beaches, bars and restaurants are. BUT, if you're seeking a more relaxed Miami vacation, Miami Beach (particularly Mid-Beach and North Beach) is where it's at.
Where to stay in Miami if you don't have a car?
If you don't have a car, I'd say you should either opt to stay in Brickell or South Beach as so many things will be within walking distance. Not having a car rental in Miami isn't a issue though – I didn't have a car for 3 years that I lived in the city and got by just fine with Uber and Lyft.
What hotels are right on the beach in South Beach Miami?
These fantastic Miami hotels are right on South Beach, making them the best option if you want your trip to be all about sun, ocean and sand.
Wild parties, a rich history, incredible nature and stunning views – Miami has so much to offer travelers. It's no wonder that this southern Florida city is one of the most famous – and most visited – cities in the United States.
I lived in a few different places in the 305, and if you're even a bit of a beach lover, the answer to where to stay in Miami is definitely…
South Beach.
Its iconic turquoise waters, unique architecture, and thriving nightlife scenes are sure to be a hit, especially if you're coming from the cold. Otherwise, you can't go wrong with Brickell or Downtown, both of which will give you easy access to just about everywhere.
So what are you waiting for? Book your Miami accommodation (and ticket!) today!
Last Updated July 2023 by Samantha Shea from Intentional Detours
---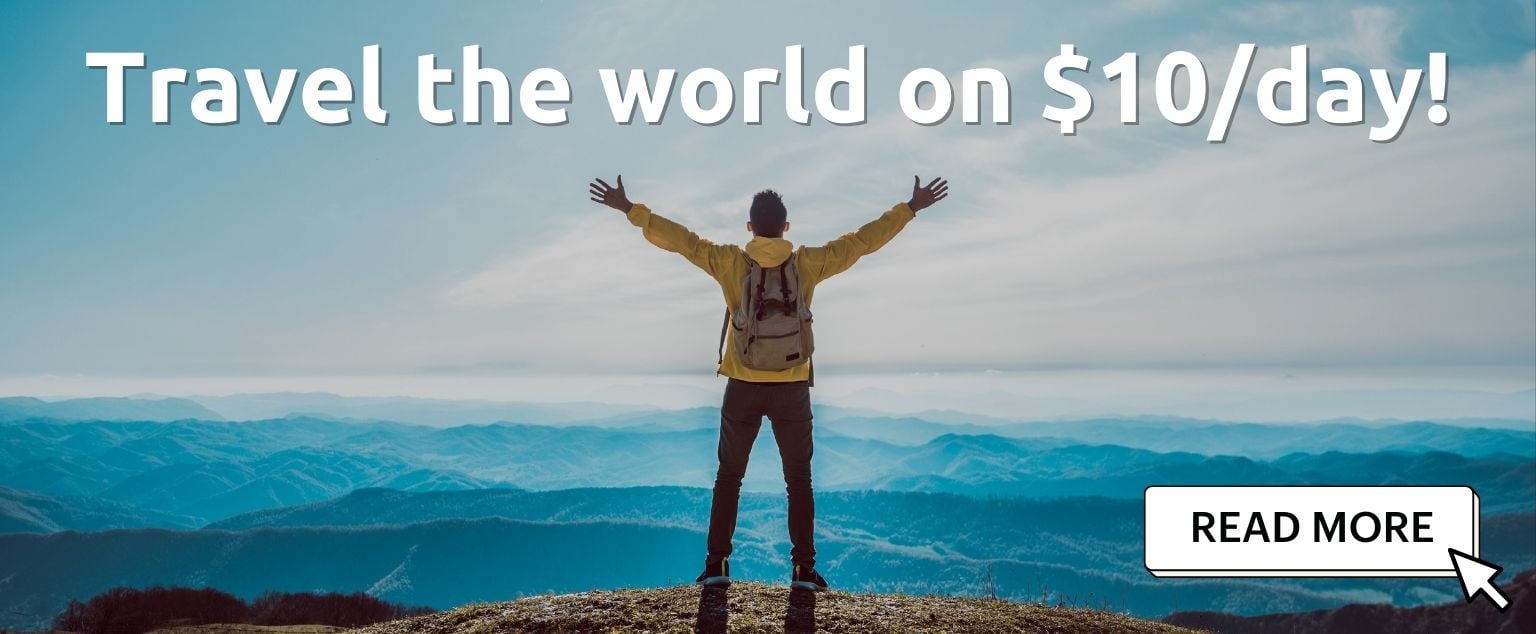 And for transparency's sake, please know that some of the links in our content are affiliate links. That means that if you book your accommodation, buy your gear, or sort your insurance through our link, we earn a small commission (at no extra cost to you). That said, we only link to the gear we trust and never recommend services we don't believe are up to scratch. Again, thank you!