With a history stretching back over 1,000 years, Prague is a magical historic city in the center of Europe. Its hidden courtyards, winding cobbled lanes, and whimsical medieval architecture appears to have sprung from the pages of a fairytale. Giving it an otherworldly charm that enchants those who visit.
But the city offers more than just historical whimsy and beautiful buildings. It's home to incredible nightlife, delicious food, endless artistic and cultural wonders, and some of the best beer on the planet! And Prague is comfortably small, making it a perfect city to explore on foot.
Fortunately, it also happens to offer a winning selection of Airbnbs. With endless options in a variety of shapes and sizes, finding an Airbnb in Prague that suits you won't be hard. Whether you're wanting a simple bed to rest your head or a glamorous space for a luxury stay, there's something on offer for you!
We've whittled down the options to a selection of the absolute best Airbnb vacation rentals in Prague, to ensure that you're in for a comfortable and enjoyable stay.
In a Hurry? Here's Where to Stay in Prague for One Night
First Time in Prague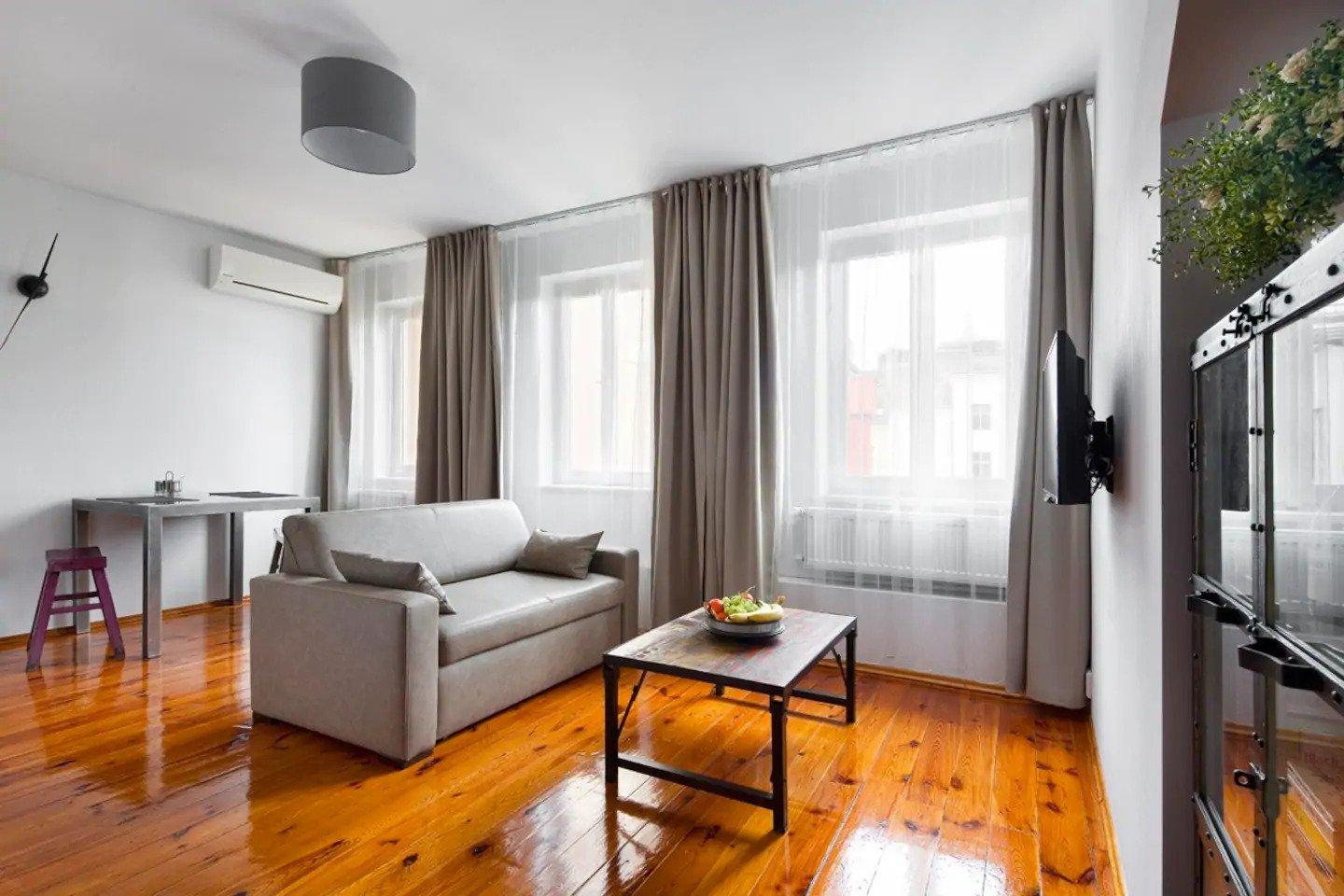 Newly Refurbished Studio
Nestled in the heart of Vinohrady, this sleek studio offers excellent value for money. The area is trendy, with all of the amenities, pubs, and restaurants one could want. And the Old Town is just a short walk away.
Places to Visit:
Wenceslas Square

Museum of Decorative Arts in Prague

Studio DVA divadlo
Is this amazing Prague Airbnb booked for your dates? We've got your back with our other favorite properties below!
Quick Answer: These are the Top 5 Airbnbs in Prague
Overall Best Value Airbnb in Prague

Overall Best Value Airbnb in Prague

Newly Refurbished Studio

>

$

>

2 Guests

>

Shared balcony

>

Quick transport to the city center

>

$

>

2 Guests

>

Shared balcony

>

Quick transport to the city center

VIEW ON AIRBNB

Best Budget Airbnb in Prague

Best Budget Airbnb in Prague

Cozy, Central Room for Two

>

$

>

2 Guests

>

Shared balcony

>

Quick transport to the city center

>

$

>

2 Guests

>

Shared balcony

>

Quick transport to the city center

VIEW ON AIRBNB

Best Short Term Rental for Couples

Best Short Term Rental for Couples

Colorful Old Town Apartment

>

$$$

>

2 Guests

>

Queen size bed

>

Central and romantic

>

$$$

>

2 Guests

>

Queen size bed

>

Central and romantic

VIEW ON AIRBNB

Best Airbnb in Prague for Families

Best Airbnb in Prague for Families

Spacious 5th Floor Apartment

>

$$$

>

5 Guests

>

Kids' books and toys

>

Spacious and central

>

$$$

>

5 Guests

>

Kids' books and toys

>

Spacious and central

VIEW ON AIRBNB

Over-the-Top Luxury Airbnb

Over-the-Top Luxury Airbnb

Spacious Flat with Rooftop Hot Tub

>

$$$$

>

14 Guests

>

Stunning rooftop hot tub

>

UNESCO heritage-listed building

>

$$$$

>

14 Guests

>

Stunning rooftop hot tub

>

UNESCO heritage-listed building

VIEW ON AIRBNB
What to Expect from Airbnbs in Prague
There are hundreds of cool Prague rentals available on Airbnb, each with its own unique style and attitude. And the options are wonderfully diverse.
In the market for a luxurious loft? An affordable private room? How about a historic townhouse, or a sleek apartment? Prague has something for you.
Airbnbs in Prague offer some great amenities. You'll come across properties with pool tables, hot tubs, saunas, rooftop decks, flat-screen TVs, and so much more!
Properties set in old buildings are particularly common. Some of them have histories stretching back several hundred years, making your stay even more in tune with the city's past.
The majority of Prague Airbnbs are also in amazing locations for exploring the city on foot. And in the cases where they're a little further from the actions, they're often well-connected to the heart of the city by public transport!
Here are some of our favorite types of Airbnbs in Prague.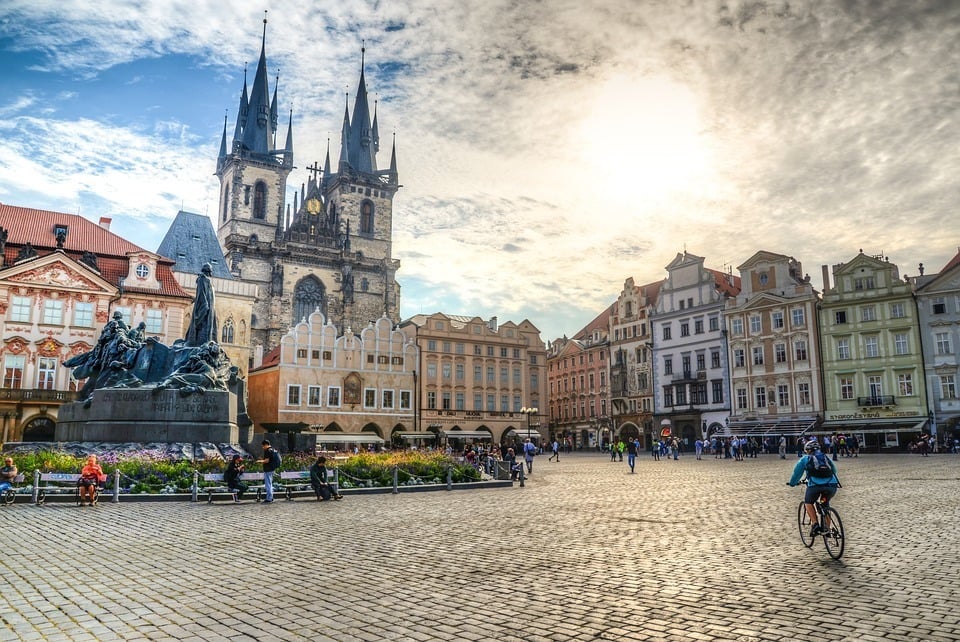 By far the most abundant type of accommodation in Prague is the classic private flat. Private flats on Airbnb are apartments that you have all to yourself – no sharing of kitchens, bathrooms, or living spaces with strangers. Just you and your travel buddies in your own space!
Booking a private apartment in Prague is ideal for travelers who appreciate privacy. But considering the diverse range of flats available in the city, there are plenty of options to suit all kinds of travelers.
Looking for a quaint studio for two? You got it. What about a family-friendly flat for four? Sure! You can even find apartments that house over 10 guests and offer indulgent extras like pool tables and saunas. So no matter your tastes, preferences, or group size, there's a private apartment in Prague for you.
We think the best place to rent an entire apartment in Prague is the New Town. You'll find more options here than in the Old Town, and generally for a better price. The heart of Old Town is also within walking distance from pretty much everywhere in New Town!
The area's name may lead you to think that it's all modern buildings with no character. But the New Town district actually dates back to 1348, built as an expansion to the already-existing Old Town. And it's home to plenty of historic buildings! Not to mention a plethora of bars, restaurants, shopping destinations, and entertainment options.
VIEW ON AIRBNB
Renting a private room in a homestay means staying in the home of a local Praguer. This can come in particularly useful when planning your days. The locals tend to hold a wealth of insider knowledge about the city which they'll be happy to pass onto you!
Private rooms in Prague allow you the seclusion of your own bedroom, as well as the social element that comes with staying in someone's home. They're ideal if you value having contact with a local, or if you're traveling on a budget and want to save some money. Generally, they're best suited to couples or solo travelers rather than groups or families.
Rooms range from sleek and elegant to quirky and exotic – reflecting the colorful personalities of the city's residents. So you can dive right into local life and get a real taste of Prague! You might find yourself staying in a plant-peppered apartment, a loft with exposed woodwork, or a boujee townhouse fitted with chandeliers. The possibilities are endless!
One of the main perks of opting for a private room is that it tends to be more affordable than renting out an entire place. So take advantage of this fact and stay somewhere in the otherwise pricey Old Town! If you're saving by renting just a room, it can actually be pretty affordable. And it's unarguably the city's dream destination.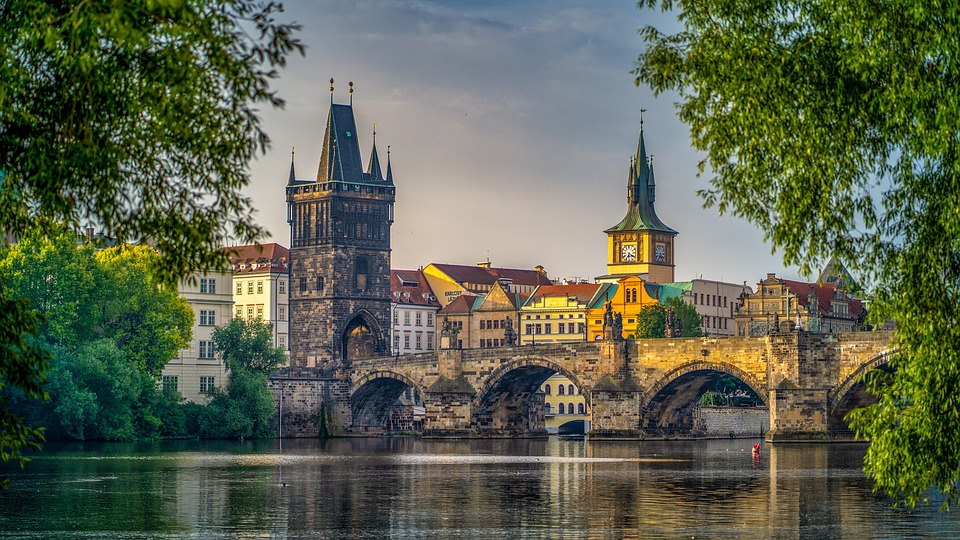 'But aren't Airbnbs different from hotels?' we hear you ask. And you're right, they are. But Airbnb has changed a lot since its earliest days, and they now allow certain boutique hotels, guesthouses, and BnBs to sign up to the platform – but with very strict standards.
All hotels that are displayed on Airbnb have to be unique, with an independent environment and style. They should have vibrant common areas, and each room is required to have personal touches with a local flare. Absolutely no mass-market chains are allowed!
Boutique hotels in Prague are quaint by definition. They tend to have just a few dozen rooms at most and always have a unique character. Booking one for your stay will provide an experience that's somewhere between that of a hotel and a typical Airbnb. Perfect for those who want a unique stay as well as hotel comforts.
You get all the serviced perks of a hotel, such as a front desk, room cleaning, and daily Czech-style breakfast. This, in addition to a unique atmosphere with local touches and heaps of individuality.
Airbnb's Boutique hotel rooms in Prague come in a variety of flavors. After something simple and modern? No problem. Or would you prefer to stay in a historic building with vintage stylings? The city has those too!
Many of the best boutique hotels in Prague are hidden among the winding streets of the Old Town. But for more options, look across the river to Mala Strana.
Why Stay in an Airbnb
There is an endless list of reasons why staying in an Airbnb in Prague is a great option. We've summarised the best ones below.
Affordability: In the majority of cases, booking a quality Airbnb is cheaper than booking a quality hotel. So opt for an Airbnb and spend money on experiences in the city, rather than splurging on a snazzy hotel room.
Unique Properties: It's no secret that hotel rooms tend to lack a sense of individuality and authenticity. They're all the same, really. Prague Airbnbs are all different, each with personal local touches and quirky details. The variety and authenticity are refreshing, shaking up your travel experience and adding some local flavors.
Local Experience: On most occasions, renting an Airbnb in Prague means staying in the home of a local. Or having communication with a local at the very least. They're usually happy to share local tips and insider info, which you can soak up to enhance your trip!
Privacy: Some travelers just want a quiet spot where they can get away from everything and everyone after a day of exploring the city. Airbnb allows you to filter for entire places, so you can enjoy some seclusion. And you can opt for a place with self-check-in to avoid contact entirely!
Staying Long-Term: If you're planning a longer stay in Prague, Airbnb is certainly your best option. Long stays are accepted and often rewarded on the platform! Many hosts set up monthly or weekly discounts to keep things simple, making it possible for you to save even more money.
Safety: You can relax in peace and comfort knowing that Airbnb takes customer safety very seriously. They carefully vet every host that signs up, and their customer support is available around the clock in case any problems or questions arise. And they'll even find you new accommodation if worst comes to worst, so you can stay safe during your trip!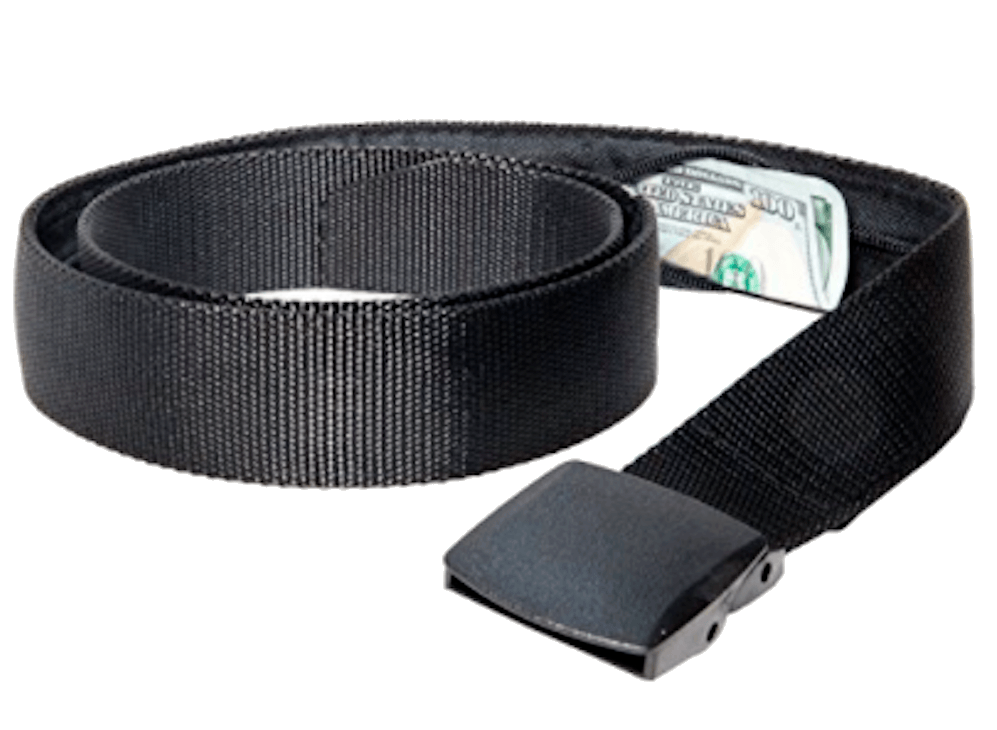 You should always have emergency cash hidden on you - Pick up this awesome security belt with hidden pockets before you travel. It's perfect for hiding money and a passport photocopy.
The 15 Top Airbnbs in Prague
Ok, enough chatter. You're here to find the best Airbnb in Prague, so here's a full breakdown of our top 15 picks.
These are the best vacation rentals Prague has to offer!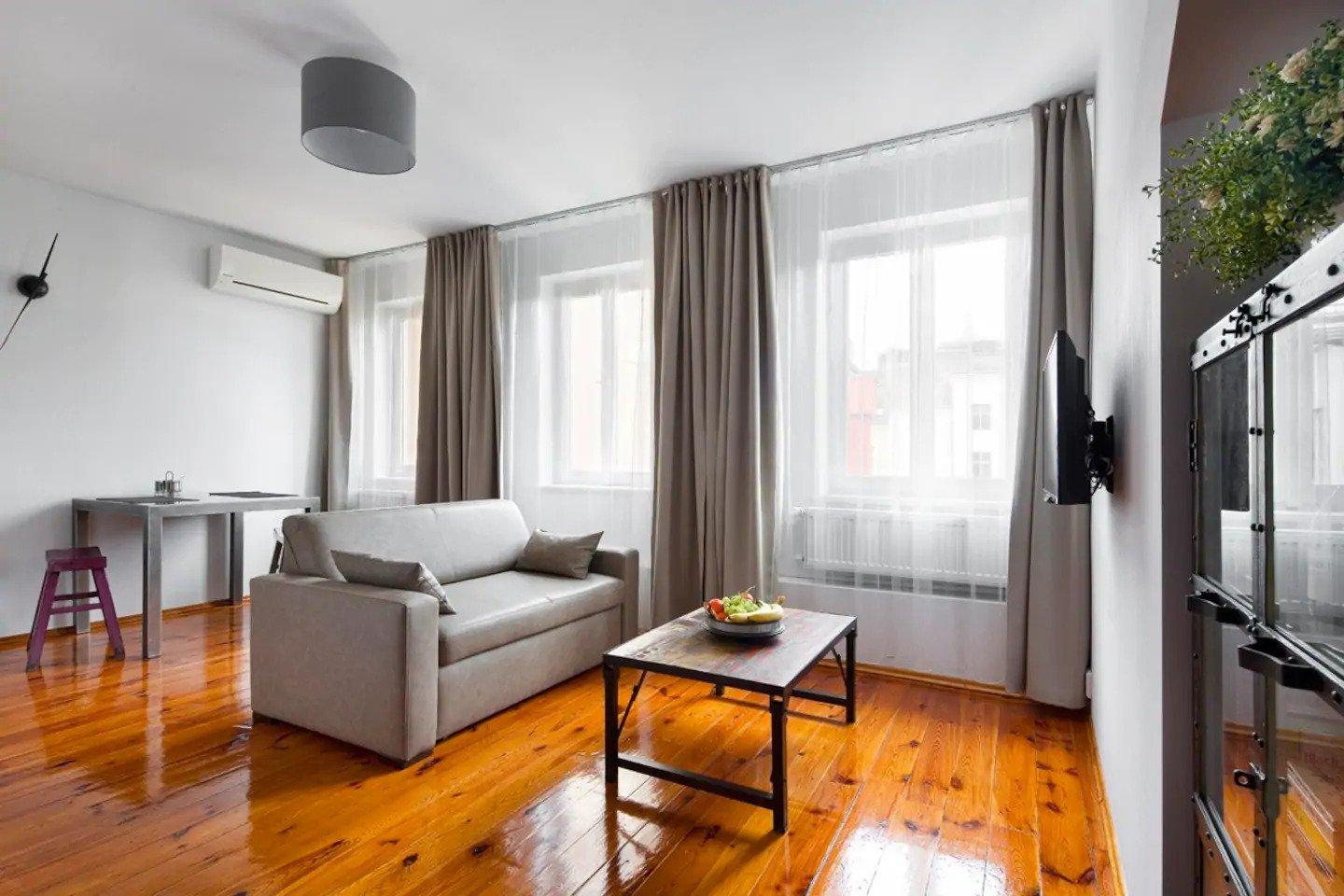 $$
2 Guests
Attractive exposed woodwork
Well-priced for the area
This open-plan studio apartment is bright and airy while still being cozy and charming. It offers a well-designed space which includes a double bed and a sofa bed, so you can camp out in front of the TV or have a 3rd guest (best for a child).
If you're not wanting to take advantage of the fully-equipped kitchen, you can take a short walk to Cafe Svaleho Vaclava for dinner, or head to Zombie Bar for a cocktail.
$
2 Guests
Shared balcony
Quick transport to the city center
You're traveling to Prague on a budget and you just want a simple place to rest your head. You prefer saving your cash for exploring a city, rather than splashing on accommodation. This private room in a shared flat is for you.
Wake up with a cup of coffee on the balcony before grabbing a 10-minute bus or metro into town. After a day of exploring the sights, cook up some food on the cheap in the shared kitchen. Then flop onto the comfortable sofa bed for some quality shut-eye.
This place is in the trendy, central Holesovice district, near to many attractions like Prague Market, Jatka Theatre, and Letna Park.
$$
2 Guests
Big TV
Luggage drop-off is allowed
Solo travelers should be on the hunt for something central and relatively affordable, as you won't be splitting the cost with anyone. This compact attic apartment ticks these boxes and more.
There's a big flatscreen TV to keep you entertained if you get lonely, and a cozy mezzanine bedroom that will make you feel snug and secure. Spread out on the queen size bed or hang out on the shared terrace to meet neighbors.
Žižkov is a student-laden area with plenty of pubs where you can share a drink or three with friendly locals. And Old Prague is right next door.
$$$
2 Guests
Queen size bed
Central and romantic
The fairytale buildings, the winding cobbled lanes, the river, and the twinkling lights. Prague is a romantic city, no doubt. Perhaps you and your partner want to kick it up a notch by booking a stunning, romantic apartment to share a special few days?
Cook some dinner together in the full kitchen, cuddle up on the couch with a movie, share a bottle of wine, and make the most of the queen size bed! It's arguably the best Airbnb Prague Old Town has to offer, with the city's best sights and attractions at your door. And it's certainly our favorite for couples.
The Best Travel Backpack?!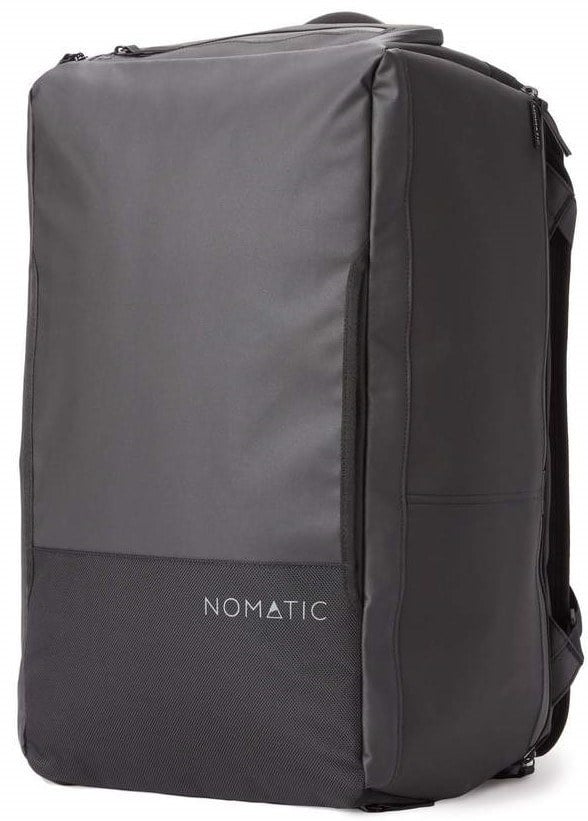 Pssssst! Not picked the perfect travel backpack yet? The Broke Backpacker team has tried out over thirty backpacks this year! Our favourite carry on backpack is the Nomatic Travel Bag.
Read our full review!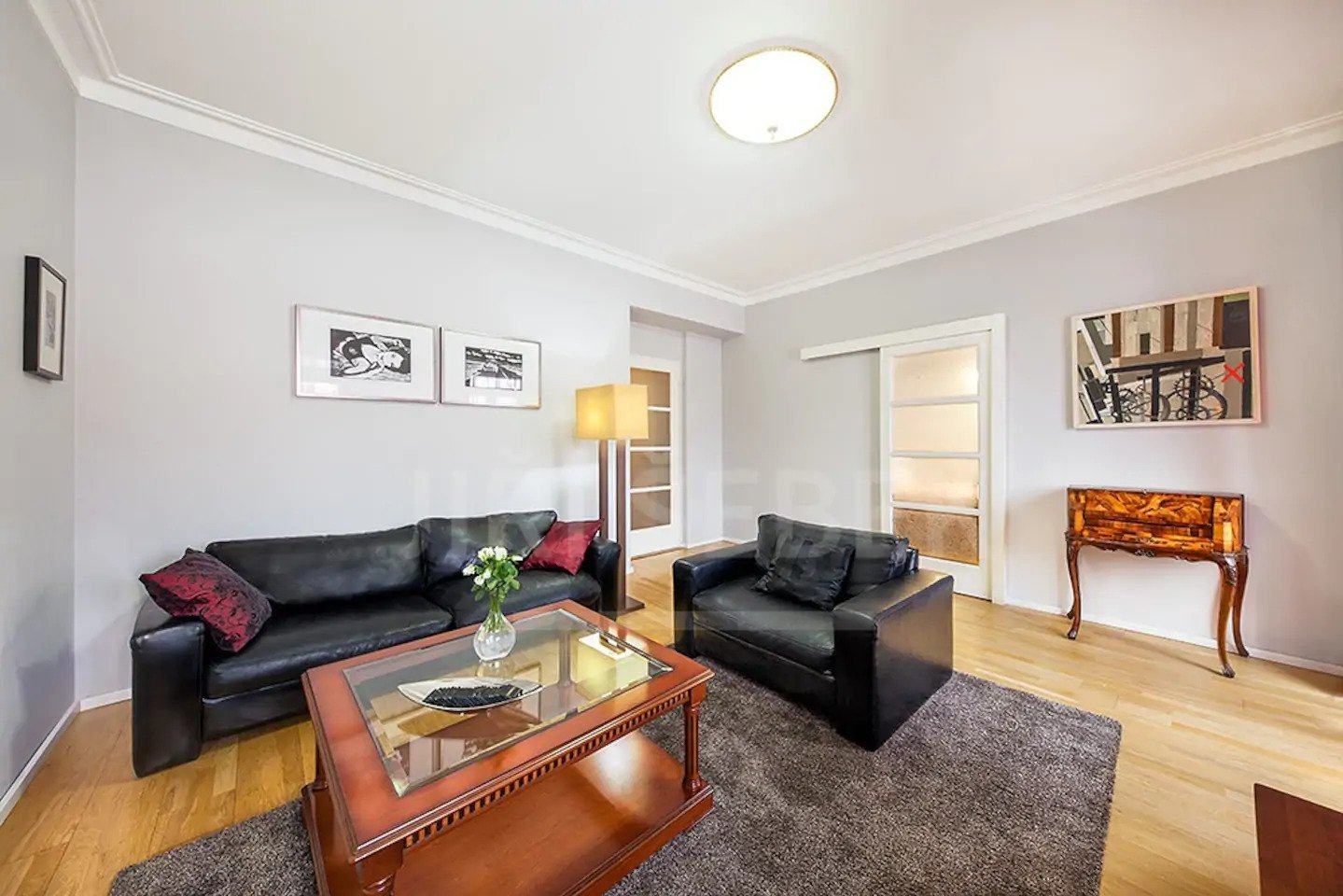 $$$
5 Guests
Kids' books and toys
Spacious and central
Treating the family to a holiday? This apartment in the heart of the city is the best Airbnb in Prague for you! Sink into the queen-size bed in a central location, ideal for sightseeing, entertainment, and meals out.
The place is loaded with family-friendly features and amenities, including a high chair, plug socket covers, a bathtub, and a cot for those with little ones. There are even kids' books and toys to keep them entertained while you kick back with a glass of red on the terrace!
VIEW ON AIRBNB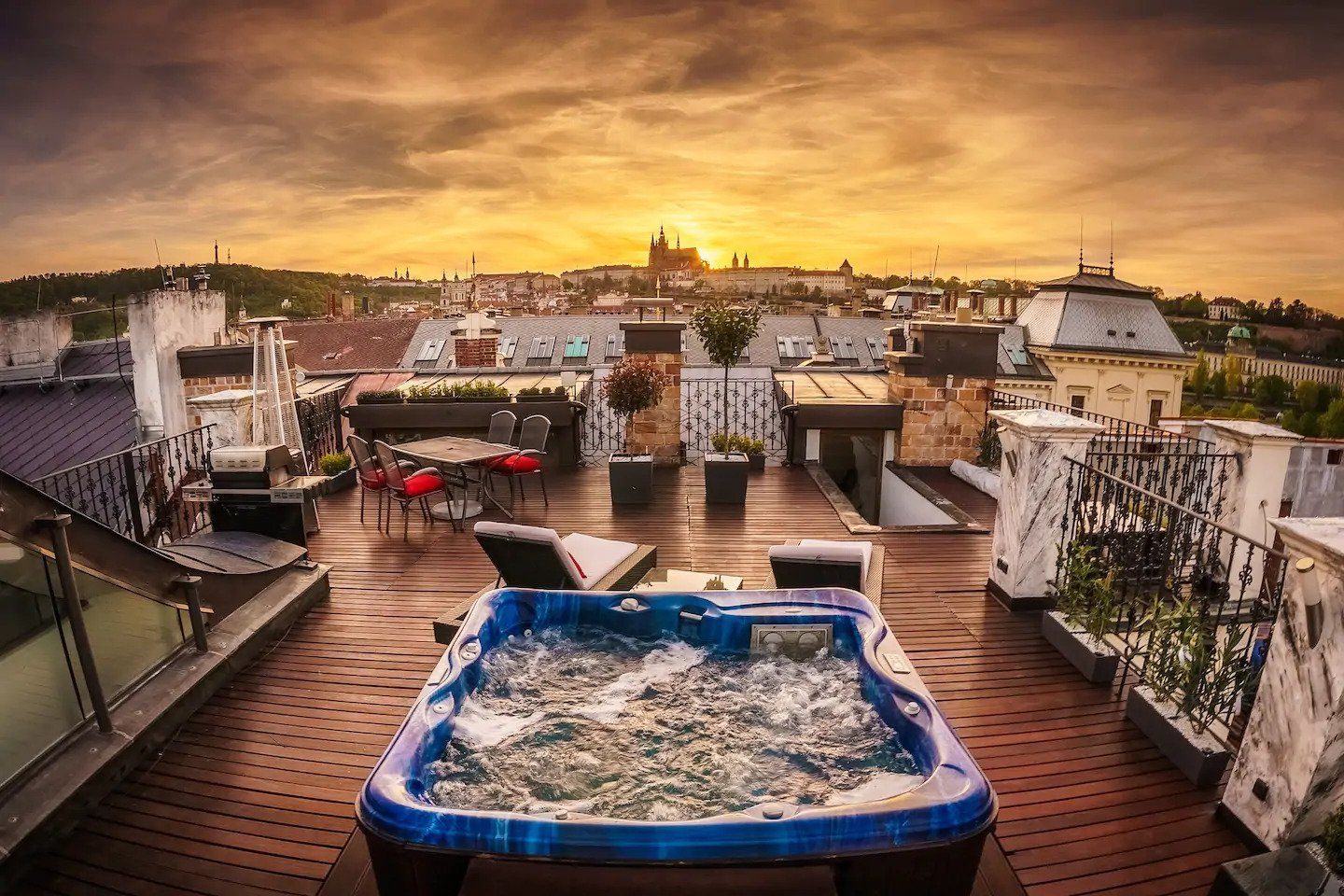 $$$$
14 Guests
Stunning rooftop hot tub
UNESCO heritage-listed building
Once in a blue moon, on rare and treasured occasions, it's good for the soul to splash on something truly special. And few things are as special as soaking in a rooftop hot tub with views over Old Town Prague.
This three-story masterpiece of an apartment was originally built in the 14th century, and recently refurbished by a renowned design studio. It couldn't be more central.
Modern comforts and sleek design elements are strewn throughout, but glimpses of the building's history are preserved as well. We think it's the finest Airbnb Prague has to offer!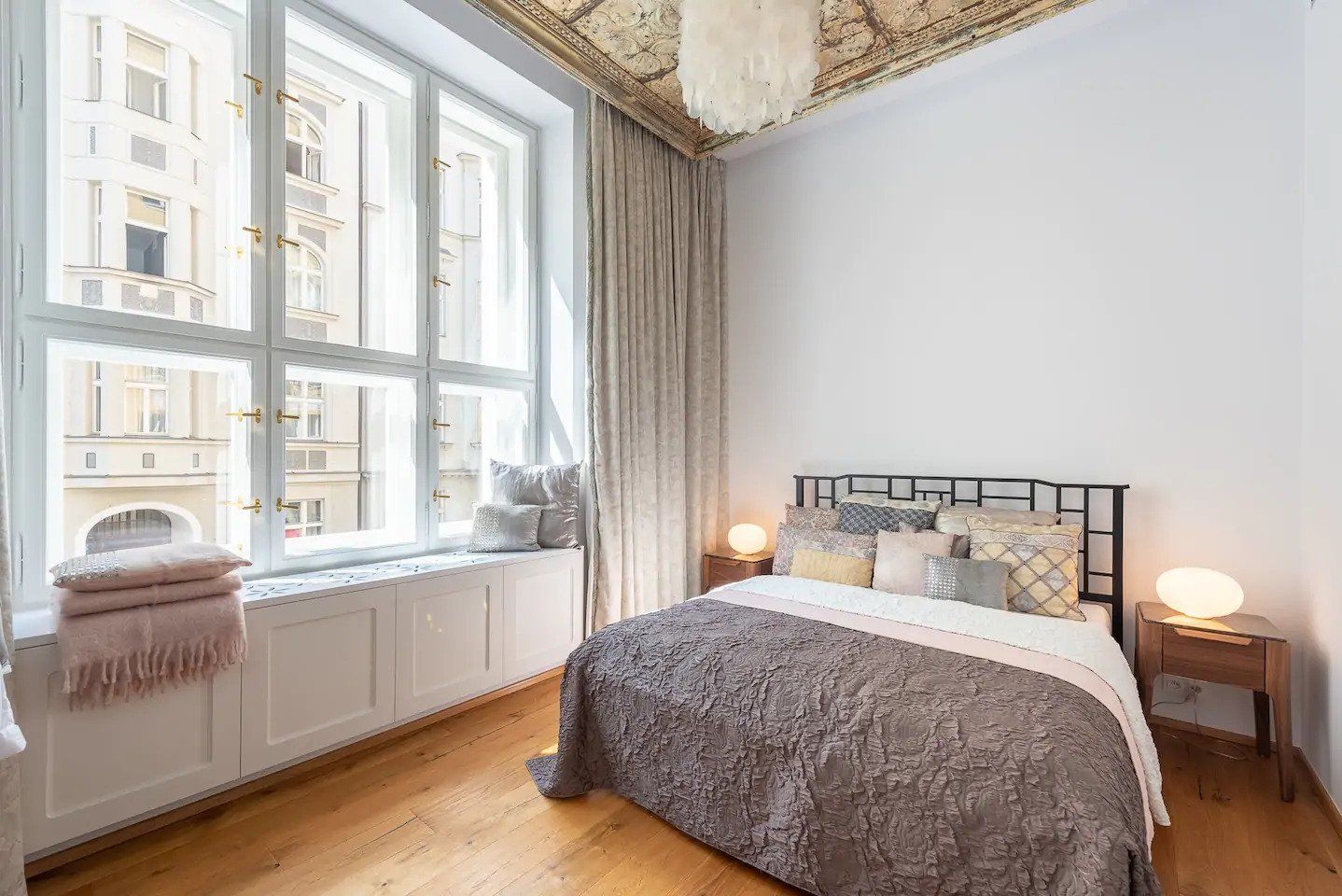 $$
4 Guests
Free parking spot nearby
A short stroll from Old Town Square
With flawless attention to detail evident everywhere you look, this Prague Airbnb is incredibly easy on the eyes. It's spacious, too, with a pair of comfortable queen-size beds ready to welcome you after a busy day.
Being in the heart of the Old Town, you'll have plenty of amazing restaurant options nearby. But if you love your cooking, or want to save some cash, you can make the most of the top-notch full kitchen.
You'll have limitless high-quality coffee on tap with the built-in coffee machine, and each room has a flat-screen TV if you want to cuddle up with a movie.
Best Private Room on Airbnb in Prague – Comfy, Central Room
$
2 Guests
Elevator
Tempur king size bed
Lay back on a deluxe king-size bed in the heart of Prague, or sip on wine with your local host as they offer up tips on the city.
This central private room is ideal for anyone who wants to see the sights of Prague with ease and soak up some local knowledge. The coffee machine will get you warm and energized for a day of exploring, and the spacious bathtub is perfect for an evening float.
From here, you can easily walk to any one of the city's top attractions, restaurants, and pubs.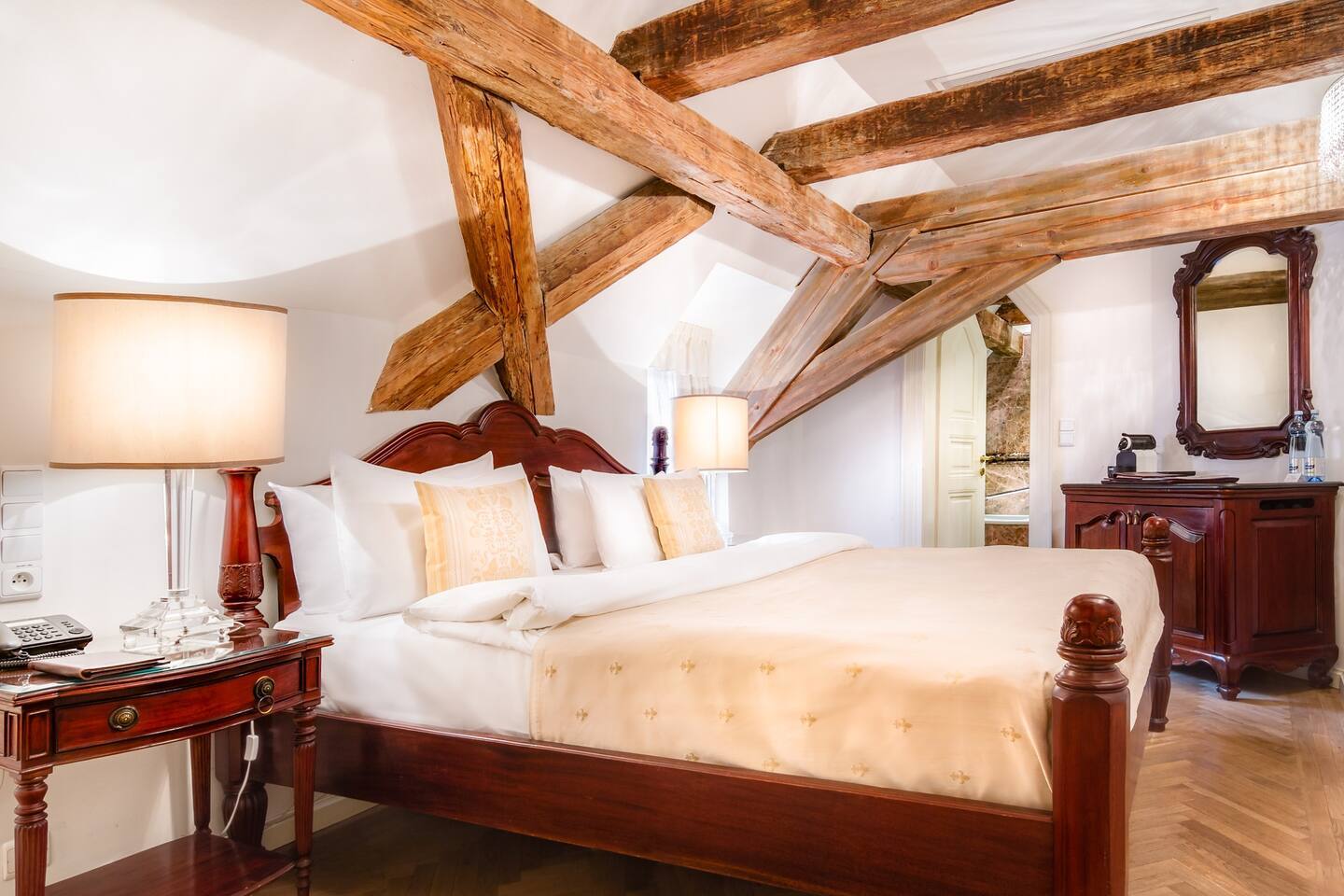 $$$
2 guests
Daily breakfast included
Incredible Old Town location
With roots stretching back to the 17th century, this boutique hotel houses only 28 rooms. So it's particularly quaint and homely! It's right in the center of Prague's Old Town, with views out over cobbled lanes and archaic buildings.
Many features of the original building work still shine through. Think exposed wooden ceiling beams and ancient brickwork blended perfectly with modern touches.
The common area includes a light-filled atrium where you can enjoy breakfast surrounded by plants. And you'll wake up just steps away from Prague's best attractions!
$$
3 Guests
Window with city views
Excellent Old Town location
You could spend weeks in Prague discovering all that it has to offer – but many of us don't have the luxury of so much time. If you plan on dropping in for a quick weekend visit, then you'll want an Airbnb that's as central and convenient as can be.
This Airbnb in Prague is right in the heart of Old Town, within walking distance from everything. Staying here will mean spending less time traveling around and more time enjoying the city.
The space itself is stylish, spacious, and comfortable, too! So we reckon it's the best Airbnb in Prague for a weekend trip.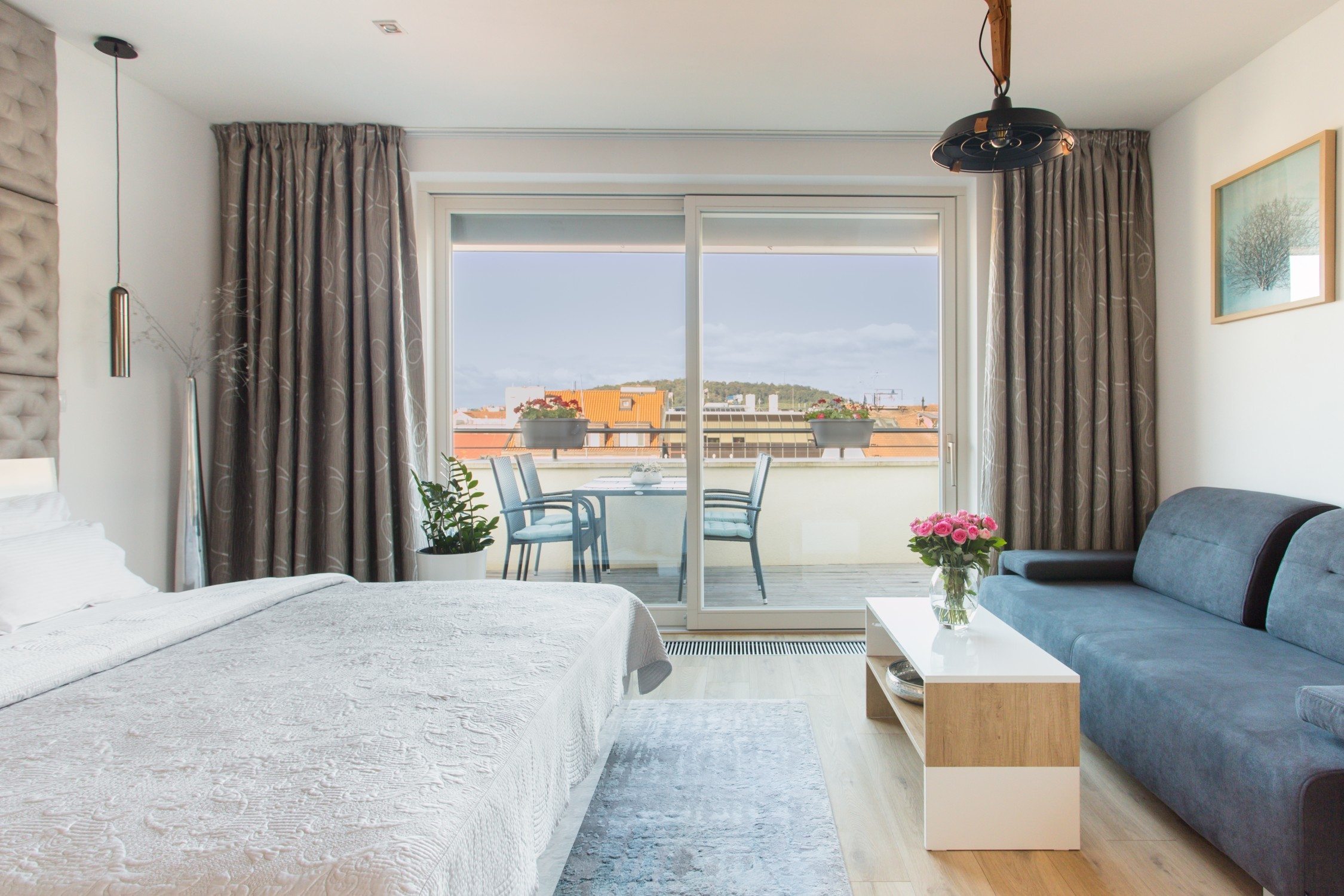 $$$
4 Guests
Quality coffee maker
Amazing terrace with city views
Airbnb Plus is the gold standard for Airbnbs. The properties honored with the title must be of an exceptional standard, in terms of quality, comfort, and design. They even have to pass an in-person inspection to qualify.
So if you book an Airbnb plus, you know you're getting nothing but the best. This sunny penthouse in Old Town is the cream of the crop. With an unbeatable location, stunning design, and a terrace with views where you can sip on a glass of wine.
It's ideal for those who want to be sure that they're in for a comfortable stay.
Best Airbnb in Prague for a Group of Friends – Spacious 5th Floor Loft
$$$
10 guests
Infrared sauna
4 king-size beds
If you're traveling with a group of friends, you'll want an Airbnb with plenty of living space and multiple comfortable rooms. This stylish loft offers just that.
With its lofty, open-plan living area, big comfy couch, and a large table for delightful dinners, you and your friend will feel right at home.
After some drinks and laughter, you can retire to the comfort of a king-size bed. And there's an infrared sauna to help with the hangover! The area is packed with restaurants, bars, and shops, and you can reach Old Town Prague in just 7 minutes on the no. 22 sightseeing tram.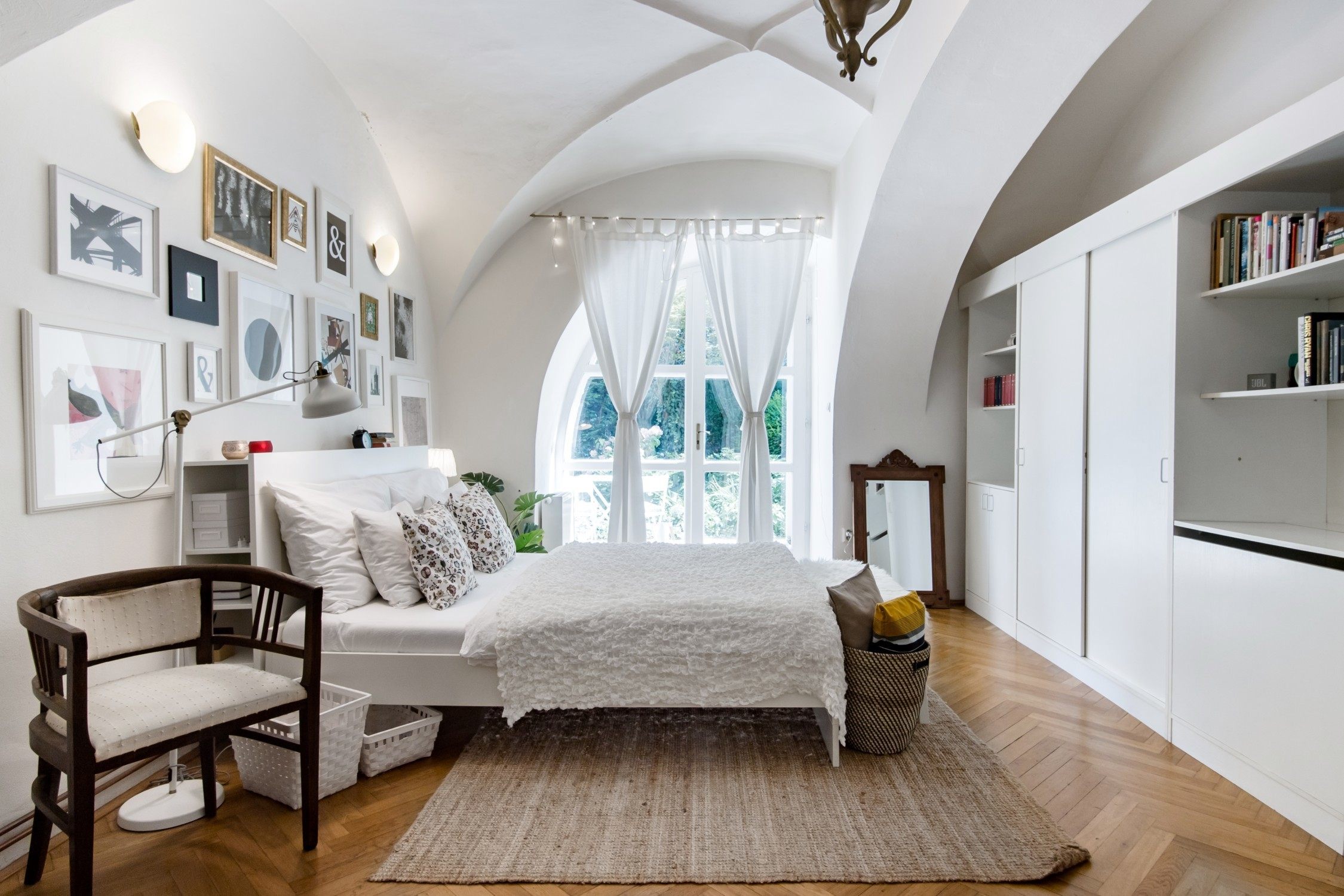 $$$
2 guests
Plush queen-size bed
Quaint, green garden area
The weight of the world should melt away; just you and your new life partner at peace in a tranquil space. You don't want to have to worry about navigating complex transport systems, or about things going wrong with your accommodation.
That's why this Prague Airbnb is perfect for honeymooners. It's smack dab in the center of romantic Old Town, leaving you to explore on foot without hassle. And it's an Airbnb plus, so you know you won't have any issues or complications. Not to mention the fact that it's gorgeous!
Cuddle up in the queen size bed and relax.