Despite a bad reputation for a sometimes rowdy crowd, Prague is truly awesome. It's an incredible city, especially for backpackers and budget travelers.
Prague is literally booming with tourism, especially young people. With over 30 million visitors in 2016 and 3,000 properties available, it can be overwhelming to find the right accommodation for you.
That's exactly why we made this list of the 5 best hostels in Prague.
We've organised the hostels by category, so you can determine what is most important for your travel needs, and book a hostel that fits you perfectly. That way, you can get on with what really matters – drinking Czech Beer! Yeeeah boi!!!
So without talking any further, let's get right to the best Prague hostels!

Do You Want to Travel FOREVER??
Pop your email in below to get a FREE copy of 'How to Travel the World on $10 a Day!'.
What to Expect from Hostels in Prague? 
Hostels are generally known to be one of the cheapest forms of accommodation on the market. That doesn't just go for Prague, but pretty much every place in the world. However, that's not the only good reason for staying at a hostel. The unique vibe and social aspect are what makes hostels TRULY special. Head down to the common room, make new friends, share travel stories and tips, or just have a great time with like-minded travellers from all over the world – you won't get that opportunity in any other accommodation. 
Prague hostels scene is pretty unique. You get endless options and most of them are super affordable. On top of that, most hostels have a very high standard as well. Think stylish interior design, great amenities and lots of freebies. No matter what kind of traveller you are, there's most likely the perfect hostel waiting to fulfil all of your travel needs and we've got you covered on this best Prague hostels rundown.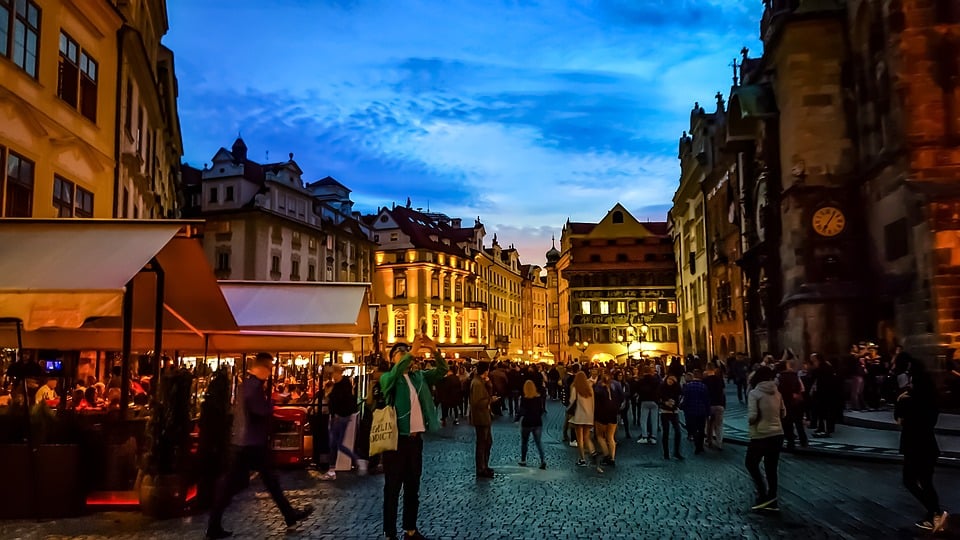 Since Prague is often seen as a cheap destination to party and spend a week or two with your friends, lots of hostels are equipped with onsite bars or cafes that offer happy hour drinks and other epic deals. 
But let's talk more about the important stuff – money and rooms! Prague's hostels normally have three options: dorm rooms, pods and private rooms (although pods are rare). Some hostels even offer large private rooms for a group of friends. The general rule here is: the more beds in a room, the cheaper the price. Obviously, you won't have to pay as much for an 8-bed dorm room as you would for a single bed private bedroom. To give you a rough overview of Prague's prices, we've listed the average numbers below:
Dorm room (mixed or female-only): $9-14 USD/night
Private room: $27-33 USD/night
When looking for hostels, you'll find the best options on HOSTELWORLD. This platform offers you a super safe and efficient booking process. All hostels are displayed with a rating and previous guest reviews. You can also filter your personal travel needs easily and find the perfect place for you.
There are a ton of great neighbourhoods in Prague that will cater to all types of travellers. When it comes to finding the best Prague hostels though, there are some neighbourhoods that offer better hostel options than others. To help you out, we've listed them below: 
Old Town – Old Town is the most centrally located neighbourhood in Prague. This is where most tourists stay for their first time in Prague, as the area concentrates many historical sights and restaurants, making it the best area to stay in Prague for first-time visitors. This is the city centre in terms of visiting Prague.
New Town – New Town is located right next to Old Town. Although it is called New Town, most of the neighbourhood actually is around 700 years of age! Here you'll find plenty of super affordable hostels and other accommodations.
Mala Strana – Mala Strana, or Lesser Town, is located on the other side of the river from the Old Town. It provides a quieter environment than Old Town while remaining in the heart of Prague and close to all the main sights of the city.
Now that you know what to expect from hostels in Prague, let's have a look at the best options…
The 5 Best Hostels in Prague
Here are some of the best hostels Prague has to offer. They have been split into different types, so it's a bit easier for you to see which ones will suit your budget, needs, and preferences. A great stay in Prague always begins with the right accommodation!
Looking for a dorm room and epic party hostels or a private space in downtown Prague? We've got you covered when you're visiting Prague.
Want to take some of the best day trips from Prague? Be sure to stay close to public transport links to maximise your time!
From the depths of the hostelsphere, we bring you… the Hostel Card!
HostelPass has spent years & years looking for the best places to stay in Europe, and they just came back with something GREAT.
The Hostel Card is a hassle-free solution with up to 25% discount at the most amazing hostels, tours, and experiences. Any-where-you-go.
Don't sleep on the ultimate budget travel card — use code "brokebackpacker" at checkout for 25% off!
Get the Card
1. Overall Best Hostel in Prague – Hostel Downtown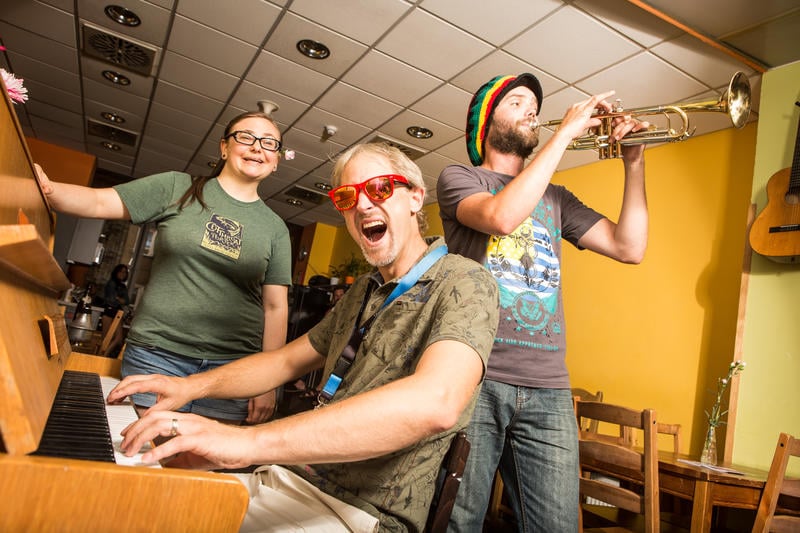 24/7 reception
Loads of activities including pub crawls
What makes the funky Hostel Downtown the overall best hostel for backpackers in Prague is the program of free daily activities. Whether hopping from bar to bar, walking around the sights, games evenings, or a free home-cooked dinner, there's always something going on. Dorm room prices are low and the all-you-can-eat breakfast is cheap.
Freebies include Wi-Fi, computers, and lockers. Admire the striking wall art and the sweeping city views at this modern hostel. You can knock out a tune on the guitar or piano, make full use of the kitchen and the laundry facilities, unwind in the lounge, and feel like part of the family. It's the best hostel Prague has for solo travellers for sure.
Why you'll love this hostel:
Plenty of freebies
Popcorn machine
Incredible hostel community
Let's start this off with the obvious: the reviews. Hostel DownTown enjoys one of the best ratings on the platform. With a solid 9.4/10 score and over 5000 reviews from previous guests, you know for sure that you're getting one of the best Prague hostels. That is why we've made it our overall favourite in Prague. Let's have a look at a few more details.
Pretty much every single part of this hostel is well thought out and has super high standards. You can chill in the big common room, which offers many activities for everyone – you can watch TV and Netflix, have popcorn for free from the stylish popcorn machine, play the piano or guitar, play table football, table games, read from the international library or just relax on several sofas with many pillows. You can also use the modern, fully equipped kitchen for free, where you can prepare your meals 24 hours a day. There is a refrigerator, a microwave, an oven, a kettle and much more…
You see, Hostel DownTown is a travellers dream! Annnd, guess where it's located, yep, downtown Prague!
2. Best Hostel in Prague for Solo Travelers – The Roadhouse Prague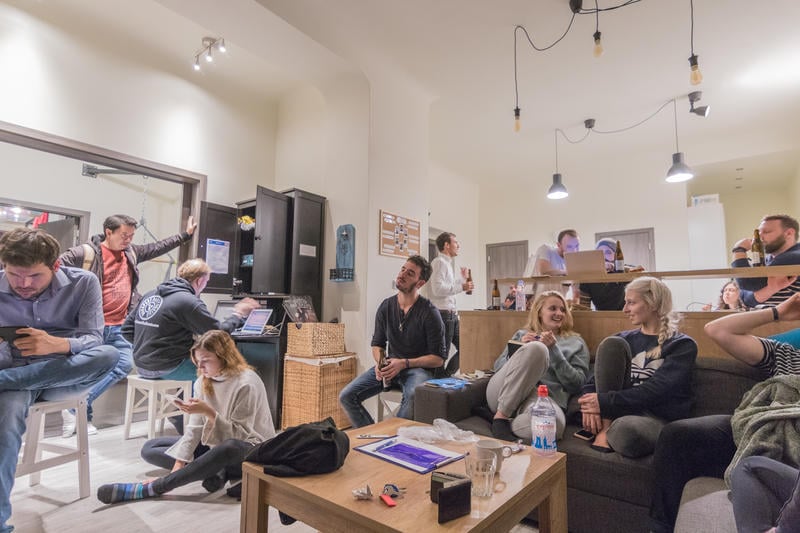 Daily Activities
Social but grown-up vibe
This accommodation is a comfortable home-away-from-home hostel with a modern kitchen, a balcony, and a lounge. The Roadhouse Prague is a great base from which to explore the best places in Prague, meet new people, and have tons of interesting experiences. Relaxed, casual, and friendly, the hostel has a sociable vibe but it's not a party hostel. Join in with diverse daily activities, hang out, or do your own thing; the choice is yours. Definitely one of the best hostels in Prague for solo travellers.
Why you'll love this hostel:
Super friendly staff
Great social vibe
Quiet hours after 10pm
The amenities at the RoadHouse Prague are pretty epic as well. Each bed has a reading light, shelf, electrical outlet and privacy curtain with huge lockable storage underneath. Besides being brand-new, the beautiful bathrooms are separate and each has a toilet, sink and an (amazing!) shower.
The kitchen is fully equipped and well stocked with spices, oils and other basics. The lounge has a comfy couch, Netflix, Wii and a wide range of books and board games for those lazy afternoons and nights. There are also laundry facilities too. In short, it's a place that you can look forward to coming home to at the end of each day.
Thanks to the helpful, international staff, you'll feel right at home as soon as you step through the door. They are ready to help you with everything from planning your day to showing you a taste of the local nightlife. Located in the city centre it's within walking distance of Prague Castle, Charles Bridge and Old Town Square.
3. Best Cheap Hostel in Prague – Czech Inn
Art Nouveau Architecture
Close to Public Transport
Check in to Prague's Czech Inn for a fabulous stay outside of the crowded tourist areas, but close enough to make sightseeing a breeze. The local neighbourhood – Vinohrady – is full of its own special charms too. Prices are very reasonable, but for the cheapest sleep, you'll be looking at sharing a dorm with up to 35 other guests! If this is a bit extreme for you, the hostel also offers smaller dorms and it's still one of the cheapest hostels in town.
It's an old building, though there's nothing old-fashioned about the cool basement bar, the free Wi-Fi, and the modern kitchens and bathrooms. Among the best cheap hostels in Prague for budget travellers, you get plenty of bang for your buck here.
Why you'll love this hostel:
Happy hour drinks
Onsite basement bar
Free buffet breakfast
Looking for some real epic style? You've just found the right hostel. Travelling on a budget doesn't always mean having to stay at the most basic hostels, and this one proves it. Czech Inn is a super modern and newly renovated space, with cool interior design, lots of freebies and plenty of space to socialize.
Set in a cool Art Nouveau building, Czech Inn is an ideal spot if you want to be close to the action but away from crowded tourist areas. As we said above, you'll be located in the hip heart of Vinohrady, surrounded by lots of markets, bars and clubs. Wander over to one of the beer gardens in the town to soak up the Czech culture or hop on the tram right opposite the doorstep and reach the city centre in 10 minutes or less.
If you need help with sorting public transport tickets, deciding what to do and what to see, simply head to the reception and ask the staff for help. They've got some sick insider knowledge on the best attractions and hotspots in Prague!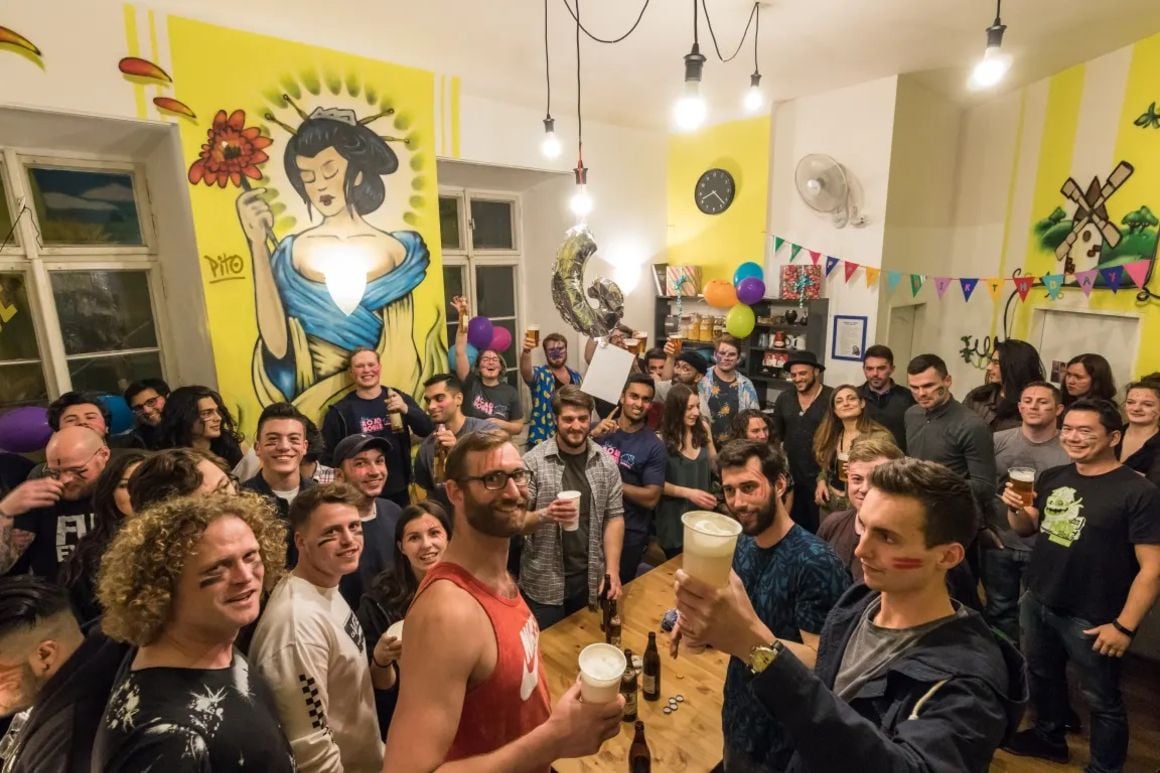 Age limit 18-45
En-suite bathrooms
They claim to be "the best party hostel in Prague", and pretty much guarantee that everyone's going to have a good time. Opening in 2012, this hostel has been partying ever since with things like daily activities, group dinners and a welcoming atmosphere.
To make sure that the fun never stops, the staff are on hand to keep up the vibes and upbeat atmosphere. The hostel is a bit like a big shared house, so it's the sort of place where it's easy to get to know fellow travellers.
But, it's not all about the party. There's a big lounge where you can veg out in the daytime and nurse your hangover with some Netflix. 
Why you'll love this hostel:
Super friendly and welcoming atmosphere
Amazing location
Nightly family dinners
In terms of location, you'll find this party hostel in Prague's Old Town. It's just a nine-minute walk to the famous Astronomical Clock, Charles Bridge, Old Town Square and a two-minute walk to the nearest tram stop to get you to places like Prague Castle. You'll find an array of eateries and bars on your doorstep, as well as late-night food joints (e.g. pizza, burritos and kebabs) to sate your drunken appetite.
In terms of sleeping arrangements, this hostel only has dorm rooms available, and no private rooms. However, the shared rooms are super spacious, modern and the beds are comfy according to previous guests.
It might not be the cheapest party hostel in Prague, but for the nightly rate, there are some great perks that make it worth every penny. Although they title themselves as a "Madhouse", the hostel is well looked after, clean, and comfortable. It has a decent balance between drinking evenings and chilled (or adventurous) daytimes, making it a good option for social backpackers travelling in Prague especially with its beer gardens.
5. Best Hostels in Prague for Couples – Adam and Eva Hostel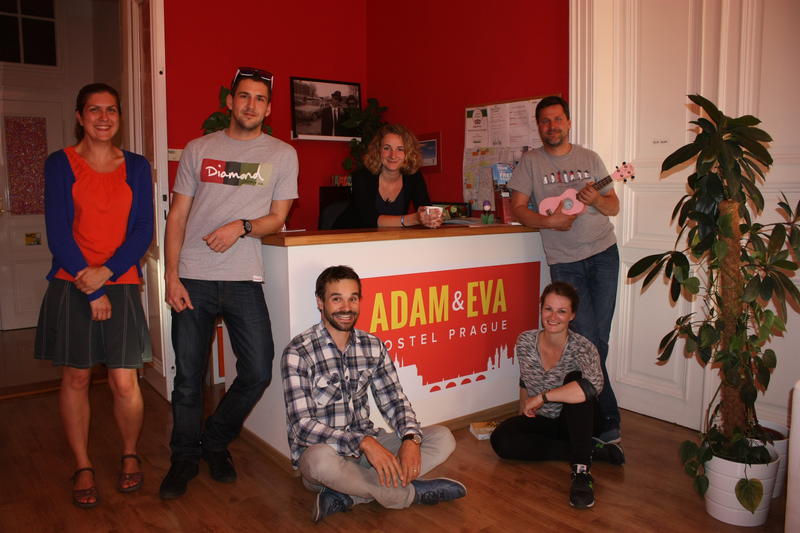 Free Wi-Fi
Airport Bus Stop Outside
Perhaps one of the most laid-back, homely, and welcoming hostels in Prague, Adam and Eva Hostel has a simultaneously calming and youthful atmosphere. There's no curfew and the young hosts are always happy to point out the trendiest bars and clubs—just keep the noise down when you get back! Explore, have fun, and get a good night's sleep. All rooms have a PC, a printer, and free Wi-Fi. A direct airport bus stops right outside the hostel. It's one of the best hostels for couples in Prague.
Why you'll love this hostel:
Age limit (18+ years old)
Free computers and printers
Super kind staff
When travelling with your significant other, staying in a crowded bunk bed dorm just isn't the best choice. Luckily, Adam and Eve Hostel offers the perfect solution – super charming private rooms! They're bright, they're spacious, the large bed is super comfy and you'll even have a little desk in your room. While it might be a bit pricier when you're staying in a private room by yourself, being able to split the bill at the end will guarantee some epic luxury for a super cheap price.
Adam & Eve Hostel is a grown-up accommodation that isn't necessarily focused on lots of partying. That being said, you can still socialize in the common areas and meet other like-minded travellers. If you want to surprise your loved one with a tasty dinner, get going in the fully equipped kitchen and prepare a treat for both of you!
Adam and Eva Hostel is one of our favourites in Prague but they're not taking guests right now. We're not sure if they're closed for good but we hope they'll come back soon.
Is This the Best Backpack EVER???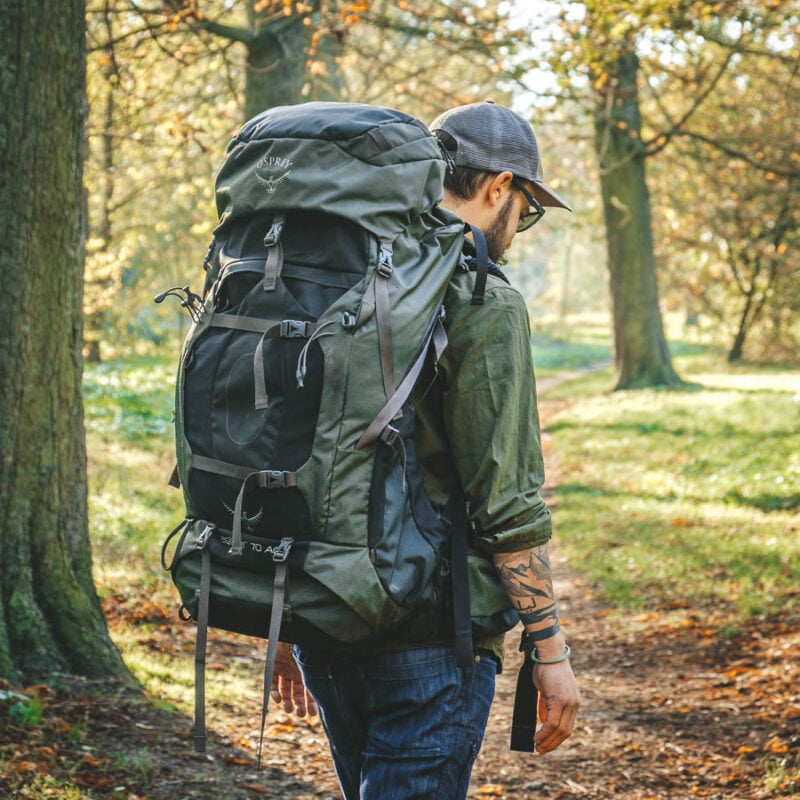 More of the best hostels in Prague
If you haven't found the right hostel for you yet, don't worry! We've got a couple more on our list. Make sure you know which neighbourhood in Prague you want to stay in, so you're close to your prefered hotspots.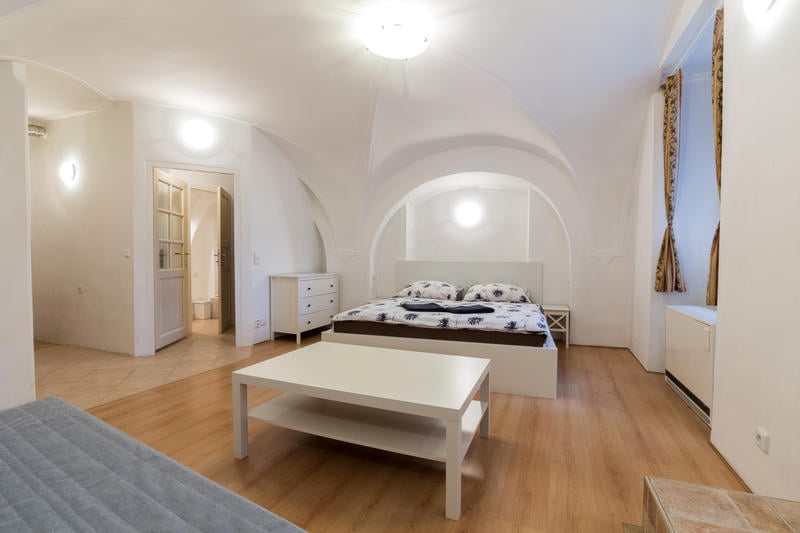 Free Wi-Fi
Laundry Facilities
Charles Bridge Economic Hostel has reasonably priced beds in dorms for six or seven. There's a separate female dorm too, making this a top hostel in Prague for all. Filled with local charm, the hostel has recently been refurbished, giving it a modern edge. Key card access and individual security lockers help to add to your peace of mind. Common areas include a comfy lounge with a TV, a communal kitchen with everything you need to whip up a feast, and a terrace.
Best Hostel for Digital Nomads in Prague – Brix Hostel
Daily Activities
Free Computers
Although cheap, that doesn't mean that Brix Hostel scrimps on facilities. Need to stay connected or work? There are free fast Wi-Fi, quiet spaces to think, and free use of PCs. While not the office of your dreams, Brix hostel has some nice areas to pitch a laptop and knock out some quick work. Because of this, it's one of the best hostels in Prague for digital nomads. This is one of the best hostels in Prague in any category and certainly the best for us Digi-Nomads.
Security Lockers
Bike Rentals
Located centrally and within walking distance to most hotspots, this hostel is a great place to stay if you want to explore the city – the staff is always ready to recommend how to have the best time. Little Quarter Hostel has both mixed and female-only dorms, and you can mingle and meet others in the onsite bar-lounge restaurant. Challenge your new pals to a Playstation duel or hop into the steam room. There are heaps of other handy facilities too, including luggage storage, bike rentals, currency exchange,laundry facilities, and tour booking. Backpackers on HostelWorld LOVE this spot.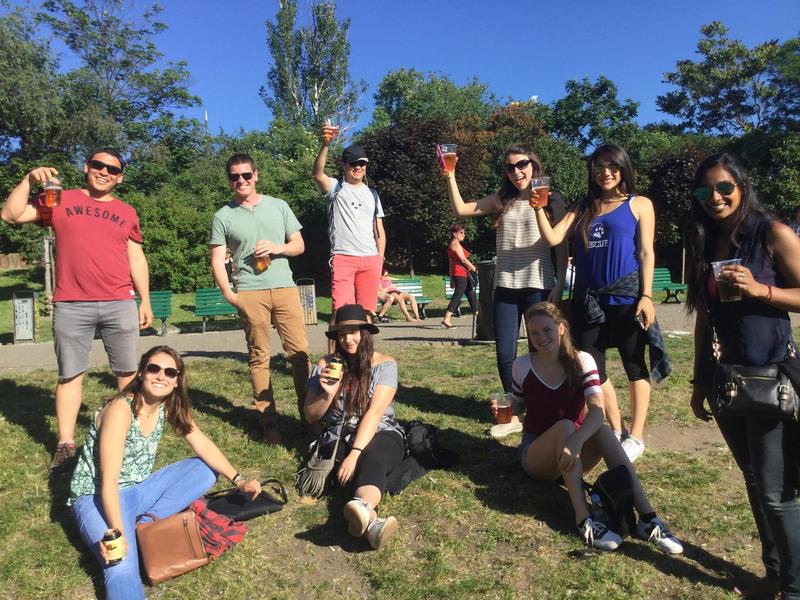 It's the small touches that make Ahoy! Hostel is one of the best hostels in Prague, not to mention the fabulous Old Town location. Daily walking tours and free maps make hitting the highlights easy, and a hairdryer and iron will keep you looking chic. There are individual lockers to keep your stuff safe. Meet new friends in the common room and chat over a cheap beer from the bar, share dinner in the communal kitchen, and chill before heading out. Dorms have been painted by local street artists – how cool is that?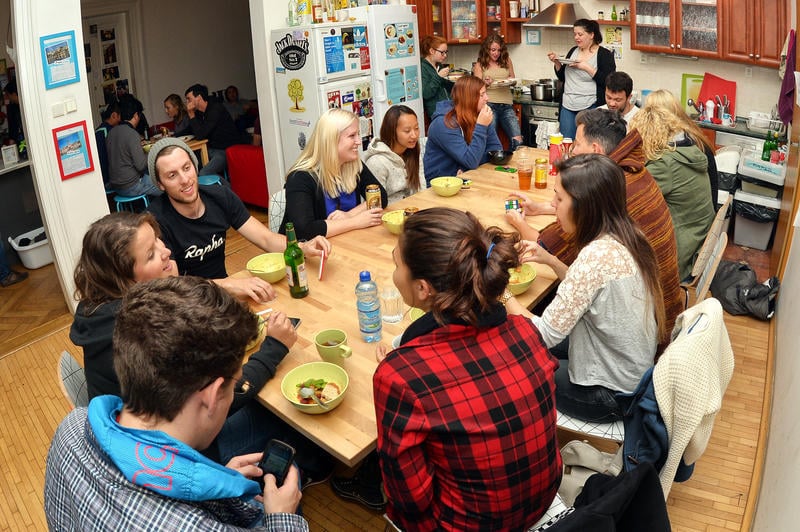 Multiple Common Areas
Free Wi-Fi
Hostel One Home might be pricier than other hostels in Prague, but the freebies will help save buckets of cash in other ways. Designed by travellers, for travellers, Hostel One Home has everything you could possibly want… and more! Relish free breakfasts and tasty free dinners. Yes, that's right fellow travellers: free food! In our eyes, this definitely makes it one of the best hostels in Prague. Other free stuff includes Wi-Fi, lockers, tea and coffee, and luggage storage.
The party-loving team is always down for a beer and they'll help you maximize your daytimes too. Unwind, mingle, or go mad in the impressive five common areas making it perfect for solo travellers.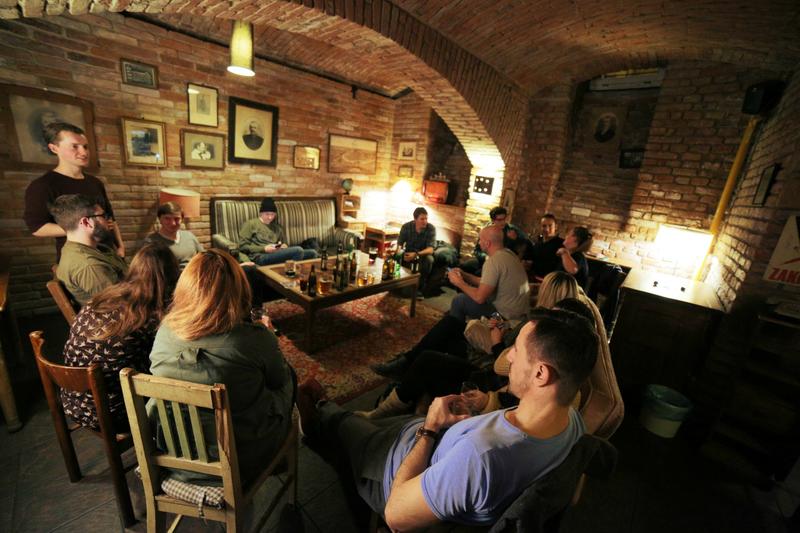 Close to Public Transport
Social Activities
Sir Toby's Hostel might be a little away from the action but the quirky neighbourhood is full of diverse museums, bustling markets, and peaceful parks. Not to mention two hip and happening clubs almost right on the doorstep. Prague's famous attractions are just a bus or tram ride away, and the free walking tour helps you to get your bearings.
With a vintage vibe, helpful members of staff, and tons of onsite activities, Sir Toby's Hostel is a perfect Prague backpacking hostel for people who like to stay somewhere a bit different to the norm. There are a kitchen and an olde-worlde bar where you'll regularly come across fun activities.
Luggage Storage
Free Wi-Fi
For a cheap stay in clean and classy surroundings, it's hard to beat Sophie's Hostel. A popular hostel in Prague's New Town, the boutique hostel has little bits of posh thrown in. The soft bedding and rain showers are a nice touch! Meet new friends in the well-stocked bar, tuck into a hearty home-cooked breakfast (extra cost), and channel your inner master chef in the modern kitchen. With free Wi-Fi, secure access, round-the-clock security, regular events, and more, it's easy to see why Sophie's Hostel is one of the coolest hostels in Prague.
Another Great Party Hostel in Prague – Hostel One Prague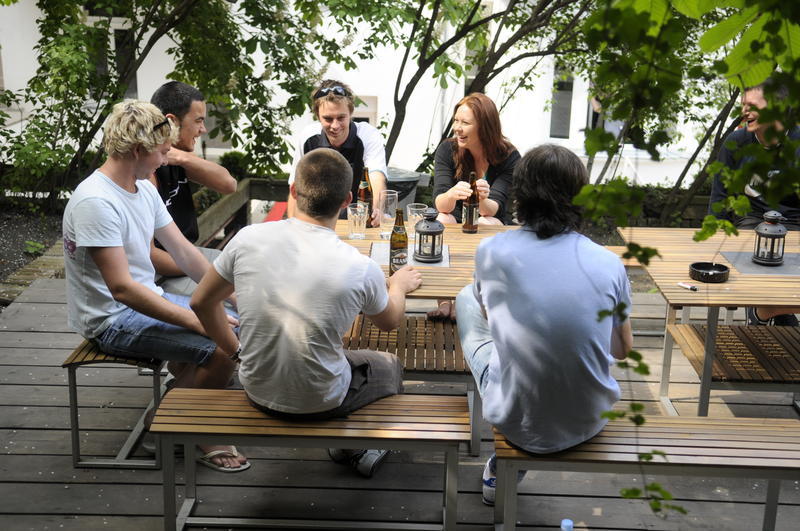 Free Tea and Coffee
Onsite Bar
Hostel One Prague is one of Prague's best backpacking hostels for partying and enjoying home comforts. If the name of the hostel's bar – The Rave Cave -doesn't give it away, we don't know what will! The young staff members are more than happy to go bar hopping into the wee small hours, but it's not just about the nightlife. The hostel is super clean and modern with top-class facilities.
Hostel One Prague is one of our favourites in Prague but they're not taking guests right now. We're not sure if they're closed for good but we hope they'll come back soon.

Our GREATEST Travel Secrets…
Pop your email here & get the original Broke Backpacker Bible for FREE.
Best Cheap Hostel in Prague #2 – Hostel Mojo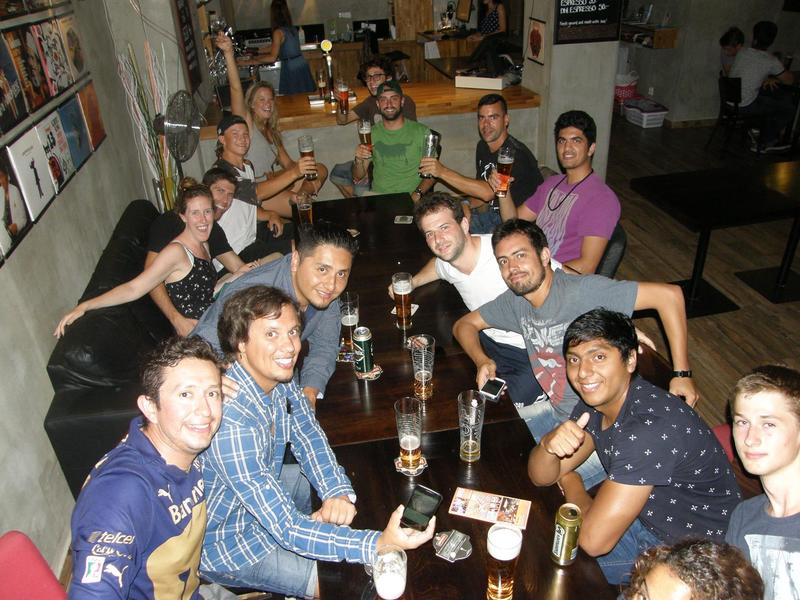 Onsite Bar
Laundry Facilities
Hostel Mojo has clean, modern, and minimalistic designs. It also offers a sociable café-bar with a TV, pool table, and guitar, a steam room and a lot more. The small dorms are ideal if you don't like to share with large groups. Friendly staff members will point you in the right direction of nearby sights, like Wenceslas Square, and some of the best bars and clubs around the New Town. Hostel Mojo is one of the best hostels in Prague that are super affordable and chic.
Hostel Mojo is one of our favourites in Prague but they're not taking guests right now. We're not sure if they're closed for good but we hope they'll come back soon.
Best Hostel with Private Rooms in Prague – Artharmony Pension and Hostel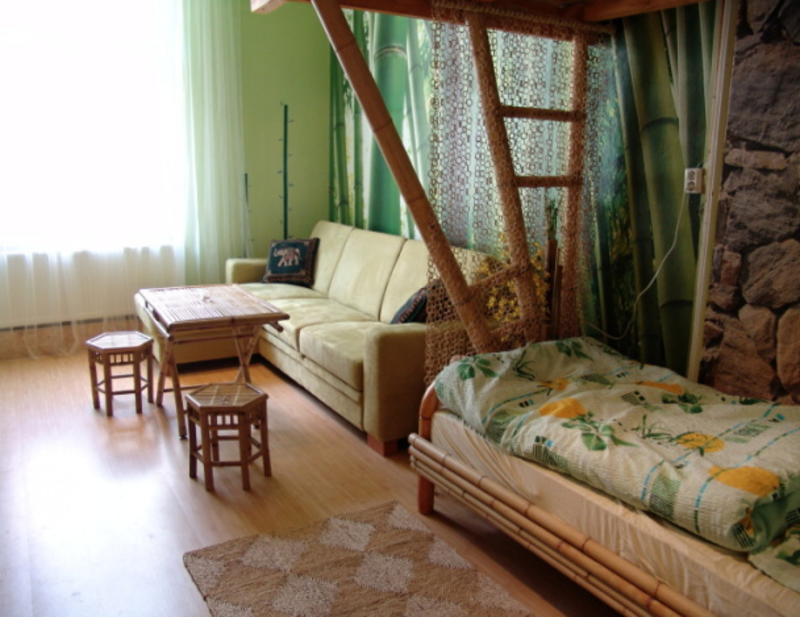 Brewery Discounts
Pets Welcome
The real beauty of Artharmony Pension and Hostel lies in its blend of art and nature. A peaceful child- and pet-friendly hostel in the city centre of Prague close to Charles Bridge, Old Town Square and Prague Castle. Artharmony Pension and Hostel has mixed dorm rooms for six and ten as well as a large selection of private rooms. Extras may be basic, but you'll have everything you need for a few days, with a communal kitchen and lounge, lockers, and free Wi-Fi. It's definitely a top Prague hostel for travellers who value peace and quiet.
Artharmony Pension and Hostel is one of our favourites in Prague but they're not taking guests right now. We're not sure if they're closed for good but we hope they'll come back soon.
Hostel Santini Prague
Pub Crawl
Safety Deposit Boxes
It may be in the area known as Lesser Town, but there's definitely nothing else "lesser" about Hostel Santini Prague.  All dorms have their own bathroom and key card access stops people from wandering in and disturbing your sleep. It's easy to walk to the Old Town from the awesome 17th-century baroque building. The atmosphere is fairly peaceful, but don't be fooled – a nightly pub crawl leaves from right outside. Old Town is definitely one of the best areas to stay in.
Fill up each morning with the free breakfast – another reason why it's one of the best hostels in Prague. Other facilities at this cool youth hostel include free Wi-Fi, lockers, a sociable lounge, and a well-equipped kitchen.
Hostel Santini Prague is one of our favourites in Prague but they're not taking guests right now. We're not sure if they're closed for good but we hope they'll come back soon.
Cosmopole Hostel
Included Breakfast
Onsite Cafe
A new hostel in the city centre, the large and fun-loving Cosmopole Hostel is an ideal choice for people who like to keep busy. Close to major attractions like Old Town Square as well as shopping areas, and nightlife, free tours are among the perks offered by Cosmopole Hostel. The whole top floor is dedicated to leisure, fun, and downtime. A café-bar, breakfast room, games, pool table, and terrace can all be found up top. Everything is spacious and freebies include Wi-Fi, tea and coffee, and breakfast.
Cosmopole Hostel is one of our favourites in Prague but they're not taking guests right now. We're not sure if they're closed for good but we hope they'll come back soon.
Art Hole Hostel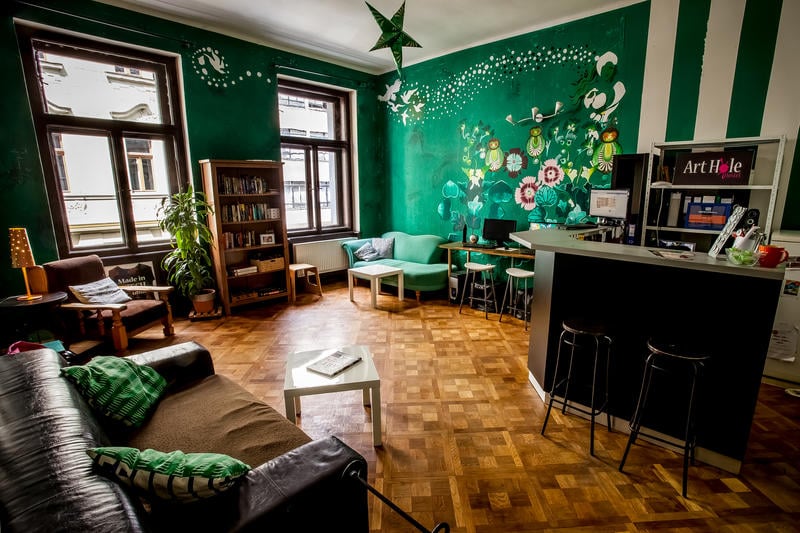 Free Wi-Fi
Luggage Storage
Sleeping from four to sixteen, the mixed dorms at Art Hole Hostel are comfortable, cool, and attractive. Creative souls are sure to love the bright colours, bold patterns, and imaginative designs that cover the walls. Probably the best hostel in Prague for solo travellers to come together and hang out, as it has a cosy lobby where you can chill and meet like-minded travellers. There's a well-equipped kitchen, but with tasty and filling home-cooked meals for just two Euros, why bother?!
Art Hole Hostel is one of our favourites in Prague but they're not taking guests right now. We're not sure if they're closed for good but we hope they'll come back soon.
Post Hostel Prague
Post Hostel Prague is not a place for people with pet allergies – the resident feline might make you sneeze! The fresh and bright hostel has heaps to keep you entertained, from darts and a Playstation to days and nights out exploring. There are new activities to try every day and you can chill out with a cheap beer and new friends. It's certainly one of the coolest hostels in Prague. Your dorm room is secure and safe, with key cards and lockers (you'll need your own padlock), and each bed has a curtain so there's no need to feel shy!
Hostel Prague is the only hostel with a house cat. Make sure you pet it and say hello.
Post Hostel Prague is one of our favourites in Prague but they're not taking guests right now. We're not sure if they're closed for good but we hope they'll come back soon.
The Republic Garden
The Republic Garden is a top place for shopaholics, with the gigantic Palladium shopping centre just a short stroll away. There are loads of restaurants and bars nearby too. The 19th-century building boasts lofty ceilings, wooden floors, and interesting artwork. Dorms are small, with only four or six beds. Breakfast is included and you can get a caffeine hit any time with round-the-clock free coffee and tea.
There's no elevator so you'll get a workout heading up the two flights of stairs. More suited to introverted travellers than social butterflies, there's a calm common room and a kitchen.
The Republic Garden is one of our favourites in Prague but they're not taking guests right now. We're not sure if they're closed for good but we hope they'll come back soon.
What to Pack for your Prague Hostel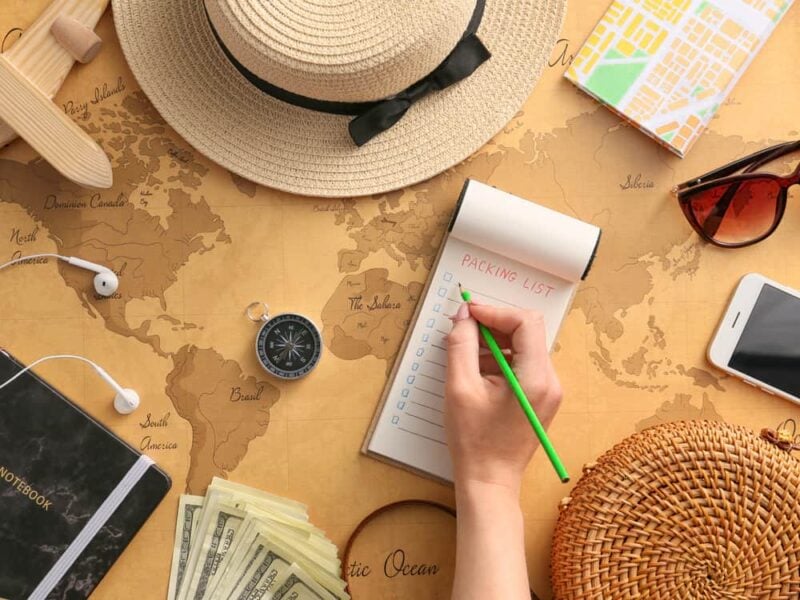 Pants, socks, underwear, soap?! Take it from us, packing for a hostel stay is not always quite as straight forward as it seems. Working out what to bring and what to leave at home is an art we have perfected over many years.
Check out our definitive Hostel Packing list for our top packing tips!
FAQ about Hostels in Prague
Here are some questions backpackers ask about hostels in Prague.
Travel Safety Tips for Prague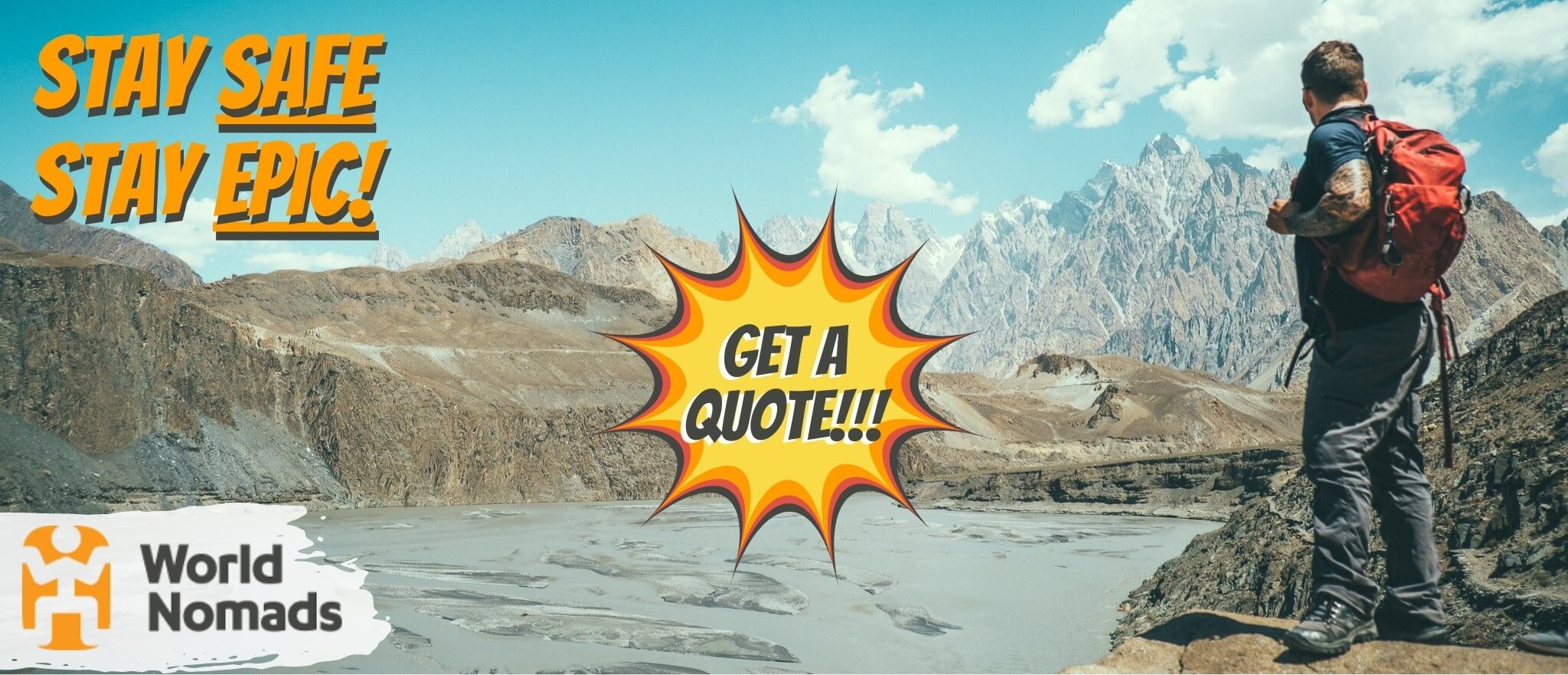 World Nomads' mission is to support and encourage travellers to explore their boundaries. They offer simple & flexible travel insurance, and safety advice to help you travel confidently.
They've been doing it since 2002 – protecting, connecting, and inspiring independent travellers just like you.
Get a quote below or read our in-depth review!
Final Thoughts on The Best Hostels in Prague
With all these hostel options, you should be well prepared for your Prague trip. Choosing to stay in a hostel will keep your travel expenses low, but you'll also get the chance to meet like-minded backpackers from all over the world. Definitely worth it, if you ask us!
If you're still unsure about which of the best hostels in Prague you want to stay at, going with the overall-best one is always a good idea. Hostel Downtown definitely keeps all of its promises and offers you great accommodation to rest your head and start the next adventure.
If you think we've missed anything or have any further thoughts, hit us up in the comments!
---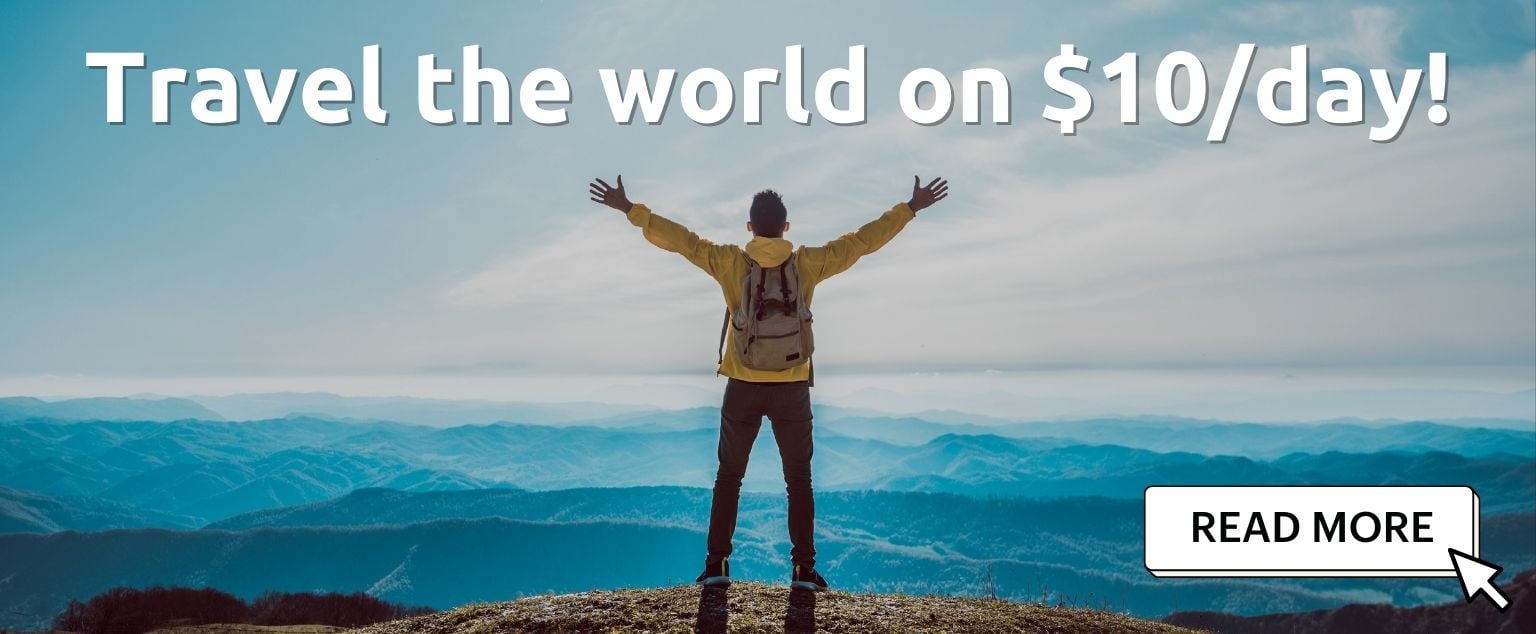 And for transparency's sake, please know that some of the links in our content are affiliate links. That means that if you book your accommodation, buy your gear, or sort your insurance through our link, we earn a small commission (at no extra cost to you). That said, we only link to the gear we trust and never recommend services we don't believe are up to scratch. Again, thank you!