It cannot be overstated how intriguing and amazing Prague is. Located at the crossroads between Eastern and Western Europe, Prague is superbly positioned geographically. The old city carries some of the world's most fascinating landmarks and stories, not to mention fascinating traditions dating back to the ninth century.
Take Prague Castle, for example, which is the largest castle in the world! Then there's the Dancing House, an architectural marvel that seems to be swinging and swaying. Add the gothic architecture and historic squares (Wenceslas, anyone?) and you're in the heart of a modern medieval Europe, so to speak.
But is Prague expensive?
Compared to many of Western Europe's major cities, Prague can be cheap to visit. That's not to say it's a bargain hunter's dream, but a dollar can certainly go a lot further than elsewhere in Europe if you plan smartly.
We've gathered some info here to help you with planning. In this guide, you'll find a wealth of information about prices in the Czech Republic that will help you budget and enjoy a fabulous holiday in Prague.
Traveling is a multi-tasking affair, so in this guide, we'll talk about all the critical aspects of Prague travel costs. Including:
The cost of getting there
Where to stay in Prague and how much you'll pay
Transportation in the city and how to get around cheaply
What to budget and how to save on food
Other expenses like going out and tipping
Bear in mind that we're giving the best estimates available, but the actual prices may vary. The koruna is the official currency of the Czech Republic, and exchanges at around 22 CZ koruna for 1 US dollar. This guide will estimate costs in US Dollar prices.
In the table below, there's a basic summary of what you can expect Prague costs to be over the course of three days.
3 Days in Prague Travel Costs
ESTIMATED EXPENSE: $80-$1600 USD for a round trip ticket
The best way to get to Prague is by airplane. The main airport is Václav Havel International and it handles most of the Czech Republic's airline traffic.
If you want to save a few dollars backpacking in Prague, consider the timing of your trip. Most international cities are cheaper to fly to at certain times of the year.
Here's a general guideline for what you might expect to pay for a flight from other major international airports:
New York to Václav Havel Airport: $450-700 USD
London to Václav Havel Airport: £55-155 GBP
Sydney to Václav Havel Airport: $850- 1500 AUD
Vancouver to Václav Havel Airport: $850-2000 CAN
Of course, flight prices also vary depending on your airline. And you can always try your hand at hunting for special deals and error fares. With a little bit of patience and research, it is possible to find even further savings on flights.
ESTIMATED EXPENSE: $10-$60 USD per day
Accommodation is always a major component of holiday costs. If you choose luxury hotel options, Prague can hit your wallet as sharply as many other cities. But on the whole, you'll find it somewhat cheaper than many other European hotspots.
But Prague also has options like hostels or Airbnb, which are usually cheaper and, in some cases, better value than hotels. Hostels can be a lot of fun for social types, while Prague Airbnbs provide more privacy and independence.
Hostels in Prague
Hostels are designed for easy, cost-effective holidaying, usually in the form of a bed in a dorm. It's a great choice for those who like to meet other travelers and are keen to feel the social vibe of a place. If you're backpacking in Prague, this is the best option for you.
A dorm bed can cost as little as $10-15 USD per night, and a private room up to $60 USD or more. That's fairly cheap as far as a major city goes.
Another great plus is that there are several hostel options right in the city center. If you decide to stay at one of these, then you can take advantage of the city's walkability. There is always something going on in the center of Prague – staying close by will be super convenient
Here are a few of the best-value hostels we found in Prague:
Art Hole Hostel – Right in the city center, and great value with its low price, with huge living areas, and a nightly $5 veggie dinner option.
Hostel One Prague – Highly rated, offering tours, its own (cheap) bar, and still reasonably priced.
Hostel Downtown – In the historical center of town, walking distance from the nightlife, and one of the cheapest dorm options around.
Want to see more hostel options? Check out the best hostels in Prague!
Airbnbs in Prague
As you might've expected, the range of pricing options for Airbnb varies. But the good news is that it varies on the low end of the spectrum. In fact, options in Prague are so reasonable, it's quite possible to rent an apartment for the same price as a private room in a hostel – from as little as $20 per night!
The big plus of an apartment over a hostel or hotel is that you get the space (bathrooms, living spaces and so on) all to yourself. You can pretty much come and go as you please, and you can save even more money by making your own food. Eating in is much cheaper than dining out, but we'll get to that in a bit.
Airbnb is the way to go when it comes to renting an apartment in Prague. Take a look at these three incredible apartments as examples of great value on offer.
Hotels in Prague
Hotels are invariably the more expensive form of accommodation in a city. In Prague, hotel prices seem disproportionately pricier than hostels or Airbnbs than in other cities. This might be because the city center is relatively small compared to other major centers, and rooms are at a premium.
Whatever the case, you can expect to pay around $70 USD per night at the low end, and up to $150 and beyond for more luxury options. The upside of a hotel is the service and facilities that are included. There may be a gym, housekeeping, concierge services and so on to take advantage of.
Hotel Diana – A little way from the city center, but 3 minutes walk from the metro, quaint, and in a quiet part of town.
Eurostars Legends – One of the best rated Prague picks, with gorgeous dark wood finishes and less than half a mile from the Old Town Square.
Hotel Schwaiger – There's a hint of the old 1920s Czech Republic in the decor, an onsite bar, and a free airport shuttle service.
If you're unsure whereabouts you want to stay in the city, you can check out our Where to stay in Prague guide!
ESTIMATED EXPENSE: $1.50-$40 USD per day
In keeping with the city's relative affordability, public transport travel in Prague is cheap and fairly efficient.
Like many other European cities, Prague has focused some efforts into making its public transport system really effective, in order to combat private car use.
Buses, trams, and metros all operate throughout the day, as well as in a more limited capacity at night. In many cases, one type of ticket will grant you access to all of these.
These tickets can be bought from easy-to-use vending machines dotted around the city. There is also a train system that can be used, though mostly for inter-city transport.
Train Travel in Prague
Trains are mostly used for traveling regionally, or between Prague and another city, and services are quite comfortable and efficient. It's also reasonably priced. It's a good idea to book train tickets in advance, especially on weekends, if you plan on heading out of the city.
Trains are divided into four general categories in the Czech Republic:
Eurocity: a cross-continental train with a top first-class and very comfortable second-class option.
Intercity: A long-distance option for within the country, also with a 1st and 2nd class.
Rychlik: The most common local train network. Fast, and some offer sleeper options.
Osobni: A low-cost option only with 2nd class, stopping in smaller villages and towns.
Trains are a great way to take some of the wonderful day trips from Prague too.
If you're traveling within the city itself, the metro is a better option. It is comfortable, clean, fast and cheap. A 90-minute ticket costs about $1.50 USD, while a three-day pass is only $15 USD. The same ticket can be used on buses and trams.
There are three main lines – red, green and yellow. Between them, you can pretty much get anywhere you need to in Prague. Or, at least, to within an easy walking distance of where you need to be. Metros generally pass through any given station every 2-10 minutes.
To make sure you don't spend too much time at the ticket counter or in front of a map (trying to figure out which metro to take can be a struggle), it's easier to find your connection online. Knowing exactly where and when to go can make your trip a lot more enjoyable!
Bus Travel in Prague
Bus travel in Prague is also pleasantly efficient, with buses running their main routes at intervals of under ten minutes during peak times. During overnight hours (midnight to 4:30 am) this can extend to every hour.
The bus routes are designed to work in tandem with the metro, so in many places, you can connect to a bus quite close to a metro station if needed. They are useful for getting to the outer lying areas of Prague, where the metro might not reach.
It's also interesting to note that neither the train nor the metro connects directly to the airport. So a bus is your best option to get to or from Václav Havel Airport.
The regular public transport pass is your best option, though you can buy a ticket directly from a driver if absolutely necessary. The public transport pass options give you access to metros, trams, and buses.
Renting a Scooter or Bicycle in Prague
While it is possible to rent a scooter in Prague, you should be aware that many city center locals seem quite annoyed by them. So a scooter should really only be considered if you plan on venturing on the outskirts or outside the city.
Scooters can be rented from reputable dealers at $22-40 USD per day, along with a standing deposit of up to $230 USD (though this varies). You will need a three-year-old B or A1 license.
Prague prefers bicycles! Rekola runs around 450 distinctive pink bicycles around the city. You can bikeshare/rent one for as little as $1 USD per hour – with no minimum time limit. The pricing changes in winter, when they charge by the minute, rounding out at just under $3 per hour.
Rekola bikes can be accessed via a mobile phone app and a credit card. A coded lock system will give you access to the closest bike, which you can locate via the app.
Feeling sluggish? Try an electric bike from Freebike, also via their app. These bikes are charged per minute but come out to around $11 per hour.
Getting around by bicycle if fairly easy in the city. Prague has developed a well-connected bike lane net, which allows you to have a fast and safe ride – so choosing a bicycle isn't just the eco-friendliest option, it's also the most efficient one!
ESTIMATED EXPENSE: $15-$50 USD per day
The cost of food in Prague can be manageable!. Even with a direct comparison of a standard take-out, food seems to compare favorably in terms of price. A Big Mac, fries and soda costs $6.50 USD, for example.
Of course, the cost of food in Prague is what you make it. If you choose to eat out at fancy restaurants – and there are a few here – you can make a significant dent in your budget. But we're all about saving you money today, so here's how to do that:
First – always keep an eye out for eatery specials. Look out for those two-for-one deals, or those happy hour combos, and you'll already be ahead of the curve.
Here are some typical restaurant prices to expect:
Casual restaurant dinner: $10-15 per person
Standard pizza: $5-8
Restaurant steak dinner: $7-10 per person
Next – consider eating at home. Shop at markets, and save! Here are some common market food item prices in Prague:
A loaf of bread: $0.50 USD
100-gram sandwich ham: $1 USD
1-liter milk: $0.90 USD
2 lbs potatoes: $1USD
Bottle of beer (11 ounces): $1-1.40 USD
Where to Eat Cheaply in Prague
So Prague is relatively cheap for eating, even if you want to head out to the restaurants. But even so, some places are cheaper than others. Here are a few hot tips for budget-friendly places to eat:
Burrito Loco is a Mexican fast-food chain. Their Speedie Burrito is an awesome value at $4 USD
Many coffee shops in Prague tend to offer decently-priced lunch snacks. Keep an eye out for these as opposed to full restaurants over lunchtime.
Maso a Kobliha is a top bistro that actually has a few gems on its menu. Try the delicious pies and sandwiches, most of which are under $8 USD.
Try a chlebicek – an open sandwich – from Sisters Bistro. For under $2, it's a bargain, and you get a taste of true Czech food to boot.
In the mood for Chinese? Lotos Zahrada can offer a meal for around $4 USD.
Fans of doner kebabs – a London staple – will be happy to know that small kebab outlets have sprung up all over Prague. Try one for under $3 USD.
Indian food is a good option for a budget lunch, and several Indian restaurants in the city will offer meals for as little as $5 USD.
ESTIMATED EXPENSE: $10-$100 USD per day
Enjoying a night out with a couple of drinks is exceptionally affordable in Prague, especially if beer is your preference. The reason is that local beer is considered a normal part of a meal here, so it's much cheaper due to lower taxes. Provided you cleverly side-step the tourist-heavy bars, you can save loads by drinking local.
How much is a beer in Prague, exactly? A pint of beer (16 fluid ounces) costs $1.50 in most local bars or restaurants. An imported beer may cost slightly more, but not much. A decent wine, by contrast, costs around $7 USD a bottle – still a bargain.
Costs of alcohol in Prague:
Beer (pint) – $1.50 USD (less than $1 per bottle in stores)
Bottle wine – $7 USD ($2-3 USD in stores)
Spirits like vodka and whiskey – $17-$40 USD per bottle
Shots (vodka) – $1.50
If you're still looking to save a few dollars, the best advice is to grab a few drinks from a local store, and have a few at home before heading out. Aim to be out at bars early, during happy hour, when there may be further discounts going. Given the price of beer in Prague, you could have a long evening ahead. Just go easy, drunk tourists are a beacon for Prague pickpockets!
When being on a night out with friends, always keep in mind that there might be residents around who want to enjoy a good night's sleep, so keep the good nights inside of pubs and bars, rather than taking them out on the streets.
ESTIMATED EXPENSE: $10-$100 USD per day
Prague, being an old city, is stuffed to the brim with antique buildings, castles, churches, and museums. Among them are the world's largest castle complex Prague Castle, the astronomical clock, Wenceslas Square, and the 13th-century Church of Our Lady Before Týn.
Most public attractions like these cost between $7 and $20 to visit or tour, while some are free. The Charles Bridge and town squares are easy to access and free to walk around. If you're lucky enough to be in Prague on state holidays or Museum Night in June, you can get into most free.
Also, some museums offer discounted or free days – these usually occur during the first week of the month. For example, the first Monday of every month is free at the National Museum and the first Wednesday is free at Lobkowitz Palace.
The best advice is to check local guides for the best options – you may well be able to see a number of places for absolutely no charge!
Since there are quite a few things to see in the city, you should check out the best places to visit in Prague – make sure you don't miss out on anything!
No matter how precisely you plan, there's always the chance of an unexpected expense. Maybe your rented scooter breaks down. Perhaps you see an amazing gift for your aunt that she simply must-have. Or you lost a bet at the sports bar and you had to buy a round for everyone.
Do yourself a favor and set aside an additional wad of money for the 'just in cases'. A fair rule of thumb is to estimate what the trip is going to cost, then add 10% on top of that as emergency money.
If any unexpected costs do arise, you'll thank yourself (and this piece of advice) for it.
Tipping in Prague
A 10-15% tip in a restaurant is expected and appreciated as standard. This is especially true for tourists. In fairness, many things are cheap here, so it shouldn't be too much of an impact on your wallet, relatively speaking.
Similarly, you are welcome to tip a taxi driver, but only if you did not agree to a price beforehand. If you stay in a hotel, be sure to slip the baggage porter $2 USD or so. There's generally no need to tip fast food service or other ordinary services.
Get Travel Insurance for Prague
ALWAYS sort out your backpacker insurance before your trip. There's plenty to choose from in that department, but a good place to start is Safety Wing.
They offer month-to-month payments, no lock-in contracts, and require absolutely no itineraries: that's the exact kind of insurance long-term travellers and digital nomads need.
SafetyWing is cheap, easy, and admin-free: just sign up lickety-split so you can get back to it!
Click the button below to learn more about SafetyWing's setup or read our insider review for the full tasty scoop.
If you're considering Prague, you're already on your way to saving, because it is cheaper than many of Europe's other major cities. Even so, there are a few things you can do to try to maximize your savings.
Do the free stuff first. Look for the free places to visit, the free museum days, and the free tours.
Eat at "home" if at all possible. Self-catering and shopping at markets are way cheaper than restaurants and take-out.
Definitely get the travel passcards. The savings are incredible and add extra meals and drinks in value:

Public Transport 30-Minute Tickets

Adults: $1.10 USD
Children 6-15: $ 0.55 USD
Children Under 6 and Seniors 70+: Free
Public Transport 90-Minute Tickets

Adults: $1.50 USD
Children 6-15: $1 USD
Children Under 6 and Seniors 70+: Free
Longer-term passes

Monthly: $25.00 USD
Quarterly: $70.00 USD
Have a water bottle: Don't waste money on plastic, bottled waters; carry your own and refill it in the fountains and the tap. If you're worried about potable water, get a filtered bottle, like the GRAYL, which filters out 99% of viruses and bacteria.
Earn money while you travel: Teaching English while traveling is a great way to make ends meet! If you find a sweet gig, you may even end up living in Prague.
Become a volunteer with Worldpackers: Give back to the local community and, in exchange, you're room and board will often be covered. It's not always free, but it's still a cheap way to travel in Prague.
If, after all this advice, you feel like you're still struggling to set up a budget and stick to it, maybe our Budget Backpacking 101 can help out!
In a word, no. But, is Prague cheap then?
Compared to most other major cities in Europe, the cost of living in Prague is amendable. Visit, and you'll get great value in terms of accommodation, food, and holiday-ing in general.
Given the amazing city Prague is, it really ought to be on the top of any European visit list. Airbnbs especially are incredibly affordable, and if you're more bohemian, the hostel culture here is well developed and highly rated.
How expensive is Prague? In many instances, the flights there will be your biggest expense. But you'll find that day-to-day living is easy on the wallet, especially if you follow some of the tips we've outlined here.
What we think an average daily budget for Prague should be: $30-$60.
---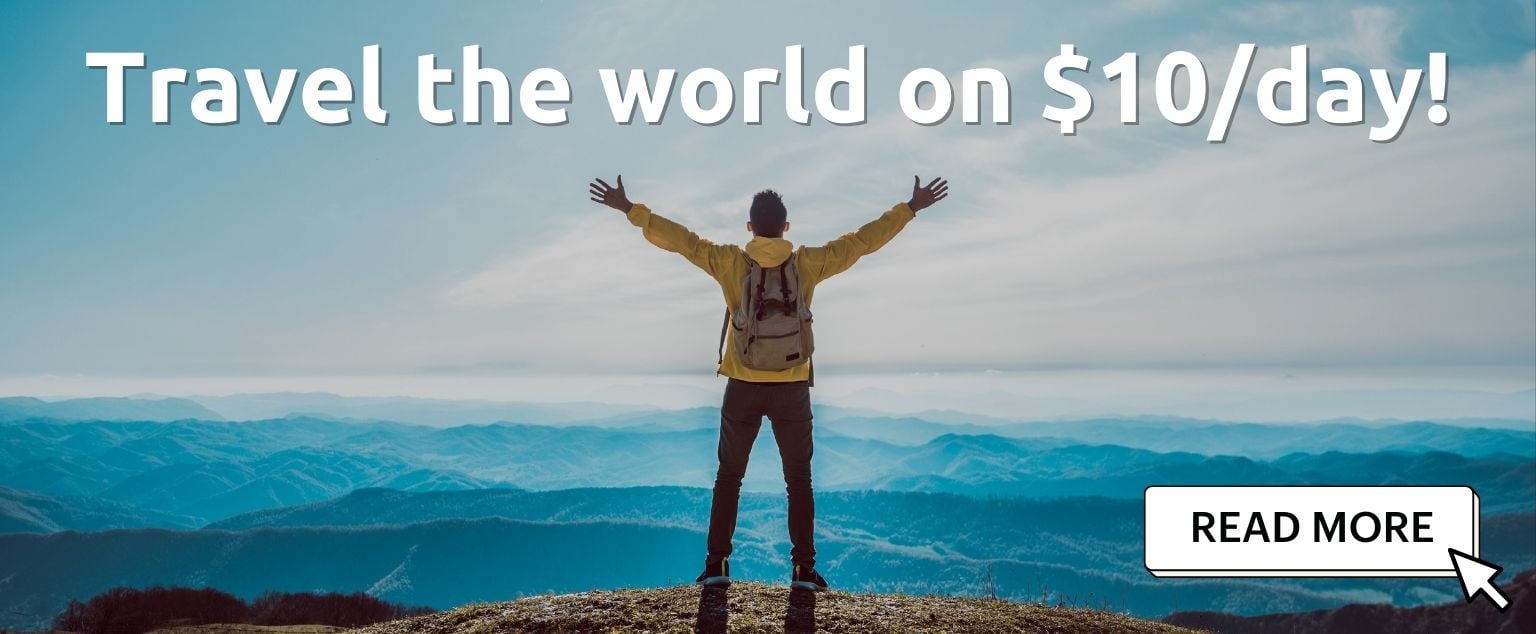 And for transparency's sake, please know that some of the links in our content are affiliate links. That means that if you book your accommodation, buy your gear, or sort your insurance through our link, we earn a small commission (at no extra cost to you). That said, we only link to the gear we trust and never recommend services we don't believe are up to scratch. Again, thank you!