Ah, Prague! The beautiful and romantic capital of the Czech Republic has such character and charm that draws so many to explore its cobbled streets. The country itself is brimming with historic castles, medieval streets, cultural and historical experiences, and much more. It is said that the Czech Republic is home to around 1800 castles and chateaus. Prague is like the centre of it all, the city of a hundred spires.
Franz Kafka rightly remarked, "Prague never lets you go; this dear little monster has claws".  However, if you venture out of the city, you are treated to a whole lot of wonderful places, too. Relaxing spa towns, gorgeous national parks, Bohemia's breweries, and medieval ruins on top of hills – all are within easy reach from Prague.
Prague is a springboard for day trips to places that make you experience the rich Czech culture and its fascinating history. Once you've had your fill of walking on the fairytale streets and admiring the old Astronomical Clock, have a look at (and plan) some of these exciting day trips from Prague.

Unlock Our GREATEST Travel Secrets!
Sign up for our newsletter and get the best travel tips delivered right to your inbox.
Getting Around Prague and Beyond
Getting around Prague by public transport is easy and convenient, so it's easy to tick everything off your Prague itinerary.
There's exploring the city on foot: I love doing walking tours! Public transport is efficient for travelling beyond the city as well. It's also super affordable too, just part of why Prague is so cheap to visit!
On foot – almost all the things to do in Prague can be covered on foot. Prague is a perfectly walkable city.
Metro – fastest way to get around.
Tram – excellent mode of transportation for tourists, especially between the top sights in the historic part/old town.
Bus – not very convenient in the city, but okay for travelling out of the city.
Train – convenient for travelling between cities.
Ferry and boat – on the Vltava River, perfect for a unique experience and amazing views.
Car rental – convenient if you plan to drive to your day trip destinations. Not for getting around in the city.
Types of tickets:
You can use every ticket for any and all means of transport within Prague. Make sure you validate your ticket immediately after buying it and before boarding. There are four types:
30 min for 30 CZK (more than 1 €)
90 min for 40 CZK (approx. 1.5 €)
1 day for 120 CZK (more than 4.5 €)
3 days for 330 CZK (approx. 13 €)
When you're booking your hostel in Prague, make sure you're close to public transport if you want to take some day trips.
Use Bookaway to find the best deals on transport – buses, planes, trains, and ferries. It'll save you a load of time when organising transport and you'll probably nab an EPIC DISCOUNT too!
Book your transport on Bookaway NOW. Get the best price for the best ride… then use those savings to buy the best feed in town!
Book Your Transport Here!
Half-day Trips From Prague
Half-day trips are best if you're short on time, like if you're in Prague for a weekend. What's better than visiting a castle or two whilst you're backpacking around the Czech Republic.
Castle Karlstejn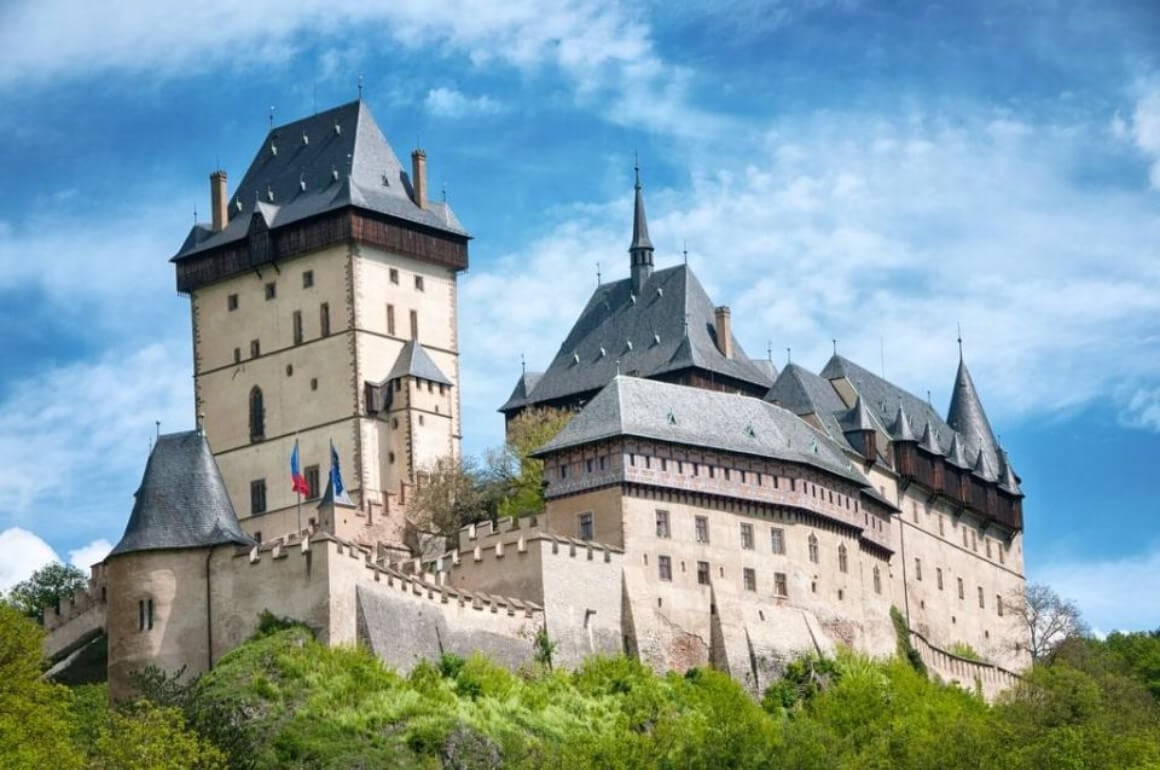 Who doesn't love castles? I know I do! Castle Karlstejn is just to the southwest of Prague, perched in the middle of the countryside. Karlstejn was once the summer residence for Prague's own Holy Roman Emperor Charles IV and is a remarkably preserved 14th-century Gothic castle. It was a hiding place for Bohemian crown jewels during wars.
Walk up the hill to Karlstejn and soak in the gorgeous views of the fortress' towers and turrets. The Chapel of the Holy Cross, where the king's jewels were stashed, is the main draw. Get close-up views of the medieval frescoes, paintings and treasures in the Imperial Palace and Well Tower. Paid guided tours allow access to the rooms, so be sure to reserve a slot in advance.
When you're done exploring the castle, stroll through Karlstejn village below. There are a number of pubs, cafes, restaurants and souvenir shops to check out. Try authentic rustic Czech food with grilled meats and beer on tap at Restaurace Pod Draci Skalou.
How to get there: From Prague Main Station, take a train to Karlstejn which takes around 40 min.
Suggested Trips: Half-day trip Karlstejn Castle
Konopiste Castle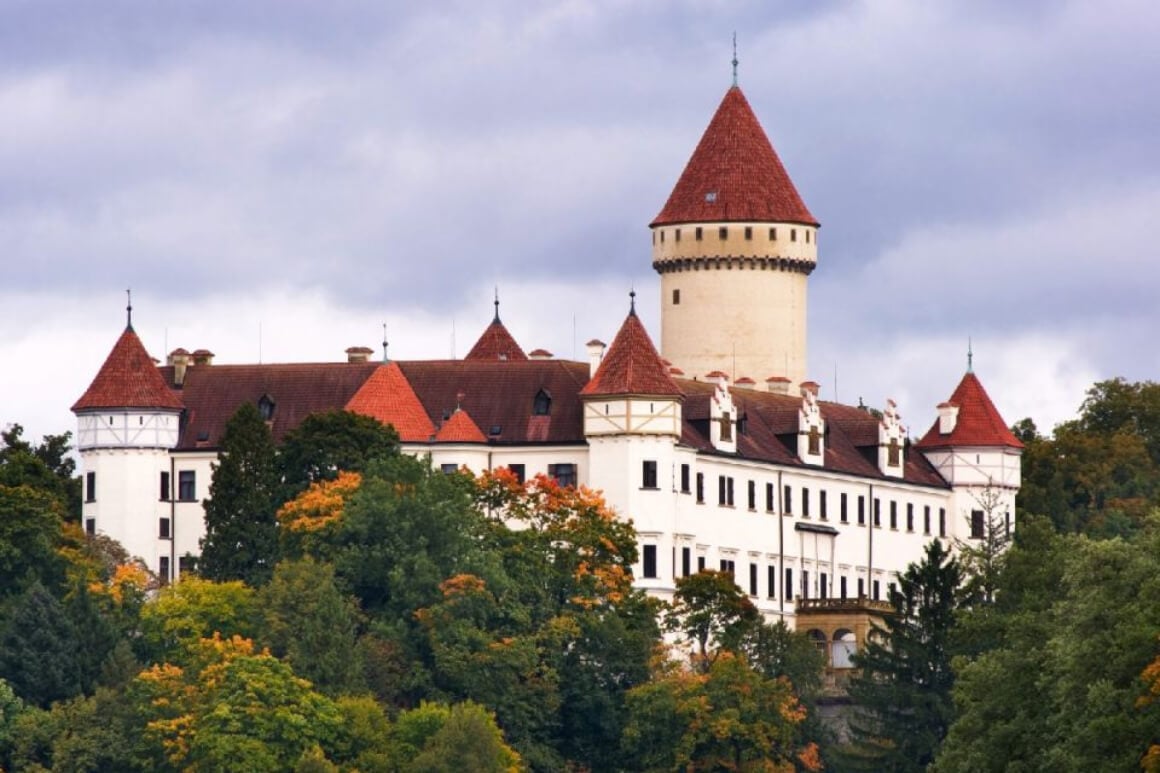 Here's another castle and another enchanting half-day trip from Prague. The 17th century Konopiste Castle lies in the southeast of Prague outside the city of Benesov. The castle is famous as the last residence of Austria's Archduke Franz Ferdinand, whose assassination triggered off WW1.
Walk through a lovely garden to the beautiful Konopiste Castle. The fortress was converted to a personal hunting lodge by the Archduke. It is here that he managed to amass the largest collection of mounted animals in Europe. Explore the castle and then check out the hunting trophies (wild boars, antlers, eagles, etc.). There's a fine collection of Meissen porcelain and antique furniture too.
Konopiste Castle is also home to an impressive armoury with medieval weapons. The famed Rose Garden, with Italian Renaissance statues and greenhouses, is quite a popular setting for weddings.
How to get there: From Prague Main Station, take a train to Benesov u Prahy. Takes about 45 min. Then it's a 30 min walk through a park. Or take a taxi.
Suggested Trip: Konopiste Chateau Tour
Is This the Best Daypack EVER???
Full-day Trips From Prague
So, you've ticked off all the best places to visit in Prague… now it's time to spread your wings!!
Here we have my top picks for full-day trips out of Prague. Just wear comfy shoes, pack your jacket, and be on your way for an exciting day!
Cesky Krumlov
Let me just start by saying that Cesky Krumlov has my heart. This fairytale town is as magical and beautiful as a storybook one. It is one of Eastern Europe's best-preserved walled towns and only second to Prague popular with tourists. Cesky Krumlov's entire Old Town is a UNESCO World Heritage Site owing to its well-preserved state.
Cesky Krumlov has that classic old-world charm. Walk through the maze of cobbled streets of Old Town and into the town square, surrounded by colourful medieval buildings. The River Vltava meanders through the town while the impressive Renaissance-style Cesky Krumlov State Castle overlooks from the hill above. The pink Castle Tower is the stunning symbol of the town.
Visit and explore its exquisite interiors. There is a Rococo-style garden with an elaborate fountain. Views from the arched stone 'windows' of the castle complex walls are worth the hike up. There are plenty of bars and restaurants in town. Check out the barbeque cellar at Krcma v Satlavske for excellent grilled meats and a funky medieval ambience.
The magic of Cesky never stops, and it would be unfair to do it in a day. Therefore, I urge you to stay at least two nights in town. Try this great B&B 10 min from the city centre.
How to get there: From Prague's Na Knizeci station, take a bus to Cesky Krumlov. Alternatively, from Prague Main Station, take a train. Takes three hours.
Bohemian and Saxon Switzerland National Park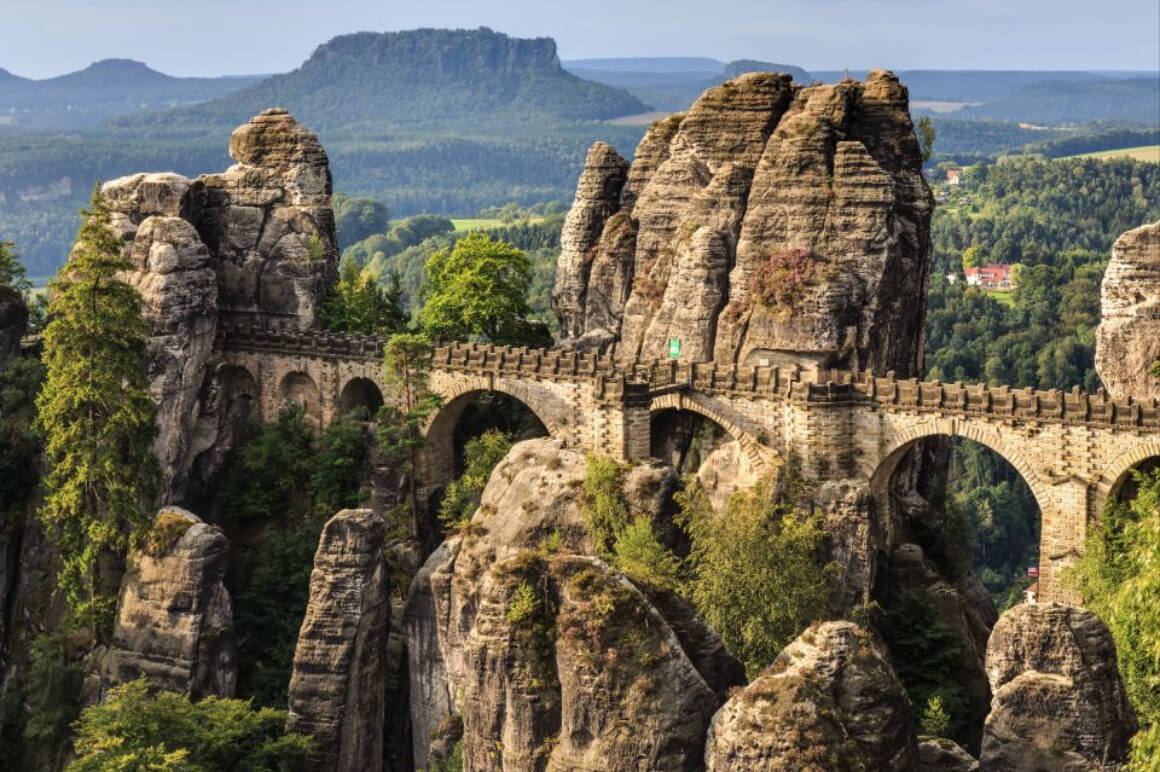 Nope, it's not in Switzerland; this stunning landscape that resembles an Alpine retreat lies on the border between the Czech Republic and Germany. The Bohemian and Saxon Switzerland Park is a beautiful national park that is great for outdoor and adventure lovers.
Visit Pravcicka Gate, the largest sandstone arch in Europe. It is truly a natural wonder, standing 21m tall and located deep in the woods. The area was used as a filming location for the movie Narnia, showcasing its mysterious and magical aura. There are plenty of hiking trails and biking opportunities here. You will come across beautiful waterfalls and deep gorges hidden within the forested hills. Perfect for photo ops!
Whichever natural attraction you go to, you'll have enthralling views of the region: boating on Kamenice River through a deep gorge, walking across the stunning Bastei Bridge, or sailing through River Elbe below on a gondola-like boat. Afterwards, visit the village of Hrensko and have a traditional Czech meal to complete the experience.
How to get there: From Prague, take a train to Decin. Then take a local bus to the park's main village. Takes around three hours in total. I'd suggest going with a paid tour group.
Suggested Trip: Bohemia and Saxon Switzerland Full-Day Tour
Kutná Hora
What makes an interesting and daring day trip from Prague? I'm thinking of a small town with stunning architecture and a place that gives you the heebie-jeebies. Yep, it's Kutna Hora. This medieval town has a dark history and a UNESCO Heritage site to boot.
As soon as you enter Kutna Hora, make your way to the famous Sedlec Ossuary, or the "Bone Chapel". This small church is decorated with the bones of around 70,000 people. Most of them were killed during wars and the Black Plague in the 1400s. The 'decorations' are chapels, crosses, chalices and monstrances carved from the human bones. Creepy and fascinating and I'll have to be honest, I'm a right weirdo so I bloody love it!
Next visit the 15th century Gothic St. Barbara's Church that is also a UNESCO World Heritage Site. Marvel at the vaulted ceiling, extravagant interiors and ornate frescoes featuring minting and mining. Kutna Hora was once a silver mining town centre for the Bohemian kingdom. Tour the old silver mines at Hradek Castle and check out the Italian Court, where much of Europe's coins were minted.
How to get there: From Prague Main Station, take a train to Kutna Hora Main station. Alternatively, take a bus from Prague's Haje Station. Takes around two hours. From there, it's a 10-min walk to the church.
Suggested Trip: Kutna Hora with St. Barbara Cathedral or Kutna Hora Site Tour
Karlovy Vary (Karlsbad)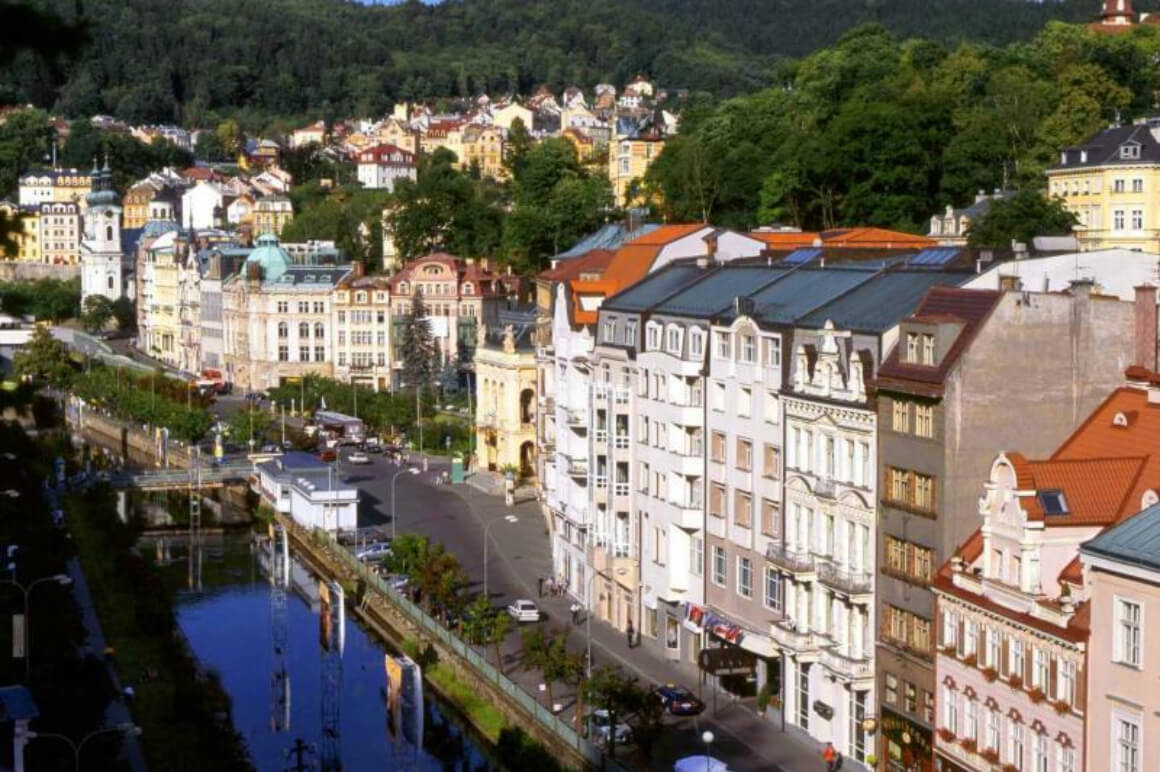 Karlovy Vary, or Karlsbad as it is more commonly known, is a famous spa resort town. It is built around natural springs said to have been discovered by the Holy Roman Emperor Karl IV in the 14th century. Karlovy Vary is just two hours away, so it is an easy and relaxing day trip from Prague.
Karlovy Vary has colourful and whimsical architecture. The town is filled with houses, colonnades, and fountains depicting Neoclassical and Art Nouveau styles. The highlight is still its more than 12 natural hot springs: the jets of water shoot as high as 14m upwards! The water is believed to have a lot of health benefits and healing properties. Visit a medical spa for a treatment, or just fill your water bottle from one of the many fountains.
If you love Bohemian crystal and glasswares, you must visit the Moser glass factory. Watch skilled glassblowers at work as they create beautiful crystal masterpieces. You can even buy souvenirs at the factory gift shop. Later on, take some time out for lunch and try Becherovka, a traditional herbal liquor, and the town's famous wafers.
How to get there: From Praha Florenc bus terminal, take a bus to Karlovy Vary. Takes two hours.
Suggested Trip: Karlovy Vary Tour with Lunch
Bohemian Paradise Natural Reserve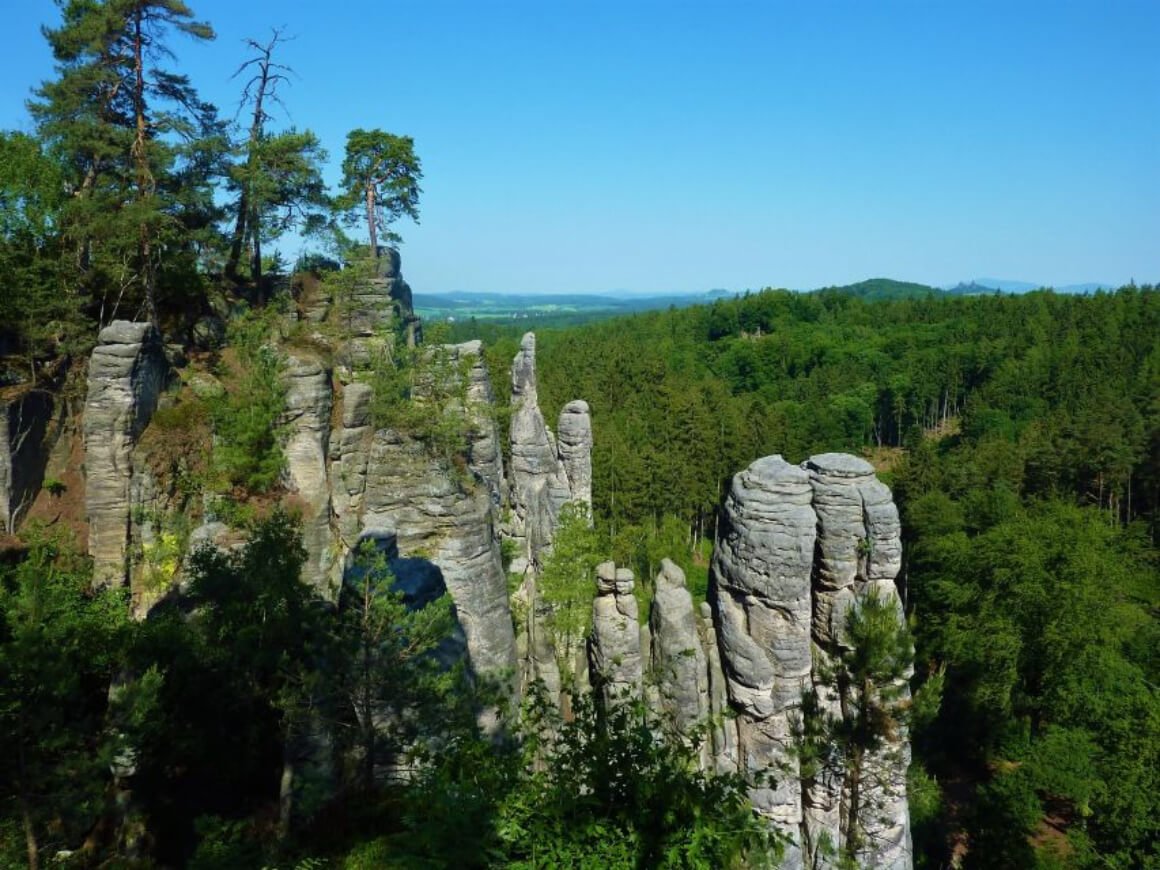 Make your way to the Bohemian Paradise Natural Reserve for an exciting combination of castles and natural landscapes. This UNESCO Geopark is a stunning show of rock formations, sandstone towers, dense forests, splendid old castles (these old ancient Europeans were really fond of castles, weren't they?) and many historical buildings. What more can one ask for in a day trip from Prague?
Visit and start from the historic town of Turnov, known for its medieval architecture and churches. Bohemian paradise is home to many castles and ruins among its sandstone cliffs and ravines. Be sure to check out the Hruba Skala Castle, perched atop a cliff and the Gothic Valdstejn Castle. Then there is Kost Castle, known for its White Tower, and the ruins of Trotsky Castle that are worth your time.
Later on, put on your hiking boots and explore the park's network of hiking trails. The rock formations are spectacular. The most popular one is the Prachovske Skaly. The panoramic views of the countryside from above are magical, to say the least.
How to get there: Ideally, I'd suggest driving there yourself, or just going with a paid tour as it will be more convenient.
Suggested Trip: Bohemian Paradise Walking Tour
Plzen (Pilsen)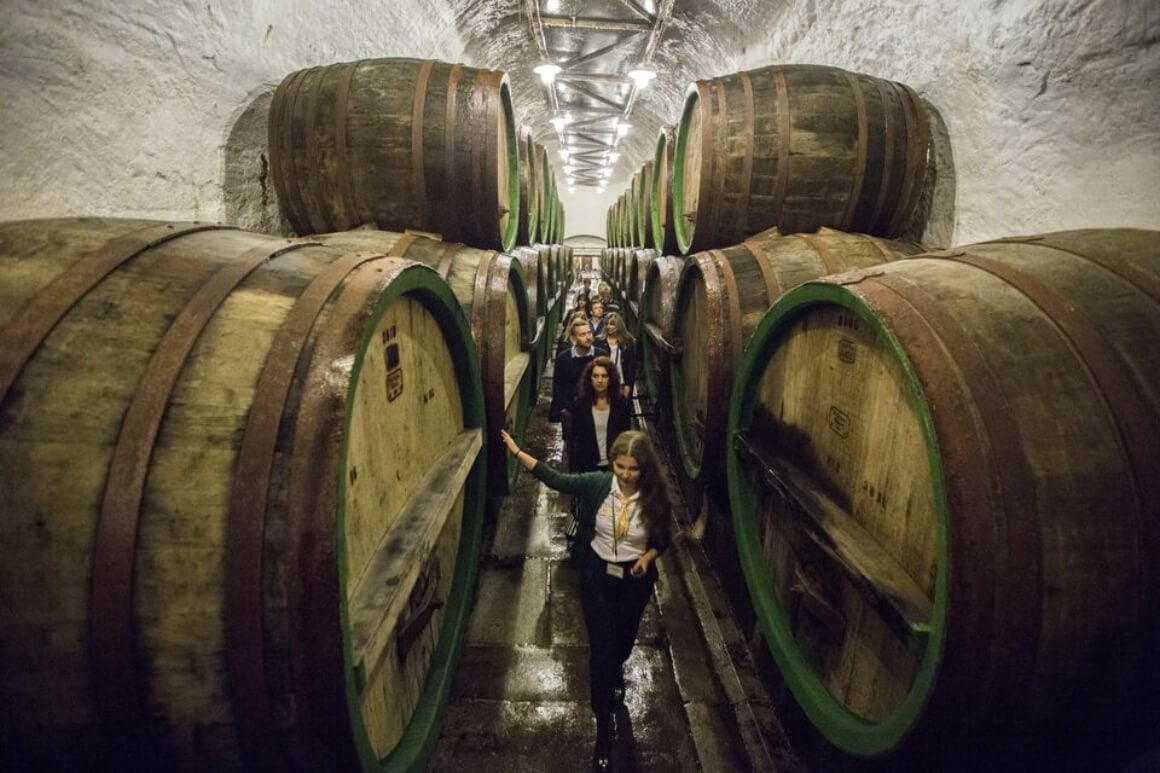 Attention beer lovers! You haven't done the Czech Republic right if you haven't visited Pilsen, the birthplace of the Pilsen lager. This 'fountain of eternal froth' is world-famous among beer-heads and arguably the best lager beer. You'll literally froth this place! Plzen is the second-largest city in Bohemia after Prague and has its own culture and dining (read: beer) scene.
Head over for a tour of the Pilsner Urquell Brewery, which has been in operation since 1842. I wouldn't be exaggerating if I said that beer drinkers from around the world gather to worship at the brewery. Visit the old cellars and learn the history of the beer and the place. The Brewery Museum is also a good place to check out. Here you learn how beer was made before Pilsner Urquell was founded.
Plzen is not just the mecca of beer. The town has other attractions as well. Walk around the town square and take a trip down the historic underground tunnels. These were dug as early as the 14th century for beer production and defence purposes (ok, so still beer related!) It's chilly down there, so do take a warm coat.
Visit the Cathedral of St. Bartholomew, the Renaissance Town Hall and the Great Synagogue. Plzen also has museums and art galleries. When you've had your fill of all of the sightseeing, hop into pub-restaurants like Na Parkanu and Na Splice and have a traditional Czech meal with some of the best beer in Europe.
How to get there: From Prague Main Station, take a direct train to Pilsen. Takes about 1 hr 40 min.
Suggested Trip: Pilsen Old Town Gastronomy Tour
Dresden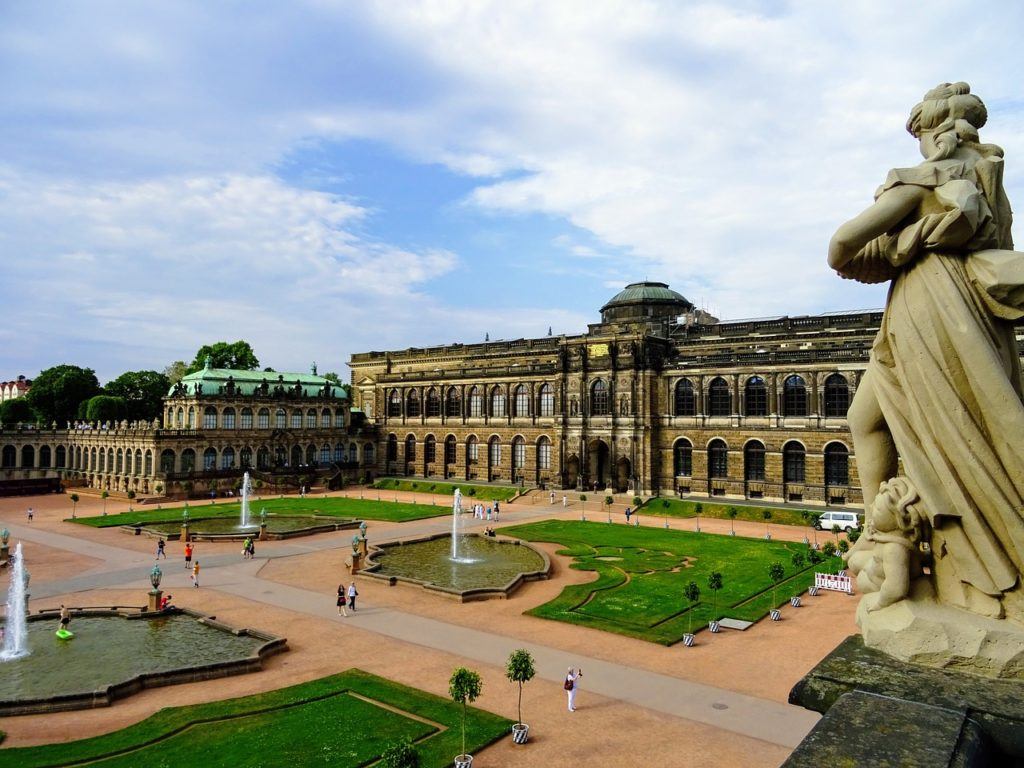 Dresden is an enthralling day trip from Prague. The city is filled with magnificent Baroque churches, palaces, and other architecture. It's impressive that many of these were rebuilt and meticulously restored after Dresden was destroyed in WWII bombings in 1940. This German city today is nicknamed "Florence on the Elbe".
Dresden draws you in with the striking dome of the Frauenkirche. Marvel at this church, once a pile of rubble, but restored with joint efforts of international organizations afterwards. It now stands for peace and reconciliation. Visit the Zwinger Palace and the Zwinger Old Masters Gallery to see Renaissance masterpieces, such as Raphael's Sistine Madonna.
Visit the Dresden Royal Palace, which houses the famous Green Room, containing the largest treasure trove in Europe. Walk through the Dresden Baroque Quarter and the Neustadt neighbourhood for its unique art and architecture. The "Courtyard of Elements" is a quirky place to see. The house front is fixed with a system of drain pipes and funnels that creates soothing musical sounds when water runs through them. 'sounds good!'
Dresden is a package deal of art and architecture, picturesque views and turbulent history. I'd suggest staying back for a night. Check this affordable hotel with stylish accommodation and a convenient location.
How to get there: From Prague Main Station, take a train to Dresden Hbf. Takes 2 ½ hours.
Telc & Trebic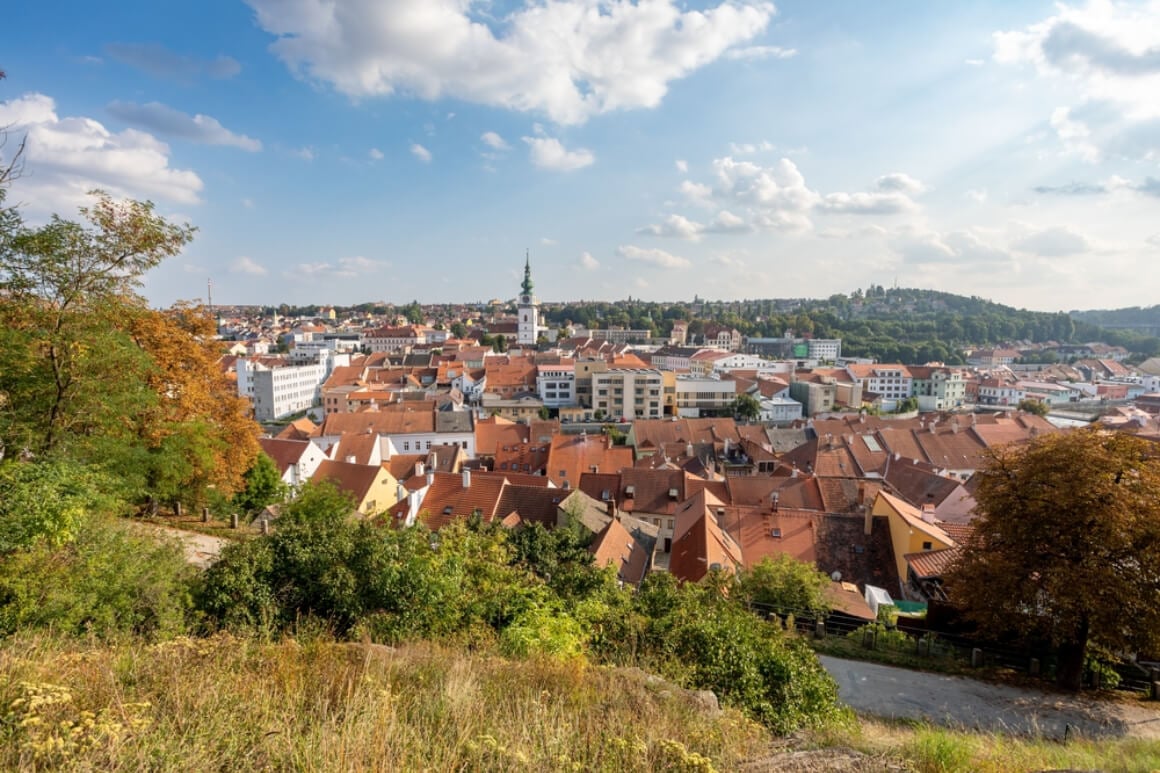 The towns of Telc and Trebic are a buy one get one free day trip from Prague. Both of these towns are designated UNESCO Heritage sites. Telc is known to be one of the most beautiful towns in the Czech Republic, while Trebic is full of history and architecture.
Trebic is a charming town with lots of history, dating back to the early 12th century when the Benedictine Monastery was established. Trebic was destroyed a few centuries later and only in the early 20th century was the historic part of the town renovated. Visit Trebic's well-preserved and compact Jewish Quarter. Then have a look at the 13th century St. Procopius basilica, a wonderfully preserved church.
Telc is all about stunning Baroque and Renaissance architecture with beautiful facades. The town's main square is its best attraction. Lined with colourful townhouses, archways and galleries, the town square is not to be missed. Don't forget to check in the 17th-century chateau and climb the tower for beautiful panoramic views of the area.
Telc and Trebic are best experienced in two days, so you might want to stay back a night in Telc. Try this comfortable hotel which is just some steps away from the main square.
How to get there: From Prague Florenc, take a bus to Trebic-Suchenovia. Takes 3 hours. From Trebic, it is a 30 min bus to Telc.
Small Pack Problems? 😉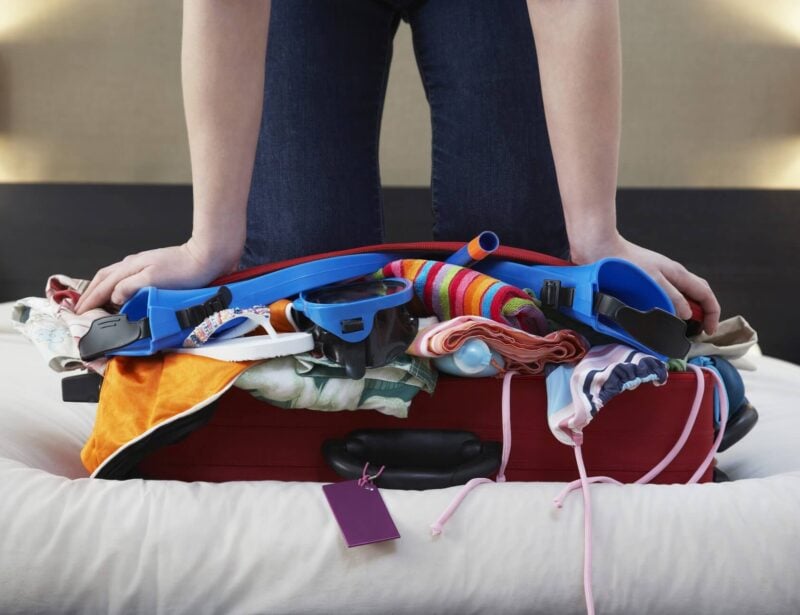 My missus travels with all her clothes in ziplock bags: don't be like my missus. UP YOUR PACKING GAME!
Packing cubes for the globetrotters and compression sacks for the real adventurers – these babies are a traveller's best kept secret. They organise yo' packing and minimise its volume too so you can pack MORE.
Or, y'know… you can stick to ziplock bags.
View Our Fave Cubes
Or Check Out the Sacks!
Don't Forget your Prague Travel Insurance
Prague is super safe but make sure you're prepared!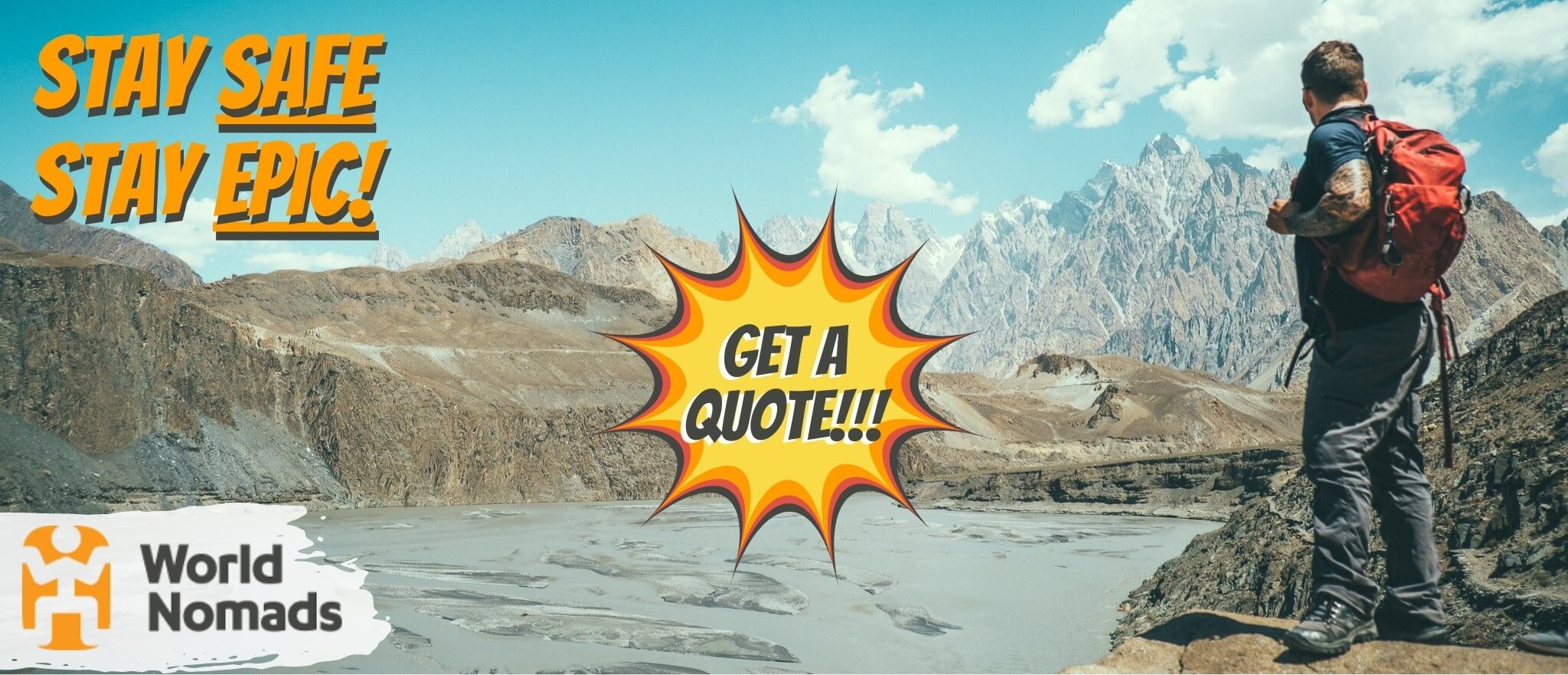 World Nomads' mission is to support and encourage travellers to explore their boundaries. They offer simple & flexible travel insurance, and safety advice to help you travel confidently.
They've been doing it since 2002 – protecting, connecting, and inspiring independent travellers just like you.
Get a quote below or read our in-depth review!
World Nomads provides travel insurance for travelers in over 100 countries. As an affiliate, we receive a fee when you get a quote from World Nomads using this link. We do not represent World Nomads. This is information only and not a recommendation to buy travel insurance.
Final Thoughts
While I maintain that the capital of Czechia is a truly wonderful city to visit in itself and it's well worth backpacking around Prague to see the famous astronomical clock, there's more to the country too!
However, the nearby towns and places are also worth exploring. I'm all for going on day trips to some of these places to get to be more acquainted with the Czech Republic and its more local and authentic areas. My favourite will always be Cesky Krumlov and Kutna Hora. Cesky Krumlov is the perfect and picturesque fairytale city, while Kutna Hora is all about the weird and macabre.
In any case, Prague and its neighbours are filled with interesting and exciting places to explore (hello, castles!) that you'd surely not want to miss. So what are you waiting for? Tell us where you'd go on your next trip to Prague. Happy travels!
---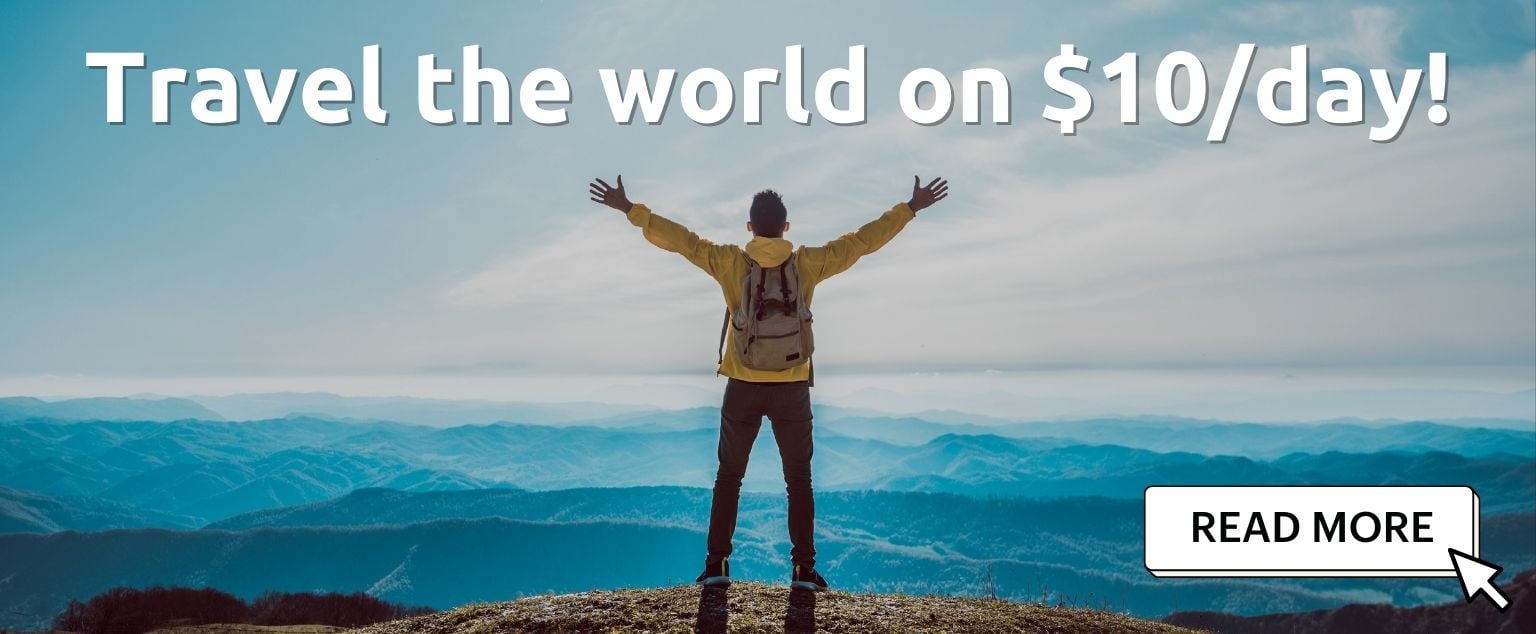 And for transparency's sake, please know that some of the links in our content are affiliate links. That means that if you book your accommodation, buy your gear, or sort your insurance through our link, we earn a small commission (at no extra cost to you). That said, we only link to the gear we trust and never recommend services we don't believe are up to scratch. Again, thank you!