We don't have to destroy the world to produce hiking boots anymore. For decades, there has been no genuine substitute for the performance of a pair of leather hiking boots. Synthetic materials have become light, affordable, and sustainable enough to step up to the plate and give us the freedom of choice and more importantly, comfortable and feet dry without harming animals.
Even if your hiking footwear isn't made of leather, traditional manufacturing lines haven't been safe spaces. People buying traditional hiking boots didn't spend much time pondering where their materials came from. For decades the industry churned along by any means necessary and didn't think twice about the environmental and cruelty costs of those production lines. Luckily, people are starting to wake up and vegan footwear is much more widely available.
Knowing what we know now, it's impossible to enjoy the outdoors without worrying about its future. Ethical hikers know all about the basics; leave no trace, don't feed the wildlife, and don't approach a horny bull elk!! But maybe it's about time we do more… and that starts from the bottom with out hiking shoes.
Each time we slip on our hiking boots, we can be helping or hurting the cause. One easy way to take ethical adventures further is by trusting a pair of vegan hiking shoes, and now may be the time to take the pledge.
Veganism and the vegan lifestyle is more prevalent than ever, and the movement has jumped off the plate and rolled into all corners of the outdoor industry including revolutionising the traditional hiking boot.
Unfortunately, it's not always so easy to find your perfect pair of vegan boots. Companies love making bold vague promises, but very few actually take steps to follow through with their word.
That's where we step in. It's hard enough navigating take-out menus and salad dressing ingredients to find great vegan options, and shoes don't come with ingredient lists plastered on the box.
Being completely vegan means the shoes contain no leather, no gelatine, and animal-derived glues or dyes. This fledgling market hasn't quite ironed out all the wrinkles, which has allowed a few pretenders into the ranks of legit vegan walking boots.
Even some so-called non leather hiking boots can still sneak in plenty of harmful practices, such as bindings made out of animal products or animal byproducts in the colouring and actually end up being non vegan boots.
The good news is, several fantastic vegan boots and shoe styles can hold their own on any list of the best hiking boots on the market, and we're here to help introduce you two. These vegan friendly boots can pack the same lightweight efficiency, gore-tex waterproofing, and long-lasting grip you'd expect of any top pair of hiking shoes and mountaineering boots, and they're built to last too.
Follow along as we break down the sustainable industry and show you some of the best vegan hiking shoes for breaking your next adventure:
Quick Answers – The Very Best Vegan Hiking Boots
Vegan-friendly Hiking Boots vs Leather Hiking Boots?
Saving the world is nice and all, but we've got to protect our feet (and our wallets) while we're at it. Completely vegan made shoes are worthless if they won't help you reach new heights. So let's get down to brass tacks.
The woods are an excellent place for exploration, but nobody likes taking risks with their footwear. Vegan hiking boots haven't been around forever, and you probably have a few questions swirling around your head when it comes to cruelty-free mountaineering boots.
Are vegan boots lower quality? Do vegan boots cost more?
The answer to both of these is a resounding nope! Vegan gear and Vegan backpacks are just as good as their non-vegan rivals. In fact, you might find some of the popular hiking boots are actually vegan!
You don't have to decide between comfort and consciousness when it comes to a good hiking shoe.
Modern vegan hiking boots can do almost everything that leather can, although they might not stand up to the test of time quite as well. Some of the most high-performance shoe styles on the market now have vegan competition that will allow you to sustainably set foot on the summit, even if you need something compatible with crampons, there are vegan winter boots for that too!
Don't get me wrong. You can undoubtedly find low quality vegan boots, just like you can find cheap 'leather' boots that don't stack up to the competition. As you'll see with our top performers, a vegan diet has the same excellent results in hiking shoes as it does in the human body.
The best vegan boots stay waterproof, technically advanced, safe, comfortable, and incredibly lightweight. Unfortunately, they're not quite perfect.
The biggest flaw in the vegan boot industry is durability. Most of these synthetic leather materials haven't been around for ten years, let alone decades, under the feet of full-time hikers. The one thing vegan-friendly synthetic materials still can't copy is leather's malleability. Leather develops a personality over time while it holds together for decades.
We'll highlight the boots with the best vegan-friendly synthetic materials below, which have put serious dents in the gap between leather and synthetic leather. Still, don't expect a pair of vegan boots to last you through decades of technical hiking.
Most of the technologies that made these synthetic boots possible haven't been accessible long enough to put up a fair fight. There is no doubt in my mind that vegan boots that can last for life are coming to the market soon, but we haven't quite gotten there yet.
A splash of longevity is a small price to pay for sustainability, as long as we stay smart about it. There is no point in buying vegan shoes if you contribute to a landfill and get a new pair every six months. The best way to avoid shoddy craftsmanship is to stick with a known brand and commit to spending a bit of extra money upfront. But sustainable, vegan-friendly and eco-friendly gear is worth the investment.
Deals that sound too good to be true probably are, and very few vegan boots cost less than $100 that can stand the ultimate test of time. This concept works the exact same with omnivorous boots, so it shouldn't scare you off. Besides, if I'm going to spend serious money on my shoes anyway, I'd feel better having something cruelty-free shipping to my doorstep.
How to Find Vegan Hiking Boots
The most important thing to be careful of when shopping for vegan products is unclear marketing. Modern logistics can work as a get out of jail free card for businesses. It's all too easy for a company to slap a leather-free sticker on their signature shoe without understanding where they got all their materials from.
Synthetic shoes are a combination of materials, dyes, glues, uppers, soles, waterproof membranes, laces, and soles that can be sourced from all over the place.
This means that just because the shoe doesn't have any leather doesn't mean animal products aren't used in some facet of the production line.
There are two main categories of vegan hiking boots: boots that were consciously made to be free of animal products and boots that are leather-free for performance, budget, or style reasons.
The best way to ensure that your hiking boots are entirely vegan is to get the news directly from the horse's mouth. Look for any 100% vegan designation or a statement from the manufacturer that declares their product completely free of animal byproducts if you want to be completely sure that your shoes don't have any animal products at any point in the production process.
Astral Pisgah
> $
> Made out of recycled materials
> Stylish and high performance
XPETI Thermator
> $
> Most affordable boots on our list
> Water resistant all the way through the high ankles
Baffin Charge
> $
> Built to handle cold weather
> Perfect boot for wide feet
Wills Vegan Boots
> $
> Carbon neutral supply chain company
> Signature footwear style gone green
These are the Best Vegan Hiking Boots
These boots are 100% leather-free, high quality, and guaranteed to match your trousers, these vegan hiking boots will bring plant power to your next adventure.
Heading to the backcountry? Check out our guide to the best backpacking meals, including some epic vegan options.
Ladies & Gents, It's Time to Step Your GEAR Game Up. 😉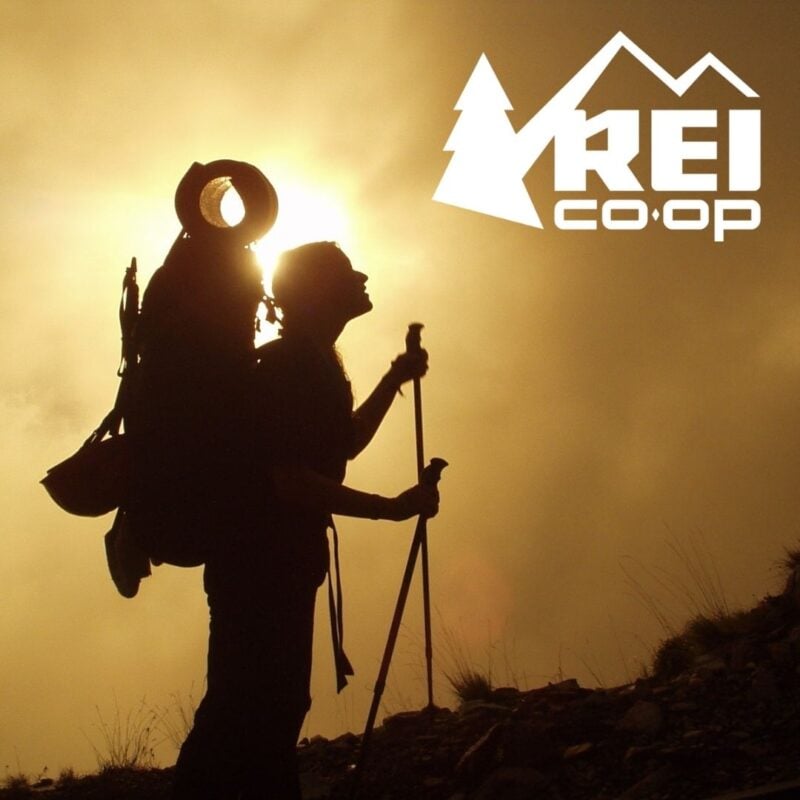 REI is one of America's biggest and most-loved outdoor gear retailers.
Now, for just $30, get a lifetime membership that entitles you to 10% OFF on most items, access to their trade-in scheme and discount rentals.
Join REI Today!
Specs
Price (USD): 170
Weight (lbs): 1.9
Vegan Rating (%): 100%
Hoka's gore-tex boots are a perfect everyday option for all sorts of adventures. These trail running experts released the One One as the company's first-ever fully-fledged hiking boots. The comfortable trekker makes the most out of vegan materials without costing a fortune.
Thanks to the robust waterproofing and Vibram comfort soles, we'd love this shoe even if we didn't care about eco-friendly materials. The shoe is essentially a trail runner surrounded by extra protection to make it suitable for technical ascents and quick directional shifts.
To make a quality hiking boot from a trail running background, Hoka shaved weight wherever they could and provided excellent arch protection for wider feet. All this value comes carved out of synthetic materials to earn the One One Sky the ranking as the best walking boots on the market.
+Pros
Waterproof with a breathable mesh collar
Vegan hiking boot is built for speed
Works for every adventure
-Cons
Only comes in Low Cut
Slightly on the heavier side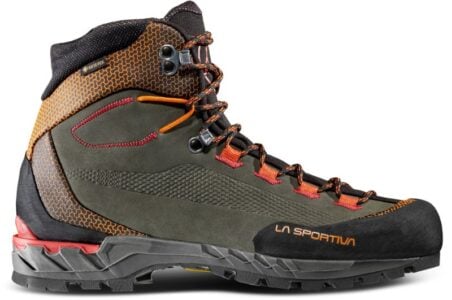 Specs
Price (USD): 269
Weight (lbs): 1.2
Vegan Rating (%): 100
La Sportiva's eco-friendly mountaineering boots prove that vegan options can get the job done at the highest level. March on through sunny days or surprise flurries in style with these high top, gore-tex boots that provide top of the line performance. Best of all, these shoes are packed with durability that leads the vegan market.
You can expect these shoes to last a decade, protection backed by La Sportiva's high-class pedigree. This extreme sports company is no stranger to churning out technically advanced rock climbing tools and all sorts of gear built for the mountains.
This vegan hiking boot is no exception to their standard. They're powerful enough to get you through the most technically advanced ascents and nasty weather and comfortable enough to still serve as everyday hiking boots.
If you plan on hiking for four seasons, you'll love the patented TPU Thermo tech that not only keeps your feet warmer but also works to stretch out the lifespan of the rugged polyester uppers.
La Sportiva also makes some epic bouldering shoes if you need something a bit more technical.
+Pros
Crampon compatible
Waterproof even when submerged
Best in vegan class durability
-Cons
Expensive
A bit intense for some dayhikers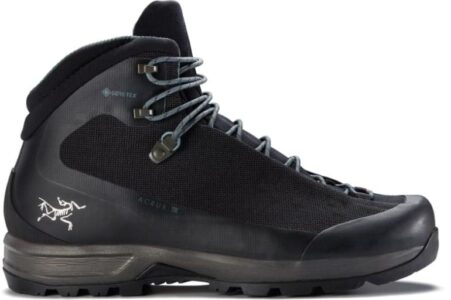 Specs
Price (USD): 250
Weight: 2 lbs 10 oz
Vegan Rating (%): 100
Arc'teryx isn't one to cut corners, so you can rest easy knowing that these boots are 100% vegan. Arc'teryx is also one of the best hiking boot brands on the market too, so you're getting top quality for your dollar too.
The calm, matte black exterior of these boots finish off a powerhouse vegan boot. They may be known more for jackets than boots, but everything this company touches turns to gold, every inch of this boot has been optimized for the trails, and no animals were harmed while making this product.
The boots might look low-key, but they're stuffed full of high tech safety. A complete gore-tex membrane provides submersible waterproof protection while staying breathable, and reinforced rubber soles help you navigate uneven Earth.
A bit heavier than casual footwear, these boots are built to support a pack over multi-day hikes and to keep your feet comfortable and dry through technical terrain. The high price point probably does enough to disqualify them for casual day hikes, but anyone looking to take their treks to extreme places will find them up to the task.
There is no challenge these vegan boots can't handle, and the company pedigree stamped on the heels of these mighty shoes gives any purchase a complete piece of mind. For a few extra dollars, you can rest easy knowing you've got the best in vegan technology underneath your feet.
+Pros
Completely waterproof
Company has committed to lower carbon footprint
Fair trade certified
-Cons
Expensive
Heavy for casual use
Specs
Price (USD): 160
Weight (lbs): 1.5
Vegan Rating (%): 100
Merrell's affordable hiking solutions go green with these gore-tex protected hiking boots. The flex 2 is a combination style vegan hiking boot that makes the most out of high-quality synthetic materials.
Tough and weather-resistant protections are wrapped around lightweight trail runner features to give off the best of both worlds. A Kinetic fit works with Vibram rubber soles to give a great grip without feeling heavy. The shoes are both waterproof and yet the breathable mesh helps keep your feet nice and cool.
MQM stands for moving quickly in the mountains, and that's precisely what you'll be capable of once you lace up these mid-lengths. The company provides many different hiking boot models, all affordable and sturdy. This model improves on the flex 1, one of Merrell's best selling boots, which is no easy feat. For this vegan option to step on the scene and immediately compete for Merrell's best-seller says all we need to hear about its quality.
I wouldn't trust these shoes on a thorough hike, but anyone looking to move fast or most casual day trekkers won't need anything more than the lightweight protection wrapped in quality waterproofing.
+Pros
Stays dry through river crossings
Affordable and high quality
Reinforced ankle strap protection
-Cons
Closer to trail runner than hiking shoe
Can't support a heavy pack
Specs
Price (USD): 150
Weight (lbs): 1.6
Vegan Rating (%): 100
Astral is a massive name only in the Kayaking industry, but with boots like these, they'll soon be earning mainstream prominence. Not only are these shoes 100 per cent vegan, but they're also made out of recycled polyester material that is quick-drying and eco-friendly.
Any hiking boot in this company's warehouse will ship cruelty-free, but the Pisgah's all-around performance earned its place on our list of the best vegan boots in the business. Since Astral's products are built for kayaking first, you can expect these shoes to handle wet conditions well.
Two layers of recycled, breathable laminate keep water from penetrating through to your feet, and the boot's exterior layers dry quickly. The Pisgah takes a simple shape, slipping on just above your ankle to keep your feet protected through day-hikes or shorter overnight journeys.
This casual hiking boot looks just as good on the trail as it does in the brewery, giving you a sustainable hiking boot that can be worn everywhere. Every ingredient in this shoe is there for a reason. Astral has focused equally on sustainability and performance, and this shoe is a glorious example of that commitment.
Complete the look and combine these stylish boots with a pair of Harem pants for the ultimate backpacking style!
+Pros
Made out of recycled materials
Modeled after jungle boots
Stylish and high performance
-Cons
Won't stand up to through hikes
Shoes tend to run small

Do You Want to Travel FOREVER??
Pop your email in below to get a FREE copy of 'How to Travel the World on $10 a Day!'.
Specs
Price (USD): 210
Weight (lbs): .5
Vegan Rating (%): 100
Vivobarefoot is no stranger to trying to do things differently. Across the warehouse, their boots and shoes are made with a low carbon footprint in mind. Most of their products use recycled materials and can even be recycled when their lifespan is over, but the Primus Trail takes the eco-friendly pledge a step further.
This particular line blends veganism with minimalism to create trail runners that are comfortable being worn daily. The soles and uppers linings of this shoe mimic the contours of your natural feet and give you the lift you need to perform.
The first thing we noticed about this vegan option is the lightweight class. Anyone looking to shed ounces in their footwear will find an easy option on the scale while staying wide and roomy inside.
Lightweight trail runners still need a solid grip, and Vivo barefoot didn't skimp on the traction. This minimalist shoe has the same firm ground soles as a heavy-duty boot, which gives you a great combination of traction, performance and lightweight.
These are not casual pairs of boots. They're out to prove that vegan materials can drop ounces while staying high-performance.
+Pros
Made from renewable materials
Vegan and minimalist
Powerful ground sole in a lightweight shoe
-Cons
Only come in low cut
Won't hold up to the weight of a full pack
Specs
Price (USD): 80
Weight (lbs): 2
Vegan Rating (%): Leather-free
Suede shoes have officially skipped off the dance floor and hit the trails. Speed provides the most affordable vegan hiking shoes on our list built for hiking through the cold. These high tops offer serious weather protection that will keep your feet warm in temperatures as low as -30F without breaking your budget.
You'll be surprised at the value-packed into these budget boots. There are few boots on the market that cost less than 100$ and still get the job done, but the Thermator happily serves as the exception to that rule.
That's not to say these boots are perfect. Without the full gore-tex waterproof lining, I'd be a bit nervous about testing the limits of the waterproof hydroshield lining. While the shoes do fine in the snow, they are not submergible.
Still, there is plenty of eco-friendly moisture-wicking mesh that will keep your feet dry through rain and casual splashes, and rubber toe cap protection finishes off a boot full of great value.
+Pros
Most affordable boots on our list
Built for cold temperatures
Water resistant all the way through the high ankles
-Cons
Leather-free, but questions remain about the dye sources
Not submergible
Specs
Price (USD): 181
Weight (lbs): 2.8
Vegan Rating (%): Leather-free
Baffin used synthetic materials to make a pair of vegan snow boots that bring serious protection to walks in winter wonderlands. This small Canadian boot company cranked out a leather-free boot that was hardy enough to survive several winters in the great white north. Rated for temperatures all the way down to -20F and built to last for life, these boots are ready to handle some serious foul weather.
Baffin boots feature seven layers of warming foam that keep heat in while wicking out any excess moisture. The outer softshell fabric bends and flexes with your foot and holds strong against rocky terrain.
These boots lose a few points because they were not consciously designed to be eco-friendly. You won't find any leather on your shoes, but Baffin didn't set out to make these shoes vegan, which means I can't be positive there are no animal products hidden away in the glues or dyes holding things together.
Nobody's perfect, but you could certainly do a lot worse than relying on the multi-buckle fasteners and high top protection of these all season boots.
+Pros
Built to handle cold weather
Comfortable for all day wear
Perfect boot for wide feet
-Cons
Leather-free but questions remain about material sources
Often fits off the size charts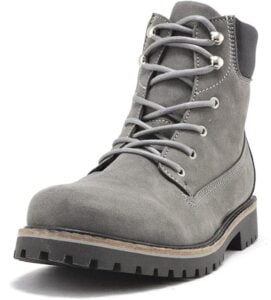 Specs
Price (USD): 119
Weight (lbs): –
Vegan Rating (%): 100
Will's boots have been inspected under the microscope and still look squeaky clean. European Union health & safety certified these vegan suede boots come out of western Europe ready to walk.
These are far from the most technically advanced boots on our list. Instead, Will focused on style and sustainability in production while adding on a few unique features like water resistance and reinforced uppers. The look is eerily similar to Timberlands in a special grey tone that comes from the suede materials.
What really ranked these boots on our list is Will's commitment to sustainability across the board. These boots were sourced from Ecolabel certified vegan suede, produced in a factory that focuses on ethical employment, and delivered through an entirely carbon-neutral supply chain.
Even the paper and cardboard packaging that protects your shoes were sustainably sourced!
You'll have a hard time finding any boots on the market that work harder to stay green than these, but you'll have an incredibly easy time piecing together ensembles that match these monotone shoes.
If you're not shopping for boots that will help you scale mount Everest, stay comfortable and stylish without sacrificing your beliefs, thanks to Will's vegan shoes.
+Pros
Carbon neutral supply chain company
Signature footwear style gone green
Rare commitment to eco-friendly production across the board
-Cons
Not the most water resistant options
Won't hold up to technical hiking
The best present of all… is CONVENIENCE!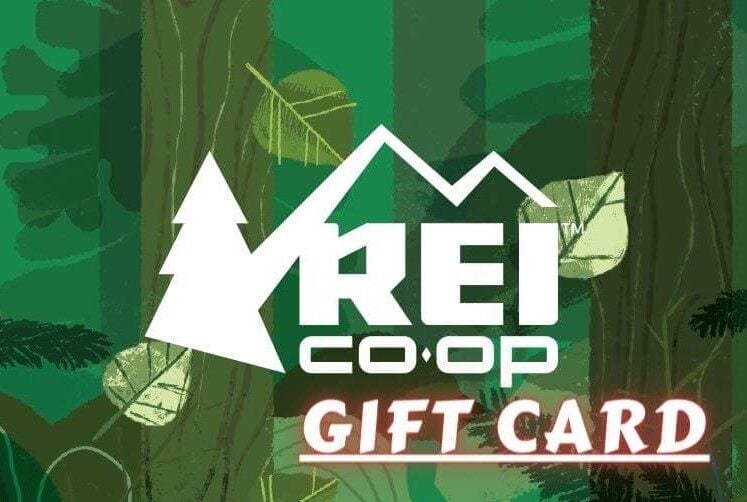 Now, you could spend a fat chunk of $$$ on the WRONG present for someone. Wrong size hiking boots, wrong fit backpack, wrong shape sleeping bag… As any adventurer will tell you, gear is a personal choice.
So give the adventurer in your life the gift of convenience: buy them an REI Co-op gift card! REI is The Broke Backpacker's retailer of choice for ALL things outdoors, and an REI gift card is the perfect present you can buy from them. And then you won't have to keep the receipt. 😉
Buy on REI!
Best Vegan Hiking Boots

| Name | Weight (lbs) | Vegan Rating | Price (USD) |
| --- | --- | --- | --- |
| Hoka One One Sky Toa GTX | 1.9 | 100% | 170 |
| La Sportiva Trango Tech Leather GTX | 2.8 | 100% | 279 |
| Arc'teryx Acrux TR GTX | 2 lbs 10 oz | 100% | 250 |
| Merrell MQM Flex 2 Mid GTX | 1.5 | 100% | 160 |
| Astral Pisgah | 1.6 | 100% | 150 |
| Vivobarefoot Primus Trail | .5 | 100% | 210 |
| XPETI Thermator | 2 | Leather-free | 80 |
| Baffin Charge | 2.8 | Leather-free | 181 |
| Wills Vegan Boots | – | 100% | 119 |

Our GREATEST Travel Secrets…
Pop your email here & get the original Broke Backpacker Bible for FREE.
Final Thoughts on The Best Vegan Hiking Boots
Whether you're shopping for style, have a burgeoning hiking career, or looking for a companion for technical ascents, the best vegan hiking boots can get the job done without harming the Earth in the process.
We've highlighted some vegan boots that bring incredible value to the table. Just like a proper vegan diet, these shoes prove that you can reach high-performance levels without harming animals to get there.
Some of these boots didn't set out to be vegan, while others took sustainability into account at every step of the process. Companies like Arc'teryx, Astral, or La Sportiva have been going the extra mile for decades to prove that they care about offering up quality gear that doesn't harm the Earth.
Our gear is only here to help us enjoy the great outdoors, so what's the point of loading up the closet full of products damaging the very woods we escape to?
As consumers, we have more power than we realize. These boots may not be the cheapest options on the market, but every purchase can make a difference. We vote with our wallets, and investing in vegan hiking boots tells companies across the board to focus on creating products sustainably if they want our business.
Let us know why you shop vegan in the comments below and let one of the best vegan hiking boots on the market take you to the mountaintop.
---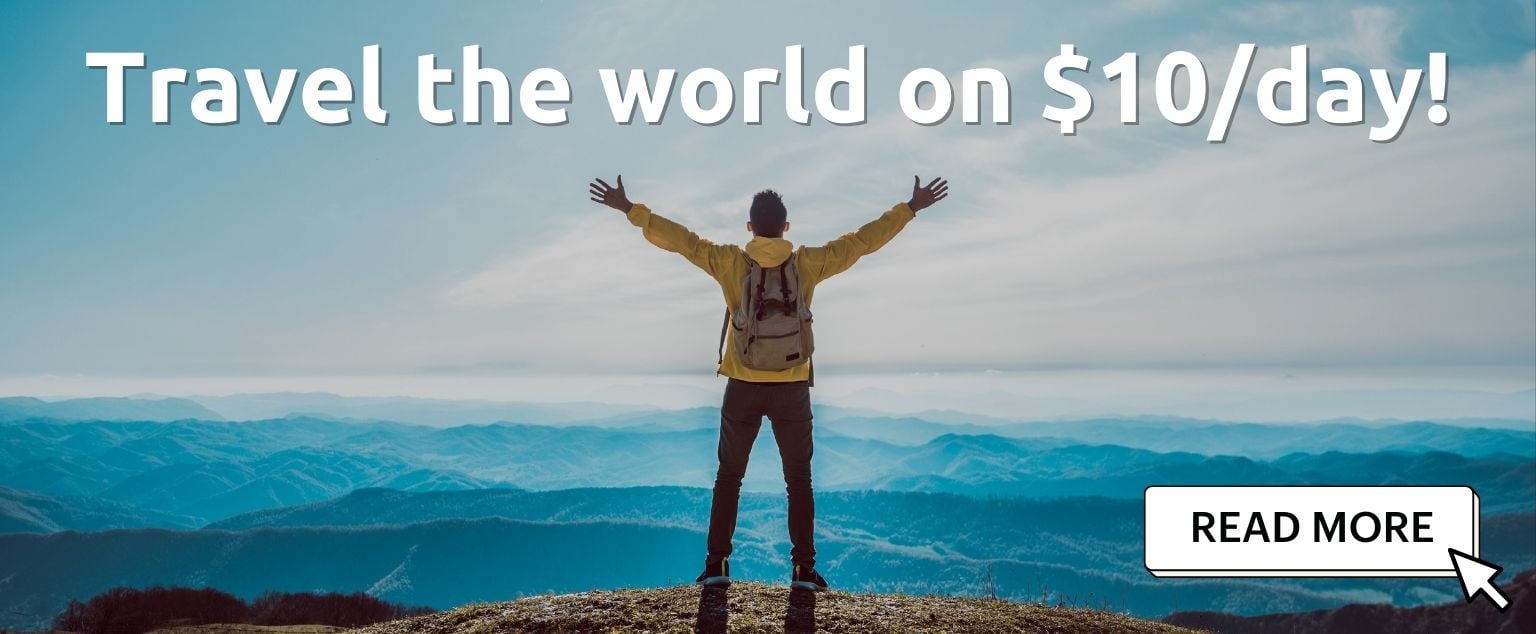 And for transparency's sake, please know that some of the links in our content are affiliate links. That means that if you book your accommodation, buy your gear, or sort your insurance through our link, we earn a small commission (at no extra cost to you). That said, we only link to the gear we trust and never recommend services we don't believe are up to scratch. Again, thank you!