There aren't many more important aspects of your hiking trip than picking up the right pair of boots. Any lacklustre footwear will get you out of the parking lot and into the fire, but only a few shoes will feel just as comfortable on kilometer 50 as they did turning around corner one.
Whether you're gearing up for your first hiking trip or a seasoned trekker looking for this season's latest lookbook, picking a perfect combination of performance and style is paramount.
We'll start with the good news. There are more great hiking shoes now than ever before. Everyone from flat-footed, bow-legged hobblers to arched amblers can find a shoe that perfectly fits their feet and pushes them to get outside more.
But, that freedom of choice isn't without consequence. The online market is so big and vast and confusing; where should you even start?
How about starting off your search with a great brand built for getting you outdoors? A company not keen on cutting corners who haven't grown too big for their britches. It's not easy to find in the modern market, but we've been blown away time and time again by one particular contender.
Salomon has built a reputation as a niche champion, protecting the feet of four seasons of mountain adventures. Always tinkering and innovating, the company's modern portfolio includes a wide variety of shoe lines that all rank at the top of their respective classes.
Salomon boots didn't step onto the outdoor scene to offer up another corporate generalist. This shoe specialist has earned its place on top of many lists of the world's best hiking boot brands, and today we've got the inside scoop on some of Soloman's best boots.
Quick Answers – The Best Salomon Boots
#1 Best Salomon Boots For Hiking – Quest 4 GORE-TEX
#5 Best Salomon Boots For Women – Outline Mid GTX
#7 Best Salomon Boots For Style – Vaya Blaze Boots
All About Salomon Boots
The hiking boot brand Salomon started out supplying the best skis in the business with hardcore bindings and quickly became known for Olympic level performance on the slopes. They decided that if you want something done right, you'll have to do it yourself, and grouped up their top of the line bindings with Alpine and ski boots.
Their empire grew with the sport. In the 90s Salomon got into snowboarding boots and eventually fitted their kits for the backcountry. The list of their different shoe styles started growing longer, but every pair remained tied together by a straightforward ethos: making life on the mountain easier.
Modern Salomon boots work for four seasons of hiking, rock climbing, skiing, mountaineering, and hardcore outdoor sports. They focused on footwear and have kept close to what they do best through all the success, culminating in this impressive list of different Salomon boots.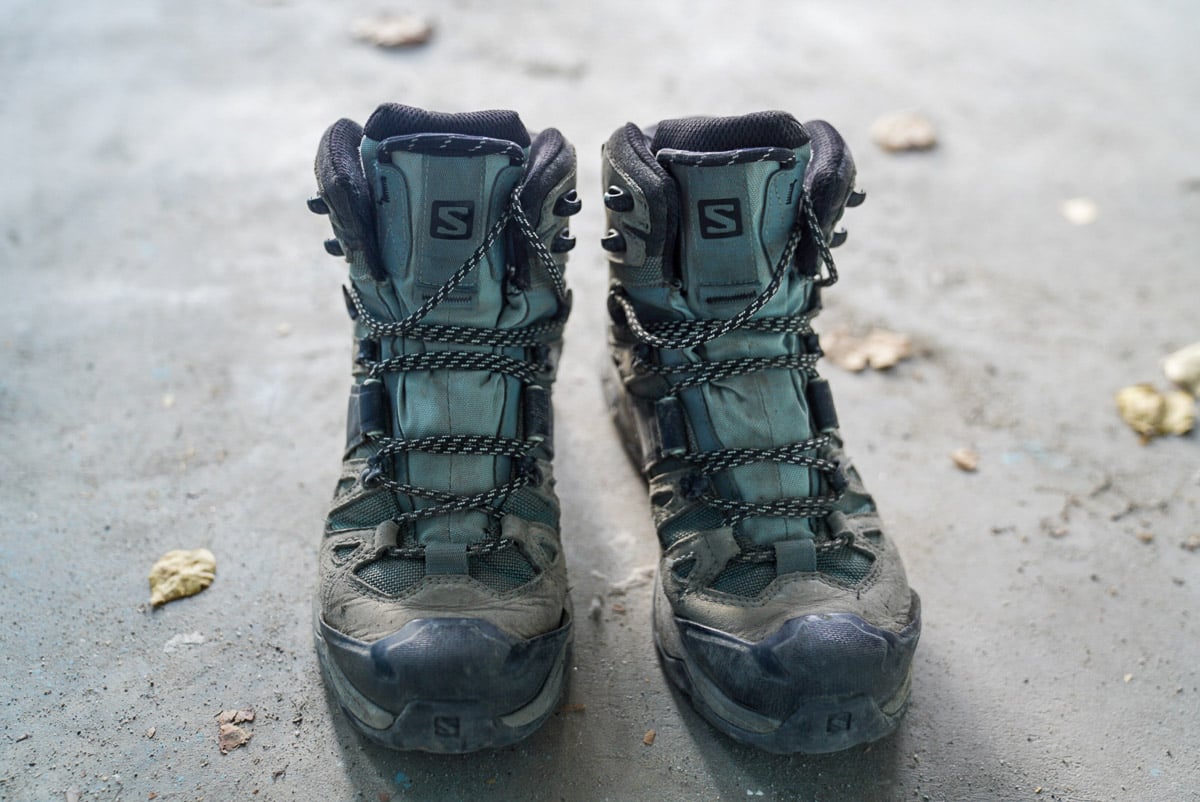 The boots we'll cover below work for all sorts of different occasions. You'll find a Salomon mold for everything from cross country skiing to summertime hiking, and this Salomon boots review will take a look across the board and see what they came up with.
Every single one of these boots uses Salomon's in house grip system known as Contraband strength, and they also use Salomon's controversial quickdraw laces. These laces could be the next big thing in hiking, or a nuisance in the name of innovation, depending on who you ask.
So, decide if you're shopping to frolick next winter's wonderland, looking for a set of lightweight trail runners to push you further into the woods, or just want a comfortable pair of hikers built to last, and take a look at this Salomon boots review to find your next perfect boot.
Best Salomon Boots For Hiking
Best Salomon Boots For Hiking
Quest 4 GORE-TEX
Price (USD) > 230
Weight (KG) > 1.30
Material > Leather
Best Salomon Boots For Trekking
Best Salomon Boots For Trail Running
Best Salomon Boots For Day Hikes
Best Salomon Boots For Women
Best Salomon Boots For Women
Outline Mid GTX
Price (USD) > 150
Weight (KG) > .68
Material > Textile
Best Salomon Boots For Rain
Best Salomon Boots For Style
Best Salomon Boots For Style
Vaya Blaze Boots
Price (USD) > 160
Weight (KG) > .65
Material > Sensiflex
Best Salomon Boots For Summer
Best Salomon Boots For Skiing
Best Salomon Boots For Cross Country Ski
These Are The Best Salomon Boots
Ladies & Gents, It's Time to Step Your GEAR Game Up. 😉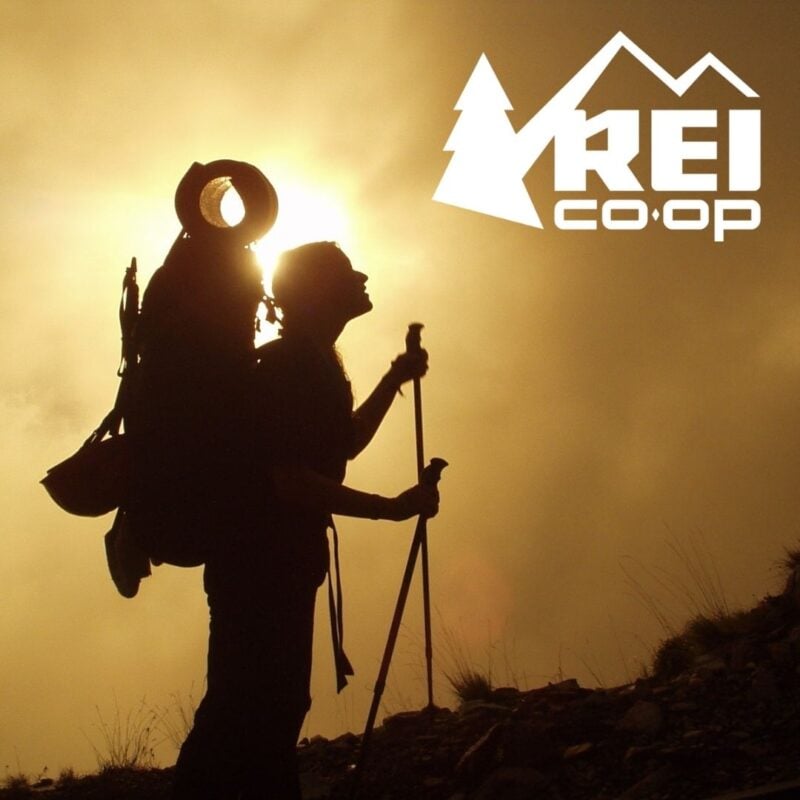 REI is one of America's biggest and most-loved outdoor gear retailers.
Now, for just $30, get a lifetime membership that entitles you to 10% OFF on most items, access to their trade-in scheme and discount rentals.
Join REI Today!
#1 Best Salomon Boots For Hiking – Quest 4 GORE-TEX
Quest 4 GORE-TEX is our top pick for the best salomon boots for hiking
Specs
Price (USD) – 230
Weight (KG) – 1.30
Material – Leather
Four generations of the quest family have been keeping hikers on their toes for decades. Salomon's latest in a long line of tough boots has everything you'd expect from a top-quality shoe option. The sturdy uppers lock in your ankles against rugged terrain, while the complete Gore-Tex isn't going to let a drop of unwanted water penetrate.
Early Spring of 2021 brought many changes to Salomons signature boots, all surrounding performance. This newest model may not look much different from earlier quests, but there is a whole lot going on underneath the hood that redefines the shoe.
A new heel chassis finishes off the sole reinforcements and provides a stable shoe throughout. Salomon added on stability and somehow managed to still shave a few grams off the old model to bring their boots into the future.
The Quest series is one of the most iconic hiking boots of all time. While it's not the cheapest boot on the market, the swarming loads of comfortable features make this boot an excellent choice for a serious backpacker.
+Pros
No better boot out there for handling tough terrain
The newest model in a long line of successful hiking boots
Comfortable and high quality materials throughout make the boot perfect for overnight hiking adventures
-Cons
The intense reinforcements in this boot is a bit much for many day treks
One of the heavier hiking boots on the market
Only available in high-top models
Our top pick for the best salomon boots for trekking is X Ultra 3 Mid Aero Hiking
Specs
Price (USD) – 130
Weight (KG) – .70
Material – Mesh Leather
This mid-length boot snuck in loads of comfort features and widened the toe holds without adding loads of weight. It's a summer super star and stayed away from Gore-Tex protections in favour of staying quick on your feet. If you're not planning on bouncing off of too much rough and tumble terrain, the X Ultra 3 has all the waterproofing and comfort of Salomon's Quest line in a more lightweight and breathable package.
At nearly half the price and half the weight of Salomon's signature boot, this comfortable shoe serves as the outdoor brand's mid-class model, more than capable of getting you through day hikes and short overnighters.
If you ask me, there isn't much point to hiking in the rain anyways. For fair weather walks and catching the sunset from the mountain top it doesn't get more reliable and comfortable than these bad boys.
+Pros
Day tripping extraordinaire
Wide-box narrows down to a comfortable, locked-in heel
No extreme break-in period required
-Cons
No waterproofing protections
Not warm enough for four-season hiking
May not have quite enough cushion to support a full pack on your back for many kilometers
For best salomon boots for trail running, checkout Speedcross 5 Trail Running Shoes
Specs
Price (USD) – 130
Weight (KG) – .65
Material – Nylon Mesh
Shoes made with single track mindsets have loads of variables to account for. While track shoes may solely focus on cutting back the ounces, trail runners need to prepare your feet for changing terrain. Salomon doesn't only offer up boots made for walking, but also manages to design some of the best trail runners on the market.
The secret is in the outer sole, where heavy-duty lugs provide multi-directional bounce on uneven pathways. From the mid-sole through the uppers, the sneaky sneaker is finished off with rebound and snug fits that can slip on and off in a hurry.
Watch out for rough roots and rock edges and bring along these certified speedsters to get deep in the backwoods and keep a spring in your step.
+Pros
Quick lace pulling system will have the shoe off in seconds
Moulded Ortholite grip fits like a glove after a few weeks of running
Anti-debris finish keeps the dust from settling inside your boot
-Cons
Not a fully waterproof shoe
Omits a rock plate
A bit too much lugs and outer sole to wear for long distances on the pavement
Meet the best salomon boots for day hikes, Ultra 3 Mid-GTX Hiking Boots
Specs
Price (USD) – 165
Weight (KG) – .88
Material – Leather
When there's no choice but performance, pack the best with you on every day hike of the year. Salomon took their signature mid-class boot and slapped a wholly waterproof Gore-Tex outer layer that keeps it all breathable and dry.
X-Ultra Salomon boots big and small are a great choice from day-trips to weekend-long escapes. As the most waterproof option of the bunch, this boot managed to keep the ultra-lightweight and ankle low mentality of the series. The weather protection and slim frame combine to create an incredibly versatile shoe.
You can treat these as trail runners with boot-like support, an all-around shoe that wants to be the only pair of hiking boots you need.
+Pros
No shoe checks off more boxes and serves a more important role than your every-hike pair
One of the more affordable hiking boot options with this kind of weather protection
Low key look works on the trails and while running errands
-Cons
Gore-Tex protections don't help breathability
While it's a splash more waterproof than most lightweight X models, it's still not supportive enough to take on heavy packs
A jack of all trades is a master of none
#5 Best Salomon Boots For Women – Outline Mid GTX
Salomon Outline Mid GTX is one of the best salomon boots for women
Specs
Price (USD) – 150
Weight (KG) – .68
Material – Textile
Some ladies' lines in hiking boots leave a lot to be desired. The Outline Mid offers much more than a lightweight version of the men's model and brings sneaker-like comfort into the alpine universe.
Waterproof and dangerous, these GTX boots are built for the backcountry. Take advantage of the lightweight grip and push yourself the extra meters to the mountaintop. The shoe is incredibly light. No, it won't hold up forever against a heavy pack, but it brings with it plenty of perks.
Sneaky features like the midlength finish and ortholite foam help the shoes bounce off rough terrain and protect your feet at sea level as well as 5,000 meters.
+Pros
Fits like a sneaker, protects like boots
The flexible shoes hold their grip on uneven rocky terrain
One of the lightest pairs of hiking boots on the market
-Cons
More focused on staying lightweight than providing heavy-duty support
Not warm enough to be worn in winter
Tight fit doesn't mesh well with wide feet

Do You Want to Travel FOREVER??
Pop your email in below to get a FREE copy of 'How to Travel the World on $10 a Day!'.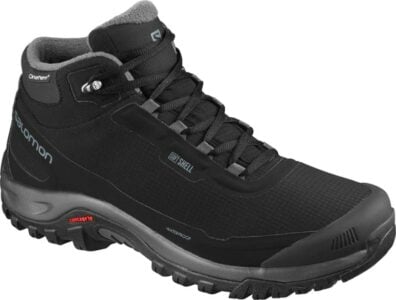 Our top pick for the best salomon boots for rain is Shelter Climashield Waterproof Boots
Specs
Price (USD) – 130
Weight (KG) – .71
Material – Textile
Are you expected to deliver rain, sleet, snow or shine? While we'd all love a day in bed while a storm smashes against the window, sometimes no matter the weather you just have to get outside.
For the must-doers, Salomon presents a lightweight yet ultra-protective waterproof boot. Your shelter is even finished off with an extra layer of warmth wrapped around your ankle to keep further hazard on the outside looking in.
All this is wrapped in a monotone and serious exterior that fits with every outfit and makes a great four-season work boot.
+Pros
Best in class warmth to weight ratio
High top laces extended the waterproofing through your mid calfs
Can protect in frigid temperatures, down to -10 C
-Cons
Ice Grip Soles shouldn't be taken too literally
While the waterproofing on this boot is quite legitimate, it wasn't done by Gore-Tex
A heavy-duty boot for a lightweight summer hike
#7 Best Salomon Boots For Style – Vaya Blaze Boots
Meet the best salomon boots for style, Vaya Blaze Boots
Specs
Price (USD) – 160
Weight (KG) – .65
Material – Sensiflex
They may be stylish from the outside, but the inside is where Salomon really put in the work on these hardcore hiking boots. A honeycomb sole wraps the outer layer of this nimble shoe with a solid grip ready for off-terrain missions. The sensiflex material fits comfortably on day one and brings excellent flexibility to the hiking boots.
While it's a capable day hiker the Blaze isn't designed to conquer longer through hikes. This shoe is one of Salomon's lightest options, so don't expect much warmth or a whole lot of weather resistance. Instead, the Blaze fits a lot like a typical sneaker with more traction and a few tricks up its sleeve.
+Pros
Not just a women's version of a men's shoe but a model shaped for feminine feet
These lightweight shoes fit well right out of the box
A thin synthetic upper breathes well and drys fast
-Cons
Gore-Tex coating is splash-proof but won't hold up against prolonged submerges.
Not enough support for heavy packs
Besides a signature look this shoe doesn't have anything the Ultra 3's can't also provide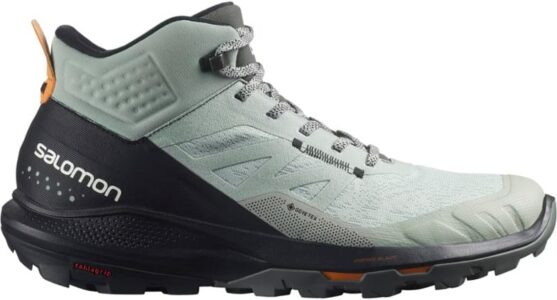 For best salomon boots for summer, checkout Outpulse Mid GORE-TEX
Specs
Price (USD) – 160
Weight (KG) – .73
Material –
These lightweight and practical boots offer a sleek look that works just as well at a backyard barbeque as it does on the trail. The mid-top boots fit lighter than most hiking boots, but that doesn't make them less capable – Salomon's same signature outsole and lacing system make this casual boot a real heavy hitter.
You won't find many stylish boots that can better fit into a crowd while still packing the extreme waterproofing of Gore-Tex protections. These shoes pay attention to the details all the way down to the curved midsole that gives you an extra splash of cushion without clogging up the pores.
The advanced features of the Salomon Outpulse all wrapped in a lightweight and stylish shell make this super breathable shoe summer's best friend.
+Pros
Good looking hiking boot with extreme gore-tex protections
Fuze foam helps your feet lock into place
Doesn't use Salomon's controversial quicklacing system
-Cons
Large words are printed on both sides of the heel messing up an otherwise flawless finish
Not quite stylish enough to be worn on a night out
A jack of all trades is a master of none
MTN Explore Alpine Ski Boots is one of the best salomon boots for skiing
Specs
Price (USD) – 699
Weight (KG) – 3
Material – Thermal Foam
Salomon's humble beginnings were all about the backcountry, and they certainly haven't lost sight of the sport that propelled them to the top of the footwear industry. These explorer boots are the real deal, offering up Salomon's highest range of motions at one of their lowest overall weights.
Two tough buckles and touring tech inserts are all that's between you and casual cruise lines up the mountain without losing any freedom while bombing sick descents.
The comfortable performance of this ski touring beauty has been earning it all sorts of accolades since its first introduction in 2015, and the latest model doesn't seem to be slowing down anytime soon.
+Pros
63 degrees of freedom of movement make this a great touring boot
Two buckle design makes it easy to switch from tour to ski mode
Progressive flex helps the boot perform on level terrain and steep declines
-Cons
A few plastic bits and pieces on the exterior may be the first things on your kit to fall apart
Might cost you more than a cheap used set of skis
Not a hiking boot
The best present of all… is CONVENIENCE!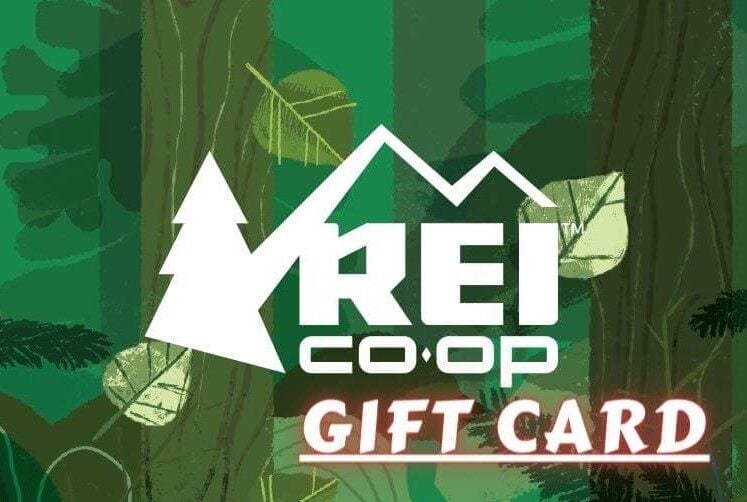 Now, you could spend a fat chunk of $$$ on the WRONG present for someone. Wrong size hiking boots, wrong fit backpack, wrong shape sleeping bag… As any adventurer will tell you, gear is a personal choice.
So give the adventurer in your life the gift of convenience: buy them an REI Co-op gift card! REI is The Broke Backpacker's retailer of choice for ALL things outdoors, and an REI gift card is the perfect present you can buy from them. And then you won't have to keep the receipt. 😉
Buy on REI!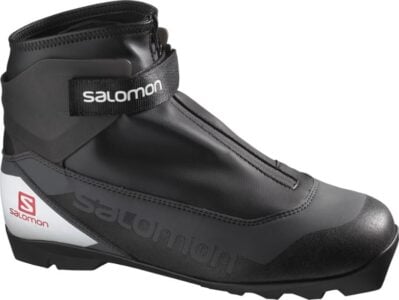 Escape Plus Cross Country Ski Boots is our top pick for the best salomon boots for cross country ski
Specs
Price (USD) – 140
Weight (KG) – 1.14
Material –
Built with Nordic tourers in mind at every step of the way, these cross country specialists keep your feet warm and dry all day long. Three separate foam layers ensure the boot's interior firmly lines up with your feet and give you greater control over your range of motion, while the touring cuff keeps things stable.
These cross country boots are ready for the heart of winter. Thinsulate insulation and a zipper/velcro closing combination keeps the snow out, and the comfortable slipper feel keeps the skis moving
+Pros
It can often be found on sale
Thinsulate insulation layer qualifies the boot for below freezing deployment
The Quicklace system is a perfect partner for cross country skiing
-Cons
Won't work as resort boots
Known not to fit true to size

Our GREATEST Travel Secrets…
Pop your email here & get the original Broke Backpacker Bible for FREE.
Final Thoughts on Salomon Boots
I spent years trying to save on hiking boots…and thus suffered through months of painful blisters and overall dissatisfaction. But with the Salomon Quest 4 Gore-Tex, I didn't even have to spend a single day in the painful breaking-in phase. These boots are sturdy, ACTUALLY waterproof, and have kept me going through hundreds of kilometers of trail with nothing but comfort.
From powdery mornings to desert nights, these Salomon boots represent some of the best in hiking. Don't take chances when it comes to your high performance footwear. Salomon has been supporting adventures from the ground up for more than 50 years.
Their boots have stayed true to their passionate ideals while changing with the time to serve any modern hiker, explorer, or skiier admirably. We think their latest models are some of the best hiking boots out there, and that same build quality flows all the way down the line.
Fitting out your trip with a fully waterproof, grippy, and comfortable pair of hiking boots will guarantee this weekend isn't the last time you get out there, and Salomon Boots are some of the best pairs for the job.
Regardless of where you're hiking, or how long you plan on getting out there, these boots will keep your legs moving and get you deeper into the stoke one step at a time.
---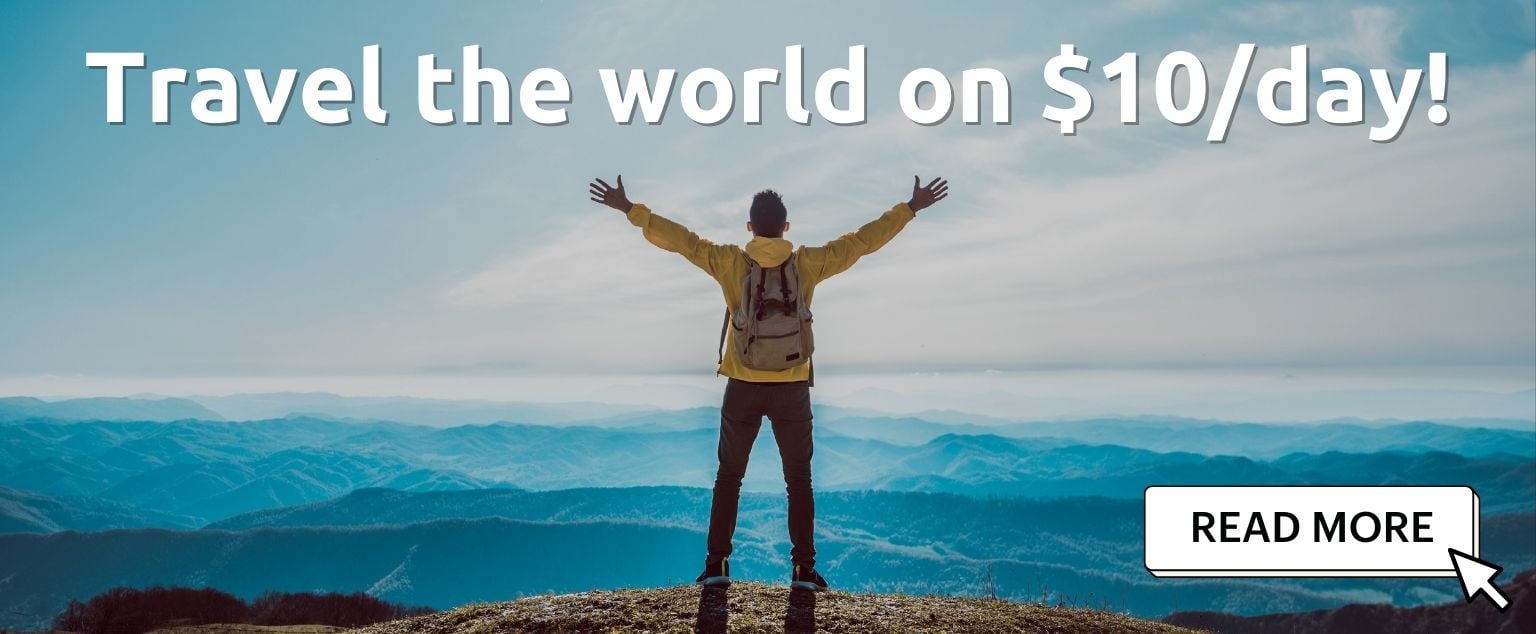 And for transparency's sake, please know that some of the links in our content are affiliate links. That means that if you book your accommodation, buy your gear, or sort your insurance through our link, we earn a small commission (at no extra cost to you). That said, we only link to the gear we trust and never recommend services we don't believe are up to scratch. Again, thank you!