Having a decent pair of boots is essential!
And unfortunately finding an awesome pair of waterproof men's boots isn't easy. There are a ridiculous amount of choices out there and each pair of boots performs in different ways.
To set the record straight once and for all, I bring you this epic review of the best waterproof boots for men!
Believe me – I know boots, as I have logged well over three thousand trail miles on foot over the last five years. This brutally honest review will examine all the factors you need to know so you can easily find which boot is best for you (and your budget!).
Let's dive right in and find the top waterproof men's boots for men in 2023!
Quick Answer: These are the Best Waterproof Boots for Men in 2023
Below I break down my top picks for the best waterproof men's boots in great detail. Depending on what type of traveler you are and what sort of adventures you have in store, you'll need a waterproof boot to serve your own needs.
I have assembled my top picks of the best waterproof men's boots into different categories to make choosing the perfect pair of boots easy and simple.
When it comes to the best waterproof men's boots, I am all about finding the most practical, functional, and affordable boots for the job. Basically, I know how important it is to have an awesome pair of waterproof hiking boots and my goal in writing this review was to help backpackers find what will work best for them.
So, we can hear ya'll asking "What are the best waterproof boots?", well, let's go find out, should we!?
Best Overall Mens Waterproof Boot
If keeping water out and staying comfortable in the mountains is your top priority, meet my top pick for the best waterproof boots for men: The Lowa Renegade Mid GTX boots.
These hiking boots are a marvel of footwear engineering. Completely waterproof, the Renegade Mid boots have technology created to eliminate fatigue and discomfort. They feature seam-sealed Gore-Tex membranes that offer excellent protection from water and allow vapor to escape in order to help keep feet dry and cool.
The outer boot material is long-lasting Nubuck leather and Cordura nylon uppers that offer flexibility, breathability, and lightweight comfort.
Vibram® Evo rubber outsoles on the men's Lowa Renegade GTX Mid hiking boots deliver great traction on a mixed variety of terrain and conditions. I have been wearing this boot in Pakistan for 4 years and there is a reason I keep buying pair after pair of these boots.
On rocks and uneven surfaces, I really value the excellent ankle support offered up by these boots. The Lowa Renegade boots are the complete package when it comes to a fantastic waterproof boot for men. They won't let you down and maybe like me once you have tried them there is no going back.
Our team loved these fully waterproof boots and felt they were an awesome all-rounder that worked perfectly for both summer and winter hikes. They also found them to be super durable and hard-wearing lasting our team members several seasons of use and abuse.
For even greater inspiration and to learn more about the best boots out there, check out my epic review of the best hiking boots to take traveling.
Best Waterproof Hiking Boot (Lightweight)
For the last several years my go-to lightweight waterproof walking boots have been the Merrell Moab 3 Mid WP boots. Whilst the Moab 3 boots might not be as sturdy or well-equipped to deal with technical terrain like the Salomon Quest 4D boots shown above, they are still plenty badass.
There are several schools of thought regarding Merrell waterproof boots. Some folks argue that the Moab 3 —while awesome— just isn't tough enough to handle long distances and rough terrain. I simply do not agree with that sentiment.
I have worn these boots on many long distance hikes including the Anna Purna (Nepal), Gokyo Ri (Nepal), Appalachian Trail (USA), Nelson Lakes Circuit (New Zealand), Tour du Mont Blac Trek (Europe), and plenty more. They have always served me well.
I'll be honest with you though about a few things. First, if you are looking for really excellent ankle support and grip, the Merrell Moab 3 boots do lack in that regard. Also, over time I have found that the "waterproofness" isn't 100% after months of heavy use.
That said, I still love these boots and consider them to be the best lightweight waterproof hiking boots for men. For the price, you simply won't find another pair of lightweight hiking boots that are waterproof and performs at this level.
Our team rated these boots as their best men's lightweight waterproof boots as they found them to be super easy to break in and pretty much ready to wear out of the box. They also told us these boots were easy to clean too when they inevitably got caked in mud, which is rare for a suede finish.
Best Waterproof Hiking Boot (Lightweight) Runner Up
Salomon has made it back my list, this time for the Salomon X Ultra 4 Mid GTX lightweight waterproof hiking boot. This boot is built like a trail running shoes but offers the performance and the ankle support of a hiking boot, which is great.
For thru-hikers and long distance backpackers, the Salomon X Ultra 4 Mid GTX is an ultralight waterproof hiking boot that will keep you crushing big miles in supreme comfort.
To keep moisture out, the boot features Gore-Tex waterproof bootie liners that let your feet breathe while protecting them from the elements. Ever stubbed your toe on a rock while hiking? I hate that! To the address that, the mudguards and integrated rubber toe caps provide durable protection from roots and rocks!
For grip and traction, the unique outsole pattern features a combination of two types of rubber that helps you grip terrain more aggressively, especially in wet conditions. Because the Salomon X Ultra 4 boots are ultralight, they are not built with the same toughness in mind as the Salomon Quest 4D boots shown above. But as you can see, the Salomon X Ultra 4 model is about one pound lighter, which is huge.
If you have already joined the ultralight cult, the going with one of the best ultralight waterproof hiking boots for men—the Salomon X Ultra 4 boots—should be an easy choice.
Our team loved these lightweight waterproof men's boots and they're big fans of the Solomon brand as a whole. They find them to be stylish, light and great value for money too. They were also impressed by the great build quality and materials used which meant they were long-lasting and durable.
Best Midweight Waterproof Boot for Hiking
For more intense hikes, you are going to need a more intense waterproof boot. The Scarpa Zodiac Plus GTX boots are the best midweight waterproof boot for hiking on my list.
The Zodiac Plus is a no-nonsense waterproof boot designed to handle the trials and tribulations of difficult/rocky hiking trails. What I like about these boots is that they are a full-bodied midweight unit with some of the characteristics of a lightweight mountaineering boot.
For protection against wet, it features suede/leather uppers with waterproof and breathable Gore-Tex performance. That is the sort of comfort that will keep your feet dry all damn day. To keep you balanced, the Vibram Drumlin soles provide excellent traction and edging on rock when you're scrambling or boulder-hopping.
The Scarpa Zodiac Plus GTX model is certainly not for everyone. This is not the boot I would pack to take on a South East Asia backpacking adventure. That said, those looking for a badass boot that can hold its own in tough mountain environments, look no further.
For those on our team looking for something offering an incredible level of protection without being incredibly heavy, these boots perfectly fit the brief. Scarpa is a popular brand for us here at TBB and these boots live up to the billing, our team felt they just oozed high quality and gave them a lot of confidence when it came to adventures in tough environments.
Best Heavyweight Waterproof Boot for Hiking
The Asolo Fugitive GTX waterproof shoes are more of a traditional hiking boot. They are a bit clunky and heavy but the come with unmatched support and durability built in for 4-season use.
Old-school hiking boots were notorious for trapping air inside. I am happy to report that the Fugitive GTX boots are not guilty of that. The Gore-Tex liners make these boots 100% waterproof yet breathable, for comfort in a variety of conditions.
For padding and general protection, the DuoAsoflex midsoles mix a shock-absorbing soft layer with a stiffer shank for movement control and a comfy base. A major plus of the Fugitive GTX model is that they can be resoled as needed. That will greatly extend the life of your boots! I'm talking years.
The stiffness of the boots is probably something you will either love or hate. The stiff quality does make for more protection but can make your feet feel a bit constrained. I'll add that stiffness when heavy climbing is involved is a good thing. FYI sometimes these boots sell for cheaper on Amazon.
If you're not as concerned about weight, but superior quality, protection and durability are top of your priorities, then our team rated these as their top boots. They told us the Asolo just felt bulletproof and our team felt they could pretty much take them anywhere and know they'd stand up to anything they could throw at them! They also reckon they're boots you'll have for a good few years too.
Best Men's Waterproof Work Boots
As a backpacker who has spent years of my life working on farms and in gardens both whilst abroad and to fund my travels, I can say that having a good waterproof work boot is important. If you plan on getting a working holiday visa, doing some WWOOFing or volunteering on your next backpacking adventure, you may want to seriously consider a waterproof work boot.
The best waterproof work boots on my list are the Timberland PRO Titan 6" boots. Whilst not the lightest waterproof boot showcased in this review, the Pro Titan boots were designed for work, hard work.
The feature premium, soft waterproof leather with waterproof membrane for minimum break-in time and dry feet all day long. The molded polyurethane midsole provides lightweight, durable cushioning for those long days of weeding carrots or working construction.
Finally, the new low-profile Timberland PRO rubber outsole is abrasion and slip/oil-resistant. You can be sure that you will stay safe as well as comfortable in the Timberland PRO Titan boots.
If you're a backpacker in search of the best men's waterproof work boots you have arrived at the right choice for yourself.
Our team loved that there were boots out there that were perfect for those backpackers planning on working as well as hiking on their trip. Our team took these boots onto the farms of Far North Queensland and felt they did a perfect job of keeping their feet safe but also dry during the pouring rains on the monsoon season.
Most Stylish Waterproof Shoes
Ok so I don't have it in me to recommend a completely non-practical waterproof boot on sheer style points alone. That said, I know that sometimes on a backpacking trip you want to look half-way decent when you go out. I personally couldn't care less about fashion trends, but I want to land somewhere in the middle for the sake of my fellow backpackers.
The Adidas Outdoor Terrex Swift R2 Mid GTX boots are sleek, functional, and won't have you looking like a complete dirty hiker hobo when you go out for a big night. Hiking boots have a history of not being the most visually appealing pieces of gear. I'm thinking of neon orange boots with long green (neon) stripes on the sides. What the hell?
With the Adidas Outdoor Terrex Swift boots, you will have the perfect blend of absolute functionality and cool attractiveness. The outer design features ripstop mesh upper for breathability and lightweight, which make them very packable for extended backpacking trips.
My favorite thing about these boots (in addition to their attractiveness) is the Traxion outsole. This provides for an optimal grip in all directions. Plus, the built-in Continental Rubber provides extraordinary grip even in wet conditions.
Want to up your style game when you go backpacking Europe but don't want to pack a boot that serves no other purpose other than looking good? The Adidas Outdoor Terrex Swift boots are a sure bet to be both awesome in the mountains and at the bar. The all-black ones are my personal favorite.
Our team were big fans of how these boots looked, not everyone wants to head off for a hike looking like a geography teacher, and these offered the perfect solution. Ok, so when we probed our guys further they felt the boots weren't just all top show either. They felt they were incredibly comfortable, flexible and yet hard-wearing and durable.
Bonus: Best Waterproof Hiking Shoes for Men
The North Face Hedgehog Fastpack GTX Low Hiking Shoes are indeed not waterproof boots; they are waterproof hiking shoes. That being the case, you should still have the North Face Hedge Hogs on your radar which is exactly why they have made it onto my mens waterproof shoes review.
The outside of the Hedge Hogs features polyurethane-coated leather uppers and a waterproof, breathable Gore-Tex membrane that does the job of keeping your feet bone-dry.
For chaffing prevention and control the abrasion-resistant, breathable textile mesh lining virtually eliminates unwanted movement and rubbing.
For a versatile, lightweight, tough waterproof hiking shoes that are up for any adventure that you are, the North Face Hedgehog Fastpack GTX Low Hiking Shoes are a sure bet. Even better is the price tag. For $120.00 you can score a truly excellent pair of waterproof hiking shoes without breaking the bank. Sorted.
Some members of our team prefer to take a walking shoe rather than a boot on their trips, especially longer backpacking stints. So they were keen to see some good options and they felt these came out top. They felt for hiking shoes they still offered an excellent level of stability and the soles were super grippy on slippy surfaces.
Imagine watching an epic sunset on Angels Landing, you begin the steep hike back to the trailhead. The symphony of colors has you mesmerized staring at the sundown sky. You look at your watch. Better rush down if you wanna catch the last shuttle. You run. The body aches, but you make it just in the knick of time.
With the Merrell Zion Mid Waterproof hiking boots strapped to your feet, you can go from rocky, uneven terrain, to a full jaunt to get wherever you need to go.
With the fit of a sneaker, the sole of a trail runner and the sustainable leather waterproofness, this makes for a versatile backcountry boot.
Want to go off-trail? No problem! The tongue bellows to keep debris out like it's own built-in gaiter. Despite its waterproofness its breathable mesh linings allow for ventilation to avoid that smelly build-up.
Affordable, waterproof and versatile makes this shoe an all-around great boot.
Our team felt these boots were a great pair for those looking for something offering more than just hiking boots. They felt that for backpackers wanting to travel with one pair of boots that look great on the street and perform on the trails, these were the ones!
Rise early at the trailhead, pack the tent, hit the trail into the high country. Snow, ice and water running over the trail are common for shoulder-season adventures. In these conditions its critical to have something to keep the water out and ventilation wicking moisture. That's where the Altra Lone Peak boots come into play.
Lightweight, breathable and comfortable makes this another great selection among affordable waterproof boots.
With this boot it's the little details that count. eVent waterproofing, ZeroDrop foot platform allows comfortable alignment of your feet and lower body.
Altra takes foot health seriously. This boot has received recognition from the American Podiatric Medical Association for creating products good for foot health.
Lightweight, breathable, and comfortable is the name of the game.
Our team felt these were a great option for those who hike occasionally and want to pack something light and comfortable for when the time comes. They're not intended for hardcore hikers but they're affordable enough for those who will be hitting the trails every now and then on their trip.
Years of research, development, product testing and pursuing innovation. The North face has brought FUTURELIGHT to the outdoor world.
What is FUTURELIGHT? Lightweight, stretchy, breathable and waterproof fabric. Now applied to the North Face Ultra Fastpack hiking boot. This boot has a gusseted tongue to keep debris out of your boot, almost like a built-in gaiter. Additionally, FastFoam offers extra support made of post-consumer fabric to minimize their production impact.
The North Face Ultra Fastpack is the all-mountain boot. Early mornings, late nights, blazing hot days in slickrock and bone-chilling walks through the shoulder season. This is the boot you want strapped to your feet for your next adventure encountering water.
Maybe you can't move mountains but you can certainly move up them with style. Anyone can go for a walk, but few can style their way through a backcountry adventure.
Allow the North Face Ultra Fastpack FUTURELIGHT boots to be a part of your next backcountry hiking adventure.
Our team felt these boots were stylish and comfortable and provided great traction for easy hikes as well as the snowy NYC winters. They're a great versatile option for those wanting to do the occasional hike whilst travelling in wet conditions where they're looking for everyday comfort and protection.
Over the past decade, KEEN has slowly been creeping its way into the mainstream boot scene. The KEEN Explore waterproof boots come with high-quality features for an affordable price.
The KEEN waterproof membrane allows you to keep your feet dry while providing lightweight support. With more affordable waterproof boots, folks worry about breathability. Rightfully so; however, the KEEN anti-odor treatment infuses the footbeds with probiotic technology that automatically breaks down odor in sweat. Probiotic technology means no harmful metals or chemicals.
The KEEN waterproof boot covers all the bases. Comfort, stability and support. The KonnectFit heel capture makes the foot feel locked in and secure. Additionally, the notch in back offers comfort for your Achilles heel and lower leg muscles.
These boots are built to last through all the use and abuse your feet bring you on your adventures. Our team agrees too and they're big fans of Keen boot and the Explore in particular. One of the main reasons was the fact that they need virtually no breaking in time and were comfortable from the off.
In my opinion, Asolo makes some of the best boots on the market. This is coming from personal experience. The Asolo TPS all leather boots are classic and have been considered some of the best waterproof boots out there. Since they originally hit the trail, few changes have been made since their original design was so on point.
I have witnessed these boots take years of abuse through the harshest terrain on planet earth, and still come out the other side shining and dry.
Some might argue the price is too high. I'm a strong believer in paying for quality, if you pay full retail price for these boots. I assure you that you will get your money's worth for years to come. I would actually argue Asolo boots have some of the fairest prices on the market.
This is the heavy-duty all-mountain boot that can handle your abuse and years of adventures and our team felt they were a great option for just wanting no-nonsense, high-quality boots. They did say these boots are pretty warm, so they're mostly suited for winter hikes rather than summer expeditions. But they found them damn comfortable and super grippy in the rain and snow too.
Like most pieces of outdoor gear, having the right tool for the job is the name of the game. Given that your shoes are probably the most important gear you own, you want to be 100% certain you are buying the best waterproof boot for yourself based on your own needs.
Will you be trekking hundreds of miles on the PCT? Are you visiting a particularly rugged area in Patagonia? Do you want to hike as fast as possible (fastpacking)? Will you be trekking in lots of snow?
Ask yourself some of these important questions and determine exactly (or more over less) what you plan on doing with your waterproof shoes. Working in them a lot? Make damn surer their comfortable.
Below I examine other factors that should be on your radar as you prepare to purchase some waterproof men's boots for your next adventure. Thes important aspects include boot categories, weight, price, waterproof material, stiffness, breathability, traction, and more.
Let's do it!
Weight Categories
Lightweight Waterproof Boot
Waterproof, lightweight boots are best for hikers and travelers looking to cover big miles and/or pack light. Light hiking boots make your legs work less as with each step you are simply lifting less weight.
Lightweight boots tend to be more flexible and generally have less padding than mid or heavyweight options. Materials used in the design are typically nylon, mesh, and a bit of leather, especially on the "upper" section of the boot.
My absolute go-to lightweight waterproof hiking boot for men is the Merrell Moab 3 Mid WP boots. These babies have traveled with me all over the world and will be taking on the mountains of Pakistan at the end of this month. I love them and I have done plenty of big mile days (28 miles once) in them without an issue.
The Adidas Outdoor Terrex Swift R2 Mid GTX boots are a fine choice as well. Bonus points because they look cool.
Midweight Waterproof Boot
Midweight waterproof shoes offer up a little more durability, ankle support, and all around toughness to crush whatever may lie in wait on any given adventure. Often with midweight boots, we are only talking about a couple ounces heavier than lightweight ones. Certainly not pounds.
Even so, a few extra ounces here and there does provide a noticeable difference in terms of support and toughness. Midweight waterproof hiking boots are becoming more popular too.
The Lowa Renegade Mid GTX boots are awesome because they pack in a lot of comfort, traction, durability, and support without weighing you down at all.
Keep in mind that midweight waterproof hiking boots tend to be more expensive than the lightweight alternatives. Also, they tend to be a tad bulkier and take up more space in your backpack.
Heavyweight Waterproof Boot
This category of waterproof footwear is reserved for both traditional hiking boots in addition to more serious light mountaineering-style boots. Waterproof, heavyweight boots are probably the least versatile boots out there, but they are also totally necessary when the situation calls for them.
Heavyweight boots tend to be ultra-tough, (can be) stiff as a board, and are super reliable in the field. I'd say most of the great mountaineering achievements of the last century involved waterproof snow boots that are heavier.
The Asolo Fugitive GTX boots are great heavyweight hiking boots in the tradition of the old-school style, but with modern comforts and innovations built in.
These are the best climbing boots to have on your feet in deep snow or cold, wet conditions. On hot days, you'll feel like you are cooking your feet in a hot, sweaty solar oven.
Due to their inherent stiffness, heavyweight boots typically require a long break-in time. Bear that in mind if you are plotting some epic accent shortly after purchasing some heavyweight mountaineering boots.
Weight Considerations When Buying a Waterproof Boot
Weight matters in the waterproof boot world. Personally, I have done most of my long-distance hiking in lightweight hiking boots. Also for traveling, lightweight boots that are waterproof are the most versatile, pack the easiest, and are comfortable even in the hot conditions of the tropics.
Every job requires the right tool. Again, consider what you will be doing the most of and go from there.
Honestly, though, most of the midweight hiking boots on my list will serve you in much the same way as any lightweight boot with a bit of added comfort and durability mixed in.
If you do plan on spending lots of time hiking through snow or traveling to particularly gnarly regions of the world, don't shun the heavyweight boots as those are the exact type of scenarios they were built to do battle in.
Prices of the Best Waterproof Hiking Boots for Men
As you can see, the prices shown in this best waterproof boot review are all over the place. Midweight/Heavyweight boots are almost always more expensive. The Scarpa Zodiac Plus GTX, for example, run about $250.00.
That ain't cheap. All said, they will probably last a whole hell of a lot longer than a lightweight, cheaper option.
The perfect budget option that will certainly not compromise on performance, go with the Merrell Moab 3 Mid WP or the North Face Hedgehog Fastpack GTX.
That said if you really like the benefits of a mid/heavy weight boot, go for it!
Waterproof Material
The material used in the construction of your waterproof boot will determine how effectively waterproof they are. Industry standard these days focuses around Gore-Tex products.
So what the hell is Gore-Tex anyway? Gore-Tex is a waterproof, breathable fabric membrane that is able to repel liquid water while allowing water vapor to pass through. That's the short story of what Gore-Tex is.
Nearly all of the waterproof footwear on my list is equipped with Gore-Tex with the exception of the Merrell Moab 3 Mid WP and the Timberland PRO Titan 6″ boots. These boots feature effective waterproof membranes as well, just not made by Gore-Tex. You get the idea.
Generally speaking, none of these boots are meant to be totally submerged in water for any length of time. If crossing a river, water will certainly enter in through the top where you insert your foot. That said, you can certainly trek through snow in some of the mid/heavyweight boot options from my list and stay 100% dry for hours.
Once wet, a lightweight waterproof boot tends to dry the fastest.
Waterproof Boot Traction
Traction is super important as well for obvious reasons. Often, hiking and trekking bring you on steep, uneven terrain where keeping good traction is the difference between life and death.
Now day-to-day, hikers aren't faced with life and death scenarios but you get where I am coming from. The last thing you want is to increase your chances of having an accident; the possible result of a boot with poor traction.
You will certainly notice a difference in traction between a lightweight trail running shoe and a sturdy midweight hiking boot.
Vibram outsoles have long been hailed as an industry leader in term of badass soles and traction. Bear in mind too that just because a boot doesn't have a Vibram outsole doesn't mean it's a shit sole or product. I am a big fan of how Vibram soles perform, though I am still optimistic that other soles have equal value and performance.
Also, not all Vibram soles perform in the same way. Each outsole they make is boot-specific. When considering what waterproof boot to go with, be sure to check out the sole description. That way, you can get a better idea of the type of traction performance you can expect from any given boot.
Breathability of Waterproof Shoes
When spending long hours with your feet inside your hiking boots, breathability is crucial. Without it, a serious funk and the resulting discomfort develops. Your hard-working feet need air, or at least a little bit. No waterproof boots out there will prevent your feet from sweating and/or getting hot. That said, some boots certainly breathe better than others.
The Adidas Outdoor Terrex Swift R2 Mid GTX ventilate just like any lightweight waterproof boot should. That is they ventilate well! Even with an effective waterproof (Gore-Tex) membrane, moisture is allowed to escape without letting water inside.
Heavyweight waterproof men's boots certainly hold more moisture than lighter options. This is often due to the density of the leather making up the exterior of the boot. Generally speaking though, boots that are the best at keeping water out are typically the best at keeping moisture in as well. It can be difficult to find the right balance of waterproof and breathable. Having said that, the best waterproof boots are able to keep your feet dry, whether that's from moisture inside or out.
Shout to the Merrell Moab 3 Mid WP boots again, as I have been quite pleased with their all-around ventilation performance, they're a great pair of breathable waterproof boots.
Boot Stiffness
This one is easy. Almost always without exception, the more heavy-duty (technical) any given waterproof boot is, the stiffer the boot will be.
This stiffness does serve a purpose, however, and it very much has value. On big pushes up mountains, a stiff boot holds the arch of your foot in place, instead of flattening out with each step. With support like that, the rest of your legs are not having to work so hard.
Sometimes the bit of plastic within the boot determining its stiffness is quite small, and thus the boots are quite flexible (which is great too for most situations).
Most lightweight waterproof hiking boots are designed less technical and more flexible, resulting in a good balance of stiffness, structure, and stability. The current trend is definitely moving away from ultra-stiff waterproof snow boots. You should really only find a super-stiff boot in the heavyweight/mountaineering category, where it belongs.
Insulation
Obviously, you're going to need a pair of waterproof winter boots if you intend braving the colder climates. Freezing temperatures can seriously wreak havoc on your feet – just ask these guys who suffered from a combination of frostbite and trench foot while climbing. Granted, you won't need mountaineering boots like those guys, but you'll need something warm.
Winter hiking boots are different than regular hiking boots in that they offer a combination of weatherproofing and insulation. The insulation is there so that, even if water should get into your boots, your feet will still be warm. If there was no insulation and your boots became wet, they could freeze and then put your own feet in danger.
When buying a pair of waterproof winter boots, be mindful of what temperature they're rated for e.g. 30 degrees, 10 degrees, etc. Granted, these numbers aren't exactly exact – more like ballpark estimates made by the manufacturer – but they are at least indicators of good boots. Boots that can handle lower temperatures will keep your feet warmer and longer.
Also know that if you plan on using winter boots, your feet will probably be sweaty no matter what. This is because there is little in the way of breathability. The important thing is that they're warm though, thanks to insulation.
When it came to rating the best men's waterproof boots, we didn't just guess! We got our, err, feet on each and every pair and gave them a proper test run, well, hike! To do this we were sure to walk at least 5km as well as looking at a certain number of metrics before deciding what made our list.
Not only that but our team are based all over the world. So we were able to test out these boots in plenty of different climates and environments.
Comfort and Support
One of the most important factors when it comes to walking boots is comfort. These bad boys are gonna be on your feet for hours at a time. So if they rub or chafe then you'll know about it! Not only that but the main purpose of wearing boots it to provide more support than standard shoes or trainers. So things like how well the boots protect your ankle from going over were also important.
Breathability and Waterproofing
When it comes to picking out the top-rated waterproof boots, well, of course, how well they keep your feet dry is pretty important! With this in mind, we took each pair out in some pretty terrible weather, wading our way through rivers and generally treated each pair worse than they deserved!
On this list, there's no room for leaky boots and any hint of dampness and they were thrown off the list! Equally, there's no point keeping the water out if the insides of the boots are sweaty! So breathability was also another important factor when we rated these boots.
Weight
Heavy boots are a burden on the trails and after hours of trekking your feet will be cursing your poor life choices! So when it came to picking out the best waterproof boots for men, we took into consideration how heavy each pair were both whilst wearing and also when packed in our backpacks too.
Traction
One of the core features of a good pair of hiking boots is how well it grips the surface. The reason for wearing them rather than trainers is to provide superior traction so avoid slipping on challenging surfaces like loose or wet rocks. So this was an important factor when it came to selecting the best waterproof men's boots.
Quality and Durability
A decent pair of boots are expected to last a good few years of abuse. So we paid attention to things like the quality of construction, materials used, how well the seams were sewn, the durability of the sole and if the eyelets stayed glued in. To do this we were sure to give each pair a proper test drive over the course of a few months.
Still have some questions? No problem! We've listed and answered the most commonly asked questions below. Here's what people usually want to know:
Final Thoughts On The Best Walking Boots
Alas, the time has come for me to hit the trail. Well, not at this very moment, but we have reached the end of this best waterproof boots for men review!
As you have learned, there is plenty that goes into choosing an awesome waterproof boot. Choosing the right category of boot, function, weight, and price point are all important decisions to make. With all the options out there it can be hard to know where to even start looking.
After reading this epic review though, you are now prepared to charge forward into the great wet beyond and pick up a great pair of boots to serve your own personal needs.
I am a big fan of quality waterproof boots, and you can be sure that each boot featured on my list was selected with care and purpose.
No company paid me or sponsored me in any way to write this review. All of the knowledge and information I have shared with you is based on years of in-the-field use and countless hours of research.
If you are still on the fence about which men's waterproof boot is the best on my list, I recommend that you go with my top overall pick, the Salomon Quest 4D 3 GTX boots. They certainly kick ass and will keep your feet as happy as they've ever been in wet conditions.
Don't agree with me? Lemme know your favorite shoe in the comment section below!
So, you've got your new boot, now you need a travel anorak for your next trip!
---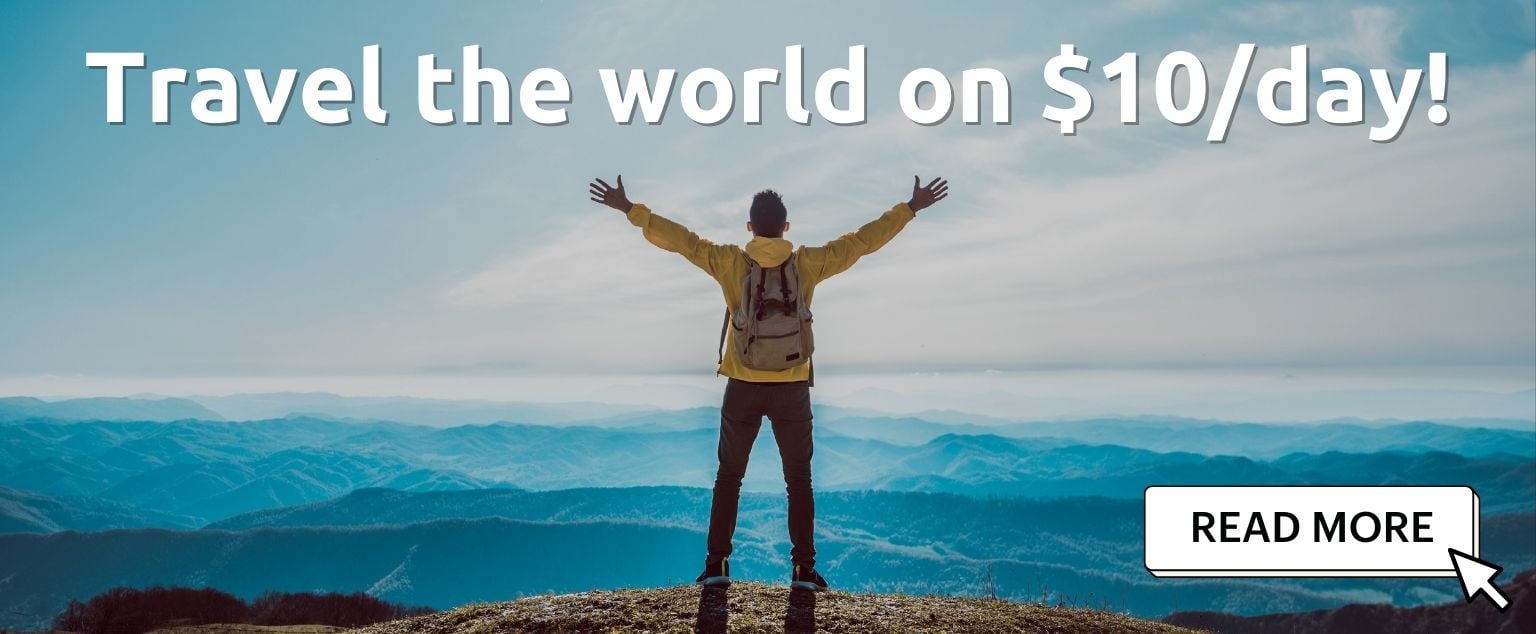 And for transparency's sake, please know that some of the links in our content are affiliate links. That means that if you book your accommodation, buy your gear, or sort your insurance through our link, we earn a small commission (at no extra cost to you). That said, we only link to the gear we trust and never recommend services we don't believe are up to scratch. Again, thank you!