Prague is a European super destination. It's a city with equal amounts of history, beautiful buildings and fun times to be had all rolled into one. Attractions abound in the UNESCO-recognised Czech capital, including its Old Town square and Prague Castle to name but two.
It's not just old, however. There are a ton of museums, a vibrant nightlife, and a modern transportation system to get you easily and quickly around all the best bits. Though popular, much loved and a cultural capital, there are pitfalls that come with a visit to Prague.
It is a very touristed destination, and with tourists comes petty crime. Things like pickpocketing and taxi scams are not unheard of here, whilst some dangers come from other travellers who have had one too many to drink, making the city notorious for drunken behaviour.
All that said, we still think a trip to Prague would not be a bad idea – there's definitely a reason this place is so popular. We have created this huge guide to staying safe in Prague so that your visit to this cool, cultural city goes as smoothly and successfully as can be.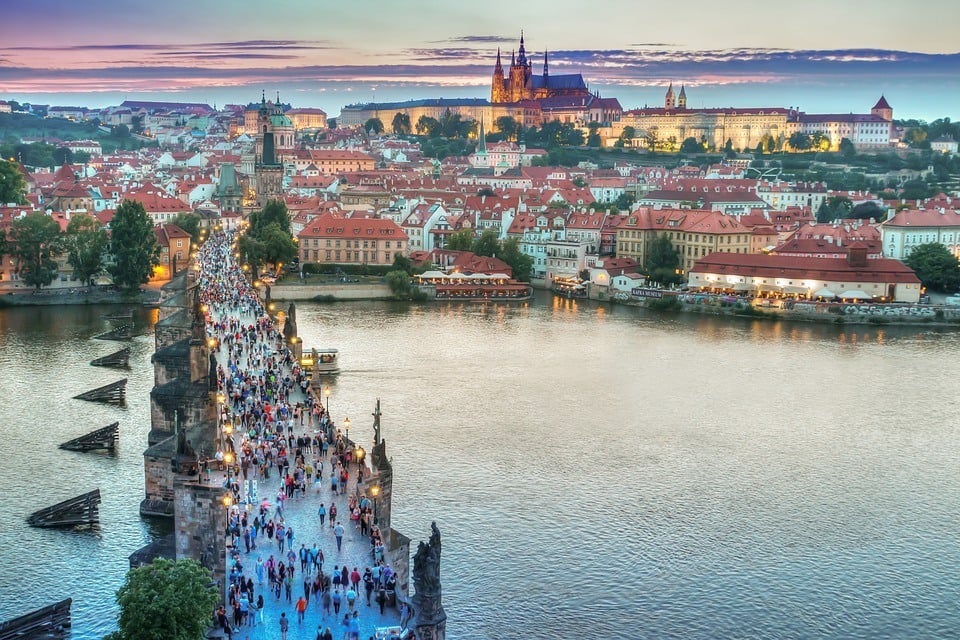 How Safe is Prague? (Our take)
Visiting Prague is very popular. It has been on the tourist radar since the early 1990s with the fall of the Iron Curtain.
We can see why: The city is awash with beautiful architecture, as it was much less damaged during World War II than other European capital cities. Expect to see everything from Baroque to Art Nouveau architecture making Prague look very pretty.
We would say that Prague is safe to visit.
That doesn't mean, however, that the city is an open-air museum that is a safe haven for you and your travels.
As the throngs of tourists descend on the city, so do pickpockets, opportunist thieves, unscrupulous taxi drivers and con artists. They tend to hone in on Prague itinerary hotspots like the Old Town square, Charles Bridge and around Prague Castle to try their luck at extracting money from unsuspecting tourists.
This also happens on busy, crowded trams, on metro carriages and on escalators.
At night time certain areas of Prague – such as the main train station – become seedier. Fellow tourists also begin to misbehave, as night falls and the drinks stack up, taking advantage of Prague's admittedly great nightlife scene.
Aside from all of this, there is not much to worry about – none of the above makes it any less safe than any other European capital.
To really grips with how safe Prague is, however, let's take a look at the statistics.
Is Prague Safe to Visit? (The facts.)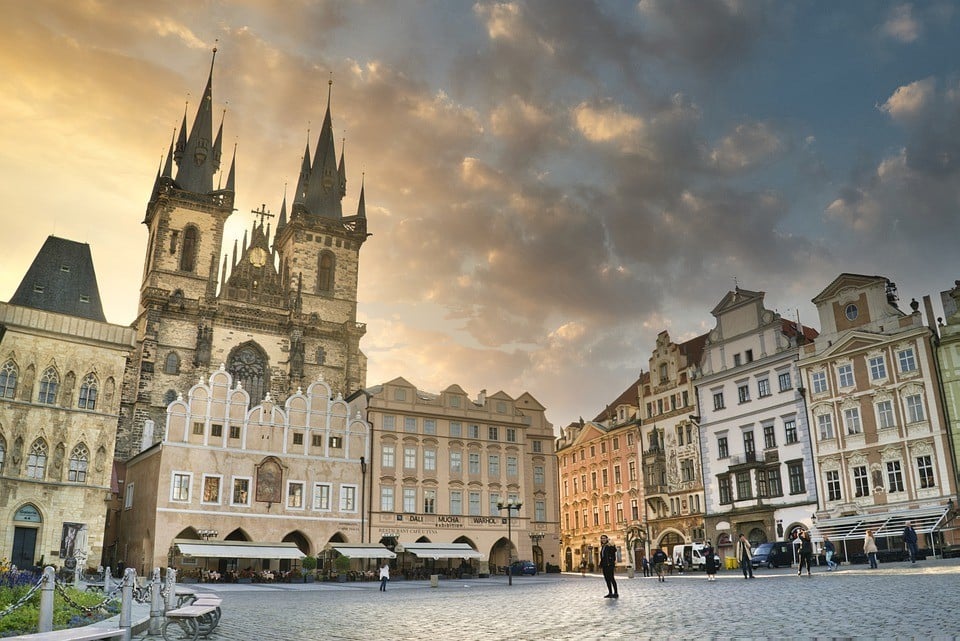 This city has been consistently ranked highly in polls related to best destinations and liveable cities. Tripadvisor, for example, ranked it 6th in the world on their 2016 list of "Best Destinations" and Mercer ranked Prague 69th on their list of the most liveable cities in the world.
In 2017, Prague was actually the fifth most visited European city. It is very popular with international visitors.
That does not necessarily mean that everything in Prague runs smoothly, however.
When it comes to crime,Czech Republic, on the whole, has issues to do with political corruption, with bribery coming up high.
Theft is also an issue across the country – not least in Prague.
Crime rates in Prague reflect what is going on around the country; they have recently been dropping, according to Czech police.
A downward trend for the past 5 years meant that, in 2018, police recorded 192,405 crimes across the country that year, averaging one crime per 55 people. That itself is a 4.9% decrease from the year before.
The decrease was particularly seen in property and violent crime, with Prague itself seeing the biggest dip in the country (6.2%).
However, in 2019, reported crimes in Prague had increased. Most significant of all rising crime levels is property theft, which saw a noted increase; violent crime seems also to be, at least slightly, on the rise.
Overall, the Czech Republic had an increased crime rate in 2019; a 3.5% rise on the previous year, with crime increasing in 12 of the country's 14 regions.
This doesn't put tourists off, however. The city received well over 8.5 million visitors in 2017. Nationwide, Czech Republic welcomed 22 million tourists in 2019 – the sixth year of consecutive growth which saw 3.67 million visitors to Prague in the first half of the year alone.
Looking at the Global Peace Index in 2019 – a yearly study that ranks countries based on their overall safety and peacefulness – Czech Republic ranks surprisingly high: number 10. That's just under Japan (9) and above Switzerland (11).
Is it Safe to Visit Prague Right Now?
There is nothing happening in Prague, right now, that should put you off your trip.
However, petty theft is a problem and has seen a rise in the past couple of years.
With that in mind, visitors to the city should not underestimate this issue. Many pickpockets work as skilled professionals in their trade.
There is even a risk of pickpocketing on flights, from places like the UK, with passports – among other valuables – being particularly at risk.
The busiest carriages on trams and the metro should be avoided; you also may want to limit your time, or if not, be highly alert of your surroundings, in busy touristed areas.
Wenceslas Square, for example, is often very busy and crowded, making it a hotspot for pickpockets. As night falls, this place can also see more direct risk with the potential threat of robbery.
The main train station and park is currently a meeting place for Prague's many homeless people who live in the city, as well as drug users; at night, travelling through this area, it is best to use the metro rather than the tram, the latter of which involves walking through the park.
If you are not used to trams, then you will need to pay careful attention to this mode of transport; every year, many people are injured through accidents involving trams (especially after a few drinks). Unlike cars, trams cannot stop quickly and one stumble into the street could easily turn a trip to Prague into an unforgettable trip for the wrong reasons.
In fact, many problems and issues that can arise in Prague seem to increase after the consumption of alcohol – but more on this later…
Have you sorted your Travel Insurance? Even if you're going on a short trip, it is always a good idea to travel with insurance. Have fun while visiting Prague, but take it from someone who has racked up $1000's on insurance claims, it is a good idea to get it sorted before you leave home!
The unthinkable can and does happen so it is better to be insured!
We personally use World Nomads to insure all of our adventures. Why not get a quote for yourself?
Getting an estimate from World Nomads is simple – just click the button or image below, fill out the necessary info, and you're on your way!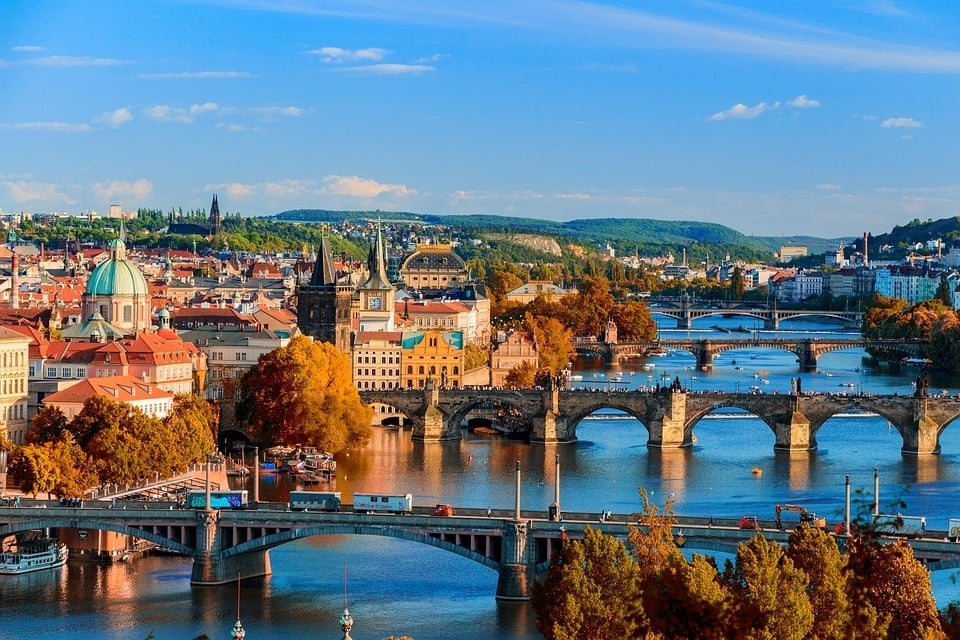 For most people, visiting the capital of the Czech Republic is completely trouble-free. You shouldn't run into any difficulties and will mostly just have a great time. However, it is still important to be aware of the street crime and petty theft that takes place here, so here are our top tips for travelling to Prague to keep in mind if you are planning a vacation to this storied city.
Don't change money in the street. Only use official currency exchanges, otherwise, you could get swindled quite easily.
Be aware of your surroundings when taking money out of ATMs. Only use them in places that feel secure and avoid doing so at night.
Keep any valuables out of reach of pickpockets. A money belt, for example, would be a very sensible idea (we have a recommendation for you in our next section).
Be particularly alert in areas such as Prague Castle (particularly at the changing of the guard), watching the Astronomical Clock in the Old Town square, around the entrance of the Old Jewish Cemetery, and in Wenceslas Square.
Be alert and aware of your surroundings on crowded public transport; especially on trams 9 and 22. Consider carrying your backpack on your front.
Be aware of rip-off taxis quoting inflated prices. These can be a problem, especially around tourist areas. (Check the taxis section later on for a more in-depth look at this).
Carry copies of your passport and other documents. Don't carry the real thing around with you – leave them in a secure place at your accommodation.
Be aware of fake plain-clothes police. These may ask to see your foreign currency and passport. If you are suspicious, offer to go the police station with them.
If you are a victim of theft, report the crime to Czech police within 24 hours. The Prague police station is open 24 hours and has English translators; there's also a main one at the airport.
If you need to contact the police, note that every lamp post in the city has a 6-digit number pasted on it at eye-level, which will enable the police to know exactly where you are without you telling them.
Beware of trams. Take care when crossing the street and make sure to look both ways. This may sound simple, but there are many incidents per year involving trams; they can't, and don't, stop quickly.
Note that you may be fined if you don't cross the road at the right spot, or if you cross at a pedestrian crossing when the light isn't green.
Make sure you have a ticket before you travel on public transport, and validate it before you board. If you don't, and you're caught, you will be fined on the spot.
Stay away from drugs. It is illegal and drugs are often dangerous counterfeits anyway.
Be aware of the heavy drinking that happens in the city. It's known as a party destination, and many stag and hen groups, as well as lads holidays and tour groups, make full use of the facilities.
Drunken and offensive behaviour may result in imprisonment and/or fines according to Czech law.
Try to blend in with how you're dressed. Looking like a tourist will easily make you more of a target for opportunist thieves.
Get yourself a sim card. If your phone doesn't work in the Czech Republic, then getting a sim at the airport will help you get around and keep in touch with people.
Learn some basic Czech. English is widely spoken, but it is often helpful – or just considerate – to at least know the basics, starting with "dekuju" (thank you).
Prague is a safe city and it is safe to visit. However, as we keep saying, those pesky pickpockets are a bit of an issue, so being aware of your surroundings at all times and making sure to keep your valuables and belongings close to you and out of reach at all times is a good idea. Other than that – and except for the quite drunken nightlife of Prague – there isn't much to worry about on a trip to the Czech capital.
Some General Safety Tips from the OG Broke Backpacker
Keeping your money safe in Prague
Losing your money anywhere in the world is not fun. It can really put a dampener on a trip to any destination and, in some cases, put a stop to your travels completely.
Unfortunately, with Prague being so renowned for pickpockets, you will want to keep your money extra safe here.
There is a simple solution to the problem of keeping your money safe in Prague, however, and that is a money belt.
With your money safely tucked into one of these, you'll be safe in the knowledge that no pickpocket will be able to get to your cash.
Our recommendation is the Active Roots Security Belt.
Unlike many money belts out there – which can look obvious when worn under clothing and be uncomfortable to wear – this belt is ingeniously simple: it acts like a regular belt, except with a hidden zipper pocket.
Sleep safe! Choose your hotel, hostel or Airbnb in Prague ahead of time so you're not last-minute booking a less-secure place.
Read our Neighborhood Guide for our favorite accommodations in Prague by area.
Check out our Hostel Guide for the best budget options.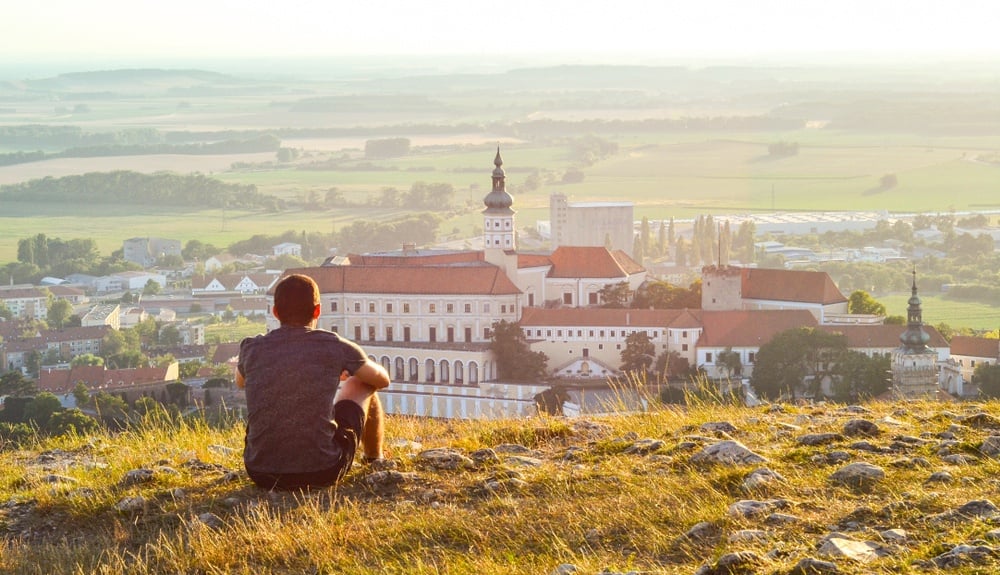 Visiting Prague as a solo traveller can be an amazing experience. Of course, solo travel can be daunting – especially in a new city that you don't know – but travelling here solo is safe. It just takes a bit of know-how, which we are about to run you through…
Book yourself into a sociable hostel. There are a whole selection of top hostels in Prague that give you a whole range of hostel experiences, from the super social and party-minded, to the more chilled and laid-back. Make sure you read reviews and choose the place that is going to suit you and your travel style.
Get to grips with what the city has to offer. There are lots of things to do here as a solo traveller, so don't hide yourself away and be scared – get out there and enjoy it. Immerse yourself in something new and reap the rewards.
Make sure that you research the area in which you want to stay. Somewhere slightly out of the centre may be good, but make sure that the neighbourhood in question does not get cut off at night time with fewer transport links, or becomes seedy or seems unsafe after dark. Research, and reading reviews, will definitely make a difference.
Get involved with the city's events. Prague always has something going on; in the summer, for example, the Naplavka is a hotspot for food festivals, attracting groups of friends.
Start your trip off by taking a free walking tour. This is a great way to get to grips with the city's cobblestone streets, and means that you get to see some of the best sights safely. Often hostels will organise these, so you may want to factor in things like this with your choice of hostel. There are tour companies, too, but just make sure you research which ones you use thoroughly.
Equally, you could also join in a bar crawl, if you want to go and enjoy the nightlife but don't feel like you're up to it as a solo traveller. You'll get to meet people and get a taste for the nightlife safely in a group.
Don't walk around by yourself late at night in shady areas. This is not a good idea, especially if you have had a few drinks.
It is probably not a good idea to drink to excess if you are going out partying. Getting overly drunk can lead to bad decisions, not being able to find your way home, or put you at risk of robbery or other crimes.
Ask your accommodation for their local recommendations – the areas that they think are best avoided, their tips for places that are safe to explore by yourself, that sort of thing. It can be hard to get off the tourist trail in Prague, especially by yourself, so having some local knowledge will really help open up the city for you.
Don't walk around with your head in your smartphone, guidebook, or glued to a map. Stay aware of your surroundings at all times, especially if you are by yourself.
Keep in touch with people back home. You may be travelling solo, but that doesn't mean having to go off-grid, so give your family and friends a call, make a WhatsApp group, let them know you're all good and keep people in the loop. It's much safer having people know where you are and what you're up to, than nobody knowing anything.
Prague may not jump out as a solo travel destination, but with all its walking tours, live concerts in the summer, and plenty of other travellers to meet in its wide selection of hostels, it can actually be a very fun place as a solo traveller. Prague is a city where you definitely won't be bored: just research where you're staying, what you can do, and have a few local gems to discover along the way. You'll be fine!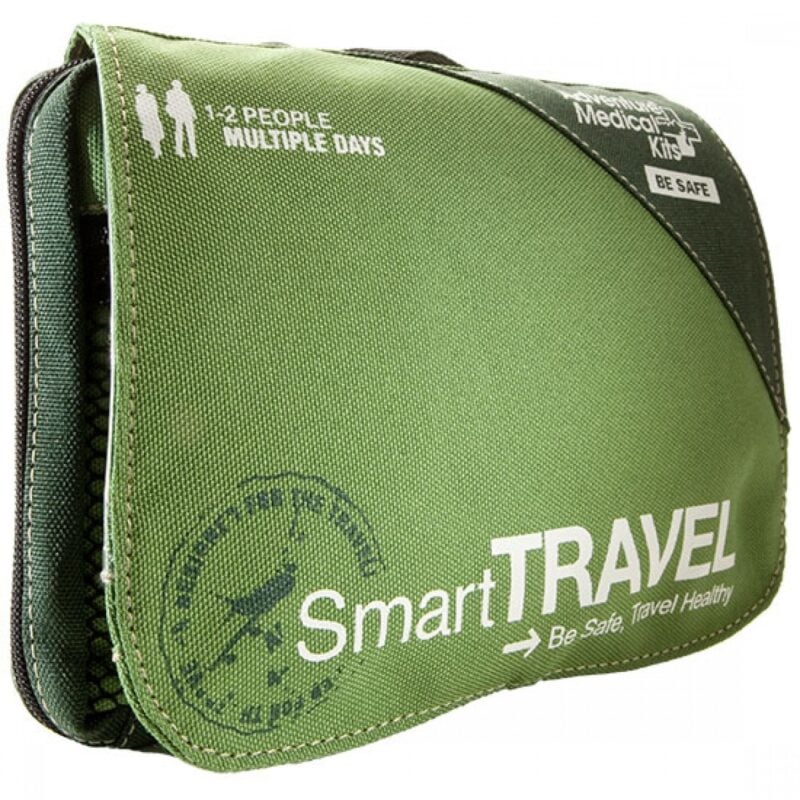 Be prepared for what life throws at you on the road. Pick up an AMK Travel Medical Kit before you head out on your next adventure.
View on REI
View on Amazon
Is Prague safe for solo female travellers?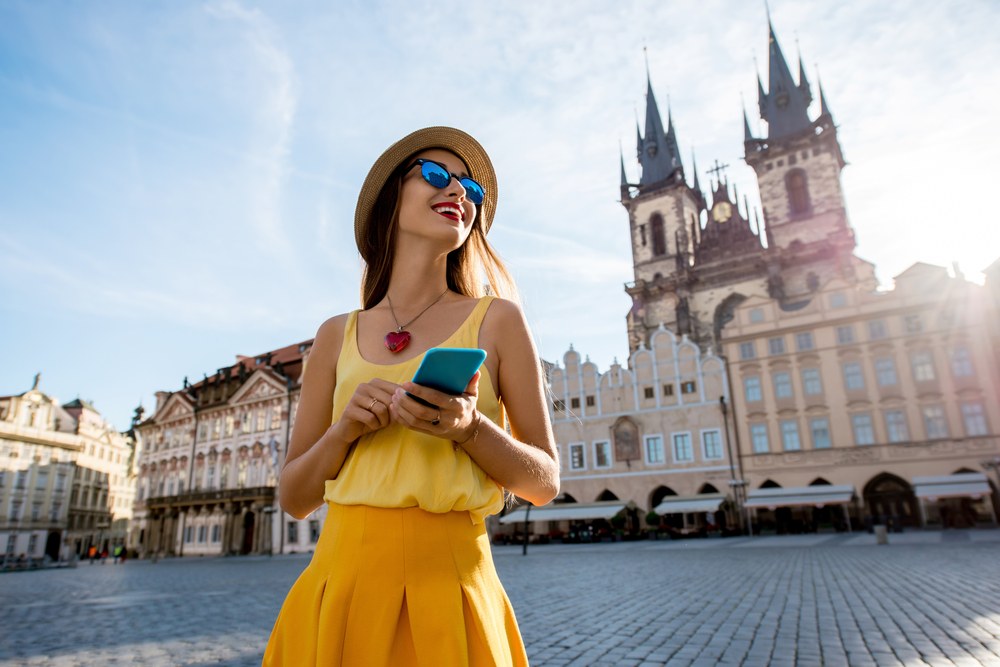 Prague is a safe place to travel as a solo female. With all those groups of tourists that enjoy the Czech capital, you can easily blend in with the crowds and not have to worry about being there alone.
You shouldn't expect too much trouble during your time there, but street smarts are definitely still in order. To help you figure it all out, we've curated some Prague-specific tips for solo travel travellers…
Walk around confidently. Don't walk around looking like you are lost or uncertain. Just make it seem like you know where you are going and you will be less likely targeted by opportunist petty criminals.
Dress to blend in (not like in the picture above). As a female by yourself, of course you can wear what you want, but to lower the chance of getting hassle from men, take cues from local ladies and how they are dressed. Blending in to look more like a local will also put you at less risk of being targeted as a tourist by a pickpocket.
Be aware of the big party groups that drunkenly stumble around the city. These can seem a bit daunting to a solo female traveller and can make the city's party scene seem off-limits. However, there are plenty of bar crawls and party tours that mean you can get involved in the nightlife, too. Just make sure the company/guide is highly reputable.
Do not leave your drink unattended – ever. Keep it in your hand, or don't take your eyes off it if it's on a table. If a stranger offers to buy you a drink, it is better to politely decline than risk your safety.
Be careful of drinking too much. Alcohol is cheap in Prague and definitely flows freely. Being very drunk can easily put you at risk and lead you into situations where you'll be at risk. Know your limits and know when to call it a night.
Don't walk around by yourself at night time. Take a taxi or Uber – just make sure it is official (more on that later). Alternatively, see who else from your hostel feels like leaving the party and get home together, as a group, safely.
Try and meet up with other local ladies, and/or get advice from other female travellers who have been to Prague before. Hit up Facebook group Girls Love Travel and ask the community of travel-loving women for their insider tips.
Let people know what you are doing. Whether that's via a phone call with a trusted relative or best friend back home, or just texting a WhatsApp group, or even casually notifying the staff at your hostel or hotel of your plans each day, it's better for your safety to keep people in the loop with your travels.
On the other hand, don't tell strangers details about yourself they don't need to know – your phone number, where you're staying, your room number, where you're from, what you're doing tomorrow, your marital status. No stranger needs to know all this. Tell white lies if you don't feel comfortable.
Similarly, just remove yourself from any situation in which you feel uncomfortable or unsafe. If it's getting weird, leave.
Be careful of your handbag, or purse, or any strappy bag, when worn on one shoulder; try to wear it cross-body and keep it zipped at all times so it can't be easily accessed by thieves.
Prague could easily be a good choice for a first time female solo travel trip. All it would take is a bit of planning, a bit of confidence and some solo traveller know-how. There's a ton of great hostels, some top tours to take, and much fun to be had in this old city; so much so that you'll most likely be back one day.
Just remember: don't do anything you wouldn't do at home!
Is Prague safe to travel for families?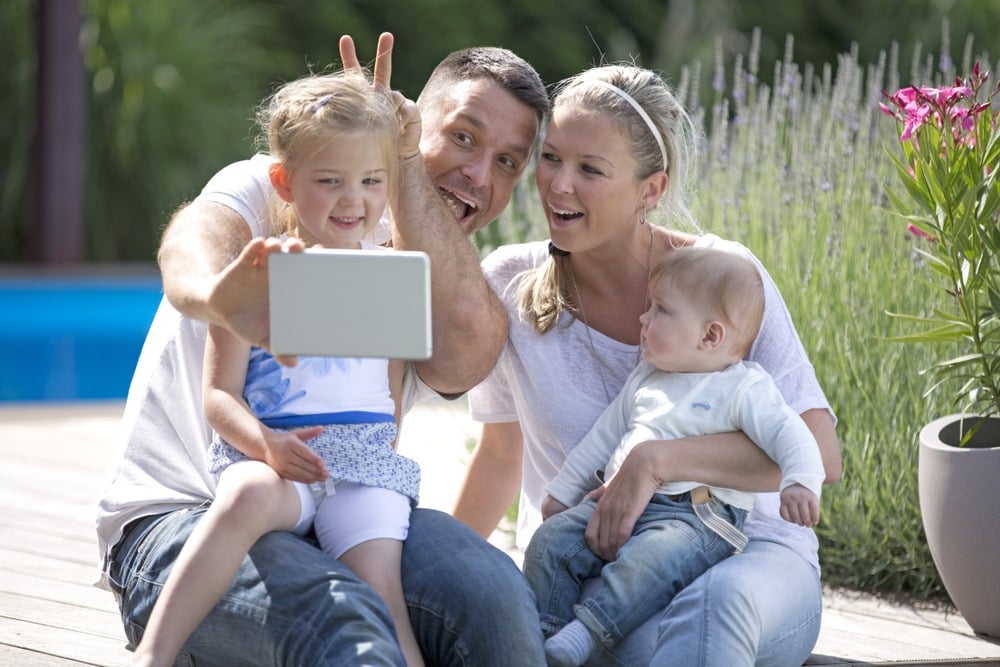 With all those visitors and such a reputation as a popular tourist destination, Prague is – of course – safe for families.
Czech society is family-oriented and that means that Prague has plentiful activities for children young and old to be found around town.
There are tailored children's activities throughout the city, the Art Gallery for Children and Lego Museum being two of the biggest.
There is also Children's Island. This traffic-free wonderland comes packed with playgrounds, skateboarding areas and the potential to stop off with a coffee (or beer!) for adults who need a breather.
Prague Zoo is another family destination, with a miniature cable car and a children's petting zoo – as well as play areas – to look forward to.
In winter, families can enjoy a spot of ice skating at an outdoor ice rink; in summer, it's time to row-boats and pedalos around Slav Island.
The city has its fair share of child-friendly restaurants, too, with many establishments offering children's menus. Family-friendly options include Hergetova Cihelna, a riverside restaurant with highchairs, baby changing facilities, and even Sunday brunch options; Sakura, a Japanese restaurant complete with children's play area; and Ambiante Pizza Nuova has highchairs and children's menus.
Getting around Prague with kids in tow is fairly straightforward but can be challenging at times, as it gets very busy and not all of the metro stations are accessible with a pushchair. Metro stations with lifts can be noted as they have wheelchair icons on maps.
It may be a better option, especially at busier times, to use a carrier.
It can also be rather busy if you are travelling on a tram; look out for "low-deck" trams on the schedule, which are easy access and mean you can put pushchairs and wheelchairs alike on board.
At the same time, there are often spaces at the back of the tram cars reserved for strollers. Also, look out for a black button by the door, which you can press to alert the driver that you need more time to unload you are your family.
Children under 6 travel free on Prague's public transport network; children under 15 are a discounted rate.
Even without public transport, Prague is easy to get around. It has a relatively compact city centre, and you will be able to walk quite easily to various attractions on foot.
It's a very good idea to research the hotel, and neighbourhood, you are staying is family-friendly. Some hotels may be more adult or group-oriented, while some areas of the city can become rowdy at night.
Overall, Prague is an amazing destination for you and your family. If you are thinking of going, we say go – and enjoy! The historic buildings along here, fairytale-esque as they are, are sure to make for a memorable trip.
Is it safe to drive in Prague?
If you want to drive around Prague, you should think twice.
Driving in the city can be pretty complicated and, overall, not really worth the hassle.
There is a whole convoluted network of one-way streets to navigate, hazards like trams and pedestrians to get to grips with, parking regulations (which can be a headache), and very bad traffic jams.
Being such a compact capital, the best option is to use public transport.
However, having your own car could be a good option for those who want to get out on some day trips from Prague or explore further afield. If you're on a road trip around Europe, and this city is a destination for you, then driving in Prague is unavoidable.
When it comes to road safety, Czech Republic fares less well than other countries. For example, in 2018, there were 656 deaths related to traffic accidents, equating to 6.2 road deaths per 100,00o; in comparison, the UK saw a rate of just 2.8 per 100,000 in the same year.
To drive in Prague, or in the Czech Republic in general, there is car hire available, many with English speaking staff. Smaller local companies often offer cheaper rates, but less likely to have English speaking staff.
When you head out of Prague and get on the road to drive on motorways (specifically), your car needs a special sticker. You can get these from places such as a bureau de changes, a petrol station or a post office; if you don't display it, you can be fined. Hire cars should include this sticker in the rental cost.
By law, you need to carry a selection of items in your car with you: a first aid kit, a warning triangle, a high visibility safety jacket, a spare wheel, for example, alongside other tools and equipment. Make sure you research all this before you head off.
Winter tyres are also necessary between November and March.
Another law is that you must have your headlights on, and dipped (at least), at all times if you are driving, no matter where you are in the country – whether it's the day, or night.
Be aware that delays and traffic jams are part of the norm of driving in Prague. Even outside of the city, on motorways, expect long detours and two lane highways that are crammed with queues of traffic.
The Czech driving style can seem aggressive, with speedy drivers being the norm and overtaking on blind corners occurring often. It's important to drive defensively and be on the alert at all times.
The speed limit on highways are monitored by cameras; when you arrive in towns and villages, the legal limit drops quite suddenly, so make sure you check the speedometer and slow down when you need to.
When driving in the city itself, know that trams always have the right of way when turning across your path. You are the one that has to stop your car, as the trams are not in a position to stop for you.
You also must stop behind any tram that is stationary and is allowing passengers on and off; do not overtake. You are only allowed to overtake a tram when the tram is in motion and is on your right.
Outside of the city, more so in rural areas, be on the lookout for level crossings. Sometimes these will not even have warning lights or barriers, so make sure you slow down, stop and look both ways before driving across them.
Drinking and driving is, of course, not legal at all. In fact, the legal blood alcohol level is zero. Know that if you get pulled over by the police, they are required to test with a breathalyser; be careful of driving the morning after a night of drinking as you may still have alcohol in your system.
Seatbelts – in the front and back – are also compulsory.
As far as driving in Prague goes, we say it's not worth it. If you're on a road trip, then of course, driving is unavoidable. However, to explore further afield and get a taste for the surrounding area of the Czech Republic then driving can be a great option.
Is Uber safe in Prague?
Uber in Prague is operational and makes for a very easy way to travel around the city.
The ride-hailing service means that you can safely know how much the fare will be (without being ripped off), track your journey, see reviews for the driver, and not have to worry about booking a cab without any Czech language.
One important thing that you should always do with Uber – anywhere in the world – is to make sure that you are getting in the correct car. Ensure that the registration, make and model of the car that arrives for you matches up with the information you're given on the app.
Next, always ask the driver their name or ask who the Uber is for – never say "Is this a taxi for [your name]?" as it could be an unscrupulous opportunist driver who just says, "yes," and which could lead you into a dangerous situation.
Are taxis safe in Prague?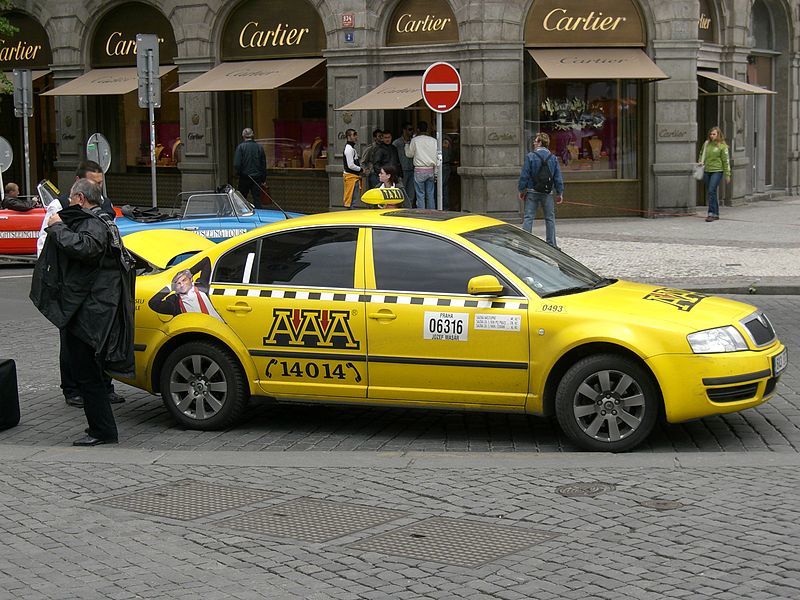 Taxis in Prague can be a good way to get around the city. They're convenient, they're plentiful and they are relatively cheap.
Unfortunately, however, Prague's taxis do not have the best reputation. Often there are stories surrounding them to do with overcharging, dishonesty and just general scams.
There are many reputable taxi firms that you can use in Prague. You just need to know which ones and how much you should be paying for your trips, so you do not get overcharged.
When taking a taxi in Prague, it is much safer to use a major taxi company. The best way to not get scammed is to call ahead and book a taxi; the radio taxi companies are much better regulated than the cabs that you hail on the street.
It is a good idea to ask at your accommodation for reputable taxi company numbers or any cab services they recommend.
Some taxis you can call by phone and book in advance include City Taxi, AAA and Tick Tack, to name a few. These three have 24 hour services and English speaking staff, both of which will be very helpful when you are in Prague.
If you do order a car by phone, get an estimate from the dispatcher of roughly how much your fare will cost.
However, you can't always do this, and in that case, you will need to look for a taxi while you are out and about.
The taxis to flag in Prague have a lamp on the roof, which will be lit when it's available. Yellow taxis, on both sides of the cab, have the word "TAXI" emblazoned in black letters; they will also have the driver's name, license number and rates printed on both of the front doors.
Before you get into the taxi, you should state your destination, and around how much it may cost to get there, before you get in and the meter is switched on. A trip to the suburbs from the city centre, for example, should cost around 200-300K?.
Always make sure the meter is switched on. Once you're in the taxi, make sure the taxi's meter corresponds to the price list that is posted in the car.
At the end of the journey, the taxi driver is obliged to offer you a printed receipt. You can request one of these if they don't offer; if the driver refuses, then you actually have the right to refuse to pay.
One of the main things to note about the safety of taxis in Prague, is to steer clear of any taxis that are parked around the main train station or near to a popular tourist site, like the Old Town square; this is where you will find the guys who will be charging crazy rates – much more than you would be paying normally.
Is public transportation in Prague safe?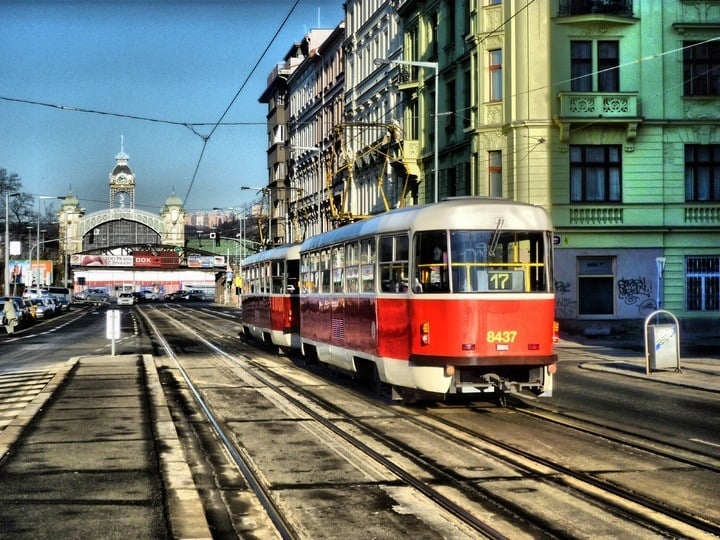 Prague has plentiful, well connected public transport on offer. Many people seem to think it has one of the best public transportation systems in the whole of Europe.
Made up of an interlinking system of trams, metro and buses, it is used daily by approximately two thirds of Prague's population – and for good reason. It spreads across most of the city and out to the suburbs, covering long distances and connecting most vital areas.
That doesn't mean that it is always smooth running. Prague's transport network, however good, is also prone to rerouting and cancellations due to maintenance and construction.
While second nature to a citizen of Prague, this can be confusing for a newcomer to the city.
First of all, the ticket system. Tickets purchased anywhere for any public transport are valid on any of the tram, metro or bus routes; you can, for example, combine a metro ticket with rides on buses and trams.
However, one thing you do have to make sure you do is validate your ticket. Your ticket isn't automatically validated once you buy it; you have to validate it, on a ticket machine, as you enter any of the city's public transport.
Let's begin with trams.
Prague's tram network is second only to the Hungarian capital of Budapest in terms of its number of vehicles and its patronage. It's a large network that's been in use since 1891.
The trams in Prague are safe and easy to use, but note: you need to look after your belongings and valuables during especially busy times, and specifically on tram lines 9 and 22, which are more frequented by tourists and – by extension – pickpockets.
Trams run from 5 a.m. till 12:30 a.m., but there is also a limited night tram service on some routes, so you can still get around after you've left the bars.
They are quite frequent, running every 4-10 minutes. They are a convenient way to get around, especially across the river and into more suburban neighbourhoods.
At the back of older trams, and in the middle of new trams, there are areas for pushchairs, so make sure to get out of the way if somebody is coming on with their children. Know that on some of the older trams, you have to press a button to make the doors open – they're not automatic.
Then there is the metro.
It is very straightforward and connects seamlessly with routes offered by buses and trams. Run by the Prague Public Transport Authority, when you arrive at the airport you can ask at the information desks provided on how to get to your accommodation from there via the metro.
Running from 5 a.m. to midnight, the metro has three major lines: A (Green), B (Yellow) and C (Red), with a planned D (Blue) slated for opening in the future.
Carrying around 6 million passengers a year, the Prague Metro is the fifth busiest of its kind in Europe; this means that, along with the crowds, pickpockets also lurk. Being aware of your surroundings is imperative.
On escalators in metro stations, it is customary to stand on the right; make sure to watch your belongings, as the fleeting nature of escalators attracts opportunist thieves.
Trains are frequent and peak times (every two minutes or so), while off-peak trains arrive around every 6 minutes. Trains can be very crowded around rush hours – we'd recommend avoiding these busiest times if you're a tourist.
While crowds in the daytime are best avoided, using either trams or metro at night, you should avoid empty carriages, which could easily put you at risk of robbery.
Lastly, there are buses.
Buses (autobusy) are not the best way to get around Prague city centre as they beholden to the city's bad traffic. However, they do work well in the outskirts of Prague, in areas where the trams and metro do not reach.
Running from 4:30 a.m. until midnight, buses are frequent at peak time (6-8 minutes) while off-peak and at Prague weekends, buses arrive every 15-30 minutes.
There is a night bus service on some routes, which runs from midnight to 4:30 a.m.. Just watch out for rowdy, drunken behaviour on night buses.
Buses are probably the least useful form of public transport in Prague for tourists, but there are a handful that could be handy for exploring the city. Number 112, for example, runs every several minutes to the zoo, while numbers 119 and 100 connect to the city's airports.
To explore further afield from Prague, there are also above-ground trains making up the city's public transport service. It is quite off the tourist radar, as it's not really in the historic part of the city, but if you plan on travelling out of Prague to see sights in striking distance of the capital, then these are an option.
Just make sure you take care around the main train station, especially if you are arriving after a day trip late in the evening.
Overall, the public transport in Prague is safe. Crowds sometimes mean pickpockets, but being alert and keeping your bag close to you should be enough to avoid being a victim of crime.
Is the food in Prague safe?
There is a heap of delicious food that awaits you in Prague; not only is it safe to eat at many if not most establishments in the city, it can also be quite a tasty experience, too.
Obložené chlebí?ky (open sandwiches) should definitely be tried – so should schnitzel, and sweet buchty (filled buns), among a host of other delights. To help you figure it all out, here are our top foodie tips for Prague.
Go where the locals go. Nobody quite knows their own cuisine like the people who live there, so if in doubt when you're exploring the city, go where it looks to be busy with local people. It may seem daunting to go somewhere without an English menu, but it'll be a real experience – and a tasty one – if you go to somewhere very local.
To find somewhere like this, you may want to ask the staff at your hostel or hotel; most likely they will have more than a few favourite places in Prague to eat in the city, and will be happy to recommend a few of them to you.
When it comes to street-side vendors and food stalls, you should head to places that look as though they have some sort of hygiene standards going on. If you see things like gloves not being worn, people sneezing, not wearing hair nets, and things like that, then you may want to just keep on walking and find another establishment.
Avoid eating anywhere along Carlova Street. This is squarely for tourists, and as such is saturated with souvenir shops and restaurants serving overpriced "authentic" food. With no worries about repeat business from locals, they are more about profit than they are about quality or hygiene.
Tourist restaurants overcharge. They're not just along Carlova Street, so be vigilant with where you choose; often these places will inflate the bill, so make sure to question it if you feel like you are being cheated.
Other areas to avoid are Wenceslas Square at night time; anywhere around there, with its sex workers and strip clubs, makes it not a great place to eat or drink. It's best avoided completely.
One way to avoid a bad experience, especially when you are already out and away from your accommodation, is to check Google Maps for reviews. It's simple: if an eatery has consistently bad reviews from visitors, it's best avoided; if it has good reviews, then there is most likely a reason for that, so go and find out why!
If you've been out drinking, be careful what – and where – you are eating afterwards. Your judgment may be impaired! On a similar note, but nothing to do with drinking, ensure your food is cooked through and hot (if it's supposed to be).
Check out Prague's easygoing beer gardens for somewhere you can enjoy traditional cuisine in a laid back setting, all washed down with a tasty Czech beer.
Last, but not least, please wash your hands! We all know (nowadays more than ever!) that washing your hands is very important to keep yourself healthy. So wash them, but if there's nowhere to do that, then consider taking along your own hand sanitiser.
Prague's food is the ultimate in tasty goodness – think Slavic meets German for an explosion of everything that makes central European cuisine, in general, so good. Steak, sausages, bread, beer, cheese, and more beer – it's going to be a foodie adventure.
One final thing we'd recommend is taking a Prague food tour. Czech cuisine isn't well known, so discovering it on a tour with a knowledgeable local, will really help open up the city's food scene for you.
Can you drink the water in Prague?
You can drink the water in Prague – the tap water is safe to drink.
However, many people in the city choose to drink bottled water; it may be a taste thing, we aren't sure.
Do your part to reduce plastic waste and don't do that – instead, take with you your own refillable water bottle.
Want to save the world?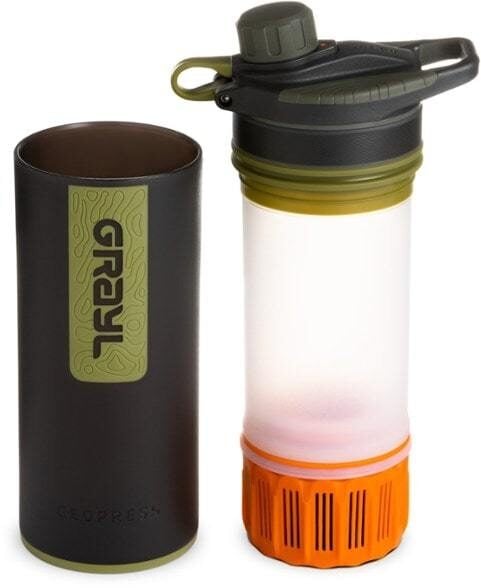 Single-use plastic bottles are a huge threat to Marine Life – Be a part of the solution and travel with a filter water bottle.
The GRAYL GEOPRESS water bottle is the ONLY all-in-one filter water bottle setup you'll need. Whether you need to purify the water from a hostel sink in Kathmandu or a stream trickle in the Andes, the Geopress has got you covered.
Read our full review of the GRAYL GEOPRESS!
Is Prague safe to live?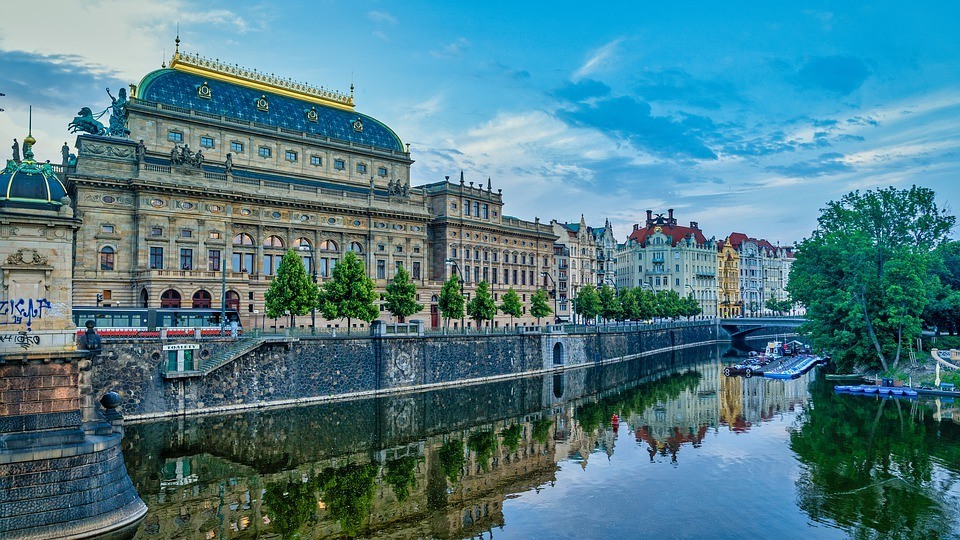 Prague is a very popular tourist destination, as we've established already, but more and more people are choosing to base themselves long term in the Czech capital.
That's right: Prague is a safe place to live.
Not only is it a beautiful looking city, with its architecture dripping in history – with a charm that many places lack – it is also a fairly affordable city to live in.
The public transport, for example, is not only excellent, but relatively cheap. It is made even cheaper by the virtue that you don't actually need to own (and pay for) a car to live in Prague.
A spacious, two-bedroom apartment in the centre of Prague, close to public transport, can be had for as little as 700 Euros.
With this history and affordability also comes a whole range of entertainment. From cafes and bars, to live music, ongoing yearly events and nightlife to get involved with, there's always something going on in the Czech capital.
Its position in the middle of Europe also means that many other European destinations are practically on your doorstep.
However, there are some downsides to living in Prague.
It is a popular tourist destination, which means there is a significant amount of visitors to the city during high season. These crowds attract crime, but not only that – drunken, raucous behaviour is an issue in Prague, and it can be extremely noisy at night with big groups of foreign tourists making fools of themselves.
This can make simply stepping out for a night on the town yourself something you might not want to do.
Living in a tourist destination can take its toll, and this is something you should really consider when weighing up the pros and cons of living in Prague.
If you are going to live there long term, you should also probably learn some Czech. Though many people speak English, if you want to make some local friends then speaking at least a little Czech is a good idea.
Not only that, but at some point, you're going to want to venture into a restaurant or cafe with a Czech language menu; knowing at least how to pronounce some words is a good starting point for your Prague adventure.
The Czech Republic is also very well known for its bureaucracy – think the imaginary worlds of Kafka, except it's real and still happens today. Getting stamped documents, asking for multiple authentications, photocopies, you will need to jump through all sorts hoops to get things done sometimes.
When it comes to moving somewhere new, it helps to know which neighbourhoods to live in, what transport lines are best, and what sort of area you should not be near; with this in mind, get in touch with expat groups, make connections in the city, and from there start planning your move – starting, of course, with a trip to the city!
How is healthcare in Prague?
Prague boasts a high level of medical care. If you are on holiday there, and have some sort of medical emergency, then you should not have anything to worry about – you will, most likely, receive top quality treatment.
The healthcare system in Prague is very highly praised and often cited as one of the best in the European Union for its affordability and standards. In fact, Prague is also a very popular destination for medical tourism.
The city has a selection of large hospitals that are fully staffed with highly trained professionals, often used to dealing with foreigners and who may be able to speak English.
If you need emergency medical assistance while in Prague, the number to dial is 112, then you should ask for an ambulance, which will then take you to the nearest and most appropriate A&E (Accident and emergency department).
Na Homolce is often thought to be the best hospital in the Czech capital – it is well equipped, with multilingual staff, too; they'll be able to treat any issue you may have here.
There are also clinics where you can see a doctor, for less serious ailments. Polyclinic at Narodni is a central clinic with staff who can speak a variety of languages.
Pharmacies are plentiful and play a key role in Prague's healthcare system. Called lékárna, these are easily spotted thanks to their big, often illuminated green crosses outside.
You can get a decent choice of over the counter medicines in Prague's pharmacies, while the pharmacists themselves will be able to offer advice should you have any health concerns.
Each district of the city should have at least one 24 hour pharmacy, should you need something late at night.
All in all, the healthcare in Prague is very good. There's nothing to worry about – if you do have an issue, you should be treated very well.
Helpful Prague Travel Phrases
The official language spoken in Prague is called Czech. Pretty much everyone in the country speaks Czech, though some of the older citizens may also speak Russian and German.
You will be able to get by with English in Prague and touristy places, though you may have to use a lot of hand motions in the smaller towns and villages!
I have provided a few Czech travel phrases below to help you out! If anything, the locals will definitely appreciate your effort.
Hello/Goodbye –Ahoj
Good morning – Dobré ráno
How much is this? – Jak moc je…?
Beer –Pivo
I'm a vegetarian –Jsem vegetarián
Where is…? – Kde je…?
Excuse me – Promi?te
No plastic bag – Žádná plastová taška
No straw please – Žádná sláma prosím
No plastic cutlery please – Žádné plastové p?íbory prosím
Do you speak English? –Mluvíš anglicky?
Thank you! –D?kuji!
Train station – Vlakové nádraží
FAQ about Staying Safe in Prague
Here are some quick answers to common questions about safety in Prague.
Final thoughts on the safety of Prague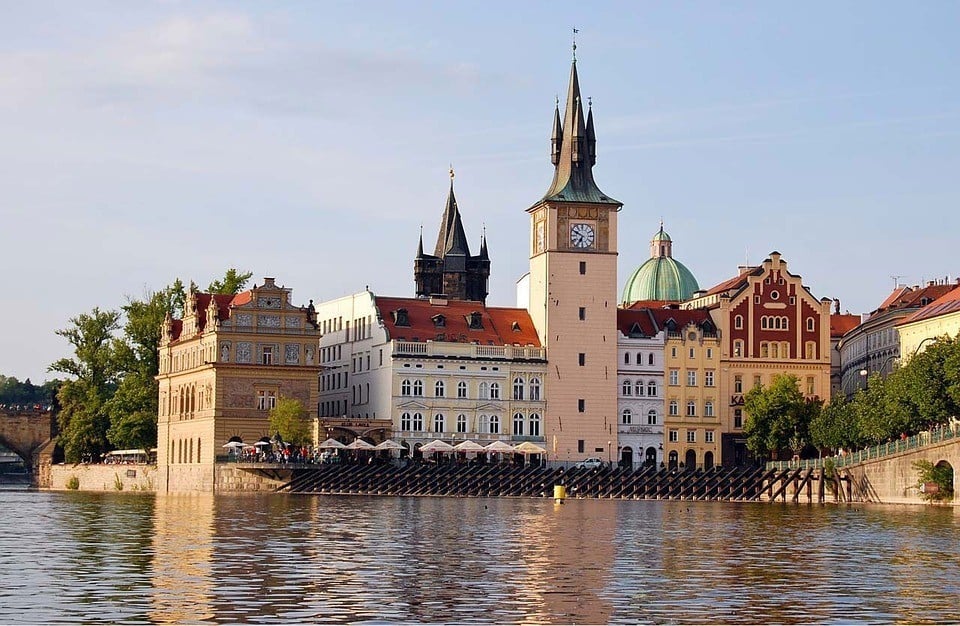 Prague is a beautiful city. There are stunning buildings everywhere, a long history to learn about and a more modern history of art and creativity that make it a fun place to explore. While there may be issues with pickpocketing, and drunken behaviour, using your common sense and avoiding the most touristed areas should put you in a better position to have an amazing time with no trouble to worry about.
And have you thought about getting Travel Insurance for your trip? You can get a quote from World Nomads by clicking on the link below.
Disclaimer: Safety conditions change all over the world on a daily basis. We do our best to advise but this info may already be out of date. Do your own research. Enjoy your travels!
---
Find out how YOU can support the site.
We work hard to put out the best backpacker resources on the web for free! It's all about helping out our tribe of awesome backpacker readers (that's you!). Please visit the link to find out how you can help keep the site going 🙂
For the sake of transparency, some of the links in our content are affiliate links. This means that if you book your accommodation, buy a piece of gear, or sort your insurance through our link, we earn a small commission at no extra cost to you. We only link to stuff that members of the Broke Backpacker team has actually used and never endorse products or services that are not up to scratch. Thanks for your support!