Prague may be one of the best-preserved historic cities in Europe, but away from the Baroque architecture and pretty buildings is a fun-loving heart. It's definitely one of Europe's most party-friendly cities, with tons of pubs and beer gardens to match.
There are also a bunch of party hostels in Prague to match, but they're not all created equally. That's why we've created this guide, to help you filter out the better options from the less reliable ones.
From the stylish to the affordable, the party-mad to more chilled options, we've found something to suit all travel types. Let's get into it!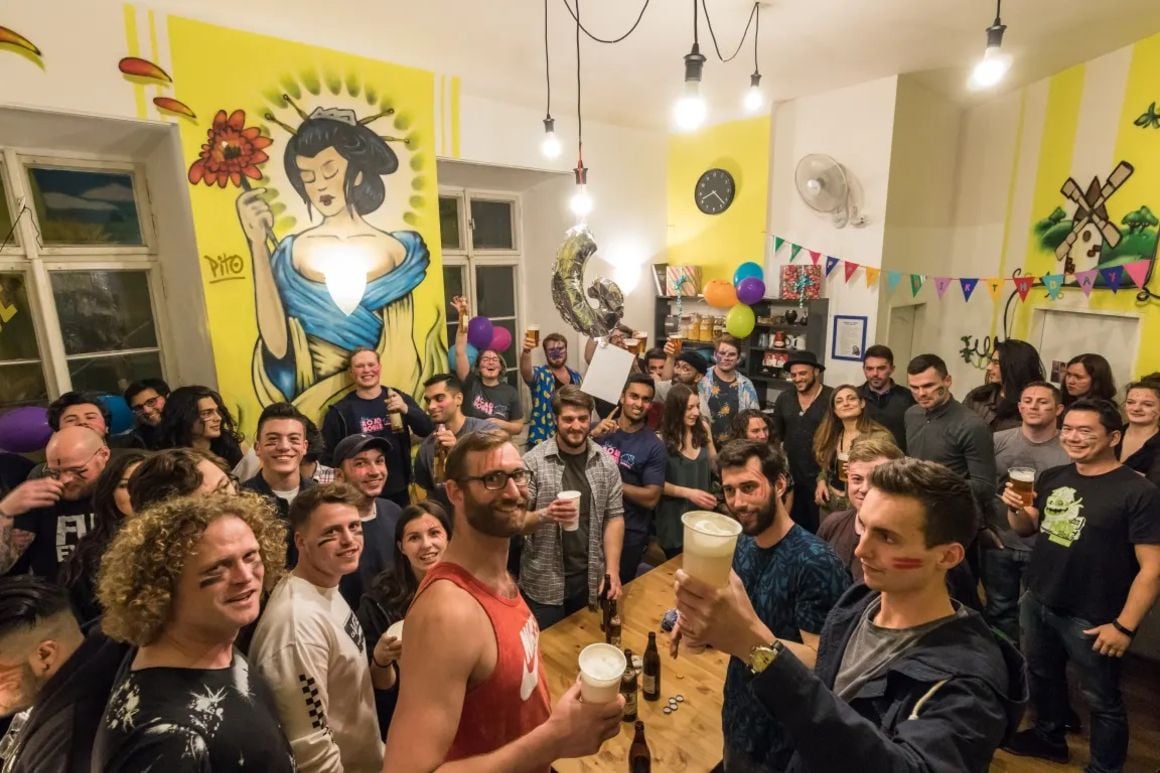 They claim to be "the best party hostel in Prague", and pretty much guarantee that everyone's going to have a good time. Opening in 2012, this hostel has been partying ever since with things like daily activities, group dinners and a welcoming atmosphere.
To make sure that the fun never stops, the staff are on hand to keep up the vibes and upbeat atmosphere. The hostel is a bit like a big shared house, so it's the sort of place where it's easy to get to know fellow travellers.
But, it's not all about the party. There's a big lounge where you can veg out in the daytime and nurse your hangover with some Netflix.
Where is The Madhouse Prague?
In terms of location, you'll find this party hostel in Prague's Old Town. It's just a nine-minute walk to the famous Astronomical Clock and a two-minute walk to the nearest tram stop and metro station. You'll find an array of eateries and bars on your doorstep, as well as late night food joints (e.g. pizza, burritos and kebabs) to sate your drunken appetite.
In terms of sleeping arrangements, this hostel has the following dorm options available to you (no private rooms, unfortunately):
Prices start from $28 USD per night.
Any extras?
It's not the cheapest party hostel in Prague, but for the nightly rate there are some great perks to The Madhouse that make it worth every penny. For starters, you'll have access to the following amenities:
Free Wi-Fi
Security lockers
Communal kitchen
Hairdryers
Communal lounge
Free breakfast
Housekeeping
Drinks on sale
But being a party hostel, you'll also be privy to the activities and events such as:
Free family dinners
Games nights
Bar crawls
Strawpedo
"Mad nights out"
Beer garden trips
Ice hockey games
Going skydiving, trip to a shooting range, etc.
Beer pong
Although they title themselves as a "Madhouse", the hostel is well looked after, clean, and comfortable. The hostel has a decent balance between drinking evenings and chilled (or adventurous) daytimes, making it a good option for social backpackers travelling in Prague.
The BEST Travel Backpack?!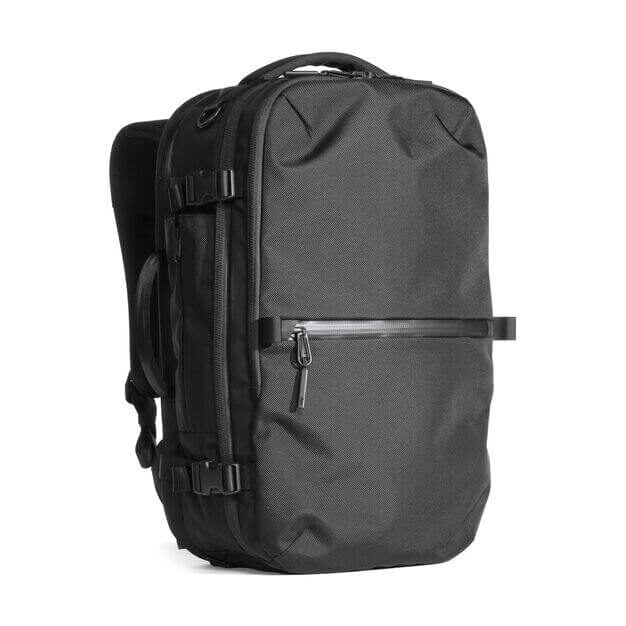 Pssssst! Not picked the perfect travel backpack yet? The Broke Backpacker team has tried out over thirty backpacks this year! Our favourite travel backpack is the Aer Travel Pack 2.
View on AER
With its punny name, Czech Inn is surprisingly not your traditional backpackers' partying hub. It's got modern interiors despite being situated in a classic historic building, so aesthetically it ticks all the boxes.
It's also got a great atmosphere, thanks to its very own basement bar and venue space. Events are often put on here, so you'll never be too far away from some entertainment.
The dorms and private rooms are clean, comfortable, and spacious The price really is the cherry on top though – for the vibe, the facilities, and the location, it's a steal.
Where is Czech Inn?
Czech Inn is located in Vinohrady, one of the coolest neighbourhoods in Prague. It's surrounded by a host of hip bars, restaurants and cafes, plus boutique stores and beer gardens galore. It's five-kilometres from here to Charles Bridge and around seven to get to the Old Town. The close-by tram stop means you can get to the city centre in just 10 minutes.
There are a whole lot of room options available at Czech Inn. Dorms include:
There are some pretty stylish private rooms that you could opt for:
Twin room
Double bed
Three bed
Five bed
Prices start at $8.50 per night.
Any extras?
As well as a wide range of rooms, there are loads of different facilities that really make Czech Inn great value for money. Check it all out below:
Bar
Book exchange
Elevator
Luggage storage
24-hour reception
Board games
Security lockers
Cafe
What about those party credentials? Well, here are some extra perks and events going on at Czech Inn:
Happy hour
Stand-up comedy
Live music
Free walking tours
Prague pub crawl
Tickets to nightclubs
Theme nights
Pub quiz
Drinks deals
So, Czech Inn may not be the most lively party hostel in Prague, but this award-winning hostel is definitely one of the nicest. It also happens to be one of the cheapest hostels in Prague – think affordable luxury. Throw in a bar and a chilled cafe, and it's a solid option for moderate party animals.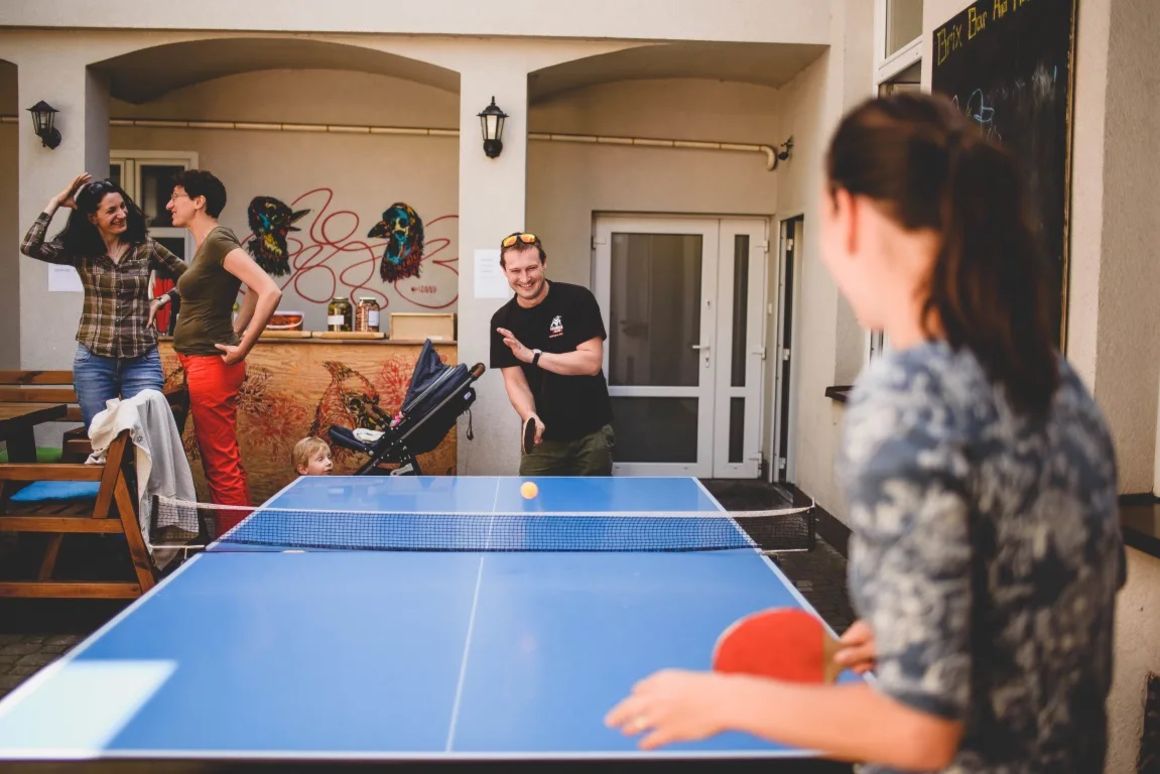 Brix Hostel definitely has one of the best atmospheres on offer in Prague. It's the sort of hostel where you might keep extending your stay, because you simply won't want to leave!
This adults-only hostel is a great place to get to know fellow travellers and socialise. To this end, staff work hard to ensure all guests have a great stay in the city. There's always some sort of event or tour going on to keep guests entertained.
We should probably mention the fact that this hostel has a bar that's open 24/7. That's right – it never closes. Combine that with a cool courtyard to hang out on, and it sure is a fun place to base your adventures in Prague.
Where is Brix Hostel?
You'll find this party hostel in Prague's lively Žižkov neighbourhood – equivalent to NYC's Bronx or Paris' Montmartre districts. It's very popular among students, and is packed with pubs, galleries, and restaurants. Brix Hostel is also situated close to some of Prague's top attractions, with Old Town Square and the Charles Bridge just a few stops away on public transport.
In terms of sleeping arrangements, you'll have the following dorm rooms to choose from at Brix Hostel:
Want some privacy? Feast your eyes on their private room options:
Twin with shared bathroom
Double room with private bathroom
Triple room with private bathroom
Prices start from $12 per night.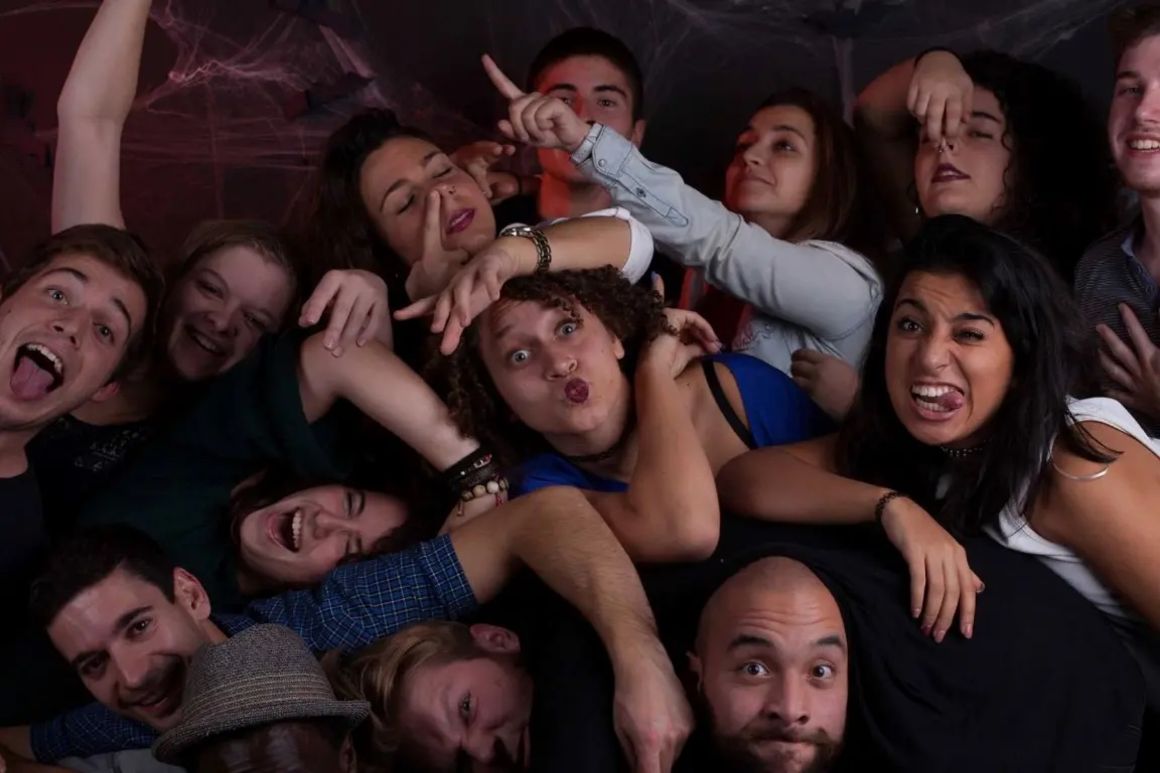 Any extras?
Brix Hostel is more than just an affordable hostel in Prague. To enhance your stay and make it as convenient as possible, you'll have access to the following perks:
Cafe
Housekeeping
Foosball
24-hour bar
Communal kitchen
24-hour security
ATM
Outdoor terrace/courtyard
They also put on some pretty awesome regular events:
Drinks deals
Movie nights
Live music
Theme nights
Local artist exhibitions
Bar crawls
Club nights
Brix Hostel is definitely focused on making sure that all their guests have fun, and their consistently top-notch reviews reflect that. To be honest, they had us at 24-hour bar, but everything else is pretty great, too.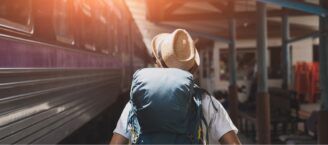 Unlock the The Broke Backpacker's GREATEST Travel Secrets
Sign up for The Broke Backpacker Newsletter to receive weekly tips on how to travel on a budget + a FREE copy of The Backpacker Bible!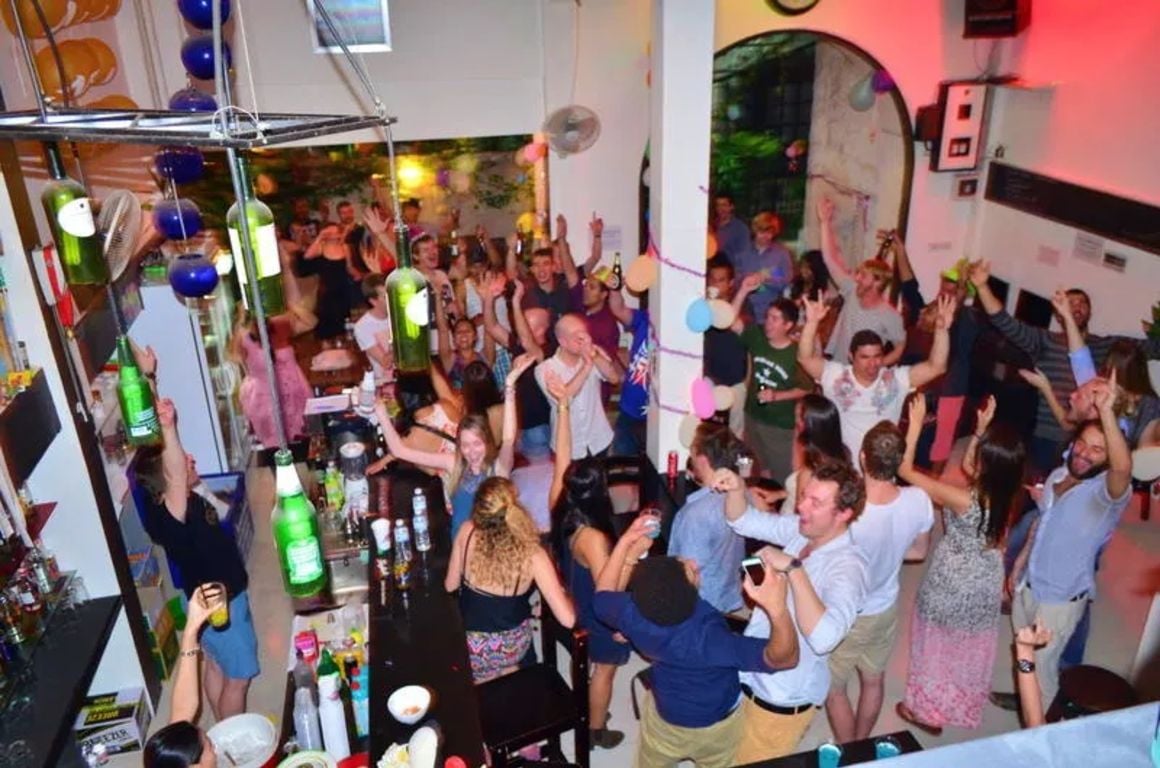 Anyone with partying in their Prague travel plans will love staying at this fun hostel. It's the sort of place where the staff are just itching to give everyone a good introduction to the city – and with a jam-packed events calendar, they do just that!
Aside from getting everyone involved in the fun, the hostel itself is also pretty stylish. The dorms are spacious, and the interiors are modern, with cool hang-out spaces to spend time chilling out. They're also great for sleeping off your hangover.
Where is Ahoy! Hostel?
The location of Ahoy! Hostel is great, situated just a five-minute walk to the Old Town Square and Charles Bridge. There's a whole host of restaurants, bars, and clubs a stone's throw from here, as well as public transport. It's especially good for getting to and from the airport, making it a great place to start your travels in the Czech Republic.
Ahoy! only offers mixed dorms, but there are some private rooms on offer as well. In terms of these, you can choose from:
Standard twin room shared bathroom
Standard double bed shared bathroom
Prices start from $16 per night.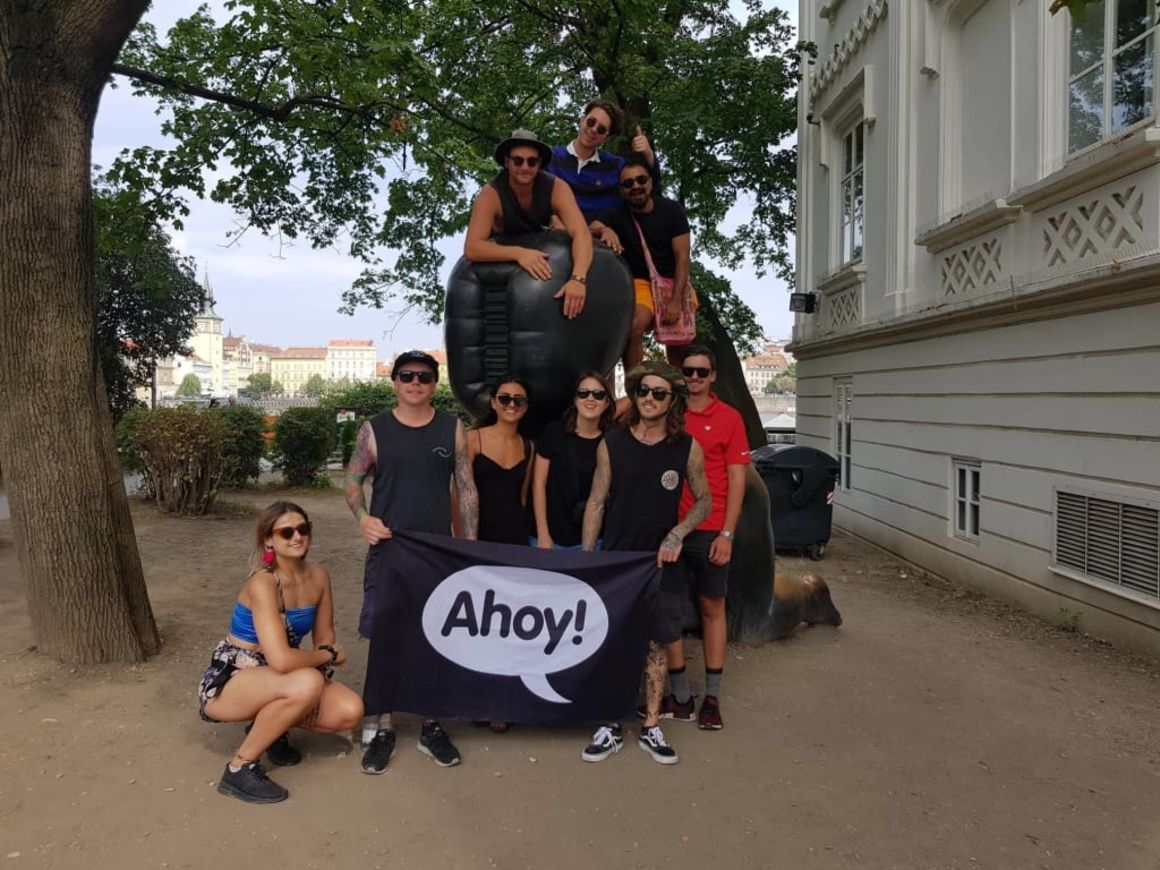 Any extras?
Situated inside a 17th-century building, Ahoy! Hostel is more than just a pretty place to stay. It's got guests covered with a range of facilities to make life easier, including:
Security lockers
Free Wi-Fi
Laundry facilities
24-hour security
Tours/travel desk
Book exchange
Vending machines
Board games
They've also got some great events and activities geared towards night-time partying and day-time adventuring:
Free walking tours
Family style dinners
Drinks deals
Beer garden tour
Bar crawl
Riverside party
Club nights
Despite lacking a bar, Ahoy! Hostel is geared towards making sure everyone has a time to remember. after those family dinners, there's pretty much always the invitation to head out to explore the city's nightlife with the hostel team. Nothing better than a local tour of Prague's coolest bars!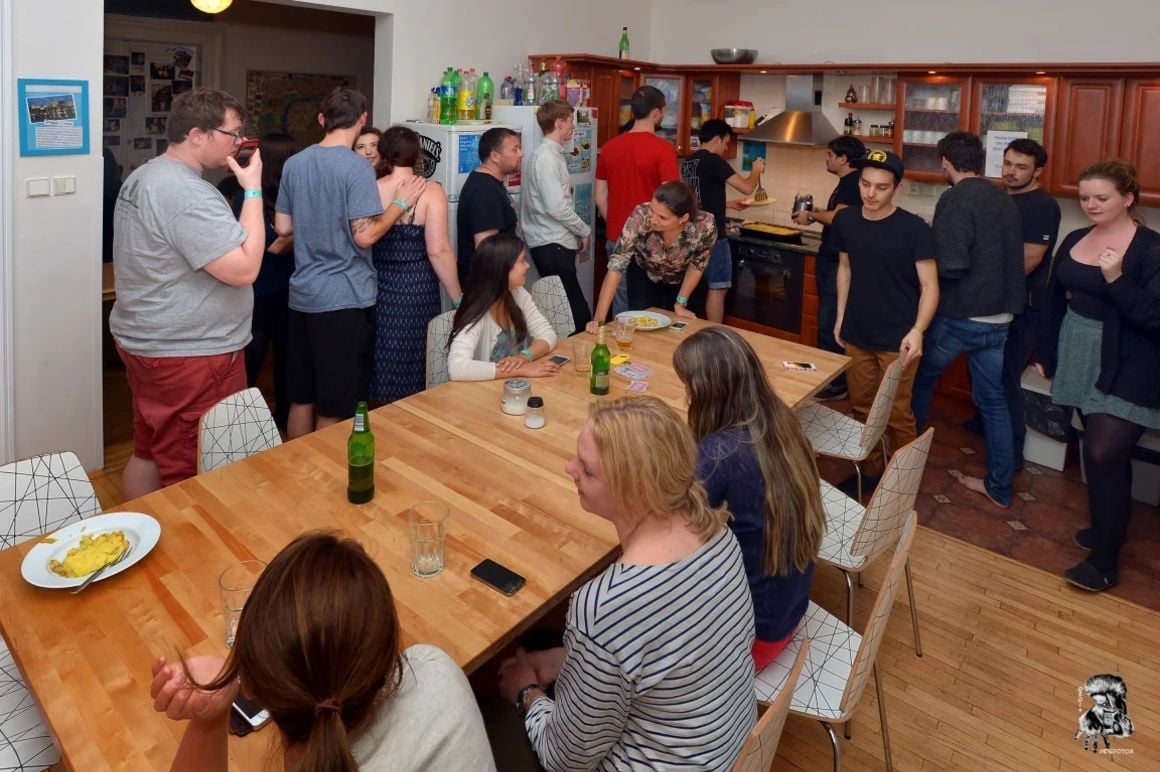 Run by a bunch of like-minded travellers, Hostel One Home is all about days exploring the city and late nights partying. Simple as that.
It's easily one of Prague's best party hostels, helped by the roster of events and the friendly team of staff who arrange them. The goal here is to get everyone mingling and making friends, and we'd say that they're pretty successful.
The vibe is a pretty intimate one, gathering guests around the table for a free family dinner every night before heading out to partake in Prague's nightlife. Because of this, it's a great option for solo travellers looking to party and be part of a sociable hostel experience.
Where is Hostel One Home?
Hostel One Home is situated close to many of Prague's top tourist attractions, pretty much in the centre of the city (District 1, to be exact). It's situated directly across from the Praha Masarykovo train station – the city's main transport hub – so getting around is a breeze. From here, it's just over a 10-minute walk to the Old Town Square, with a ton of sights, restaurants and bars in between.
Hostel One Home is all about being sociable, so you won't find any private rooms here. Instead, the hostel only offers mixed dorms. Rest assured knowing that it's a completely safe place to be in Prague, despite being so central.
Prices start from $26 per night.
Any extras?
Of course! Being one of Prague's top party hostels, there are additional perks to this place that really make it a fun place to be. It's also just straight up convenient with all these amenities to make use of:
Netflix
Housekeeping
Free earplugs
Board games
Computers to use (free of charge)
Communal kitchen
Free tea and coffee
Outdoor terrace
As for those activities, cast your eyes below:
Drinking games
Bar crawls
Free family dinners every night
Trips to nightclubs
Movie nights
Free walking tours
This is a solid, fun hostel where you'll feel welcome the moment you arrive. For travellers on a shoestring budget, it's a particularly good option thanks to the amount of free daily and nightly activities. You won't have to buy dinner once during your stay, and there's a cheap breakfast on offer. What more could you want?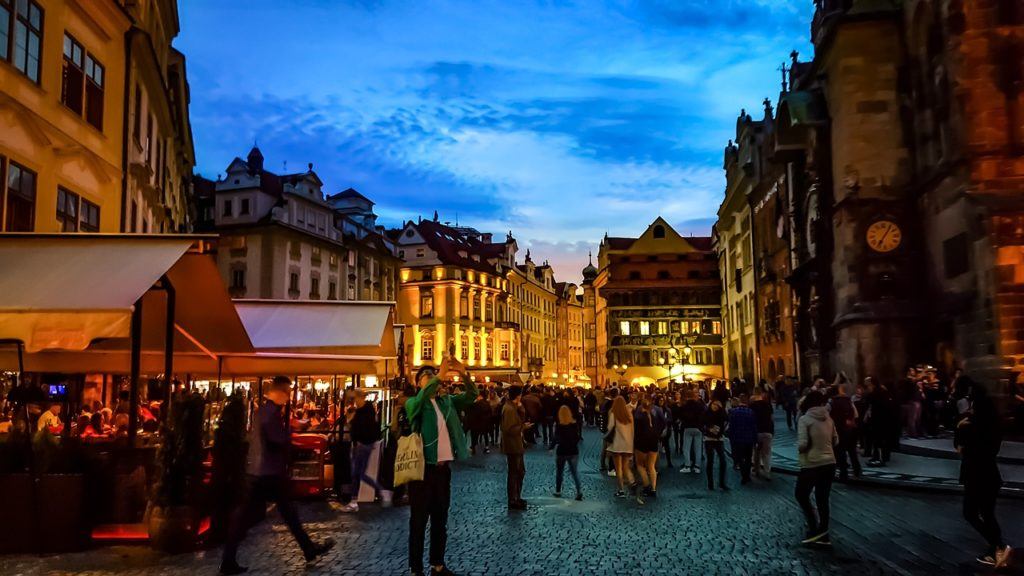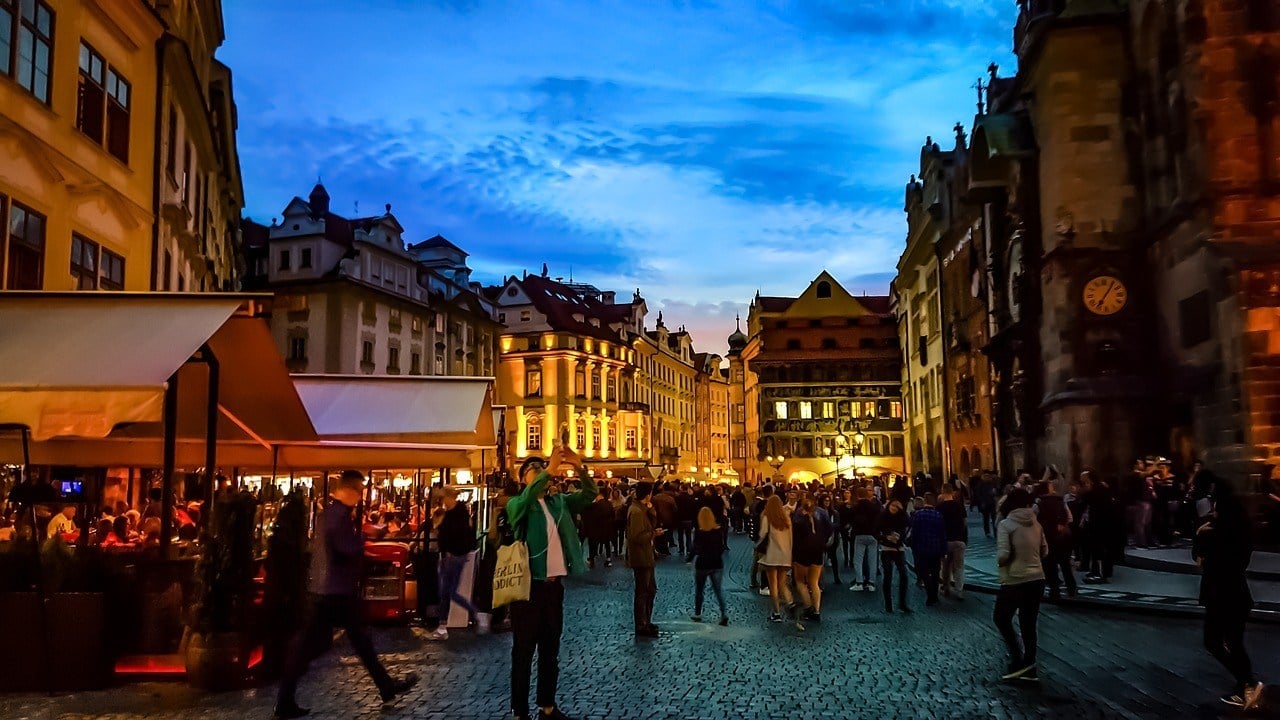 Party Hostels in Prague FAQ
How cheap are hostels in Prague?
Hostels in Prague are generally pretty affordable. The lowest price you'll be paying for a bunk in a dorm room is around $8 USD per night, but the prices do fluctuate – especially during the summer when there's more demand. On average, expect to pay around $15-20.

Private rooms are obviously more costly (upwards of $50). Some places even do apartments, where it makes sense to split the cost between you and some friends. In terms of Prague's cheapest areas, try Žižkov – a local area further from tourist sights, but fun and popular with students.
Are hostels in Prague safe?
Prague hostels are totally safe. Staff are responsible, and often on hand 24/7 in case you need something. Hostels also come with security credentials such as personal lockers for your stuff and key card access, so that only guests have access to the hostel building.

Prague as a whole is a safe city. It enjoys low levels of crime, but like all European cities, pickpockets can be a nuisance around busy tourist sights and transport hubs. It's always good to pay attention to your surroundings and keep your belongings close to you. And after a night of drinking, ensure you can get home safely!
Are there any more party hostels in Prague?
There are loads more party hostels in Prague to choose from.
Meet Me 23
(from $21 per night), for example, is a stylish hostel in the Old Town. Billing themselves as a boutique hostel, they've got a cool on-site bar for you to start your evening.
Next up,
The Roadhouse Prague
(from $17 per night) started life in 2017 and is a friendly hostel that's more about mingling and making friends. It's actually the more chilled sister hostel to The Madhouse, so you'll get a good balance of party and relaxation.
Finally,
Hostel Elf
(from $15.50 per night) is a more traditional backpacker sort of place, with an awesome terrace for drinking and various events, from happy hours to bar crawls.
Final Thoughts on Party Hostels in Prague
Prague and partying go hand in hand, so it's no wonder then that the Czech capital has got a ton of top party hostels to pick from. From the wild and fancy to the more chilled out and sociable, there's a hostel for every party-loving traveller.
So, it's time for you to get your dancing shoes on and brush up on your beer-pong skills – Prague's best party hostels are waiting for you! Don't forget to let us know in the comments below which one you decide to try out!