Mykonos is one of my all time favourite destinations in Greece. From its pristine beaches to its amazing weather year round, it's no wonder both me and many other members of the team have visited alongside the tourists that flock here each year.
Aside from its iconic whitewashed houses and windmills, Mykonos is also famous for its cuisine, thumping all night parties and incredible coastline. So of course, with all that going on, it's important to find the right place to base yourself. Luckily we've been plenty of times, so we're in the known when it comes to where to stay in Mykonos.
Most people would think that going to Mykonos involves saving up all year for your trip, but the truth is, it can still be explored on a budget if you know where to look.
The island has plenty of accommodation for travelers of all types, it doesn't matter if you're willing to splurge or trying your best to stick to your budget. There is always a Mykonos Airbnb for all your needs.
So, after many trips across the Broke Backpacker team, we
We will share with you the top 20 favorite short-term rentals in Mykonos, and we'll also talk about the type of accommodations you can expect on the island.
Quick Answer: These are the Top 4 Airbnbs in Mykonos
Overall Best Value Airbnb in Mykonos
Overall Best Value Airbnb in Mykonos
Private Room in a Boutique Hotel Near Ports
> $$
> 3 Guests
> Spa
> Amazing sunset views
Best Budget Airbnb in Mykonos
Best Budget Airbnb in Mykonos
Apartment Near Mykonos Town
> $
> 2 Guests
> Spectacular views
> Fully-equipped kitchen
Best Airbnb for Couples in Mykonos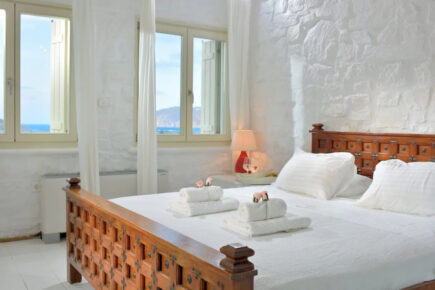 Best Airbnb for Couples in Mykonos
Luxurious Villa Above Ftelia Beach
> $$
> 2 Guests
> Daily cleaning service
> Large, modern villa
Over-the-Top Luxury Airbnb in Mykonos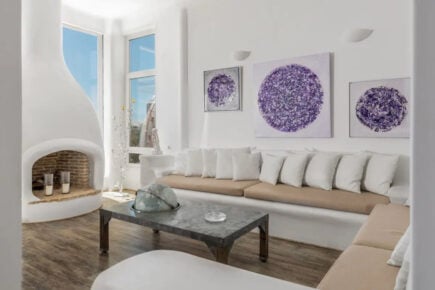 Over-the-Top Luxury Airbnb in Mykonos
Hilltop Villa With Huge Sun Terrace and Massive Pool
> $$$$
> 16 Guests
> Close to nightlife
> Massive terrace

Unlock Our GREATEST Travel Secrets!
Sign up for our newsletter and get the best travel tips delivered right to your inbox.
What to Expect from Airbnbs in Mykonos
If you're traveling to the islands of Greece and are headed to Mykonos, you must know about the accommodation available in one of the most beautiful islands in the world.
Mykonos Airbnbs can be found all over, but Mykonos town is the city center and is home to some of the most happening bars, restaurants, and nightlife, so it makes sense to stay nearby to be in the center of everything. Personally, it's the area I most often base myself in as I like to be close to the action.
The majority of the Airbnbs on the island are Cycladic or traditional Greek houses which can be luxurious or simple. Travelers can expect spectacular views of the surrounding waters, Greek hospitality, and some of the best Mediterranean dishes unique to the island.
Here are the three most common types of Airbnb in Mykonos: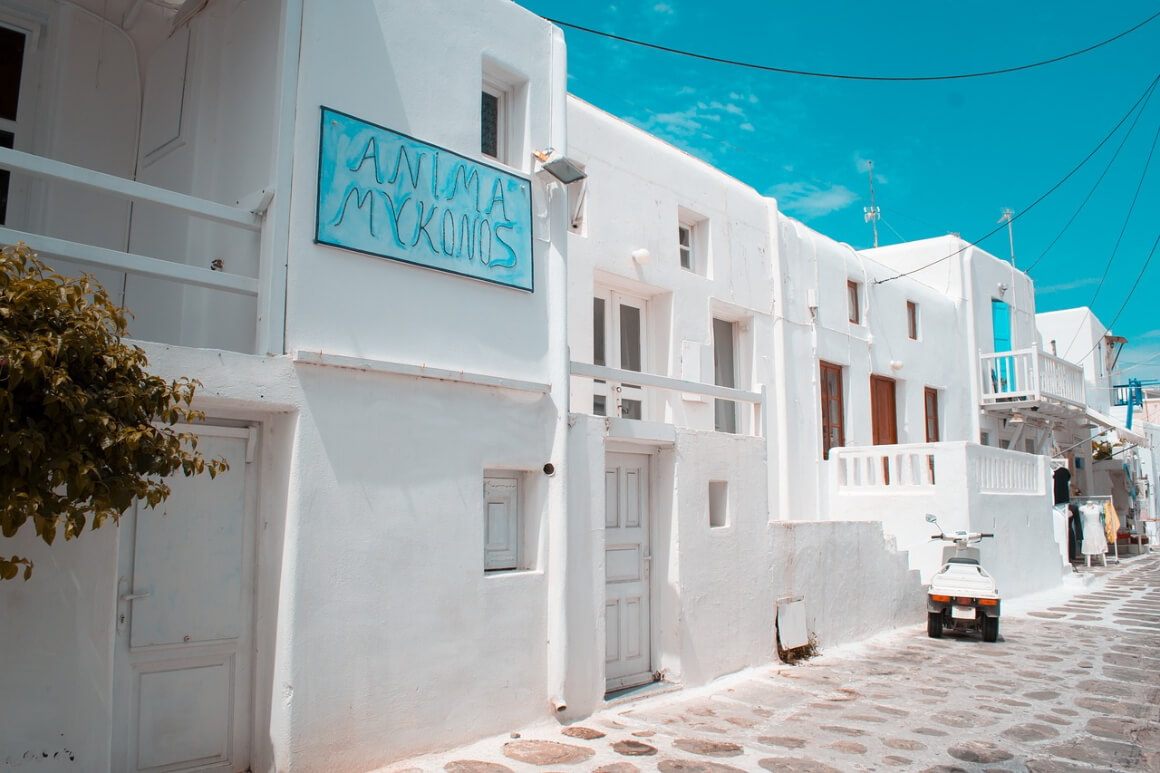 Residential Homes
When you think of residential homes in Mykonos, think of whitewashed, traditional, and cubic Greek homes with flat roofs, as well as wooden colored doors and windows. You won't find a bland home on the island.
The beauty of staying in a residential home is that you get to enjoy the whole place to yourself and you have a wide range of amenities at your disposal. If you are traveling as a group, this can come in handy if you want to save some money by preparing your own meals.
You get all the trappings of a home such as separate living and dining areas as well as a fully-equipped kitchen. There are cozy Greek homes all over the island, and a lot of them are next to the homes of locals. I just love staying in local areas alongside the residents as it gives you a much deeper experience of the island.
Apartments
Apartments are pretty much all over the island, and just like residential homes they offer privacy but with fewer amenities. Most apartments will have a small kitchenette where you can prepare quick snacks and coffees.
Apartments are perfect for couples or solo travelers. You will find properties that come with private pools, while others have a few shared spaces with other apartments in a complex. Apartments are where me and my partner most often stay when we come to Mykonos, they're usually pretty cheap and the kitchen is great for saving more money.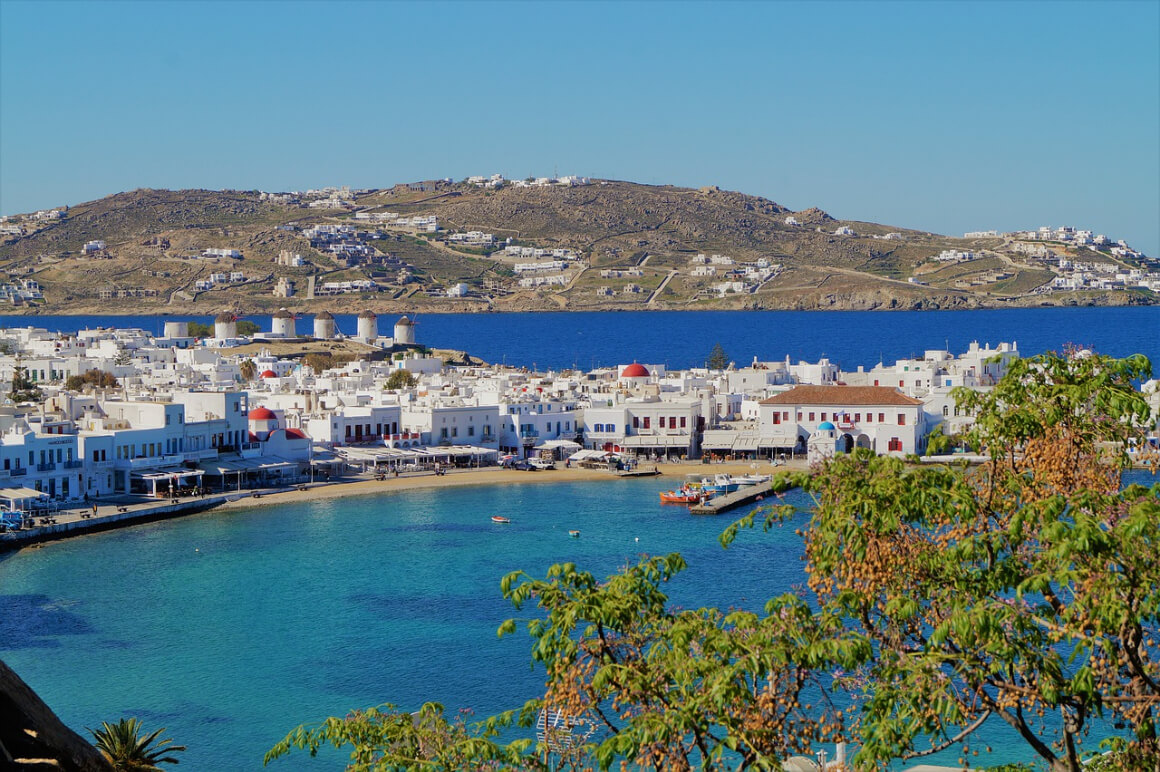 Villas
Mykonos can be expensive and so can the villas but they are also some of the most beautiful you will see. Most come with hot tubs, private pools, and expansive verandas. Tastefully decorated and equipped with modern amenities, they also offer some of the most gorgeous interiors.
Villas are excellent choices for groups of friends or large families who want nothing but the best. Most even come with a daily maid and cleaning service to make your stay convenient and comfortable. Villas can be found perched on hills for some of the best views, you will require a vehicle to get around easily.
Why Stay in an Airbnb
With so many amazing properties, there are many reasons why you should stay in an Airbnb.
Unique Properties: Mykonos Airbnbs offer some of the most unique and beautiful stays which set them apart from your usual hotels.
Affordability: With Airbnb you have better options that will give you the most value for your money compared to hotels. They are perfect for budget travelers.
Last-Minute Booking: One of the things travelers worry about is not having a place to stay, especially for last-minute trips. Airbnb will let you know what accommodation is still available for a last-minute booking.
Privacy: There are numerous private accommodations on the platform which offer self-check-in, as well as completely private spaces to relax.
Local Experience: Most Airbnbs are owned by locals who were born and grew up in the area, so you can always rely on them to give you the best recommendations.
Top 20 Airbnb in Mykonos
Considered one of the most beautiful islands in the world, Mykonos is a must-visit at least once in your life. Contrary to popular belief, accommodation on the island doesn't need to cost an arm and a leg. We have rounded up 20 of the top Airbnbs in Mykonos to make it easier for you. Time to book away.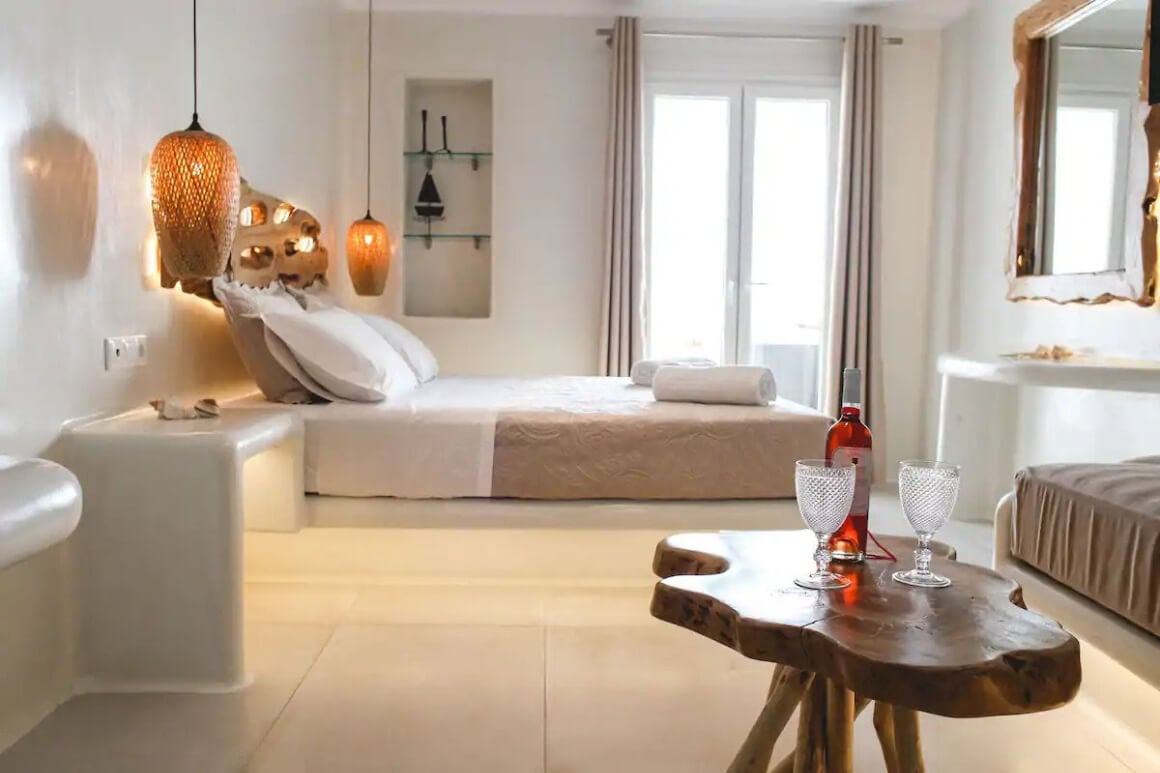 $$
Walking distance from the beach
3 Guests
Amazing sunset views
This deluxe property is the best Airbnb in Mykonos for exploring the beautiful surroundings while getting the most bang for your buck. It's just 300 meters from Agios Stefano Beach and is also nearby New Port. It's located on the top floor of a boutique hotel where guests can lounge in the Jacuzzi while taking in the beautiful sunset views.
Just a quick walk to the beach, tavernas, a supermarket, and ATV and scooter hire, the location is perfect for those looking for a quieter and more private place, but still want to be within a 10-minute drive from the center of Mykonos.
Places to see:
Matogianni Street
Church of Panagia Paraportiani
4 Guests
Beautiful sunset views
This apartment's location is perfect for those who would like to explore Mykonos in a short time. The spacious property is in the middle of everything. Nearby the bus station you can easily get around, and it's also in proximity to shops, bars, and restaurants.
The apartment has easy access to museums and sightseeing. Guests can also enjoy beautiful views of the sunset from their own private balcony. For me, this is where I often base myself when I am in Mykonos, the combination of being close to plenty of restaurants as well as the bus station is perfect for me.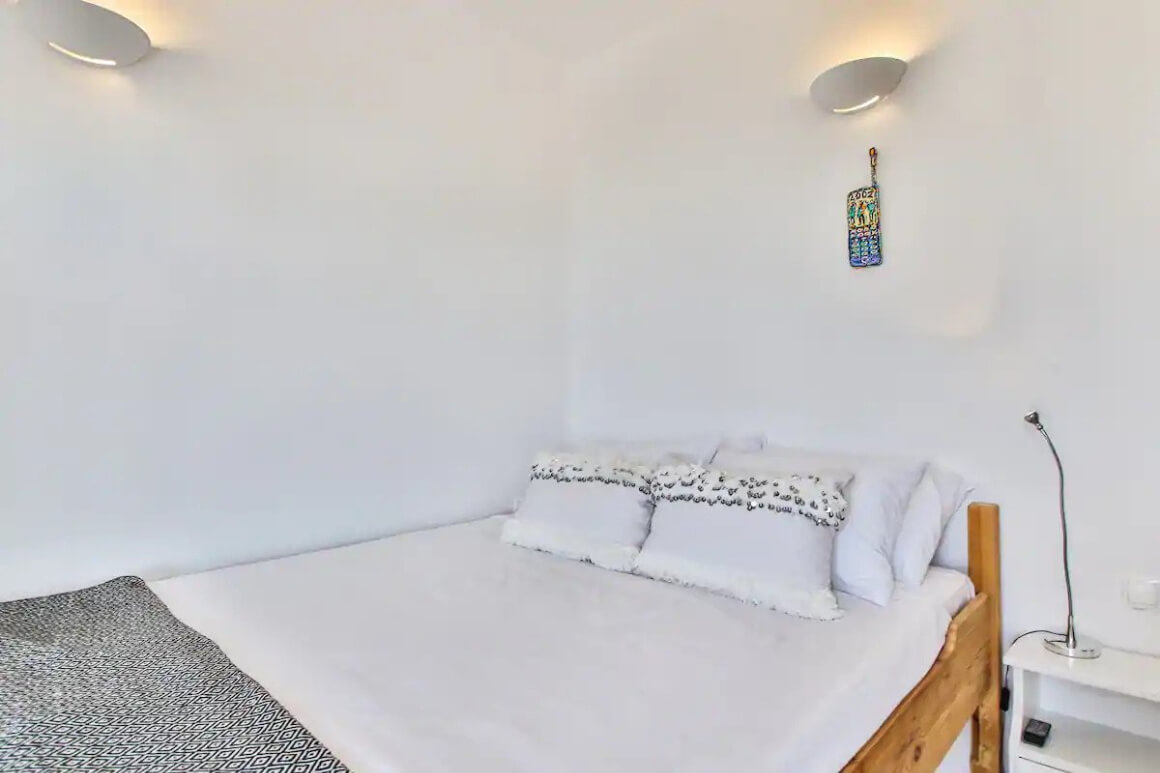 2 Guests
Fully-equipped kitchen
Having a limited budget doesn't mean staying in shoddy accommodation. This affordable apartment is a mere five minutes from Mykonos Town, close by to everything.
It has a fully-equipped kitchen where you can prepare meals, as well as a private terrace with excellent views of Tinos Island and the Windmills of Mykonos. Guests will have private access via a staircase leading down from the road to the property. Free parking is available on the premises, too.
Hostels in Mykonos are another great budget option!
Is This the Best Backpack EVER???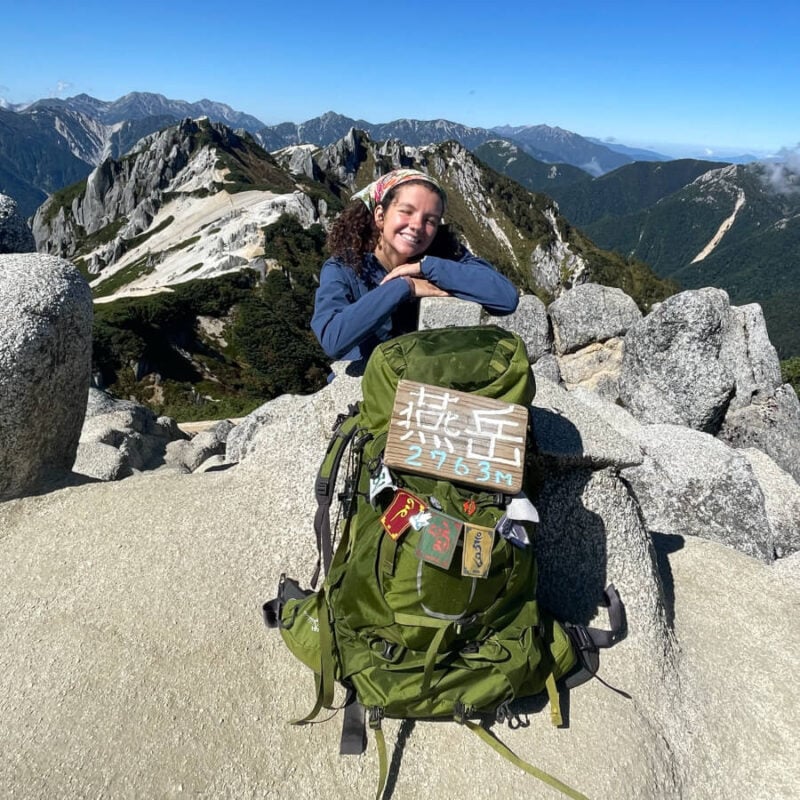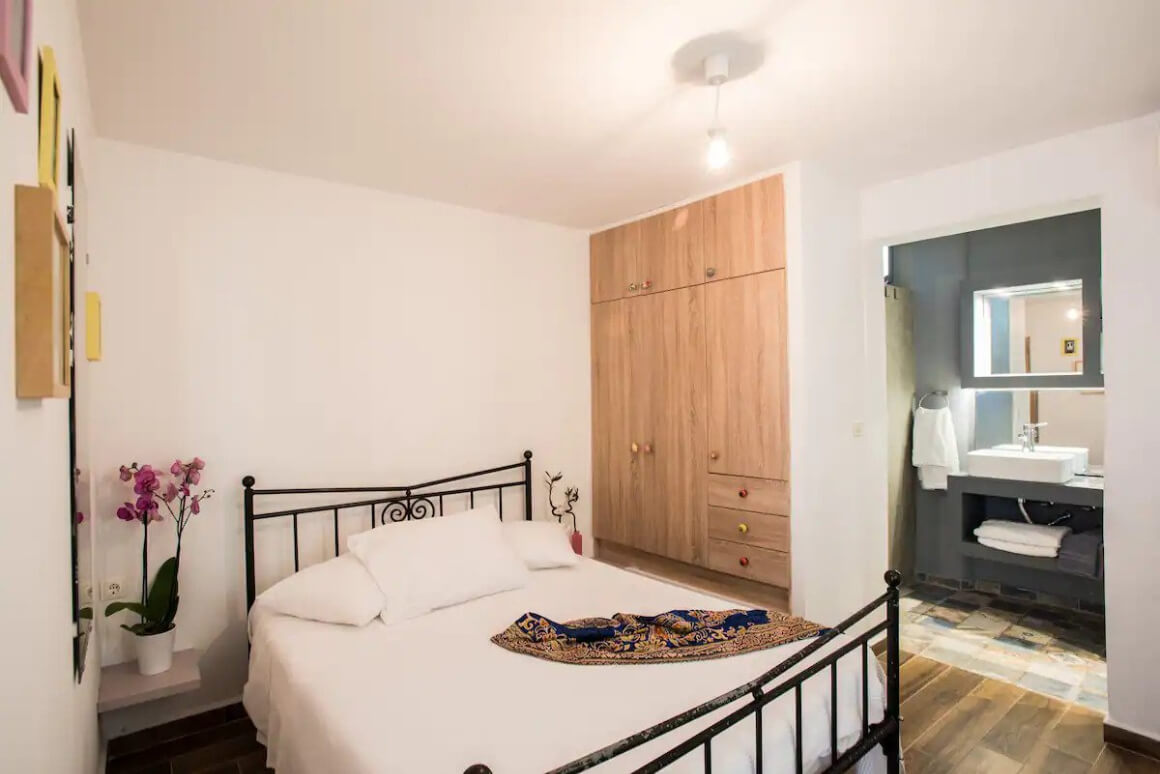 2 Guests
Bus connection to Mykonos Town
You may be on a budget but that doesn't mean you have to stay far away from town. This studio is only five kilometers from Mykonos Town and has a frequent bus connection into the heart of the action. It's also close to Stefanos beach!
This compact home is able to accommodate up to 4 guests thanks to the cosy sofa bed. You and your friends can pinch the pennies yet still have a private place to relax. Enjoy quiet evenings on the private terrace overlooking the tropical gardens. I have enjoyed staying here when I want somewhere that is cheaper whilst also being in a relaxing location.
Traveling alone but want privacy? This is the best Airbnb for solo travelers in Mykonos.
You can have this completely private space to yourself without breaking the bank. Located on a quiet street, the studio is beautifully furnished, has a fully-equipped kitchen, and offers great value for money. Not only is it a few minutes' walk from the beach, but it also has excellent sea views from the room.
There's even a private verandah on the property looking out on a peaceful garden.
$
5 minutes away from the port
This beautiful and stylish home is built of stone with a large courtyard, and excellent views of the sea and stunning natural landscape. Guests are never too far from action as the port is only five minutes away by car, and Mykonos town is an easy 10-minute drive.
There is a private entrance and patio with outdoor furniture where guests can take in some of the most unforgettable sights.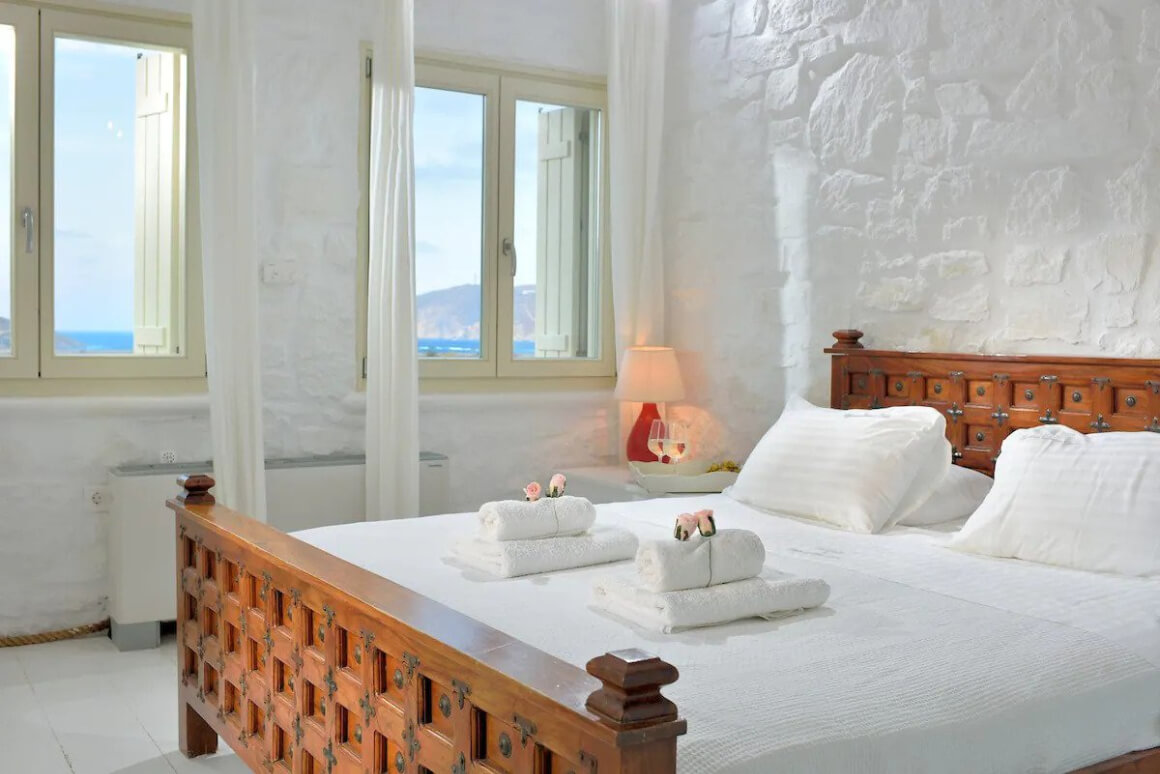 2 Guests
Large, modern villa
This luxurious villa is perfect for couples. It is located above Ftelia Beach and offers fantastic sea and mountain views. It has a gorgeous bathing area that features a steam bath for maximum relaxation, and guests have access to a shared pool.
Beautifully decorated, the property is a walking distance from the gorgeous Ftelia Beach and less than five kilometers away from the center of Mykonos. Sports activities are just five minutes away by car and groceries, and bakeries are two minutes away. The price even includes a daily cleaning service – perfect!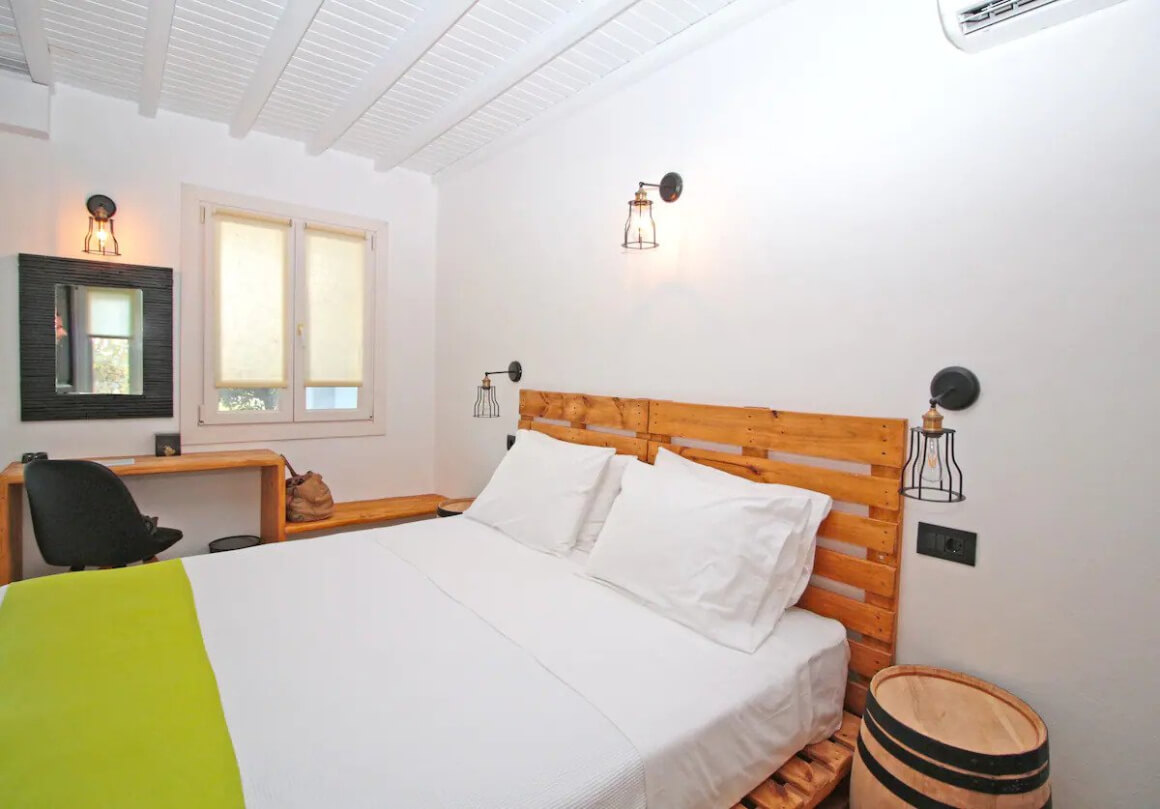 2 Guests
Fully-equipped kitchen
Are you traveling but need to get some work done at the same time? Luxurious and elegant, this newly-renovated studio comes with fast Wi-Fi and a dedicated workspace. It's just a few steps from the beach and features a terrace where you can enjoy the beautiful views of Mykonos.
Spacious and comfortable, the fully-equipped kitchen has all the amenities you need to prepare lovely meals. Close to bars and restaurants, you can easily try and enjoy the local Greek fare.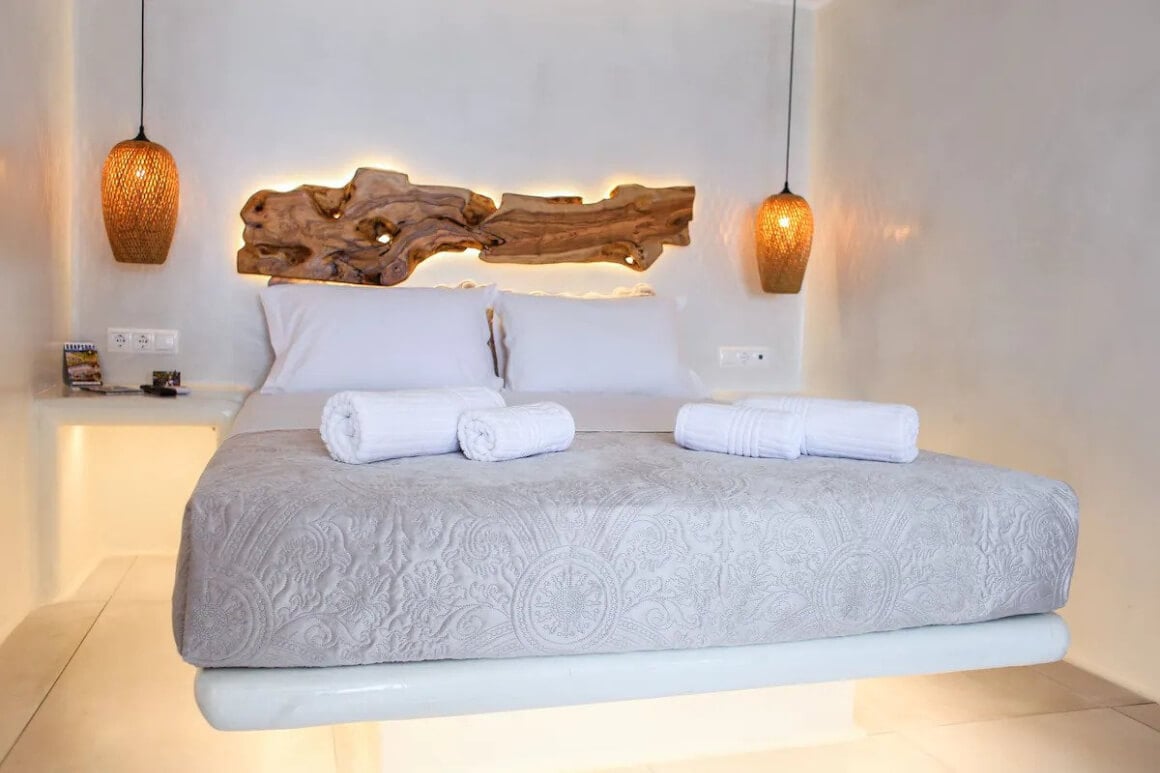 2 Guests
10-minute drive to the airport
This is the best romantic Airbnb in Mykonos for couples celebrating their new nuptials. Designed in the traditional Mykonian style, there is a patio with a Jacuzzi where you and your significant other can take a dip and relax after a day of walking.
The suite is within a few minutes from the town of Mykonos by car and is close by to the beautiful beach of Agios Stefano.
This luxury villa is the best Airbnb in Mykonos for a group of friends. Its massive size can easily accommodate six guests, and it has a large swimming pool, two-seater Jacuzzi, verandahs with marvellous views of the sea, an expansive exterior dining area, a fully-equipped kitchen where guests can cook their meals, and lounge chairs for guests to enjoy panoramic views of Kalo Livadi Bay.
When you aren't partying the night away in the best bars in town, you can lounge in the sun and enjoy the luxury of the private setting. I have stayed here with a group of mates before and it was amazing, what's even better is that when split between the whole group, it's still pretty affordable.
2 Guests
Nearby restaurants
Staying in Mykonos doesn't mean blowing all your budget on accommodations. This fully-furnished suite is the perfect combination of affordable and cozy. Located on a hill that requires a scooter or a car to get to, and the home is decorated with Cycladic features.
There is a fully-equipped kitchen for preparing afternoon snacks, and a balcony where guests can enjoy magical sunsets. You will even have access to the shared swimming pool.
The suite is just a five-minute drive away from Kalafatis and Lia Beach, and is in proximity to Kalo Livadi. There are also restaurants, supermarkets, and ATMs nearby.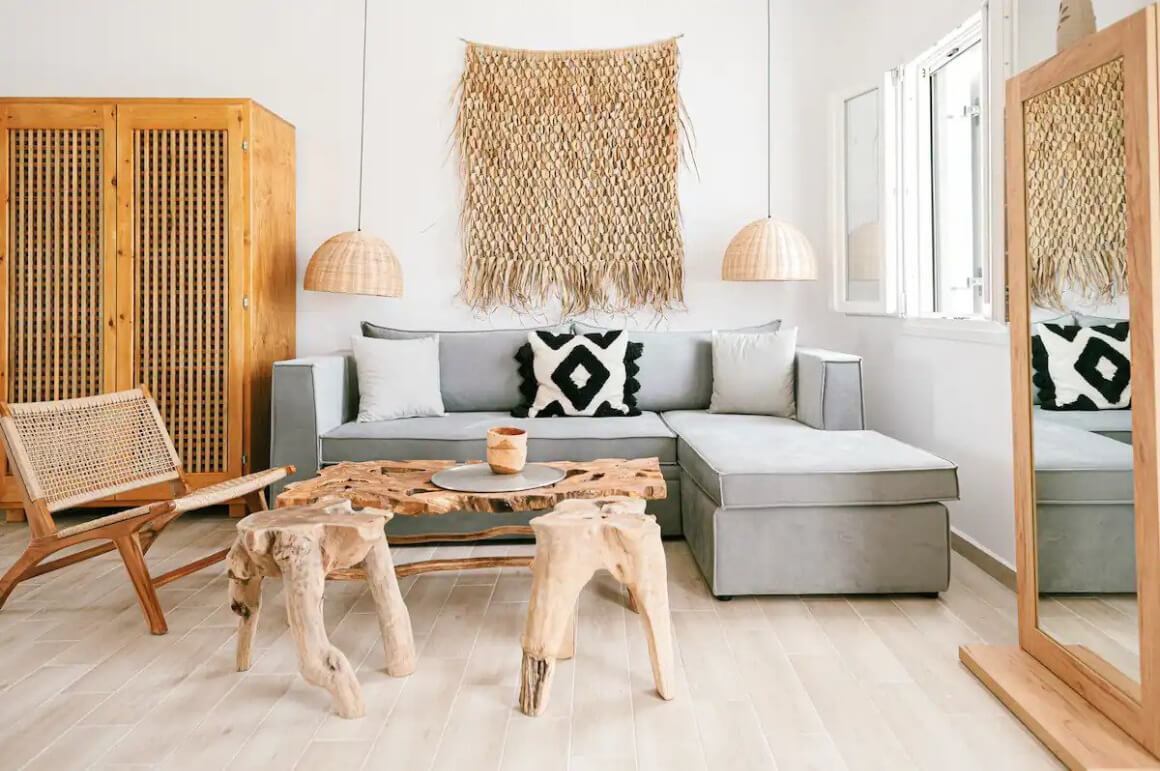 2 Guests
Fully-equipped kitchen
This property is a quiet sanctuary with gorgeous views of Mykonos Island. There is a fully-equipped kitchen where guests can prepare breakfast, and a verandah where they can sip coffee as they take in the fresh air of the island. The home is set in the heart of Mykonos Island so it's close to all the buzz but far enough for guests to have peace and quiet. The neighborhood is safe and walkable to many island sights. The perfect base for exploration!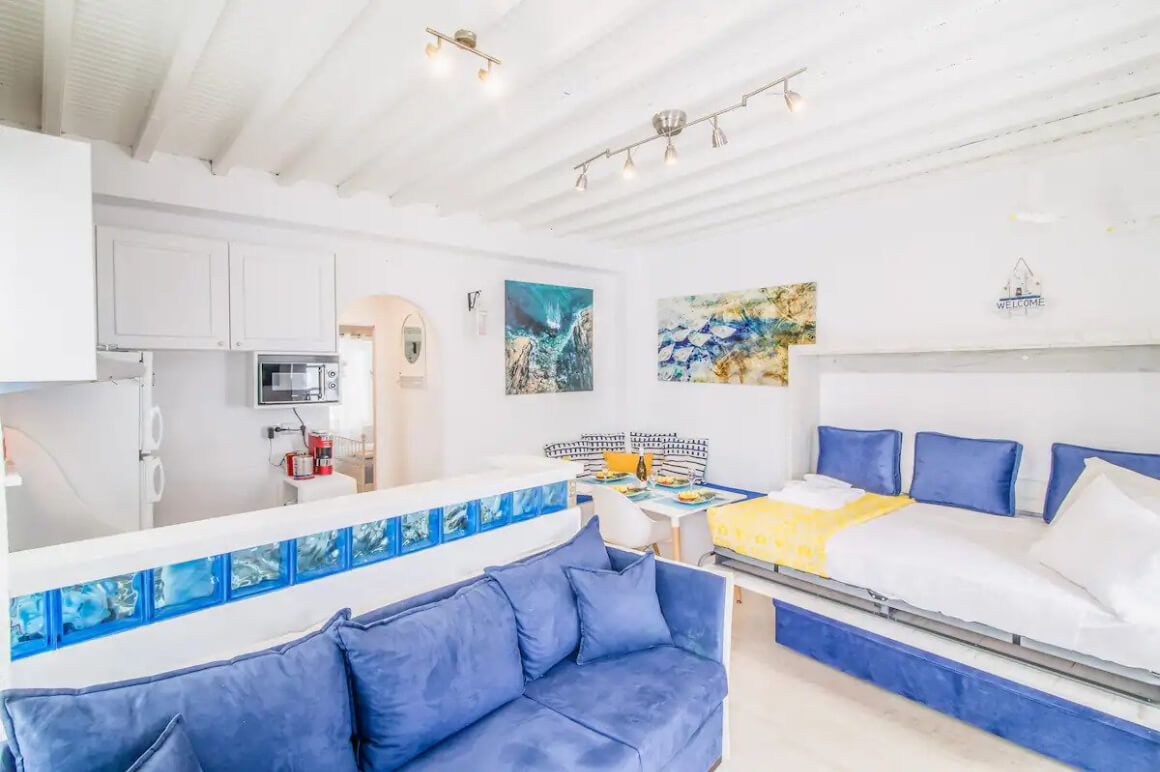 3 Guests
Balcony with sea view
This beautiful home is the picture of classic Greek stylet with its blue shutters and a stone stairway leading to the blue door. Within walking distance to the famous windmills, and next to one of the most romantic places on the whole island, Little Venice, it's close to all the famous and restaurants. If you are looking to enjoy Mykonos nightlife, this is the perfect place to stay.
The home has a fully-equipped kitchen and a small balcony with spectacular sea views.
4 Guests
Mediterranean style interiors
This truly unique property promises guests a one-of-a-kind stay in Mykonos with its unique history and character.
Meltemi Windmill is an iconic landmark that has been turned into a residential home. It boasts breathtaking sunset views for Instagram-worthy shots, and unrivaled views of the Little Venice waterfront from its elevated location. Situated close to town, guests have easy access to everything, including bars and shops. Guests can stroll just a few steps to stock up at the mini-market, and dine at one of the island's best-known seafood restaurants.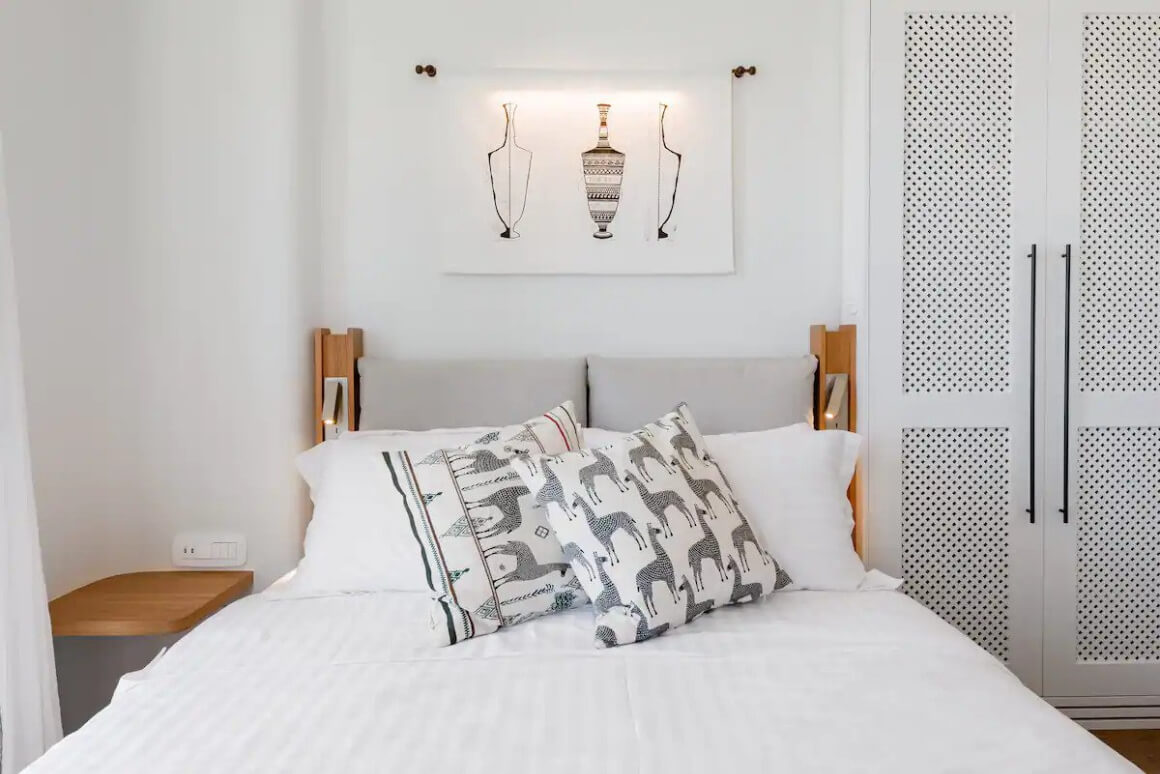 This property is the perfect place for soaking up the Mediterranean sun while admiring the amazing views of the Aegean Sea from the pool.
This spectacular home comes with an infinity pool and sun loungers, a hot tub, pool shower, outdoor seating, and a BBQ grill. The interiors are beautifully designed with exposed stone, hardwood floors, and wood-beam ceilings. Housekeeping and pool maintenance will be available during the guests' stay. Take note that the location requires renting a vehicle or a driver, but the stunning view makes up for it.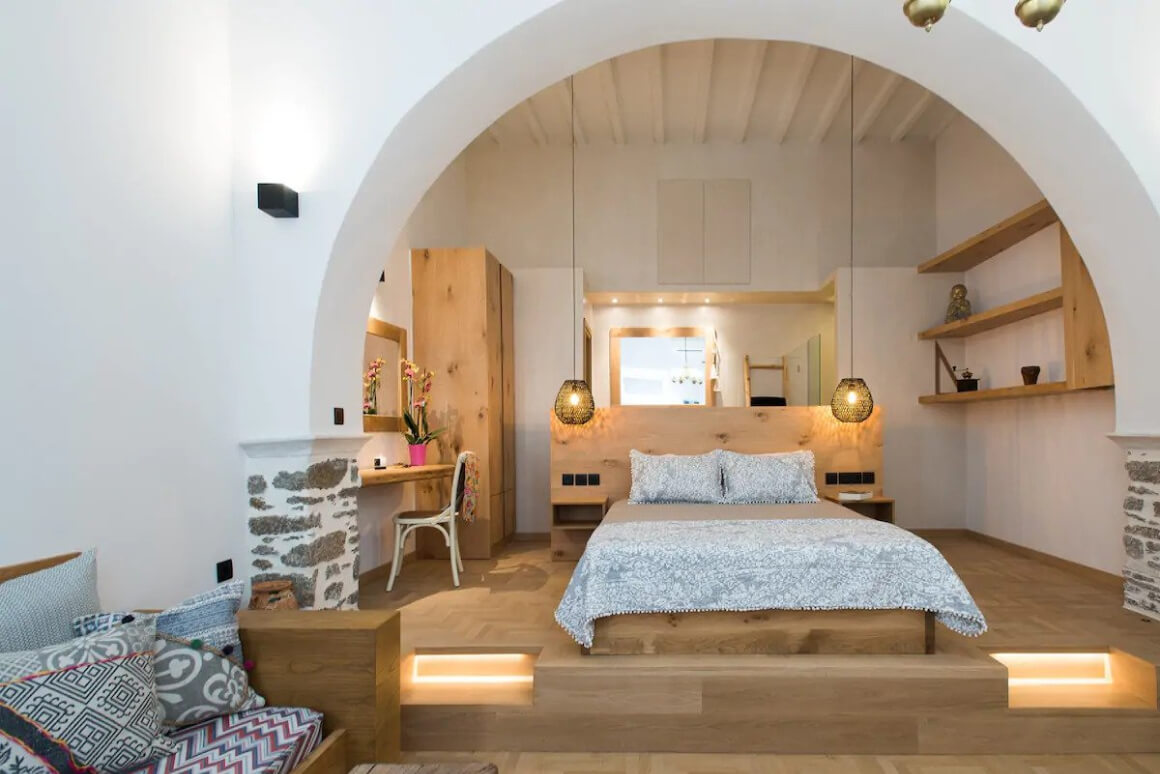 2 Guests
Beautiful wooden interiors
Perfect for singles and couples, this home is located in the heart of downtown Mykonos and has all the comforts you need for your stay. Well designed and beautifully decorated, it's just a 5 to 10 minute walk away from clubs, bars, and restaurants so you don't need to go far if you want to go bar hopping and spend time in the most happening places.
No expense has been spared in this luxury property to ensure that guests get a once-in-a-lifetime experience.
The enormous property is the best Airbnb in Mykonos for groups and large families. Perched on top of a hill, the villa boasts a massive heated pool, a helipad, palapa bar, large terrace, exercise room, and sauna. Nearby Ano Mera village which features a distinctive bell tower and a collection of various icons, you can immerse in the culture of the island.
The pulsating clubs, Greek fine dining, and bright lights of Mykonos are only a short drive away. But if you prefer natural serenity, you can go to Kalafatis Beach which is only a 10-minute walk away.
$
Steps away from nightlife
2 Guests
Easy access to ports and the airport
Want to make your island dream come true when visiting Mykonos for a few days? This property is for you.
Affordable without sacrificing comfort, the home is located in the heart of Mykonos Town just a few steps away from the best bars, restaurants, bus stops, and souvenir shops. If you and your friends are strapped for cash, the couch can sleep two more people.
The hosts are able to arrange a guided tour of Mykonos for those who want to explore. Close by to the ports and airport, it is a perfect weekend retreat. It's a spot I have stayed in whenever I've been on a short trip and the hosts are great for local tips and advice.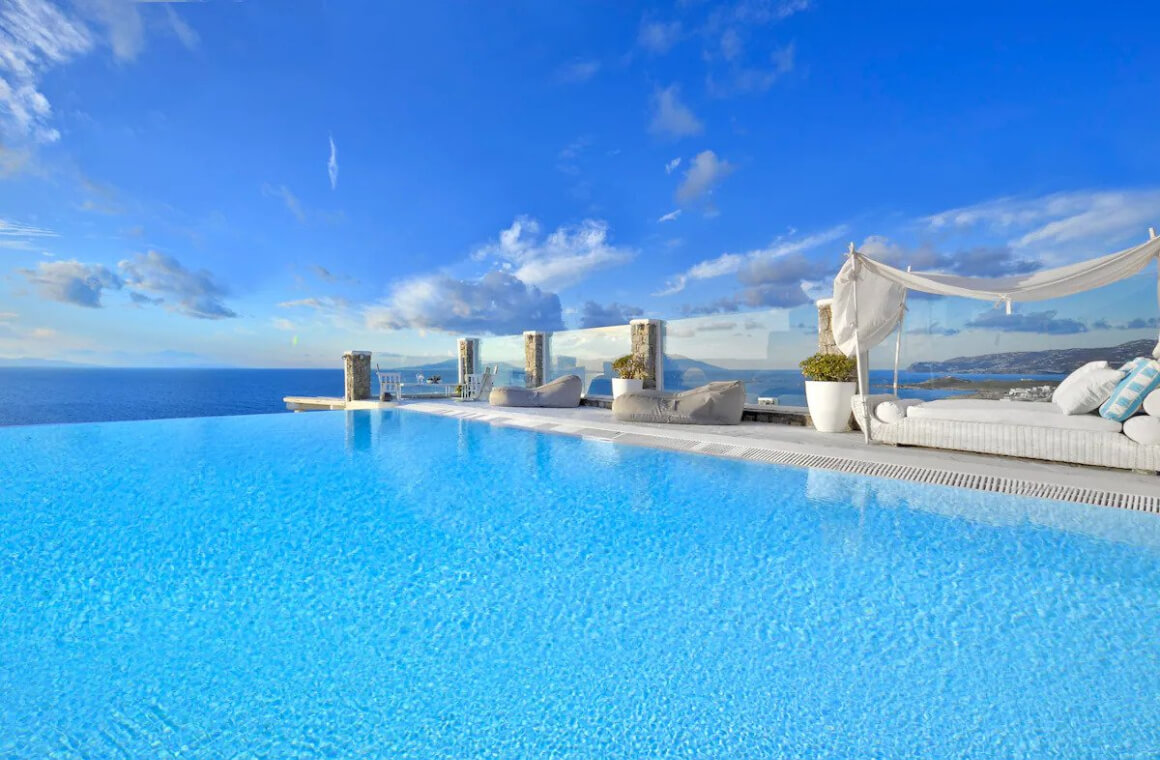 8 Guests
Maid service every 2 days
This luxurious villa is located in Delos with 180 degrees views of the Aegean Sea, Tinos, and the Cycladic Islands. Tastefully decorated, the villa is built over three levels, and the exterior features a large infinity pool with a pergola-covered outdoor dining area and comfortable sunbeds.
There is maid service every two days to keep the place spick and span, and additional maid services can be arranged upon request. Bakeries, pharmacies, dry cleaners, supermarkets, and restaurants are just a three-minute drive away from the property. There is a secluded beach near the villa with a picturesque rocky landscape ideal for swimming, picture-taking, and walking.
16 Guests
Panoramic views of the Aegean Sea
This contemporary villa is located in the Agios Ioannis area of Mykonos and features expansive outdoor spaces and panoramic views of the Aegean Sea, as well as the island of Delos. There are multiple outdoor living and dining areas for big parties and events, including a pergola-shaded terrace with lounge, dining table, and bar.
The pool terrace also has a bistro-style observation deck where guests are treated to vistas of the antique church nearby and the islands of Paros and Delos. The villa is only two minutes away from Orfo Beach, the famed kite-and-surfing spot. Mykonos town is only 15 minutes away.
Top 4 Airbnb Experiences in Mykonos
Make your Mykonos vacation even more memorable by trying out some of the Airbnb Experiences in the area. For an authentic, one-of-a-kind tour or activity, sign up for one that is headed by a local. Nobody knows the place, history and the culture more than them.
What's even better is that there is no need to create a new account on another platform or another app and confirm various emails. You can book your local tours and activities on the same platform where you book your vacation stay. Isn't that great?
Now that we've caught your attention, it's about time you discover the Airbnb Experiences Mykonos has to offer. Let's check them out.
$46/person
2 hours
Up to 10 people
No one has had a complete vacation in Mykonos unless they have tried the multitude of water sports the area has to offer.
This adventure includes land and water activities such as a 2km short hike to the Mykonian countryside and snorkeling its crystal-clear waters.
The hike meanders over beautiful hills covered with herbs set in amidst the dramatic and wild scenery. It requires a standard physical condition. The guided snorkeling session will then start followed by a feast of fresh fruits.
Participants are advised to wear closed shoes such as trainers, or hiking shoes. It's also recommended to bring a hat, towel, sunscreen, and swim wear.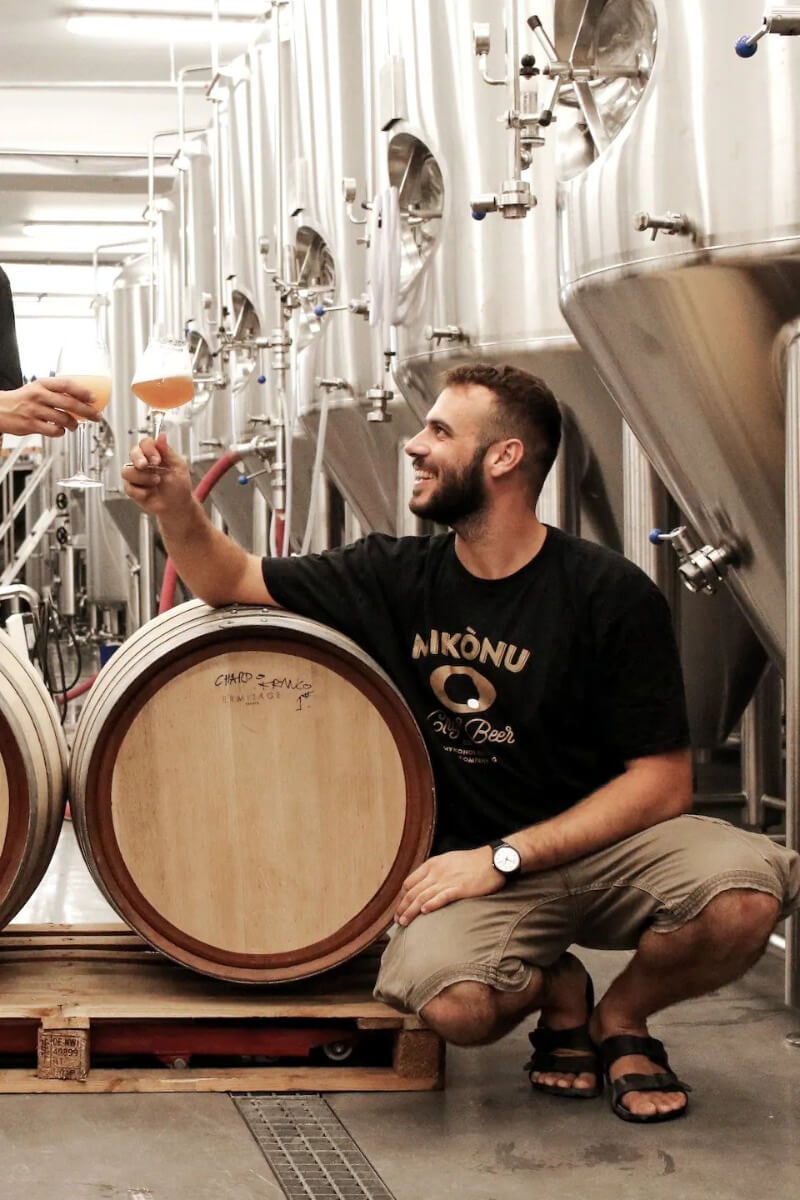 $30/person
60 mins
Up to 10 people
If you've always been interested in brewing, this is one activity you shouldn't miss. This 45-minute adventure will take guests to the cave of brewing Giants. You'll see firsthand how natural ingredients are converted to delicious brews.
You'll hear the myriad of myths that surround the island of Mykonos while sipping on 6 of the breweries small-batch beers.
You can also get your hands on tasty, limited-edition Mikonu beers that are for sale in the brewery, for you to take home or as gifts to friends.
$112/person
3 hours
Up to 10 people
Think souvlaki, moussaka, and domaldes. Greek cuisine is famous all over the world and if you are raring to prepare the food in your own kitchen after your Greek holiday, this is the cooking class that you should join.
Guests will be welcomed to a local Greek home where aside from Greek cuisine, Mykonian culture, history and culinary traditions will also be discussed. You will make your own souvlaki, tzatziki sauce, and pita bread using produce from local farms.
You'll also be grilling chicken and pork with ingredients other than the classic tzatziki. A bottle of Greek wine is also available to share during the cooking class.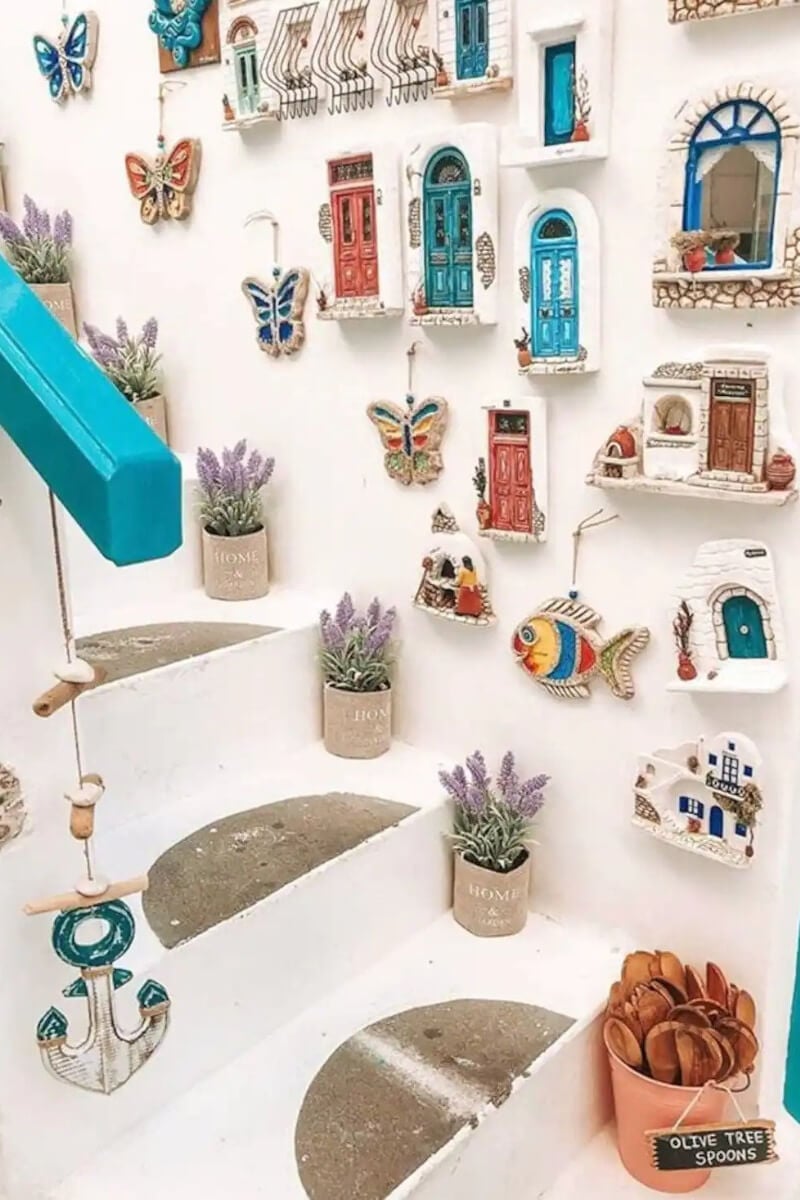 $35/person
60 mins
Up to 10 people
This morning walking tour is conducted by a local who's been in the tourism industry for 15 years. Participants will meet at Manto Square near a bakery and proceed to walk around the area to admire the architecture.
You will be walking, meandering through, and admiring Matoyianni Street, Little Venice, Lakka, The Windmills, and Gialo. Some of the best restaurants and bars will also be pointed out during the tour so you can make it a point to come back to them during nighttime.
A light breakfast will be provided to all participants of the tour. Please remember to wear comfortable walking shoes.
Don't Forget Your Mykonos Travel Insurance
ALWAYS sort out your backpacker insurance before your trip. There's plenty to choose from in that department, but a good place to start is Safety Wing.
They offer month-to-month payments, no lock-in contracts, and require absolutely no itineraries: that's the exact kind of insurance long-term travellers and digital nomads need.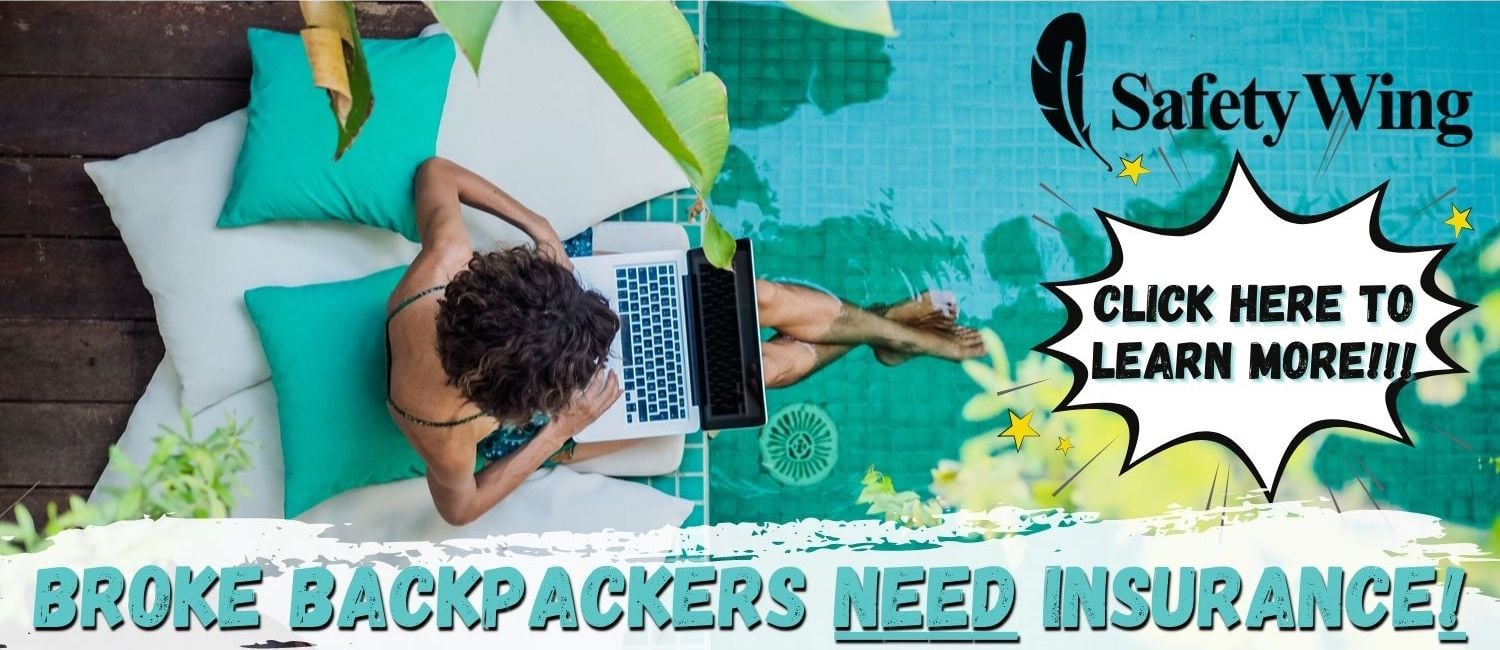 SafetyWing is cheap, easy, and admin-free: just sign up lickety-split so you can get back to it!
Click the button below to learn more about SafetyWing's setup or read our insider review for the full tasty scoop.
Final Thoughts on Renting an Airbnb in Mykonos
From its windmills, lighthouses, pristine beaches, and traditional Greek homes, Mykonos is as Greek as it gets. If you love anything and everything Mediterranean, you need to visit the island at least once in your life. Although some might say it's too touristy, the island still needs to be seen with your own eyes and it's a place I've been drawn back to time and time again.
Whether you are visiting for a few days, or you're planning on staying a bit longer to immerse yourself in Greek culture, architecture, and cuisine, you will have a better time when you have a comfy place which you can call home during your stay.
Things can get exciting when traveling to Greece but what you shouldn't forget to do is to take out Travel Insurance for your trip. You will be able to sleep better at night after you do so.
---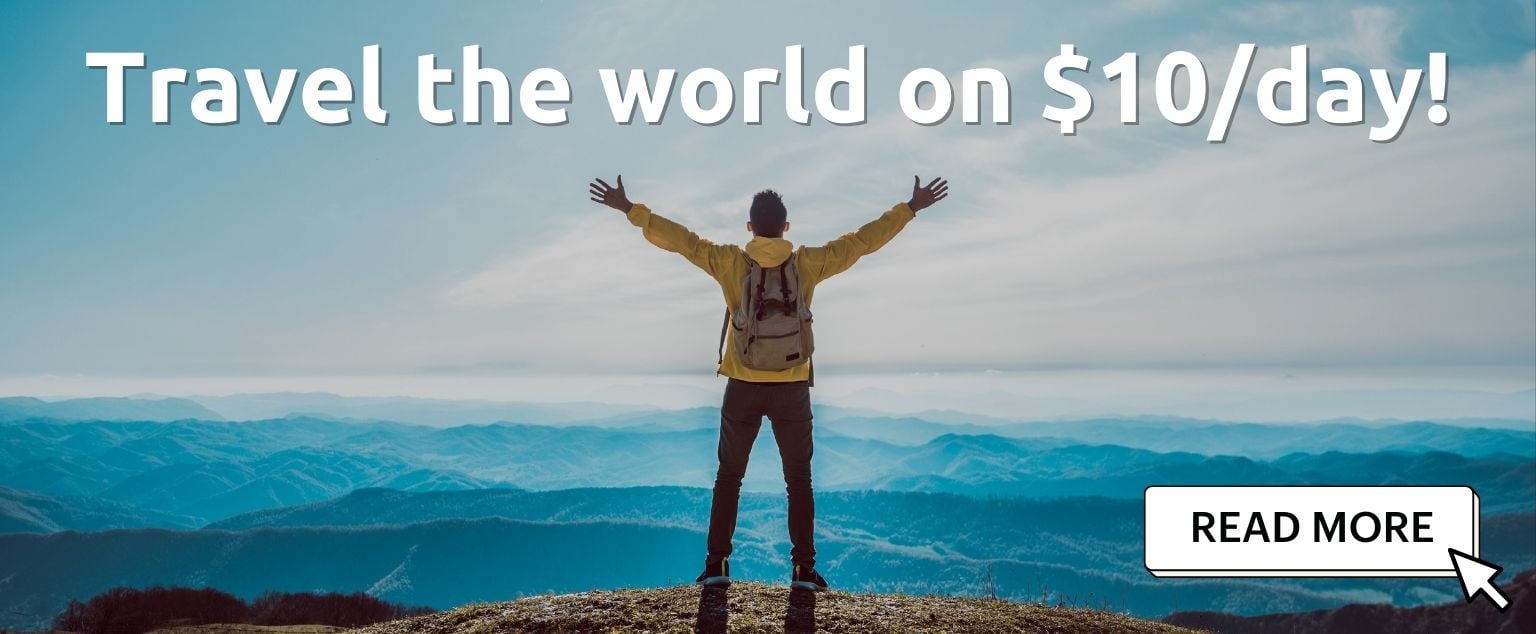 And for transparency's sake, please know that some of the links in our content are affiliate links. That means that if you book your accommodation, buy your gear, or sort your insurance through our link, we earn a small commission (at no extra cost to you). That said, we only link to the gear we trust and never recommend services we don't believe are up to scratch. Again, thank you!