Take a moment to imagine the pristine, white-sand beaches of Mykonos. Are you done? I thought not. It's something that could keep your mind occupied for hours and hours!
And let's not forget the vibrant Mykonos nightlife! It is nothing short of heady and amazing.
Soothing beaches by day and an epic party scene at night. What more could you ask for, right?
And then we also have the iconic Windmills (Kato Milli), the shopping area of Matoyianni Street, and the romantic neighborhood of Little Venice. But I'll save these gems to discuss later.
Now, some travelers might find Mykonos expensive to visit, especially those coming from countries with a weaker currency. On the other hand, those coming from the likes of Australia, Europe, Canada, and the US might think otherwise. However, your holiday doesn't have to be expensive, as you'll find out later in this guide. So, no need to be put off by the seemingly high prices of the all-inclusive resorts — there's hope!
Many people ask the question — Is Mykonos expensive? This is both a yes and no answer. While parts of the Mykonos experience can definitely be seen as being on the luxe side, if you travel smartly and follow the tips in this guide, you'll be able to manage a holiday of a lifetime — and that too without burning a hole in your pocket!
Use this guide to help you plan your budget for your trip to paradise. This will ensure that you don't get caught off-guard with the costs you will incur.
Right, now, let's get cracking (and dreaming of sunbathing on those beaches)!

Do You Want to Travel FOREVER??
Pop your email in below to get a FREE copy of 'How to Travel the World on $10 a Day!'.
So, How Much Does a Trip to Mykonos Cost on Average?
So, how much will a visit to Mykonos cost you, in fact? Well, that depends on multiple factors. In this guide, we will be looking at a number of key cost categories in order to get an accurate estimate.
We're going to be looking at the following costs:
How to get there
Where to sleep
What to do
What to eat
What to drink
How to get around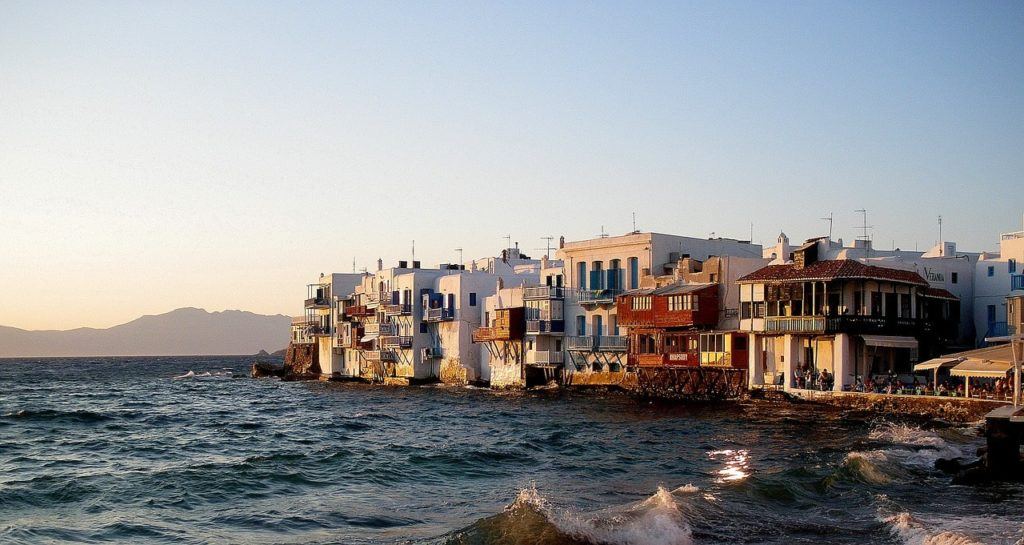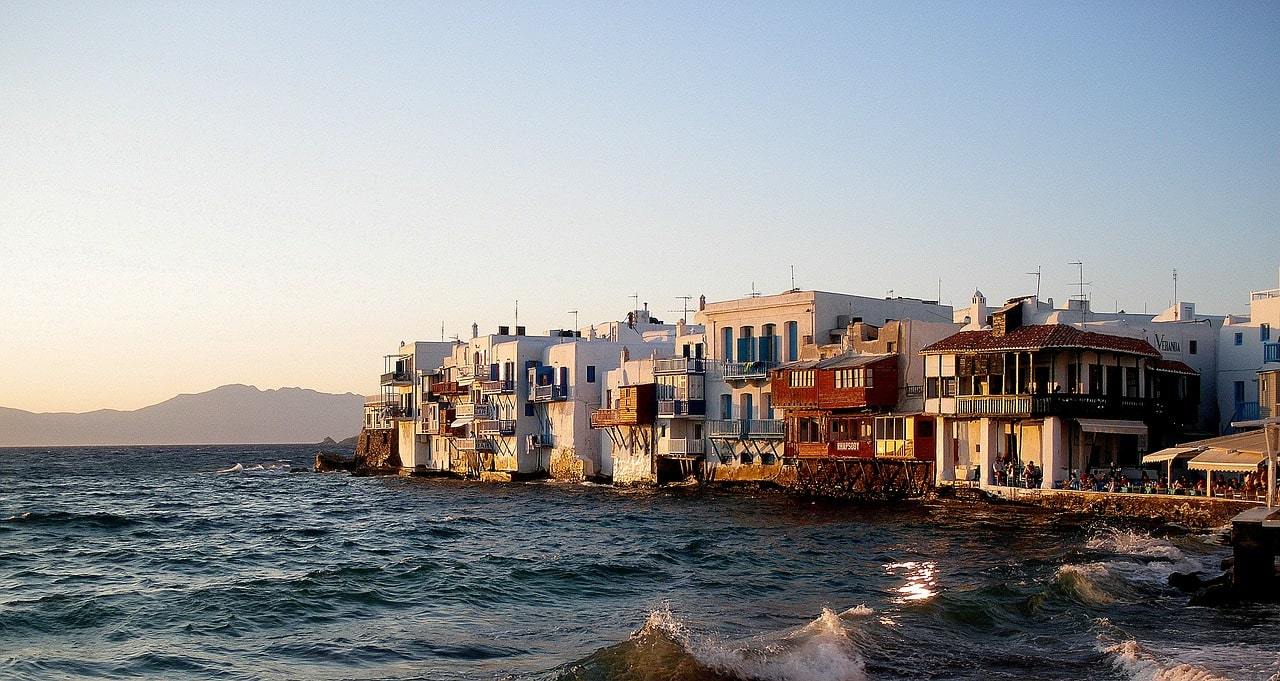 One important thing to note before we start looking at the cost of a Mykonos trip is that all the costs in this guide are estimates. They were accurate at the time of this guide being published, after extensive research and personal experiences were factored in. Like many aspects of life, they are subject to change — and most likely will!
Also, all costs are listed in United States Dollars (USD). Mykonos makes use of the Euro (EUR), and at the time of this publication, 1 USD ($) = 0.94 EUR (€).
Next, we continue to gather all the necessary information to answer the all-important question here: Is Mykonos expensive?
Here below is an estimate of what costs you're likely to incur while traveling to stunning Greece and the island of Mykonos.
So what are we waiting for? Let's dive in! (No scuba-diving pun intended whatsoever!)
3 Days in Mykonos Cost
Is Mykonos Expensive

| Expenses | Estimated Daily Cost | Estimated Total Cost |
| --- | --- | --- |
| Average International Airfare | $500 | $500 |
| Accommodation | $30 – $150 | $90 – $450 |
| Food | $40 – $500 | $120 – $1500 |
| Transport | $0 – $10 | $0 – $30 |
| Alcohol | $3 – $100 | $9 – $300 |
| Activities/Attractions | $0 – $150 | $0 – $450 |
| Total (Excluding Airfare) | $73 – $910 | $219 – $2730 |
| Average | $100 – $300 | $300 – $600 |
Cost of Flights to Mykonos
ESTIMATED EXPENSE: $500 for a return ticket
Right, now, one of the biggest expenses while going to Greece is your international flight — you need to get to Mykonos first! The airfare depends on the time of year that you are traveling. Flights at different times of the year have different prices — for instance, summer = expensive; winter = cheaper. Well, this is normally the case.
You also need to factor in where you're flying from. In this post, we're going to be looking at flights to and from four major cities — New York, London, Sydney, and Vancouver.
The cheapest month to fly from New York to Mykonos, for instance, is September. This will require a bit of pre-booking (give yourself at least six weeks) but you should be able to score a sweet deal!
Skyscanner is a great tool to use to help you find the cheapest flights. I've used it time and time again for all my trips, and it's helped me save a lot of cash over the years. Again, prices are subject to change and are continuously fluctuating, even by the second! So, take these as an estimate but don't hold me completely liable.
Let's now look at flight costs from the various international cities:
New York to Mykonos: 500 – 1300 USD
London to Mykonos: 60 – 250 GBP
Sydney to Mykonos*: 1750 – 2450 AUD
Vancouver to Mykonos*: 1400 – 1800 CAD
Keep in mind that for Sydney and Vancouver, there are no direct flights available to Mykonos — you will first have to fly into Athens first.
Now, I fully understand how most international flights can seem daunting at first glance —been there, done that! But there's no need to lose hope because you can always nab a sweet deal from an airline, intentional or not. Airlines often have sales so be on the lookout for those. You will be able to save big!
Another (lucky) scenario is when airlines make mistakes with pricing. This can be a massive score, but you need to be quick! These low fares can disappear as quickly as they appeared.
Have fun researching the best flight options but don't forget that Mykonos-Manto Mavrogenous Airport (JMK) is the busiest international airport on the island. In fact, it's the only airport on the entire island so it makes searching for flights a bit easier.
Price of Accommodation in Mykonos
ESTIMATED EXPENSE: $30 – $150 per day
Right, now that we've got one of the biggest expenses out the way, you'll need a place to stay in Mykonos — a base, if you will. Now, with most destinations around the world, there are cheap as well as expensive options. Mykonos, relative to the other Greek islands, can lean on the more expensive side.
While this gorgeous island can surely be somewhat of a tourist trap, to be honest, there's no reason to lose hope just yet. There are many affordable accommodation options to choose from if you're willing to look. Luckily for you, I've done some digging and found some reasonable options. And if you're a trust-fund traveler, don't worry, there are some nice bougie options for you too!
So there is a nice mix of accommodation options to choose from in Mykonos, from hostels and hotels to Airbnbs and other unique offerings. As with all destinations, hostels are going to be the most cost-effective option. Hotels and resorts will most likely put a dent in your pocket if you're a hardcore budget traveler.
Airbnbs are of course a nice way to escape the crowds and lack of privacy that hostels are known for. They are also definitely more intimate, and great for a bit of alone time — the kind of place you'd be happy to bring someone back to versus a 20-bed hostel dorm. You'd be surprised, though — some people don't care!
Hostels in Mykonos
Hostels are the cheapest form of accommodation you'll find in Mykonos. This is the accommodation everyone hates to love — or loves to hate. Whatever the case, hostels have their pros and cons. They're cheap, a great way to meet people, and can often help you with further touring options. With that, they can also be loud, chaotic, and completely non-private.
That being said, you'll always kind of know what you're in for when you book a hostel, and some of them can be amazing! Think luxury hostels that are almost hotel-like in their offerings. You can always do some further research using hostel guides to find yourself a real gem.
There aren't too many hostel options in Mykonos which is why the prices might seem a little on the higher side. You can expect to pay between $30 and $90 for a hostel, but remember that these prices can rise depending on the time of year. You might be in for a bit of a shock during the peak summer months, for instance!
Here are a few hostels I've picked that I think are pretty epic:
Mycocoon Hostel Mykonos: This is one of the only true hostels on the island. Combining stylish decor and architecture, it is conveniently located on the island and caters to both a young and old crowd.
Villa Vasilis Ornos: While not a true hostel in the sense that there aren't dorm rooms, this property offers studio and apartment accommodation. Great views coupled with a fully kitted apartment will make your island trip most memorable.
Orpheas: The rooms here are conveniently located near the Windmills, Little Venice, and many local bars and restaurants. The bus station is also just a stone's throw away.
Airbnbs in Mykonos
One of the most popular accommodation offerings in Mykonos is private apartments found on Airbnb. Having your own rental apartment is bliss. You can do your own thing, walk around in the nude, and cook your own meals — what fun! They also offer a nice break from crowded hostels, especially if you've been traveling for an extended period of time.
Airbnbs in Mykonos are readily available but differ greatly in price depending on their location. The closer to the sea and the better the view, the more you're going to be paying for your Airbnb. You can expect to pay upwards of $50 for an apartment, and some rates can even go into the hundreds of dollars. Luckily, Airbnb makes it easy to find something to suit every budget. You can filter your searches and get exactly what you're looking for at the right price.
Here are a few apartments I found that are definitely worth checking out in Mykonos:
Rooftop apartment in Mykonos center: This rooftop apartment is a cool space in the center of Mykonos. This is a great option for couples at a price of $56 a night.
Modern sea-view apartment: A very cool, modern apartment with views of the Aegean Sea. Who needs a TV when you can look at the ocean all day? PS. it has an HDTV as well. You'll be paying about $81 a night.
Beautiful suite with a magical view: Now, to end with a bit of luxury. This apartment really lives up to its name — the views are magic! All for $165 a night. Go on, treat yourself!
Hotels in Mykonos
Hotels are going to be the most expensive accommodation option available to you — that's a no-brainer. However, sometimes you can score a pretty sweet deal for an epic hotel. Expect to pay anywhere between just over $100 and $500 a night — and even more, in some cases!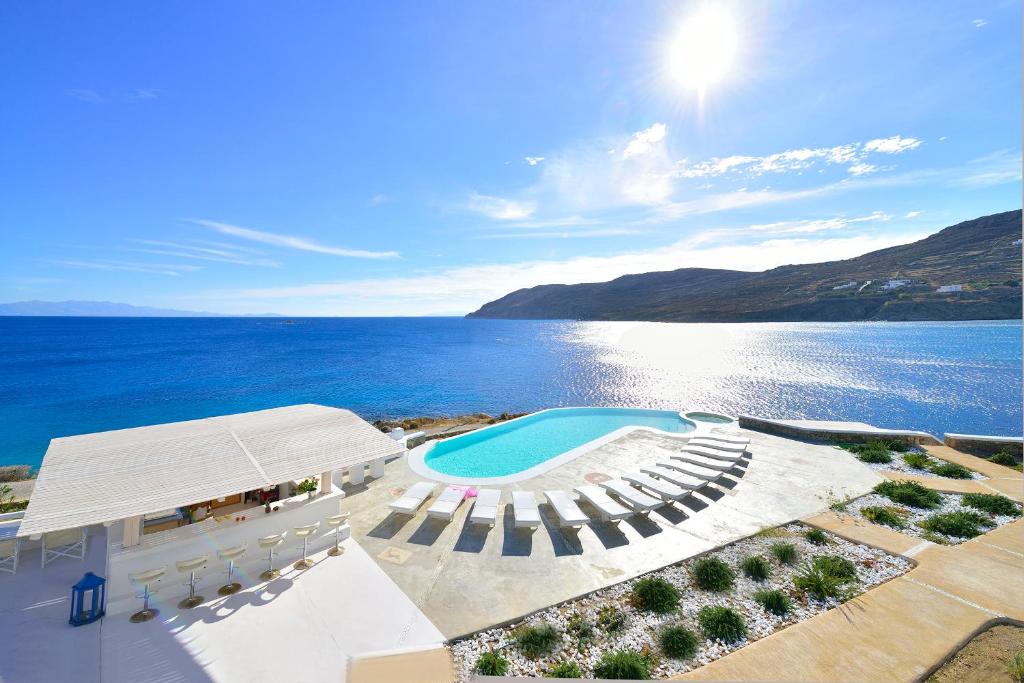 Now, many people believe that hotels are the most favorable accommodation type as they're likely to include breakfast. They're also fully serviced, and you have your own private room all to yourself. Rooms normally have some pretty sweet amenities plus there's room service — oh, the absolute joy!
Let's now look at a few of the hotel options available in Mykonos:
Bellou Suites: This property is a mere 350-meter walk to the beach — what more could you ask for? A double bed and conveniently located in the city? Check and check for $107 a night!
Mykonos Pantheon: Breakfast included, with a large double bed, and sea views? Don't mind if I do! All for $156 a night.
Mykonos Ammos Hotel: A 5-star boutique hotel with an outdoor pool, on Ornos beach, in Mykonos? That's a hell yes from me! It's a little costly at $261 a night — but hey, who doesn't like some luxury once in a while?
Unique Accommodation in Mykonos
While most of the accommodation offerings in Mykonos are rather conventional — hotel, hostel, or apartment — there are a few others that are somewhat different. Think outside of the box with these quirky picks: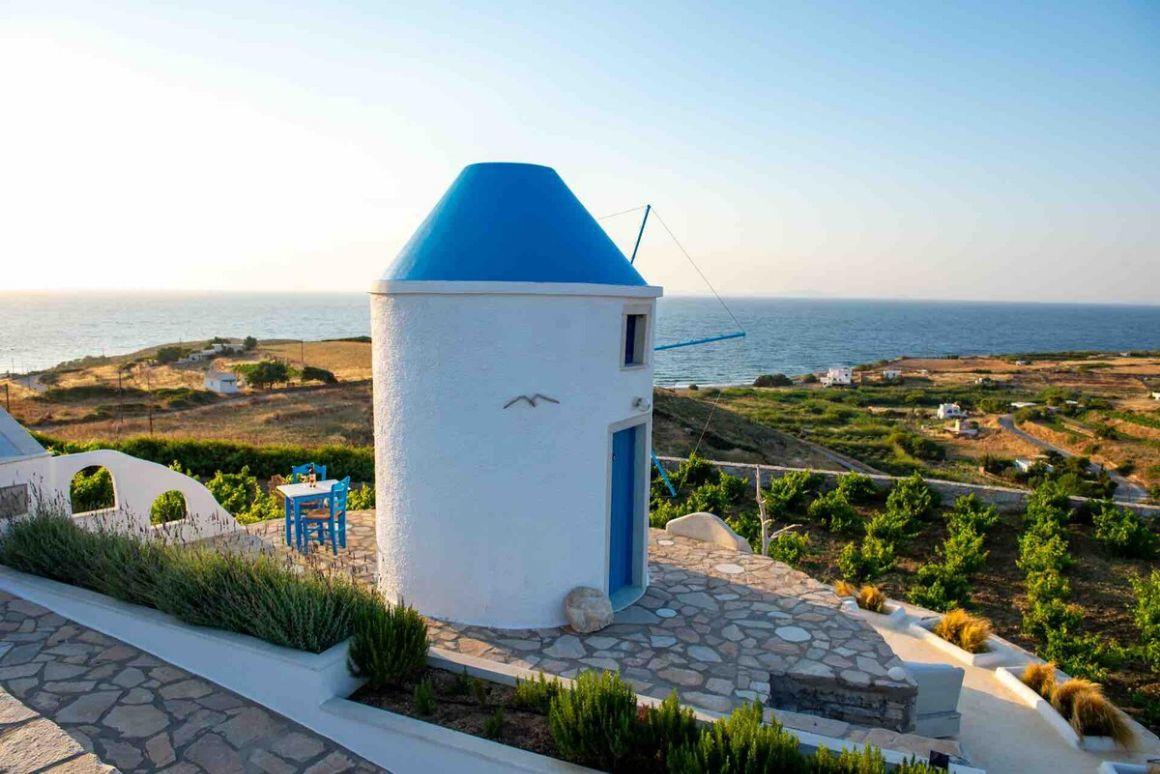 Private room in a boat: What screams Mykonos more than sleeping with the sound of the waves — on a boat! This Greek-built sailboat is one of the most unique ways to fall asleep on the island, at $223 a night for the entire boat!
Service apartment by the beach: A traditional Cycladic apartment that is a mere 100 meters away from the beach. $80 a night for this beaut!
The North Windmill: Dream of staying in a traditional windmill on the island of Mykonos? Dream no more. For $127 a night, this rad little spot can be all yours!
Is This the Best Backpack EVER???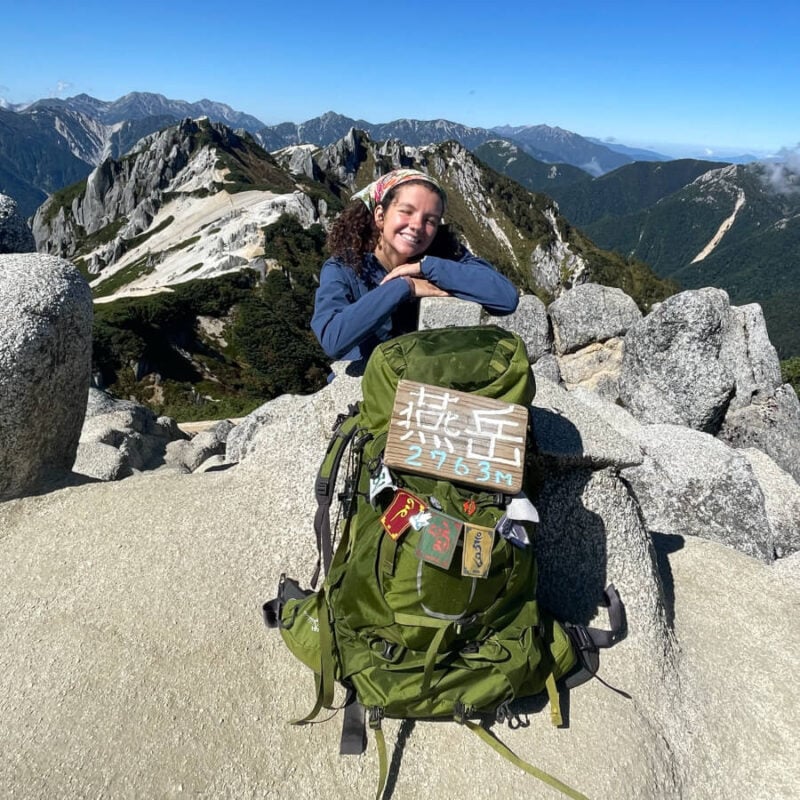 Cost of Transport in Mykonos
ESTIMATED EXPENSE: $0 – $10 per day
The main mode of transport in Mykonos is by local bus. The bus network is both efficient and cheap, and services most of the island.
While it's possible to rent a car in Mykonos, it is usually not recommended. They're super expensive and, to be honest, not really necessary. If that's not enough to put you off, parking is a nightmare, fuel is expensive, and the streets can be difficult to navigate. Besides, who wants added stress on a relaxing holiday? Not this guy!
Other great modes of transport are bicycles and scooters. Beware the streets, though, as they can be dangerous — they're narrow and bumpy, a fear factor for even the most experienced rider.
Taxis, like car rentals, are expensive and rarely used. However, they can be a good way to get from the airport to your accommodation.
Train Travel in Mykonos
Train travel in Mykonos is non-existent. That's right, there are no trains in Mykonos as well as in any of the other islands in Greece. Most of the islands are too small for a train network but they are also super mountainous, making them both too geographically and topographically complex for a train network. Luckily, the buses save the day!
Bus Travel in Mykonos
As I mentioned before, the bus network in Mykonos is extensive, efficient, and affordable. They extend throughout the beautiful island and seamlessly connect the beaches, towns, and other attractions.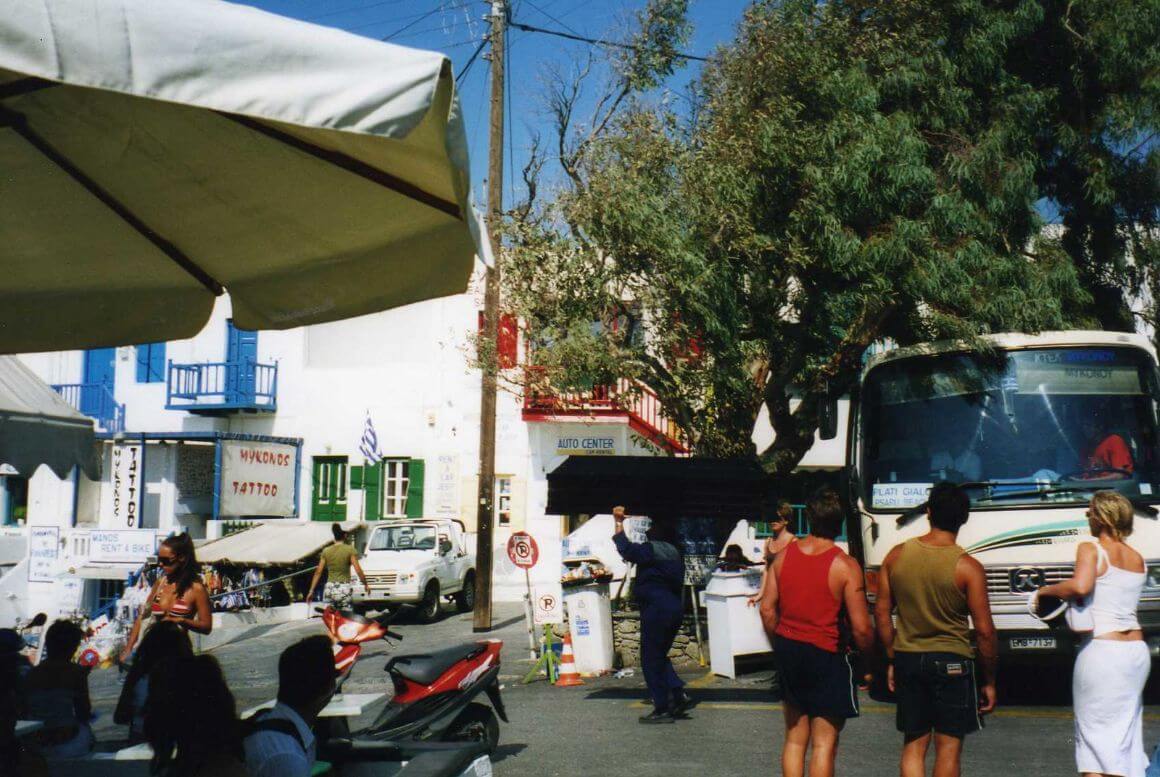 You can buy tickets at kiosks and stands in the streets and at the local tourist shops — happily, they only cost a few dollars! But always remember to get your ticket stamped, otherwise, you may get a hefty fine from a stern Greek man.
Renting a Scooter or Bicycle in Mykonos
Bike and scooter rental is another way to get around the island — on your own time. You can really get to experience the "laissez-faire" atmosphere that the island is so known for.
Bike rental is easy and can be done at many of the tourist shops in the town.
Scooters and mopeds, on the other hand, which are available to rent at several shops in Mykonos town (referred to as Chora by the locals), can be a bit dangerous. Other road users tend to zip around the narrow streets, and it's common to turn a corner and see a car or bus heading straight for you!
The roads are also not very forgiving and their narrow and bumpy nature can be scary for inexperienced persons. But give it a shot and see!
Use Bookaway to find the best deals on transport – buses, planes, trains, and ferries. It'll save you a load of time when organising transport and you'll probably nab an EPIC DISCOUNT too!
Book your transport on Bookaway NOW. Get the best price for the best ride… then use those savings to buy the best feed in town!
Book Your Transport Here!
Cost of Food in Mykonos
ESTIMATED EXPENSE: $40 – $500 per day
Is Mykonos expensive when it comes to food? Sadly, yes. Well, at least compared to the neighboring islands of Naxos, Milos, and Tinos it is. Restaurants and shops tend to charge a premium on the island because, well, they can. Prices have also been compared to those in London, which is not ideal for your island getaway.
The beaches are one of the top attractions in Mykonos, and there are many great restaurants, beach bars, and beach clubs. But if you're thinking of dining there, you can expect to pay upwards of $100 for a meal — it's daylight robbery! You will find that some of the more popular restaurants in town also charge exorbitant prices for their cuisine, which frankly, isn't anything spectacular.
I'm much more about the local cuisine — it's usually cheaper and more delicious. Find me at a street vendor or a back-street restaurant any day of the week.
Some of the most popular items you'll find in Mykonos are:
Gyros: A wrapped pita bread filled with a combination of fresh ingredients (such as tomato, onion, and tzatziki) and roasted rotisserie meat (usually pork or chicken).
Melopita: A type of honey cheesecake, mostra is a sweet cake that champions honey and ricotta as its two main ingredients.
Moussaka: A casserole-type dish made with a combination of eggplant and ground meat, layered similarly to lasagna, and cooked in a tomato-based sauce.
Mostra: A traditional appetizer, mostra is made with rusk, kopanisti (a salty type of cheese), tomato, olive oil, oregano, and sometimes capers and olives.
Louza: Greek-style prosciutto — shaved pork loin that's baked in a combination of spices, wine, salt, and cloves.
The best way to keep your food costs down in Mykonos is to be a deal hunter. Look for those specials, especially around the early afternoon. A two-for-one deal is always a winner, if you can find it. And never rule out a good old happy hour.
If you have an apartment, you can always buy local ingredients and cook at home. Reducing how much you eat out will help to keep your costs down. The local ingredients are wonderful and mouth-watering so you don't need to do much to keep your food simple and fresh — the Mediterranean way.
Where to Eat Cheaply in Mykonos
My personal favorites are some of the most delicious items in Mediterranean cuisine that money can buy. I'm talking fresh salads with delicious sun-ripened tomatoes, lots of olive oil, moussaka, and, of course, gyros.
You can probably score yourself a gyros for less than $10 — and you can bet it's going to be delicious! If you can find hole-in-the-wall restaurants and less commercialized establishments, you'll be able to find yourself a cheap meal.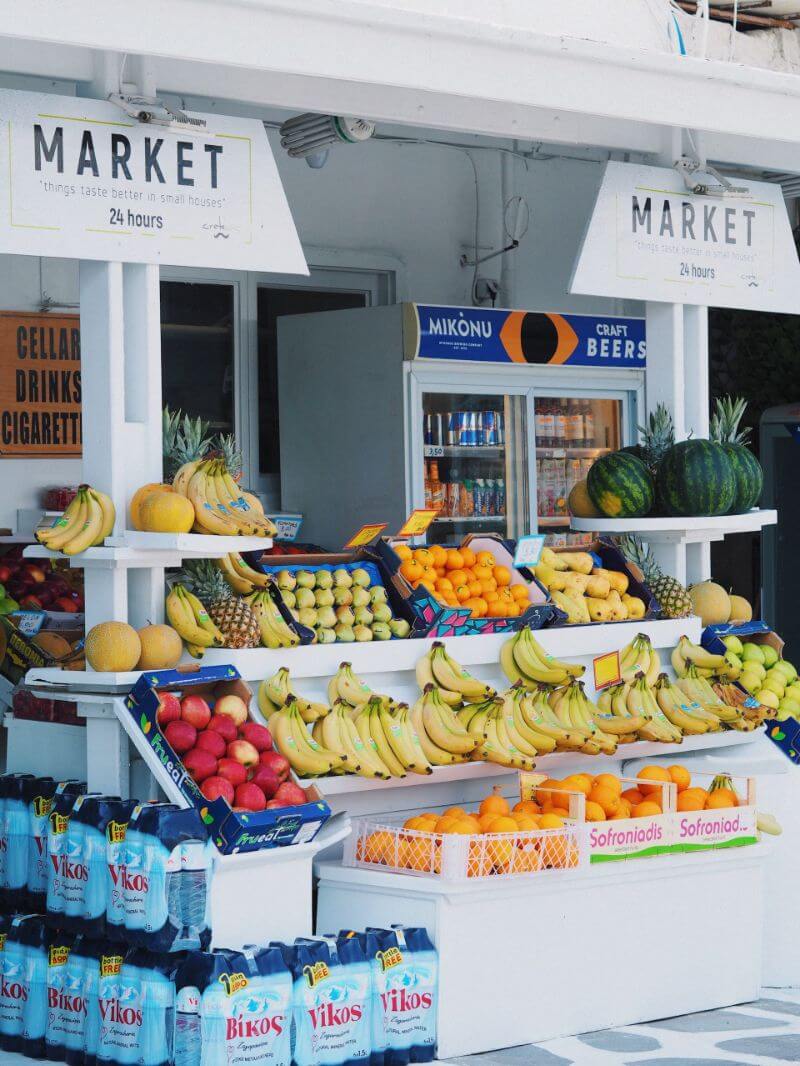 Here are some places I've picked to help you find cheaper cuisine:
Supermarkets: Flora and Carrefour are great for picking up the basic groceries; a basket of the essentials will vary in price depending on what's for dinner.
Pita Wrap & Pizza: Grab yourself a delicious souvlaki or pizza here, but be sure to also try the best traditional pita wrap in the Aegean. A lamb pita-wrap will cost you $4.5.
Cantina: A must-try for their signature Greek souvlaki! They also serve kebabs, sandwiches, and traditional meat portions. A tasty kebab will cost you around $9.5.
Local BBQ & Souvlaki: Best BBQ on the island? I'll let you decide. A kontosouvli (large pork souvlaki) will cost just over $13.
Price of Alcohol in Mykonos
ESTIMATED EXPENSE: $3 – $100 per day
Mykonos is expensive, and the costs of alcoholic beverages and partying are no different. You can drink and dance and paint the town red — but be prepared to spend a pretty penny while doing so.
Some of the most popular drinks that you'll find in Mykonos are:
Cocktails: These will cost anywhere between $16 and $27 a pop.
Beer: Beers in a bar will set you back between $7.5 and $9.5. Supermarkets are about $3 – $5.
Greek wines: Sample the local juice! Wines will cost you about $12 for a house wine.
Ouzo: The traditional anise-flavored drink will cost about $8 in a restaurant.
However, it is also possible to save some bucks on drinks if you're smart about it. If you rent a house or villa with some mates, you'll want to use it as a base. Here, you can cook dinner and have drinks before heading out to party. It's a fun bonding experience, and you'll save some bucks too!
Another way to save on alcohol costs is to find local bars and restaurants — the chances are their booze will be cheaper. Always be on the lookout for deals too. Two-for-one drinks specials and happy hour will be your new best friend!
Cost of Attractions in Mykonos
ESTIMATED EXPENSE: $0 – $150 per day
Mykonos has a lot to offer in terms of things to do and see. Some of them cost money, some of them don't — it all depends on the activity at hand. The beaches, hiking, and exploring the old town on foot don't cost a thing. Other activities such as guided tours of the island, scuba diving, farm barbeques, and a Delos tour will cost you a pretty penny.
You also need to factor in what you want from your holiday. If you want to lie on the beach all day, read your book, and work on your tan, then you're not going to spend much on activities. But if you want to explore and keep busy with tours and activities, then you're in for some serious spending.
There are still a few ways to save money on attractions, however:
Book online: You can save cash by booking things in advance, especially tours. They tend to be quite pricey last minute, and you can often get decent deals online.
Explore the old town on foot: Keep fit and save money, it's a win-win situation!
The Future of the SIM Card is HERE!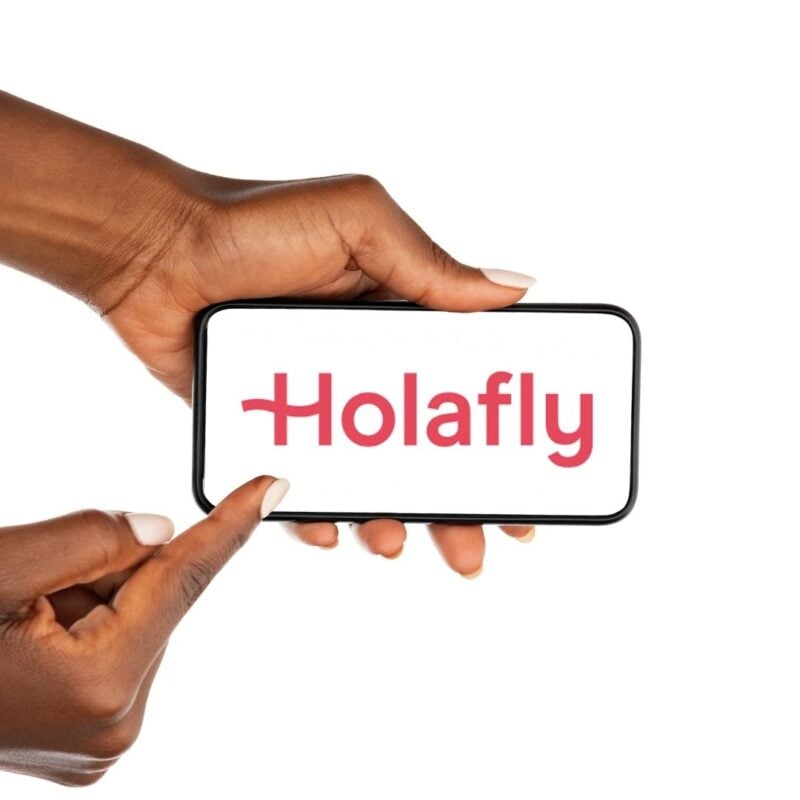 A new country, a new contract, a new piece of plastic – booooring. Instead, buy an eSIM!
An eSIM works just like an app: you buy it, you download it, and BOOM! You're connected. It's just that easy.
Is your phone eSIM ready? Read about how e-Sims work or click below to see one of the top eSIM providers on the market and ditch the plastic.
Grab an eSIM!
Additional Costs of Travel in Mykonos
Now, because this is traveling, there are always going to be unforeseen circumstances and expenses. It happens. You don't have to fear it or cry about it. All you need to do is identify the issue and then set out to solve the problem.
These unexpected expenses can take the shape of gifts, souvenirs, books, and other items from local shops and attractions. Let's also not forget about the dreaded overweight-luggage fees. Those are the worst and always catch you off-guard at the airport.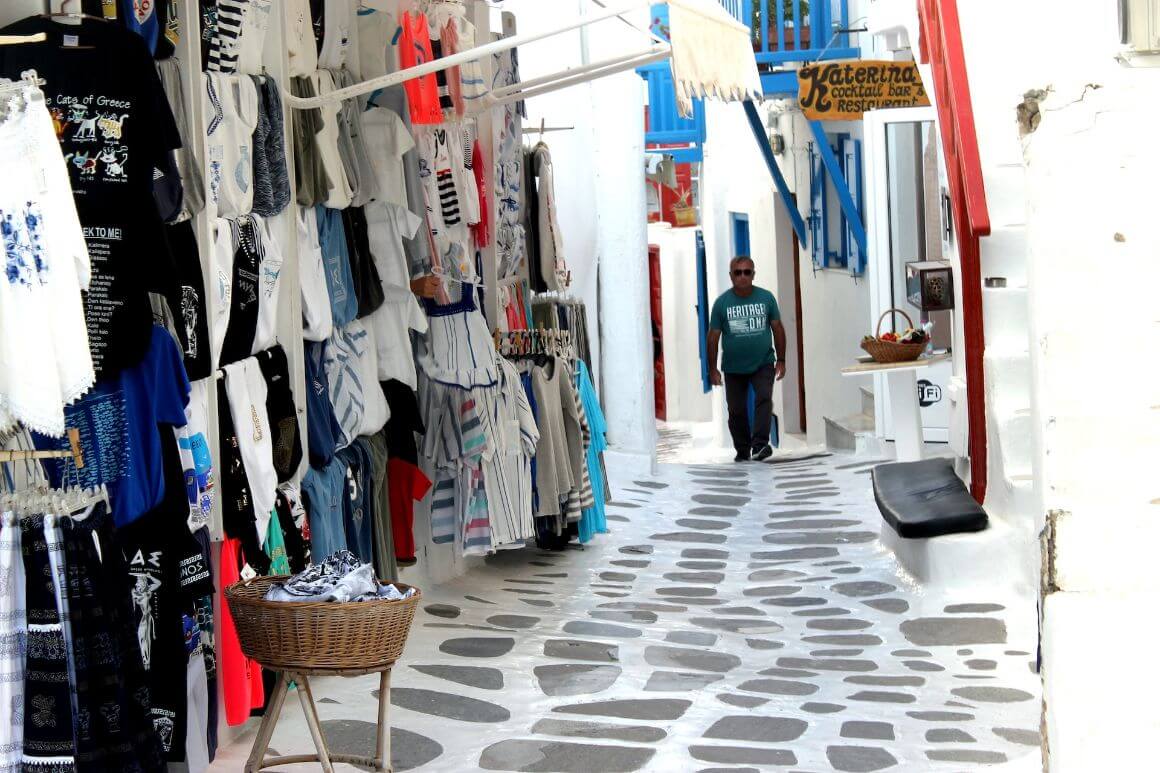 I always recommend setting aside a bit of extra cash for when these situations unfold unexpectedly. Maybe draw a bit of extra local currency or have some dollars stashed away — you never know when you might need it. You could try having a spare bank card tucked away somewhere safe with some cash on it.
A decent emergency fund would encompass about 10% of your total travel budget. After all, if everything goes to plan and you don't use it, you can treat yourself to a fancy dinner on your last night in town!
Tipping in Mykonos
Greece, as a whole, doesn't have a big tipping culture, and Mykonos is no different. Tips are not expected and, overall, aren't compulsory. Although, there is a difference between compulsory tips and polite tips. Staff often work long hours for minimal wages, so a little tip is always welcome! A tip at a nice restaurant could be anywhere between 10% and 15% of the total bill.
Get Travel Insurance for Mykonos
Travel insurance — a topic of much debate. Well, not for me, at least. I feel that travel insurance is a no-brainer, and every traveler should have some form of protection when they travel. Mykonos is no different — sort out your insurance before you head out. You won't regret it. Things happen quickly so what's a bit of extra cash to cover yourself? Heymondo, SafetyWing, and Passport Card are all affordable and comprehensive insurance options. Don't think, just do!
ALWAYS sort out your backpacker insurance before your trip. There's plenty to choose from in that department, but a good place to start is Safety Wing.
They offer month-to-month payments, no lock-in contracts, and require absolutely no itineraries: that's the exact kind of insurance long-term travellers and digital nomads need.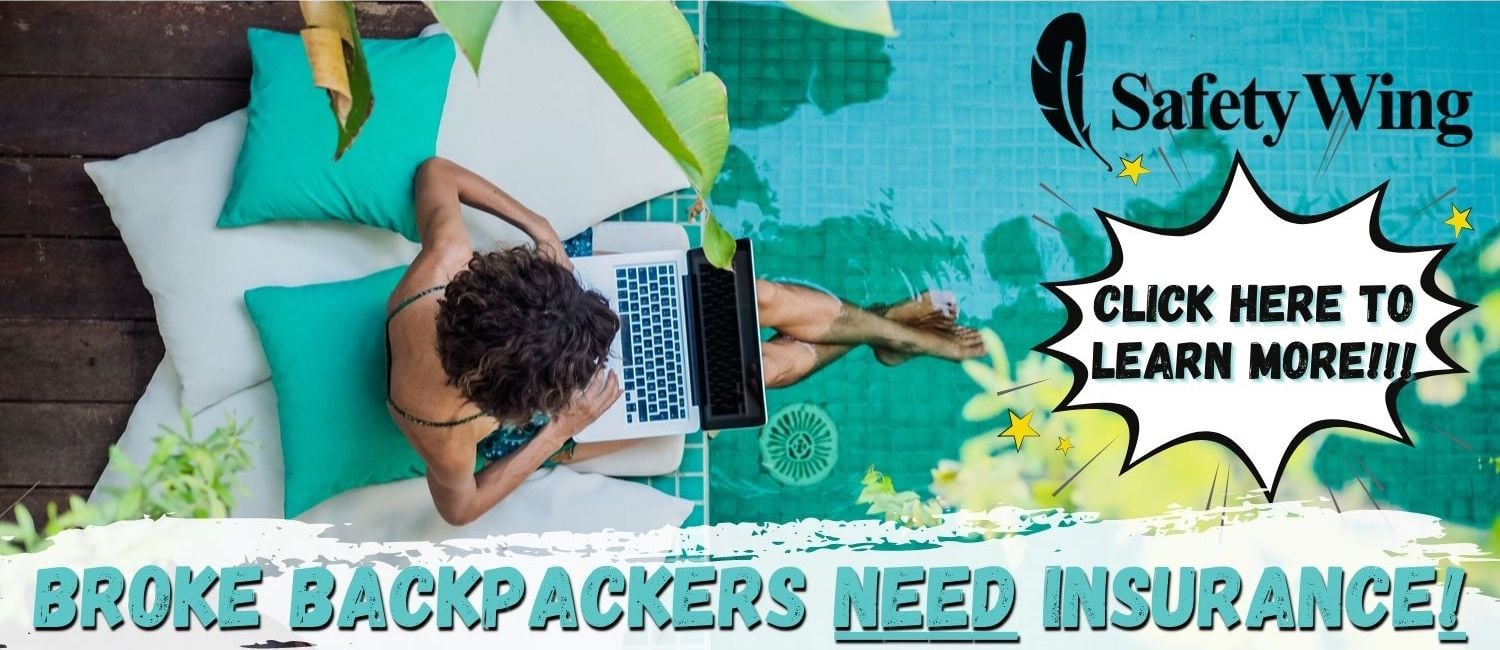 SafetyWing is cheap, easy, and admin-free: just sign up lickety-split so you can get back to it!
Click the button below to learn more about SafetyWing's setup or read our insider review for the full tasty scoop.
Some Final Tips for Saving Money in Mykonos
Who doesn't like saving money? I certainly do, and I'm sure you do too! There are a couple of easy ways to avoid the usual traps and save some cash in Mykonos. I've got some tried and tested methods to save money in Mykonos that many would like to keep a secret. Try the following and save some of your hard-earned cash:
The beaches and the old town are free to explore: Check out attractions like the Windmills, the Armenistis Lighthouse, Little Venice, and the local churches. Also, don't go renting an umbrella and a lounger at the beach — just carry a towel and a hat.
Have a water bottle: Don't waste money on plastic bottled water; carry your own and refill it in the fountains and the tap. If you're worried about potable water, get a filtered bottle, like the GRAYL, which filters out 99% of viruses and bacteria.
Travel during the shoulder seasons: This is a great time to head to Greece in general — it's a bit quieter, the prices aren't hiked, and the weather is good.
Book flights in advance: This is a great way to score a deal on getting to this exquisite Greek island, as you'll have more cash once you're there!
Earn money while you travel: Teaching English while traveling is a great way to make ends meet! If you find a sweet gig, you may even end up living in Mykonos.
Book accommodation with mates: Get a big house and split the costs with your nearest and dearest ones. It will be a party in itself, and you can cook, eat, and drink for way cheaper.
Go hiking: Hiking is another free activity to do in Mykonos. Besides, it's a great way to get hot and sweaty for that satisfying cool-off afterwards.
Become a volunteer with Worldpackers: Give back to the local community and, in exchange, you're room and board will often be covered. It's not always free, but it's still a cheap way to travel in Mykonos.

Our GREATEST Travel Secrets…
Pop your email here & get the original Broke Backpacker Bible for FREE.
So, is Mykonos Expensive, in Fact?
Now that we've completed this guide, the big question still remains: Is Mykonos expensive?
I guess that all depends on how you approach your holiday. If you stay in expensive hotels, eat at expensive restaurants, and party at expensive clubs, then your holiday is going to be pricey.
While the common perception is that Mykonos is largely expensive, I believe that it doesn't have to be. I've given you enough tips here to save money at local restaurants and on free activities. It's up to you what you make of it.
Overall, I think it's fair to say that a good average daily budget for Mykonos is $100, but you could probably get away with about $75 a day if you're really frugal!
All you need to do now is book that flight and start packing your bags for the beautiful Greek island that is Mykonos — you won't be disappointed!
---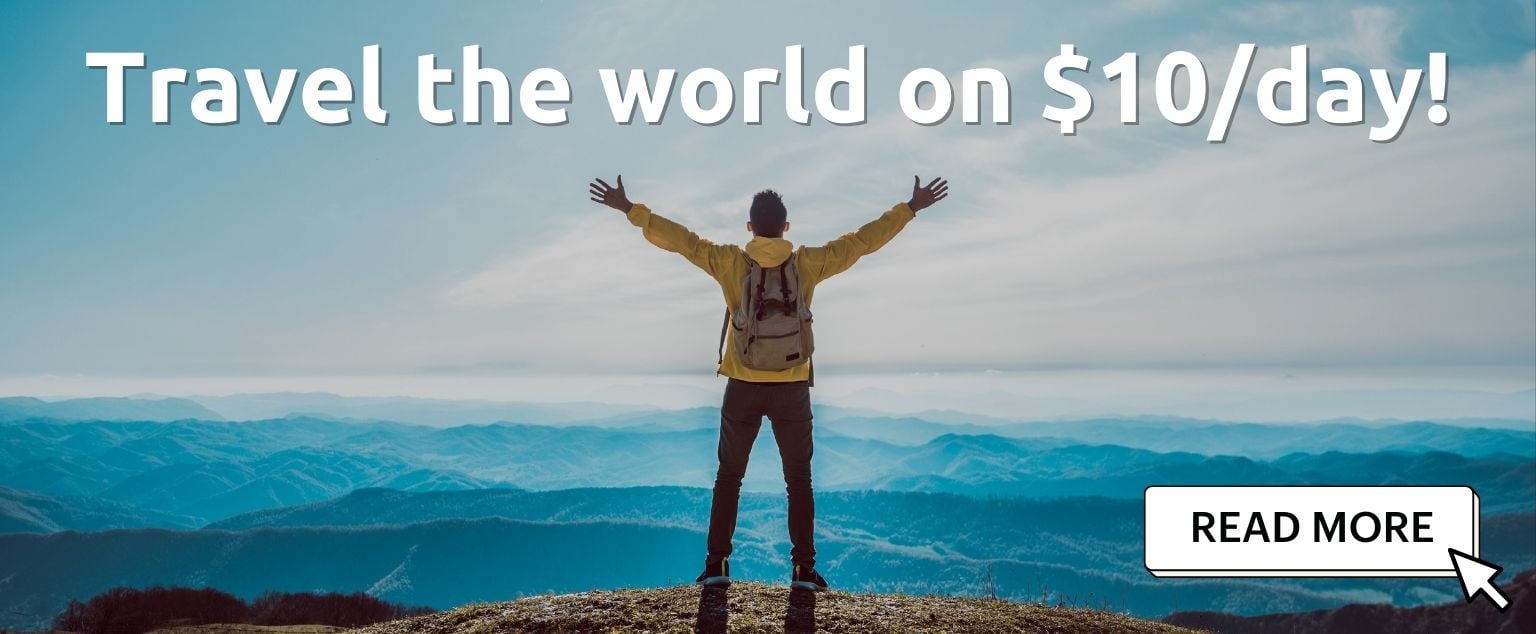 And for transparency's sake, please know that some of the links in our content are affiliate links. That means that if you book your accommodation, buy your gear, or sort your insurance through our link, we earn a small commission (at no extra cost to you). That said, we only link to the gear we trust and never recommend services we don't believe are up to scratch. Again, thank you!