The thought of backpacking Greece instantly conjures images of postcard perfect caldera views, white-washed houses perched on steep cliffs, and beautiful blue water. There is no question why Greece is one of the most popular vacations spots in the world.
Before visiting Greece, I wondered if this would mean it's too expensive, crowded, and touristy for backpackers. Fortunately, I was wrong. It's completely possible to avoid crowds and backpack Greece on a budget!
There are plenty of awesome Greece backpacking routes and itineraries for every type of traveller…
Greece is a charming, laid-back country, and travelling the Greek Islands has been one of my favourite travel experiences. It's not just for the beautiful views either, but for the food, beaches, wonderful people, and the plethora of history.
However, you've almost got too many choices of where to go in Greece. That's why I've written a detailed Backpacking Greece Travel Guide to help you navigate the several groups of Greek Islands. With this guide, you can narrow down the best things to do in Greece and the best places to go… on a budget!
Now, while Greek's mainland offers plenty of adventure and chilling material, travelling Greece, in many ways, is all about that island life! Most backpackers in Greece find themselves spending at least a couple of weeks just hopping the Greek Islands and soaking in the rays.
There are several groups of Greek Islands. The Cyclades are the most popular, followed by Crete and the Ionian Islands (West of mainland Greece). The convenient Saronic Gulf Islands are a stone's throw from Athens, and Athenians visit these islands regularly on the weekends. They make a great day trip from Athens.
You can island-hop the beautiful Dodecanese and Northeastern Aegean Islands near Turkey too. The least-visited islands are the four Sporades with Evia being the biggest (East of Mainland Greece).
My biggest advice for exploring Greece is to pick one group of islands, and don't try to cram in too much!
Below, I've put together six different Greece travel itineraries ranging from one week to one month – check them out and begin planning your Greece backpacking route! No matter which area of Greece you stay, it'll be awesome!
Below I have listed several travel itineraries for backpacking around Greece! If you have a month or more to travel Greece, it's easy to combine a couple of these itineraries to put together a larger travel route if you have more time.
Backpacking Greek Islands 2-Week Backpacking Itinerary #1
For this Greece travel itinerary, I suggest at least 2 weeks. The Cyclades are made up of thousands of islands, and it would be impossible to see them all in one trip! This is a great itinerary route if you want to see Greece's classic highlights.
I suggest either starting or ending your trip staying on Santorini, the Cyclades' farthest island. You can reach Santorini with a quick flight, or an 8-hour ferry from Athens if you're not constrained for time. From Santorini, you can work your way North towards Athens via Ios, Paros and/or Naxos, and Mykonos.
If you more time to backpack the Cyclades Islands, consider adding a couple of lesser-known islands to your itinerary too. Andros is North of Mykonos, and known for its hiking trails. Amorgos is known for its monasteries and mountains.
You can finish your trip with a 2-3 day itinerary exploring Athens. Check out the beautiful historical sites, like the Acropolis, as well as the fun cafe culture and nightlife.
Greek Islands 2-Week Backpacking Itinerary #2
This is the perfect itinerary if you want to experience the quintessential beauty and culture of the Cyclades without the crowds!  This is a separate itinerary than the one above because these islands are connected by a separate ferry route; however, you can combine islands from both itineraries with a bit more planning.
You can start this travel itinerary with a couple of days visiting Santorini with a long ferry or short flight from Athens. From here you can follow the Western Cyclades ferry route, making your way to Folegandros via the island Sikinos, then Milos, followed by staying in Sifnos and/or Sirifnos for a breather, before heading towards Athens. Sifnos is a small island famous for its pottery, and a nice way to break up the ferries from Milos to Athens. Moreover, Sifnos is one of the cheapest islands to visit.
Backpacking Mainland Greece – 10-Day Itinerary
This is a great Greece itinerary route for history buffs!
Spend a couple of days in Athens visiting the sites, and checking out the food and cafe culture. From Athens, you can spend a weekend on Hydra, a car-free island with a well preserved Byzantine town. Once you've worked on your tan, travel to central Greece, and visit Meteora and Delphi.
There are tours that visit both Meteora and Delphi in 1-2 days, but I think it's well worth going to Delphi and Meteora on your own if you're interested in history. That way you can hike to All Meteora Monasteries if you are extra adventurous. By travelling to these areas independently, you can explore these sites at your own pace, and avoid most of the crowds!
You can end your trip by staying in Thessaloniki, Greek's second-biggest city, or loop back to Athens.
Hopping the Ionian Islands – 3-Week Travel Itinerary
This is a great backpacking itinerary for  Greece if you want to island hop lush green islands with hidden beaches and caves. The Ionian Islands are known for the mountains terrain, temperate climate, medieval towns, and flour-soft beaches. If you have 2 weeks to visit the Ionian Islands, I suggest picking 3-4 islands below.
Because the Ionian Islands are close to Italy and Albania, travellers can easily combine this itinerary with those countries.
You can begin your travels staying in Corfu, and then head south towards Athens via ferries. Paxi is a tranquil island best known for its pretty harbour villages. Next up is a stay in Lefkada, known for its endless sand and turquoise water! If you want to beach hop, make sure to include Lefkada in your Greece itinerary.
I recommend allotting at least 5 days of your itinerary to Kefalonia because it's the largest Ionian Island with plenty to do and see. While staying in Kefalonia you can visit its various golden and white sand beaches, and kayak and swim through its cave. Myrtos Beach is a popular beach to visit on Kefalonia. From Kefallonia you can catch a boat to the Zakynthos island area, which has one of the most famously pictured coves in Greece.
Backpacking Crete 10-Day Itinerary
Because Crete is very far from mainland Greece, it really warrants its own dedicated trip and itinerary. I recommend catching a flight from Athens, or other European cities to reach Crete. German airlines have cheap airline flights to Crete in the summer.
You will most likely start and/or end your trip in Heraklion, Crete's capital. From Heraklion, you can explore the Minoan ruins of Knossos, and visit Spinalonga, a small rocky island that was actually a leper colony until 1957! Otherwise drive west to the colorful, cobble stoned town of Rethymno, also known for its fun nightlife. From here you can visit Plakias Beach & Prevali Beach, and Bali Beach.
Next, book a place to stay in Chania, a great base on Crete for 5+ days. On your way to Chania, you can visit Lake Kournas, a fresh water lake in the middle of Crete. You can visit some of Crete's best beaches in this area, Balos Beach, one of the top things to do in Crete because of its stunning views and shades of blue water. There is also Stefanou Beach, the pink sanded Elafonisi beach, and the beautiful Seitan Limania Beach. You can also hike Samaria Gorge, the largest gorge in Europe.
Hopping the Dodecanese Islands – 3-Week Itinerary
This is a great itinerary if you don't have a tight time schedule, and want to get off the grid. This area has amazing beaches and culture, but the ferries can be irregular. If you are planning to combine a trip to Greece with Turkey, you should definitely check out these beautiful islands.
Start your trip on Karpathos, and enjoy its walking trails, surreal scenery, whitewashed windmills, and glass-blue water for swimming and snorkeling. This island is popular with kite surfers. Next stop is Tilos, an island full of hidden coves only reachable by foot, and lush green meadows. Then you can ferry to Rhodes, which is known for its history, nightlife, and beautiful medieval town.
From Rhodes you can ferry over to the area of Kos island then head to Leros, a great island for chilling out, and then to Samos. This island is known for secluded waterfalls and beaches. As you continue North you can hit up Lesvos, which is known for its olive oil, ouzo (traditional Greek alcohol) and hot springs, or Kalymnos, an island where rock climbers rejoice at the limestone cliffs. Then it's back to Athens!
Now that we've covered some of the best travel itineraries for backpacking Greece, let's dive in and explore some of the best places to visit in Greece on your adventure…
Backpacking Santorini
Santorini is probably the most popular island in Greece. The town of Oia is truly beautiful and has some epic sunsets. My only issue with Oia is how crowded it gets in the afternoon leading up to sunset. It feels like Disneyland; people lining up by the dozens to get that "perfect shot," which sort of takes away from the magic. Nevertheless, Santorini really is beautiful and deserves to be visited at least once.
The best time to visit Santorini is definitely the shoulder season. You could even visit Santorini as early as April and as late as November, and still get decent weather. Many of the 5-star hotels will be selling rooms for a fraction of the price in April and November. The various backpacker hostels in Santorini tend to get booked up during summer.
If you rent a car, it's easy to get away from the crowds. We stayed in a smaller, local town via Airbnb. I recommend checking out the town of Pygros in the center of Santorini. You can climb up to the top and get some amazing views of Santorini, and there are some great shops and restaurants here far from the tourists.
The town Kamari is right on the ocean, and has some great seafood restaurants with lower prices than Oia. My favourite restaurant in Santorini is called Taverna Mou just outside of Oia. The prices are reasonable, and the food is good, but you come here for the overall experience. The owner plays music all night and interacts with his guests. Such a great guy! Do not miss this place! (It's even frequented by Jennifer Aniston and Green Day.)
In my opinion, Santorini's beaches and attractions, though beautiful, are mediocre when compared to neighboring islands. They're still worth checking out because the beaches' rocks and sand are different colors – red, black, and white – due to volcanic activity.
It's also a great place to try one of the best yoga retreats in Greece.
Backpacking Ios
Ios is known for its young backpacker partying reputation, but there is so much more to do on Ios than just party. There are plenty of beaches and pretty villages to explore during the day as well as opportunities to go swimming and cliff jumping.
During Greece's shoulder season, Ios will be much more relaxed than in August.
You can check out Paleokastro, a Byzantine castle on the Eastern side of the island. If you are looking for an escape from the parties. Manganari Beach is a nice beach made up of small, sandy coves, and it's accessible by boat and car.
If you are backpacking in Greece as a solo traveller, this is one of the best islands to visit because they have plenty of hostels with a very social atmosphere.
Backpacking Naxos
Naxos is the largest island in the Cyclades and makes a great addition to your Cyclades itinerary because most ferries will stop here. Mt. Zeus is the Cyclades' highest peak, and where you will find the picturesque villages of Halki and Apiranthos.
Naxos is a popular place to stay for its hiking and kiteboarding. There is a decent club scene here that is more affordable than Mykonos. Naxos also has a few sandy beaches, like Agios Prokopios and Agia Anna.
Backpacking Paros
Paros is also used as a ferry stop, but this island actually has some picturesque rural villages and popular resort towns full of accommodation. Think Mykonos without the price tag.
You can also visit the beautiful island of Antiparos by boat. Paros' most famous beach is called Hrysi Akti for its nice sand. Piso Livadi is a seaside village with a variety of restaurants and cafes.
Backpacking Mykonos
Mykonos is a chic island best known for its glamour and nightclubs. Many celebrities visit Mykonos to lounge and party. While there are some cheaper areas in Mykonos, it can be an expensive island for backpackers. You won't regret skipping Mykonos if you're on a budget because there are so many other lovely islands to explore, but if you'll have a blast if you like world-class DJs and parties.
There is plenty to do in Mykonos aside from partying too. You can visit the infamous windmills and Paraportiani Church,  walk around the charming villages, and enjoy "Little Venice."
I have heard that the best parties in Mykonos include: Paradise Club, which hosts some of the biggest DJs in the world, as well as Paradise Beach Bar, which gets going in the late afternoon (banana hammocks optional),and Scandinavian Bar. Check out this post for plenty of info on things to do in Mykonos.
Mykonos has one of the largest gay scenes in the Cyclades. As for the beaches, check out Paraga Beach. This beach is great for lounging by day, and then its bar turns into a crazy party at night. Psarou Beach is further from the parties and can be a nice, calm beach to visit.
Backpacking Folegandros
Spend a couple days (or months) on the small, photogenic island of Folegandros. I loved this island because of its laid-back vibe and beautiful scenery.
Santorini's beaches are too crowded for what you get, but Folengandros has some hidden gems you can get all to yourself. The town of Hora is picture-perfect too thanks to its white houses and colourful flowers that match the colourful trimmings.
My favourite beach is called Katero Beach for its blue waters and beautiful cliffs. It's reachable by foot from the port town. Because of its remote location, there will be hardly anyone there! It is a bit rocky, so bring a blanket!
If you are visiting Santorini and Milos, be sure to stop in Folegandros in-between. There are no hostels here. I recommend staying in a pension or studio instead! We were able to get a 4 person studio for about $45 in June.
Backpacking Milos
Milos is one of my favourite islands in Greece because of its dramatic coastal landscapes, rock formations, and beaches. There are more beaches on Milos than any Cycladic island, and they are unlike anything I've ever seen.
I think you need 5 days minimum here to really explore all of the beaches. Each one is completely different than the next. The must-see beaches on Milos include:
Sarakiniko for its white rock formations and cliff jumping.
Paliorema Beach for its tranquillity.
Firopotamos Beach for its beautiful setting next to a small fishing village.
And Firiplaka Beach, which is one of my favourites for the beautiful water and white sand. We went snorkelling here and saw some cool fish and squid!
Plaka is the most charming town, lined with so many great shops and some nice restaurants. Pollonia is a laid back fishing village with a lot of great seafood restaurants lined up on the water.
Our favourite breakfast spot and bakery on Milos was – hands down – Kivotos ton Gefseon. There is a magical seating area, and the food is phenomenal. They sell their homemade honey and pastries in the shop.
There are several picturesque fishing villages with colorful boat garages that you can hike to as well. Half of the island is inaccessible by car, so you need to splurge and hire a catamaran or join a day tour to explore these coves and beaches. There are plenty of options to be found in the port town, so shop around and pick a tour based on an itinerary that works for you.
There aren't many hostels on Milos, so check for local pensions and hotels. I highly recommend renting a car, ATV, or scooter because Milos is huge, and public transportation is infrequent.
Backpacking Athens
Athens merges past and present as both a modern metropolis and ancient open-air museum. One one hand, you have trendy neighbourhoods with great restaurants, bars, and shops. On the other hand, you have the ancient Acropolis and its museum; this is one of the oldest cities in the world!
Make sure you explore the neighbourhood Kolonaki while backpacking through Athens; it's kind of like Soho in NYC. Athens has a huge cafe culture.
One of the most popular cafes is called Tailor Made. It's a micro-roastery in the up and coming part of town. You can order espresso, filtered coffee and tea all day and night. They also serve trendy cocktails.
If you are after Athens' best nightlife, check out the bars around Plaka and Monastiraki. One of the coolest bars we went to is called Six d.o.g.s. The back of this venue has a secret garden surrounded by trees and twinkly lights with plenty of outdoor seating. They serve really unique cocktails, and late night snacks as well.
If you want more of the club scene, check out the beach club, Astir Beach. It's known for showcasing local and world-class DJs and is open year-round.
Backpacking Hydra and the Saronic Gulf Islands
Hydra and the rest of the Saronic Gulf Islands (Poros, Agistri, Aegina, and Spetses) are the closest island group to Athens. Many Athenians visit these islands on the weekend.
If you are island hopping in Greece on a budget, any of these islands can make a great addition to visiting Athens, though Hydra is the most popular because of its medieval town. Hydra is also laid-back and timeless because there are no cars here!
Poros is a small forested island with pebbly beaches. Spetses has only one town on this island and has some of Saronic's most accessible swimming spots. You will have better luck finding accommodation through local pensions, apartments, and hotels rather than hostels.
Backpacking Meteora
Since the 11th century, monasteries have sat on top of massive rock pinnacles in Meteora. They were built in inaccessible places so monks could retreat from the wars between the Roman Empire and Ottoman Empire. This is an amazing historic place in Greece everyone should see while backpacking Greece.
While visiting Meteora, it's best to stay in the town of Kalambaka or the village of Kastraki. There is a bus that departs from Kalambaka and Kastraki around 9 A.M. and returns around 1 P.M., which gives you enough time to visit a few monasteries.
It is possible to view all of the monasteries in one day if you get an early start, but you'll need a rental car. If you don't want to rent a car, you can also rent a bike!
The best-known monastery in Meteora is called Moni Megalou Meterou because it is built on the tallest rock in the valley, but you can't go wrong with any of them. Entry to the monasteries is about EUR 3. No bare shoulders are allowed, and men must wear pants and women must wear skirts below the knee.
For more info on what to do in Meteroa, check out this Visitor's Guide to Meteora.
Backpacking Delphi
Why go to Delphi in central Greece? It's one of the most visited archaeological sites. Ancient Greeks built the Sanctuary of Apollo here and regarded Delphi as the center of the world.
Moreover, Delphi is surrounded by alpine meadows and valleys. It's a great place to travel around for a few days and combine with Meteora.
The Sanctuary of Apollo is the main archaeological site here, but there is also the Gymnasium (what remains of an ancient gym), the Sanctuary of Athena, and the Delphi Museum.
While visiting the sites, you can also stretch your legs, and walk from Delphi to Ancient Kirra through olive groves. It takes about 3-4 hours and you can take a bus for the return.
There are a couple hostels in town, but you may also have better luck finding a pension (cheap hotel) or hotel/apartment.
Backpacking Corfu
Corfu is the most popular – and most northern – Ionian Island. While there are pockets of resort towns, it's totally possible to find much more chilled-out places to stay in Corfu. It's still easy to escape the crowds and explore the cypress tree forests, pretty villages, and blue-water coves.
Corfu Town is famous because of its massive fortresses that kept Corfu safe during 5 successive Ottoman sieges. You will find plenty or restaurants and bars in Corfu town.
South of Corfu Town, you can visit the sleepy old village of Benitses. Further south are more popular beach resorts, however, Corfu's prettiest villages and beaches lie on the west coast, and there are some great backpacker hostels in the area as well as beautiful Airbnbs!
Backpacking Crete
Crete is a full destination in itself with plenty of spectacular things to see that will keep you busy for at least a week. Keep in mind it takes 20 plus hours to drive around the entire island!
If you have a month in Greece, I recommend combining Crete with a couple of the Cyclades Islands, or the Dodecanese Islands if you are travelling to both Greece and Turkey!
Backpacking Rhodes
Rhodes is the largest and best known island within the Dodecanese because of its well preserved Byzantine old town. Here you will find plenty of beaches, culture, and a buzzing nightlife.
There are a few different areas of Rhodes to explore. The Old Town transports you back in time with its high walls, deep moat, mazing alley ways, and architectural history. New Town boasts upscale shops, bars, and restaurants.
The island also sports some beautiful beaches, making it a great spot to vacation for every type of traveller.
Getting Off the Beaten Path in Greece
With hundreds and hundreds of islands to choose from, it's pretty easy to get off the beaten path in Greece. For the most part, you just have to avoid the Cyclades Islands, although even dozens of those islands see just a fraction of the tourism that Santorini and Mykonos do.
I also recommend exploring the beautiful Dodecanese Islands, which offer amazing clear-blue waters, historic towns, and plenty of outdoor activities.
While Santorini and Mykonos tend to steal the spotlight, there are hundreds of islands in Greece you can visit. Each island has completely different climates, points of interest, beaches, and awesome things to do. Moreover, you can explore beautiful scenery and tonnes of famous ancient archaeological sites and places of historical significance in Greece.
I have listed the top 10 most popular and best things to do in Greece below to get your ideas flowing for your trip!
1. Island Hop the Cyclades
The Cyclades are the most famous group of islands thanks to their quintessential white washed houses, and dramatic caldera views. While they are quite popular, I think the Cyclades are a must while backpacking Greece.
Santorini and Mykonos are two of the most famous islands – Santorini for its romantic views and Mykonos for its beauty by day and parties by night. That being said, there are dozens of Cyclades Islands, each with something wonderful to offer:
If you want dramatic coastlines and out of this world beaches, head to Milos.
If you are after mystical castles head to Naxos.
Folegandros is one of my favourite islands because it's so laid-back and charming.
If you want to party on a backpacker budget, and still get a great Greek experience, check out Ios.
2. Visit Meteora
This is an area in Greece where a handful of monasteries stand on top of soaring rock pillars. It truly looks like a fairy tale, and is well worth visiting! There are several monasteries that cost EUR 3 to enter. There are also ample hiking and rock climbing opportunities here!
If you are backpacking Greece and spending time on the mainland, don't miss Meteora! Meteora is quite easy to access, and just a day trip away from Athens.
3. Fall in Love With Crete
Crete is a big enough island to be its own country. It definitely merits an entire vacation on its own with so much to do and see. It's also one of the best Greek Islands to hike on due to its mountainous terrain.
Crete is famous for its farm-fresh produce, fresh seafood, and world's best virgin olive oil, so you can expect excellent cuisine. Hania is Crete's historical town that has been restored with Venetian and Turkish architecture.
4. Visit the Acropolis
One of the most important ancient landmarks of Western civilisation is Athen's Acropolis. No modern building in Athens is allowed to be taller than the Acropolis because of its significance to the Greeks.
Chances are you'll end up in Athens at least once while backpacking Greece. If so, I highly recommend visiting the Acropolis right when it opens to avoid the crowds. As magnificent as the Acropolis is, it's not fun to sightsee with thousands of other people in the scorching midday sun.
You can also walk around the area at night, and see it lit up. It's built upon a hill, and the rest of the surrounding area has some nice park and sitting areas.
5. Watch a Santorini Sunset
There are several spots you can watch the sunset on Santorini, but the absolute best one is directly on the water. Renting a Sailboat Charter might not be the most budget-friendly activity, but it's a once-in-a-lifetime experience – and what better place to treat yourself than in Greece?
Hopping on a stunning Catamaran charter and spending a few days sailing around the islands is one of the most unique and relaxing things to do in Greece.
6. Check out the Archeological Sites in Delphi
Delphi is most famous for the Sanctuary of Apollo site, but there are a few other impressive sites as well worth seeing on a visit. The Delphi Museum can take a full day to explore.
Visiting Delphi is a great combination with Meteora, and many tourism companies arrange day tours to see both. Both destinations are relatively close to Athens meaning you could definitely hit them up before heading out to the isles for the sun!
7. Experience Life with No Cars on Hydra
Hydra is just 90 minutes by sea from Athens, which makes this a great weekend trip. Hydra will transport you back in time with its lack of motorized vehicles and stunningly preserved stone village.
There are a few quirky things to do in Hydra amongst the other usual Aegean candidates. You can hunt down the former residence of Leonard Cohen (which is not so much a tourist attraction as someone else's current abode). The Rafalias Pharmacy in Hydra also gets a shout-out for being considered one of the most beautiful pharmacies in the world!
8. Get lost in the Byzantine Structures on Corfu
Corfu is located in the Ionian Islands (near Albania and Croatia). You can stroll through Byzantine fortresses and the streets of the Venetian Old Town.
Beyond that, you can explore Corfu's green mountains and coastlines. This area of Greece is heavily influenced by Venetia, so you can experience Italian-influenced food as well!
9. Explore Ancient Olympia
The site of the first Olympics, and source of so many Ancient Greek stories. This is a great addition if you are a history buff backpacking Greece!
Not only are there several famous temples (including the Temple of Zeus and the Temple of Hera) as well as the ruins of the Olympic stadiums themselves, but there are several of Greece's top museums here too. It's definitely the top thing to do in Greece for lovers of the Old World treats.
10. Rhodes
Rhodes is part of the Dodecanese Island group, which is closer to Turkey than mainland Greece. The Dodecanese Island group is a perfect itinerary if you are backpacking Greece and Turkey.
The island of Rhodes is famous for its medieval town. It also boasts a buzzing nightlife in the summertime.
While backpacking Greece, I used a combination of hostels, Airbnb, apartments, and local guesthouses. You can find double bed studios and apartments for as little as 25 EUR a day, so apartments and pensions are often a better option if you are visiting Greece as a couple or group. If you're backpacking solo, you'll be better off seeking out some of Greece's budget hostels instead.
A lot of pensions and local hotels do not like to put all their rooms online. If you are not travelling during high season, you can figure out accommodation when you get there.
Otherwise, meeting and staying through Couchsurfing is the cheapest way to go, and a great way to meet other travellers. However, some of the islands will not have much of a couchsurfing scene.
The Best Places to Stay in Greece
Your travel budget in Greece will largely depend on where you go and when. If you are visiting the Greek Islands in August, good luck getting by on less than $100 a day. But don't worry! You can still backpack Greece on a budget.
It's pretty tough to travel Greece on $10 a day unless you're participating in a work exchange. You can, however, go backpacking in Greece for under $40 a day.
If you want to splurge a bit while though, then I recommend budgeting at least $80 a day. This will cover eating out more frequently, renting a car during high season, and splurging on the occasional dive, or sail excursion
The tavernas and local eateries are affordable – around EUR 8. Gyros are the cheapest way to eat out and will run you about EUR 4-5. Produce and groceries are the way to go, however, if you're on a backpacker budget. My friends and I cooked most of our meals to save money.
The popular islands, like Mykonos and Santorini, can be more expensive near the touristy areas. If you want to splurge on a fancy meal, consider doing so on the smaller islands.
If you stick to one group of islands, slow ferry tickets can be as low as $10. You're going to want to rent a vehicle for at least a couple days to reach the beaches and remote areas.
Scooters cost around $25 a day. ATVs and cars are about $40-50. If you can split the costs, it'll be much cheaper to rent a car.
A Daily Budget in Greece
Money in Greece
Greece's currency is the Euro. The current exchange rate is 1 Euro: 1.16 USD (November 2020).
ATMs are widely available everywhere, but you can expect a withdrawal fee for international bank cards, which is why I travel with a debit card that refunds me for transaction fees. (Americans, I recommend checking out Charles Schwab!)
Visa and Mastercard are widely accepted in Greece. Always have cash on you when backpacking Greece and visiting smaller, family-run places! Many large stores in Greece accept cards, but a lot of out-of-the-way locations will only accept cash.
Travel Tips – Greece on a Budget
The standard ways to travel cheap aside, there are a number of things you can do while adventuring around Greece to keep your daily budget low:
Camp: With plenty of gorgeous places to camp, Greece can be a great place to camp in the rural areas. While wild camping is totally illegal in Greece, you can still find some pretty remote places to camp for free as long as you've brought the right backpacking equipment.
Travel during shoulder season – This means April/May or October for good weather and the best prices. This will be the cheapest way to visit Greece.
June and September are also affordable but stay away during July and August if you are backpacking Greece on a budget.
Book your transportation early: Both plane and train tickets are much cheaper if you purchase them in advance.
Cook your own food: If you are on a tight budget, you can save money by cooking your own food – I recommend bringing a portable backpacking stove for this.
Couchsurf: Greeks are awesome, and I am so grateful I was able to explore its cities with local friends. Check out Couchsurfing to make some real friendships and see this country from the perspective of locals. Couchsurfing is the best way to meet locals and stay for free, but snagging a spot can be tough – plan in advance!
Split travel costs: I recommend splitting costs with other travellers. Renting an apartment with a few people is cheaper than separate dorm beds, and a lot of islands do not have a hostel scene. The best way to save money on accommodation is to stay away from the touristy towns, although this means you may have to rent a vehicle.
I spent an average $40 a day by splitting rental cars, apartments, and groceries with 3 other people. We could have travelled for less, but it was more of a vacation. Renting apartments on smaller islands was affordable but if you camp or couch surf, you can get by on much less.
Why You Should Travel to Greece with a Water Bottle
Plastic washes up on even the most pristine beaches… so do your part and keep the Big Blue beautiful
You aren't going to save the world overnight, but you might as well be part of the solution and not the problem. When you travel to some of the world's most remote places, you come to realise the full extent of the plastic problem. And I hope you become more inspired to continue being a responsible traveller.
Plus, now you won't be buying overpriced bottles of water from the supermarkets either! Travel with a filtered water bottle instead and never waste a cent nor a turtle's life again.
In my experience the best time to visit Greece is during tourist shoulder season – May, June, September and October. The weather is great and the ferries are running consistently, but you can still escape the crowds. Moreover, you can book ferry tickets and hotels last minute.
High season (August and July) is most crowded and expensive time for visiting Greece. If you want to keep your travel costs in Greece low (unless you have money to blow, or solely want to visit Greece for the parties), I suggest avoiding August. After October, most of the islands shut down until April/May.
On the other hand, travelling off-season could be a lovely time to visit Greece and get around the popular islands like Santorini. Many of the luxury hotels will be selling rooms for a fraction of the cost, and popular places, like Oia, are already incredibly crowded in the summer.
Festivals in Greece
Many traditional festivals surround the Greek Orthodox Church, such as Easter and Carnival. I've listed the most popular festivals in Greece below.
Make sure to book accommodation in advance if you are backpacking Greece during these holidays!
Carnival Season: Three weeks prior to Lent, you can find Carnival parties and parades full of feasting and dancing.
Orthodox Easter: This is Greece's biggest holiday, where communities celebrate Jesus' resurrection starting on Good Friday. Easter Sunday is celebrated with parties, feasts and dancing.
Thessaloniki International Film Festival: 10 days of independent film screenings are held in Thessaloniki in mid-November.
What to Pack for Greece
Greece is all about fun in the sun, so pack a few swim suits, and your trendiest beachwear! Ladies, this is the time to break out your favorite maxi dresses. There are some nice hiking opportunities, so bring a good pair of shoes and some active wear too.
People dress pretty stylish at the clubs, so having a dress shirt/dress is a good idea, and dinner tends to be more casual, but it doesn't hurt to wear a dress or dress shirt to a nice restaurant.
And if you're a swimmer/diver, don't forget your snorkel and fins! You'll save a lot of time and money if you don't have to rent snorkeling gear.
While it's always advisable to dress modesty in a new country, you don't have to worry about this too much on the islands. I also suggest bringing a couple layers as nights can be cooler.
Make sure you know what to take to Greece! On every adventure, there are six things I never go travelling without:
For plenty more inspiration on what to pack, check out the complete backpacking packing list.
One should always have common sense when travelling in a new country, but I think backpacking Greece is very safe. Much of Greece and the sleepy villages feel safe enough to leave the doors unlocked, not that I would recommend this. 
In my opinion, most bad things happen to travellers after 2 A.M. I always advise people not to walk alone late at night, especially if you don't know the area.
For a few safe travel tips for Greece, make sure you:
Watch for petty theft/pick-pocketing (the same as in any city) while visiting touristy areas in Athens and Greece.
To avoid pick-pocketing, be aware of your surroundings, hide your money carefully while travelling around, and don't carry a wallet in your back pocket. 
Watch out for strangers coming up to you with petitions and signs; this is usually just a distraction to steal your stuff.
If you are renting a car, keep valuables out of sight!
And have a read of the advice in our Backpacker Safety 101 post – you may learn something new!
Sex, Drugs, and Rock 'n' Roll in Greece
Greeks are known for their wine, and with good reason. I noticed that many families make their own wine, not to sell, but to consume with family.
Ouzo is a popular liquor in Greece made by the by-products from which they make wine. It's then distilled into a high-proof alcoholic beverage. Raki is their spirit of choice.
There are definitely some cities and islands best known for all day and night parties. Namely, Athens, Mykonos, and Ios are where people go for clubbing and nights of rampant hedonism.
Many of the houses and restaurants on Ios have a relaxed vibe, but the bars, nightclubs, and summer festivities get pretty crazy. Mykonos is known for its chic, vibrant nightlife scene, most famously including Super Paradise Beach. Athens also has some great bars and clubs. It's pretty normal to go to cafes before going out too. The absolute best time to party in Athens is in June, where you'll find the Athens Pride celebration. Both Mykonos and Athens are two of the most gay-friendly destinations in Greece.
Most night clubs will stay open until sunrise, and it's very common to start the party before the sun sets on the islands' beach parties. As always, where there are all night parties, there is a lively drinking and drug scene…
Travel Insurance for Greece
Travelling without insurance would be risky, so do consider getting good backpacker insurance sorted before you head off on an adventure.
World Nomads' mission is to support and encourage travellers to explore their boundaries. They offer simple & flexible travel insurance, and safety advice to help you travel confidently.
They've been doing it since 2002 – protecting, connecting, and inspiring independent travellers just like you.
Get a quote below or read our in-depth review!
If you are flying internationally, you will most likely fly into Athens' international airport. When travelling in Europe, it's also possible to score cheap plane tickets to most of Greece' airports.
Most of the big islands (Santorini, Milos, Mykonos, Crete, Paros, Corfu, etc.) have airports. This is a great way to save time while island hopping in Greece.
Greece doesn't have as good of public transportation as other European countries. There are trains, but the buses are going to be faster and cheaper.
Entry Requirements for Greece
EU citizens will only need their passport to enter Greece. Citizens of…
Australia
Canada
Israel
Japan
New Zealand
Poland
Switzerland
and the USA
…do not need to pre-apply for a visa. Their valid passport will be stamped on arrival. Other nationalities will need to apply for a Schengen Visa beforehand to visit all Schengen zoned countries.
As a non-European traveller, you can only stay in Greece and other Schengen zone countries for 3 months out of every 6 months. Once 6 months have passed from your original arrival date, the visa resets.
The Schengen visa can be a bit confusing because not all European countries are part of the Schengen zone…
Greece
Germany
Spain
Portugal
France
Belgium
The Netherlands
Italy
Scandinavian countries
Hungary
The Czech Republic…
Plus a handful more are part of the Schengen zone. A few other countries – namely Switzerland, Iceland, and Norway – are not technically associated with the EU, but they are part of the Schengen zone. Whereas, the UK, Ireland, and most Eastern European and Baltic countries, are not part of the Schengen zone, even though they are part of the EU.
Theoretically, you can stay in Greece for 3 months, and then hop over to a non-Schengen country – like Croatia, Albania, or Bosnia and Herzegovina – for 3 months, and then travel back to Greece with a fresh 3-month visa. A lot of long-term travellers plan their travels around the Schengen visa accordingly.
For more information, check out the official Schengen country list.
Getting around Greece is easy, but to save on travel costs, it's better to plan and book in advance.
Travelling Greece by Car Hire
If you are travelling with a couple people, it's actually cheaper to rent a car versus use public transport. Cars also give you the freedom to explore the Greek islands and beaches.
Renting a car is truly a great way to experience Greece at your own pace. You can sort your car rental for Greece in just a few minutes here!
Booking in advance is the best way to ensure you score the lowest price and your choice of vehicle. Often, you can find the best car rental prices when you pick up the rental from the airport.
Make sure you also purchase a RentalCover.com policy to cover your rental vehicle. Common damages such as tires, windscreens, theft do happen and having your own insurance can cover it at a fraction of the price you would pay at the rental desk.
Things go wrong and you'd hate for your trip to Greece to be short because of some accidental hit to the budget (and car).
Campervan Hire in Greece
Another great way to get around Greece – especially mainland Greece – is by travelling by campervan is one sweet option. I would highly recommend travelling by campervan in Greece as it's just such a magical method.
Certainly, having access to a campervan will open many doors to you. Accommodation will be cheaper, the sunrises much easier to get up for (plus you can go straight back to sleep afterwards), and you'll no doubt end up in some places truly off the beaten path too!
I highly recommend trying the vanlife in Greece if you can swing it.
Hitchhiking in Greece
Hitchhiking in Greece can be tough depending on where you are, but locals are friendly and can probably help out. Don't forget to write signs in English and Greek because many Greeks might not know English well.
Wild camping in Greece is forbidden by law. If you camp next to hotels or other tourist accommodations, the police may fine you. However, there are still a lot of remote beaches, far from touristy areas, where you can camp without police problems.
For more hitchhiking tips and secrets, check out Will's Hitchhiking 101 Guide.
Onwards Travel from Greece
Onwards travel from Greece couldn't be easier. If you are flying internationally, you will more than likely fly from Athens. Other European cities and the Greek Islands are connected by air as well.
If you are backpacking Turkey and Greece, you can fly, cross by land or sea. There is a land crossing via Kipi into Istanbul, and there are ferries to Turkey from the Dedocanese.  I recommend booking an international ferry in advance, especially in the summertime. If you are backpacking Greece and Italy, flying might be the fastest way to reach Italy, but there are also ferries that leave from the Ionian Islands!
There are multiple border crossings into Greece's neigboring countries:
Albania
Bulgaria
Macedonia
Buses are going to be the cheapest public transportation. The Greek railways run daily trains from Thessaloniki to Sofia and Belgrade. You can continue to Budapest via Belgrade.
Working in Greece is a mixed bag. On the one hand, it's a vibrant South European country. Living standards are high, the culture relatively Western, and, similarly, so are the work and employment ethics.
On the other hand, however, Greece has faced extremely substantial economic setbacks and downturns over the last couple of decades. Jobs simply aren't as prolific as they used to be, and you'll need a level of competency with the language for a lot of them too.
The standard traveller jobs are still easy enough to come by – teaching English, au pair work, hostel work, are all totally viable for a backpacker. It's worth noting that work permits for Greece can be a hassle to obtain though, so you may want to consider work of the more incognito and unofficial format.
Digital nomads, however, can work anywhere! The internet is decent in Greece. You'll be able to get free WiFi at most cafes, restaurants, and hotels, but many of the smaller islands have weak/slow WiFi. Does that make Greece a good destination for digital nomads?
Honestly, probably not. Any way you swing it, Greece is expensive to live in (and, again, facing an ongoing economic crisis). You really should just cross the border to Bulgaria, Albania, North Macedonia, or any other Balkan country and live the digital nomad life much more comfortably for less cash.
Volunteering in Greece
Volunteering abroad is an amazing way to experience a culture whilst helping your host community. There are plenty of different volunteer projects in Greece including teaching, construction, agriculture and pretty much anything.
The economic hardships faced by Greece over the last few years have brought about a huge necessity for volunteers. Backpackers can offer time and skills in a variety of areas, including animal care, wildlife conservation, decorating, and hospitality. Other opportunities include bartending and digital marketing. If you plan to volunteer in Greece for less than 90 days and are from a visa waiver country, then you can enter visa-free. However, there are specific requirements for long-term volunteers and travelers from outside the EU.
Want to find some awesome volunteering opportunities in Greece? Then signup for Worldpackers, a platform that connects local hosts with volunteer travelers. As a Broke Backpacker reader, you'll also get a special discount of $10. Just use the discount code BROKEBACKPACKER and your membership is discounted from $49 a year to only $39.
Programs run through reputable work exchange programs, like Worldpackers, are generally very well-managed and highly reputable. However, whenever you are volunteering do stay vigilant especially when working with animals or children.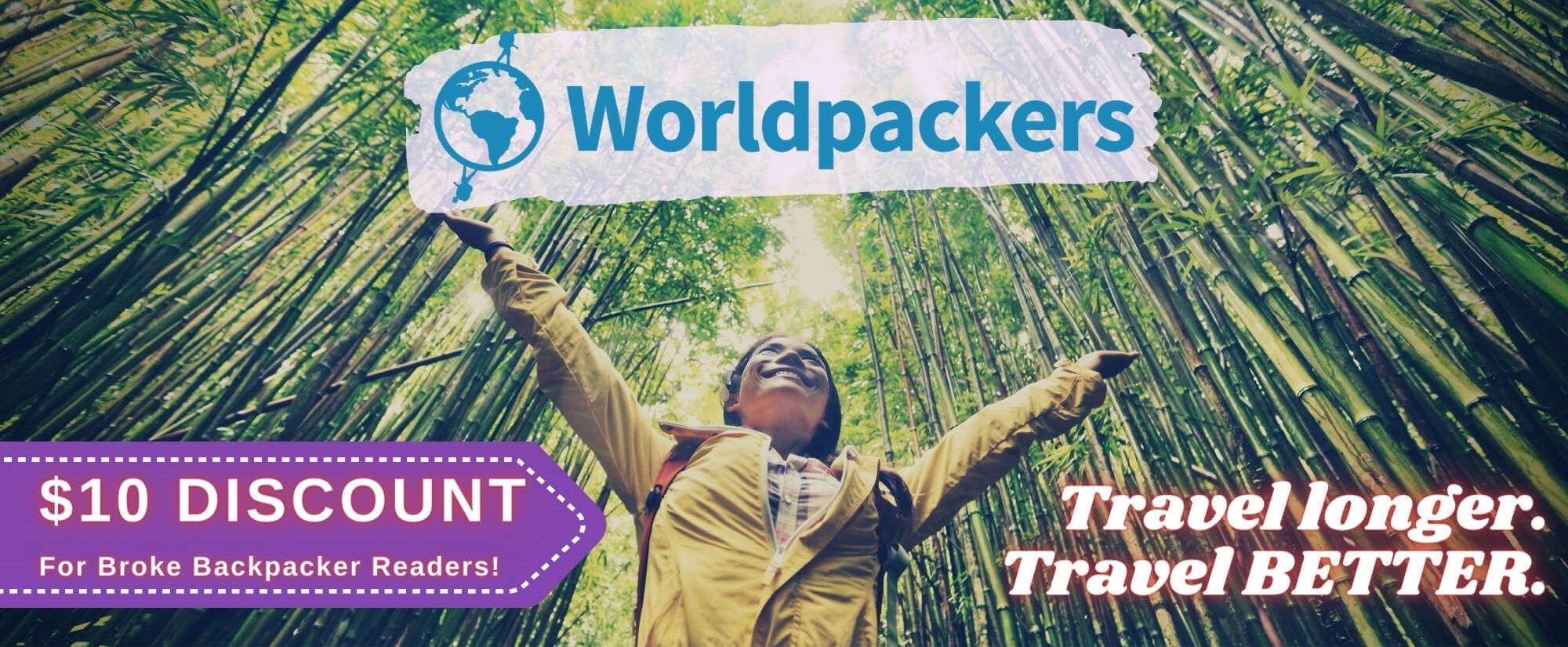 Worldpackers: connecting travellers with meaningful travel experiences.
There are lots of different types of restaurants and cafés in Greece:
Tavernas: These are informal, traditional restaurants that serve homestyle dishes, usually very meat/seafood oriented. Eating at a taverna is a total must while backpacking Greece.
Estiatorio: These are the more formal restaurants also serving the same type of food as tavernas.
Kafeneio: Small traditional cafes that serve coffee and spirits.
Keep in mind that Greeks dine late, and many restaurants close in the afternoons and reopen after 7pm. A lot of coffee shops and bars are open well late into the night in the bigger towns and cities too!
Popular Greek Dishes
Popular Greek Drinks:
For Greek cooking classes, check out this site for awesome deals.
For a country going through an economic crisis, the people still remain impressively generous, passionate, and hospitable! Greeks retain strong regional identities to their ancestors (Sparta, for example).
While most Greeks aren't devout, the Greek Orthodox Church is a large part of Greek's identity and culture. Overall, while backpacking Greece I found Greeks to be passionate about life and extremely friendly and kind.
Useful Travel Phrases for Greece
I have written the pronunciations for a few helpful Greek travel phrases below with English translations.
Books to Read About Greece
These are some of my favourite travel reads and books set in Greece which you should consider picking up before you begin your backpacking adventure…
Eleni (1983): Gage writes here about his mother, Eleni, who was murdered by communist partisans during the Greek civil war. The book is an account of the way a life that was destroyed by war. Gage's is a story of emigration and loss—themes essential to Greek culture—and also a study of how we cope with the tragedies of the past.
Ashes: Ashes is a suspenseful story of revenge, corruption, and conspiracy in Greek society.
Something Will Happen, You'll See: A collection of short stories about the working-class in the port town Piraeus. The stories focus on families, seniors, and young couples, who struggle to make ends meet. These stories give readers an insight into Greek life with the economic crisis.
Greece: A Traveler's Literary Companion: This is a compilation of 24 stories and essays based on the ancient Greek myths and modern tales.
Deadline in Athens: This is a crime novel about an Albanian couple and journalist murdered in Athens. The story is both a mystery and reflection of political and social realities in Greek society.
A Brief History of Ancient Greece
Greece is famous for some of the oldest human advanced civilisations, thousands of years BC, like the Minoans. King Minos is the mythical ruler of Crete, and Knossos on Rhodes had some of the oldest ventilation shafts and sewerage systems.
During the Archaic Ages, the ancient Hellenic people introduced the practice of polytheism (worship of many gods), with Zeus as the foundation. During Greece's Golden Age, Greece saw the renaissance of literature and art.
Around this time Athens often fought with the Persia. The 30 city-states formed the Hellenic League with an army and navy under Spartan command. Persia overtook Athens, but smaller Greek warships helped defeat the Persian army.
By the 4th century BC, Greece went on the decline. Macedon (modern-day Macedonia) convinced most of the city-states (except Sparta) to swear allegiance to Macedonia by promising Persia's defeat.
Alexander the Great conquered Syria, Palestine, Egypt, Afghanistan and northern India. En route to conquering the world, Alexander the Great died suddenly and his empire became an independent kingdom. Macedonia lost control of Greece.
While Alexander the Great rode East, foreign Romans started to invade from the West. This invasion wasn't all bad as many Greek cities had the freedom to self govern at some extent and established a status of education.
In 300 BC the Byzantine Empire came from the west as crusaders who said they wanted to "liberate the Holy Land fro the Muslims." For hundreds of years after, the Ottomans from central Asia began to rapidly expand the Byzantine Empire. Once again Greece was the battleground of two empires.
It's not all souvlaki and sunsets! Here are amazing must-do things in Greece – cool activities not to be missed!
Diving in Greece
Greece has some of the most beautiful waters in the world, and some crazy amazing dive sites. The Aegean Sea doesn't have a reef, so most of the dive sites emphasize exploring shipwrecks and natural formations, like caves. 
If you are backpacking Greece on a budget, I think snorkelling and freediving is just as fun and much cheaper, so bring your snorkel and fins! Alternatively, if you're loaded and a total diving aficionado, Greece is also a prime destination for a liveaboard trip.
If you want to scuba dive in Greece, check out "The Dome" off of Naxos Island in the Cyclades. This is an underwater cave that opens to an air-filled dome. Shinaria Beach off of Crete is one of the best places to observe marine life. You can see octopi, morays, lots of fish, and if you're lucky a couple of manta rays!
There are a couple of great shipwreck dive sites off of the Dodecanese. Queen Olga, off of Leros, is a legendary WWII ship. Panormitis, off of Kalymnos, lies at a depth of 32 meters.
Joining an Organized Tour in Greece
For most countries, Greece included, solo travel is the name of the game. That said, if you are short on time, energy, or just want to be part of an awesome group of travelers you can opt to join an organized tour.
Joining a tour is a great way to see a majority of the country quickly and without the effort that goes into planning a backpacking trip. However—not all tour operators are created equal—that is for sure.
G Adventures is a solid down-to-earth tour company catering to backpackers just like you, and their prices and itineraries reflect the interests of the backpacker crowd. You can score some pretty sweet deals on epic trips in Greece for a fraction of the price of what other tour operators charge.
Check out some of their awesome itineraries for Greece here…
Just be cool, yo!
It doesn't take much to backpack Greece responsibly. My biggest advice is to just be respectful to Greek people and their culture, but embrace it. Stay in a traditional beach house in Greece, mingle with the locals, dive into their unique cuisine, and dine alfresco whenever possible.
Furthermore, be sure to show the historical and archaeological sites respect too! Do not draw or tag any buildings or walls.
It's easy to understand why backpacking Greece is a magnet for anyone who enjoys the outdoors, history, and rich culture. This is the land of ancient myths of gods and giants, and beautiful beaches around every corner.
Depending on where you go, you can see ancient Byzantine, Venetian, and Greek history. In Greece, you can gaze upon Meteora's monasteries and historical sites that have stood for thousands of years, or you can lounge on sandy beaches and swim deep blue waters in hidden coves. You can eat fresh seafood by the ocean, or divulge in Greek delicacies at traditional tavernas.
The choice is yours. You just got to get there first!
---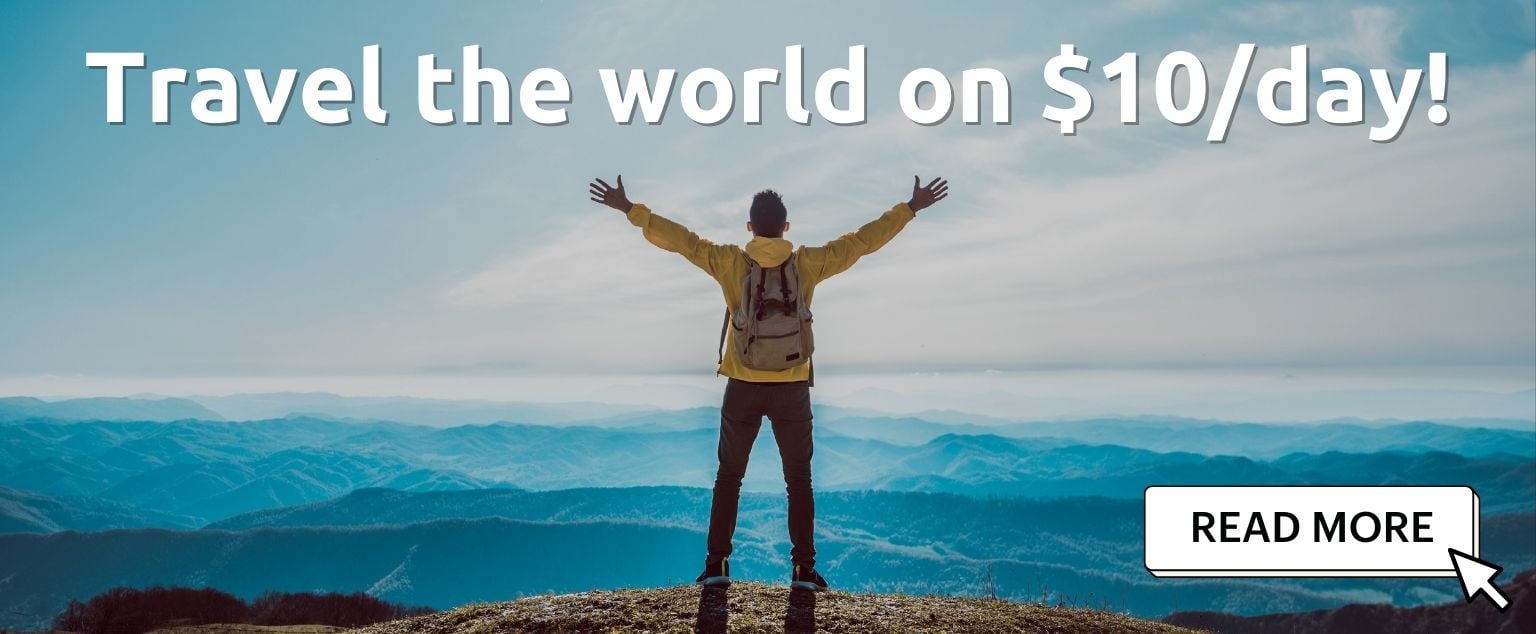 And for transparency's sake, please know that some of the links in our content are affiliate links. That means that if you book your accommodation, buy your gear, or sort your insurance through our link, we earn a small commission (at no extra cost to you). That said, we only link to the gear we trust and never recommend services we don't believe are up to scratch. Again, thank you!