A beautiful island gem in the Mediterranean Sea, Crete is the biggest of the Greek Islands. Once home to the ancient Minoan civilisation (Europe's oldest known civilization), the large island is steeped in history, culture, myths, and legends. It also boasts stunning beaches, incredible landmarks, rugged mountains, and lush countryside. From its vibrant cities to its tiny traditional villages, Crete offers myriad things to see and do. Although part of Greece, it has its own distinct cultural aspects and cuisine. There are many reasons to add Crete to your bucket list!
A popular holiday destination, many visitors are surprised by how large Crete actually is. Covering more than 8,000 square kilometres (3,000+ square miles), it takes some six hours to drive from one end of the island to the other. You could spend months on Crete without uncovering all of its gems. Narrowing down where to include on your Crete itinerary for a shorter vacation can be tough!
Don't panic, though! Our team of dedicated travel writers has compiled this awesome list of the best places to visit in Crete to make planning your trip so much easier. With a great mixture of popular attractions in Crete to suit diverse tastes and hidden gems, we really have got you covered. You might not manage to see everything but you'll definitely see the best.
Spoiler alert: some of these best places to visit in Crete are bound to blow you away!
Need a place quick? Here's the best neighbourhood in Crete:
BEST AREA IN CRETE
Rethymno
Rethymno is one of Crete's most delightful cities. The third largest town on the island, Rethymno seamlessly combines old world charm and historic landmarks with trendy restaurants and faultless beaches.
Places to visit:
Swim and sunbathe at the glorious Rethymno Beach.
Take an in-depth look at the history and folk art of the area at the Historical and Folk Art Museum of Rethymno.
Wander through the narrow streets and alleys as you hunt for the elusive Symbol of Rethymno City.
With those useful pointers covered, here are the ultimate best places to visit in Cre
These are the BEST Places to Visit in Crete!
Not only have we got the BEST places to visit in Crete all figured out for you, but we've also got your back when it comes to where to stay in Crete as well! Be sure to check it out before you scroll down any further and book yourself a stellar place to rest your feet at the end of a day exploring.
#1 – Heraklion – Possibly one of the most important places to visit in Crete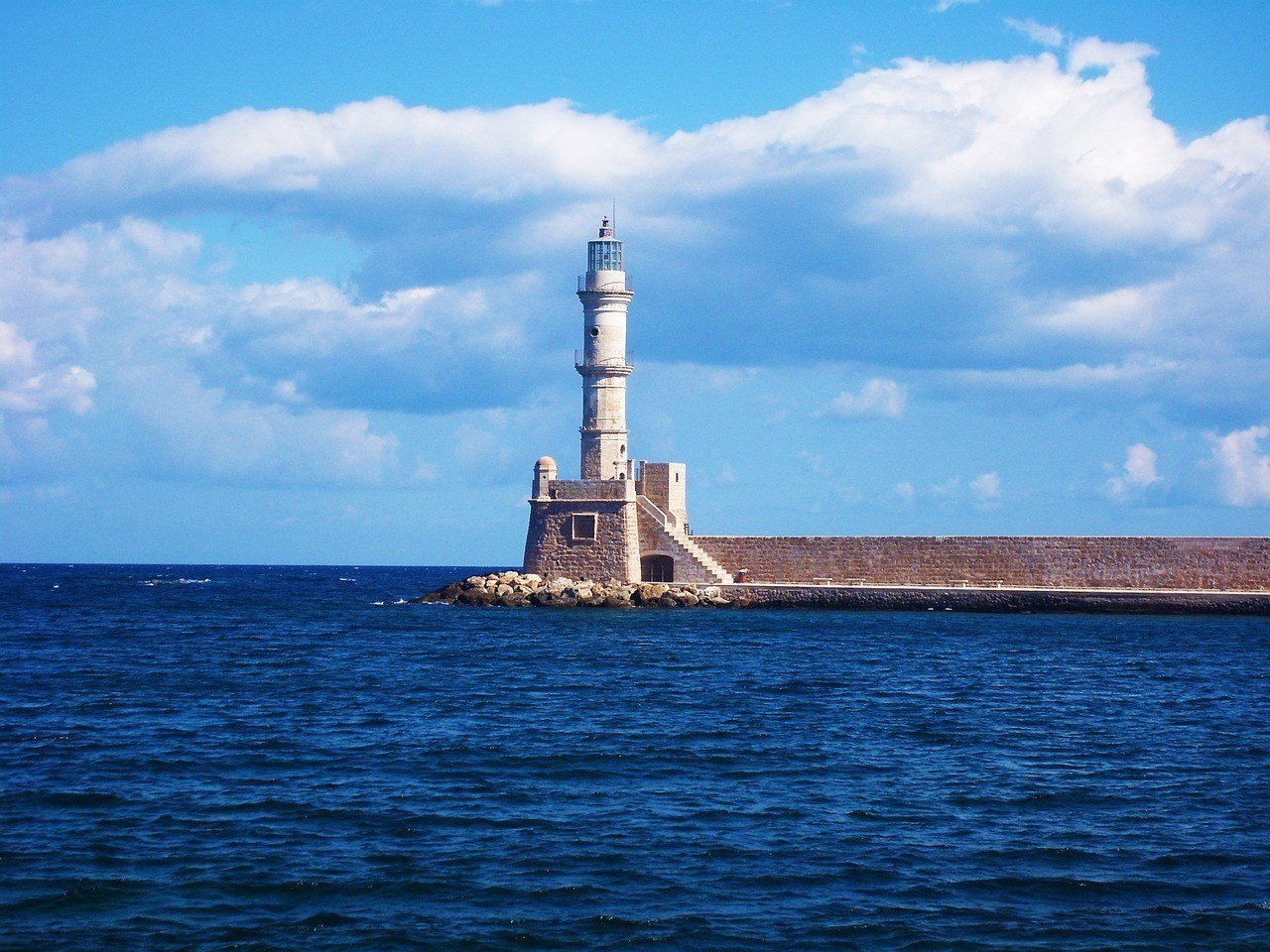 Island capital
Historical significance
Surrounded in myths
Diverse museums
Why it's awesome: Crete's capital, Heraklion is a bustling city with a long past. There are many historical and cultural attractions, and the city boasts a number of the most famous places in Crete. Despite being a modern city today, the area was once the home of the ancient Minoan civilisation; the Palace of Knossos is a Crete must-see. There are fascinating museums that transport visitors thousands of years back in time, stunning churches, family-friendly attractions, remains from the Venetian era, nearby beaches, and much more. Outdoor activities include sailing, rock climbing, and horse riding.
What to do there: Spend time exploring the awesome Palace of Knossos, often referred to as the oldest city in Europe and steeped in legends. The enormous palace was rebuilt after being destroyed by an earthquake, with the present remains constructed some 3,000 years ago. Said to have been the home of King Minos, the labyrinth was built to contain the fearsome Minotaur. Walk through the courtyard, see the split-level royal apartments, admire glorious frescoes, and learn more about local mythology.
Visit the grand Koules Fortress, built by the Venetians at the old port. Dating back to the 13th century, it's one of the most recognisable landmarks in Crete today. You can also walk along sections of the old Venetian walls. Dig deeper into the past at the informative and comprehensive Heraklion Archaeological Museum, the Museum of Cretan Ethnology, and the Natural History Museum of Crete.
Pay your respects at the burial site of Nikos Kazantzakis, a revered local intellect, and learn more about the eminent figure at Nikos Kazantzakis Museum.  Admire beautiful old religious buildings, like St. Titus Church, St. Minas Cathedral, and St. Mark's Basilica, and snap a picture of the handsome Morosini Fountain. Observe creatures from the ocean deep at Cretaquarium and cool down in the heat at the fun water parks of Aqua Plus and Water City.
#2 – Samaria National Park – A beautiful and scenic place to check out in Crete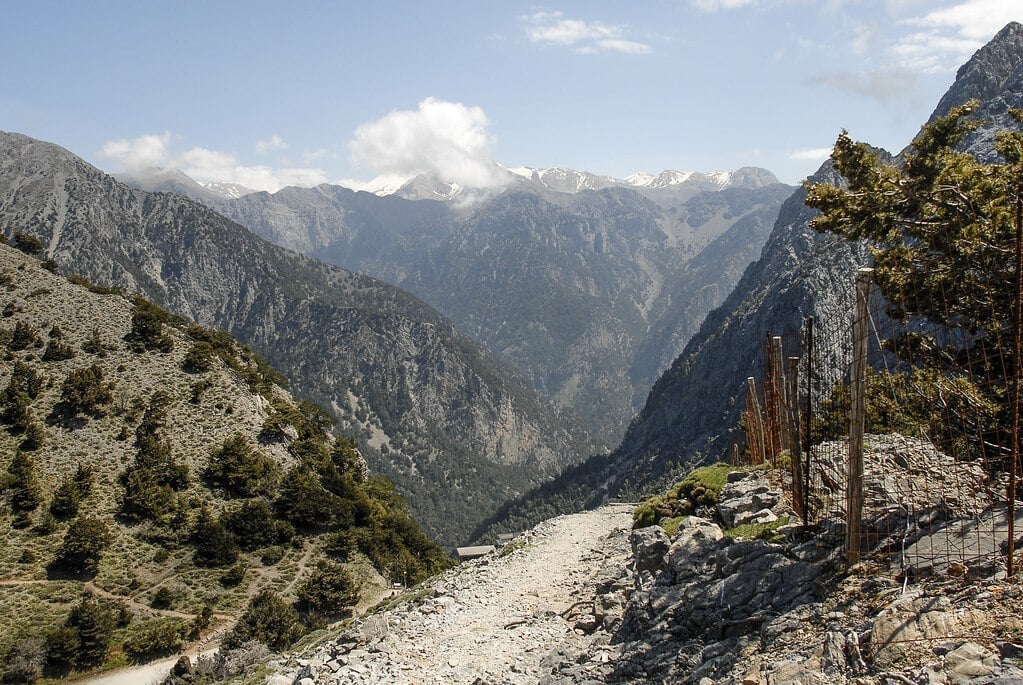 Excellent hiking
Stunning scenery
Interesting wildlife
Outdoor challenge
Why it's awesome: Samaria National Park is home to the Samaria Gorge, one of the most stunning natural hotspots in Crete and the longest gorge in Europe. Covering some 18 kilometres (11+ miles), the scenic gorge takes around six hours to hike. Home to various creatures and plants and boasting glorious views, the challenging hike is a top way to enjoy the great outdoors and appreciate Crete's picturesque landscapes. You should be physically fit to undertake the hike and you should pay attention to any safety warnings.
What to do there: Don sturdy footwear and fill up your reusable water bottle, which should definitely be on your Greece packing list, ahead of your hike and make your way to the starting point on the Omalos Plateau. Admire the vistas from the viewpoint and pass through The Gates—a narrow section of gorge flanked by towering rocks. Marvel at Mother Nature's handiwork as you hike the trail and keep your eyes open for wildlife like the hardy and endangered goat-like kri-kri, birds, spiny mice, and Cretan badgers. You'll also spot an interesting array of fauna. Watch your step as you cover rocky terrain, walk along wooden platforms across the water, and traverse steep inclines and declines.
#3 – Myrtos – A nice non-touristy place to visit in Crete
Peaceful ambience
Charming buildings
Relaxed tavernas
Historic church
Why it's awesome: The small coastal village of Myrtos is something of a hidden gem on the island of Crete. Although not as quiet as it once was, it still sees relatively few visitors when compared with other places on the island. Whitewashed walls line the narrow streets and roads lead down the hillside to the beach and promenade. Many of the quaint homes have pots of colourful flowers outside and the ambience is chilled out and laid back.
What to do there: Take a walk around the picturesque village, smiling back at the friendly locals as you go. Pay a visit to the historic Agios Antonios Church, thought to date back to at least the 1500s and rebuilt in the mid-1800s and further restored in the 1950s. In the nearby area, you can also visit the remains of ancient settlements. Bask on the gorgeous sandy beach and take a dip in the refreshing sea. There are umbrellas and sunbeds if you want to spend longer at the seaside. Call into one of the charming tavernas for a relaxed spot of lunch.
#4 – Chania – A very cool place in Crete to go for a day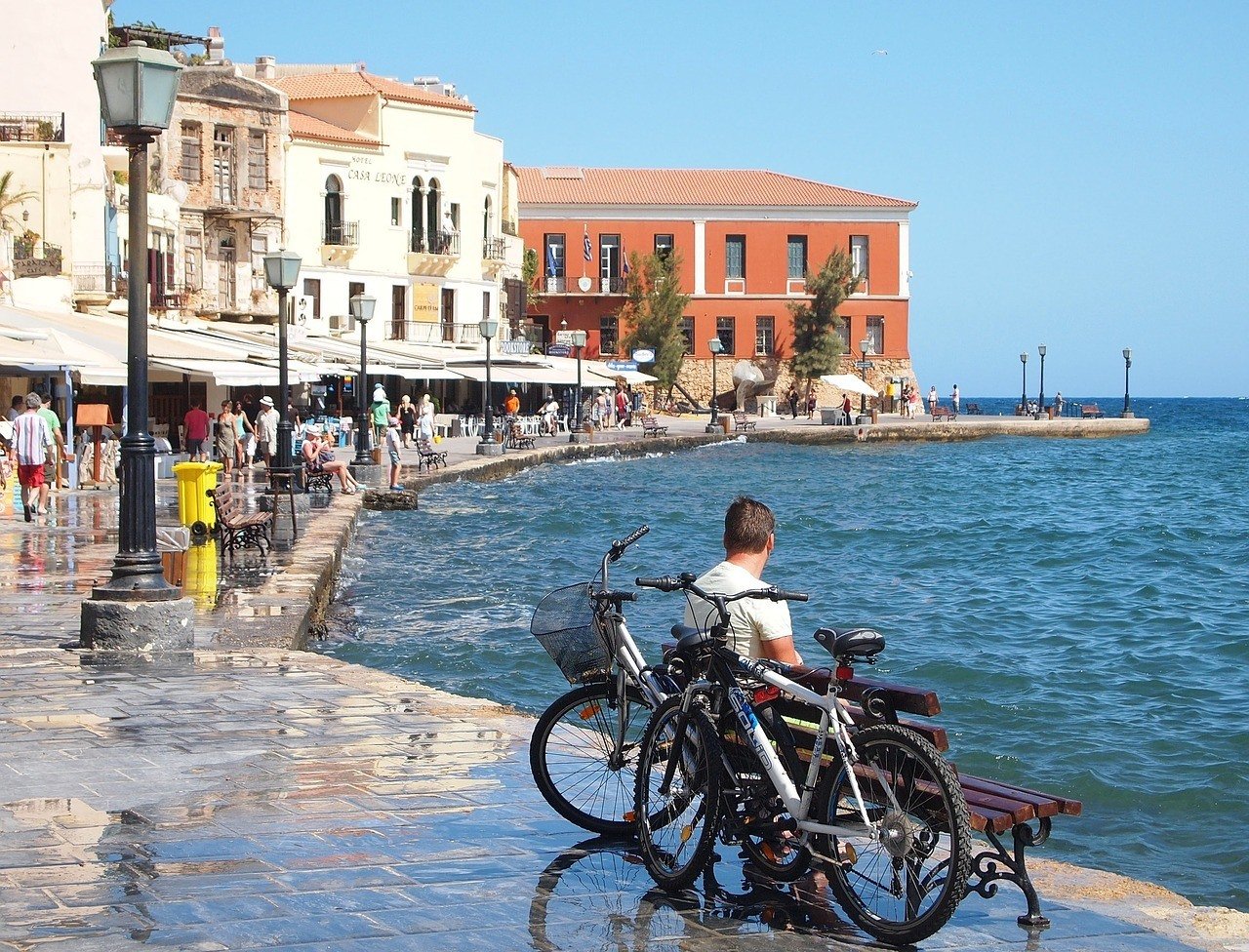 Lovely Old Town
Diverse historical influences
Lively market
Gorgeous views
Why it's awesome: The port town of Chania has a pretty Old Town and a wealth of things to see and do. With a Venetian and Turkish history, the town has maze-like streets lined by cute homes, tavernas, craft stores, and gift shops. Close to lively beaches, Chania also has attractive architectural delights, religious buildings, and a bustling market. It's a top place to explore when visiting Crete and you can spend hours discovering Chania's abundant charms.
What to do there: Wander through Chania's Venetian port, built over 300 years from 1320. You'll find the Arsenali, a row of former repair yards and dry docks, along with the Grand Arsenal, which is today home to the Centre of Mediterranean Architecture. Peek inside the replica Minoan Ship at the end of the port. Don't miss walking down to the iconic 17th-century lighthouse and admiring the coastal vistas.
Travel to times gone by at the Archaeological Museum of Chania, housed within an old monastery, and learn more about the area's sea-faring and trading past at the Nautical Museum of Crete. Tour the diverse religious sites, which include Etz Hayyim Synagogue, Chania Cathedral Trimartiti, Our Lady Catholic Church, and the former mosque of Yiali Tzami (now home to an art gallery). The lush Botanical Park of Crete is among the top Crete vacation ideas for couples, and the 1913 Chania Municipal Agora is a top spot for shopping.
#5 – Arkadi Monastery – One of Crete's coolest historical sites!
Symbol of independence
Stories of bravery and devotion
Beautiful architecture
Scenic surroundings
Why it's awesome: Situated close to Rethymno, visiting Arkadi Monastery is a Crete must-do for anyone interested in religious history. Occupying a special place in the hearts of many locals, the monastery is said to have been founded in the 5th century by a mighty Byzantine emperor. In the 1860s, many locals barricaded themselves inside the monastery to resist Ottoman forces, before setting the building and themselves on fire to avoid surrendering.
It is now seen as a national symbol for Greek independence. The setting is scenic, with olive trees and vineyards all around, and the architecture is mainly in the Venetian Baroque style (following renovations in the 16th century).
What to do there: Admire the attractive façade before exploring the different parts of the fascinating complex. Pay your respects to the brave souls who resisted capture in the ossuary—contained in a former windmill, it houses the bones and skulls of those who perished during the explosion. The skull and crossbones emblems either side of the main altar also reflect the monastery's tragic past.
Pay close attention to the trees in the courtyard and you'll find that one still has a shell from the past attacks embedded deep within its trunk. The shell is marked by an arrow. Feel a shudder as you see the crude marks on the wooden table in the old refectory—these indentations were caused by swords during a massacre. You can also visit the small onsite museum, the cloisters, the gunpowder magazine (which was, interestingly, once a wine cellar), and the surviving bell tower.
Is This the Best Daypack EVER???
#6 – Elafonisi – One of the most incredible free places to go to in Crete
Top-rated beach
Stunning vistas
Diverse activities
Interesting monastery
Why it's awesome: Crete's stunning Elafonisi Beach is often said to be one of the most beautiful beaches across the entire globe. The sandy beach can be found between the mainland of Crete and the small angular island of Elafonisi. Finely broken down shells have given the sand a pink hue in patches, while other parts of the beach are a pale golden colour. The turquoise waters shimmer and glisten seductively in the sunlight. At times, it's possible to cross all the way to the island on sand bars without getting a splash of water on your feet.
What to do there: Soak up the spectacular vistas of the picture-perfect beach, lay on the soft sands, and take a dip in the cooling waters. There's a large lagoon-like natural pool where the shallow waters are perfect for floating, paddling, and playing. Discover secret coves around the island to feel as though you've found your own little slice of paradise. Nearby, the Monastery of Chrissoskalitissa is one of the coolest religious points of interest in Crete. The 17th-century monastery is perched atop a rock and it can be reached by climbing the numerous steps.
#7 – Diktean Cave – One of the more unique places to visit in Crete!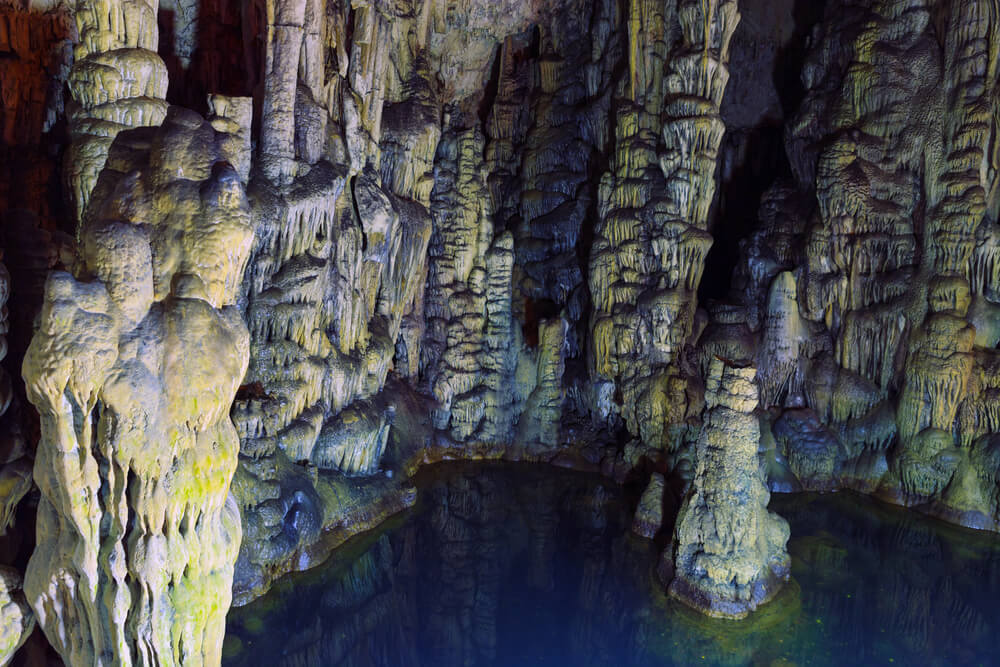 Legendary birthplace of a Greek god
Fantastic rock formations
Underground lake
Cool temperatures
Why it's awesome: Close to the village of Psychro, the rather eerie Diktean Cave is bound up in mystery and myth. You'll find the entrance to the subterranean cavern next to a rolling lush plateau that has been inhabited by people for several millennia. The temperatures drop significantly as visitors make their way down around 100 metres (328 feet). Impressive rock formations line the stairs and a large stalactite dangles down over the small interior lake. Adding to the air of intrigue, for many years the cave was considered sacred and regular people weren't allowed to enter.
What to do there: Hike to the cave's entrance from Psychro village and ogle the mighty rock formations as you descend into the dimly lit cave. See the large rock named the Mantle of Zeus that hangs down above the lake. Ponder the tales that surround the cave as you explore. It is said that Cronus the Titan used to eat his children as soon as they were born. In desperation, his wife, Rhea, hid one of their children in the cave and gave her husband rocks to eat in place of the infant. As the baby aged, he became the mighty Zeus, the king of all gods.
Small Pack Problems? 😉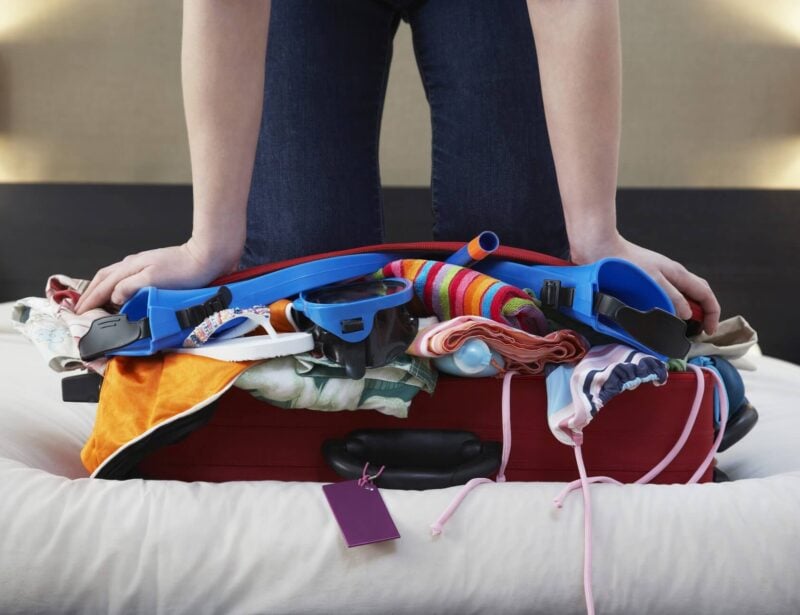 My missus travels with all her clothes in ziplock bags: don't be like my missus. UP YOUR PACKING GAME!
Packing cubes for the globetrotters and compression sacks for the real adventurers – these babies are a traveller's best kept secret. They organise yo' packing and minimise its volume too so you can pack MORE.
Or, y'know… you can stick to ziplock bags.
View Our Fave Cubes
Or Check Out the Sacks!
#8 – Asterousia Mountains – A beautiful outdoor place to visit in Crete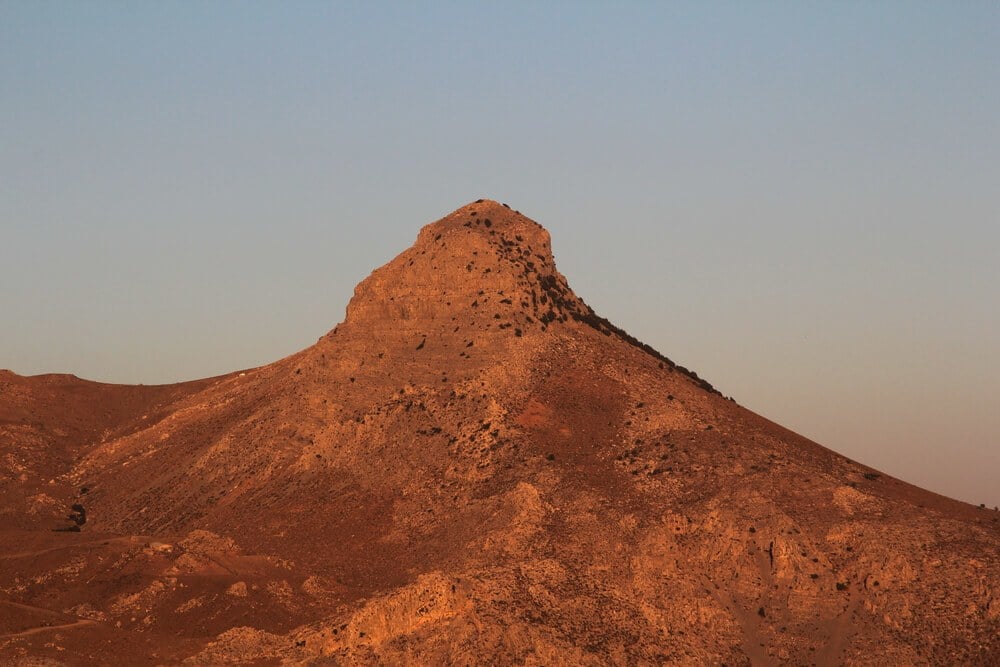 Outdoor pursuits
Unusual scenery
Lovely beaches
Cultural hotspots
Why it's awesome: The scenic Asterousia Mountains, located near Heraklion's coastline, boast striking landscapes. Rugged, fairly barren, wild, and with a somewhat unnerving atmosphere, the mountainous landscapes are pretty unique within Europe. A great place for hiking, nature spotting, and photography, there are also magnificent (and, relatively secluded) beaches close to hand, perfect for relaxing after an energetic day. Diverse activities are possible in the picturesque surroundings.
What to do there: Tackle Mount Kofinas, the highest peak in the mountain range, climb the lion-shaped Lendas Mountian and enjoy hiking in the gorges of Trafoulas, Martsalo, Trypiti, and Agiofarango. Explore the numerous mountain caves, some of which have been turned into small chapels. The small dirt roads offer great opportunities for mountain biking and off-road driving. Unwind on beaches, walk through palm groves, go rock climbing, and enjoy water activities like snorkelling, diving, and fishing. Inject some culture and history into your day with visits to Koudoumas Monastery Odigitria Monastery, and Apezana Monastery. Be sure to take measures to protect yourself from Mosquito bites too!
#9 – Agios Nikolaos – Great place to visit in Crete for couples!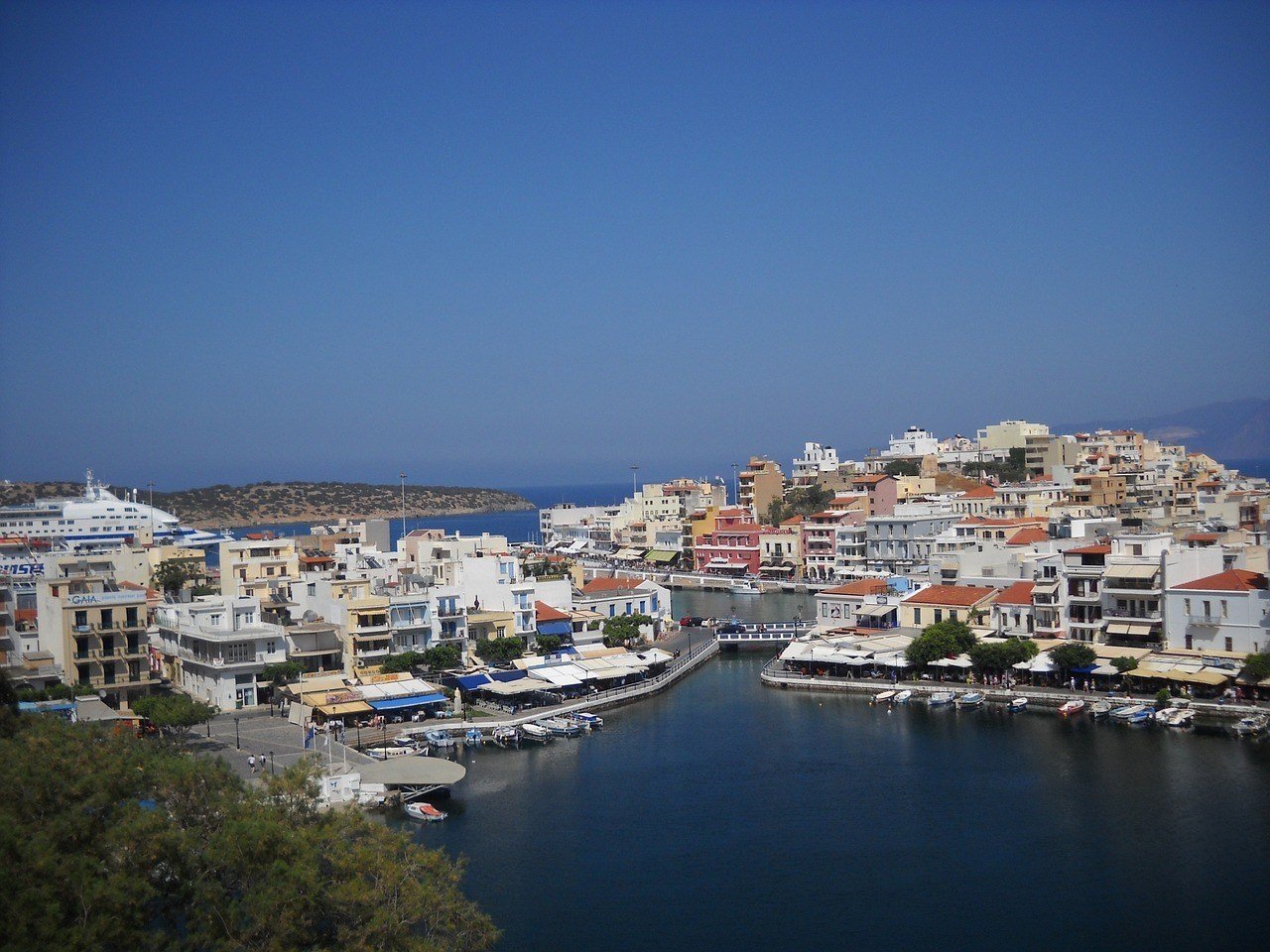 Nice beaches
Quaint churches
Laid-back air
Wide range of eateries
Why it's awesome: The town of Agios Nikolaos has a distinct vibe when compared to other Cretan locations. Combining both a relaxed air for people who prefer to chill and a bustling ambience for travellers who don't want to miss a second of their vacation, Agios Nikolaos blends arty attractions, natural features, charming churches, and more. A lovely place for couples to find romance, it's easy to feel right at home in welcoming Agios Nikolaos. There are plenty of intimate spots to eat and drink, with eateries that cater to all budgets.
What to do there: Visit one of the town's more unusual features: Lake Voulismeni. Cafes and restaurants sit at the water's edge and boats bob on the waters, waiting to take people out on pleasure rides. Connected to the harbour and the sea by a small channel, it's no longer technically a lake, but that barely detracts from its beauty. Peer down into the waters and you'll see that, despite being fairly narrow, the lake is dizzyingly deep. Catch a boat ride to Barbarossa's Cave and hit up lovely nearby beaches like Kitroplatia, Ammos, Havania, and Ammoudi. You can also enjoy great shopping in the town.
Get insured for your trip to Crete!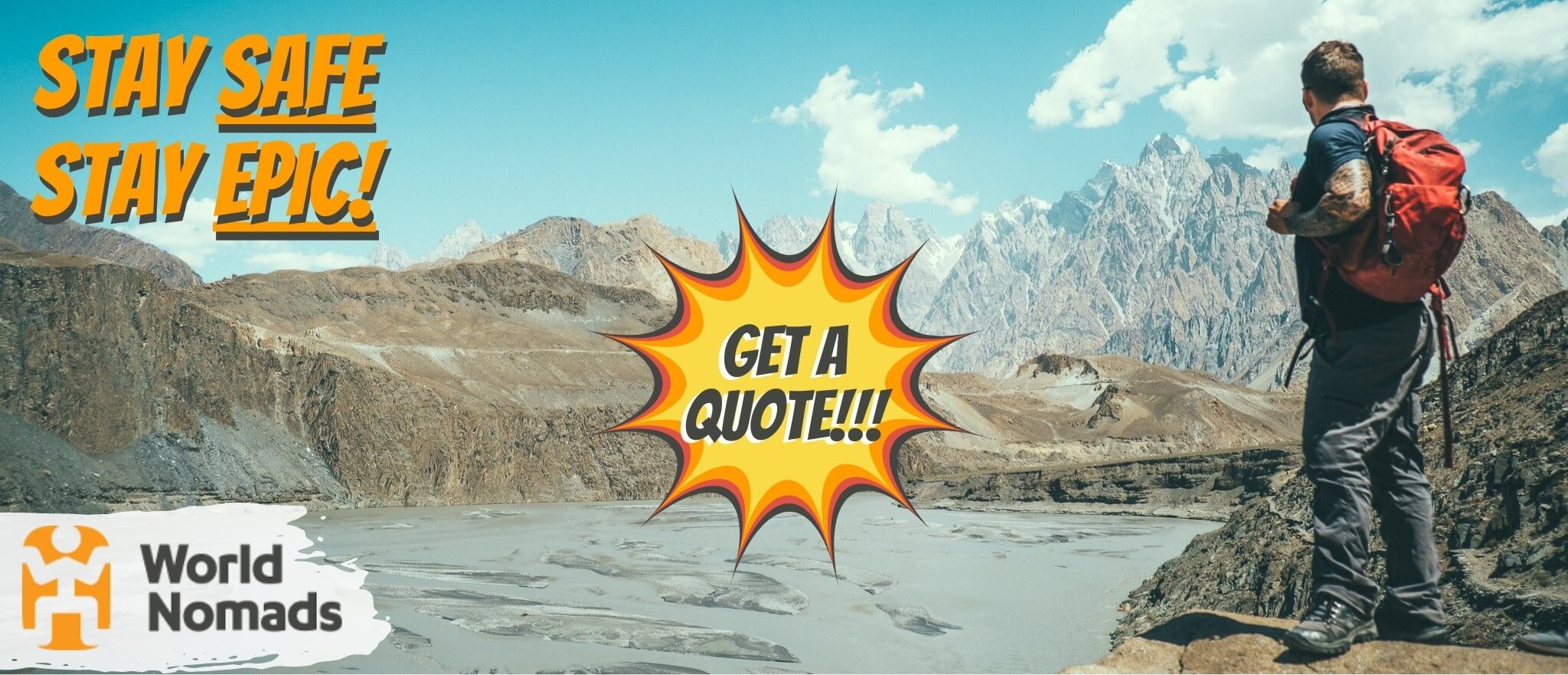 World Nomads' mission is to support and encourage travellers to explore their boundaries. They offer simple & flexible travel insurance, and safety advice to help you travel confidently.
They've been doing it since 2002 – protecting, connecting, and inspiring independent travellers just like you.
Get a quote below or read our in-depth review!
FAQ on the Best Places to Visit in Crete
Find out what people want to know about the best places to visit in Crete
A few more of the best places to visit in Crete to add to your wish list
Stroll around the attractive old town of Rethymno, wonder at the old stone windmills on the rolling Lasithi Plateau, relax in Sitia, and join the jet set in Elounda, from where you can also reach the small and deserted island of Spinalonga. Relish the quiet life in the laid-back village of Loutro, admire Balos Lagoon, hop a boat across to the uninhabited island of Gramvoussa, and discover more about Minoan times at Phaistos Palace and Archaeological Site.
Lap up the relaxing ambience of Sissi village, admire the Holy Trinity Monastery, trace the footsteps of people from the past at Gournia, and explore the once powerful Greco-Roman archaeological site of Gortina. Wondering what to do in Crete after dark? Head to the party central of Malia! With so many awesome things to do in Crete, it's all but impossible to find yourself with idle time on your hands on this marvellous Greek island.
---
Bye for now, but not forever!
If you want MORE top-tier Broke Backpacker content like this, then sign up for our weekly newsletter below to get the latest and greatest!
And for transparency's sake, please know that some of the links in our content are affiliate links. That means that if you book your accommodation, buy your gear, or sort your insurance through our link, we earn a small commission (at no extra cost to you). That said, we only link to the gear we trust and never recommend services we don't believe are up to scratch. Again, thank you!