You've probably considered Greece as a romantic honeymoon destination – a place for lovelorn couples looking to lounge on gorgeous beaches and while away the hours. But, by now, you've seen and heard enough to know that Greece is more than just its idyllic islands – it's also full of delicious food, ancient historical monuments and age-old vestiges well worth exploring – though we don't at all recommend skipping the islands!
If you're ready for your adventure, you first need to get all your essentials together for what to pack for Greece – without overdoing it, or leaving behind items you shouldn't travel without.
That's why we've compiled this Greece survival guide – to get your through your what to pack for Greece checklist as stress-free as possible! Keep reading for our top 22-needs for what to pack for Greece, recommendations on what to wear in Greece, a seasonal breakdown of what to pack by seasons and weather – plus packing tips specifically for gals and guys, and what not to pack for Greece.
Once you've taken care of all your Greece packing essentials, you can focus your efforts on the fun stuff – like eating delicious gyros and spanakopita, exploring the party scene in Mykonos and taking priceless selfies at the Parthenon. Oh, and working on your tan!
Ok, let's do this!
Top 22 NEEDS for Greece – Greece Packing List
#1 – Nomatic Travel Bag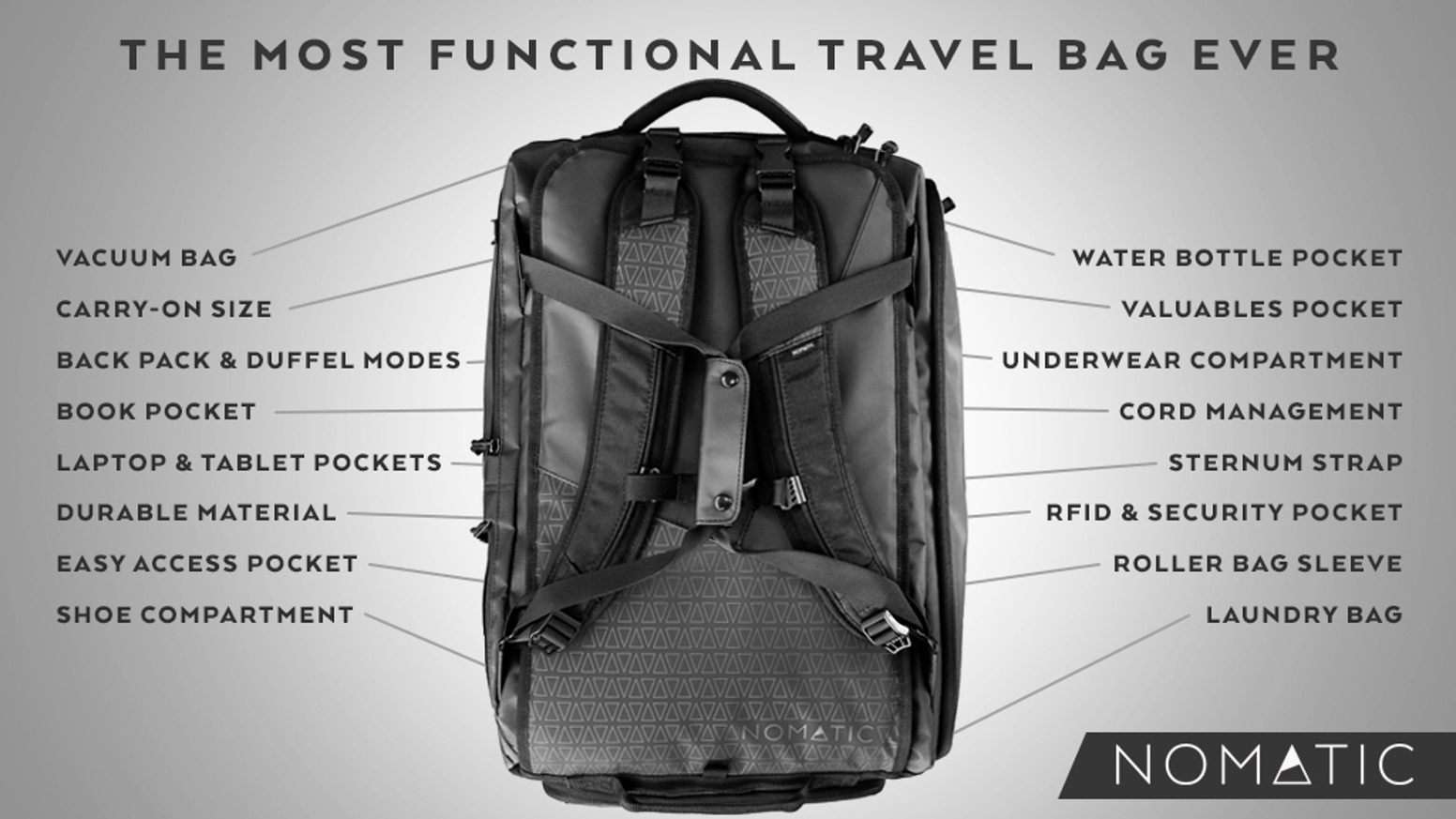 If you haven't quite found the perfect backpack for your travels – no worries – we've found it for you! The Nomatic Travel Bag has everything you need for what to pack for Greece – a compact bag with a spacious interior that includes cool compartments and pockets for tons of stuff – including and RFID security pocket to added peace of mind. Plus, its top-quality, waterproof materials makes it as sleek as it is durable. Check out our in-depth review here.
#2 – Active Roots Security Belt
While traveling through Greece, you need to be smart and vigilant – especially in big cities and crowded tourist destinations. Your best safeguard against pickpocketers is to keep money and passport copies close – with an accessory that doesn't make it obvious you're doing so. We love that the Active Roots Security Belt looks like a normal belt from the outside, but conceals a zipper pocket on the inside for a perfect hiding place!
Need a little more storage?
When moving from place to place, you should keep your travel documents and other valuables on your body. Your carry on isn't safe, even when it's under your seat or overhead.
A full-sized money belt that stays tucked under your clothes keeps your documents and cash organized during your travels and assures nothing critical gets left behind or stolen.
#3 – World Nomads Insurance
Travelers insurance is a must-have on your what to take to Greece checklist. A sudden illness, a need for emergency evacuation, unexpected travel cancellations, lost items and theft are all real possibilities while traveling. World Nomads Insurance is great because they offer affordable plans that cover you in all these situations. The minimal cost is totally worth it compared to the out-of-pocket costs you'll pay if you don't have insurance. And the peace of mind is beyond price.
#4 – Active Roots Water Bottle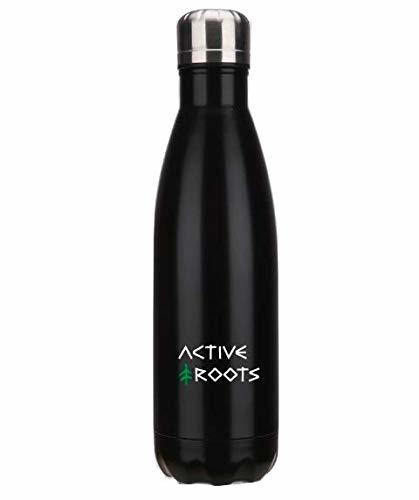 Greece basks under the Mediterranean sun most of the time, making it a warm and often dry destination. Plus, you can count on doing a lot of walking when visiting the cities and historical sites – so you need to stay hydrated. We like the Active Roots Water Bottle because it's stainless steel and keeps your water refreshingly cool for 24 hours. Also, it's super sized at 25 ounces – compared to the 17-ounce size of comparable bottles – to get you through longer treks.
#5 – Combination Lock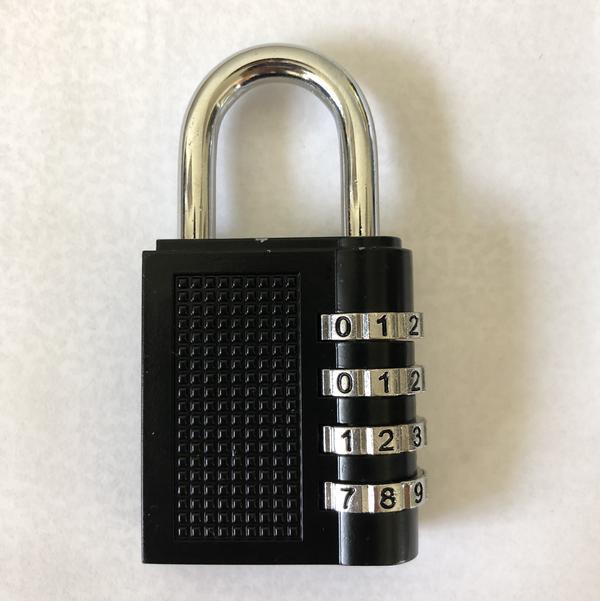 We advise always keeping your main travel bag locked – especially when left unattended in hostels or out of arms' reach on any sort of public transportation. A travel-friendly, simple lock like the Active Roots Combination Padlock is a good choice for backpacks. It locks with a combination that you can reset at any time in case you forget it – and means no need for an easy-to-lose tiny key!
#6 – Skeletool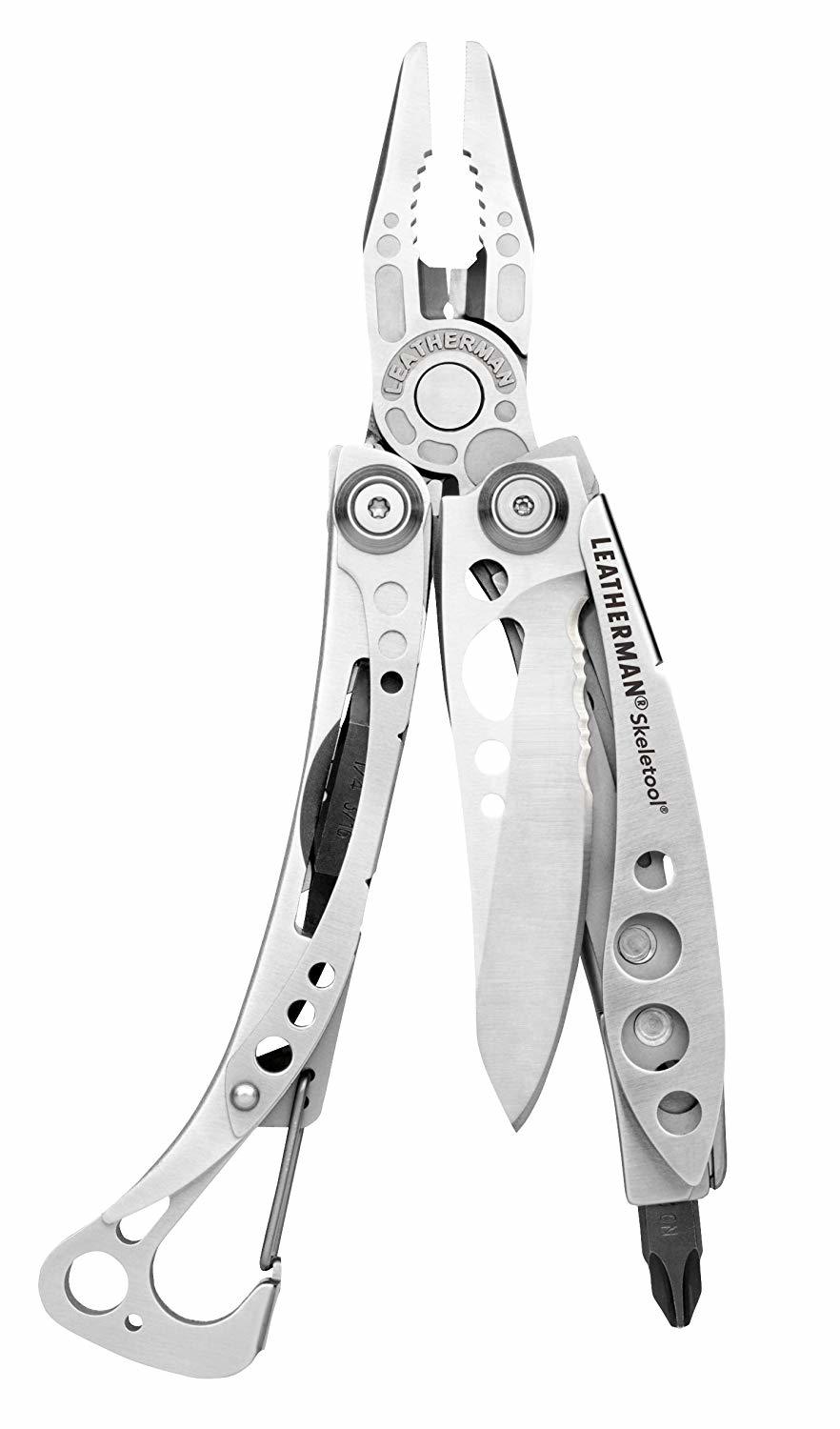 Every backpacker that travels with a multi-tool, like the Skeletool, appreciates its practical uses. By getting a travel-friendly keychain or pocket-sized one with useful tools, you can carry it around in your day bag for easy access. If you decide to have an impromptu picnic with some fresh bread, a block of feta cheese and a bottle of white wine – you'll be needing that small knife and corkscrew!
#7 – Active Roots Microfiber Travel Towel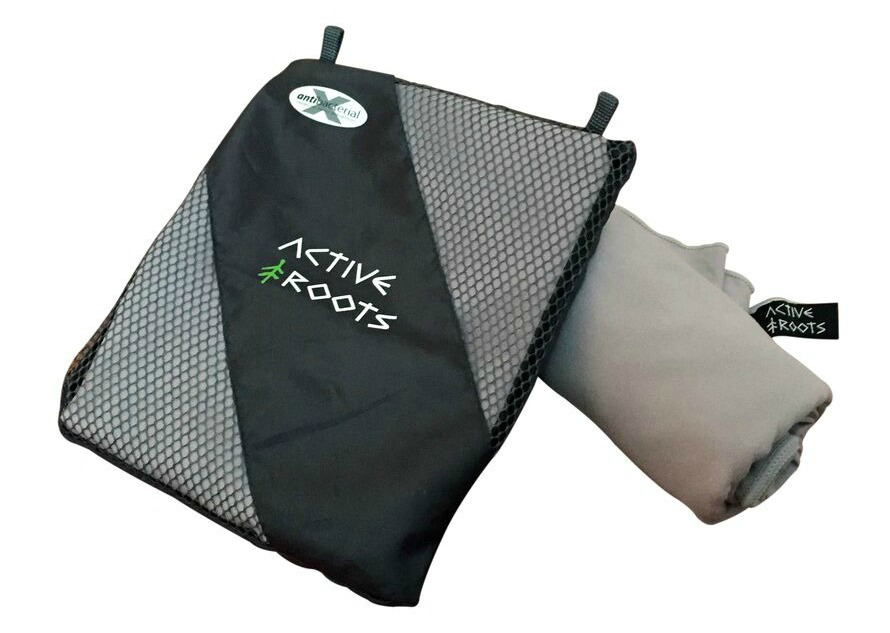 Another what to pack for Greece necessity is a travel towel. Being around water and getting wet is more than likely during your Greek travels, and carrying around a regular towel is bulky and heavy – especially when wet. We recommend the Active Roots Microfiber Travel Towel that's ultra compact and dries in under an hour. It's also possible to find substandard towels at your hostel – if any at all – making your personal travel towel that much more valuable!
#8 – Active Roots DayPack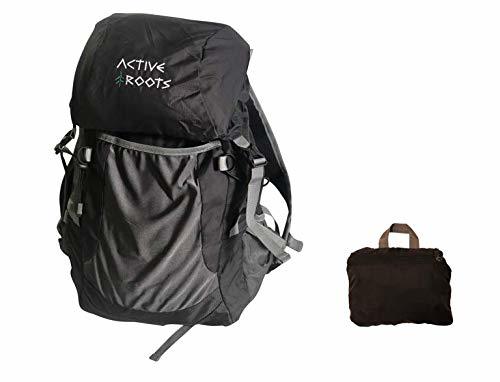 It's always worth having a daypack with you whenever you travel but often NOT worth carrying something bulky around. The Active Roots adventure daypack is hands down the best foldable day pack around, it comes with a water bottle holder, folds down super small yet provides plenty of space for your day-venture and is tough and sturdy.
#9 – Fairywill Electric Toothbrush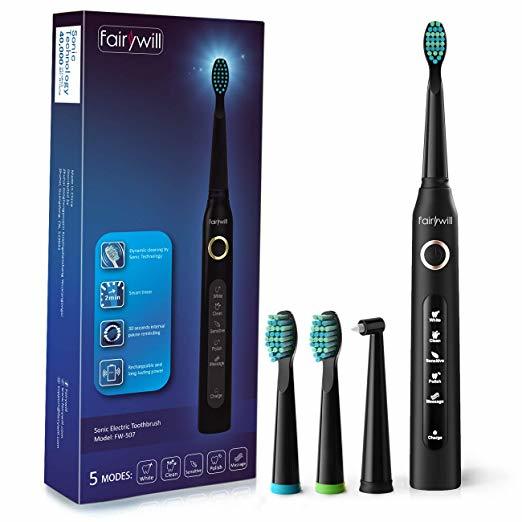 If you're used to traveling with a regular store-bought toothbrush, we'd like to recommend something new – upgrading to an electric toothbrush. We've become real fans of Fairywill Electric Toothbrush because getting your teeth thoroughly cleaned with three available modes – one of which is a glorious massage mode – feels amazing! It's also super travel-friendly with practically no recharging needed – you'll get 30 days of use from just one 4-hour charge.
#10 – SunGod Sunglasses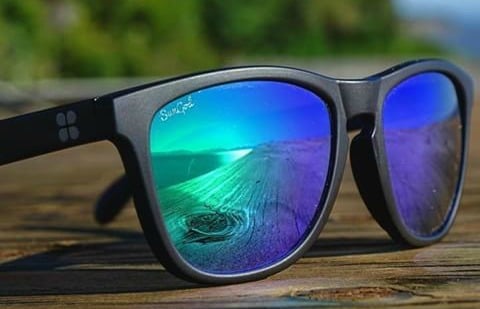 An item you definitely don't want to forget for what to pack for Greece is a pair of awesome sunglasses. Greece is a fashionable spot – you need a pair that meets the function and fashion requirement. You'll get both with SunGod Sunglasses – they're created for performance but customizable with your choice of frames and lense color to match your personal style. Their patented frame material and triple-layer scratch resistant lenses guarantee durability – and so does the SunGod Lifetime Guarantee! Read more on why they're awesome.
#11 – Sun hat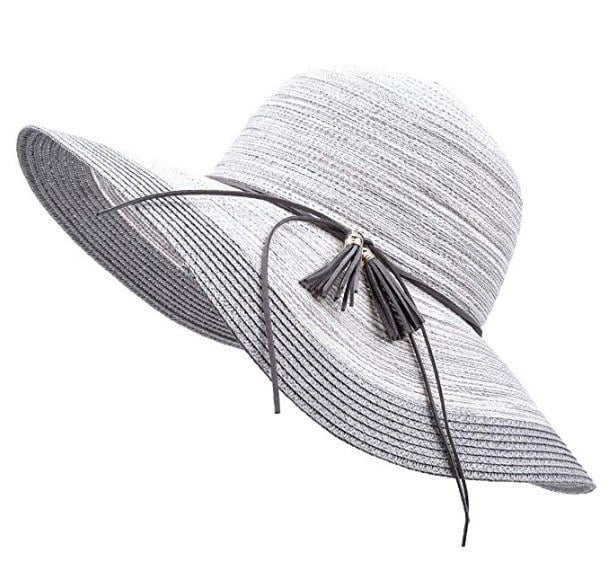 Speaking of practical and stylish items – nothing does that quite as well as a fashionable hat. Beach time and lots of outdoor exploring lead to tons of sun exposure, and a hat is the best way to protect your sensitive facial area. Plus, they add flair to any outfit and fit in nicely with Greece fashion, both on and off the beach. Wide-brimmed hats are best for women, and men can opt for a foldable straw or fedora-style hat for easy packing.
Check Price on Amazon Check Price on Amazon
#12 – Sunscreen
Spending a lot of time out in the sun and around the Mediterranean can quickly result in painful sunburns if you're not careful. Be sure to apply – and reapply – plenty of sunscreens. A sunscreen stick is a smart alternative if you want to minimize your liquid carry-on items and prefer something lighter and easier to carry around in your day bag. If you wait to buy it in Greece, you'll end up paying more, so better to take it with you.
#13 – Travel Jungle Gym Set
Whether you're traveling for a weekend or for a year, it's difficult to keep your usual workout routine on the road. There are loads of workouts online to print and follow, but there's nothing like being in a gym with proper exercise equipment. Enter: Monkii Bars. You can set up your workout station anywhere – hotel rooms, mountainsides, your backyard – and the pocket gym comes with its own app so you can learn the ropes (cough, cough) of staying fit on the road!
#14 – Camera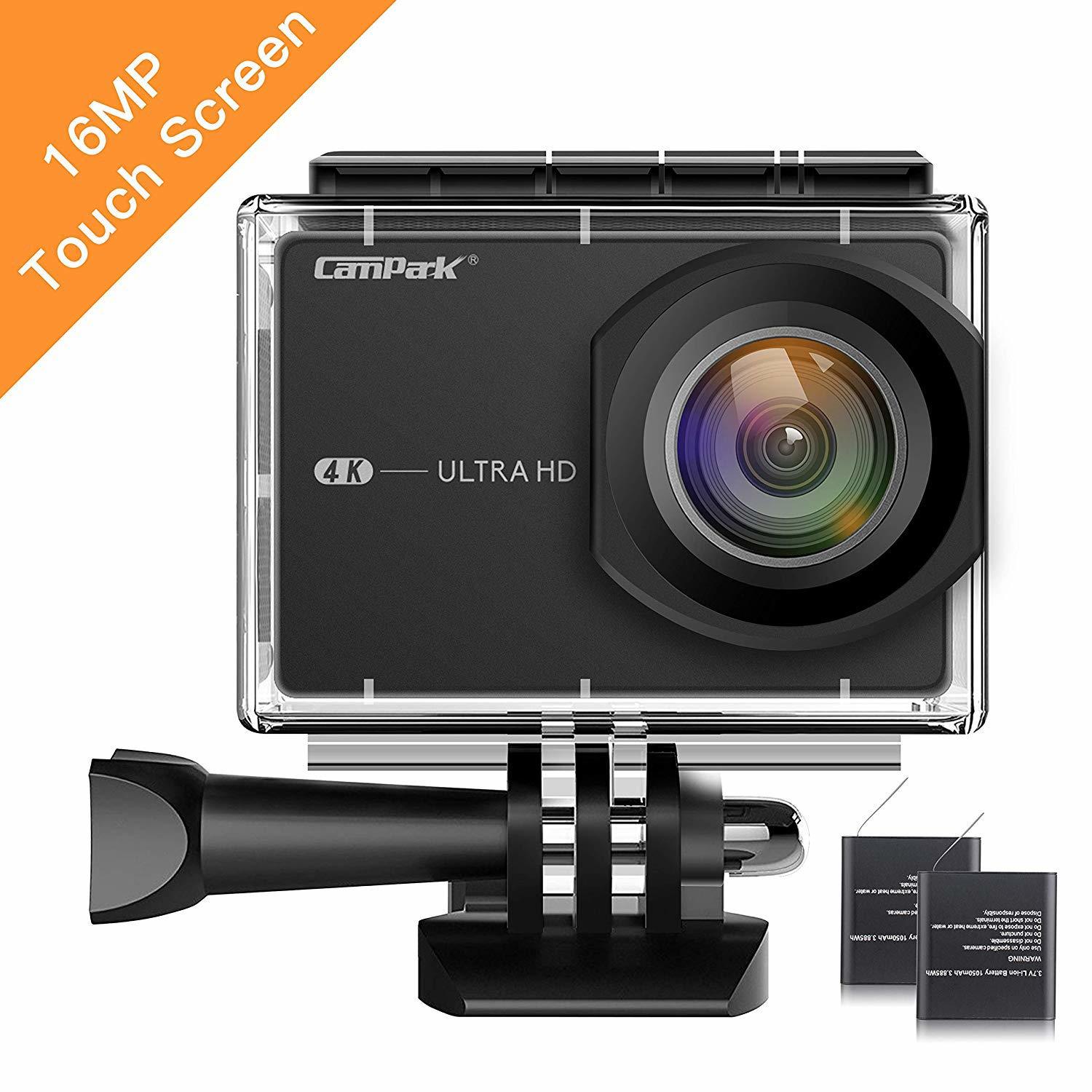 Greece is just too gorgeous and offers way too many stunning photo ops to not add a high-resolution camera to your what to pack for Greece list. Phone cameras are great, but you need something that can do the azure blue water justice – and you'll be around water a lot. You may want to consider an affordable HD action camera that's waterproof for capturing some epic beach and water shots – and videos!
#15 – E-reader or Kindle
Spending hours lounging and sunbathing on Greece's paradisal beaches is a common travelers' pastime on the islands – and who can blame them? Reading is the perfect leisure activity for beach time, but books are heavy and bulky to carry around. The best solution is to pack an e-reader or Kindle where you can download your reading list and that will practically weightlessly pack away into your backpack and day bag. Having the Kindle's anti-glare screen also helps for easy readability in that bright sunshine!
#16 – AR Toiletry Bag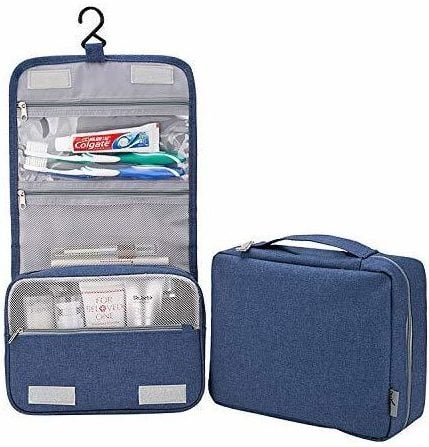 Another backpacker favorite for staying organized is a hanging toiletry bag. It's extremely helpful to have all of your accessories neatly gathered in one bag that you can hang for easy accessibility, especially when counter space isn't plentiful or even available. A well-organized bag is worth having whether you're tree whilst camping or a hook in the wall – it helps to have quick access to all your stuff.
#17 – Travel Adapter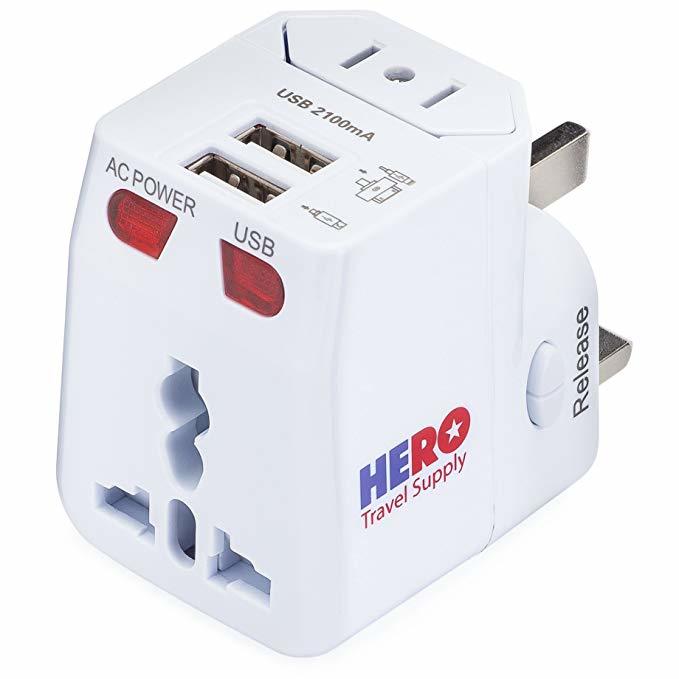 If you want to keep your electronics charged, don't forget to include a travel adapter in your what to pack for Greece inventory. If you have a European travel adapter, you'll be fine because Greece is the same as most of Europe, with outlet types C, E, and F. Or get a universal travel adapter that you'll be able to use worry-free for almost all your travels worldwide.
#18 – Portable Charger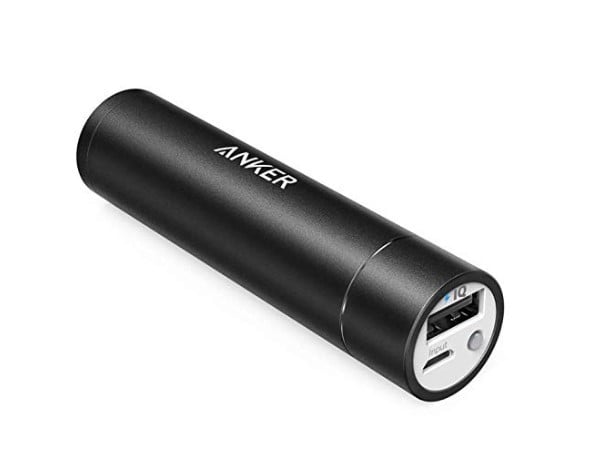 Traveling with power to charge your electronics – like your phone, camera, or e-reader – is a smart idea. After a long day of exploring away from an outlet – you'll find your phone quickly in the red. And it's a bummer getting settled on the beach for a day of relaxation only to find that your Kindle is dead. A small lipstick-sized portable charger is best because it's light and convenient to slip into your day bag.
#19 – Mosquito Repellent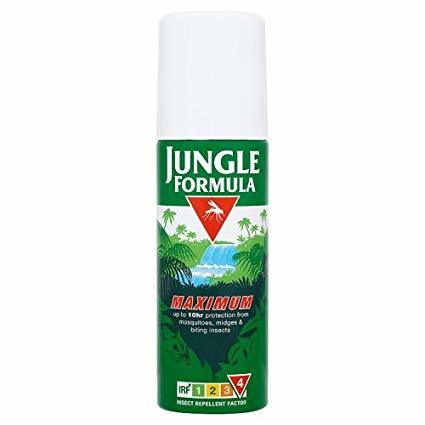 Summer is not only high tourist season in Greece – it's mosquito season too. The best way to protect yourself from getting bitten by these pesky buggers is to pack DEET-containing mosquito repellent. Our preferred brand is Jungle Formula Maximum Range because it has 50% DEET, which is the strength recommended by the World Health Organization. You can get it in roll-on form if you want to limit your liquids – but also available in aerosol and pump spray.
#20 – Travel Pillow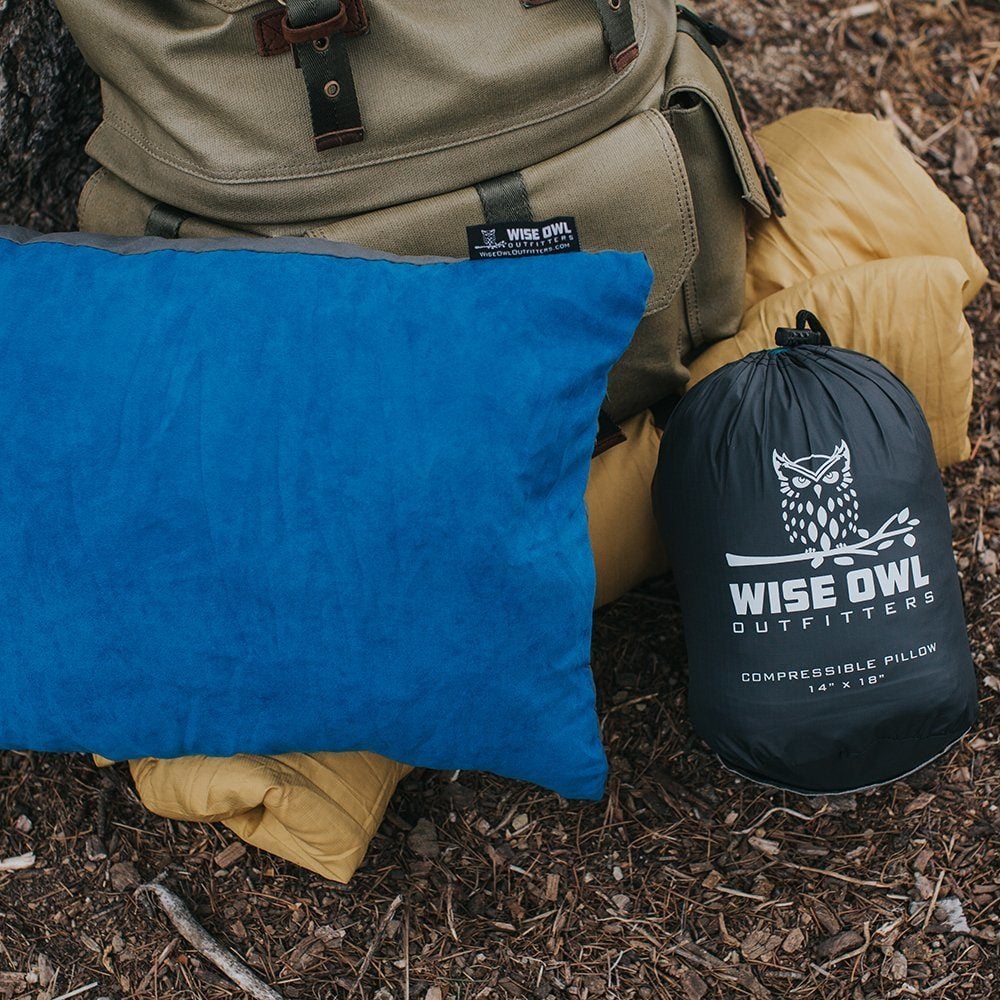 A travel pillow is a backpacker's staple for all trips and is recommended for what to pack for Greece. It'll make flights and long ferry rides between islands more comfortable if you want to lay back and get comfy. It's also nice to have for hostels if the condition of their pillows is questionable. One that folds into an easy-to-pack compact size is the best way to avoid carrying extra weight and bulk.
#21 – Sanitizing Wipes
We're hard pressed to think of a destination where it isn't convenient – and necessary – to have a travel pack of sanitizing wipes readily available. Whether to clean your hands before digging into your plate of hummus and pita bread or to disinfect after visiting a germ-ridden tourist hot spot – a sanitizing wet wipe always comes in handy. Be sure to pack a few packs because you'll need them in stock at all times!
#22 – Travel First Aid Kit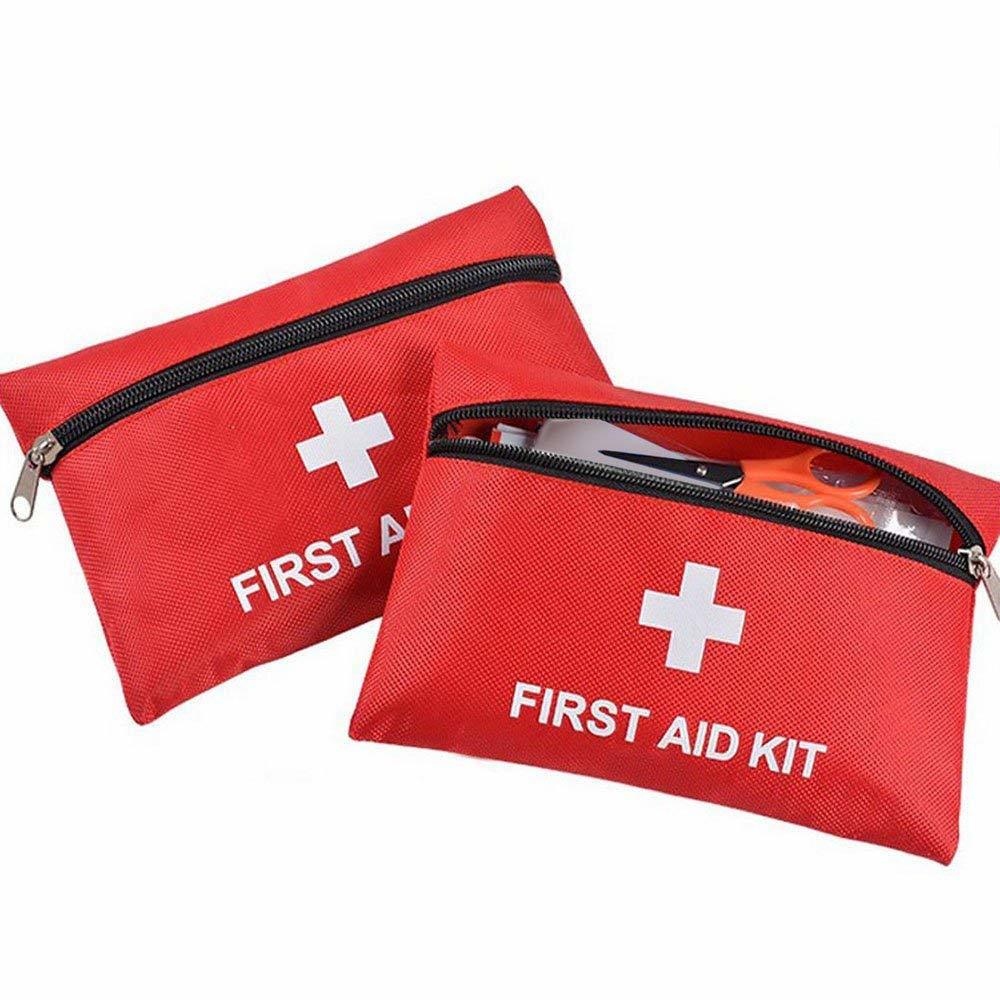 Regardless of your travel destination or nature of your trip, packing a mini first aid kit is essential. You'll find items to buy in Greece, but figuring out where the nearest pharmacy is when you need something right away is a hassle and inconvenient. Bring along basic items like band-aids, alcohol pads, bandages, anti-diarrheal and headache medicine – common necessities that will get you by in a pinch.
What to Wear in Greece
With its Mediterranean, island environment – there's a laid-back and relaxed vibe when it comes to Greece street fashion. But it's still Europe, after all, so casual wear shouldn't be too casual but more along the lines of smart casual.
You're not likely to see people wearing ill-fitting clothes or shorts that are too short. Revealing attire isn't the norm either – unless you're on the beach. It's best to pack accordingly when planning out what to wear in Greece.
For women, the best versatile clothing items for what to pack for Greece – and that are easy to dress up or down – are dresses, long skirts, linen pants, t-shirts, blouses, and long-sleeve shirts. For colder months, a pair of skinny jeans and leggings paired with a long shirt and cardigan is a classic look. For what to wear in Greece at night, adding a layered necklace or fashionable earrings will add just the right touch of flair.
Men should pack cargo shorts, a pair of chinos, solid-colored t-shirts, slim fitting button-down shirts, and jeans for cooler weather. A light jacket and sweater will also come in handy for chilly nights.
If visiting sites of worship or monasteries, be aware of the dress code that requires women to have their shoulders and legs covered past the knee; men are required to wear a pair of trousers.
Visiting Greece in Summer
You can expect summer Greece weather in May, June, July, and August to be hot. Random showers are possible but are quick to come and go – making summer the time for Greece's most stable weather.
Please note that if you plan on traveling inland, July and August's hot and muggy conditions can feel brutal – and possibly unbearable to those sensitive to heat. Temperatures can easily reach over 100° F, with average temperatures ranging from 80 to 90° F.
In the hot and sunny Greek summer months – especially in the breezier coastal regions and islands – tourism is at its peak. Expect higher prices, more crowds and longer lines pretty much anywhere in Greece you go. It's always good to know how expensive Greece really is, before you start your travels.
Your Greece packing essentials for these months should include clothing made of breezy, breathable material – like lightweight cotton, rayon or linen. Dressy shorts, short-sleeve shirts, t-shirts and summer pants are all good choices for what to wear in Greece in summer. Greece outfit ideas for women are a pair of chino shorts and a tank topped with a chiffon kimono shawl; or a long flowy sundress with a wide-brimmed hat.
You'll definitely want your beachwear – so pack those swimsuits, waterproof camera, flip flops, and sunglasses. And whatever you do, don't forget to apply sunscreen!
Visiting Greece in Fall
The intense heat starts to dwindle in the fall, as do the tourist crowds – though not completely. Many consider September, October and into early November the best months because it's still sunny for the most part – allowing for plenty of outdoor activities – while Greece weather reaches more tolerable temperatures. Average fall temperatures are between a pleasant 60 to 70° F.
Fall is also a beautiful time to enjoy Greece's magnificent landscape – colorful autumn foliage and glorious mountains are a sight to behold and offer epic hiking opportunities. You can also take part in grape and olive harvests, making for a unique Greek experience. Not to mention, you're more likely to find stretches of beach to yourself!
Though not too cold, your what to pack for Greece autumn wardrobe should include basic layers. Pants, shorts, jeans, t-shirts, and long-sleeved shirts are advised. Bring a light jacket, cardigan and button-up shirt that you can layer on top for what to wear in Greece at night as conditions get chillier. You'll also want a scarf – both as a fashion accessory and to keep cold breezes at bay.
Depending on what season it is, you may be staying in one part of Greece or another. Pick the most

perfect hostel in Greece

and use it as a base of exploration!
Visiting Greece in Winter
The winter months of late November through February are Greece's coldest months, though still not too cold. The exception is if you're heading up north and in the mountains, conditions can be quite cold. The southern coastal areas cool down but aren't extreme. Winter temperatures average between 50 to 55° F.
If you really want to experience crowd-free historical landmarks and ancient ruins, then you may want to consider winter for your travels. Greece offers skiing, snowboarding, and thermal lake swimming opportunities, too. Greeks also celebrate 12 days of the Christmas season and the surroundings get very merry and festive for the holidays – so if you're in the mood for the Christmas spirit Mediterranean-style, you won't be disappointed!
For winter packing, we again recommend layers. You'll want dark jeans, another pair of comfortable yet stylish pants, long-sleeve tops, light sweaters, and a light jacket. You'll undoubtedly encounter some winter rain, so pack a waterproof jacket or shell and a travel umbrella to stay dry. Include a scarf and a hat to adhere to typical holiday Greece fashion.
Visiting Greece in Spring
The spring season doesn't last too long in Greece – it's considered to be only the months of March and April. Greece weather is variable at this time and rain is common, so you'll want to pack accordingly. Otherwise, temperatures stay warm and pleasant with average temperatures between 55 to 65° F.
Like fall, a bonus of spring travel is not having to deal with swarms of tourists at historical and archeological sites and museums. Locals and restaurant staff have more time to interact with visitors without having to keep up with the rush of the summer crowds. Blooming flowers everywhere make for a gorgeous backdrop too.
As for what to pack for Greece for the spring, choose versatile options to cover possibly fickle conditions. Expect a combination of cool, wet days and warm, dry days. Greece outfit ideas include a pair of chinos, light v-neck sweater and a rain jacket for rainy days; for sunny days – a pair of linen pants, a cotton short-sleeve shirt topped with a cardigan or light jacket makes for a smart and fashionable Spring look. Remember that you can always further spice up your look with a colorful lightweight scarf and a cool hat!
What Shoes to Pack for Greece
You'll want to apply your function meets fashion lense when deciding what shoes to pack for Greece. You'll be doing a lot of exploring on foot in mostly sunny weather, so your top priority is a comfort. The next priority is the practical style.
For warmer spring and hot summer weather, sandals are the most fitting for you what to take to Greece checklist. Both men and women wear flat leather sandals for touring around and sightseeing, and they dress up perfectly for nice dinners and for what to wear in Greece at night. A flip-flop style shoe is perfect for beaches and island water activities.
For rainier seasons, like spring and winter and even fall – consider packing a pair of waterproof walking shoes or boots. For women, low-heeled leather or faux-leather boots or booties are stylish and will keep your feet dry and comfortable. For men, you can't go wrong with a pair of lace-up leather ankle boots that go with all types of outfits, from casual to dressy.
An optional second pair of shoes that work in all seasons for guys are loafers; they look nice in the spring or fall and also compliment what to wear in Greece in summer for most men. Ladies should consider packing a pair of ballet flats. They're versatile for all seasons – also keep in mind that many Greek archeological sites have a strict rule of no shoes with narrow heels due to the possibility of damage to the ancient stone pathways and monuments.
Females – What to Pack for Greece
Hey ladies, here are our top tips on what to add to your what to pack for Greece list!
For fashion and convenience
You may find yourself spending a lot of time in your swimsuit in Greece – the seaside and island beach opportunities are too abundant and enticing not to! Dining or grabbing a refreshment at the many beach cafes and restaurants is definitely recommended, as you'll enjoy a delicious treat with a beautiful view. We suggest packing at least one or two fashionable beach cover-ups that are easy to slip on and look stylish too!
Another recommended fashion item for what to pack for Greece for you ladies is a pashmina or shawl. Heavy outer layers aren't usually necessary in Greece's climate, but you will encounter breezy nights – especially by the beach. A pashmina is also lightweight to carry and comes in handy when visiting mosques that require covering your shoulders or for wrapping around your waist to cover your legs!
Pack accessories that keep you safe!
Infinity scarves are chic and classy, but some even provide a hidden pocket to keep your valuables.
The Active Roots Zipper Scarf is your run-of-the-mill infinity scarf but with a hidden pocket that's big and sturdy enough for a night's cash, your phone, a passport and (hell with it) some snacks too!
For comfort
Our top island packing tip to bring a second bikini or swimsuit. Swimwear often doesn't dry overnight, and nothing is more uncomfortable than putting on a half-wet bikini underneath your street clothing. Avoid that nuisance by always have a dry option available.
Males – What to Pack for Greece
Ok, guys, check out these tips as you're planning your what to pack for Greece list:
For Fashion
As mentioned earlier, Greece street fashion is more on the upscale side – it's island style with that Euro twist. A versatile and smart piece for you guys to pack is a casual blazer. It's just light enough to not make you sweat in warm summer evenings and enough coverage for colder days in the chillier months. They look great over a pair of chino shorts or pants and instantly jazz up your style. Just because you're a backpacker doesn't mean you can't be en vogue and have a little fun with fashion, right?
For comfort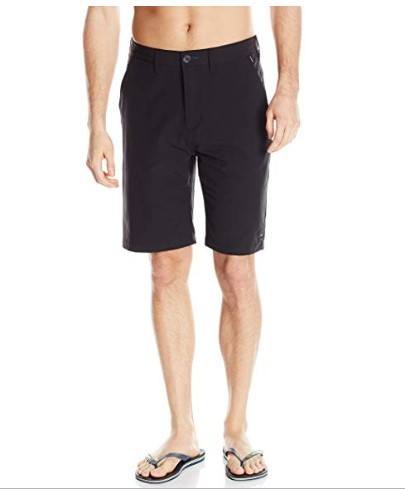 When figuring out what to pack for Greece, you'll probably rely on shorts as your main wardrobe staple. Be sure to pack a dressier style made of breathable material that's good for outdoor activities but also looks good with a blazer. Chinos are great – and another recommended style is hybrid shorts – cargo-type shorts that are quick-drying and light.
Speaking of shorts – for beachwear – try to avoid long, baggy board shorts that go down to your knees. Men in Greece wear shorter trunks – and yes, often speedos. If speedos aren't quite your thing, at least try getting a slimmer-fitting pair that hangs comfortably above your knees – so you're not instantly pegged as a tourist.
Starting to think about what you're going to do in Greece? Plan your trip

backpacking in Greece

using our complete insider's guide, which is complete with tips, tricks, itineraries, and then some!
What NOT to Pack for Greece
Now that you know what to pack for Greece, check out our recommendations on what NOT to pack for Greece!
Don't overpack clothes. You, of course, want your basic essentials, but be sure to leave room in your bag. You'll want to take advantage of the unique shopping opportunities in Greece and bring back cool souvenirs.
Don't pack impractical shoes. Greece's cobblestone streets aren't very high-heel or fancy shoe friendly. Also, remember the rule about no heels at ancient sites. You're better off leaving them at home.
Don't bring a hairdryer. They add extra weight and take up too much precious real estate in your already-limited packing space. Greece is a perfect place to rock your natural beach hair anyway!
The Best Backpack to Pack for Greece
Not all backpacks are created equal – we know because we've tried almost all of the packs out there. We can confidently recommend the Nomatic Travel Bag as our top pick and as the best backpack to pack for Greece. Here's why:
The Nomatic is the smartest designed bag in its category. It's compact and safely travels as a carry-on, but because of all the cool pockets and compartments it has – its 40L interior fits more than you think. As for what to pack for Greece, there's room aplenty! If you're hoping for separate compartments for your shoes, water bottle, laptop, underwear, and socks – you get them all with the Nomatic travel bag.
We love its detachable sternum and waist straps that help ease the weight of all your stuff – which you know gets heavy pretty fast – and your back will too! The Nomatic also has an innovative strap design that allows you to carry it either backpack or duffle-style – depending on what works best for you.
Last but not least, it's made of durable, waterproof material that can handle any situation or environment it's thrown into. The Nomatic travel bag has all the makings of a trusty travel companion that will stick around for a long time!
Final Thoughts on What to Pack for Greece
We made it, friends! Consider yourself fully briefed on what to pack for Greece with our complete Greece survival guide. You have a detailed top-22 needs packing list, tips on what to wear in Greece to be comfortable and fashionable, and a breakdown of seasonal Greece weather and how to pack accordingly. Don't forget our recommendations for what women and men should each consider packing – plus, what NOT to pack for Greece.
If you're thinking that you're ready to hop on that plane and straight on a ferry headed for the islands to soak up some history – and some sun – we completely agree! Take advantage of all the beach and off-the-beach splendor that Greece has to offer, and be sure to take lots of pictures. You'll want to remember every detail of this adventure!
Also – don't forget to sort your travel insurance! We've put together a roundup of the best travel insurance for backpackers, or if you're low on time, get a quote from World Nomads now, our favourite travel insurance provider.
Yay for transparency! Some of the links in this post are affiliate links. This means that if you book your accommodation through the site, The Broke Backpacker will earn a small commission at no extra cost to you. Your support helps me keep the site going.
---
Need More Inspiration?
Like this post? PIN ME!!!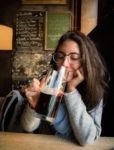 Writer and Editor, Ana Pereira is a California native, inspired by Earth exploration and introspection. Recently, she spent several months exploring Africa and South Asia. She spends most of her "down-time" out in the wilderness, climbing, hiking, and beyond, and is feverishly passionate about travel and health.