It was in Crete that the first splendors of Greek civilization emerged and Crete continues to be a top destination for tourists! There are so many good reasons for this. Think of a colorful palace and an alluring pink beach. This can all be discovered with our amazing Crete itinerary!
There is no need to ever wonder what to do in Crete, Greece! Although there are so many incredible places to visit in Greece, you could spend weeks exploring just Crete. In spite of this independent allure, Crete is also the crowning jewel of Greece's many islands and maintains strong ties of history and culture to mainland Greece.
Many visitors feel that Crete is a sort of microcosm of the larger country: a place that is so strongly Greek that you need never visit another place in Greece! After all, once you've found beaches, ancient ruins, Orthodox churches, and salty cuisine on our Crete itinerary, what more could you possibly want?
When to visit Crete really depends on why you want to visit the island. If you're picturing long, hot days by the blue sea, then you need to brave the crowds and show up in July or August. On the other hand, if your itinerary for Crete is all about sightseeing, then go in shoulder season which falls in April, May, October, and early November. There can be a bit of rain and some clouds but the temperature remains fairly warm.
If your Crete trip itinerary centers around visiting the best of the sites and the beaches, then the best time to visit Crete is in May, June, or September. During these months, the weather is warm enough for a swim but not so hot that you never get around to the archaeological sites!
The low season falls from late October to early April. Although prices will be less expensive, there may not be as much to do. However, the rain and cold mean the beaches are unattractive and tourist activities may shut down completely.
First things first, Crete is a big island. Well, at 3,218 square miles, it's the largest of the Greek islands and the 12th largest in Europe! This means that when you're planning your trip to Crete, you're dealing with which towns to stay in, not which neighborhoods!
Chania (also spelled Hania) is the perfect base for first-time visitors to Crete! It's the largest city in Crete. Along the northwestern coastline, Chania is a picturesque town of Venetian architecture and cobbled alleyways. It's home to a number of great attractions itself and is near other prominent Crete landmarks! There are plenty of hostels in Chania too.
Experienced travelers to Crete say that it's impossible to explore the entire island in just a couple of days. It's best to get a taste of the island in Chania, and then return if you liked what you saw! We agree that it's best to pick one place to base yourself for most of your time in Crete and that Chania is a great option! However, if you have at least 3 days in Crete, then it is possible to leave your base town!
Another key town in Crete is Rethymno. It's trendy, full of history, and perfect for anyone on a budget! It has plenty of Crete landmarks to keep you busy and is close to a number of other interesting sites on the island.
Surrounded by all the charm of Old Town but still close to the town beach, Rethymno Youth Hostel draws in young crowds who never fail to be enchanted! It's no wonder since the hostel has spacious, modern, and clean dorms, as well as relaxing common areas. It also offers free Wi-Fi! To cap it all off, the staff are helpful and hospitable! It's perfect for a weekend in Crete!
If you prefer to stay in hostels, these are the BEST hostels in Greece.
Enjoy unbeatable views of the city, the sea, and the sunset from your private rooftop terrace. Located in Chania, this one-bedroom apartment is close to supermarkets, public transit, and is a short drive to the city centre and airport.
Perfect for a couple or a small family, this charming flat comes with modern amenities, cosy furniture, air conditioning and comfortable beds.
Best Budget Hotel in Crete – Athina
What Athina lacks in modern finishes, it makes up in warmth and hospitality! It's a quaint hotel on the seaside near Rethymno that oozes character. The cleanliness and spaciousness of the rooms are faultless, and the hosts go out of their way to welcome you. Prepare for freshly-squeezed orange juice and super-fast internet!
Best Luxury Hotel in Crete – Scala de Faro
In the midst of Chania's old town is this precious boutique hotel, the best place to stay in Crete. Its combination of classic decor and stunning sea views is just breathtaking! The staff will expertly make you feel right at home, and there are delicious meals on the room-service menu. It's the kind of place where you realize just how much comfort you were missing in life before you arrived!
There are so many mountaintop monasteries and secret coves in Crete that it would take many trips to fully appreciate the island! Our Crete itinerary visits the three main towns in Crete: Chania, Rethymno, and Heraklion. If you're spending 3 days in Crete, this is how we recommend spending your time. .
The best way of getting around is by hiring a car in Crete. Although there are buses that run between all three towns, their schedules are not always reliable and it takes more time. You need to have your passport and credit card to hire a car. You'll also need an International Drivers Permit, which you can easily get beforehand in your home country.
For this Crete itinerary, we recommend choosing a car hire agency with offices in both Chania and Heraklion. This way you won't need to return the car to Chania.
Getting around within Chania, Rethymno, and Heraklion isn't too difficult. You'll be able to walk between the main Crete attractions in Chania and Rethymno without any problems. In Heraklion, you'll need to take the bus or a taxi to Knossos if you do not have a car. All three cities have convenient bus networks and taxis are always at hand!
Old Harbor | Maritime Museum of Crete| Archaeological Museum | Cathedral of the Virgin of the Three Martyrs | The Municipal Garden
One day in Crete is perfect for getting to know Chania, its most charming town! Although Chania doesn't have any great beaches, almost everything else is all about the town's seaside location. The pretty harbor and fascinating history are sure to charm you!
Day 1 / Stop 1 – Old Harbor
Why it's awesome: All around the waterfront are the most picturesque buildings from various periods!
Cost: Free!
Food nearby: There is no shortage of eateries on the waterfront; our favorite is To Artopoleion for yummy pastries and warm drinks!
Chania's lovely harbor was built by the Venetians in the 14th century as a center for trade and defense against pirate raids. The Venetians certainly left their mark: many of the buildings in the area resemble those found in Venice! There are also traces of Ottoman and Cretan styles in the architecture.
Exploring the harbor is rather like doing your own Crete walking tour! Start at the stretch of coastline known as Koum Kapi. Here you can see the Venetian ramparts that were built into the sea, as well as the only remaining fortress gate.
At the end of the harbor is a lighthouse that was built by the Venetians and converted into a minaret by the Egyptians! The views of Chania from this location are some of the best pictures you'll get from your vacation in Crete!
The Moro Dockyards is the next stop on your self-guided Crete walking tour. They also date from the Venetian occupation. One of them is home to an exhibition on Greek and ancient shipbuilding techniques. The highlight is a model of a Minoan ship as it would have appeared in the 15th century BCE.
Climb up Afentoulief Street for expansive views of the harbor. It's not difficult to imagine the harbor as it was in the Venetian era from this vantage point!
Heading back along the shoreline, you'll come to Eleftheriou Venizelou Square. Just off the square is the Kioutsouk Hasan Mosque, a superb example of Ottoman architecture!
Be sure to admire the splendid Firkas Fortress. Coming full circle on your walk, you'll reach the lighthouse on the other end of the harbor. This has been an imposing monument for centuries!
Day 1 / Stop 2 – Maritime Museum of Crete
Why it's awesome: Navies have always been important players in Greek history and this museum is a great place to learn all about them!
Cost: $3 USD
Food nearby: We love Antigoni for its harborside location, vibrant atmosphere and delicious seafood!
Just at the entrance of the Firkas Fortress is this fascinating museum. It gives visitors a vivid account of Crete's nautical history, with 2,500 items in its permanent collection!
One of the key exhibitions highlights the important role the ancient Greek navies played in the Persian and Peloponnesian Wars, which were seminal conflicts of the classical era. The battles are brought to life with pictures and models!
Another important era represented is the Byzantine era. During this period, technological advances meant that the use of rowing to propel ships was declining. This exhibition also includes references to the conflicts fought during this time.
You should also look at the section on the modern history of Greece. There's a display on the Greek War of Independence from Turkish occupation, during which time Crete fought to be united with independent Greece. You'll also find information on the famous Battle of Crete that was fought during the Second World War.
Day 1 / Stop 3 – Archaeological Museum
Why it's awesome: A breathtaking location and absorbing exhibitions make this museum a must-see when visiting Crete!
Cost: Entrance is $4 USD.
Food nearby: You'll find a mouth-watering meal at Boheme and a lovely garden courtyard. For a quick energy boost, try Delizia Gelato Italiana!
The first thing you'll notice when entering the Archaeological Museum of Chania is probably the building itself. It was once the church of the Monastery of St Francis, and was built in the Venetian style. The atmospheric setting really helps to immerse visitors in the story of ancient Chania!
The collection covers the Neolithic era through to the Roman era. This means that you can cover over 4,000 years of history on your Crete itinerary! The most important exhibits come from the Minoan period.
The clay seal of a Minoan ruler is probably the highlight of the museum. It dates from the 15th century BCE and shows a man with a spear on the roof of a building and a landscape that may be Kastelli hill in Chania. There's also a bird-shaped vessel that comes from as far back as 3,000 BCE!
You should also have a look at the Linear A and Linear B clay tablets. These two scripts were amongst the first forms of writing to emerge in the world!
From the Roman period, admire the marble bust of Emperor Hadrian (dating from the 2nd century) and the mosaic floor depicting Dionysos, the Greek god of wine and theater, and his wife Ariadne.
Insider Tip: Admission is free on the first Sunday of the month between November and the end of March!
Day 1 / Stop 4 – Cathedral of the Virgin of the Three Martyrs
Why it's awesome: The Greeks have a strong history and relationship with religion which means visiting this cathedral is an essential stop on your Crete itinerary!
Cost: Free!
Food nearby: Just down the road is cozy Evies Cafe Restaurant. It's a family-run business with real warmth and great food!
The lovely Cathedral of the Virgin of the Three Martyrs is an unimposing building in the center of Chania. Don't be deceived by the unassuming exterior, however: it's one of those Crete points of interest that has a history full of legend!
It's not certain when the cathedral first came into existence but it was built on the site of an older one from the 14th century. During the Ottoman period, it was converted into a soap factory. However, the holy icon of the Virgin Mary remained in the factory. One day, the child of a local pasha fell down a well and the pasha promised to return the church to the Christian community in return for his child's life. The Virgin agreed, the child was saved and the church restored!
The interior is ornate and colorful but remains very peaceful and intimate! There are three aisles, each dedicated to a different holy figure!
Day 1 / Stop 5 – The Municipal Garden
Why it's awesome: It's a relaxing place to soak in the local atmosphere!
Cost: Free!
Food nearby: There's a park cafe, Kypos Cafe, which is ideal for a laid-back evening meal or pre-dinner snacks!
The Municipal Garden is one of the most perfect places to visit during 3 days in Crete to enjoy nature in the city! It was established by the Turks in 1870 as a public park where citizens could go for a stroll, and we suggest that you do the same!
The Ficus tree in the midst of the garden is thought to date from the garden's establishment and has grown to an enormous size! Just across from the tree is an enclosure with Greek mountain goats. Seeing them in their natural habitat is first rate, but if that's not on your Crete itinerary, then get up close to this iconic animal!
Preveli Monastery | Preveli Beach | Fortezza | Historical and Folk Art Museum of Rethymno | Old Town
It's time to head to Rethymno on your 2-day itinerary in Crete! Along the way to Rethymno, you'll have a chance to chill out on one of the most famous Crete attractions: Preveli Beach! After that, the rest of your day is about exploring the pretty medieval town of Rethymno.
Day 2 / Stop 1 – Preveli Monastery
Why it's awesome: The architecture, the history, the location, the exhibitions…it's all awe-inspiring!
Cost: Admission is $3 USD.
Food nearby: Taverna Gefyra Preveli is set in a rustic environment and serves traditional Greek fare.
After a scenic drive to the southern part of Crete (it should take around 1.5-hours), you'll arrive at the hilltop Preveli Monastery. We're pretty sure that this will be one of your stand-out memories from touring Crete!
The monastery was founded in the 16th century by a Venetian called Prevelis. During the Ottoman period, it was allowed exceptional independence, mainly due to its remote location.
Like many other institutes of the Greek Orthodox Church, it was actively involved in the local struggle for independence from the Ottoman Empire and the reunification of Crete and mainland Greece. It was also a center of Allied resistance in the Second World War, and there are many monuments to this history in the monastery complex.
With so much dramatic history, it's easy to forget the original purpose of the monastery! However, it remains a center of worship and you can visit the church.
The small museum, though, has to be the star attraction! It houses dazzling collections of holy icons, paintings from the 17th to 19th centuries and ecclesiastical garments and vessels.
Insider Tip: The Greek Orthodox Church enforces a strict dress code: cover your shoulders and knees.
Day 2 / Stop 2 – Preveli Beach
Why it's awesome: Beautiful Preveli Beach is considered one of Crete's best beaches!
Cost: Free!
Food nearby: A rocky but short walk to the neighboring beach will take you to Dionyssos Taverna.
Nestled at the bottom of a steep cliff, with lush palm trees and the gentle Kourtaliotis River flowing by, Preveli Beach is a refreshing sight on your day 2 itinerary in Crete! Just a bit offshore is a rock formation in the shape of a heart.
Preveli is a lagoon and the waters are quite cool due to the river water coming from the mountains. Of course, swimming in the calm waters and suntanning are prime activities, but you can also hire a paddleboat. For a bit of shade, take a stroll through the palm forest!
Day 2 / Stop 3 – Fortezza
Why it's awesome: This is the landmark that distinguishes Rethymno!
Cost: Admission is $4,50 USD.
Food nearby: Just beneath the castle is Pigadi. This restaurant has a remarkable menu of homemade dishes. Try the grilled vegetables drizzled with honey!
You'll spend just under an hour traveling to Rethymno from Preveli Beach. Once you've settled into your accommodation, head to the iconic Fortezza!
The Fortezza is one of the largest and most complicated fortifications constructed by the Venetians. It was built in the bastion system, with bastions connected to each other by thick walls. After seven years of hard local labor, the fortress was completed in 1580.
The fortress was not able to resist the Ottoman invasion and the church inside was converted into a mosque. In the 20th century, it came to house both brothels and a prison. These have since been removed and Fortezza is now a popular attraction for those who travel to Crete!
The Councillor's Residence is one of the most prominent buildings in the fort complex. It was built in the style of Italian Renaissance palaces. The Rector's Residence, on the other hand, is now largely in ruins but was once a sprawling building. Also, look for the Bishop's Mansion, with its lovely vaulted ceilings!
Visit the cathedral/mosque next. All that remains is the minaret's base and the mihrab, a decorated niche in the wall indicating the direction of Mecca.
The gunpowder and ammunition rooms are also worth a visit. They were built with thick walls, small doors, and surrounding rooms to ensure better safety!
Of course, you cannot fail to appreciate the panoramic views of the town, sea, and countryside that the fortress provides! These will be some of the best photos from your vacation in Crete!
Day 2 / Stop 4 – Historical and Folk Art Museum of Rethymno
Why it's awesome: Over 5,000 items chronicle the history and vibrant traditions of local Cretans!
Cost: Entrance is $3 USD.
Food nearby: Buying sweet Greek treats at Yiorgos Hatziparaskos is unforgettable! The local family is experts at the traditional techniques of making phyllo pastry and you get to watch and eat!
The elegant Venetian mansion in which the museum is housed is a taste of what's still to come! The private museum aims to collect folklore items and promote the traditions of Crete, particularly Rethymno. It's one of the most unusual but interesting attractions on our Crete itinerary!
There are two sections that focus on textiles: embroidery and weaving. Woven textiles from the 19th and 20th centuries that were used for dowries or decor are on display. There are also magnificently embroidered dress borders from the 17th and 18th centuries which show a Byzantine influence on local styles.
The hall on basketry and pottery is also fascinating to visit. The baskets were made of local reeds, wild olive trees, willow trees, and wheat stems which were woven into baskets by men. The pottery would have been used for food storage and as vessels.
There are also exhibitions on traditional tools used by farmers, saddlers, copper-smiths, and cutlers. It's humbling to see just how much effort went into producing a simple loaf of bread!
Day 2 / Stop 5 – Old Town
Why it's awesome: Old Town is picture-perfect, thanks to its winding alleys and elegant mansions!
Cost: Free!
Food nearby: Get some snacks at 1600 Raki Ba Raki. It's renowned for its Cretan mezes (similar to tapas) of seafood, veggies, or meat!
Rethymno's Old Town is a quaint amalgamation of the best of Venetian, Ottoman, and Greek architecture! The main point of this stop on your Crete itinerary is just to take it all in, but there are a few monuments to watch out for.
The bustling port, the lively promenade, and the iconic lighthouse make the Venetian Harbor an absolute must-see! Make sure to keep an eye out for the Venetian Loggia, a square building with three arches on each side.
You could also check out the Great Gate of Rethymno. It was partially damaged to make room for housing, but you can still see the arched entrance clearly. The gate will lead you to the central square, 4 Martyrs Square, which is a pretty sight!
Finally, take a stroll down Arkadiou Street. This famous road is lined with grand Venetian mansions and admiring the architecture is one of the loveliest things to do in Crete!
Knossos | Heraklion's Old Town | Koules Fortress | Heraklion Archaeological Museum | Karteros Beach
Some might say we've saved the best for last. That's debatable, but Heraklion is certainly the most famous town in Crete thanks to its proximity to the legendary Minoan palace at Knossos! It's also Crete's capital, and its fascinating Crete points of interest make it the perfect place to finish off your 3-day itinerary in Crete!
Knossos
Were you really on vacation in Crete if you didn't go to Knossos? Probably not, so go, go, go!
This sprawling palace complex was the capital of Minoan Crete!
Entrance is steep at $16 USD but visiting Knossos is an absolute must, and the site is worth the price!
From "the oldest city in Europe" to "the home of King Minos and the Minotaur," Knossos holds a number of enviable titles and is an important attraction while you're touring Crete!
Knossos was first inhabited during the Neolithic period and rose to become the center of the famed Minoan civilization until it was abandoned at the start of the Bronze Age. Its excavation in 1900 was one of the great achievements of modern archaeology! The huge site was restored according to what the principal archaeologist thought it would have looked like. Although this infuriates some, it does also bring the palace ruins to life for visitors!
The Royal Apartments are, naturally, the grandest in the palace complex! They are also exquisitely beautiful. Be sure to admire the Grand Stairway, an enormous staircase bringing light into the lower rooms. The Queen's Suite is probably the most famous attraction at Knossos: it's here that you'll find the iconic reproduction of a wall fresco depicting playful dolphins!
It may seem humble by modern standards, but the drainage system at the palace was one of the great advancements made by the Minoan civilization. The palace holds Europe's first known flushing toilet!
The Throne Room is another gem in the Knossos complex. The stone throne is against the end of the small room which was probably used for council meetings, not audiences.
The theater would have been used for ritual performances and dances. Follow the Royal Road, claimed to be the oldest in Europe, for a sense of the scale of Knossos!
Knossos is a real complex of interlinked buildings and, while the reconstructions help, there is so much to take in that you can get overwhelmed. It may be worth joining a small guided tour. Otherwise, read up about the site beforehand and brush up on the myths of King Minos, Ariadne, and Theseus before you go! It's these stories, combined with the sheer size of Knossos, that really seize the imagination!
Insider Tip: Get to Knossos early and be inside before the tour groups arrive at 09:00 am. Going in the morning will give you a bit of extra shade cover, but always have drinking water, sunblock, and a hat with you. Be sure to add these items to your Greece packing list! Make sure you had a good breakfast and are wearing comfortable shoes — Knossos is not for the faint of heart!
Heraklion's Old Town
Heraklion's Old Town is atmospheric and stunning!
The area is full of historical monuments and exquisite examples of Venetian, Ottoman, and Greek architecture!
Strolling around Old Town is one of the most relaxing activities on any Crete itinerary!
You know you're on vacation in Crete when you enter Old Town. You're surrounded by other suntanned tourists, bustling locals and vendors loudly selling their souvenir wares! This cosmopolitan ambiance is balanced by the array of beautiful buildings from various periods of Heraklion's history.
The Church of Agios Titos was Crete's metropolitan (the home of the bishop) before it was converted into a mosque during Ottoman occupation. It's loved for its stained glass windows and other Byzantine features!
You should also find the Loggia, which some consider the most beautiful of Heraklion's monuments. It's similar to the one in Rethymno and was used as a private club for Venetian nobles! Today, it's the city hall.
The central square, Eleftheriou Venizelou Square (also known as Lion's Square), is flanked by lively cafes, with a pretty fountain at its center.
Koules Fortress
This formidable Venetian fortress occupies an awesome position on the edge of Heraklion harbor!
The first fortress was built as early as the 14th century!
The entrance fee is just $2 USD.
The magnificent Koules Fortress is always worth a visit, even if you don't care for military history! The views out to sea and of Heraklion are stunning, and the fort remains very atmospheric!
The fortress has two stories and 26 apartments. These have been used as lodgings for soldiers, storerooms, and prisons. You can still see remaining cannons and cannonballs. Although the walls are as thick as 9 meters, the fortress is also very spacious with wide corridors and vaulted ceilings!
To mark their territory, the Venetians put their city icon, the Lion of St Mark, up around the fort and this pretty detail can still be seen today!
Heraklion Archaeological Museum
Discover all the ancient artifacts from Knossos at this epic archaeological museum!
The Minoan era is just one period in the 5,000 years of history covered by the museum!
The museum houses the most important Minoan collection in the world!
Heraklion Archaeological Museum is the perfect complement to the Knossos archaeological site. It houses the small everyday objects as well as grander items that were found at Knossos but are too valuable to be left on display in Knossos.
The Phaistos Disk is one of the most mysterious objects on display anywhere in the world. It's a clay disk that's covered in almost indecipherable hieroglyphs, a kind of cipher that has yet to be fully decoded! It's an amazing example of the Minoan language, Linear A.
There's also an incredible collection of Minoan pottery. The Minoans pioneered a potter's wheel which allowed them to make thin objects with subtle patterns. The beauty of Minoan pottery was so exquisite that it was exported as far as Syria and Egypt!
The Minoans were also stellar painters, and you'll find the original frescos from Knossos here. The vibrant use of color and pattern makes the figures more lively and this distinguished Minoan art at the time!
Your eyes will easily be drawn to the wonderful collection of Minoan metalwork, particularly the jewelry! The Minoans were skilled with gold and glass beads. This can be seen in the gold bee pendant at the museum, amongst other dazzling objects!
Karteros Beach
Located just four miles from Heraklion, Karteros is the best beach in the area!
With a handful of cafes and restaurants along the beachfront, there's always a lively atmosphere!
There are good facilities, like sun loungers and showers, to make your beach time as comfortable as possible!
Karteros Beach is the perfect place to round off your 3-day itinerary in Crete! It's a long beach with generally soft sands and wavy waters and is very popular with locals!
Karteros Beach has been awarded the EU blue flag for its beauty and the pristine environment! Although there are no water sports facilities, Karteros is an ideal fishing spot and the almost one-mile-long length is ideal for a stroll!
The good news is that the low crime rate in Crete means you can let your guard down more than is adviseable while backpacking southern Europe! In fact, petty crimes are more often committed by fellow tourists than locals. That said, there are a few hazards to watch out for!
If you decide to hire a car to get around your itinerary for Crete, then be extra careful. Despite the many winding roads, local drivers tend to drive at top-speed! Some of the roads are also rather narrow or in disrepair, so go slowly!
The other danger on Crete comes if you go hiking, particularly around Samaria Gorge. The area has a tough terrain where falling rocks regularly do real damage. The harsh terrain also calls for proper hiking boots. Have plenty of drinking water with you and don't stray far from the marked paths, as people often get lost that way.
Don't Forget Your Travel Insurance for Crete
ALWAYS sort out your backpacker insurance before your trip. There's plenty to choose from in that department, but a good place to start is Safety Wing.
They offer month-to-month payments, no lock-in contracts, and require absolutely no itineraries: that's the exact kind of insurance long-term travellers and digital nomads need.
SafetyWing is cheap, easy, and admin-free: just sign up lickety-split so you can get back to it!
Click the button below to learn more about SafetyWing's setup or read our insider review for the full tasty scoop.
Although Crete is the largest of the Greek isles, it's still possible to drive from one end to the other in under a day! Now, you're probably wondering, "How long is Crete?" Well, it's only 161 miles long, meaning there's much within reach via these awesome day trips from Crete!
The Samaria Gorge Hike from Chania or Rethymno
Samaria Gorge is one of the best day trips from Crete that you can take! Samaria Gorge is the longest gorge in Europe and hiking through the area is a wonderful experience.
The tour includes transport and a stop at Omalos Plateau. This vantage point offers unparalleled views and the early morning sun rays make the experience more magical!
The 10-mile hike takes 6-7 hours to finish, during which you can witness an array of Greek flora and fauna such as Greek goats! To celebrate the end of the hike, there's time for a swim and lunch in Agia Roumeli!
From Rethymno & Chania: Elafonissi Island Day Tour by Bus
When planning a trip to Crete, you're sure to stumble across mention of a "pink beach." This is Elafonissi Beach which you'll visit on this serene tour!
On arrival at Elafonissi, you'll have four hours to marvel at the gentle colors of the beach! Be aware that Elafonissi is not always pink! The color comes from crushed pink shells from the seafloor but this varies according to the wind and the tide, amongst other things. Whether it's pink or not, Elafonissi is a lovely place to have on your Crete trip itinerary!
From Rethymno: Gramvousa Island and Balos Bay
Balos Bay is quickly becoming the next Elafonissi, so book one of these day trips from Crete to share in the area's beauty!
The day trip includes a boat trip to Balos Bay and one to Gramvousa Island. Balos Bay is loved for its gentle lagoon waters that even Prince Charles and Princess Diana enjoyed on their honeymoon!
The sea at Gramvousa Island is sparklingly clear! There will also be time to explore the impressive Venetian fortress that offers great views of the area! This is a lovely places for those backpacking Greece to stop and rest.
Horse Riding with Lunch in the Mountains near Heraklion
By now you should have figured out that Crete attractions aren't all about the ancient ruins or the sublime beaches— the island's breathtaking mountains are some of the most memorable sites on your Crete itinerary!
This day trip is ideal for exploring the Finikia Mountains around Heraklion. You can choose between riding your own horse or taking a carriage ride to the mountaintop. There, you'll have a spectacular view of Archanes Mountain, known as the Sleeping Mountain of Zeus. According to legend, the Greek god takes his naps on Archanes!
Day Tour: Spinalonga, Elounda, Agios Nikolaos, & Kolokitha
Visiting four superb destinations, this has to be one of the most epic day trips from Crete! The journey to Spinalonga is via the scenic route and there are stops at fascinating sites.
Spinalonga Island is a microcosm of Greek history! It was used for defense purposes by the ancient Greeks before Saracen pirates used it as a base. Then the Venetians built their fortress before the Turks settled the island!
The tour also visits Elounda, a popular holiday resort and Agios Nikolaos, where you can wander the pretty town and admire the bottomless lake!
Find out what people want to know when planning their Crete itinerary.
Conclusion
Visiting Crete is one of life's great adventures. The island pulsates with so much living history, rich traditions, and spectacular landscapes! With our Crete itinerary, you can't fail to be immersed in Cretan life!
Crete's resilience has led it through various conquests to its much-longed for independence. So much of this is reflected in what you'll see on the island: hardy mountain goats, precarious rock formations, and buildings that have lasted centuries!
Whether you're paddling into the gentle waters of Elafonissi Beach or next in line at the fabulous Knossos Palace, you can be sure that you're about to experience something incredible when backpacking around Greece! Crete has so much to offer that there's a memorable moment around every corner on our Crete itinerary!
---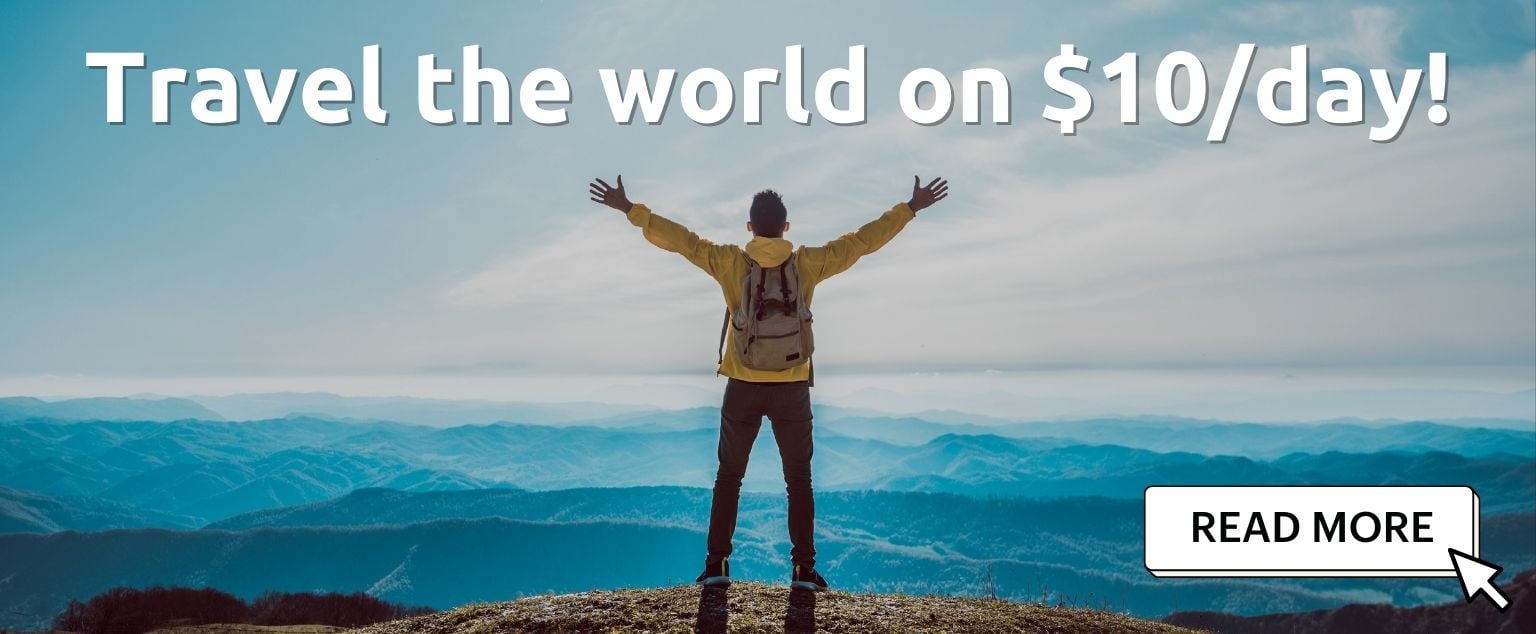 And for transparency's sake, please know that some of the links in our content are affiliate links. That means that if you book your accommodation, buy your gear, or sort your insurance through our link, we earn a small commission (at no extra cost to you). That said, we only link to the gear we trust and never recommend services we don't believe are up to scratch. Again, thank you!