Scrumptious food, gorgeous beaches, warm year-round sunshine, and captivating small towns full of warm and welcoming locals – it's no wonder why Greece enchants all who visit here.
But Greece is so much more than this. With over 6,000 islands in the archipelago and only 227 of those inhabited, you'll find there are plenty of spots to find seclusion and tranquility if you need a break from your busy life back home.
One way you can find relaxation and serenity is by embarking on a yoga retreat. Yoga is a meditative practice that helps you center your mind and body, reduce stress, and promote inner healing.
Whether you're looking at the popular islands of Santorini and Mykonos or prefer to be on far-flung islands off the beaten path, there's a yoga retreat in Greece for every person at any skill level.
However, the number of yoga retreats in Greece can easily leave your head reeling. So to help you out, I've created this guide to help you figure out what you need from a yoga retreat and to help you narrow down the choices.
Why Should You Consider a Yoga Retreat in Greece?
In today's world where technology rules, we often find ourselves glued to screens for hours on end. Modern life comes with a myriad of responsibilities and tasks which have made it even more difficult for us to set aside quality time for ourselves.
Yoga retreats in Greece allow you to step out of your comfort zone and into a place where you can concentrate on yourself and your inner healing. Yoga retreats are not just a holiday, though they usually include a wealth of activities outside of yoga such as meditation, wellness sessions, and even an exploration of the islands.
Greece is an excellent location for those who need to escape their normal life for a little bit and do some work on themselves. It offers a backdrop for those in need of improving their physical, emotional, spiritual, and mental health, as most yoga retreats take place in peaceful, natural environments.
By eliminating all distractions, you get the chance to slow down and learn to be more mindful as you go through daily life.
What Can You Expect From a Yoga Retreat in Greece?
Those traveling to Greece for a yoga retreat will find a combination of vacation vibes and hard work that combines both physical and mental work. You'll find most retreats in rural settings, often near beautiful nature spots that are stress-reducing in their own right.
Yoga is practiced daily, though some programs even throw in several activities such as swimming and snorkeling, surfing, or hiking.
Offerings vary from one retreat to another but generally, they include accommodation, yoga classes, meditation and wellness sessions, and a variety of leisure activities. You can also find specialized retreats or those designed for certain levels of yogis, as well as retreats geared towards writers and creative minds.
Of course, a yoga retreat in Greece is incomplete without wonderful local Greek dishes. Nearly all retreats offer healthy, delicious meals made with fresh organic produce. Meals are part of the package in retreats are mostly vegetarian or vegan, in line with the ethos of healthy living.

Unlock Our GREATEST Travel Secrets!
Sign up for our newsletter and get the best travel tips delivered right to your inbox.
How to Choose the Right Type of Yoga Retreat in Greece for You?
If you wish to get the best out of a yoga retreat in Greece, you need to consider a few things. To make the right choice, you first need to determine what your goal is. What do you want to achieve from the retreat? What is your purpose for being there?
Most people who join yoga retreats in Greece want to either improve their fitness, achieve mind and body balance, or have time for relaxation and rejuvenation, as well as exploration of the Greek islands.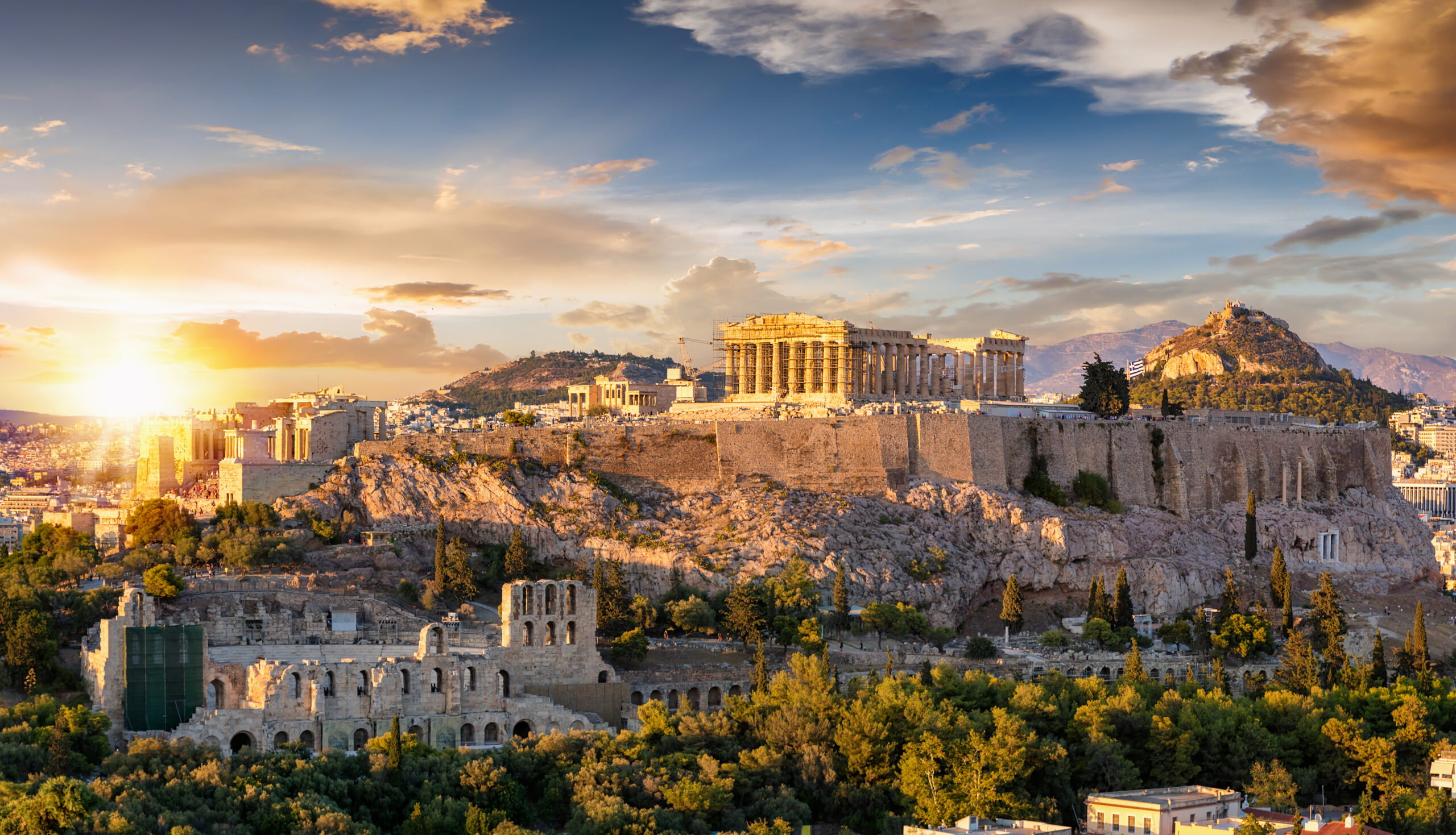 Picking a retreat is a decision that you need to think about carefully. The last thing you want is to participate in activities that you're not interested in. What's the point of choosing a retreat that involves Greek culinary lessons when you'd rather be snorkeling or sailing?
Some retreats come with scheduled day-to-day activities while others allow participants the afternoon off. Do you like sticking to a strict program or would you rather have time to do things on your own?
Here are other things to keep in mind when selecting a yoga retreat.
Location
Without a doubt, all the retreat locations in Greece are amazing. With a setting in the Mediterranean, it's quite a challenge to find an ugly corner and Greece was always an important center of spirituality even in ancient times.
Several islands in Greece are popular for being yoga meccas. Paros, located in the Aegean Sea, is best known for its traditional villages and gorgeous beaches. In addition, it's the home of several yoga schools that offer a variety of retreats.
Crete is the mythological birthplace of the minotaur and is an important archeological site. It's also an excellent choice for those who love to hike, mountain climb, or sail.
Zakynthos is a popular summer resort in the country which is home to a large yoga community, perfect for those who want to be in the thick of the action.
Practices
There is a huge variety of retreats in the country that cater to yogis of different levels and even to total beginner yogis. Some retreats teach distinct styles while others are designed for a specific gender or a certain group of people.
By the time you finish your yoga retreat in Greece, you will have been familiar with the words Asana, Namaste, Hatha, Ayurveda, Dosha, and Pranayama because they are all part of the parcel of most programs.
Of all styles, Hatha is the most popular. It consists mainly of physical postures and breathing techniques that help reduce stress, something beginners can easily do.
Vinyasa, another common style of yoga, is ideal for people who already have a yoga background as it involves rapid continuous movement. Pranayama and meditation are usually included in a variety of retreats as it helps with the unity of the mind and body.
Specialized retreats are also common, such as retreats for writers. These often include journaling so that they can tap into their creativity and let their imagination flow.
Ultimately, you'd want a retreat that corresponds with your level, preference, and goals, if you want to make the most of your time in Greece.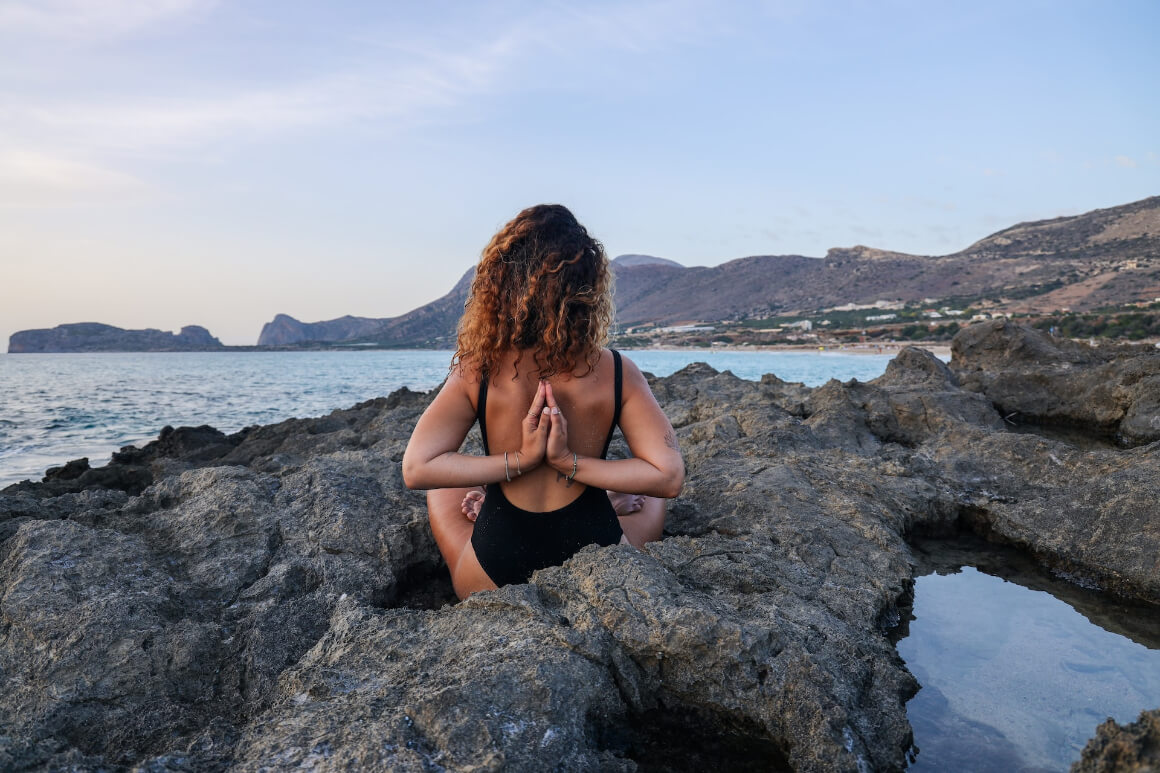 Price
Prices of yoga retreats in Greece vary widely and this can be attributed to a variety of factors. They can cost from a few hundred dollars to as much as $5,000. Things that contribute to the difference in price are the duration, type of accommodation provided, extra activities included, and the different practices involved.
If you're looking to cut back and not spend an arm and a leg, you can opt for short retreats with one or two yoga classes and offer basic accommodations as opposed to those luxury beach houses. If you're just after unlocking tight hips, reconnecting with yourself, and disconnecting from the world for a little while, you don't need sailing or snorkeling.
Perks
Another thing to consider is what perks the retreats offer. This will be what really determines the retreats value for money. Usually, a yoga retreat in Greece will offer one or two yoga sessions a day, but what about all that free time? Do they have activities planned for those hours?
A retreat will usually offer a series of perks to fill that free time, allowing you to customize your retreat a little bit. These perks can be one on one sessions, counseling, wellness sessions, hiking trips, surfing lessons, cooking classes, spas and massages, healthy eating workshops and so much more.
Often, these perks are an additional expense, but sometimes you can choose between one or two perks to be included in the price. It is all dependent on the retreat.
Duration
When it comes to duration, yoga retreats in Greece offer several options. Some retreats can be as short as 2 days while others can be as long as 15 days or even a month. The length can affect the price of a retreat as you'll have to pay for the additional night's accommodation.
It's a myth that the longer the retreat, the more healing you get done. You can do a lot of work in just a short period of time. The purpose of a retreat is to provide you with tools to incorporate into your daily life, so you can learn a lot in a few days.
Extending to a week-long retreat gives you more practice in using your newfound wisdom, and if you do stay for a month, you can learn a lot more to add to your practice, too.
What determines your duration is how long you have to dedicate. If you're adding a retreat to your Greece itinerary, then maybe you have only a couple of days. If you're visiting Greece for the purpose of the retreat, look for one that lasts a week.
The Top 10 Yoga Retreats in Greece
Now you know what to expect from Greek yoga retreats, it's time to take a look at the best of the best. These are ten highly sought-after, top-rated yoga retreats in Greece.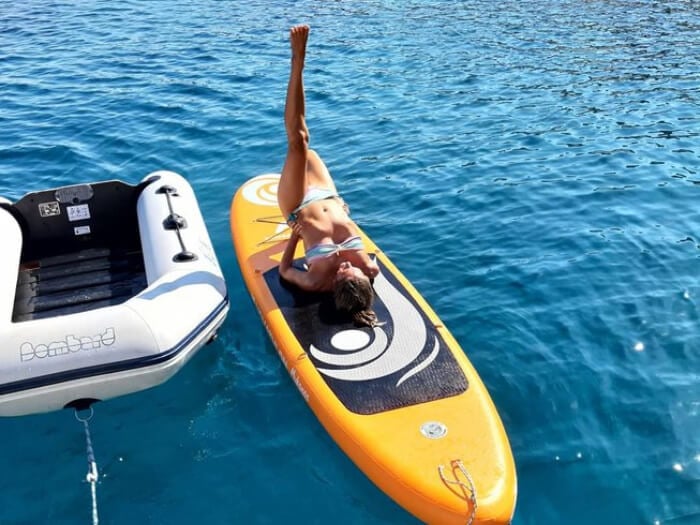 Price: From $1,319
Location: Kea Island, Cyclades, Greece
Sun, sand, the ocean breeze, and yoga with wonderful views, what could be better than that? This 8-day yoga and sailing holiday includes all of those things so you can have your sun salutations and asanas in the morning and then go kayaking, sailing, or snorkeling in the afternoon.
Suitable for beginner and intermediate yogis, the program includes twice-daily Hatha yoga classes, sailing every day to a different Cycladic island, breakfast, light lunches, and drinks, as well as the use of stand-up paddle boarding, snorkeling and kayak equipment while onboard the boat.
Consistent with healthy living, this retreat serves vegetarian and vegan food and also caters to fruitarian and gluten-free diets.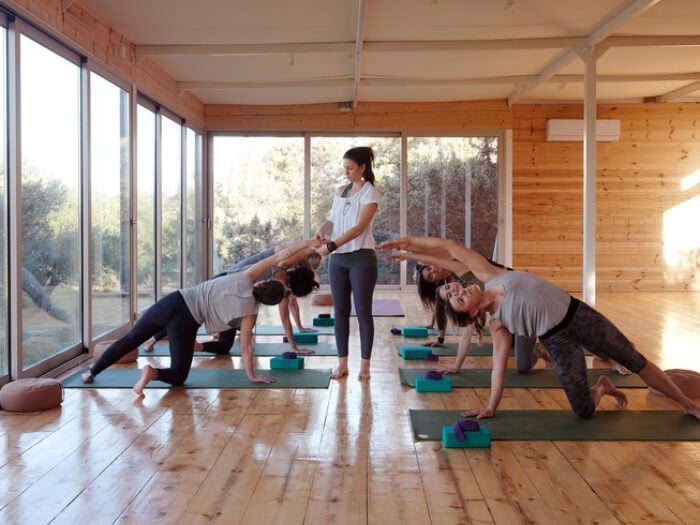 Price: From $1,005
Location: Okreblue Seaside Yoga Retreat Center, Naousa, Paros, South Aegean, Greece
Invest in your health and wellbeing by going on a path to wellness and there's no better way to start than by this curated 6 days yoga retreat.
Aside from personal sessions, you also participate in daily group yoga classes and meditate; get nourishment from farm-to-table organic meant to also detox the body, and have the freedom to unwind and explore the local island.
The program can be tailor-made to your needs. Optional massages and a range of other treatments are available at an additional cost.
Lodging will be in simple and rustic rooms that face the seaside and are only a stone's throw away from the beach.
Month to month payments, no lock-in contracts, and no itineraries required: that's the exact kind of insurance digital nomads and long-term traveller types need. Cover yo' pretty little self while you live the DREAM!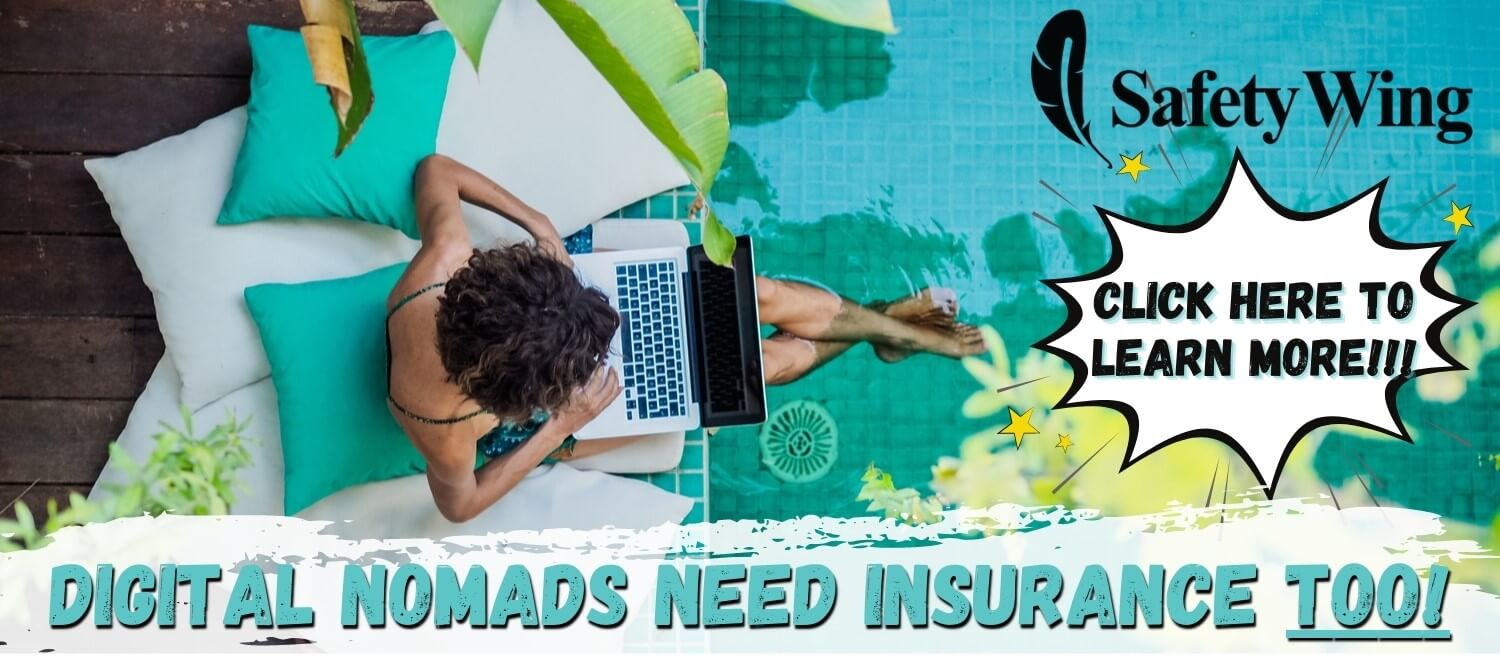 SafetyWing is cheap, easy, and admin-free: just sign up lickety-split so you can get back to work! Click the button below to learn more about SafetyWing's setup or read our insider review for the full tasty scoop.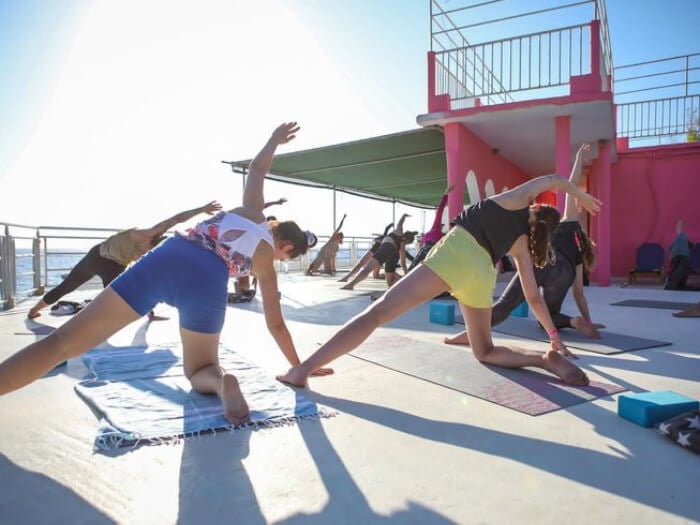 Price: From $1,320
Location: Corfu, Greece
Perfect for a group of friends with a thirst for outdoor fun who want to find themselves on a yoga mat while surrounded by breathtaking scenery, this yoga holiday is set on the beautiful island of Corfu.
Suitable for yogis of all levels, participants get 2 yoga sessions daily that include Hatha, Vinyasa, Restorative, Nidra, and Yin yoga, meditation classes, and daily healthy breakfast, brunch, and home-cooked Greek dinner all prepared with organic ingredients.
Of course, adventure is part of the program so aside from exploring Old Corfu Town and its monuments, you get 3 free kayaking day trips for the exploration of nearby islands and a free guided ATV quad safari tour to explore Corfu.
Price: $1,650
Location: Antiparos, Greece
Let your inner goddess out and have a spiritual awakening in this yoga healing retreat on the island of Egeo. Geared towards beginners in meditation and yoga, this will help you open up your body and find flexibility.
Practice a blend of Kundalini and Vinyasa yoga, meditate, and have deep breathing exercises daily to empower and bring out the best version of yourself. In keeping with the retreat's mission, local, fresh, and nourishing food is served daily.
Explore the Cave of Antiparos with other goddesses, partake in authentic Greek food at local taverns, swim at pristine beaches, and have a jolly time sauntering through the narrow streets of Kastro and Chora during your downtime.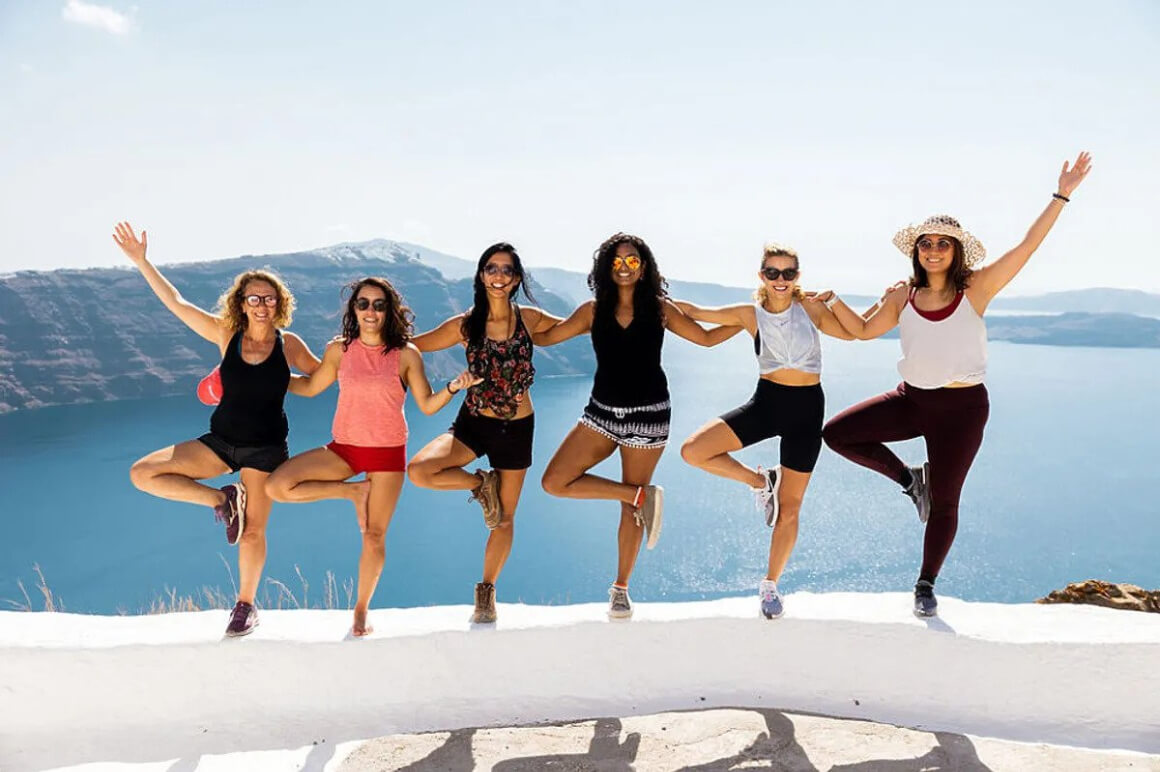 Price: From $2,890
Location: Santorini, Greece
We all deserve to pamper ourselves and what better way to get in better shape physically, spiritually, and mentally and treat ourselves than by going on a luxurious yoga retreat in Santorini, Greece?
This bespoke yoga retreat will see you practicing Yin, Vinyasa, Dynamic, Power, Restorative, and general yoga daily with days that start with sunrise meditation and filling yourself with meals lovingly prepared by a local chef using fresh ingredients.
The program is a balance of structured activities and lots of free time for you to enjoy the picturesque location.
While mornings are for yoga and meditation, afternoons are for going on little Greek adventures and exploring the famous vacation destination with whitewashed houses.
Forget boring accommodation… book yourself an EPIC STAY!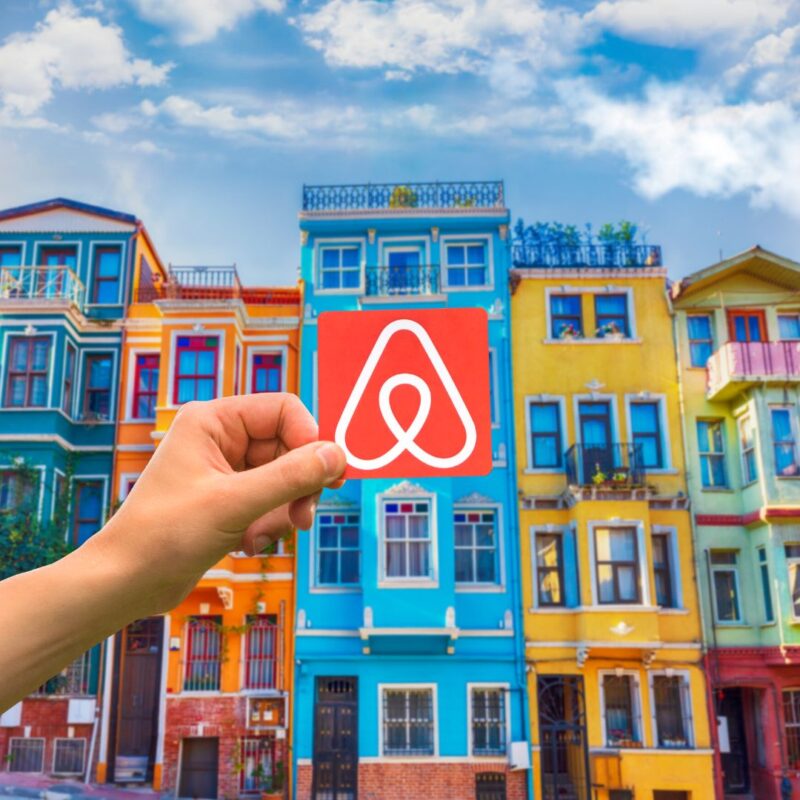 Why stay in a naff hotel when you can stay in a cosy, stylish local house instead? And for half the money too!
Stay somewhere EPIC and save your hard-earned dollars — from houses to barns to castles and caves, there is an Airbnb for every occasion!
Book an EPIC Stay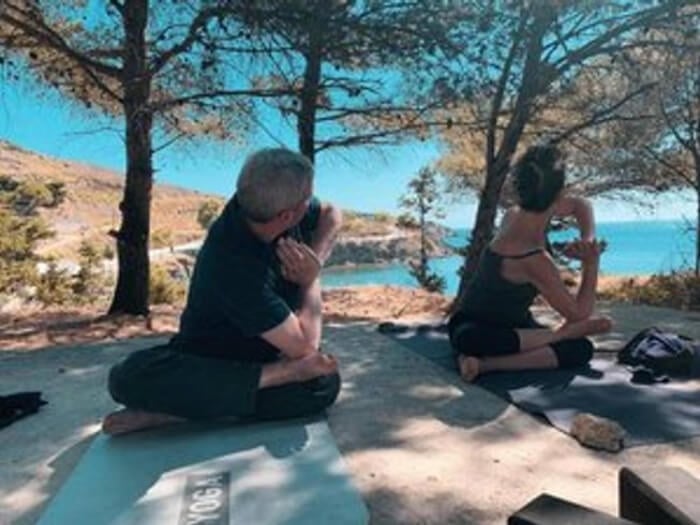 Price: From $1,752
Location: Leros Island, Greece
Just two minutes away from the sea, Phlea Farm is a treat for the senses. Set in the middle of a grove of tangerine and orange trees, you can practice yoga while surrounded by the pleasant sounds of nature and the wonderful ocean breeze.
Get ready for rejuvenation, deep rest, re-balance, and reconnection with your partner.
Attend sessions of daily chakra cleansing; optional morning meditation and acupuncture; and sessions of your own choice that are either Kundalini or Tantra yoga, Tibetan pranayama, and holistic treatments.
You are free to decide how long and when to join, as well as what activities you want to participate in. You create your own schedule!
During your free time, you can go hiking, diving, or go on day trips to nearby islands.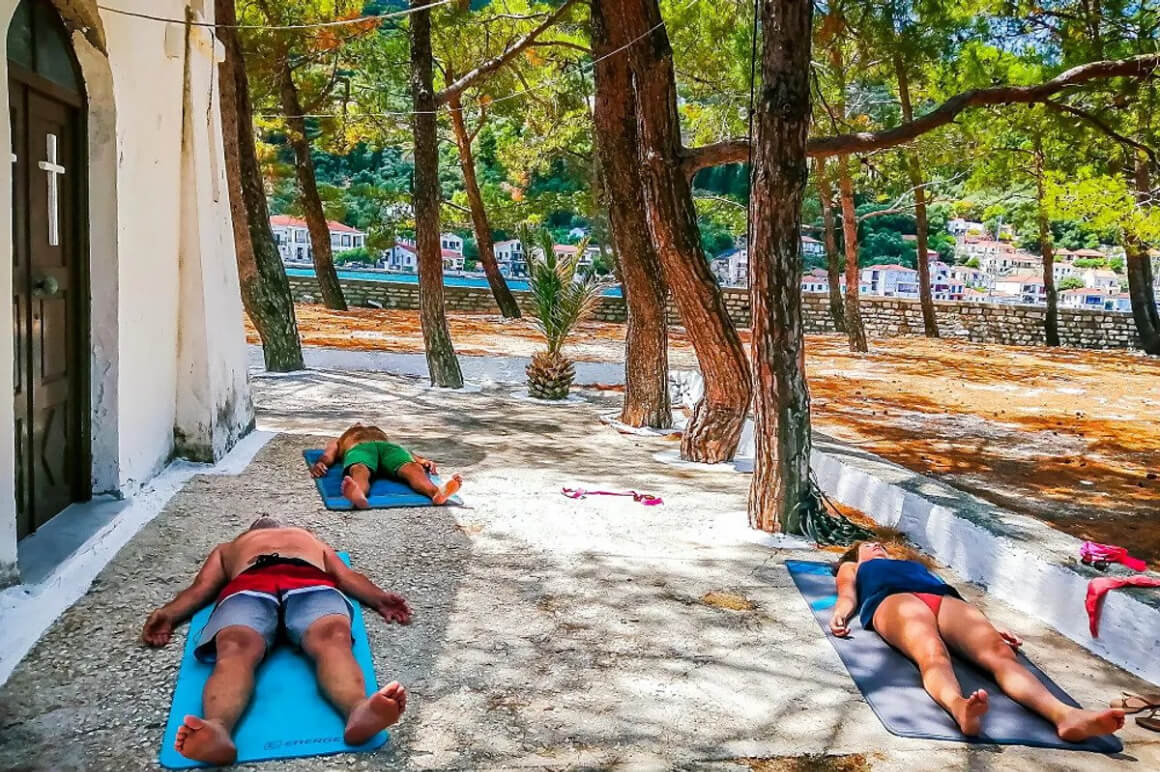 Price: From $1,246
Location: Skiathos, Greece
If sailing and yoga are in your blood, this is the best yoga holiday for you. You'll feel the sun on your skin, the sand on your feet, and the sea breeze on your face as you go on a journey of self-discovery and immerse yourself in the ancient and sacred knowledge of yoga.
Step away from the daily grind and spend 8 days doing nothing but sailing, exploring nature, and practicing yoga. Suitable for yogis of all levels, you'll participate in daily General and Hatha yoga, sail in areas away from mass tourism, and enjoy the stunning beauty of uninhabited islands of the National Marine Park area.
Your accommodations will be a cabin in a sailing boat and included in the package are daily breakfast and brunch served on board made up of organic, vegetarian, and diabetic-friendly food.
Price: From $2,783
Location: Naoussa, Paros, Greece
Designed to strengthen the immune system and body, address issues blocking progress, and rejuvenate participants, this long-stay yoga retreat includes various yoga styles including Yin, Nidra, Vinyasa, Hatha, and Transformational yoga.
The program includes group classes and personal guidance from experienced teachers. Aside from daily yoga classes, meditation, and Pranayama, you also have personal time to enjoy and explore the island, as well as have access to several massages and alternative wellness sessions.
Located in the traditional settlement of Naoussa, this retreat takes place in one of the most picturesque villages of Paros. Aside from being an oasis of art, Naoussa boasts chic boutiques and gourmet restaurants.
Walk away from this retreat transformed into a whole new person with a balanced mind and body.
Is This the Best Daypack EVER???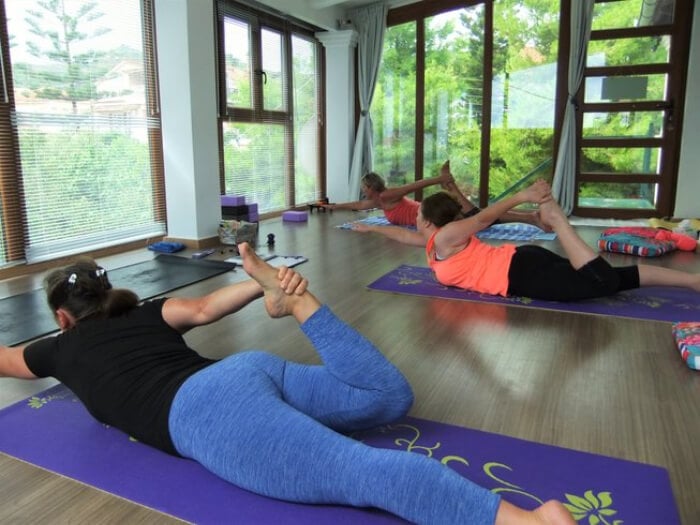 Price: From $660
Location: Zakynthos, Greece
Explore your inner self, unlock tight hips, and immerse yourself into a world of leisure for a week in Zakynthos.
With a daily routine of gentle Zen yoga, guided meditation, and Nidra yoga, this retreat is suitable for beginners and yogis of varying levels. Reconnect your senses, find your inner balance, and reduce stress.
You'll have more than ample time for relaxation and de-stressing in between daily yoga classes and with a location as beautiful as Zakynthos, you have nothing to complain about.
Argassi is situated on the island's southern part, a little over 5 kilometers away from the airport. It boasts a small but varied selection of taverns, beach bars, shops, and restaurants with a lively water sports center.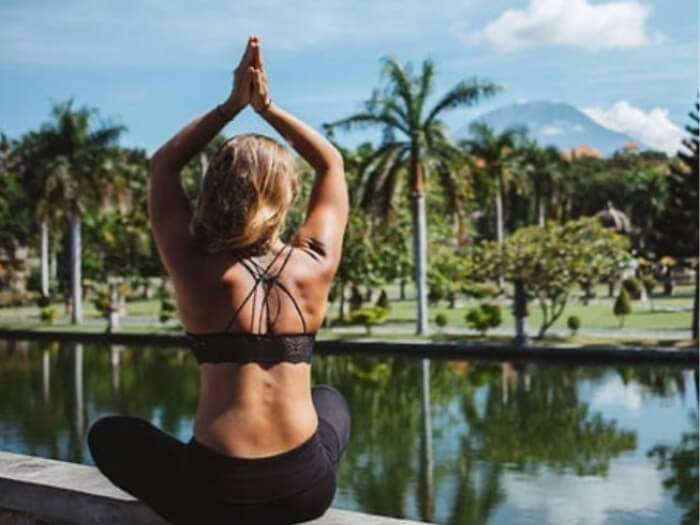 Price: From $5,295
Location: Athens, Greece
Eliminate all hassles with this all-inclusive holiday. From airport transfers to meals and all activities, everything is taken care of. Have a deeper connection with yourself and nature through daily yoga practices and get to know the islands of Mykonos, Athens, Santorini, and Crete at the same time.
Suitable for beginners and intermediate yogis, this retreat includes six morning yoga sessions, excursions with a local guide, and a multitude of healthy meals.
Love the water? No problem, you have plenty of opportunities to snorkel on unspoiled beaches and visit the sacred island of Apollo. You'll even hike and cap the day off with wine tasting.
Accommodations will be in a variety of luxurious hotels. If you're looking to spoil yourself and restore balance within, this is the best option.
Don't forget insurance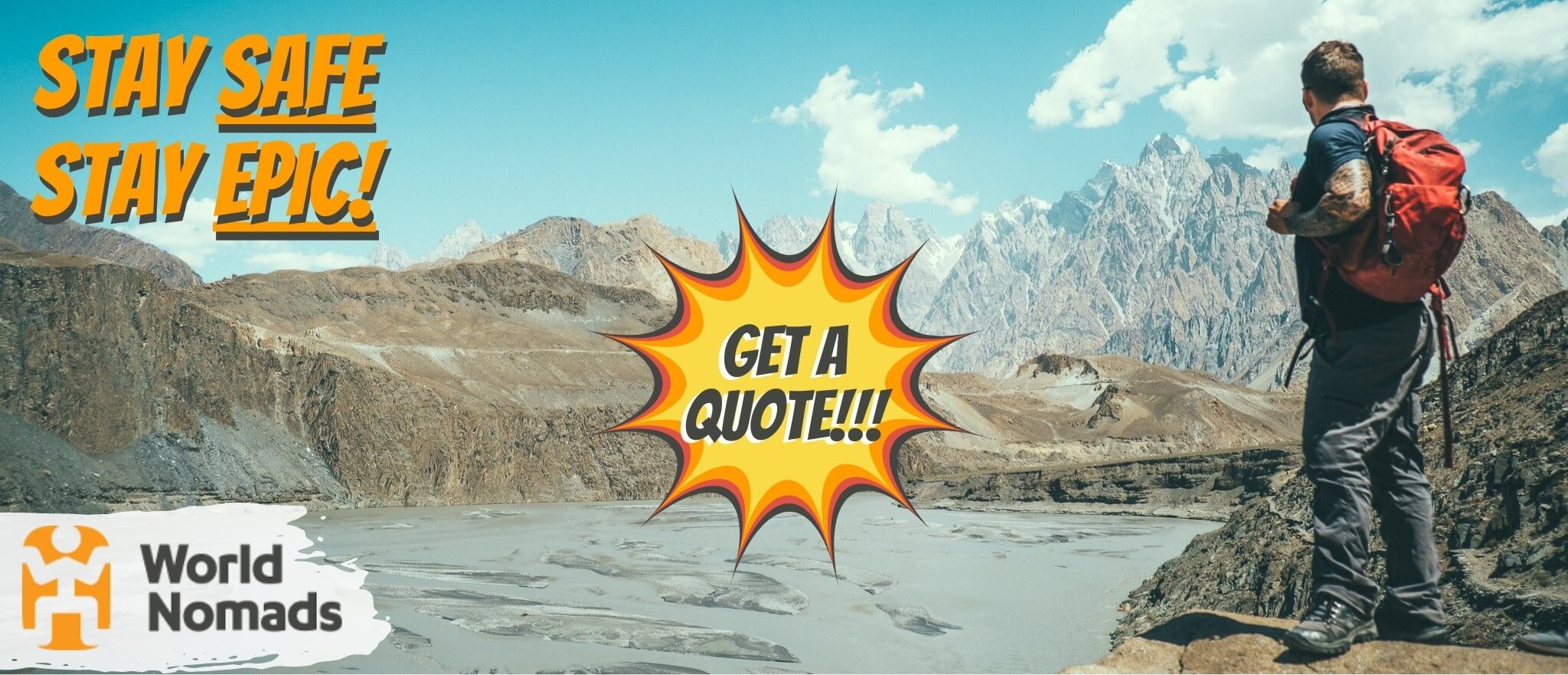 World Nomads' mission is to support and encourage travellers to explore their boundaries. They offer simple & flexible travel insurance, and safety advice to help you travel confidently.
They've been doing it since 2002 – protecting, connecting, and inspiring independent travellers just like you.
Get a quote below or read our in-depth review!
World Nomads provides travel insurance for travelers in over 100 countries. As an affiliate, we receive a fee when you get a quote from World Nomads using this link. We do not represent World Nomads. This is information only and not a recommendation to buy travel insurance.
Final Thoughts on Yoga Retreats in Greece
So there you have it, you have just explored some of the most awesome yoga retreats in Greece! Whether you're looking to relax and have fun in the waters for a week or you're looking to do some real inner work – there's plenty of options in Greece.
Without a doubt, Greece is one of the best places to practice yoga, find your center, and improve your flexibility. The natural surroundings are the perfect backdrop to relieve stress and focus on yourself.
I hope you find something that will help you on your journey to better mental, spiritual, and physical health.
---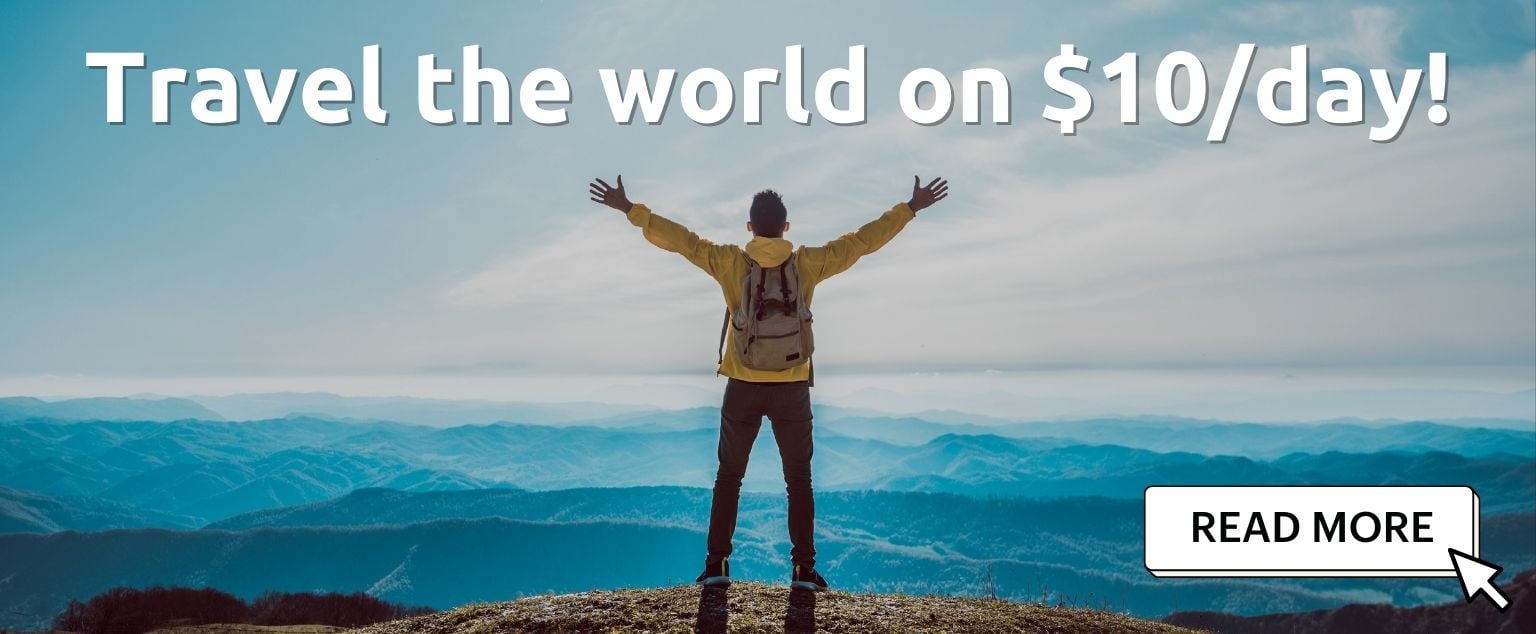 And for transparency's sake, please know that some of the links in our content are affiliate links. That means that if you book your accommodation, buy your gear, or sort your insurance through our link, we earn a small commission (at no extra cost to you). That said, we only link to the gear we trust and never recommend services we don't believe are up to scratch. Again, thank you!