Rhodes is the largest of Greece's Dodecanese islands and comes packed full of beautiful beaches, turquoise waters, a poppin' nightlife, all topped off with a HUGE dollop of history. Enjoy the atmosphere of the old town, spend days on the beach, turn up, and hire a car to discover hidden gems of the island.
But… isn't it, like, SUPER touristy here? Surely there are millions of tourists here each year, so many package holidaymakers, that you won't be able to find a place to stay?
Don't worry! There are plenty of Rhodes island hostels to choose from. We've narrowed 'em down into this handy list of the best hostels in Rhodes and put them into handy categories, so it's easy to find one that's right for you.
So get ready to hit the beach and read up on some history, here come the coolest places to stay in Rhodes!
Quick answer: The Best Hostels in Rhodes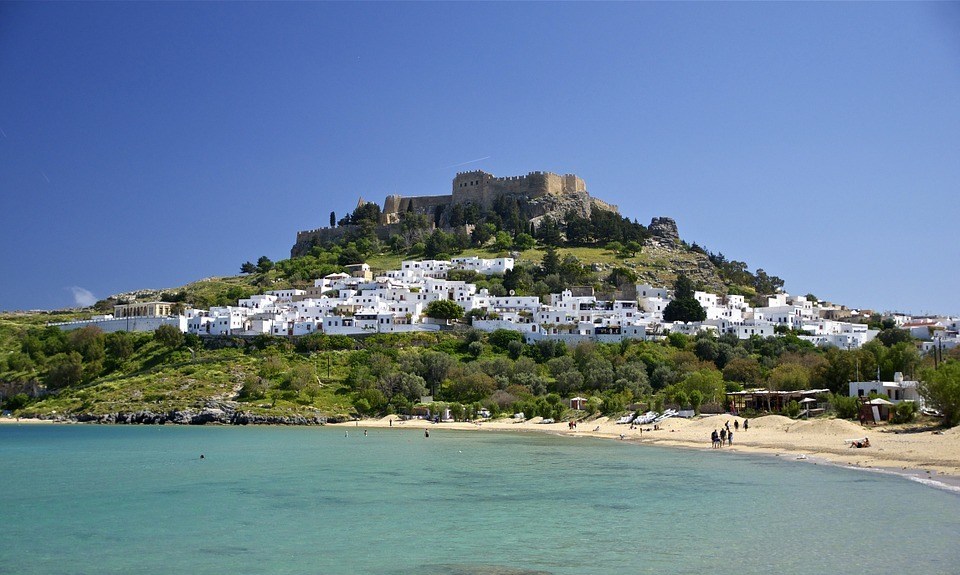 Best Hostels in Rhodes
A gorgeous island jam-packed with stunning natural beauty, you can't really go wrong when choosing where to stay in Rhodes. Everywhere is good! However, if you're specifically looking for a place to sleep on a budget, you'd be better off booking one of Rhode's awesome budget hostels.
Well, it's either that or sleep on the beach.
Best Overall Hostel in Rhodes – Stay Hostel
$$$
Housekeeping
Bar
24-Hour Security
Beautifully designed, brand new, with amazing facilities, yep, you guessed it: this is our pick for the best overall hostel in Rhodes, Greece. The value for money game is strong here, and it comes complete with an amazing location close to a VARIETY of beaches, and the old town, too.
It's the atmosphere that really makes this Rhodes backpackers hostel just, y'know, a really sweet place to stay. It also has a vibey bar, puts on fun events – and staff that get to know guests by their actual names. Good effort! (Bit pricey though).
Best Hostel for Solo Travellers in Rhodes – Rhodes Backpackers
$$
Bicycle Hire
Activities
Cafe
This Rhodes island backpackers hostel (could you tell from the name?) is chilled out and full of fun. It's set in the centre of Rhodes and has a lovely outdoor lounge area with a bar, which is a cool place to drink and meet fellow travellers backpacking around Greece. The all-important air con is good here, too.
The super friendly owners take the time to get to know you, take you out to the local Greek restaurants, and arrange various other uber cool activities – e.g. taking you out on a sailing boat. So, yeah, definitely the best hostel for solo travellers in Rhodes, since you get treated SO NICELY by everyone!
Best Hostel for Couples in Rhodes – Vivian Studios
$$$
Book Exchange
Airport Transfers
Air Con
This is a small and family run place that also boasts all the good vibes of staying in hostels. Staying at this recommended hostel in Rhodes means a bit more privacy since you stay in private rooms as well, so we'd say it's the best Rhodes hostel for couples in Greece.
It's close to a great beach where you and your partner can catch some rays and paddle and stuff. Plus the staff are super nice, which means you won't be left with a sour taste and you'll both be going like, 'oh isn't this place cute?' to each other the whole time, or whatever it is couples say.
Psst!
Heading to a hostel? Don't forget to pack a
padlock
! It's well worth having one so you can secure your locker and protect your stuff!
Best Budget Hotels In Rhodes
But Rhodes being Rhodes, and it being a pretty long-established tourist destination, there are tons of other ways to stay cheaply on this Greek island. One way – other than the hostels in Rhodes – is the humble budget hotel. We've included a few of these for your perusal below, plus a few self-catering apartments so you can keep your living expenses in Greece as you travel around this incredibly cool island.
$$
Free Breakfast
Bar
Daily Maid Service
This budget hotel in Rhodes has friendly staff who serve up a GREAT tasty breakfast every morning – it's already ticking a lot boxes (mainly food based) for us. The beach is super close by and you could even hike to the acropolis 2.6km away, definitely doable we'd say.
It's decorated in a modern style, which is cool, but the only thing that lets this place down are its bathrooms, which are just not so good. However, if you're unfussy and literally do not care then this is certainly a decent budget place to stay in Rhodes.
A mere 3 mins from the beach, and set in Rhodes town, this little place is small but sweet. A good option for couples because of how cute and B&B-ish – it's private, some rooms have balconies, it's clean, comfy. You know, it's all good.
Nothing's ever too much trouble for the staff at this budget hotel in Rhodes – they're really helpful and wanna do the best they can, which can only ever be a good thing for a guest. Not exactly a Rhodes backpackers hostel, but the price is decent enough for anyone backpacking Europe on a budget.
$$
Outdoor Terrace
GREAT COFFEE
Bicycle Rental
Will you feel like a princess at this hotel? Maybe. Um, the staff are really nice. They're good at chatting, which makes a difference we guess. They also serve up a delicious breakfast in the sun-dappled garden… Sounds nice, right?
Located inside a classic Greek style building with shutters, big wooden furniture and all that kinda stuff, it also features a nice outdoor bar and beautiful tiled floors. It may be a budget hotel in Rhodes, but this 1932 Neoclassical villa actually makes you feel like you've shelled out more dollar.
$$
Kitchen
Airport Shuttle
Laundry Facilities
These apartments really do look new and modern, so at least the name is accurate. But yeah, being apartments these are great places for you, or ideally a few mates, to stay in. They're mini flats, basically, complete with kitchen, washing machine, dining table, sofa bed, lil' balcony. You'll be sorted.
Value for money wise, this Rhodes budget hotel really is a great shout. Groups or couples will especially have a laugh staying here. Being close to the beach is good, but you can also rent a car or a bike from them to enhance your trip to Rhodes. Getting out to explore is easy here!
The Best Travel Backpack?!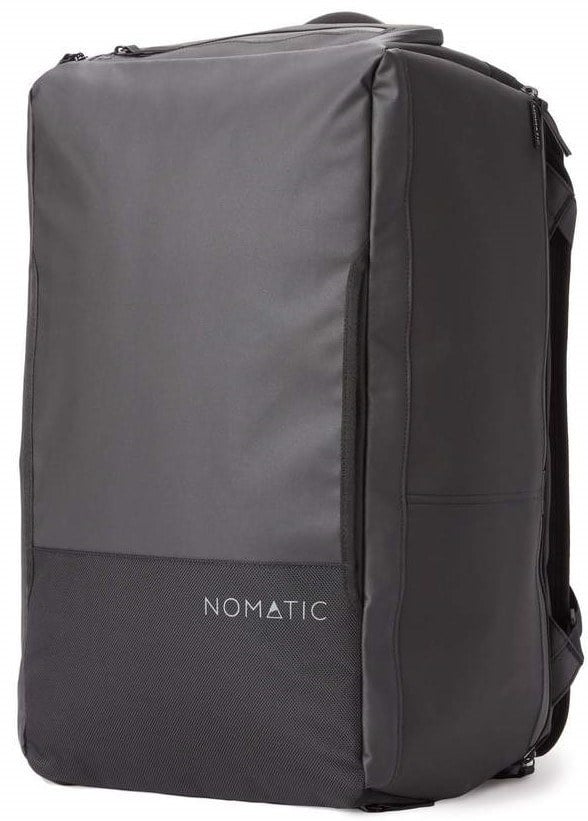 Pssssst! Not picked the perfect travel backpack yet? The Broke Backpacker team has tried out over thirty backpacks this year! Our favourite carry on backpack is the Nomatic Travel Bag.
Read our full review!
What to Pack for your Rhodes Hostel
We don't often travel without these essentials. Make sure you know what to pack for Greece!
1. TRTL Travel Pillow: Long flights and bus rides are quite uncomfortable (most obvious statement of the day). Most travel pillows… Well, you know how they are. TRTL travel pillow is different. I mean, look at it! It'll cuddle you to sleep every ride and it does a pretty damn good job of supporting your neck so you don't get that stiffness or legendary popping when you stir.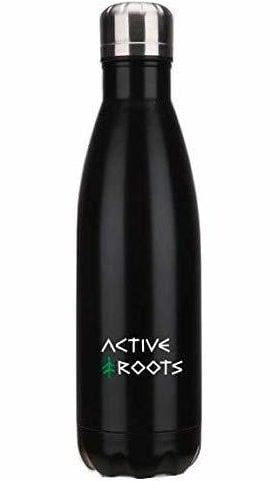 2. Active Roots Water Bottle: Hostels are increasingly meeting backpackers' demands for potable (drinkable) water. Now is better than ever to start traveling with a reusable water bottle! Aside from cutting down single-use plastic, The Active Roots stainless steel water bottle will also keep your favorite beverage hot or cold all day long and it's sized perfectly to fit an entire bottle of wine. 'Nuff said.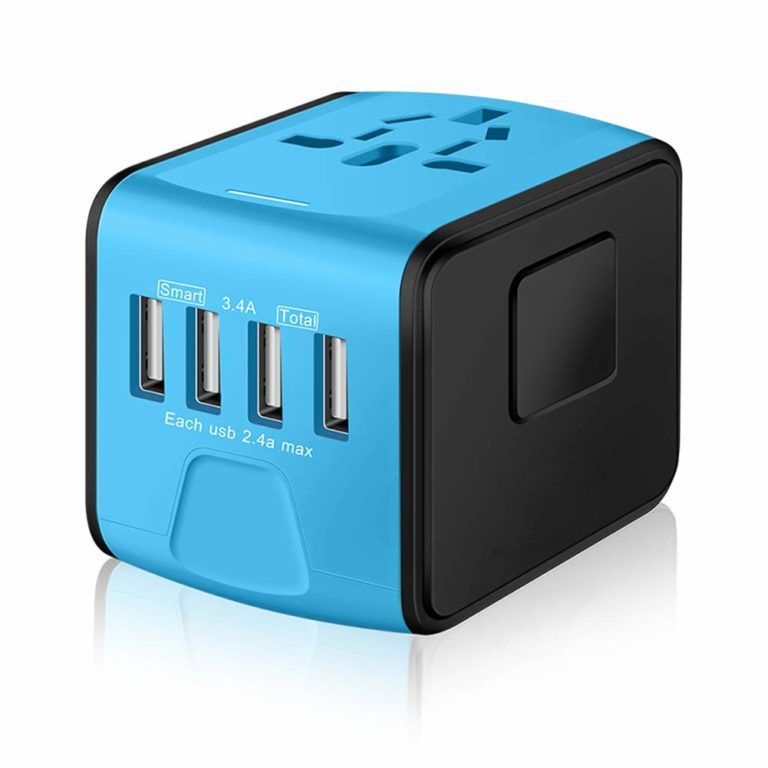 3. Universal Travel Adapter: Not every country has the same electrical plug style, so carry along a universal travel adapter. You'll want one that covers varying voltage levels, has protection from power surges, a fried laptop is not fun, and enough ports so you don't have to spend all day individually charging your devices.
4. Active Roots Toiletry Bag: The Active Roots Toiletry bag keeps all of your bathroom essential items organized instead of flowing around your backpack. Having everything handy and accessible in one water-resistant bag is a bathroom lifesaver. This toiletry bag also helps from being that embarrassed person walking back to the dorm room, in a towel, to grab forgotten shampoo.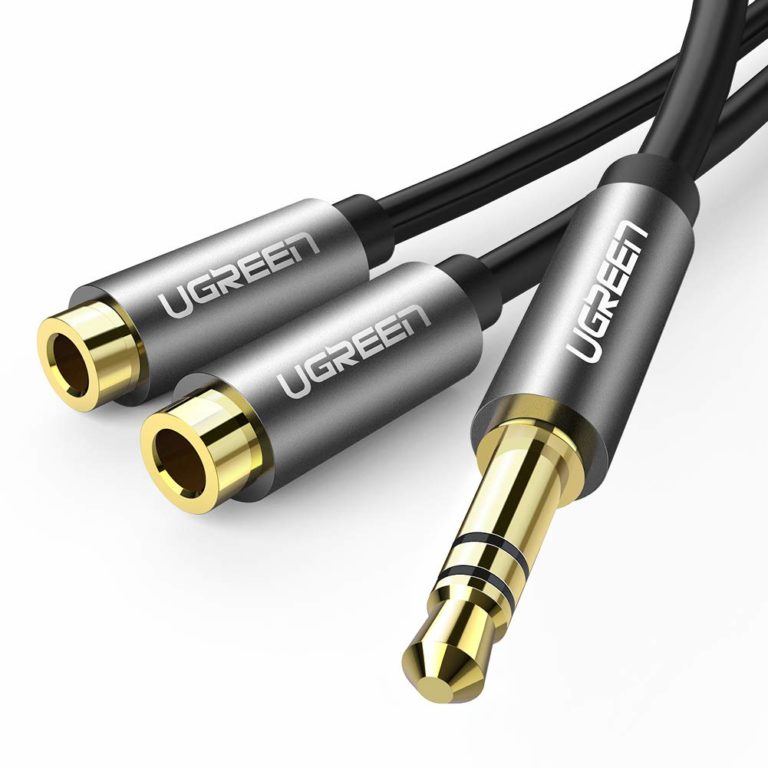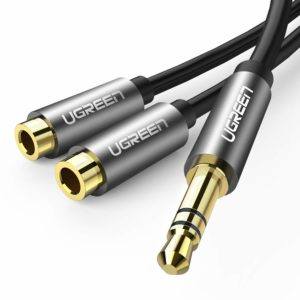 5. Headphone Splitter: Being stuck on a bus or plane with only one phone that has good music or shows downloaded can be pretty annoying if your travel buddy wants to share headphones. With this Headphone Splitter, you won't have to listen with only one ear anymore. Your friend can plug in their headphones at the same time, so both of you are entertained (on both ears!).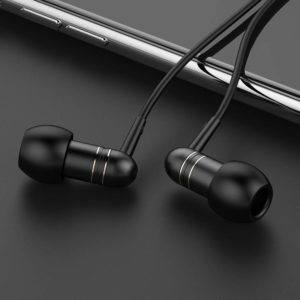 6. Noise-Cancelling Earbuds: You'll have some pretty sorry roommates – it happens from time to time. These noise-canceling earbuds help mitigate the damage. The comfortable and ergonomic design won't hurt your ears while sleeping no matter how long you keep them in. Increase the quality of your sleep by listening to some relaxing music at night or just enjoy the silence.
Need more ideas for your hostelling adventure? Then check out our comprehensive list of the packing essentials for hostels.
Why you should travel to Rhodes
So we've come to the end of our list of the best hostels in Rhodes. It's an absolutley gorgeous area of Greece to stay, so hopefully you'll see somewhere there that's right for you.
There are tons of affordable places to stay, some of them are ultra modern and newly updated, whilst others are… more traditional, but still sweet places to stay for a calmer time.
We even put a few budget hotels in there too, to give you a little extra choice. There are a LOAD of them in Rhodes after all!
No matter where you go in Rhodes though, you'll be able to rent a car or a bike from somewhere and explore the island at your leisure.
And if you can't decide on where to stay? We say go for the brand new Stay Hostel, our pick for the best hostel in Rhodes, Greece.
The only thing left to do now is get booking! Rhodes, its nightlife, beaches and literally ancient heritage are waiting for you!
Travel Insurance for Rhodes
As a wise man once said, if you can't afford travel insurance, you shouldn't be traveling. Make sure you purchase some damn travel insurance for your trip to Greece!
Traveling without insurance is risky and you should consider getting insurance before you go. We use SafetyWing who specialise in covering digital nomads and backpackers.
Still not sure? Then read our review of SafetyWing Insurance to find out if it's right for you!
More Epic Hostels in Greece and Europe
Hopefully by now you've found the perfect hostel for your upcoming trip to Rhodes. Make sure you book your stay before it all fills up; Rhodes is super popular!
Are you planning an epic trip all across Greece or even Europe itself? Don't worry – we've got you covered!
For more cool hostel guides around Europe, check out: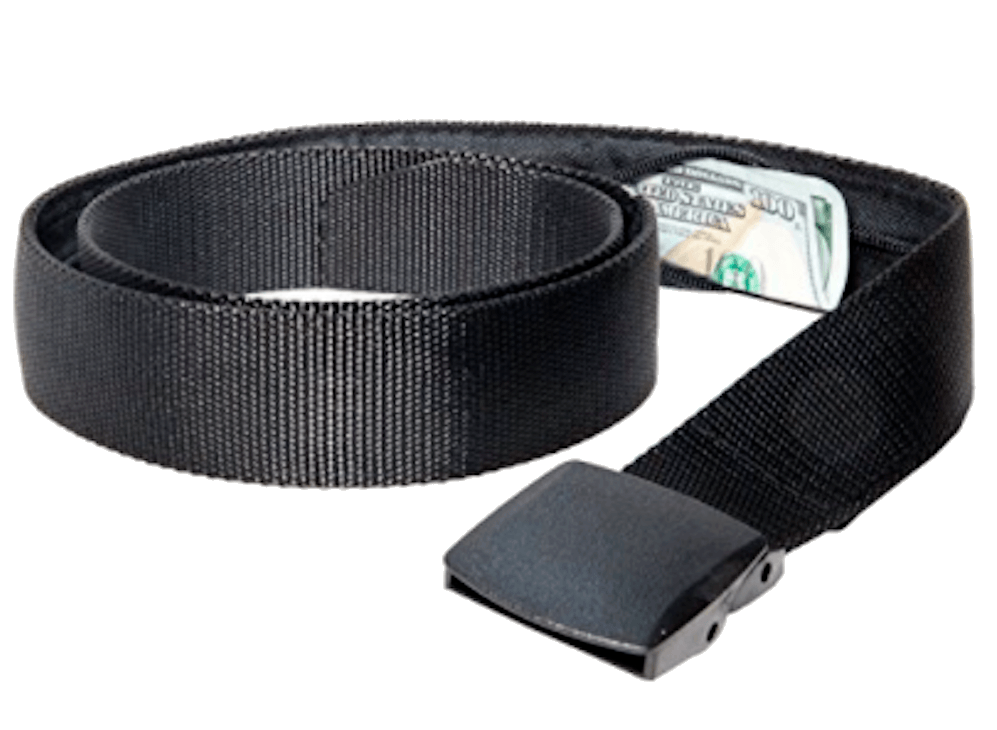 You should always have emergency cash hidden on you – pick up this awesome security belt with its hidden pocket before you travel, it's perfect for hiding money, a passport photocopy.
Over to you
By now I hope our epic guide to the best Rhodes island hostels has helped you choose the perfect crash pad for your adventure in Greece! A visit to Rhodes is always pretty damn spectacular, and there are heaps of amazing places to stay.
Enjoy your trip, meet some wonderful travelling folk, and have a damn good. If you think we've missed anything or have just travelled to Rhodes and have the hottest hostel scoops for us, hit us up in the comments. Peace!
Yay for transparency! Some of the links in this post are affiliate links. This means that if you book your accommodation through the site, The Broke Backpacker will earn a small commission at no extra cost to you. Your support helps keep the site going.
---
Need More Inspiration?
Like this POST? PIN ME!!!
Noodle addict. City dweller. Aaron Radcliffe is the marketing ninja for The Broke Backpacker, founder of Nomads Nation and Co-Founder of Ditch Your Desk.