With turquoise beaches, sun-kissed ruins and delicious Mediterranean cuisine, Greece really is the whole dream-holiday package. Let's not forget its buzzing arts scene and breathtaking mountains either! It's been at the top of travelers' bucket lists for centuries and continues to offer a picture-perfect vacation!
Many people think that the cost of a trip to Greece is very expensive, mainly because of all the beachside resorts and luxury yachts that pop up on Instagram. The truth is, Greece is actually very affordable, especially compared to other European countries.
When traveling mindfully while keeping an eye on your expenses, Greece can even be the dream for every budget backpacker. Staying in hostels, eating Greek fast food, and using public ferries will give you a great vacation for not a lot of money.
So, is Greece expensive? Not if you take care of your money! Sticking to the following tips will help you have an amazing holiday on a budget, so you can fully enjoy Greece, without a single worry about spending too much.
Your Greece vacation cost depends on many different factors. You'll need to consider total accommodation costs, flights, local transport, food prices, food tours, activities, alcohol, and a few other expenses. Fortunately, this post will break down the rough amount for each category.
All Greece travel costs in this post are estimates and are subject to change. Prices are listed in US Dollars (USD).
Greece uses the Euro (EUR). As of April 2022, the exchange rate is 1 USD = 0.92 EUR.
To keep things simple, I have summarized the general costs for a trip to Greece. Take a look at the table below:
2 Weeks in Greece Travel Costs
ESTIMATED EXPENSE: $120 – $1730 USD for a roundtrip ticket.
Flight prices change, sometimes dramatically, depending on the time of year. October tends to be the cheapest month to fly to Greece. You can expect to pay a lot more during the high season (usually the summer months).
Athens International Airport Eleftherios Venizelos (ATH) is the country's busiest airport. If you're visiting one of the Greek islands, it may be cheaper to fly to Athens, and then get a cheap flight with a regional budget airline, or even take the ferry.
So, how much does it cost to go to Greece? Find a quick breakdown below:
New York to Athens International Airport Eleftherios Venizelos: 345 – 500 USD
London to Athens International Airport Eleftherios Venizelos: 91 -167 GBP
Sydney to Athens International Airport Eleftherios Venizelos: 962 – 2553 AUD
Vancouver to Athens International Airport Eleftherios Venizelos: 1159 -1995 CAD
While these are the averages, there are some sneaky ways to save money on airfare. For instance, you can avoid travel agents' fees by booking your own flights with comparison sites such as Skyscanner.
If you need to travel via another city, buy two separate flights as it may be cheaper (eg. if you're traveling via London, book one flight to London and another to Athens). Remember to book ahead as airfare tends to get pricier the closer it gets to the departure date.
ESTIMATED EXPENSE: $15-$45 USD per night
Accommodation costs in Greece is pretty affordable. However, prices get steeper as you venture away from the mainland and head for popular Greek islands like Mykonos, especially during high season when tourism is booming. There are amazing locations you will want to see, so it's not that easy to decide where to stay in Greece.
So, how much should you expect to pay for your accommodation in Greece? The cost will depend on what type of place you want to stay in. Shared dorms in hostels are a great option for backpackers and travelers on a budget. If you prefer to live more independently and with a bit more privacy, then you're best off with an Airbnb.
Hostels in Greece
Hostels are undoubtedly the best way to keep your accommodation expenses low. There are an incredible amount of amazing hostels all over Greece. The average cost is around $15 USD per night, however, this can get even cheaper. Hostels are a perfect option for solo travelers looking to meet like-minded people. Lots of hostels run a variety of social activities, so you'll be sure to find a lot of friends
Greece has a nice variety of hostels, especially in the main cities like Athens and Thessaloniki. Some offer just the bare basics, but many go out of their way to make you feel at home.
The very best of the best are these three:
Bedspot Hostel – This Santorini hostel is close to iconic Perissa Beach and their hospitality is absolutely amazing.
Francesco's – You may feel like you got the wrong address when you arrive at this hostel because it looks quite fancy. The budget-price and excellent staff make this hostel a favorite.
Athens Backpackers – With a prime location in the heart of the historical center and spacious, clean rooms, Athens Backpackers has it all.
Airbnbs in Greece
There are many amazing Airbnbs available in Greece, which are especially fitting for solo travelers or couples that want a bit more privacy. The prices vary, but you can easily find an Airbnb for an average price of $44 USD per night.
Staying in a private apartment is a great way to enjoy a bit more luxury, quiet, and space, without having to empty your pockets completely. Having your own kitchen and cooking rather than going out will also help you save some money. An Airbnb is also a unique opportunity to see the inside of a local home. Your host will likely offer you lots of insider tips!
I've listed three of the best Airbnb's in Greece:
Converted Cave in Crete – This unique studio apartment was built around an ancient cave outside the charming town of Chania. The views of the countryside and sea are unbelievable.
Central Athenian Apartment with Views – This place is in the heart of Athens' historical center and offers a view of the Acropolis from the balcony. It's been renovated and in a very quiet neighborhood.
Studio in the heart of Mykonos – This rare find accommodates four guests in a bright studio. The location, right beside the iconic windmills, is the real gem!
Hotels in Greece
Hotels are certainly the most luxurious, and therefore the most expensive, accommodation in Greece. The nightly rate usually starts at $45 but can skyrocket up to hundreds in places like Santorini and Mykonos which can be quite expensive.
Of course, there are perks to staying in a hotel. Housekeeping, amenities and private rooms are just some of the comforts you can expect. Overall, if you want a break from daily chores like cooking or cleaning, hotels are for you!
However, if you're on a budget, this might not be the best option for you (unless you find a budget hotel). Check out these three affordable hotels:
Minoa Athens Hotel – With an affordable rate, a three-star rating and a location in the historical heart of Athens, this hotel is the real deal. Make sure to book ahead to avoid disappointment.
Castellum Suites – This characterful four-star hotel in Rhodes Old Town offers lots of comfort. It's also in a great location, near the old Palace of the Grand Master, and a peaceful garden.
Orestias Kastorias – The friendly staff and impeccable cleanliness of this two-star hotel in Thessaloniki (Greece's second main city) make it a popular option. It also offers airconditioning.
ESTIMATED EXPENSE: $0 – $50 USD per day
Costs on getting around can vary depending on how you travel. This is particularly true for transportation costs. Getting around Greece is generally affordable.
You won't need any money for transport when walking around the city center. When it comes to long-distance travel, from city to city, you can expect a pretty low cost as well. If you want to have a look at the Greek islands, taking the ferry is always going to be much cheaper than choosing the airplane.
Although it doesn't enjoy the reputation for efficiency that its fellow European countries do, Greece still offers a comprehensive public transport network. This includes bus, train, ferry, and planes.
Train Travel in Greece
Trains aren't as popular as buses when it comes to getting around Greece, and they're not the cheapest option either. They're run by OSE, the national railway company. Due to recent economic trouble, many routes have been canceled and comfort isn't first-class.
The train line between Athens and Thessaloniki, as well as the one between Athens and Patra, remains in use and quite popular. This means that there are plenty of places you can take some day trips from Athens too as well, which is a great way to see a lot on a budget.
Expect to pay $50 USD or more for the ride between Athens and Thessaloniki.
To save money on train travel, consider booking an overnight journey. It's significantly cheaper and can save you the cost of accommodation for that night. The price of a journey between Athens and Thessaloniki, for instance, drops to $27.50 USD!
It also helps to check out prices online ahead of time so that you can choose the cheapest trip.
Additionally, there are rail passes that you can make use of. The Eurail Greece Pass offers unlimited train travel between Athens, Thessaloniki, and Meteora. There are various options (all are for travel on non-consecutive days within one month):
3-day pass: $139 USD
5-day pass: $202 USD
6-day pass:$232 USD
8-day pass: $286 USD
Bus Travel in Greece
Buses are the true stars of the Greek transport network, as they will reach even the remotest mountainside village. However, comfort levels vary (let's be honest, no one likes sitting on the bus for a long time), especially in quieter areas, and they are quite slow. Nevertheless, taking the bus offers some epic views, and it's also a great chance to meet locals.
How expensive is it to travel by bus? It's actually very affordable. It's around $7.70 USD for 62 miles. That works out to $31 USD from Athens to Thessaloniki. Within cities like Athens, tickets cost $1.55 USD.
You can often save about 20% of the price if you book your ticket online. The bus network is run by KTEL, which has regional offices with their own websites. Although you'll find the timetable online, you won't always have the option to purchase online tickets.
Try to read up on the journey ahead of time. Long-distance buses, in particular, have odd routes. It may seem bizarre to be dropped along the side of the highway, but this actually serves as a transfer point to another bus. If you fail to get off, you will have to pay for an extra ticket, so be prepared
There's another rule to bus travel. Officially, luggage should be weighed and excess should be charged but this doesn't always happen. Still, it won't hurt to find out the limit ahead of time and stick to it.
All in all, traveling through Greece by bus might not be the fastest option, but it's definitely the most affordable one.
Getting Around Cities in Greece
Most of the attractions in the main cities are within walking distance to each other so you won't have to rely on public transport, especially if you're staying in the city center.
However, Greece's cities do have well-developed public transport networks, comprising the underground system (the metro), the suburban railway, trams, and buses.
All in all, there are a number of options for getting around:
Metro – Trains come by every five minutes during peak houses. Expect to pay around $1.55 USD for a one-way ticket that covers a 90-minute journey across all forms of public transport.
Suburban Railway – These lines are useful if you're traveling further out, such as to Piraeus from Athens. The $1.55 USD ticket for a 90-minute journey applies to these trains, as well.
Bus – In Thessaloniki, where the metro is still under construction, and on the Greek islands, the bus is your go-to. The usual $1.55 USD is applicable.
Taxi – Taxis are plentiful and convenient. It's about $0.80 USD per mile and the minimum fare is $3 USD.
Rideshares – Uber is available, as is the local version which is called Taxibeat. You can pay around $5-$8 USD for a 2.5-mile ride, depending on the time of day.
Renting a Car in Greece
Renting a car is worth it if you'd like to travel outside of the cities without having to rely on public transport. Yes, it's definitely not the cheapest option, and some roads are quite steep so you should only consider this option if you're an experienced driver. However, the independence you get with a car rental will allow you to reach remote archaeological sites and peaceful sandy coves in your own time.
The rental starts from $28 USD per day. Keep in mind that you'll have to pay for gas too at some point. Most major highways are toll roads which means an additional $22 USD to $33 USD. Then there's also the cost of an international driving permit, which is around $15 USD.
So, is Greece expensive when you travel by car? It can be. Luckily, there are some ways of saving. Your car insurance from home may cover car rental abroad so find out ahead. Some credit cards offer insurance if you book or pay using that card. By returning the car to the same place you picked it up at, you'll get a small discount.
Want to save some cash and explore Greece by rental car? Use rentalcar.com to find the best deal possible. There are some great prices on the site and they aren't difficult to find.
Using the Ferries in Greece
Traveling to, or around the Greek Islands is pretty easy and affordable nowadays since the country developed a massive ferry network. You can get from island to island, or even from city to city (these obviously have to be around the coast) without a hustle.
However, there are a couple of things you have to know before booking a ferry ticket.
Think of the ferries as an airplane. There are numerous companies, offering different rates, ship models and routes. Just like on an airplane, you can also book different luxury classes. These range from the typical economy (which is also the most affordable one) to deluxe and first-class (they offer a bit more comfort and service).
Taking the ferries and watching the waves and islands pass by is an incredible and relaxing experience, however, if you decide to take the overnight ferries, you'll save a lot more money.
There are over 250 destinations. You can know more about the ferry schedule, book tickets, and find prices for each route online.
ESTIMATED EXPENSE: $11-$55 USD per day
Is Greece cheap when it comes to total food cost? Well, that depends on where and what you're eating. Greek food is generally affordable, but if you're eating out regularly, your expenses will shoot through the roof.
Greece is a culinary heaven! Its mild Mediterranean climate means it has an abundance of healthy, tasty products like olives and goat's cheese. Make sure that you try the country's top specialties:
Greek Salad – This stable Greek food dish is much tastier in its homeland where chefs add an abundance of fresh veggies to the salad. Expect to pay $6.60 to $9.90 per dish at a restaurant.
Baklava – Go into any Greek pastry shop and you'll find plenty to satisfy your sweet tooth. Baklava remains a classic and costs around $3.70 USD per slice.
Seafood – With its maritime location, it's no surprise that Greeks love their seafood. The prices range depending on the fish. Top of the range is red-mullet, which can easily cost $27.50 USD for two people, while squid will cost less than half of that.
To make your food budget go further, follow these tips:
Cook your own food – You'll save a ton of money by only going out to restaurants every now and then. Make use of your hostel or Airbnb kitchen instead.
Only drink during happy hour – This will save you around 50% of the price of alcohol. Just find out what time happy hour is.
Book accommodation with free breakfast – Many hostels and hotels offer free breakfasts. This could save you around $4.40 USD per day!
Where to Eat Cheaply in Greece
If you're eating in high-end restaurants twice daily, then you will burst the bank. In order to travel in Greece cheap, go to the budget haunts that offer good-quality, traditional food.
Souvlaki (skewered pork or chicken wrapped in pita bread) – This is a traditional Greek fast food that costs as little as $1.65 USD! Keep in mind that Souvlaki always comes in form of a wrap! If it's spread out on a plate, it's not the traditional dish so check the menu beforehand.
Tiropita or spanakopita (cheese or spinach pie) – Another delicious Greek meal, these pies are generally under $2.20 USD.
If you decide to cook on your own, you still need to get fresh and tasty products. These are our top two:
AB – This supermarket chain has about one hundred stores of varying sizes in Athens. It's good for convenience since it has a few stores in the touristy area, and is very affordable.
Varvakeios Market – This bustling market offers the best local produce, and an awesome, authentic atmosphere. Look forward to fresh seafood, goat's cheese and plump olives from the countryside.
ESTIMATED EXPENSE: $0-$20 USD per day
Alcohol and partying can be significant contributors to your total expenses. The government levies a considerable tax on alcohol, especially beer. The most expensive alcohol is cocktails, which normally start around $8.80 USD per drink. Nevertheless, drinking in Greece is an experience. It doesn't have to be in pricey clubs, but you should try some of the local drinks!
Ouzo – Ouzo is an anise-flavored aperitif that remains very popular in Greece. It's served by the glass which actual costs around $6.60 USD. However, this drink is best enjoyed with meze, various side dishes.
Greek wine – Many regions in Greece produce wine, although the best tend to come from the mainland. Typical prices vary depending on the region. You can expect to pay $4.40 USD per liter in a quiet area like Thessaly, and $11 USD per liter in places like Santorini.
Fortunately, there are a number of ways to save money on alcohol and partying. Happy hour is popular in Athens, and you can save around 50% on the cost of drinks. Partying at less trendy bars will also work out a bit cheaper. Try the area around Gazi, where bars such as Spirtokouto offer plenty of drinks specials.
ESTIMATED EXPENSE: $0-$34 USD per day
Greece truly has something for everyone. The landscape is full of rocky mountains that provide world-class hiking and adventure activities, as well as stunning beaches to relax on.
Not to forget, Greece is also famous for its history and culture. The Ancient Greeks left plenty of architectural masterpieces, while contemporary artists are ensuring that Greece becomes an international art destination.
You can find amazing hotspots all over the country. The Acropolis in Athens is the most famous attraction to visit. The city is filled with numerous historical sites and must-see places. You should also make time for the monasteries of Meteora, magical Delphi and the beautiful beaches of Santorini.
Most of Greece's historical attractions have entrance fees that can add up. However, if you stick to exploring the countryside and lounging on the beach, you'll barely pay a dollar!
Save money with these tips:
Visit archaeological sites across Greece on free days. These include the first Sunday of the month from November to March, as well as the last weekend of September and the 5th of June.
Book a free tour of Athens with a local via This is My Athens. No donations are expected either.
The Athens City Pass provides free skip-the-line entry into the major sites, as well as the use of the hop-on hop-off sightseeing bus. A two-day pass is $68.20 USD.
Bear in mind that Greece costs different amounts for different travelers and travel styles. It is dependent on each person and their buying habits. These may include souvenirs, shopping and luggage storage.
Souvenirs, in particular, can ruin the budget. You can get the usual touristy magnets for a couple of dollars, but when it comes to taking your favorite Greek wine or pastry home, you may have to break the bank.
To avoid financial chaos, set aside a certain amount of money for these expenses. Around 10% of your total budget should be more than enough.
Tipping in Greece
Tipping is a common practice in Greece. Hospitality professionals will expect tips — but only for good service.
You should tip the porter around $1.10 USD per bag. It's also common to leave that same amount for the housekeeper.
In restaurants, adding 5-10% to the bill and rounding up is normal. However, some restaurants may already have rounded up the bill for you, in which case you shouldn't feel obliged to tip.
If you're on a group tour, tip your guide around $4.40 USD per person. Taxi drivers may expect a tip, but it's up to you. Around 5-10% should do it.
Get Travel Insurance for Greece
World Nomads' mission is to support and encourage travellers to explore their boundaries. They offer simple & flexible travel insurance, and safety advice to help you travel confidently.
They've been doing it since 2002 – protecting, connecting, and inspiring independent travellers just like you.
Get a quote below or read our in-depth review!
World Nomads provides travel insurance for travelers in over 100 countries. As an affiliate, we receive a fee when you get a quote from World Nomads using this link. We do not represent World Nomads. This is information only and not a recommendation to buy travel insurance.
You could always do with more ways to keep your Greece costs low. Here are some final tips for traveling on a tight budget:
Visit remote Greek islands: Choose to visit islands such as Milos, Tinos, and Lesbos, rather than famous Greek islands like Santorini or Mykonos. You'll get the same beaches, slow pace and Greek hospitality. In fact, it will be better due to the fewer crowds!
Try Couchsurfing: This is a great way to save money on accommodation. You can sign up for free on the website and start looking for hosts with similar interests to you. Naturally, it's amazing for making friends with the locals.
Book overnight ferries: These are cheaper than daytime ferries and save you money on accommodation. Just remember to bring a pillow and to dress warmly. Blue Star Ferries is one of the companies offering overnight trips.
Pay in cash: Every time you use your card, your bank probably charges you conversion fees, as well as foreign transaction fees. Greece remains a largely cash-based economy so locals will appreciate the cash and may even be willing to negotiate a discount.
Have a water bottle: Don't waste money on plastic, bottled waters; carry your own and refill it in the fountains and the tap. If you're worried about potable water, get a filtered bottle, like the GRAYL, which filters out 99% of viruses and bacteria.
Earn money while you travel: Teaching English while traveling is a great way to make ends meet! If you find a sweet gig, you may even end up living in Greece as a digital nomad.
Become a volunteer: Give back to the local community and, in exchange, you're room and board will often be covered. It's not always free, but it's still a cheap way to travel in Greece.
Greece may be beautiful, but it is not beyond your budget. It's actually one of the cheaper destinations in Europe.
If you're smart with your money, you'll be able to enjoy the country with very little money:
Stay in hostels – This will save you so much money, compared to if you stayed in a hotel. It's also a great way to make friends.
Eat fast food – Greeks make incredibly tasty fast food that even luxury travelers have to try. Make the most of this and save your money for one or two fancy meals.
Travel by bus and ferry – These two methods of transport are the ideal companions to any budget traveler. Book an overnight trip and you'll save even more money.
Visit Greece during the off or shoulder season – Avoiding the busy summer months of June, July and August also means avoiding high season prices. Additionally, you'll enjoy milder weather and fewer crowds.
Book in advance – Prices tend to go up nearer to the time so book your flights, local transport, and accommodation well in advance.
What I think an average daily budget for Greece should be:
With our amazing tips, you can comfortably travel Greece on a budget of $35 to $50 USD per day.
Make sure you are fully prepared for your trip (this can save a lot of money too). Find out what you need to pack for your vacation to Greece.
---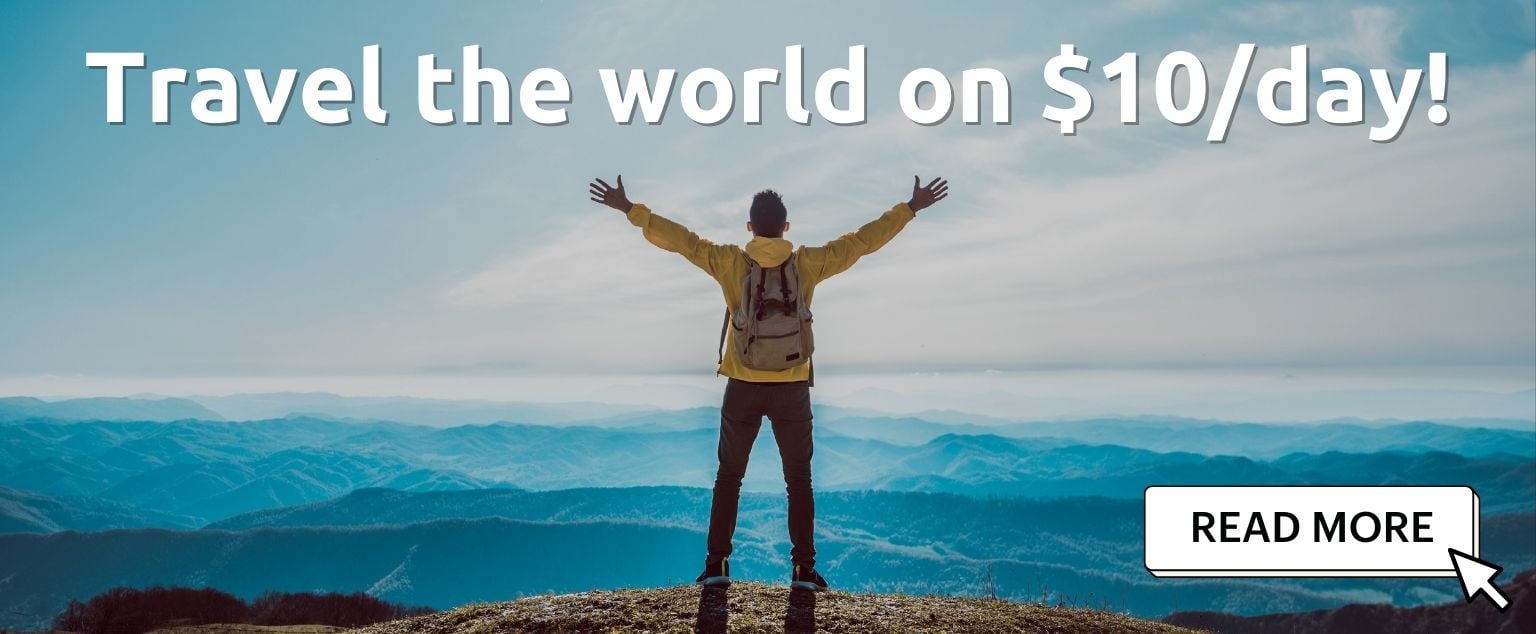 And for transparency's sake, please know that some of the links in our content are affiliate links. That means that if you book your accommodation, buy your gear, or sort your insurance through our link, we earn a small commission (at no extra cost to you). That said, we only link to the gear we trust and never recommend services we don't believe are up to scratch. Again, thank you!