Whether you're seeking an adventure with the gods or a party on the beach, a little taste of luxury or a taste of history, Greece offers something different for every single traveler. A diverse nation that offers a lifetime of excitement, Greece is a must-visit.
After a period of economic turmoil, some hostels in Greece have let their standards slide. This is exactly why we have created this epic insider's guide to the 24 best hostels in Greece, so that you can book with confidence.
From swanky Santorini to ancient Athens, you will have the time of your life in Greece. You have all the information you could possibly need in this guide.
So, let's not waste any more time and jump straight in. Here are your 24 best hostels in Greece.
Quick Answer – The Best Hostels in Greece
The Top Hostels in Greece
Greece has a lot to offer. We all know just how extensive their history is – it's some of the most influential in the Western worlds. But it's not all about ancient historical sightseeing in Greece.
From party towns and backpacker destinations to the mountainous mainland and innumerable beautiful Greek Islands, Greece is incredibly diverse. We're going to break this hostel roundup down by area, but before you choose where to stay in Greece, let's look at our picks for the absolute most bangin' backpacker accommodations you'll find there!
Do You Want to Travel FOREVER??
Then pop your email address in below and we'll send you a FREE copy of 'How to Travel the World on $10 a Day!' – make travel your LIFE.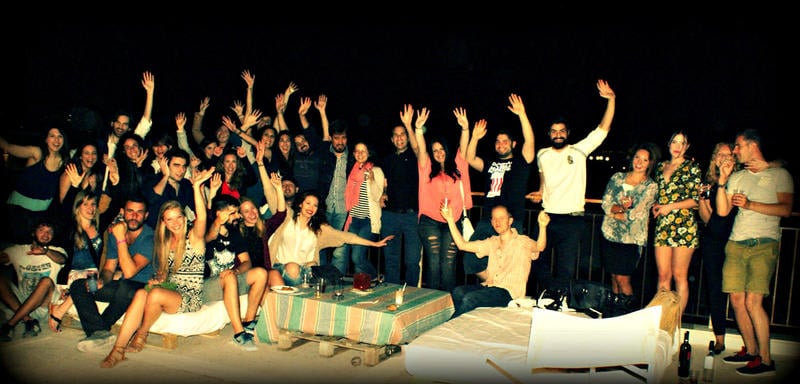 $$
Late Check-Out
Self Catering Facilities
Laundry Facilities
Acropolis View Dream Hostel is the overall best hostel in Greece. This belter of a hostel has been the go-to for backpackers in Greece for years. If these walls could speak! Attracting a fabulously international crowd and offering an on-point hostel vibe there is a lot to love about Acropolis View Dream Hostel.
As the name suggests, you can actually see Acropolis from the hostel windows. Being the most popular hostel in Athens be sure to book your bed way in advance. You don't want to miss out on this diamond of a hostel.
The Best Cheap Hostel in Greece – Far Out Camping (Ios)
$
Bar
Swimming Pool
24-Hour Security
Far Out Camping is the best cheap hostel in Greece. You could stay here for three times the amount of time for the cost of one night in a mid-range hostel in Athens. BOOM!
Far Out Camping in Ios is something of an institution and is a badass party hostel. This place is lit in all kinds of ways. Not only epic value for money but super safe and legit the most fun you could ever have while camping in Greece.
You can afford to stay here for as long as you want. These room rates are unbelievably cheap considering the average cost of traveling Greece. Get booked up now!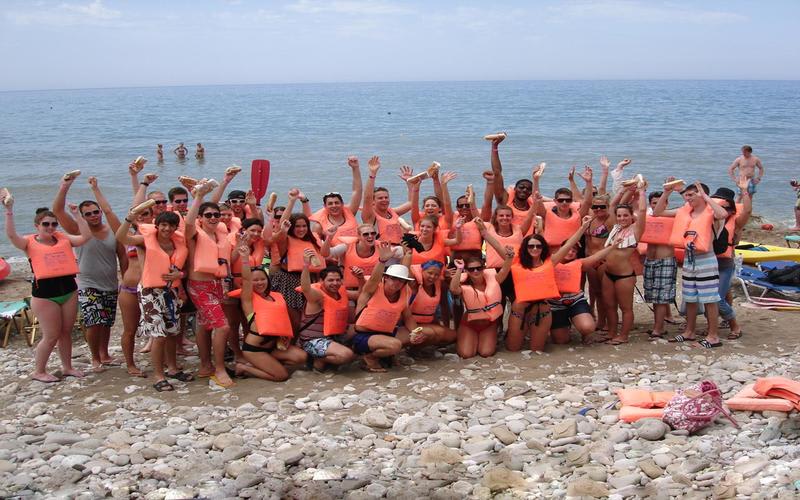 $$
Swimming Pool
Free Breakfast
Bar & Cafe
The Pink Palace Hotel & Hostel in Corfu is the best party hostel in Greece! This place is next level. An actual pink palace, this party hostel offers backpackers the party of their lives night after night.
During the day the vibes chill down and the hostel fam keeps things low key by the swimming pool. The free breakfast on offer at The Pink Palace Hotel & Hostel means that you can save yourself some euro for the booze fund.
As a guest you have free access to the hostel's 24-hour bar and Palladium Nightclub – it doesn't get better than that.
From the depths of the hostelsphere, we bring you… the Hostel Card!
HostelPass has spent years & years looking for the best places to stay in Europe, and they just came back with something GREAT.
The Hostel Card is a hassle-free solution with up to 25% discount at the most amazing hostels, tours, and experiences. Any-where-you-go.
Don't sleep on the ultimate budget travel card — use code "brokebackpacker" at checkout for 25% off!
Get the Card
And in the right corner, weighing in at 2800 mina, is the Almighty Athens – the cradle of Western Civilisation itself! C'mon, you can't not go backpacking in Athens. With a recorded history of more than 3400 years and indications of human presence spanning back potentially as far as the 11th millenium BC, it's just too damn awesome not to visit!
These days Athens is a powerhouse global city centre for Southeastern Europe. That means you get all the city life: parties, cheap and tasty food, culture, hustle, bustle, and some damn fine hostels too. Into the cradle we go!
The best base for backpackers visiting Athens.
$$
Free Breakfast
Bar & Cafe
Tours & Travel Desk
Athens Backpackers is the coolest hostel in Greece. This place is kicking and is the perfect spot for solo nomads hitting up Athens. Super popular, Athens Backpackers is always buzzing. Featuring every single hostel facility you could ask for, including a free breakfast, Athens Backpackers is a beacon of hostel goodness.
The rooftop bar is one of the coolest backpacker spots in all of Greece and is where you should head if you want to get in on the awesomeness of Athens! The whole place is clean and safe, which is the icing on an already epic cake.
Praise Zeus!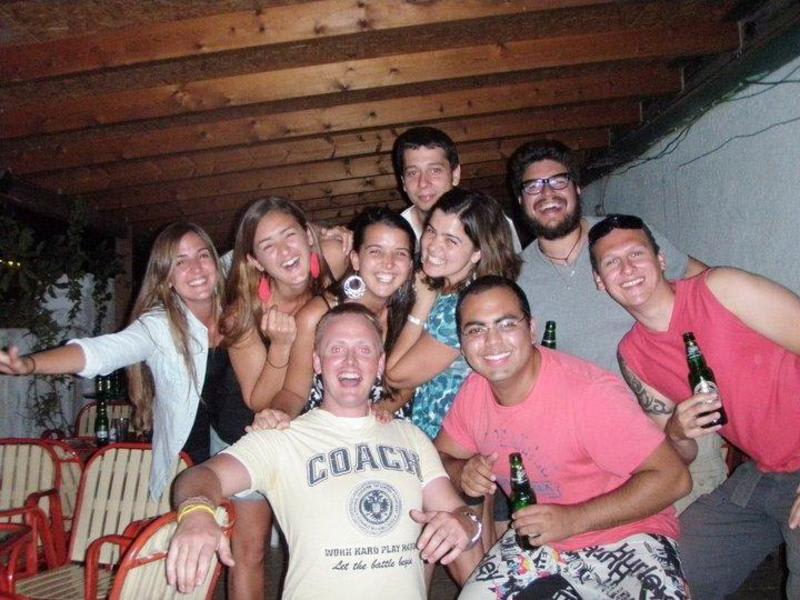 $
Free City Tour
Bar
Tours & Travel Desk
Simple and affordable, Hostel Zeus is the best budget hostel in Athens. To be fair, this hostel offers pretty epic value for money. Free WiFi, a free city tour and 24-hour security all make Hotel Zeus an absolute steal.
The free city tour is a great way to get acquainted with Athens before you decide which attractions to you want to invest in buying tickets for. Super savvy!
The place is super clean and the dorms are just the right size. The bathrooms have been recently re-done and are still sparkly and new.
A charming getaway for the lovebirds visiting Athens.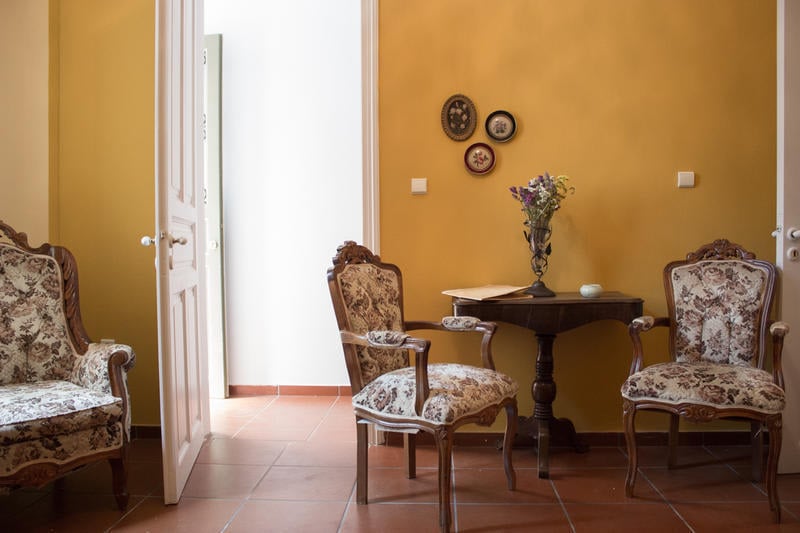 $$
Self Catering Facilities
Laundry Facilities
Security Lockers
Athens Quinta is the best hostel in Athens for couples heading to the nation's capital city. This jewel of a hostel has a whole heap of character and is perfect for couples seeking an escape in Athens.
Offering the perfect mix of social buzz and introverted retreat, Athens Quinta is quite the find. The private rooms will offer you and bae the right amount of space to unpack and unwind in Athens.
Set within a charming neighborhood in the heart of Athens, there are dozens of quaint coffee shops and cafes to explore within a few minutes walk of Athens Quinta.
Is This the Best Backpack EVER???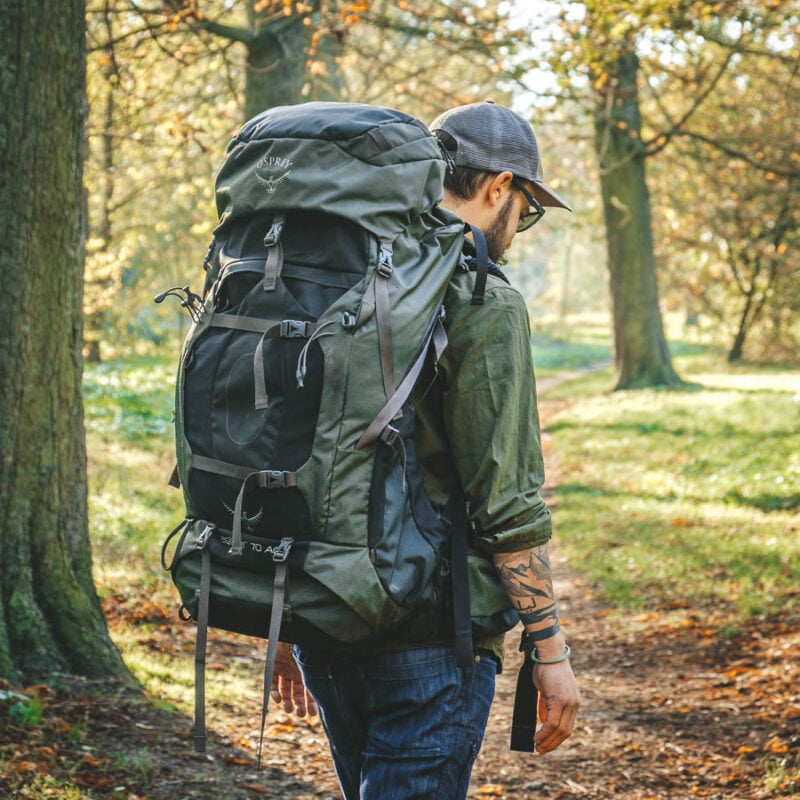 Let's cut right to it: Santorini is an insanely touristy destination in Greece. Undeniably visually striking and picturesque, this crescent-shaped Cyclades isle – roughly the size of Manhattan Island – sparkles like a gem in the Aegean Sea. The downside is that it's expensive, and if you're spending a few days on a trip to Santorini in peak season, you'll probably wish you weren't.
So, if you're busting to visit Santorini on a backpacker's budget, you'll need to pick a good hostel to keep your travel costs down. The upside? There are heaps… and they're dope!
Both a beautiful hostel in Greece and a tucked-away secret of Santorini.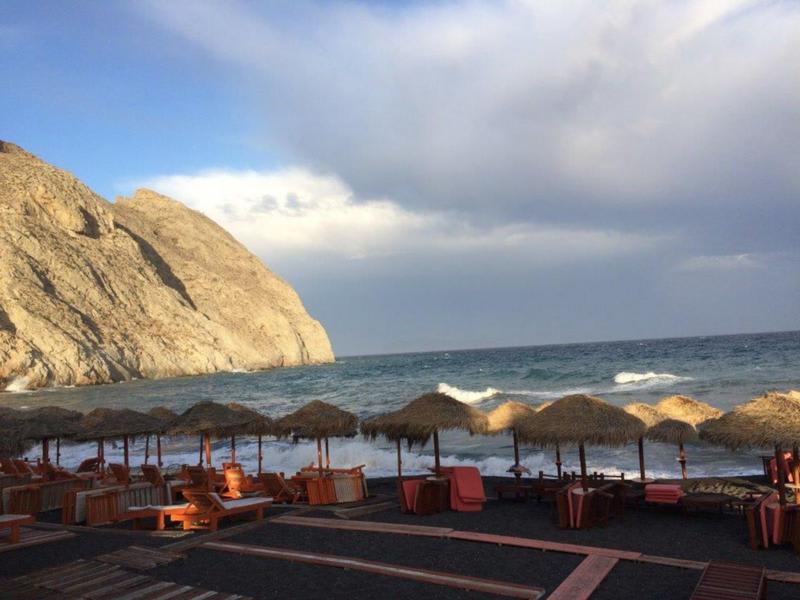 $$
Air Conditioning
Late Check-Out
Free Parking
Villa Kasteli is one of the best hostels in Greece in 2021. Set in stunning Santorini, Villa Kasteli is something of a hidden gem. Gaining nothing but positive reviews but never the big crowds, Villa Kasteli is Santorini's best-kept secret.
The whole hostel is immaculately clean and is managed by a wonderful team of locals. You can max-out your every minute in Santorini and take Villa Kasteli up on the offer of a late check-out. The hostel sits within the tiny village of Perissa, which feels like a much more authentic area of Santorini.
The meeting place for all solo travellers in Santorini.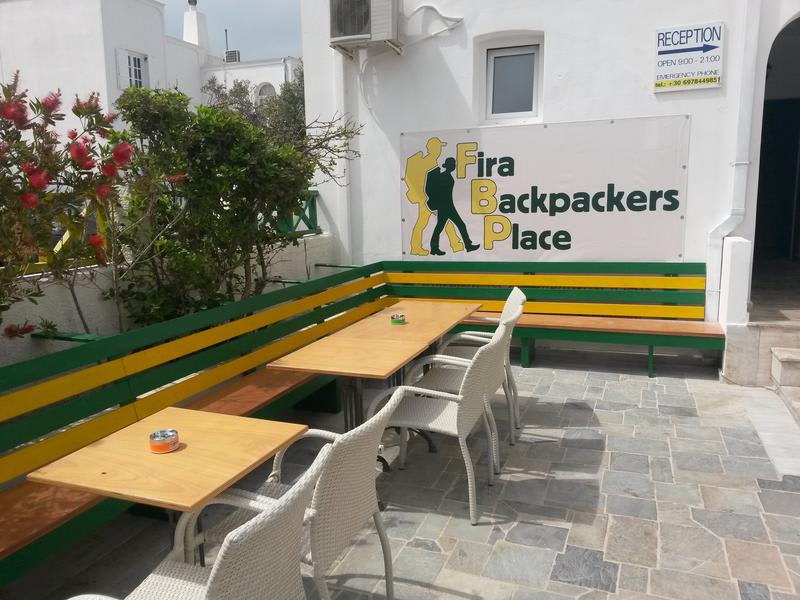 $$
Swimming Pool
Self Catering Facilities
Tours & Travel Desk
Fira Backpackers Place is the best hostel in Greece for solo travelers. This hostel makes it as easy as can be for the solo traveler to find their tribe. The swimming pool is a total bonus and is the hangout spot of choice for guests.
You and your new hostel buddies can book all your day trips and adventures through the in-house tours and travel desk.
Set within a quintessentially Santonrini white-washed villa, Fira Backpackers Place offers solo travelers a truly authentic place to stay. There is plenty of outdoor space to soak up that Santorini sunshine before exploring the city.
A cheap and homey youth hostel in Greece.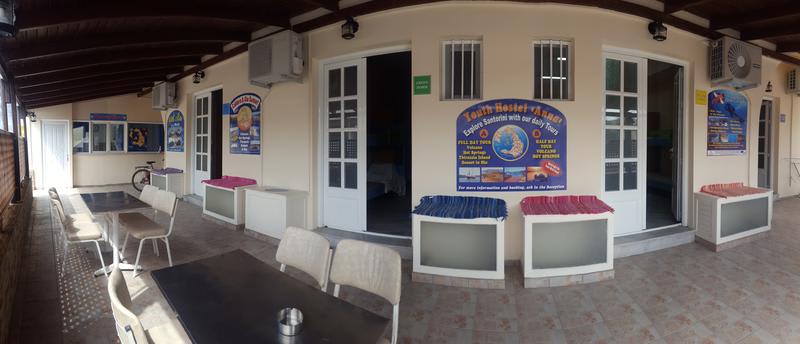 $
Tours & Travel Desk
Swimming Pool
Security Lockers to keep your valuables safe
Youth Hostel Anna is a great youth hostel in Santorini for budget backpackers. Located right on Perissa Beach, Youth Hostel Anna is a dream come true for anyone who thought they'd have to skip expensive Santorini.
It's true, Santorini is a pricey, luxurious destination but Youth Hostel Anna makes it possible for even the most broke of backpackers to explore this incredible place.
The staff are so welcoming and friendly. They'll be able to share their local tips and money saving tips with you. If you ask super nicely that it! Put Santorini back on your budget list skint friends!
Are you ready to party? Backpackers in Greece rejoice! It's time to get silly.
I could tell you that Ios is famous for more than unreal after-hours shenanigans and booze-fuelled sex on, near, and away from the beach, but I'd be lying. Another of the darling Cyclades Islands (offering the signature whitewashed architecture of the region), consider visitng outside of the peak season (June through August) if partying is not really your thing. If that's the case, however, maybe just consider visiting somewhere else entirely.
In the lap of (semi-)luxury at budget prices.
$$
Bar
Swimming Pool
Tours & Travel Desk
Francesco's is easily one of the nicest hostels in Ios. With a resort feel at hostel prices, Francesco's is a total treat. If you are travelling to Ios for a good time, and let's face it who isn't, Francesco's should be your first port of call.
Once you've checked in there is little need to stray far. The beds are comfortable, there is a swimming pool and a bar too. This is a one-stop-shop for backpackers heading to Iso.
It's a firm favorite with the annual returning crowd whom love living in this hostel, so book your stay at Francesco's in Ios ASAP.
For a romantic getaway in Ios…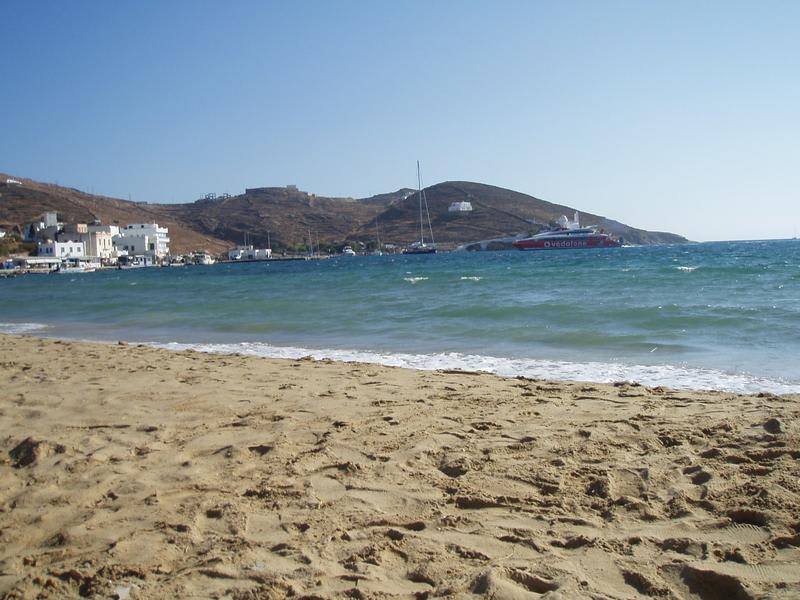 $$
Bar
Luggage Storage
Tours & Travel Desk
Galini Pension is the best hostel in Greece for couples. This cozy and homely hostel is run by a local family who have a passion for sharing their hometown with international travelers.
Offering private rooms that will never break the bank, Galini Pension gives traveling couples the perfect ratio of privacy and social time. The private rooms are as cute as can be and many even offer a private balcony. What could be more romantic than waking up to a view of Ios with bae? #Dreamy
The beach is only a few minutes walk away; Galini Pension is just perfect for couples enjoying a honeymoon holiday in Greece.
Welcome to the real Ios.
$
Bar & Cafe
Swimming Pool
Fitness Centre
You best bring your A-game to Far Out Beach Club in Ios, this place is one of the craziest and best party hostels in Greece for sure. Boasting some of the best party nights in all of Greece, in the high season, things get pretty lit at Far Out Beach Club.
You can get your beach body ready during the day and party by night. The fitness center and swimming pool are available for guests to use for free.
 If you're seeking a hardcore party hostel in Greece, you best get yourself to the party paradise that is Ios.
Yet another of the Cycladic sisters, Mykonos is a glitzy diva obssessed with her looks… noticing a theme yet? From the aquamarine waters to the endless sunshine to gorgeous maze of winding cobblestone streets through Mykonos's chic neighborhoods, there's a lot to love about Myknonos if you look past it's touristic outer-shell.
Everything is trendy in Mykonos (bars, cafes, restaurants), and the people try to match the vibe equally. If you're wearing clothes and aren't leathery-tanned, you're doing Mykonos wrong.
Expect good vibes when staying in this Mykonos backpacker hostel.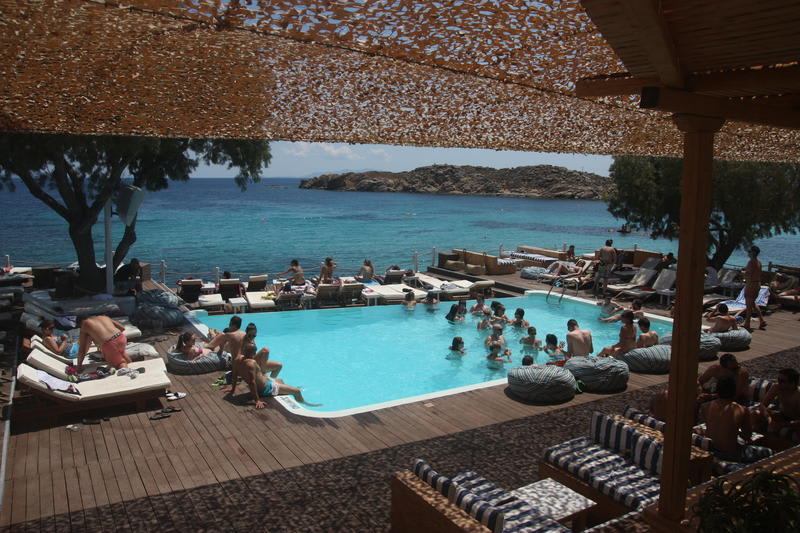 $$$
Free Airport Transfer
Bar & Cafe
Swimming Pool
Paraga Beach Hostel is the coolest hostel in Greece if you are travelling to Mykonos. There is such a buzz about this place and backpackers feel instantly in flow here. The team is so on the ball and Paraga Beach Hostel offers everything you could possibly ask for in a Greece backpacker hostel.
The swimming pool is where the action is at. The bar gets pretty pumping and for those moments when hunger strikes you can get a decent feed at the in-house cafe.
Paraga Beach Hostel offers traditional dorm rooms and camping too – for all you wild things.
Long-time players in Greece's hostel scene.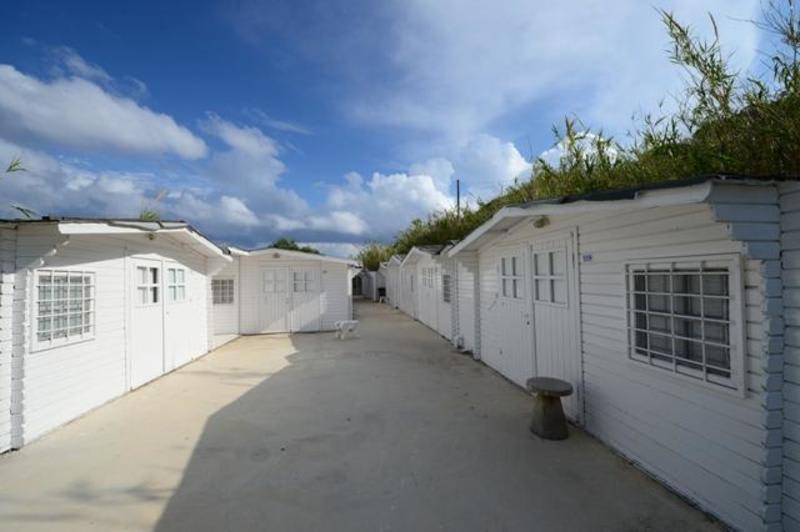 $
Bar & Cafe
Hot Showers
Security Lockers
Paradise Beach Camping is a great budget hostel in Greece and one to consider for sure. Basic but ample, Paradise Beach Camping offers you all that you need for a memorable and cheap stay at this hostel in Mykonos.
Hosting international backpackers since 1969, this place knows how to deliver a good time. Each beach hut is minimalistic and offers you the chance to chill out completely in one of the most zen areas of Greece.
The bar and cafe space is the best spot to get meeting and mingling with fellow guests. As the name suggests, Paradise Beach Camping is located right on iconic Paradise Beach.
For the capsule-style flashpacker experience in Greece.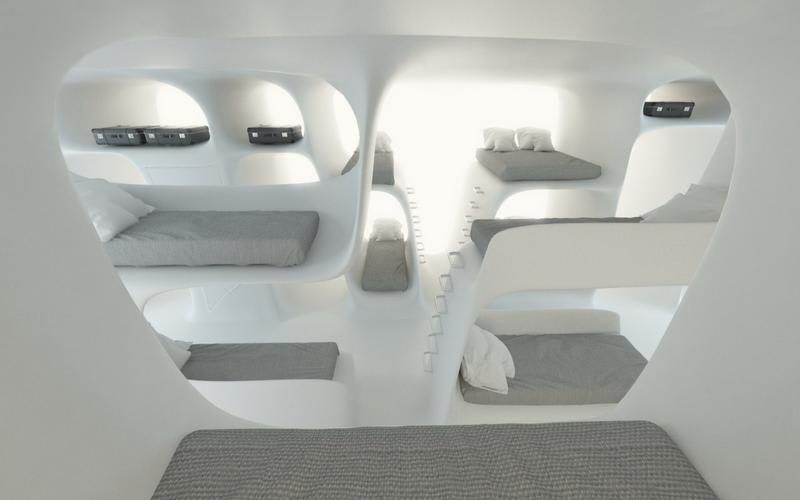 $$$
Swimming Pool
Security Lockers
Bar
MyCocoon Hostel is a highly recommended hostel in Greece that is a good option for nomadic couples. If you fancy a flashpacker experience while in Greece, you best save it for MyCocoon Hostel in Mykonos. Super modern and offering Eastern-inspired capsules, MyCocoon Hostel is not just a hostel, it's an experience.
The place is spotlessly clean and has a minimalist feel. Clean cut and highly photogenic, MyCocoon is a top pick for the coolest hostel in Greece in 2021. If you are traveling with other couples you could invest in a private 6-bed dorm – food for thought.
Stepping away from the Greek Islands and back to the mainland, we're also now stepping back to something that feels a bit more like the real world. Thessaloniki is Greece's second-largest city and amongst it's many vibrant neighborhoods and metropolitan areas, it shows.
Occupied and re-occupied time and time again, the history of Thessaloniki is woven into the fabric of the city itself. Merging the truly ancient with the truly modern, Thessaloniki is the place to go in Greece when sunning on the escapist isles begins to grow weary.
A good choice of hostel for the slow travellers in Greece.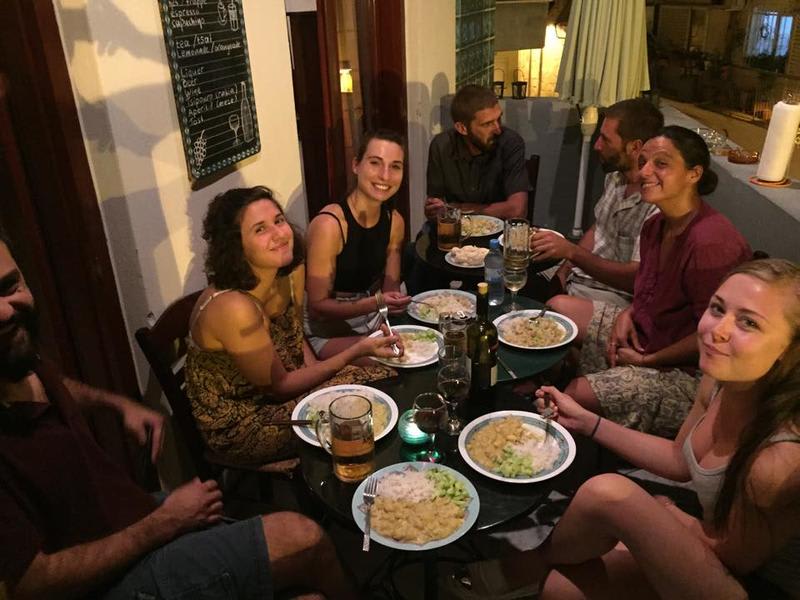 $$
Cafe
Self Catering Facilities
Late Check-Out
Crossroads in Thessaloniki is a fantastic backpacker hostel in Greece for solo travelers. With a homely and welcoming vibe, solo travelers fast become part of the family at Crossroads.
Located next to the Byzantine Walls you could not get a better-located hostel in Thessaloniki if you tried. This super-chilled hostel is ideal for anyone who likes to travel slow and with intention.
The dorms are cute and cozy, and always sparkling clean. There is a cottage like feel to the hostel too. If you're a home bird seeking a nest in Greece, Crossroads is for you.
An amazing place to stay in Thessaloniki with tonnes of freebies!
$
Free Breakfast
Bar & Cafe
Late Check-Out
RentRooms is the best hostel in Greece in terms of freebies! This little gem in Thessaloniki offers free breakfast, free WiFi, a free city tour and a free late check-out service.
What's not to love? RentRooms is the best hostel in Thessaloniki for sure, and it just so happens to be the cheapest too. Hats off the RentRooms crew, you've got this game sussed!
Charming, comfortable and all kinds of cute, you best book RentRooms now as everyone is going to want a piece of the action. Book now to get the best rates on this bargain hostel.
Cute and cheap private rooms for broke-ass couples travelling in Greece.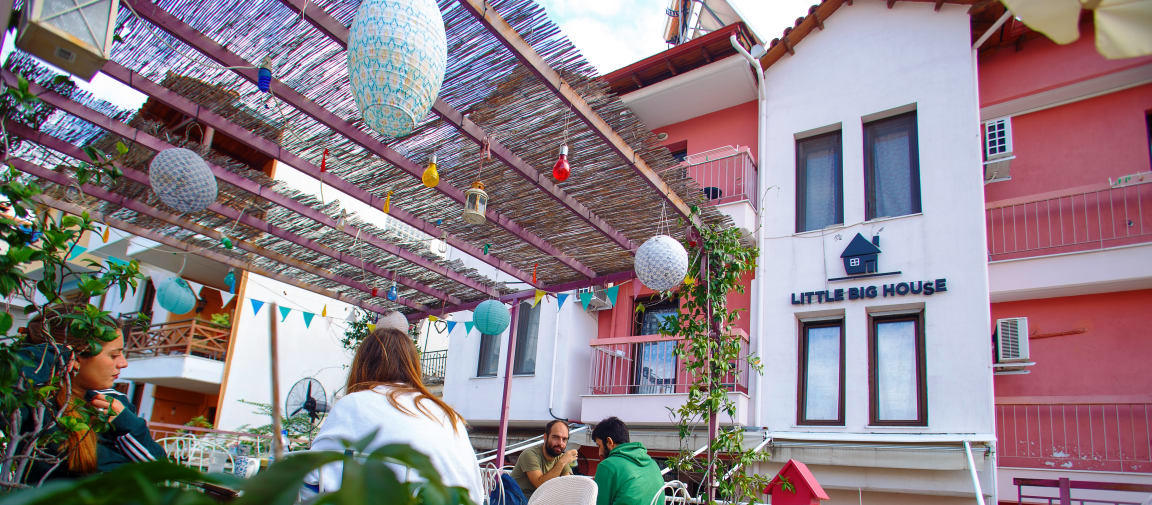 $$
Free Breakfast
Free City Tour
Bar & Cafe
Listen up! Little Big House is the best-kept secret in Greece! For broke backpacking couples looking to stretch their cash while travelling in Greece you, best get yourselves to Thessaloniki.
Offering a list of freebies as long as your arm, an on-point hostel vibe, and the cutest private rooms in the county, Little Big House is going to get a lot more attention in the coming season.
You and bae better secure your room as soon as possible Thessaloniki is a must-visit destination and Little Big House is a haven for lovers living on the road.
Stooped in history, Rhodes offers the perfect blend of mainland Greece's history and the glitzy Ibiza-lite vibes of the Cyclades. The largest of the Dodecanese islands, there are heaps of different areas in Rhodes to stay that offer different vibes.
From the old-world Byzantine streets of Old Town to the postcard perfect town of Lindos topped by archaic Acropolis, Rhodes is big and beautiful enough that you'll find an awesome place to stay even when the tourist season rolls in. Oh, and if you just want to chill on some gorgeous Grecian beaches?
That's certainly an option too.
A party-lite place to stay in Greece.
$$
Bar & Cafe
Tours & Travel Desk
Late Check-Out
Rhodes Backpackers is a top hostel in Greece for party people. Featuring their own in-house bar, you can party non-stop in Rhodes if you check-in here. There is a laid-back vibe to Rhodes Backpackers, in keeping with the chilled out island vibes of Rhodes.
If you're looking to get freaky, then this may not be the place. If you're looking for laughs, love, dancing, the best of memorie,s and a few cold beers, then book your bed right now.
The staff are super helpful and happy to help in any way that they can.
Working travellers, this Rhodes accommodation has you in mind!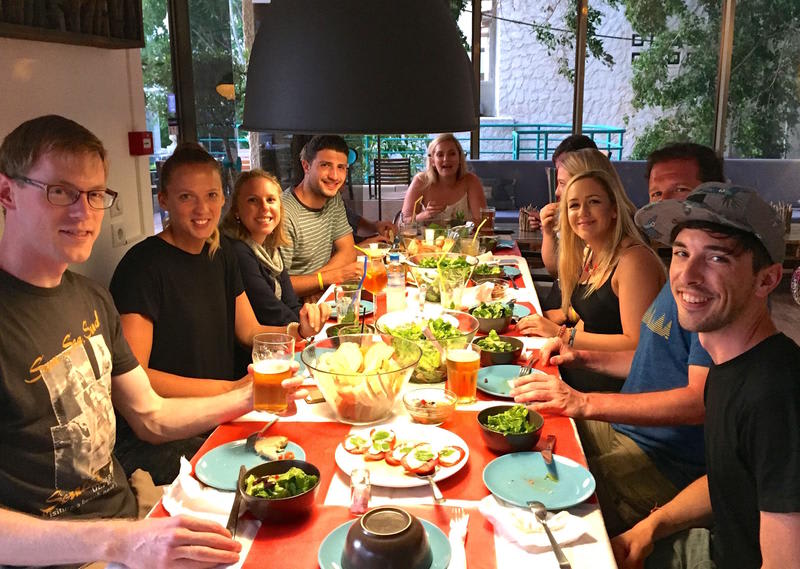 $$
Bar & Cafe
Self Catering Facilities
Tours & Travel Desk
Stop the press! The best hostel in Greece for digital nomads is Stay Hostel. Winning a number of awards over the past couple of years, this gem of a hostel is fast becoming the most popular hostel in Greece.
New to the scene and designed with the modern traveler in mind, Stay Hostel is perfect for digital nomads. There is free and reliable WiFi available in all areas and there are plenty of spaces to work in.
There are nightly hostel-fam events and happy hour drinks too. Once the working day is done you can return to your backpacker roots.
Quiet.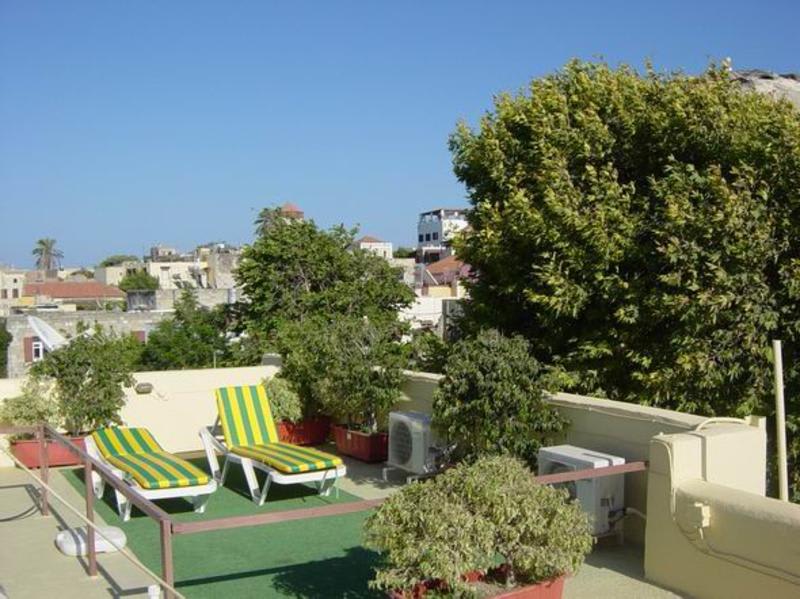 $$
Bar & Cafe
Housekeeping
Air Conditioning
Mango Rooms is a top hostel in Greece for introverted travelers. This calm and peaceful hostel in Rhodes is ideal if you like to roam and retreat.
There is a cottage-like feel to Mango Rooms and the rooms are as homely and welcoming as can be. If you do feel like hanging out with fellow travelers you can find a cool crew of people hanging out at the bar of an evening.
Housekeeping, WiFi and air conditioning are all included in your room rate. This is another great option for couples seeking a private room in Rhodes. There is a romance to the place.

Unlock the The Broke Backpacker's GREATEST Travel Secrets!
You pop your email here, and we promise to send you only travel content that's actually relevant — sounds like a pretty good deal to us!
Just a few extra cherries on the well-iced cake. Greece is pretty spectacular and there is a lot of things to see. There are also a lot of wonderful beds to rest your weary traveller head.
Here are the last few of our favourites.
The perfect accommodation in Crete no matter your style!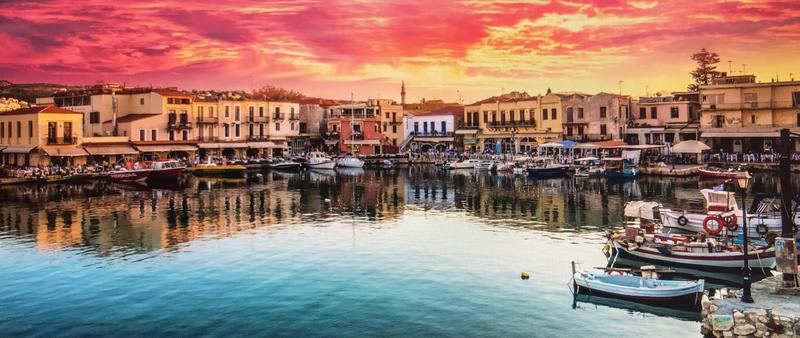 $$
Bar & Cafe
Self Catering Facilities
Tours & Travel Desk
Rethymno Youth Hostel is a dream of a hostel. Modern, bright and airy, Rethymno Youth Hostel was an obvious choice for the overall best place to stay in Crete. Ideal for every kind of backpacker – solo, digital nomad, couples – Rethymno Youth Hostel has a whole heap of facilities and a really chilled vibe.
Relatively new to the scene, the whole place feels clean and fresh. Each bunk comes with a large, lockable, storage drawer and reading light. The dorms are generous in size, so make yourself at home. FYI – the courtyard is the best place to catch some rays and get your tan on!
The Best Hostel in Corfu – Sunrock
A beautiful place to stay in Corfu with compliments to the sunset.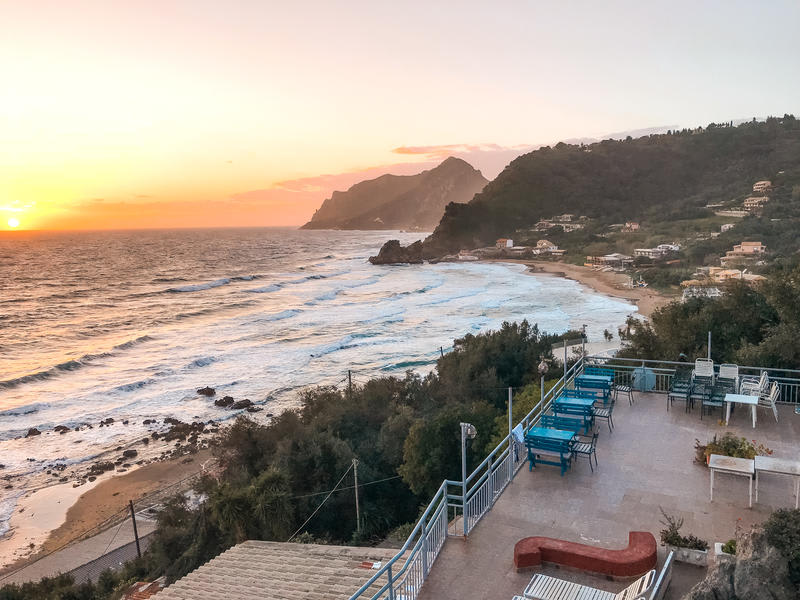 $$
Free Breakfast
Bar & Cafe
Tours & Travel Desk
Sunrock in Corfu is a great youth hostel in Greece for solo travelers. There is a strong community feel here and all guests are encouraged to join in if they want to.
There is a free breakfast every morning and a two-course dinner included in every room rate. Not only is this exceptionally good value for money but also offers solo travelers the chance to dine with the hostel fam.
The dorms are simple but clean and very comfortable indeed. With so much to see, do and explore in Corfu, you won't be staying in your accommodation much anyway!
One last hostel in Greece for the digitally nomadic tribe.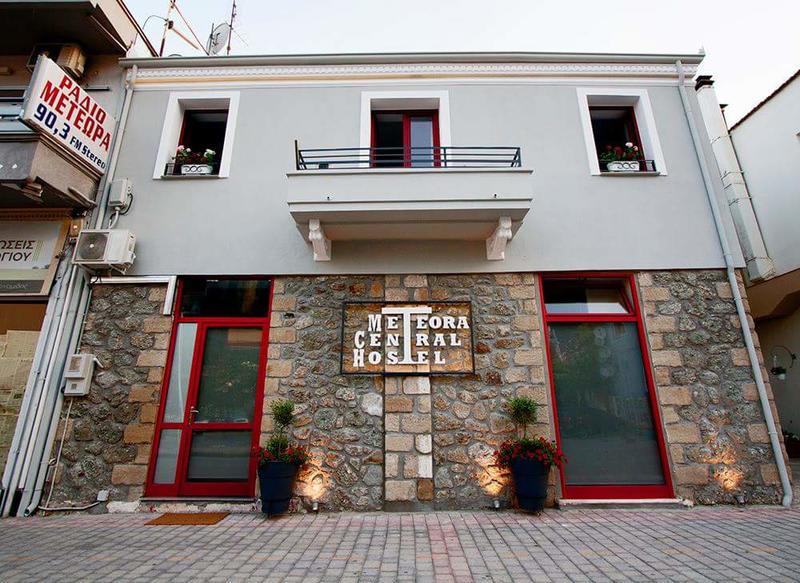 $$
Bar & Cafe
Laundry Facilities
Security Lockers
Meteora Central Hostel may seem like an odd choice for the best hostel in Greece for digital nomads but there is a method to the madness. Kalambaka is a more off the beaten track destination in Greece which makes it much more affordable for long-term travelers.
There is a heap of home comforts on offer at Meteora Central Hostel, like guest kitchen, a small garden, and laundry facilities too.
Run by a local family and small in size, Meteroa Central Hostel is the ideal low-key hostel for digital nomads who want authenticity and the opportunity to bosh through the workload.
Before You Book Your Hostel in Greece
That's it – 24 brand-spanking-sexy pads for budget backpacker to stay in Greece! Are we done? Nope!
Just a few final points to get you sorted, and then it's time to pack your bags for Greece.
Map of Where to Stay in Greece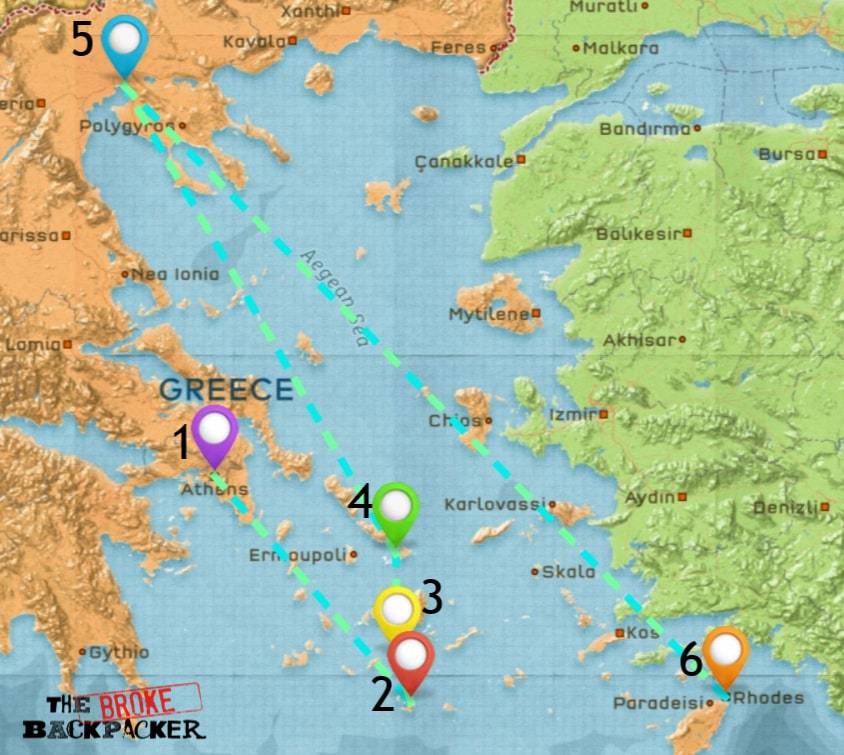 What to Pack for Your Greece Hostel
Pants, socks, underwear, soap?! Take it from us, packing for a hostel stay is not always quite as straight forward as it seems. Working out what to bring and what to leave at home is an art we have perfected over many years.
Check out our definitive Hostel Packing list for our top packing tips!
Why You Should Travel to Greece
Because it's goddamn beautiful – that's why! What an incredible selection of hostels there is on offer in Greece. Are you getting excited about your trip now?
If this epic booking guide to the 24 best hostels in Greece has provided you with too much choice, let's bring things back to basics. Remember that our overall best hostel in Greece is Acropolis View Dream Hostel. Our quick picks are great all-rounders too.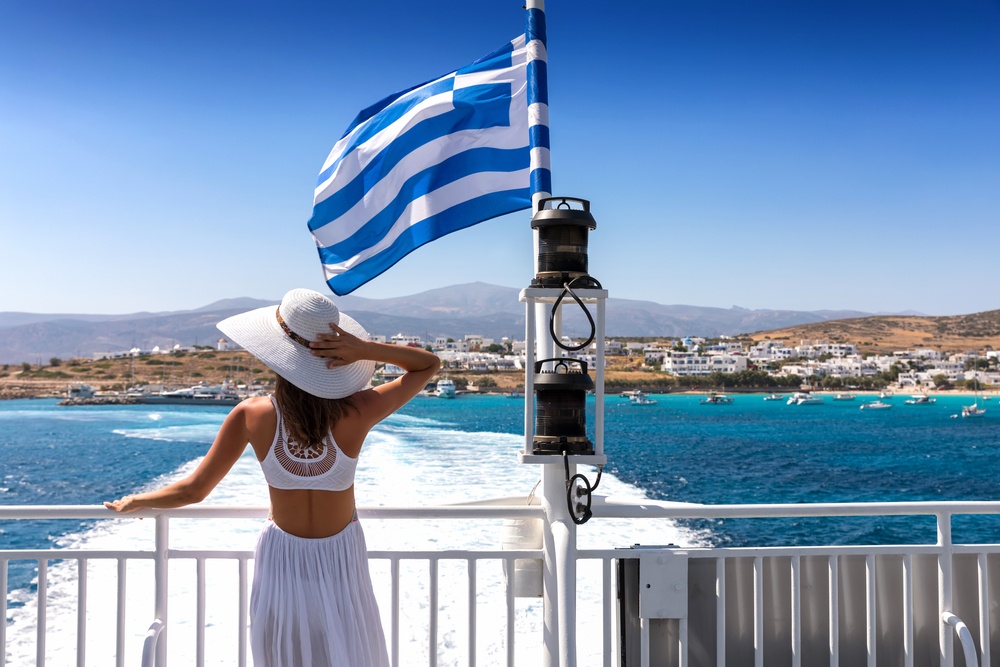 What do you think? Which of these hostels have you dreaming about touching down in Greece? Are you a seasoned pro and have visited Greece before?
If we have missed a gem of a hostel off, please let us know in the comments. We love feedback from real travelers like you! Otherwise, have a blast in Greece.
And praise Zeus!
Do you own or run a kick-ass hostel? Want to be featured on this list? Get in touch at [email protected]
Don't Forget Travel Insurance for Greece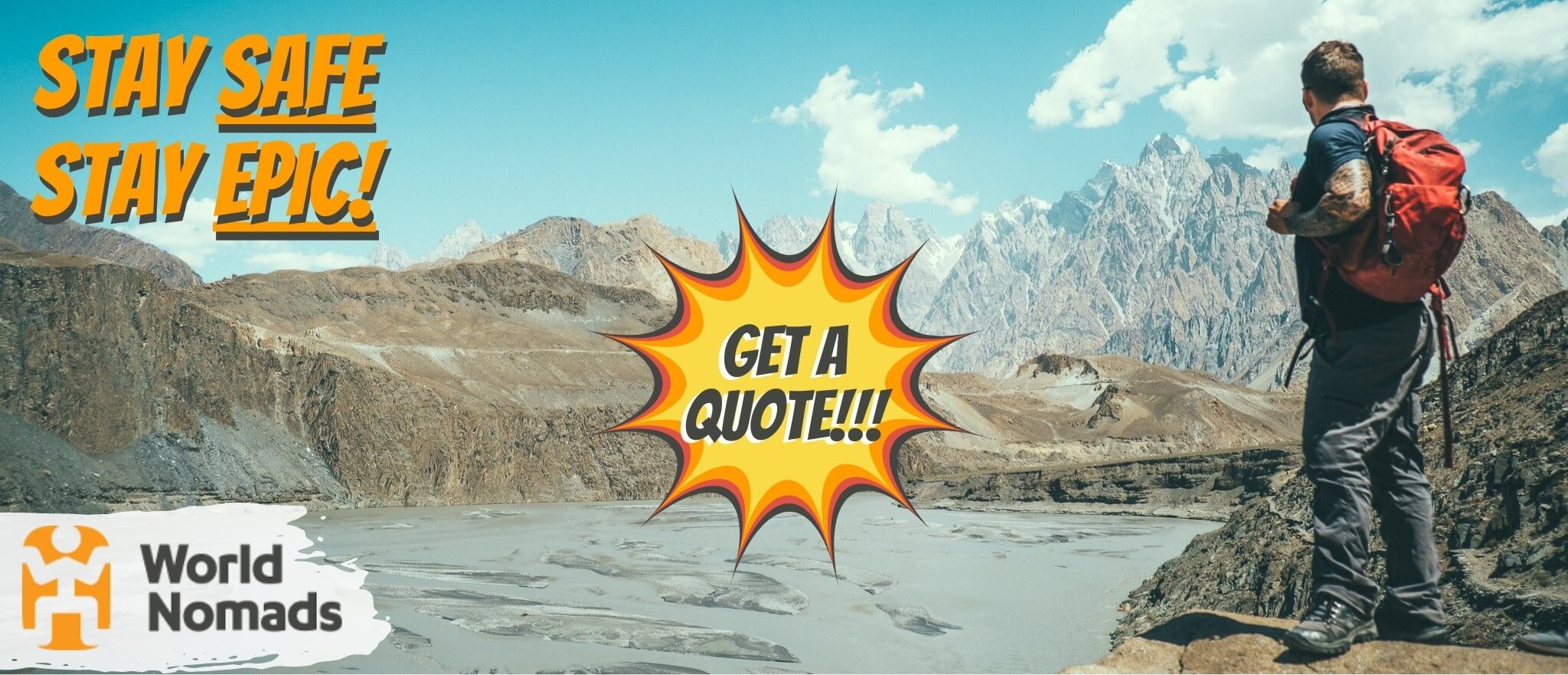 It's good to get lost sometimes, but it's also good not to get too lost. There are people that want you home in one piece.
There's one travel insurance provider The Broke Backpacker trusts for all his wildest shenanigans… World Nomads!
Click the button below to get a quote on your insurance or read our in-depth review of World Nomads' coverage. And then… let the shenanigans begin. 😉
---
Thanks for reading – that was fun! 😀
We bring you epic FREE content!
Find out how YOU can help support us.
We're a big site with a big team and this job isn't always easy. But we do it because we love it – we love providing epic and free content. We love the knowledge that our content keeps you adventuring. We don't ask for money, but if you'd like to find out how you can help the site in more organic ways, click the button below.
Thank you for your support 🙂
---
Bye for now, but not forever!
If you want MORE top-tier Broke Backpacker content like this, then sign up for our weekly newsletter below to get the latest and greatest!
And for transparency's sake, please know that some of the links in our content are affiliate links. That means that if you book your accommodation, buy your gear, or sort your insurance through our link, we earn a small commission (at no extra cost to you). That said, we only link to the gear we trust and never recommend services we don't believe are up to scratch. Again, thank you!