Every year, more and more travelers are moving to Greece to pursue dreams of working as digital nomads in the Mediterranean. And once you visit this sunkissed country, you'll quickly see why.
Greece is held in high esteem by vacationers, locals, and digital nomads, who all flock to the historically rich country for its gorgeous islands and beaches, incredible cuisine, and vibrant city life. From millennia-old archeological ruins to a blossoming culture developed over centuries, Greece is one of the most historically significant countries in the Western World.
Besides being home to one of the world's most important ancient civilizations, Greece is also the epicenter of summer vacations in Europe, attracting millions of tourists each year to its thousands of exquisite islands.
Of over 6000 islands and isles, 227 are inhabited, some attracting a tourist scene and others with a more local flair. From the night-life rich island of Mykonos to the laid-back vibe of Milos, each island in the Aegean Sea has a personality of its own. Conveniently, getting from island to island can be affordable and easy, so you could easily explore many islands during your stint as a digital nomad in this incredible country.
Whether you prefer to base yourself in the dynamic city of Athens, with its bustling metropolis and over 3400 years of history behind it, or on an idyllic island in the middle of the Aegean Sea, living in Greece as a digital nomad is bound to be an adventure you will never forget.
Is Greece Good for Digital Nomads
Not only is heading to Greece a good start for a digital nomad, but I would go so far as to say it's one of the best. Especially if you love the summer heat, a vibrant nightlife scene, and tasty and affordable food, you'll be spoilt for choice here.
With so much to do and see, there are plenty of places in Greece to base yourself as a digital nomad. Typically, most long-term nomads find accommodation in the capital of Athens, a bustling and dynamic city that has aged like fine wine over the past 3400 years since its establishment.
With a base in Athens, Greece is super easy to explore locally, with various ferries and flights in and out of the capital making it convenient to visit the Greek Isles on a weekend getaway. It's also well located on the Mediterranean, close to many European destinations. With low-cost airlines popular throughout the region, you can spend your weekends exploring the continent, adding even more countries to your travel list.
Affordability is a significant factor that attracts digital nomads to Greece. Sub leases and short-term accommodation rentals can be much more expensive than long-term commitments. So, it is important you find a spot with decent accommodation options for short periods of time. Luckily, Greece is a relatively affordable country compared with other European destinations. For example, the cost of living as a digital nomad in Greece is 33% cheaper than in the UK. This means you'll be more likely to find quality accommodation in a good area here.
One of Greece's main draw-cards is simultaneously what attracts so many tourists to the country each year. With over 3000 years of incredible history as one of the most sophisticated ancient civilizations in the world, Greece is known for having an abundance of cultural and archeological sites, museums, and historical monuments worth checking out. If you're as fascinated with ancient life as I am, this is enough of a reason to spend some time in these beautiful places in Greece.
Of course, many choose to come to Greece to take advantage of the beautiful climate and weather. With a classic Mediterranean climate, Greece boasts mild winters with hot, dry summers. Depending on where you are in the country, you could visit snowy mountains in the northern regions or enjoy near-year-round summer in the country's southern lowland and island regions.
Cost of Living
We've touched on the cost of living in Greece, but let's take a closer look at what you can expect to spend per month while living and working in this Mediterranean country. Although the country uses the Euro currency, prices are comparably more affordable here than in other Northern European countries.
Eating out: A meal at a casual restaurant might cost around $12, while a meal at a mid-range restaurant could cost about $40. A coffee costs about $3, while a beer sits a little higher at $4.
Rent: Considering you rent a one-bedroom apartment in Athens city center, you can expect to pay just over $400 per month (or as little as $350 outside of the city center). Of course, within the island region, rent differs according to which island you are settling on as a digital nomad in Greece. Utilities can cost anything from $50 to $150 per month.
Transport: Getting around is pretty affordable here, with a one-way public transport ticket in Athens costing about $1.30 and a monthly pass going for $30. Taxis are significantly more expensive than public transport but are often the only way to get around on small islands that don't have good public transport.
Activities: The cost of joining a gym or fitness club for one month is around $35 in the city. Renting a tennis court might cost you $15 shared between friends. If you want to visit the cinema or watch a show at a theatre, tickets average around $8 per person per show.
Groceries: a gallon of milk costs around $5, while a fresh loaf of bread is as little as $1. Fresh produce is more affordable, too, with an lb of onions or potatoes costing around 30 cents. Fruit like bananas and apples are slightly more pricey, costing about 70 cents on the lb. Local farmers' markets are some of the best spots to buy the freshest and most affordable food.
Digital Nomad Accommodation in Greece
Greece is a considerably large country with many different regions and areas to stay in. Most digital nomads choose to settle in Athens, the largest, most populous, and most international city in the country. Located in the southern region of Greece along the Aegean Sea, Athens is a great jump-off spot if you're interested in spending your weekends exploring the Greek Isles.
As the capital and largest city in the country, Athens is home to a large international population and a welcoming ex-pat community. Wherever you go, you won't be too far from a friendly international on a similar journey to yourself.
On the other hand, many digital nomads living in Greece prefer to base themselves on one of the idyllic islands. There won't be as much of an ex-pat community on these smaller islands. Because they have low population counts, you will benefit from a great natural environment, low crime rates, and a down-to-earth way of life. Popular islands for ex-pats include staying on Milos, Corfu, Crete, Rhodes, Spetses, and Lefkada, each with its own special offering.
The Peloponnese Peninsula is another popular place for ex-pats to settle. The castle town of Monemvasia and Kalamata offers exquisite natural scenery, hiking trails, olive groves, and small villages. This is one of the less popular regions with tourists, which makes it all the more charming.
Where Should Digital Nomads Stay?
There are plenty of options for places to stay in Greece. If you're visiting with a dependent, children, or a partner, you might prefer your own space with a private kitchen and living area. In this case, I recommend browsing Airbnb or an affordable sublease with the option of extending and staying for a longer period. Another option would be to trawl Facebook groups for ex-pats living in Greece and see what accommodations and apartments are available on the rental market.
This studio apartment in the heart of Athens has been recently refurbished with contemporary interiors and homey furnishings. You'll have access to a spacious living area and full kitchen while being right around the corner from a lively neighborhood packed with bars, cafes, and restaurants at the foot of the Acropolis monuments.
Slightly more affordable, rent out this entire private home in Drimonas. The house offers a studio set-up with a bedroom that can be closed off with blinds. It includes a kitchen, Wi-Fi connection, free washer and dryer facilities in the building, and complimentary parking on the property.
If you're visiting alone and want to maximize socializing, working, and exploring as much of the country as possible, settling in a co-living space is one of the best ways to do so. Co-living is a residential community living model accommodating unrelated guests living in the same unit. You'll have your own personal room but will share common spaces like kitchens, living rooms, and sometimes bathrooms.
There are plenty of co-living spaces for digital nomads in Greece, most of which are located within Athens. While there are fewer options on the islands, there are still a few places on the market.
Coliving.com offers a cost-effective alternative to dorms, with furnished rooms and individual leases under an all-inclusive pricing structure. The platform provides properties in Athens, Lesvos, Seliana, Atsipopoulo, Petra, Rhodes, and Chania.
Escape is another space where freelancers, entrepreneurs, and teams come together to work, socialize and learn from one another. The company offers coliving, business coaching, and team retreats in the Greek islands.
Outsite Athens is built for remote workers, entrepreneurs, and creatives, offering a network of work-friendly co-living spaces throughout the capital city.
For a slice of island life, Calergi Residence is a small complex of studios and apartments on the north coast of Crete, offering the perfect location for a digital nomad in resort-inspired apartments. The accommodation provides a speedy Wi-Fi connection and hotel-level amenities and services, perfect for the digital nomad with a flair for luxury.
Finally, another option would be to book a hotel room using Booking.com. Many hotels and bed and breakfasts offer discounts for long-term stays (while others don't encourage extended visits).
VIVIAN Art Apartments on the large island of Crete is a sustainable Aparthotel in Rethymno Town, offering an environmentally friendly accommodation that perfectly combines the luxury of hotel living while still providing you with your own self-catering apartment overlooking the sea.
Eagles Nest in Pefki Village on the island of Rhodes offers family-sized rooms with basic catering facilities like a fridge and tea and coffee. However, with a bar and restaurant on-site and breakfast included in your rate, you won't have to worry about going hungry here.
For a lavish experience living in Greece, Alia Luxury Suites and Spa offer long-term accommodation in Haraki. Just a stroll from the beach, this self-catering accommodation has three swimming pools, hot tubs, saunas, a fitness center, four restaurants, and four bars on the property.
Have you sorted your accommodation yet?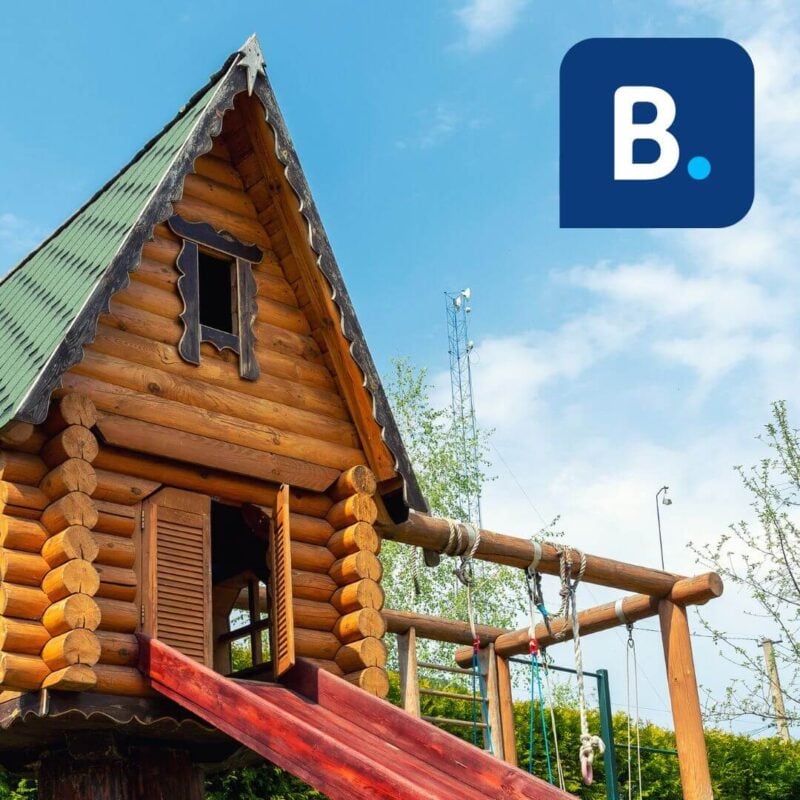 Get 15% OFF when you book through our link — and support the site you love so dearly 😉
Booking.com is quickly becoming our go-to for accommodation. From cheap hostels to stylish homestays and nice hotels, they've got it all!
View on Booking.com
Wi-Fi in Greece
Good-quality internet is a huge priority for a digital nomad. Since much of the country is scattered across islands, Greece ranks 56th in the world in terms of average internet speed, with an average download speed of 13.41 Mbps, which is not too great.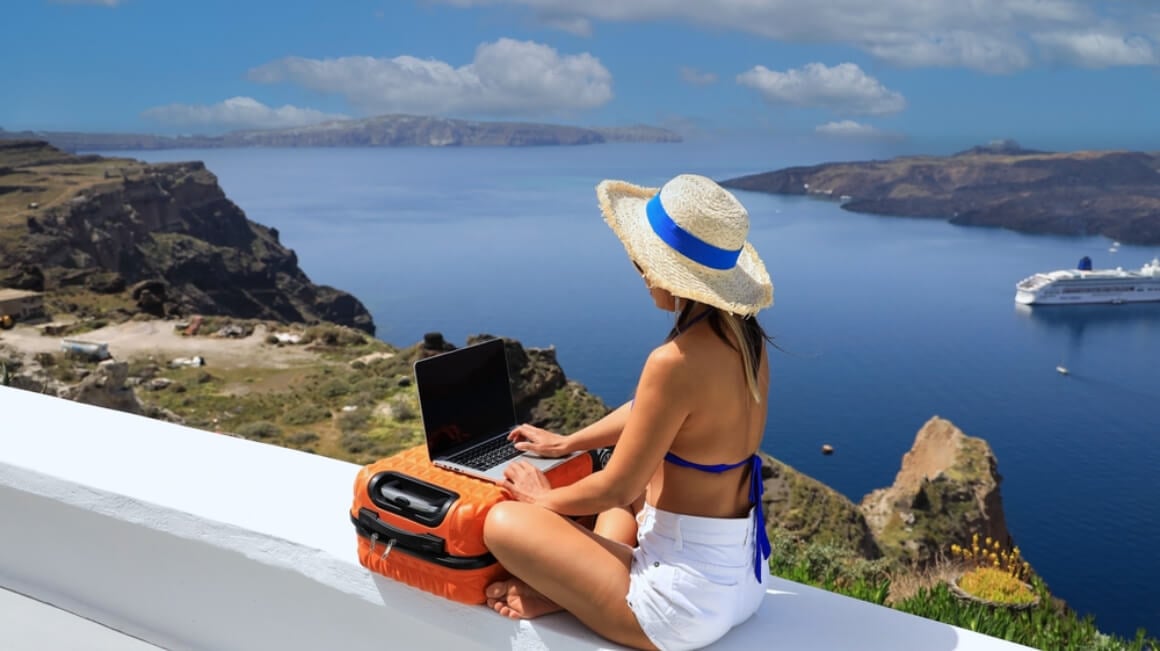 However, if you're just using the internet to respond to emails and working online, most tourist areas have decent Wi-Fi for free. Alternatively, you can pick up a local SIM card and prepurchase a data package through Vodafone, Wind, or Cosmote. The regions that don't offer access to free internet usually have adequate 4G or 5G connections, which can be used to hotspot a mobile device to a computer.
The Municipality of Athens has its own Wi-Fi in Greece connection named WiFi4EU, allowing you to connect for 12 hours at a time.
Coworking in Greece
Co-working spaces are ideal for digital nomads who prefer a day with a formal structure combined with a stable social scene. These shared office spaces offer communal facilities and a relatively quiet office environment.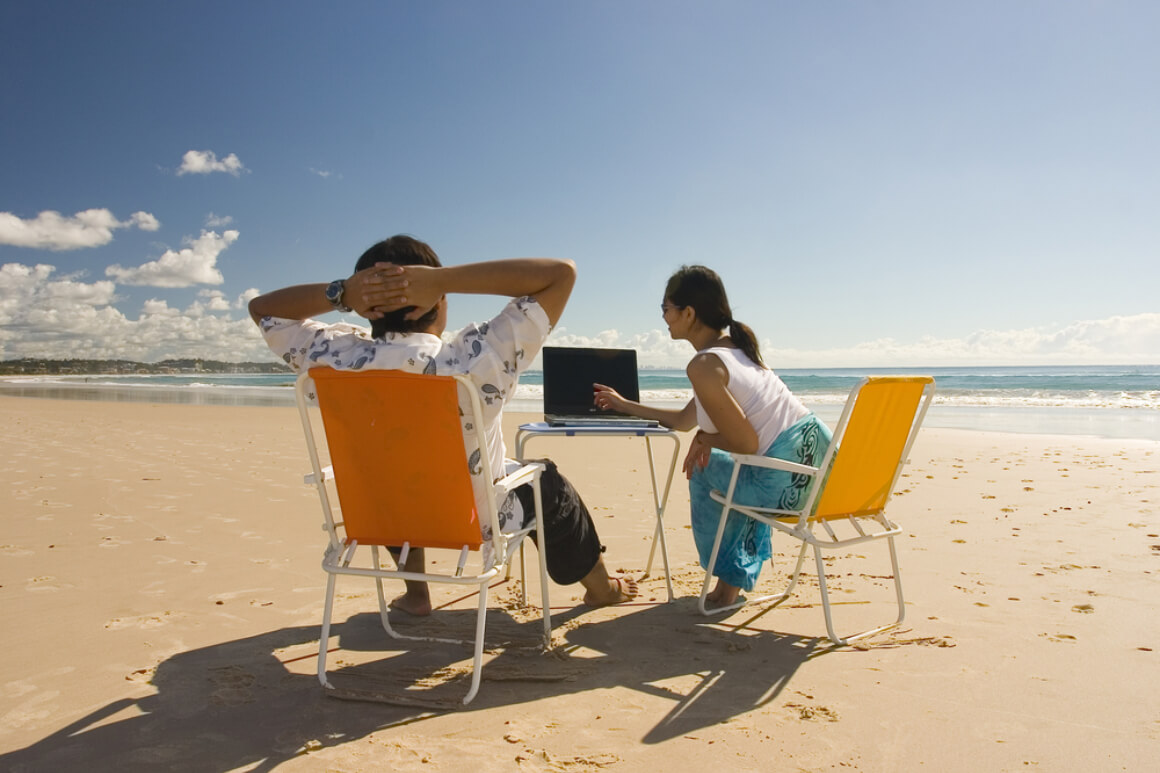 On the other hand, if you're a digital nomad who enjoys working in a busy coffee shop space and sound doesn't disturb your work ethic, you might prefer to set up shop in a cafe. Of course, this route risks not finding a suitable desk and is a lot more unreliable (although often cheaper).
The Best Coworking Spaces in Greece
There are three factors you need to consider before signing up for a co-working space in any destination; reliable Wi-Fi, comfortable seating, and community events.
Everyone needs different internet speeds based on their work, and it's your responsibility to choose a location where you won't run into issues with internet connectivity.
A sore back means a sub-par work ethic, and you should find a spot with ergonomic furniture to keep us comfortable for the six to eight hours we spend at a desk.
Networking and socializing are one of the main reasons you might join a co-working space, so spaces hosting events, masterclasses, and workshops will likely offer you the best bang for your buck.
Located in the historic center of Athens, Vios Coworking Space Athens is ideal for entrepreneurs, business owners, freelancers, and remote workers looking for a quiet yet interactive space. Besides the usual hot desk offer, with reliable Wi-Fi and unlimited fresh coffee, Vios offers a gym, massage room, showers, a quiet zone, and even a nap room! It's a combination of a holistic wellness facility with a similar work ethos and culture to Google Workspace.
Also in Athens, Impact Hub Athens (Psyri) is a global coworking initiative that focuses on social entrepreneurship. Each of their properties is unique, with the Athens Hub boasting space for focused work, networking, and workshops. Impact Hub offers high-speed fiber optic connection and is one of the better spaces if you're interested in group projects, collaborations, or seminars with like-minded digital nomads in Greece.
Workhub is a co-working space in the capital city of one of Greece's main islands, Crete. Located in the heart of the city near the beach, pharmacies, supermarkets, and transport networks, it's ideally situated for a classic Greek Isle co-work experience. The space offers comfortable seating with plenty of power outputs, great lighting, and fast Wi-Fi. Choose from hot desks, dedicated desks, or private offices, and take advantage of a conference area, meeting rooms, and video call booths.
Cafes with Wi-Fi
Renting a desk in a co-working space is ideal for most digital nomads, but it doesn't come cheap. If you're a freelancer on a budget, another option is to visit a few cafes and coffee shops in your area each week, mixing things up as you see fit.
Working in a cafe is an excellent way to focus on your work while still being out and about, socializing, and meeting new people during the work week. By purchasing a coffee or meal every few hours, digital nomads in Greece can use common spaces, free internet, and bathroom facilities for a fraction of the price compared with co-working spaces.
Kimono in Athens is an eclectic bar and cafe that serves everything from coffee to beer. With a spacious second story that is quieter than the ground level, this spot offers the perfect combination of work and socialization.
Dope Roasting Co in Athens is one of the best spots to work in town. With plenty of plug points and comfortable seating, you can spend hours here without noticing the time fly by. The second floor of the coffee shop is where most digital nomads set up, and it's a super encouraging atmosphere for those who need a little push. The restaurant serves tasty coffee and sandwiches, and this spot has one of the fastest internet speeds in the city.
Third Place in Athens is another excellent spot for digital nomads. The minimalistic coffee shop offers a small menu and fresh coffee in a super central area of the city. It's popular with long-term digital nomads with almost a local community feel. Third Place has high-speed wifi and a separate seating area for those visiting to work versus those visiting for just the coffee.
Wherever You Roam… Get Insured First
Keep yourself and your precious electronics safe when roaming around town. Travel insurance is key for your own peace of mind, and The Broke Backpacker stands strong for SafetyWing.
Month to month payments, no lock-in contracts, and no itineraries required: that's the exact kind of insurance digital nomads and long-term traveller types need. Cover yo' pretty little self while you live the DREAM!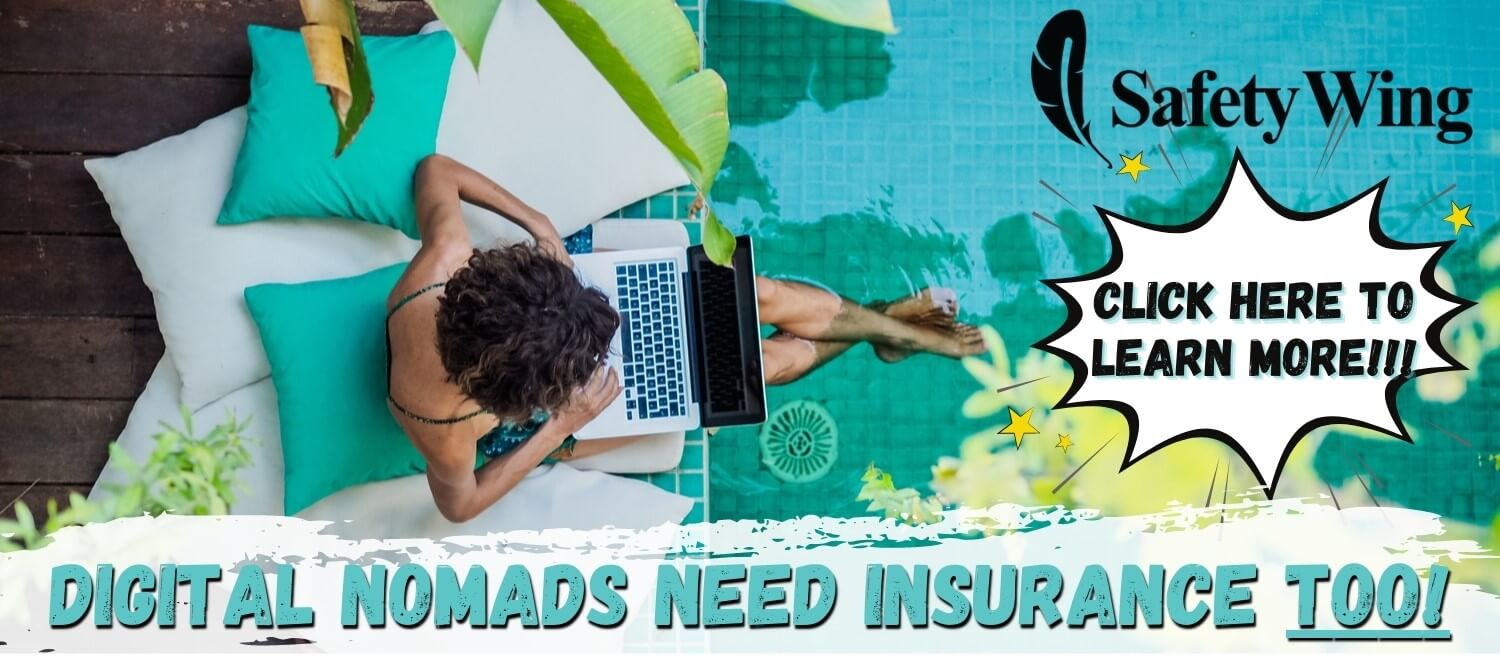 SafetyWing is cheap, easy, and admin-free: just sign up lickety-split so you can get back to work! Click the button below to learn more about SafetyWing's setup or read our insider review for the full tasty scoop.
Places to Eat in Greece
Known for its age-old recipes and world-class cuisine, Greek food is influenced by Middle Eastern, Italian and Ottoman cultures. Flavorful blends of vegetables, fish, olive oil, grains, herbs, and yogurt dominate the food scene, with incredibly fresh and local food taking the forefront.
Whether you've visited the country before or are researching being a digital nomad in Greece, chances are you've tasted a Greek salad somewhere in the world. However, these fresh and simple salads are on a whole different level when prepared traditionally.
The Greeks enjoy eating a selection of 'tapas-inspired' dishes, including spreads and dips, pita bread, olives, and, of course, fresh meat and fish. Some of the most popular (and delicious) traditional Greek meals include moussaka, Papoutsakia (stuffed eggplant), a Greek lasagne called pastitsio, and Greek meatballs, known as Soutzoukakia.
Housed in a neoclassical building in the Pangrati neighborhood, Spondi is one of only two Michelin Starred restaurants in Athens. The restaurant creates incredible dishes based on traditional Greek gastronomy and is an excellent spot for a special occasion.
With spectacular views over the city from Athens's tallest peak, Orizontes is rated as one of the most beautiful restaurant settings on the continent. The restaurant serves traditional Mediterranean cuisine using high-quality modern ingredients, with dishes including a smooth lemongrass sauce, Aegean grouper fish filet, and roasted sheep with beer.
One of Greece's most well-known and scenic fine dining experiences, Ambrosia Restaurant is perched on the cliffs in beautiful Santorini, set in a traditional Cycladic house. The restaurant is open for dinner seating and serves a variety of seafood and meat options paired with incredible fresh salads and desserts.
Peskesi is an authentic Cretan restaurant that highlights Crete's most delicious food in a trendy yet rustic atmosphere. The restaurant focuses on sustainability, offering an incredible farm-to-table experience where you can be sure that you are biting into the most local and environmentally friendly ingredients.
Greece is an incredibly vegan-friendly city to visit, with tons of fresh salads and vegetable-based dishes dominating the food scene. Peas Vegan and Raw Food are one of the top vegan eateries in Athens. Serving fast yet tasty vegan food made from the freshest, top-quality ingredients at affordable prices. The restaurant is open Monday to Sunday from midday to 11 pm and will give you the energy you need to tackle your day as a digital nomad in Greece.
What it's Like Living in Greece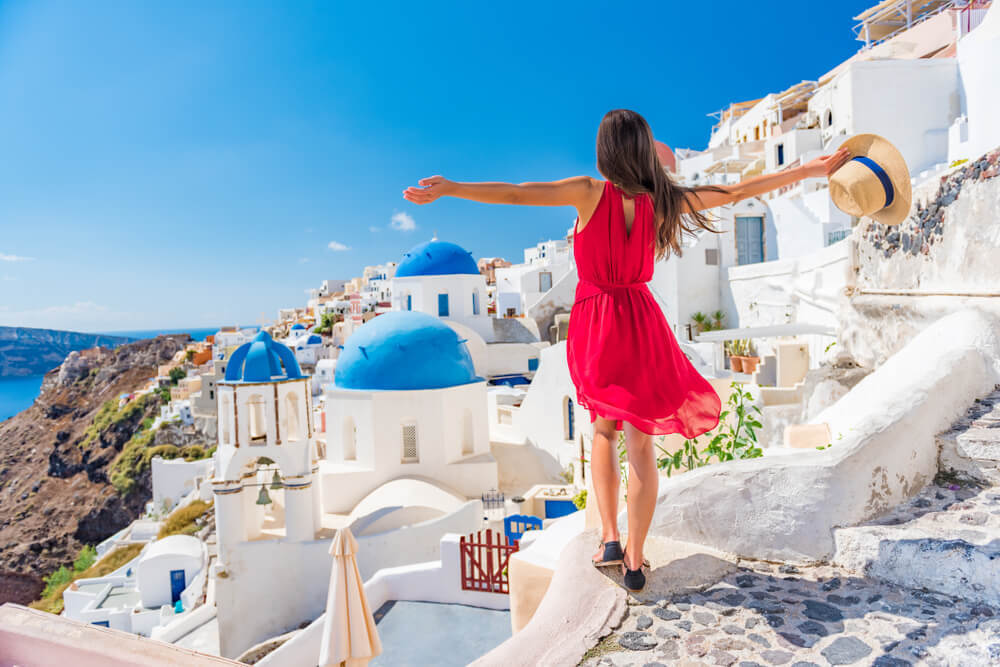 A beachy paradise dotted with Mediterranean islands and exquisite architecture, Greece is one of the most beautiful places to settle as a digital nomad. Athens is a relatively safe city (bar the wrong areas), and the islands are incredibly safe from crime.
Ex-pat community
There is a large ex-pat community in Greece, with most living in Athens and Thessaloniki, which is a city known for its high-tech industries and science museums.
Athens is undoubtedly the most multicultural Greek city and is teeming with other Europeans and foreign nationalities who move for the good weather, affordable cost of living, and beautiful landscape.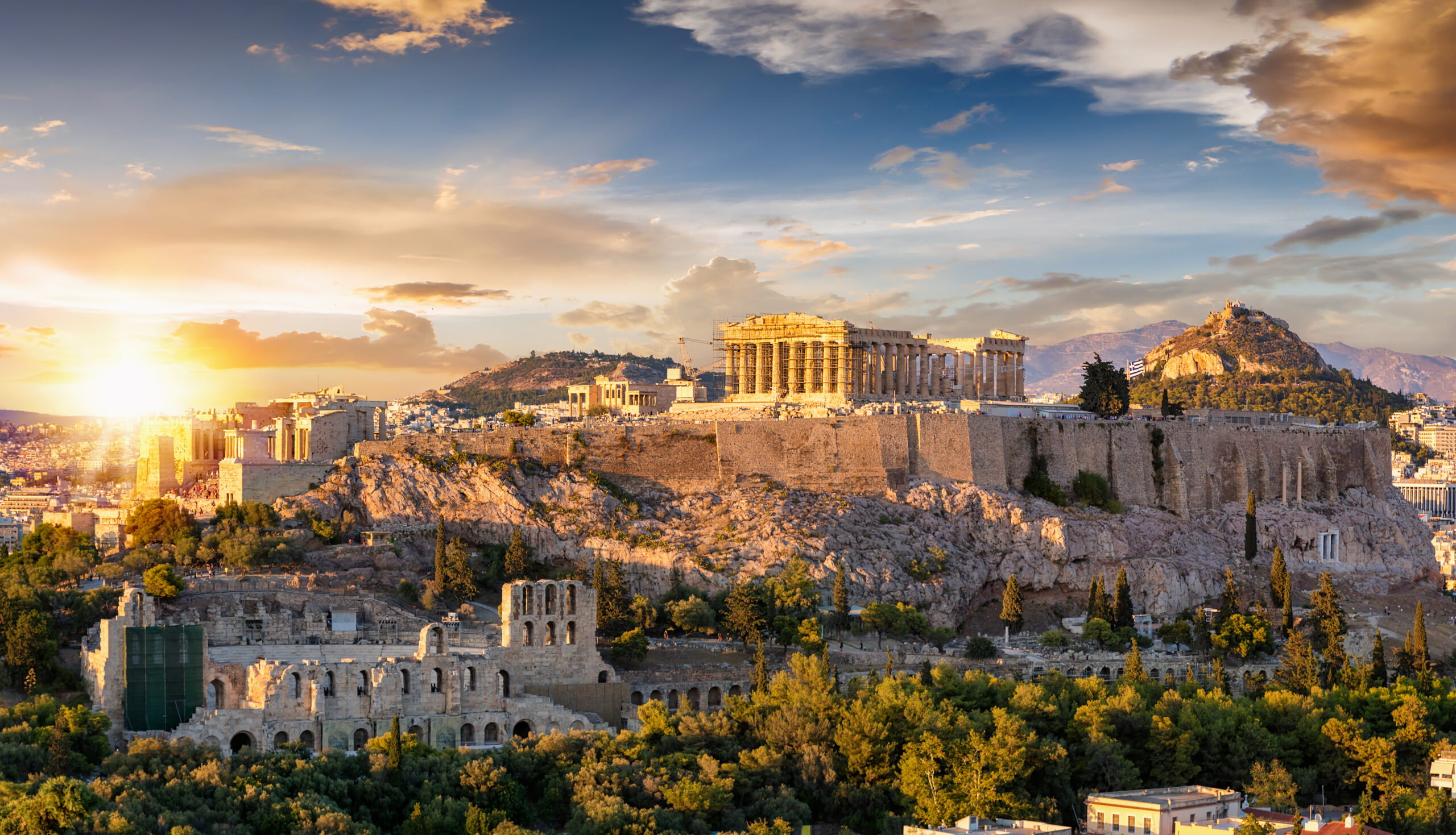 Language
99.5% of Greek locals speak Modern Greek, a Hellenic language, as their first language. Around 51% of Greek locals are fluent in English as a second language. Most of these locals live in and around the capital, Thessaloniki, and the tourist-centric islands like Santorini and Mykonos, where you could quickly get by knowing not a word of Greek.
However, once you move into the remote islands, English speakers might have trouble communicating with older Greek citizens who are not fluent in English.
Visa situation
While a good climate, exciting history, affordable cities, and ease of traveling are all huge factors that attract digital nomads to Greece, one factor rules them all; Visas. In the summer of 2021, the Greek government invited digital nomads to live in the country for up to two years through the Digital Nomad Visa.
You will need an application form, a valid passport, passport photos, proof of employment, a declaration letter, proof of financial means, accommodation, and valid health insurance to apply for this visa. The first visa you will receive is valid for one year, with the option to extend the visa for an additional year.
Since Greece is a part of the Schengen Area, this visa will allow you to visit all 26 European countries during your stay as a digital nomad in Greece. That said, you will be required to spend at least six months of your one-year visa in Greece.
Another significant benefit of this visa is tax deductions. Once you spend more than six months in the country, you are subject to paying taxes as a tax resident. However, with a 50% reduced tax program for digital nomads, you'll have to pay a lot less than you might have in your home country.
Transportation
Athens International Airport is the busiest airport in Greece and welcomes most international tourists with flights servicing Europe and the rest of the world. To get to an island, you might have to hop on a local flight or catch a ferry, which functions as water bus transportation for locals and tourists.
If you're wondering how to travel around mainland Greece, the public transport network in Greece comprises KTEL buses, a national rail network, ferries, and the Athens metro system (with a metro being built in Thessaloniki as we speak!).
Within Athens, a 90-minute ticket on public transport costs around $1.30, while a 24-hour ticket costs $4.40. A monthly public transport pass costs $30. A tourist ticket that includes three days of transport and return transfers from the airport is $23.
Things to do in Greece
One of the most common activities to do while living as a digital nomad in Greece is to visit the bucket list of Greek islands. The most popular include Santorini, Crete, Mykonos, Naxos, Paros, and Rhodes, but there are thousands of smaller and more local islands worth exploring if you live in the country. Some islands can be visited during a day trip and are just a short ferry away from the mainland, while others will require a weekend trip!
Greece is most famous for its incredible history and modern culture, which spans thousands of years into one of the most important ancient civilizations of our time. While you're in the country, you must make a visit to the Acropolis and other ancient ruins in Athens. Some of the best include Europe's oldest city, the Knossos Palace in Crete, which dates back to 1950-1700 BC.
Outdoor adventure is another thing Greece excels in. Other than snorkeling and doing water sports in the Aegean Sea, Greece is packed with beautiful mountains and reserves where hiking, mountain biking, and trekking are all popular.
Lake Plastira is one of Greece's largest artificial lakes and is a unique destination that gets so much snowfall during winter that it looks like the Swiss Alps! Called 'Little Switzerland' by many, there are plenty of hiking trails and beautiful views to be captured in this mountainous region.
I always recommend joining a few ex-pat and digital nomads in Greece groups on Facebook to find out about social events, meet-ups, and networking opportunities in your area.
Final Thoughts
And that brings us to the end of our guide for digital nomads in Greece. Overall, Greece is a beautiful option for a digital nomad who wants to set up in a paradisical location while still being close to the rest of Europe. With friendly locals, a big ex-pat community, incredible weather, culture, history, and tasty food, the country has something to offer every type of nomad.
Visiting Greece as a digital nomad is made even easier by liberal new visa regulations, making it easy to live and stay in the country for up to two years with convenient tax deductions.
After a hard week of work, you could be spending your weekends sunning on a Greek island with your family, partying the night away in Santorini with your friends, or enjoying the fresh mountain air on a hike in the north of the country. The options are endless!
---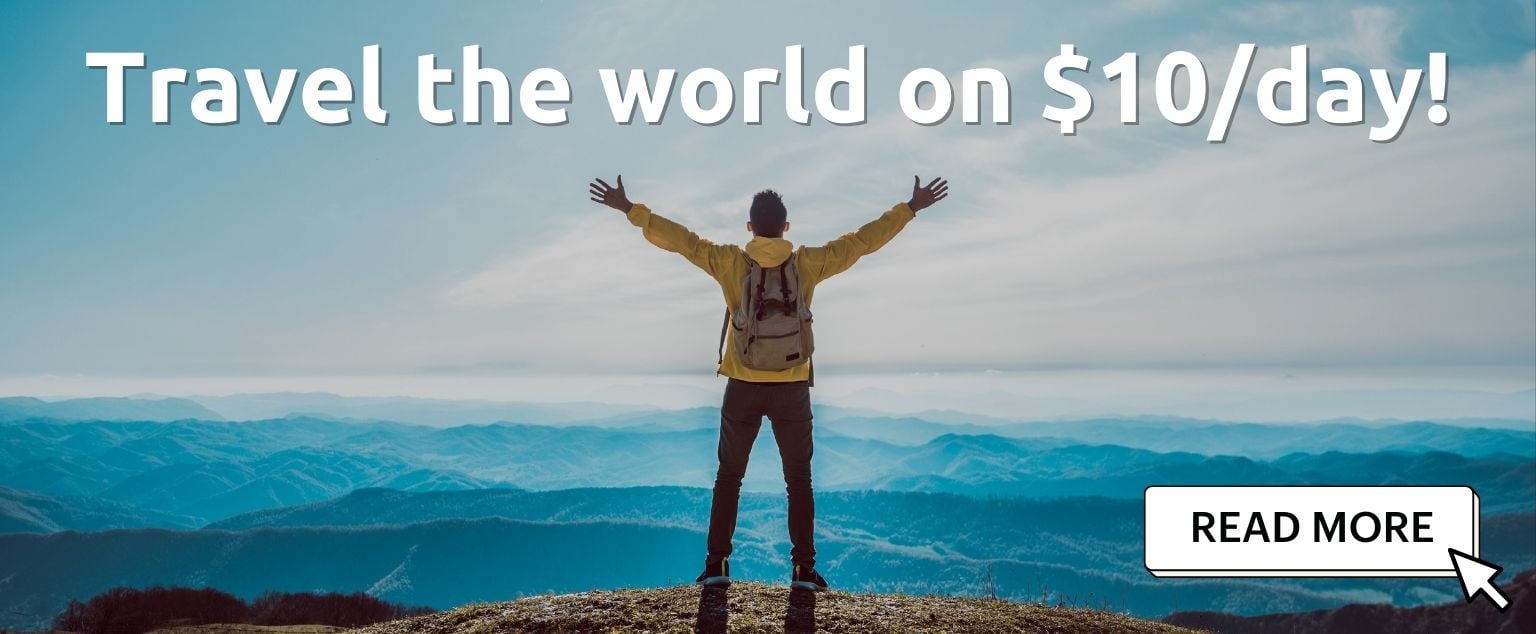 And for transparency's sake, please know that some of the links in our content are affiliate links. That means that if you book your accommodation, buy your gear, or sort your insurance through our link, we earn a small commission (at no extra cost to you). That said, we only link to the gear we trust and never recommend services we don't believe are up to scratch. Again, thank you!