As one of the most visited countries in the world, Greece welcomes approximately 30 million tourists every year.
Home to magnificent landscapes with an abundance of UNESCO heritage sites and marvelous monuments; steeped in history; and blessed with friendly locals, and a tasty cuisine, Greece should be firmly on your bucket list.
With the many outlying Greek islands and the fascinating towns on the mainland, finding the right Airbnb in Greece can be a daunting task.
But don't fret. As I have some good news for you! I have rolled up my sleeves and got right down to the business of sifting through the endless options so that I can share with you the 15 coolest Airbnbs in Greece and I'm sure you'd love them.
So, let's dive right in!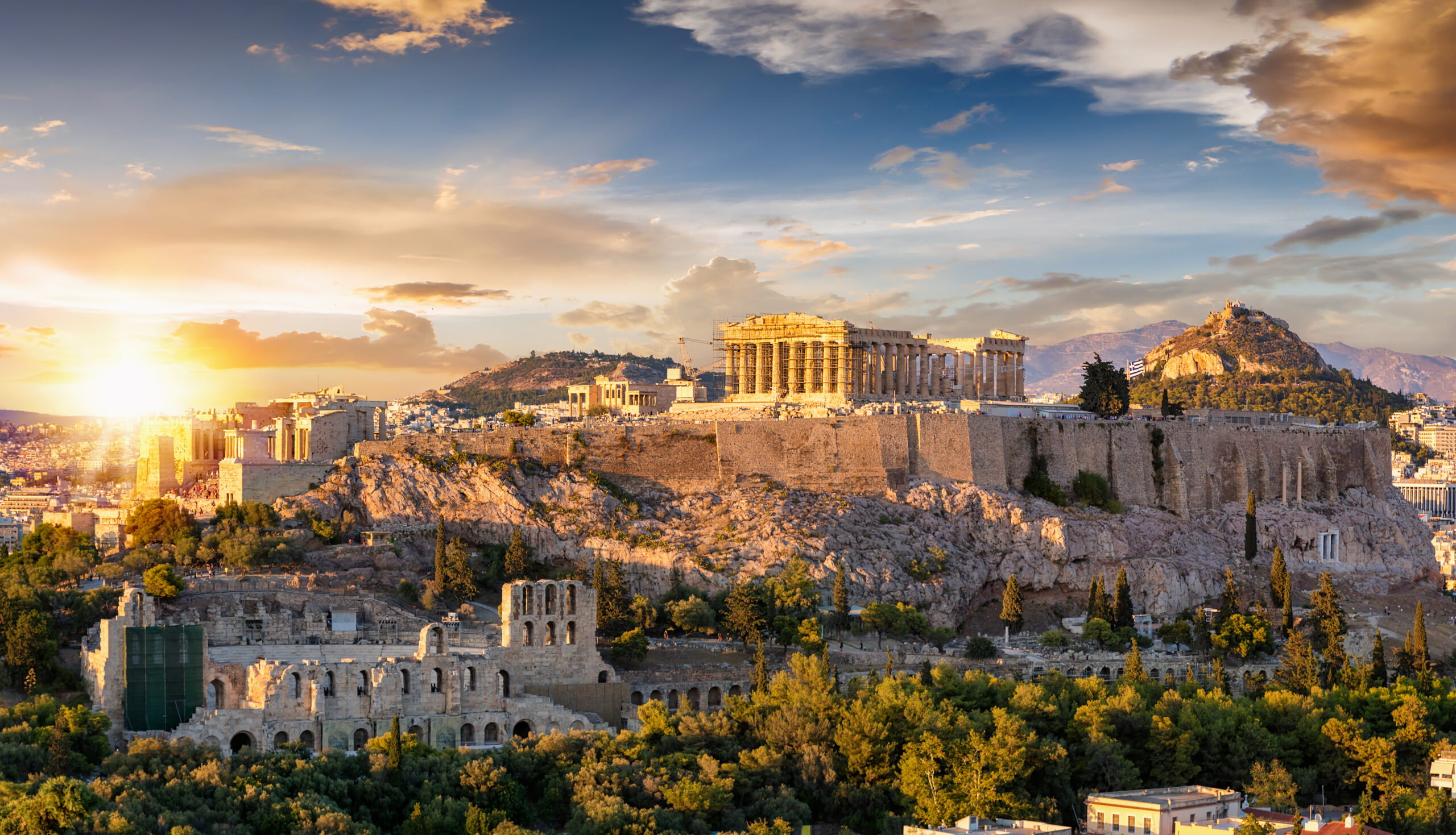 Quick Answer: These are the Top 5 Airbnbs in Greece
Overall Best Value Airbnb in Greece
Overall Best Value Airbnb in Greece
Neoclassical mini-mansion in Ermoupoli
> $
> 2 Guests
> Walk into town or the beach
> Within walking distance to various attractions
Best Budget Airbnb in Greece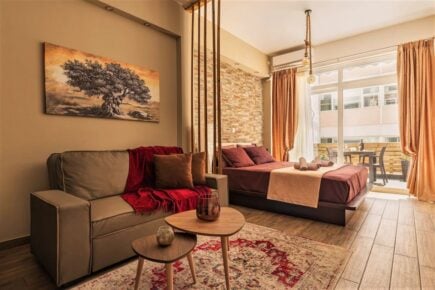 Best Budget Airbnb in Greece
Apartment near Omonoia Square
> $
> 4 Guests
> Near subway
> Fully-equipped kitchen
Best Airbnb for Couples in Greece
Best Airbnb for Couples in Greece
Gorgeous stone house in Kefalonia with private pool
> $$
> 2 Guests
> Terrace
> With views of the sea
Best Airbnb for Families in Greece
Best Airbnb for Families in Greece
Historical mountain stone house
> $
> 6 Guests
> Garden
> Free parking
Over-the-Top Luxury Airbnb in Greece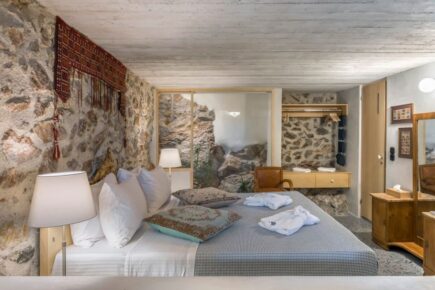 Over-the-Top Luxury Airbnb in Greece
Villa in a winery estate in Santorini
> $$$$
> 13 Guests
> Daily housekeeping
> Concierge services

Unlock Our GREATEST Travel Secrets!
Sign up for our newsletter and get the best travel tips delivered right to your inbox.
What to Expect from Airbnbs in Greece
Headed to Greece soon? Yay! I'm just as excited as you and I can't wait for you to discover a variety of Greece Airbnbs that cater to travelers of all types and budgets. From Cycladic houses, modern apartments and condo units to palatial and magnificent villas.
Make the most of your vacation and stretch your hard-earned money by choosing rentals in Greece that fit you to a T. Only have a limited number of days in your destination? Make it a point to book centrally located Airbnbs. They might be costlier but you will save time both time and money otherwise wasted on traveling from one place to another.
Don't worry as you can always find yourself a reasonable place to stay in with the variety of accommodations waiting to be booked.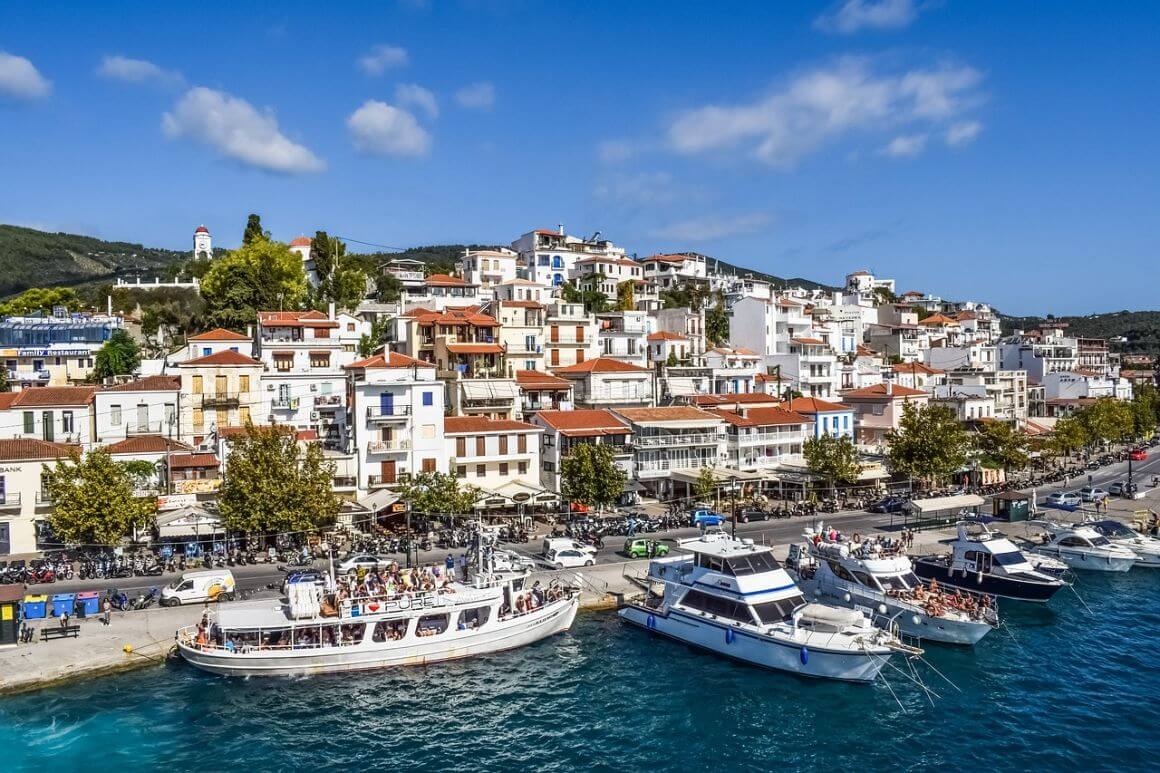 Apartments
Mostly found in big cities, apartments make the ideal base for solo travelers, digital nomads, couples or friends. They can be affordable or pricey, depending on the host of amenities included. The best thing about apartments is that you can have the entire space to yourself.
Some apartment buildings may even have shared pools and gyms available for guests to use but do confirm if they are seasonal or not. They do tend to be on the lower end of the pay scale, so if you're backpacking Greece, you should consider looking at apartments for an affordable stay.
Cycladic houses
These are houses named after Cyclades, a group of Greek Islands in the Aegean Sea. Cycladic houses have distinct pure white exteriors that help reflect the summer sun, cubic shapes, and flat roofs. Usually found in the islands such as Santorini, they vary in size, as well as a level of luxury.
While others only have a bedroom, bathroom, a small kitchenette and a dining area, some may even have subterranean pools and hot tubs!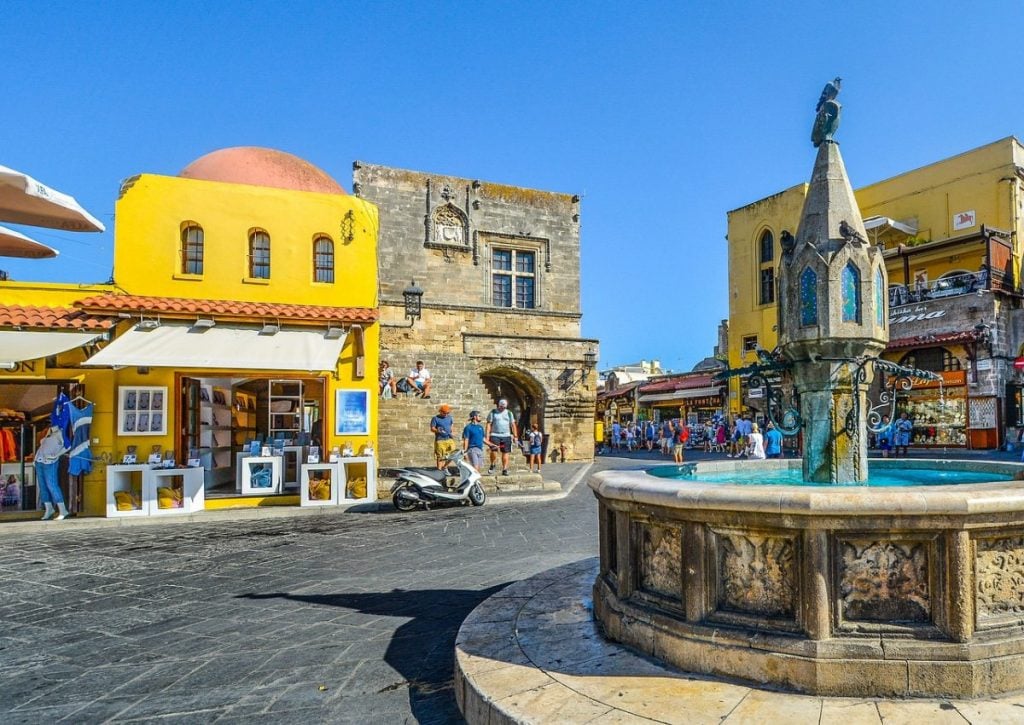 Villas
Expansive, expensive, and opulent, villas are ideal for families or groups of friends. Mostly overlooking mountains and seas, villas can come with manicured gardens, Olympic-sized and heated swimming pools, Jacuzzis and balconies.
You will be spoiled rotten with all the extras thrown in such as daily cleaning, concierge services, and airport transfers. Check the location as most villas would be more convenient to travel from and to if you have your own transportation.
Why Stay in an Airbnb
Privacy: There is a myriad of private properties on the platform. Use the filter to find the one most suitable to your needs.
Unique Properties: Let's face it, hotels are boring. Stay in one and you've pretty much seen all hotels, but Airbnbs are one-of-a-kind.
Affordability: Traveling can put a dent on your budget if you don't know where to look for accommodations. A plethora of affordable but unique Airbnbs in Greece are waiting for you to discover.
Airbnb Experiences: Make your vacation to Greece unforgettable with activities that will enrich your time in the country even more.
Staying Long-Term: Planning to stay in Greece for a few weeks? You'll be happy to know that most Airbnb hosts offer discounts for long stays.
Top 15 Airbnbs in Greece
Start off your Greek vacation on the right foot by finding the best places to stay in Greece, regardless where in the country you intend to travel. Here are the most amazing Airbnbs in Greece.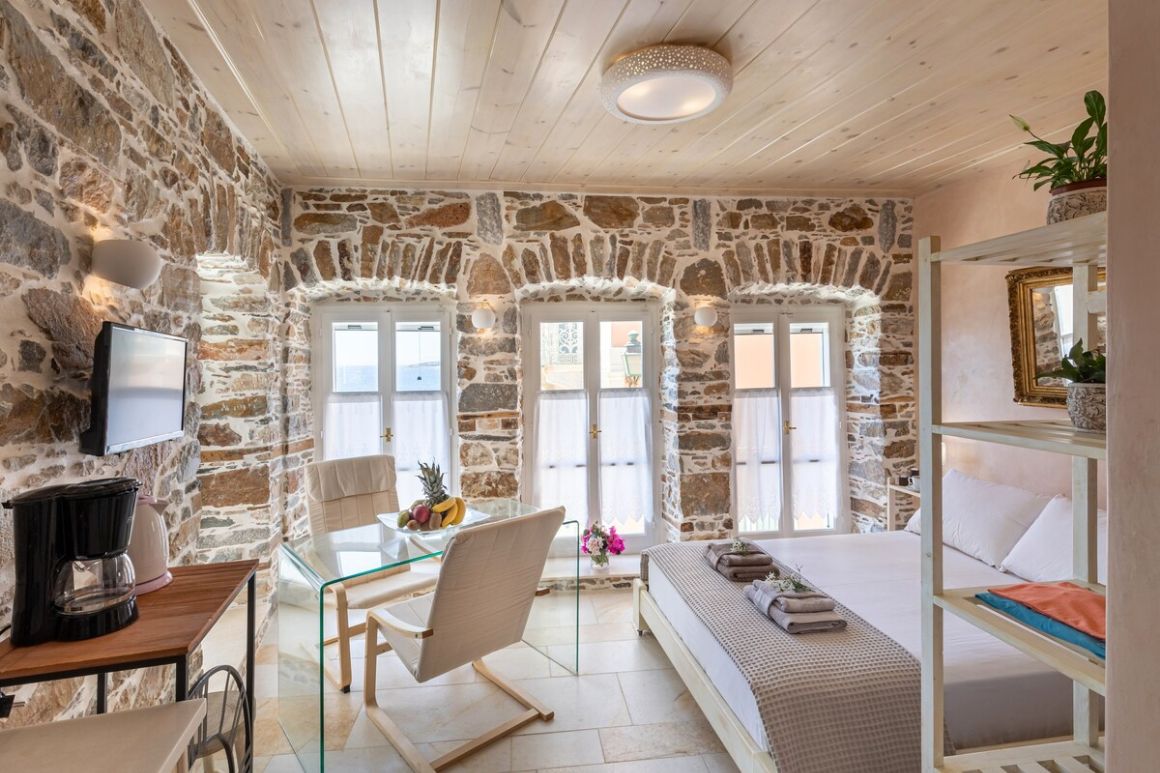 $
Within walking distance to various attractions
2 Guests
Walk into town or the beach
With spectacular views of the Aegean Sea and the sea breeze on your face, you can never go wrong with this neoclassical mini mansion beach house in Greece.
Wake up to mornings with a fresh cup of joe in your hand while taking in the beauty of the surrounding areas from the large windows. With its amazing architecture, every corner is gorgeous and is Instagram-worthy.
You can easily walk to the beach and wade in the water or take a stroll into town for some shopping or taste the delights of authentic Greek food in one of the many restaurants. The market is close by if you'd like to get your hands on fresh produce. Getting around is easy with a bus that crosses throughout the day if you don't prefer walking.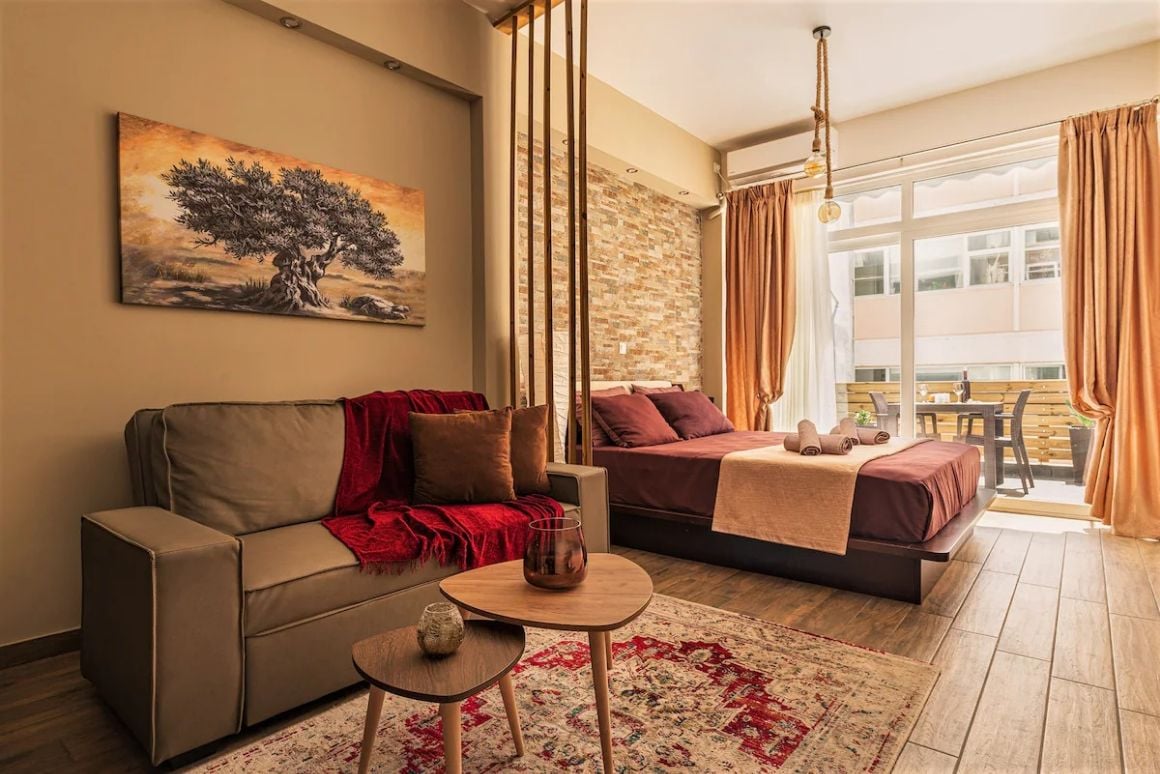 Located in a vibrant area, you can never go wrong with this Airbnb located close to the many famous sights of Athens, such as Syntagma Square, Monastiraki, and Acropolis. The subway is only a few minutes' walk away and you have easy access to cafes, restaurants, bookstores, and other traditional shops.
The kitchen is waiting for you to cook meals in, and you can either get your food items from the nearby supermarket or the central meat and fruit market which can be reached within five minutes on foot.
The balcony is a lovely place where you can sip coffee in the morning or enjoy meals in while watching the world go by. Those who are taking public transportation to reach the apartment would be happy to know that it's only about 250 meters away from the subway station.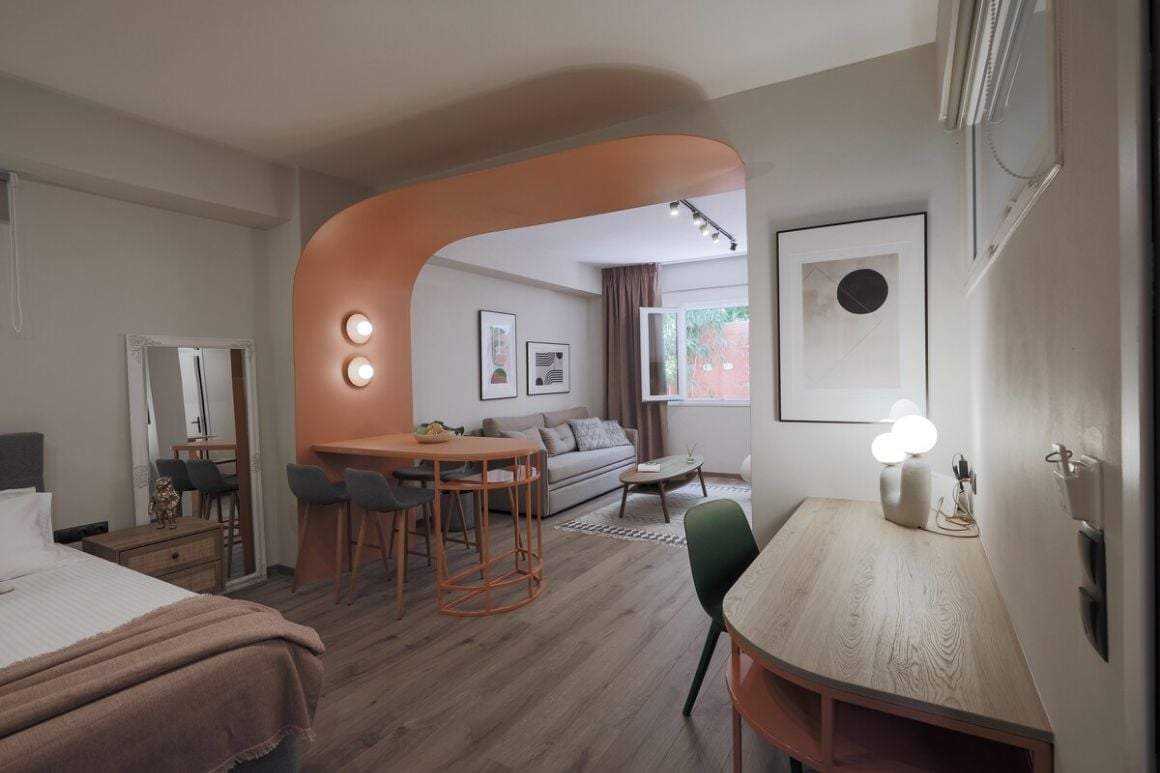 $
Near bars and restaurants
2 Guests
Close to popular attractions
Located in the heart of the city, this Athens Airbnb is close to bars, clubs, and restaurants so after you're done laboring away on your laptop, all you need is take a short walk and celebrate with a variety of drinks. The famous attractions of Athens such as the Parliament and Syntagma Square are within walking distance too.
Catch some fresh air on the balcony and watch Athens come alive in the morning with a cup of joe. It also makes a great place from where you can admire Athens' night lights. The metro station, which has a direct link to the airport, is less than 10 minutes' walk away too.
Is This the Best Travel Pack EVER???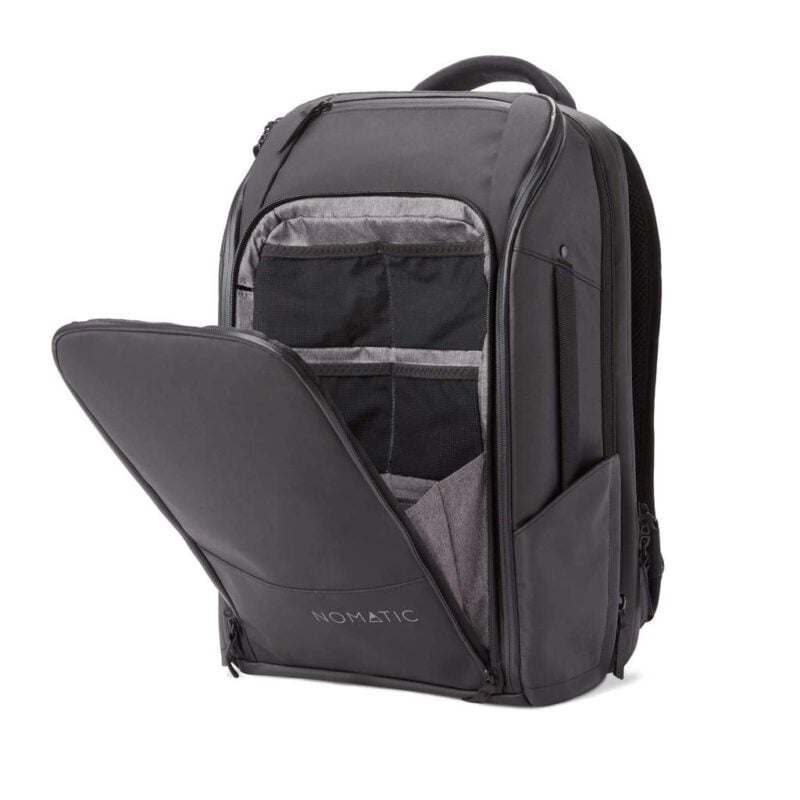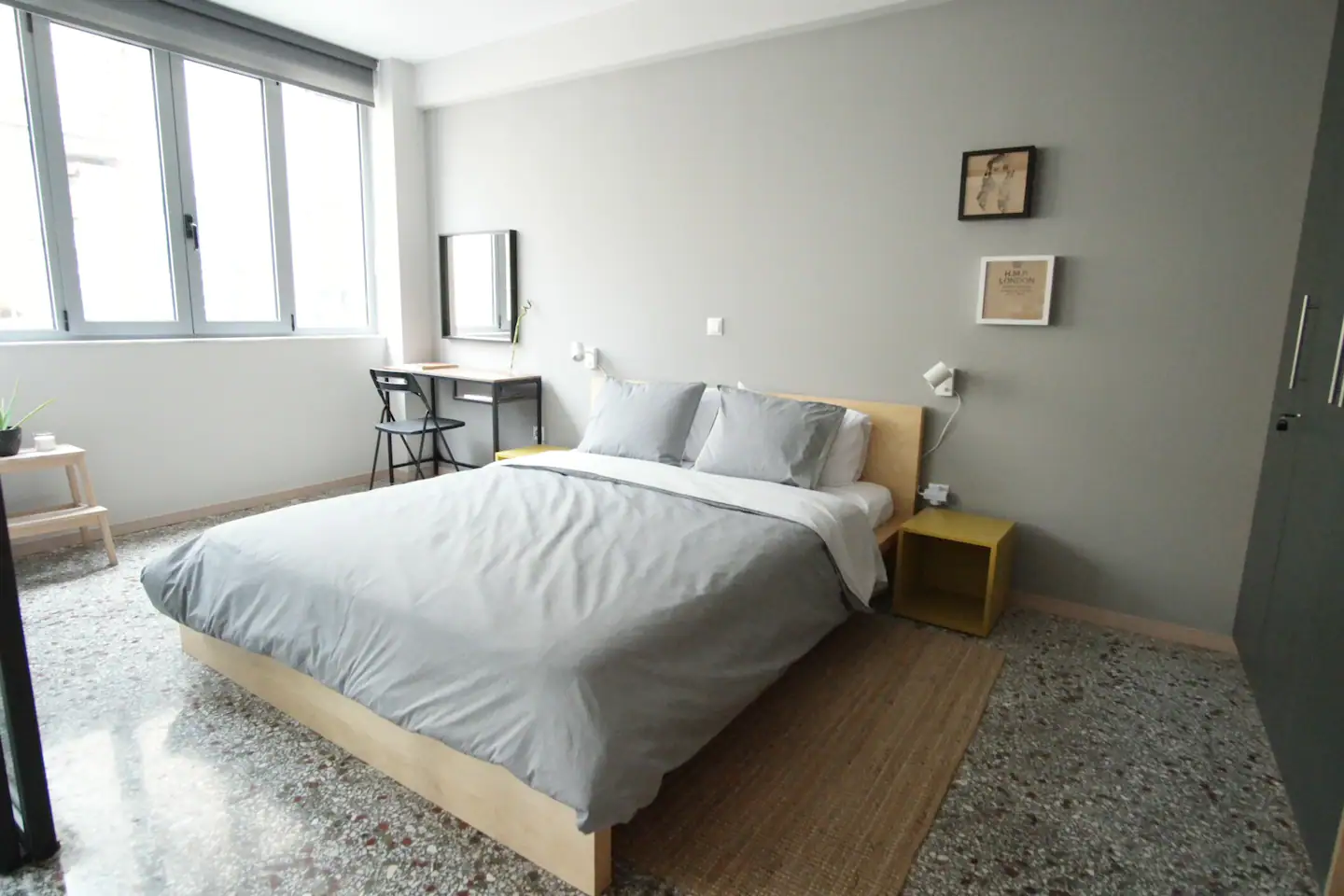 4 Guests
In the historic district
Eager to party the night away while staying in Athens? This apartment is where you should be! Located in the Psiri neighborhood, also known as the nightlife hub of Athens, you are within arm's reach of the hippest bars and the coolest clubs.
You can be a party animal but quickly and safely crash on your comfortable bed whenever you want to and wake up to magnificent views of the city.
In addition to that, Monastiraki station is only a short distance away, ideal for short trips in a day or two. You'll find a few works of art displayed throughout the apartment made by the owner who happens to be an artist. It also has amazing views of the Acropolis!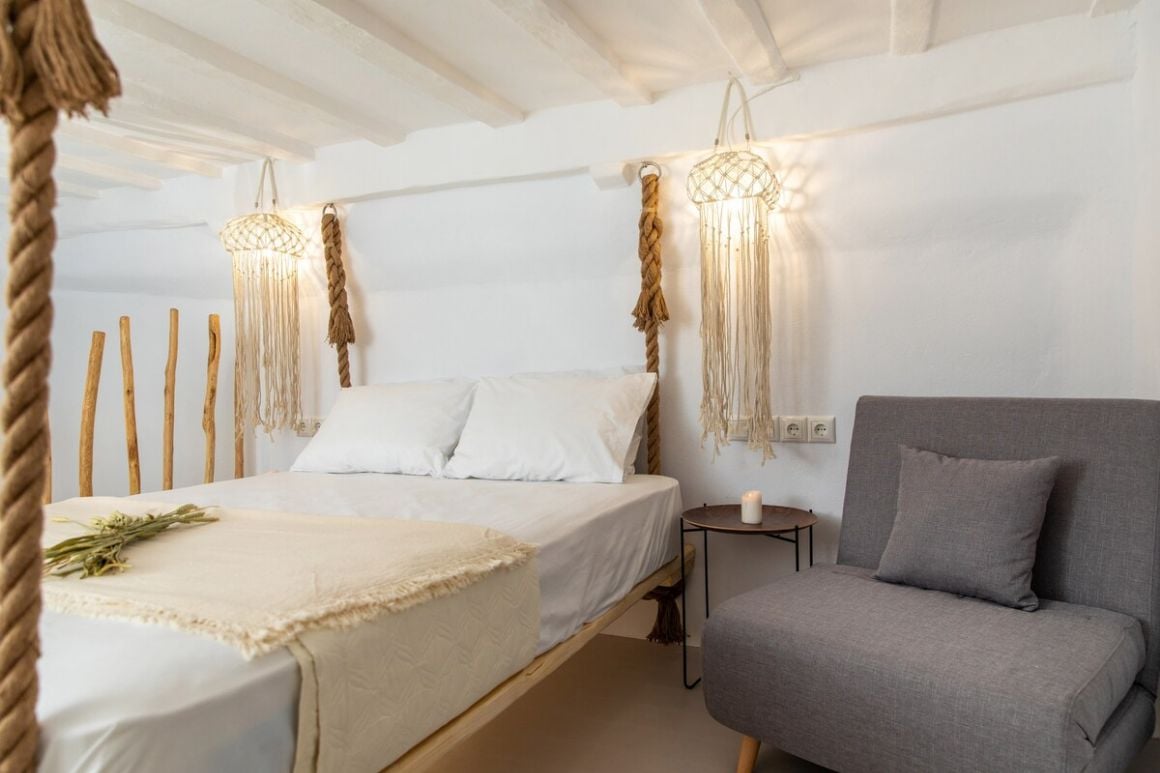 $
A few steps from the sea
4 Guests
Close to everything
Located at the foot of a castle, this apartment is adjacent to the port too. Cozy enough for two, it is spacious enough for four if you're that pressed for cash. Its excellent location means you're only a stone's throw away from bars, supermarkets, restaurants, and various shops. The sea just a few steps away can be literally seen from the door of the home.
Numerous beaches and traditional villages are in the nearby area and can be easily visited by car or by taking the public buses. The bus station is only 50 meters away from the apartment and many shops are nearby. You can easily rent a car too if you wish to do so.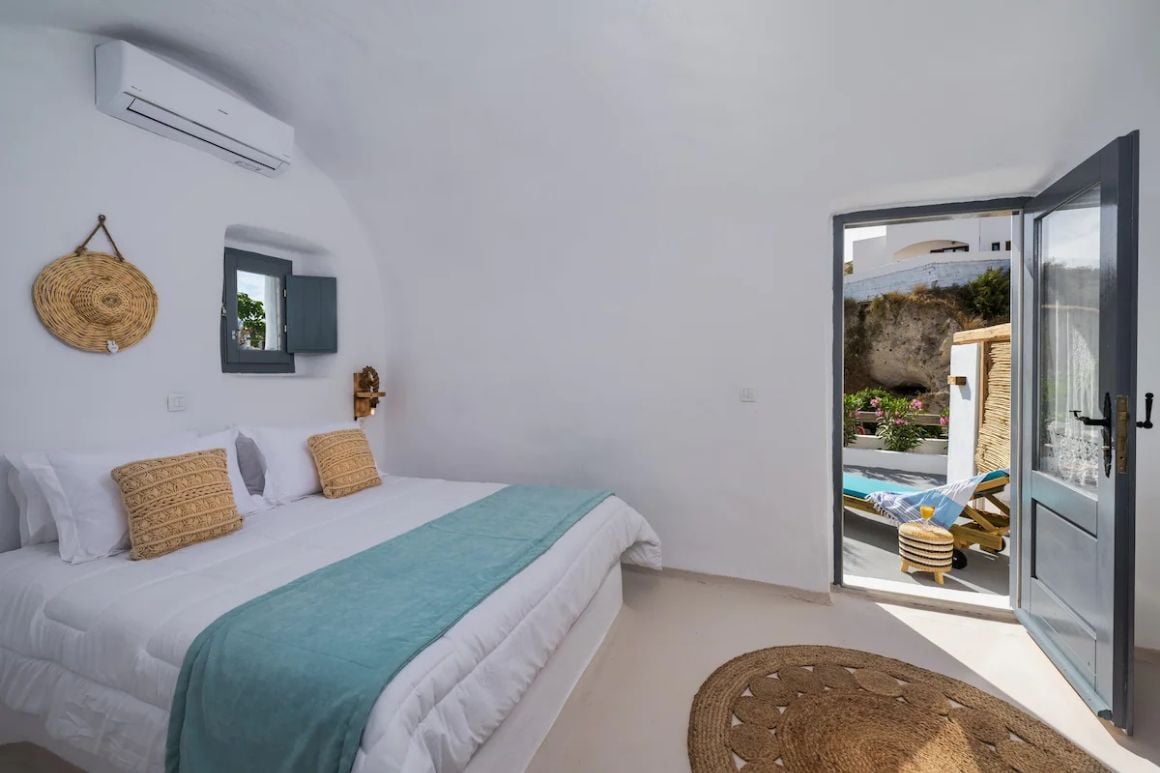 $$$
Outdoor area with sun beds
Think relaxing moments in the indoor heated cave pool and days spent tanning on the sunbeds with a good book in your hand. Located in the quaint and charming village of Volthonas, this romantic retreat is all you will ever need for an unforgettable honeymoon. Close to the airport and to Fira, it is the perfect place to see how it feels like to be a real Santorinian.
Make your friends green with envy with the subterranean pool that's beyond expectations and have a splendid time in the hot tub as you feel all your stress melt away. You'll love the light breakfast which consists of rusks, jam, local honey, milk, and butter, as well as tea and coffee.
You can arrange airport transfers with the host ahead of time for an extra fee, so you need not worry about anything while on your honeymoon. And if you want to bring your fur baby along with you, this Airbnb allows pets.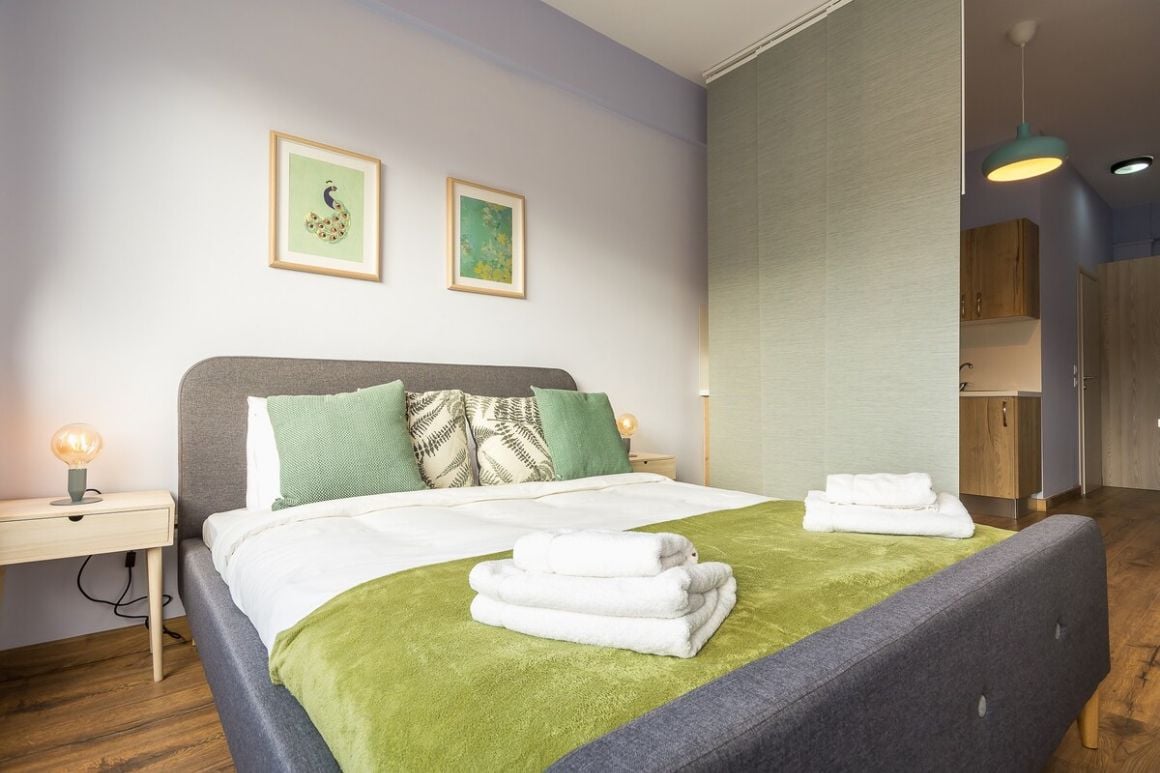 $
A few steps away from the metro station
2 Guests
Near all historical monuments
How would you enjoy waking up every morning to spectacular views of the Acropolis? You can do just that when you stay in this studio apartment.
Located in the heart of the city, you can easily walk to historical monuments and famous tourist attractions. Getting around is easy as the Monastiraki metro station is only 50 meters away and the shopping district in Ermou Street is waiting for you to explore. The airport is just an easy metro ride too.
Whether you're in Athens for its history and culture or for sightseeing, this studio apartment is the ideal base if you have a limited time to spend in the city. Numerous bars and restaurants are within walking distance so you can sample Greek cuisine and enjoy a glass or two of the many Greek beer brands.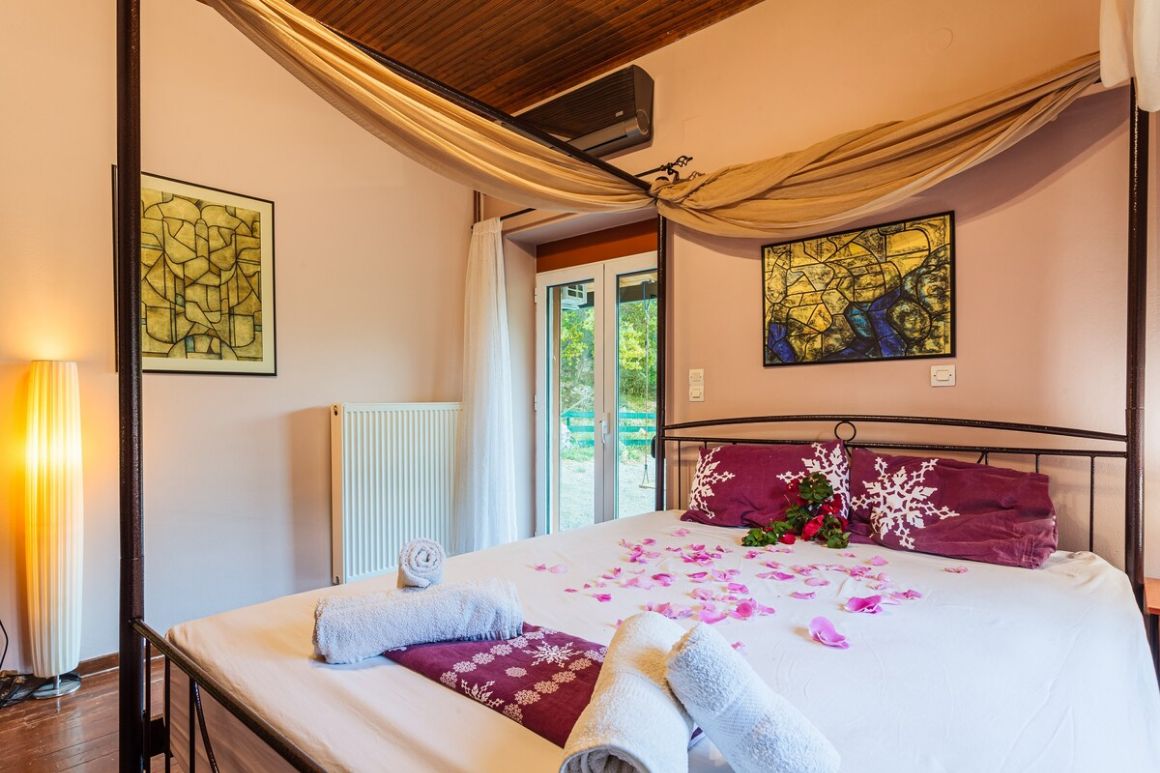 If you want a mountain and beach getaway with the family, this is the place for you. Located close to a picturesque village, this historical mountain house is surrounded by beautiful and relaxing nature with many outdoor activities such as hiking and climbing.
You can even try your hand at collecting mushrooms or you can follow the beautiful pathways that lead to breathtaking views of the Messinian Valley.
In addition to the several outdoor activities, there is plenty of entertainment inside the home too such as the large pool table or the hammock in the backyard. The fireplace is the perfect spot to curl up with one another but you can spend time on the balcony or in garden too.
Lastly, plenty of organic produce such as bread, cheese, wine, fruits, vegetables, and olive oil are available, produced by the host's family. The beach is about 25 km away so it's better to rent a car to get there, but parking is free on the premises so don't worry.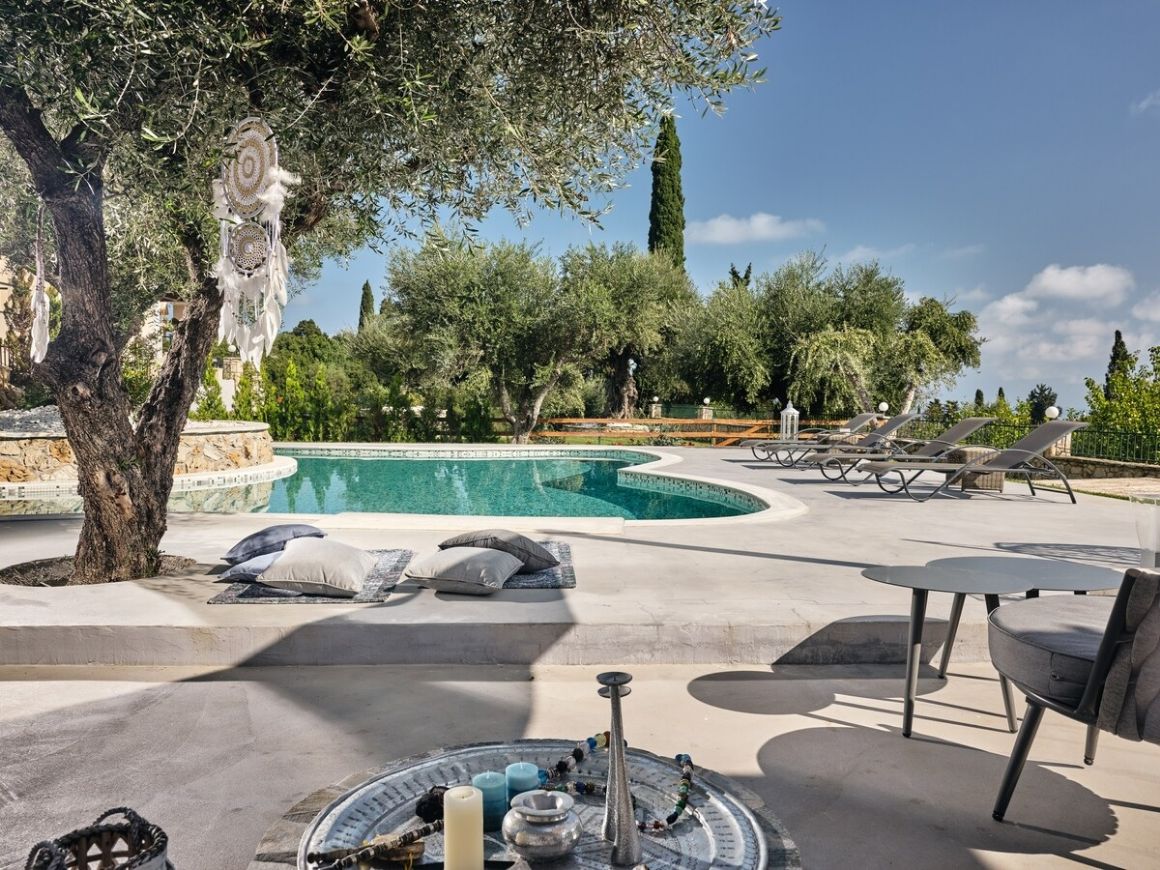 Located in the scenic village of Kypseli, this luxurious and spacious villa can easily accommodate 7 guests and is the perfect place to stay in Zakynthos.
It's away from the main tourism centers which make it quiet and relaxing but it's still near enough the city and the gorgeous beaches. With the space exclusive to you, relaxing and forgetting about your worries are things that come easily. Start the day with your sun salutations on the balcony.
After a long day exploring the nearby areas, you can jump into the pool or have a go at the hot tub that's big enough for 6 people to share at the same time. The outdoor area with olive trees is a sight to behold with a distinct scent that will linger in your mind. The fire pit is waiting for you to peruse and the BBQ is waiting to be fired up too.
Luxurious and spacious, this villa boasts a large pool where you can chill and unwind while admiring the mind-blowing views of the city skyline and mountains.
If you're tired of the pool you can always switch to the hot tub or you can walk through the courtyard that's reminiscent of chateaus and palaces with manicured gardens. Every inch of space in the villa is tastefully and stylishly decorated and you won't find one ugly spot here.
The bedrooms are large and comfortable and there are numerous communal spaces where you can hang out with one another and enjoy a delicious meal, both indoors and outdoors. The villa is available for events such as weddings and the hosts can help organize a romantic dinner in a luxury catamaran for those looking to try a one-of-a-kind experience.
The nearest airport to the property is Santorini International Airport, about 7 km away and the villa is about 10 km away from Oia.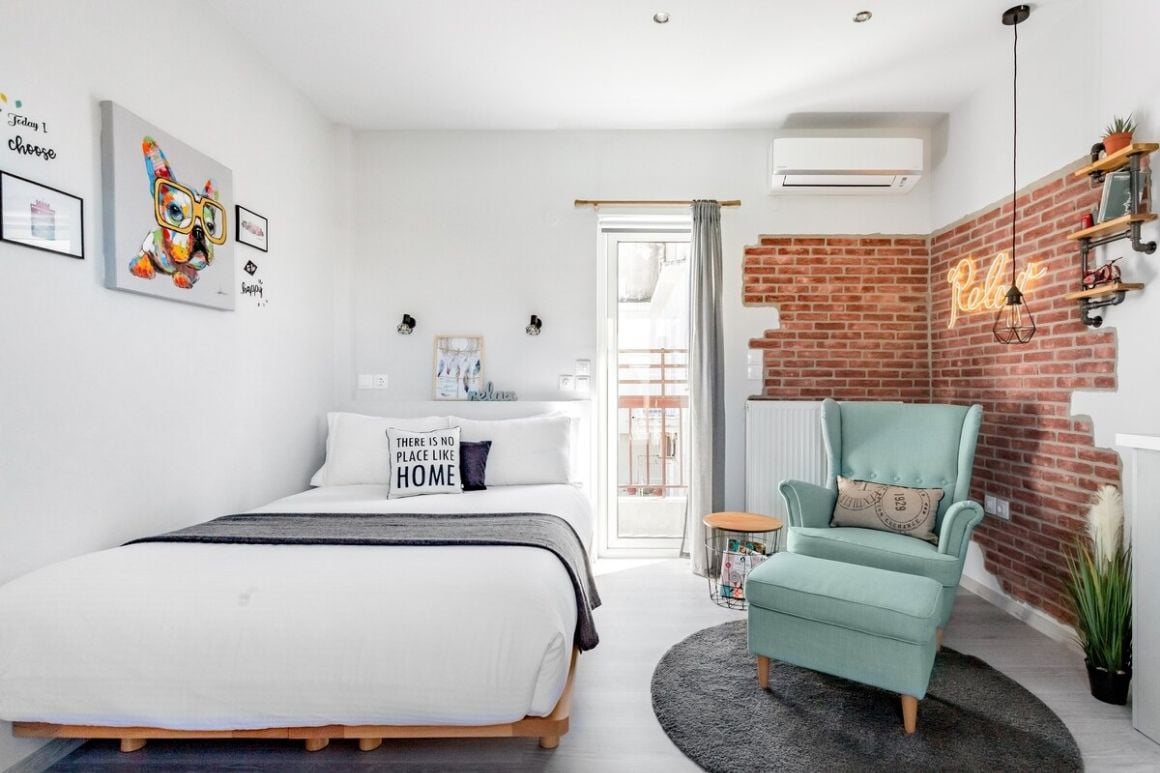 This small but stylish home is perfect for solo travelers looking for a place to stay in Thessaloniki. Nothing beats its central location, you are within easy reach of restaurants, bars, bakeries, shops, banks, and bookstores. The safe neighborhood has direct access to the city and the property is within arm's reach of famous attractions.
Tastefully decorated you'll find every corner of this home to your liking from the kitchenette where you can prepare light and simple meals to the comfortable corner where you can sit and read a book or plan your day. The balcony is all yours and is a good place to just lounge around too.
The oldest stone windmill on the island of Santorini, El Viento Villa has magnificent views of the Aegean Sea and the volcano. It is the best spot to enjoy spectacular sunsets too.
Located in one of Santorini's traditional villages, you'll be right in the center of Greek life, as well as Greek wine tradition, and away from the touristy places.
You'll have your fill of picturesque structures and small tavernas that serve Greek dishes that are big on taste. Don't forget to climb in the hot tub after a sumptuous dinner to wind down and get your body prepared for rest.
Just 3 km away from the port, you can easily hop on a ferry and explore nearby Santorini attractions. Various other services such as airport transfers and bicycle rental are available at an additional cost.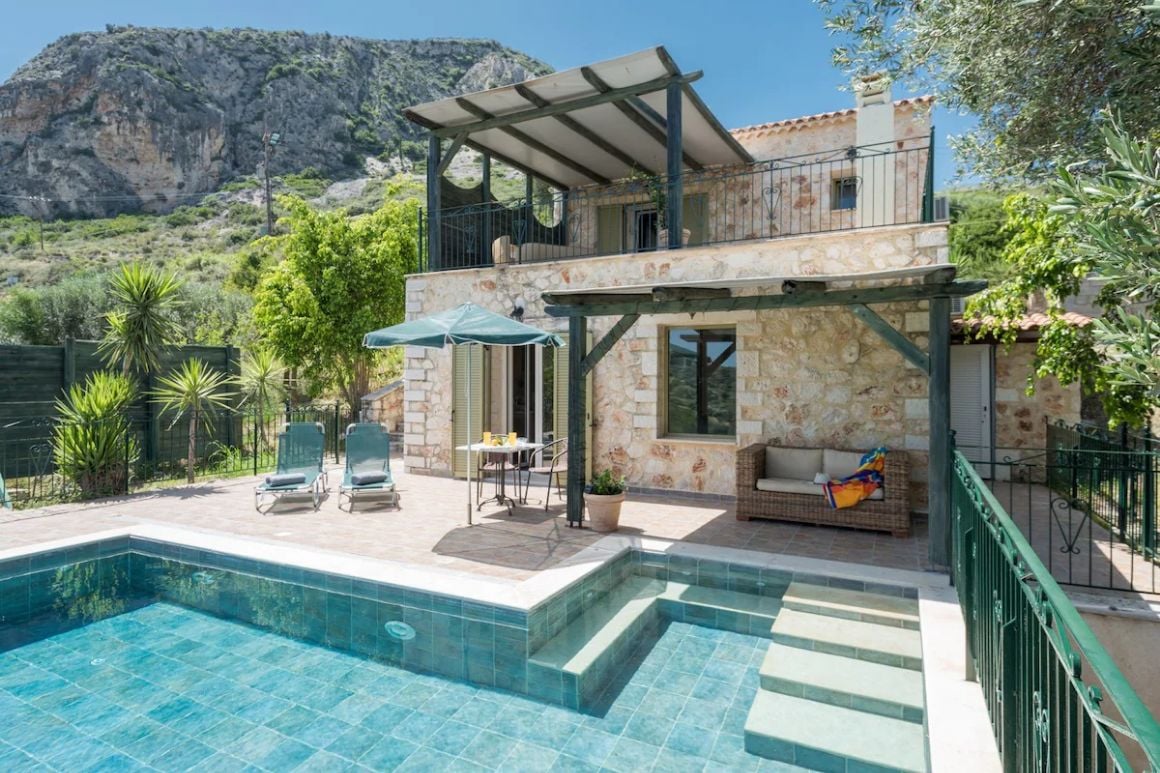 Reignite the romance in your relationship by spending time in this gorgeous stone house in Kefalonia perched on the side of Mount Ainos.
With spectacular views of the sea and the village of Katelios, you'll get a feel of just how locals live with beachside tavernas selling fresh fish. Don't forget to wander in the village and you'll find plenty of restaurants serving lunch and dinner.
Ideally suited for exploring the beaches and Kefalonia, you can also spend your time in the property lounging by the pool, sipping fizz on the terrace, or having a night swim. The nearby city is only a few minutes' drive from the property. Do keep in mind that a car is recommended to make going around easier.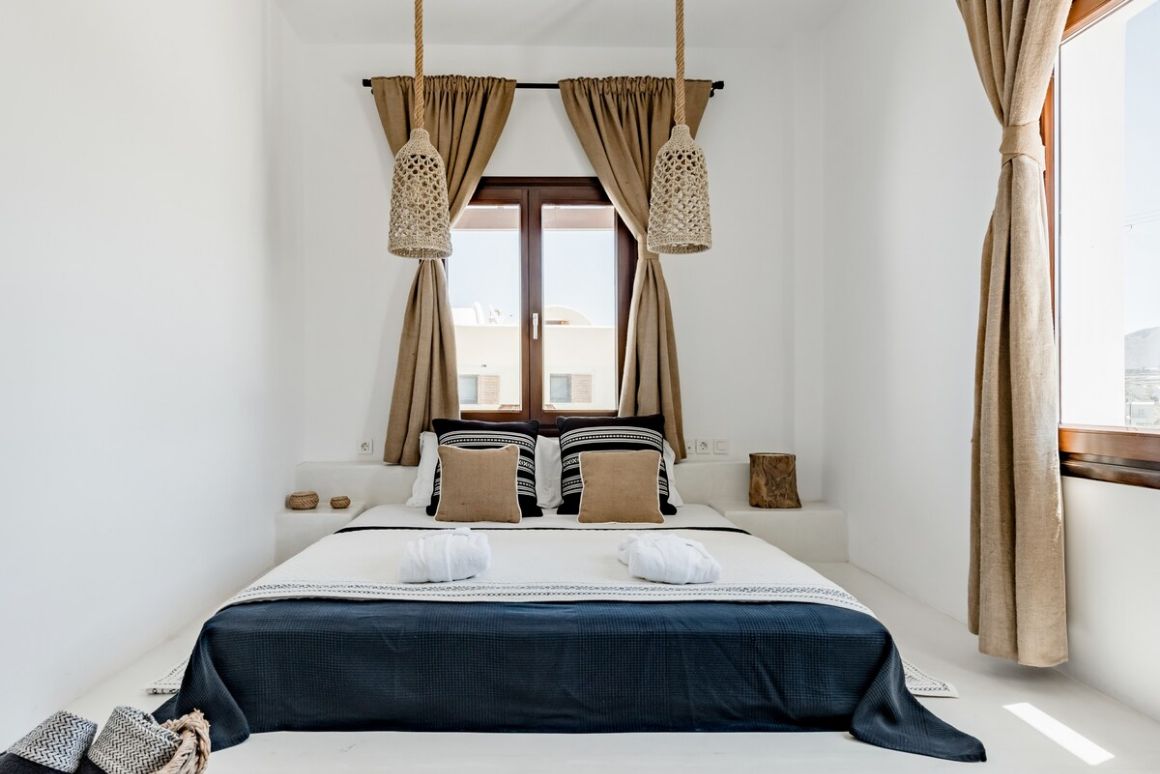 $$
Supermarket and bakery nearby
This stylish Boho chic home in Santorini is the perfect holiday place for relaxation and enjoying the island's attractions. The backyard is airy and is a great place for enjoying a meal or light snacks. Daily cleaning is free of charge, plus you get easy access to parking and a host of other amenities that make a world of difference.
Less than 10 minutes away from the airport, you'll find everything you need within a five-minute walk, such as restaurants, supermarkets, cafes, pubs, and bakeries. Its excellent location means both north and south of the island is within an easy drive of the property.
Over-the-Top Luxury Airbnb in Santorini | Villa in a winery
13 Guests
Daily housekeeping
Ultimate luxury is the name of the game of this opulent retreat in Santorini. Once a traditional winery, the space has been cleverly transformed to a villa that is ideal for special events or for people who just want to seek refuge from the hustle and bustle of city life. It comes with 2 outdoor pools with Jacuzzi so you can swim in one in the morning and in the other in the afternoon.
Freshly-baked pastries, concierge services, breakfast baskets, daily housekeeping, welcome drinks, and laundry services are just some of the special touches which make the villa amazing. You get not one but three fully-equipped kitchens so you can let your inner chef run wild and free and you can relish the delicious dishes in the gorgeous dining room.
Don't forget to spend time on the rooftop sitting area to admire the views of the medieval village nearby and the black beach of Perivolos.
Top 5 Airbnb Experiences
Greece has always been on the top 10 list of any traveler. The blue and white houses of Santorini alone keeps sending droves of tourists to the country and I don't think that's going to stop anytime soon. However, there more's to the country than just Santorini.
There's plenty to see and do so I have rounded up some of the coolest things to do while in Greece which you can book through the Airbnb platform. I'm confident that with these activities, you'll have an unforgettable vacation in the land of Homer.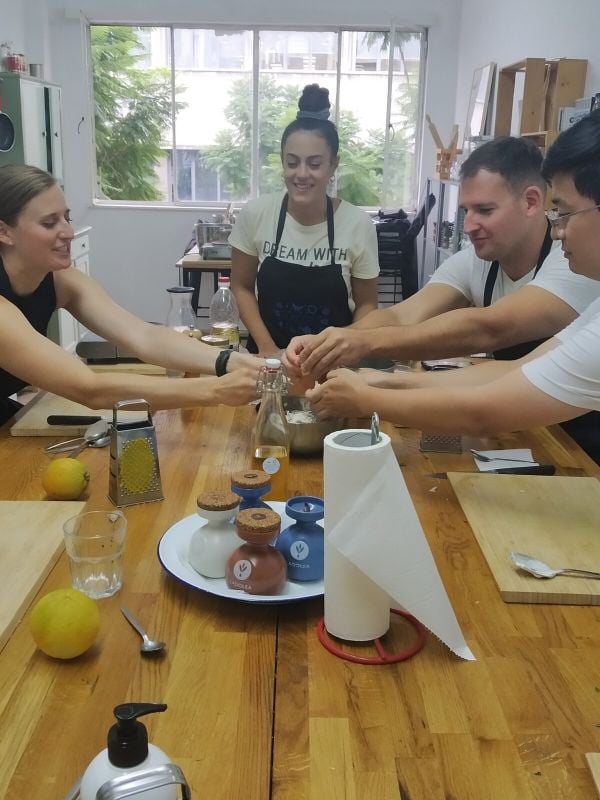 Learn a thing or two about Greek food in this highly-rated cooking experience. it starts with a trip to the local market where you'll check the produce and choose the best and freshest ingredients for a variety of Greek dishes you'll be preparing; namely, Spanakopita, Dolmades, Tzatziki, Imam Balidi, and Portokalopita.
You'll prep the ingredients and cook the dishes with your host guiding you through the entire process and imparts valuable lessons in the kitchen that will keep your Greek cooking skills game on top shape. Afterwards, you will share the meal with the rest of the class with a glass of local wine or beer.
If only walks could talk, Athens would have countless stories to tell through its ancient structures. Take the silent e-scooter for a ride through the capital city's most famous structures and learn about the stories and salacious secrets they have to tell.
Conducted by local guides, you will hear stories about emperors, see the exact place where the Olympics was born, behold the temple of mighty Zeus, and pay your respects to the goddess whom the city was named after, Athena, among many other things.
This highly-rated experience will open your eyes and make you appreciate Greek history more and what's better than riding an e-scooter while learning countless tidbits of information? The price of the activity includes equipment rental, as well as drinks.
If you are curious about Greek theatre and have always wanted to see a performance, this is your chance!
You'll have a full hour of entertainment made up of six major works of ancient Greek literature taking place on the rooftop located right beneath the Acropolis and adjacent to the Romana Agora. Laugh, cry, gasp, and be in awe of the talent before your eyes and have a grand time whether alone, with friends or with the family.
Come one and all as this experience is open to adults, as well as children. Included in the ticket price is a glass of wine for adults and a bottle of water for children.
Considered one of the most beautiful places in the whole of Greece, people try to avoid Oia as it can be overly touristy but it looks and feels a universe away when explored at night. It's just as stunning at night, perhaps even more so.
This highly-rated tour starts at the Oia Bus Terminal and makes its first stop at the 'Blue Domes' of Santorini where you don't have to queue 10 minutes to get a picture as you would during the day.
Next, you'll saunter through the narrow, cobblestone streets towards the 'Captain's Houses'. The final leg of the tour is the Old Venetian Castle of Oia. Along the way, you'll hear several interesting stories and facts about the iconic landmarks. The host is also known for his super helpful recommendations regarding where you should go to try the best Greek food in Oia.
Admire the beauty of the Athenian coastline up close on this sailing tour. Located just half an hour away from the center of the city are gorgeous coastlines with sparkling waters waiting for you to jump in. The sailing tour departs from Kalamaki Marina in the morning. You'll do nothing but sit there and admire the views and soak up the sun while the experienced crew takes care of everything.
You'll be dropping anchor in some of the most secluded places with pristine waters where you can snorkel and just have a good time. Don't worry about the equipment as they have everything you need. Aside from enjoying the waters, you'll also be served quality Greek wine and meze. And that's not the end of it, you'll also learn about the various historical battles that took place in the sea and the long history of Greek shipwrights.
Don't Forget Your Greece Travel Insurance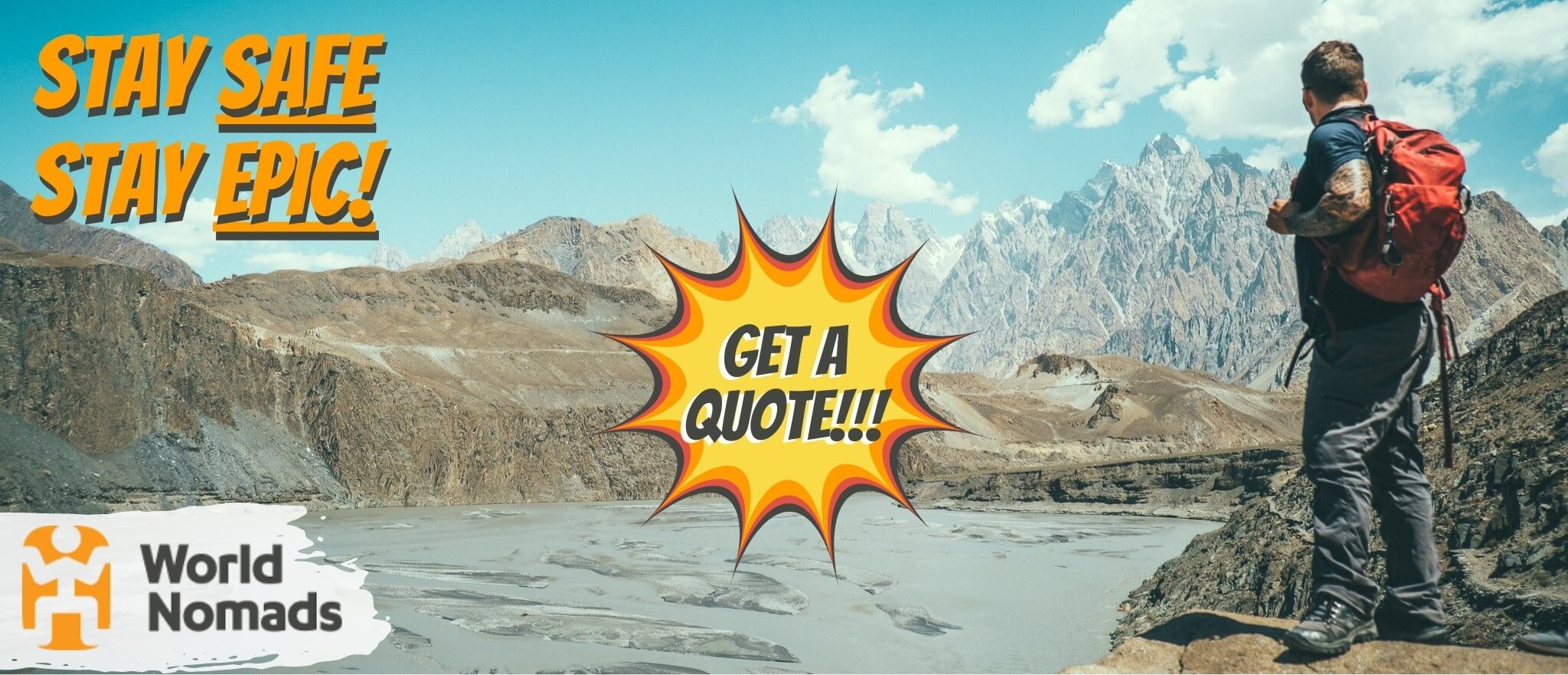 World Nomads' mission is to support and encourage travellers to explore their boundaries. They offer simple & flexible travel insurance, and safety advice to help you travel confidently.
They've been doing it since 2002 – protecting, connecting, and inspiring independent travellers just like you.
Get a quote below or read our in-depth review!
World Nomads provides travel insurance for travelers in over 100 countries. As an affiliate, we receive a fee when you get a quote from World Nomads using this link. We do not represent World Nomads. This is information only and not a recommendation to buy travel insurance.
Final Thoughts on Airbnbs in Greece
Greece and the Mediterranean are waiting for you, so don't delay! Santorini may be the first place people think of when the country is mentioned, but Greece has plenty more amazing places waiting for travelers to enjoy.
All these Airbnbs in Greece on this list are functional and beautiful; have amazing locations; and a few even come with extra amenities to make your time in the country extra special that you might just decide to extend your stay.
But before you even step on the plane to make your way to Greece, you should take out travel insurance. A lot of things can happen while on vacation and it's best to be prepared. Consider World Nomads travel insurance, one of the best there is!
---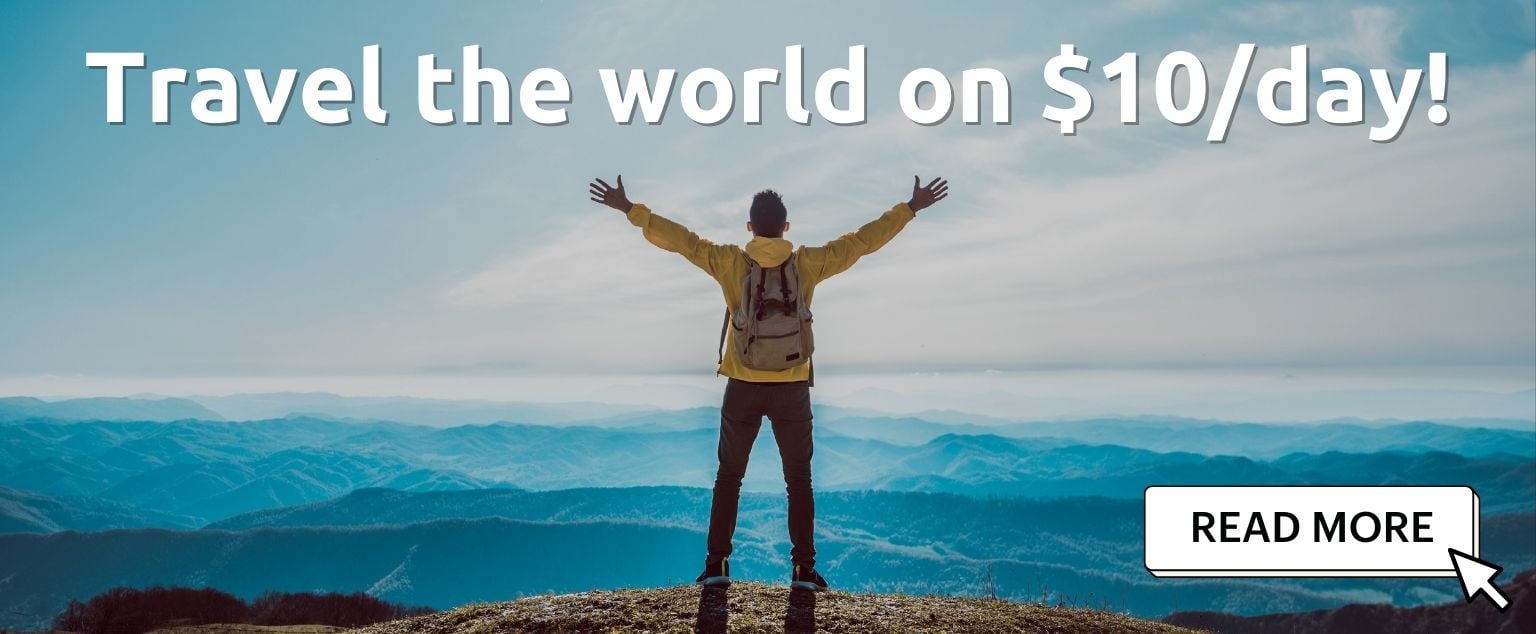 And for transparency's sake, please know that some of the links in our content are affiliate links. That means that if you book your accommodation, buy your gear, or sort your insurance through our link, we earn a small commission (at no extra cost to you). That said, we only link to the gear we trust and never recommend services we don't believe are up to scratch. Again, thank you!