Greece is known for its chilled out vibes, turquoise mediterranean ocean, sandy beaches and amazing sunsets. So what better way to enjoy it than by staying in a beach house than Greece?
This Mediterranean nation packs a whole lot of punch when it comes to staying by the sea in style. Whether you're looking for something traditional and charming, or for something that looks it came out of the pages of a glossy design magazine, there are a ton of beach houses to choose from across Greece.
The beauty of this ancient country is the sheer variety that comes with all its top beach destinations. You might find yourself staying on an island in the Ionian Sea, or perhaps you'll be staying on one of the many hundreds of islands that dot the Aegean ocean.
You can even find a beach house on the Greek mainland. This beautiful country is literally your oyster when it comes to coastal credentials.
With the bonus of traditional tavernas to frequent, and even ancient ruins to explore (you're never too far from something old and magical in Greece), staying in a beach house in Greece is most definitely a good idea.
So if you're sold on the idea, you've come to the right place. This handy guide to the best beach houses in Greece is packed with properties to suit any type of traveler.
In a Hurry? Here's Where to Stay in Greece for One Night
FIRST TIME IN GREECE
Stylish Beach Villa
This is one stunning beach house. With its unique modern architecture surrounded by natural landscape, the added bonus is that there is almost zero energy consumption. Taverns, cafes and bars are all a stone's throw from here. And it's got its own pool.
NEARBY ATTRACTIONS:
Agios Pavlos Sandhills' beach
The crazy rock formations at Apoplýstra
Saint Paul's church viewpoint
Is this amazing Greece Beach House booked for your dates? We've got your back with our other favorite properties below!

Unlock Our GREATEST Travel Secrets!
Sign up for our newsletter and get the best travel tips delivered right to your inbox.
Staying in a Beach Houses in Greece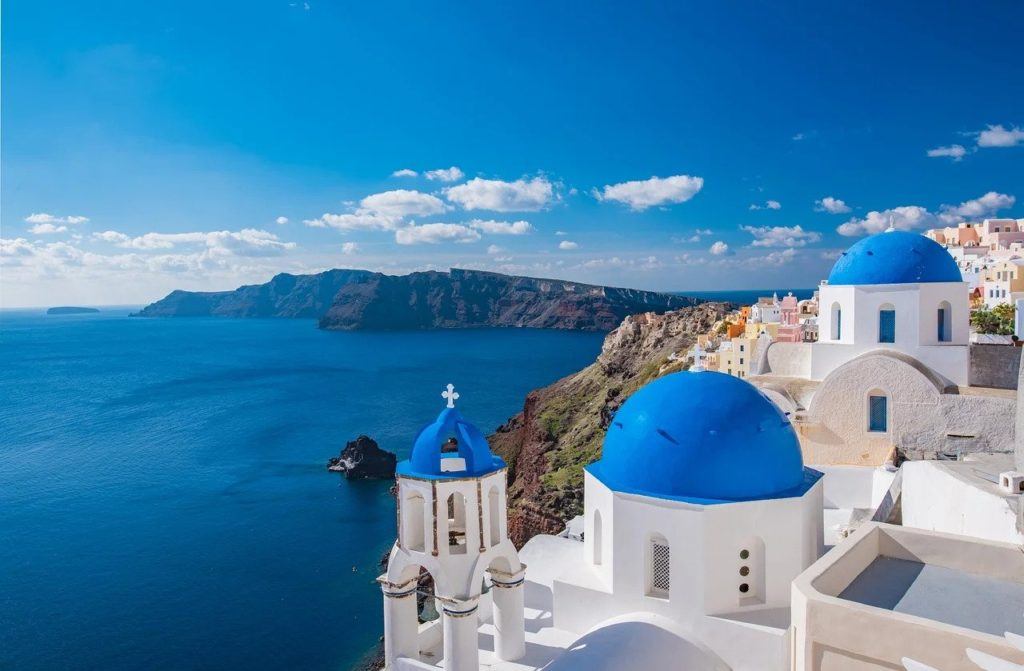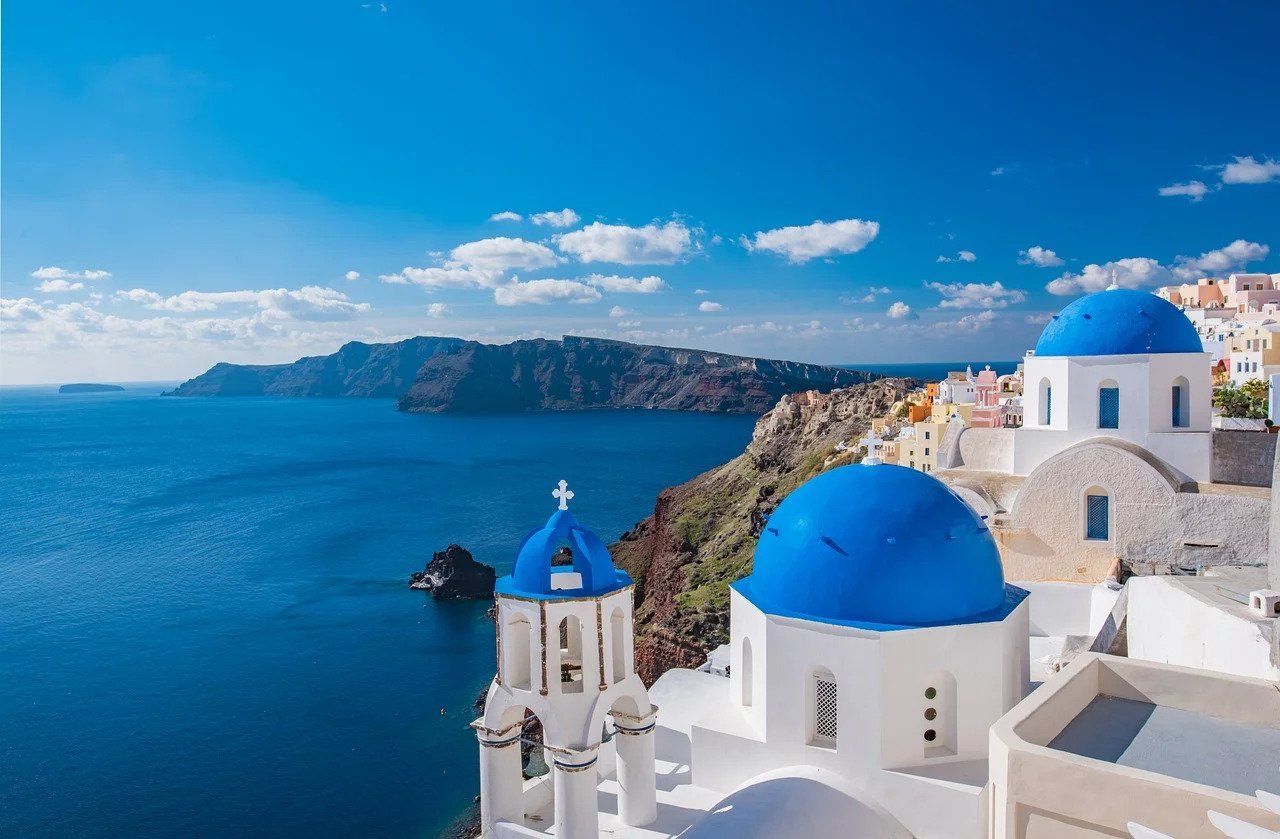 So, what are beach houses in Greece like? It's a good question. They're actually more varied than you may imagine. For one thing, the style is very unique. It's far from the likes of coastal cribs in places like the Caribbean, and with thousands-of-years-old culture going into the designs, there's a lot of variation going on in Greek beach houses.
For those who like choices, you're in luck. There are traditional properties that date back to the 19th century, now renovated for the utmost relaxing beachside abode; there are stone cottages that look like they've been taken right out of a fairytale, or maybe a rom-com is more apt, and then there are spangly new pads that are as sleek as they are spacious.
Unlike villas elsewhere in the world, having your own private beach in Greece doesn't come at too much of a crazy premium. Beach houses with private gardens, or private beaches – it's all fairly affordable, though maybe not on a Greece backpacker's budget. And it's more common than you may expect.
Swimming pools are basically a standard, too, but are less widespread than you might think. Gardens are more the thing here, as the locals love alfresco dining. You can also often find gardens with outdoor cooking facilities, decks for soaking up some awesome sea views, and even (sometimes) equipment like kayaks to make the most of.
Inside you'll find fully-equipped kitchens, dining areas, lounges, bedrooms – all comfortable, and stylishly or traditionally decked out. It's rare that you'll find a very small, pokey little beach shack in Greece. Everything here is fairly spacious and airy, which just adds to the beach house credentials going on here.
Last but not least: the best beach houses in Greece put you in unique locations. They're not usually located in resort areas, or in gated communities, or even right in the middle of towns. They're just on the outskirts usually, far but not too far from shops and conveniences for your vacation. Don't worry though, they might be off the beaten trail but still in safe places – at least, the ones I recommended are!
What to Look For in a Beach House
Of course, the first thing you need to consider is your location. Beach houses can be found in pretty much every corner of the country, so you're never short of options. If you want to be close to the historical attractions, you might want to stay on the mainland. If it's beaches you're after, try Corfu or Kefalonia. If it's a romantic honeymoon destination, say no more than Santorini. Where you stay in Greece will ultimately make or break your vacation.
You should also look for somewhere with a private beach. It's not often you get to lay claim to your own slice of turquoise-sea-lapped sand, and Greece can be pretty affordable, so if you can, I would say go for it. Why not?
Next up, look for somewhere traditional – think white-washed walls paired with touches of blue, with an outside courtyard full of colorful flowers. This tends to be fairly unique for accommodation in Greece, as many affordable beach houses are often in more modern buildings or new-built villas. But they lack the charm of a traditional Greek beach house.
You should also consider looking for somewhere with self-catering facilities. Although Greek food is delicious, it can be expensive to eat out all the time, so a fully equipped kitchen can help you save some pennies.
As for where to find one, I'd recommend Airbnbs in Greece. While Booking.com and Vrbo have a good choice, Airbnb just has a better choice of beach houses. Other perks of Airbnb include the often high-quality photos that illustrate a property, plus the ability to chat directly to hosts is always handy. But, there is a ton of options to sift through, so if that sounds like too much work, take a look below.
OVERALL BEST VALUE BEACH HOUSES IN GREECE
OVERALL BEST VALUE BEACH HOUSES IN GREECE
Stylish Beach Villa
> $$
> 3 Guests
> Swimming pool
> Eco-friendly credentials
BEST BUDGET BEACH HOUSES IN GREECE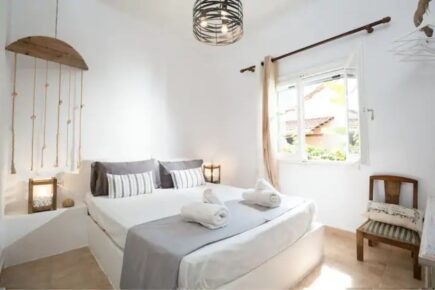 BEST BUDGET BEACH HOUSES IN GREECE
Dream Beach House
> $
> 6 Guests
> Lush gardens
> Outdoors pizza oven to use
BEST BEACH HOUSE FOR COUPLES
BEST BEACH HOUSE FOR COUPLES
The Artist's Farm-Studio
> $$
> 2 Guests
> Rooftop terrace
> BBQ area
BEST BEACH HOUSE FOR A GROUP OF FRIENDS
BEST BEACH HOUSE FOR A GROUP OF FRIENDS
Beachfront Greek Villa with Semi-Private Beach
> $$$
> 6 Guests
> Private beach
> Beautiful terrace
OVER-THE-TOP LUXURY BEACH HOUSE
OVER-THE-TOP LUXURY BEACH HOUSE
Ode Iconic Residence
> $$$$
> 16 Guests
> Sauna
> Insanely chic design
BEST BEACH HOUSE FOR FAMILIES VISITING GREECE
BEST BEACH HOUSE FOR FAMILIES VISITING GREECE
Unique Beachfront Aegean Style Villa
> $$
> 5 Guests
> Al fresco dining area
> Private beach
BEST BEACH HOUSE FOR BACKPACKERS IN GREECE
BEST BEACH HOUSE FOR BACKPACKERS IN GREECE
Beautiful Cottage on the Beach
> $
> 2 Guests
> Private garden and beach
> Archeological sites in easy reach
The 15 Top Beach Houses in Greece
So, now you know what to expect from a beach house in Greece, let's take a look at the best of the best.
Whether you use this as your point of call to book the best beach house for you, or if you just use this list to inspire your decision-making on the beach house front, it's all good – it never hurts to gawp at some gorgeous villas every now and then.
Overall Best Value Beach House in Greece – Stylish Beach Villa
$$
3 Guests
Swimming pool
Eco-friendly credentials
Greece has a whole bunch of awesome beach houses, but this one stands out the most. With its chic minimalist interior design, the incredible views out across the ocean, and your very own swimming pool, you shouldn't be surprised that this tops my list of the best beach houses in Greece.
It's uniquely captivating, like something from the glossy pages of a deluxe travel magazine. You'll find this beautiful spot at Agios Pavlos – just a few kilometers from restaurants, bars, and cafes of Rethymno – on the south coast of Crete.
This would make for the ultimate base for exploring all the top sites on your Crete itinerary. Make sure you hire a car so you can drive around and explore all there is to see and do.
Best Budget Beach House in Greece – Dream Beach House
$
6 Guests
Lush gardens
Outdoors pizza oven to use
Watching the pennies and looking for the best beach house in Greece on a budget? Well, you might want to consider this little slice of heaven. Situated on the island of Corfu, this is a chilled-out beach house with a relaxing garden that opens right onto the beach.
Here you can feel right at home, thanks to its rustic traditional setting mingling with modern amenities. You'll have access to an alfresco pizza oven, kayaks to mess around in, and the best bit? The incredible sunsets you get to see here.
$$
2 Guests
Rooftop terrace
BBQ area
Get away from it all with your other half and unwind in this Greek-style beach house. Situated in western Greece in Aigion, near the picturesque beach of Digeliotika, this peaceful spot puts the beach literally right on your doorstep, making it perfect for lazy days sunning yourself or splashing around in the sea.
The house itself features an idyllic garden overflowing with plants and boasting a pond, too. It also has its very own rooftop terrace – perfect for cocktails or a glass of wine – and chic boho interiors throughout.
If you're backpacking in Athens and need a beachy break, this is the best place to stay as it's only an hour and a half car journey, or 2 hour train journey away.
$$$
6 Guests
Private beach
Beautiful terrace
With enough room to sleep six people across three bedrooms, this is the ideal spot to assemble your friends and get your beach trip on.
Located just a few kilometers from the town of Skiathos (on the island of the same name), there are numerous restaurants and bars if you need them. But the beach house itself is tucked away and feels like a private paradise.
The terrace is unreal, with views out over the sea, and the house comes with access to a private beach at the bottom of the beach. In short, this place to stay in Skiathos is insane.
Is This the Best Backpack EVER???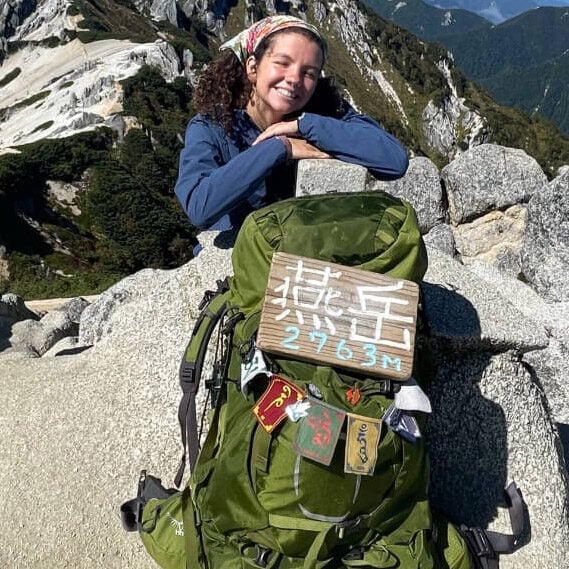 Great Beach House for a Groups – Villa Elvina
$$$
10 Guests
Large garden
Private pool
Still looking for the best beach house in Greece for you and your friends? The last one didn't do it for you? Try this one. Although a more high-end property, this Cretan beach house features chic interiors, a private pool and hot tub, and space to sleep you and nine of your pals.
Despite the upscale feels of the place, one of the best bits is the natural view of the coastline and the Mediterranean Sea. Though you have two acres of lawn to play with here, you'll probably find yourself chilling at one of the several beach bars and local tavernas a short walk from here.
$$$$
16 Guests
Sauna
Insanely chic design
Quite possibly the best beach house in Greece, this place is crazy beautiful. It's like a modern take on Cycladic tradition, with white-washed walls and a minimalist approach to design throughout. Here you can wake up to views of the wide-sweeping sea, spend days on the beach, or lounge in luxury around the chic pool.
Nights are all about chilling in the hot tub or dining in alfresco style. Everything is high-end, from the huge TVs to the uber-comfortable bedrooms. Location-wise, you'll find this place in Bali (yes, really) on the island of Crete.
Best Beach House in Greece for Families – Aegean Style Villa
$$
5 Guests
Al fresco dining area
Private beach
Located in Palairos, a town on the western Greek mainland overlooking the Ionian Sea, this modern Aegean-style villa is ideal for families looking for that idyllic beach getaway. Complete with its very own fully-equipped kitchen, living room with fireplace, and dining room, it's perfectly set up for families.
With its outdoor BBQ and al fresco dining added to the bargain, you can't fault the spaces going on here. The cherry on top is, of course, access to your very own private beach.
$
2 Guests
Private garden and beach
Archeological sites in easy reach
Compared to all the chic, modern places going on here, this traditional house feels like a slice of unique accommodation in Greece. And it's refreshingly affordable too. Set in the small village of Paulithi, in the region of Arcadia, this stone cottage is a total charmer.
Boasting its own garden, with a pathway that leads down to the beach, this is a quiet spot to spend time chilling in nature. Swim, snorkel, and cook in your very own Arcadian fairytale. Backpackers: you won't believe how beautiful this place is.
$$$
14 Guests
Full basketball court?!
Very helpful hosts
You don't need to book a hotel or high-end resort to enjoy luxury in Greece. Case in point: this place. Complete with its own infinity pool and a wide deck with views of the Aegean Sea, this Cretan beach house is truly special.
It combines relaxation, style, and comfort, easily rivaling a five-star hotel and easily vying for the position of the best beach house in Greece. People love it here, and you can see why: there's a billiards room, full basketball court, pizza oven, and dozens of restaurants, bakeries, and cafes nearby, too.
$
1 Guest
Balcony with sea view
Walking distance to shops and restaurants
You may think that the prospect of a beach house in Greece is one that only families and couples can enjoy. But that's definitely not the case. This beautiful property in Chania is a great example of that.
Ideal for a solo traveler, this former 19th-century tannery has been cleverly redesigned and transformed into a beach house. Wake up in the morning to your own private balcony, sip coffee in the sunshine, and relax with your view of the sea. The local town is a short stroll away, so you're not totally isolated.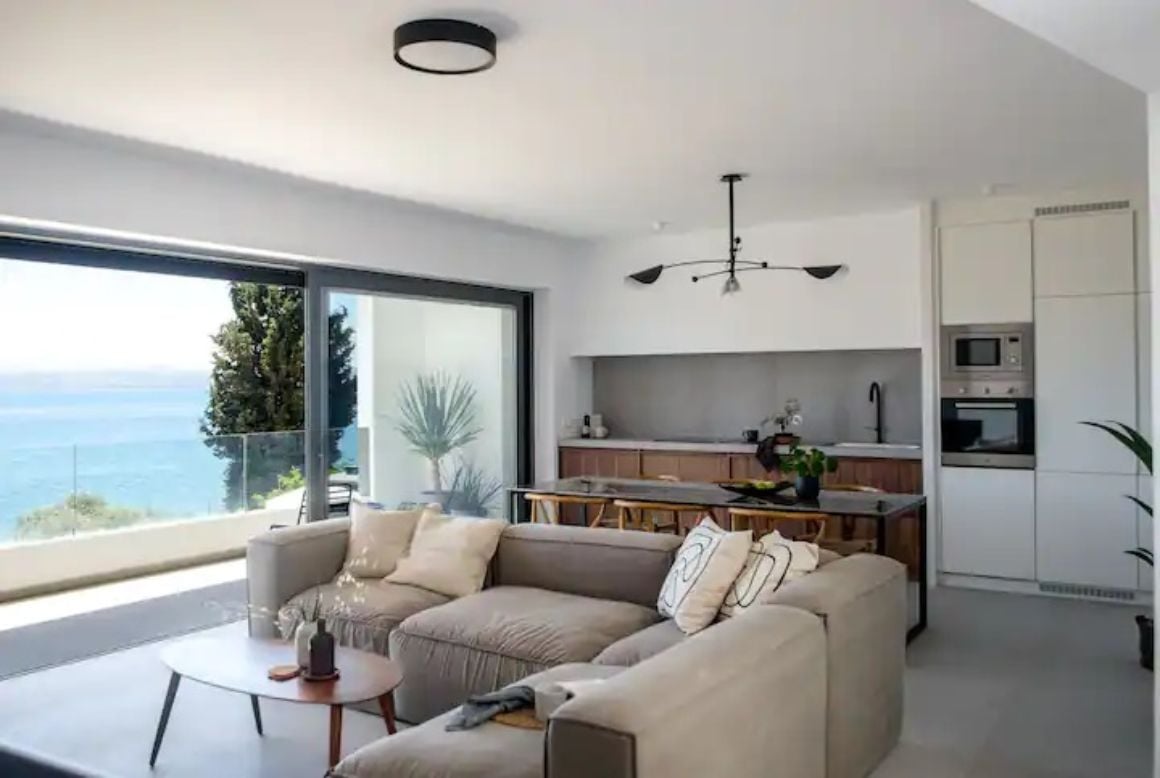 $
6 Guests
Private beach
Modern property
Just an hour from Athens, this is an ideal beach house in Greece for those who are short on time. Simply rock up at Athens airport and you'll be at this beautiful spot in no time at all.
It feels like everything is waiting and ready for you here; set in a quiet location, the place is clean, the kitchen is fully-equipped, and there's your very own private beach to enjoy right in front of the house.
It's like instant relaxation – perfect for a weekend.
Beach House in Greece with an Epic Location – Sea Stone Villa
$$
6 Guests
Utterly charming
Stunning outdoor terrace
Situated near the city of Kalamata, on the Peloponnese Peninsula, this is one beach house that won't disappoint. The location gifts you some truly awesome views – ones that you can soak up from the comfort of your bed (that's right, you don't even have to move to be awestruck by the natural beauty here).
It's a traditional stone villa, surrounded by olive trees, sat upon a rock overlooking Kalamata and the Messinian Bay. Want to reach the sea? Descend a charming stone stairway all the way to the beach. Truly awesome.
$$$
7 Guests
Outdoor kitchen
Infinity pool
As far as unique accommodation in Greece goes, this aesthetic-laden modernist villa is something that will pique the interest of design lovers everywhere. Complete with an infinity pool and chic spaces to unwind in, the simplicity of the place lets the incredible panoramic views do the talking.
Sunsets from the large garden here (this runs down to the beach) are literally amazing. There's even an outdoor kitchen so you can cook up something special while admiring the views.
Location-wise, you'll find this place in Gennadi, a town in the south of the island of Rhodes, just a short drive away from the Lindos Acropolis. It's quiet but never feels too remote, making it great for a family or group of friends.
$$$$
2 Guests
Private patio
Access to shared pool
Santorini is the last word when it comes to honeymoons – well, for many people, anyway. And this place might just be the best beach house in Greece for you and your partner. Built in the 1950s, this traditional property is quaint but also features all the modern amenities you'll need for a dreamy stay.
Needless to say, you'll soon fall in love with the property. The highlight, for one thing, is the large patio that faces out across the Aegean Sea. The views are immense. Just outside the gate to the house is Kamari Beach, eagerly awaiting you. Super chill and super charming.
$
2 Guests
Super traditional charm
Multiple beaches on the doorstep
Top marks for being the most picturesque beach house in Greece. This place is super cute, super classic, and surprisingly affordable, too. Strangely, this beach house also used to be a tannery (dating back to the 1840s) but is now simply a beautiful spot to spend your Grecian vacation.
Situated on the island of Hydra, it's been renovated of course, but still retains so many charming traditional elements. For one thing, the garden is lush and overflows with Mediterranean plants and flowers. You'll have views of the sea here, and several great beaches within walking distance.
Don't Forget Your Greece Travel Insurance
ALWAYS sort out your backpacker insurance before your trip. There's plenty to choose from in that department, but a good place to start is Safety Wing.
They offer month-to-month payments, no lock-in contracts, and require absolutely no itineraries: that's the exact kind of insurance long-term travellers and digital nomads need.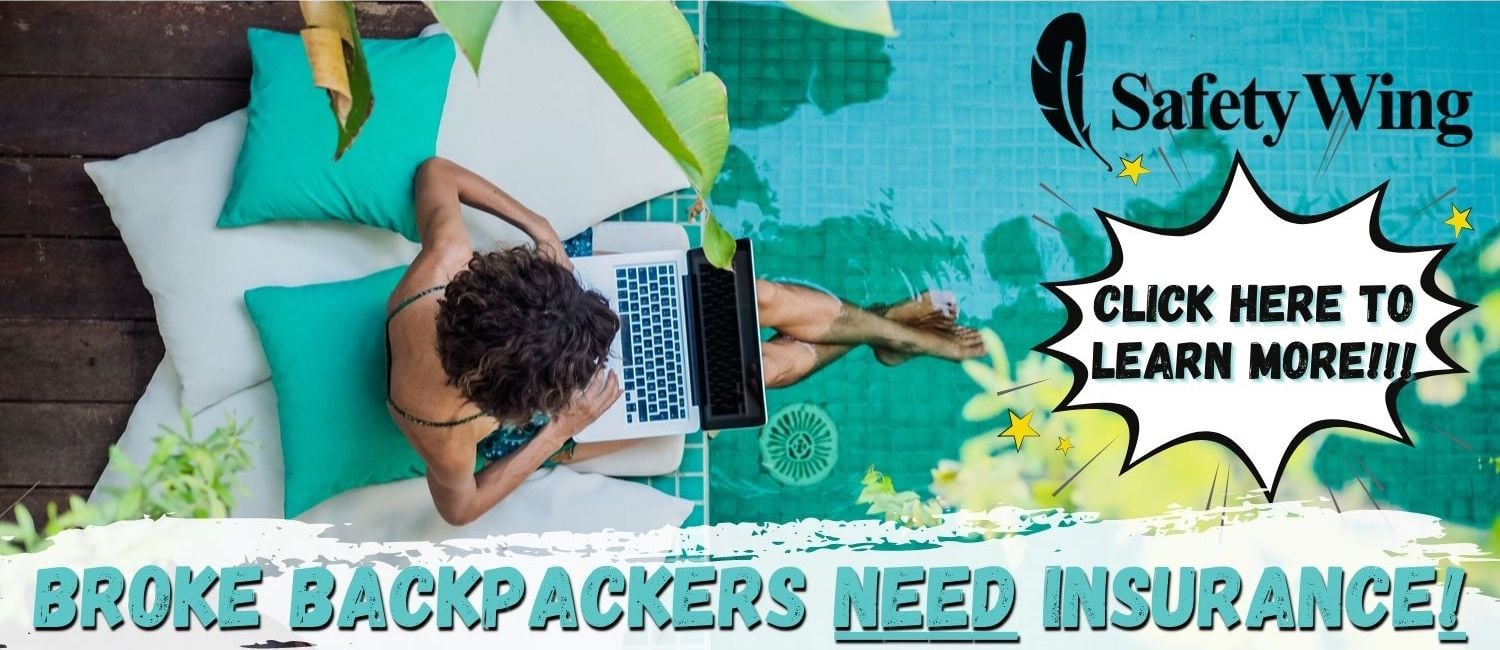 SafetyWing is cheap, easy, and admin-free: just sign up lickety-split so you can get back to it!
Click the button below to learn more about SafetyWing's setup or read our insider review for the full tasty scoop.
Final Thoughts on the Best Beach Houses in Greece
So there you have it, my top picks for the best beach houses in Greece – and dang, are there ever some great shouts on this list.
Whether you want super over-the-top luxury and design-heavy vibes, or if you're just after something quaint and traditional, there's basically something for everyone. It's a cliche, ok, I admit it, but at the same time: there really is something for everyone. The choice is huge!
No matter what sort of place you go for, there's one last thing I should probably mention: travel insurance.
If you're traveling to Greece from a different country (let's be honest, that's very likely), you may want to consider it. Yes, it's a pain to figure it all out sometimes, but trust me – it's better to be safe than sorry, and so insurance is definitely something that's worth thinking about.
---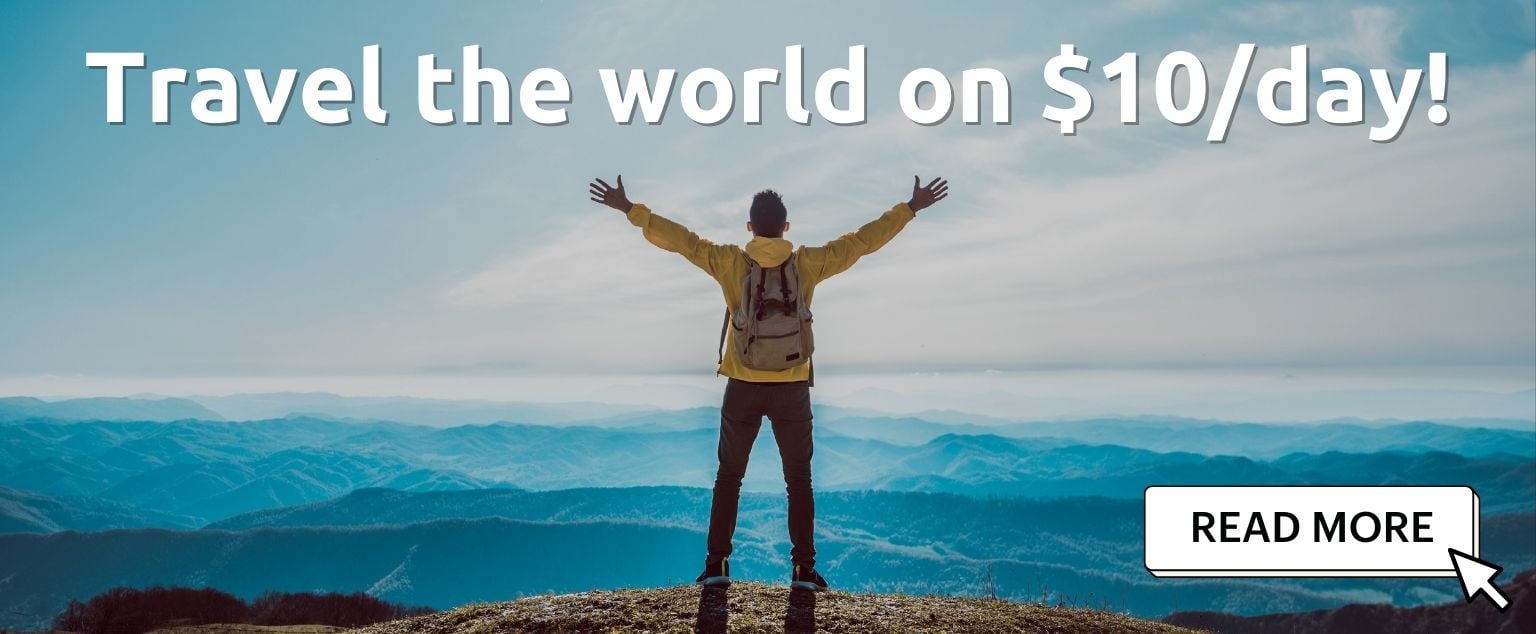 And for transparency's sake, please know that some of the links in our content are affiliate links. That means that if you book your accommodation, buy your gear, or sort your insurance through our link, we earn a small commission (at no extra cost to you). That said, we only link to the gear we trust and never recommend services we don't believe are up to scratch. Again, thank you!