When you think of Greece, you probably think of white buildings clinging to the side of a cliff beside blue waters. Basically, you think about visiting Santorini. This island is popular amongst both luxury and budget travelers for its scenery. And it has some of the best and freshest food you'll ever taste too. So, when you travel there, you'll find lots of famous and beautiful places to visit in Santorini.
Although most people have probably seen the cliff towns of Santorini, you might not know what else to do there. This part of Greece has a long and varied history, great food, and lots of beautiful places to see. To help you find all of them, we've created this list, so you can have the trip of a lifetime.
Need a place quick? Here's the best neighbourhood in Santorini:
BEST AREA IN SANTORINI
Oia
Oia is one of the most charming villages on the island of Santorini. Located in the north, it is a picturesque village comprised of stark white buildings with bright cobalt domed roofs, as well as traditional cave houses, hotels, restaurants and cafes.
Places to visit:
Climb down the 200 stairs to stunning Ammoudi Bay.
Hop on a boat and sail across the caldera.
Delve deep into history at the Maritime Museum.
These are the BEST Places to Visit in Santorini!

Unlock Our GREATEST Travel Secrets!
Sign up for our newsletter and get the best travel tips delivered right to your inbox.
#1 – Firá
The capital of Santorini and the place where most of those cliff house photos are taken.
This is an incredibly beautiful area, but you'll need a good level of fitness to get around.
Why it's so awesome: Firá is everything that the beautiful, picturesque images of Greece claim it is. The houses are small and whitewashed, with winding lanes, terraces, and domed churches clinging to the side of the cliff. Its beauty has made it incredibly popular amongst tourists and cruises, so expect a lot of company when you explore this city.
What to do there: You'll want your camera with you at all times when you explore Santorini, but especially when you're in Firá. Whether it's scenic trails, tiny houses clinging to the edge of the cliff, or the bright blue water, this town is a postcard. Firá is mostly a tourist town now, which is why it's filled with hotels, restaurants, cafes, and jewelers. And these shops make it one of the best places to visit in Santorini if you love to explore and find hidden gems.
#2 – Red Beach – One of the nicer places in Santorini to sightsee!
One of the most unusual beaches you'll ever visit and a Santorini must see!
The beaches on Santorini are unusual because of the volcano, which gave them all unique colors that you won't see anywhere else.
Why it's so awesome: if you visit Santorini and expect to see golden sands with palms, then you'll be disappointed. Santorini is actually a volcanic island, and the beaches were created by its activity, which explains their many and unusual colors. Red Beach is named well. The sand is a dark, rich red that you won't see anywhere else. And it's surrounded by amber cliffs that dip down to the rusty sand and make for an incredible backdrop. A must-visit for anyone backpacking Greece!
What to do there: This beach can be hard to access because there's no direct path. You'll need to wear good shoes and hike in, and it's also not the best beach for sunbathing or swimming. The beach is too small, gets crowded, and the sand is lumpy and uncomfortable. However, this is one of the best places to visit in Santorini for taking stunning and unusual pictures. You'll want to keep your camera close when you visit this Santorini must-see because the contrast of the blue water against the sand is truly spectacular. Unfortunately, you won't be able to enter certain parts of the beach because they've been roped off due to landslides and erosion.
#3 – Oia – A beautiful and scenic place to check out in Santorini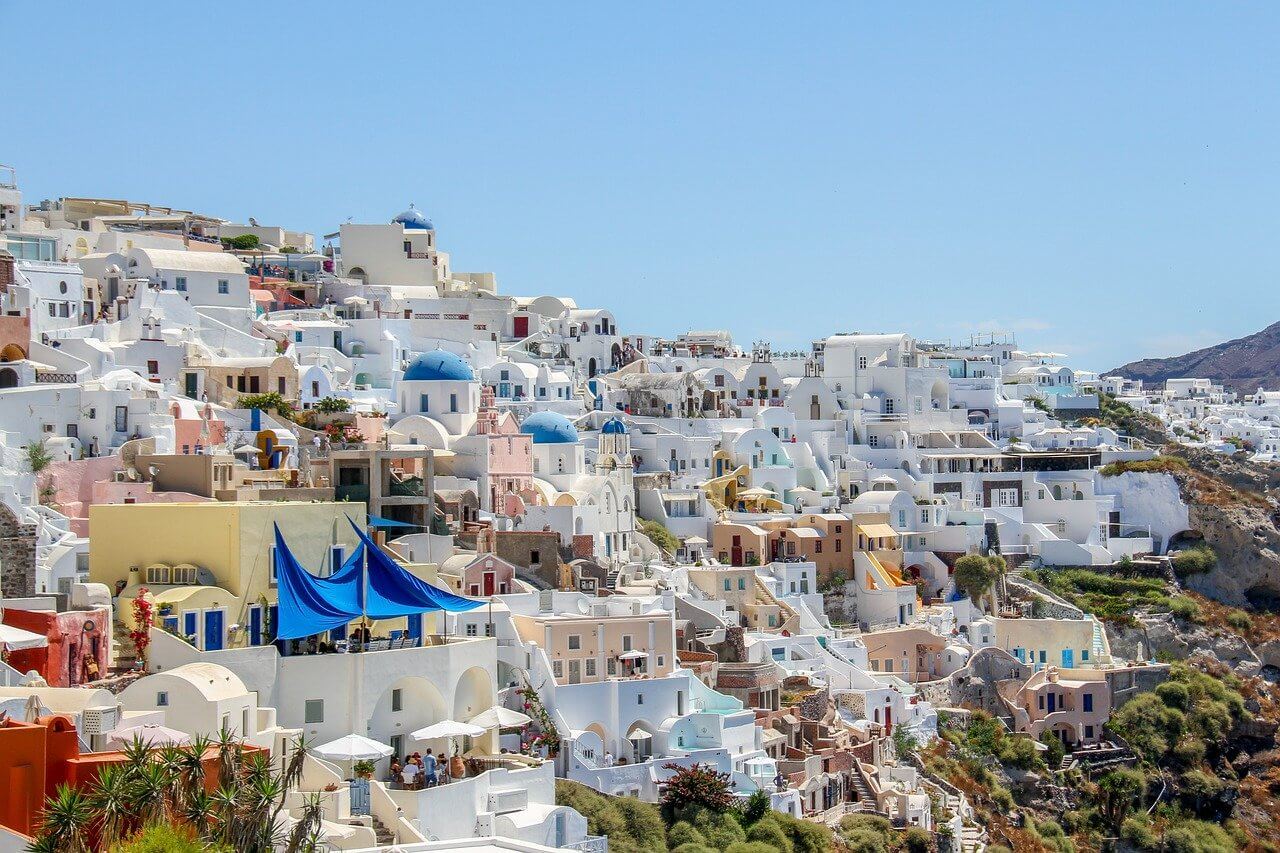 The sunsets in this Santorini must-see are world-famous.
Oia is 12 kilometers up the coast from Firá and is another village that's picture-perfect.
Why it's so awesome: Oia attracts more upmarket tourists most of the time because of the amazing quality of its boutiques and hotels. But it's still an incredible site for anyone who's visiting Santorini. The houses are picture-perfect, small and whitewashed and brightly colored. And many of them have been converted into boutique hotels that have infinity pools so you can soak and look out over the view.
What to do there: If you have the money, this is a great place to stay. It's a little expensive, but the views alone over the water are worth the money. They also have some great waterfront seafood restaurants. So, if you can't afford the hotels, stop in for a meal and enjoy the views that way.
#4 – Akrotíri Archaeological Site – One of Santorini's coolest historical sites!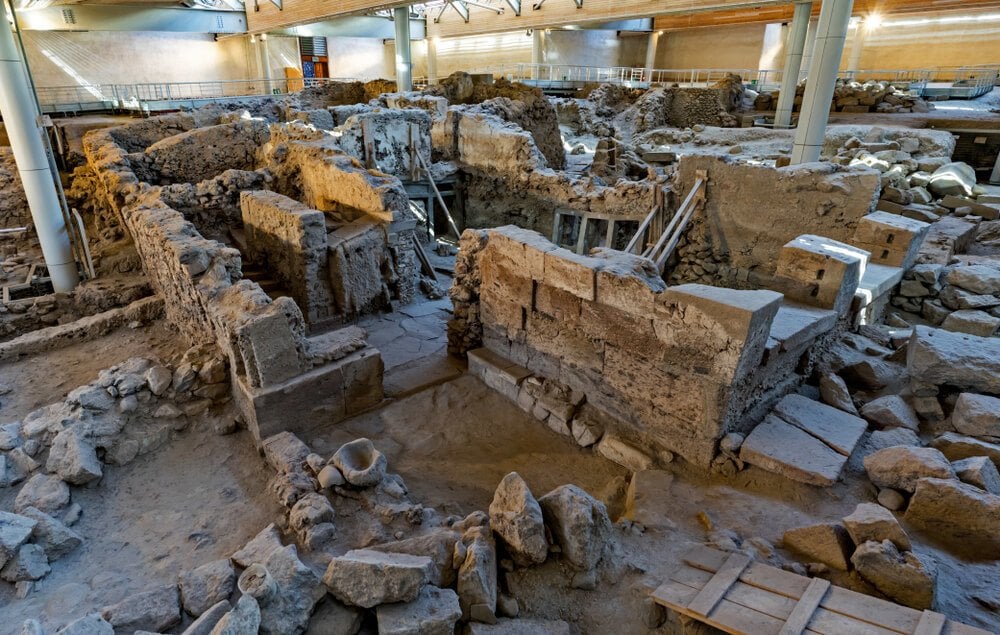 An ancient village that was perfectly preserved under volcanic ash in the 16th century B.C.
The city is incredibly well preserved, comparable to the more famous site at Pompeii.
Why it's so awesome: It isn't often that you get to walk through an ancient village, which makes this a Santorini must-do. Located 12 kilometers south of Firá, this Minoan settlement was suddenly buried after a volcanic eruption in the 16th century B.C. The explosion preserved the city's buildings, pottery, and drainage systems almost perfectly.
What to do there: When you wander the streets of this ancient town, you'll be able to see just how advanced and prosperous it was. There are pathways through the debris that will allow you to check out everything from the multiple levels of the clay buildings to the surprisingly advanced drainage systems. Also, make sure that you check out the frescos that remain at the site, which detail Santorini's connections with North Africa.
#5 – Prophet Elias Monastery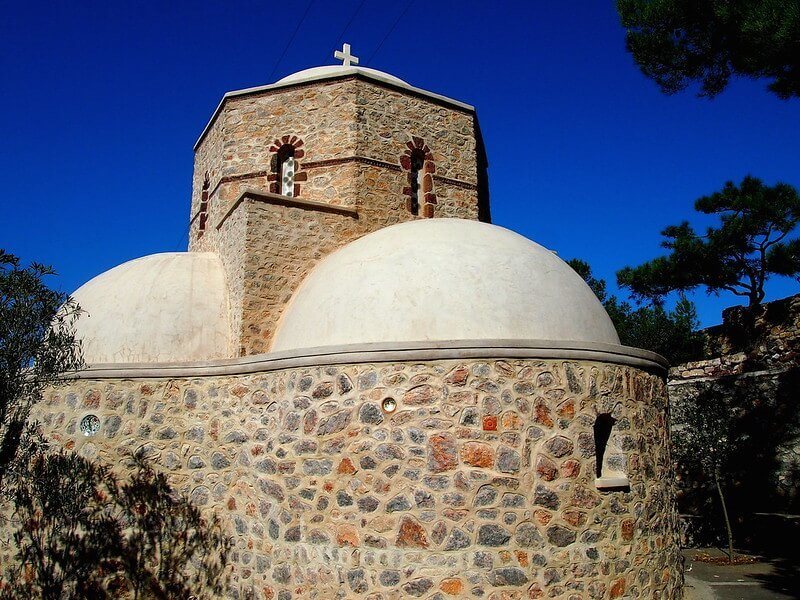 There are lots of churches around Santorini, but this is one of the oldest and has the best views.
You can explore the monastery and then head over to the shop to buy some local products.
Why it's so awesome: This monastery was built at the highest point in Santorini, which is why the views are simply spectacular. It was built in 1711, making it one of the oldest churches around, and has a little shop that sells local products you can take home as souvenirs.
What to do there: Once you get up to the Monastery, check out the views. From the garden, you'll be able to see the entire island, so take lots of pictures to show friends and family back home. Explore the monstery and then spend some time in the shop. You can buy candles, olive oil, wine or honey, all locally made.
#6 – Ammoudi Bay – A nice non-touristy place to visit in Santorini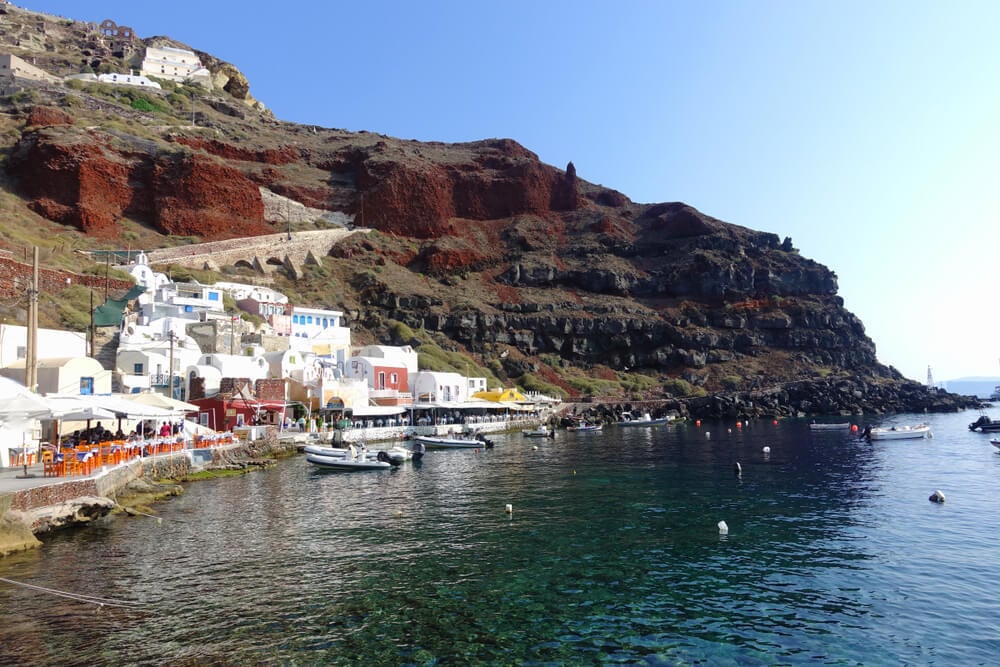 A tiny fishing village located in the lower part of Oia.
The water is perfect for swimming in this area and it also has some of the best seafood taverns in Santorini.
Why it's so awesome: if you want to get out of the heavily touristed areas of Oia, then head down to Ammoudi Bay. It's a tiny fishing village with a dock that leads to the clearest, bluest water you've ever seen, the perfect place to have a swim and relax. The restaurants in this area are also first-rate and some of the best places to eat in Santorini.
What to do there: Get away from the crowds and take a dip in the bay. The craggy coves make for a peaceful and relaxing swim away from the crowds and tourists. Afterwards, wander through the Greek seafood tavernas and see what looks good for a meal. The most popular is Katina's tavern, where you can sit inches from the sea while you're eating your meal.
#7 – Kamari Beach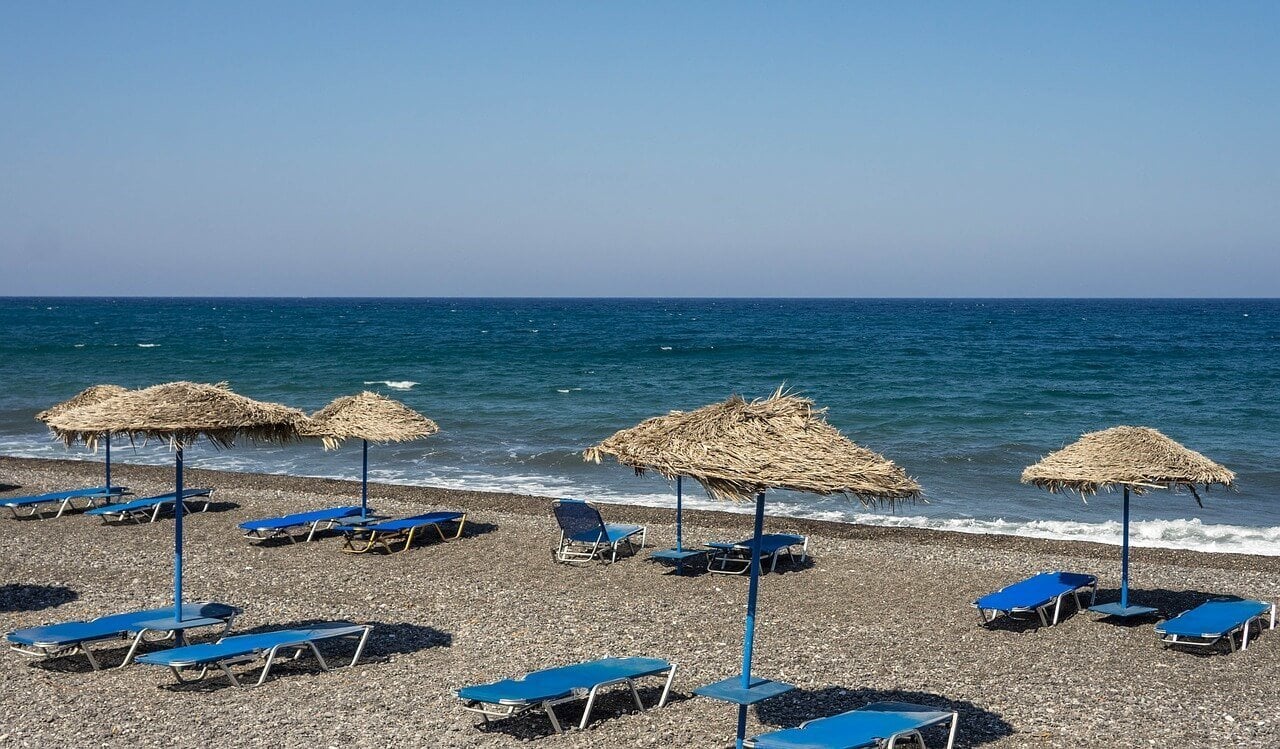 One of the most popular places to visit in Santorini, and for good reason!
This beach is formed from volcanic sand and is actually black.
Why it's so awesome: Kamari beach is one of the largest in Santorini and offers a long stretch of pure black sand. This is one of the most popular points of attractions in Santorini, and the area is crowded with hotels, bars, restaurants, and tiny shops for you to explore.
What to do there: You'll probably need at least a day to enjoy everything that this Santorini must do has to offer. The water is clear and blue, but you may need footwear on the beach because the sand is hot and pebbly. You can also take advantage of the available lounge chairs and umbrellas to enjoy the heat. And once you're done with the beach, wander the surrounding streets, stop for a meal, and explore the shops.
#8 – Ancient Thira – A perfect place to visit in Santorini if you are on a budget!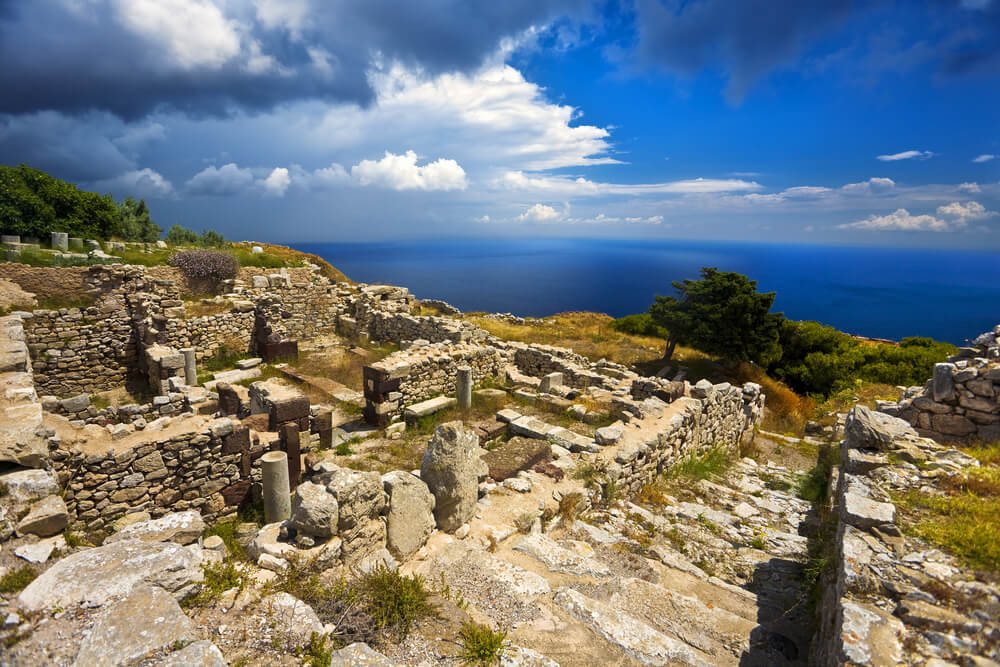 A less touristed archaeological site that offers all the same architectural wonders without the crowds or the high price.
The views from this area are spectacular, so make sure you have your camera with you.
Why it's so awesome: If you want to explore all the historical landmarks in Santorini but are put off by the prices at other sites, then try Thira. It's harder to access because you'll have to walk up the mountain, but the price of admission is lower and the ruins just as good. Thira is on top of Mesa Vouna and contains ruins from the Greek Empire, Roman, and Byzantine eras.
What to do there: Take the scenic route up to Thira if you're reasonably fit. The walk will take you about an hour and it's a long, hot path, so take plenty of water and wear sunscreen and a hat. Once you're there, you'll see the ruins of religious sites, a gym, a theater, and government buildings. And the view from that high up is simply spectacular as well.
#9 – The Caldera – An awesome place to visit in Santorini for half a day!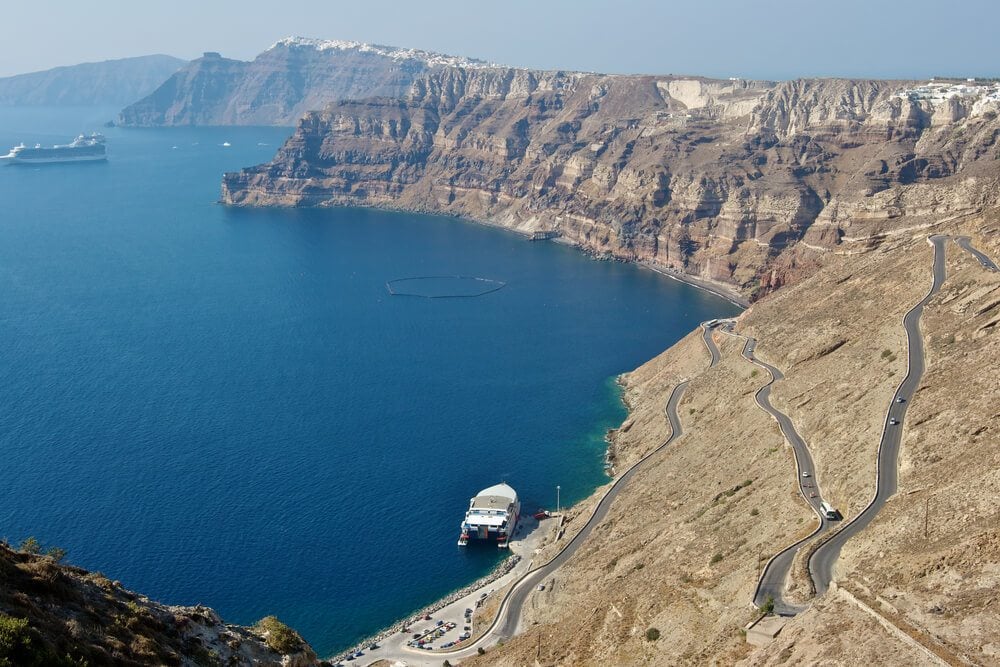 It's easy to forget the volcanic origins when you're visiting Santorini, but this place will remind you.
This is one of the most popular points of interest in Santorini, but it's also hot so make sure you wear sunscreen and a hat when you visit
Why it's so awesome: Santorini was created when a huge volcanic explosion ripped the middle out of the island around 3,600 years ago. What remains of this violent event is a sea-filled volcanic crater that's 12 kilometers by 7 kilometers. And this isn't an inactive volcano either. In the center are two islets called Kaiméni, complete with hot springs and gas emissions to remind you of the island's past.
What to do there: There are lots of tour companies that offer package deals that will allow you to explore the caldera (you get some pretty sweet catamaran cruises in Santorini). Make sure that you explore the caldera by boat, stop by the hot springs for a soak, and then have lunch on Thirassia. This tiny island is on the west side of the caldera and offers amazing views.
Is This the Best Daypack EVER???
#10 – Museum of Prehistoric Thira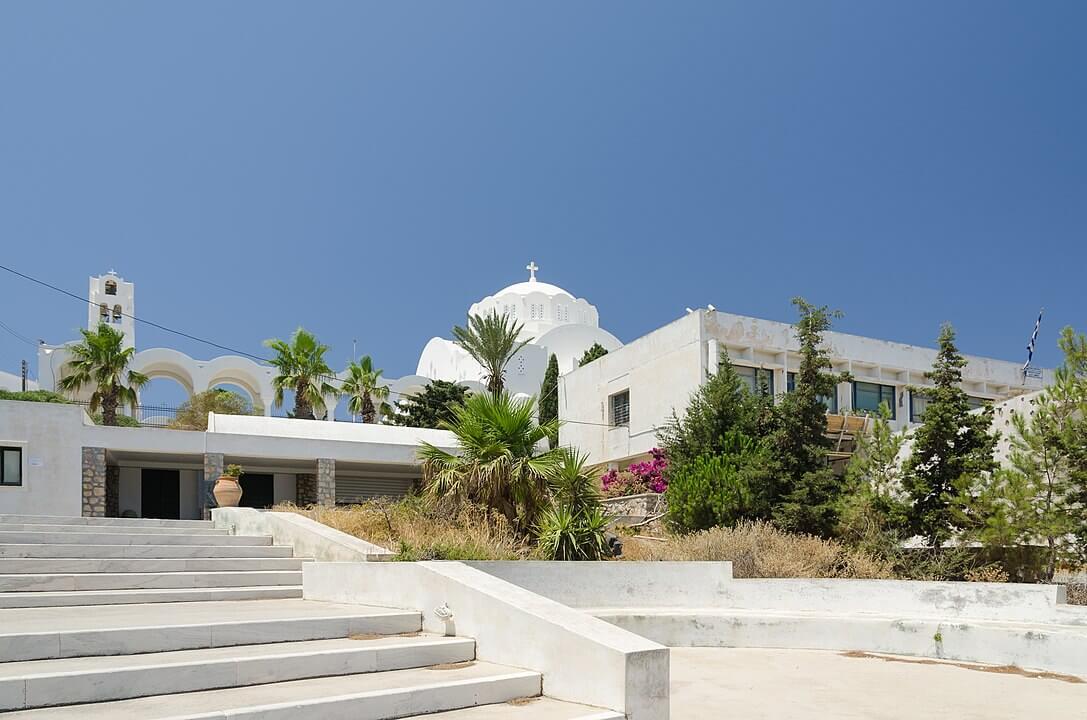 The best place to visit in Santorini if you want to learn even more about its ancient past.
This museum contains exhibits from a wide range of ancient civilizations that influenced Santorini's growth and development.
Why it's so awesome: Santorini has a long and varied history and you can see a small part of it in the archaeological museum in Firá. It's located close to the 1950's Mitrópolis church and contains the Blue Monkeys wall fresco, one of the top attractions in Santorini.
What to do there: It won't take you long to explore this museum because it's fairly small. But it's worth exploring the ancient artifacts on display, which include weapons, tools, painted ceramics, and marble figurines. Make sure that you take special note of the Blue Monkeys wall fresco.
#11 – Santo Wines – Cool place to see in Santorini with friends!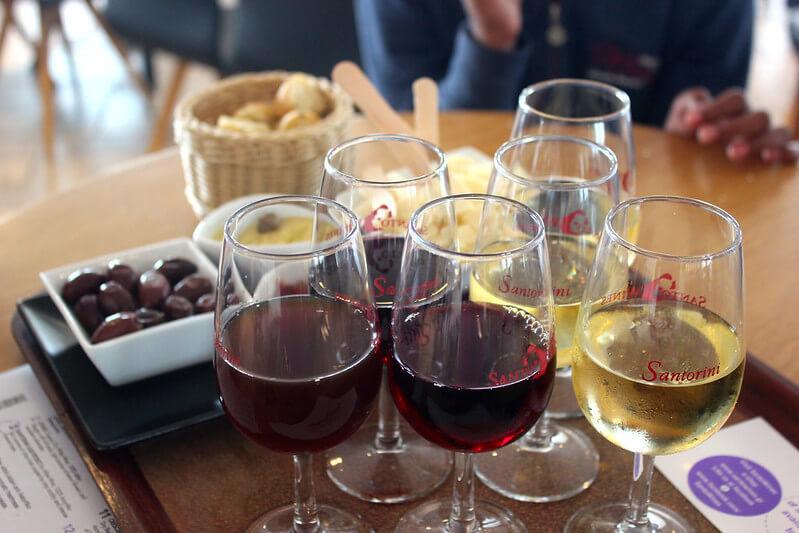 Santorini is one of Europe's best wine destinations, so make sure you try some the famous wine offerings.
The soil in Santorini is filled with volcanic sediment, which creates a unique flavor that you won't find anywhere else.
Why it's so awesome: Santorini is an unexpected wine destination, and yet it's one that the whole of Europe is aware of. The combination of the island's unique soil and growing techniques creates wine that's like nowhere else in the world. There are several wineries on the island, but Santo wines is one of the most popular.
What to do there: Santo Wines is the largest winery on the island and is also one of the most popular landmarks in Santorini. Take one of the tours and grab the chance to try the local wines. And if you're not sure what to try, then some of the best local offerings are a dessert wine called Vinsanto and white wines Nychteri, or Assyrtiko.
#12 – Kamari Open Air Cinema – Awesome place to visit in Santorini with kids!
Watching a movie under the stars is the perfect summertime activity, for adults and for kids.
This cinema is one of the best outdoor cinemas in Europe.
Why it's so awesome: There's nothing quite like gathering under a warm summer sky to watch a movie in the outdoors. The movies that these cinema shows are in English with Greek subtitles and there's a beer and concession stand on-site if you forget to bring food and drinks. But mostly, it's night outside, sharing a movie with friends, family, or the friendly locals.
What to do there: This cinema is open between May and October, and the movie schedule is available two months ahead of time. So, see what's on during your trip if you're in Santorini around the right time. You can't buy tickets ahead of time or online, so show up early on the night to ensure that you don't miss out. Take your family or your friends along with you, prepare some snacks, and have a fun communal night under the stars.
Small Pack Problems? 😉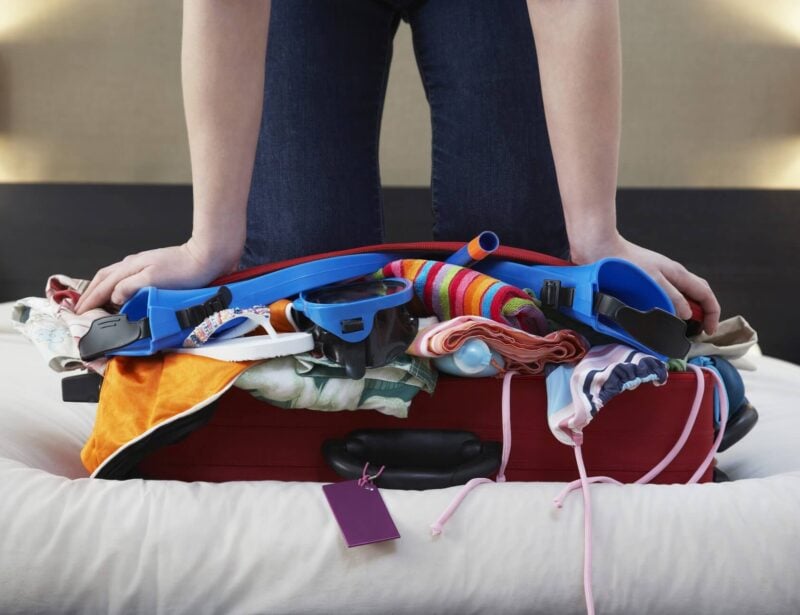 My missus travels with all her clothes in ziplock bags: don't be like my missus. UP YOUR PACKING GAME!
Packing cubes for the globetrotters and compression sacks for the real adventurers – these babies are a traveller's best kept secret. They organise yo' packing and minimise its volume too so you can pack MORE.
Or, y'know… you can stick to ziplock bags.
View Our Fave Cubes
Or Check Out the Sacks!
#13 – Pyrgos – Great place to visit in Santorini for couples!
This small town used to be the capital of Santorini until it was replaced by Fira in the 1800s.
Now it's a bustling, upmarket town that's fast becoming one of the best Santorini vacation ideas.
Why it's so awesome: Oia and the other towns tend to get a bit crowded. But Pyrgos is quieter and less known on the normal tourist trail. This means you'll have a quieter time when you decide to explore this city, which was built on the ruins of an old castle and still holds remnants of that ancient history.
What to do there: Put aside a day to explore. Enjoy the quieter streets and make sure that you head down any narrow pathway that looks interesting. This town is full of labyrinthine streets and hidden passageways, so you never know what you might find. Pyrgos tends to cater for more upmarket tourists, so every street and house is picture-perfect. This combination of features also makes it an amazing honeymoon retreat for newlyweds.
Get insured for your trip to Santorini!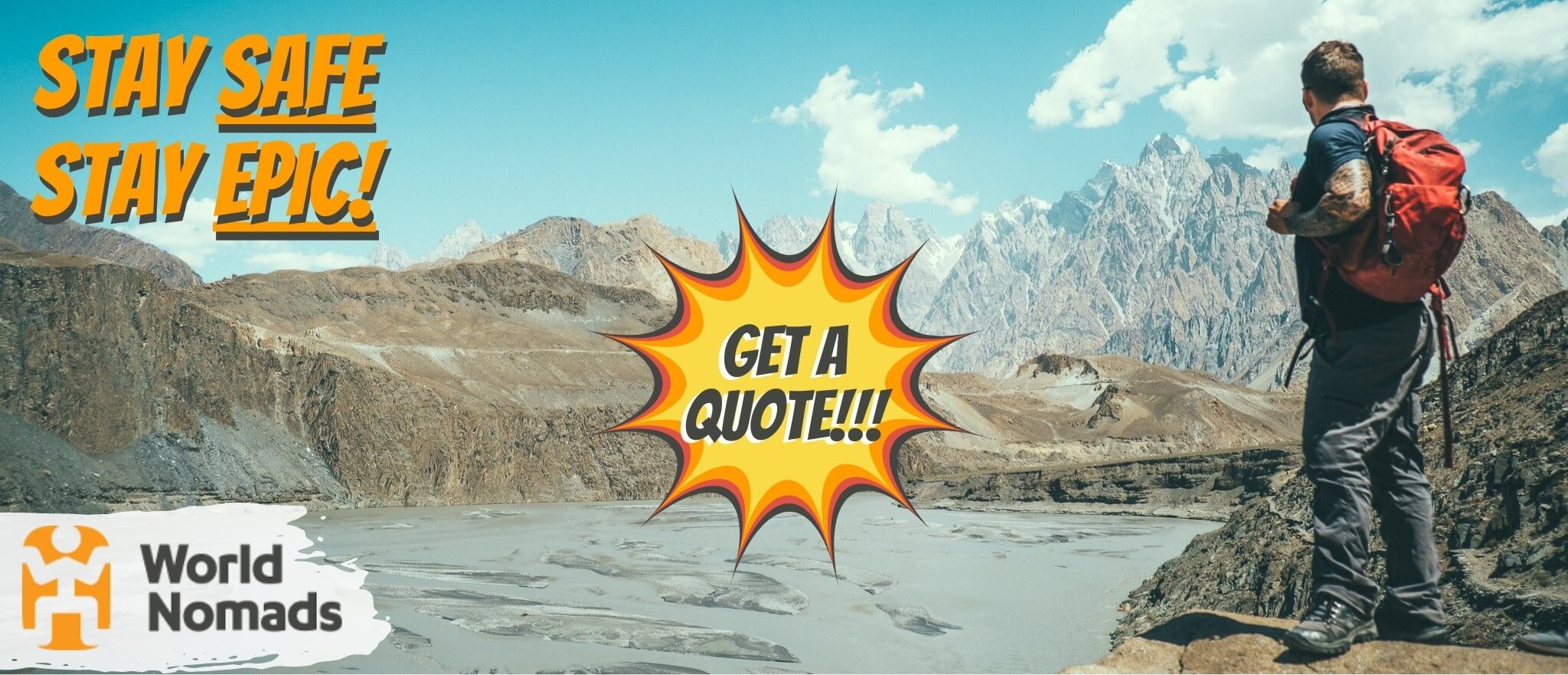 World Nomads' mission is to support and encourage travellers to explore their boundaries. They offer simple & flexible travel insurance, and safety advice to help you travel confidently.
They've been doing it since 2002 – protecting, connecting, and inspiring independent travellers just like you.
Get a quote below or read our in-depth review!
World Nomads provides travel insurance for travelers in over 100 countries. As an affiliate, we receive a fee when you get a quote from World Nomads using this link. We do not represent World Nomads. This is information only and not a recommendation to buy travel insurance.
FAQ on the Best Places to Visit in Santorini
Find out what people want to know about the best places to visit in Santorini
Final Thoughts on the Coolest Places to Visit in Santorini
Everyone wants to travel to Santorini as it is one of the most romantic places in the world. It has great weather, amazing food, beautiful scenery and the ocean. What's not to love? Visiting this part of the world is the trip of a lifetime, so you don't want to miss out on any of the best sights. And if you keep this list with you and use it as your guide, you'll be sure to see everything that you've ever wanted to see there. And you'll probably have a few unexpected experiences too!
---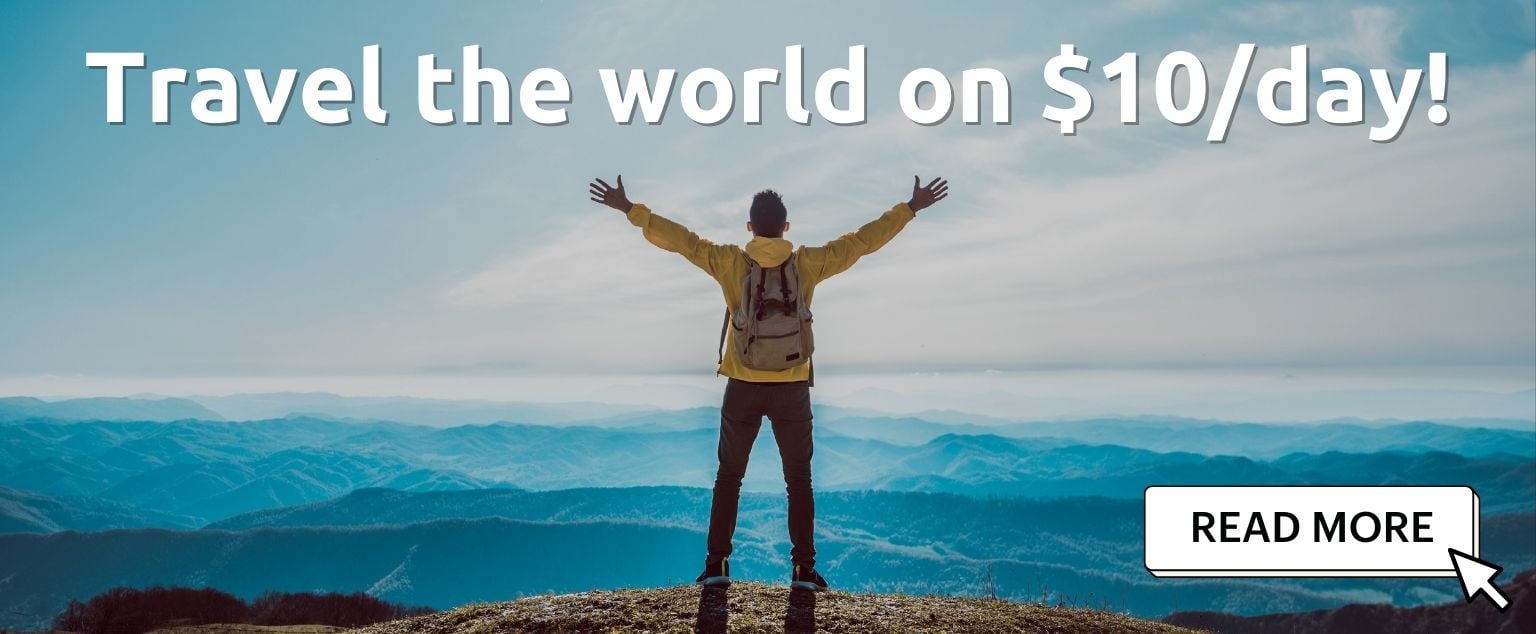 And for transparency's sake, please know that some of the links in our content are affiliate links. That means that if you book your accommodation, buy your gear, or sort your insurance through our link, we earn a small commission (at no extra cost to you). That said, we only link to the gear we trust and never recommend services we don't believe are up to scratch. Again, thank you!