Athens is a dream come true for all you history, architecture and archaeology lovers. Dive headfirst into some of the most incredible legends and myths of all time! Forget those dusty old textbooks, this is a full-throttle real-world history experience. The iconic Acropolis and Parthenon are just some of the mesmerising UNESCO World Heritage sites dotted around the city to feast your eyes on. Athens isn't just the capital city of Greece; it's the beating heart of its rich and fascinating culture too.
Athens doesn't just offer sights of magnificent ancient ruins alongside a bustling modern metropolis. Look beyond the city to discover the spectacular countryside, crumbling temples and azure waters lapping on the white sand beaches. Sure, there are plenty of things to do and see while in Athens. But It's also an ideal base to plan some epic adventures to nearby sites and islands.
Think Athens is just a city break? Well, it's so much more.
What's not to love?! With so many options to choose from, we've got your back when it comes to picking the right day trips from Athens. So bring out your travel planner, and let's see our top 10 unforgettable day trips from Athens!

Unlock Our GREATEST Travel Secrets!
Sign up for our newsletter and get the best travel tips delivered right to your inbox.
Getting Around Athens, and Beyond
Before we jump into day trips from Athens, let's take a look at all the ways to get around and explore!
Public transport in and around Athens is reliable, extensive and affordable.
All methods of transport (Metro, Suburban Railway, Buses, Trolleybuses & Trams) are available on one ticket.
A single ticket is valid for 90 minutes and costs €1.40.
An unlimited day (24hrs) pass is €4.50.
3-day tourist tickets including the airport and 5-day tickets are also available.
Tickets and passes are sold at booths and machines at metro and tram stops
For some of the further day trips, you might want to also consider car rental. This is especially useful if you are short on time or if the neighbourhood in Athens where you are based is poorly connected.
Most of the Athens day trips involve taking either local or intercity buses. The two main intercity bus terminals are KTEL Kifissos and KTEL Liosion station. Both of these are in different areas of the city but are connected to the local network via tram and bus station.
If you're super pumped about taking some of the day trips mentioned here then being close to public transport is going to make timing much easier. When booking your hotel or hostel in Athens make sure to stick to areas within walking distance of bus, tram and metro stations.
Use Bookaway to find the best deals on transport – buses, planes, trains, and ferries. It'll save you a load of time when organising transport and you'll probably nab an EPIC DISCOUNT too!
Book your transport on Bookaway NOW. Get the best price for the best ride… then use those savings to buy the best feed in town!
Book Your Transport Here!
Half-day Trips From Athens
Short on time? Keen to see as much as you can on your Greece getaway? Why not jump on a half-day tour and check out the great sights a little closer to the city after you've seen all you wanted to see in Athens itself.
1. Ancient Corinth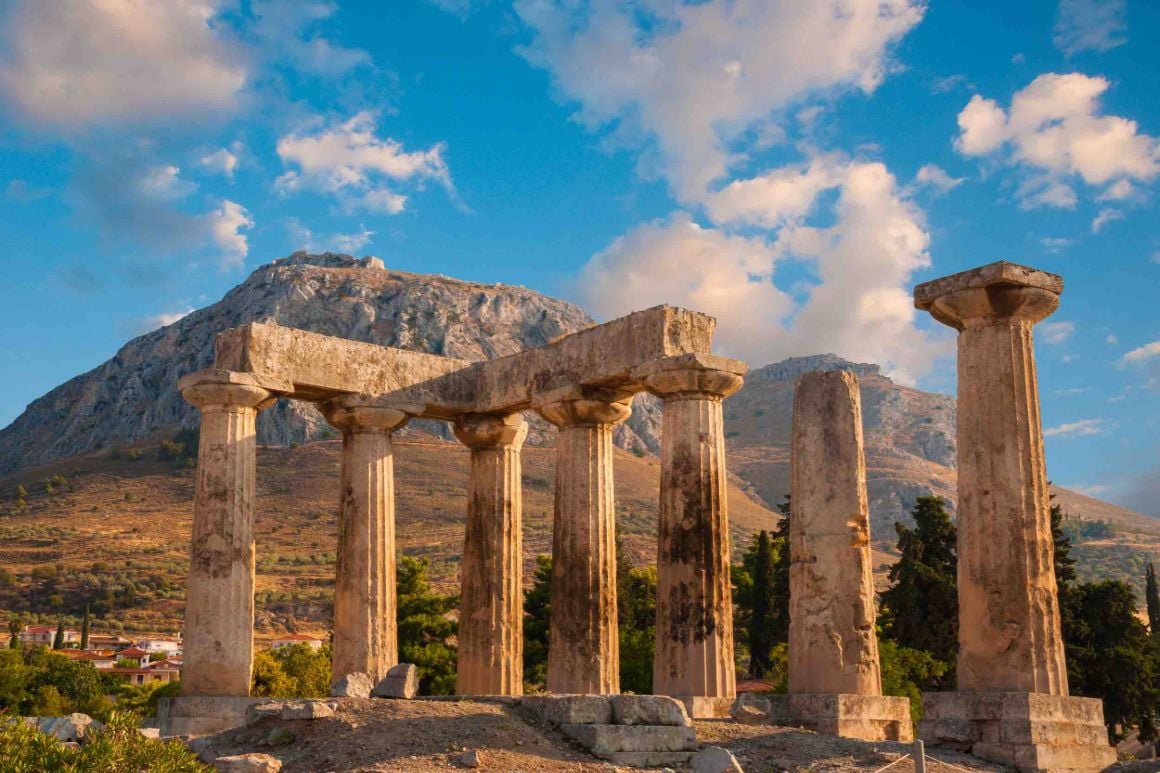 Corinth is what you would call a proper Ancient Greek adventure! It's the epitome of everything that makes this incredible country so fascinating. The city was once a prosperous centre of trade with strategic naval ports. Dating back thousands of years after being founded by the mythical king Sisyphus (sounds like a pretty cool guy), the ancient city of Corinth is a must-visit for any traveller backpacking Greece.
The ruins of ancient Corinth are a true marvel to see. Several buildings have survived since the 1st century, which is pretty wild! It includes the Temple of Octavia and the Sanctuary of Asclepius, perfect places for getting your Lara Croft on! The impressive columns of the 6th century Temple of Apollo still stand, telling tales of powerful gods and lost empires. Soaring mountains looming behind the ancient ruins makes it feel even more magical.
For the real history buffs, The Archaeological Museum of Ancient Corinth has displays of the archaeological finds from the area. This museum is a must-visit on a half-day trip from Athens. Here you can see a collection of ancient artefacts: Roman and Greek sculptures, fine Dionysos mosaic, and the famous black-figure pottery, a major artistic innovation of that time.
How to get there: From Athens' Kifissos station, take an intercity bus to Corinth City's Konrinthos station. Then take a bus to Ancient Corinth. Takes: 1.5 hours.
Suggested Trip: Half-Day Trip to Corinth
2. Cape Sounion & Temple of Poseidon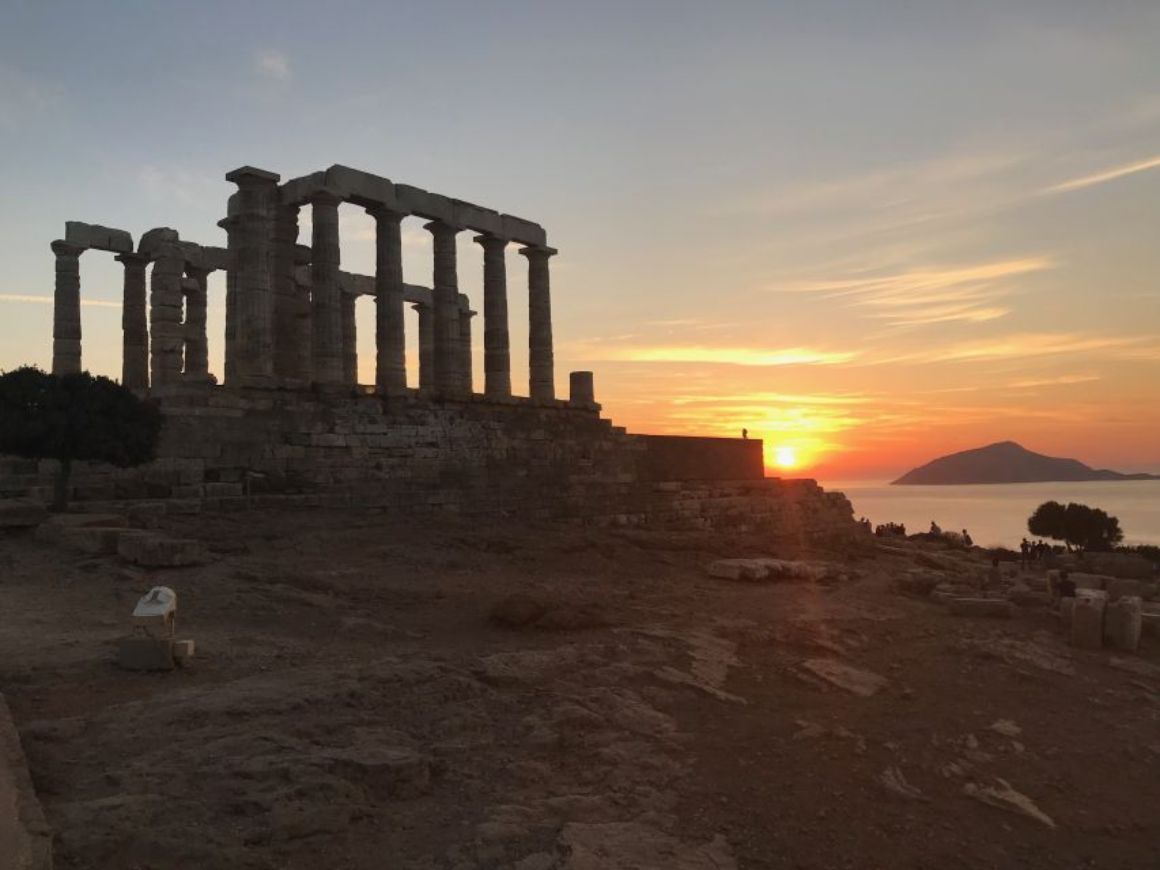 Get yourself over to Cape Sounion and end a day of exploring with a banging sunset! What's even better is that it's just a short half-day trip from Athens, so you can easily squeeze it into your itinerary when visiting the capital!
Overlooking the Saronic Gulf in Cape Sounion is the majestic Temple of Poseidon. Erected in the 5th century BC, the Temple is dedicated to the Greek god of the sea, Poseidon. Such an appropriate place to build it then, overlooking the dramatic Greek coastline. It is one of the remaining architectural wonders from the Golden Age of Athens.
From the Temple take in the breathtaking views of the Aegean Sea. Be sure to take out your cameras and crack a few beers because there will be some incredible photo opportunities. Get ready for a gorgeous sunset over the ocean with the silhouette of this ancient wonder as your foreground. The vibes are unmatched!
How to get there: From Athens' Pedion Areos station, take the KTEL intercity bus to Cape Sounion. Takes: 2 hours.
Suggested Trip: Cape Sounion Sunset Tour or Temple of Poseidon Tour
3. Mt Parnitha National Park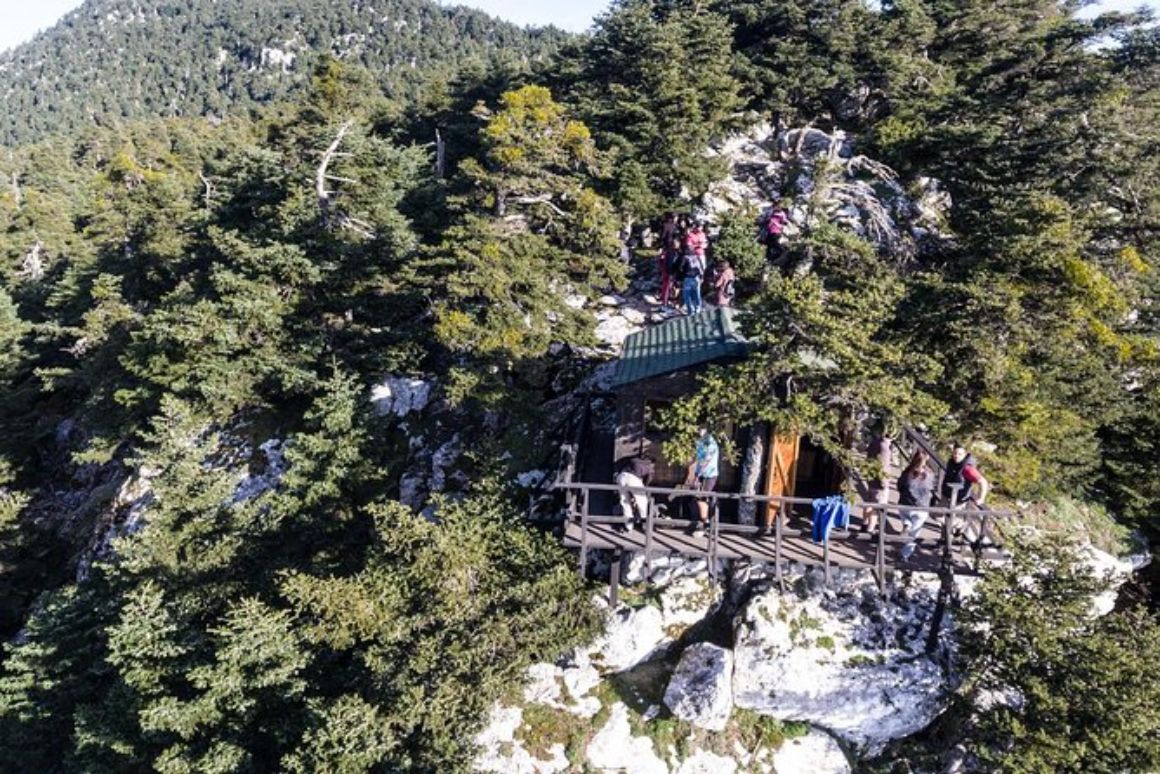 Nature lovers will freaking froth over a half-day trip from Athens to Mt Parnitha National Park. Located just outside the city, it's a great way to escape the hustle and bustle. The park is a real treat for the outdoorsy types. Or you know, those who want a hiking selfie for 'the gram'!
Mt Parnitha is the closest mountain to the Greek capital, which makes it an ideal day trip. With lush green fir tree forests, magnificent caves and clusters of peaks surrounded by natural springs, it's a breathtaking experience. The National Park is a natural wonder, with more than 40 species of wildlife believed to live there. Mt Parnitha National Park offers numerous spectacular hiking trails for all levels as well as rock climbing and mountain biking.
How to get there: From Athens, take the Metro's Green line north to Nea Ionia, then take the bus 724 to Thrakomakedónes. The same bus will also take you up to the mountaintop. Takes: 1-hour
Suggested Trip: Hiking Trip Parnitha National Park.
Is This the Best Daypack EVER???
Full-day Trips From Athens
When you're in Athens, you'll feel like you've been transported back thousands of years to the bygone era of the Greek gods and goddesses. With the impressive treasure-trove of history, archaeology and mythology just waiting to be discovered, you'll be left awe-inspired after your Greek trip. After you've seen all the best places to visit in Athens, it's time to broaden your horizons and head out for some day trips.
4. Ancient Mycenae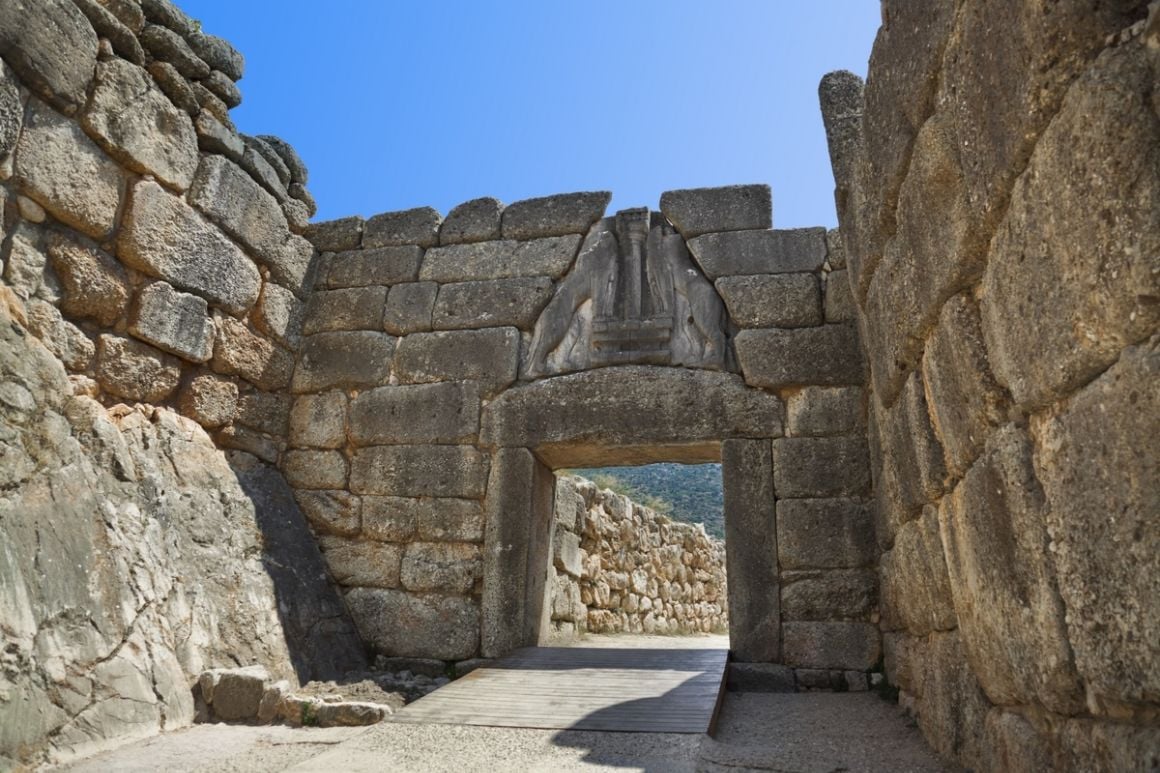 Lost to the sands of time for centuries, Mycenae has a real aura of mystery and legend. The one-time centre of Greek civilisation came to an abrupt and fiery end, disappearing without a trace. Only rediscovered and excavated in the 19th century, it's one for the Indiana Jones wannabes…just keep an eye out for hurtling boulders!
Before you explore this UNESCO site, you should first visit the Ancient Mycenae Museum. The many fascinating ancient artefacts on display give you a real insight into what life was once like here. Then head to the imposing Lion's Gate, the main gateway to the ancient citadel. Next is The Treasury of Atreus, a remarkable vaulted royal tomb believed to house the remains of the legendary King Agamemnon.
How to get there: From Athens' Kifissos station, take the KTEL intercity bus to the village of Fichti. Then take a taxi to the site of Mycenae. Takes: 2-hours
Suggested Trip: Mycenae Day Trip with Epidaurus or Mycenae Day Trip.
5. Theater of Epidaurus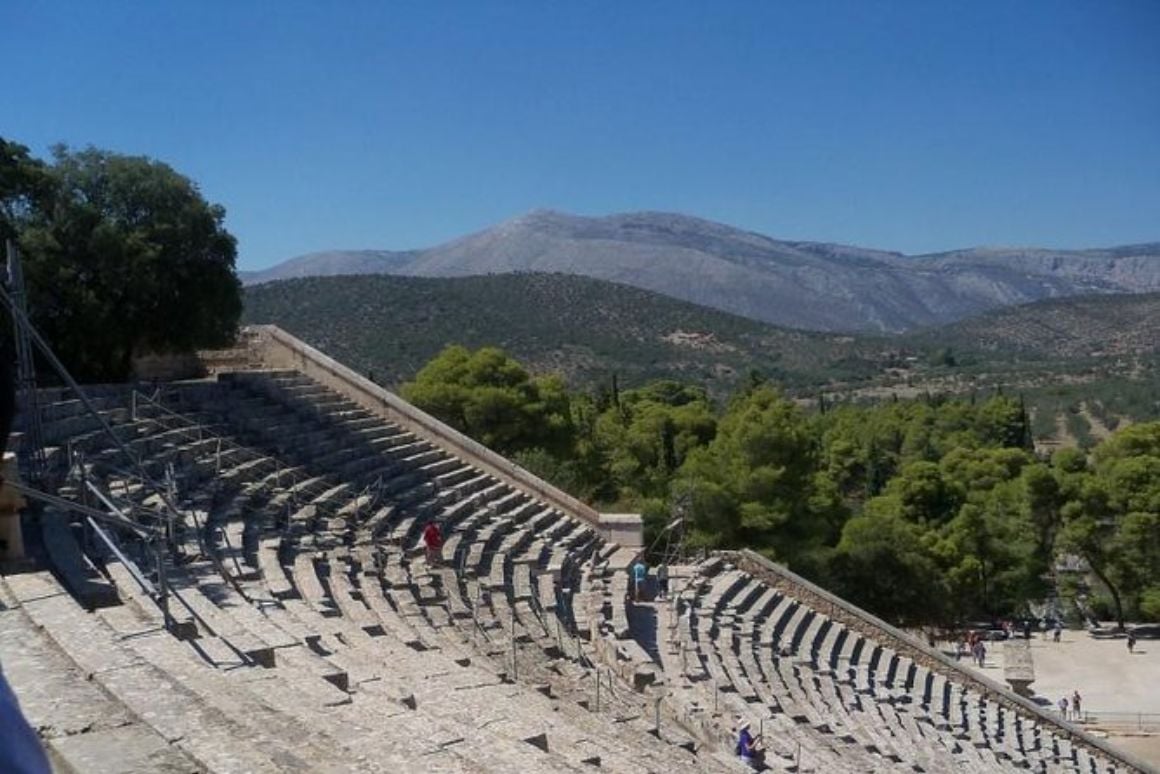 Another fun-filled and fascinating Athens day trip is Epidaurus. This town on the Saronic Gulf is packed with well-preserved archaeological sites and striking monuments. The main attraction is the impressive Theater of Epidaurus, which dates back to the 4th century BC.
The Theater of Epidaurus is a spectacular ancient theatre and one of the best-preserved in Greece. Famed for its great acoustics, it is still in use today. Stop by and catch a show! During the Athens Summer Festival in June, July and August, the Theater holds performances of ancient Greek drama.
Check out other nearby monuments here, such as the remains of the Temple of Asclepius, the Tholos and the Stadium. The Archaeological Museum of Epidaurus displays various ancient artefacts and relics found at the remains of the site too.
How to get there: From Athens' Kifissos station, take a bus to the village of Epidaurus. Then take another bus to the archaeological site. Takes: 2-hours
Suggested Trip: Day Tour to Epidaurus or Day Trip to Epidaurus and Mycenae
6. Metéora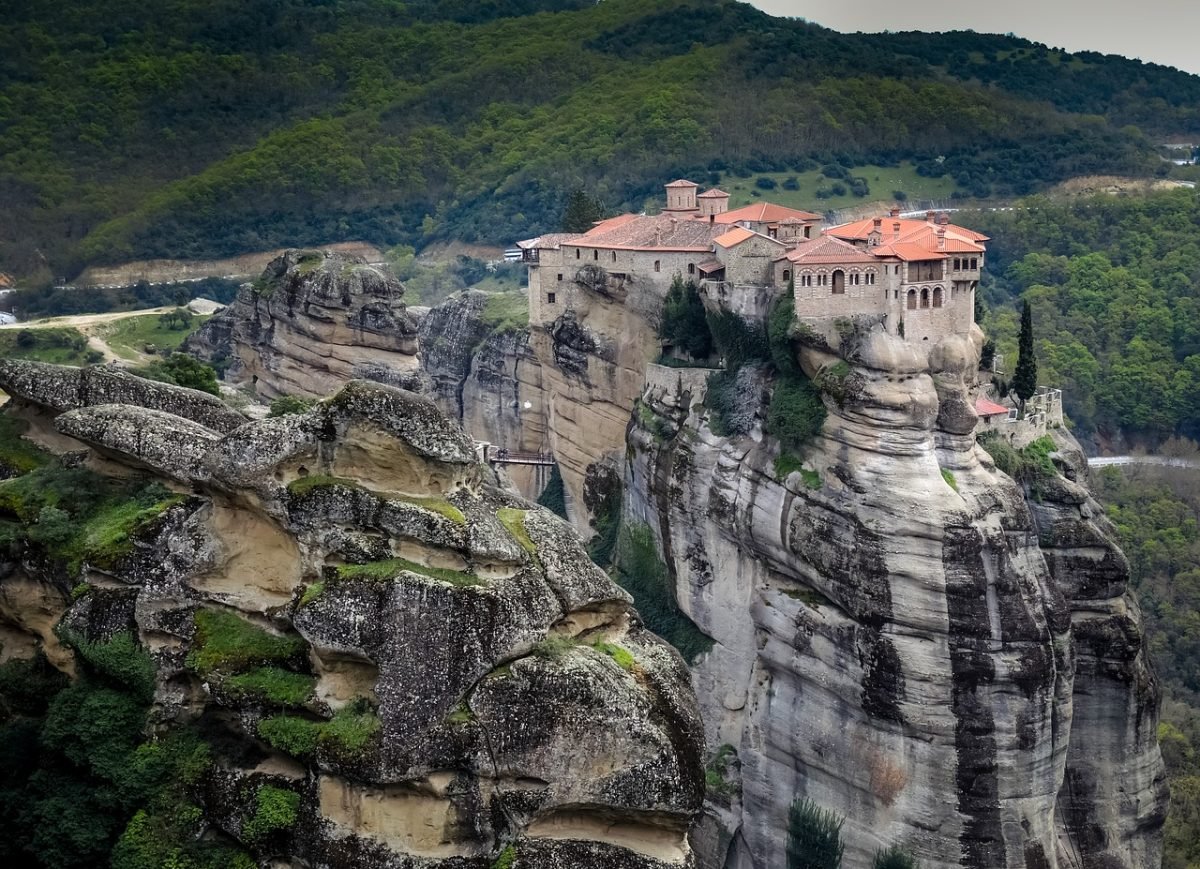 Meteora in Greek means "a place suspended in air", which describes this dramatic site perfectly. Meteora with its clusters of gigantic sandstone rock pillars has a mesmerising atmosphere. Even more surreal are the Byzantine monasteries somehow built on top of these imposing pillars. Thirteen of these ancient monasteries still sit atop the summits. You can explore six of them and take in the enchanting scenes that surround you. How epic is that!?
The most popular monastery to visit at this UNESCO site is the spectacular Monastery of Great Meteoron, notable for its stunning red roof and precarious position. Then there's the Monastery of St Stephan, which offers some of the most stunning panoramic views of the surrounding valleys. The Monastery of the Holy Trinity is in the most spectacular location and was even used as a film set for a Bond movie.
Rather than just taking a day trip from Athens to Meteora, we'd strongly recommend extending your stay for a much more captivating experience. The closest villages are Kastraki and Kalambaka, two great places to base yourself. This cosy guesthouse in Kalambaka is ideal for a night's stay, or you can check out this elegant and all-facilities-included boutique hotel in Kastraki.
How to get there: From Athens' Larissa Railway Station, take the train to Kalambaka. Alternatively, from Athens' Terminal B bus station, take the bus to Meteora. Takes: 4-hours
7. Delphi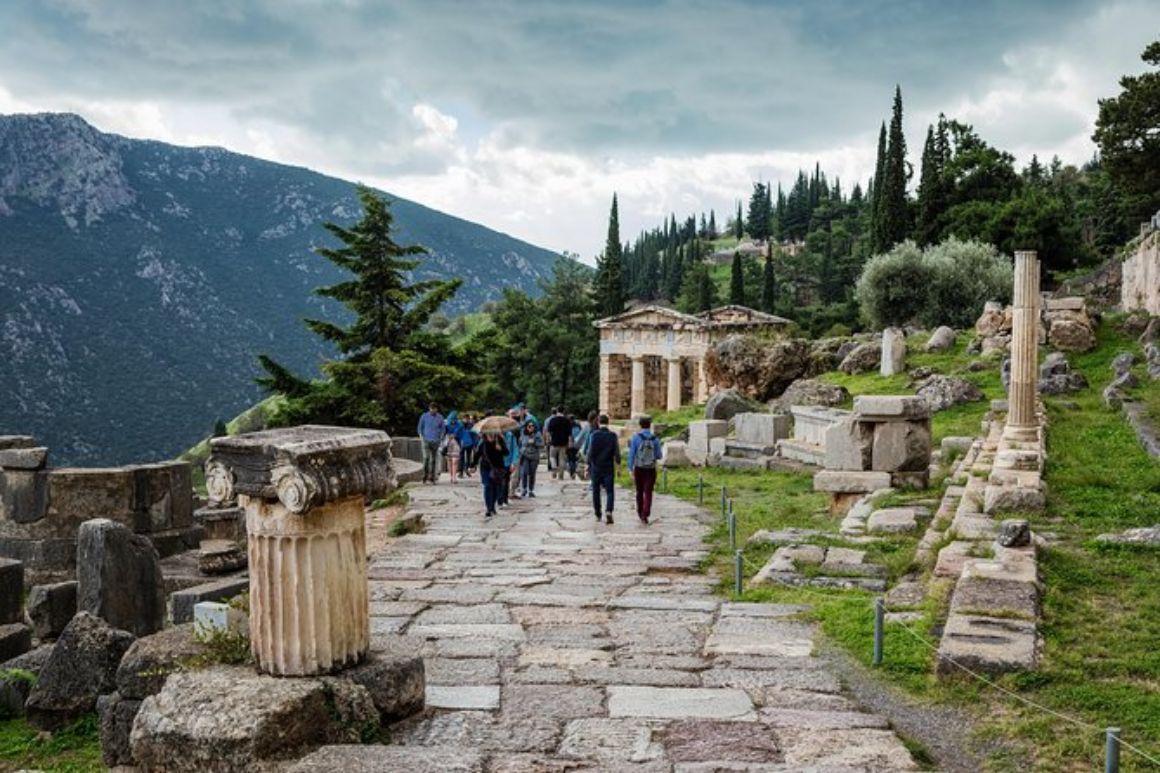 Get yet another dose of history at the remarkable archaeological site of Delphi. Nestled on the slopes of Mount Parnassus, Delphi is a legendary site from ancient Greece that was once a prominent religious sanctuary.
Did you know that Delphi drew in countless travellers because of a famed oracle at the Temple of Apollo? People visited to hear the High Priestess Pythia. Her muttered gibberish was interpreted into prophecies by the priests. One of the later oracles here even persuaded an emperor to invade Persia. Influencers ay?!
The Sanctuary of Apollo has other ancient ruins you can explore. One is the stadium where the Pythian Games were held, and the theatre which could seat 5000 people at its peak. The Tholos of Delphi, a circular temple, is a sight to behold and a masterpiece of Classical architecture well worth seeing too. The Delphi Museum also hosts some fascinating pieces from the history buffs.
How to get there: From Athens' Liosion station take the KTEL intercity bus to Delphi. Takes: 3 hours.
Suggested Trip: Delphi Day Trip or Athens to Delphi Full-Day Tour.
8. Nafplio
Nafplio is a pretty postcard Greek town sitting in a sheltered bay in the Aegean. This seaport has a relaxed Mediterranean ambience and an old-world vibe. The cobblestone streets lined with colourful flowers make Nafplio an ideal romantic day trip from Athens.
Nafplio's rich heritage is marked by its buildings, medieval Venetian castles, elegant Ottoman fountains and Turkish mosques. The Archaeological Museum in the city centre is a must-visit, along with the Syntagma Square, where charming buildings tell the unique history of the town.
While exploring the city, visit the citadel of Palamidi: it takes more than 900 steps to reach the top! ( There's a taxi too if you're being lazy!) There's also the 15th-century fortress of Bourtizi that sits on its own island in the bay. This castle is only accessible by boat, but the trip is worth it.
Nafplio is an ideal base to visit nearby ancient sites like Mycenae and Epidaurus. If you choose to extend your stay. Check out this delightful hotel nestled in the cobblestone alleys or try this cute hotel Marianna, whose location offers amazing views of the town.
How to get there: From Athens' Kifissos station take a bus to Nafplio. Takes: 2 hours 10 mins
9. Aegina
If you're looking for a quick island getaway, Aegina is perfect to while away the hours. Aegina has all the offerings of a typical Greek island – ancient ruins, sandy beaches and great seafood. Aegina is the perfect antidote for your aching feet, once you're done ticking off those must-see Athens sights, it's time to change up the pace.
The famous ruins of the Temple of Aphaia on Aegina form part of the 'Sacred Triangle', along with the Parthenon and the Temple of Poseidon at Sounion.
Another important site is the Paleochora, a hillside village of ancient Byzantine origins. Aegina also has some incredible sandy beaches and crystal clear water. Two of the more secluded and undeveloped beaches are Marathon and Perdika. A perfect way to combine a hectic city break with a beach holiday.
While you're in Aegina give the famous local variety of pistachios a go. Sample them as a breakfast spread, a pesto or in a 'fistikato', a local delicacy consisting of grated pistachio paste with caramel, covered in whole pistachios. That's the diet out of the window!
Aegina has so much to see and experience that we suggest staying back for a day or two rather than just a day trip from Athens. This family-friendly apartment is a good and well-equipped B&B. Or you can check out this cool and affordable guesthouse in the town.
How to get there: From Athens take a bus or train to the port of Piraeus. Then take a ferry to Aegina Town. Takes: 1.5 hrs
10. Hydra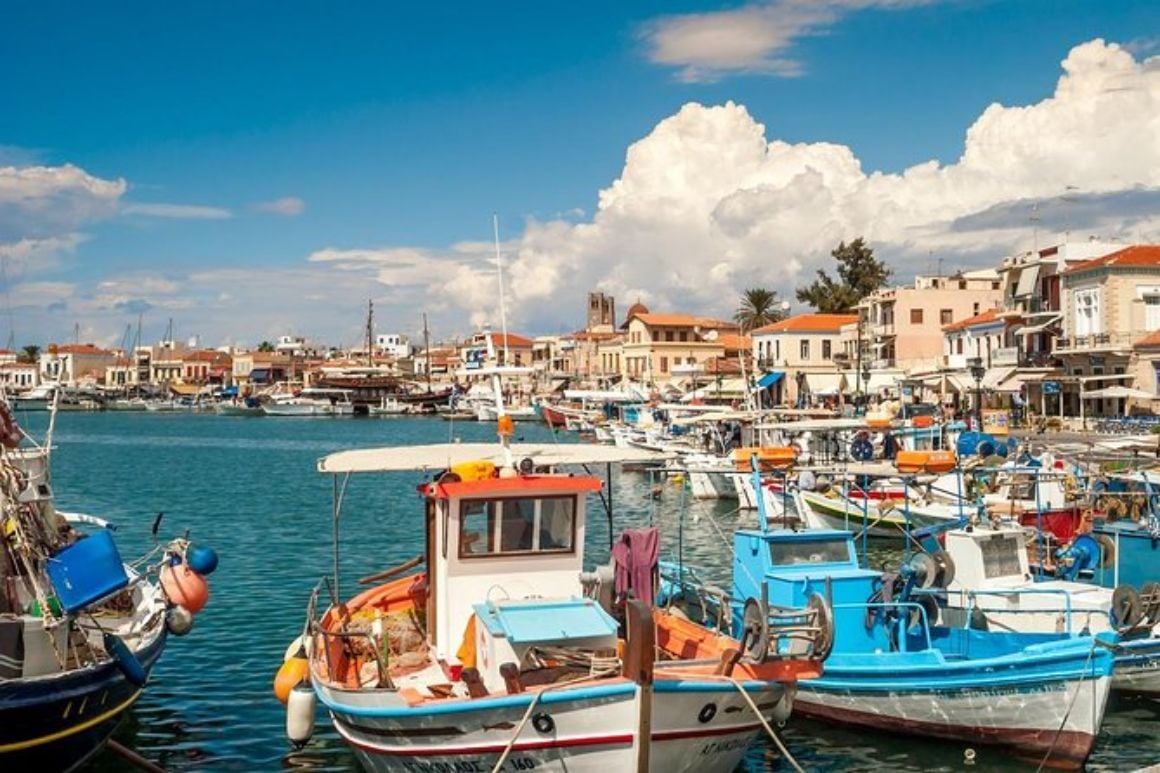 Sorry LOST fans, this is not the island where that Hydra station was located. Though it's no less enthralling! This gorgeous Greek island is a stunning slice of paradise in the Saronic Islands. Hydra has the allure of a quaint and tranquil island getaway and is one of our favourite day trips from Athens.
Hydra's charming atmosphere has attracted many famous artists, musicians and celebrities over the years. The island is known for its hillside town, well-preserved stone architecture, picturesque harbour, and pebbly beaches. Did you know that cars are not allowed on the island? Yep! People move around on mules, donkeys or water taxis.
Hydra's beaches are an idyllic place to escape the summer heat. You can easily reach them by water taxis – the boat trips offer great views of the island too. Away from the town, you can also visit beautiful villages like Kaminia and Vlycos. And don't forget to try the fresh seafood and local delicacies from the traditional taverns!
How to get there: From Piraeus port, take the ferry to Hydra Island. Takes: 2-hours
Suggested Trip: Day trip from Athens to Hydra.
Small Pack Problems? 😉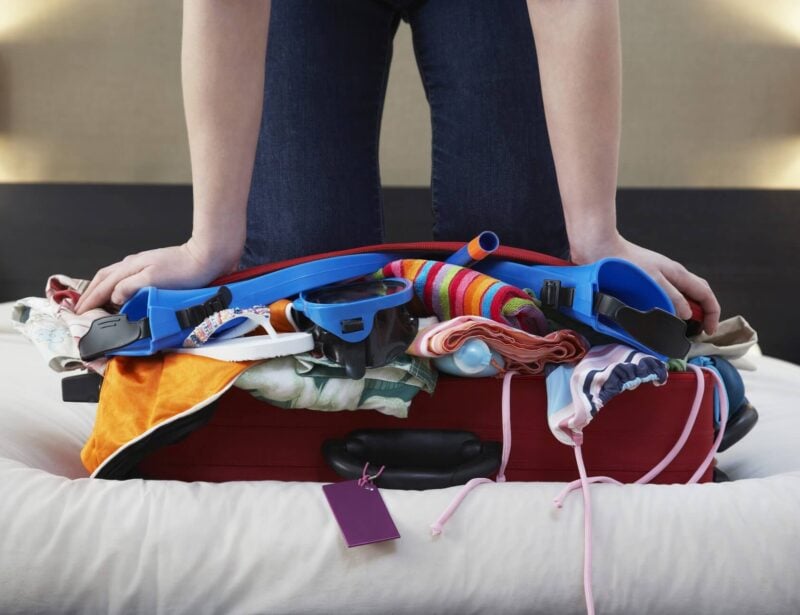 Wanna know how to pack like a pro? Well for a start you need the right gear….
These are packing cubes for the globetrotters and compression sacks for the real adventurers – these babies are a traveller's best kept secret. They organise yo' packing and minimise volume too so you can pack MORE.
Or, y'know… you can stick to just chucking it all in your backpack…
Get Yours Here
Read Our Review
Travel Tips
Best time to visit Athens:
The best time to visit Greece is Between March and May (Spring) / September to November (Autumn). These months have fewer crowds, better weather, affordable accommodation and many travel deals. Summers can be a little crazy and a lot more expensive!
Don't Forget your Athens Travel Insurance
ALWAYS sort out your backpacker insurance before your trip. There's plenty to choose from in that department, but a good place to start is Safety Wing.
They offer month-to-month payments, no lock-in contracts, and require absolutely no itineraries: that's the exact kind of insurance long-term travellers and digital nomads need.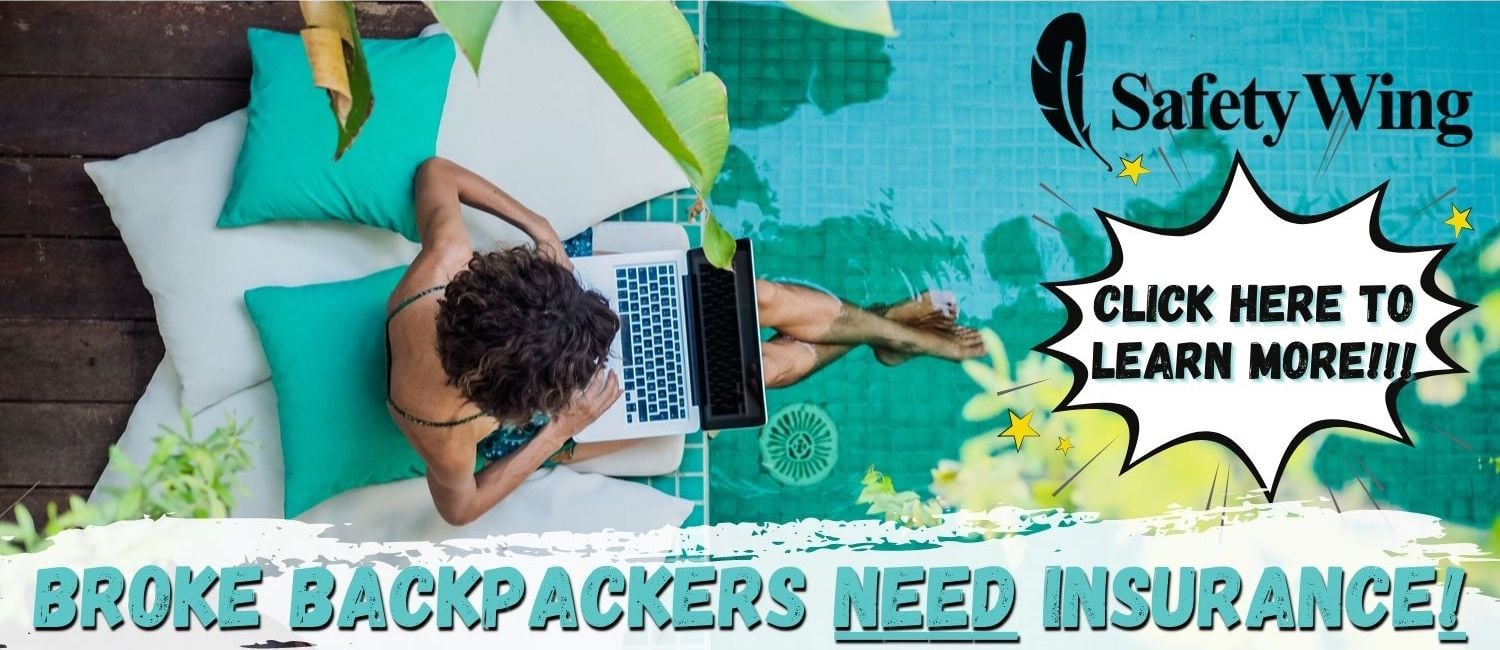 SafetyWing is cheap, easy, and admin-free: just sign up lickety-split so you can get back to it!
Click the button below to learn more about SafetyWing's setup or read our insider review for the full tasty scoop.
Final Thoughts
Athens is a fascinating city to visit on your travels around Greece and a perfect place from which to explore the wide range of destinations on offer close by. Taking a day trip from Athens during your time in the city is a great way to see more of this stunning country even on a short visit. With such a variety of sights to take in, from beaches to mountains, lost temples and awe-inspiring floating monasteries it's sure to be a memorable trip.
---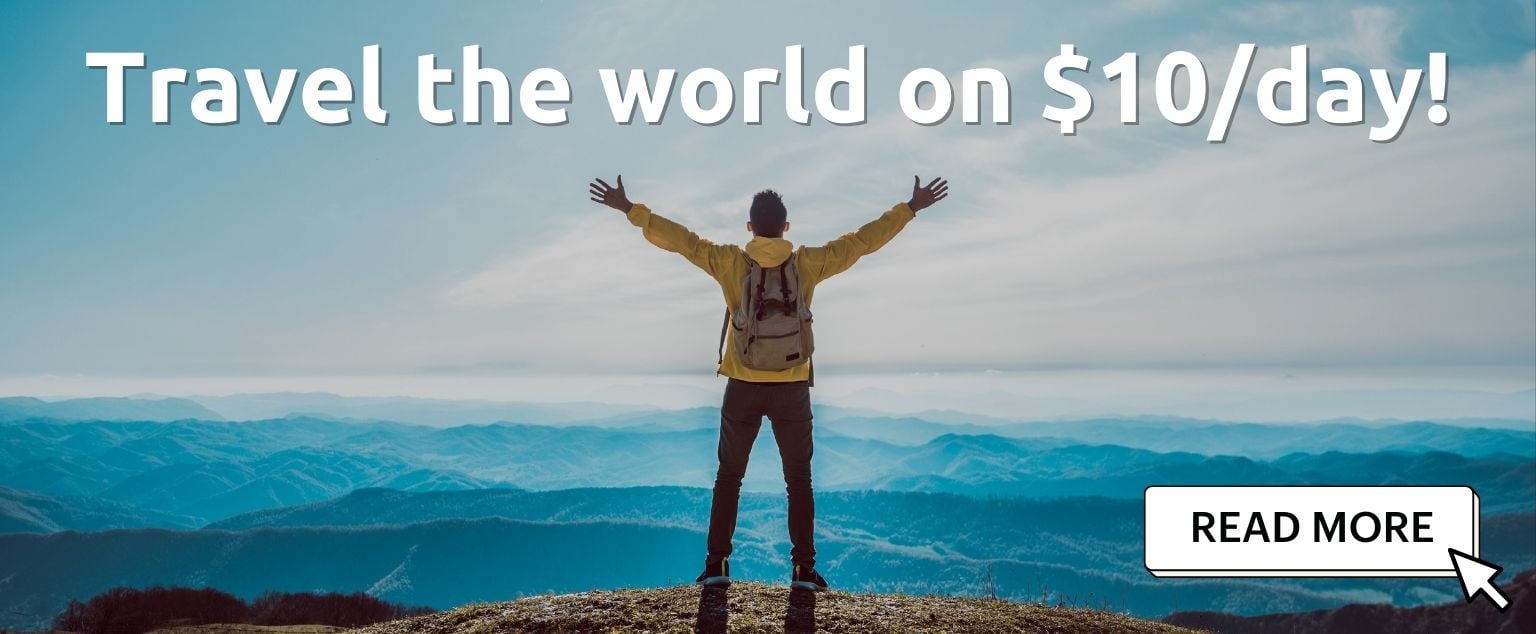 And for transparency's sake, please know that some of the links in our content are affiliate links. That means that if you book your accommodation, buy your gear, or sort your insurance through our link, we earn a small commission (at no extra cost to you). That said, we only link to the gear we trust and never recommend services we don't believe are up to scratch. Again, thank you!