Athens is one of the most incredible destinations in the world! The city is full of rich history, it's the birthplace of democracy, and even much of culture and language originated here. Pack it into three days or more with our Athens itinerary! 
We adore this city, so if you're looking for all the best of what to do in Athens, you've come to the right place. With well-priced accommodation and food, as well as free access to many of the Athens attractions, backpacking Athens is one of the best ways to experience it! 
Follow our guide to learn about exciting destinations, good food you can eat on your travels, and our top hostel pick. There's something for all budgets and travelers in this historic city.
Use our Athens itinerary to find the best day trips, as well as tips and tricks and make your holiday the best you've ever had!
Best Time To Visit Athens
Athens has mild, moderately rainy winters, and sunny, hot summers. It's a great place to visit year-round because the temperature never drops too low, and there's so much to do inside on those occasional rainy days! 
Aside from its rich and important history, Athens is loved for its sunny weather and laid-back vibe. The best time to visit is in spring or autumn when the weather is warm, temperate, and the sun is always shining! The crowds are also smaller than in summer! 
Winter is the cheapest time for backpackers to travel to Athens, as the hostels often lower their prices, and entry fees are cut in half!
| | Average Temperature | Chance of Rain | Crowds | Overall Grade |
| --- | --- | --- | --- | --- |
| January | 10°C / 50°F | High | Calm | 😐  |
| February | 10°C / 50°F | Average | Calm | 😐 |
| March | 13°C / 55°F | Average | Calm | 😐 |
| April | 16°C / 61°F | Low | Medium | 🙂 |
| May | 21°C / 70°F | Low | Medium | 🙂 |
| June | 26°C / 79°F | Low | Busy | 😀 |
| July | 29°C / 84°F | Low | Busy | 😀 |
| August | 29°C / 84°F | Low | Busy | 😀 |
| September | 24°C / 75°F | Low | Medium | 😀 |
| October | 20°C / 68°F | High, | Medium | 🙂 |
| November | 15°C / 59°F | High | Calm | 😐 |
| December | 12°C / 54°F | High | Calm | 😐 |
Where To Stay In Athens
Athens has many lovely neighborhoods, with old buildings pressed against the new, and citrus trees dotting the uneven cobblestone streets. While they range in luxury, you will be hard-pressed to find one without a sense of olden day charm!
One of the most popular neighborhoods is Plaka! This charming hillside area has a village feel to it, with cobblestone streets, quaint cafes, and tiny shops lining them. The neighboorhood is also brilliantly positioned in the shadow of the Acropolis! 
If you want to experience the vibe of Greek island life but don't have time to get off the mainland, this is the perfect place to be. It's also the best position for our Athens itinerary! 
Another great neighborhood to spend your vacation in Athens is the lesser-known Koukaki. This urban village houses some of Athens' most creative minds, and it shows. The streets are lined with bitter orange trees, and there's a unique and quietly vibrant atmosphere to it! 
The neighborhood is relatively unknown, especially to tourists. With a laidback air and a charming nightlife of locals and taverns, this neighborhood is for the weary traveler.
Check out our post on the best places to stay in Athens for more suggestions!
This family operated hostel is one of the founders of Athens' youth hostel scene. It's the city's best low-budget option, with great vibes and everything you need. The staff is very friendly and helpful, and the rooms are comfortable and clean. It's also a great place to meet fellow travelers!
You can read more on our guide to the BEST hostels in Athens!
Check on HostelWorld
The clean, minimalist style of this beautiful apartment is second to none! While you'll feel like you've been magically transported to an IKEA catalog, that's only the beginning.
It sleeps up to three (with a double bed and a sofa bed), making it a total bargain for such a central part of town.
Check on Airbnb
Best Budget Hotel in Athens – Hotel Tony
With daily housekeeping, a fantastic location, a bar, and communal lounges, Hotel Tony is our favorite budget hotel in Athens! The rooms are attractive and comfortable, with a flat-screen TV and private bathroom. The beds are comfortable and the staff is very helpful. It's perfect for solo travelers and couples!
Check on Booking.com
The best place to stay in Athens, this gorgeous 5-star hotel is incredible! Enjoy views of the nearby Acropolis from the sun terrace with a cocktail, or from the top-floor restaurant with gourmet dishes. The rooms are large with modern decor and a mini bar. You can also relax in the lounge or the ground-floor bistro!
Check on Booking.com
Athens Itinerary
Athens is one of the very best cities to explore by foot! While the city stretches out, all of the main Athens points of interest are in a central area. So, be sure to strap on some sturdy shoes before you set out, and put on as much sunscreen as you can! 
Public transportation is also very cheap in Athens! If you want to venture further out from central Athens, the metro is the fastest form of transportation. The metro system connects to the trams, bus routes and suburban railway.
Single tickets cost under USD $2 for all public transport, but it's half if you're a student, child, or senior citizen! If you plan to travel a lot, you can also get a day pass or even a five-day Athens city pass. Both of these can be used for all modes of transport except for airport services!
We do advise that you don't rent a bicycle to explore the Athens itinerary. While they're easy to come by, and it would be a lovely way to travel ordinarily, Athens has no bicycle lanes, and Athenian drivers are known to be a little reckless. Walking on pedestrian lanes is certainly the better option, even if it is a little slower!
Day 1 Itinerary in Athens
Acropolis | Acropolis Museum | Temple of Olympian Zeus | Plaka | Benaki Museum | Ancient Agora
On day one of your itinerary for Athens, you'll be exploring the city's most iconic monuments and ruins, as well as a lively neighborhood and a museum. Wake up early and get in a full breakfast. You'll want all your energy for all the upcoming breathtaking scenes!
Day 1 / Stop 1 – Acropolis
Why it's awesome:

The Acropolis is an icon of the ancient world! 

Cost:

$23 ($11 for students and children)

Food nearby:

Try traditional Greek food at The Old Tavern of Psara.
If you're only doing Athens in a day, this is your Athens must-see. Visit the Acropolis and see the Parthenon! 
Many of us have been dreaming of this iconic place since we were children. The immense structure of the Parthenon is known worldwide as a symbol of culture and human achievement. A trip to Athens wouldn't be complete without visiting this attraction!
One of the greatest architectural achievements in the world, work is still being done today to repair and maintain the structure of the Parthenon. However, technology was lacking when the restoration project was begun- which means that the ancient Greeks had more knowledge about mathematical precision when it comes to building than we have now, with all our modern technology! It's a phenomenal work of art.
The Acropolis was built in the fifth century BCE after Athens succeeded in the war against Persia, and democracy flourished. Much has been taken and broken in the incredible structure, but enough remains to admire and imagine its rich history and the dedication and artistry that went into its construction. Even backpackers visiting Athens make this stop their top priority.
It is best to walk up to the Acropolis in the early morning or late afternoon, as the day gets very hot, and the walk is steep. Give yourself enough time to take rest breaks, and be sure to bring water! You want to be fully able to appreciate the beauty when you reach the top. It's also best to arrive before 8 before the cruise ships come. You'll miss the heavy crowds!
While the Parthenon is the Acropolis' main attraction, don't miss the incredible Erechtheum and the temple of Athena Nike! 
Insider Tip: You can buy the Acropolis ticket or a multi-site ticket for an extra USD $11. This provides you with access to many of the other sites in our Athens itinerary!
Day 1 / Stop 2 – Acropolis Museum
Why it's awesome:

See more of the history and ancient artifacts from the Acropolis.

Cost:

$6

Food nearby:

Grab some Greek home-style cooking at Smile restaurant.
With an incredible gallery of ancient Greek sculpture and remarkably preserved art, the Acropolis Museum is a fascinating next stop. The museum houses most of the works found atop the Acropolis, as well as art and artifacts found around Athens.
These artworks include votive sculptures dedicated by worshippers, magnificent sculptures created to make the Acropolis the pride of Athens, and indeed, art from around Greece (though it was not a single country at the time)!
The two enormous pediments from the Parthenon are also displayed here, and you'll be able to see the depiction of the birth of goddess Athena from Zeus' head, and on the other pediment, the battle between Athena and Poseidon. 
We cannot imagine a better way to spend a few hours after your trip up the Acropolis! Get an ice cream first and replenish your water supply! 
Day 1 / Stop 3 – Temple of Olympian Zeus
Why it's awesome:

The ancient temple marks the center of Ancient Athens.

Cost:

Free!

Food nearby:

Get a light lunch at Aglio, Olio & Peperoncino.
Even with one day in Athens, this beautiful ruin is well worth a visit! Once a colossal temple, the ruins have lost their roof and are now only a set of columns. Still, the genius of ancient Greek architecture and ingenuity are clear, and the structure is admirable. 
The temple was begun in the sixth century BCE, but only completed 700 years later! It's not clear why the task was abandoned for so long, but likely it was due to a lack of funds or interest after it was begun. It may have also been because the structure was too big, and Athenians felt that it represented arrogance, a characteristic they felt was low.
Today only fifteen of the original hundred and four columns remain. It is a wonderful example of how full Athens once was of dedicated buildings and art- the city was positively crowded with them and statues numbered almost as many as people!
The Best Travel Backpack?!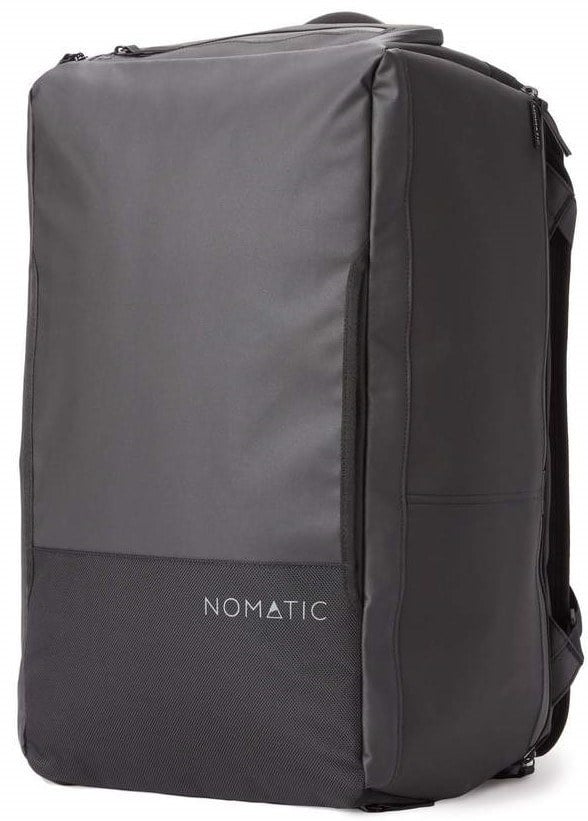 Pssssst! Not picked the perfect travel backpack yet? The Broke Backpacker team has tried out over thirty backpacks this year! Our favourite carry on backpack is the Nomatic Travel Bag.
Read our full review!
Day 1 / Stop 4 – Plaka
Why it's awesome:

This charming neighboorhood is a wonderful place to stroll and explore.

Cost:

Free!

Food nearby:

Find the perfect pastry and coffee at The Sweet.
We mentioned Plaka as a great place to stay, but if you don't, you should still pay it a visit! The lovely neighborhood is the epitome of Athenian charm. With cobblestone streets filled with  so many cafes and shops nestled together along the street, it's the perfect break from ancient monuments!
Relax in a cafe and discuss the day's delights, or explore the alleyways and fascinating shops. You will also find locals going about their day, hanging out laundry overhead and playing chess in the street. Can you imagine a more perfect picture?
The neighboorhood slopes up the hill towards the Acropolis, and is in easy walking distance from your last Athens itinerary stop! 
Day 1 / Stop 5 – Benaki Museum
Why it's awesome:

Gorgeous overview of Greek history through the ages.

Cost:

$10

Food nearby:

Have a casual meal at Chez Michel.
This incredible museum showcases some of the world's most impeccable treasures from the Bronze Age till the second World War when the artworks were originally cultivated by Benaki. In addition to other historical artifacts and art, the museum has an extensive collection of Greek costumes and reconstructions of Macedonian mansions!  
A rare opportunity to really see how the well-to-do lived in different periods, the museum collection is truly special and one of our favorite stops on the itinerary for Athens. Its wide range of displays means its great for a group with different interests. It also means that you could spend days here, discovering new things every time!
The collection is wonderfully well maintained, and you can find plaques with information on most anything. The museum is housed in the Benaki family mansion, one of few neo-classical buildings that remain standing after the post-WWII architectural destruction.
Insider Tip: The museum is free on Thursday and remains open till midnight! It's an amazing place to roam around late into the night.
Day 1 / Stop 6 – Ancient Agora
Why it's awesome:

These ruins were once the marketplace of Athens.

Cost:

$9, or included in the multi-site ticket.

Food nearby:

Enjoy delicious dishes and accordion music at Cafe Avissinia.
This archeological site was once the marketplace, or gathering place, of Athens. Located in the heart of the city, the Agora remained in use for about 5000 years, in countless forms!
The Agora is more important for its significant history than its splendid buildings- in fact, everything is in ruins now. If you go with a guide you will learn so much about ancient Athens and the way it was run! The democratic system in Athens is different from modern government, and yet it fathered the current system of governance and influenced the contemporary world in countless ways.  
Standing apart from the ruins is the Temple of Hephaestus! This is the best-preserved example of Greek temples from the Classical Era. It is a truly beautiful and fascinating place, and a fantastic way to end of the first day on your Athens itinerary.
In a rush? This is our favorite hostel in Athens!
Pagration Youth Hostel
Free WiFi

24 Hour Reception

Self-Catering Facilities
This family operated hostel is one of the founders of Athens' youth hostel scene.
Day 2 Itinerary in Athens
National Archaeological Museum | Monastiraki | National Garden | Museum of Cycladic Art | Panagia Kapnikaréa Church | Anafiotika
Whether you're spending two days in Athens or two months, this is the perfect second day! Moving away from the Classical Athens landmarks, you'll see how much more Athens has to offer.
Day 2 / Stop 1 – National Archaeological Museum
Why it's awesome:

The

museum

houses one of the largest antiquity collections in the world!

Cost:

$8 ($3 for seniors and students).

Food nearby:

Get breakfast at Ta Stachia.
Marvel at the riches of ancient Greece at one of the world's best and biggest archeological museum! With frescoes, statues, and artifacts, you'll want to spend hours roaming the halls and admiring the many works.
One of the best things to see at the museum is the statue of Zeus or Poseidon! Academics are still not sure who the sculpture depicts, but it has long since been studied as a phenomenon of Athenian artistic precision. The figure creates a perfect square, and its features are aligned to create balance and the perfection of form- ideals long sought after in ancient Athens. 
You will also find many works that prove testament to the masculine erotic nature of much of ancient Athens' art and ideals. You will find that most of the women are covered, while it is the men who are young and beautiful and nude. 
Finally, be sure not to miss the Antikythera Mechanism! Some call it the machine that should not exist. Pulled from the sea after 2000 years underwater, the mechanism indicates the advanced science and knowledge of the ancient world. It's a seriously fascinating piece of history. 
Day 2 / Stop 2 – Monastiraki
Why it's awesome:

It's a lively neighborhood with lots to see and do.

Cost:

Free!

Food nearby:

Indulge in a little day drinking with light snacks at Mono | Wine Restaurant.
The next stop of your two-day itinerary, Athens, is this lively neighborhood! Here you'll find everything you could want or need from Greece! The perfect place to shop, stroll, and explore, Monastiraki is a feast for the senses.
Whether you're looking for authentic, hand-made artworks created by monks in monasteries, or cheap not so authentic souvenirs, you'll find it and everything in between, right here. 
Stroll through the stalls and stores, admiring the many bright colors and beautiful crafts. There are so many sights and smells, you'll want to take it all in from above at one of the colorful terraces that make the neighborhood famous. Relax with a drink or a light meal, and enjoy the busy spectacle!
Insider Tip: You need to bargain to get a good price- if you don't have much experience check out our haggling guide for some tips and tricks!
Day 2 / Stop 3 – National Garden
Why it's awesome:

The garden is an oasis in the middle of Athens.

Cost:

Free!

Food nearby:

Have lunch with a view at Tudor Hall or pack a picnic.
The perfect place to enjoy a picnic and sun yourself for a little while, the National Garden is your relaxing stop for the day! The garden has its own long history and was once the royal garden of Queen Amalia and King Otto.
The immense garden has over 7,000 trees and six lakes! You can feed the ducks bread and stroll among the trees, enjoying the shade after hours in the sunny streets of Athens.
You'll find many rare and Greek plants here, many of which are grown in the conservatory onsite. This was one of the first greenhouses in Greece, and does fantastic work to maintain and study the Mediterranean plants! Be sure to pay the conservatory, and of course the Zappeion Hall nearby.
Insider Tip: Greece has phenomenal feta and the biggest red tomatoes we've ever seen. A picnic of freshly baked bread with feta, salami and tomatoes is a brilliant option!
Day 2 / Stop 4 – Museum of Cycladic Art
Why it's awesome:

The museum has a massive display of unusual artifacts and lots of information.

Cost:

$8 ($4 for students and seniors)

Food nearby:

For those craving American food, stop by TGI Fridays.
One of the most interesting museums in Athens, the Museum of Cycladic Art houses over 3,000 works from Greece! The Cyclades are the Greek islands that dot the peninsula!
So many different cultures and communities have grown and fallen in Greece's complex and fascinating history. This museum is a fantastic opportunity to see the different influences and outputs of those cultures, and not just the iconic structures and sculptures from Greece's shining moment in antiquity! 
You can spend hours exploring the museum's different museums that span four large stories. Each story approaches a different theme- namely, Cycladic culture, ancient Greek art, Cypriot art, and scenes of daily life in ancient times! Each exhibition has hundreds of displays and a great deal of text about each one.
History lovers could spend days here, but you should spend two or three hours in the museum. You have lots to cover on your Athens trip itinerary!
Day 2 / Stop 5 – Panagia Kapnikaréa Church
Why it's awesome:

The church is one of the most important Byzantine monuments.

Cost:

Free!

Food nearby:

Have dinner at the eclectic Feed Urban Gastronomy.
Going a little forward in time, visit the Byzantine church of Panagia Kapnikaréa, dedicated to the Virgin Mary! A gem of a place to visit in Athens. The church was built in the eleventh century AD at the location of an ancient temple dedicated to a Greek deity.
The church is simply too lovely to pass, and a stop here will give you a greater appreciation for later Greek architecture. The artworks and mosaics are all from a later period, as much of the original structure was damaged by fire. 
If you have the opportunity to go inside, be sure to take the chance and admire the interior of a complex building! 
Day 2 / Stop 6 – Anafiotika
Why it's awesome:

A beautiful neighborhood nestled against the Acropolis hillside.

Cost:

Free!

Food nearby:

Find traditional meals at Restaurant Scholarhio.
The last stop of our two-day itinerary Athens is Anafiotika! The little village stands above the rest of Athens, nestled into the Acropolis hillside. Fascinating and quaint, the neighboorhood came into being in 1841, when workers erected their houses in a single day, taking advantage of an Ottoman law that decreed that property became yours if a structure was erected between sunrise and sunset! 
The white-washed houses resemble the architecture of the workers' home island, Anafi. Because of this, the neighborhood stands out as unique within Athens! Today only forty-five houses remain. 
Wind your way through the lanes and alleys. You'll love the sweet and peaceful atmosphere of the place and it's Mediterranean island aesthetic! The views over Plaka and the greater Athens are also wonderful. You can watch the sunset from up here before making your way down.
It's an unknown gem and rewards you with enough to make you fall in love with Athens, if you haven't already.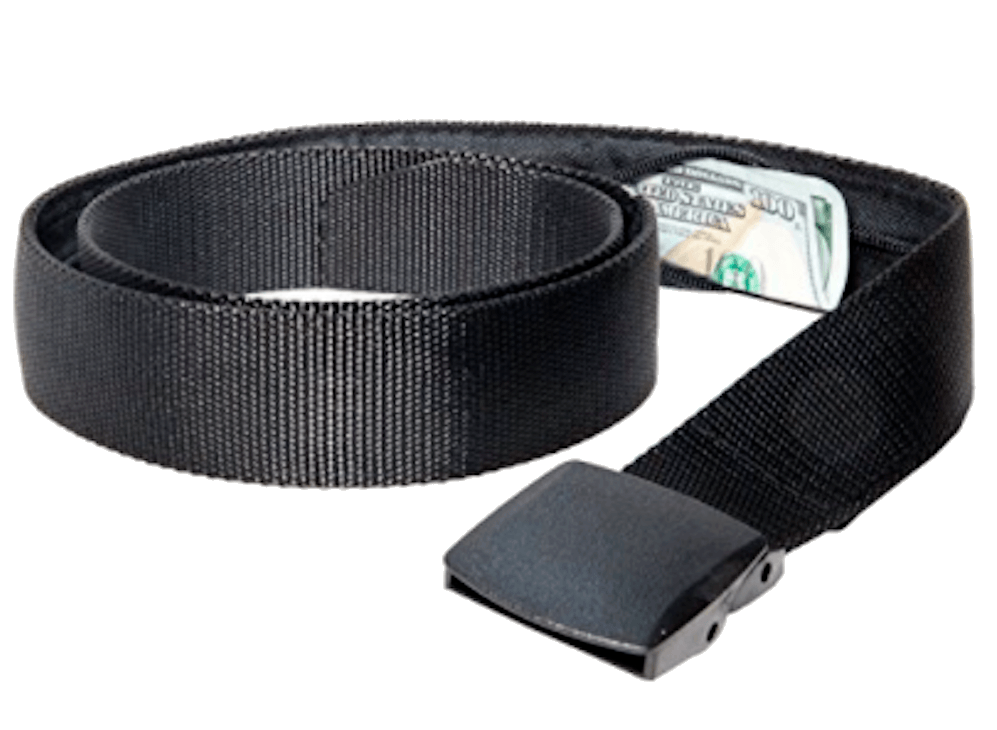 You should always have emergency cash hidden on you! Pick up this awesome security belt with its hidden pocket before you travel, it's perfect for hiding money and a passport photocopy.
Athens

Itinerary: Day 3 and Beyond
Roman Agora | Byzantine and Christian Museum| Food Walking Tour | Cine Thision | Party in Psiri
Continuing on the Athens three day itinerary, there's still so much to do! Depending on how long you have in the city, you can choose any number of these activities to round off your time in Athens to the perfect trip.
Roman Agora
The Roman Agora was built as a new forum and marketplace in the first century BCE.

It replaced the older one when Athens became part of the Roman Empire.

Smaller than the Ancient Agora, this marketplace differs from the other in interesting ways.
Close to the ancient Agora you visited the day before, you'll find the Roman Agora! These ruins evidence the changes that took place in architecture and style over the 500-year interim. 
Established as a commercial center in the times of Augustus, it replaced what had by then become an Agora unfit for commercial activities. But unlike the ancient Agora, this space remained only commercial and never became the political and social center that the other one had for so long been.
The place was once ornamented with trees and fountains, statues and numerous votive offerings, as well as numerous beautiful buildings and porticoes where the vendors traded. Now, all of these are ruins. Walk through them and imagine the beauty of the old Roman structures, and the bustling activity that took place here- an ancient form of Monastiraki!
The Roman Agora is included in the combo-ticket and is well worth a visit if you're spending more than three days in Athens! Very helpful signs are placed around the Agora, so that those without guides can understand what they're seeing. 
If you, like us, feel like the best thing about Athens is its incredible history, then don't miss it! There is much to see and learn here.
Byzantine and Christian Museum
Excellent displays, beautiful building, and lovely shaded gardens.

Combines Byzantine art and artifacts with the interesting history of the items and the period.

The largest collection on Byzantine art, covering eighteen centuries of art and culture.
This museum is another must for anyone who enjoys history, art, or culture! The gorgeous villa-style building houses over 25,000 works of art that span eighteen centuries! It's an incredible collection- the greatest in the world.
The collection covers the Byzantine era, as well as post and pre-Byzantine. Marvel at the immense legacy of that era and the many influences it had on art and creativity. 
The Byzantium empire stretched to Serbia and Bulgaria, and the exhibitions include artifacts from those areas. 
It's a relatively unknown museum and receives few visits from tourists, off the beaten track as it is! This makes it a lovely break away from the tourist areas, and relaxing in the garden with views over Athens is wonderfully calming.
The gardens are also a fantastic place to explore! Seating areas are provided under the fruit trees, and there are multiple themed exhibitions to be found here as well. Our favorite is Paradise, an exhibition on the Byzantine concept of paradise and the afterlife!
Everything is so beautiful and well-presented, it will be one of your favorite memories of Athens! Take your time and explore at your own pace. Marvel at the works and think about the greatness of human creativity! It is a beautiful and magical thing.
Half-Day Ultimate Food Walking Tour
Taste foods at fifteen different restaurants and eateries far off the beaten track!

Touring Athens with a local foodie guide, an expert on Greek gastronomic history.

Try foods you may have never thought to taste and explore places you would have missed on your own!
One of the best ways to explore Athens is on a food tour! Who doesn't love Mediterranean and Greek food? This tour takes you to fifteen different eateries on an exciting half day Athens walking tour.
Explore neighborhoods and niches you would never think to find on your own. Athens is a maze of alleys, and there is a lot you miss when exploring it! That's why a walking tour is one of our favorite Athens activities. Throw in some food, and you simply can't go wrong!
The tour takes you through Athens Central Market, a foodie paradise! Here you'll have the opportunity to buy fresh produce, snacks for later, and try some samples. Your local tour guide is a Greek cuisine expert. They can tell you all about the city's gastronomic history! 
You will even taste local cuisines found only in Athens and haunts known only to locals. Try foods you would never order, because the menus are Greek to you! Your guide will help you decide what to try, and every restaurant has vegetarian options available.
The tour includes all food tastings and drinks- local wines and fresh juice. So come with an empty stomach and great enthusiasm for all things tasty! If you're doing Athens in three days or more, it's the best way to spend some time.
Watch a film at Cine Thision
Watch a foreign language film at the open-air cinema, nestled at the foot of the Acropolis.

Built in 1935, the cinema has a lovely old-world charm, with gourmet snacks and drinks.

A great way to relax and put your feet up after so much exploring.
One of the best things to do in Athens at night, take in a film at the Thision Open Air Cinema! This relatively unknown treasure allows you to unwind and relax after long days of exciting exploring. Have some delicious local snacks and get cultural! The theatre plays a range of movies, many not even in Greek. 
The cinema gives you the feeling that you're in a private garden, with vines on the walls and a lovely atmosphere. The staff is very friendly and helpful, which can be very handy when you're trying to find a seat in an all-Greek establishment!
Spend time with the Athenian locals, with views of the Parthenon. It's the perfect activity for couples and families, who want to experience a little more of contemporary Athens! You can enjoy homemade sweets and local delicacies while you watch the film. There are little tables in front of the seats for just that!
The theatre has repeatedly been declared one of the top ten open-air cinemas in the world! It's open through spring and summer when the weather stays warm in the evening. Unfortunately, if you're visiting Athens out of season, you may need to skip this stop.
Incredibly romantic, with a wonderful atmosphere, you cannot go wrong at this charming cinema. Even if you don't understand a word of the film!
Party in Psiri
The perfect place to party at night and have a great laid-back time during the day.

A colorful neighborhood known for its artisans, galleries, theatres, and specialty stores.

A fantastic vibe day and night, with a young local crowd at the tavernas and live music.
Wondering where the nightlife is in Athens? Psiri is the easy answer! While this neighborhood is well worth a visit during the day for its contemporary galleries, charming cafes, and specialty stores where you can find anything you're looking for, it's even better at night.
The area lights up and crowds of local youth and tourists take to the streets! The place has a history of being anti-establishment, and the grungy atmosphere reflects this. Now, the neighborhood is actually designated to nightlife. Officially! 
Watch the fire blowers and performers in the street, enjoy a long drink at one of the many tavernas, and find some live music. It's a very international area, so you'll be able to meet some interesting new people and have a great time, whether you go solo or in a group! Psiri is an entertainment mecca. 
If you're willing to get adventurous and seek out the more hidden spots, you'll be well rewarded. Each taverna and club has a unique vibe, but it's difficult to find ones that are the most interesting! They're some of the best places to visit in Athens in three days.
Athens' nightlife is more about chatting and drinking loads of wine with live music in the background, than dancing in a club. You'll find dance clubs, they're just not as interesting and authentic an experience as laughing and chatting with happy locals until 3am! It's this type of experience that makes Psiri one of the most fun stops on our Athens itinerary.
Don't forget to pack a good book!
The Rise of Athens: The Story of the World's Greatest Civilization: This is our top recommendation for an awesome and inspiring read on this magical city.
Staying Safe in Athens
Athens is a relatively safe city and violent crime is very rare. The city does, however, have an issue with pickpockets and scams! Especially in crowded areas like Plaka, pickpockets are frequent. Use travelers' safety measures, like a closed and secure bag- perhaps even a moon bag that you can tuck under your shirt or keep close to your person. 
Taxi scams are also common, and while you will remain safe, you may be ripped off for much more than what you should pay. If you have to call a taxi, trust your gut feeling if the driver looks dodgy!
Another good safety precaution is to make use of your hostel or hotel's lockers and keep your passport and extra cash in there. Most accommodation provides this so that you can have a more comfortable stay.
Don't forget to sort your travel insurance! We've put together a roundup of the best travel insurance for backpackers,or if you're low on time, get a quote from World Nomads now, our favourite travel insurance provider.
Day Trips From Athens
Greece has some of the most beautiful islands and areas in the world! Whether you're looking for natural beauty or history, these day trips from Athens are our favorite way to experience the surrounding areas with little time!
If you're spending the weekend in Athens, keep in mind that many places are closed on a Sunday! This makes it a perfect day to get out of the city and explore.
Delphi Day Trip from Athens
Visit the site of Apollo's oracle in Delphi! The Oracle is one of the most important monuments from ancient Greece and was consulted by men and governments around the ancient world. Visit and step back in time!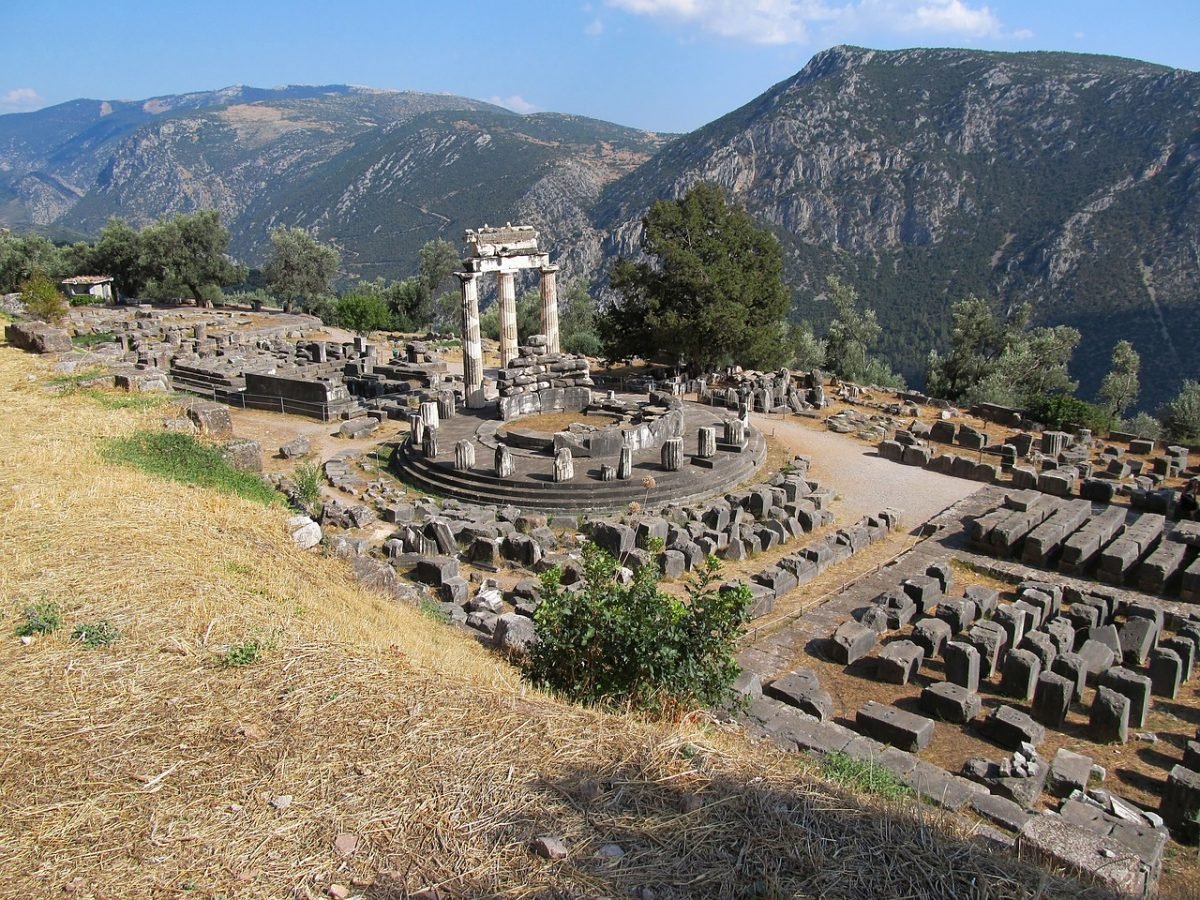 You'll also visit the hilltop museum, admire the gorgeous landscape (the oracle was placed here for a good reason), and enjoy a local lunch. 
The twelve-hour tour is all-inclusive, and a fantastic opportunity to get out of the city and see something outside of Athens that was immensely impactful on the Greeks!
Meteora Full-Day Trip from Athens by Train
Explore the phenomenal Meteora monasteries on a full-day tour! You'll take a lovely trip through the Greek countryside before arriving at the monasteries. 
Be sure to bring your camera! The monasteries are a true feat of perseverance, built atop high sheer cliffs. You will also visit the nearby hermit caves of Badovas and the charming little town of Kalambaka! 
If you're backpacking through Greece, this is such a worthwhile trip to go on. The small group tour is customizable and so photo-worthy!
Sailing Cruise along the Coast
Spend half a day sailing along the coast of Greece from Athens! It's a wonderfully relaxing experience, and a fantastic chance to see the beautiful coast. On the tour, you'll also have a chance to go swimming and snorkeling to explore the waters from below!
You can choose between a morning and an evening cruise on the modern sailing yacht. Enjoy some local snacks and wine while you watch the sunset or catch a tan. 
Full-Day Tour in Mycenae, Epidaurus & Nafplio
Spend the day visiting rich archeological sites and famous Greek attractions! This comfortable road trip takes you across the Greek countryside, with round trip transfer to your hotel.
You'll visit the ancient theatre of Epidaurus, and marvel at its size and grandeur. Drive along the coastal road to visit Homeric cities and ancient attractions. The tour takes you to many landmarks that are off the tourist's beaten track, as well as popular Greek attractions! This way, you get the best of both.
Visit the Lion's Gate, the Cyclopean Walls, and theformidable Palamidi Fortress! The tour includes all entrance fees and a wonderful lunch in Mycenae.
Full-day Tour of the Saronic Islands from Athens
Explore the islands on a scenic and luxurious cruise from Athens! The full-day tour stops at three different islands- Poros, Hydra, and Aegina, giving you time to explore each one. 
It's the perfect way to spend the day, relaxing on the deck of the luxury cruise ship as you look out on the Greek coastline, the islands, and the Mediterranean ocean!
Enjoy a fantastic buffet lunch with charming live music on-board while you sail between islands. Stroll through the narrow streets of the islands and admire their famously laid-back atmosphere and picturesque visage. If you don't have enough time to spend days on the islands, this is the perfect tour!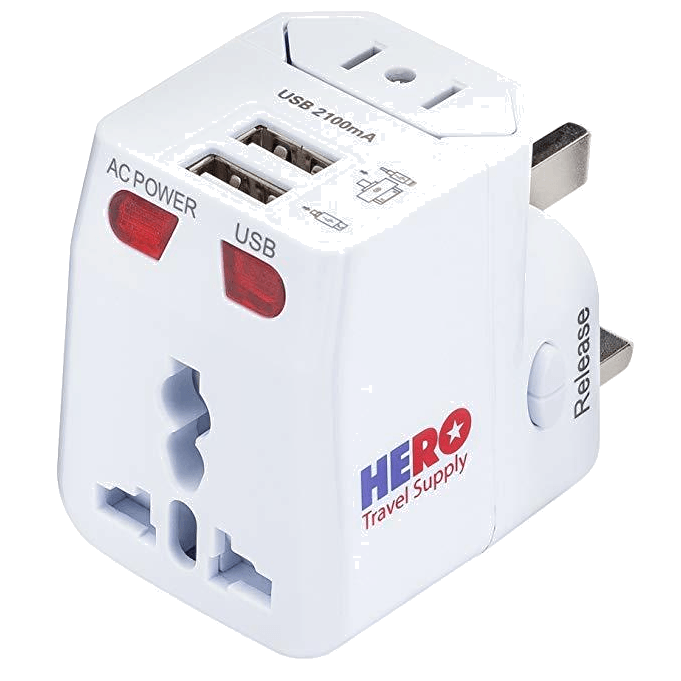 One of the best investments you can make is a
worldwide travel adapter
that will work anywhere! The one featured here is tough, reliable and a solid buy – Don't leave home without one.
GET IT HERE
Conclusion
Wondering how many days to spend in Athens? It's up to you. Whether you're spending a week in Athens, or only a few days, you'll be able to fill every day with ease! Do it at your own pace, and spend time at the incredible Athens landmarks and museums. You are stepping into history, and that's not something you want to rush through!
Whether you're interested in history, mythology, art, language, culture, or just beauty, Athens has so much to offer. We've put together all the very best! The great news, is that many of the smaller attractions are en-route to the stops in our Athens itinerary. So if you're walking- and we advise it -you'll see so much more than what is listed!
All you need now is to book those flights and get packing for Athens. Don't forget your travel camera– you'll want to show your grandkids one day that you saw the Parthenon!
Yay for transparency! Some of the links in this post are affiliate links. This means that if you book your accommodation through the site, The Broke Backpacker will earn a small commission at no extra cost to you. Your support helps me keep the site going.
---
Need More Inspiration?
Like this post? PIN ME!!!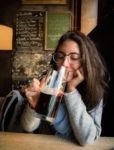 Writer and Editor, Ana Pereira is a California native, inspired by Earth exploration and introspection. Recently, she spent several months exploring Africa and South Asia. She spends most of her "down-time" out in the wilderness, climbing, hiking, and beyond, and is feverishly passionate about travel and health.