Do you carry a deep desire for exploring the "birthplace of democracy"? For self-improvement, philosophy and learning? For being trolleyed in the local gyros place?
Then ditch your medicine degree, pack that backpack, and hit ATHENS!
With my guide to the best hostels in Athens at your side, your stay will not only be price-tag friendly, but will hopefully include a dodgy anecdote about a Bulgarian, a priceless artefact, and a kilo of souvlaki…
…Completely free of charge!
So, whether you're a digital nomad searching for a juicy setup, a solo traveller lacking answers, or a bewildered nun who thought this was Italy, there is a perfect hostel waiting just for you…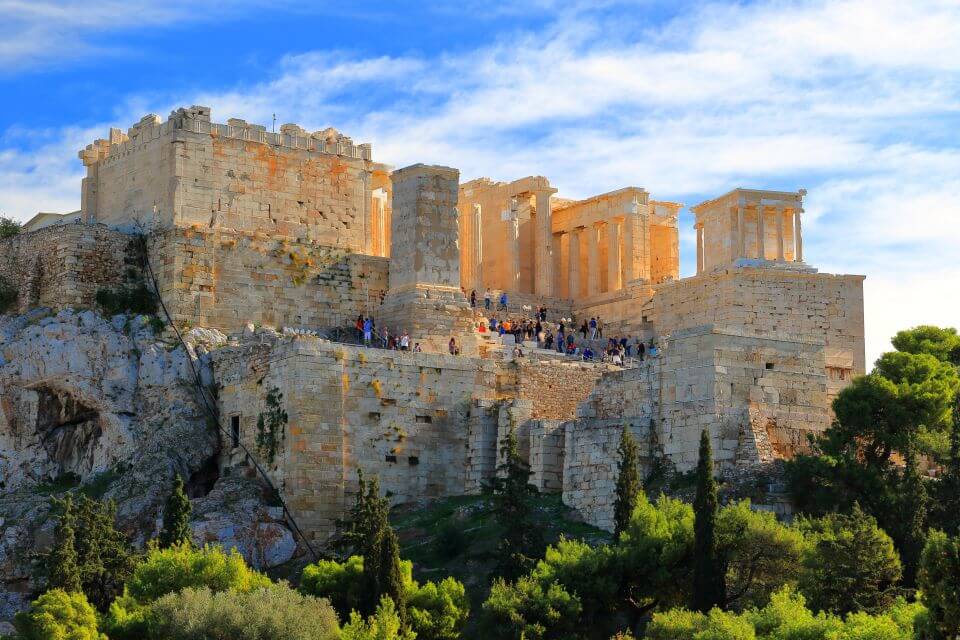 Quick answer: What are the Best Hostels in Athens?

Do You Want to Travel FOREVER??
Pop your email in below to get a FREE copy of 'How to Travel the World on $10 a Day!'.
What to Expect from Hostels in Athens
Are you an edgy cool person backpacking Greece? Are you looking for a big hollow brick to protect you from the horrors of night?
Then you are going to need an edgy cool place to stay, and where better to begin/middle/end your trip than in Athens? The perfect place to island hop, wreck your sleep schedule, and check out some of the biggest old things in Europe…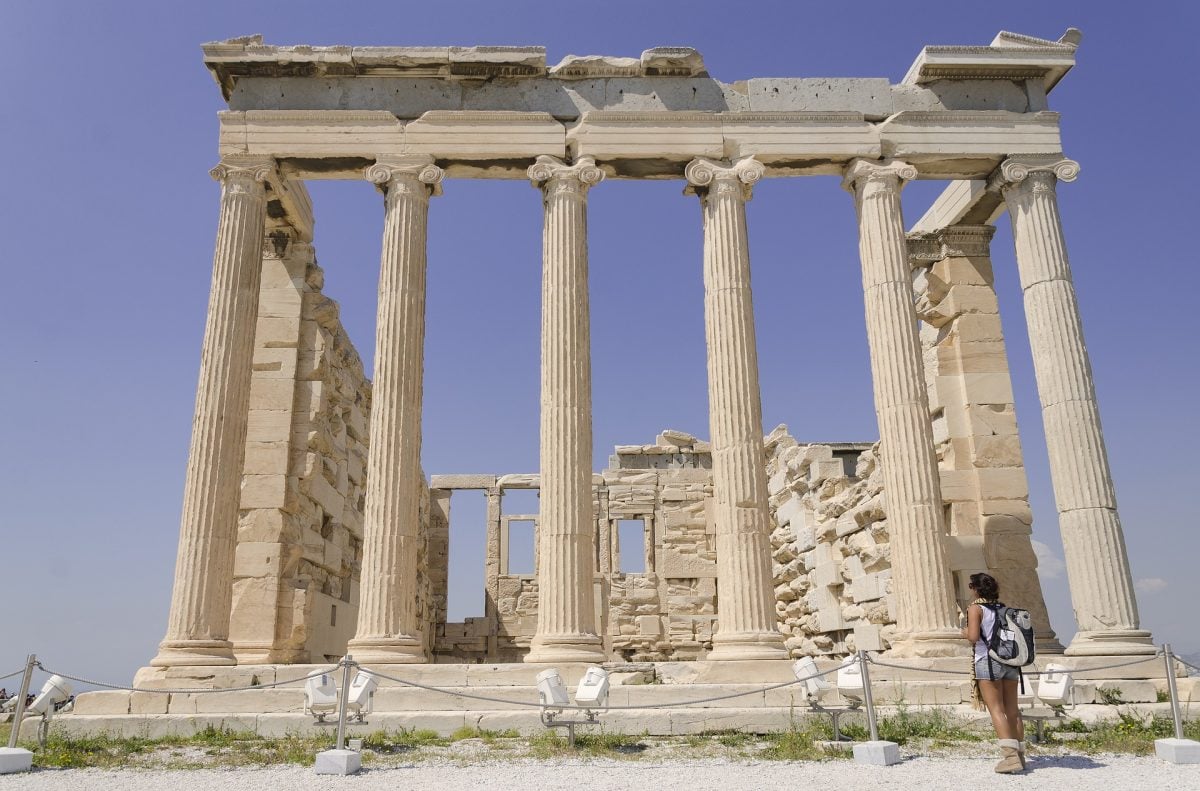 The hostels of Athens are actually pretty cheap for Europe but are still well-equipped and modern. Most have brilliant wifi, great common spaces, and aren't too far from the top things to do. The best have rooftop bars (obviously).
There is an obscene party/friendly vibe in the summer, but you should do your research if you want to find a sociable time in winter. There are some brilliant day trips from Athens too, so don't be worried if you get tired of the city! Most travellers will want to spend a few nights here, but no more.
The 5 Best Athenian Hostels
Okay, without further dalliance, I present my top picks for the most impressive/EPIC hostels in Athens. Perfect for smashing a great Athenian itinerary…
1. Overall Best Hostel in Athens | Athens Hub Hostel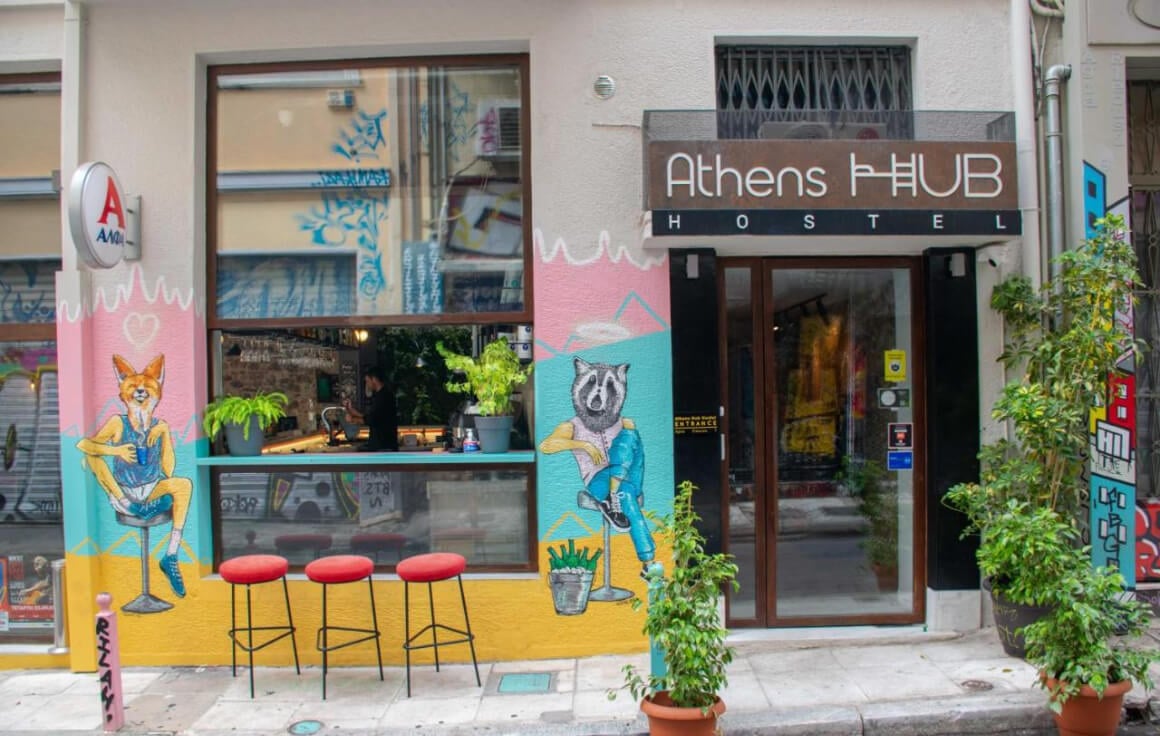 Rooftop Terrace
Common room
The Athens hub hostel sits in prime position in the city centre, 1km from the dominating Acropolis. With modern, spacious, and bright rooms (which I'm sure you value), this hostel is super well run, has a great hangout space, and a funky bar!
Evening entertainment runs in the evenings, and while this sounds suspiciously PG, I have heard that it is actually good, and there is a ton of nightlife straight out the front door! There is also a subway station 2 minutes away (Monastiraki Metro Station), which makes it great for getting around the city too…
Why you'll love this hostel:
Roof terrace hangout area
Clean, modern and well-located
Evening entertainment
Dorm rooms come in a 'pod' format, with privacy curtains, offering a little more personal space than your average Athenian hostel. Bathrooms are outstandingly clean and modern, and there are extra beanbags and chairs in most rooms to make them more social and homely. There's free wifi too.
Just 200 metres from the Monastiraki Flea Market, the hostel boasts an excellent location, and is within walking distance of the Parthenon, the Acropolis, and the ancient Agora of Athens.
With such a great atmosphere, this hostel is an ideal base for exploring one of Europe's best party cities, and you'll likely meet some awesome people to do it with!
Rooftop bar
Free welcome shot
Easily one of the best hostels in the city, the Athens Hawks Hostel offers beds at a fantastic price. But that is certainly not all that you get! With daily drinking games (beer pong etc) at the rooftop bar, this is also a social hub, and solo travellers should have no trouble linking up with some cool people.
And what better way to mark your arrival than a shot on the door, be it at 4pm or 9.15 on Monday morning.. …nice. Rooms are kept private by use of a keycard system, and the location is sensational!
Why you'll love this hostel:
Drinks on the roof
Just walk everywhere
Friendly staff
The help desk is open 24/7 which is fantastic for early birds/ night owls looking for great places to go! Rooms are cosy, and each bed comes with a privacy curtain. Private rooms and free wifi are available too.
The place is newly renovated, so the place is spacious, clean and looks amazing.
This is probably one you should book in the summer however, as they can close the main bar during the off season without telling anyone (classic). Apart from that though, this hostel rules!
3. Best Hostel for Digital Nomads in Athens | BedBox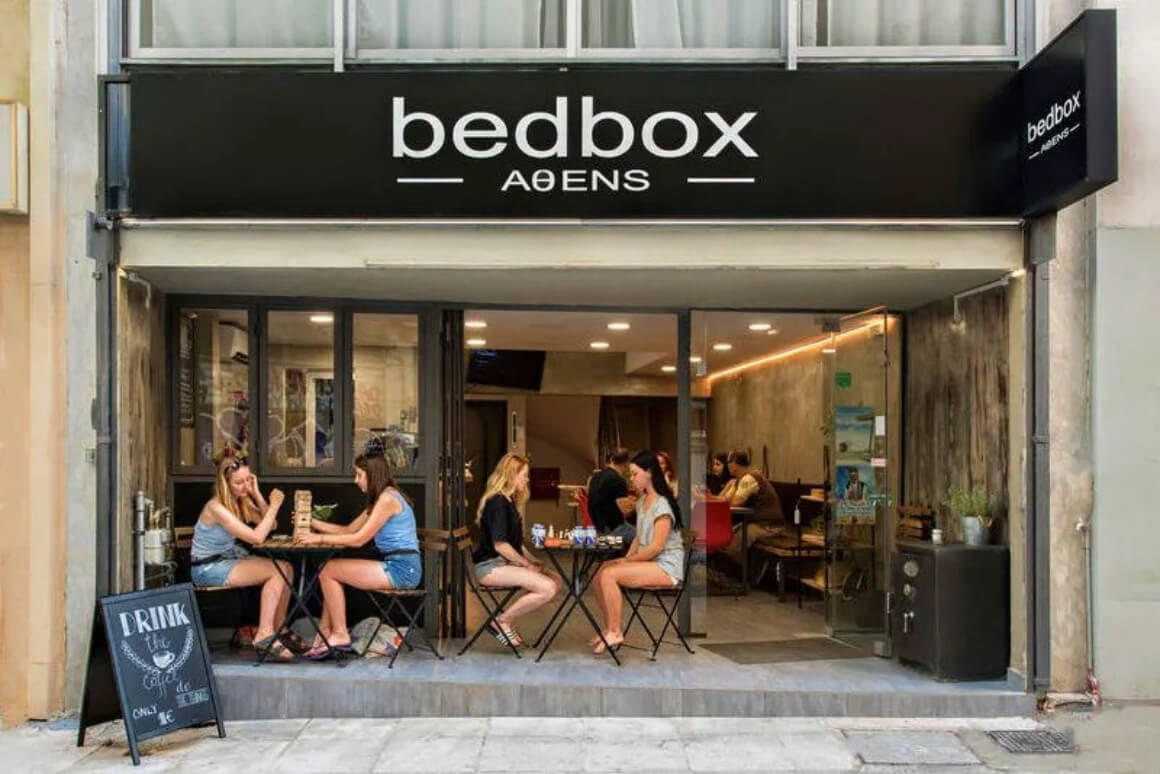 $$
Self Catering Facilities
Bar & Cafe Onsite
Free Storage Lockers
Easily the best hostel for digital nomads in Athens is BedBox. Digital nomads have different needs when it comes to hostels, but BedBox is the perfect fit; a cool cafe and bar onsite, massive guest kitchen and free WiFi throughout the building.
The downstairs cafe is the perfect place to work, and since the space is so ideal for it, you're likely to find a host of others doing the exact same thing! There is more of a familiar feel to this hostel too, which is exactly what you want as a DM, as it makes you much more relaxed.
Why you'll love this hostel:
Cool bar and Cafe
Strong wifi
Plug sockets
The staff are friendly and helpful, and will help you with anything, from early check-in to baggage storage. The rooms are equipped with A/C too, which is a must for city summer heat. You don't want to be working in a bazillion degrees, and neither does your computer!
Digital nomads can work from the comfort of their bunk if they wish to do so, as each bed has its own plug. BedBox is stylish and clean-cut, but is also homely and laid back too. For digital nomads heading to Athens, BedBox is a win-win!
4. Best Hostel for Couples in Athens – Athens Quinta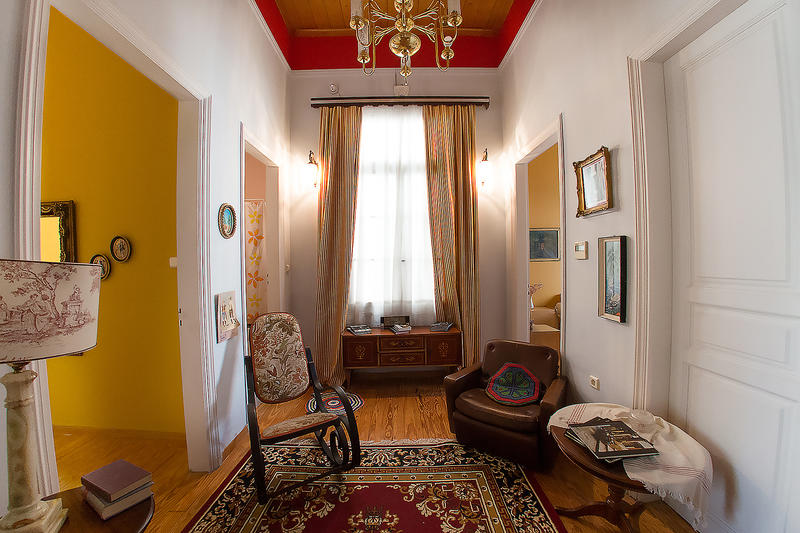 $$$
Self Catering Facilities
Outdoor Terrace/garden
Air Conditioning
If you're travelling with your lover (Ed: surely you have not just said that) be sure to book a room at the Athens Quinta hostel. Offering spacious double rooms in their classic 20th-century Athens townhouse, this place overflows with charm and character.
Located in Athens' intellectual and artistic quarter, this hostel manages to stay weirdly social and vibey. The outdoor space is pretty uncommon for places in Athens, and you'll love soaking some rays in the morning!
Why you'll love this hostel:
Garden/outdoor yard
Hip neighbourhood
Grungy decor
There is a definite hostel vibe here but no crazy party scene, making it a perfect Athens backpackers hostel for couples looking to soak up the culture and make cosy memories together. The Athens Quinta team are fabulous and always on hand to help guests find all the hidden gems Athens has to offer.
BUT, if you are that couple who pretend not to know each other, or love to get involved with a loose night out, then there are cool people coming through, and this cosy hostel is well-equipped to help you have an awesome time!
5. Best Hostel for Solo Travelers in Athens – Athens Backpackers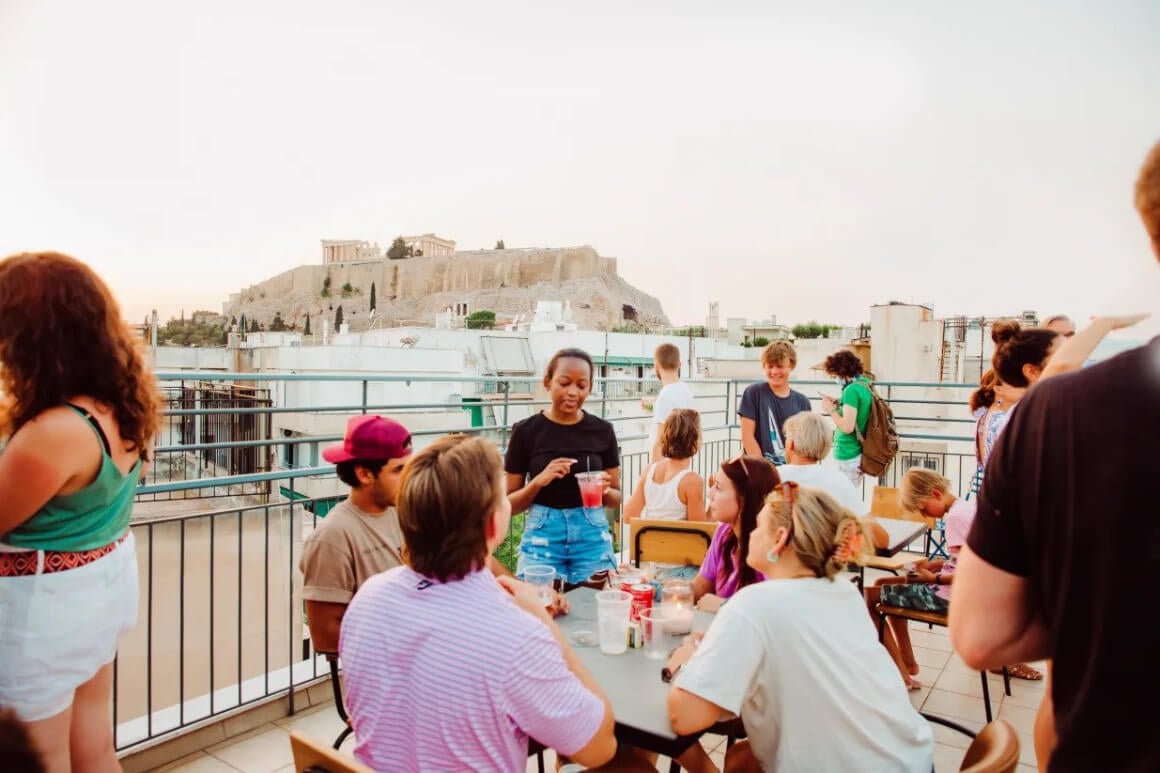 Bar, Cafe & on-site restaurant
200mbps Wi-Fi
This place deserves the title of the best hostel in Athens in 2020 and quite possibly the crown of top backpacker accommodation in Greece as a whole! For solo travellers looking to find a crew, Athens Backpackers is the place to stay.
Having been renovated in 2021, the hostel is now a little overpowered and boasts a two-level rooftop bar, wifi faster than the most attractive kid in 2nd grade, and smart technology. Oh, and they've patented their fucking beds.
Why you'll love this hostel:
Range of places to get debilitatingly drunk
Live music
Location that would give a geographer an aneurysm
Located between the Temple of Olympian Zeus and the Acropolis, it doesn't get much better than this! Athens Backpackers has a happy hour every night from 7-8 pm offering free shots and crazy discounted cocktails!
The hostel even sees a crowd during the winter months, and has super modern facilities. Lockers, chargers, curtains, and key-card privacy make this a super secure hostel too!
Is This the Best Backpack EVER???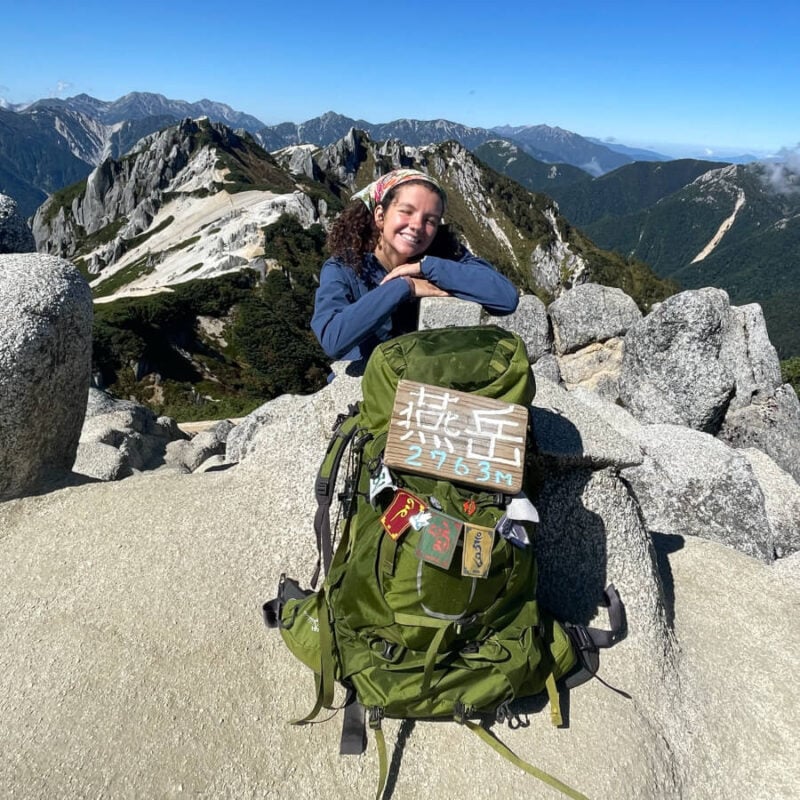 More LEGENDARY Hostels in Athens
Hanging around in Athens awhile before moving on to some other breathtakingly beautiful areas of Greece? Then you may want to consider these other choices of Athens's best hostels as you float around the city.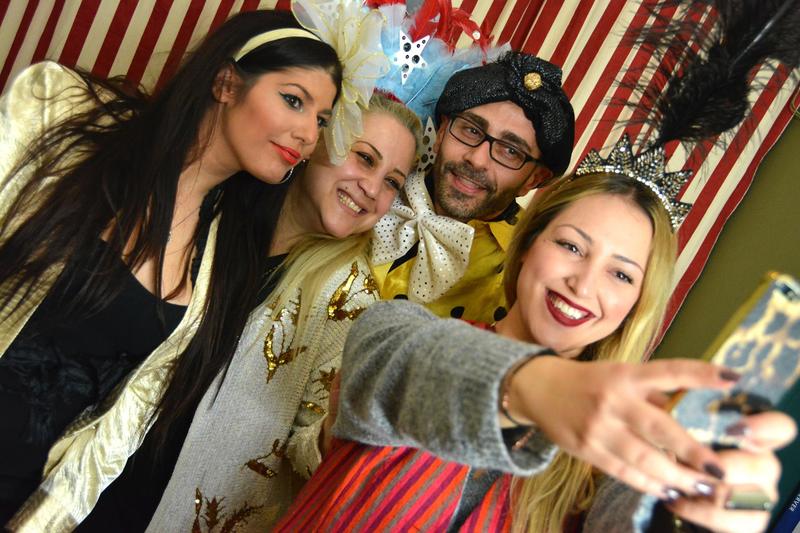 $$$
Bar, Cafe & Restaurant Onsite
Laundry facilities
Pub crawls
The design hostel is a great way to break the ice with your fellow backpackers and for everyone to let loose and laugh. The dorms are spacious, clean and have super comfy beds; City Circus Athens hostel is a highly recommended hostel in Athens.
The onsite bar is a super chilled little hangout spot and the ideal place to start drinking before you hit the nightclubs and live music venues of Athens!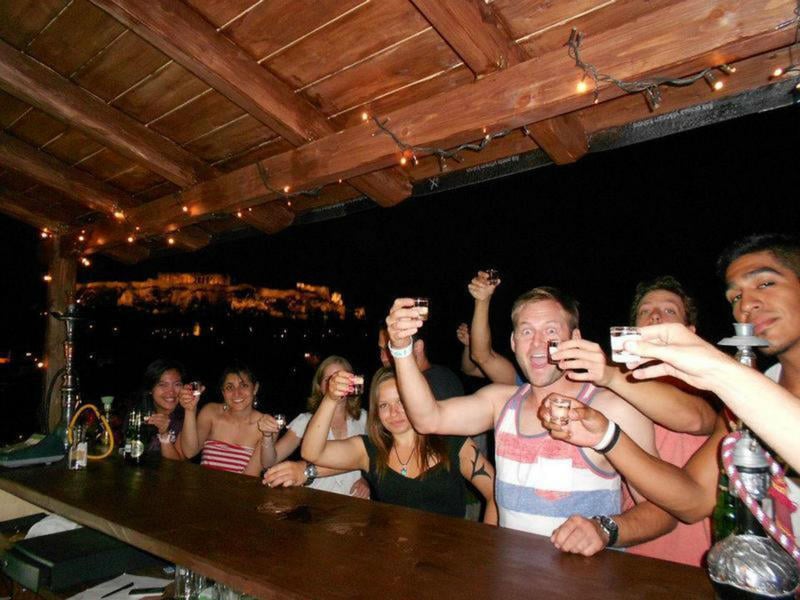 Free Walking Tour
Outdoor Terrace
Pella-Inn is the definition of cheap and cheerful and was a close contender for the best budget hostel in Athens in 2020. The Pella-Inn team offers guests a free walking tour of Athens which is brilliant; a great way to explore the Greek capital and meet new friends!
Pella-Inn is in a great little spot, within easy walking distance of Athens's major things to see like Monastiraki Square, Plaka, and the Acropolis. If you're keen to make new travel buddies in Athens be sure to find your spot at the Pella-Inn bar, the best bit of the hostel some may say; new friends and cold beers, bingo!
$$
Bar, Cafe & Restaurant Onsite
Late Check-Out
Tours & Travel Desk
The outdoor terrace is the best thing about Students and Traveller's Inn, with a bar in the corner and vending machines for snacks you literally don't need to leave the hostel! But then again, why would you stay in when major Athens landmarks like Temple of Olympian Zeus and Syntagma Square are basically on your doorstep?!
The doors of Students & Traveller's Inn open out onto Kydathineon, Athens' best shopping street. With its great reviews, it's easy to see why it's one of the best hostels in Athens.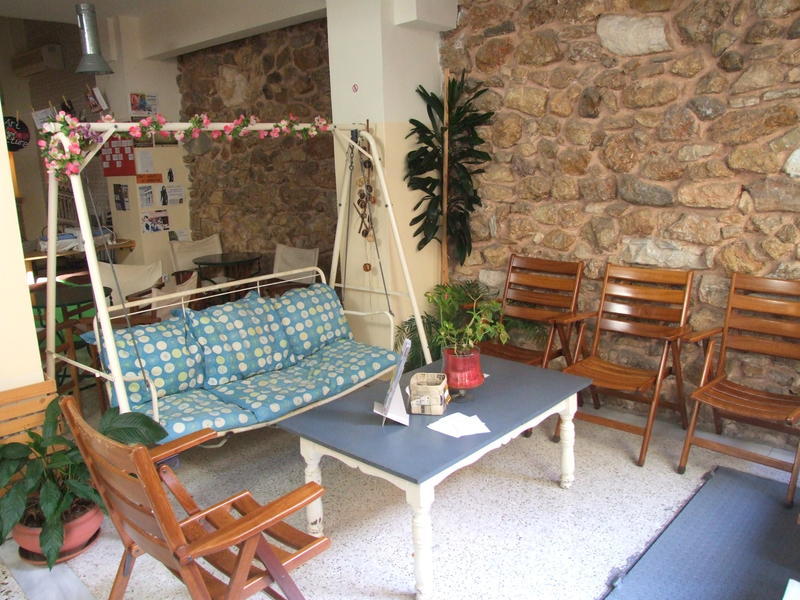 $$
Bar, Cafe & Restaurant Onsite
Self Catering Facilities
Laundry Facilities
Safestay (the artist formerly known as Athenstyle) is the coolest hostel in Athens as you get an awesome view of Acropolis from their rooftop bar. The Athenstyle team are super clued up about Athens and will happily customise your city map for you to make sure you make the most of your time in the Greek capital.
If you're staying in Athens for a while perhaps think about booking one of the Athenstyle apartments, great if you're travelling as a group or for digital nomads who want a little more space to work in. Athenstyle are committed to recycling and making their hostel the most eco-friendly hostel in Athens.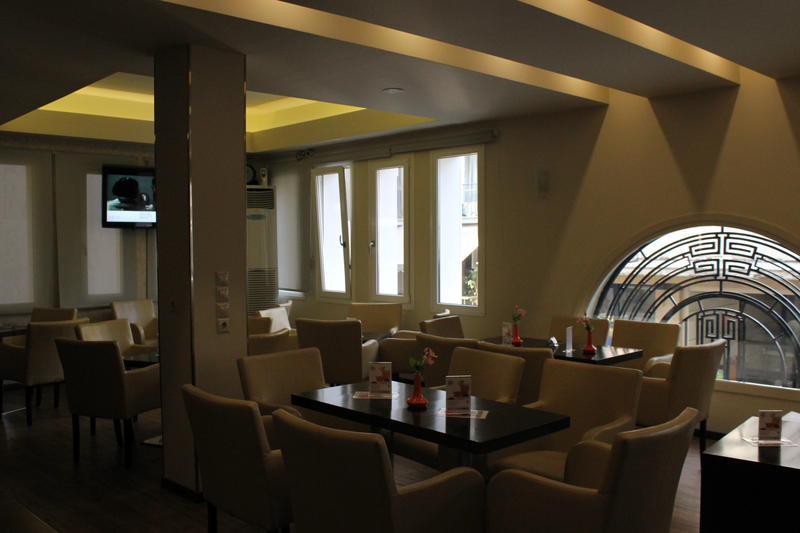 Bar, Cafe & Restaurant Onsite
Late Check-Out
Hotel by name and name only, Cosmopolit Hotel is a great youth hostel in Athens for travellers looking for a touch of class. The breakfast room is far more luxurious than many other hostel breakfast halls. The Cosmopolit team offers guests a free walking tour of the city too, a great way to get to grips with the winding streets of Athens.
There's definitely a more cosy, homely feel to Cosmopolit, if you're looking for a wild night perhaps look elsewhere

Our GREATEST Travel Secrets…
Pop your email here & get the original Broke Backpacker Bible for FREE.
Tours & Travel Desk
Air Conditioning
Zorbas is a highly recommended hostel in Athens for backpackers in Greece on a budget. They offer free walking tours of the city which goes a long way in making Zorbas a hostel with great value for money in Athens.
The reception has one of the Zorbas team on hand 24/7 to help guests in any way they can; Zorbas has no lock-out and no curfew, great news for the night owls. On top of this, they can help you arrange flights, buses, and tours throughout Greece. Zorbas is a top Athens backpackers hostel for every style.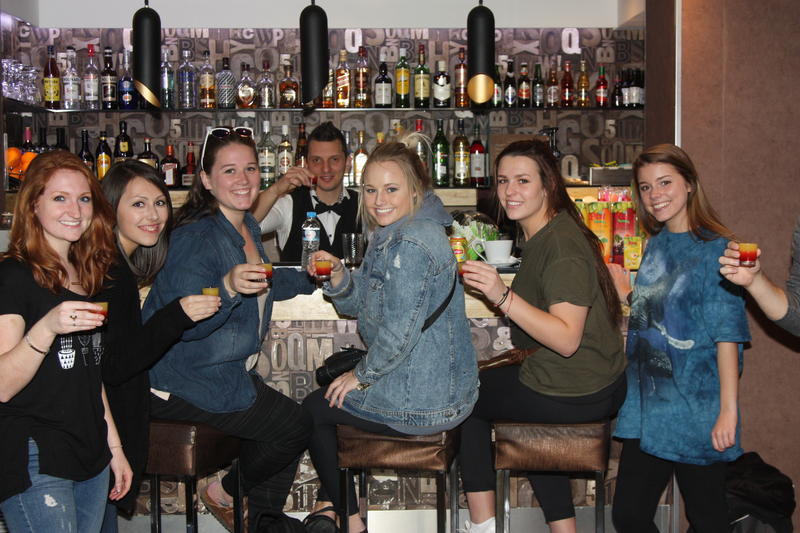 Free City Tour
Bar & Cafe Onsite
Athens Choice is a brilliant youth hostel in Athens with a tonne of freebies for backpackers. The free breakfast and free city walking tour is just the start of it, throw in free WiFi, free city maps and all your linen included in your bed rate and you're onto a winner.
As one of the best hostels in Athens, Athens Choice has a 24-hour reception so if you need a helping hand day or night the Choice team will be more than happy to help. Be sure to hang out at the Athens Choice bar if you're keen to meet new people to hang out with, perhaps even tag along with too!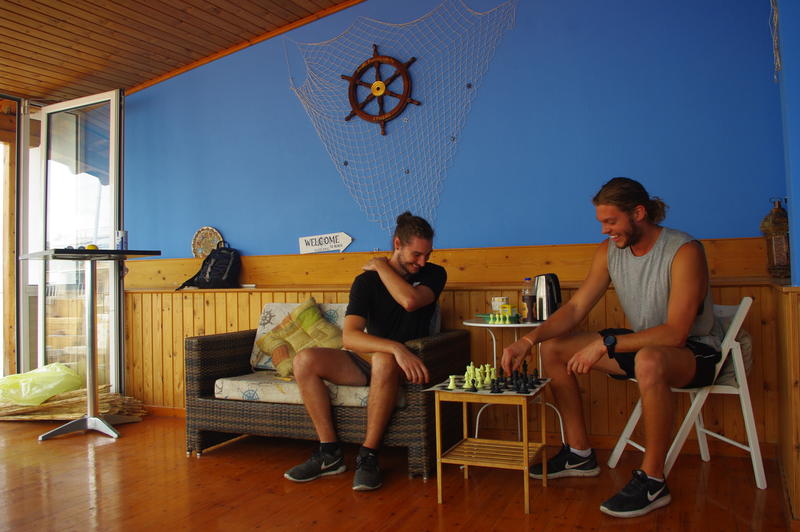 Self Catering Facilities
Outdoor Terrace
SmallFunnyWorld is a top hostel in Athens for backpackers on a budget looking for a mix of culture and party. SmallFunnyWorld is only a few minutes walk from Monastiraki Station and is easy to find. The team is on hand to help you make the best itinerary for your stay in Athens.
The free breakfast is an added bonus, just make sure you get up before 9 am else you'll go hungry. SmallFunnyWorld sits next door to a rocking pub so if you fancy partaking in the greek drinking culture you don't have too far to fall into bed!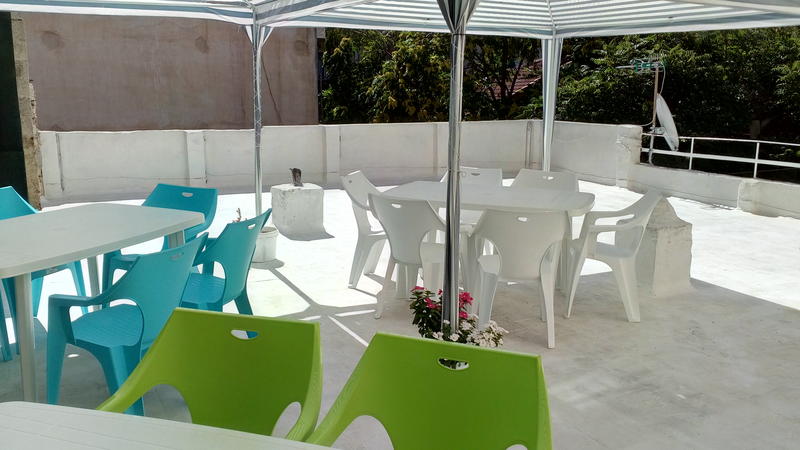 $
Self Catering Facilities
Tours & Travel Desk
Late Check-Out
San Remo is a top hostel in Athens tucked a little walk away from the hectic touristy centre. As quite a popular backpackers spot, so be sure to book your bed as soon as possible to avoid disappointment.
The San Remo team have free city maps for every guest and are always more than happy to take the time to share directions and local tips on how best to explore Athens, especially if you have a limited travel budget in Greece. The dorm rooms are simple, basic but the beds are comfy and the room clean, ideal really!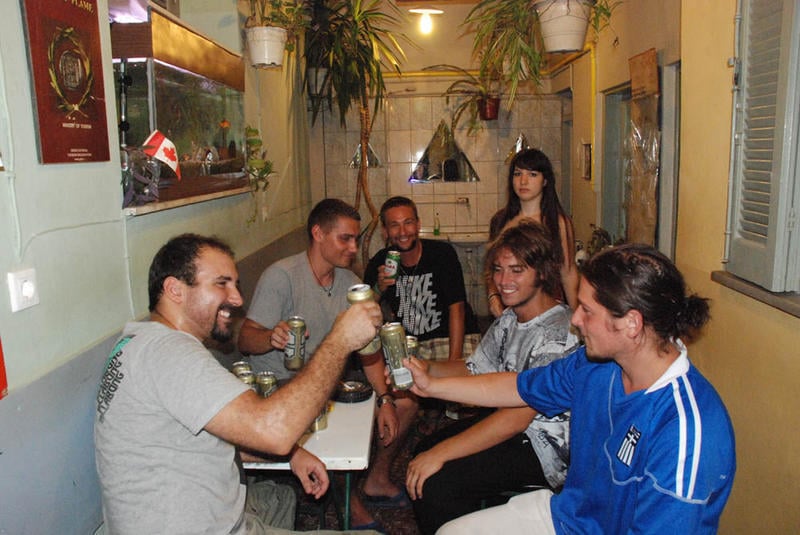 $
Self Catering Facilities
Laundry Facilities
Outdoor Terrace
Pagration is a great youth hostel in Athens if you want a calm and quiet stay in the Greek capital. Located in the charming, authentic Greek neighbourhood of Pagrati, a 15-minute walk away from the heart of the action, Syntagma Square.
Pagration is super close to internet cafes, although WiFi is free throughout the building, a few supermarkets, and cheap pubs too. Pagration Youth Hostel has a decent selection of dorm rooms and a few female-only rooms too.
Self Catering Facilities
Great location
Dioskouros can be found in the charming and authentic Athens neighbourhood of Plaka and is next door to the Acropolis Museum. In terms of location, Dioskouros is an ideal Athens backpacker hostel.
Dioskouros is a small but spacious hostel, they can only house up to 50 people per night making it a fairly intimate affair. The private rooms even have little balconies that overlook Athens' sides streets, the perfect place for couples wanting a touch of romance in their Athens holiday itinerary.
Tea & Coffee Making Facilities
Laundry Facilities
One of the best cheap hostels in Athens is, without a doubt, Hostel Zeus. Simple, spacious and in the perfect spot, this stay is the best budget hostel for travellers backpacking Athens on a budget. The hostel does offer guests free WiFi but it's only accessible in the common areas.
In terms of location, Hostel Zeus is bang on, a one minute walk from Acropolis and the Monastiraki flea market is only 5-minutes away on foot. You're so close to all the best things to do in Athens, being at the heart of Athens doesn't come cheaper, cleaner or more welcoming than this!
Award-winning cafe/bar
'Village' setup
A top budget hostel in Athens, they not only have a free breakfast every morning, but great discounts on booze at the bar too! The dorms are light, airy and spacious, and the hostel is near perfection for travellers looking for a top-budget place.
They have 24-hour reception and check-in so no matter what time your flight gets in you can rest assured that your super comfy bed will be ready and waiting. The dorms also have air conditioning, much needed in the sweltering Greek summers.
Travel safety tips for Athens
ALWAYS sort out your backpacker insurance before your trip. There's plenty to choose from in that department, but a good place to start is Safety Wing.
They offer month-to-month payments, no lock-in contracts, and require absolutely no itineraries: that's the exact kind of insurance long-term travellers and digital nomads need.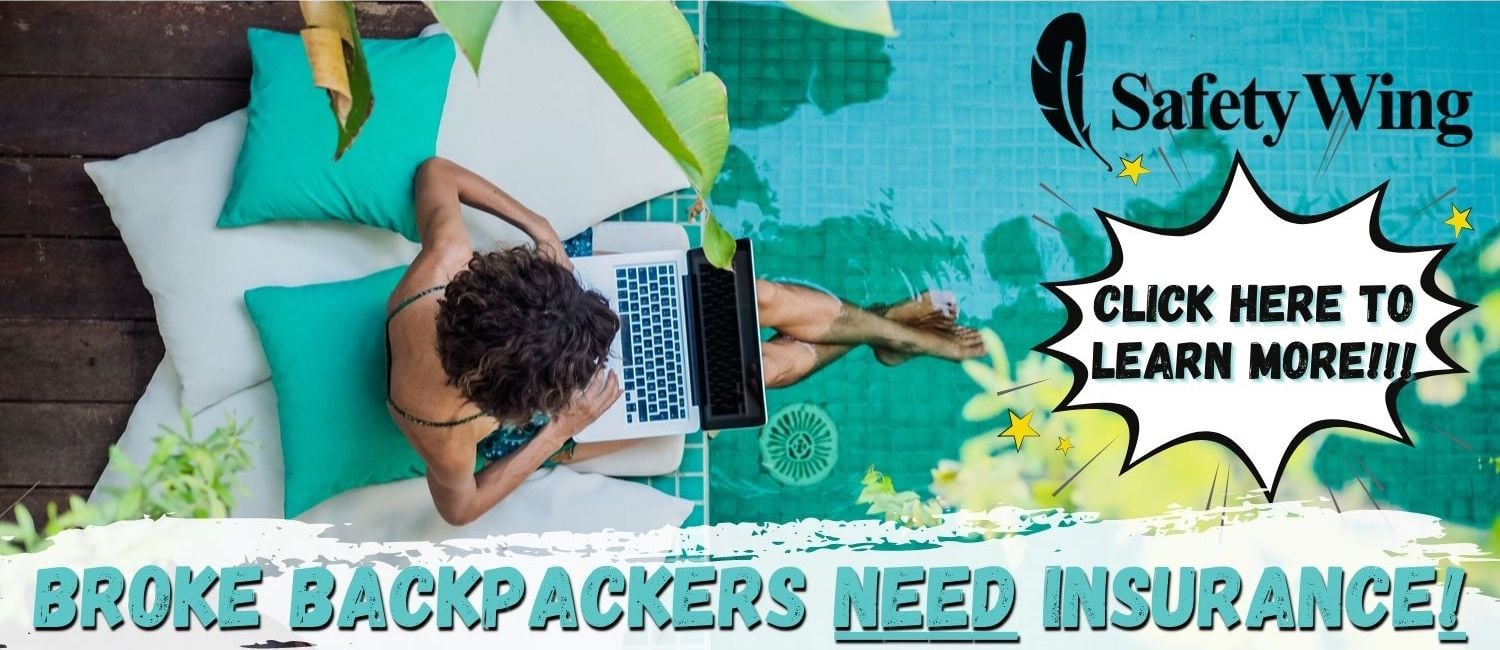 SafetyWing is cheap, easy, and admin-free: just sign up lickety-split so you can get back to it!
Click the button below to learn more about SafetyWing's setup or read our insider review for the full tasty scoop.
FAQs about Hostels in Athens
Here's what we're usually asked about the hostels of Athens.
Final Thoughts
Hopefully, by now, you've found the perfect hostel for your upcoming trip to Athens. It's a pretty cool place, with cool people, and some murky depths to get fully stuck into. And some big rocks.
For more cool hostel guides around Greece, check out:
We're now at the end, so I hope our epic guide to the best hostels in Athens has helped you choose the perfect hostel for your adventure! Athens is pretty damn dope, so make sure you soak it up!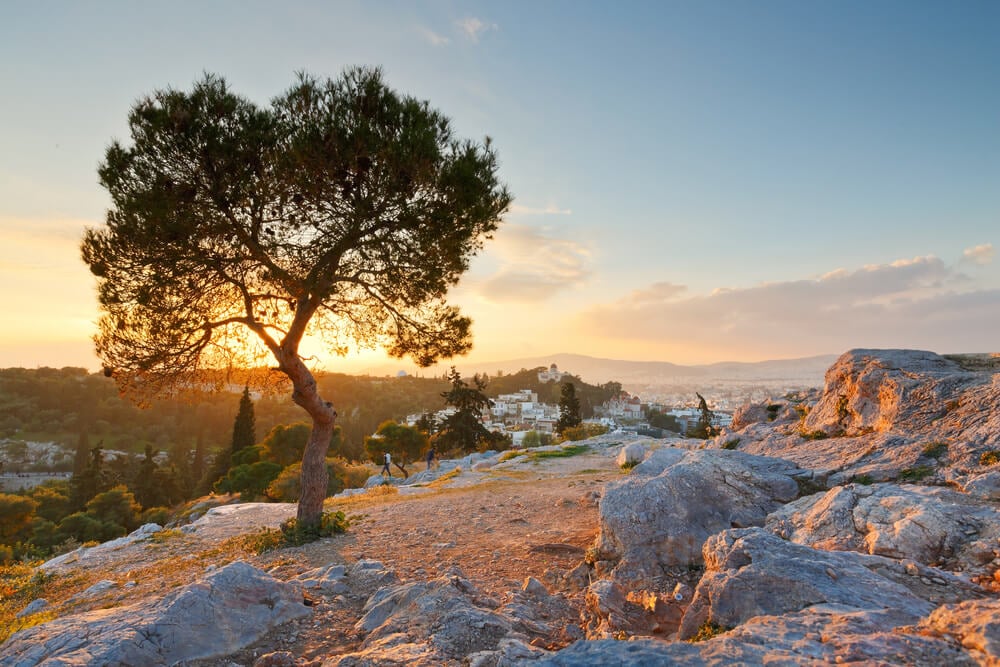 If you think we've missed anything or have any further thoughts, hit us up in the comments! Especially if we missed out on any more awesome Athens hostels – we like to stay updated.
---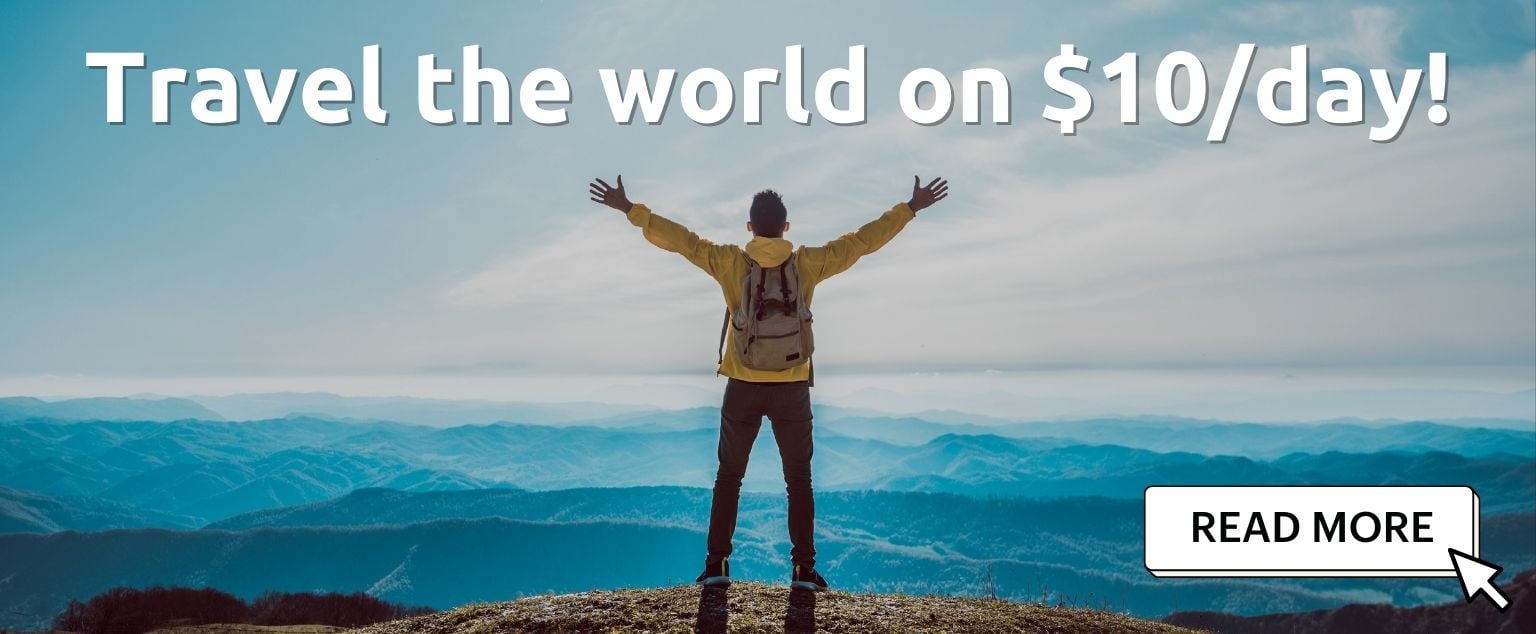 And for transparency's sake, please know that some of the links in our content are affiliate links. That means that if you book your accommodation, buy your gear, or sort your insurance through our link, we earn a small commission (at no extra cost to you). That said, we only link to the gear we trust and never recommend services we don't believe are up to scratch. Again, thank you!