In a country as popular as Greece, it can be refreshing to find somewhere as calm and quiet as Lefkada. Located in the Ionian Islands in the north, Lefkada doesn't see the same tourist numbers as more popular islands, making it a great place to soak up the authentic culture. It's also connected to the mainland by a bridge, so totally easy to get to.
There isn't a lot written online about Lefkada, especially when compared with other destinations in Greece. This can make it really tricky to figure out what's on offer in the many towns and villages dotted around the coast. They all have something different to offer, so it's essential to do a little research before booking your accommodation.
That's where we come in! We've combined our personal experience with expert opinions to help take the stress out of planning a trip to Lefkada. Whether you want history, laid-back beaches, or unbeatable restaurants, we have you covered.
So, let's dive right in!
If you're bringing a car, Lefkada is super easy to get around. You can easily take a trip around the island within one day. For this reason, these are our top three overall accommodation picks just in case you're in a hurry.
Need to get away from it all? You simply have to go with this cute little cottage near Nidri! Surrounded by Olive Groves and gorgeous hills, this Mediterranean dream is the perfect place to unwind. The outdoor area has a barbecue and a gorgeous little dining space – perfect for soaking up the good vibes over dinner. With two bedrooms, this is our top pick for small families.
Traditional Greek Home in Lefkada – Milos Bay Villas
This is one for those wanting something a bit more traditional! These stone villas mimic the typical style of houses in the area, giving you a more local experience during your stay. This particular villa has a private pool terrace with views of the Mediterranean Sea. It's also only a few stairs away from Milos Beach. Stay here to kick back and relax.
Sometimes, you just need the comfort of a hotel! This stylish accommodation is only a stone's throw from the beach. It is also nestled among the main attractions in Lefkada Town, with plenty of restaurants, bars, and cafés nearby. It's well-liked by solo travellers thanks to the affordable prices on otherwise quite luxurious rooms. They even throw in complimentary breakfast.
FIRST TIME IN LEFKADA
FIRST TIME IN LEFKADA
Lefkada Town
As the main town on the island, Lefkada Town is the central hive of activity. Make no mistake, though – it is still very much a laid-back destination.
FOR FAMILIES
FOR FAMILIES
Nidri
Known for friendly locals and gorgeous mountain scenery, Nidri is the perfect spot for families heading to Lefkada! In particular, those visiting by car will be rewarded by plenty of stunning beaches within a couple of minutes drive.
COOLEST PLACE TO STAY
COOLEST PLACE TO STAY
Agios Nikitas
Agios Nikitas is a pretty small village, but we think it's the best place to enjoy a truly authentic experience. With even smaller tourism numbers than bigger towns on the island, you will get to connect with locals and enjoy a slower pace of life.
Lefkada 3 Best Places to Stay in
If you're lucky enough to visit Lefkada while backpacking through Greece, you're in for a treat. Historic town centres, gorgeous seafood and unspoiled beaches await you on the island. Keep reading for the lowdown on where to stay, what to do, and why you should visit our top three recommendations.
COOLEST thing to do in Lefkada Town: head to Agios Ioannis Beach and enjoy the beating sun, ambient bars, and historic windmills.
BEST place to visit in Lefkada Town: there are a few great museums worth visiting – we love the Museum of Lefkadian Folklore and the Archaeological Museum.
As the main town on the island, Lefkada Town is the central hive of activity. Make no mistake, though – it is still very much a laid-back destination. The historic centre is where you'll find some stunning Greek buildings reflecting the traditions of the island. It's also home to some excellent bars and is the main commercial centre for the entire island.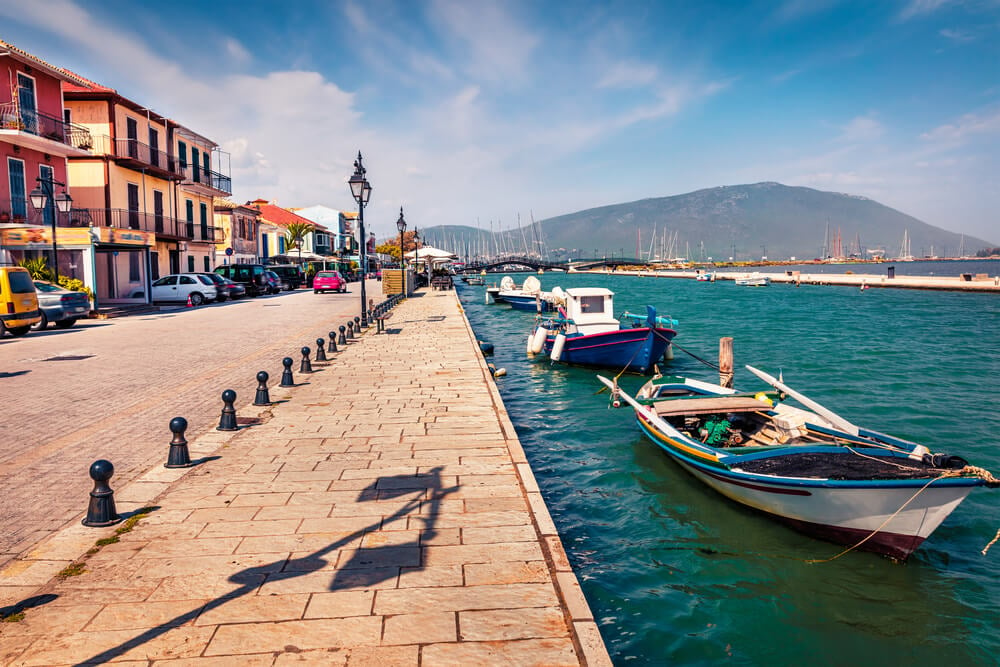 If you're travelling from the mainland, Lefkada Town is where you will arrive. This makes it an excellent option for those planning a short stay in Lefkada before travelling elsewhere in Greece. While the beaches in this town aren't as popular as the more rural areas, they still come with the same great views and chilled out atmosphere.
Bright Beach Apartment in Lefkada Town: Ageras Santa Marina
This apartment is a little bit out of town, but totally worth it if you want a unique experience! It's located within a farmstead, meaning you get to enjoy a slice of rural Lefkada. Make no mistake, however – this apartment is truly luxurious. Guests have access to an outdoor pool, and the apartment itself is stylishly designed with exposed beams.
Chic House in Lefkada Town: Levkadan Home
This cute little pied-à-terre is located right in the heart of Lefkada Town's Historic Centre. The easy-going atmosphere of the town continues inside, with laid-back furnishings and windows that flood the house with light. The main harbour is only a short walk away, keeping you well connected to the rest of the island. The master suite comes with a modern bathroom and a private balcony.
This hotel really defies categorisation! It has luxury interiors and unbeatable added extras, but is totally affordable for most budgets. This makes it one of the most popular hotels on the island, attracting return guests year after year. It's also in a great location, with the Faneromenis Monastery and other historical attractions only a short walk away.
Things to See and Do in Lefkada Town:
Check out the Lefkada Coast in style and try your hand at jet skiing on this unique experience departing from central Lefkada Town.
Want to explore the smaller villages around the island but don't have your own car? No worries, take this excellent private tour to the best attractions, villages and views.
Head to the Main Square and take in the atmosphere over a cup of coffee before continuing down the main shopping street that's filled with local boutiques.
Marina Lefkada is where you can check out the boats, grab a ferry to the mainland, or even hire your own private yacht for the day.
Restaurant Thymari is a fantastic mid-range Greek restaurant – and only a short walk from the harbour.
Is This the Best Travel Pack EVER???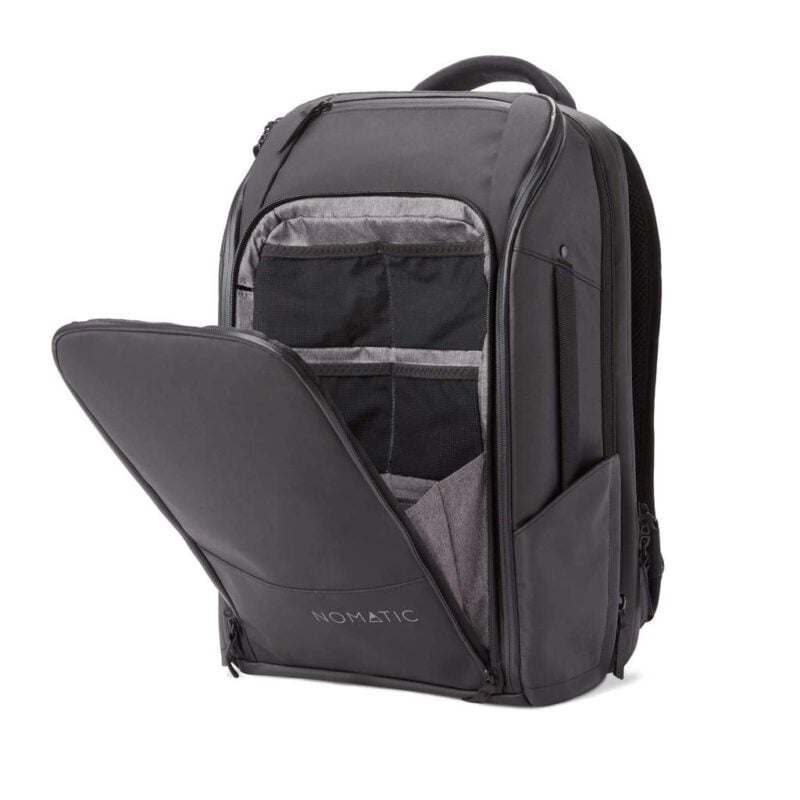 COOLEST thing to do in Nidri: hire a yacht and take a trip out to Skorpios, a secluded island with unbeatable views of Lefkada.
BEST place to visit in Nidri: drive into the hills to visit Anemómylos, a traditional windmill that makes a great photo spot.
Known for friendly locals and gorgeous mountain scenery, Nidri is the perfect spot for families heading to Lefkada! In particular, those visiting by car will be rewarded by plenty of stunning beaches within a couple of minutes drive. Nidri perfectly balances great attractions and restaurants with small crowds, giving your family their own little slice of heaven.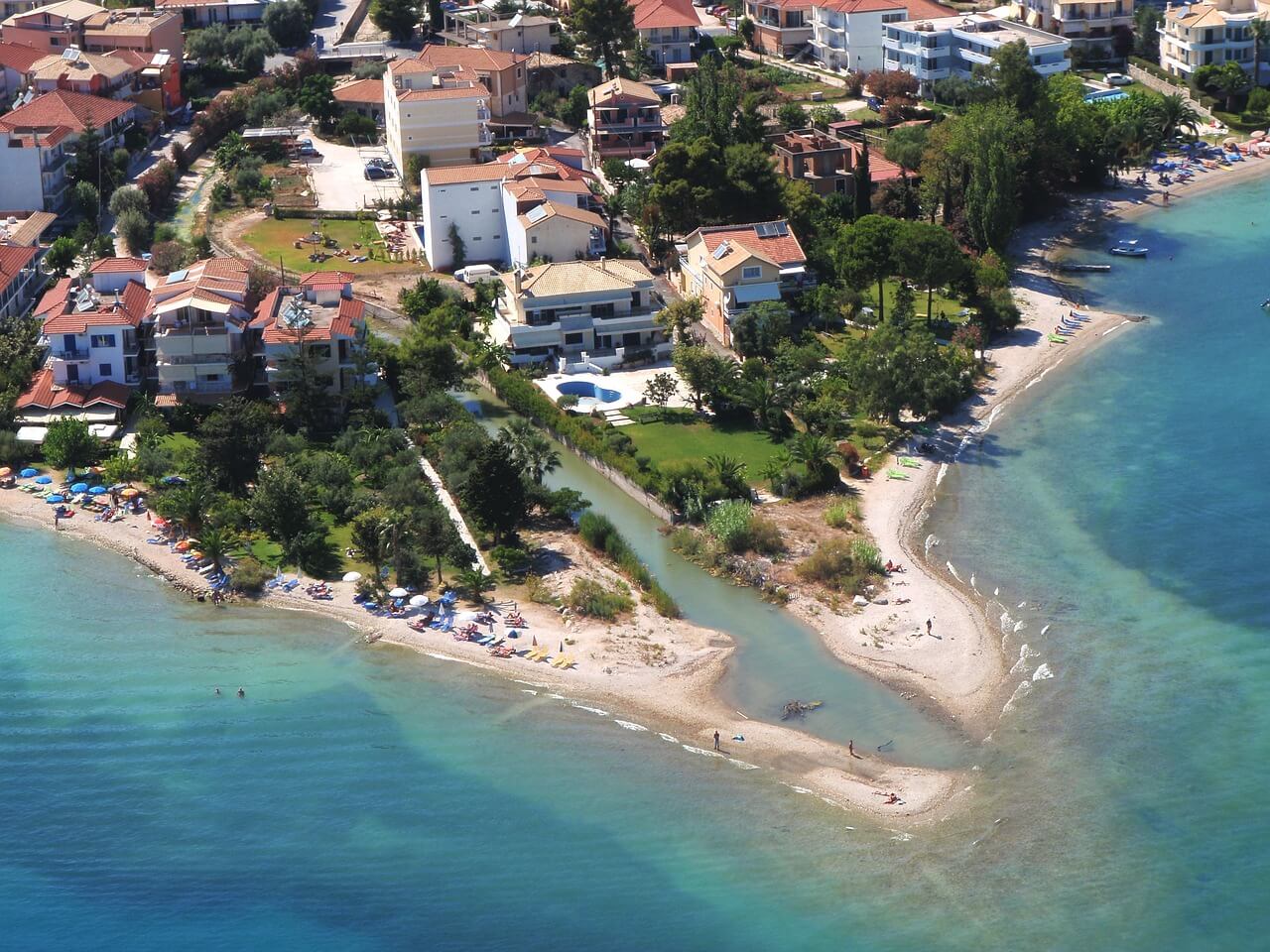 All that said, we also reckon Nidri would make an excellent spot for couples looking for a romantic getaway. The scenic location is the perfect spot to catch the sunrise, and the yacht hire facilities are a little bit cheaper down here than they are in the north of the island.
If you fancy a bit of an upgrade, this quaint little retreat is the perfect spot to get away from the hustle and bustle of daily life! We love the outdoor space, which even comes with olive trees, giving you an authentic Greek experience. There are some secluded waterfalls a short walk away, and Nidri is only a couple of minutes away by car.
Elegant Apartment in Nidri: Seaview Blue
With gorgeous sea views and calming interiors, you'll never want to leave this coastal gem! Interiors are spacious and decorated in the local style. There is a vast terrace area within the house where you can admire the view over your morning coffee. It can sleep up to four people, making it a great budget option for families.
Lefkada is already a pretty inexpensive destination, but this hotel has to take our top spot for travellers looking to hold back their spending! Despite this attractive price, it is located right on the beach – with a private space just for hotel guests. Rooms come with either sea or pool views, and there is a small taverna on the beach where you can try classic Greek treats. 
Things to See and Do in Nidri:
Take a trip to Meganisi – it's only a short ferry ride, and while you can stay on the island, we reckon it is best kept as a day trip.
Visit the Rahi Waterfall, a stunning area of natural beauty with views of the mountains and olive trees.
Nidri is the perfect spot to learn how to yacht due to the calm waters. Or hire a motorboat if you want an engine to do all the work for you.
Nidri Beach has been awarded Blue Flag status, and we believe it comes with the best views on the island (plus some great bars).
Though there are plenty of great restaurants in the town itself, we recommend heading to the hills for some truly local tavernas – we love Haradiatika.
COOLEST thing to do in Agios Nikitas: take a trip to neighbouring Kathisma and explore the mysterious Vagelis Cave right next to the beach.
BEST place to visit in Agios Nikitas: there's a stunning viewpoint off the road to Pefkoulia Beach that will leave your Instagram followers envious.
Agios Nikitas is a pretty small village, but we think it's the best place to enjoy a truly authentic experience. With even smaller tourism numbers than bigger towns on the island, you will get to connect with locals and enjoy a slower pace of life. It's also the only village at sea level, so you're guaranteed to be within a few steps of the beach.
Greece is known for being expensive, however, Lefkada is one of the cheapest islands and Agios Nikitas has some real hidden gems for bargain hunters. It's also a great spot for trying out local tavernas, especially if you want to grab some of the best souvlaki (the world's first fast food) on Lefkada. If you want the historic charm of Lefkada Town without the crowds, head to Agios Nikitas.
Rustic Cabin in Agios Nikitas: Wooden Studio
Want something a bit quirky? This cute little cabin is the perfect retreat for couples visiting Lefkada! Its peaceful location provides unspoiled views of the sea and the gentle chirp of native birdlife. It's arranged like a studio, so it is also super affordable. The cabin is powered entirely by solar panels, so you can also sleep sound knowing you're helping the environment.
Beautiful Holiday Home in Agios Nikitas: Luxury Pool Villa
This is truly the creme de la creme of Lefkada accommodation! If you're looking to splurge, this is the place to do it. Sleeping up to five people, you will get to enjoy your own private pool with stunning views over Agios Nikitas. The design perfectly blends both Greek tradition and modern convenience to give you a truly luxurious experience.
Gorgeous Stone Villa in Agios Nikitas: Milos Bay Villas
This rustic villa is truly one of the most beautiful accommodation options on the island. The traditional exteriors hide an ultra-modern and stylish interior that lets in plenty of natural light. You'll never want to leave the gorgeous pool deck, with mesmerising views over the beach. As it is up in the hills, it's also a little more peaceful than the town centre.
Things to See and Do Agios Nikitas:
There are two excellent beaches in Agios Nikitas – Milos is a bit of a walk away, but is totally worth it for stunning views and even a rustic windmill on the way.
There is a small beach in the town itself. If you're not up for hiking, you can hop on board a shuttle boat to Milos and Pefkoulia from there.
Agios Nikitas Old Church is a unique historic attraction that serves as the heart of religion in the village to this day.
Want to party? Stick to Lefkada Town – you can, however, rub elbows with locals and enjoy stunning views at On The Rocks Bar.
Bring some looser trousers with you; the food here is incredible. Start off at Taverna Maistros and make your way up the main streets.
The Future of the SIM Card is HERE!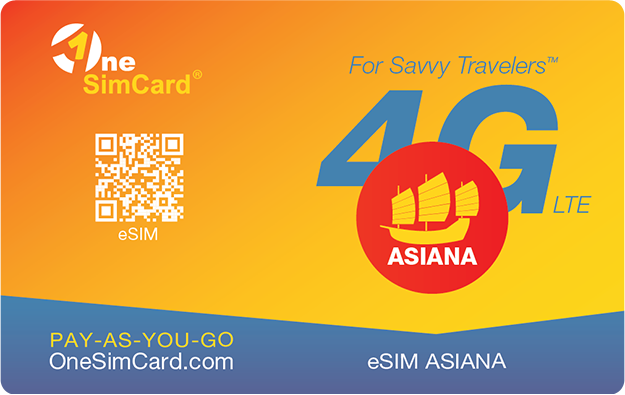 A new country, a new contract, a new piece of plastic – booooring. Instead, buy an eSIM!
An eSIM works just like an app: you buy it, you download it, and BOOM! You're connected. It's just that easy.
Is your phone eSIM ready? Read about how e-Sims work or click below to see one of the top eSIM providers on the market and ditch the plastic.
Buy an eSIM!
FAQ about Finding a Place to Stay in Lefkada
Here's what people usually ask us about the areas of Lefkada and where to stay.
Don't Forget Travel Insurance for Lefkada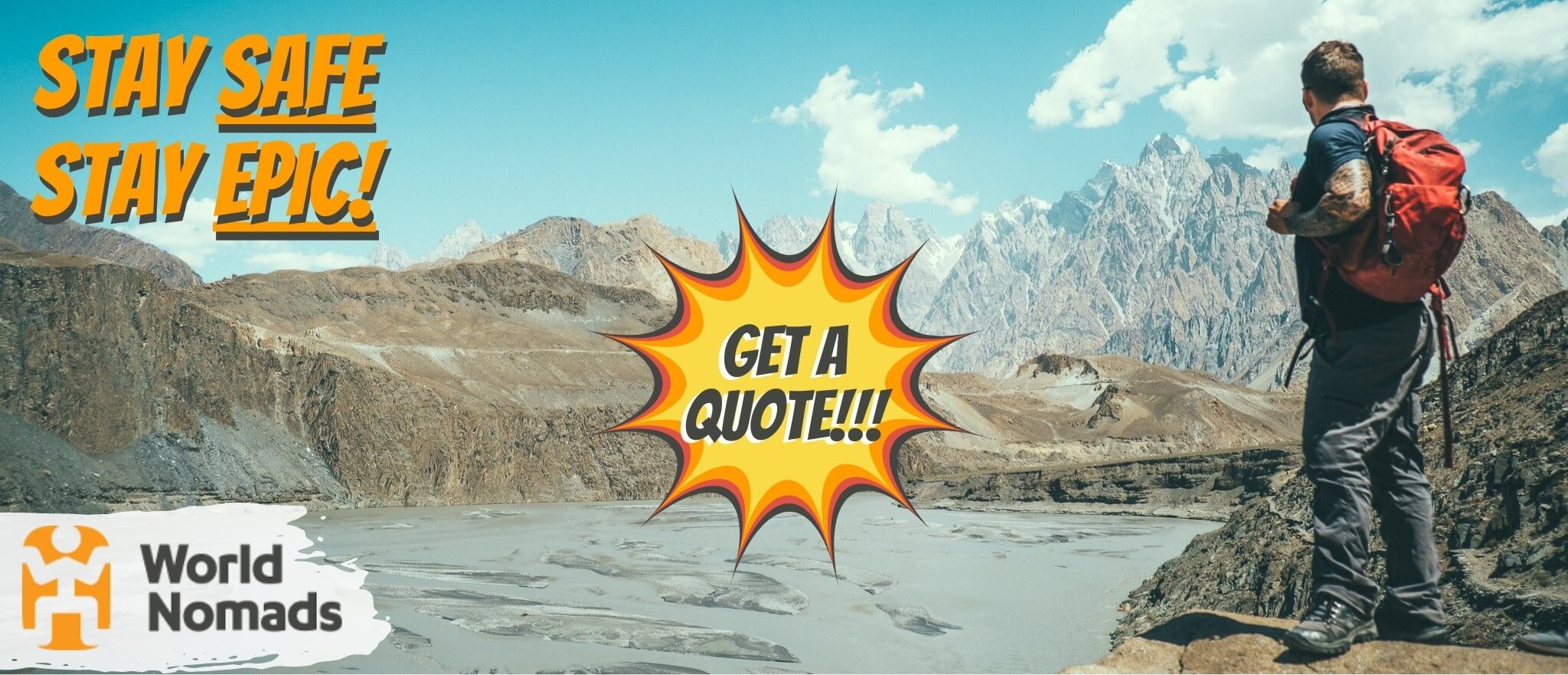 It's good to get lost sometimes, but it's also good not to get too lost. There are people that want you home in one piece.
There's one travel insurance provider The Broke Backpacker trusts for all his wildest shenanigans… World Nomads!
Click the button below to get a quote on your insurance or read our in-depth review of World Nomads' coverage. And then… let the shenanigans begin. 😉
Final Thoughts on Where To Stay in Lefkada?
Lefkada is the perfect getaway for tourists hoping to avoid the main tourist hotspots in Greece! The stunning beaches along the coast let you experience the Mediterranean without the noise. It's also a real hidden gem when it comes to Greek cuisine and cosy tavernas.
If we had to pick our favourite place to stay, we would probably go with Agios Nikitas! It has everything that Lefkada has to offer, but it's even further off the beaten path. We're all looking for ways to relax this year, and Agios Nikitas is a great place to do that.
All that said, the best place for you really does depend on what you want to get out of your stay. Thankfully, Lefkada is a pretty small island, so you can easily visit all three of our recommendations if you're staying for a week. Bringing a car? Make your way around the coast for the best experience!
Did we miss anything? Let us know in the comments!
Do you own an awesome hostel, hotel or apartment? Want to be featured in our list? Email [email protected] to find out how.
---
Bye for now, but not forever!
If you want MORE top-tier Broke Backpacker content like this, then sign up for our weekly newsletter below to get the latest and greatest!
And for transparency's sake, please know that some of the links in our content are affiliate links. That means that if you book your accommodation, buy your gear, or sort your insurance through our link, we earn a small commission (at no extra cost to you). That said, we only link to the gear we trust and never recommend services we don't believe are up to scratch. Again, thank you!