Corfu is a large island in the Ionian Sea located off the coastline of Albania, Greece and the heel of Italy.
It's known for its 200km of pristine coastline, mountainous landscape and idyllic traditional villages with Venetian architecture. As well as its stunning landscapes, Corfu's rich cultural heritage tells the story of years under the rule of different powers including Venice, France and Britain before it united with Greece in 1864.
It's a crazy popular holiday spot, particularly in the summer months when people flock to make the most of the turquoise waters.
Staying in an Airbnb in Corfu gives travellers a chance to live like a Corfiot, mingle with locals and have a more intimate and authentic experience.
With such a huge range of homes for rent to suit all kinds of travellers, you don't need to break the bank to experience the island paradise that is Corfu. If you're feeling fancy though, there are a whole lot of choices too. Whether you're planning a quick visit or a long term stay, there's an Airbnb perfect for you.
In this article, we've picked out our 15  favourite Airbnbs in Corfu so you can find your fit and make your visit truly unique.
Quick Answer: These are the Top 4 Airbnbs in Corfu
Overall Best Value Airbnb in Corfu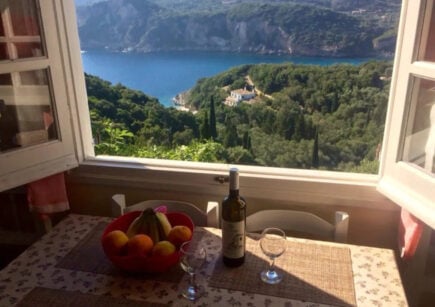 Overall Best Value Airbnb in Corfu
Beautiful Sea and Mountain View Home
> $-$$
> 5 People
> Patio area with great views
> Private pathway to the beach
Best Budget Airbnb in Corfu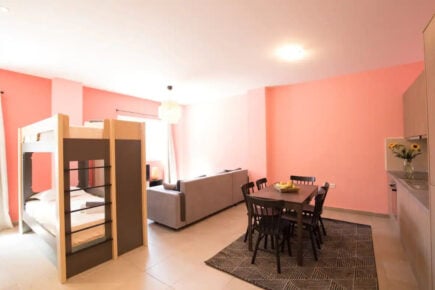 Best Budget Airbnb in Corfu
Single Bed in Male or Female Dorm
> $
> 1 person
> New functional facilities
> Easy access to public transport
Best Airbnb for Families in Corfu
Best Airbnb for Families in Corfu
Corfu Hideout Beach Close, Free Parking-Wifi-AC
> $
> 4 People
> Pets allowed
> Great outdoor space and play equipment
Over-the-Top Luxury Airbnb in Corfu
Over-the-Top Luxury Airbnb in Corfu
Kumquart Estate
> $$$$
> 20 people
> Huge private pool
> Surrounded by nature

Unlock Our GREATEST Travel Secrets!
Sign up for our newsletter and get the best travel tips delivered right to your inbox.
What to expect from Airbnbs in Corfu
From hostels, private rooms in family homes to luxurious villas, Corfu has a big range of properties for every kind of traveller. There are even some glamping experiences and treehouses!
Lots of the island's best properties are most easily accessed with a car. It's not the worst idea to consider renting a set of wheels for your stay to be able to explore the rest of the island at your own pace.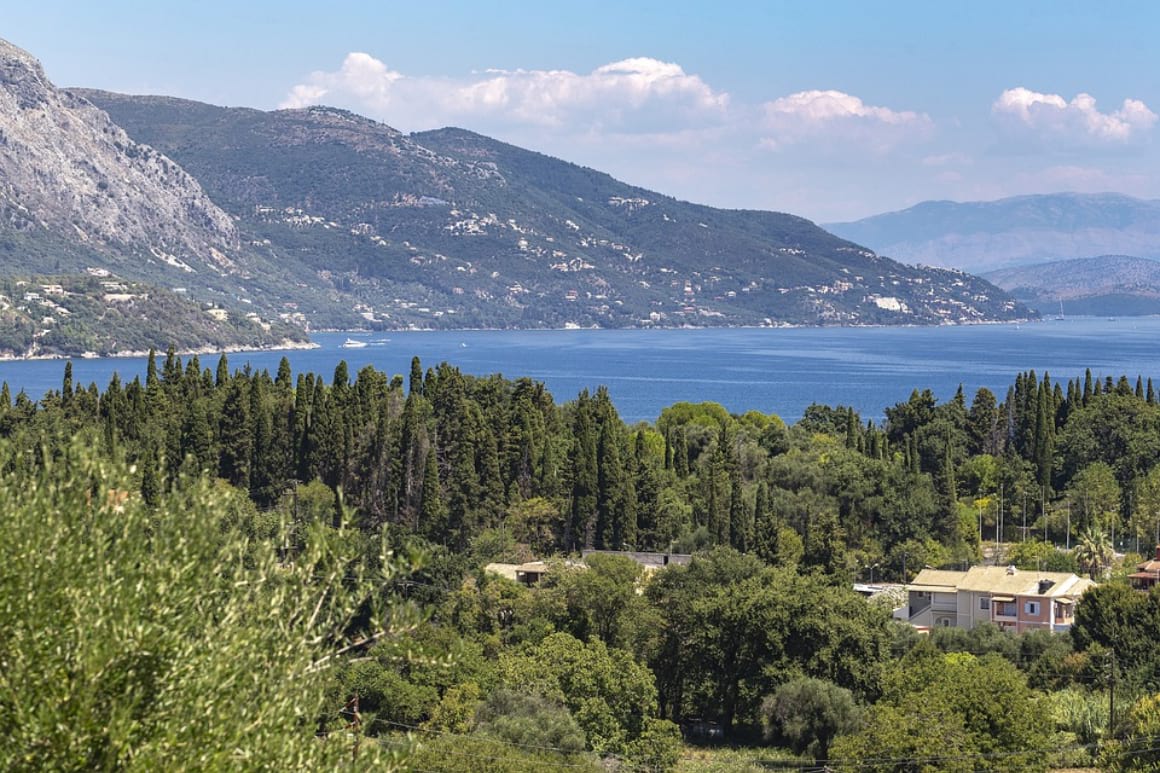 Private Home
From family homes, apartments and villas, there are many kinds of private homes for rent in Corfu. This is the best choice for families, groups and travellers who like to have a whole place to themselves.
Often, if you split the cost between everyone staying, you would end up paying a lot less than you would in a hostel dorm.
Lots of Airbnbs in Corfu are available for long term rental too, so digital nomads and long holiday fans, you may be able to snap yourself a great deal this way!
Private Room
For those of you that don't have much cash to splash for the night but still enjoy privacy and your own space, private rooms are a great choice.
Many Airbnbs in Corfu rent out a number of private rooms, so the place is much like a guest house but with a more personal feel. If you're staying in the private room of a local home, you'll end up with a bunch of tips and tricks for exploring the island like a Corfoit.
There are even a bunch of private rooms in villas, so you can enjoy the lavish experience of a large and luxurious home without the big price tag.
Whatever kind of private room you choose, you'll still have a local host through the Airbnb platform who can provide you with some top tips on local living.
Villas
The rolling countryside and coastline of Corfu is full of lavish big properties with panoramic ocean views, olive trees and big swimming pools. Doesn't sound like the worst place to stay, does it? Some of the best Airbnbs in Corfu are villas. It's worth scrolling through the list of amazing properties even if it's just to snoop on how the other half live.
A top tip for the more budget-conscious traveller: if you're travelling in a group and dividing the cost of your home per person, a stay in a villa in Corfu may not be out of your league. There are some listed villas that come at a price comparable to a private home. It's worth checking, right? If you're travelling solo or as a couple, there are a number of villas renting out private rooms.
Why Stay in an Airbnb?
There are a bunch of reasons why staying in an Airbnb in Corfu is a great idea. When you see our list of properties, you'll see why it's a no brainer, but here are a few extra reasons if you want the logistics.
Local Experience: The local tips you can get from your host can be the difference between visiting a place and really experiencing it. Whether you've booked to stay in someone's spare room or their summer house, no doubt they have a lot of wisdom to share about the place they call home. Check for properties who have a Superhost rating, these ones are usually the kind who go out of their way to make sure your stay is one to remember.
Affordability: A quality Airbnb will almost always end up cheaper than a nice hotel room. Why wouldn't you opt for that? Let your cash stretch further, or even extend your trip with what you save. We know how important smart money choices are especially if you plan on backpacking on a budget.
Unique Properties: Why would you choose to stay in a boring ol' hotel room when you could stay somewhere with a personal touch? There are Airbnbs in Corfu to cater to all kinds of tastes, so whether you're looking for something fancy or quirky, you'll find a unique place to rest your head.
Privacy: Perhaps you're booking a getaway to completely escape human interaction. That's fine! With Airbnb you can use filters to find a completely private accommodation. Many Airbnbs have self-check-in too.
Staying Long-Term: Airbnbs are ideal for those who are planning a longer stay. In fact, long term stays are often rewarded, with hosts setting up discounts for those who want to hang around a bit longer. This is often a preference for digital nomads who stay for longer in each place and work online.
Safety: Airbnb carefully vets each host that signs up to their platform. They have customer service available 24/7, so if any issues arise, know they've got your back.
Last-Minute Booking: If you're arriving late and need to organise some last minute accommodation, you can filter properties to show who is still accepting guests.
Airbnb Experiences: If you still thought that Airbnb was just an epic way to find a place to stay, think again. The platform now offers experiences which are unique activities with a local personal touch. We'll get more into this later in the article and share the best Airbnb experiences in Corfu.
The 15 Best Airbnb's in Corfu
$$
Patio area with great views
5 People
Private pathway to the beach
Perched on a hillside above Rovinia beach you'll find Myrto's house. Here you'll have privacy, views and a comfy stay without breaking the bank. The highlight of this home is the spectacular views over the bay and surrounding mountains from the outdoor terrace. You can pull up a deckchair and catch some sunshine here or follow the property's private pathway down 350m to the beach and plunge into the turquoise water.
While the place is very private and is surrounded by nature, you're only a 600m walk from the town of Liapades with its restaurants, bars, cafes and supermarkets. Considering all this, it's gotta be the best Airbnb in Corfu for a lot of different travellers.
This home sleeps five, and it's an ideal Airbnb in Corfu for a family or group of mates. If you divide the price of the house per day, it works out a lot cheaper than you'd pay for a bed in a dorm. Keep in mind, it isn't ideal for those with mobility issues as the entrance is via a downhill path from the main road.
Places to visit nearby:
Wander through the Old Town of Liapedes, a traditional Corfiot village just 600m from the property.
Go swimming at some of Corfu's most popular beach resorts.
Visit Stelari and Paradise (Chomi) Beach, which can only be accessed by boat.
Best Airbnb in a Traditional Village | Dora's Home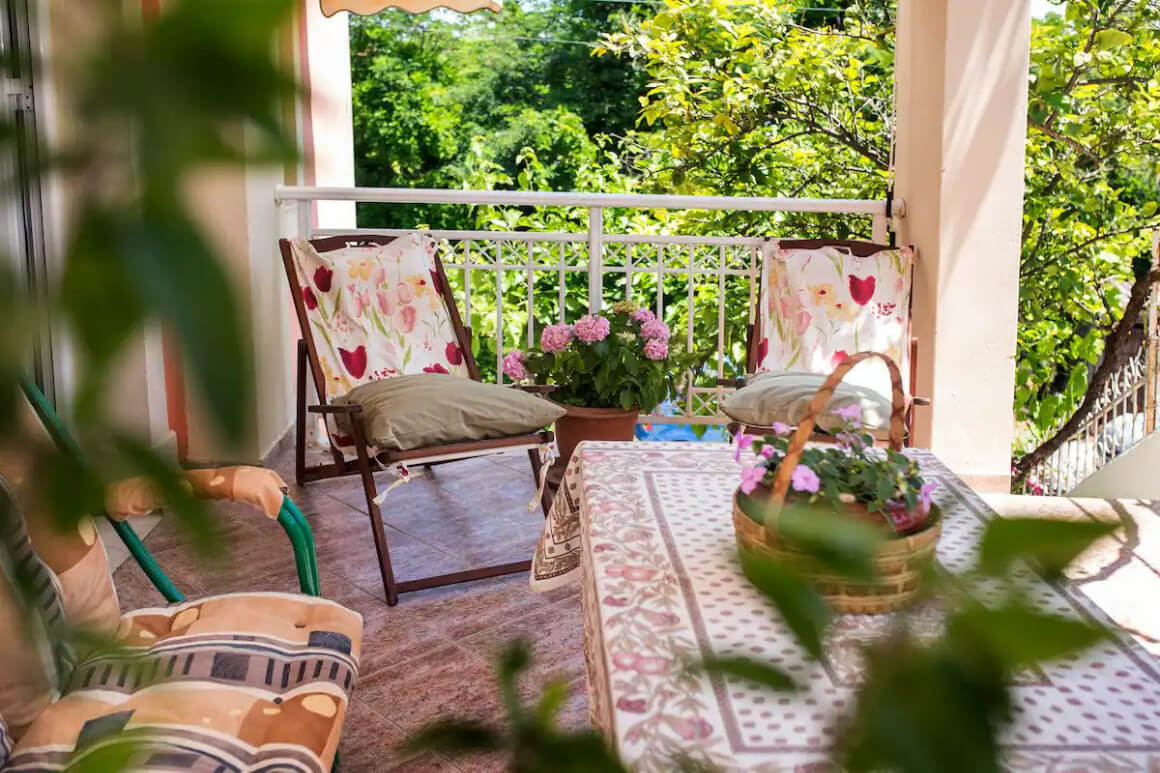 5 People
Beautiful views from balcony
Dora's home is the perfect example of what the sleepy inland village of Chlomos is known for. The brightly painted pink home is draped in vines, with colourful flower pots decorating the patios and the cobblestoned footpath out the front.
It's got everything you need for a short stay, though if you fancy packing up and staying a while longer, it has the perfect set-up for long term stays for families, friends or even digital nomads.
The house has a spacious indoor living room and three outdoor balconies. Each area is decked out with comfy lounges, leafy green plants and the rooftop even has views over the surrounding mountains and coastline.
There are two bedrooms which sleep five people. The living room also has a sofa bed if you've got a bigger group or want to split the cost between more mates.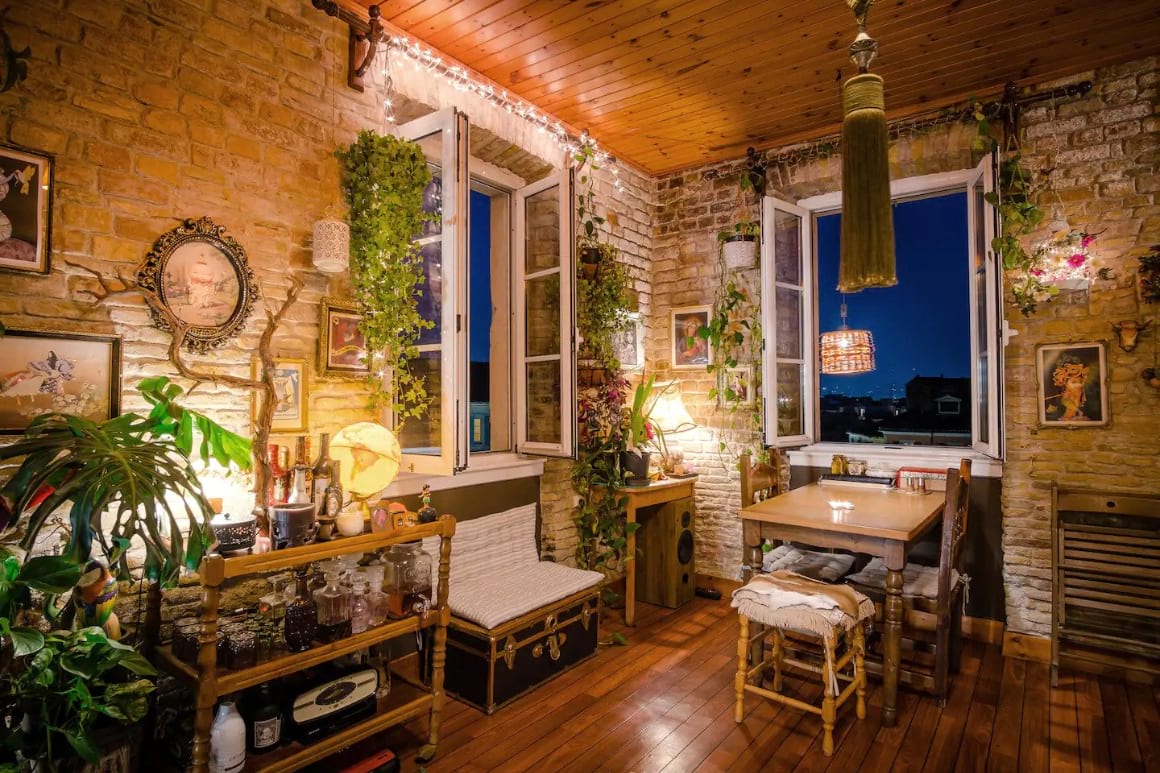 4 People
Amazing interior design and ambience
The owner of this Corfu Airbnb describes the apartment style as "maximalistic". The place oozes character with vintage decor and house plants in every corner plus plenty of natural light. You've got full access to all the features of the apartment including a record collection with some pretty sweet tunes. The apartment looks out over the Old Town with views from every room, including the bathroom!
This is the perfect place to unwind after a day out exploring. Open the windows to enjoy the evening breeze, chuck on a record, pour yourself a glass of wine and feel the magic of this charismatic home while overlooking the Corfu Old Town.
If you can bring yourself to leave the apartment, you'll already find yourself in the historical centre and the sea where you can swim is just three minutes walk away.
Is This the Best Backpack EVER???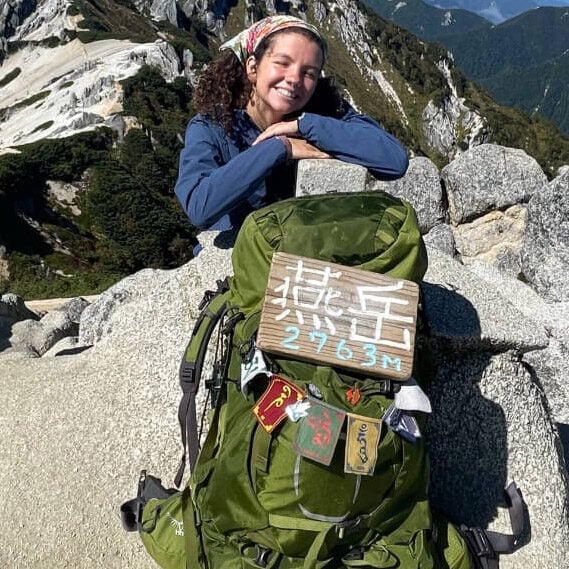 20 People
Surrounded by nature
Are you looking for an excuse to get away with your 20 favourite humans? These luxury villas were recently renovated with eco-friendly principles in mind. Get yourself to Corfu now and live your best life at this epic property. It's not cheap, but it's bloody nice.
Here, four completely self-contained villas are rented as a package for ultimate privacy.
The villa names are citrus themed named Kumquat, Orange, Mandarine and Grapefruit. Sticking to the theme, the property is full of mature fruit trees, fragrant flowers and is surrounded by pristine nature.
This Corfu Airbnb property is fully secluded from any neighbours so you have the ultimate privacy to bask in the sun by the pool and watch the sunset to the peaceful serenade of cicadas. Alternatively, throw an epic party under the Corfiot sun, whatever works for you.
It's just two kilometres from the sandy beaches of Agios Georgios bay, though when your Airbnb is this lush, why would you ever leave?
Be sure to check the best time to visit Greece to avoid any rainy days.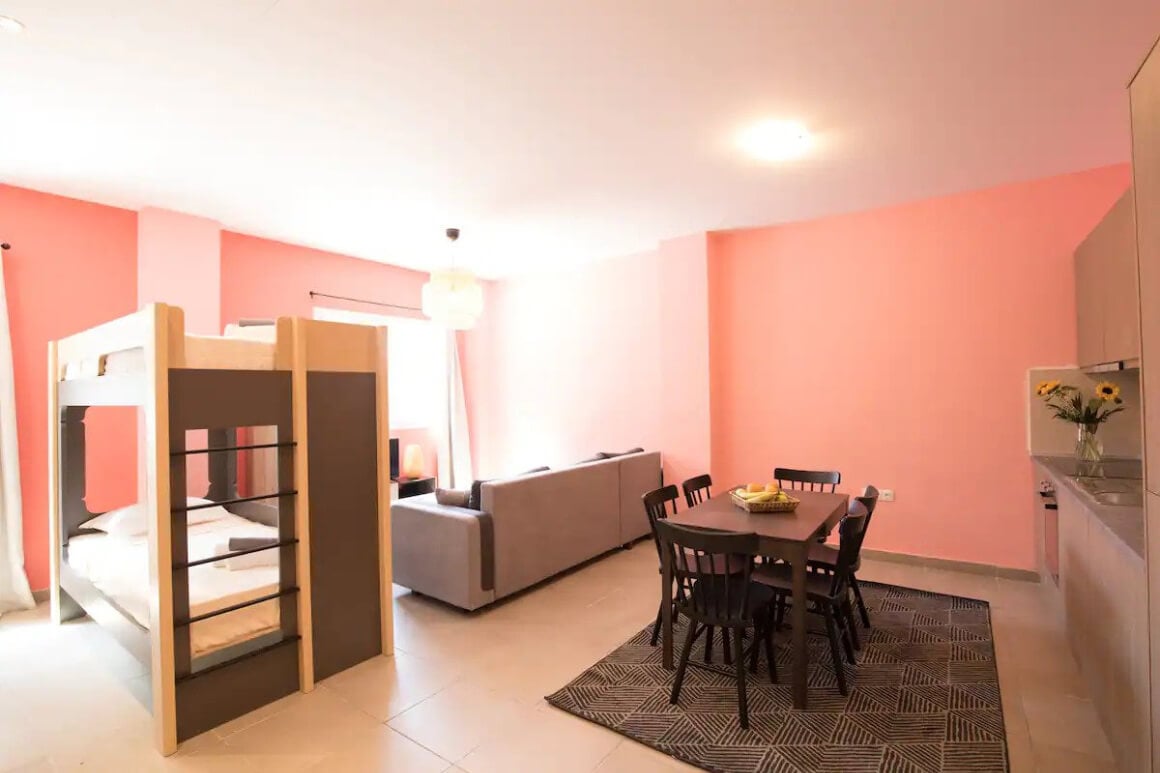 $
New functional facilities
1 Person
Easy access to public transport
This is a solid choice for a solo traveller who wants to meet other travellers in Corfu. This hostel has both mixed dorms as well as male and female-only options.
The hostel is in Alykes-Potamou, just five minutes from the city centre with a bus that runs into town twice an hour.
It's got all the facilities for a comfortable hostel stay: excellent cleanliness, a shared kitchen, good showers and access to public transport.
Check out more tips for travelling Greece on a budget to save even more money!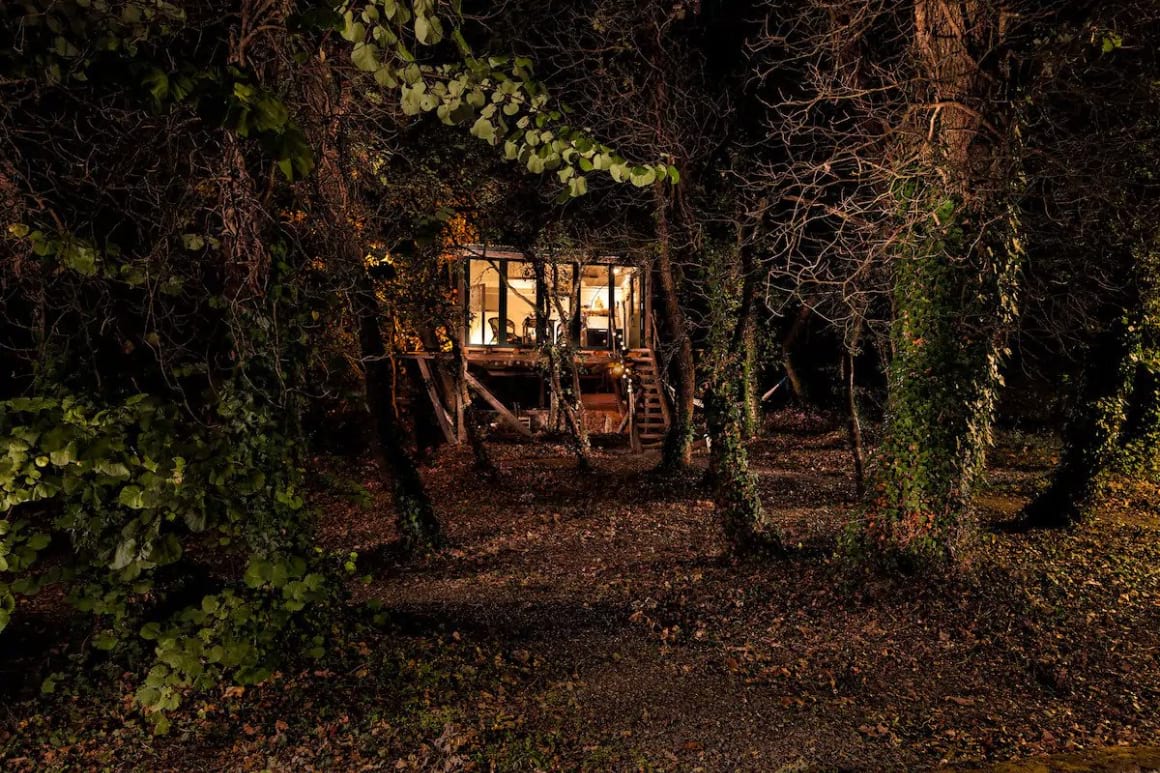 2 People
Private location in nature
This treehouse looks like something straight out of a fairytale. Hidden in the woods on an inland property that is home to horses, a vegetable garden and a whole lot of greenery.
This is a perfect property for those looking for a romantic Airbnb in Corfu. The place is small but has a light airy feel and the quality decor adds to the ambience. You'll feel connected to nature and at ease in this special home in the woods.
The has got to be the best Airbnb in Corfu for animal lovers too. A horse trekking company is run from the property, and the friendly horses can often be found grazing in the grounds during the evening, with the resident cats and dogs.
While you'll feel completely at ease on this enchanting property, it's just a 10-minute drive to nearby beaches and 20 minutes to Corfu Old Town and Corfu Port.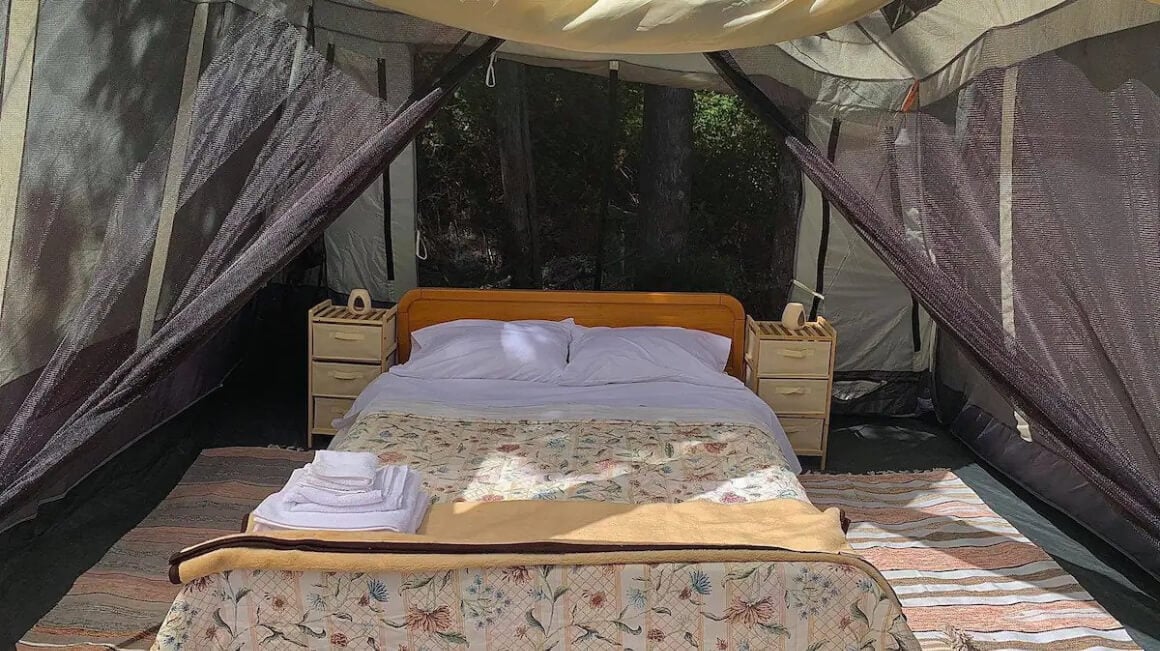 2 People
Close access to beach and town
You get the close comfort of nature that you love when camping, but a comfy bed and amenities to make sure you're rested to make the most of your stay on this island paradise. That's glamping, baby. The property has solar power (more than enough to charge your phone and camera), compost and recycling bins so you can keep doing your bit to reduce your carbon footprint.
Guests have access to a shared kitchen with simple but functional facilities and an eco bathroom with others on the property. You'll be able to eat fruit straight from the trees and use the homegrown herbs in your cooking too.
This Corfu Airbnb is just a short walk from Pelekas Beach and Village, so you've got access to everything you could ever need on a beach glamping trip.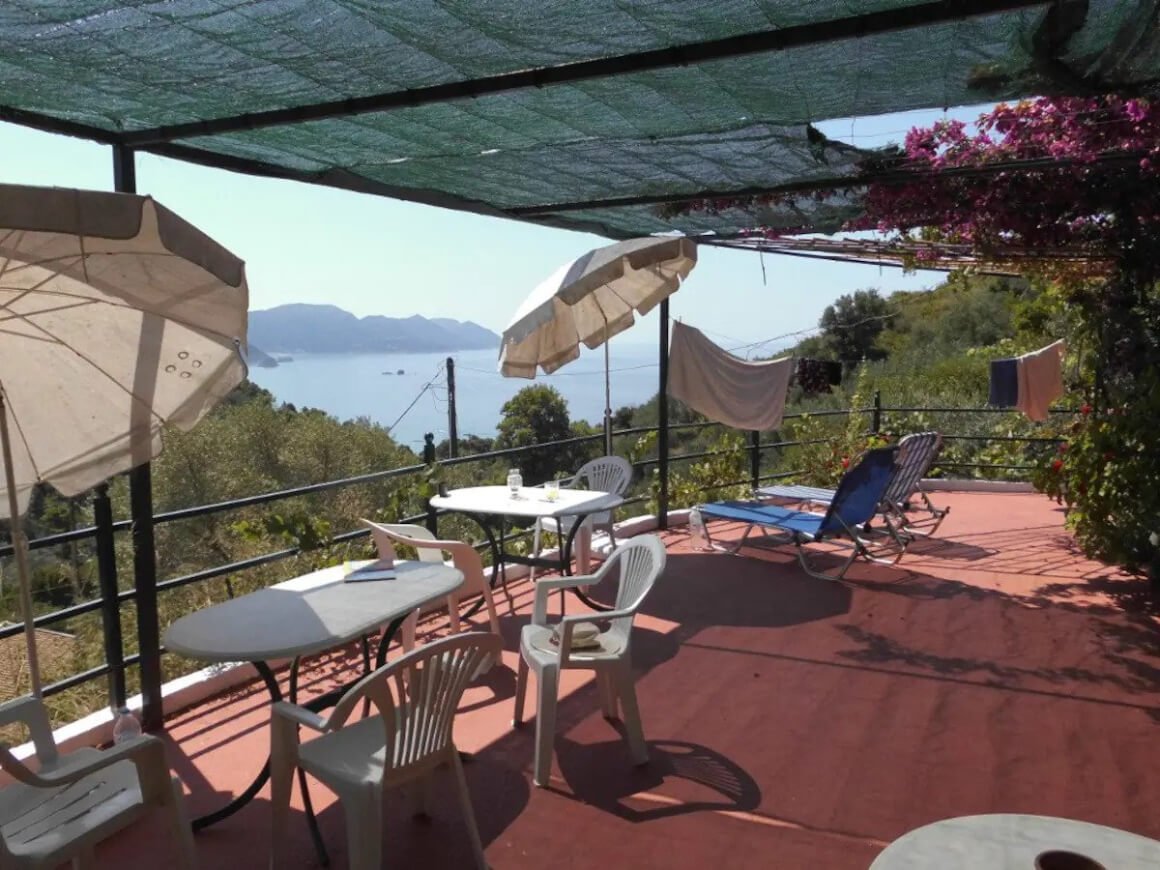 $
Great atmosphere in shared living spaces
2 People
Closeby to Mirtiotissa monastery and naturist beach
The name of the property suggests a panoramic view, and they're not kidding. Here you've got a deck with an incredible view of the coast and the surrounding nature, with bright bougainvillaea flowers decorating the patio. This home has a communal and relaxing atmosphere with several private rooms rented out to travellers.
The rooms themselves are simple with two single beds but great value for anyone who wants to have privacy at a very reasonable price.
The bathrooms and kitchen facilities are shared with other guests. There's a short trail of 250m down to Mirtiotissa Naturist Beach, which is one of Corfu's best locations to get your kit off, and a short walk up to the Mirtiotissa Monastery.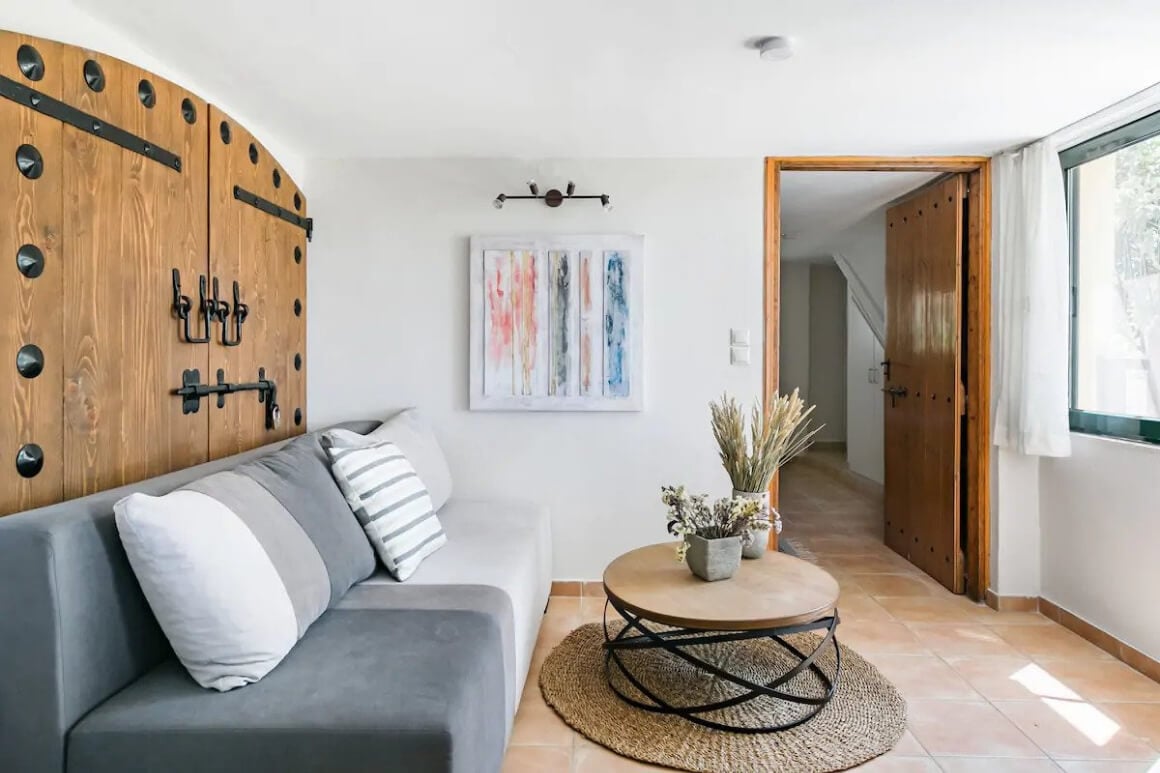 $$$
Garden and outdoor shower
4 People
Stylish comfortable design
This excellent property is located in Skripero, right in the centre of the island.
Here you'll be well placed to explore any corner of Corfu, or even sit back and relax in the charming home to cook delicious food in the bright and stylish kitchen. There's a big tree-shaded garden that is great for outdoor dining too.
This Airbnb Plus combines traditional decor and modern refurbishment, making it a truly beautiful and comfortable place to call home while in Corfu.
4 People
Great outdoor space and play equipment
This Corfu Airbnb is seriously good value. The apartment is located in a green field with lots of flowers and trees surrounding Perivoli village, a quiet and safe neighbourhood.
The home itself is comfortable and has everything you need for a short stay just five minutes' drive from the beach. The biggest drawcard of this property is the expanse of outdoor space and play equipment. It's a great budget Airbnb in Corfu for families of four!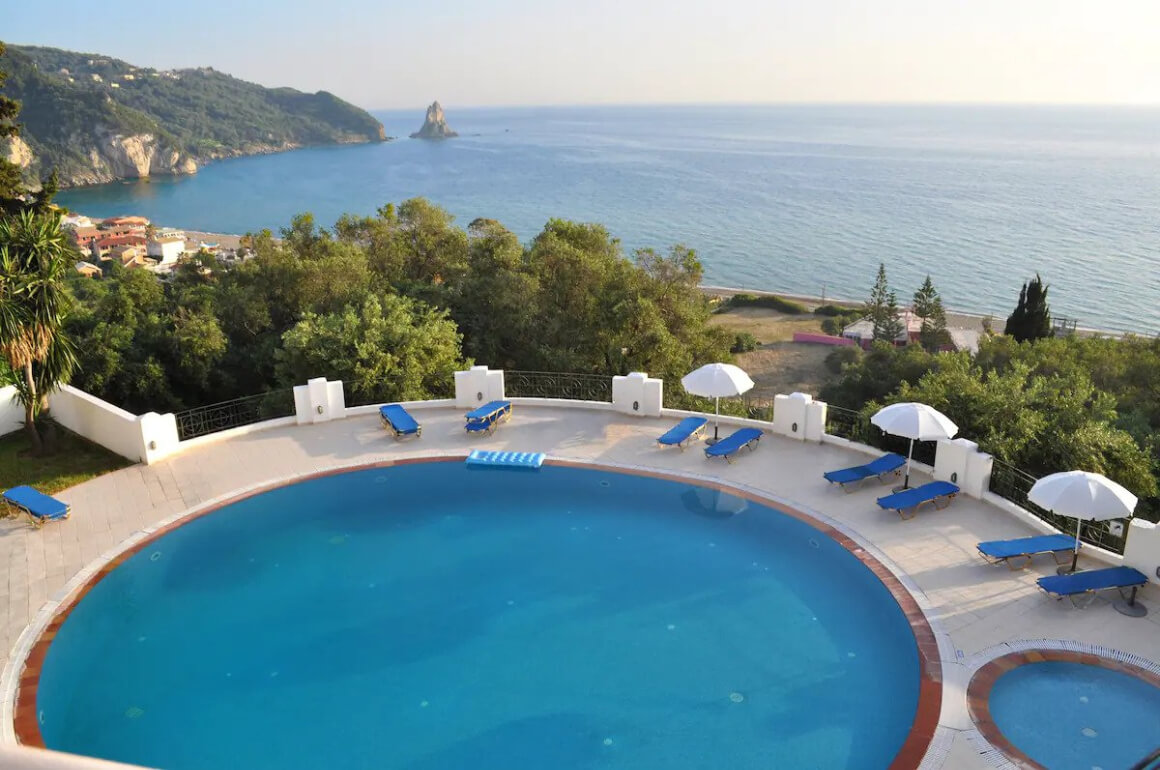 4 People
Infinity pool with a view
This apartment with an amazing infinity pool is located in popular Agios Gordios beach surrounded by olive trees and Mediterranean plants.
You might expect a view and pool access this good to break the bank, but this place is actually great value. Win-win!
You'll have to share the pool with just a few other apartments in the complex, but you've all got front row tickets to the panoramic sunset view over the bay of Agios Gordios.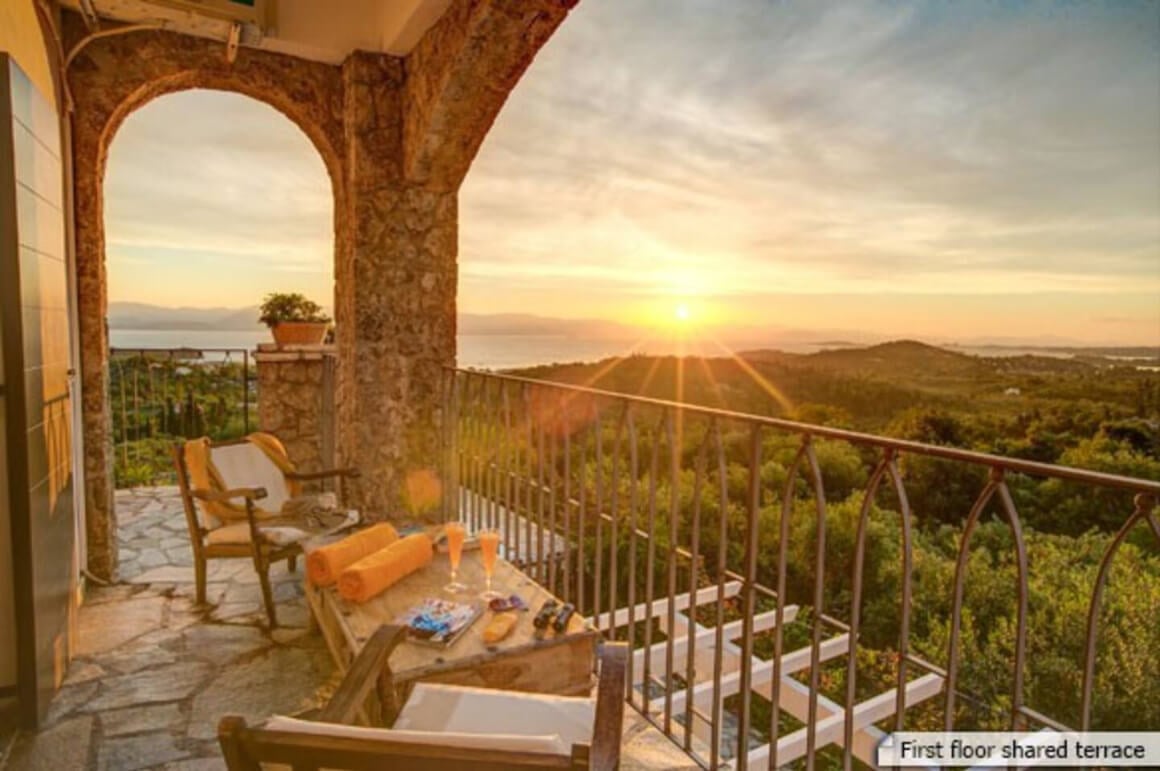 8 People
Panoramic sunsets
This stunning and luxurious property is the best Airbnb in Corfu for those with mobility impairments. It's a homely villa built in traditional stone that overlooks a breathtaking panorama of the countryside on the North East coast of Corfu.
It sleeps eight in four separate bedrooms, and the downstairs bedroom has step-free access, a private en-suite and a wide entrance to the door. The other bedrooms are upstairs.
To access the outdoor terrace area, there is an electric lift to assist in navigating the steps. The property has on-site parking for all guests and is just a 10-minute drive to Dassia Town and Coastline.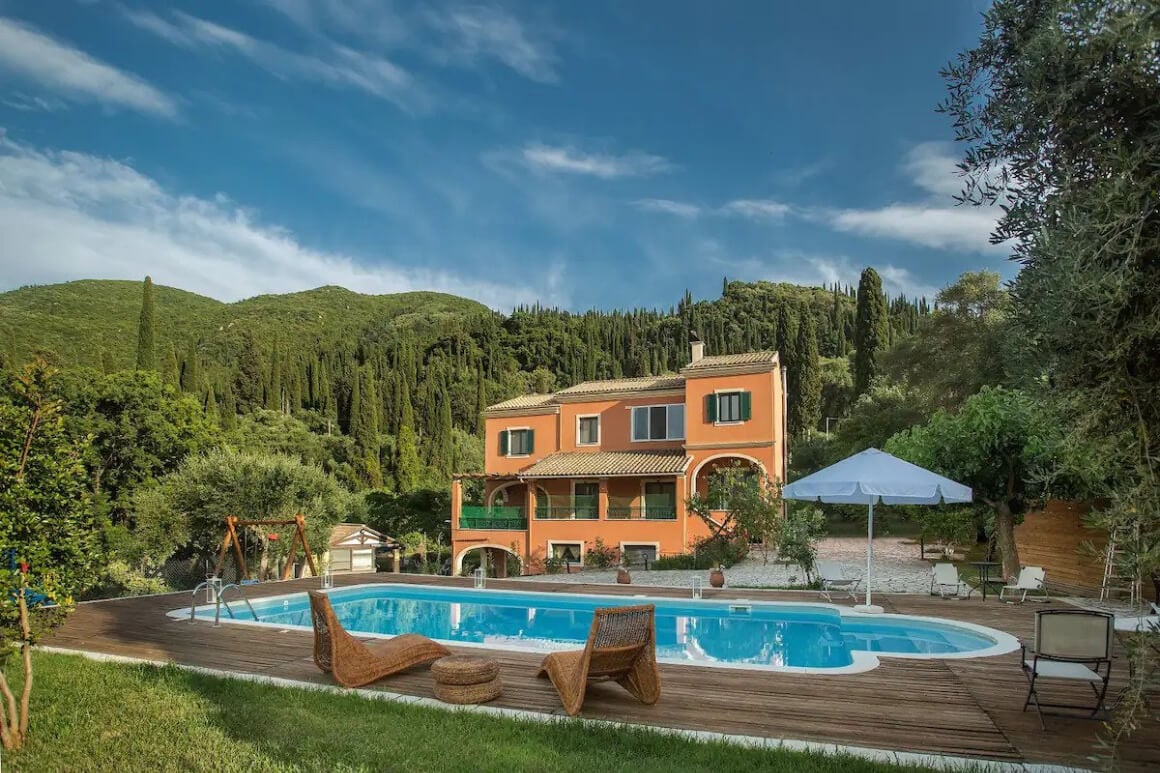 2 People
Access to entire villa facilities
If you dream of staying in a luxurious Airbnb in Corfu but understandably don't have the cash to rent out the whole space, this is the perfect option for you. This private room in this charming villa has its own en-suite with a hydromassage shower and a balcony overlooking the pool. It's a calm and relaxing property and is just 10km minutes away from Corfu Old Town and five kilometres from St Gordios beach.
As a guest at the villa, you have access to the pool area and the four acres of gardens and fruit trees. There is a fully equipped outdoor kitchen in the pool area. While this is technically a common space to all guests, chances are you'll have it to yourself because the other rooms have their own private kitchen.
Located in the heart of Corfu Old Town, this comfortable apartment is a great home away from home for a group of friends of a family of four.
It's within walking distance to all the attractions in town, although it's in a quiet neighbourhood so you'll be sure to get a good night's sleep.
They've got a brand new kitchen which is always a plus for those who want to cook. There's even a table for you to sit at on the street to watch the passing parade with a view of the sea.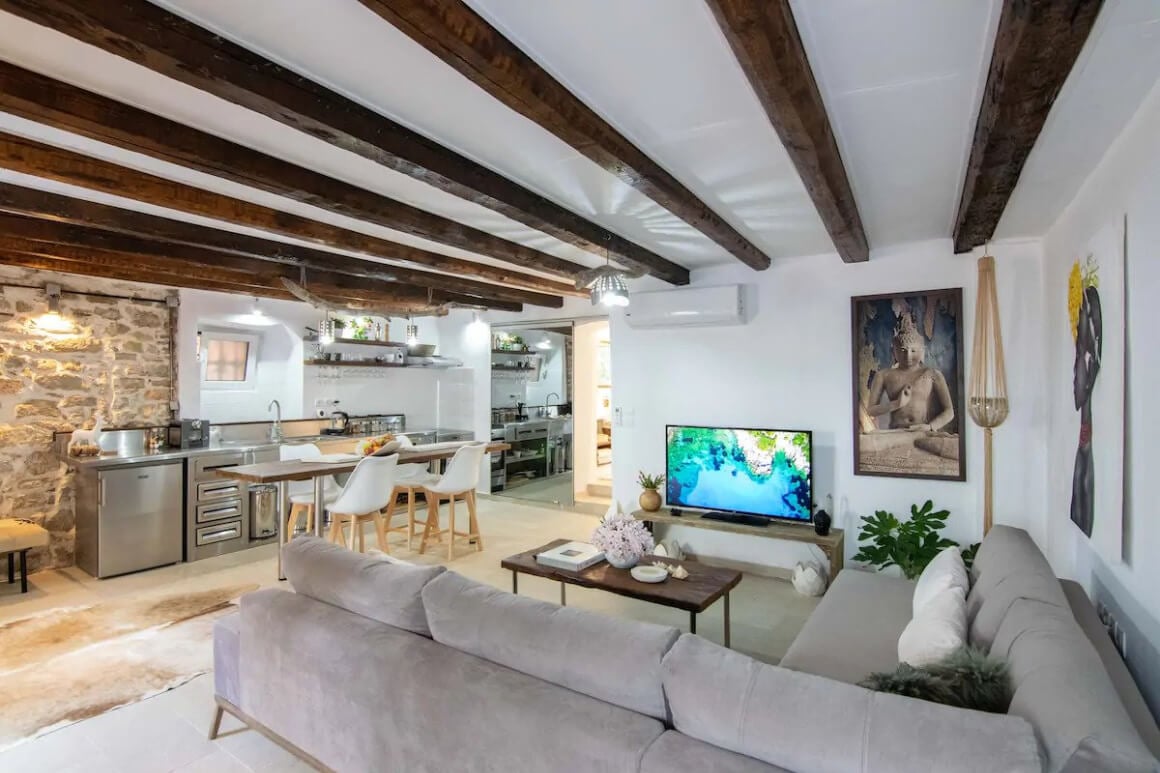 2 People
Light, modern and stylish living spaces.
This recently renovated apartment in a 200-year-old building is a dream space for anyone looking to book a long stay in a Corfu Airbnb. It's fully equipped and has an open plan with modern, stylish living spaces. The kitchen is ideal for anyone who loves cooking and socialising at the same time with the open design integrating the kitchen and living spaces.
The apartment is right on the water overlooking the old Fortress and Garsita Bay. You'll be able to feel like a local, with just a 100m walk to your neighbourhood supermarket, bakery, cafes and restaurants and a 10-minute waterfront walk to the centre of town.
Another plus, you can get it for a steal when you book a long term stay, with the host offering a generous discount to make your cash go a whole lot further.
Top 5 Airbnb Experiences in Corfu
Airbnb initially emerged as an alternative to traditional holiday accommodation like hotels and resorts. What Airbnb properties did for the world of rental accommodation, Airbnb Experiences does for people wanting to avoid commercial tours and have authentic travel experiences.
Airbnb Experiences are trips and tours organised by locals. They can be anything from sightseeing to food tasting and multi-day treks. Whatever you choose, you'll get an intimate and unique experience by exploring with someone who knows their home by heart.
This feature is a relatively new addition to Airbnb, but it carries on with the platform's original ethos which we are all about! Airbnb Experiences are booked through the Airbnb App or website, so you'll have all the important details you need for your trip in one place.
If you're choosing to stay in an Airbnb, you've already opted for a more personal experience than you'd get if you stayed in a hotel. If travelling authentically is your vibe, check out these top Airbnb Experiences you can have in Corfu.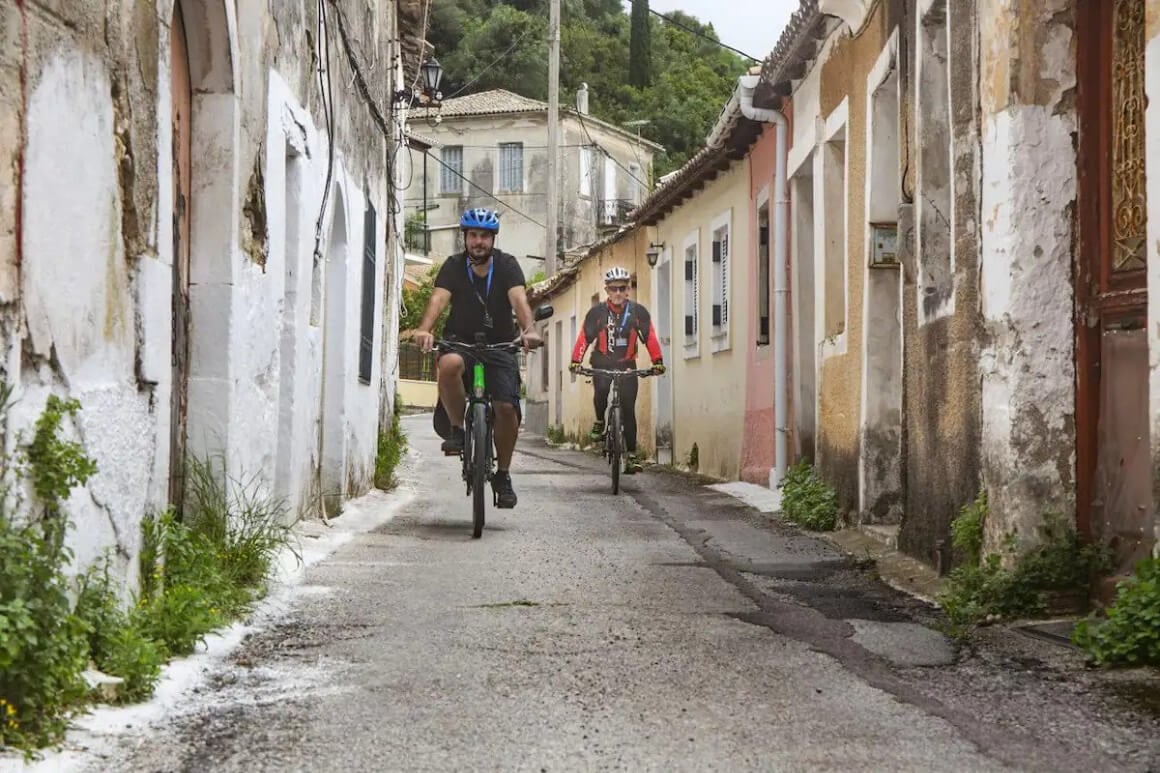 $42/person
4 hours
Up to 10 guests
This bike tour is run by local legends Georgia and George who have been leading cycling and hiking tours since 2014.
They will take you through the charming villages and countryside of Corfu where you'll feel the fresh sea breeze on your face and learn the history of this stunning place as you go.
You can opt for a tour of 10km, 27km or 32km depending on your preference and ability. Either way, be sure you'll have a fun and interesting adventure biking around the island.
$36 per person
2 hours
Up to 4 people
Experience the tranquillity of one of Corfu's best sunsets while taking a class of yoga. After a short hike to the secret sunset location in Paxos, your local host Tessy will guide you in a practice of yoga. This is a blissful way to close a day of sunshine in Corfu, allowing you to soak up a few moments of stillness while surrounded by nature. Don't stress if you don't travel with a yoga mat, it's included in the experience.
$119 per person
6 hours
Up to 8 people
Food and culture are always intimately entwined, and this experience will have you experiencing what the Island of Corfu is really about. You get to do that while looking like a boss cruising around on a Vespa. This tour leaves from the historic Corfu Old Town and takes you through picturesque villages, olive groves and vineyards to sample the tastes that are most distinctive to Corfu. You get to try "Sikomaida", a traditional Corfiot sun-dried fig pie, various treats made from kumquats, learn about local Olive Oil production and finish the tour sampling wine over a delicious meal.
You need to have a valid driver's license to take part in this Airbnb Experience.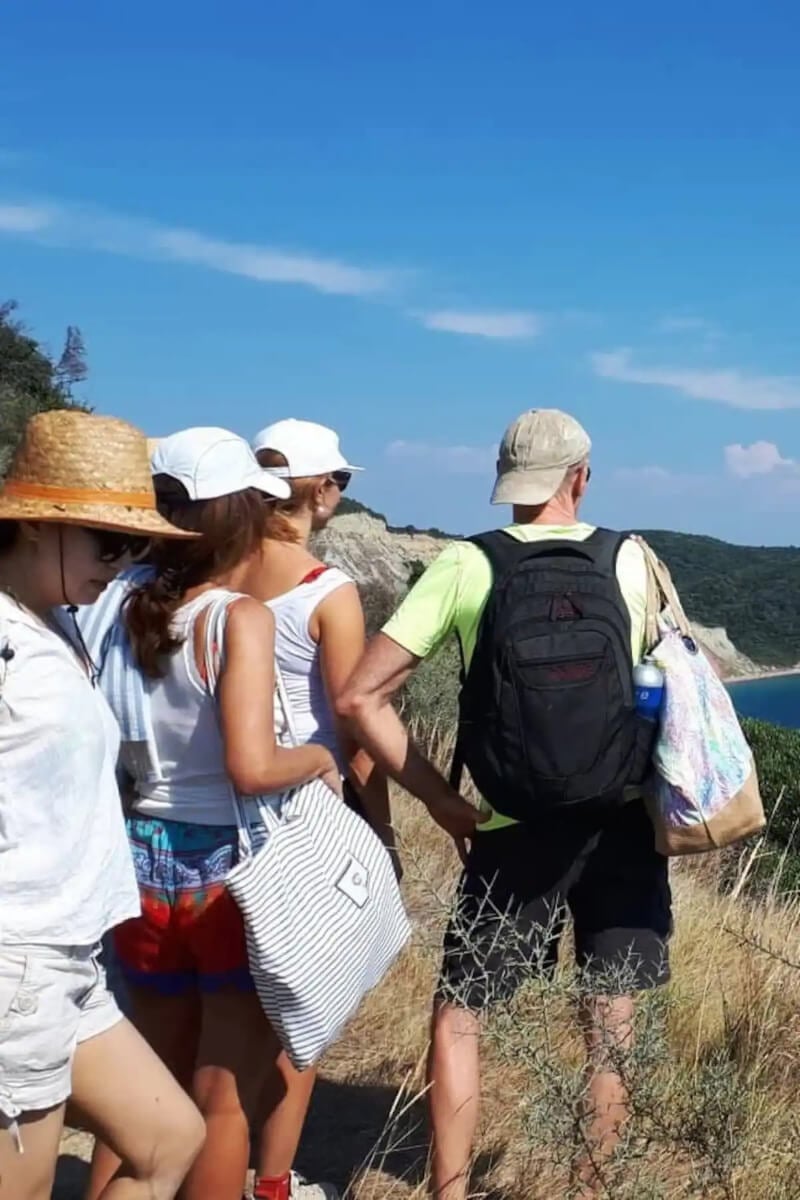 $60 per person
6 hours
Up to 7 People
The Southern end of Corfu is known for picturesque villages, mountains, olive groves and the spectacular Gardenos Beach. This full-day tour will give you a local look into this gorgeous part of the island, combining the beach, countryside, museums and small traditional villages in one experience. A highlight of this trip is a visit to the traditional Corfiot village of Chlomos. The village is known for its colourful Venetian architecture and is referred to as the 'balcony of Corfu' due to its hillside location and view of the seaside and mountains. This side of Corfu is just begging to be explored and checking it out with a local guide makes the experience all the better.
$60 per person
2 hours
Up to 6 people
This workshop will allow you to create a unique piece of jewellery to keep forever as a souvenir and remember your time in Corfu. The hosts are experienced gold and silversmiths whose work is inspired by the nature around the Island. Their workshop even overlooks the sea!
You'll learn about the sand casting technique and get to use objects you find in nature, like shells and leaves, to create a mould for your piece.
This workshop is appropriate for anyone aged over six and can be arranged as an activity for the whole family or a group of friends.
Don't Forget Your Corfu Travel Insurance
ALWAYS sort out your backpacker insurance before your trip. There's plenty to choose from in that department, but a good place to start is Safety Wing.
They offer month-to-month payments, no lock-in contracts, and require absolutely no itineraries: that's the exact kind of insurance long-term travellers and digital nomads need.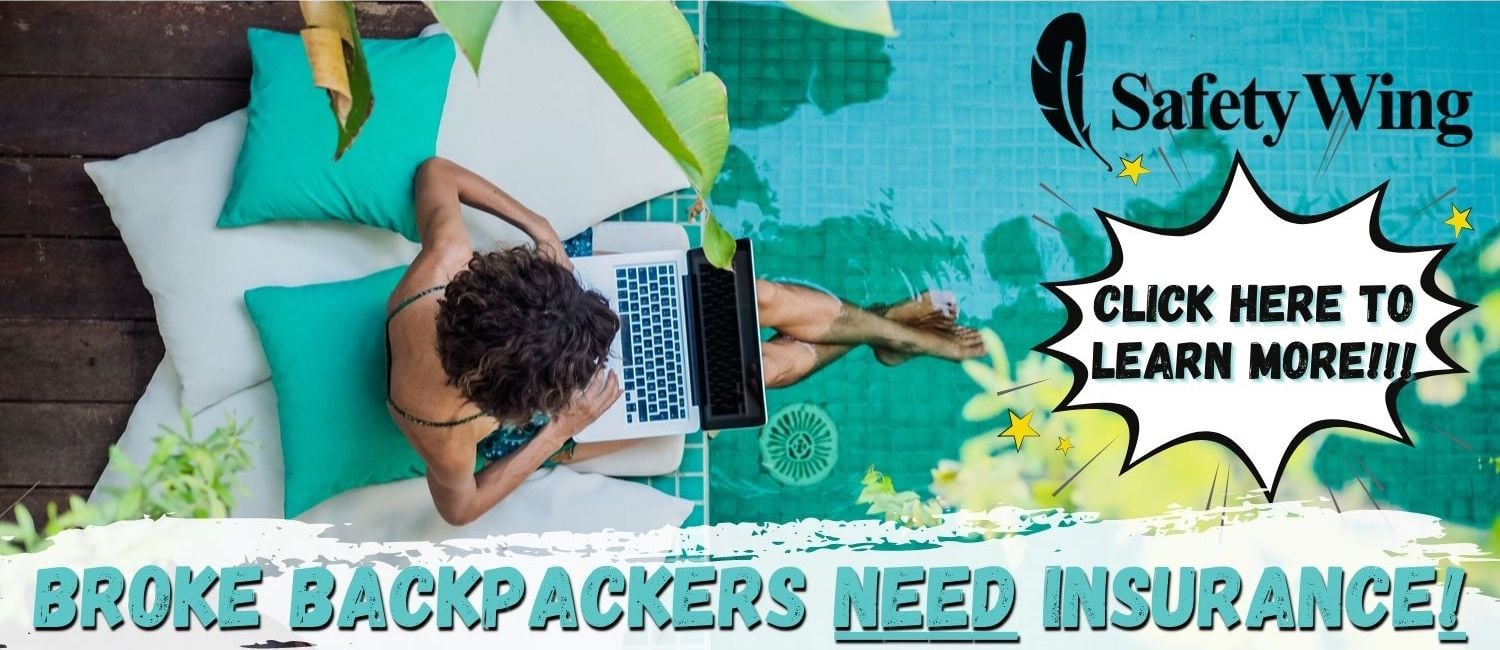 SafetyWing is cheap, easy, and admin-free: just sign up lickety-split so you can get back to it!
Click the button below to learn more about SafetyWing's setup or read our insider review for the full tasty scoop.
Final Thoughts on Corfu Airbnbs
Whether you're planning a cheap place to rest your head after a day of sun or the perfect holiday home, there's an Airbnb in Corfu for you. With so many different properties in all areas of the island, it's the best way to find your home away from home.
If you're looking for fun things to fill your day up, have another peep at the awesome Airbnb experiences on offer.
Hopefully, this article makes it easier for you to pick the best Airbnb in Corfu for your trip.
While you get the rest of your plans sorted, don't forget to get Travel Insurance before you head off. No one wants to get caught in a sticky situation abroad, even in a paradise like Corfu!
---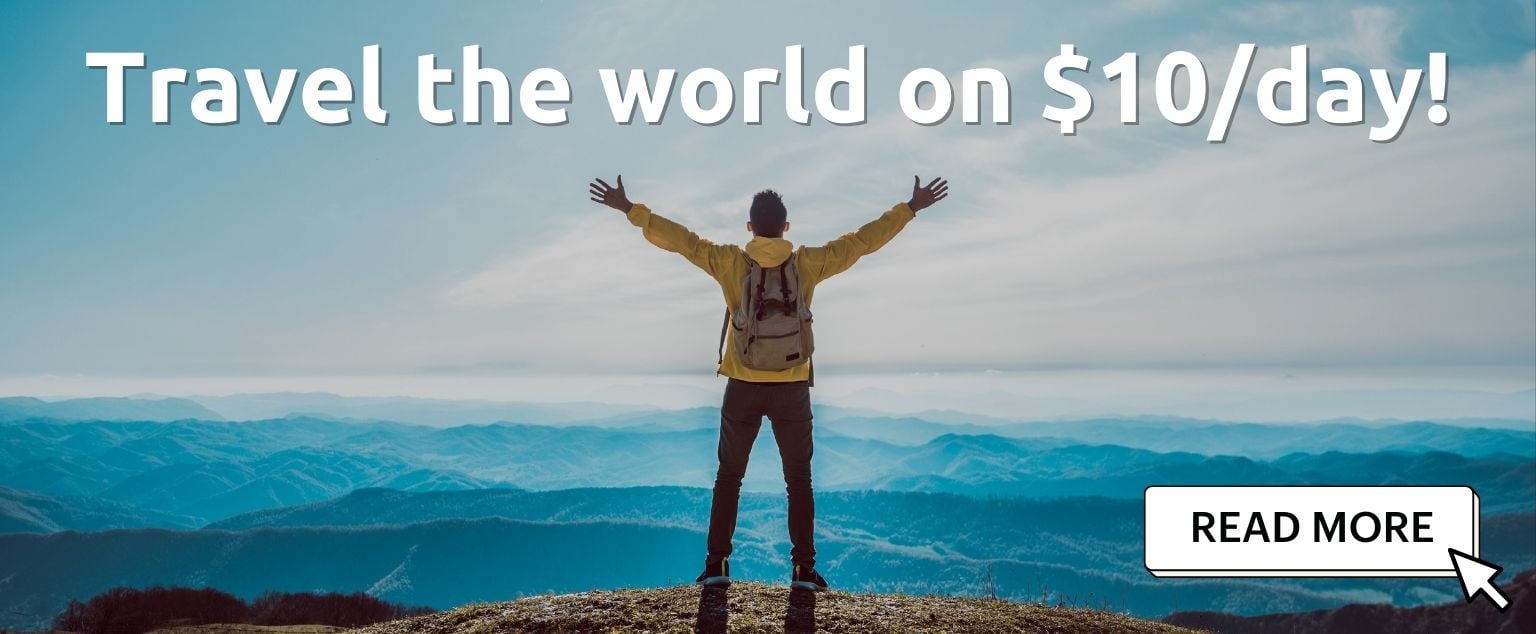 And for transparency's sake, please know that some of the links in our content are affiliate links. That means that if you book your accommodation, buy your gear, or sort your insurance through our link, we earn a small commission (at no extra cost to you). That said, we only link to the gear we trust and never recommend services we don't believe are up to scratch. Again, thank you!