Halkidiki is a sweet and irresistible slice of heaven on earth. Shaped like Poseidon's mythical trident, this Mediterranean paradise enthralls visitors with its sparkling turquoise waters and sugar-white sands.
In fact, Halkidiki is home to some of the finest and most spectacular beaches in Europe. Billed as Greece's best-kept secret, this heavenly destination also features stunning archaeological sites, human-made masterpieces, underrated natural wonders, and famed Christian monuments.
Unfortunately, finding a place to stay in Halkidiki can be overwhelming, especially for first-time visitors. But, guess what? We're going to make things a whole lot easier on your end by featuring a "where to stay in Halkidiki" guide.
Whether you're a luxury traveler or a solo budget backpacker, these words of advice will surely help you experience a blissful and epic escape in Halkidiki.
From first-class beach hotels to a verdant hideaway, Halkidiki has no shortage of options for accommodations. And with a tourist-friendly transport system and streets, getting around this Mediterranean nirvana won't be an issue for travelers.
If you don't mind which region you'll be staying in, book at any of our recommended lodging options.
Escape your urban woes and indulge in a rejuvenating retreat at this easygoing and scenic hideaway. With its rustic accommodations and verdant scenery, this cabin is a wonderful place to commune with nature and relax after a day of non-stop beaching in Halkidiki.
Amazingly, this hideaway also has tons of modern amenities, including complimentary WiFi.
Unique Beach House in Halkidiki: iCamp Max
Extraordinary and fabulous, iCamp Max takes camping to a whole new level with its luxurious tents and deluxe amenities. With its beachside location and fragrant pines, this glamping option lets you soak up nature's beauty in a rather comfortable fashion.
Of course, each tent is fitted with modern amenities to make sure you have a relaxing stay.
From a kids' club to watersports, this chic and lavish hotel has an infinite medley of options for entertainment. With its exceptional service and deluxe accommodations, this resort also ensures that you'll get a good night's sleep in Halkidiki.
Add in elegant touches and a beachfront location, and you've got the ultimate recipe to the best hotel in Halkidiki.
For decades, Halkidiki has captivated the hearts of millions of travelers around the world. If you're backpacking Greece, this hidden gem should be on your itinerary. With emerald waters and pine forests merging on sugar-white sands, this destination is the epitome of a Mediterranean paradise.
While it's not as popular as Santorini, it's beginning to unravel its beauty and full potential. Luckily, that also means that you won't get hit by the increasing Greece prices which you can find on other popular islands.
So, keep scrolling down and discover loads of valuable tips on where to stay and what to do in Halkidiki.
Kassandra is the epicenter of activity and fun in Halkidiki. From a vibrant nightlife scene to remarkable beaches, this region oozes with excitement and amusement for everyone. Options for lodging are abundant, too, ranging from seaside resorts to quaint apartments.
Perfect for first-timers, this region is indeed a terrific home base in Halkidiki.
A lot of people think Central Halkidiki is a mere gateway to the exciting peninsulas and regions of the area. But Central Halkidiki is a destination in itself packed with activities and accommodation options to satisfy everyone.
And the best part is, everything seems so affordable in this part of Halkidiki.
Sithonia has a more serene and relaxed pace than Kassandra and Central Halkidiki. A godsend for sun-seekers, this region also teems with untouched beaches and enticing nature spots. In addition, it offers countless mind-blowing water sports for thrill-seekers and adventurers.
On top of it all, it has a myriad of upscale and family-friendly hotels.
1. Kassandra Peninsula – Best Place to Stay in Halkidiki for your First Time
They don't call Kassandra the "holiday central" of Halkidiki for nothing. With a prolific bus system and a plethora of attractions, Kassandra is also the ultimate home base in Halkidiki for first-time visitors.
What's more, this peninsula has splendid beaches that seem to never end, from Paliouri in the South to Kallithea in the North.
For party animals, you'll be pleased to know that this region has a burgeoning nightlife scene. There are even visitors who stay in Thessaloniki come here just to dance and go on a drinking spree.
And did we mention that it has plenty of fabulous seaside resorts?
If you want to spend your vacation days on the water, you'll love this eye-catching villa. Not only does it feature a swimming pool, but it's literally minutes from the beach. Furthermore, it's so laid-back and peaceful, surrounded by pine trees.
Best of all, the rooms and beds are incredibly comfortable.
Who says you need to spend a fortune to enjoy beachside accommodations in Greece? At this apartment, you get all the perks of a fantastic seaside stay without the hefty price tag. As a bonus, you'll have striking sunset views of the Aegean sea at this apartment.
There's also a cleaning lady who visits every three days to ensure the apartment remains spotless and cushy.
Art Boutique Hotel impresses guests with its elegant touches, modern furnishings, and beachside location. Ideal for families, this hotel overflows with convenient luxuries for everyone, including beach toys for kids and a spa center.
Additionally, there are numerous mini-markets, seaside cafes, and traditional taverns near the hotel.
Things to See and Do in Kassandra Peninsula
Unleash your inner Indiana Jones by exploring a bunch of archaeological and historic sites, including Gerani, Sani Tower, Poseidon Sanctuary, and Byantine Tower.
With Instagram-worthy stone houses and sea views, the charming old village of Afitos makes a great stop in Kassandra.
Be mesmerized by the pristine white beaches and crystal clear waters of Chelona Beach. Of course, it's also an excellent place to go for a dip if you're in the mood for swimming.
For a one-of-a-kind beach experience, check out the breathtaking pebble beach of St. Georgios.
After a day of non-stop beaching or sightseeing, head to Loutra's SPA Center and enjoy the therapeutic qualities of sulfur water. From its central pool to whirlpools, this spa complex will soothe your jaded muscles and spirits.
2. Central Halkidiki – Where to Stay in Halkidiki on a Budget
Central Halkidiki is often deemed a "transit region" for visitors headed to the monasteries of Mount Athos and beaches of the peninsulas. But Central Halkidiki isn't just a gateway to the wonders of this paradisiacal destination.
As you explore Central Halkidiki, you'll find scores of charming tavernas, mountain hideaways, and beautiful villages. For active travelers, the region also offers ample scenic driving, cycling, and hiking opportunities.
There's even a cave and an archaeological site worth a visit in Central Halkidiki. More importantly, food and accommodations here are pretty affordable, compared to the other regions in Halkidiki.
Best Apartment in Central Halkidiki: Psakoudia Holidays
Psakoudia Holidays is a dream come true for beach bums. From this apartment, you'll have instant access to several enticing beaches in Halkidiki. Even better, it's extremely affordable, making it an excellent choice for backpackers and budget-conscious travelers.
There's also a kitchen where you can cook your own meals, which will help you save money on food.
Want to escape the beach crowds? Why not book a stay at the extraordinary Agramada Treehouse? Serene and surrounded by verdant landscapes, this unique hideaway offers a refreshing nature retreat for visitors who want to savor the beauty of Halkidiki.
And don't worry about your internet connection – this getaway has WiFi.
Antigoni Beach Resort lures guests with its beachside comfort and sophistication. An oasis for fun-loving travelers, the resort has swimming pools and a host of exciting activities. From water sports to horse riding courses, the resort can entertain guests in a multitude of ways.
As for the accommodations, the hotel offers spacious suites and rooms with deluxe amenities and beds.
Things to See and Do in Central Halkidiki
With an impressive elevation of 1,165 meters, Mount Cholomontas rewards hikers with awe-inspiring panoramas of Halkidiki.
Travel back in time and glimpse the area's wondrous past with a visit to Olynthos.
Want to experience something unique? Petralona Cave is a beguiling cavern where the oldest known man in Europe was discovered. Furthermore, tons of animal fossils have been uncovered inside this ancient cave.
Experience a hip and fun-filled escape at Yerakini and Psakoudia.
Spend a few hours exploring the picture-perfect balconies, tavernas, and cobbled streets of Arnaia.
Add a dose of adventure to your Halkidiki vacation by taking a mountain bike tour on the Cholomontas mountain.
3. Sithonia Peninsula – Best Region in Halkidiki for Families
Home to a cornucopia of pristine beaches, Sithonia is a haven of beauty and tranquility. Offering a more relaxed vacation, this Greek peninsula is a superb and wondrous retreat for nature lovers and families.
Truthfully, you won't find a lot of bars and clubs on this part of Halkidiki. But trust me, the captivating seaside and sounds of the crashing waves combined with the murmurs of the woods nearby will make your vacation supremely pleasant.
For thrill-seekers, Sithonia offers a wide range of water sports to get your adrenaline pumping. On top of it all, the region overflows with luxury accommodations suitable for families.
Best Beach House in Sithonia Peninsula: iCamp Max
Why stay in a 5-star hotel when you can sleep under a million stars? At iCamp Max, you'll enjoy the whole camping experience, with a unique and luxurious twist. With a TV and a myriad of amenities, it has all the modern comforts you need for a comfortable stay.
When you wake up, you'll be greeted with the fragrant smell of pine and sea.
Danai Beach Resort is, hands down, one of the best hotels in Halkidiki. With its world-class service and superior luxury rooms, this resort will surely put you in a state of pure bliss.
Not to mention it bursts with fun, thanks to its exceptional amenities, which include water sports and a tennis court. There's even a kids' club packed with lively activities for the little ones.
Best Villa in Sithonia Peninsula: Small Karidi
Small Karidi has all the hallmarks of a pleasant stay in Halkidiki. Nestled in a safe and serene village, this villa is just 30 meters away from a sandy beach with tempting, crystal clear waters.
And guess what? The villa also offers picturesque views of Mount Athos and Vourvourou islands.
Things to See and Do in Sithonia Peninsula
See the mesmerizing underwater treasures of the Aegean Sea by taking a bucket-list-worthy diving tour.
Go on a fabulous glamping retreat at the recently developed and tantalizing Manasu Beach.
From building sandcastles to sunbathing, you can enjoy a slew of classic beach activities at the enclosed bay of Karydi.
Soak up the dramatic and untouched beauty of Fava Beach. Just make sure to bring some food and drinks, as you're likely to spend the entire day here.
Take a break from the non-stop splashy adventures with a tour to the historic remote village of Parthenonas. Besides its awe-inspiring panoramic vistas, the village is also home to the Original Folk Art Museum.
Here's what people usually ask us about the areas of Halkidiki and where to stay.
ALWAYS sort out your backpacker insurance before your trip. There's plenty to choose from in that department, but a good place to start is Safety Wing.
They offer month-to-month payments, no lock-in contracts, and require absolutely no itineraries: that's the exact kind of insurance long-term travellers and digital nomads need.
SafetyWing is cheap, easy, and admin-free: just sign up lickety-split so you can get back to it!
Click the button below to learn more about SafetyWing's setup or read our insider review for the full tasty scoop.
Halkidiki has the perfect recipe for a memorable Greek adventure. From gorgeous beaches to colorful quaint towns, Halkidiki offers endless Instagram-worthy sights and fantastic experiences.
All the regions we have mentioned in this guide are ideal for anyone visiting Halkidiki. If we are pushed to pick one, though, it has to be Central Halkidiki.
Not only does it feature a slew of options for accommodations and entertainment, but it also offers easy access to the three peninsulas of Halkidiki.
And best of all, it's a cheap place to stay. Superb, right?
Is there something on your mind that you want to add to our guide? Do you have any questions about Halkidiki? Please share your thoughts with us in the comment section below.
Do you own an awesome hostel, hotel or apartment? Want to be featured in our list? Email [email protected] to find out how.
---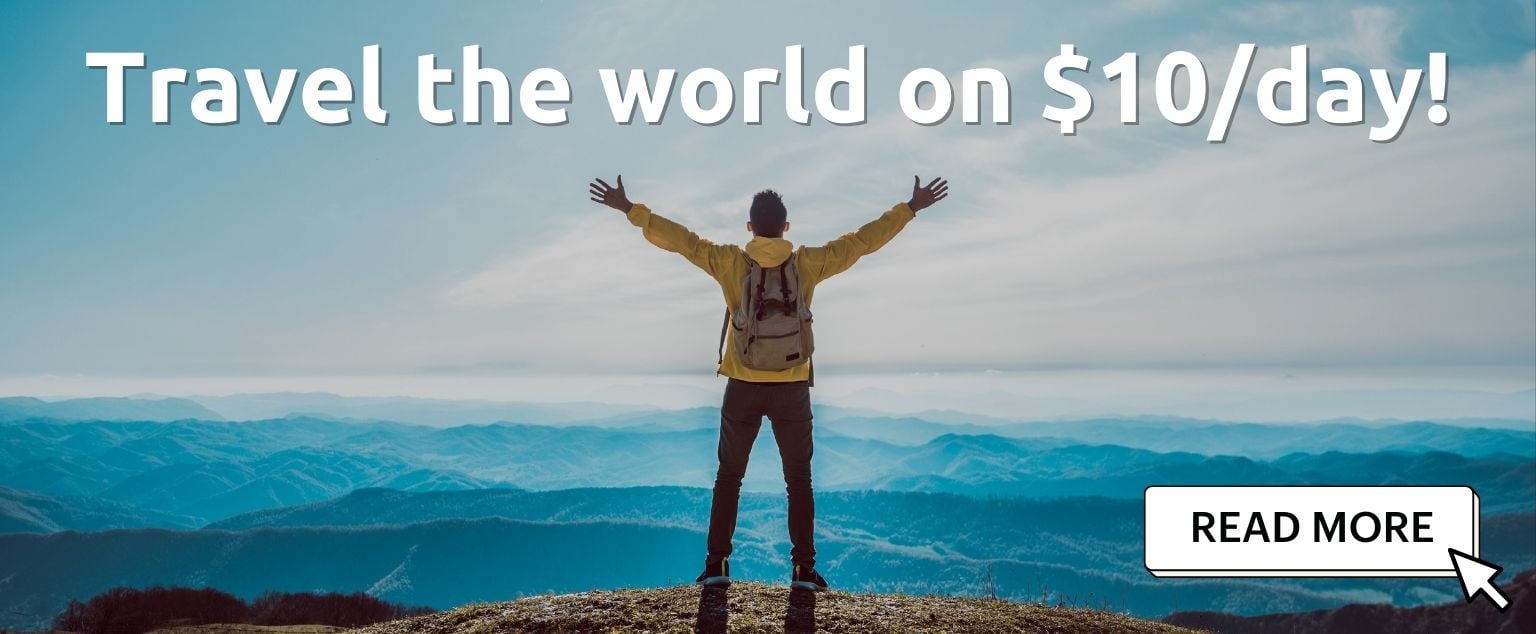 And for transparency's sake, please know that some of the links in our content are affiliate links. That means that if you book your accommodation, buy your gear, or sort your insurance through our link, we earn a small commission (at no extra cost to you). That said, we only link to the gear we trust and never recommend services we don't believe are up to scratch. Again, thank you!