Looking to go backpacking in Oman? Then here's the internet's best BUDGET TRAVEL GUIDE for Oman with all the top tips…
Despite all it has to offer, the reality is that visiting Oman is still not all that common. But it is blessed with natural beauty, rugged mountains, and bright blue aquatic features that can hardly be found elsewhere, Oman deserves to be shouted from the rooftops!
Travel in Oman is undoubtedly epic, but it's not exactly the most well-known backpacking paradise. Part of that is because, sadly, it ain't cheap.
But hold up! Don't stop reading just yet. Just because Oman isn't as backpacker friendly as Southeast Asia doesn't mean that it has to break the bank.
This stunning kingdom (yes, Oman is a monarchy!) can be explored on a budget, especially if you're down to take advantage of its truly amazing–and FREE–camping scene.
I know firsthand how travelling to a place that's lacking online info can be a bit of a challenge, but fear not! This EPIC Oman backpacking guide has all the info you could possibly need about this gem of a country, from the basic essentials to juicy off-the-beaten-path tips.
So what are you waiting for?
Omanwards!
Why Go Backpacking in Oman?
While Oman may not get all the backpacking hype, it certainly deserves FAR more than it gets. Because traveling in Oman is sweet. Yes, even for us broke backpackers!
A hidden gem in plain sight; Oman is incredibly safe, easy, and doable by pretty much anyone. But, let's be honest–there's absolutely no "hostel scene" in Oman. In fact, Hostelworld doesn't pull up a single listing. And "cheap accommodation" in other forms isn't much better.
BUT…
Oman fo'sho makes up for all that by *drum roll please* permitting wild camping anywhere. Yes, anywhere! Meaning all you need to do is invest in some quality camping gear and you can easily spend a month in Oman without paying for an overpriced room even once.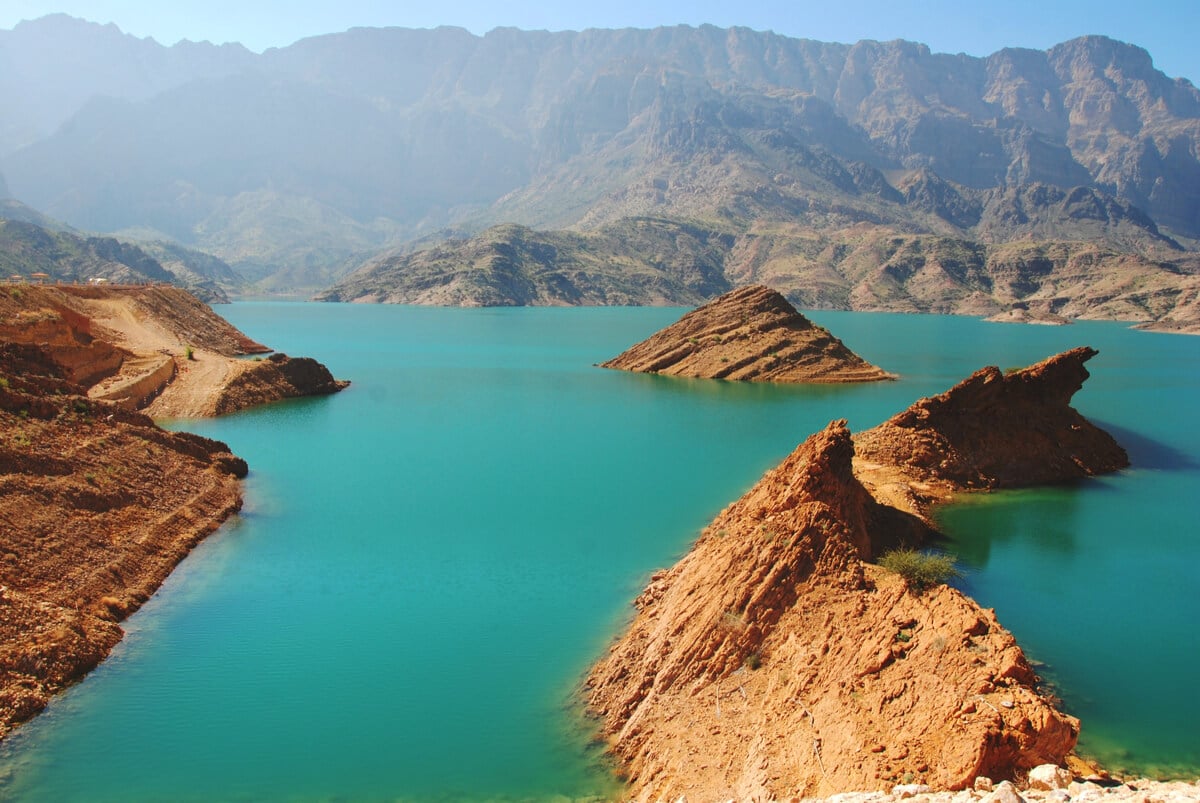 Combine some sick camping essentials with a rental car (or another vehicle) and you're pretty much set. While we miss our backpacker enclaves and cafes, the opportunities for real broke backpacker-style travel are plentiful.
And, let's not forget that Oman also happens to be STUNNING. Like drop-dead-gorgeous-I've-never-seen-anything-else-like-this-in-my-life stunning. Wadis, waterfalls, sinkholes, mountains, beaches with waves, deserts… I can't recall anywhere else that I've traveled with so much variety so (relatively) close together.
And while Muscat and its surroundings are fab, really getting to know Oman means getting far away from its capital. Shall we press on?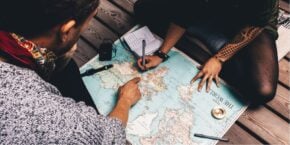 Heading Off-Grid? • Download This Guide as a PDF!
Sign up to The Broke Backpacker's EXCLUSIVE VIP AREA below and download our top backpacking guides as PDFs – go offline with peace of mind!
Best Travel Itineraries for Backpacking Oman
Most people visiting Oman will head straight to Muscat and Wadi Bani Khalid. Besides that, I can see how planning a trip to Oman can get a bit difficult, especially if you're new to backpacking. So, to help you head into Oman with ease, I've put together three itineraries to get the ball rolling.
Don't feel like you need to follow these exactly though–they're just to give you a leg-up when planning a trip. Unexpected events always occur while on the road, so you want to give yourself some extra time just in case!
Most Omani tourist visas are good for one month, but I think you can see everything and more in 3 weeks. You can fly into Salalah too, but these itineraries assume that your trip will start in Muscat.
Oman 3-Day Itinerary – The Highlights
A weekend trip to Oman? Yup–it's possible! Many expats visit Oman quickly from Dubai. Many more want to keep their trips short so they can still travel around Oman in comfort without destroying their bank accounts.
With limited time, you should focus on Muscat and places near it. Start your Muscat adventure early so you can spend the morning admiring the Sultan Qaboos Grand Mosque, which is open for non-Muslims from 8 AM – 11 AM Saturday- Thursday.
Then you can drive or hitch a ride to Qantab Beach, which is ~15 minutes from Muscat. You'll find iconic views and refreshing water.
In the evening, take a stroll along the Muttrah Corniche before heading to the Muttrah Souq to have some shopping (or perhaps window shopping) to finish off the day.
On day 2, start your day with an early dip in the Bimmah Sinkhole before moving on to Wadi Shab, which you should definitely spend the rest of the day at! Don't miss out on the waterfall/cave at the end of the wadi! You can either camp or spend the night in Tiwi.
Day 3 is another fun-filled gauntlet of aquatic activities at Wadi Bani Khalid (arguably Oman's best wadi). Stock up on food before if you're keen on a picnic. The distance between Wadi Shab and Wadi Bani Khalid is quite far so once again–start early for a perfect last day in Oman!
Oman 1-Week Itinerary – Delving Deeper
If you want more than a weekend trip, but you still don't have that much time, this itinerary is for you! It's still a little rushed, but you can get a good idea of what Oman is about.
Itinerary #1 has your first two days in Oman laid out. At the end of day 2, head to Sur to stay the night.
Day 3 is all about taking in the seaside city of Sur. I recommend seeing the Dhow factory, smash some delectable seafood into your beautiful gob, and check out the Al Ayjah Watchtower while you're there.
On day 4, an early start will make sure you have enough time to stop at both Wadi Bani Khalid and make it to Sharqiyah Sands in time for sunset. Spend the night camping (or glamping?) under the desert stars!
Day 5 is a bit of a drive. You've guessed it – another early start – but it's worth it! Head to the historical city of Nizwa, where you'll find real Omani vibes (more so than Muscat). The Nizwa Fort and Nizwa Souq supply all the best kinds of street eats to sample. An overnight stay in Nizwa won't let you down.
On day 6, it's time to move to Misfat al Abriyyin – but not before stopping in Bahla to check out the 13th-century Bahla Fort that remains in pristine condition! Misfat al Abriyyin is the perfect place to get acquainted with one of Oman's traditional villages. Roam around, get a little lost, and do some people watching!
Oman 3-Week Itinerary – The Ultimate Oman Roadtrip!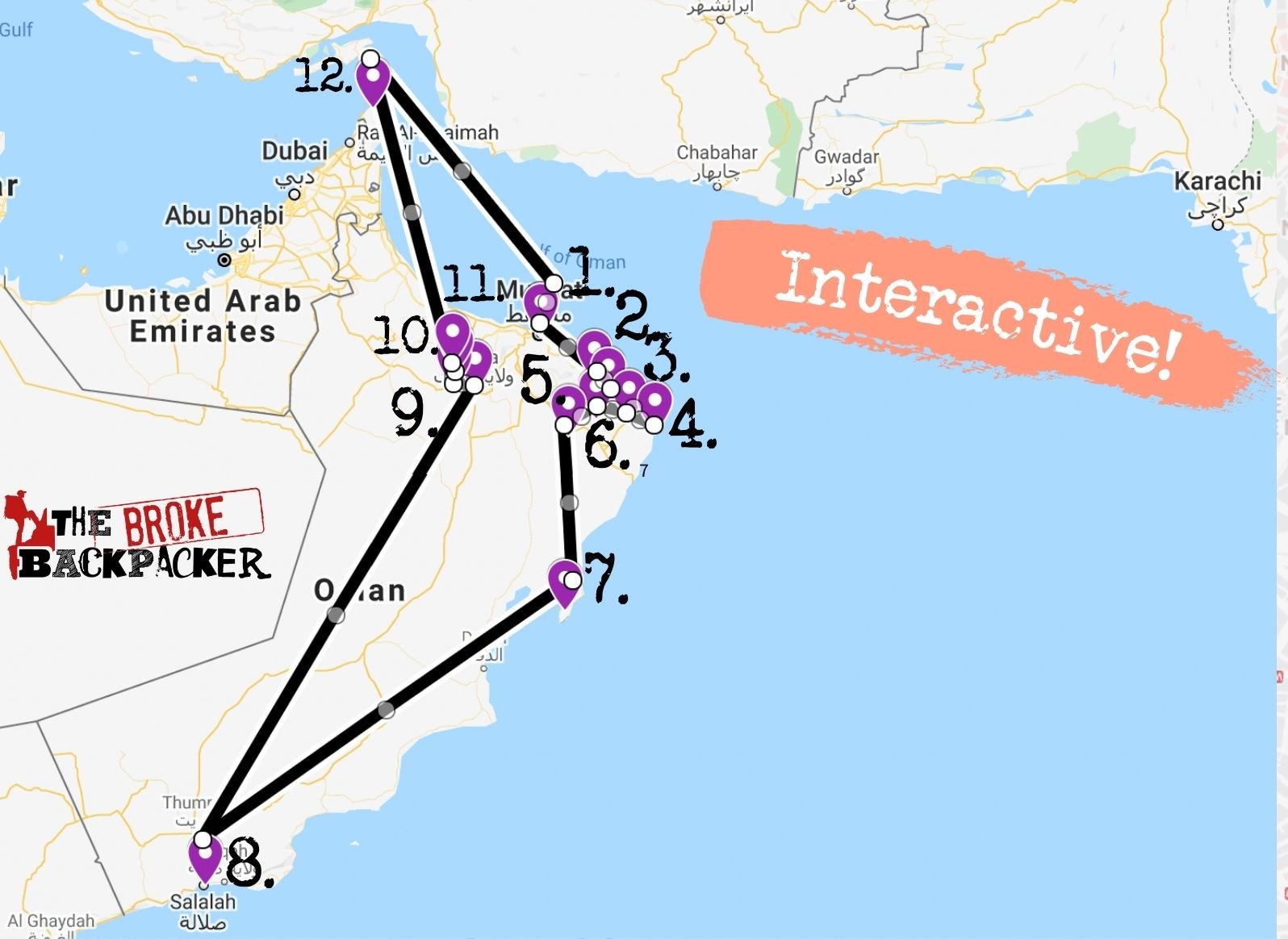 Ahh, the ultimate itinerary for backpacking Oman. If you're time-rich, (or you want to make time), you can easily extend this itinerary a bit longer to delve into some slow travel scenes.
By now, you know what's up. Start your trip in Muscat, then head to the famous Bimmah Sinkhole before spending the rest of the day in Wadi Shab. Next up, drive to Sur to enjoy one of Oman's prettiest cities.
Since you have a lot more time, instead of heading straight to Sharqiyah Sands, Ras al Jinz is well worth the visit. Here, you'll find the cutest fishing village and you can see green turtles hatching and nesting.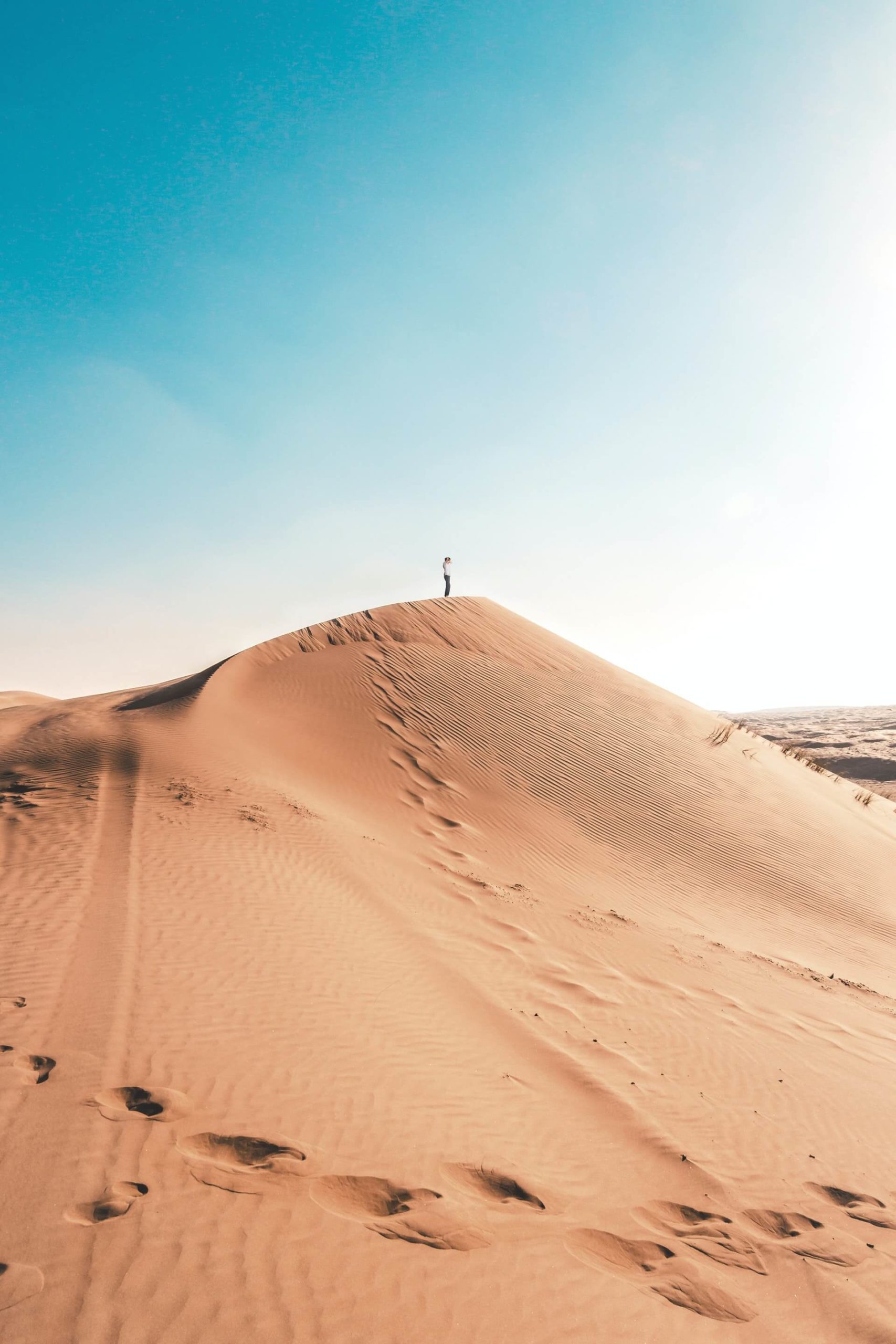 Next up: Sharqiyah Sands! I recommend at least one full day here (including the overnight.) You can book tours deeper into the desert once you arrive – unless you already have your own 4×4 that is.
It's time to explore one of the coolest and most underrated places in Oman – Masirah Island. Located 10km off the country's southeastern coast, you can easily (and cheaply) reach the island by ferry.
Now that you've had some island time, get ready for a long drive to Salalah in the Dhofar Province. Salalah is a nature lover's paradise, especially during the monsoon.
Spend a day or two at the beach, chase epic waterfalls (regardless of what TLC tells us), max out on cheap seafood and check out local sights such as the Tayq Sinkhole and the Lost City of Ubar. If you're into it, Salalah is one of the best places in Oman to try camel meat, too.
… and we're headed back north! Prepare for another long but scenic drive to reach Nizwa (see itinerary 2).
Before moving along to Misfat al Abriyyin to get a taste of village life, do stop in Bahla to see yet another historical masterpiece: the 13th-century Bahla Fort.
Solid hiking boots are recommended for the next day or so as Jebel Shams (arguably the best hike in Oman) is up next. Jebel Shams is the perfect place to get some camping in, especially since hotel prices in the area ain't funny.
After some quality elevation, end the trip on a truly high note with a Musandam adventure! The easiest way to reach Musandam is via a short flight from Muscat. 3 days is good to get the most out of the journey.
Then, you'll probably end your journey in Muscat – or a city in the UAE if you find it cheaper/easier to leave the region that way.
Places to Visit in Oman
And now for the must-sees and must-dos in the desert-mountain-ocean paradise that is Oman. No matter what brought you here, you're going to find things you didn't even know you liked amongst Oman's many beautiful places to visit.
Backpacking Muscat
Muscat is the laid-back, seaside capital of the Pearl of Arabia and will undoubtedly be a stop on any Oman backpacking itinerary. It's not necessary to spend more than 2 days in Muscat, as the real reasons to visit Oman are not in a city.
But, don't get me wrong, there are plenty of things to do in Muscat. For a capital city, it sure is something!
The Muttrah Souq is a big-ass market and one of the most popular attractions in Muscat. Even if you're not a "things" shopper, it is quite the spectacle. The energy, colours, and food (get into the kebabs!) of Muttrah Souq are unbeatable. Go there.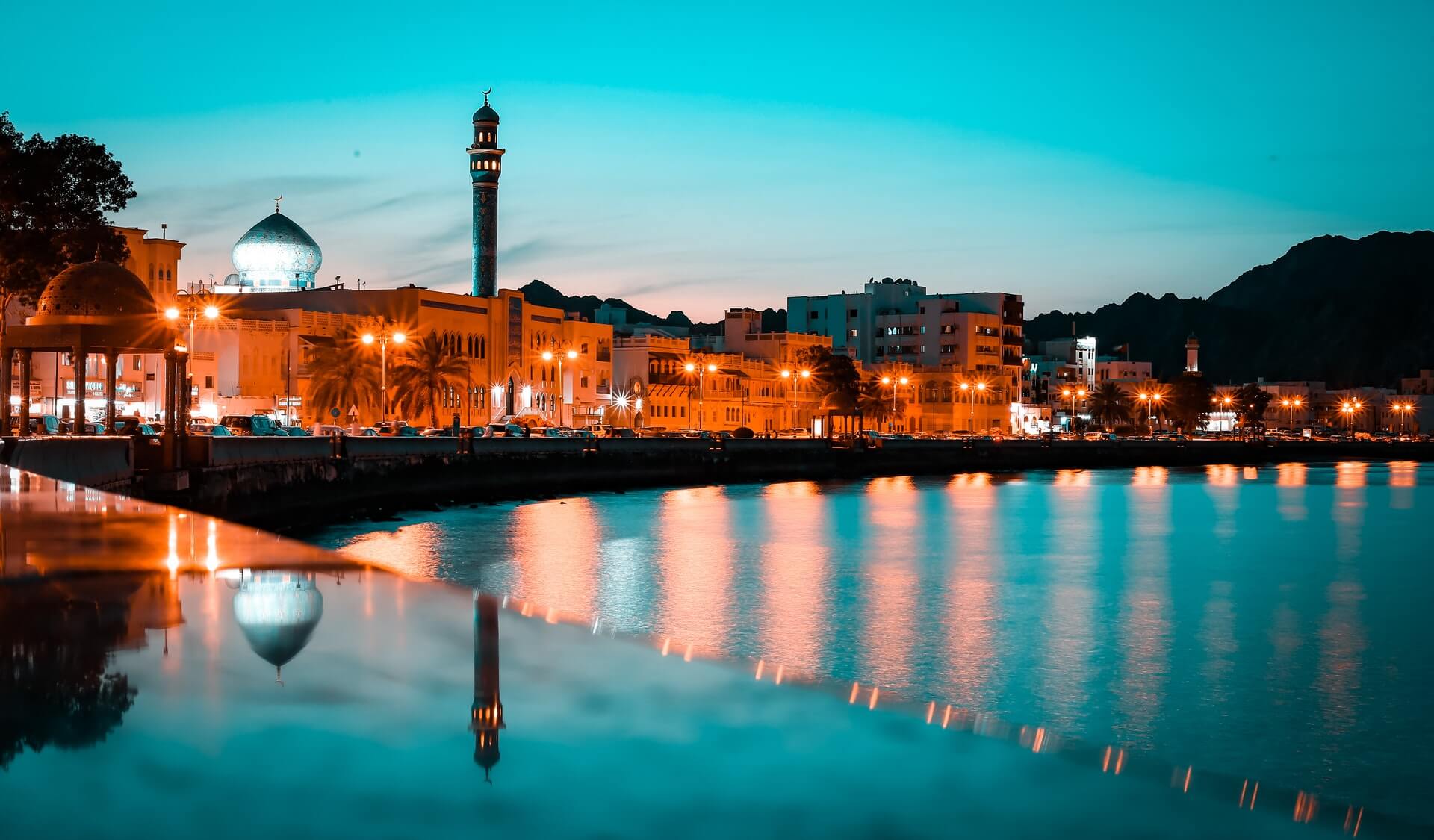 You'll also find the architectural delight that is the Sultan Qaboos Grand Mosque. For non-Muslim visitors, it's open every Thursday-Sunday from 8 AM-11 AM. It's one of the most exquisite mosques I've ever seen, and I've spent a lot of time in places like Lahore and Pakistan, so you can bet I've seen a pretty mosque or two!
Before heading out of the city, check out a sunset at the Muttrah Fort. Or, even better, make your way to the very nearby Qantab Beach – a small fishing village with some kickass sunsets!
Backpacking Nizwa
Nizwa is an inland city, surrounded by palm groves as far as the eye can see. It's an exciting city alternative to delve deeper into Omani history, with a more local feel than Muscat. It makes for a nice location close to Jebel Shams, too, and it can be visited as a day trip, if you prefer.
Nizwa was the country's capital in the 6th and 7th centuries and is known for its very cylindrical–and very sexy–Nizwa Fort.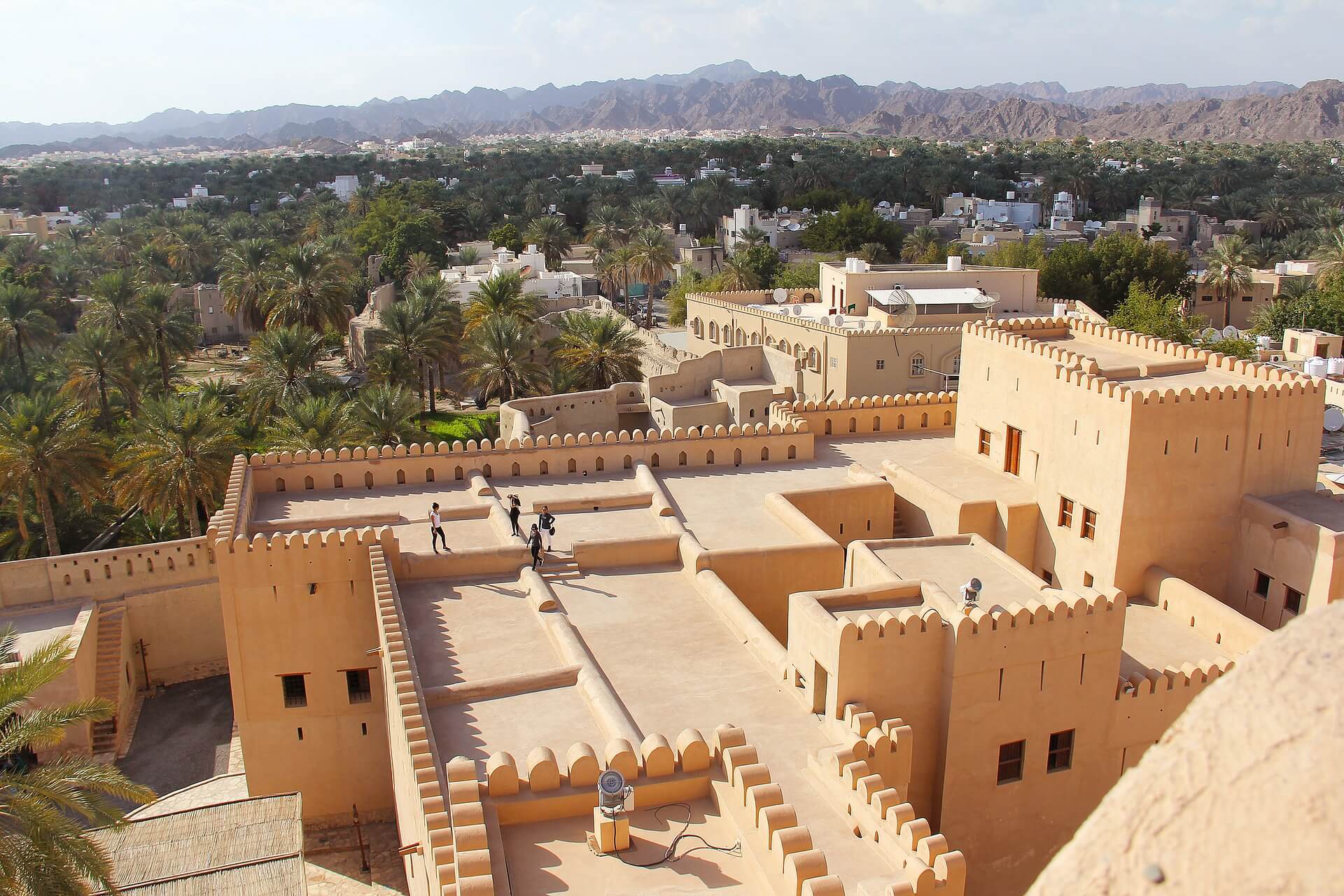 Aside from fort exploration, you can also check out the less touristy Nizwa Souq, or simply wander around and take in the vibes! Nizwa Souq hosts a goat market every Friday, and incredible street food is up for grabs, too. For travel photographers, this is a great place to capture candid Oman moments.
Backpacking Salalah
Oh, Salalah. How do I begin to tell you about my love affair with Salalah? It is one of the most interesting places to visit in Oman and still pretty unexplored by tourists.
You can drive along the insane coastline that leads to the Yemen border. Adventure travellers, don't miss out on that shit!
Personally, I think the best thing to do in Salalah is to soak up all of its truly amazing nature. During the monsoon in the summer months, the entire region becomes alive with lush greenery, and waterfalls pop up everywhere.
If you're not keen on visiting in the actual monsoon (known locally as khareef), September sees far less rain while still maintaining the fairytale aesthetic.
Salalah is also Oman's epicenter of frankincense, which you can learn all about at the Museum of the Land of Frankincense.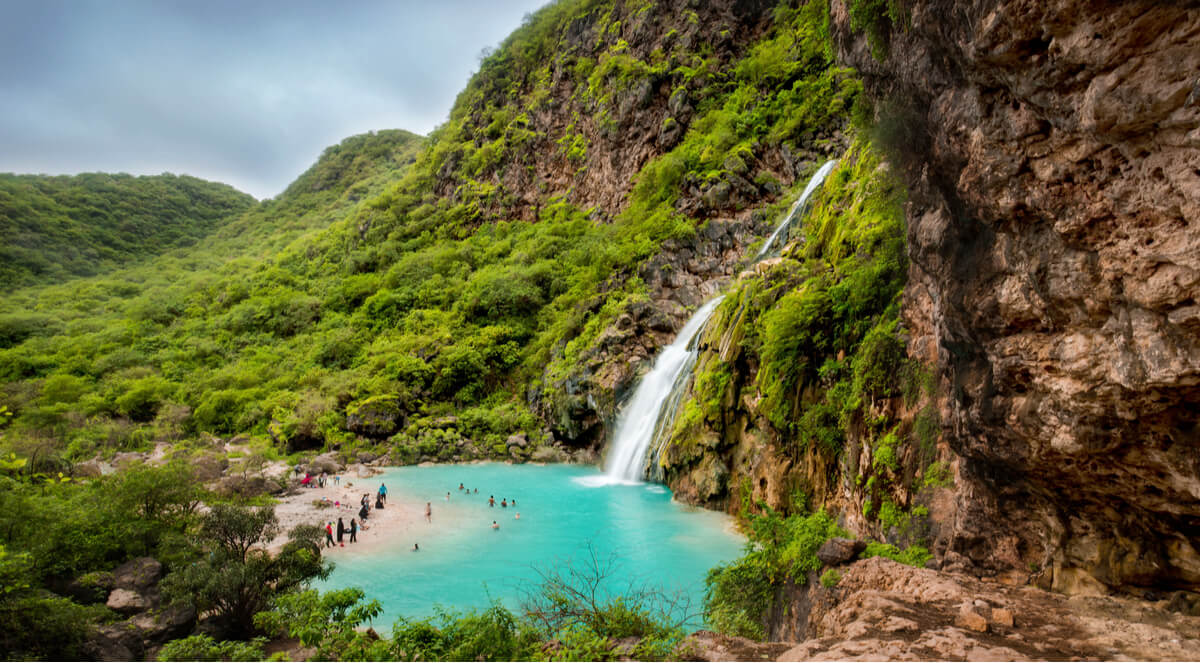 While in Salalah city you can check out the Salalah Souq and the Sultan Qaboos Palace. Outside of the city you can find jaw-dropping views at the Shaat Viewpoint.
Within the Dhofar Province (where Salalah is located), it's worth exploring the remains of the Lost City of Ubar along with the Empty Quarter and the Tayq Sinkhole.
Backpacking Sur
Sur is easily one of the most chill and most attractive places in Oman. The harbour city–which used to be an important trading hub during the height of the Omani Empire–is now lined with picturesque, white seaside homes.
Alright, it's not jam-packed with famous sights and landmarks, but it is the perfect place to chill and absorb real Omani lifestyle far away from those pesky tourists. These are the exact places we need for real backpacker-y experiences, and it's one that I thoroughly enjoyed.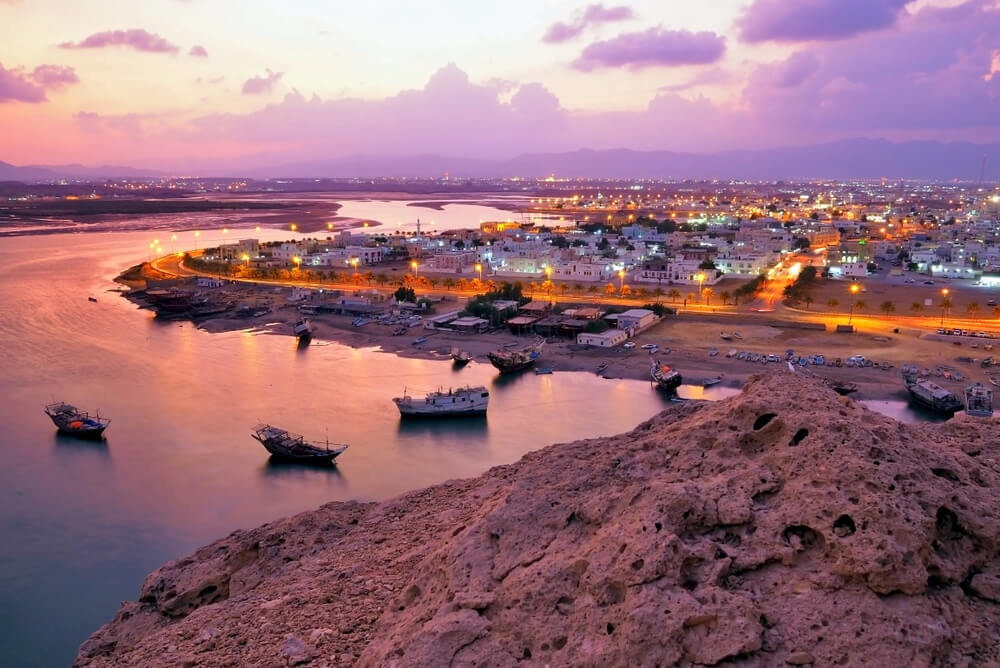 Don't take that to mean that there aren't any activities in Sur though! You can catch a magical sunset from the top of the Al Ayjah Watchtower. You can also visit the Dhow Factory to see how traditional Omani boats are made!
Seeing as it's only a 45-minute drive from Sur, a day trip to the Ras Al Jinz Turtle Center is a must while you're in the area. The conservation center is one of the only places on Earth where green turtles nest all year round.
Backpacking Jebel Shams
Jebel Shams is one of those MUST-visit places in Oman. It's part of the Al Hajar range and it's easily the best hike in the country (if you disagree, fight me). It delivers some seriously epic views.
The hike is technically a canyon walk and culminates in a much-needed cool-down opportunity in a waterfall! Only 4km in length, it's easily achievable by even the most inexperienced hikers. You can round off this incredible hike by pitching your tent at the end of the trail.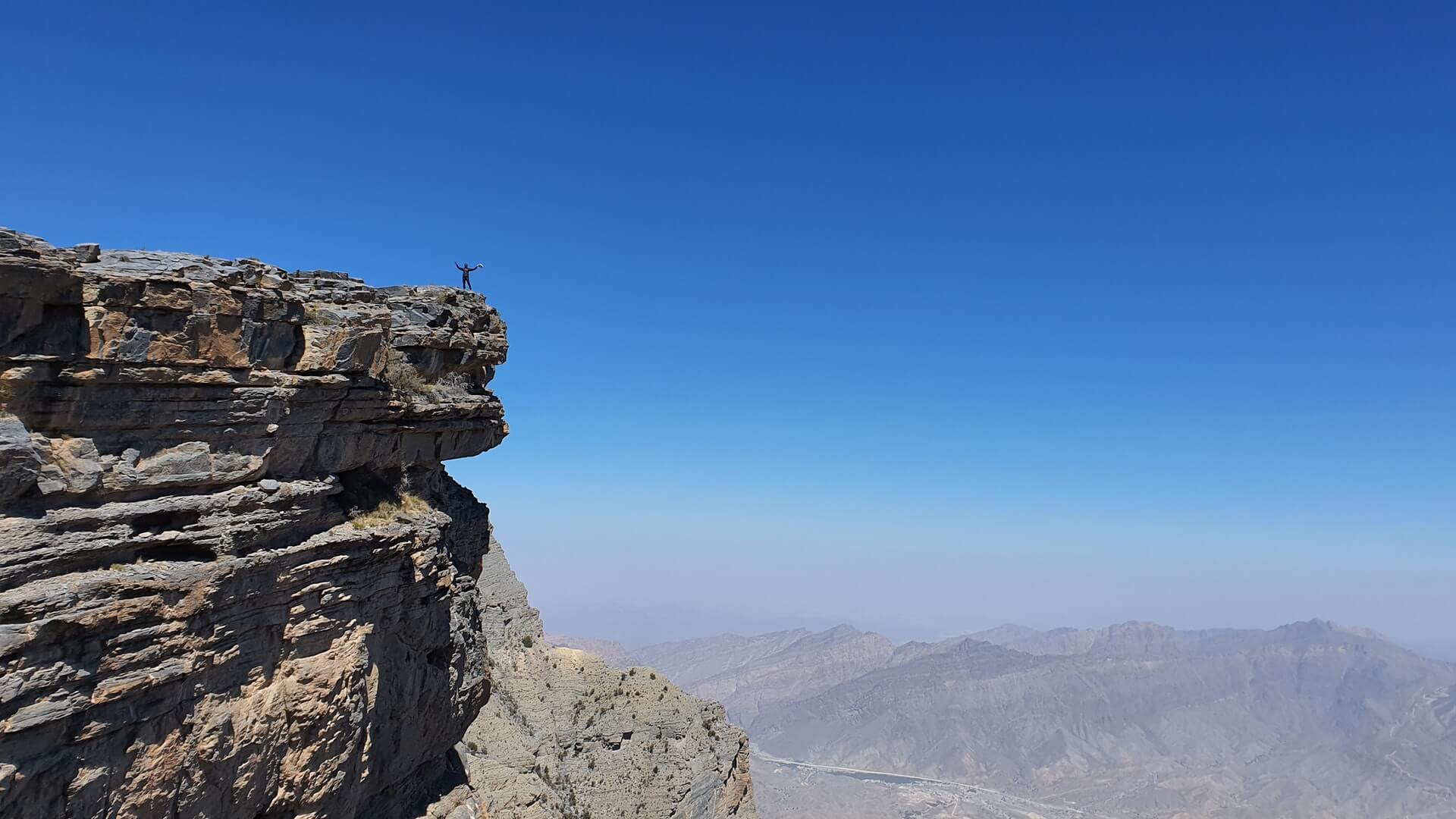 Due to its popularity, budget hotels are absolutely not a thing in the Jebel Shams region. So, if you're not going to be camping, your best budget-friendly option is to stay in Misfat al Abriyyin which is relatively nearby.
Travel CHEAP and Make a Difference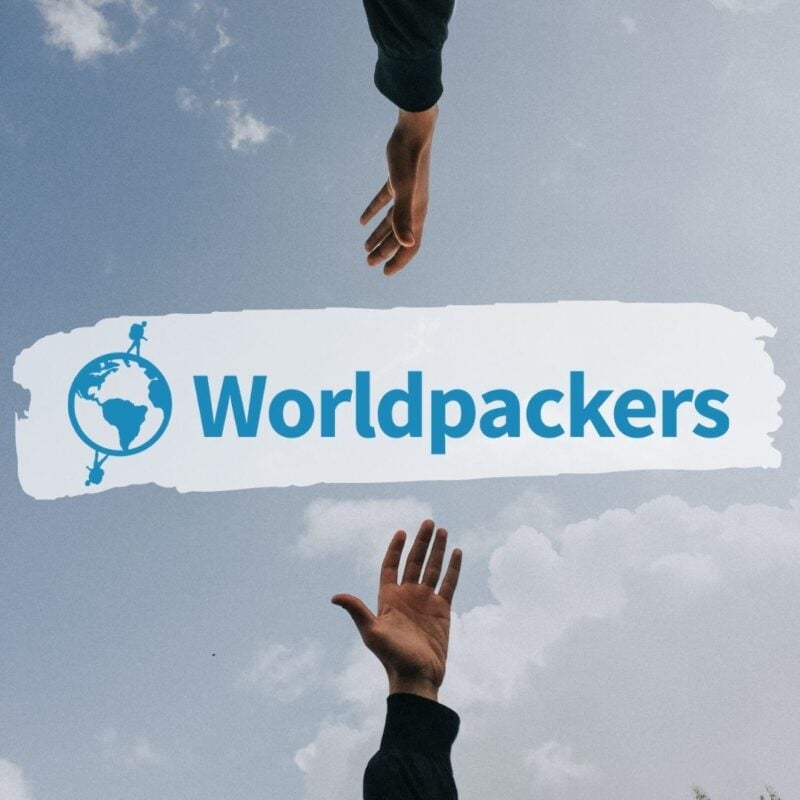 Worldpackers connects travellers with hostels, schools, NGO's and many more. Get free accommodation in exchange for volunteering a few hours a day. You won't just save serious $$$, you'll experience a different culture, cool projects, meet new people and integrate into the community in a different way.
Broke Backpacker readers get a $10 discount when you sign up. Use the discount code BROKEBACKPACKER. Plus, get 3 free months on your membership during their summer promo!
Travel well with Worldpackers
Backpacking Musandam
Musandam is the place to visit in Oman that's…not exactly in Oman. Yup, you heard me! Though it is technically part of Oman, Musandam is completely surrounded by the UAE.
In normal times, it's possible to drive to Musandam. Or, you have the option to take a flight to Khasab (the nearest airport to Musandam).
Despite the slightly complex method of arrival, Musandam is BEYOND worth it. Aptly called the "Norway of Arabia," Musandam is teeming with epic backpacker adventures. From water sports and boat safaris to snorkelling and diving, Musandam has it all.
With impressive fjords and wildlife that can't be found anywhere else in the region, it's a truly special environment. Musandam doesn't have any specific sites to see; it's really all about enjoying the water and the views! The capital, Khasab, has cheap restaurants, and a high-quality supermarket, for all your campsite needs.
Backpacking Sharqiyah Sands
No trip to Oman is complete without spending a night in the desert under a star-strewn sky. The best place to do this is Sharqiyah Sands (formerly known as Wahiba Sands).
Aside from insane sunrises and sunsets, spending some time in the desert gives you the opportunity to meet real Bedouin people. These are the nomads who have called the desert their home for centuries.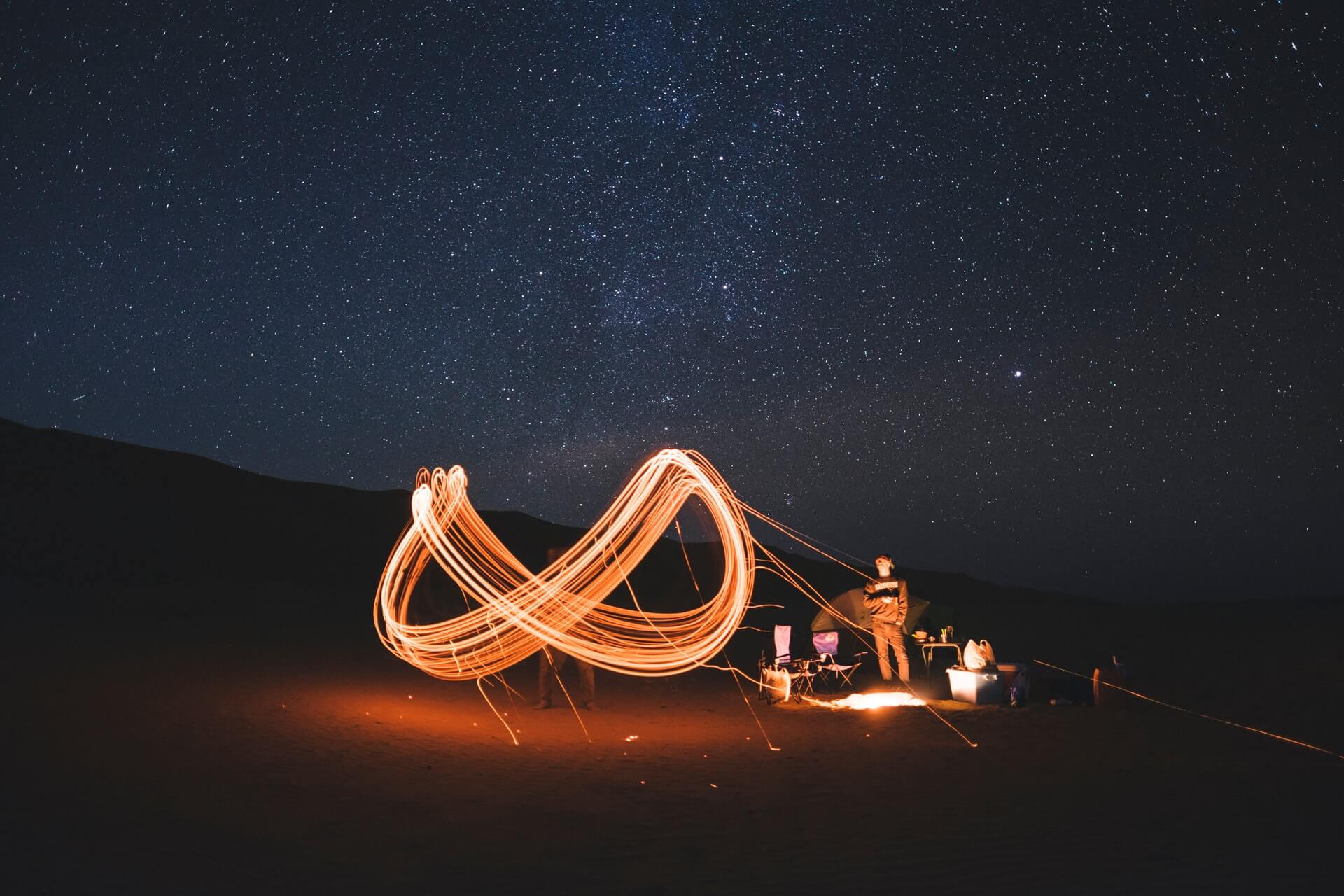 Sharqiyah Sands is an ideal place for ALL travellers to get to know the desert. Whether you have the best backpacking gear for the job or you prefer to spend the night glamping, all options exist here! Though – of course – I recommend the free one 😉
Backpacking Masirah Island
Now we're really getting into offbeat Oman travel territory! Masirah is Oman's largest island and one of its coolest destinations – by far. Very few travellers venture here: you'll likely have some insane views all to yourself!
Besides a couple of shipwrecks off the coast, there aren't really any specific attractions on Masirah Island. However, Masirah is the ultimate place to lie on the beach, swim, break out your travel photography drone, and just explore.
Located just 10km from Oman's eastern coast, it's extremely easy to reach Masirah by ferry. The island is the perfect place to give kite surfing a try too, as its weather conditions are damn near perfect for it.
Backpacking Misfat al Abriyyin
Ahh, one of Oman's most picturesque villages. Misfat al Abriyyin is located on one side of the Al Hajar mountain range and is the perfect example of a traditional Omani village, not too far from Muscat.
All of the homes in Misfat al Abriyyin are constructed out of mud. You can easily get lost in the old streets that weave throughout the village. What I absolutely LOVE is the fact that no cars are allowed–meaning on-foot exploration is where it's at!
Water channels line the walking paths, and you can see date palms for days – literally. You will surely leave Misfat al Abriyyin knowing so much more about Omani culture than when you arrived. It is a place to truly immerse yourself!
Getting Off the Beaten Path in Oman
Since backpacking in Oman is still fairly new, it's easy AF to travel off the beaten path! If you think about how infrequently Oman is backpacked in – or even visited for that matter – you'll get an idea of what adventures await you off the tourist trail.
There is a verified shitton of wadis to explore (yes, Wadi Bani Khalid and Wadi Shab are not the only two!), enticing abandoned ruins, villages untouched by tourism, a peninsula that isn't even technically *in* Oman, and an ENTIRE southern province that most people never bother to explore.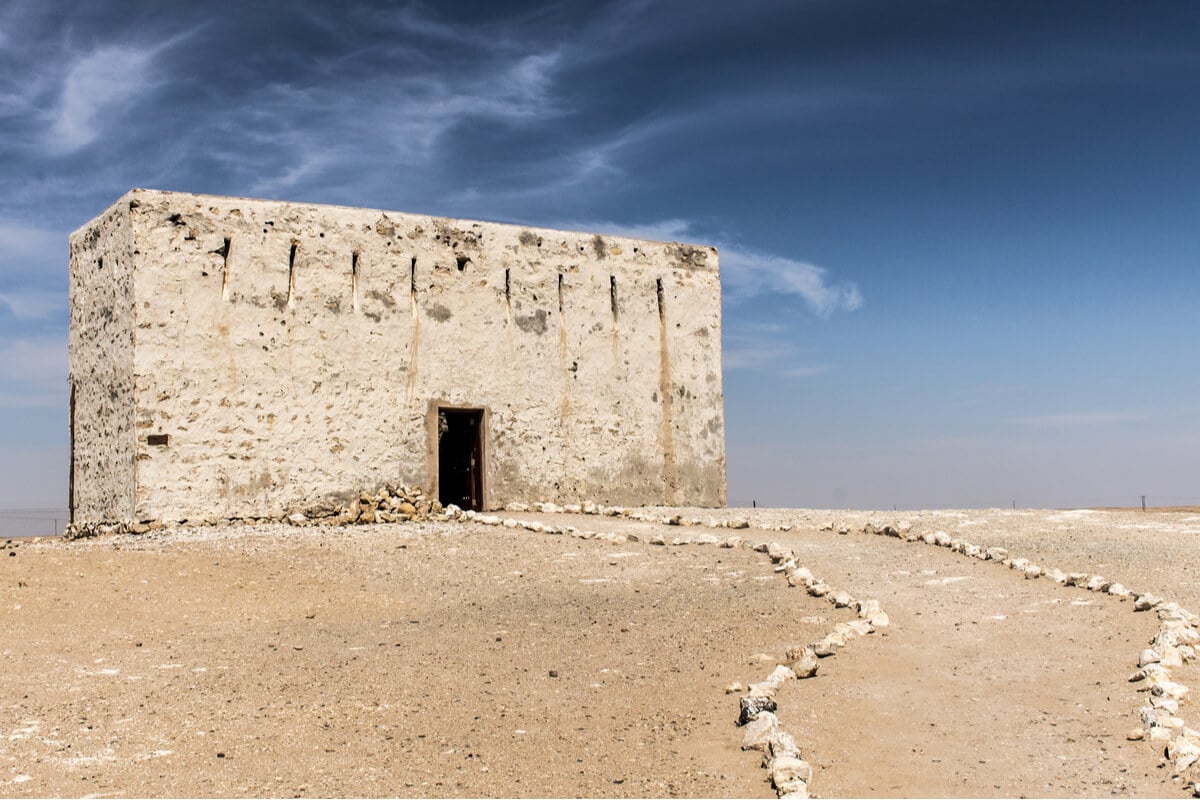 It's unlikely that you'll encounter many fellow foreign tourists in Oman (I didn't see any except in Muttrah Souq!). So, if you're planning to do some offbeat travel, this place is a goldmine. You can almost guarantee that your Oman exploration will be peaceful and definitely free of mass tourism.
From the endless sands of the Empty Quarter to the neverending waterfalls that can be found in and around Salalah, to places like the Tayq Sinkhole and the Lost City of Ubar, Oman has A LOT to keep the curious traveller busy.
There is a lively Couchsurfing network, too, that gets you easily interacting and staying with locals. They are sure to provide you with a healthy and humbling dose of Omani hospitality.
Is This the Best Backpack EVER???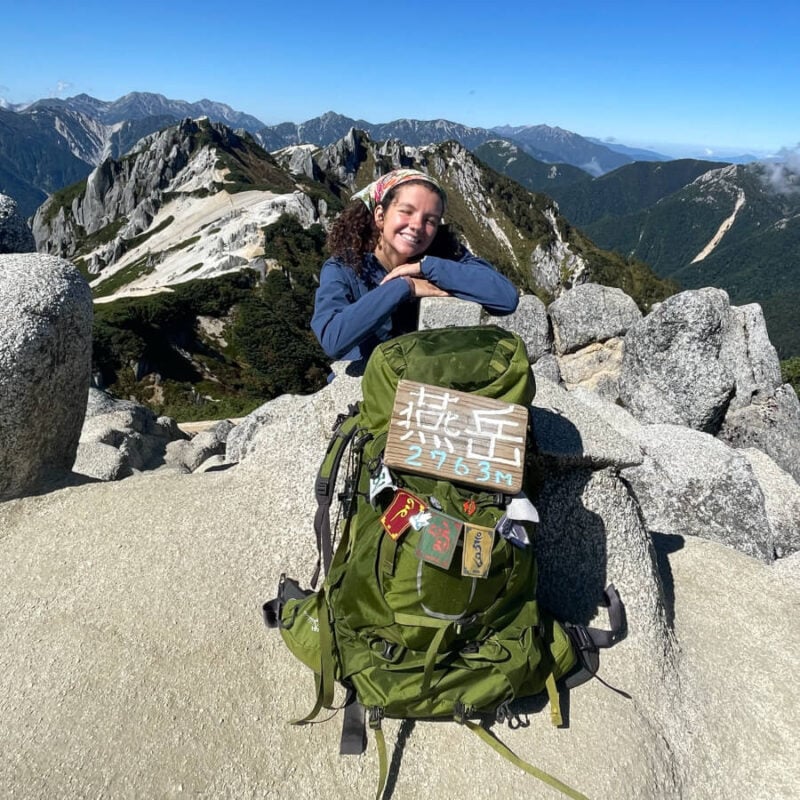 Top Things to Do in Oman
Oman is filled with things for backpackers to do, and the best thing is that most of them are free, too!
While this isn't a complete list of what to do in Oman, it will be sure to get the ball rolling for some seriously sweet adventures.
1. Swim in a wadi
Ahh, one of my favorite travel memories!
Flashbacks of my trip to Oman swim in my mind's eye — swimming in the warm, clear water of Wadi Shab brings a happy tear to it. Oman is filled with wadis—which are lush, desert oases—and you can easily make them a centerpiece of your trip.
Wadi Bani Khalid is probably the most famous and easily accessed of all Oman's wadis, while Wadi Shab includes a short hike, a waterfall, and a cave.
Tons of more offbeat wadis are peppered throughout the country. Wadi Bani Awf is a good example of a more "lowkey" option.
2. Shop till you drop at a souq
Souqs are bazaars, and in them, you can find everything you didn't know you needed. Full of the weird and wonderful, this is the kind of market we travel for. If you're looking to purchase some frankincense too (you never know), then look no further, because that's Oman's specialty!
The Muttrah Souq in Muscat is particularly famous. But, there are plenty of other souqs in the less touristy cities, like Nizwa and Salalah. Make sure you know how to haggle too – get your game on!
3. Wild camp anywhere
Ah, perhaps Oman's most iconic attribute: the fact you can pitch your tent anywhere there's space. Now, this is how you travel to Oman on a budget – camp around the MFing world!
Places I especially recommend wild camping include: near the wadis (morning swim vibes are unbeatable), the beach, and – of course – the desert. But, wild camping is so chill in Oman you can even do it in urban areas. Just make sure you find a nice, semi-secluded space.
4. Head out on a hike
Oman isn't all water and desert. The country is actually filled with tons of rugged mountains, meaning hiking is definitely something you should do in Oman.
Jebel Shams—a part of the country's highest mountain range—is the best place to head for some elevation.
5. Enjoy the beautiful beaches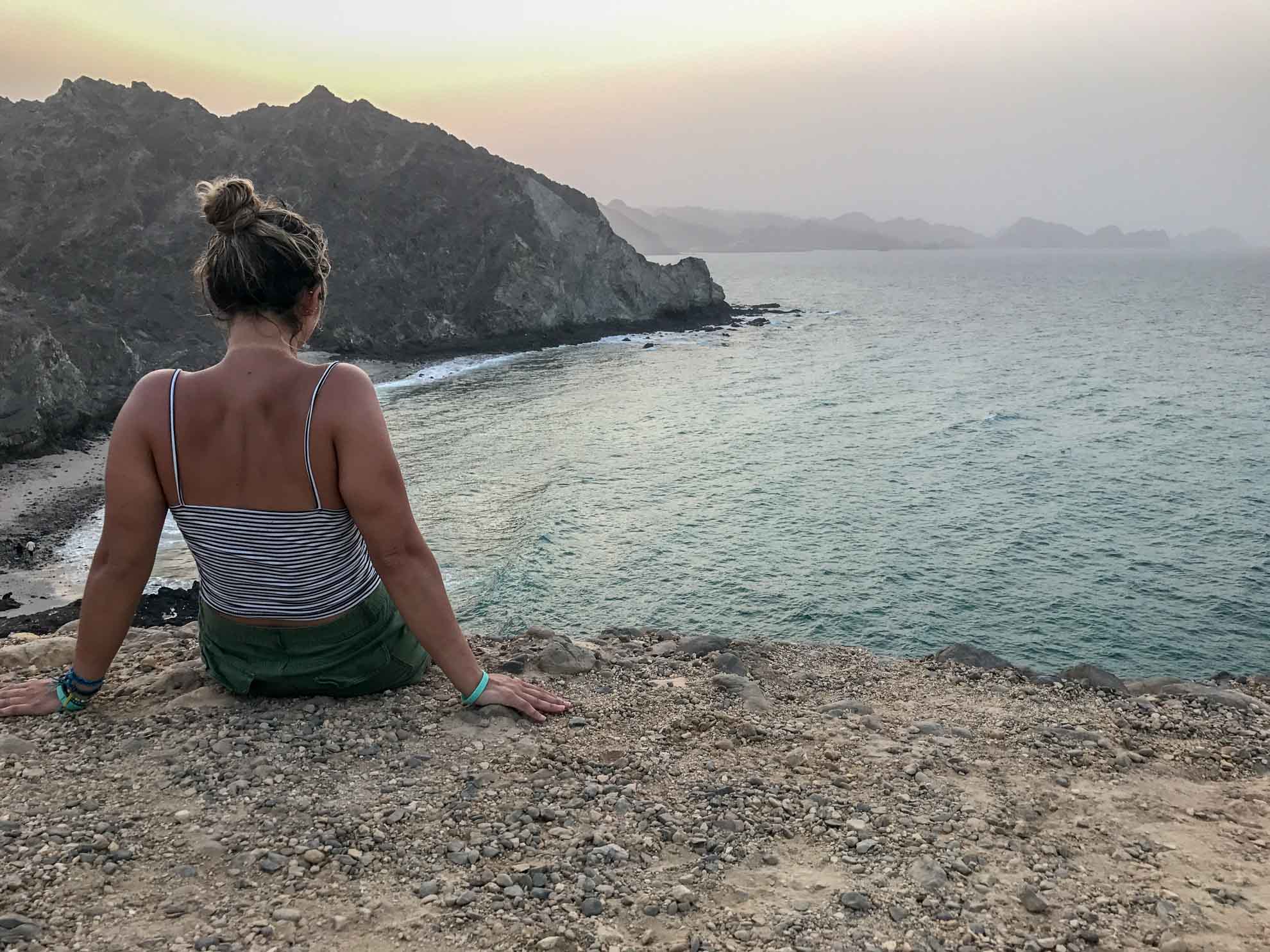 Oman is is that secret beach destination of dreams. I was absolutely blown away. Expect to find thousands of kilometers of coastline, bright blue water and pristine, white sand beaches – often completely vacant of other visitors.
Just like camping, you can swim virtually anywhere in the country!
6. Go on a boat ride
Boating in Oman is funnnnn, especially if you get to ride a traditional-style boat. Musandam is known for its aquatic excursions. But, you don't have to travel all the way to Musandam to see Oman from the water.
I hired a boat for a few hours from Qantab beach that took us to a secluded beach that's not possible to reach on foot. This experience is definitely worth it, even for the brokest of budget backpackers.
7. Try camel meat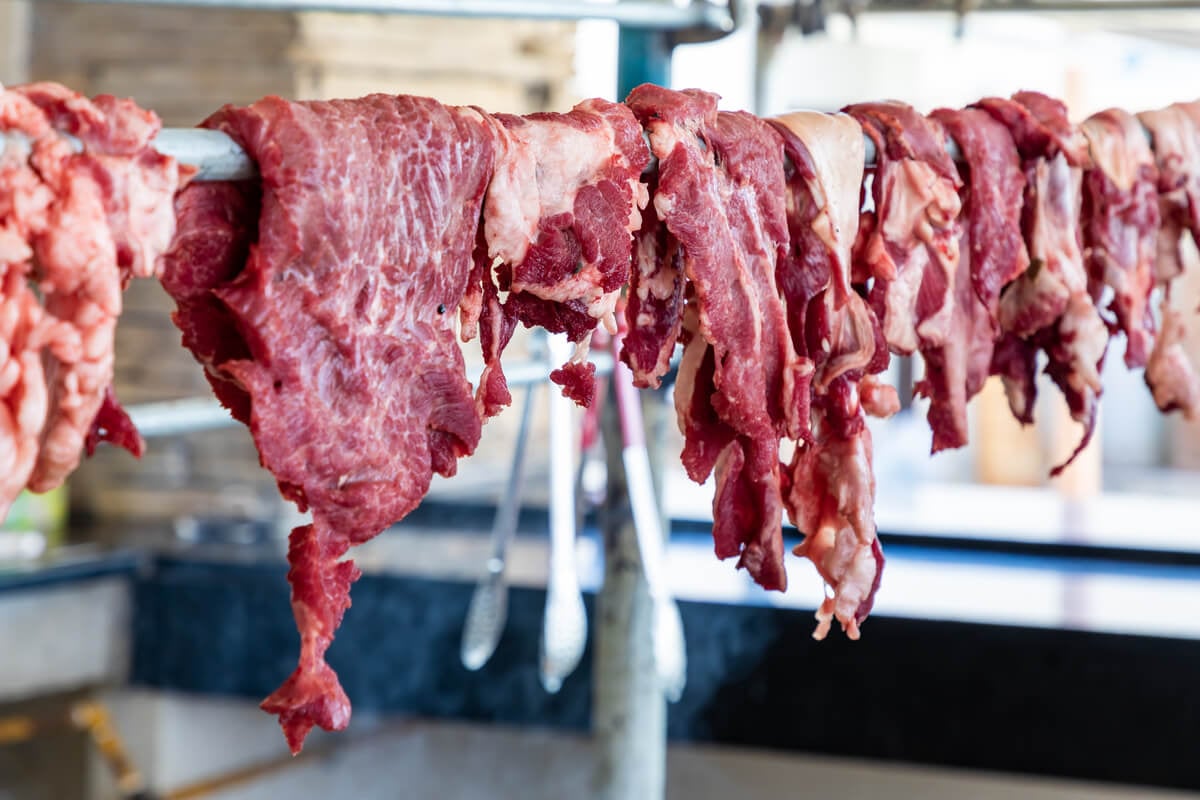 Omani cuisine is unique. One of its coolest features (for us meat-eaters, that is) is none other than camel meat.
It's kinda similar to beef but with a stronger taste. It makes a mean curry or you can try it in its "au natural" form, if you prefer.
You can find it all over Oman, but the Dhofar Province in the south has the highest concentration of camels in the world. Thus, it is a sweet place to try camel meat on the cheap!
8. Get acquainted with the desert
If you've never seen a desert before, get excited: Oman is the perfect place to do so. You have hundreds of miles of sand to explore. Backpacking Oman simply isn't complete until you've spent a night with sand finding itself into every crevice of your body, under an unpolluted sky.
The most accessible desert option is Sharqiyah Sands, where you can choose from a large variety of camping options. For those looking to get more off-the-beaten-path, a piece of the mystical Empty Quarter lies in southern Oman.
Small Pack Problems? 😉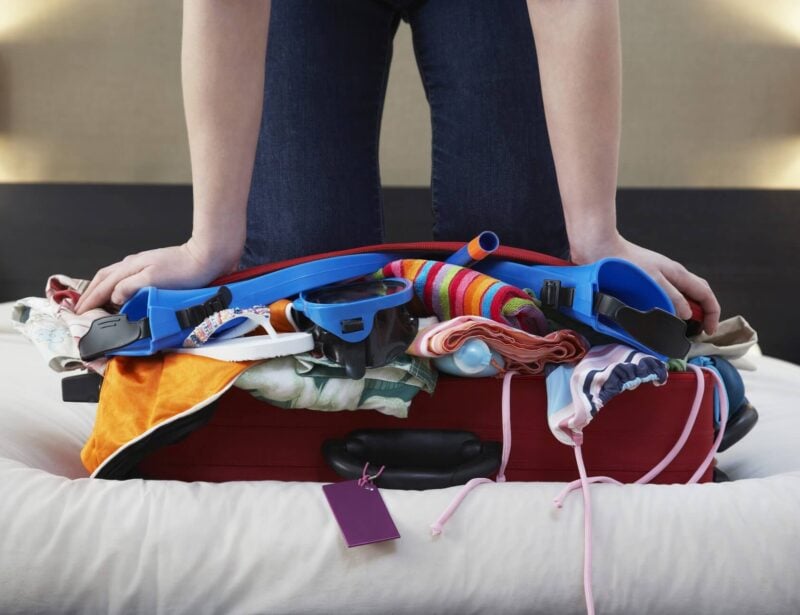 Wanna know how to pack like a pro? Well for a start you need the right gear….
These are packing cubes for the globetrotters and compression sacks for the real adventurers – these babies are a traveller's best kept secret. They organise yo' packing and minimise volume too so you can pack MORE.
Or, y'know… you can stick to just chucking it all in your backpack…
Get Yours Here
Read Our Review
Backpacker Accommodation in Oman
Bad news first, then some good news, kay? So to sum it up: Oman has NO backpacker accommodation. No hostel dorms, no cheap guesthouses and no late nights out with other travelers. Wah wah.
BUT, that doesn't mean it's not an absolute must-have backpacking experience. Oman is one of those backpacking destinations that's really all about nature. This is why (in case you missed it) a proper backpacking tent is a must-have tool that all adventurers looking to explore Oman should have.
But, I get it, sometimes you just need a proper bed and a hot shower. That's understandable! You can expect to pay a minimum of $30/night for a basic room or Airbnb. Yeah, the Omani Rial doesn't exactly convert well…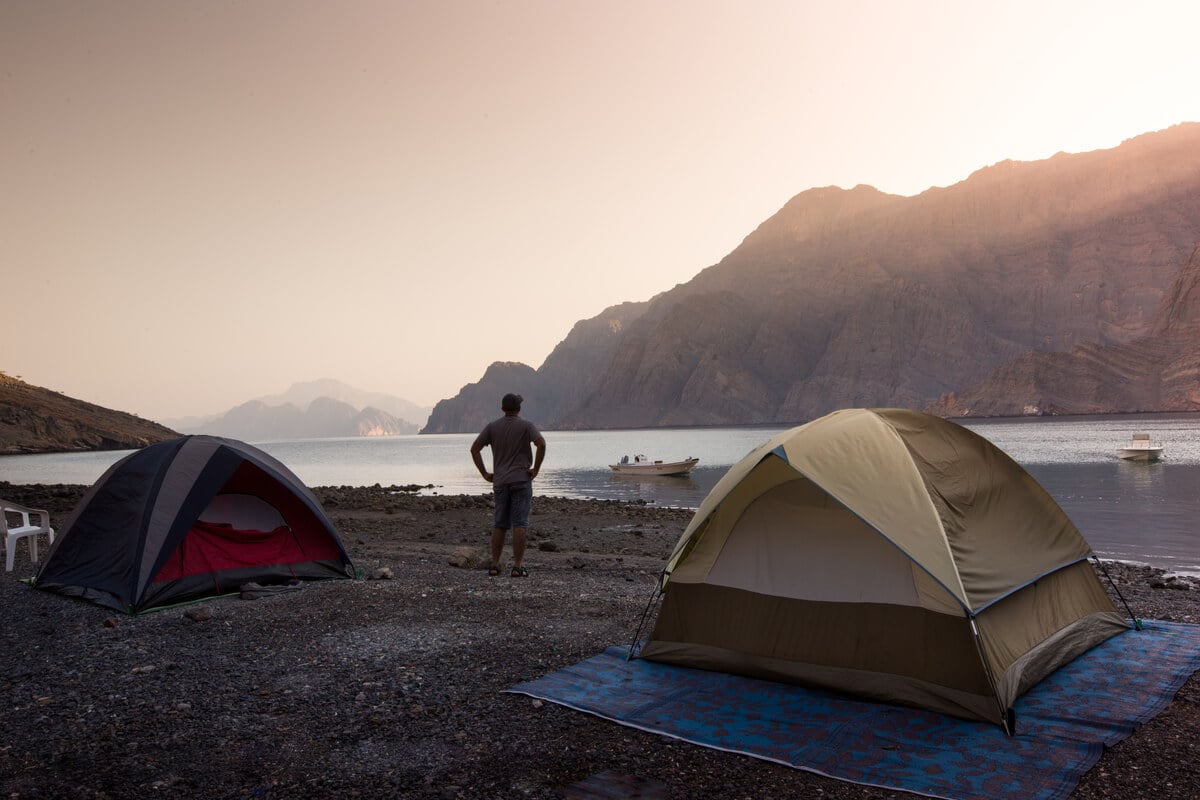 Another major plus about traveling Oman is that its Couchsurfing community is poppin'. You can expect to find hosts all over the country – even in the more offbeat areas. And, because of how full-on Omani hospitality is, you can expect to not have to pay much. (Though attempting to leave a host a gift or offer something in return is always nice!)
If you're looking for something in between full-on wild camping/hitchhiking and staying in hotels, you can consider renting a 2WD car. Rentals come in around $30/day for the most basic vehicle that will get you around, no trouble.
For a 4WD, expect to pay about double. Although, I don't think you really need that unless you're JUST visiting Oman to drive off into the desert. The best thing about a car is that it makes camping a whole lot comfier, and means you get even more off the beaten path. Also, Oman's highways are nice and make for easy road trips!
The Best Places to Stay in Oman
Where to Stay in Oman

| Location | Accommodation | Why Stay Here? |
| --- | --- | --- |
| Muscat | Heavenly Qantab | An iconic Airbnb located right on Qantab Beach, this is the best place to stay near Muscat. It's only 15 minutes from the city but gives you a village feel and the ocean is literally steps away. |
| Nizwa | Private and Perfect Omani Villa | A highly-rated private room with its own entrance and mountain views! Only 15 minutes from central Nizwa, this is the best value place you'll find in the area. |
| Salalah | Beachfront Room for One | One of the cheapest places to stay in Salalah, this beachfront AirBnb is a private room in a Superhost's home. With nearly 5 stars, the owner is also known to help you out with any Oman travel issues that may arise. |
| Sur | Primo Double Room in a Primo Location | This small double room with an attached bathroom is basic, but it's CHEAP for Oman and located right next to the Sur bus station. |
| Musandam | Dibba Beach Resort | Reasonably priced with a ton of incredible perks. The fabulous staff will help you with everything you want to do in Musandam, Dibba Beach Resort is undoubtedly your best option on the peninsula aside from camping! |
| Sur Masirah | Deluxe Seaview Room | While a bit pricey, this beach-side Airbnb is the absolute best place to stay on Masirah Island. Big enough for 2 travelers, it's the perfect comfy base to explore the island from. |
| Jabal Shams | Misfah Old House | A bit on the pricey side, this is the one hotel in Oman worth splurging on. Beautiful traditional architecture and a classic design will have you feel like you're staying in a traditional home. |
Oman Backpacking Costs
The prices of accommodation in Oman may be a stinker, but that doesn't mean the whole country is expensive! There are other areas associated with your travel costs that are wayyy more manageable.
Backpacker hostels and cheap guesthouses do NOT exist in Oman. The cheapest hotels/Airbnbs will set you back $30 or more a night. Ouch.  
Luckily, there's several workarounds. Couchsurfing is very popular and free, as is wild camping, which you can do anywhere–even in cities.
Staying in a hotel can also be affordable if you're sharing costs with a travel partner. 
Omani food at locally run restaurants can be pretty cheap for large portions. But, the best way to eat on the cheap is by visiting the numerous South Asian restaurants that are everywhere.
For the same prices you would pay IN South Asia, you can fill up multiple times a day in Oman.
Renting a car in Oman is definitely the most convenient way to explore the country as public transport is extremely limited. You can get a basic 2WD car for about $30/day, which isn't bad if you plan to pair that with wild camping.
Traveling by hitchhiking is the cheapest option (obviously), while taxis (around $3-$6 minimum in cities) and public buses ($18 from Muscat to Salalah) are other options to consider.
Nightlife is primarily restricted to Muscat, where there are numerous bars and pubs mostly associated with major hotels.
Outside of Muscat and nearby resorts, you'd be hard-pressed to find nightlife of any kind due to Oman's conservative nature.
Shisha, on the other hand, is completely legal and can be found anywhere.
There are loads of activities in Oman that are, thankfully, free. You can opt for private tours, but these tend to be expensive and can easily cost over $100.
Other than that, typical backpackers will only have to consider paying for boat excursions (~$20) or entrance fees.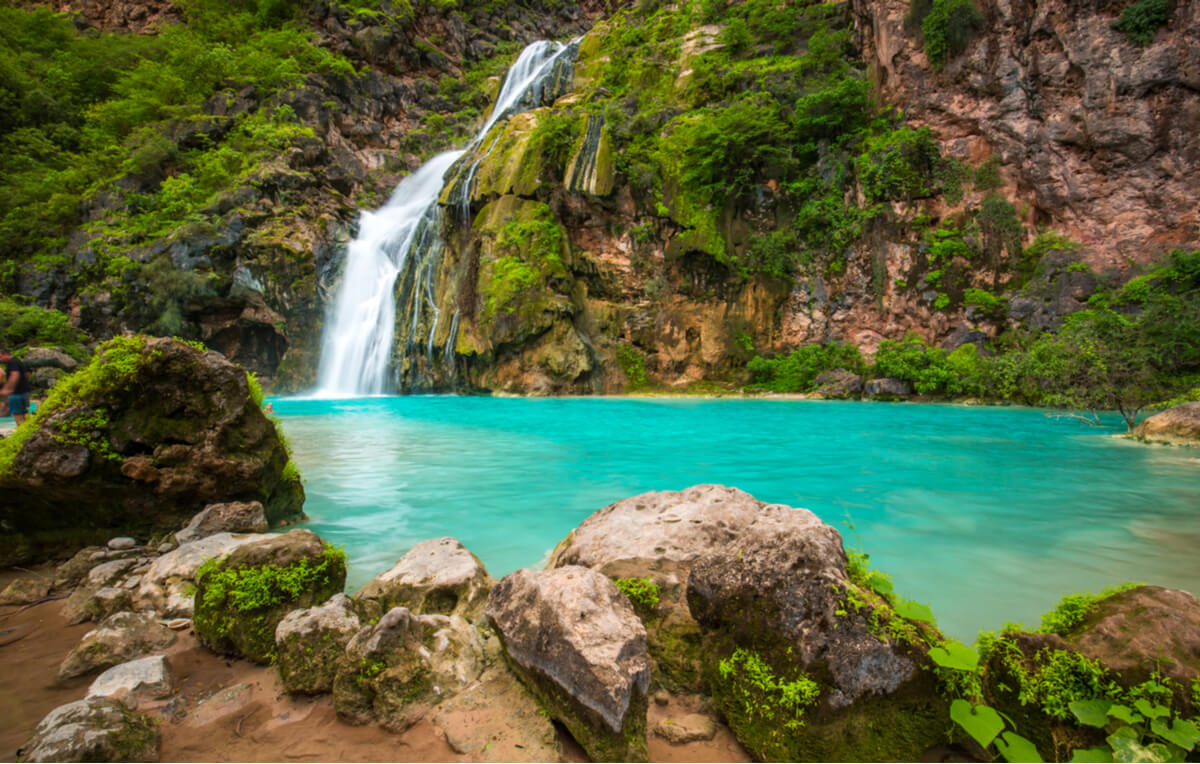 A Daily Budget in Oman
A Daily Budget in Oman

| Expense | Broke Backpacker | Frugal Traveller | Creature of Comfort |
| --- | --- | --- | --- |
| Accommodation | $0-$15 | $30 | $50 |
| Food | $8-$15 | $15-$20 | $25+ |
| Transport | $0-$10 | $8-$20 | $30+ |
| Nightlife | $0-$10 | $0-$15 | $15+ |
| Activities | $0-$10 | $0-$20 | $15+ |
| Total per day: | $8-$60 | $53-$75 | $135+ |
Money in Oman
The Omani Rial (abbreviated OMR) is Oman's national currency. In September 2021, the exchange rate is 1 USD = .38 OMR. So yeah, as you can see–Oman can get pricey if you're not budget-conscious.
Hotels, major grocery stores, and malls will for sure accept foreign credit cards. Though you should definitely keep OMR on you, especially if you're planning to get off the beaten path, as smaller villages may not have ATMs.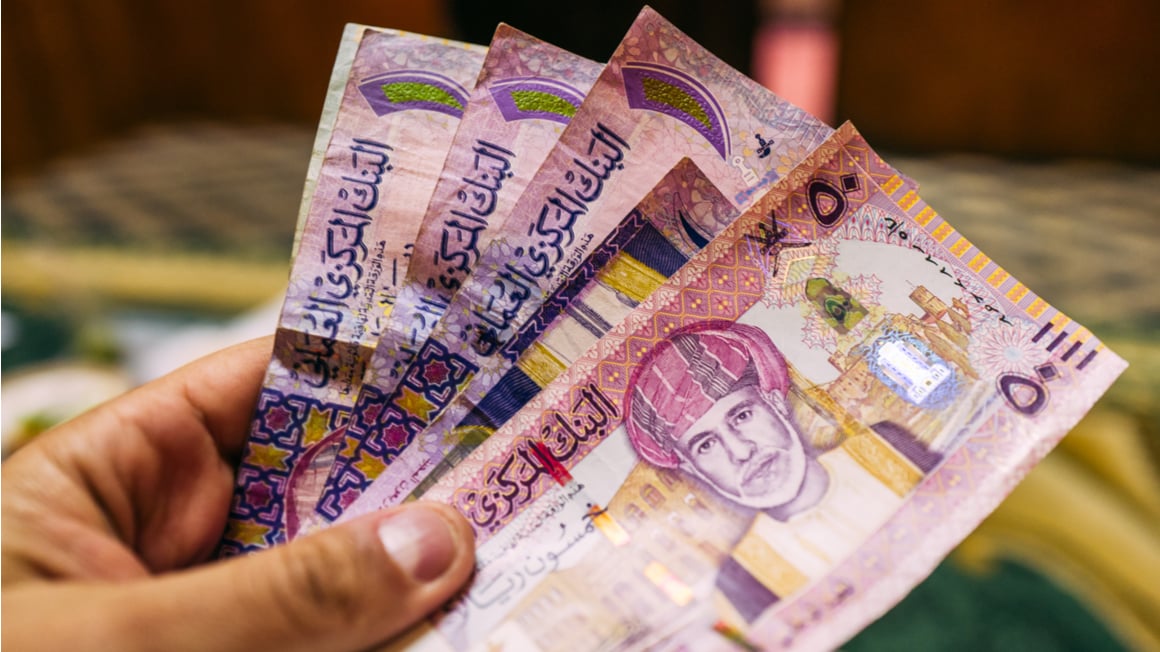 You won't struggle to find ATMs in Muscat, Salalah, and most smaller cities too. But, when heading out to more remote regions ALWAYS over-plan. I've been stuck without cash in off-the-beaten-path locales more times than I can count, and let's just say it ain't fun.
Travel Tips – Oman on a Budget
As you know by now, traveling to Oman on a budget isn't the easiest task. But, with the right mindset, it's absolutely doable! Here are a few trusty broke backpacker approved tips and tricks to save cash:
Pack camping gear: There is no single tip that will save you more money in Oman than this one. A decent tent, a comfy sleeping bag, and a sleeping mat (trust me–it's essential) go a long way!
Hitch a ride: Hitchhiking in Oman is easy, and you often won't have to wait too long for a ride. This will save you loads of cash, and allow you to see truly random and offbeat corners of the country.
Carry a water bottle: Reusable filtered water bottles are essential. Not only are you protecting the world from plastic, but it saves you a ton of money in the long run. I absolutely love my Grayl Geopress – it is the holy grail for the conscientious traveler. I've used mine, even in Asia, for water from taps, lakes, rivers – you name it, the Grayl can filter it.
Cook your own food: If you plan to camp in Oman–as you should–you're gonna have to chef it up a bit. A portable backpacking stove is the trusted accomplice of a broke backpacker. It allows you to literally cook anywhere. (Just remember: you can't bring fuel on a plane, so stock up on arrival!)
Eat at South Asian restaurants: Fancy, westernized restaurants are absolutely NOT the move in Oman, even if they claim to serve Omani food. You'll find a plethora of South Asian (Indian, Pakistani, Bengali) restaurants, even in villages. For the same prices that you'd pay in said cheap backpacking countries, you can fill up on daal, curry and naan.
Why Should You Travel to Oman with a Water Bottle?
Plastic washes up on even the most pristine beaches… so do your part and keep the Big Blue beautiful!
You aren't going to save the world overnight, but you might as well be part of the solution and not the problem. When you travel to some of the world's most remote places, you come to realise the full extent of the plastic problem. And I hope you become more inspired to continue being a responsible traveller.
Plus, now you won't be buying overpriced bottles of water from the supermarkets either! Travel with a filtered water bottle instead and never waste a cent nor a turtle's life again.
Best Time to Travel to Oman
Oman's winter runs roughly from December-March and is arguably the best time to visit Oman. You can expect temperatures between 17- 28ºC during the day.
If you want to travel to Salalah and avoid the monsoon, winter is the best time to do so as it's the driest time in Oman's most southern city.
Keep in mind that in December and January, especially. It gets real cold at night and isn't exactly ideal for camping or water activities.
If you want to enjoy the incredible aquatic opportunities Oman has to offer, March-May is a good time to visit.
Daytime temps tend to be between 29-37ºC, so it's the perfect season to hit Oman's iconic beaches — some of the best places to visit in the country!
I visited Oman in July and while it was definitely hot, I still thoroughly enjoyed my trip.
The fact that virtually all of Oman's tourist spots involved water definitely helped!
But, let's be real, it was…toasty. Eating outside was unpleasant – even at night – and doing activities that didn't involve swimming wasn't exactly ideal.
Temperatures ARE definitely cooler in Salalah from June-August, but keep in mind that means hella' humidity and rain, too.
From September-November, travelling in Oman is extremely pleasant.
Temperatures cool off yet still remain warm. September has that sweet Goldilocks weather; it is the perfect mix of not too hot but not too cold.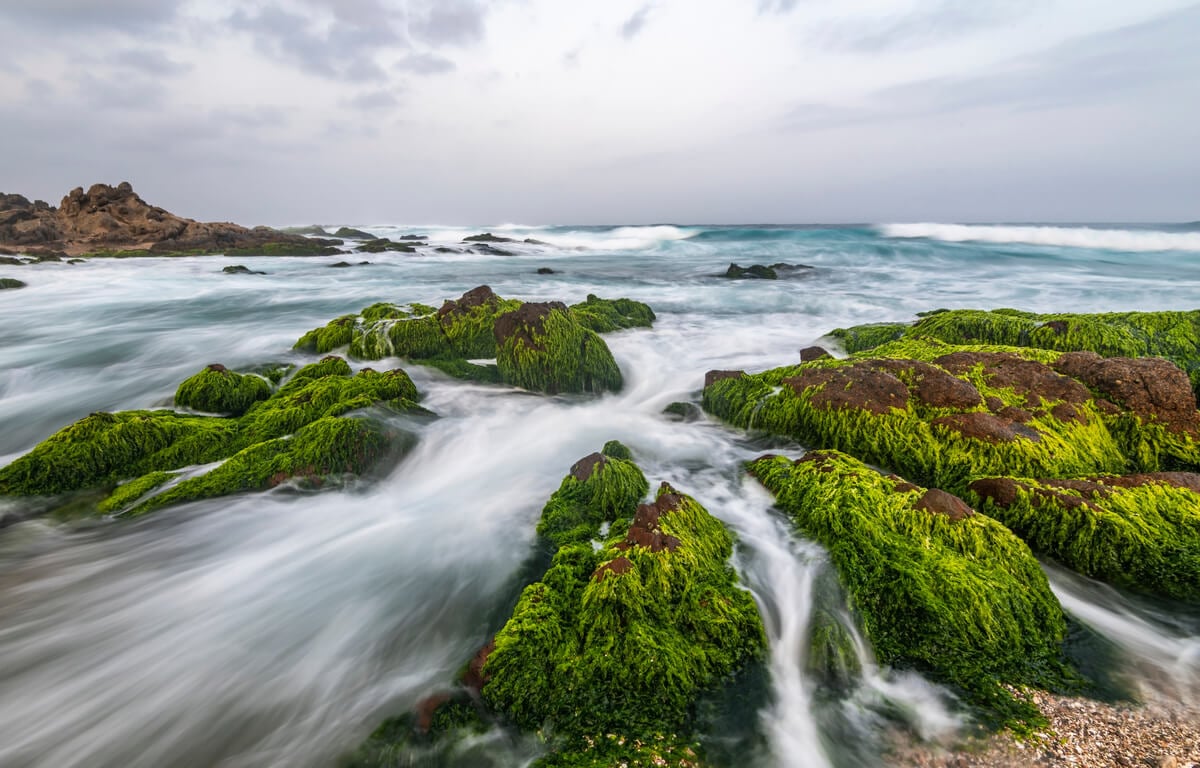 Festivals in Oman
There are several festivals that take place in Oman throughout the year. Some are global Islamic holidays while others are specific to the country. Let's get into it!
Muscat Festival (January-February): This is the largest annual event in the country. Expect to find traditional music, dancing, camel racing, and a whole lot of gastronomy. It celebrates Oman's culture and traditions and happens during the most pleasant season of the year.
Eid-al-Fitr (based on the Islamic calendar): Eid-al-Fitr marks the end of Ramadan (a holy month of fasting). Celebrations entail copious amounts of food, gifts, and family gatherings. Couchsurfing (and hitchhiking!) is the best way to experience this in Oman to get down with the local festivities.
Khareef Festival (June-September): The Khareef (monsoon) Festival celebrates the annual rains in Salalah, kind of similar to the cultural celebrations of Muscat Festival. The locals don't hold back with their traditional arts, food, music, and dancing. It is one of the most interesting and unique experiences in Oman.
Renaissance Day (July 23rd): This important national holiday celebrates the anniversary of Sultan Qaboos coming into power back in 1970. This brought in a new era of peace and prosperity for Omanis and is observed with zeal.
National Day (November 18th): Similar to Renaissance Day, National Day celebrates the birthday of the former Sultan who transformed Oman over a period of 5 decades.
What to Pack for Oman
When visiting Oman, there are a few must-have travel essentials that are simply non-negotiable in my opinion. Read on to check out what they are!
Somewhere to hide your cash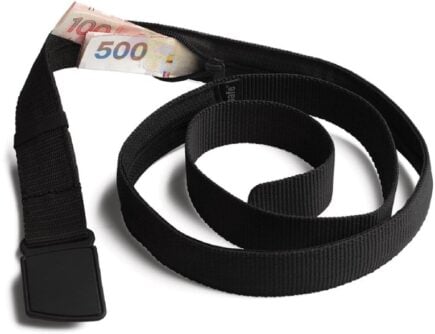 Somewhere to hide your cash
Travel Security Belt
This is a regular looking belt with a concealed pocket on the inside – you can hide up to twenty notes inside and wear it through airport scanners without it setting them off.
For those unexpected messes
For those unexpected messes
Microfiber Towel
Hostel towels are scummy and take forever to dry. Microfibre towels dry quickly, are compact, lightweight, and can be used as a blanket or yoga mat if need be.
When the power goes out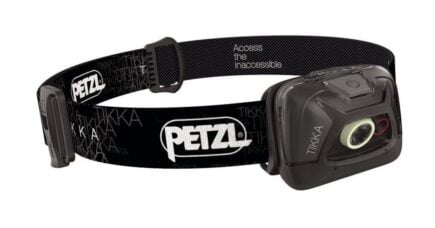 When the power goes out
Petzl Actik Core Headlamp
A decent head torch could save your life. If you want to explore caves, unlit temples, or simply find your way to the bathroom during a blackout, a headtorch is a must.
A way to make friends!
A way to make friends!
'Monopoly Deal'
Forget about Poker! Monopoly Deal is the single best travel card game that we have ever played. Works with 2-5 players and guarantees happy days.
To stay a clean backpacker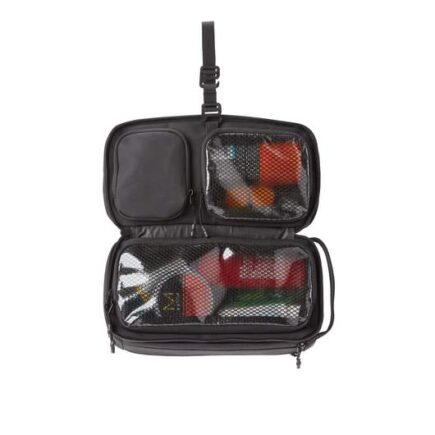 To stay a clean backpacker
Hanging Toiletry Bag
I always travel with a hanging toiletry bag. It's a super-efficient way to organize your bathroom stuff. This one by Nomatic is splash-proof and made to last.
If you're still stuck for ideas, then you can check out The Broke Backpacker's FULL backpacking packing list for that juicy gear inspo!
Staying Safe in Oman
Here's the bottom line: Oman is insanely safe! Not only is it arguably the safest and most peaceful country in the Middle East, but Oman could beat out many Western countries on safety as well.
Crime is virtually non-existent, and when it has happened, it's almost always between people who know each other. Even petty theft is rare in Oman, and Omanis themselves are relaxed and polite people. Oman has also been ranked as having a "0" terrorism threat on the Global Peace Index. It's the only country in the region to have this ranking!
The only real danger you should consider while traveling Oman is the roads; drivers can be crazy! Luckily, Oman has a small population and a large amount of land (comparatively), so you won't have to deal with that many other vehicles.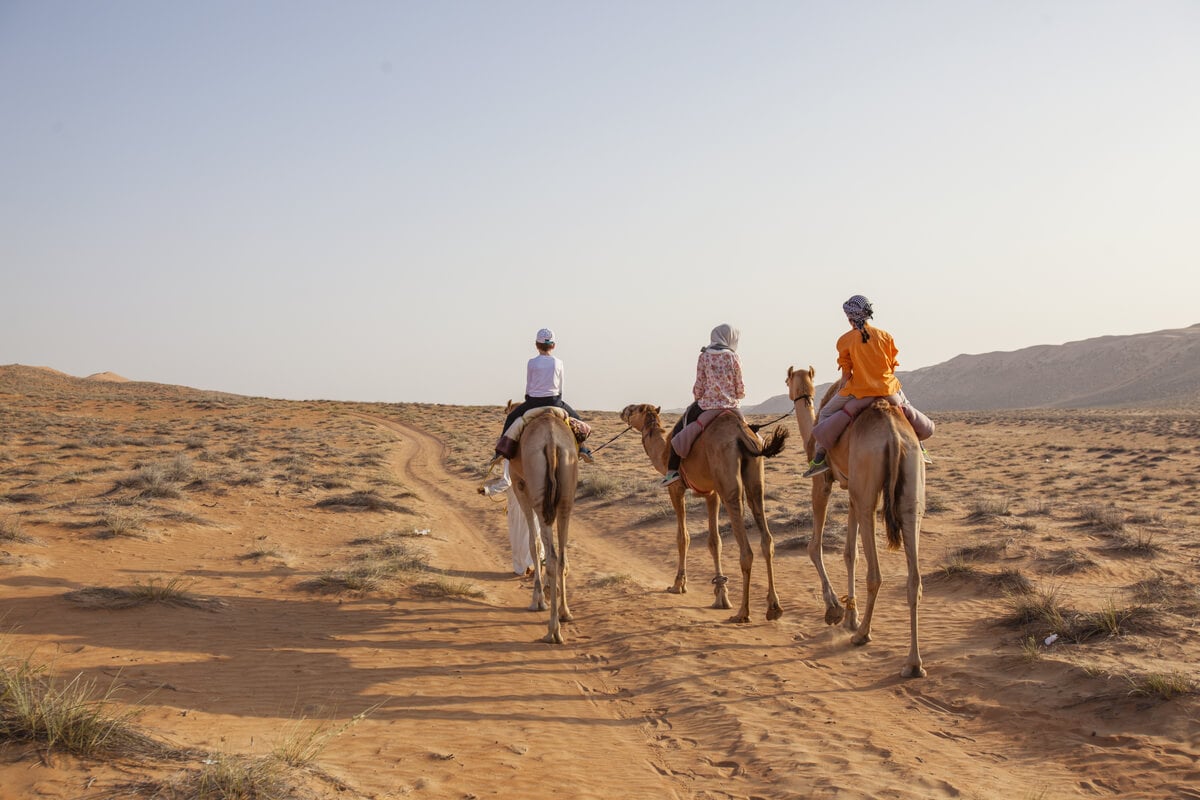 While that's pretty much it, here are a few more essential tips to ensure you stay safe while backpacking Oman:
Do not seek out drugs! I love a nice joint as much as the next person, and while I've enjoyed the devils lettuce in MANY countries, Oman was one where I knew to not even make an attempt. This is not the same as backpacking in India – they take their criminilization very seriously..

Even though theft is rare throughout Oman, it's always a good idea to protect your valuables. I always keep my essentials in a nifty money belt and NEVER allow anyone to handle my electronics bag. Even on a long bus ride– always keep expensive electronics with you!

Keep your eye out for both common and curious scams, especially in touristy areas. While Oman is nothing like New Delhi, it's still common for foreigners to be overcharged, namely in souqs. Don't be afraid to haggle!

While pretty much any beach is fair game for swimming, Oman is not the place to learn how to do so. Know your limits, check the swimming conditions, and only enter water if you're confident about these two factors.
Quick note about solo female travel in Oman: While my visit to Oman was NOT solo, I felt extremely comfortable in the country and would happily return by my lonesome. Omanis are polite and respectful–including men–and even hitchhiking is very safe compared to nearby neighbors. Solo female travelers have reported having great experiences.
Sex, Drugs, and Rock 'n' Roll in Oman
Let's face it: Oman is absolutely NOT a place to experiment with drugs on the road. Its zero-tolerance policy for narcotics is serious, and this definitely includes tourists. There is no bribing your way out of it here.
Though alcohol is technically illegal, it's fine for travelers to purchase (and consume) in virtually any major hotel or resort. These hotels–big international chains like the W, The Sheraton, and The Intercontinental–all have bars inside. They are your best bets for getting into somewhat of an Omani nightlife scene.
The Grand Hyatt and the Rock Bottom Cafe are the only two hotel chains with "dancing permits" (yes, seriously). So if you're looking for an Omani clubbing experience, you know where to stay in Oman.
Most of this is restricted to Muscat. There are far more licensed pubs and bars in Muscat than anywhere else in the country, though you'll find fancy hotels elsewhere that also have the goods.
As for dating, it will be virtually impossible to meet Omani girls without local connections. As for meeting guys–perhaps it's a bit easier but still quite difficult due to closely observed cultural traditions and norms. Whether you're hitting up the local scene, or traveling with your partner, public displays of affection are heavily frowned upon.
Unfortunately, LGBTQ+ rights in Oman are still not up to scratch and members of this community do face persecution. Due to the kind, hospitable nature of Omanis, you are unlikely to encounter any trouble, but this is something to still to bear in mind don't be overt in your leanings, as shitty as that may be.
So while Oman is definitely not the ideal place to get lit, it's the perfect country to spend every day getting *very* high on nature 😉
Travel Insurance for Oman
While Oman is incredibly safe, you never know what can happen when road tripping (especially in a country with hella' camels everywhere!).
Members of The Broke Backpacker team have been using World Nomads for some time now and have made a few claims over the years. If there's one insurance company The Broke Backpacker trusts to cover them while roaming the planet's furthest reaches, it's them.
ALWAYS sort out your backpacker insurance before your trip. There's plenty to choose from in that department, but a good place to start is Safety Wing.
They offer month-to-month payments, no lock-in contracts, and require absolutely no itineraries: that's the exact kind of insurance long-term travellers and digital nomads need.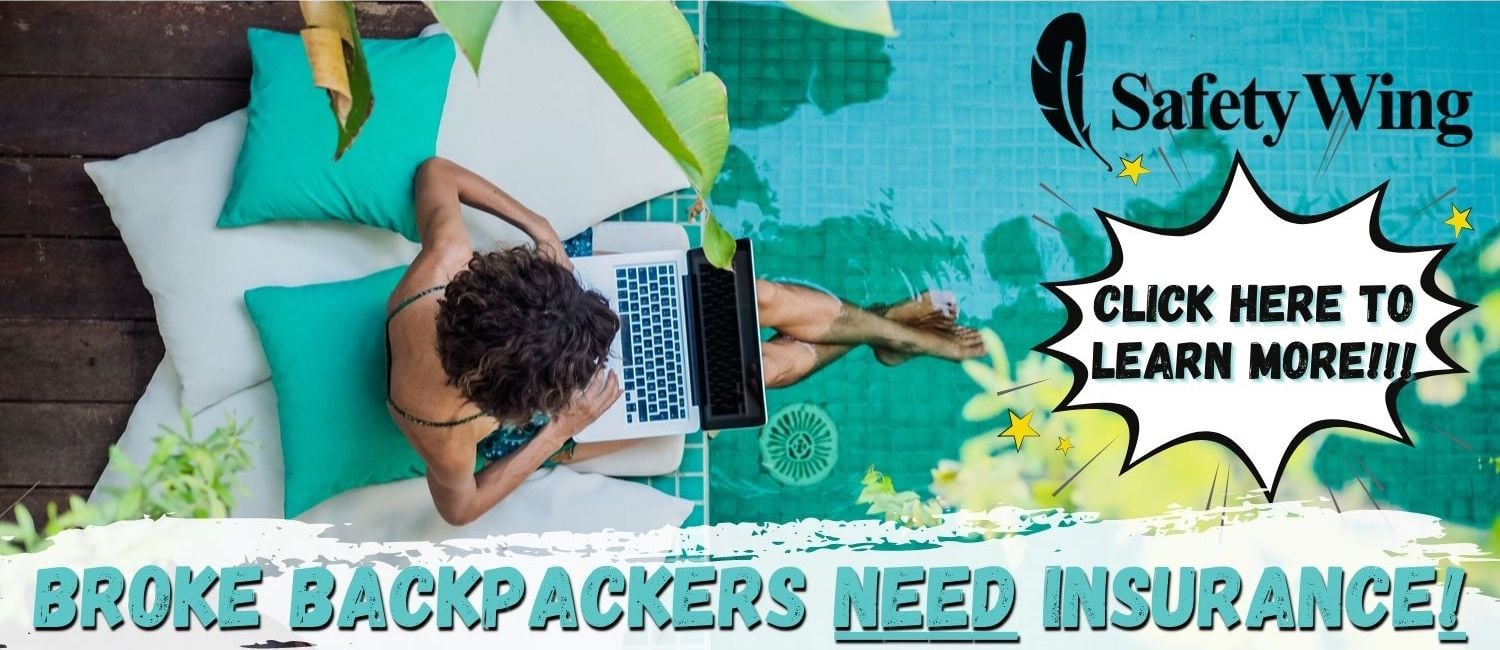 SafetyWing is cheap, easy, and admin-free: just sign up lickety-split so you can get back to it!
Click the button below to learn more about SafetyWing's setup or read our insider review for the full tasty scoop.
How to Get Into Oman
How do travel to, in, and around Oman without spending much money?
You're most likely going to be flying into Muscat (or perhaps Salalah?), though it's also possible to reach Oman via bus from Dubai. This is especially convenient if you happen to be in Dubai but you want to significantly improve your Middle East travel experience – because let's face it, Dubai can be lame AF for backpackers.
But for the most part, you'll likely arrive at the small (but orderly) Muscat International Airport, which is only 32 km from the city center. Flights to Oman are pretty affordable from nearby regions.
The country also serves as a gateway to cheap onward flights to South Asia. This is a sweet plus if you're looking for further offbeat travel!
Entry Requirements for Visiting Oman
Luckily, for most nationalities, getting into Oman is very easy with e-visas. A 10-day visa costs around $13, while a 30-day visa is around $52.
But wait – as of December 2020, the Sultanate announced it would give 10-day free visas on-arrival to citizens of 103 countries! Sweeeet.
If you want to stay longer than the free 10 days, then you need to apply for a visa before you travel to Oman through the government's official site. There are some copycat websites, so make sure you're using the correct one to avoid getting scammed.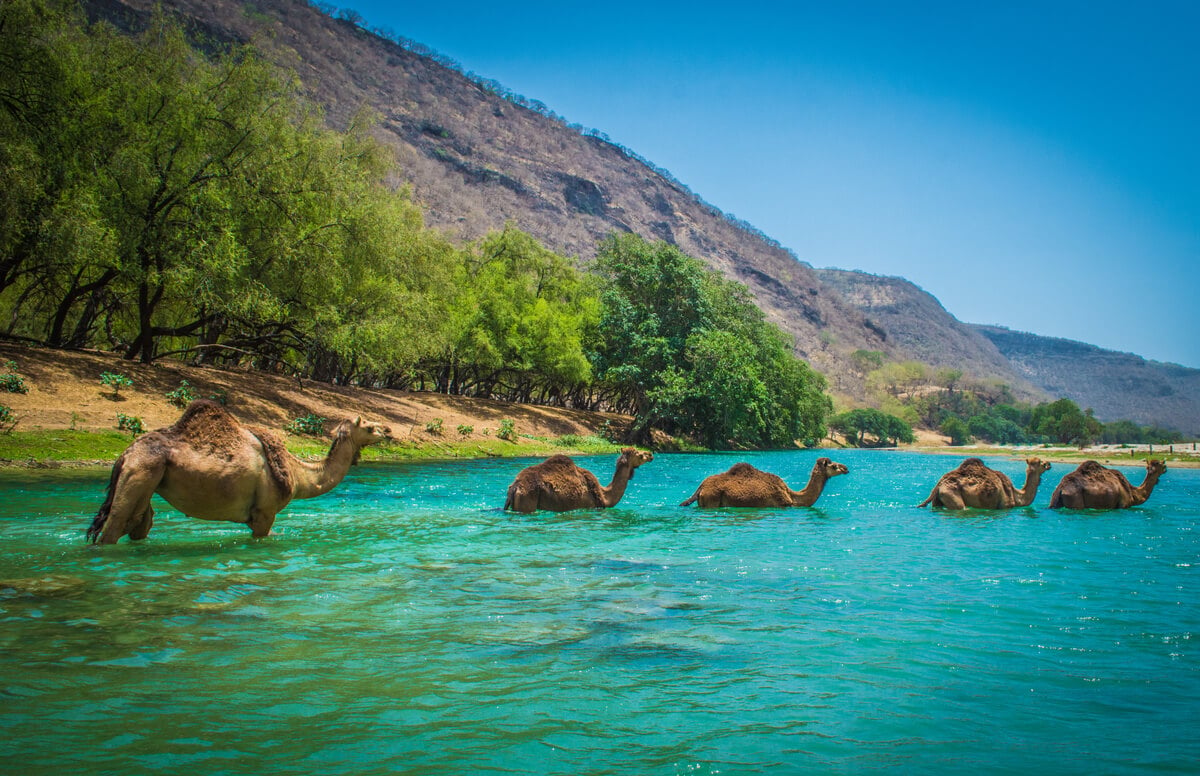 Thanks to these lovely visas making it so easy to enter Oman (for most nationalities), it's not necessary to get a long-term visa, even if you plan to come back. Keep in mind that Omani visa extensions are only made through the Royal Oman Police.
Have you sorted your accommodation yet?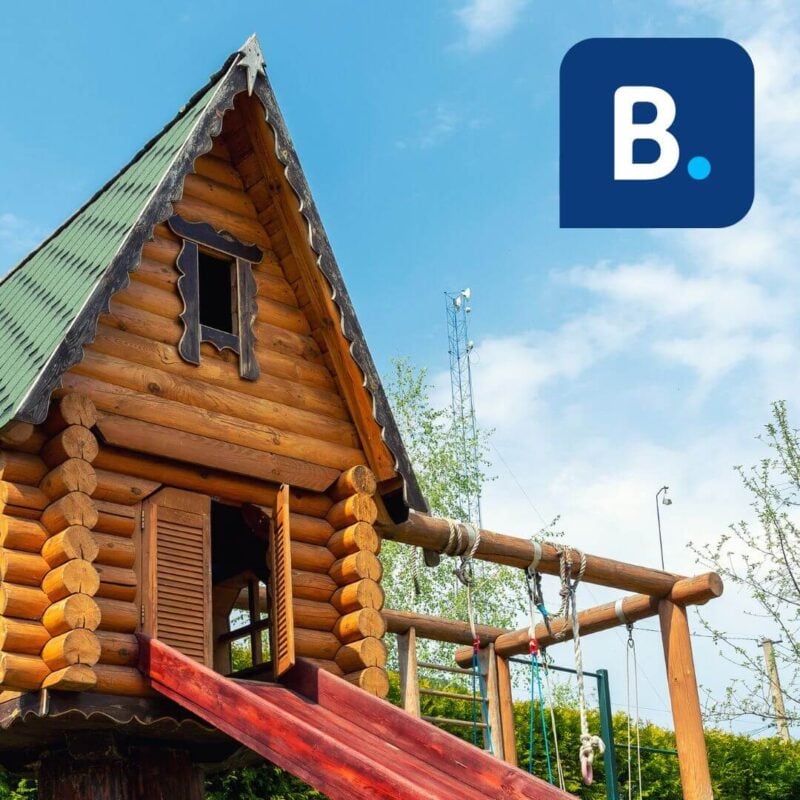 Get 15% OFF when you book through our link — and support the site you love so dearly 😉
Booking.com is quickly becoming our go-to for accommodation. From cheap hostels to stylish homestays and nice hotels, they've got it all!
View on Booking.com
How to Get Around Oman
Choices choices choices! Pick your transport in Oman: you got buses, you got taxis, you got camels!
Na, leave the cuties be: animal tourism is gross. Get yo'self a Fred Flintstone car instead!
There are very few frequent bus routes in Oman, especially to more off-beat locales.
One of the major recommended bus routes in the country is Muscat – Salalah or vice versa, which will set you back $18. Considering the distance is over 1000 km, it's actually not bad.
Other than that though, bus travel and local transport, sadly, aren't really a thing in Oman.
Ah, the best way to travel in Oman! Omanis are incredibly hospitable to foreigners, so you can count on getting picked up virtually anywhere. You can even hitchhike in cities to avoid paying unnecessary taxi prices.
Many travelers in Oman opt to rent a car. This is, of course, the most comfortable way to get around and will for sure save you hella' time.
For a minimum of $30 a day, you can rent a basic 2WD car. This will get you to most places in the country.
Taxis are really only relevant in cities. You can expect to pay between $3-$7, or even more depending on exactly where you want to go in Oman.
Depending entirely on private taxis to get around Oman would cost hundreds, if not thousands, of dollars. But, they are reliable and quick to get you from A to B.
Onwards Travel from Oman
Oman is an ideal place to start if you want to backpack throughout the region. You can easily reach Dubai and Abu Dhabi by road and there are also plenty of cheap flights from Muscat to Karachi, to start your joyful experience of backpacking in Pakistan.
In theory, you can reach Qatar and Bahrain by road from Oman. And, you can also find flights to India at a reasonable price.
Working and Staying Connected in Oman
Digital nomadism isn't exactly a scene in Oman, though it's possible to work anywhere there's cell service/WiFi. But the reality is that Oman isn't the best place for us online workers.
Why? Because it's so expensive (and camping off-grid doesn't make for a great office). WiFi is available at most hotels but data SIM cards get expensive–fast.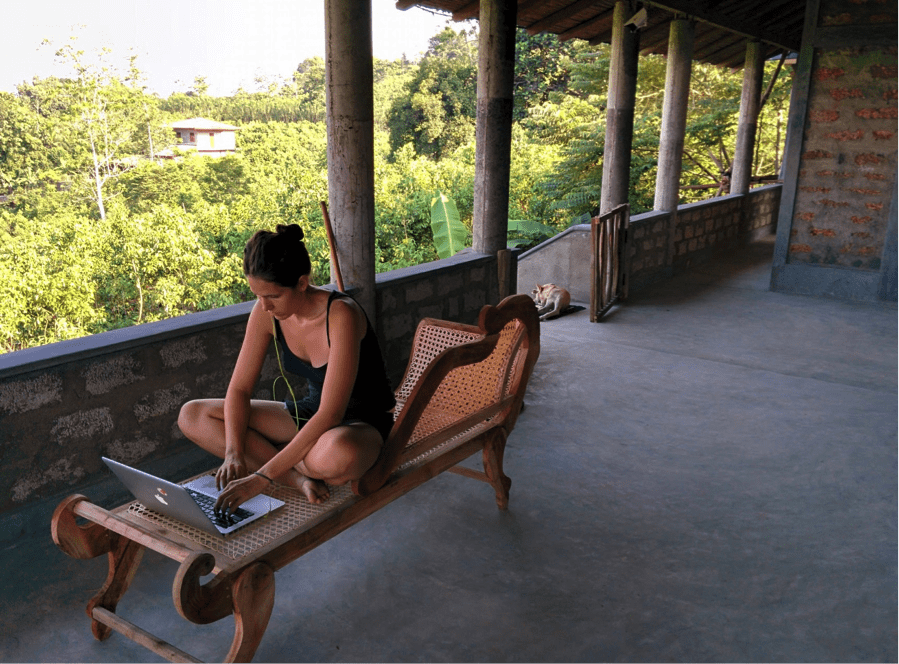 Also, visas are short compared to thriving DN locales. I would undoubtedly say Pakistan and India are much more DN-friendly, even though both are also not popular spots for remote workers.
This doesn't mean you won't be able to get any work done in Oman, but it's more a place to adventure, not settling down. Unless you have a brick-and-mortar job offer or tons of cash monies to sustain Omani prices that is.
The Future of the SIM Card is HERE!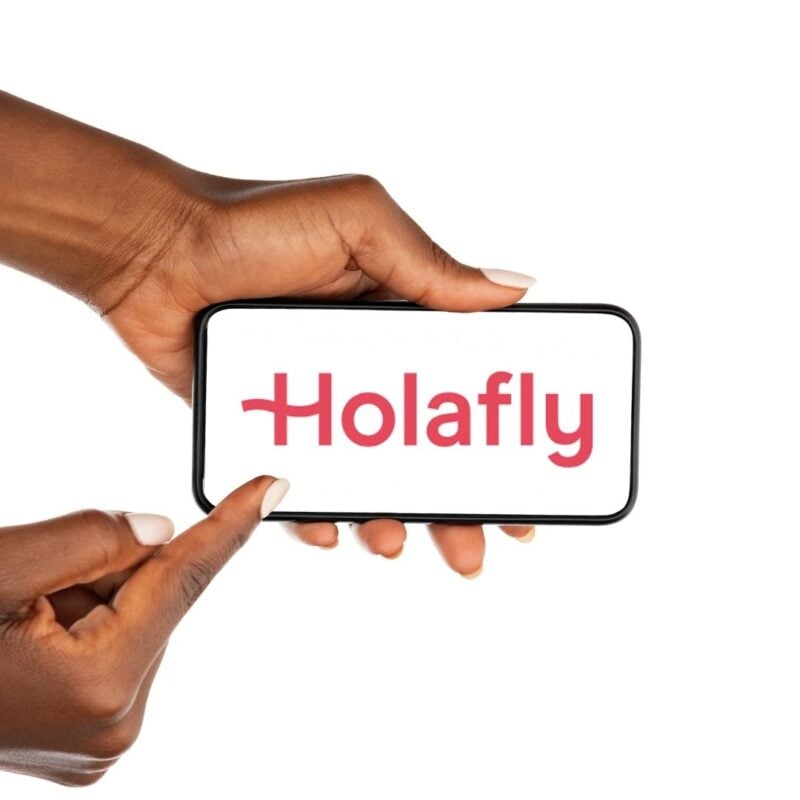 A new country, a new contract, a new piece of plastic – booooring. Instead, buy an eSIM!
An eSIM works just like an app: you buy it, you download it, and BOOM! You're connected. It's just that easy.
Is your phone eSIM ready? Read about how e-Sims work or click below to see one of the top eSIM providers on the market and ditch the plastic.
Grab an eSIM!
Volunteering in Oman
While Oman isn't the first place I would recommend for volunteering, it's definitely still possible. Here at The Broke Backpacker, we find it easiest to find volunteering opportunities from trusted sources. Worldpackers and Workaway both come to mind, and travelers have been using them for years to find sick opportunities abroad.
Worldpackers certainly has more community features, but Workaway is more widespread across the globe. Check out the link below to see how YOU could volunteer in the Sultanate of Oman!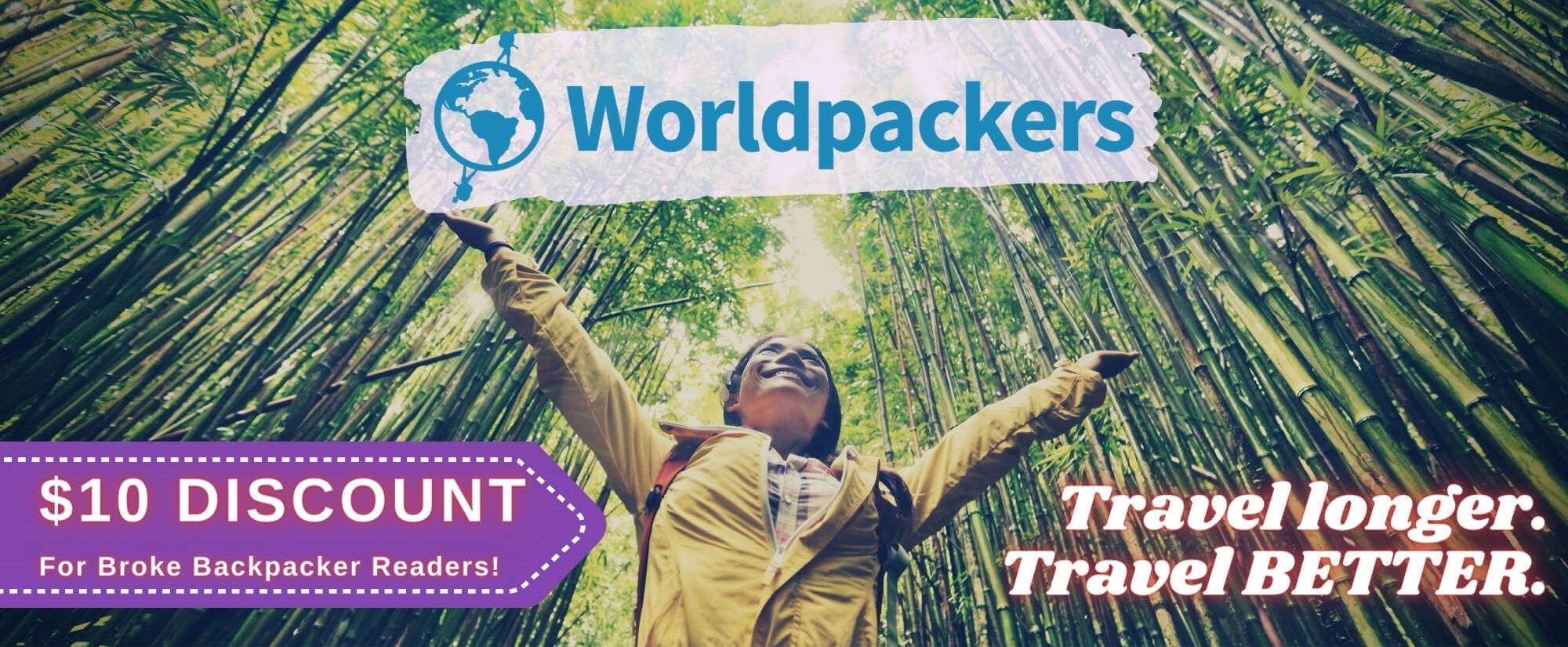 Worldpackers: connecting travellers with meaningful travel experiences.
Teaching English in Oman
While not often considered as a location to teach English abroad, Oman is actually a lucrative place to work, as it pays teachers so well. A four-year college degree is typically required, as well as a TEFL certificate and relevant teaching experience.
If you meet those requirements, however, then here's the big thing: you can expect to make up to $3000 a month plus TONS of benefits! Teachers report being able to save nearly $1000/month after expenses.
What to Eat in Oman
Omani cuisine is delicious and highlights the country's expertise in cooking. Though you might be confused by the many typical offerings of Middle Eastern and Indian restaurants, Oman has a cuisine that's distinctly unique.
Marinated meats, rice, dates, freshly-baked bread, grilled seafood, and its famous khawa (a special coffee) are just some of the big players that make up the Omani snacklyf. Oman is a great place to be an adventurous eater – get on that camel meat, carnivores!
Thanks to its coastal location, the seafood scene excels throughout the Sultanate – and it's an important part of the Omani diet. To really have a foodie experience in Oman, avoid "bougie" looking restaurants, Western restaurants and any eatery that's close to main tourist attractions.
So basically, in Muscat, that means completely avoiding the places along the harbor. And remember–finding classic Omani faves is easier (and cheaper) the further off-the-beaten-track you get. I've found staying with Couchsurfing hosts to be one of the top ways to find the best food in a new destination.
What's Up With South Asian Restaurants in Oman?
As already mentioned in backpacking Oman budget tips, one of the best ways to keep your daily budget low is by eating at Indian and Pakistani restaurants. They are plentiful and HELLA cheap–like we're talking about prices identical to the streets of the region!
But why?
The reality is, Oman almost completely functions off of the labor of migrant workers. Being a Kingdom many (not all) Omanis do not work and do not need to. As such, hospitality jobs and other casual jobs are primarily done by South Asian migrant workers, which led to the welcome creation of a thriving South Asian food scene. Be sure to check it out!
The Best Food in Oman – Famous Dishes!
With such a large population came cheap and tasty restaurants for workers, you can truly find all types of Indian cuisine all over the Sultanate.
Wondering what to order in Oman? Here are some delicious options to get you started!
Shuwa – An iconic classic that happens to be the national dish of Oman; shuwa consists of spicy bone in cuts of mutton. It's roasted or smoked and served with rice and a tomato-based sauce.
Harees – A porridge made up with ground meat and a magic mix of spices. It's usually eaten on special occasions.
Mishkak – A popular Omani street food dish of beef, chicken, or mutton, grilled to perfection on a skewer.
Mashuai – Kingfish grilled in a savory lemon sauce and served with cashews and rice. (Seek this stonker of a dish out in Sur.)
Laban – Extremely similar to the Indian/Pakistani lassi, laban is a salty drink made from yogurt and buttermilk. You'll find it everywhere, usually served with cardamon.
Camel – If you're a meat-eater, you can't visit Oman without tasting some camel. It's kinda similar to beef, and they can conjure up all kinds of dishes with it. Oh, and it's absolutely delicious.
Kahwa – Oman's signature coffee, kahwa, is often mixed with cardamon powder and always, always served with dates.
Dates – An essential item all throughout the region; you'll never run out of dates in Oman. Locals eat them daily, and you can even pick them off the trees.
Majboos – A traditional rice dish consisting of meat, rice (obviously), vegetables, and a mix of spices. Yogurt makes a slammin' addition.
Halwa – Translating to "dessert" in Arabic, halwa is one of the most loved sweets in Oman. Typically brown, it's made of sugar, honey, rose water, spices, and nuts.
Omani Culture
Oman is a conservative country with about 86% being Muslim. Virtually all non-Muslims are foreign workers.
Because of this, alcohol is illegal and you can definitely count out drugs. But, drinkers, rest assured – you can still legally and easily buy alcohol from major (Western) hotels and restaurants.
However, drinking and being drunk in public is still illegal regardless. Moreover, a zero-tolerance policy for drugs means getting caught can land you in jail for a year or more. Yikes.
Like most conservative countries I've visited, I found Omanis to be incredibly hospitable and willing to go far out of their way to help guests. Harassment is rare here, and even when I made the mistake of wearing a very skimpy bikini in a wadi (don't do this), I didn't experience any issues with local guys who were also swimming.
But–while we're on the topic–let's talk clothes. You'll find that most women wear traditional black abayas.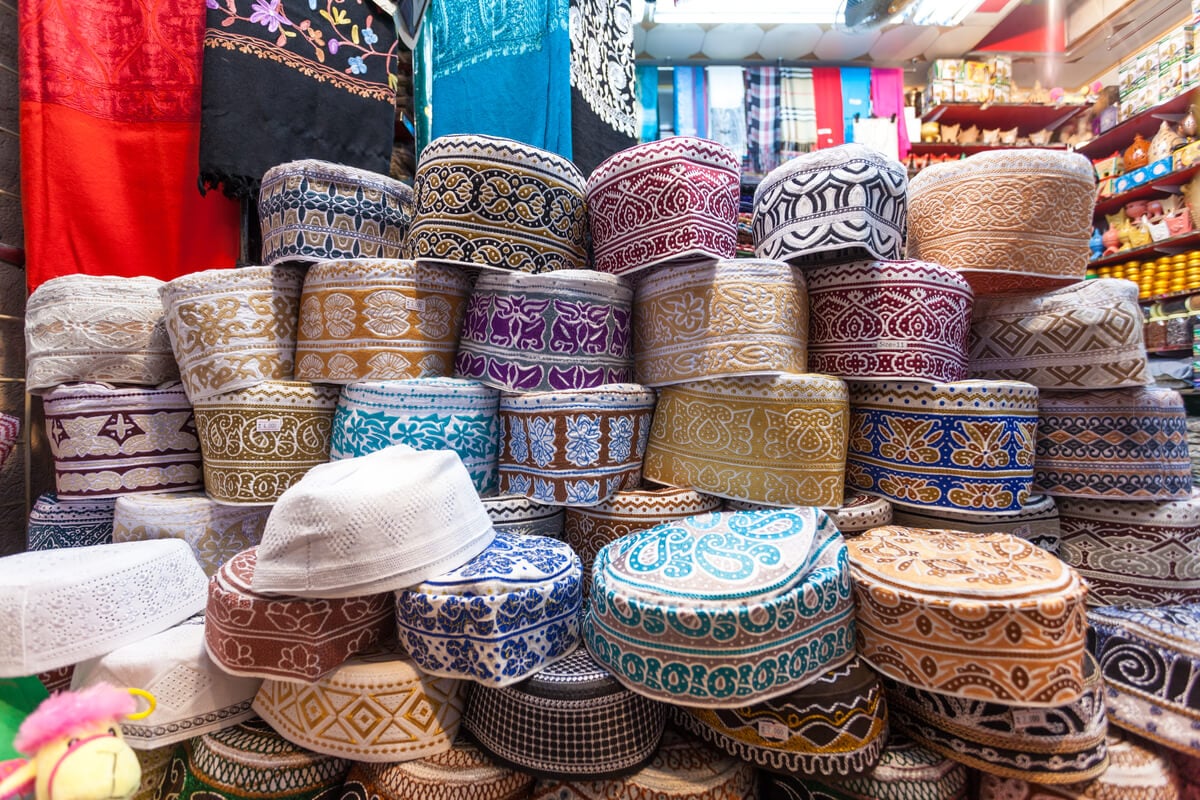 Now, you absolutely don't need to wear a full abaya. But, the locals will appreciate you sticking to loose, respectful clothes – especially in rural areas. Keeping your shoulders and knees covered is a good general rule of thumb. That goes for you guys, too.
On treks, and in other sparsely populated locations, it's totally okay to wear leggings and cut-offs, but always be mindful when going out in public.
Interestingly, public displays of anger are extremely frowned upon in Oman and can even get you a citation. This might explain why the country is so calm and peaceful as a whole.
Another unique feature of Oman is that its weekends are actually Friday and Saturday instead of Saturday and Sunday. Friday is Jumah, where a special congregational prayer is offered around mid-day. Keep in mind that shops and restaurants will close for a few hours around this time: plan accordingly!
If you don't get off the beaten path, it might even be difficult to meet Omanis as foreigners are actually the ones doing most jobs in essential businesses like restaurants. Yet another reason to head into more remote regions!
If you do get invited into a local home, remember you MUST take off your shoes before entering. Also–don't refuse any food; it's considered rude!
Speaking Arabic – Useful Travel Phrases
Arabic is the national language of Oman and is spoken by pretty much everyone. Nevertheless, many dialects and variations of the language exist throughout the country.
While English is pretty common in Oman – including on road signs – it's always useful to learn some words in a new language before traveling.
Yes, I know, Arabic is far from the easiest language to learn (I studied it for a year in high school)! But it can be incredibly useful in numerous countries. Reading the script will allow you to easily learn scripts of other languages like Urdu or Farsi, too.
So here are a few phrases to get you started:
Hello/Welcome – A salaam alaikum
How are you? (to a woman) – Kayfa halish
How are you? (to a man) – Kayfa halak
Yes/No – Na'am/ La
Thank you – Shukran
Nice to meet you – Tasharafna
Where are you from? – Min ayna anta? (male) / Min ayna anti? (female)
Tea- Chai
Bye – Maasalama
What is your name? – Sho esmak?/Sho esmek? (For men/women)
You're Welcome – Afwan
Let's go/hurry/hell yeah/roger – Yalla
Books to Read About Oman
Doing some pre-reading about a destination is ALWAYS a surefire way to get some useful travel tips and tricks.
Being a quiet, peaceful, and lesser-traveled country, there aren't oodles of books written on the Sultanate. But, here are a few to get you started:
Arabian Sands: The author takes you on the incredible journey through the Empty Quarter, including life crossing the Omani desert.
The Road to Ubar: Finding the Atlantis of the Sands: A recount a filmmaker's journey to the ancient city of Ubar (one of the coolest places to go in Oman). Warning: if will leave you a deep desire to check out the remnant remains of the city that sank into the sands.
A History of Modern Oman: A fascinating book that gives you tons of must-have info about Oman's culture, politics and, history.
A Brief History of Oman
Oman has been inhabited for over 100,000 years and was first exposed to Islam in the year 630. Today, Oman remains the only country with a majority of Ibadi Muslims. (Ibadism is also known as "moderate conservatism.")
From 1515 to 1650, the Portuguese ruled Oman, although there were two brief periods within this time span where the Ottomans controlled the country. The former Empire of Oman held several colonies from (sometime in) 1700 to (sometime in) 1900. This included Gwadar, in present-day Pakistan, and Zanzibar, in Africa.
In the 19th century, the prohibition of slavery caused Oman's economy to collapse. Tens of thousands of families then migrated to Zanzibar.
Modern-Day Oman
After years of tensions and even a separatist movement, in 1970, everything changed for Oman when Qaboos bin Said al Said dethroned his father as Sultan. When he came into power, Oman was plagued by disease, poverty, and illiteracy. He immediately abolished his father's harsh laws and restrictions (many of which caused Omanis to flee the country).
He went on to establish a modern government and invested heavily in health and education. In 1996, he presented the country's first constitution.
Today, Oman is a thriving and peaceful society that ranks as one of the world's safest countries. It is no hyperbole to say Sultan Qaboos completely transformed the country and enjoyed widespread support and popularity. He ruled until his death in 2020 and is still highly celebrated.
Final Advice Before Visiting Oman
So we've reached the end of this EPIC backpacking Oman travel guide! Oman is looking as sexy as ever for the off-the-beaten-track adventures broke backpackers do so adore. As the 4th safest country in the world(!!!), it is a haven for travelers of all genders, solo or not.
A friendly reminder that respect goes a long way in Oman. This is as simple as taking your shoes off when you enter someone's home, learning your Arabic 'please's and 'thank you's, and accepting all the dates offered to you! (In more ways than one!)
As Oman is a conservative Muslim country, making the effort to adhere to norms will give you the best travel experience. You don't have to wear an abaya, but it does mean dressing respectfully (no, put those booty shorts away).
Islam and religion are important to the Omani people, so make sure your words about their way of life are courteous. Make an effort to meet Omanis as often as you can. Yes – the wadis are INCREDIBLE, but what really is a country without its people?
The true jewel of the Middle East; Oman is a country unlike any other. Backpacking in Oman is an incredible experience, and you'll likely find yourself eager to return.
So, what are you waiting for? Buy that tent, book that ticket and get out there. The Sultanate of Oman awaits!
---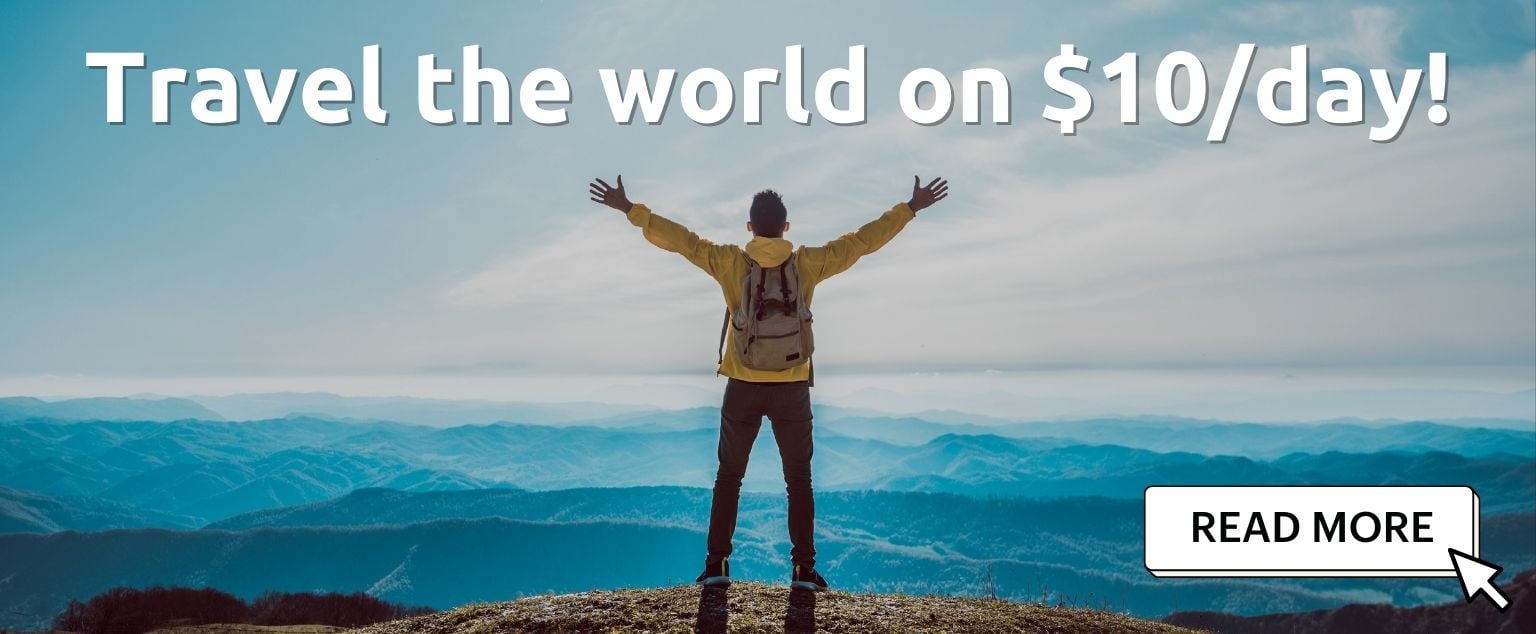 And for transparency's sake, please know that some of the links in our content are affiliate links. That means that if you book your accommodation, buy your gear, or sort your insurance through our link, we earn a small commission (at no extra cost to you). That said, we only link to the gear we trust and never recommend services we don't believe are up to scratch. Again, thank you!