Oh man, Oman! You absolute beauty. To this day, I still think about the time I spent traversing this magical land. And I KNOW you'll probably want to do the same by the time you finish reading.
Stunning untouched beaches, twinkling turquoise-blue wadis, historical forts, more camels than you could ever count… Your Oman bucket list is bound to be hella' full.
The only problem is, though relatively small, Oman almost has TOO much to offer. And with the ability to wild camp pretty much anywhere, it's a playground for road trippers! And broke backpacking hitchhikers, of course. ?
While not yet a "touristy" country per se, there are certainly places and activities that are more popular than others. But I can assure you that Oman's tourist places are still a delight!
Ultimately, Oman is an off the beaten path destination if ever there was one. And as a veteran offbeat traveler/backpacker, I can tell you that it pays to have good info in your pocket.
So let me be your guide! I've scoured the majesty of this country from top to bottom, and I've found the absolute BEST places to visit in Oman.
Book that ticket. Saddle that camel! It's time for the trip of a lifetime.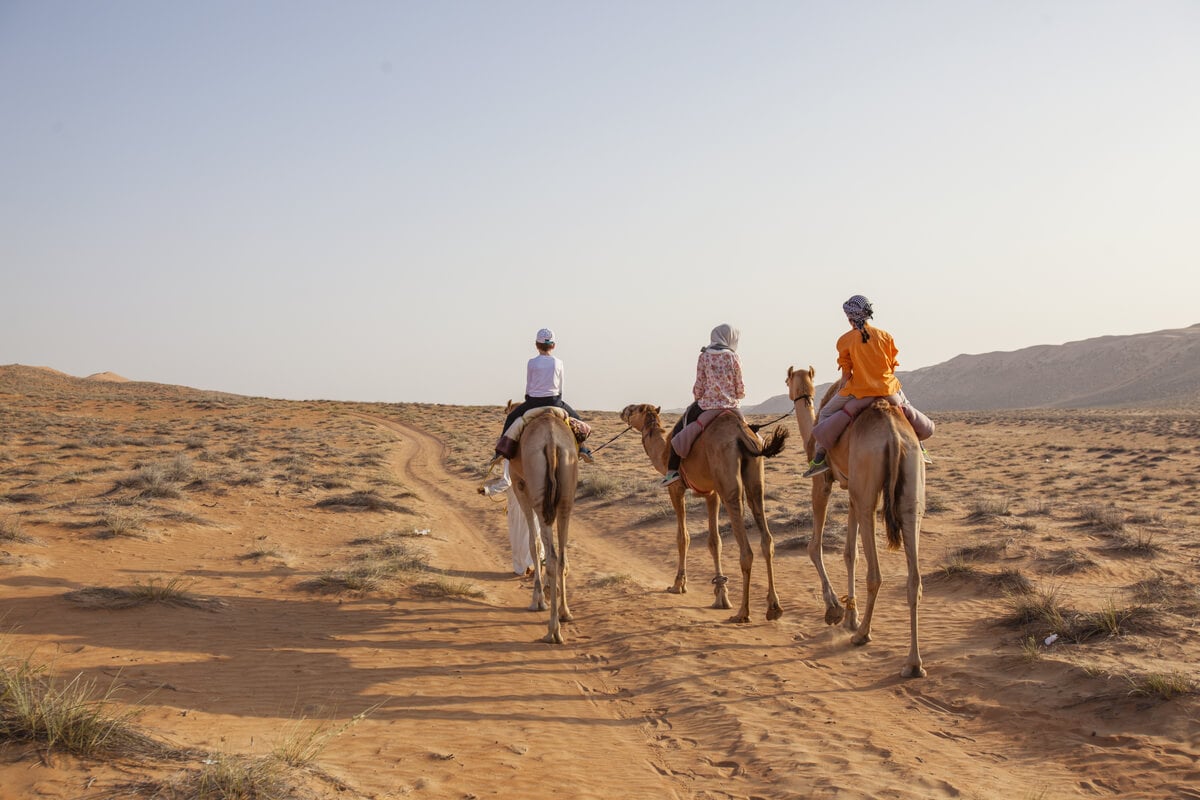 When is the Best Time to Visit Oman?
While not strictly a country of four seasons, there is some diversity in Oman's weather and temperatures. Plus it's a desert, so it's better to be prepared. Heatstrokes ain't fun, people!
Oman's winter runs roughly from December-March and is said by many to be the best time to visit Oman. You can expect temperatures between 17- 28ºC during the day.
If you want to travel to Salalah and avoid the monsoon, winter is the best time to do so as it's the driest time in Oman's most southern city.
Keep in mind that in December and January especially, it gets real cold at night and isn't exactly ideal for camping or water activities.
If you actually want to enjoy the incredible aquatic opportunities Oman has to offer, March-May is a good time to visit.
Daytime temps tend to be between 29-37ºC, so it's the perfect season to hit Oman's iconic beaches — some of the best places to visit in the country!
I visited Oman in July and while it was definitely hot, I still thoroughly enjoyed my trip.
The fact that virtually all of Oman's tourist spots involved water definitely helped too!
But let's be real, it was…toasty. Eating outside was unpleasant even at night, and doing activities that didn't involve swimming wasn't exactly ideal.
Temperatures ARE definitely cooler in Salalah from June-August, but keep in mind that means hella' humidity and rain, too.
From September-November, Oman is extremely pleasant to visit.
Temperatures cool off yet still remain warm, and September is within peak turtle viewing time at Ras Al Jinz!
The 14 Best Places to Visit in Oman
Budget backpacker or Arabian adventurer it matters not; the proverbial Pearl of Arabia has something for you!
Starting with a big hole…

Unlock Our GREATEST Travel Secrets!
Sign up for our newsletter and get the best travel tips delivered right to your inbox.
#1 – Bimmah Sinkhole – One of the most notable and interesting tourist places in Oman.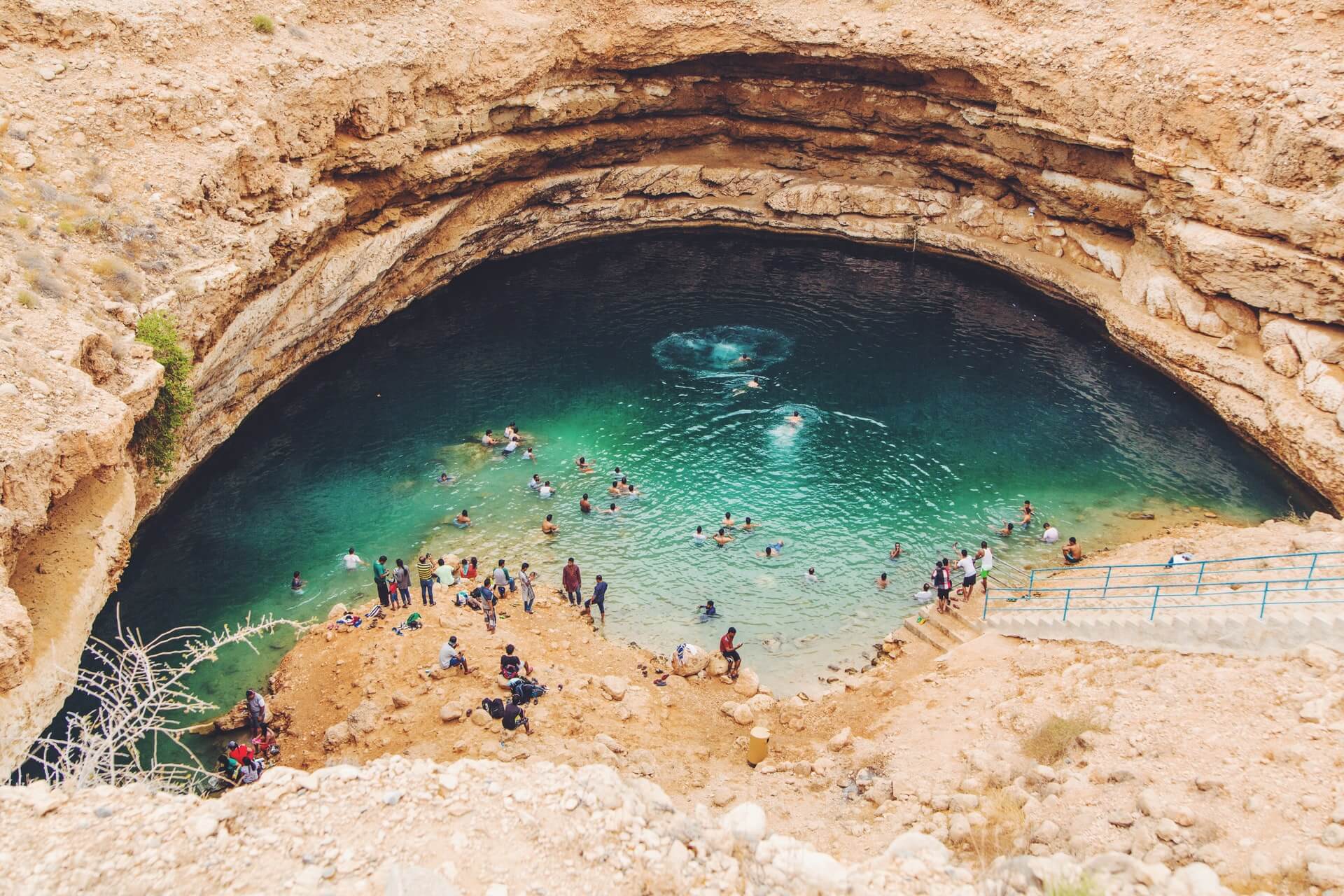 Close to Muscat.
Insanely blue/green water.
The perfect introduction to snorkeling and swimming in Oman.
We're starting off the list of epic places in Oman with the Bimmah Sinkhole. Ever swam in a sinkhole? Yeah, I didn't think so!
I hadn't either before arriving in Oman and certainly haven't since. So what's all the hype about?
Why it's awesome: The Bimmah Sinkhole is the perfect first stop on your road trip through Oman (or hitchhiking escapade) and it provides for a much-needed refresher from the heat — one of those Omani tourist spots you just can't miss! The water is the perf temperature, and there are a ton of fish and other sea-life to enjoy.
What to do there: Swim, duh! You can bring lunch, too. The sinkhole is a natural depression created through erosion, but Omani legend says it was created by a meteorite. However it came to be, today it reaches 300 feet at its deepest point and is best enjoyed with some snorkeling gear. The park surrounding this epic Oman tourist spot opens daily at 8 AM. Get there early (or during off-season) to have it (and the nibbly fish that you'll quickly become acquainted with) all to yourself!
#2 – Wadi Shab – A magical natural wonder and my favorite place in Oman.
It's a waterfall inside a swimmable cave… need I say more?
A legit oasis in a desert.
(Warm) Waterfall… in a cave…
Out of everything I saw in Oman, Wadi Shab was THAT place. A place I still think about now, quite a few moons after leaving the Kingdom. Looking for the most beautiful place to visit in Oman? I believe this might be it.
Why it's awesome: Where else on Earth are you going to get to swim up to a cave, and then get to experience a waterfall… in a cave? And did I mention the water was warm (and the waterfall and cave)?
What to do there: Chillax to the max. It takes about 45 minutes to hike to the main swimming area. Spend the entire day in the area soaking in the crystal clear water, and perhaps pair it with a picnic. The only mistake I made here was not bringing enough water (and at the time not having a filtered water bottle). The waterfall portion of Wadi Shab is also fosho' a place where you'll regret not having a GoPro (or an awesome GoPro alternative).
#3 – Salalah – Green, southern, and absolutely stunning.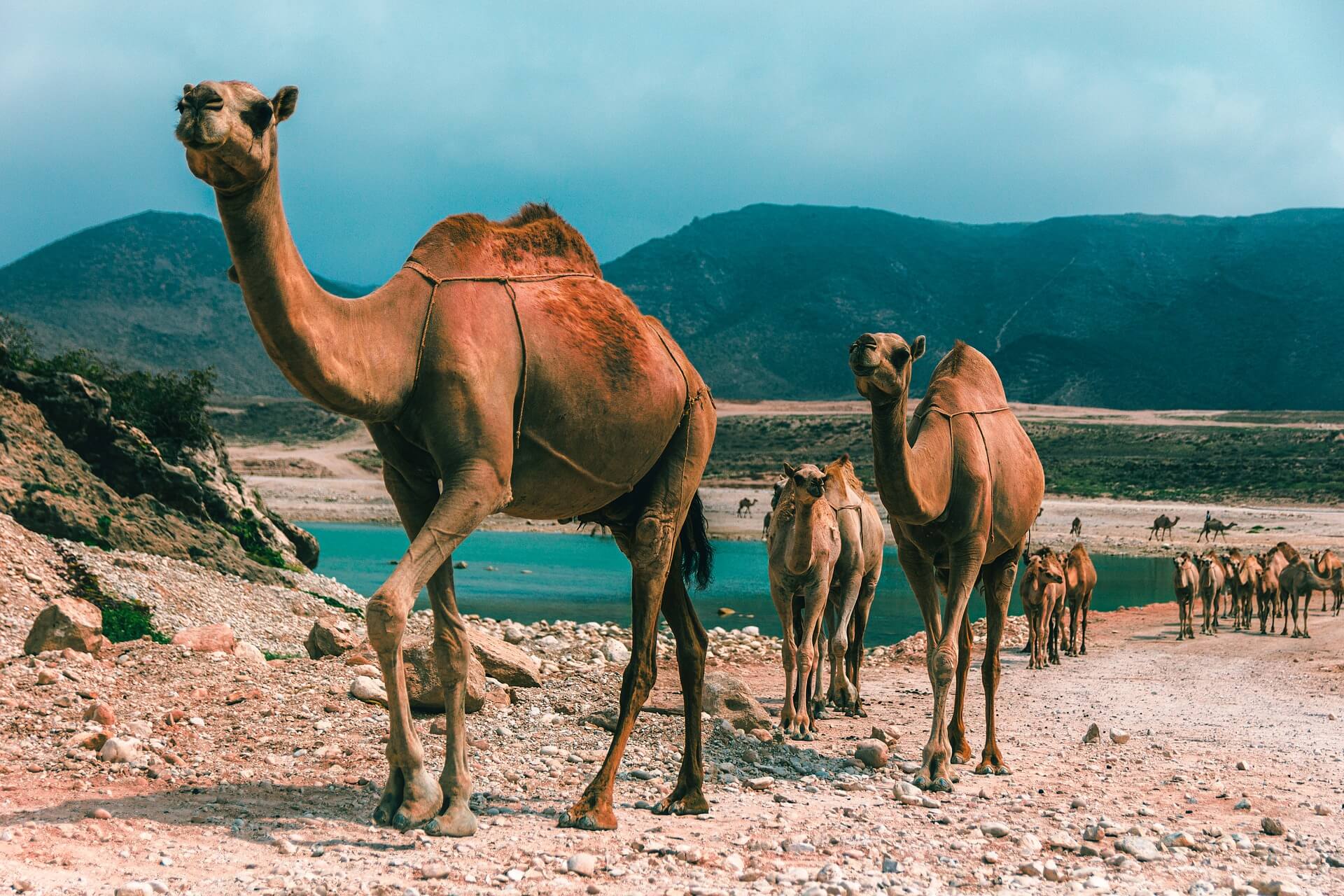 A lush, tropical desert paradise of a city.
Beaches, mountains, and plenty of fruit trees.
10-hour drive from Muscat…
Not a desert person? Don't worry — one of the best places to go in Oman is as green as green can be. Salalah is sweet and often overlooked by travelers due to its vast distance from most other tourist spots in Oman. Don't be like them, Salalah IS indeed worth the drive!
Why it's awesome: It's a completely different vibe than the rest of the country. Often compared to India's green state of Kerala, you can't say you've seen all of Oman without visiting Salalah. And while it's often said to avoid monsoons, you should do the opposite as far as Salalah is concerned! From June-August, the region is transformed into a full-on jungle paradise complete with pop-up waterfalls and streams.
What to do there: There are a ton of places to visit in Salalah, including the Frankincense Land Museum where you'll learn all about Oman's iconic frankincense industry. You can also admire the gorgeous Qaboos Palace (named after longtime King Sultan Qaboos), check out Haffa (the old town), and if you're lucky you can get fully culturally immersed at the Khareef Festival, celebrating the monsoon every summer.
#4 – Wadi Bani Khalid – A HUGE desert oasis that you just can't miss when you visit Oman.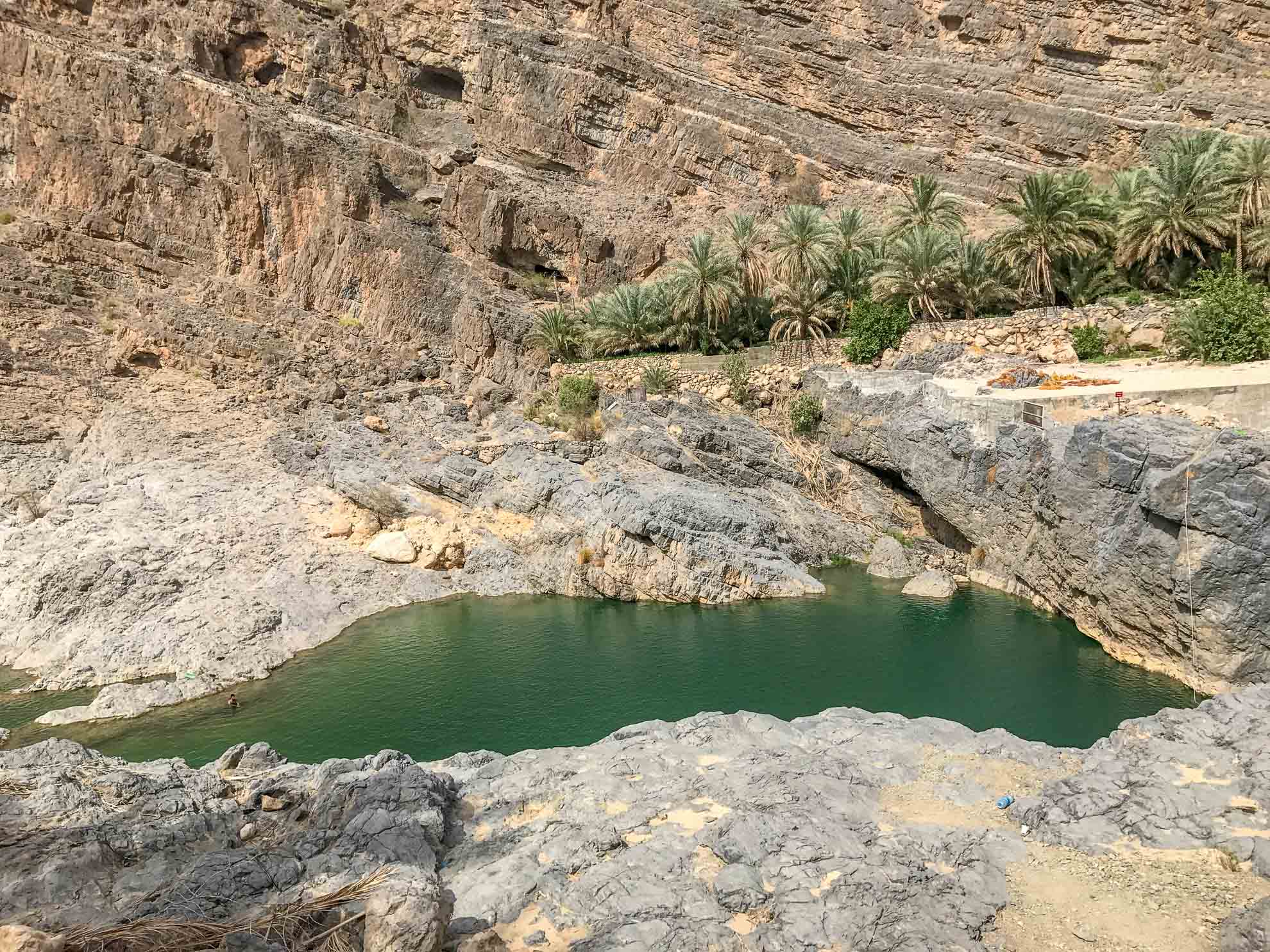 A vast swimming area.
Surrounded by villages and colorful plantations.
Wadi Bani Khalid can be described as one hell of a sexy spot. A true paradise arising out of the desert. If you love swimming, cliff jumping, or just beautiful spots in general (duh), you can't miss Wadi Bani Khalid when you visit Oman.
Why it's awesome: Wadi Bani Khalid literally pops out of nowhere. One minute it's desert as far as the eye can see, and then BOOM! Wadi Bani Khalid appears like a knight in shining armour. It's large, vast, and wide open, unlike Wadi Shab which is more narrow and requires a bit of trekking. Wadi Bani Khalid has waterfalls, multiple swimming areas AND you can visit the nearby local villages, too.
What to do there: Swim, hike, enjoy the waterfalls, and just bask in the awesomeness of one of the most beautiful places to visit in Oman! I highly recommend bringing food: you're definitely going to want to spend the whole day here.
#5 – Jebel Shams – Oman's best hike, hands down.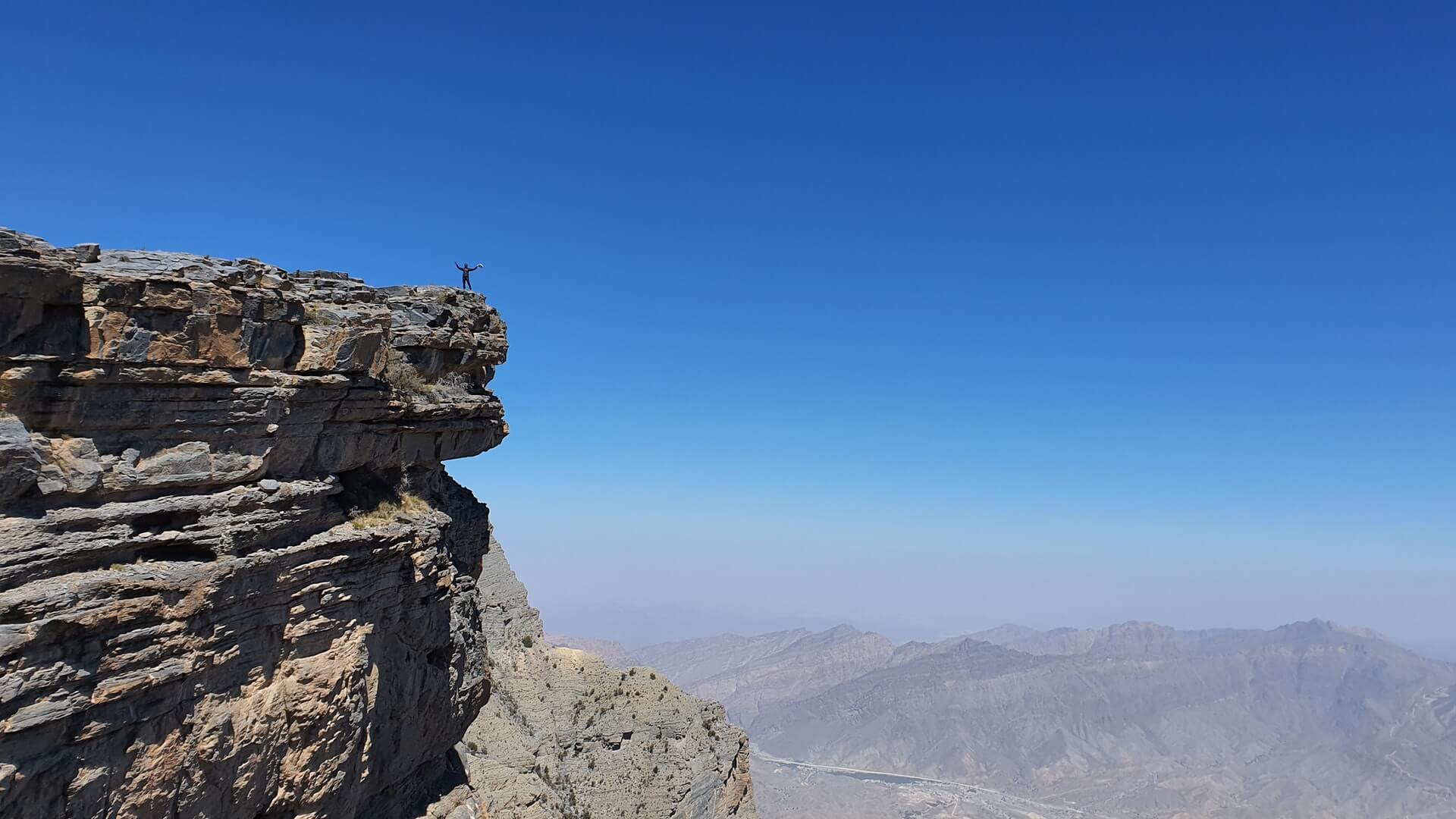 The most epic hike in Oman!
Mountains!!!
Most things to see in Oman do involve water, but you shouldn't forget your hiking boots! The Jebel Shams canyon will allow you to feast your eyes on some truly unique scenery, including a 500-meter canyon drop. Make sure you leave any fear of heights at home!
Why it's awesome: Literally translated to "mountain of the sun," Jebel Shams is a part of the Al-Hajar Range. But what makes it so great is that its balcony walk (which has some dope-ass sunset/sunrise views) can be done by literally anyone.
What to do there: The balcony walk is definitely one of the top things to do in Oman. You'll drive to the top of the canyon and begin the walk, which is mostly flat. My fave part came at the end though, when you can take a dip in a waterfall! The hike is only 4km with a 200m elevation gain, but unless you want to wake up early, stay overnight in Misfat Al Abriyinn, the closest village.
#6 – Wahiba Sands – One of the top things to see in Oman.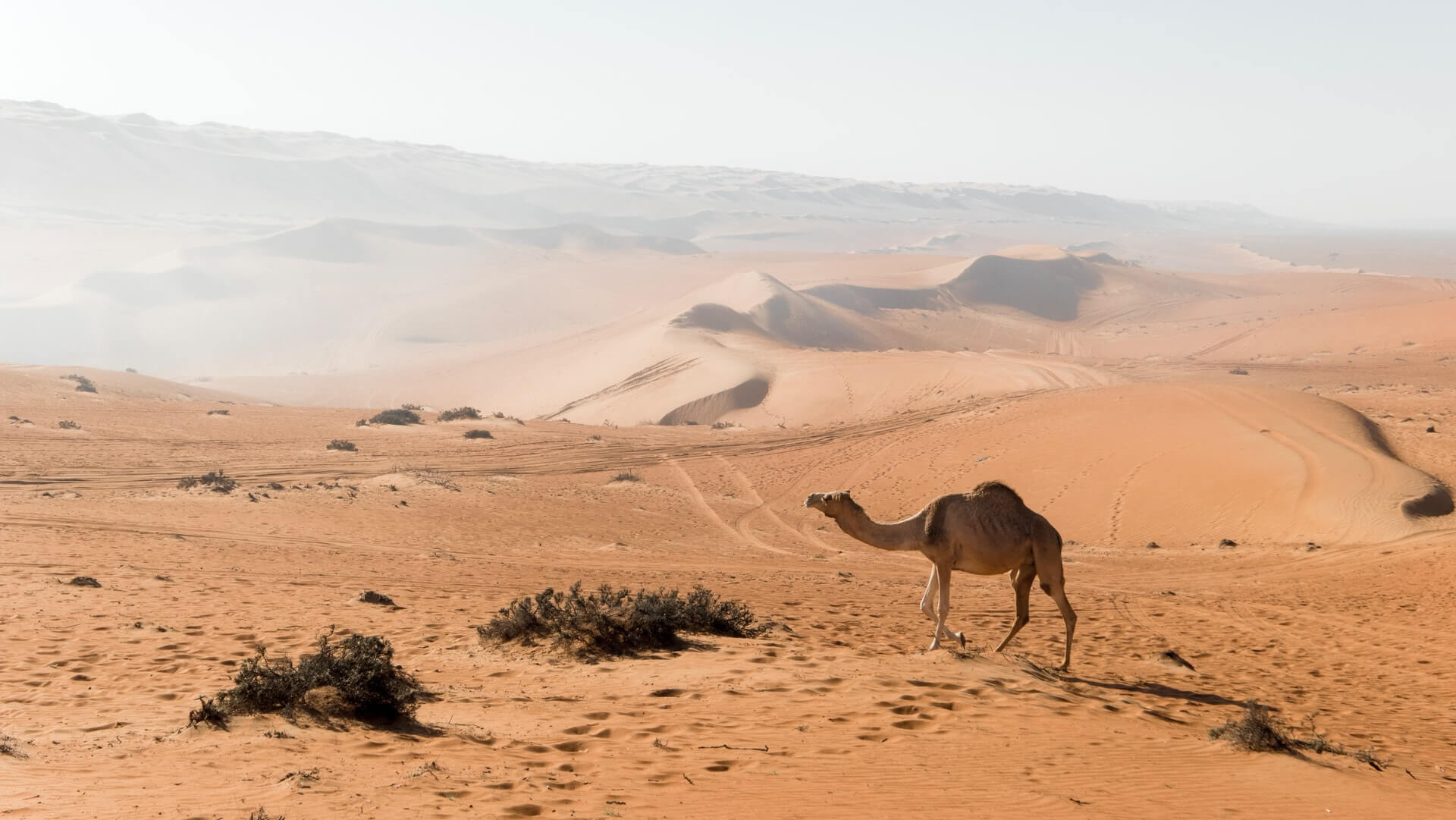 Talk about a rare landscape!
Option to stay in Bedouin tents.
Sick sunsets, sand, and the opportunity to get a feel for REAL nomadic life? Yep, sold! Wahiba Sands (now called Sharqiya Sands) is spread out over 5,000 sq miles. Need more?
Why it's awesome: Few landscapes can match the feeling a desert gives… especially when an epic sunset is sinking into it. It's also one of the best places in Oman to experience real Bedouin culture. Double win!
What to do there: Head up to the top of the dunes to watch the sun sink into the dunes before spending the night at a traditional-style tent camp. If you're carrying your own backpacking tent, you can pitch that too, though I'd go for one of the rugged, traditional options here if I were you!
#7 – Muscat – The super-chill coastal capital of Oman.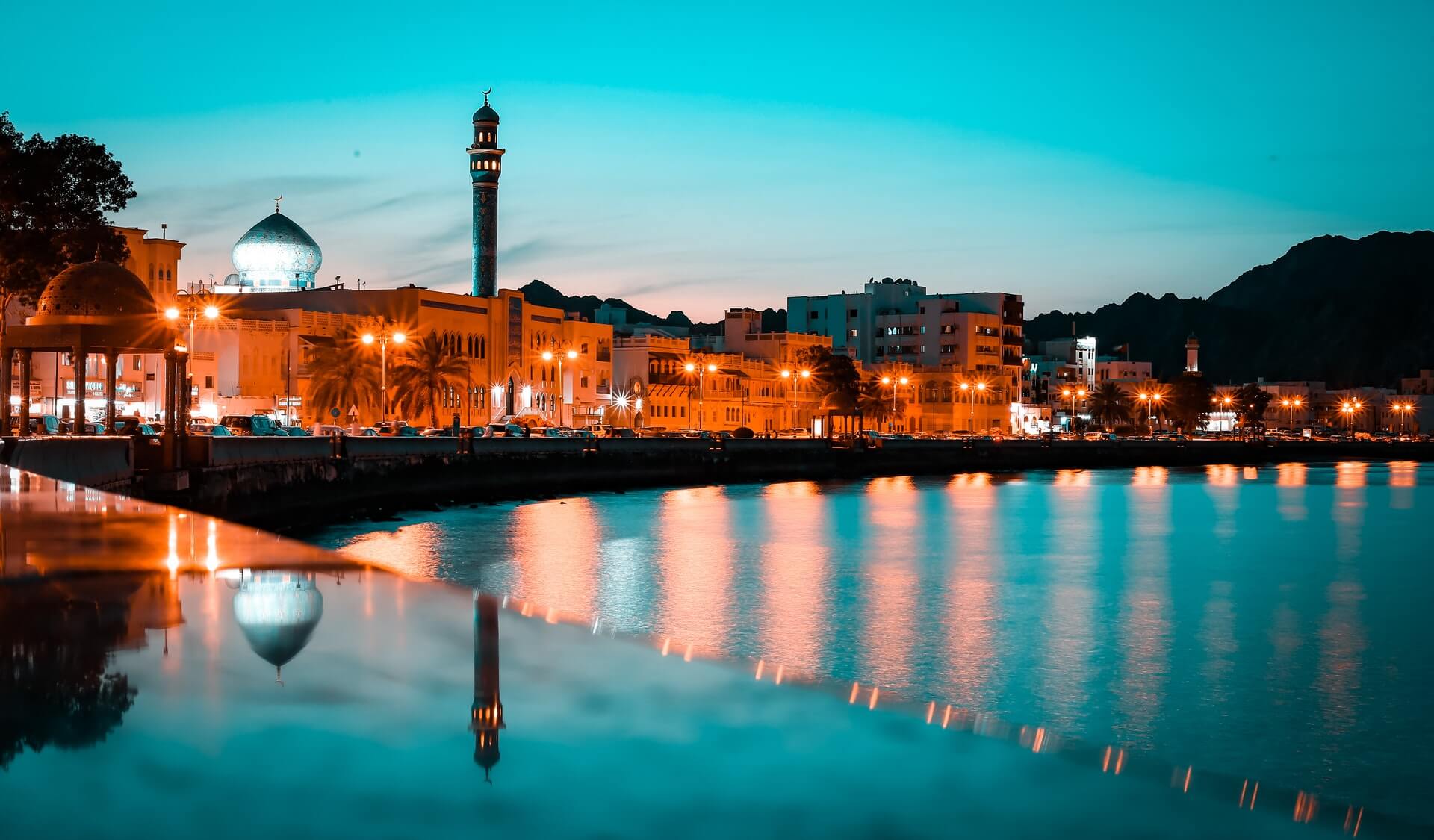 Oman's pretty, aquatic capital.
Lots of cool things to do .
Muscat is Oman's chill capital that you'll almost undoubtedly be starting your trip in. And lucky for you, because it's not a bad place to start! Muscat is easily one of the most beautiful cities I've ever seen, and it certainly wins the cool capital competition if there was ever one. Where else can you find a city that's both on the water AND surrounded by rugged mountains?
Why it's awesome: Muscat's tourist attractions are plentiful, its scenery stunning, and its easy access to nearby points of interest is certainly notable. You can find beautiful beaches in the city and nearby, too; one of my favorite places in all of Oman ended up being a fishing village less than 30 minutes from Muscat. Add in a ton of history and you've got yourself an ideal place to start your trip to Oman.
What to do there: Out of all the places to visit in Muscat, it's hard to pick the *best* thing to do. Stroll along the shimmering Gulf of Oman, admire the artistry of the Sultan Qaboos Grand Mosque, shop til' you drop at the Muttrah Souq, and check out the sultry sunset spot at the Muttrah Fort, which shows off one of the most iconic views in all of town.
#8 – Nizwa – A historical place to see in Oman.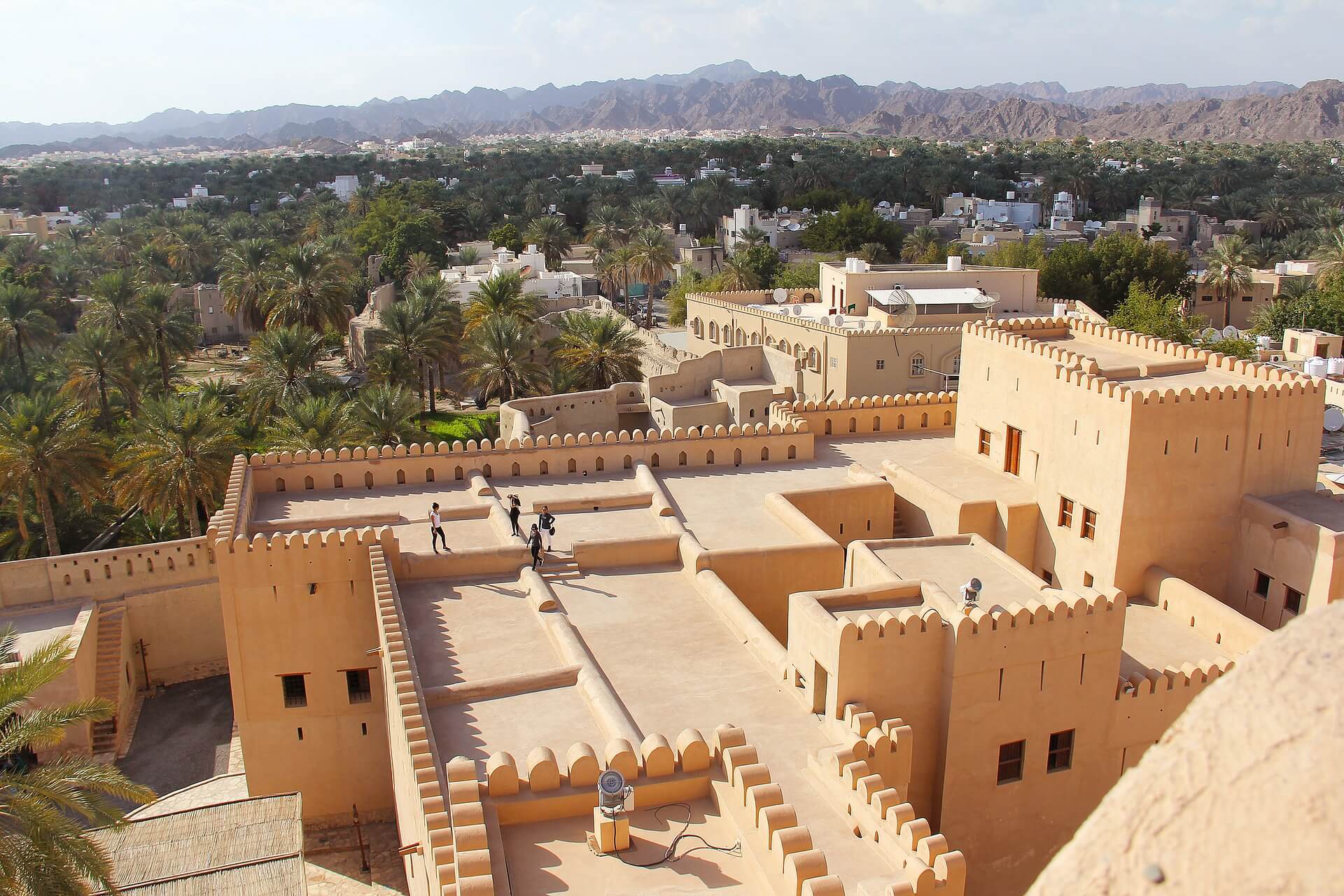 Oman's second-largest city.
Historical AF… like 6th century historical.
If you want to get a feel for an Omani city but find Muscat to be a basic bitch, then let me welcome you to Nizwa. Famous for its fort, Nizwa is also the perfect city for wandering and simply getting a feel for local life. It's undoubtedly one of the top cities to visit in Oman.
Why it's awesome: Nizwa was the country's flourishing capital in the 6th and 7th centuries and today remains one of the must see places in Oman thanks to its sexy, cylindrical-shaped 17th-century fort. The city also has a completely different vibe than Muscat: it's a true desert oasis!
What to do there: Explore the Nizwa Fort, some parts of which date back to the 9th century! You should also check out the Nizwa Souq for a memorable shopping experience. It's also a perfect place to pull out your travel camera for a bit of street photography!
#9 – Ras Al Jinz – Visit Oman for ecotourism!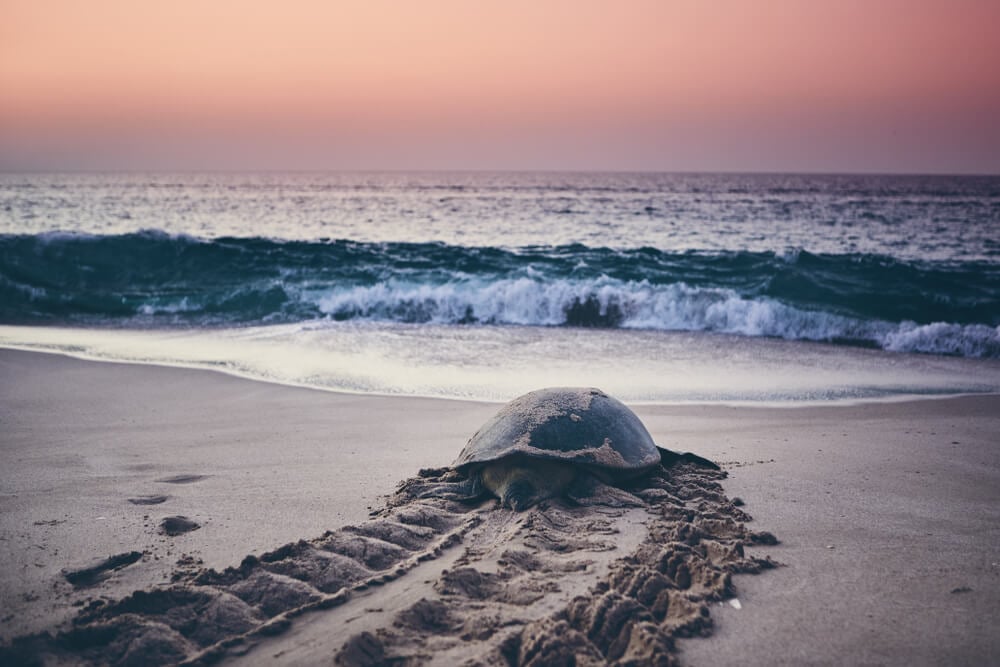 Nesting place for the rare Green Turtle!
One of the ONLY places in the world where turtles lay eggs 365 days a year.
There's a cute fishing village.
Ras Al Jinz is a small village at the easternmost tip of the Arabian Peninsula world-famous for its green turtle nesting grounds. Green turtles are endangered, and in 1996 the Sultan of Oman established the Ras Al Jinz Turtle Center to protect these precious habitats.
Why it's awesome: Where else in the world can you see turtles laying eggs every day of the year? Especially endangered ones! Ras Al Jinz is super unique, and it's doing some excellent things in the name of ecotourism.
What to do there: See both adult females lay eggs and newborn green turtles hatch, of course. This is one of the few places on Earth where you're almost guaranteed to see both in one day. (And let me tell you, it's magical!)
Is This the Best Daypack EVER???
#10 – Musandam – The Norway of Arabia.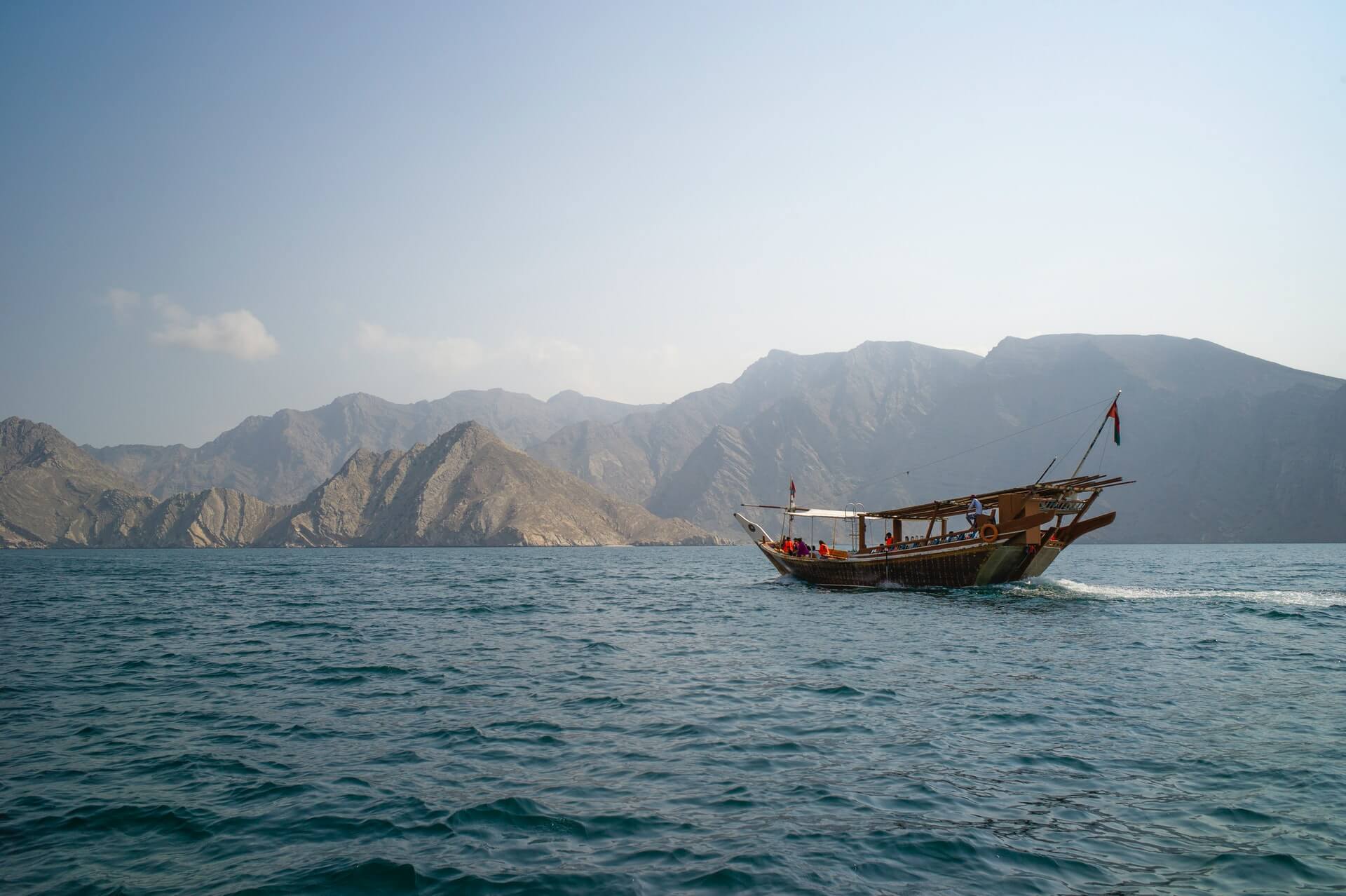 Surreal beaches and landscapes.
Kind of requires you to leave Oman?
Outdoor adventure paradise!
Yes, you read that right: the Musandam Peninsula isn't quite in Oman; in fact, it's entirely surrounded by the UAE. Luckily, you can still drive from Muscat or take a flight to Khasab. Despite being a bit out of the way, it's well worth it: Musandam is easily one of the most beautiful places to visit in Oman.
Why it's awesome: Appropriately nicknamed the "Norway of Arabia," Musandam is STACKED with epic adventures to be had. It also happens to be the perfect place to take your travel photography drone out for a spin over shining blue waters!
What to do there: Visiting Musandam is all about the water: you can scuba dive, snorkel, or even head out on an epic dolphin-spotting adventure that will have you sailin' through fjords in a traditional Omani boat. There's no better way to enjoy Oman than in its waters, and a day on a boat is totally worth the cash splurge!
#11 – Bahla Fort – Another top historical place to go in Oman.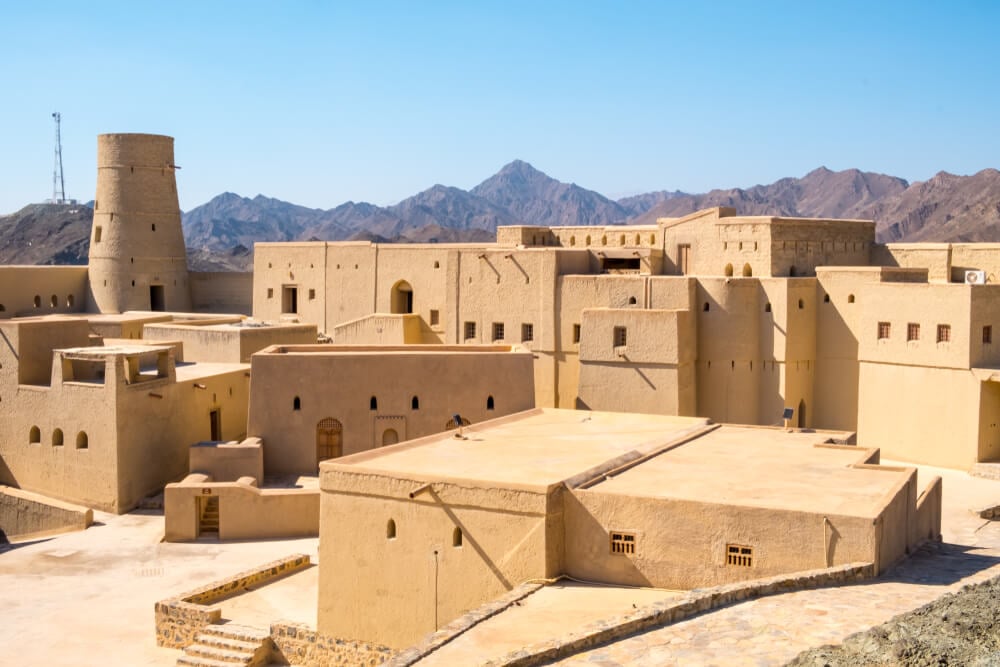 UNESCO World Heritage Site!
Preservation? Check!
Oman is full of some seriously dazzling forts, and Bahla Fort, which sits beneath the Jebel Akhdar Highlands, might just be its best. The fort dates back to the 13th (!!) century and is only 40 km from Nizwa.
Why it's awesome: An Omani tourist spot that's also a UNESCO World Heritage Site — and an incredibly well preserved one. While in Bahla, you can also check out the city walls (which are made out of adobe), and perhaps treat yourself to some pottery.
What to do there: Explore the fort, check out the local markets, take some epic pics. What else do you need?
#12 – Oman's Iconic Beaches – Just trust me on this one.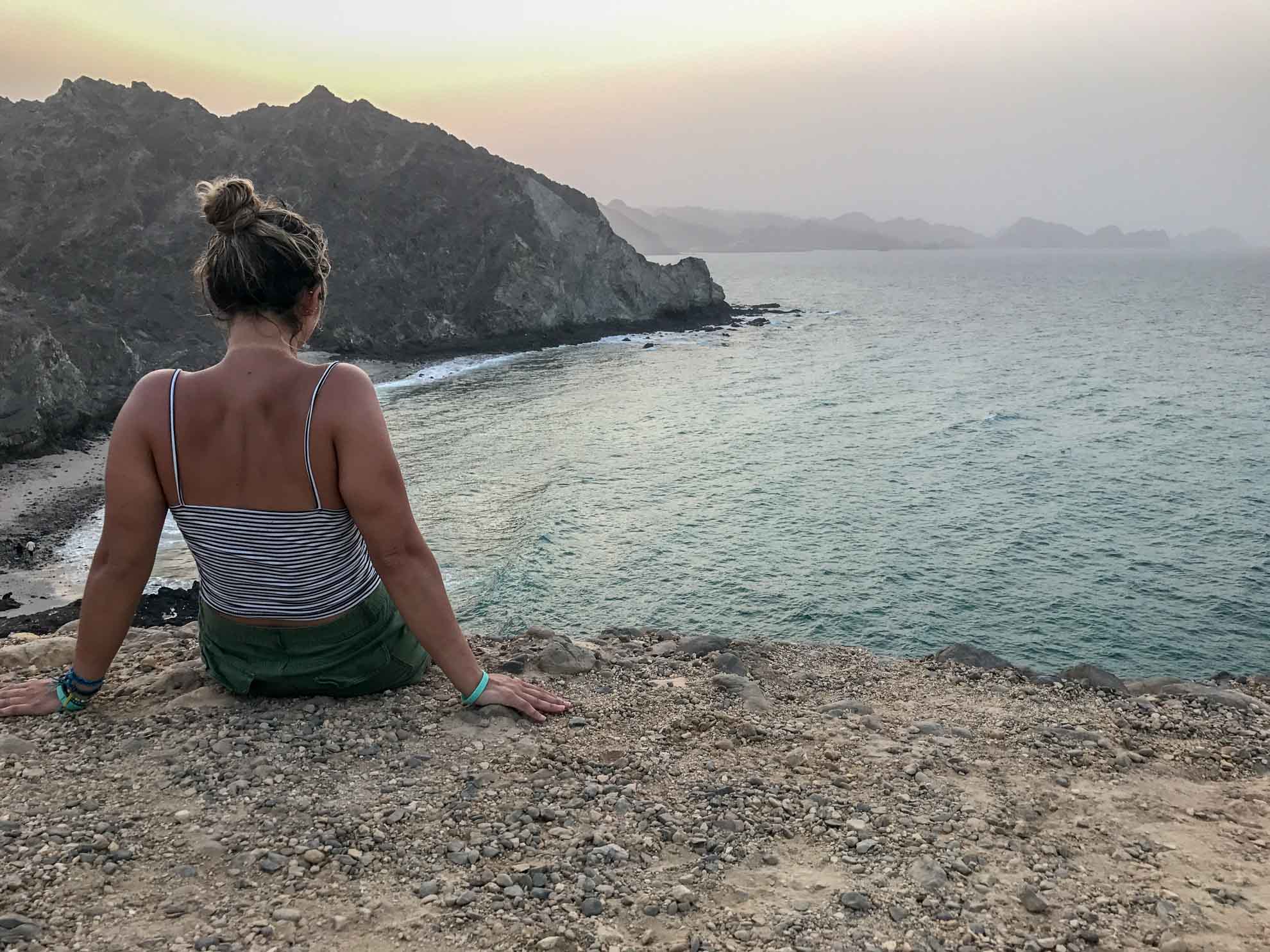 As much as I loved the wadis, the history and the mountains, it's Oman's beaches that flash into my mind again and again. With hundreds of miles of coastline and plenty of undisturbed swimming spots, Oman is a beach bum's paradise. Just don't forget to put sunscreen on your beach packing list: the Omani sun is strong.
Why it's awesome: So freakin' gorgeous! Omani beaches are a mix of bright blue water, fishing boats, waves, rock formations and, of course, tall mountain ranges that you might not have ever thought you'd see paired with a beach. Yup, they're all epic: even the unknown ones. My favorite beach in Oman happened to be a small one located in a fishing village not far from Muscat. Don't be afraid to just pull over anywhere you see a prime ocean scene!
What to do there: Swim, tan, float, and relish in the fact that you get to experience both beaches and mountains at the same damn time.
Small Pack Problems? 😉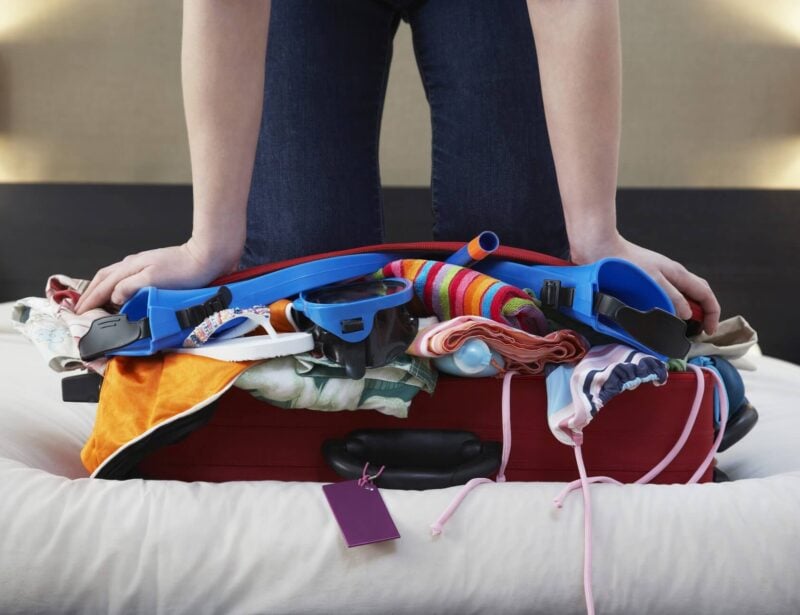 My missus travels with all her clothes in ziplock bags: don't be like my missus. UP YOUR PACKING GAME!
Packing cubes for the globetrotters and compression sacks for the real adventurers – these babies are a traveller's best kept secret. They organise yo' packing and minimise its volume too so you can pack MORE.
Or, y'know… you can stick to ziplock bags.
View Our Fave Cubes
Or Check Out the Sacks!
#13 – Sur – A coastal city paradise.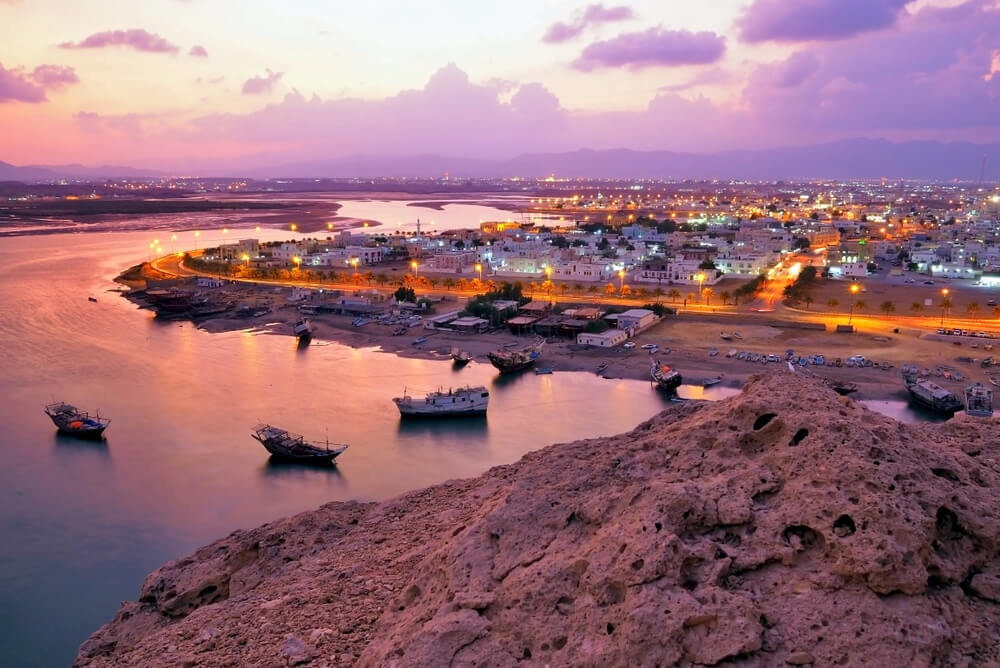 One of the most beautiful places in Oman.
Relaxed, seaside vibe.
On the way to Ras Al Jinz.
Sur is one of the most chill places in Oman, and while far from Muscat and many other Omani points of interest, it's absolutely worth the drive! Especially if you love coastal architecture and seaside towns as much as I do, this is definitely a place to consider for your backpacking adventure.
Why it's awesome: This small city — which used to be an important trading hub — is filled with beautiful white houses, shimmering bright blue water, traditional dhow boats, and a selection of good eats to choose from. Sur is easily the most picturesque city in Oman!
What to do there: Wander around and get lost! Take pictures, try local eats, stroll along the harbor, and climb up to Al Ayjah Watchtower for an amazing view of Sur! You can also check out a dhow factory to see exactly how the traditional fishing boats are made
#14 – Masirah Island – Truly one of a kind.
Island time!
The perfect blend of sun, sand, and history.
Located off its eastern coat, Masirah is the country's largest island and one of those things to see in Oman that you just can't miss. And because most other people DO skip Masirah, you're probably going to have most of it to yourself 😀
Why it's awesome: Um, because it's an island off the coast Oman? Masirah has tons of virtually unexplored beaches, shipwrecks off the coast, and an "island vibe" that you can't quite find anywhere else in Oman. Regular ferries also make it easy to reach from the mainland!
What to do there: Swim, lay in the sun, and explore some of the old shipwrecks. Masirah is all about relaxing and becoming one with the slow-paced life of a real island.
Get insured before heading out to the best places in Oman!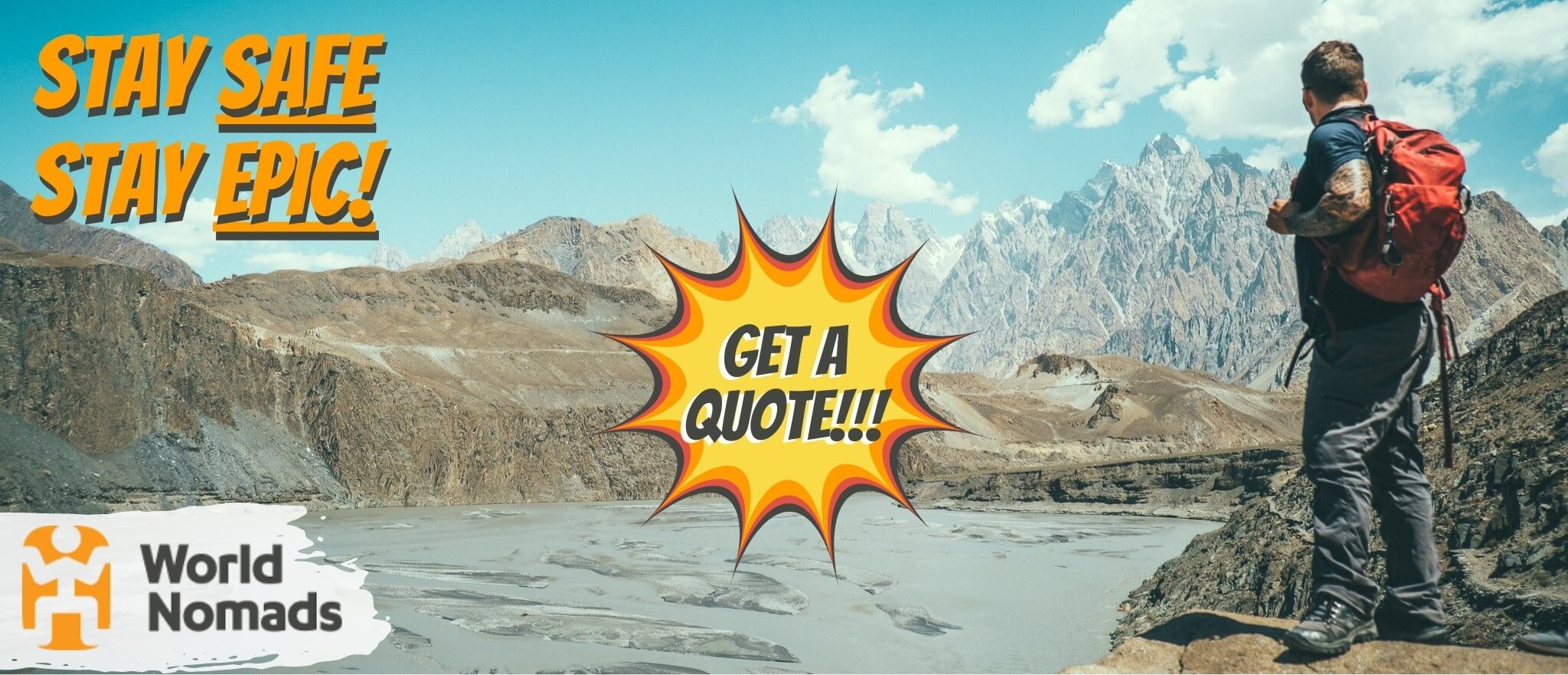 World Nomads' mission is to support and encourage travellers to explore their boundaries. They offer simple & flexible travel insurance, and safety advice to help you travel confidently.
They've been doing it since 2002 – protecting, connecting, and inspiring independent travellers just like you.
Get a quote below or read our in-depth review!
World Nomads provides travel insurance for travelers in over 100 countries. As an affiliate, we receive a fee when you get a quote from World Nomads using this link. We do not represent World Nomads. This is information only and not a recommendation to buy travel insurance.
Yes, it might be in the Middle East, but relax because Oman is not just one of the safest countries in the region to visit, but perhaps even the world! Crime is virtually non-existent, and it's FOR SURE safer than the United States or even most of Europe.
Even so, no backpacking packing list is complete without travel insurance. Because while Oman itself might be safe, you never know what might happen!
What if you fall while navigating a wadi? Get attacked by a camel? Okay, that last one might be unlikely, but it's still possible.
Which is why you should ALWAYS consider getting travel insurance before any trip.
Summing Up All of Oman's Best Places to Visit
Now that you've seen some of the amazing places to visit in Oman, I'm sure we can both agree that this country sure has a lot to offer. And believe me when I say there's even MORE to explore if you know where to look. And if you're still trying to decide on where to stay in Oman, check out our handy guide to this.
Despite being as beautiful as it is, Oman is still a relatively off-the-beaten-track destination. Plenty of hidden gems, empty beaches, and natural oasis pools await discovery if you give yourself enough time to find them!
That's why I strongly encourage you to take your time with Oman. Yes, highlights can be seen quickly, but if you really want to get to know this mountain-beach-desert-oasis paradise you gotta dig deep, and ideally, pack a cheap camping tent!
To visit Oman is to see the Middle East at its most beautiful — now get out there and enjoy that twinkling gem of the desert to the fullest!
---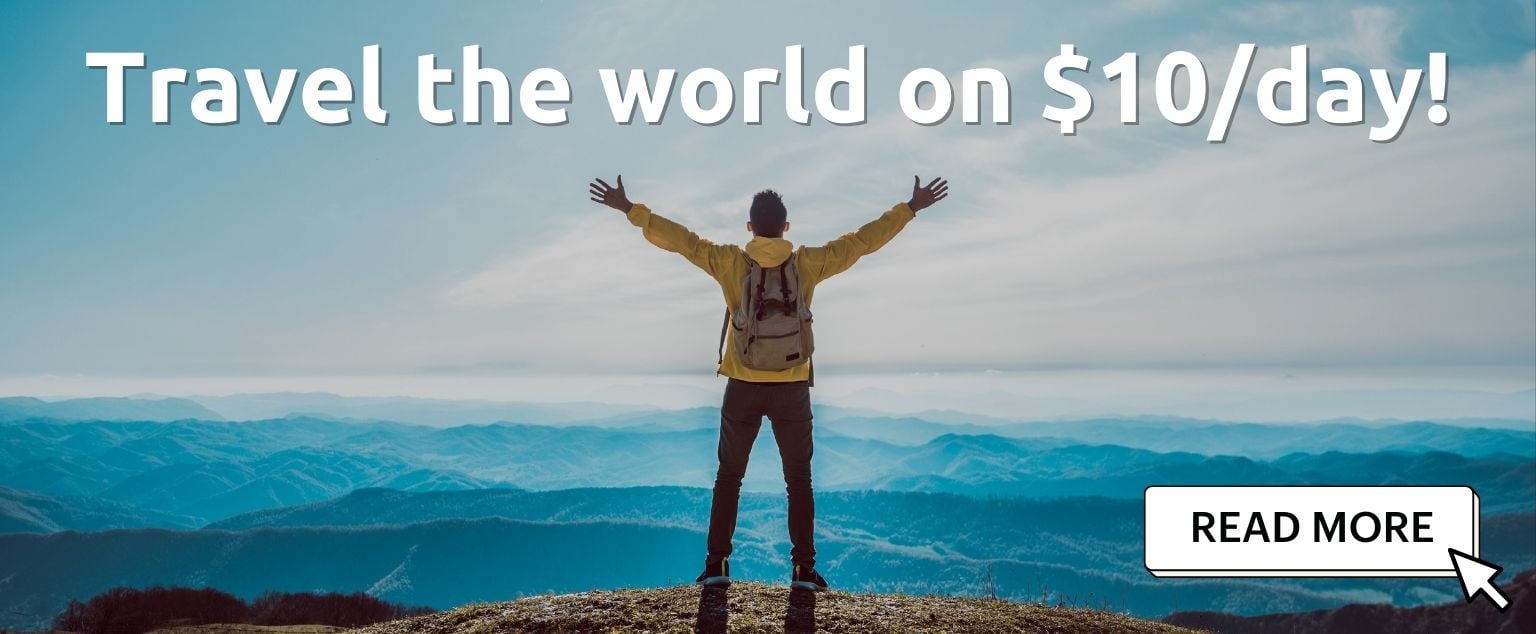 And for transparency's sake, please know that some of the links in our content are affiliate links. That means that if you book your accommodation, buy your gear, or sort your insurance through our link, we earn a small commission (at no extra cost to you). That said, we only link to the gear we trust and never recommend services we don't believe are up to scratch. Again, thank you!