Oman is one of the most underrated countries in the WORLD. Insane beaches, unique natural masterpieces known as wadis, exquisite preservation of historical sites, and more water activities than you'll know what to do with.
You'll surely not be bored with all of Oman's magnificent attractions at your disposal! This desert/mountain/beach paradise of a country is one of those places where you might even get the "touristy" spots all for yourself.
Though it's becoming more and more well known, Oman remains rather "offbeat" — aka my absolute favorite type of place.
But even so, you don't want to miss out on those "hidden gem" things to do in Oman… and that's where this guide comes in.
I will cover the top tourist spots in Oman, for sure, but I will also point you to the type of activities you just might miss on your own. It's a round-up with backpackers and adventurers in mind — this is The Broke Backpacker after all!
If you're planning on visiting Oman: chill out, relax, and get ready to add quite a few epic places to your bucket list.

Unlock Our GREATEST Travel Secrets!
Sign up for our newsletter and get the best travel tips delivered right to your inbox.
The 21 Top Things to Do in Oman
Starting off, we have the absolute BEST things to do in Oman. You know — the kind of places and activities that you would regret saying you missed when you were literally right there.
So for those wondering what to do in Oman, here's a selection you're sure to like something from.
1. Wild Camp Under The Stars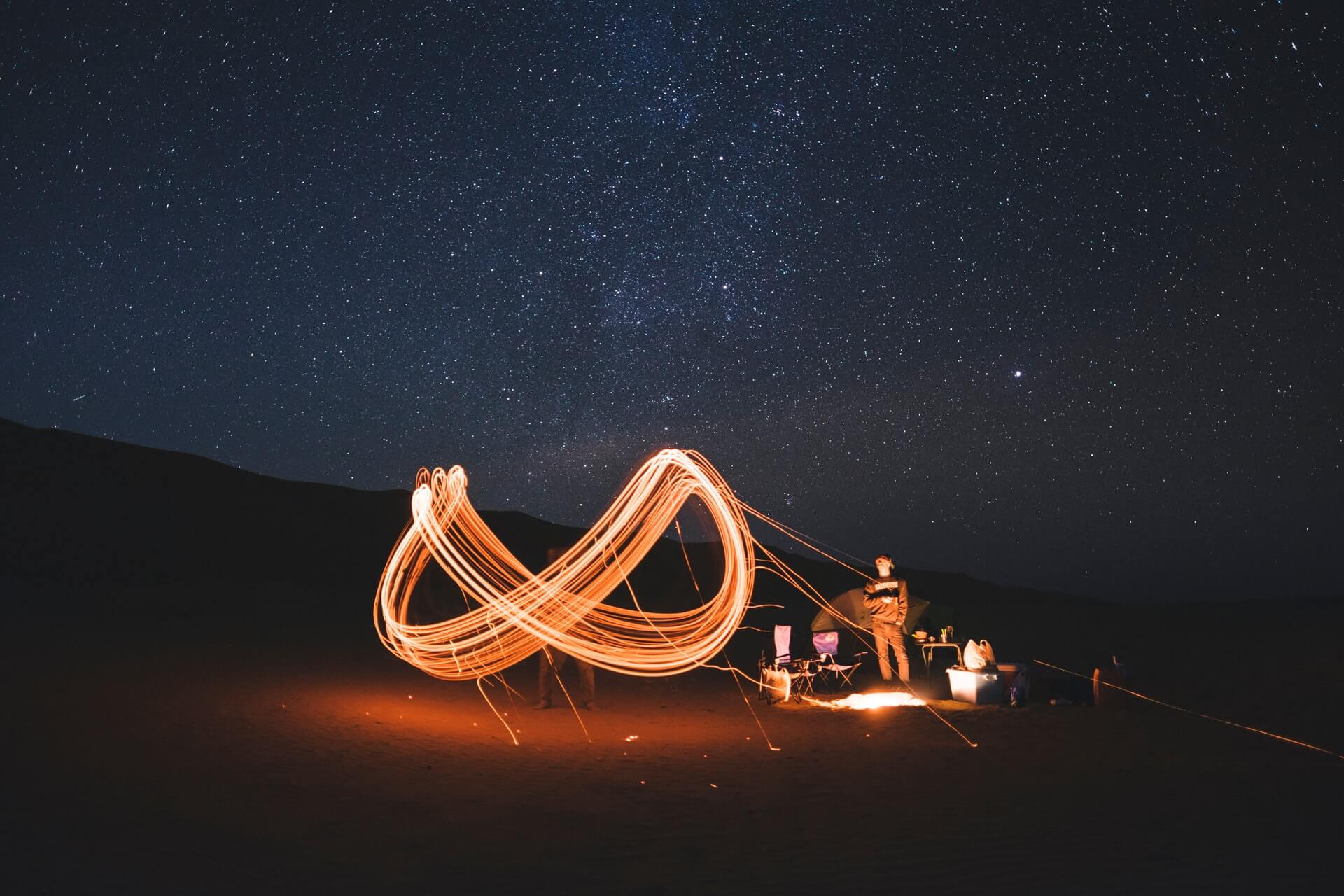 I love camping. Spending a night out in nature, free from the oppressive sounds and feels of everyday life is a top-notch travel experience and it also happens to be one of the most fun things to do in Oman.
Why? Well, because unlike in many other countries on the planet, in Oman, you can wild camp anywhere…for FREE. See a nice beach? Set up that tent! Loving a particular sunset view? Settle in for sunrise while you're at it.
If you're wondering what the catch is, there isn't one. Most visitors to Oman only camp at Sharqiyah Sands, meaning anywhere else is pretty much guaranteed to be a secluded camping spot. Whether you're backpacking Oman with a tight budget or not, this is the coolest way to experience this epic country.
2. Swim in a Waterfall at Wadi Shab
The highlight of the country for many (including me!), Wadi Shab is an iconic wadi known for its mesmerizing water color and the fact that it literally has a cave you can swim to. And said cave will greet you with a waterfall. I found this simply amazing, and if you're any bit of an aquaphile… you will too.
Despite being one of the best places to visit in Oman, what I loved about this wadi is that it's still an adventure: a 30-minute hike is required to the beginning of the swimmable portion, meaning it's still free from the horrors of mass tourism.
Unlike some of Oman's other attractions, you can't just pull your car up to this wadi and head right in. But trust me when I say the route is well worth the reward, Wadi Shab is the first place I want to head to when I return to Oman!
3. Shop 'Til You Drop At Muscat's Muttrah Souq
Have you really visited Oman if you haven't shopped at one of its famous souqs? Also known as markets or bazaars, they're where you go to get all sorts of things on the low.
And no souq in Oman is perhaps more well known than Muttrah, a visit to which is one of the most popular things to do in Muscat.
Even if you're not looking to buy a ton (broke backpackers, I feel you!) the Muttrah Souq is a fab place to get a taste of Omani culture and perhaps do some serious window shopping. Be prepared to see a TON of frankincense!
4. Watch Baby Turtles Hatch at Ras al Jinz Turtle Center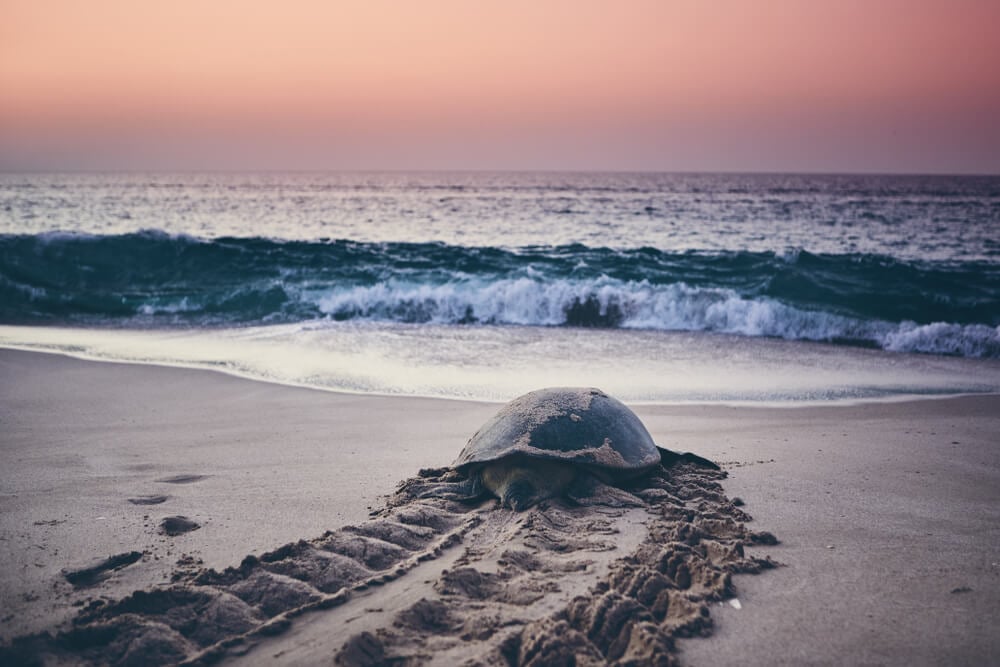 Seeing baby green turtles hatch (and mothers lay eggs) is undoubtedly one of the coolest things to do in Oman by a longshot. Ras al Jinz is one of the few places in the WORLD where you're almost guaranteed to see both in the space of 24 hours.
This unique turtle center is also located right next to the Turtle Beach Resort, which gives you the best possible access to the center.
The Green Turtle is endangered, and the Ras al Jinz center has been trying to help protect them since it opened in 1996. Today, it remains a shining example of the immense good responsible tourism can do!
5. Admire the Architectural Delight That Is the Sultan Qaboos Grand Mosque
You CANNOT talk about what to do in Oman without mentioning the Sultan Qaboos Grand Mosque. Located in Muscat, the magnificent marvel of a structure is open to the public from 8 am-11 am Sunday-Thursday.
It's very common for mosques to close all or part of their interiors to non-Muslims. So what makes the Sultan Qaboos Grand Mosque unique is that during the aforementioned hours, anyone can enter. This includes the prayer area as well.
Keep in mind that all visitors need to have their arms and legs covered in loose clothing and women need to have their heads covered as well when inside the mosque.
This fabulous structure was built to house 20,000 worshippers and gets BUSY, especially during peak tourist season. Get there early and avoid weekends to have the best experience. I've been to dozens of mosques in my travels but very FEW can compare to Sultan Qaboos.
6. Experience Local Life in Misfat al Abriyyin
Misfat al Abriyyin is one of the most beautiful places in Oman, and not just because of its aesthetics, as amazing as they might be. In Misfat al Abriyyin you'll get to catch the vibe of Omani village life.
My absolute favorite part of the village was that cars weren't allowed inside, making for a very peaceful few days of exploration. Wandering along the water channels, enjoying markets, and simply waking up free from the noise pollution of vehicles was simply magical.
Let me not understate how beautiful Misfat al Abriyyin is, though. All homes in the village are constructed out of mud and made on top of boulders, and the entire village is adjacent to date trees and mountains, making it especially picturesque for drone travel photography.
Small Pack Problems? 😉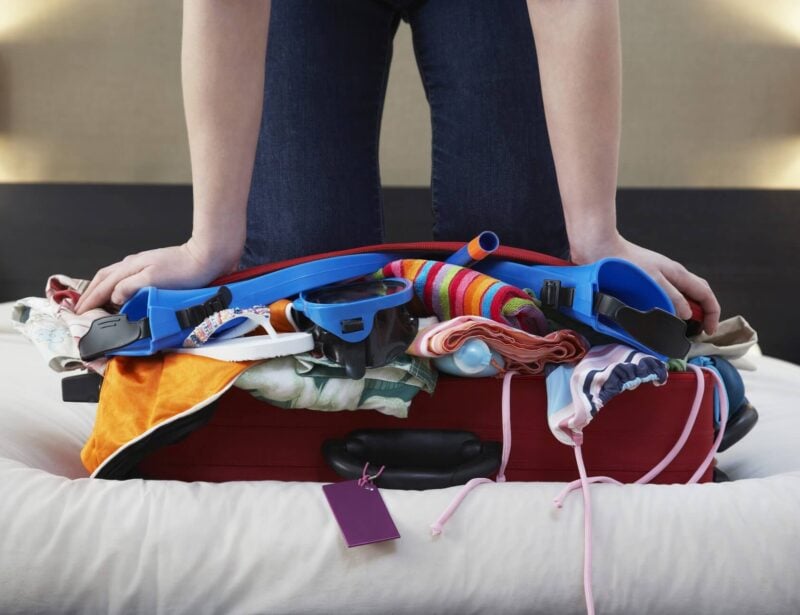 Wanna know how to pack like a pro? Well for a start you need the right gear….
These are packing cubes for the globetrotters and compression sacks for the real adventurers – these babies are a traveller's best kept secret. They organise yo' packing and minimise volume too so you can pack MORE.
Or, y'know… you can stick to just chucking it all in your backpack…
Get Yours Here
Read Our Review
Unique Things To Do in Oman
For some of that off-the-beaten-path goodness.
7. Visit The Dhow (traditional boat) Factory in Sur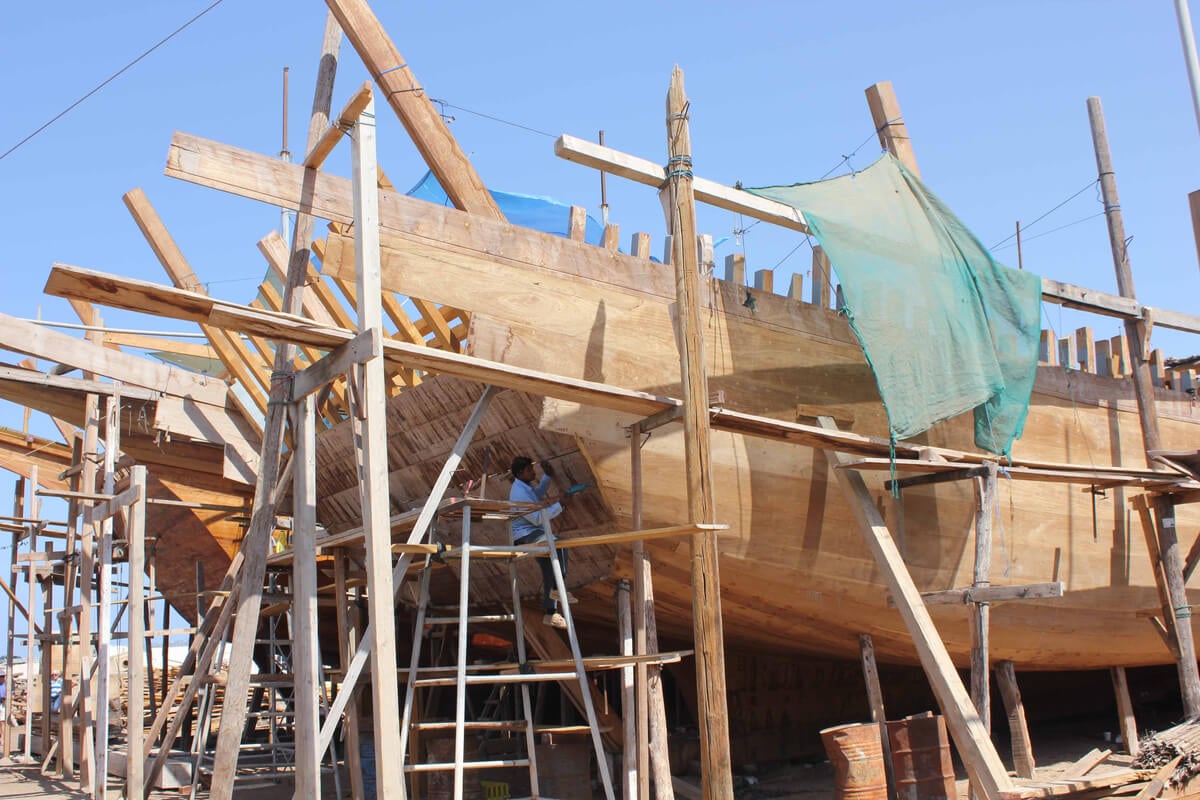 The picturesque coastal city of Sur is known for more than it's looks — it's one of the most historical boat-building locales in all of Arabia.
Today, you can catch artisans crafting these massive, traditional-style boats. Dhows, as they're known, are made with nothing but local knowledge — you won't find any how-to's or notes here.
The small factory sits south of the western end of the Khor Suspension Bridge and is a must-see when in and around Sur, which is a delight on its own anyway!
8. Wander Around The Lost City of Ubar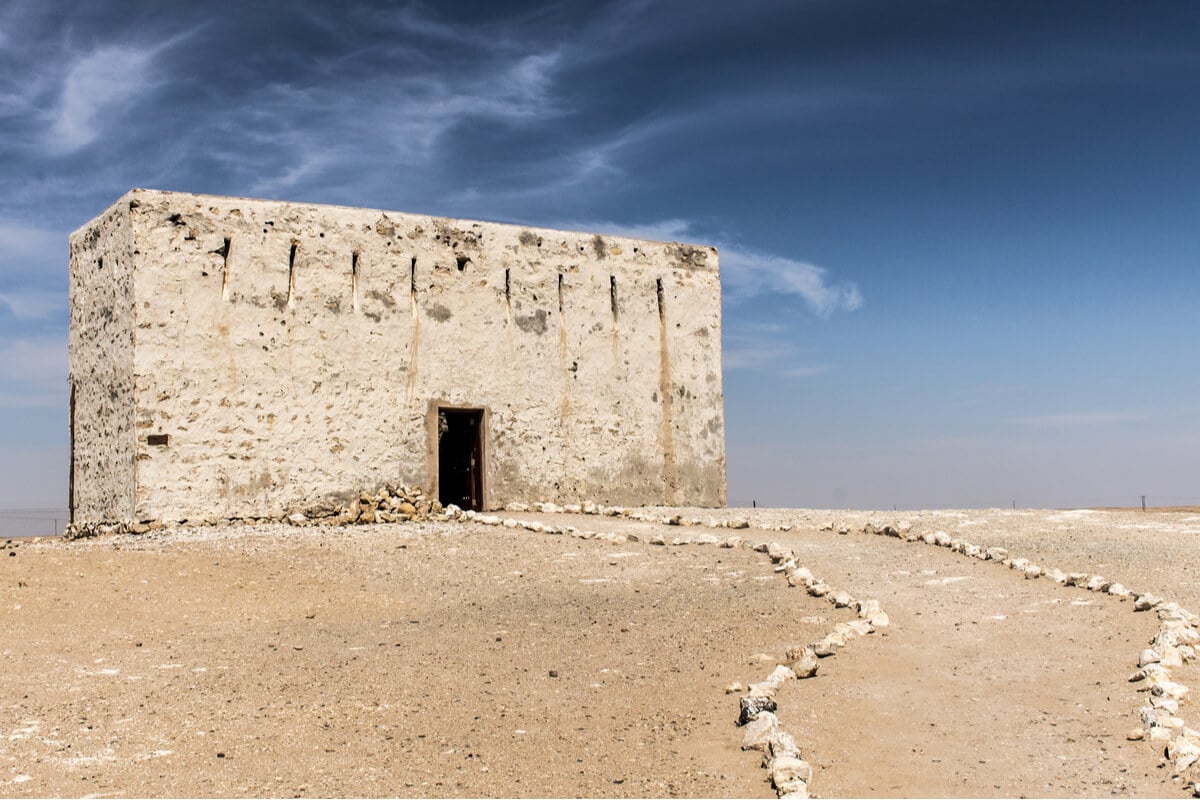 Have you ever dreamed of visiting Atlantis? Well, I can't help you there but I can absolutely spill all the tea on Ubar, which is basically the desert version of the fabled aquatic city.
Aptly named "Atlantis of the Sands" Ubar is a mystical city that was said to have disappeared into Oman's neverending sand dunes.
Despite debate on whether the city actually existed (yet another Atlantis parallel), today ruins found in Shisr, Oman have been named Ubar and can be visited.
Ubar is one of those places in Oman that you can almost guarantee you'll have to yourself, and is yet another hidden gem of the southern Dhofar Province. Be sure to bring some of that sexy travel photography gear!
9. See The Bibi Maryam Mausoleum in Qalhat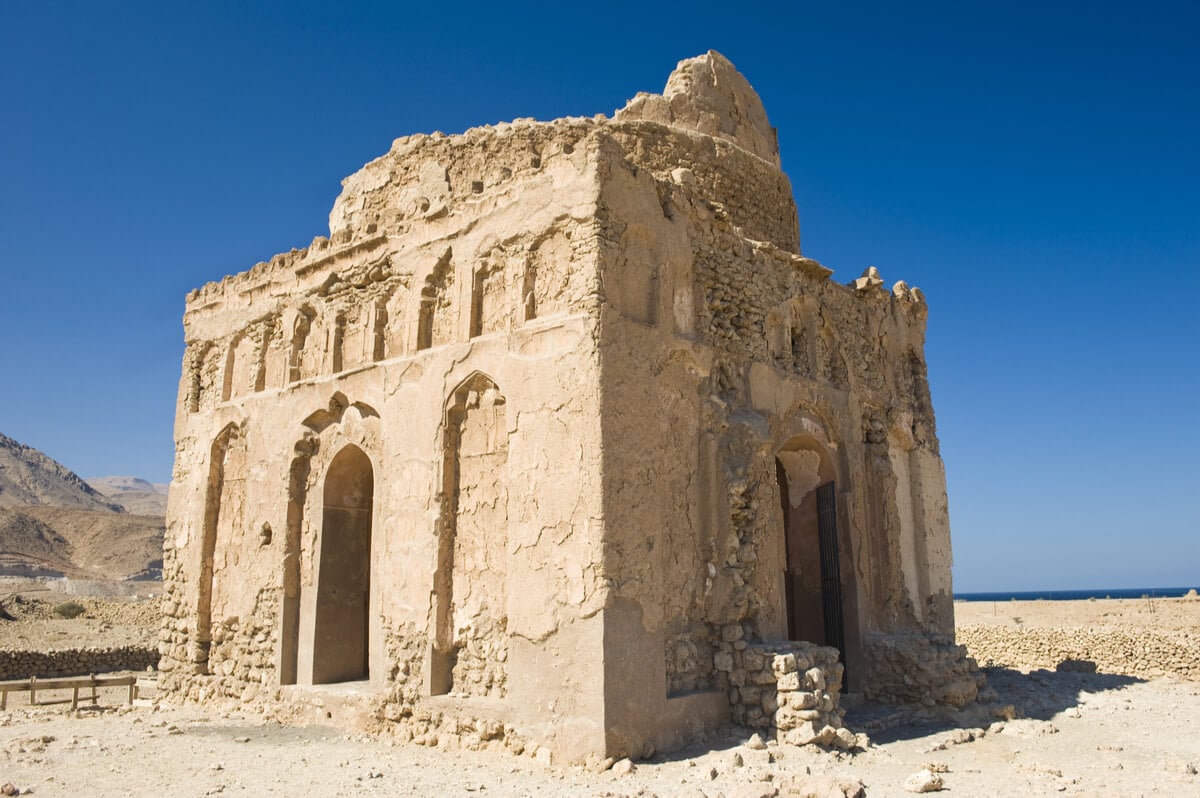 The ancient city of Qalhat is one of those places that I'd just LOVE to travel to if ever given a time machine. Oman's first capital, Qalhat was once a bustling stop along the Oman-India trade route that even Marco Polo visited.
Today, all that remains of Qalhat is the Bibi Maryam Mausoleum, which is what I believe to be one of the coolest things to see in Oman. Maybe I just have an affinity for abandoned, well-preserved structures or something…?
Anyhow, the tomb was built by the former King of the Hormuz Empire, Baha al-Din Ayaz for his wife and nowadays sits somewhat preserved and alone. Located somewhere in between Tiwi and Sur, it's an ideal Omani day trip.
10. Take a Gander at the Tayq Sinkhole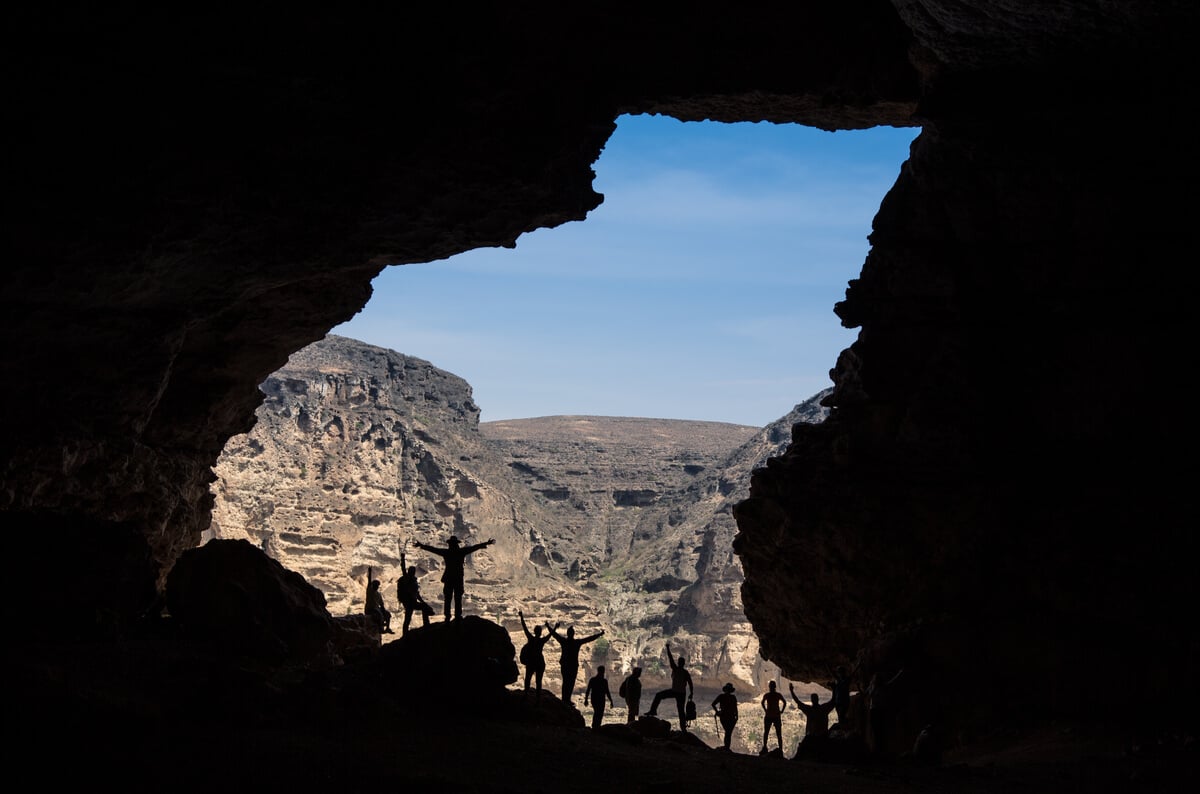 Oman's Tayq Sinkhole is one of the largest in the world, so obviously, it had to make this list. With its lowest point measuring 820 ft deep, the hole is similar to a massive wadi.
You can even hike to the lowest point, though this is only *safely* possible from its southern side. One of the coolest things to see near Salalah, the Tayq Sinkhole is yet another reason why you should make the effort to see southern Oman!
Is This the Best Daypack EVER???
Fun Things to Do in Oman
The activities in Oman that everyone will love.
11. Take a Boat Out On The Waters of Musandam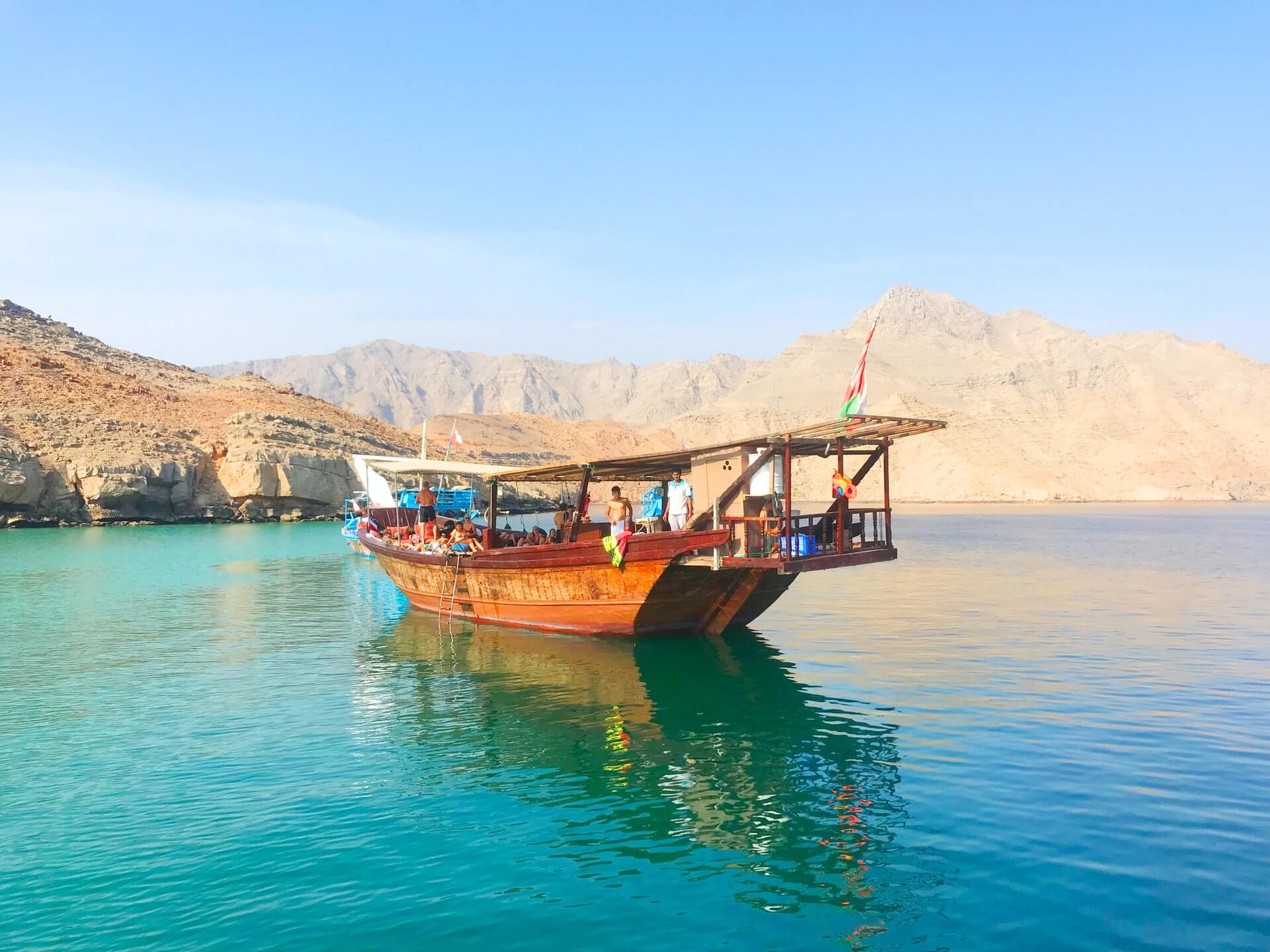 Ah, Musandam… one of Oman's tourist spots that isn't exactly in Oman! The peninsula is completely surrounded by the UAE and is THE place to go to get a taste of Oman's epic waters and water sports.
Looking to go snorkeling in Oman? Head to Musandam! Dying to go scuba diving in Oman? Get yourself to Musandam. Want to soak in the Omani sun on the water instead of from the sand? You get the point.
The stunning "Norway of Arabia" is filled with fjords, and is one of the more offbeat things to do in Oman thanks to its location. Regardless of what you choose out of the many things to do in Musandam, boredom certainly won't be the outcome.
12. Spend an Entire Day Soaking in Wadi Bani Khalid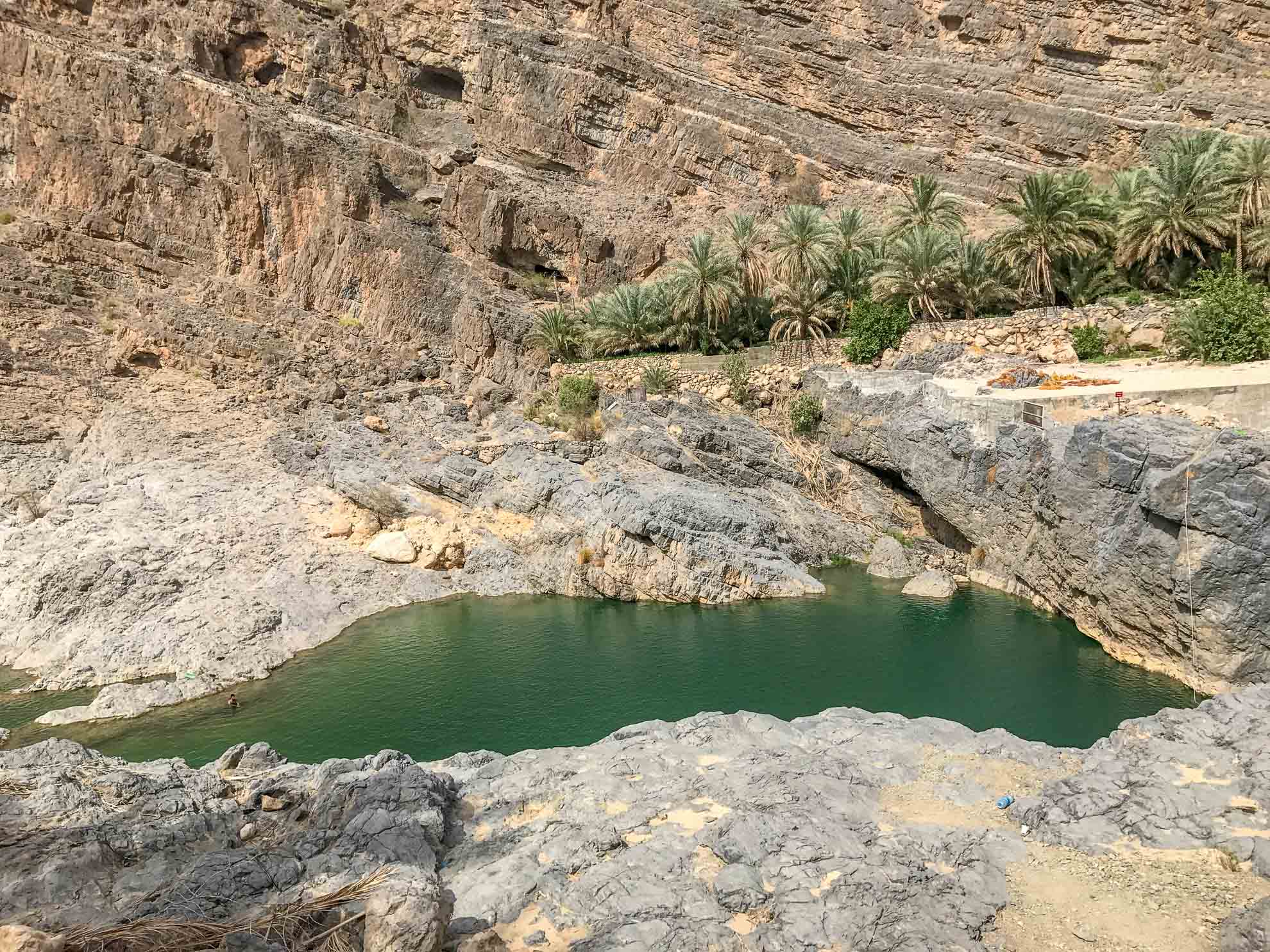 Wadi Bani Khalid might just be THE best thing to do in Oman. Why? Well first of all it's a wadi, which means you can't go wrong there.
But unlike some of the other wadis Oman has to offer, Bani Khalid is extremely accessible and MASSIVE. There are multiple pools to choose from, tons of waterfalls to play in, and plenty of space for a picnic. Basically, it's your perfect day in Oman — a true oasis arising out of pure nothingness.
Just don't make the same mistake I did here. While there are no dress-code laws in Oman, keep in mind that it IS a conservative country.
And Wadi Bani Khalid is not just a spot for tourists. In fact, I met dozens of local boys there. …several of whom had to help pull me up a rope while I was absolutely not conforming to local swimming suit norms. Talk about a naive, newbie backpacker (OOPS).
So ladies: in short, wear something over your bathing suit. This isn't Thailand!
13. Try Some Camel Meat!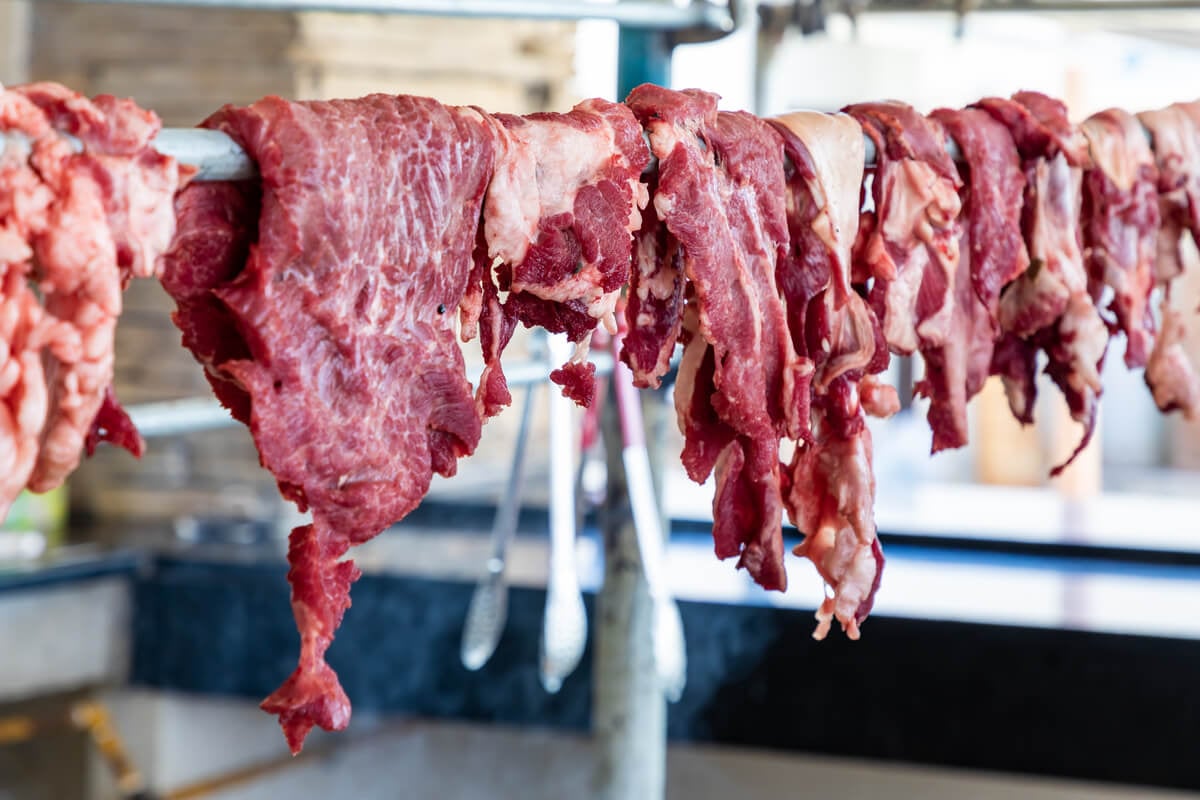 Non-meat eating persons: skip ahead!
I LOVE trying new foods; seriously, I'll eat anything as long as it doesn't have coriander in it. Thus, trying some camel meat was at the top of my (long) list of things to do in Oman.
And disappoint it did NOT. To me, there's no better way to engage in immersive travel than by diving right into the local cuisine.
Similar to beef but leaner and a tad gamier, Oman is one of the best places to try this very unique dish.
Being a lover of street food and local spots always and forever, I implore you to get your taste of camel at a random, perhaps slightly "shady" looking shop or butcher. It will undoubtedly be tastier (and cheaper) than at any fancy restaurant!
14. Marvel At An Omani Sunset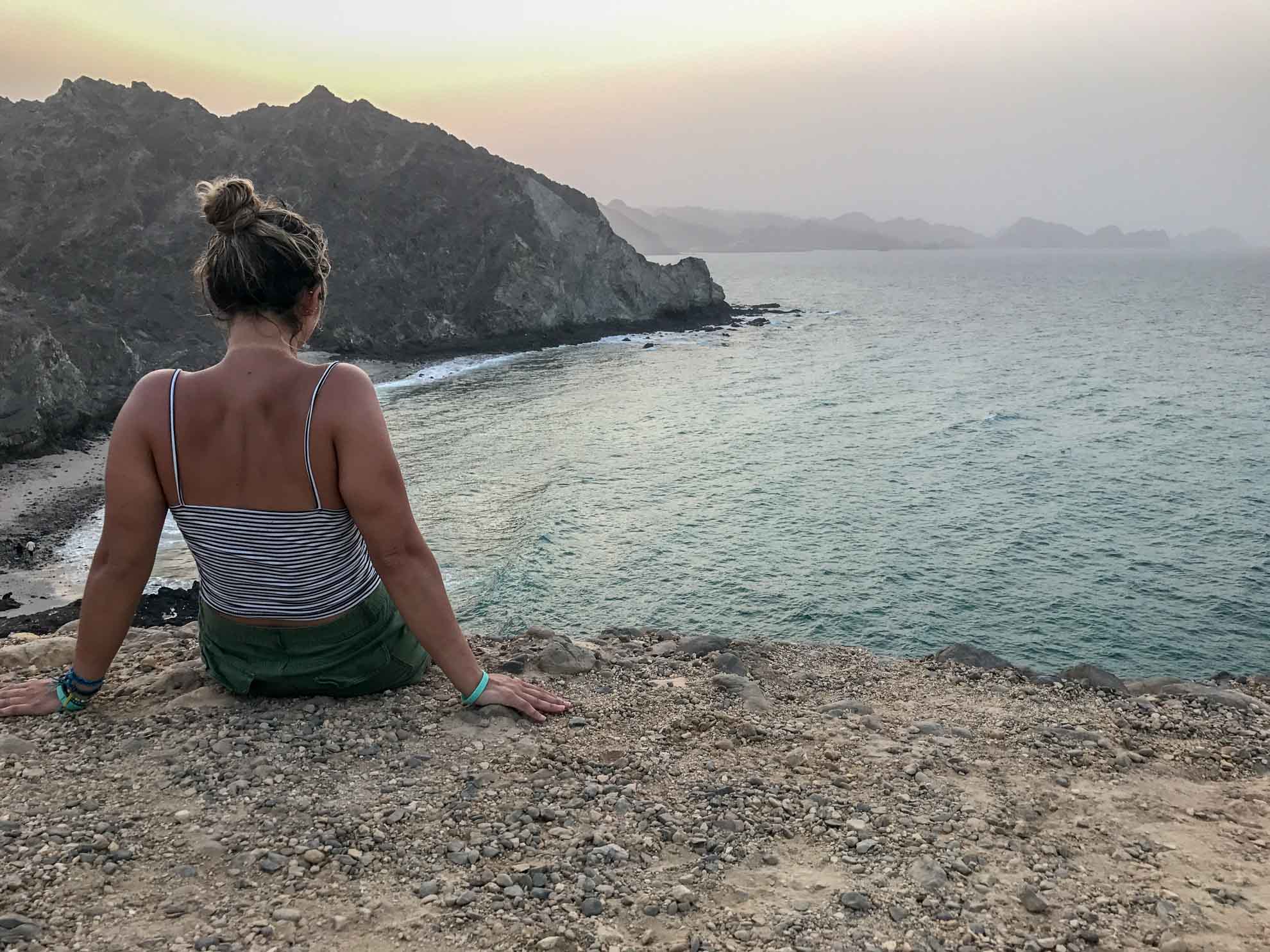 If you're making a list of all of Oman's things to see, you simply CANNOT leave this item off of it.
Omani sunsets are stellar, and watching one is completely free! This means it's the perfect way to end the night, especially when traveling on a budget.
But where to catch one? Personally, I saw my most memorable sunset at Qantab Beach, a small fishing village not too far from Muscat. That combo of pink/orange skies and rugged mountains is unmatched!
Travel with peace of mind. Travel WITH a security belt.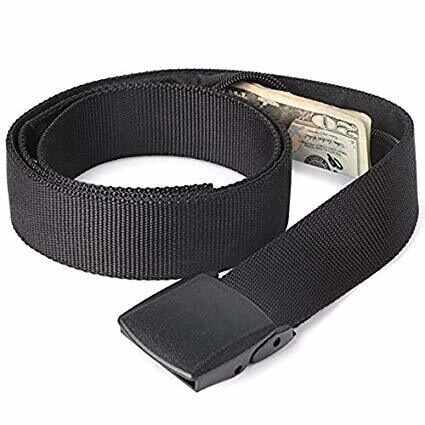 Stash your cash safely with this money belt. It will keep your valuables safely concealed, no matter where you go.
It looks exactly like a normal belt except for a SECRET interior pocket perfectly designed to hide a wad of cash, a passport photocopy or anything else you may wish to hide. Never get caught with your pants down again! (Unless you want to…)
Hide Yo' Money!
15. Check Out The Wadi Dayqah Dam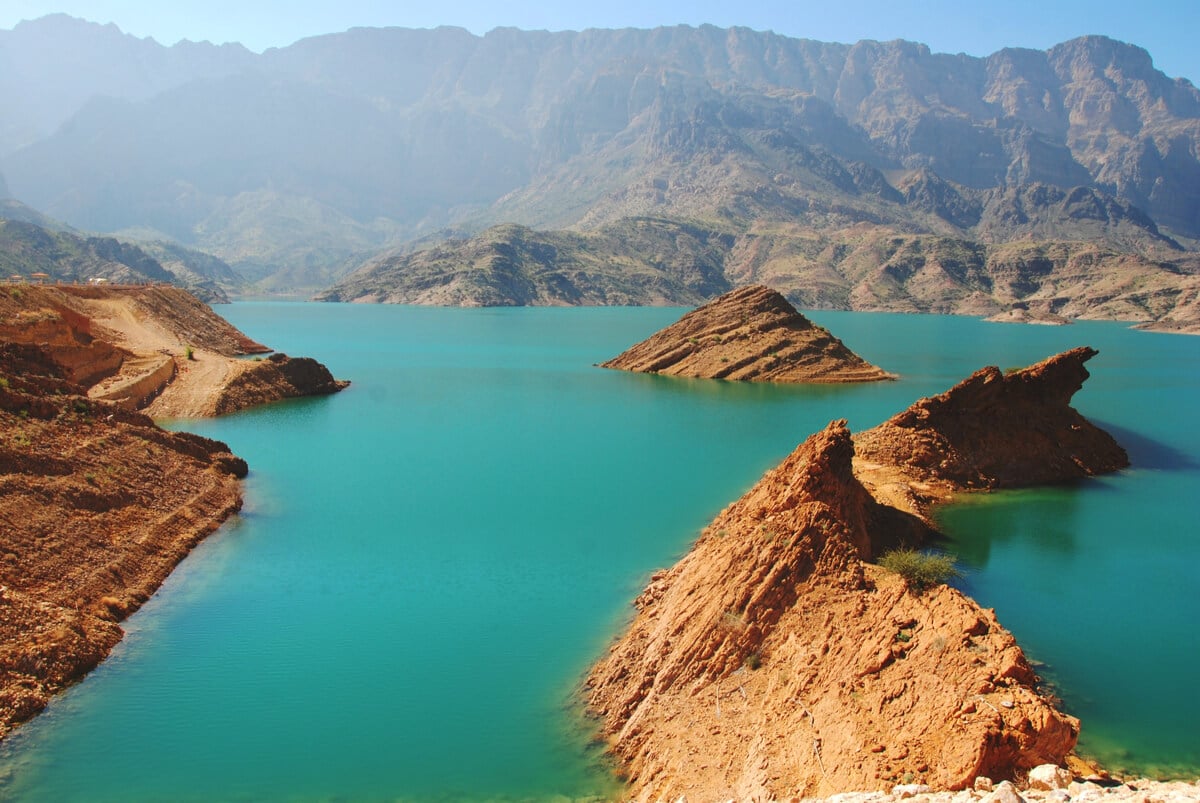 Located on the east coast of the country, the Wadi Dayqah Dam is another hidden gem of sorts — the type of place most travelers will leave off their itineraries when they visit Oman.
…which is exactly why you shouldn't.
I highly recommend you grab some eats and chill out at the park that faces the water. All in all, Wadi Dayqah is well off the typical Oman tourist trail and offers some A+ views, especially at sunset. Or sunrise, if you roll like that.
Where to Stay in Oman
Oman has some pretty sweet places to stay in, but they're certainly not the cheapest. While its hostel scene is not really developed (i.e. non-existent) you can find cute Airbnbs and other stays throughout the country.
Luxury accommodation in Oman is, on the other hand, very developed: some stunning (and mighty pricey) resorts can be found along the coast.
But of course, I'm going to recommend stays with a budget in mind; this is The Broke Backpacker, after all.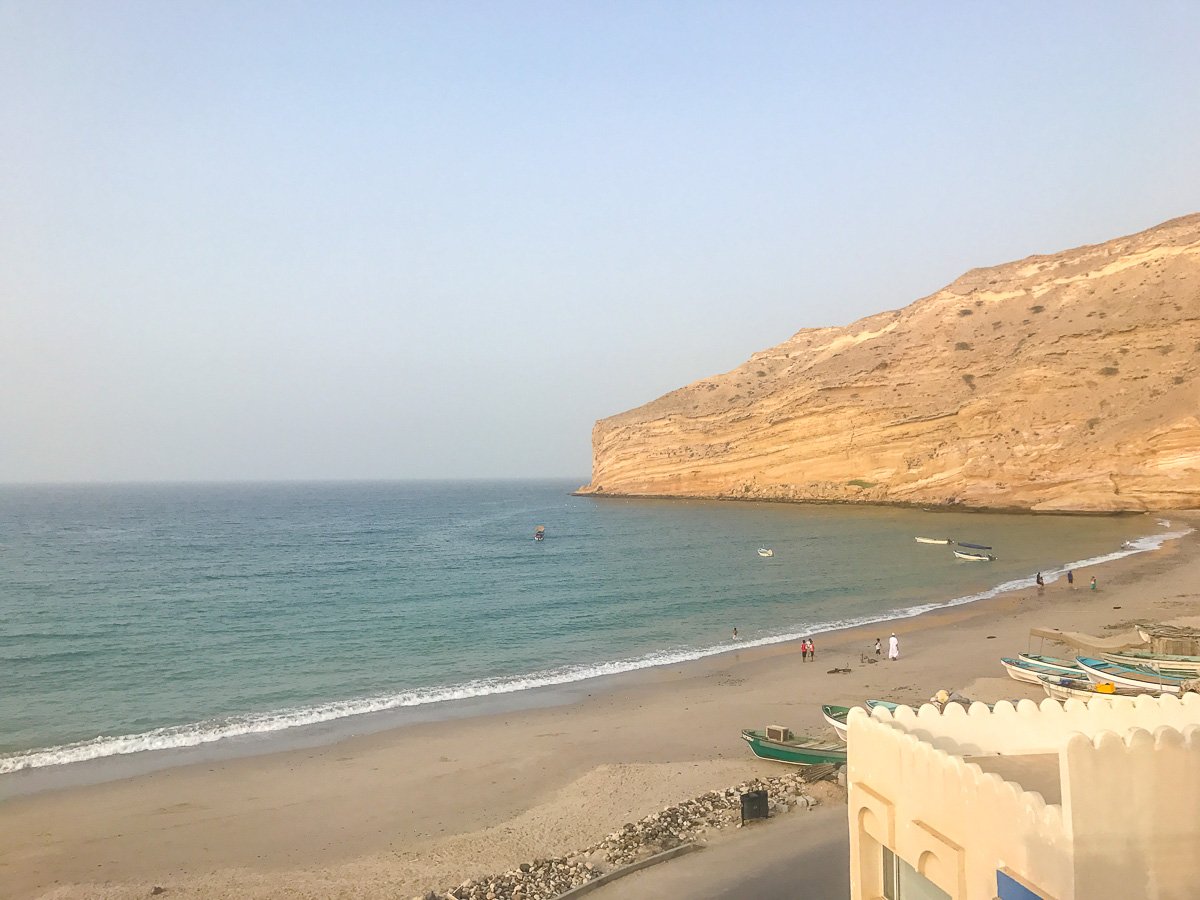 This unreal Omani Airbnb is one of my favorite I've ever stayed in, and I'm not just talking about within Oman.
It's located right on the beach in a quiet, charming fishing village that's only some 20 minutes from Muscat.
The balcony gave me some of the best accommodation views I've ever had, and it even has its own BBQ grill!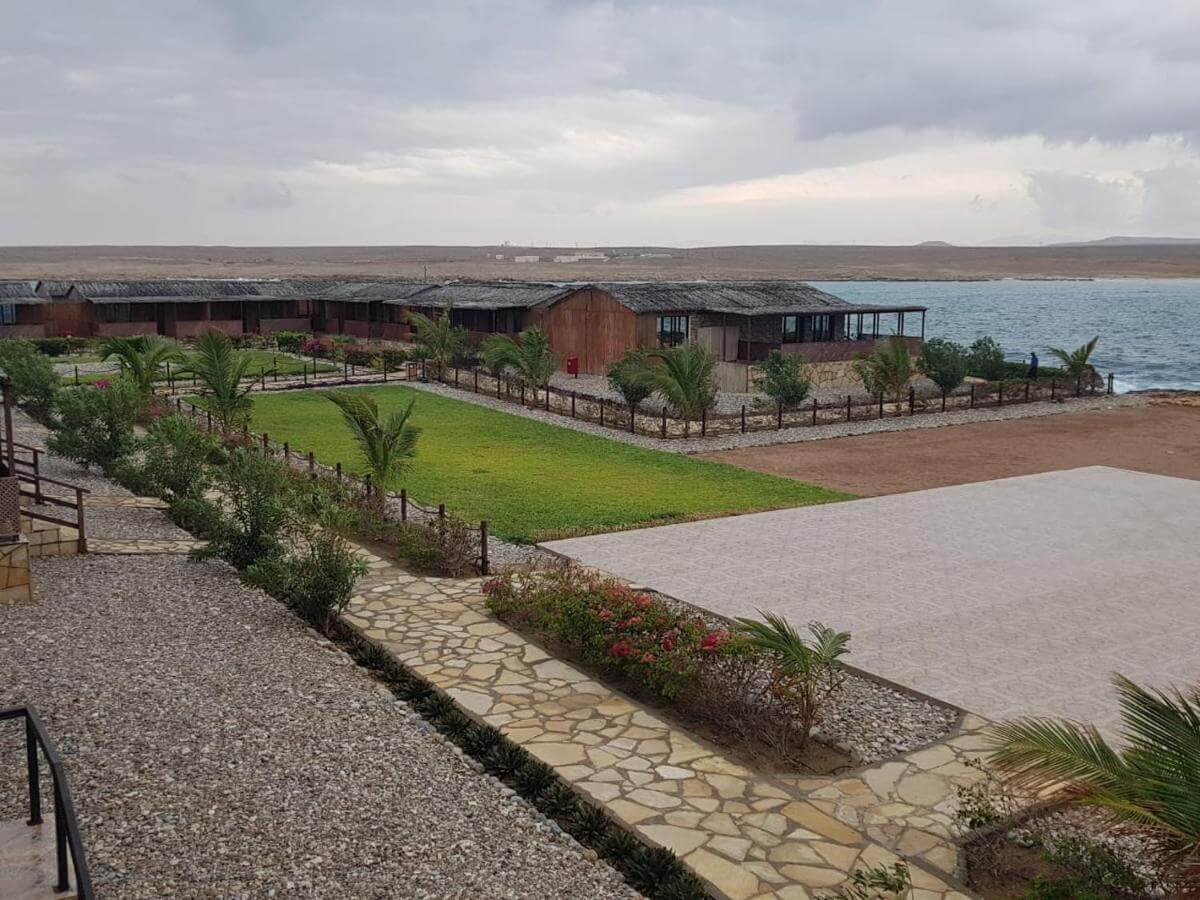 The Turtle Beach resort is the closest place you can stay to the world-famous Ral Al Jinz Scientific Center — and that means easy access to all the turtles!
The rooms are extremely comfortable and some even have a sea view. Needless to say–that's hard to beat. And while it's certainly not the cheapest, it's definitely one of the nicest places to stay in Oman.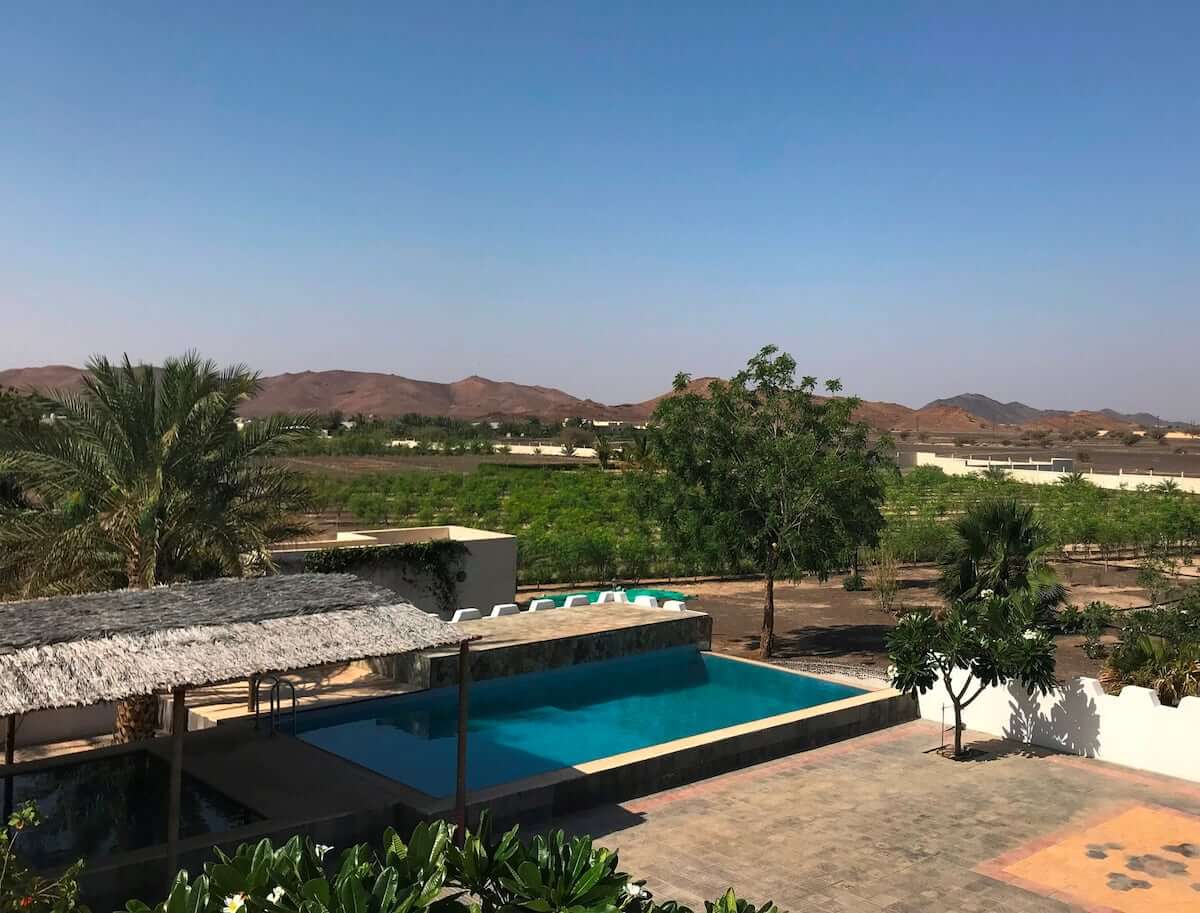 The most beautiful Airbnb in Oman goes to this iconic farm stay in Lizq, a place that will give you a delicious taste of "rural" Oman. I mean… just look at the photo!
This Airbnb has 5 stars for a reason, and the pool is definitely one of them. The cabins give a bit of a remote feel, and like most of the rest of Oman, the entire property gives off a real "oasis" vibe.
Cool Things to Do in Oman
The type of Oman activities that are bound to make your friends jealous AF.
16. Spend the Night at Sharqiya Sands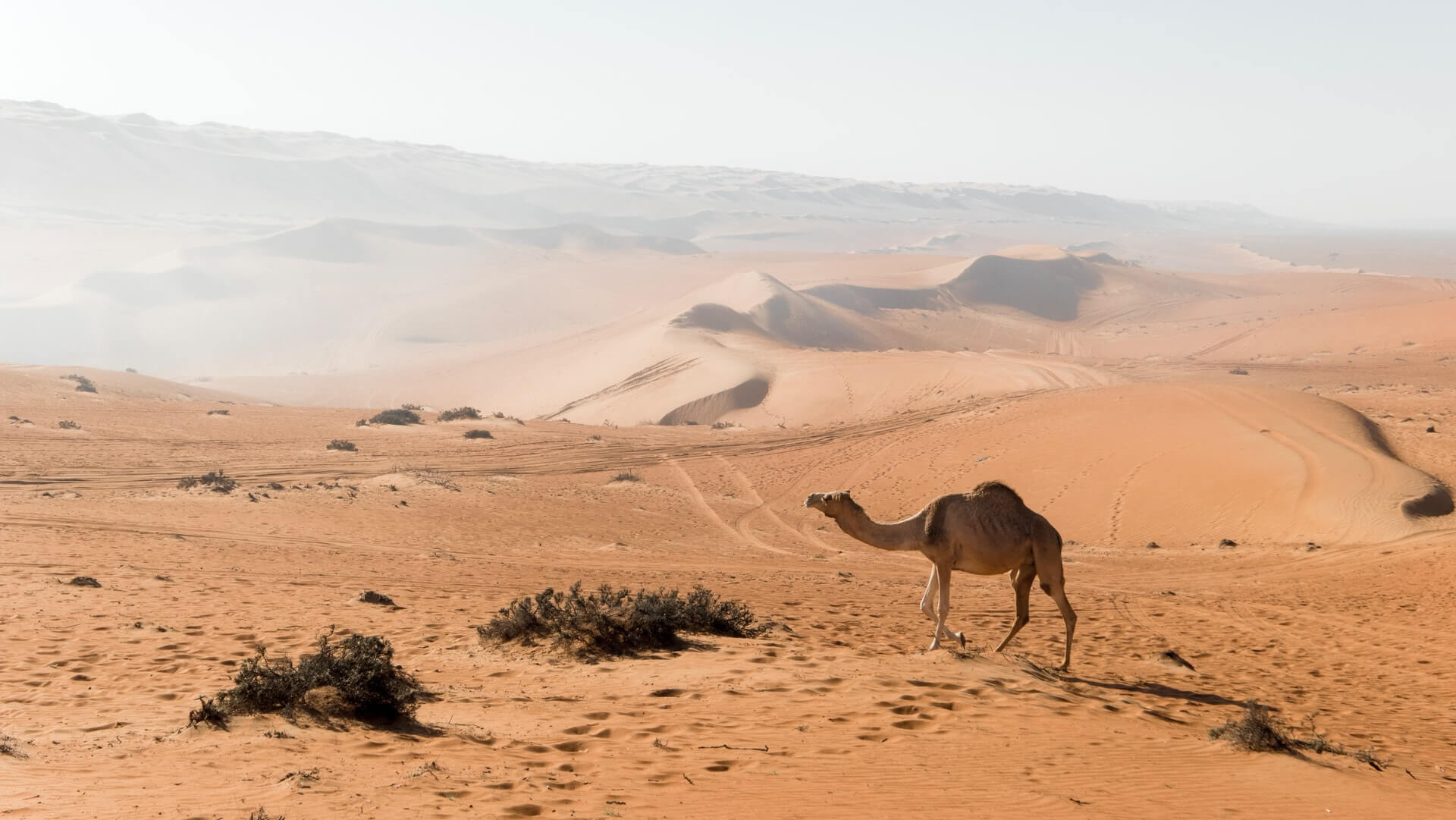 Looking for one of THE coolest places to wild camp in Oman? Well, how does desert camping under a sea of stars sound? Sharqiya Sands (also formally known as Wahiba Sands) is a massive desert and visiting it is one of Oman's top activities.
Whether you hate camping or absolutely love it, there's an option for everyone here. From high-end glamping to traditional rentable campsites to just busting out your very own backpacking tent, there's no wrong way to experience the magic of Oman's famous desert.
If you're lucky (or adventurous enough to get off the beaten path) you might be able to encounter a Bedouin family. Bedouins are nomads that have lived in the desert for centuries.
Keep in mind that you'll absolutely need a 4×4 to really enjoy the Sands. If you don't already have one rented, there will be plenty of options to do so once you arrive.
17. Head South to Salalah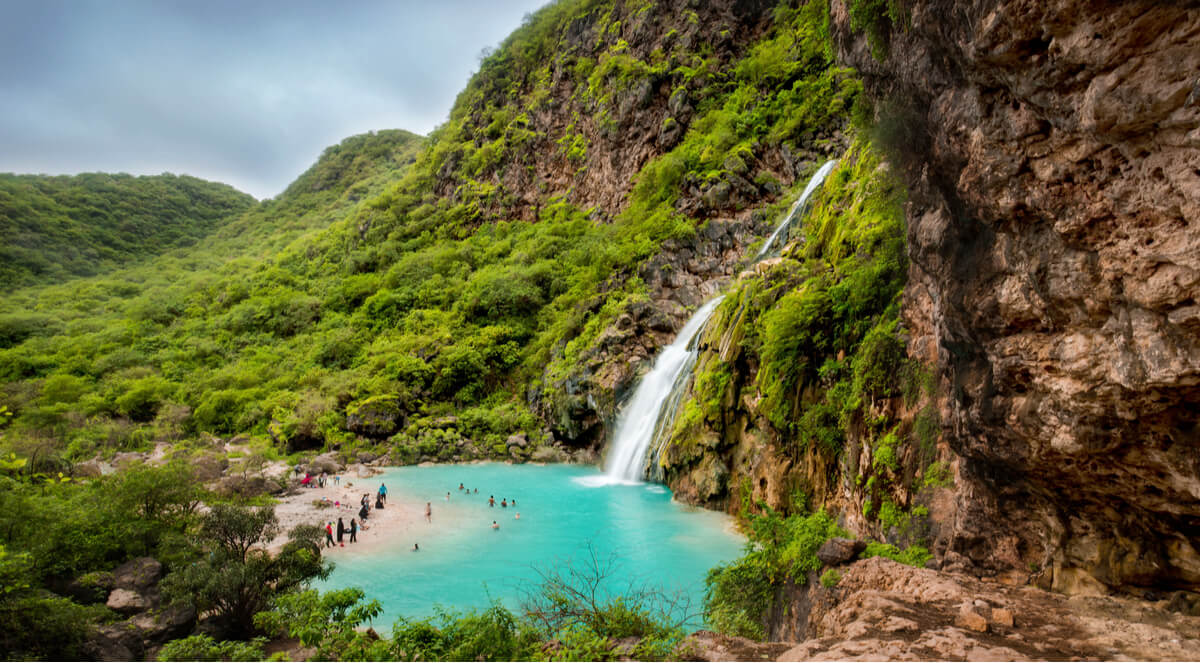 Salalah is at the very southern tip of the country, which means it's very often overlooked by travelers.
Why? I'm not sure, because there's a ton of things to do in Salalah. What's more is that its landscape is so different from the rest of Oman it can even make you feel like you're in another country.
Salalah, the capital of Oman's Dhofar province is home to beaches, camels and a whole lot of greenery. It's even been compared to the lush Indian state of Kerala, which is locally known as "God's Own Country."
So basically… you can expect a LOT from Salalah, especially if you're like me and thrive in lush, green environments. Chase waterfalls, relish in the monsoon and enjoy the beach and jungle combo that you'll only be able to find here.
18. Take a Dip in Bimmah Sinkhole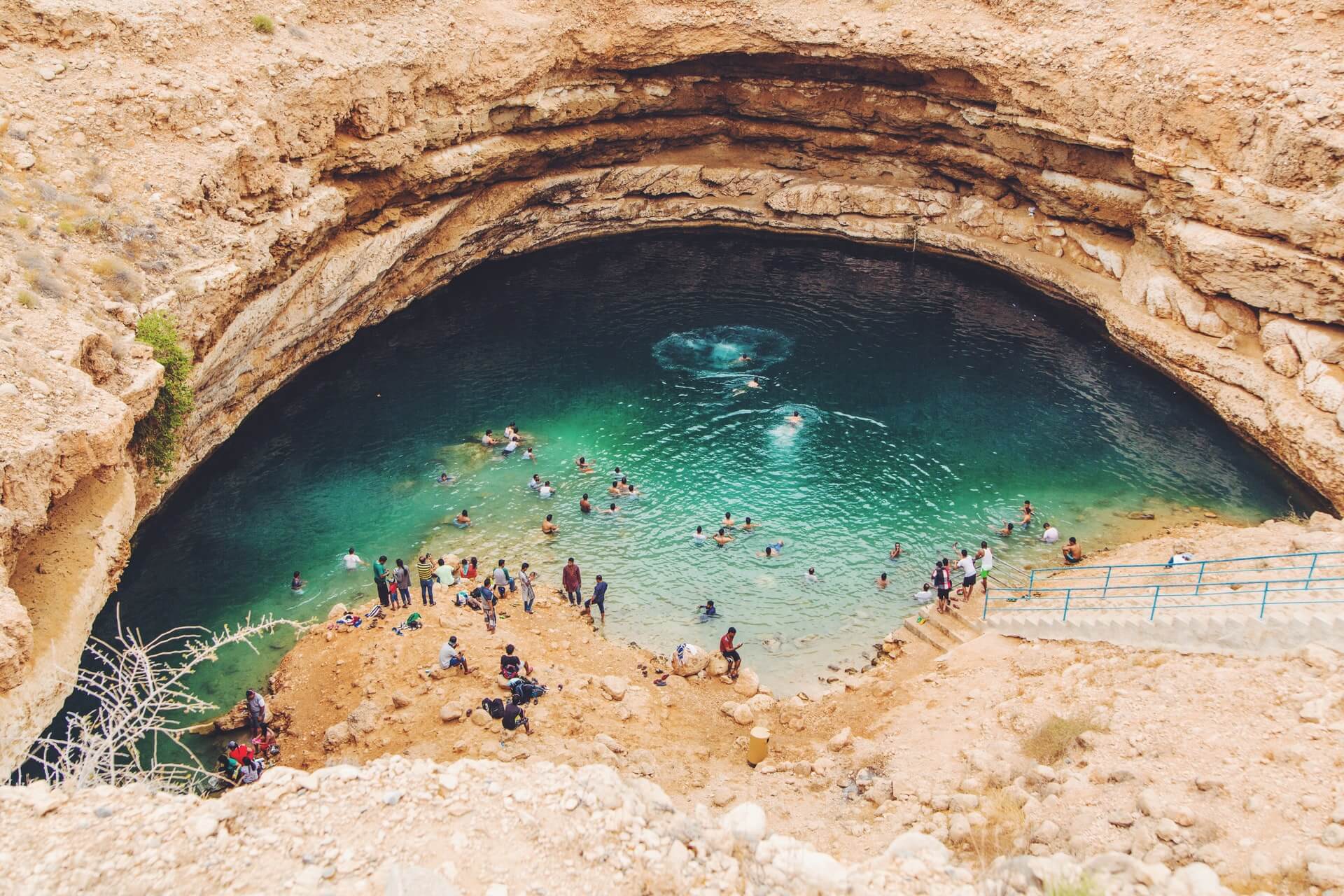 Bimmah Sinkhole was easily one of my absolute favorite things to do in Oman. Why? Well, first of all: snorkeling.
Second of all, it literally comes with a FREE spa treatment. Yes, you read that right. The hundreds of tiny fish that live in this natural pool will be sure to bite off all the dead skin on your feet.
I couldn't stop laughing at first, but eventually got used to it. Pedicure, Omani style!
Besides that awesome perk, the sinkhole is also…
a. Only 90 minutes from Muscat.
b. Warm!
c. Unique… like, where else are you going to find a naturally occurring sinkhole complete with turquoise blue water and sans an entrance fee?
19. Hike Around Jebel Shams
Jebel Sham's is the best place to go in Oman for hikers, and that's a fact. A part of the Al-Hajar mountain range, taking a trek on the well-marked trail should be on everyone's Oman bucket list.
The balcony walk is a must-do hike in the area that's easy enough that virtually anyone can do it. The views are impeccable, and there are a whole lotta' epic places to pitch your tent. What's not to love?
Save $$$ • Save the Planet • Save Your Stomach!
Drink water from ANYWHERE. The Grayl Geopress is the worlds leading filtered water bottle protecting you from all manner of waterborne nasties.
Single-use plastic bottles are a MASSIVE threat to marine life. Be a part of the solution and travel with a filter water bottle. Save money and the environment!
We've tested the Geopress rigorously from the icy heights of Pakistan to the tropical jungles of Bali, and can confirm: it's the best water bottle you'll ever buy!
View on REI
Read the Review
20. Wander Around Al Hamra, An Abandoned Omani Village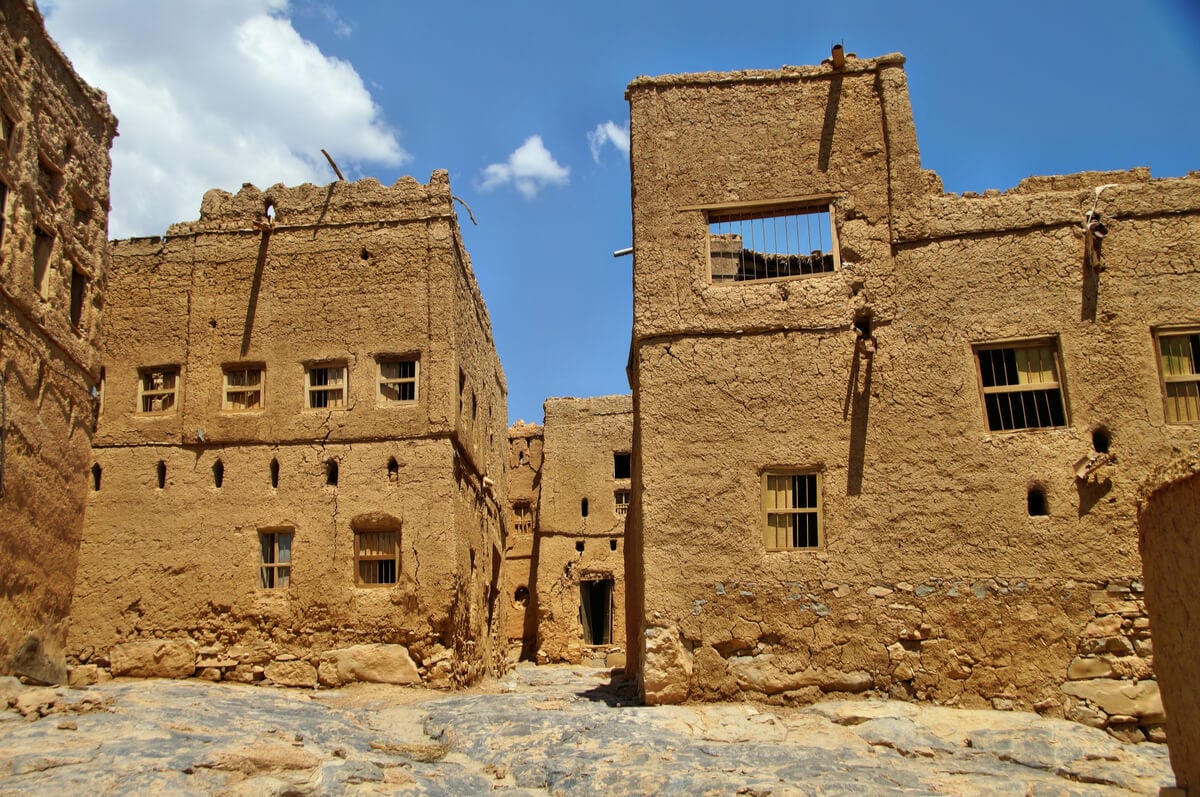 One of the coolest places to visit in Oman is undoubtedly Al Hamra. I mean…how often is it that you'll get to explore an ancient abandoned village in your travels?
The ruins are estimated to be between 700-1000 years old and its former inhabitants left willingly, according to locals. Few foreigners know about Al Hamra, which is what makes it one of Oman's best tourist attractions in my book.
To be able to wander about a place that literally makes you feel like you've gone way far back in time…it's a special experience fo' sho.
The ruins are 2 hours from Muscat, meaning it can deff be done as a day trip.
21. Explore The Empty Quarter
So, I already told you about Sharqiyah Sands, but did you know Oman had an even MORE epic desert experience?
Yup, the Rub al Khali (as it's called in Arabic) is a massive sea of sand that stretches through Oman, Yemen, the UAE, and Saudi Arabia, and is the largest uninterrupted stretch of desert in the world. It's so unique and extraplanetary that it's even been in major movies like Star War and the Matrix.
The Empty Quarter is only home to a small number of nomadic tribes that have been living within its harsh conditions for centuries. If you're lucky, you might just be able to meet some people and see how they live in one of the world's most extreme environments,
You can choose to visit with a tour company, or if you're feeling adventurous (and have prepared in advance!), make it even more unforgettable and go for an independent camping sesh.
Just don't forget your travel headlamp — this desert gets DARK.
Get insured before heading out to the best places in Oman!
Yes, it might be in the Middle East, but relax because Oman is not just one of the safest countries in the region to visit, but perhaps even the world! Crime is virtually non-existent, and it's FOR SURE safer than the United States or even most of Europe.
Even so, no backpacking packing list is complete without travel insurance. Because while Oman itself might be safe, you never know what might happen!
What if you fall while navigating a wadi? Get attacked by a camel? Okay, that last one might be unlikely, but it's still possible.
Which is why you should ALWAYS consider buying travel insurance before any trip.
Members of The Broke Backpacker have been using World Nomads for years, and they're a professional, well-known provider that the team swears by.
From Pakistan to Mauritius to the Oman tourist places you should be well acquainted with by now, we trust World Nomads. To find out why, check out our in-depth World Nomads Insurance Review!
ALWAYS sort out your backpacker insurance before your trip. There's plenty to choose from in that department, but a good place to start is Safety Wing.
They offer month-to-month payments, no lock-in contracts, and require absolutely no itineraries: that's the exact kind of insurance long-term travellers and digital nomads need.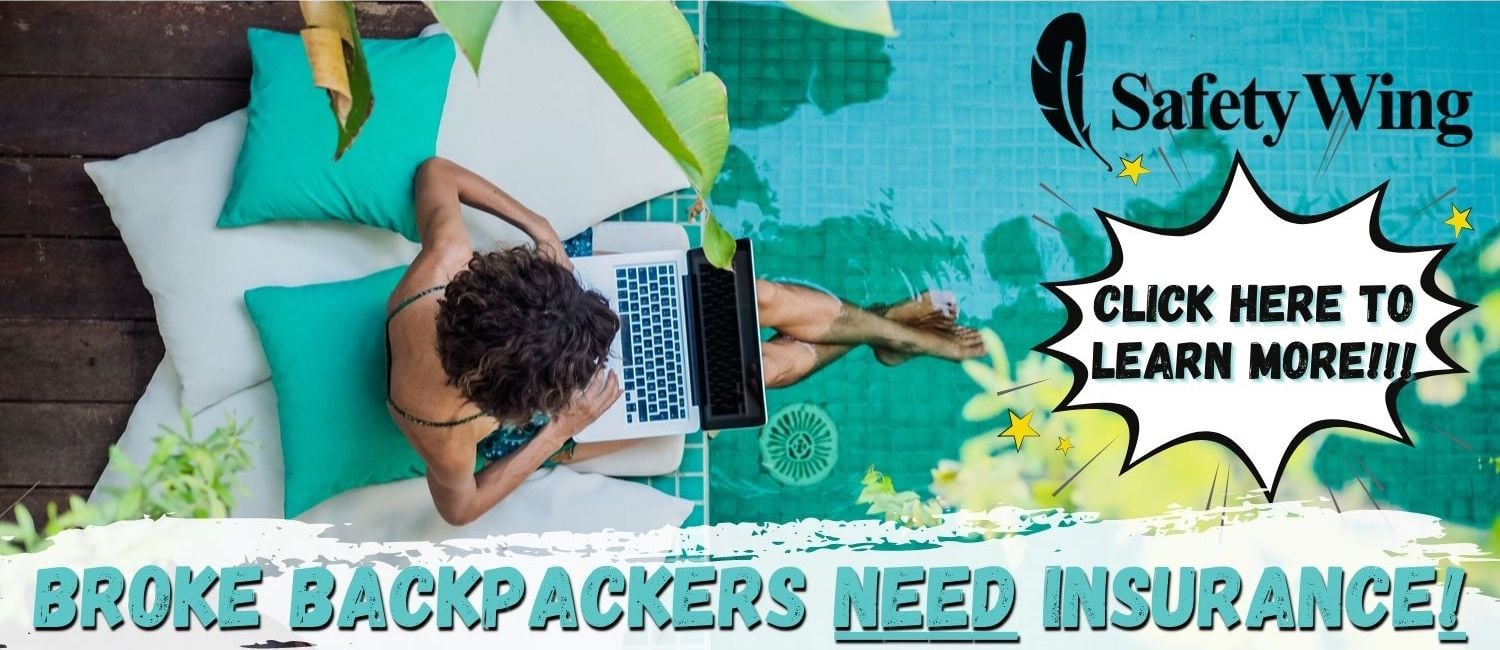 SafetyWing is cheap, easy, and admin-free: just sign up lickety-split so you can get back to it!
Click the button below to learn more about SafetyWing's setup or read our insider review for the full tasty scoop.
Some Additional Tips for Visiting Oman
Don't rush! While many can and do see some of the top things to do in Oman in one week, this is undoubtedly a country that deserves a minimum of 2 weeks, especially if you plan on getting off the beaten path!
Alcohol is pretty much not a thing outside of upscale hotels. And (to my disappointment), weed/hash is pretty seriously illegal. Basically — Oman isn't the place to try drugs while traveling.
Keep the culture in mind and dress conservatively. You don't need to wear a headscarf (except in the mosque) but when going places where locals will be, keep clothes loose and pack options that will cover your legs and shoulders. You definitely don't want everyone in the grocery store/souq/etc staring.
Bring your Grayl, especially if you'll be camping. Oman is filled with free water sources that you'll absolutely want to filter.
Eat local! Western and bougie restaurants SUCK and all of the best food you'll find in Oman is undoubtedly at hole-in-the-wall shops. Though you see a lot of generic Middle Eastern food in Muscat, the farther off-the-beaten-path you get, the chances you'll have to sample REAL Omani cuisine will increase!
Oman now offers a free, single entry e-Visa that's can be used for up to 30 days for most nationalities. You still need to apply for visa in advance though, which you can do on Oman's eVisa website.
Concluding The Best Things To Do in Oman
Oman is beautiful: it's chill, it's safe, and it's absolutely an adventure in itself. Does this contain ALL the things to do in Oman? Nah, not quite, but it's definitely a solid place to start when planning your trip to the Kingdom.
Feel the unique vibes of the desert, spend a few days on the beach, visit wadis, and then go visit them again. Oman's landscape is rare, so soak that shit UP.
Numerous countries later, I still smile thinking about the sheer feeling of grandeur that Oman's geography conjures up. So yes, visit all the popular spots. They're absolutely worth it. But don't be afraid to get out of your comfort zone and off the beaten path.
Oman has so much more to offer than just the Bimmah Sinkhole and Wadi Bani Khalid, dozens if not hundreds of wadis dot the country, and with virtually no restrictions on tourists. Get after it all!
---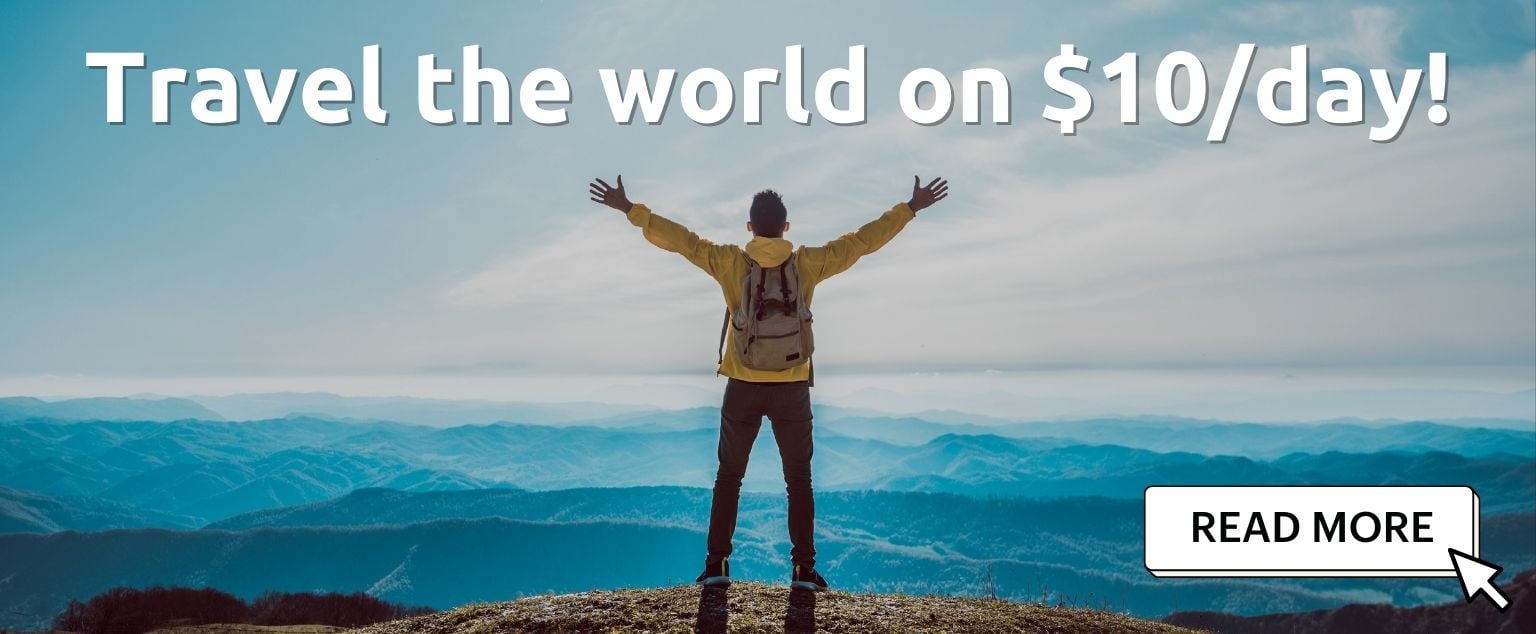 And for transparency's sake, please know that some of the links in our content are affiliate links. That means that if you book your accommodation, buy your gear, or sort your insurance through our link, we earn a small commission (at no extra cost to you). That said, we only link to the gear we trust and never recommend services we don't believe are up to scratch. Again, thank you!