Stunning beaches, top notch nightlife, affordable prices and quick access to Mexico makes San Diego one of America's most under-the-radar cities.
But while San Diego's best hostels are awesome…. there aren't many. Which is exactly why we put together this ultimate list of the best hostels in San Diego. 
Like most American cities, San Diego isn't cheap, and it's difficult to travel on a budget.
That is why if you are trying to travel San Diego on a budget you need to book a hostel.
Doing so will not only enable you to meet other awesome travelers, but to also take advantage of the low costs and high value that some of the best hostels in San Diego provide.
With the help of our insider guide of the top hostels in San Diego, you'll know exactly which hostel in San Diego best suits your travel-style, so you can book quickly and ensure that you are saving money in this American paradise!
Let's jump into the best hostels in San Diego, and we'll fill you in on exactly how we came up with this list…

Do You Want to Travel FOREVER??
Pop your email in below to get a FREE copy of 'How to Travel the World on $10 a Day!'.
What to Expect from Hostels in San Diego?
Hostels are generally known to be one of the cheapest forms of accommodation on the market. That doesn't just go for San Diego, but pretty much every place in the world. However, that's not the only good reason for staying at a hostel. The unique vibe and social aspect is what makes hostels TRULY special. Head down to the common room, make new friends, share travel stories and tips, or just have a great time with like-minded travellers from all over the world – you won't get that opportunity in any other accommodation.
We're not going to lie, San Diego's hostel scene is… okay. It's definitely not the cheapest place and you'll definitely get to experience that first hand. Luckily, lots of hostels in San Diego offer freebies. That includes stuff like free linen and towels, free breakfast and of course, free wifi. However, it is important to check if these things are actually free before you book. A quick glimpse at the reviews from previous travellers should do the job when you're deciding where to stay in San Diego.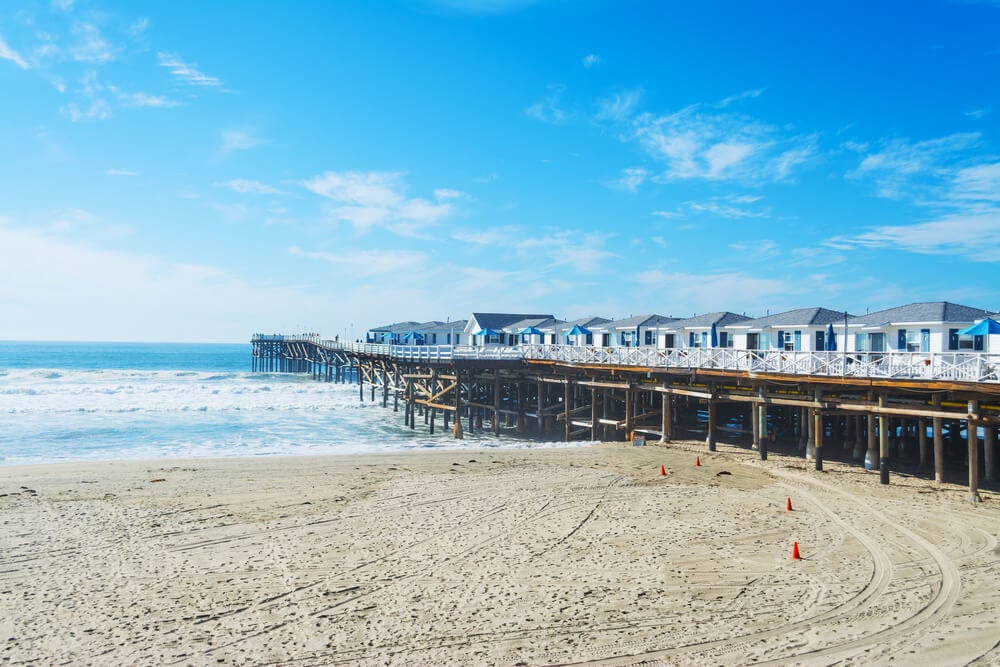 But let's talk more about the important stuff – money and rooms! San Diego's hostels normally have three options: dorms, pods and private rooms (although pods are rare). Some hostels even offer large private rooms for a group of friends. The general rule here is: the more beds in a room, the cheaper the price. Obviously, you won't have to pay as much for an 8-bed dorm as you would for a single bed private bedroom. To give you a rough overview of Prague's prices, we've listed the average numbers below:
Dorm room (mixed or female-only): $39-42 USD/night
Private room: $92-107 USD/night
When looking for hostels, you'll find the best options on HOSTELWORLD. This platform offers you a super safe and efficient booking process. All hostels are displayed with a rating and previous guest reviews. You can also filter your personal travel needs easily and find the perfect place for you.
There are a ton of great neighborhoods in San Diego that will cater to all types of travelers. When it comes to finding the best San Diego hostels though, there are some neighborhoods that offer better hostel options than others. To help you out, we've listed our favorites below:
Old Town – Old Town is an area of San Diego that marks the birthplace of the state of California. It is the site of the first Spanish settlement in the early-1800s and today still retains much of its historic charms and architecture.
Downtown – For an incredible night on the town, there's no better neighbourhood than Downtown San Diego. The heart, soul and centre of the city, Downtown San Diego is packed with great restaurants, lively bars, thriving clubs and cosy cafes.
North Park – North Park is far and away one of the coolest neighborhoods in the city. Famous for its laid-back atmosphere and vibrant street art, North Park is packed with hip hangouts and quirky cafes.
Now that you know what to expect from hostels in San Diego, let's have a look at the best options…
The 5 Best Hostels in San Diego
From the best hostel for solo travellers in San Diego to the best party hostel and San Diego's best hostel for digital nomads, we've got you covered. Travelling on a budget? Don't miss the best cheap hostel in San Diego. This is all designed to help you book your hostel quickly, and confidently!
1. Best Hostel for Solo Travelers in San Diego – Hi San Diego – Downtown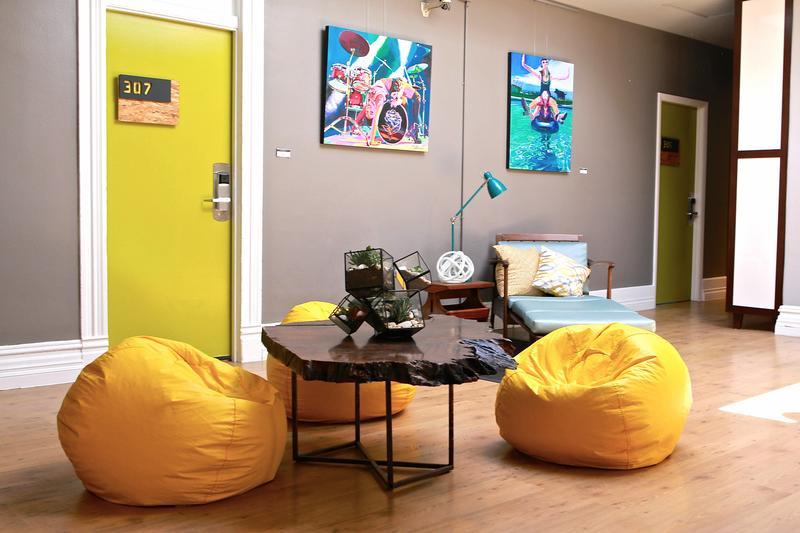 Laundry Facilities
Bike Hire
Located in the lively heart of San Diego's Gaslamp district, Hi San Diego – Downtown is well connected by public transport and close to many places of interest. It's our choice for the best hostel for solo travellers in San Diego, thanks to its location, affordable prices, quality facilities, sociable vibe, and free or budget activities. Bond with other travellers in the games room or swap cooking tips in the kitchen.
From swing seats and beanbags to regular tables and chairs and sofas, there are plenty of spots for you and the crew to chill. Free Wi-Fi and computers at this recommended hostel in San Diego make staying in touch with home easy. The weekly schedule of events includes pub crawls, walking tours, restaurant trips, beach outings, and more.
Why you'll love this hostel:
ATM on site
Great location
Free linen and towels
With high ceilings, air con and fans, all our rooms are spacious and cool – the hostel does everything it can to keep you comfy while you snooze. Each room has storage lockers plus free, fresh sheets and towels too. As for room types, take your pick! Choose to stay in a mixed or female-only dorm, or in a private twin or double room. (Some private rooms and dorms have en-suites.)
In case you're lacking ideas on how to fill your day, head to the reception and ask the staff for their favorite hotspots in San Diego. Local knowledge always goes a long way when wanting to explore a new city. Luckily, there's no curfew and the reception is open 24/7, so you can come home whenever you please. They've also got a handy ATM on site – when you've stocked up on dollars, hire bikes here for rides around the city parks.
2. Best Cheap Hostel in San Diego – Hostel on 3rd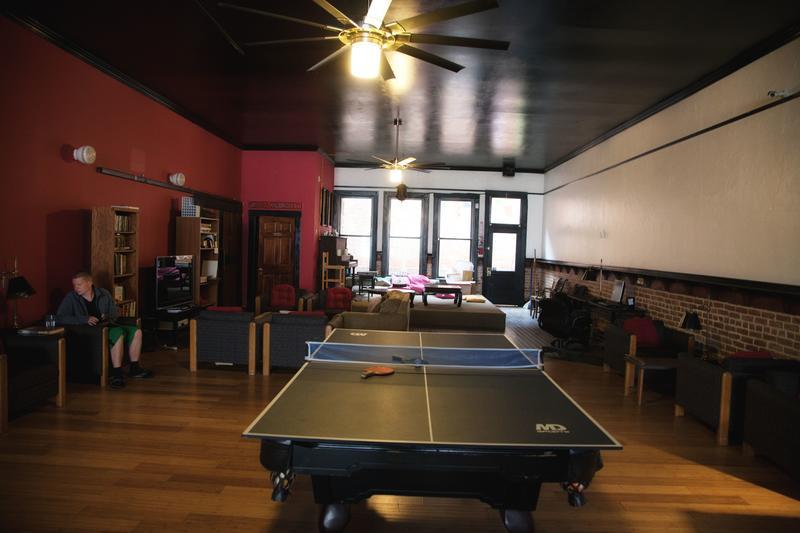 Not only is Hostel on 3rd the best cheap hostel in San Diego but they also have great freebies too. Tuck into a free brekkie each morning and surf the free Wi-Fi. You can also save money on transportation costs, as this San Diego backpackers hostel is located within walking distance of the Gaslamp district's vibrant nightlife.
Chill in the large common room, complete with a pool table, TV, and book exchange, bang out a tune on the piano, cook something tasty in the kitchen, and sleep well in the comfy dorms and twin rooms.
Why you'll love this hostel:
Great location
Super kind staff
Towel rental
Now, we do have to say that this is no luxury hostel – but you shouldn't expect that anyway with such a low price. It's a simple hostel with basic but clean dorms. According to the most recent guests, the hostel has an incredible value and fixed minor issues that other guests have pointed out. With all of the freebies and amazing location, you can't do anything wrong by booking this hostel.
Just two blocks from the Downtown Convention Centre, you'll be based in the heart of the city. That location gives you access to all other parts of the city, great public transport connections and a really cool and hip vibe. Spend you morning strolling from cafe to cafe and enjoy the closeness of cool hotspots like the San Diego like museums, zoo and beaches.
Mini Market
Laundry Facilities
ITH Beach Bungalow Surf Hostel has everything you'd expect from an awesome youth hostel in San Diego: spacious mixed and female-only dorms with lockers, private rooms, clean bathrooms, a sunny deck with a BBQ, a covered courtyard common area, a comfy lounge with a TV and books, a kitchen, laundry facilities, and more.
There are diverse social events and you can rent surfboards and wetsuits onsite. With heaps of calm spaces to work, desks in dorms, and free Wi-Fi, this is our choice for the best hostel for digital nomads in San Diego.
Why you'll love this hostel:
Beachfront location
Cool hammocks
18+ year policy
Situated right on the sand in Pacific Beach, the location doesn't get any better! Amazing restaurants and popular bars are all within walking distance. Travelers can easily access all of San Diego's top activities, as well as all main public transport lines that will get you into other parts of the city in no time.
There are several room options to choose from too, including female-only rooms, dorm-style rooms and private rooms. Unfortunately, the bunk beds don't come with plug options or individual lights. While there are plenty of power sockets in the room, they're not close enough to the bed so you can't chill, watch Netflix AND charge your phone at the same time.
4. Best Party Hostel in San Diego – Lucky D's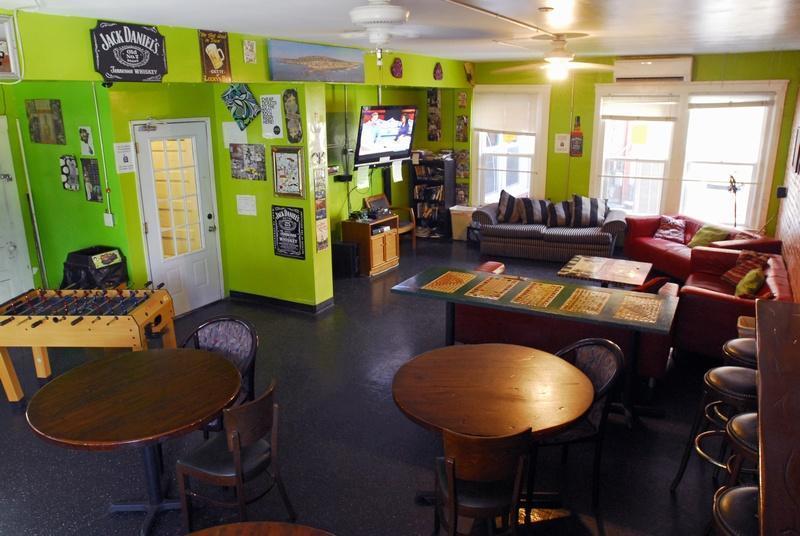 Shout out to all party-loving travellers! Lucky D's is the best party hostel in San Diego and you're all but guaranteed to have a time to remember here. Funtivities at this top hostel in San Diego include pub crawls, beer pong tournaments, quiz nights, poker playoffs, and more. Plus, you're just a short walk from the pumping nightlife of the Gaslamp quarter and there's a bar right onsite!
Knock your hangover into touch with the free breakfast and tea and coffee, available all day, cook comfort foods in the kitchen, rejuvenate and get in the mood in the sociable common room, and repeat it all again.
Why you'll love this hostel:
Great room options
Free bike storage
No curfew
Lucky D's doesn't just pride itself on the best parties, they also offer the most freebies. Free Internet (wired and wireless), free house phone (call anywhere in US and Canada for free), and a free weekly pub crawl plus other nightly social events are just some of the perks that come with this hostel.
All of their dorm rooms only sleep 4 people. Security lockers are provided in the dorm rooms and they're spacious enough to store all of your stuff. If you want a bit more time and space to yourself, opt for one of the private room options. The deluxe private rooms have a full sized bed, cable TV, and mini fridge. The economy/basic private rooms have a full sized bed and no cable TV or mini fridge, but they're much more affordable.
5. Overall Best Hostel in San Diego – ITH Zoo Hostel San Diego
A combination of low prices, great facilities, awesome freebies, cool events, and comfy beds makes ITH Zoo Hostel San Diego our winner when it comes to the overall best hostel in San Diego in 2021. Plus, the zoo theme is pretty cool. A top hostel in San Diego for people looking to socialise, you can enjoy a range of activities by day and by night, including free sailing tours, visits to waterfalls, the beach, and breweries, pub crawls, art nights, movie nights, and more.
The lounge couldn't be much more welcoming, with comfy seats, games, iPads, a TV, and a pool table, and there's not only a kitchen where you can let your cooking skills shine but you'll also get free breakfast and free pizza!
Why you'll love this hostel:
Free towels and linen
Comfy common room
Boox exchange
In terms of sleeping options, you've got the typical dorms and private rooms. Each bed is equipped with an individual light, a plug socket so you can keep your electronics charged and a private locker.
If you need anything during your stay, whether that's some fresh towels or recommendations on what to do and see in the city, don't hesitate to reach out to the kind staff. They're known to go above and beyond to make sure all guests have a great stay.
ITH Zoo Hostel San Diego is one of our favourites in San Diego but they're not taking guests right now. We're not sure if they're closed for good but we hope they'll come back soon.
Is This the Best Backpack EVER???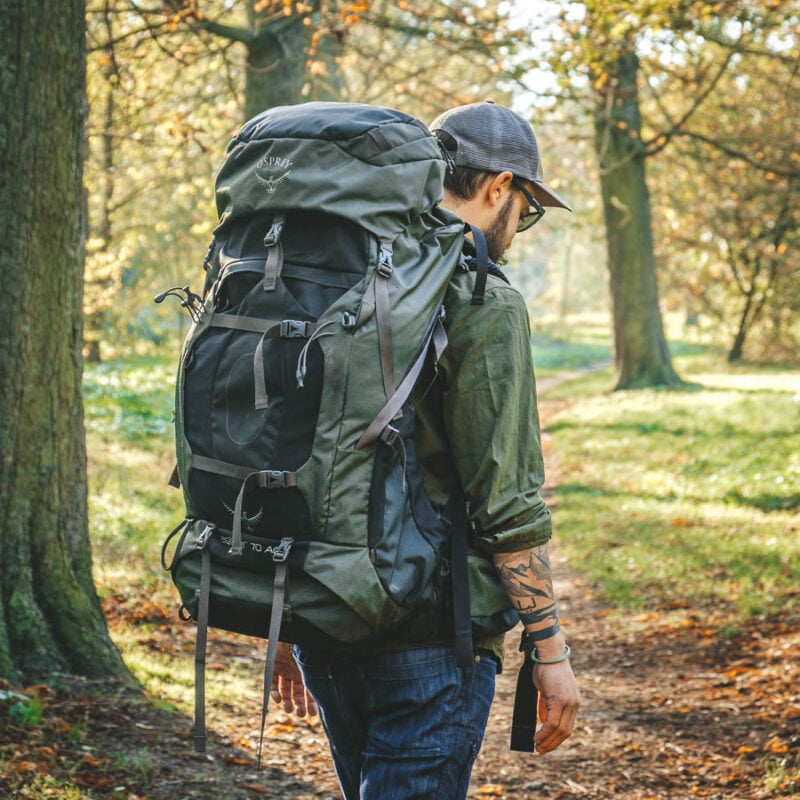 More of the Best Hostels in San Diego
Don't worry if none of those has really grabbed your attention; here are even more of the top hostels in San Diego to make sure your stay is perfect.
Best Cheap Hostel in San Diego #3 – R.K. Hostel
Tour Desk
Laundry Facilities
Located in Little Italy, R.K. Hostel is a top youth hostel in San Diego for active travellers and people who love to be out and about exploring. The free breakfast is designed to be eaten on the go, with granola bars, fruit, pastries, and more. After a day of sightseeing, come back for an evening of Netflix, a session on the Xbox 360, or a good old natter in the comfy common area. Pop open a beer on the terrace and toss some meats on the BBQ for the perfect laid-back evening. You can also cook up your favourite dishes in the kitchen.
Located in Pacific Beach, or PB to those in the know, the laid-back California Dreams Hostel is an ideal San Diego youth hotel for people who love to soak up the rays, swim, and surf. A cosy home from home, you'll find a well-equipped kitchen, modern bathrooms, and various lounging areas for relaxing and socialising. Don't worry about coming back covered in sand—there are laundry facilities. The tour desk and bike hire services make visiting San Diego a breeze.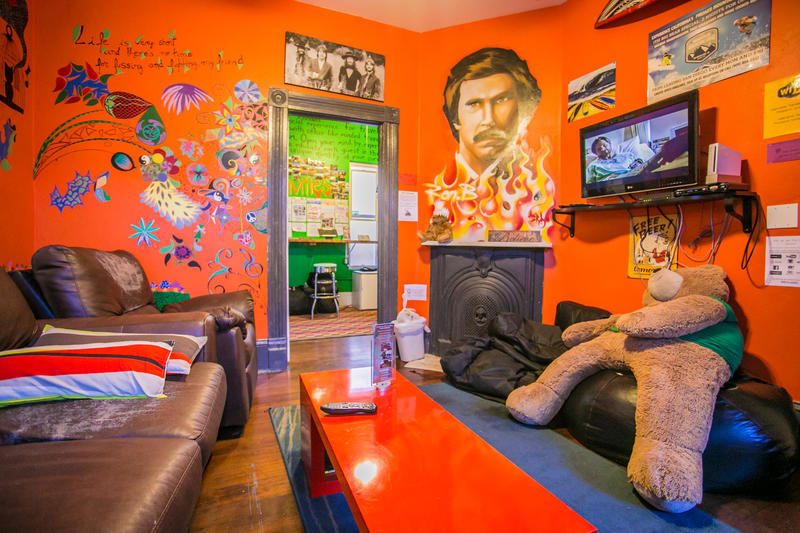 Laundry Facilities
Games Room
ITH Adventure Hostel San Diego, located in Little Italy, is loaded with awesome amenities and facilities. There are common areas for leisure, lounging, working, chilling, eating, and cooking and the diverse program of events makes meeting others easy. The free city tour helps you get your bearings. Keep in touch with family and friends with the free Wi-Fi and iPads. Dig into free breakfast each morning. Sleep well in comfy dooms. Have a great San Diego stay to remember!
The Days Inn San Diego Hotel Circle Near SeaWorld might cost more than your average hostel but as a budget hotel, it certainly goes all out when it comes to facilities and comfort. From the swimming pool and Jacuzzi to the modern fitness centre and onsite burger joint, there are plenty of things to enjoy without even stepping foot outside. Rooms are all en-suite and come with a TV and telephone, a safe, free Wi-Fi, a wardrobe and seating area, and basic self-catering facilities including a microwave, fridge, and coffee maker.
Best Mid-Range Hotel in San Diego – Kings Inn
Swimming Pool
Fitness Centre
Kings Inn is a modern, comfortable, and classy hotel in San Diego's Mission Valley. The nostalgic rooms have a 1960s theme and all have a private bathroom and modern conveniences like free Wi-Fi, a fridge, and a TV. Treat yourself to something tasty at the onsite restaurants and enjoy a nightcap in the bar. Relax and sunbathe by the large pool, keep up with your workouts in the gym, and book a range of tours onsite. Laundry services are also available.

Our GREATEST Travel Secrets…
Pop your email here & get the original Broke Backpacker Bible for FREE.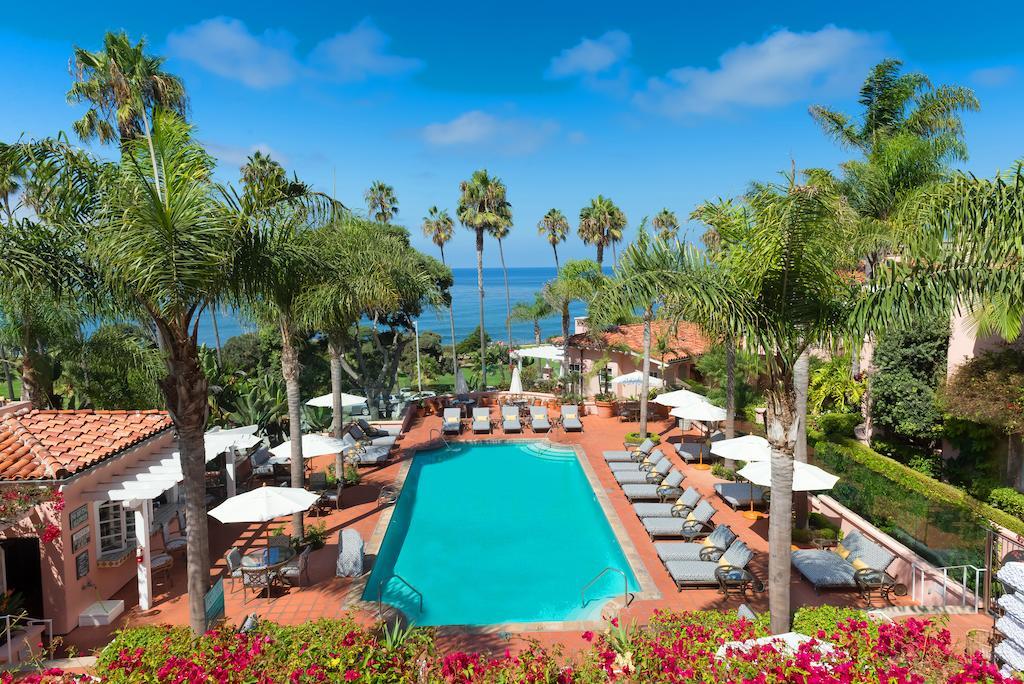 If you really want to go all out and spoil yourself, La Valencia Hotel is a stylish and sophisticated San Diego hotel. Located just a couple of minutes from the beach in up-market La Jolla, the Mediterranean-themed hotel has two tempting restaurants, a fitness centre, an outdoor pool, a business centre, and a spa for the ultimate in pampering. The gorgeous rooms are all en-suite, with free toiletries and bathrobes. Each room also has a minibar, TV, and free Wi-Fi.
Best Cheap Hostel in San Diego #2 – USA Hostels San Diego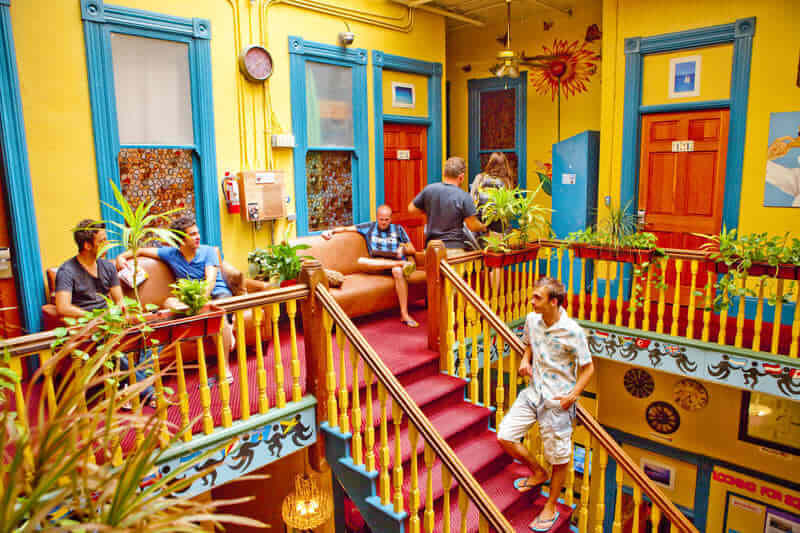 A colourful and cheerful youth hostel in San Diego, USA Hostels San Diego is truly unique. It's the coolest hostel in San Diego, housed in a historic building in the Gaslamp district. The building was previously used as both a brothel and a children's home and there are rumours of it being haunted! An all-you-can-eat pancake breakfast is served each morning and you have full use of the kitchen and large TV lounge. Pub crawls, cheap dinners, and shuttles to major attractions are more bonuses. There are power outlets in the lockers, meaning you can charge your devices without worrying. It's definitely one of the best hostels in San Diego for 2021.
USA Hostels San Diego is one of our favourites in San Diego but they're not taking guests right now. We're not sure if they're closed for good but we hope they'll come back soon.
Best Hostel for Couples in San Diego – HI San Diego – Point Loma
Laundry Facilities
Games Room
HI San Diego – Point Loma is the best hostel for couples in San Diego. There are cosy double rooms (with shared bathrooms) as well as the dorms, and you're close to the beach, nightlife, and many restaurants, cafes, and shops. Sporty travellers can borrow surfboards for free, and there's tons of stuff to make beach trips sweet, like seaside games, towels, etc. Wanna mingle? Join the weekly taco tours and chill in the sociable TV lounge or on the courtyard, which has a BBQ and fire pit.
HI San Diego – Point Loma is one of our favourites in San Diego but they're not taking guests right now. We're not sure if they're closed for good but we hope they'll come back soon.
Best Hostel with a Private Room in San Diego – Hostel Habibi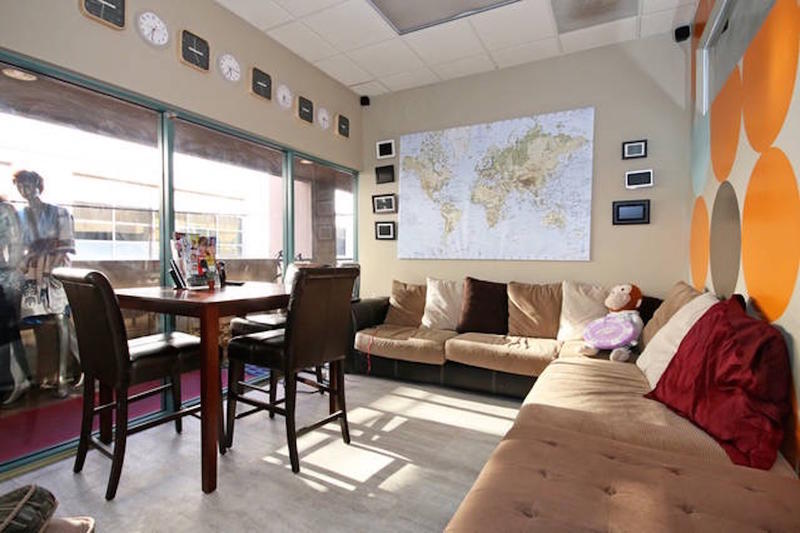 Laundry Facilities
Lockers
The gay-friendly Hostel Habibi has six-bed mixed dorms and private rooms for one, two, and four. It's quite swanky inside, with bright colours, funky artwork, and interesting ornaments. Making good use of space, the hostel features built-in bunk beds and a compact kitchen, which is complete with washing machines. There are social spaces inside and outdoors. With airport transfers available, there's no need to stress about finding a San Diego hostel near the airport.
Hostel Habibi is one of our favourites in San Diego but they're not taking guests right now. We're not sure if they're closed for good but we hope they'll come back soon.
USA Hostels Ocean Beach
A recommended hostel in San Diego for beach bums, surfers, and water babies, the award-winning USA Hostels Ocean Beach is just a short stroll from some excellent beaches. Days at the seaside are made even better with the free use of beach chairs, towels, mats, parasols, and coolers, and you can get discounts on surf lessons, wetsuits, and surfboards. It's not all about the beach life, though; the hostel provides regular shuttle services to major San Diego attractions, yoga classes, pub crawls, weekly farmers' market trips beach bonfires and more. Other reasons to stay at this San Diego backpackers hostel? Breakfast is free, there's a kitchen, terrace, and common room, there are laundry facilities, Wi-Fi is free … and the list goes on!
USA Hostels Ocean Beach is one of our favourites in San Diego but they're not taking guests right now. We're not sure if they're closed for good but we hope they'll come back soon.
What to Pack for your San Diego Hostel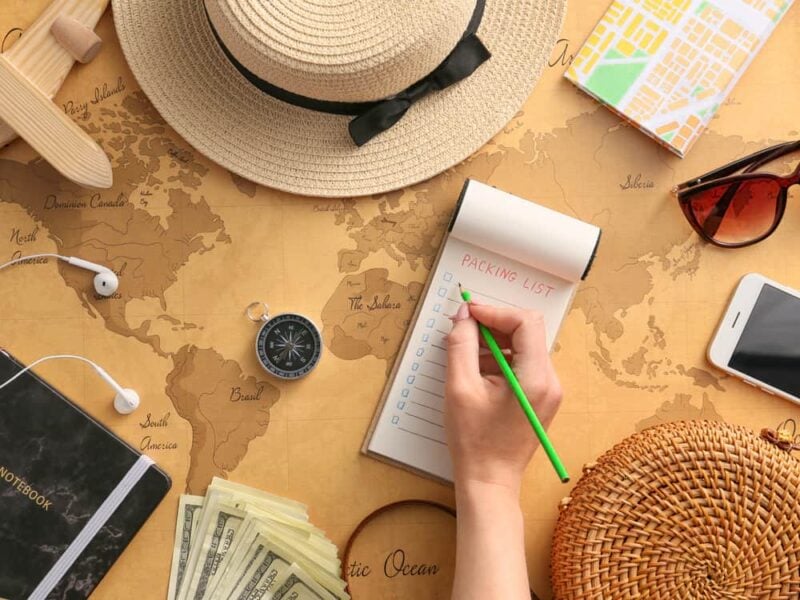 Pants, socks, underwear, soap?! Take it from us, packing for a hostel stay is not always quite as straight forward as it seems. Working out what to bring and what to leave at home is an art we have perfected over many years.
Check out our definitive Hostel Packing list for our top packing tips!
FAQ about Hostels in San Diego
Here are some questions backpackers ask about hostels in San Diego.
Travel Safety Tips for San Diego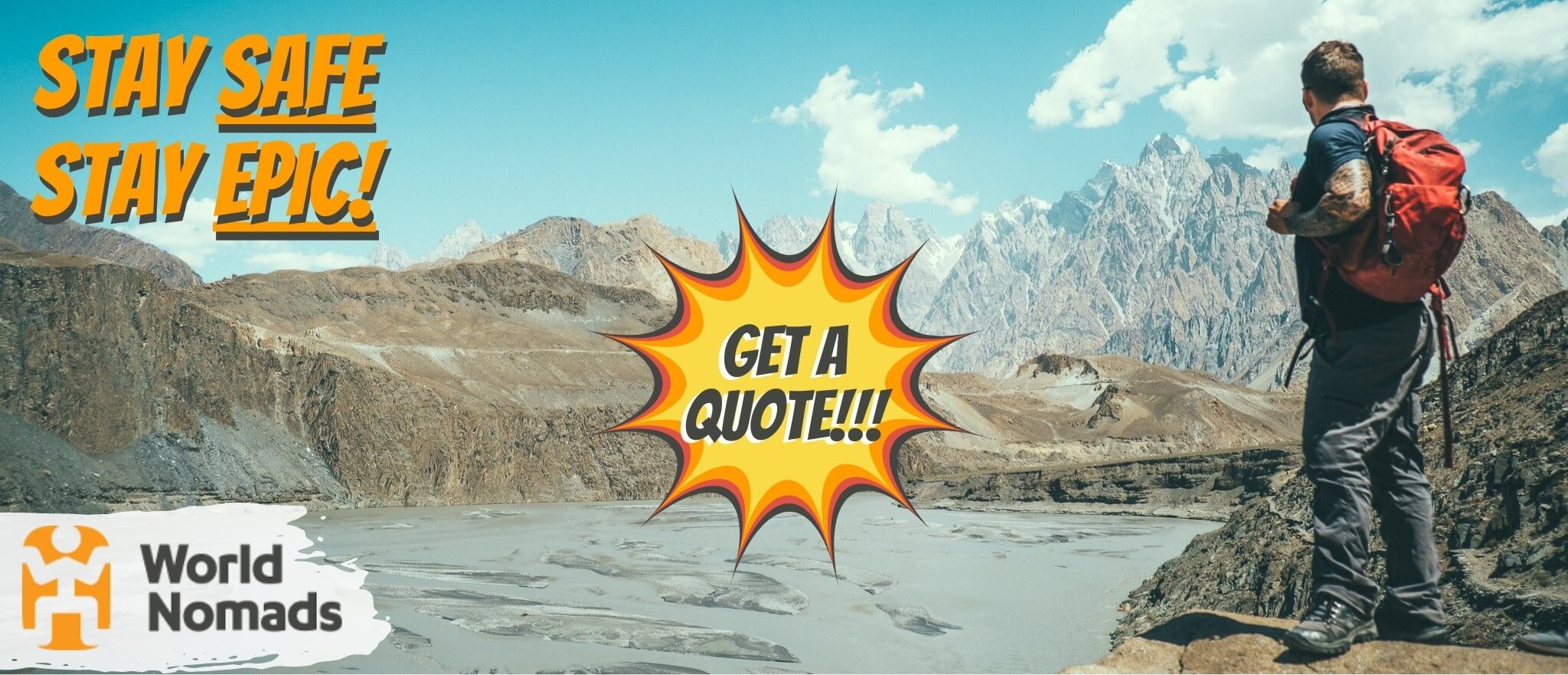 World Nomads' mission is to support and encourage travellers to explore their boundaries. They offer simple & flexible travel insurance, and safety advice to help you travel confidently.
They've been doing it since 2002 – protecting, connecting, and inspiring independent travellers just like you.
Get a quote below or read our in-depth review!
World Nomads provides travel insurance for travelers in over 100 countries. As an affiliate, we receive a fee when you get a quote from World Nomads using this link. We do not represent World Nomads. This is information only and not a recommendation to buy travel insurance.
More Epic Hostels in USA and North America
Hopefully by now you've found the perfect hostel for your upcoming trip to San Diego.
Planning an epic trip all across USA or even North America itself?
Don't worry – we've got you covered!
For more cool hostel guides around North America, check out:
Over to you
The best hostels in San Diego are all awesome, and will help you save money and have a better experience in this epic and beautiful American city.
And just a final reminder, if you are having a hard time picking one, you should definitely book ITH Zoo Hostel San Diego. It's our pick for the best hostel in San Diego for 2021.
By now I hope our epic guide to the best hostels in San Diego has helped you choose the perfect hostel for your adventure! Once you've booked your favorite hostel, plan your trip using our multi-day San Diego itinerary!
If you think we've missed anything or have any further thoughts, hit us up in the comments!
---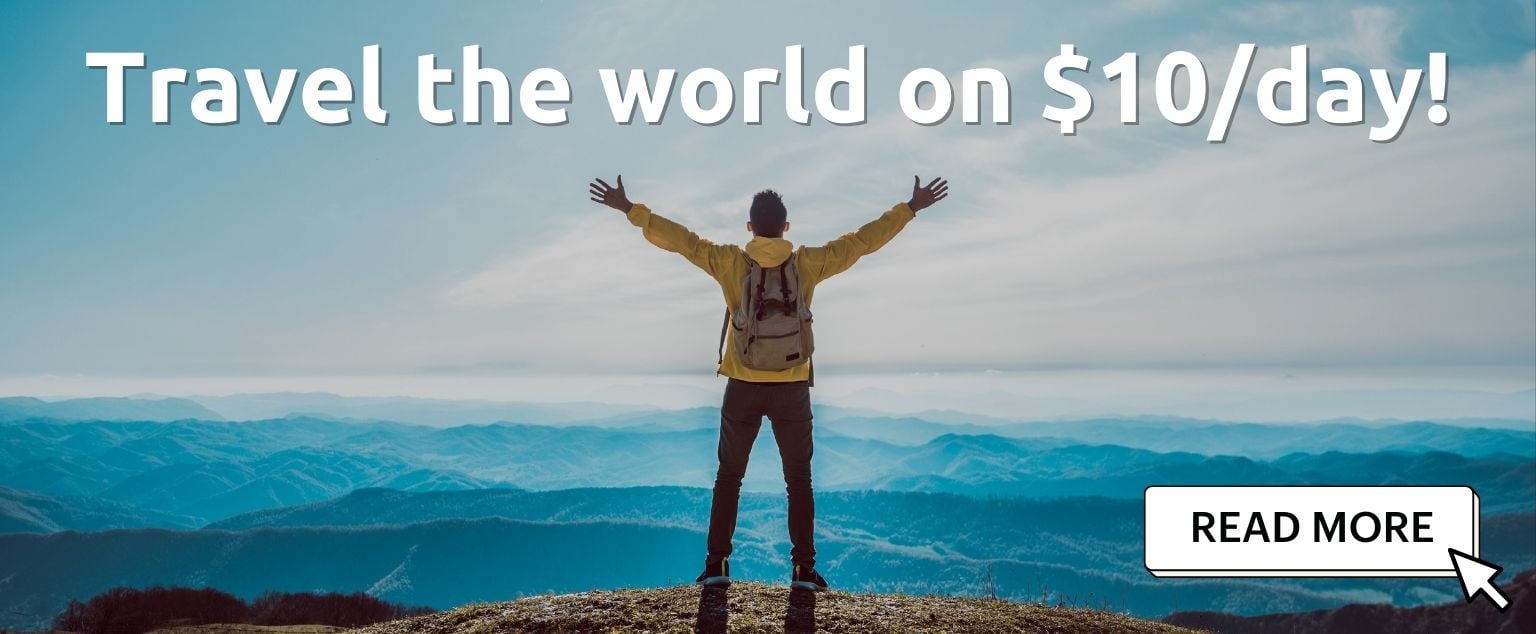 And for transparency's sake, please know that some of the links in our content are affiliate links. That means that if you book your accommodation, buy your gear, or sort your insurance through our link, we earn a small commission (at no extra cost to you). That said, we only link to the gear we trust and never recommend services we don't believe are up to scratch. Again, thank you!