A large coastal city in California, San Diego is famous for its long sandy beaches, great warm and sunny weather all throughout the year, and for being home to one of the best zoos in the world. There's a wealth of amazing places to visit in San Diego, ranging from gorgeous parks and interesting museums, to historic neighbourhoods, ethnic enclaves, and cool amusement parks. With excellent shopping opportunities, exciting dining options, and a vibrant nightlife, there's no end to the fun in San Diego. Plus, there are even more fantastic things to do and see in the wider San Diego County.
As the eighth biggest city in the USA, exploring San Diego can be somewhat intimidating. Knowing what to include on your bucket list and where to begin with your sightseeing in San Diego can be tricky.
Don't stress though! Our dedicated team of travel writers has created the ultimate list of the best places to visit in San Diego to help make planning your holiday a whole lot easier. Including things for all types of travellers, a good mixture of popular tourist attractions in San Diego and hidden gems, and something to suit all interests, having the time of your life will be easy!
Some of these best places to visit in San Diego are sure to amaze you!
Need a place quick? Here's the best neighbourhood in San Diego:
BEST AREA IN SAN DIEGO
Old Town
Old Town is an area of San Diego that marks the birthplace of the state of California. It is the site of the first Spanish settlement in the early-1800s and today still retains much of its historic charms and architecture.
Places to visit:
Visit the Junipero Serra Museum to see exhibits and displays on the life in Old Town.
Enjoy incredible Mexican fare at Casa De Reyes.
Visit the Whaley House Museum, which is rumoured to be the most haunted house in America.
If you're looking for a comfortable place to stay, check out our guide to the best vacation rentals in San Diego if you need more information on where to stay in San Diego.
And, with those travel tips covered, here are the best places to visit in San Diego:
These are the BEST Places to Visit in San Diego!

Unlock Our GREATEST Travel Secrets!
Sign up for our newsletter and get the best travel tips delivered right to your inbox.
#1 – San Diego Zoo – Possibly one of the most important places to visit in San Diego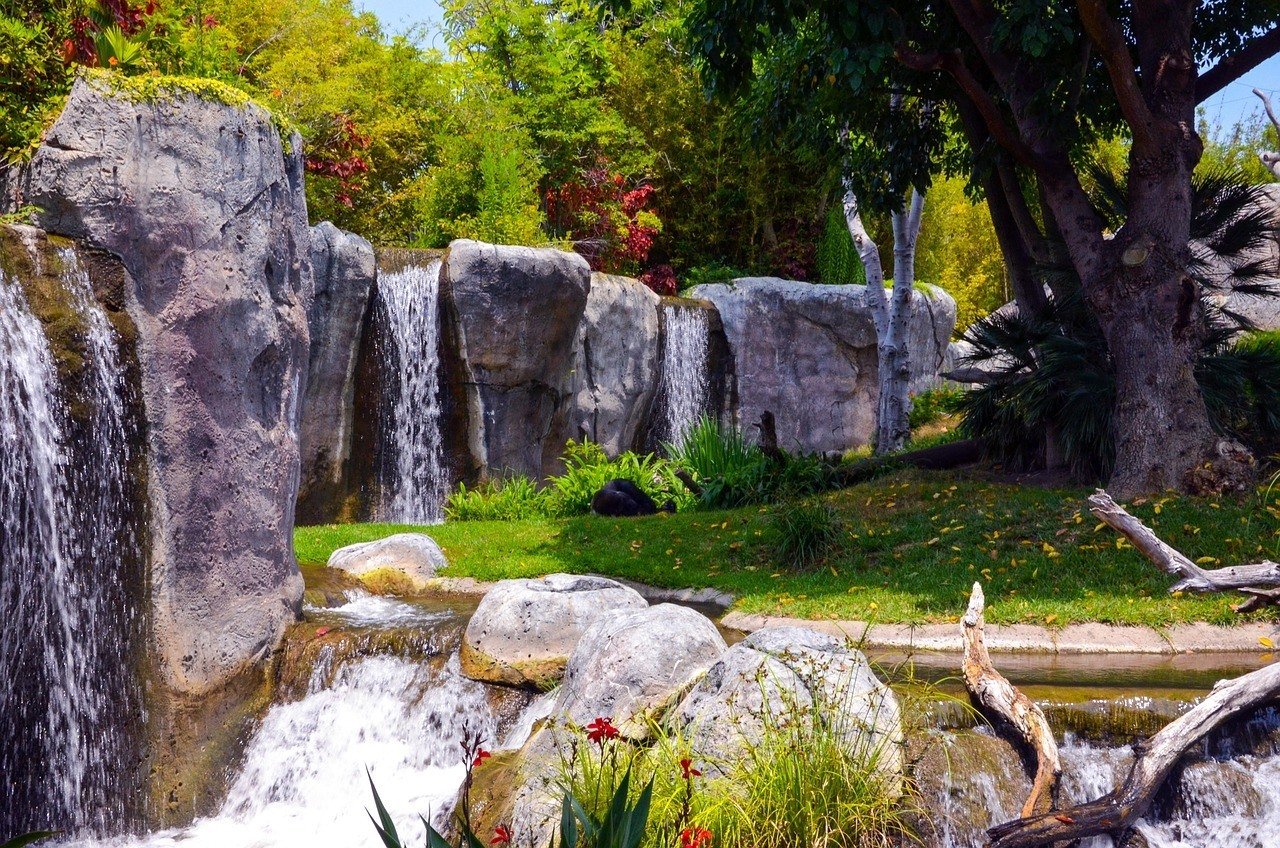 Award-winning zoo;
Home to more than 650 species of animals;
Conservation, preservation, and education efforts;
Various ways to explore San Diego Zoo.
Why it's awesome: One of the best places in San Diego, the world-famous and award-winning San Diego Zoo appeals to old and young alike. Home to more than 650 animal species today, the zoo started from taking care of animals abandoned after an exhibition. A leading open zoo (whereby animals aren't kept in cages), there are several fascinating zones throughout the large complex. The zoo is active in conservation, education, research, and preservation projects and is one of just a few global zoos that successfully breeds pandas. If you don't feel like walking too far there is a gondola and a tour bus around the zoo, and there are plenty of places to take a break and enjoy refreshments.
What to do there: Observe a huge array of animals from around the world in the various well-designed zones around the expansive zoo. Catch the tour bus to cover most parts of the zoo and save your leg power or soar above the animals for a bird's eye view from the Skyfari. Discover the zoo's different areas, designed to closely replicate wild habitats.
Visit Panda Canyon to observe the cute pandas, learn more about the difficult-to-breed creatures at the Giant Panda Discovery Centre, and follow the Panda Trek to see more animals from China. Spot various monkeys from Asia and Africa along the Monkey Trails, visit Polar Bear Plunge, experience Africa at Ituri Forest, watch creatures from Australia in the Outback area, and much more.
#2 – USS Midway Museum – One of San Diego's coolest historical sites!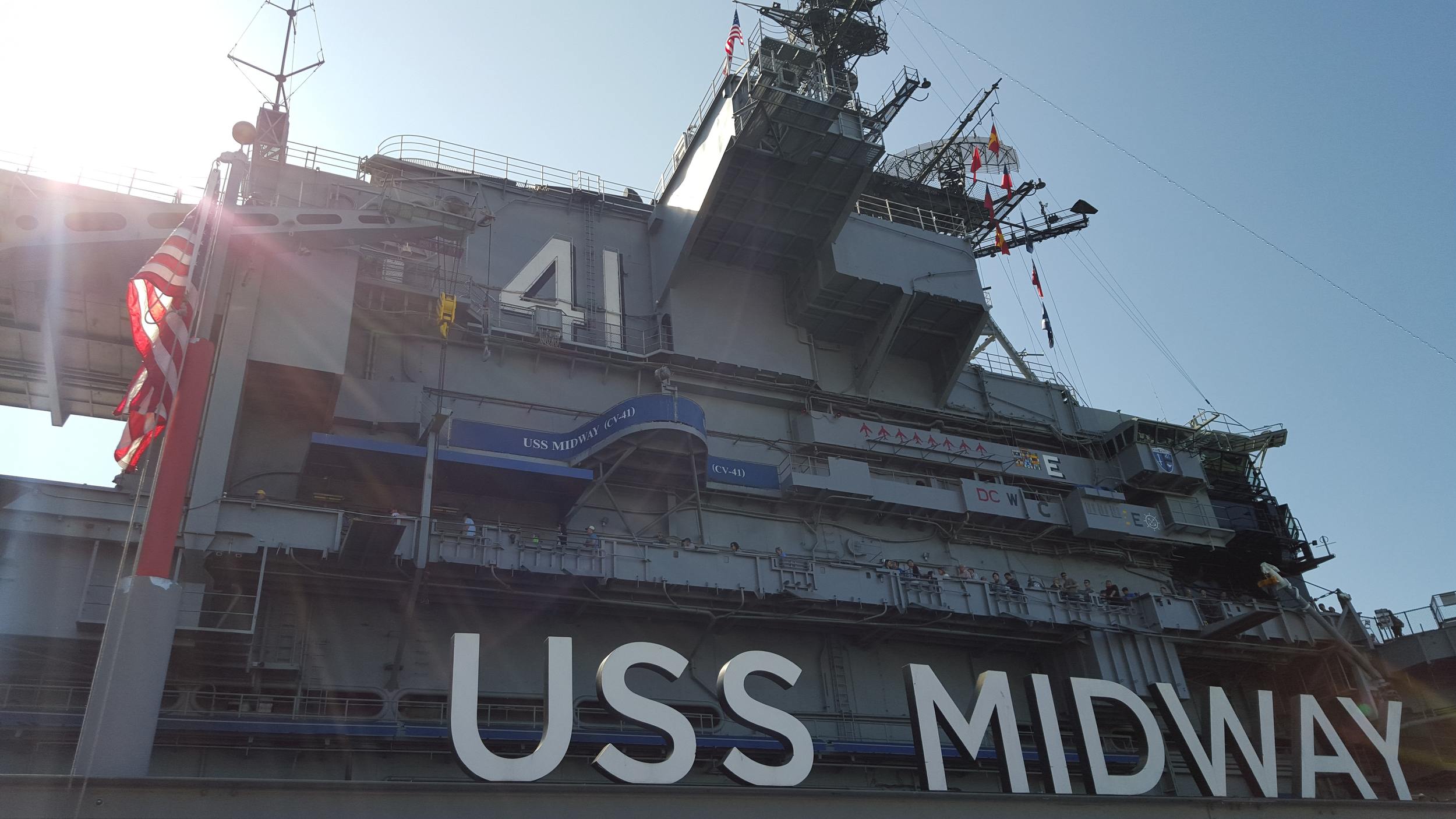 Former naval aircraft carrier;
Displays of different aircraft;
Informative audio tour;
Long and interesting history.
Why it's awesome: The USS Midway Museum is on a historic warship, the naval aircraft carrier called Midway. It was the USA's longest-serving aircraft during the 20th century and was in operation for the entire duration of the Cold War. It was involved in several missions and humanitarian work. After retirement, the enormous vessel was turned into a museum. It contains more than 30 aircraft and provides excellent information about war history and aviation. There are diverse activities for people of all ages and the museum regularly hosts special events.
What to do there: Follow the self-guided tour around the mighty former warship, peeking into the living quarters, kitchen, engine room, officers' quarters, flight deck, chapel, laundry areas, and bridge, all while listening to interesting facts and personal accounts on the audio guide. See various restored planes and helicopters and discover the roles they have played throughout US history.
Take your seat in the theatre to relive the dramatic Battle of Midway, learn what it's like to pilot an aircraft in the flight simulators, and chat with volunteers who actually served on the ship and in the military. Younger visitors can join the Junior Pilot program and there are overnight adventures for groups of 20 or more youths too.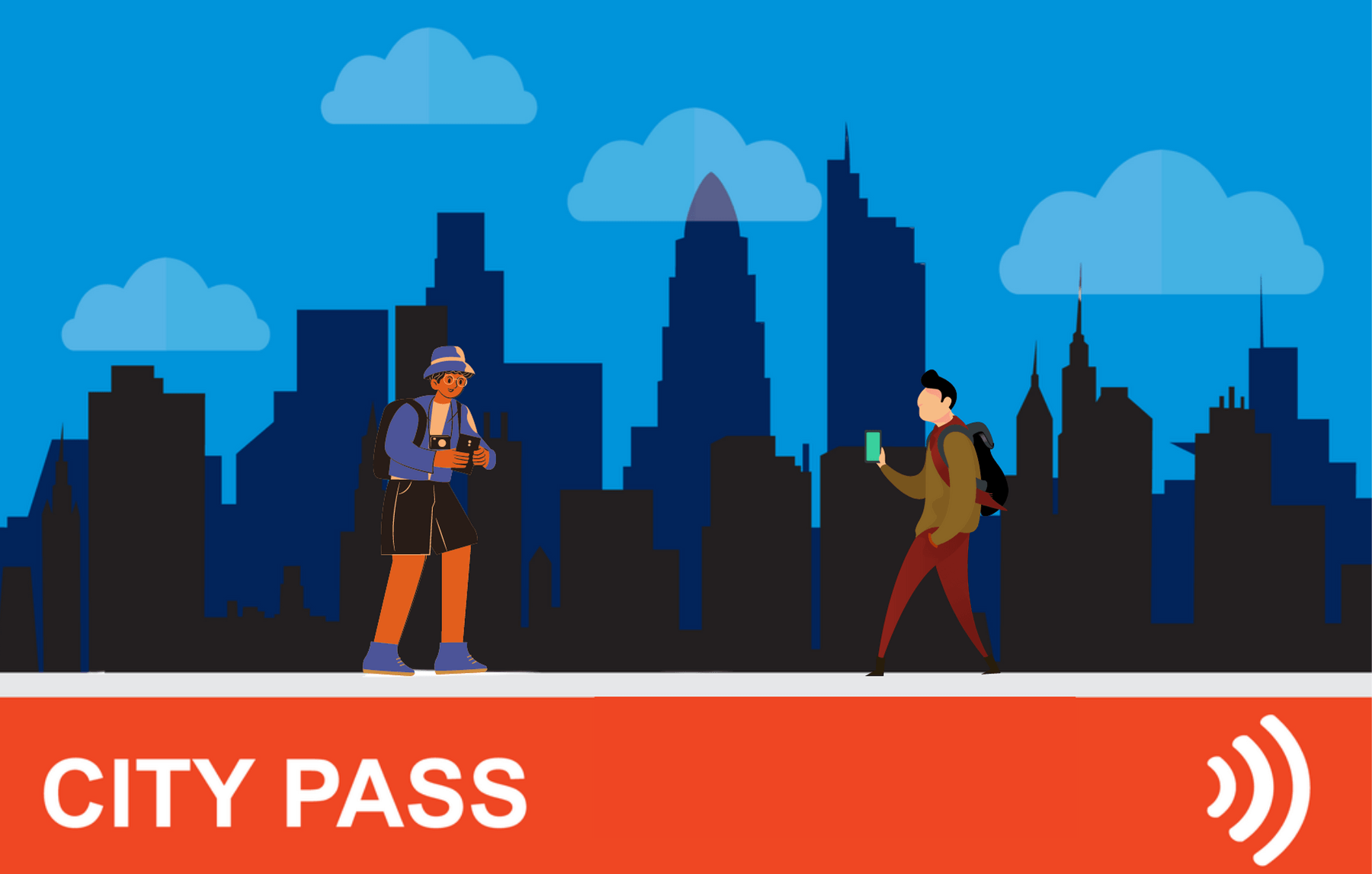 Travelling to San Diego? Then plan yo' trip the smart way!
With a San Diego City Pass, you can experience the best of San Diego at the CHEAPEST prices. Discounts, attractions, tickets, and even public transport are all standards in any good city pass – be sure invest now and save them $$$ when you arrive!
Buy Your Pass NOW!
#3 – La Jolla – A perfect place to visit in San Diego if you are on a budget!
Trendy seaside community;
Long and popular sandy beach;
Various activities and attractions;
Relaxed atmosphere.
Why it's awesome: La Jolla features a rugged coastline, a sandy beach, and a hip community on the hillsides. There's no cost to bask on the sandy shores and soak up the sunshine, and it's a great place to enjoy a day at the seaside. The town is also an interesting place for a wander and you'll find plenty of things to see and do, with something to suit all budgets. There's an arty vibe and the atmosphere is laid back. There's a variety of places to eat, drink, sleep, and shop, and although close to the heart of San Diego it feels like another world completely. This is the perfect day trip from San Diego.
What to do there: One of the most popular hotspots in San Diego, head to La Jolla for a fun day at the seaside. Sunbathe, take a dip in the refreshing waves, admire the views, and take part in water sports like snorkelling, kayaking, and surfing. Spot creatures like leopard sharks, colourful fish, marine birds, and seals.
Sit around a fire-pit and watch the sun go down for a romantic evening. Let kids have fun at the play area and visit attractions like the Birch Aquarium, La Jolla Playhouse, art galleries, and the Scripps Institution of Oceanography. Stroll along Prospect Street and Girard Avenue for some window shopping in charming boutiques, enjoy the diverse eateries, and see interesting street art.
#4 – Seaport Village – A great place in San Diego if you love to shop!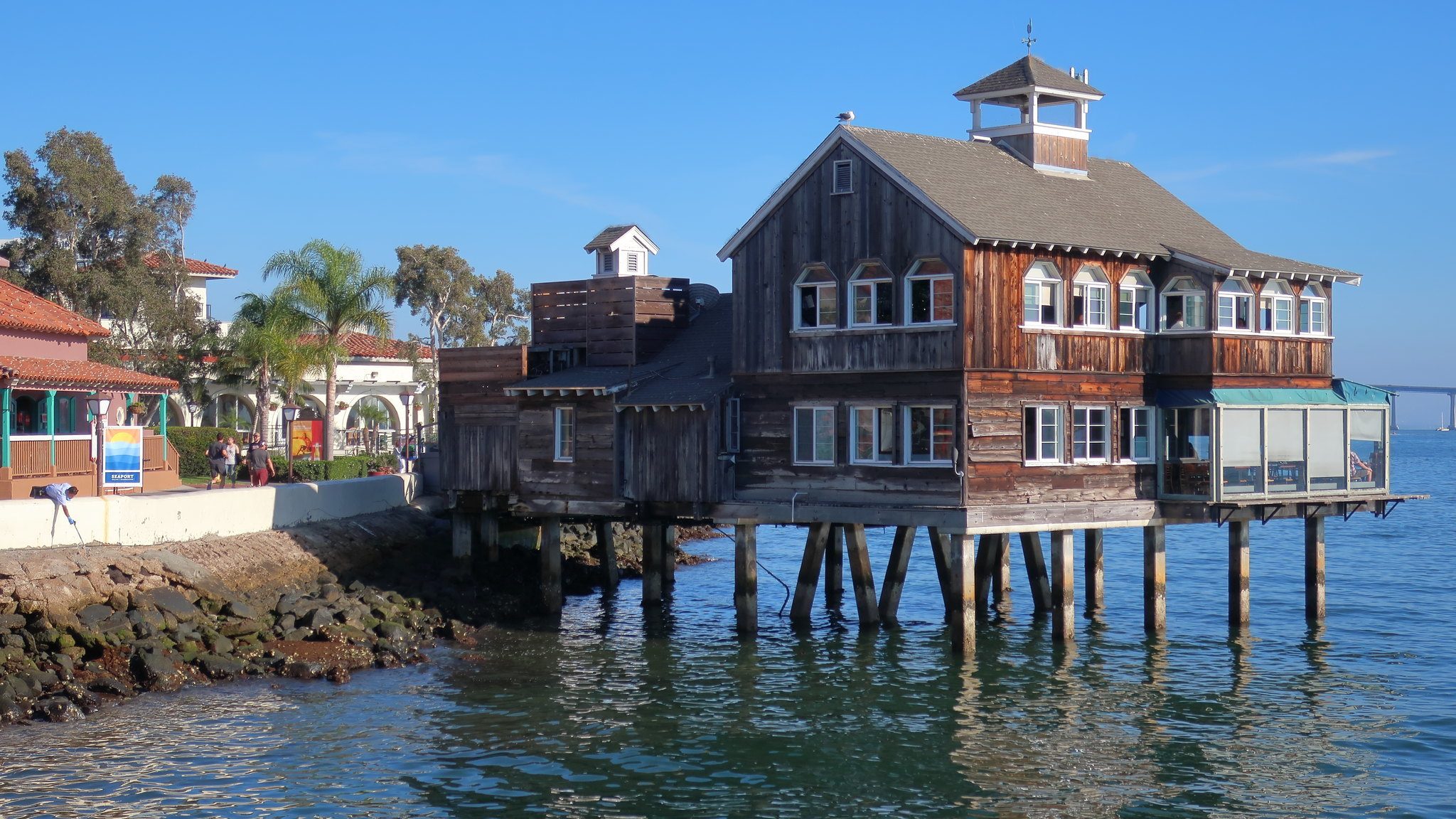 Good selection of shops;
Varied dining options;
Outdoor entertainment;
Lovely setting.
Why it's awesome: Seaport Village, located in downtown, is a popular place for shopping and leisure. It's built on reclaimed land that was once used as a burial ground for sailors who had died onboard their ship from scurvy. Today, pathways lead through the charmingly designed complex, with various architectural styles including Spanish Revival and Victorian English. There are great views of San Diego Harbour too. There's a wide assortment of shops as well as restaurants and cafes that serve diverse cuisine. Street performers are scattered through the complex and there are regular free music performances in the afternoons.
What to do there: Browse in the varied shops, with goods that range from clothes, art, and toys, to crafts, homewares, and souvenirs. Stop for a bite to eat in a restaurant or café and enjoy dishes from around the world as well as typical fast food and Americana. Visit the food court in the afternoon to listen to a variety of musical performances. As you wander through the pedestrianized complex you'll come across artists who have skills like caricature drawing, face painting, and balloon art. Stroll along the waterfront promenade and enjoy the great views of the harbour, Coronado Island, and Coronado Bridge.
#5 – Balboa Park – One of the nicer places in San Diego to sightsee!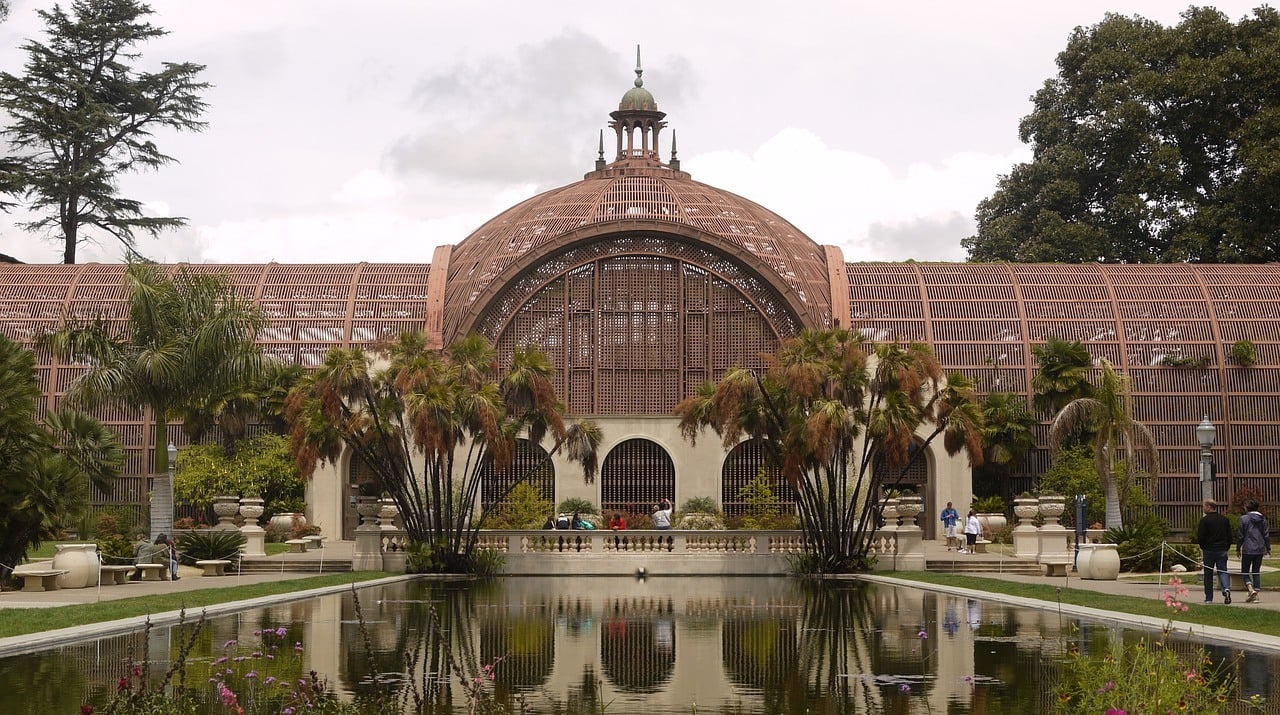 Large urban park;
One of the oldest parks in the USA;
Varied leisure options;
Family friendly.
Why it's awesome: When you're planning what to do in San Diego, visiting Balboa Park should definitely be on your list. One of the most famous places in San Diego, the large Balboa Park covers some 1,200 acres (490 hectares) and is one of the oldest parks in the USA. Indeed, it's a National Historic Landmark. There are wide open spaces with lots of nature as well as cultural attractions, gardens, museums, diverse entertainment and leisure facilities, places to eat and drink, and gift shops. The park is a place where nature, history, and art meet. It's easy to spend several hours at the park and find plenty to fill your time, and there's no charge to enter the park (though charges may apply for attractions within the park).
What to do there: Enjoy the beautiful landscaped gardens, including the Palm Canyon, Zoro Garden, Rose Garden, and Marston House Garden. Explore the world's botany in the Japanese Friendship Garden, the Australian Garden, the Alcazar Garden, and the Florida Canyon Native Plant Preserve, and remember those who passed away and fought for freedom in the Veterans Memorial Garden.
You can take a tour to learn more about the park's history, nature, and cultural institutions, and there are several museums (including San Diego Art and Space Institute, Timken Museum of Art, and San Diego History Centre) to visit. The sprawling San Diego Zoo, a San Diego must do, is within the huge park and you'll find a good selection of venues where you can watch fantastic performing arts. Watch as kids have fun on the carousel and mini train, spot landmarks like the El Cid Statue and California Tower, and take a look in the diverse retail establishments.
#6 – Gaslamp Quarter – A great place to see in San Diego if you love architecture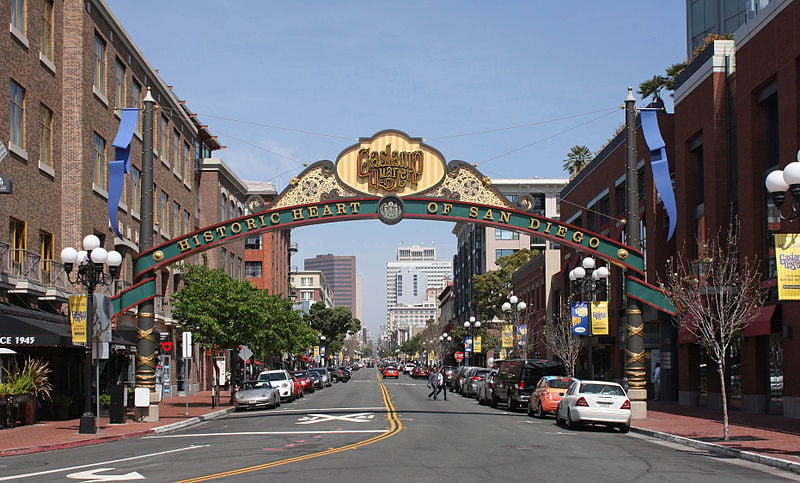 Blend of old and new architecture;
Popular nightlife area;
Historic heart of San Diego;
Atmospheric.
Why it's awesome: The Gaslamp Quarter (often referred to locally as the Gaslamp District) is San Diego's historic core, with a history dating back to the 1860s. It is named for the many gas lamps that light the streets in the evening. Soaring skyscrapers sit alongside quaint and elegant buildings from the Victorian era.
A major place for leisure and entertainment, there are many shops, restaurants, bars, and nightclubs to keep people happy throughout the day and night. A number of major events are held in the area throughout the year, including the vibrant Mardi Gras celebrations. You can also find some great hostels to stay in close to all the fun in this district.
What to do there: Take a walk through the Gaslamp Quarter and see the diverse architecture; it's a haven for photography lovers. Take a tour to learn more about the area's past, present, and developments. There are around 70 restaurants to choose from when you feel peckish, with diverse menus to cater to all tastes. In the evenings you can sip a drink in one of many bars and dance the night away in the vibrant nightclubs. Don't miss seeing the famous gas lamps illuminated in all their glory too!
#7 – Embarcadero – Great place to visit in San Diego for couples!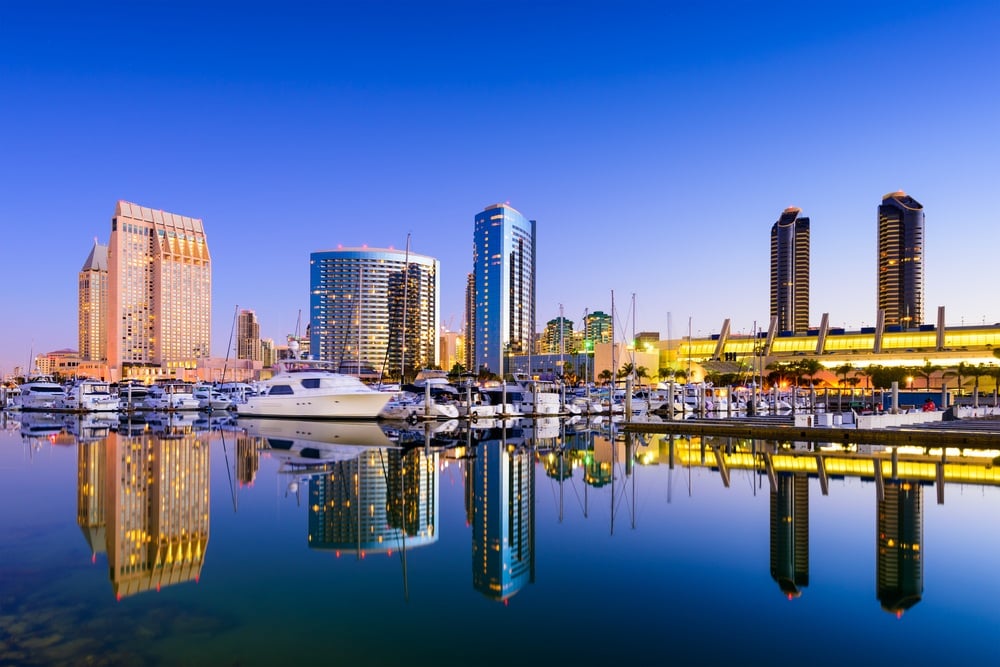 Scenic waterfront vistas;
Varied attractions;
Lively vibe;
Numerous eateries.
Why it's awesome: One of the major points of interest in San Diego, Embarcadero is the area alongside San Diego Bay and next to the harbour. A pleasant place for a stroll, the walkway provides terrific views across the water. The atmosphere is simultaneously lively and relaxing and it's a top spot to indulge in some people watching. There are diverse monuments and statues to see as well as a great selection of places to eat and stop for some quick refreshments. Cool boat tours depart from the area and there are several top-class museums.
What to do there: Walk along the Embarcadero hand in hand with your love as you soak up the vibe and views. Visit the USS Midway Museum and the Maritime Museum, both offering interesting insights into maritime and naval military history, and see the diverse monuments and pieces of public art. There are some 30 sculptures along the walkway, each created by a different artist and all covering different themes. Call by Embarcadero Marina Park for some quiet time and a delightful picnic. Take a boat ride to see many cool landmarks in San Diego from a different perspective.
#8 – Point Loma – A beautiful and scenic place to check out in San Diego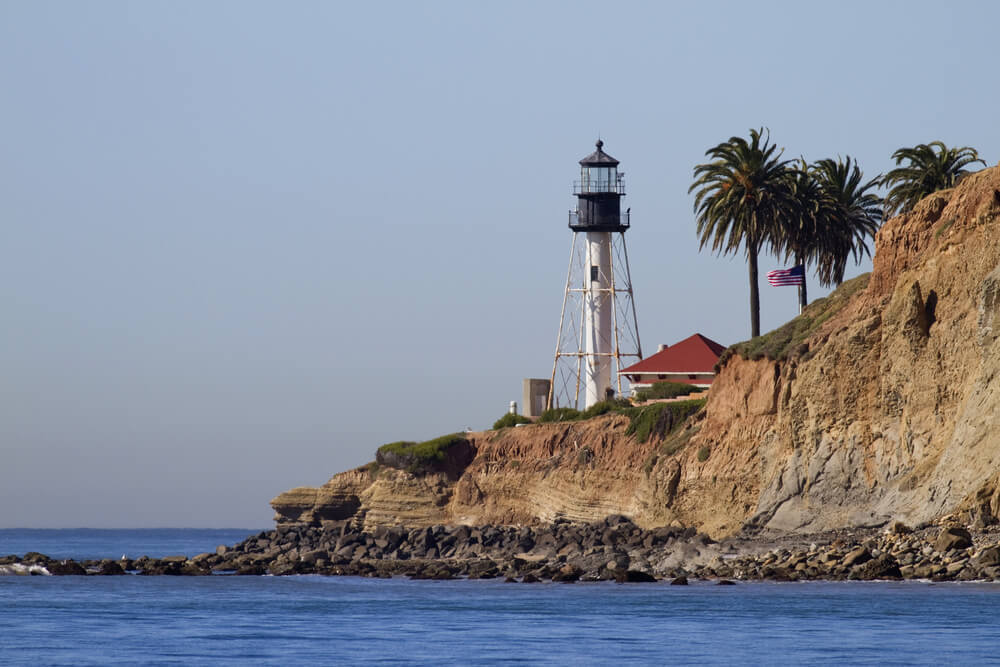 Hilly seaside community;
Historical significance;
Interesting landmarks;
Wildlife spotting opportunities.
Why it's awesome: Point Loma was the first place where Europeans went ashore in California and the hilly coastal peninsula has a rich history. The rugged cliffs offer terrific views and there are stunning natural sights along the coast. It's also sometimes possible to spot whales swimming off the coast. There are also significant and attractive landmarks. The marina has varied boat trips and there's a cool artist area close to hand. Diverse activities in the area include fishing, surfing, photography, and diving.
What to do there: Take a walk along the craggy cliffs and enjoy the views and the sounds of the waves crashing beneath you (remember to stay safe by not walking too close to the edge though). See an abundance of aquatic life in the tide pools and join a whale-watching boat trip. Admire Point Loma Lighthouse, a major landmark in San Diego, and see the historic Cabrillo National Monument. Soak up the arty vibe around Liberty Station and see the diverse architecture and visit Humphreys Concerts by the Bay to watch live entertainment right on the waterfront. Stick around until the early evening to witness a stunning sunset over the Pacific Ocean.
#9 – Petco Park – Cool place to see in San Diego with friends!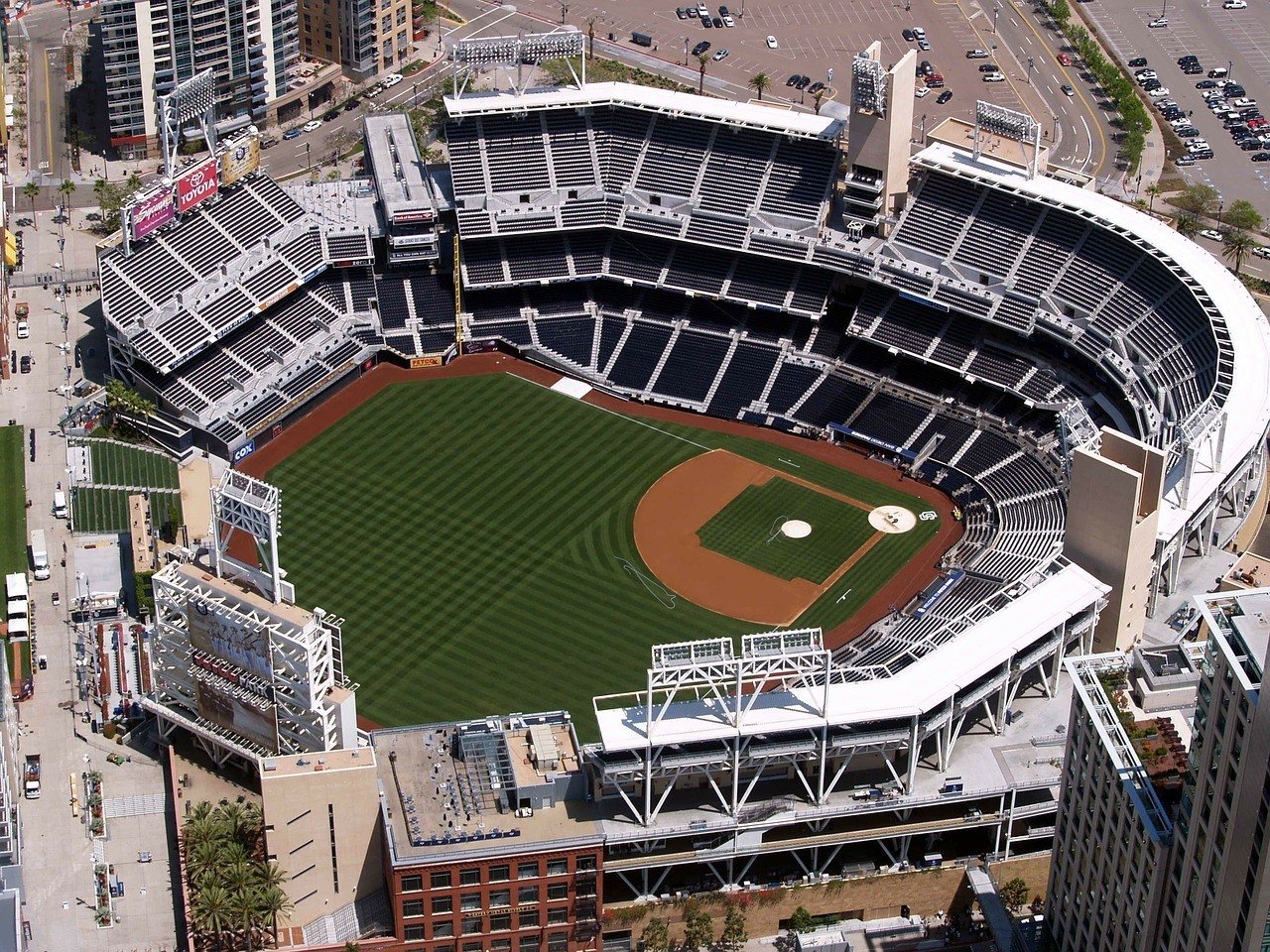 Major baseball park;
Concert venue;
Great views;
Interesting architecture.
Why it's awesome: Petco Park is a large baseball ground. Home of the San Diego Padres, the park has been open since 2004. Built from gleaming white-painted steel and decorated with stucco and Indian sandstone, the grounds have been designed so as to resemble the colours of San Diego's beaches, cliffs, ocean, and boats in the bay. Some seating areas provide great views of the ocean and Balboa Park.
There are restaurants, bars, and shops throughout the ballpark, all of which have large TV screens to make sure that fans don't miss any of the action. As well as being a major baseball ground, Petco Park is also used for rugby, football, and golf matches. Additionally, concerts are frequently held here, with former big names including the Rolling Stones, the Eagles, Madonna, Taylor Swift, and Aerosmith.
What to do there: Book tickets to watch a match and cheer on the local MLB team, the San Diego Padres. Experience the electric energy, particularly as the crowds go wild when their favourite team scores. But baseball merchandise in the shops and enjoy a meal in one of the ground's eateries. Take a tour of the baseball park to learn more about its history, great moments in the sport, personalities, and more, and go behind the scenes to see places that are normally off-limit to visitors.
Is This the Best Daypack EVER???
#10 – SeaWorld San Diego – Certainly one of the most exotic places to see in San Diego!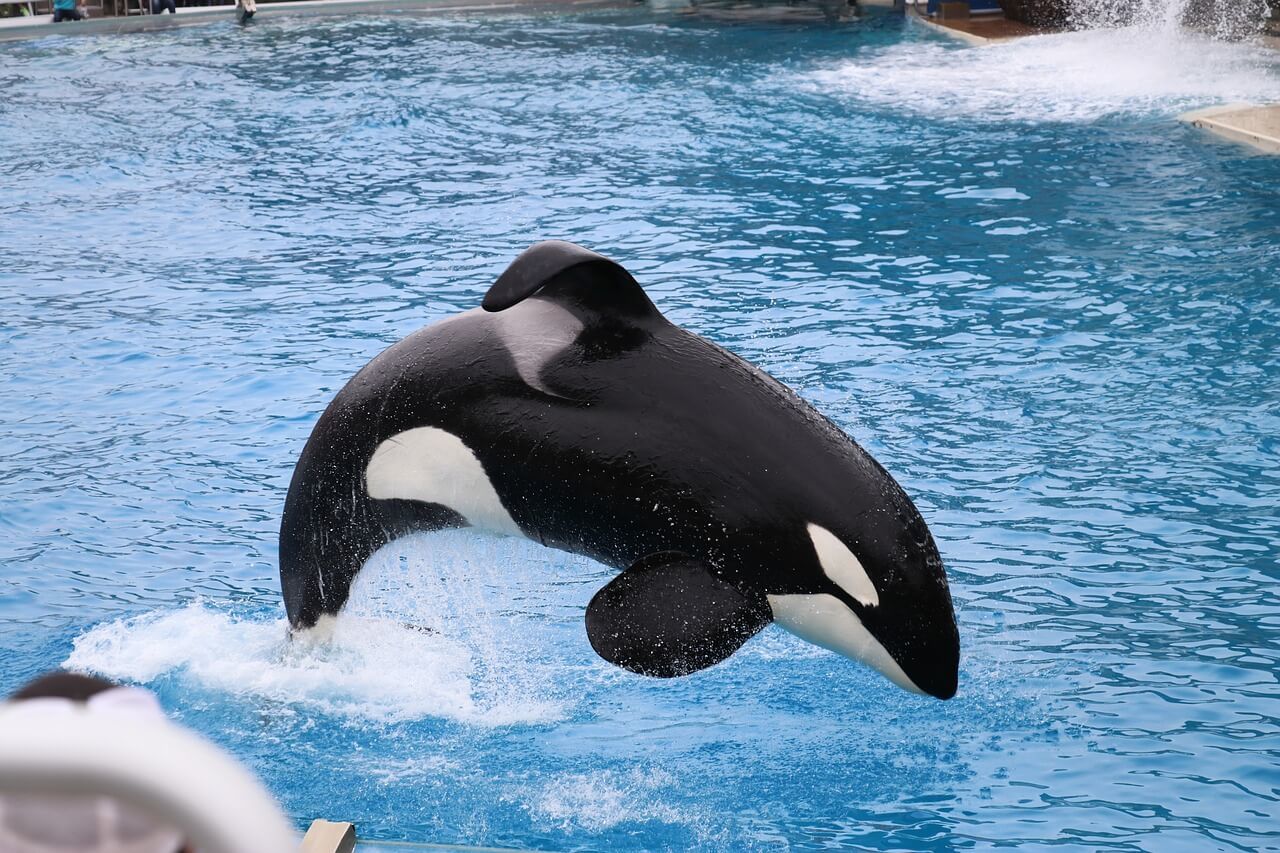 Home to a large array of aquatic animals;
Exciting shows;
Thrilling rides;
Family-friendly attraction.
Why it's awesome: SeaWorld San Diego is a San Diego must-see, especially for families. Covering 190 acres (77 hectares), the park has a huge selection of aquatic animals in various habitats, large aquariums, awesome shows and educational experiences, and cool interactive encounters. Add to that a selection of exciting rides, places to eat and drink, and great merchandise in the shops and you've got a lot of fun for a day! There are special activities and attractions for younger visitors too, letting them really get to know the ocean deep.
What to do there: Enter Explorer's Reef for a fabulous underwater adventure where small fish will gently nibble at your hand and you can interact with rays and sharks. Discover the various aquariums and exhibits, coming face to face with water creatures from across the globe. See things like gigantic orcas and beluga whales, sea lions, otters, penguins, walruses, dolphins, turtles, and a plethora of fish in all sizes and colours.
Be mesmorised by amazing shows, including Polynesian fire dancing and the story of how marine animals are rescued, rehabilitated, and released back to the wild. Get a rush on the high and twisty roller coaster of Electric Eel, get your heart racing on Tidal Twister, get wet and wild on Shipwreck Rapids, and ride the flume of Journey to Atlantis. Little ones can enjoy rides like Elmo's Flying Fish, Aqua Scout, Octa Rock, and Tentacle Twirl.
#11 – San Diego Museum of Man – A fascinating educational place to visit in San Diego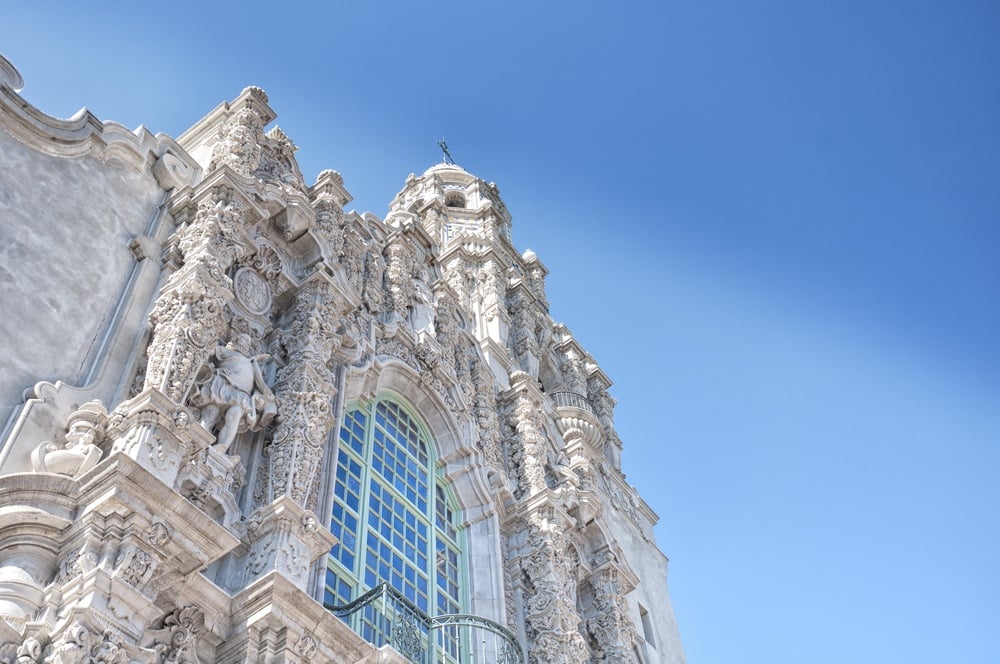 Learn more about civilisations;
Delve deeper into human behaviours;
Excellent cultural attraction;
Beautiful architecture.
Why it's awesome: Located in Balboa Park, the Museum of Man is not only an educational and fascinating museum, but it's also one of the most unusual things to do in San Diego. A top place for fans of cultural anthropology, the Museum of Man gives insights into anything and everything related to human beings. There's a wide selection of artefacts, photographs, and historic objects accompanied by comprehensive information.
The buildings themselves are striking, dating back to the early 1900s, with the distinctive California Tower that really catches the eye. It is normally possible to go to the top of the tower to enjoy splendid views over Balboa Park and beyond.
What to do there: Explore the museum's various exhibits and displays, learning more about human beings, behaviours, ancient and modern civilisations, myths, connections and emotions, and more. You can even learn about the history of beer!
Ponder race and whether people really are that different to each other, feel a shudder as you learn more about cannibalism (and dispel common myths), enter the world of monsters, and see the connections between humans and animals and the bonds that the different species can make with one another. Travel back in time to delve into ancient civilisations, including the ancient Egyptians and Mayans, Don't miss seeing the rare painted wooden coffins and burial masks. Art lovers shouldn't miss the Facing Artifacts and Graffiti Art Murals displays.
#12 – Mission Beach – Easily one of the most fun places to check out in San Diego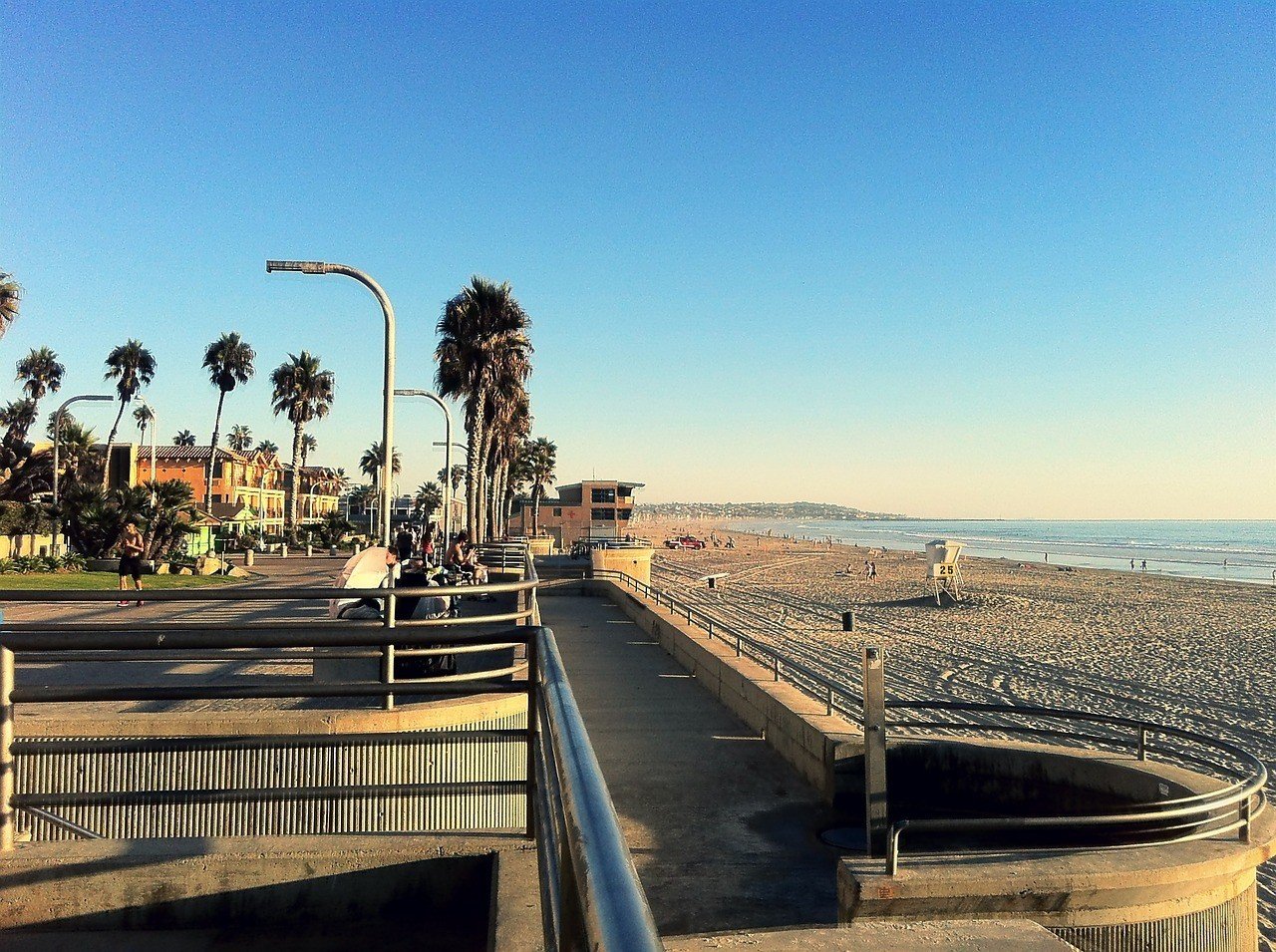 Community built on a sandbar;
Something for all ages;
Lovely sandy beach;
Diverse activities.
Why it's awesome: When you travel to San Diego, Mission Beach is one of those top places you should visit at least once (although, you'll probably find yourself being drawn back many times during your San Diego vacation!). The atmosphere is jovial and lively and it's a great place to enjoy the sunshine. The beach is appealing for families, couples, and friends of all ages. There's a long boardwalk and diverse activities to suit all interests and tastes. From amusement park rides and mini golf to a fabulous selection of restaurants, boat trips, and kids' play areas, you're sure to find plenty to keep you amused and busy at Mission Bay.
What to do there: Relax on the sandy beach and join in with activities like sailing, beach volleyball, diving, surfing, and boogie boarding. Swim in the sea and cool down in the refreshing waters. Take boat rides to look for whales in the wild. Unwind in green and leafy parks, complete with lots of space for children to run and let off steam, play areas, and picnic areas.
Have fun on the rides at Belmont Park, home to a cool restored roller coaster from the mid-1920s, tackle the rock climbing course, go wild in the bumper cars, and play a game of miniature golf. Stroll along the boardwalk and admire the views, or rent a bicycle to explore under peddle power. If you're looking for a sizzling nightlife be sure to return to Mission Beach in the evening.
Small Pack Problems? 😉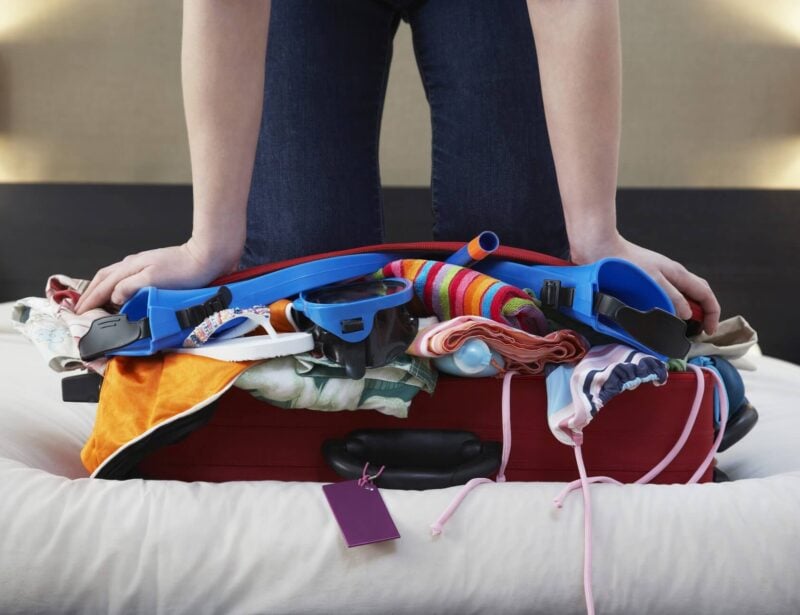 My missus travels with all her clothes in ziplock bags: don't be like my missus. UP YOUR PACKING GAME!
Packing cubes for the globetrotters and compression sacks for the real adventurers – these babies are a traveller's best kept secret. They organise yo' packing and minimise its volume too so you can pack MORE.
Or, y'know… you can stick to ziplock bags.
View Our Fave Cubes
Or Check Out the Sacks!
#13 – Convoy Street – A must-see for foodies!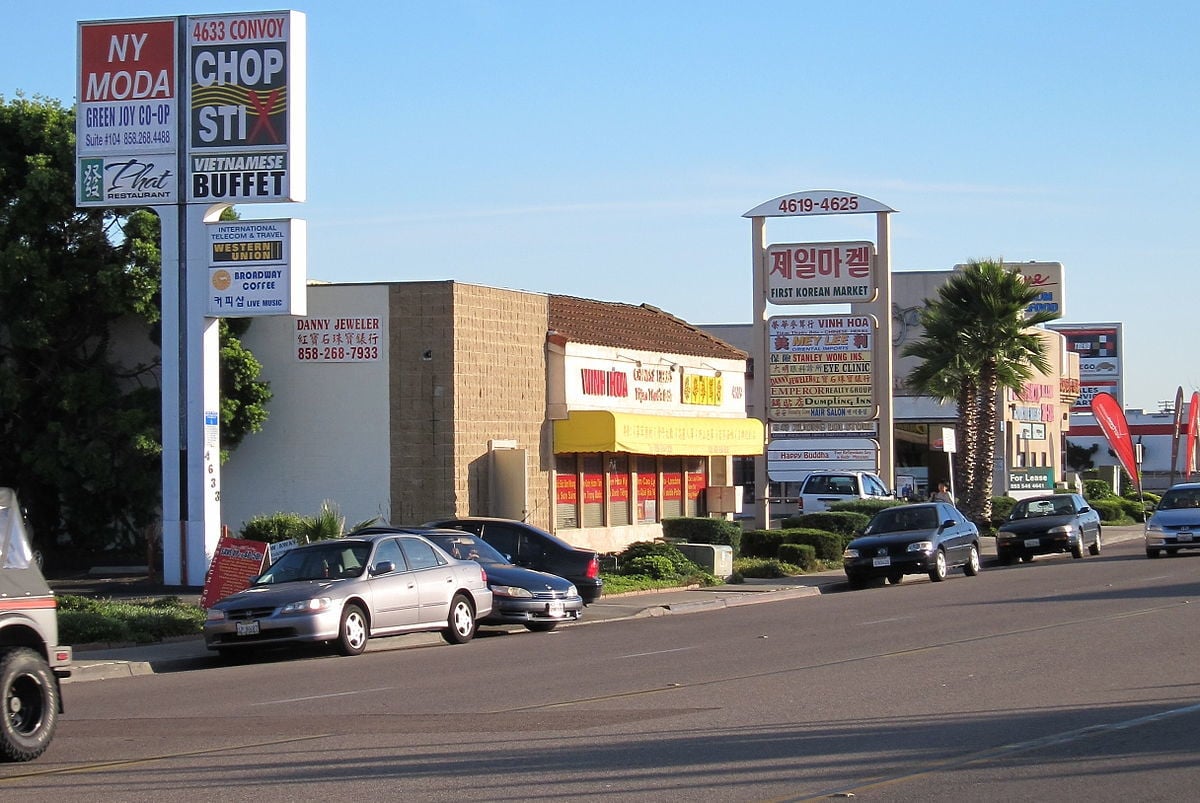 Numerous eateries;
Lots of Asian fare;
Foodie tours;
Well-stocked international food supermarkets.
Why it's awesome: Slightly away from some of more famous attractions in San Diego, Conway Street is one of the best places to eat in San Diego. Indeed, it's often said to be one of the top destinations in the whole country for sampling a wide selection of Asian cuisine which is why you may need to ask a friend to hide your money, but not because it's dangerous. You'll just be way too tempted to spend it all in the assortment of restaurants here.
There are over 100 eateries to choose from dishing up a huge and enticing selection of specialities from the Far East, with Japanese, Chinese, Vietnamese, Korean, Thai, and more to tempt hungry visitors. The vibe is distinctly Asian too, and many restaurants have eye-catching décor and furnishings that help to transport you overseas. Various operators run food tours through the area too if you simply just don't know where to start!
What to do there: If you have a hankering for a particular type of Asian cuisine, seek out an establishment with that speciality and feast to your hearts content. Alternatively, stroll along the vibrant street and let your senses guide you! Do come hungry though as you're likely to want to sample a few places. Or, you can schedule repeat visits to truly satisfy your cravings! Sink your teeth into things like Vietnamese pho, Peking duck, tangy pad Thai, a wide assortment of dim sum, sushi and sashimi, crispy noodles, spicy soups, Korean BBQ, steaming hot pot, and much, much more. Pick up authentic goods in the Asian supermarkets and pop into local bakeries.
#14 – Mission San Diego de Alcalá – One of the most religious places to see in San Diego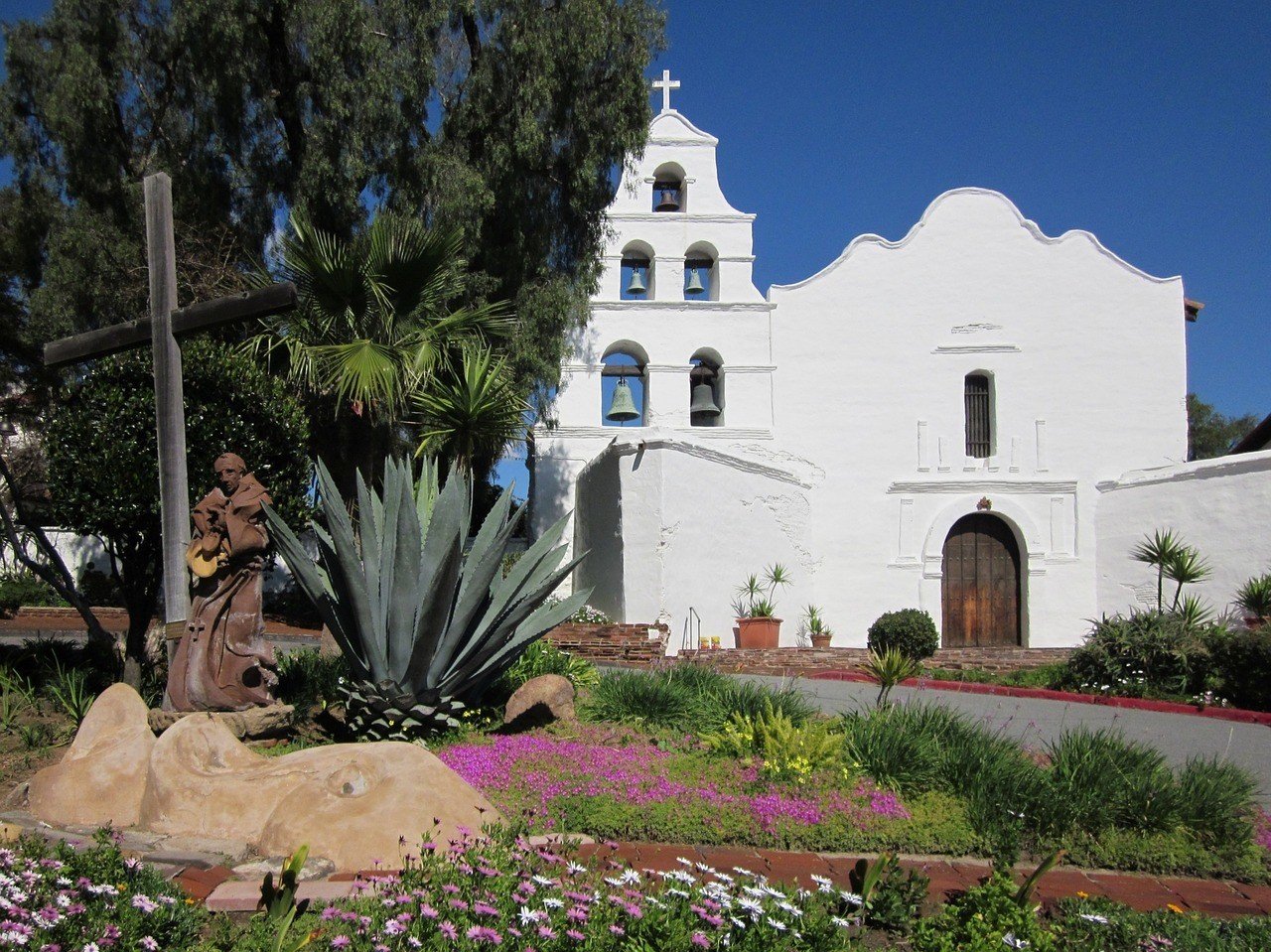 Gorgeous Spanish-style building;
Long history;
Wine-making heritage;
Self-sufficiency practices.
Why it's awesome: Mission San Diego de Alcalá was established in July 1769 by a Spanish friar. California was previously a province of New Spain and Mission San Diego de Alcalá was the first of several Franciscan missions in the area. Interesting, the city of San Diego itself is named after a Spanish Franciscan brother. The present white building is the fifth church to stand at this spot, with the current church dating back to the early 19th century. In the past, the mission aimed to be self-sufficient, and farming practices were developed. The mission also planted the first vineyards in California and it went on to produce wine.
What to do there: Admire the white-washed church from the outside, complete with its large bell wall that contains five bells. Visit the remains of the 1806 friars' home and see an array of historic artefacts, including clothes, tools, and pottery, in the museum. The museum also has old photos and documents that help you to understand more about early Catholicism in the area. Explore the recreated Casa de los Padres for a journey into times gone by, and see the nearby replica oven from the past. Enjoy tranquillity in the meditation garden and admire the flora. Step inside the church to marvel at the beautiful religious artworks and absorb the spiritual air. It is still an active place of worship and you can attend a religious service too if you like.
#15 – Torrey Pines State Natural Reserve – A beautiful outdoor place to visit in San Diego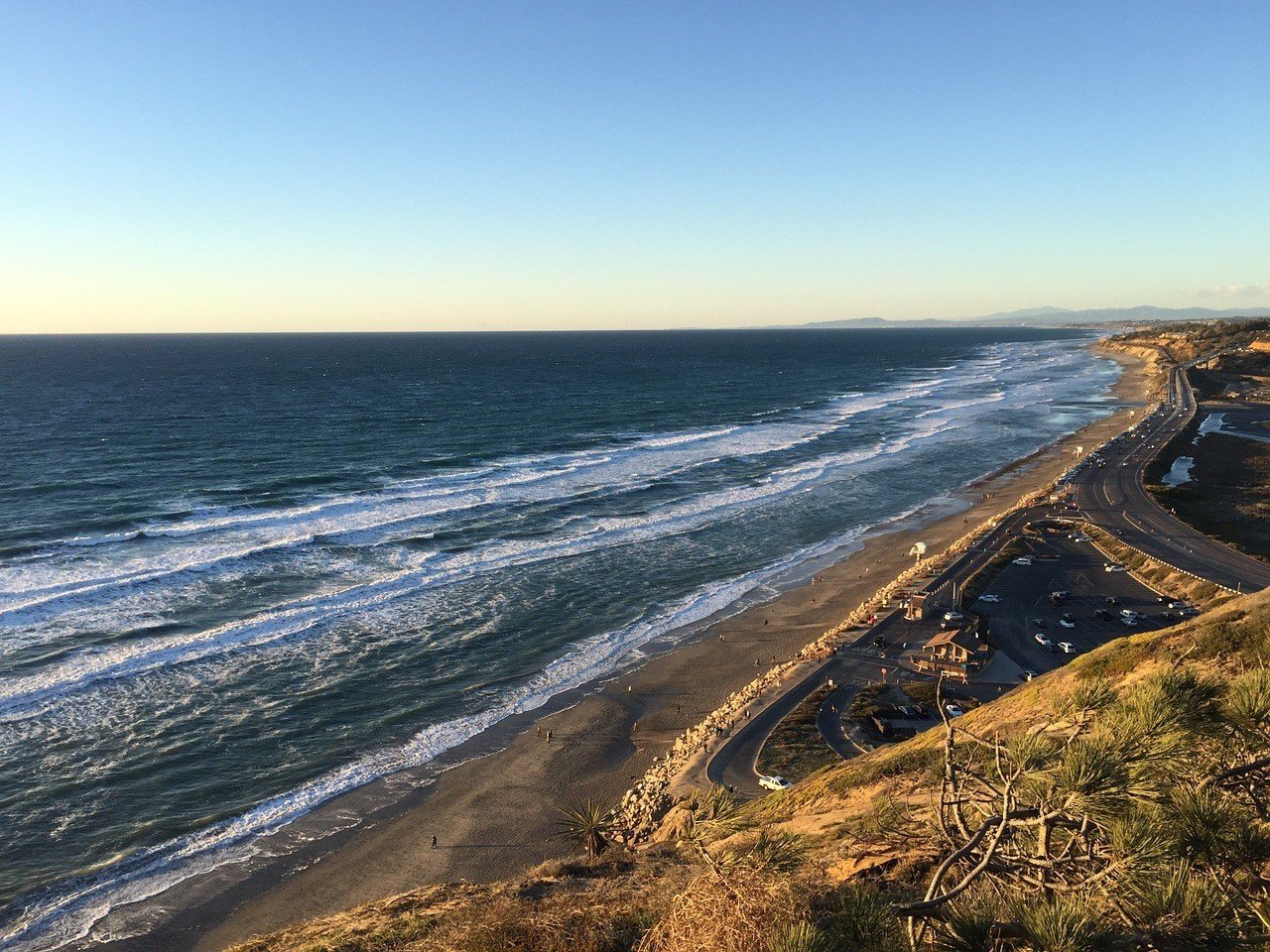 Picturesque coastal state park;
Fantastic views;
Diverse wildlife;
Excellent walking trails.
Why it's awesome: Torrey Pines State Natural Reserve is definitely a great addition to any San Diego itinerary. Located in La Jolla, it's one of Southern California's most rugged and wild coastal stretches. It covers around 2,000 acres (809 hectares). A National Natural Landmark, the plateau has craggy cliffs that look over the beach.
The lagoon attracts many types of migrating ocean birds, and the reserve has a rich array of flora and fauna. Eight trails run through the reserve, varying in length and difficulty levels. Each offers the perfect way for keen hikers to enjoy the great outdoors, see glorious views, and spot a range of wildlife.
What to do there: Follow the walking trails through the scenic Torrey Pines State Natural Reserve, looking out for creatures like rabbits, skunks, foxes, and bobcats. There are many birds too, both on dry land and in the pretty lagoon. Keep an eye open for sightings of whales in the water from the top of the cliffs during migration season—you might get lucky! The area is known for the Torrey pine, a rare type of tree.
Snap pictures of the unusual Flat Rock and sunbathe on the beach. Want an even suntan? Check out Black's Beach, San Diego's unofficial nudist spot. You can visit the small museum on top of the cliffs to learn more about the area's nature and geology.
#16 – Lemon Grove – Quite the quirky place in San Diego!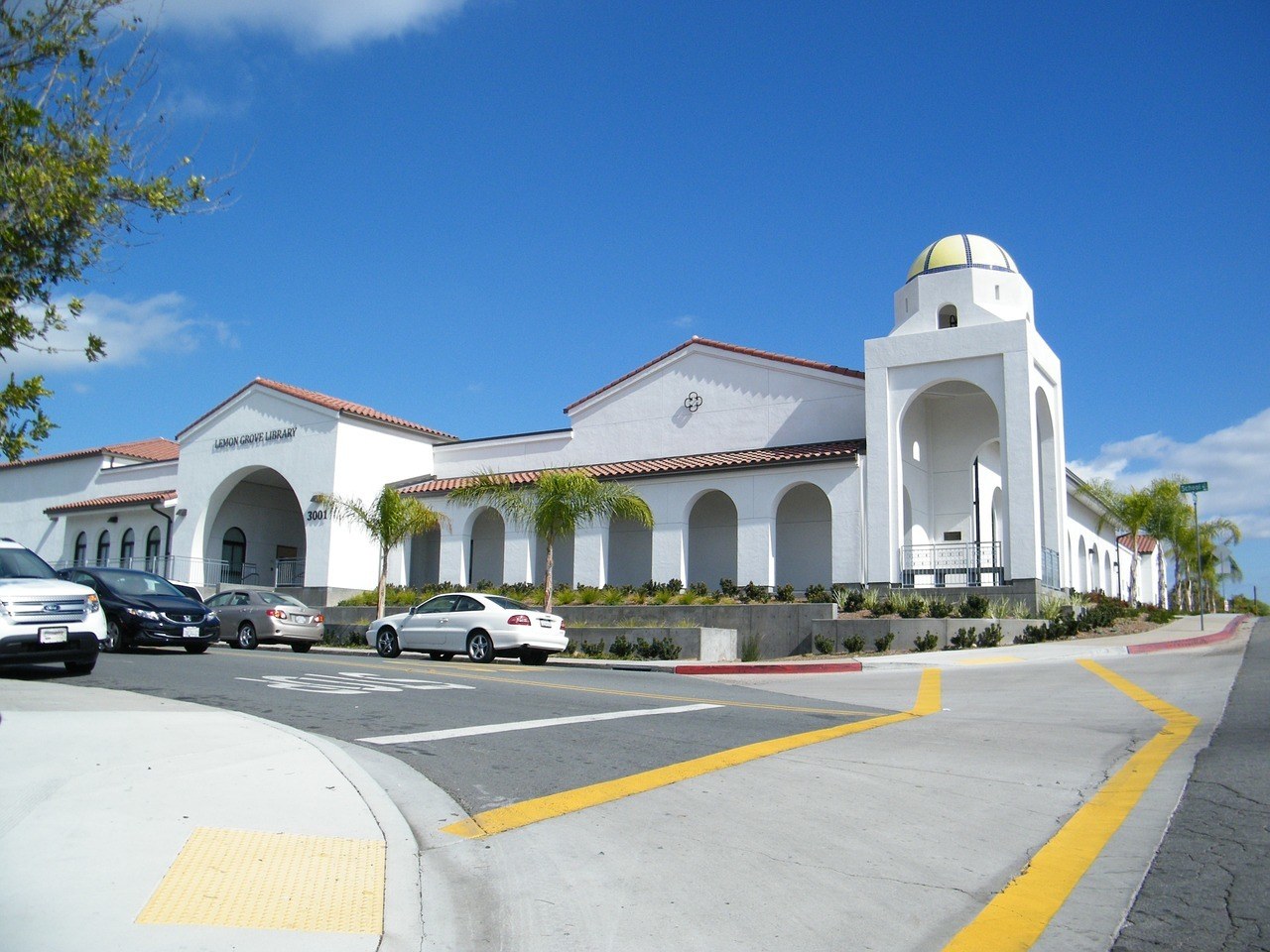 Gigantic lemon statue;
Whale-watching opportunities;
Many lemon groves;
Family-friendly attractions.
Why it's awesome: Close to the border with Mexico, San Diego's city of Lemon Grove has a wealth of great things to see and do. It is also home to one of the most unusual things to do in San Diego—seeing a humungous statue of a lemon! Often said to the biggest lemon in the world, the mammoth 1,360-kilogram (3,000-pound) lemon reflects the area's lemon-growing past.
There are still abundant lemon orchards throughout the city as well as fun things like museums, golf courses, sporting events, clubs, and whale-watching trips. The city was also once home to other unusual and interesting features—mummified bodies! Stolen from caves in Mexico, the bodies were hidden in a garage in Lemon Grove for some 14 years before being discovered again!
What to do there: Pose for selfies in front of the huge bright yellow lemon statue for some unusual vacation pictures to remind you of your trip to San Diego. Check out the local events calendar, filled with things like reading clubs for people of all ages, farmers markets, play days for kids, keep fit classes, bird-watching trips, and more. Get your swing in order with a game of golf and explore the city's local attractions.

Our GREATEST Travel Secrets…
Pop your email here & get the original Broke Backpacker Bible for FREE.
#17 – Elfin Forest – An unknown (but awesome!) place to see in San Diego!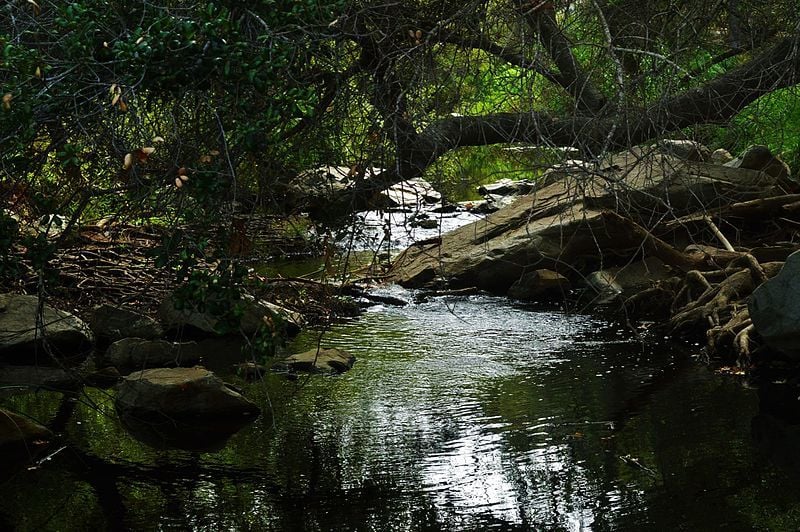 Outdoor adventures
Lots of nature and wildlife
Off the beaten track
Tales of the paranormal
Why it's awesome: San Diego's Elfin Forest is a relatively under-visited residential area with a beautiful recreation park. Homes sit on hills in the foothills of the Santa Rosa Mountains and the rural suburb is peaceful and quiet. There are fruit orchards and horse ranches to further add to the pastoral air. The coastal scrub offers outdoor activities and nature watching as well as terrific views. Various endangered and rare animal and plant species live/grow in the area. Spookily, Elfin Forest is often said to be one of the most haunted places on the planet!
What to do there: Stop by a local store and pick up locally grown fruits like lemons, avocados, oranges, and grapefruits. Chat with locals to learn more about the ghosts and legends that surround the area. Follow the hiking trails through Elfin Forest Recreational Reserve, spotting the diverse nature and soaking up the views. Keep your eyes peeled for glimpses of the gnatcatcher—one of the area's rarest and most endangered occupants.
#18 – Little Italy – An awesome place to visit in San Diego for half a day!
Historic heart of San Diego's tuna fishing industry;
Cool ethnic enclave;
Delicious dining;
Cultural events.
Why it's awesome: San Diego's Little Italy started life as a fishing village, with mainly Italian residents. In times gone by, San Diego was known as the Tuna Capital of the western USA. Today, the vibrant and pretty neighbourhood reflects the heritage of the city's Italian immigrants through its restaurants, shops, art galleries, and architecture. There are many festivals and events throughout the year to enjoy too. There's plenty to see and do and the area has more than its fair share of quirky features and hidden gems.
What to do there: Browse in the diverse shops and art galleries and call into one of the restaurants for some tasty and authentic Italian meals, like pasta and pizza. If you're visiting San Diego for the weekend, pick up fresh produce at the weekly Mercato (farmers market). Be inspired by Italian recipes engraved on the tables at the pleasant Amici Park, see the spot where the San Diego Macaroni Factory once stood, visit the San Diego Firehouse Museum, hunt for the hidden ring in the pavement along India Street, and see the intricate mural in the Our Lady of the Rosary Church. Download the local app for a free self-guided walking tour around Little Italy's historic highlights.
#19 – Sunset Cliffs Natural Park – One of the most romantic places to visit in San Diego!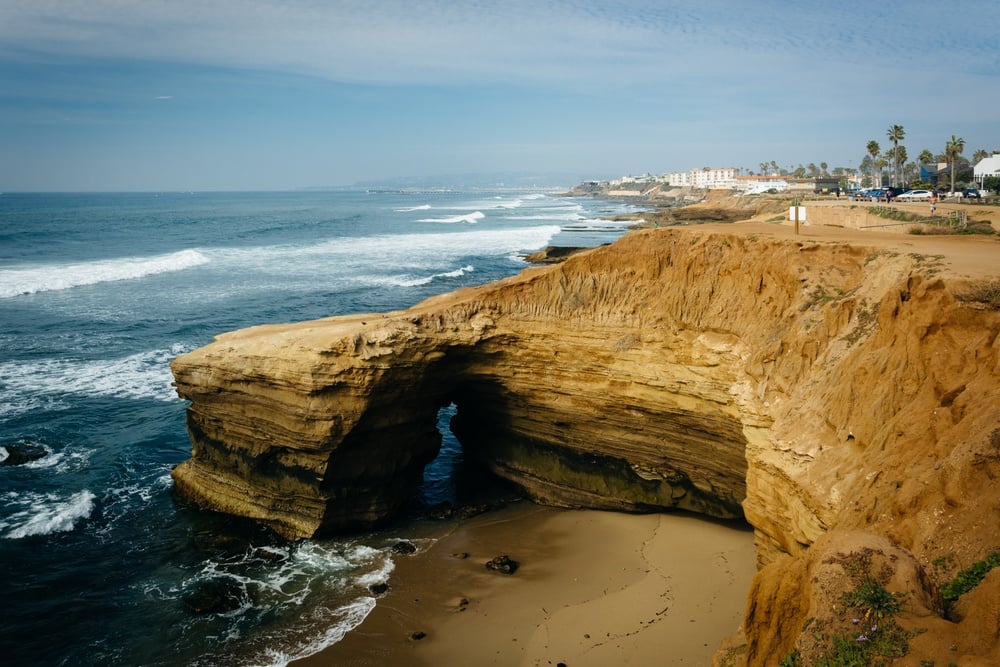 Beautiful family-friendly beach;
Nice hiking trails;
Great vistas;
Perfect place to watch the sunset.
Why it's awesome: One of the top San Diego vacation ideas for couples, Sunset Cliffs Natural Park is filled with natural splendours. Located near Point Loma, the park boasts gorgeous unique landscapes, natural caves, unusual rock formations, coastal flora and fauna, and terrific ocean views. As the name suggests, it's also one of the best places in San Diego to watch a glorious sunset with your love. The natural park covers some 68 acres (28 hectares).
What to do there: If you have your own vehicle, cruise along Sunset Cliffs Boulevard for amazing views and changing scenery. There are also routes that you can follow by foot to enjoy the scenery and vistas. Appreciate the natural treasures like small caves, sandy beach, rock formations, and rock arches that rest in the swirling waves. See ocean life in the intertidal pools and on the sands. In the migration season you might also spot whales out in the ocean. Do stick around until the evening to watch a beautiful sunset.
#20 – Queen Califia's Magical Circle – One of the more unique places to visit in San Diego!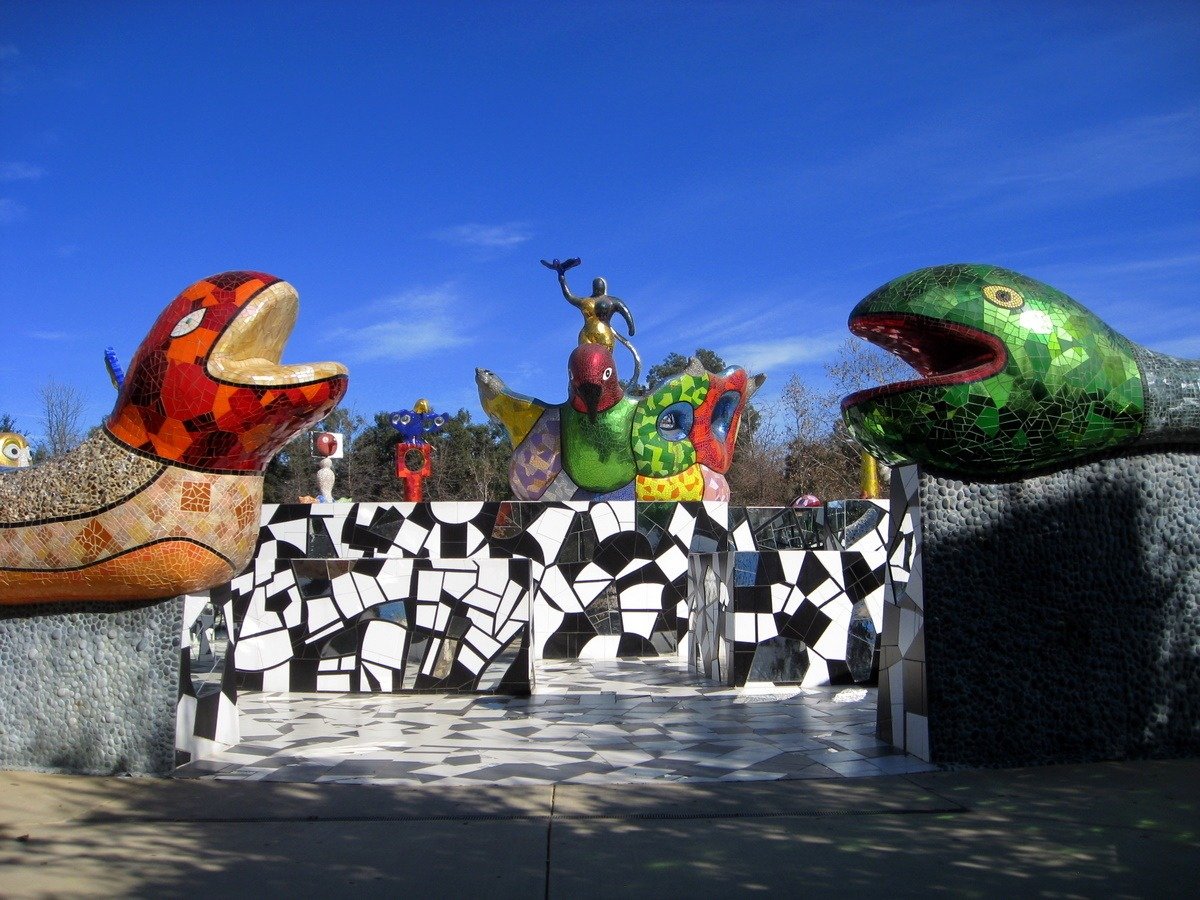 Enchanting park;
Colourful mosaics;
Whimsical attraction;
Excellent photo opportunities.
Why it's awesome: Located in Escondido and just a short drive from downtown San Diego, Queen Califia's Magical Circle is one of the most unusual things to do in San Diego. Within Kit Carson Park, the stunning mosaic garden was designed by a French artist. The artist was inspired by local myths, nature, and heritage. There are huge colourful statues along with a snaking wall, a maze, and plenty of seating. Whimsical, vibrant, and more than a bit quirky, the playful garden is sure to appeal to your imagination.
What to do there: Make your way through the black, white, and mirrored entrance maze to emerge in a beautiful courtyard and a colourful wonderland. See the snake-topped wall that encircles the garden and admire the large and eye-catching statues. Be awed as you gaze upon the huge shimmering statue of Queen Califia with an eagle flying proudly overhead. Mythical figures, monsters, gods and goddesses, animals, humans, and symbols cover totem-pole-like structures. Rest for a while on the integrated benches around the wall and soak up the splendour. You can also see local plants and flowers throughout the garden.
Save $$$ • Save the Planet • Save Your Stomach!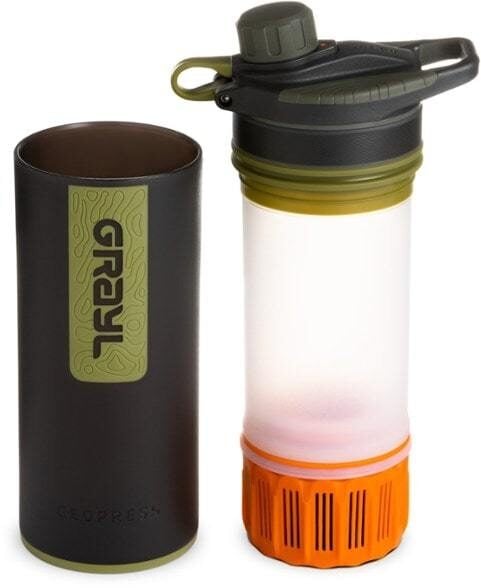 Drink water from ANYWHERE. The Grayl Geopress is the market's leading filtered water bottle protecting your tum from all the waterborne nasties. PLUS, you save money and the environment!
Single-use plastic bottles are a MASSIVE threat to marine life. Be a part of the solution and travel with a filter water bottle.
We've tested the Geopress rigorously from the icy heights of Pakistan to the tropical jungles of Cuba, and the results are in: it WORKS. Buy a Geopress: it's the last water bottle you'll ever buy.
Buy a Geopress!
Read the Review
#21 – Old Town San Diego State Historical Park – One of the most incredible free places to go to in San Diego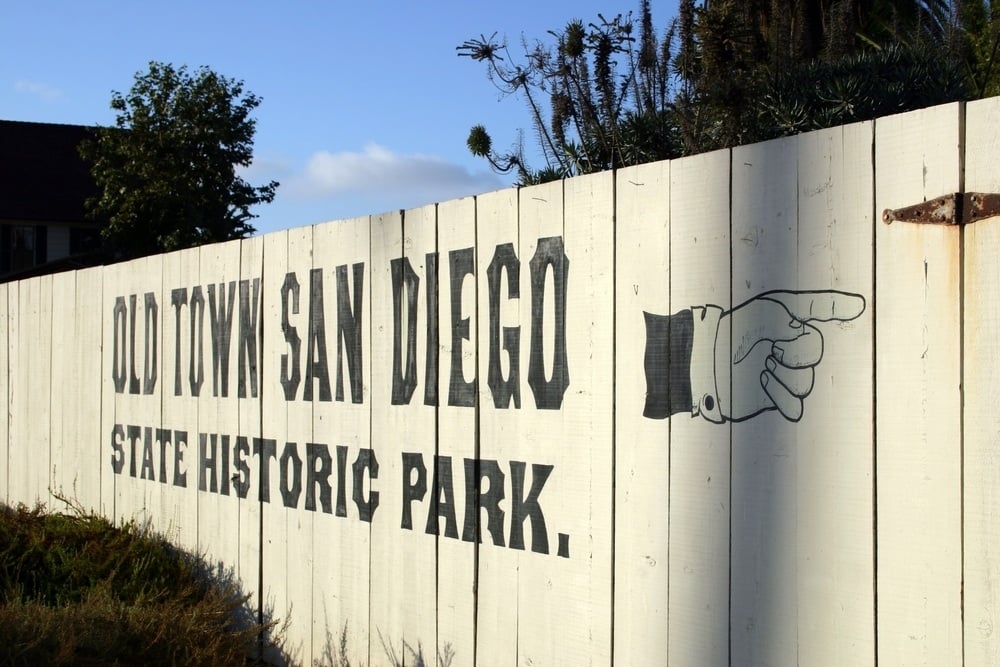 Peer into the past;
Period buildings;
No admission charges;
Varied activities.
Why it's awesome: Old Town San Diego State Historical Park is one of the best places in San Diego for history lovers. Taking visitors on a trip back in time to the city's early years, it features many restored historic buildings from the 1800s and a number of informative museums. Included on the National Register of Historic Places, the park was once at the heart of San Diego's community before people abandoned the area in favour of the new town, AKA today's downtown. It is preserved as it was during the Mexican and early American eras. There is no charge to enter the historical park and all of the museums are free to visit too.
What to do there: Stroll around Old Town San Diego State Historical Park and see the various historic buildings that were once central to the local community. Buildings include residential homes, the city's first newspaper office, a school, and a blacksmith's shop. Delve deeper into the past in the varied museums, which include Colorado House (once a hotel), San Diego Union Museum, and Seeley Stables with its historic carriages and wagons. You can also take a guided tour for greater insights. Pop into the shops to find an array of goods and to see craftspeople at work. There's a good selection of places to stop for a tasty meal, with Mexican restaurants especially prevalent.
Get insured for your trip to San Diego!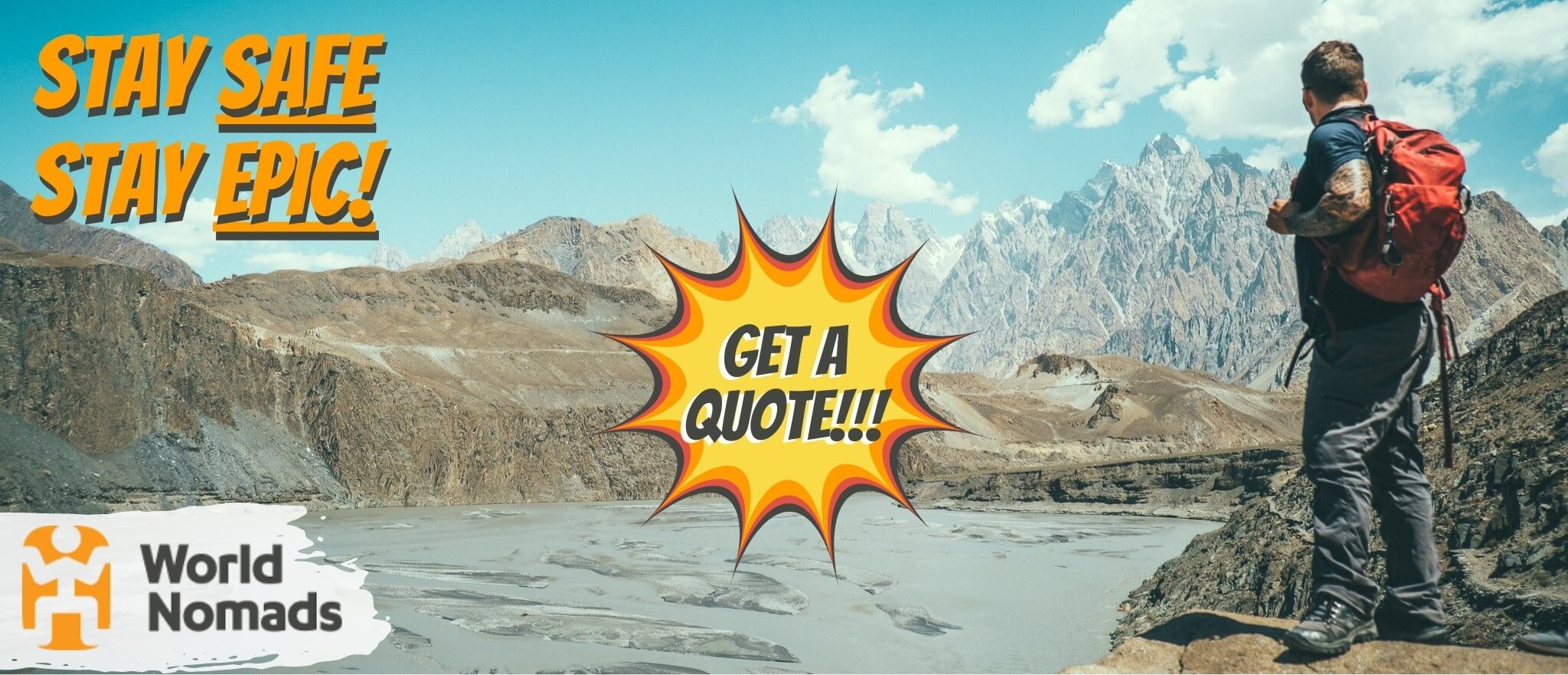 World Nomads' mission is to support and encourage travellers to explore their boundaries. They offer simple & flexible travel insurance, and safety advice to help you travel confidently.
They've been doing it since 2002 – protecting, connecting, and inspiring independent travellers just like you.
Get a quote below or read our in-depth review!
World Nomads provides travel insurance for travelers in over 100 countries. As an affiliate, we receive a fee when you get a quote from World Nomads using this link. We do not represent World Nomads. This is information only and not a recommendation to buy travel insurance.
FAQ on the Best Places to Visit in San Diego
Find out what people want to know about the best places to visit in San Diego
More fantastic places to visit in San Diego
There are many San Diego vacation ideas, with something for all ages and interests. Spend a few hours at Pacific Beach and Coronado Beach, climb Mount Soledad, follow Annie's Canyon Trail, visit the Mormon Battalion Historic Site, escape the crowds at Los Peñasquitos Canyon Preserve, and explore the ocean deep at Birch Aquarium. Cross the suspension bridge in Banker's Hill and take a stick to hit the unusual musical bridge at 25th street.
When it comes to museums, San Diego has many to choose between. In addition to the ones already mentioned, others to add to your San Diego itinerary include Whaley House Museum, the Maritime Museum of San Diego, the Sheriff's Museum, the Chinese Historical Society and Museum, San Diego Natural History Museum, San Diego Air and Space Museum, the San Diego Museum of Art, and the Fleet Science Centre.
In need of some time out and quiet time? Check out the Self Realization Fellowship Hermitage and Meditation Gardens. Have fun at Liberty Station, watch a performance at the Old Globe Theatre, and take trips to the Anza-Borrego Desert, Disneyland, and the wine region of the Temecula Valley.
There are so many fabulous places to visit in San Diego! Have a fantastic trip!
---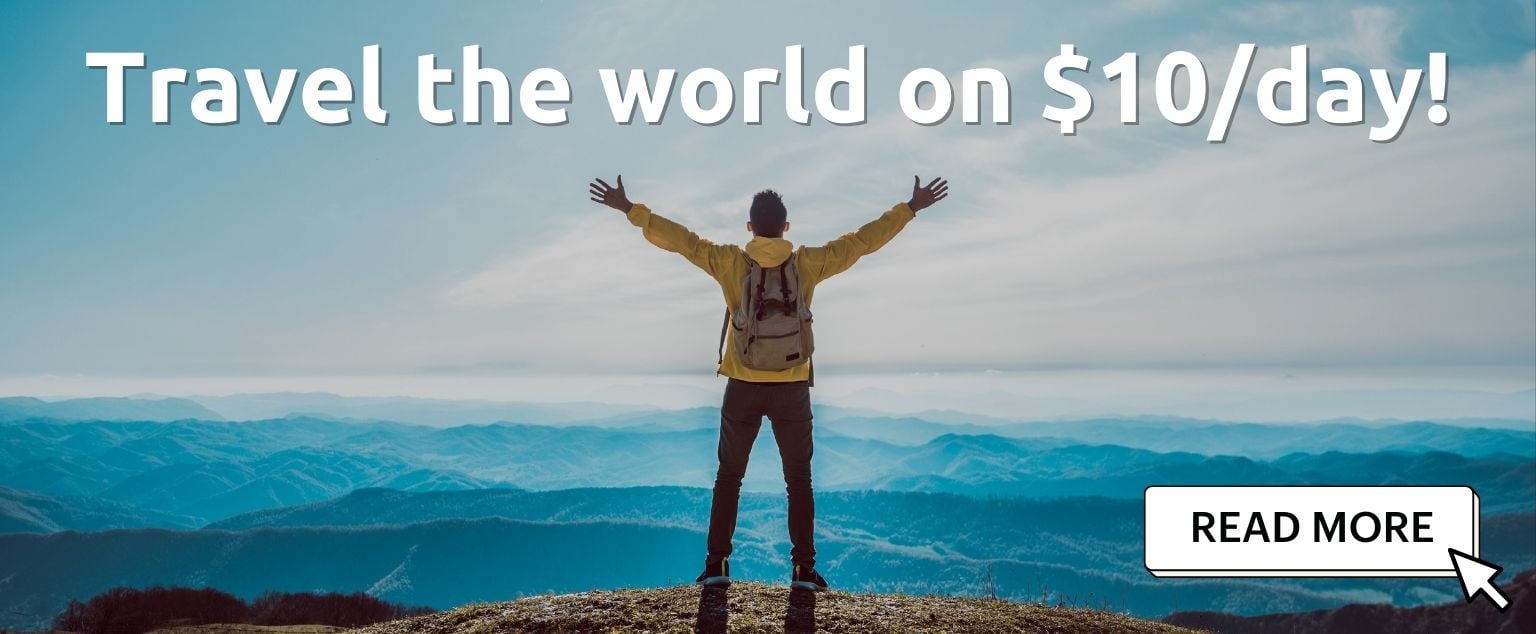 And for transparency's sake, please know that some of the links in our content are affiliate links. That means that if you book your accommodation, buy your gear, or sort your insurance through our link, we earn a small commission (at no extra cost to you). That said, we only link to the gear we trust and never recommend services we don't believe are up to scratch. Again, thank you!